European Indigenous Ethno-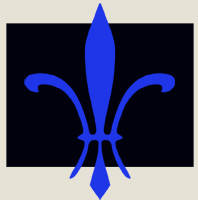 National & Regional Alliance

Hitler as Caesar: Historical lessons to be learned and new friend/enemy lines to be drawn.
Morgoth:

German National Socialism is the foundation of today's Anti White morality, so even if we granted this Pole everything, every atrocity, every murder and every slur, you can even say the Nationalism Socialism was a flawed ethos because it was merely a reflection of Zionism, which they do at Majority Rights, but that still leaves us in the situation of having to deal with the use of National Socialism to mentally cripple our people, and that would even include Poles and Ukrainians today, who would also be called ''Nazis'' for wanting to preserve their identity.

I simply cannot see a way around it or under it or over it, we must go straight through it and Poles etc are just going to have to deal with it, because if we fall so do they.
Unfortunate though I believe his hypothesis is, Morgoth has his hypothesis there.
By contrast and to repeat, this Italian/Polish American doesn't require ethno-nationalists to grant any guilt trips about Nazi Germany (whatever in particular he supposes that "I require to be granted", I don't know), but I do require fellow ethno-nationalists to be halfway intelligent and honest in drawing battle lines fit to the requirements of today and what we know now.
Morgoth's former picture of the week which, according to him, I wasn't supposed to look at critically: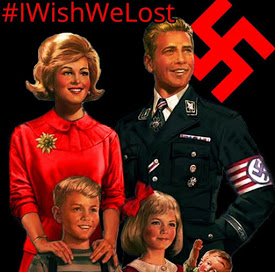 MR has another hypothesis here.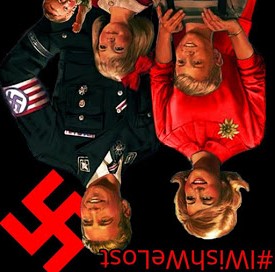 You did lose, and so did all Europeans because proper friend / enemy distinctions were not drawn.
I, we, are fighting with all we can to defend all native nationalists of all of Europe - western Europe absolutely as well. In fact, they are much better off without the justifiably negative stigma and inter-European strife that came along with that regime and its imagery; on the contrary, they can signal their clear cooperation on European ethno-nationalists grounds much better without it.
That's the working hypothesis here.
Poland has a unique situation to argue in nationalist terms. Having been subject to both Soviet and Nazi invasions, it is difficult for our enemies - by that, I mean the enemies of we ethnonationalists - to accuse us, by means of them, of being communists or Nazis - the usual bogey men raised to denounce nationalists. They will try to call all ethno-nationalists "Nazis", you say? Yes, they will try, but anyone who knows the lay of the land (say, in Poland and among Poles), knows that is ridiculous (and no, the next picture of the week that Morgoth put up, of a few bald Poles making Roman salutes behind a "blood and honor" flag is not a representative pattern).
With Poland having suffered among the most of those subject to Nazi invasion, nobody is going to call a true Pole "a Nazi" and have it stick in a credible way.
That typical argument among White Nationalists - "they are going to call you a Nazi anyway, therefore, may as well identify as one" - doesn't hold up.
The accusation remains a problem for many, however, particularly for those of German and German American extraction. As I have said before, the guilt trip is right on top of them - and it is difficult to have perspective - one is either completely at the opposite extreme, such as Frau Merkel, or, as some tactlessly claim, one must "go directly through it" and cop to the identity completely and unabashedly.
It isn't true: but for the guilt trips and the overwhelming abuse of liberalism, one may not have perspective to see any other options.
Whether for lack of perspective for overwhelming guilt trips looming upon them more directly as Germans or German Americans; or resulting from the position of those, such as Italians or Italian Americans, whose more marginal position is susceptible to disingenuous negative classification; or for a lack of empathic perspective for their ethnicity, such as the Irish, not having been particularly in the path of Nazi wrath; the overwhelming frustration pervasive liberalism's destruction has visited upon them tends to manifest two logical fallacies:
1. Overstated premise: Hitler and Nazism necessarily represented "White people" (which, of course, they did not, but only in part).
2. False either/or: It is either Hitler and Nazism or Jewish, neo-liberal rule and its runaway.
Of course cooperative ethno-nationalism is the alternative and proper way out of these illusory paradoxes.
As stated above, Poles, e.g., are in a unique situation to share the relative "innocence" of their nationalist perspective with other nations and unburden them of the guilt trips laid upon them - a service in unburdening ethnonationalist Germany, in particular, of guilt trips.
World War II is history and there is no sense in laying guilt trips upon subsequent generations of Germans and penalizing them.
While the same would apply to virtually all nationals willing to coordinate in ethno-nationalist terms, of course, German nationalism's recent history has been "mythologized" to the point where it is looked upon as pure evil, having had no rational reasons for its actions, operating ex-nihilo of sufficient cause - forcing would-be nationalists to lie prostrate before Jewish and liberal charges of "Nazism."
It was not ex nihilo evil; but neither does defense of Nazi Germany hold up to ethno-nationalist criteria.
So, how do ethnonationalists go about correcting the hubris of liberalism which has run rough-shod over the systemic bounds that ethno-nationalism would otherwise provide for our human ecologies?
And how do we look upon Nazism's imperialist over-correction, an exponential over-reach instigated by Jewish power and influence, neo-liberal powers and some overcompensations from its war-weary neighbors? We look upon it as a history that we can all understand by analogy to many examples in our own lives when we have over-reacted to provocation - now, at our best, we look upon it as history, to learn from. And when we see that our enraged response was directed in the wrong places or without correct measure, we try to do things differently the next time similar provocations arise.
Toward that measure of putting things in perspective and "demythologizing" Hitler, as it were, he is well likened to a Caesar type figure: in regard to whom people now should neither be guilty nor overwhelmingly proud. He did some things well, ok, that we can learn from, but particularly for his intra-European conflict, we should not extol him as a model: Caesar routed the Gauls - oh, good! (not). It would be ridiculous for me to expect people to shrug-that-off as a necessary cost; to say the Gauls "should just get-over it"; to say that all Europeans should affably resonate with and under Caesar's image; and that the Germans of the Teutoburg Forest must get with the program or "just deal with" the fact that we do not have sense enough to draw new lines, with new signifiers and worldview indications, making it clear that we are European allies now..
NPR/ Mary Beard, 'From Gladiator Duels To Caesar's Last Words: The Myths Of Ancient Rome,' 1 December 2015:

Julius Caesar, perhaps the most famous Roman of them all, had just conquered the Gauls in an absolutely brutal series of campaigns that even some Romans likened to genocide ...soon after establishes himself as dictator ...there is a sense that liberty is being removed by an autocratic leader and a group of what were actually his friends, stabbed him in the Senate.
Of course you aren't going to make normal people and people who want to fight on proper lines, entirely copacetic with Hitler and Nazi Germany. But you don't need to; in fact, it's a great disservice to western nations' ethno-nationalism, its share in the perspective on their innocence and trust thereof, a burdensome hindrance to participation in their eminent warrant of defense on ethno-nationalist grounds: because Nazism was not ethno-nationalism, not even national socialist, but imperialism in the end; and it certainly did not represent all White people and their nations.
Of course we must not fall into the trap of intra-European fighting again. But that is not enough - as we all know, we must regain our martial spirit and marshal it in the correct manner. Admire and learn from aspects of war and martial prowess of the past, yes, but the most crucial lesson to be learned, and the point, is to draw correct friend / enemy lines this time; to become ethno-nationalists in cooperation and/or coordination - not to become pacificists.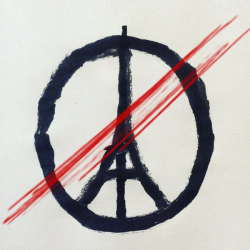 We must regain the will and warrant to kill those who would kill us, you say? Indeed, that is true. But it is a martial spirit that falls in line with ethno-nationalism and regional cooperation as well. Following a line that Bowery articulated: If people will not allow for our human ecology's discretion to exclude them, then they are abrogating freedom from (and of) association and our freedom of voluntary contract; i.e., they are treating us tantamount to slaves and we might even kill them in self defense if they will not cease and desist from that imposition - this will apply even to those who will refuse our orders of deportation and our assessment that they are to lose citizenship and/or right to abode in our ethnonations.

We must secure the existence of our people and a future for White children
Posted by Guessedworker on Mon, 21 Apr 2014 16:59 | #

So, let's look at the key elements of National Socialism - those which are not purely economic, at least - and determine what role, if any, they could have today.

Ayran supremacism (die Herrenrasse)

Today we are seeking to represent our people's natural right to life and land. Supremacism is completely off-target.

Slave-labour

Ditto.

Lebensraum

Ditto.

The cult of the Führer

The English, Scots, and Welsh, anyway, are simply too worldly and cynical to love up the leader to the required volume. Sorry. Can't be done.

The total state

Well, in significant respects the version of democracy we have now is not too far from totalitarianism. But I think the voting public might be quite interested in more democracy rather than less, or in genuine democracy rather than an abuse of it.

State terrorism

Who in their right mind ...

Eugenics, racial hygiene

All we really need is some awareness of self ... some honesty ... and the important aspects of racial life will take care of themselves. Won't they?

The militarisation of society

And so we arrive at the chief attraction, indeed, the only real attraction for many. The Schutzstaffel elite ... the Hitlerjugend ... a prescribed set of actions and horizons for the lost souls of urban Postmodernia. But is there any evidence from WW2, say, that this is the only foundation on which peoples can be called to their own defence? Really?