Majorityrights Central > Category: Obituaries
"Attorney of the damned", author of "Defensive Racism" dies imprisoned by ZOG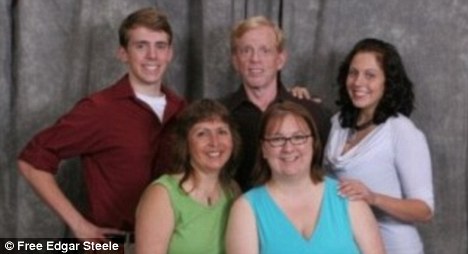 "Get the story out folks" - Stan Hess
From: Cyndi Steele, Sent: Thursday, September 04, 2014 8:35 PM
Subject: News about Ed that I prayed I would never have to deliver!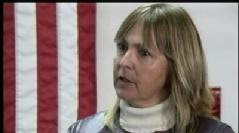 Cyndi Steele
"The past 4 years Ed and my family have been living in a nightmare. Today, my greatest fear has come to life or maybe I should say death. Please read the message below that is being posted on the Free Edgar Steele website and sent to all of his supporters as I type this. It is with great heartbreak and devastation that I send you this news."
______________________________________________
On June 28th this year the Daily Mail somewhat prematurely began the run up to the announcement of the death of Nelson Mandela. It ran an article which began:
Mandela's passing and the looming threat of a race war against South Africa's whites. As a widow mourns the latest murdered Afrikaner farmer, a chilling dispatch from a nation holding its breath

● Roelof du Plessis, 46 shot on his farm outside Pretoria by gang of black intruders
● Fears rise that killings are part of a systematic bid to drive white people out of South Africa
● President Jacob Zuma known to sing 'struggle song' about killing white Afrikaners

The horror started just before midnight on Wednesday this week.
After listening to the latest television news about the health of Nelson Mandela, a South African family living not far from the former President's hospital unit turned in for the night.
But Roelof and Laura du Plessis, a married couple with four children who live on a heavily fortified farm outside Pretoria, did not have a peaceful night's rest.
In fact they were about to become the latest victims of what white pressure groups in this troubled nation say is nothing less than a savage war against them.
Hearing noises outside their home, Mr du Plessis, 46, got out of bed and ran outside.
To his horror, he found his 19-year-old son being held with a gun to his head by a gang of five armed black attackers.
Father and son were ordered to lie on the ground. The invaders did not ask for money or the keys to the expensive vehicles in the drive. They were there only to terrorise and kill.
Hearing voices outside, Laura, 44, came out of her bedroom to investigate — and her torch illuminated an awful scene as the gang pointed guns at her husband.
Her son managed to get up and sprint off into the darkness when the men were confused by the flashlight. But Du Plessis was not so lucky.
The intruders opened fire at once, shooting him six times through the throat, lungs and abdomen.
As he writhed on the ground in agony, the men ran off into the night leaving empty bullet cartridges littering the yard.
In the darkness, Laura attempted heart massage on her husband, who could still talk despite his appalling injuries, but to no avail.
I don't know how many people like Roelof du Plessis have paid with their lives for the alleged freedom of blacks in South Africa. The number must be getting on for four thousand, not a few of them murdered in the most gratuitously savage and hateful way. There has never been a society in which blacks can live in the same society as whites by white behavioural standards without some radical form of social control being applied to them. As an egalitarian experiment South Africa was meant to prove history wrong, and in the process demonstrate that white racism was always and everywhere the underlying cause of friction between the races. The Boer Genocide in the years since stands as a terrible testimony on history's behalf, and now, with Mandela finally gone, the world will get its answer, one way or another.
Mandela is dead. Long live Orania.
I thought I should replace Graham's somewhat florid reflections upon the passing today of Baroness Thatcher with something more considered. There will, of course, be hundreds of thousands of words written and spoken about her in the media over the next few days. Much of it will reflect the divisive impact upon British and international politics that this extraordinary woman had. I am not going to tell the story of her life, but I will offer some personal reflections upon the person and period - she was Prime Minister for eleven tumultuous years from 1979 to 1990.
She had four characteristics that set her apart from the politicians about her. She was restlessly energetic, dominant, courageous, and ideological (which she called principled). All the really important moments of her career in Downing Street were expressions of one or more of these. She galvanized millions of us to admire or to hate her for it.
Personally, I couldn't bear her public mannerisms and speech because it was all so plainly produced and inauthentic. But I found her enemies to be deeply repellant, and therefore took her side in most of the battles she fought - and there were many, for she was nothing if not an agent of change. Few people had no opinion of her, and those who hated her the most, by and large, were the revolutionary socialist left and the Europhile right who expected their agendas to be followed by government without serious challenge. In her, however, they found an implacable foe, and this tendency to stand up and fight for a different, non-authorised vision in a world as cravenly pragmatic as British politics is what most ordinary folk will probably remember her for.
There are several moments of her career that, while not particularly important in themselves, have stayed with me. In particular, I remember her visit to Poland in 1988 as "the Iron Lady" and an icon of the freedom of the West. She was invited to the church of St.Stanislaw Kostka in the north of Warsaw. It had been the church of a priest who inveighed against state repression from his pulpit until, in 1984, the Security Services abducted and murdered him. Hundreds of people, including the parents of the murdered priest, packed the church and the street outside to thank her for coming. When they broke into a spontaneous rendition of a Polish hymn she was unable to hold back the tears.
This image of a leader moved by the sincerity and heart of the people is a near perfect figure for a true nationalist politician. Margaret Thatcher came to the door of No.10 in 1979 wittering away about harmony and St Francis of Assisi. But she was too much the courageous warrior leader and the ideologue caught up in the battle with the Labour Party, with union power, with the machinery of European integration, with the Soviets, with the Argentines, with the miners and, finally, with her own scheming ministers to understand that such unity and faith is even possible. She was no intellectual and no visionary. She used ideas that roughly fitted into her political rubric, the foremost of them the Friedmanite and Hayekian nostrums that were introduced to her by Keith Joseph in the years immediately after her accession to the leadership of the Conservative Party in 1975. She never understood that the petty freedoms she gave people were insufficient for a truly rich lived life, for she never saw people in their social context, only as putative "individuals" awaiting release from an overbearing, over-socialist state.
There was a moment I recall when, early in her premiership, she used the word "flood" in relation to immigration. I thought she might actually be listening to the sentiments of her own party supporters. She did, for example, stand up for the white South African government against the diatribes of governments and international agencies everywhere. But no, the immigration issue was scarcely broached again throughout her remaining years in power, except in the context of protecting national sovereignty from the dictates of the European Commission. The battle above all others that I wanted Margaret Thatcher to fight she assiduously avoided. It is a battle which, as things stand, must be fought on the streets one day. The inevitable, existential conflict of race was something else she did not understand.
Of the battles she did fight, she only lost two: to the Europe integrationists and, eventually, to the grey-suited assassins around her. We are now witnessing the slow, ineluctable coming apart of the European process and also the arising of an anti-politics which disdains the careerists of the political class. Margaret Thatcher will be shown to have been on the right side of history on most matters. She will not, I think, be remembered as the great national heroine or as the vile hate object which she succeeded, by her relentless and divisive political energy, in fashioning herself as.
A colleague of mine passed away yesterday. My relationship with him began while he was at Interval Research circa 1996. This link is to a paper of his written shortly after we met on the basis of my interest in relational over functional description.
There cannot be many of us who do not owe a debt of gratitude to Phil Rushton, both for his theoretical brilliance, allied to an unswerving devotion in most difficult professional circumstances to the cause of unpopular scientific truths, and for his steadfast, loyal European heart. How much poorer would we all have been had Rushton not possessed these qualities ... had he merely shied away from the race question and lived an ordinary academic's life, a quiet life, the life of an unquestioning product of his political times.
I did not discover Rushton until early in 2003. It was at that time when I had decided to contribute something to the cause of white survival. There was a particular question which troubled me, and which I saw as holding a key to changing the fortunes of white advocacy. To answer it I needed a crucible, and to get that ... to construct something people would feel worthwhile writing for and reading ... I had to generate some kind of internet presence.
Cue Race, Evolution, and Behaviour. When I came across it at Rushton's own Darwin site, it had already been published eight years, and Rushton himself had said that he had run out of opponents to debate. I certainly hadn't, though. I had found what I needed, and promptly devoured it in one sitting, reading in bed until the small hours. For the next fourteen or fifteen months I blasted around the political blogosphere provoking every liberal, every racial egalitarian, every race-denier, every anti-racist I could into a hopeless battle about human differences and hereditarianism (hopeless courtesy of Rushton's superb analysis), psychometrics, and gene issues generally.
A surprising number of my opponents knew of Rushton, and had a ready put-down - second- or third-hand of course. I do not believe that a single one of them escaped the shredder. REB's central theory of r/K and child development was just too perfect in its internal fit. Most of the liberal rif-raff, of course, didn't know about this "controversial" (meaning courageous) Anglo-Canadian psychology professor, born on the Dorset-Hampshire border a couple of miles from my own birthplace and eight years distant in time. They would, in any case, have considered their political truths inviolable to attack by one supposed racist using the theories of another. They never had a chance. There was metaphorical blood everywhere.
Thanks to the carnage I had something to gesture towards when the moment came, in the summer of 2004, to put together a slate of writers for a website to be titled majorityrights.com. I never knew Rushton, and only corresponded with him very briefly. I wish now I had had the opportunity to explain how much I extracted from his thesis and to what purpose I had put it. He would probably have wanted to know, like most scientists, if I had correctly and faithfully represented his thought. The answer was that REB was so beautifully and clearly written, that was an easy task.
There is not another Phil Rushton in this world. White Nationalism has lost a true champion. He did not live nearly long enough - gone at just 68. But for his life and his talents and his work we equally loyal-hearted sons and daughters of old Europe can be extraordinarily grateful. I know I am.
by Alexander Baron
Anthony Hancock was no saint, let's be clear about that, but by the same token he is a man to whom all true lovers of freedom owe a considerable debt. What follows is a warts and all portrait from a purely personal perspective.
His friends called him Tony, which as most of you will know was also the name of a famous though in my humble opinion not particularly funny comedian. I always called him AH, another and far more appropriate double entendre.
I began reading Revisionist and related literature in 1980; one of the first such publications I read was The Hoax Of The Twentieth Century, which was published by Historical Review Press, the company started by the father and son team of Alan and Anthony Hancock. I didn't meet the man though for another ten years, by which time I had moved back to London. Our first meeting was reasonably affable, especially as I had been given an introduction to him by a trusted third party, after that though, things were not so cordial, the reasons for which were due to not so much a misunderstanding as mischievousness by another third party.
This is where it gets rather complicated but I'll keep it simple. At his Uckfield print works he employed on occasion someone I will call The Cameraman. Shortly before the London meeting organised by David Irving at which Fred Leuchter spoke, I did something totally innocuous which sent him into hysterics. I've related this in my book The Churchill Papers, but basically he decided to make me persona non grata with everyone on the so-called far right from then on. Among other things he conspired with Irving to send me a fake ticket for this meeting. This ticket was printed at Uckfield with the connivance of AH's right hand man, Tom Acton. I know this because when I inquired about it prior to the hoax revealing itself, Acton sniggered. I thought AH was in on the joke, but as things turned out, he wasn't.
"We must turn the country around to face its citizens. The scale of the repair will be so great that Poland will become a new republic."
Any president of a populous European nation who can utter these words, at once loyal and revolutionary, is a rare and valuable bird likely to be much loved by his people. Such, we now know, was Lech Aleksander Kaczy?ski who died in an air accident at a fog-bound Smolensk-North airport today, aged sixty.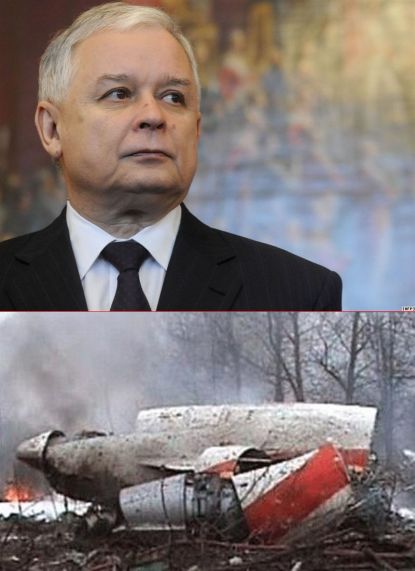 With him died all ninety-five aboard the Polish Air Force Tupolev Tu-154, including Kaczy?ski's wife Maria and many members of the Polish ruling elite.
The mainstream media coverage of this tragedy will keep rolling for days, no doubt. Kaczy?ski's career will be closely analysed, his successes and failures picked over, his patriotism and social conservatism described perhaps more charitably in some quarters than ever they were while he was alive. But where here, besides the simple, respectful marking of yet another sadness in Poland's national life, is the legitimate angle for a nationalist to explore?
It seems to me that Kaczy?ski represents something we should understand well, and that is how liberal democracy limits the action of any patriotic national figure outside of, and hostile to, the neo-Marxist/neoliberal dispensation. Kaczy?ski enjoyed little freedom of action. During his presidency he was unable to avoid putting his presidential signature to the Lisbon Treaty. He saw his Law and Justice (PiS) party ejected from office by Donald Tusk's neoliberal and europhile Civic Platform. Earlier he was, as mayor of Warsaw, even dragged before the European Court of Human Rights for refusing homosexuals an opportunity to parade - no doubt, as grotesquely and offensively as possible - through the capital in the name of a non-existent equality.
He had come to the presidential office promising:
the purging of various pathologies from our life, most prominently including crime (...), particularly criminal corruption – that entire, great rush to obtain unjust enrichment, a rush that is poisoning society, [and preventing the state from ensuring] elementary social security, health security, basic conditions for the development of the family [and] the security of commerce and the basic conditions for economic development
How much of this he achieved I leave it to someone more informed about Polish politics to say. But the definite sense I have is that he was continually frustrated by the democratic process, which is to say, by the ubiquity and resilience of liberal presumptions and by the power of the liberal dynamic - things that must have seemed so desirable to Poles in 1989. All conservative political careers end in failure. Lech Kaczy?ski's ended in the shocking and sudden violence of a national tragedy too.