Majorityrights Central > Category: Music
It is my experience and my hypothesis that there is a pattern of Jo Cox types who are in an increased one up position of female predilection as a result of the disorder of modernity - a disorder created by the disruption of racial and other social classificatory bounds - with that, they are pandered to from all directions (particularly by the YKW) and they become more articulate and confident, more prone to not move beyond a liberal propensity to gratuitous prerogative and incitement to genetic competition - more able to dismiss as "losers" those who question their judgment (who conversely, become more inarticulate); these increased one up females act as gate keepers, letting through only men (like Jo Cox's husband Brandon) who maintain the liberal disorder that empowers them - never mind the expense to others in their historical, systemic pattern: "it's nature" ...at least it serves their narrow personal interests to believe in this powerful determinism.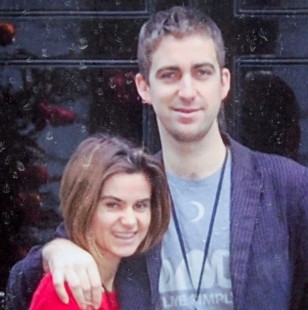 The Cox
Sell-out couples like Jo and Brandon Cox operate with a contextual force to quell voices in objection to the liberal destruction they visit upon our people - White men often squelched first for liberal abandonment and invitations to interlopers.
The voice that liberals would silence is meaningful of a pattern - not to be treated uncritically or with perfect sympathy, but certainly not to be dismissed as having no possible reason to be angry with the status quo - looking upon it as hideously and unnecessarily unjust - so much so as to contemplate it as actionable.
Again, this position of ordinary White males can become quite inarticulate within the disorder of modernity, as they are ostracized, shunned and altercast by the YKW into right wing anti-social aloofness and ultimate alienation - inarticulate and without perceived recourse to this alteracst, they can act into its dangerous and counterproductive role.
How to correct that, to hear these White voices that liberals would silence and engage them such that their grievances can lend corrective aid and be channeled into effective activism - a more productive means than murdering a Jo Cox: who, for her professed compassion, may have been compelled to account for compassion to Whites?
It is precisely because White men are evolved in more sublimated and circumspect patterns of interaction that their reproductive paths require the "prosthesis" of place holding grammars to lend social support against the myriad of occasions that modernity affords for the opportunistic to seize-upon their more protracted biological constituents.
It is with a notion such as this, "just a few more words added to his grammar of motives might change a sociopath into a merely neurotic sort" (Kenneth Burke) that we make an ongoing reference place for our good and loyal women - hopefully, more than merely staving off misogyny, an extended grammar of motives can transform him, lending sufficient alternative range of functional autonomy for him to become an articulate spokesman for our people otherwise terribly manipulated and pandered-to by those in power…
It will do no good to deny the capacity for the terrible treachery that exists among our co-evolutionary females as well - and in service of systemic correction there needs to be capacity for criticism as such - to rupture imperviously destructive denial; an honest platform that will provide a place for anger to go and be channeled into further correction, as violations of our more sublimated patterns are difficult to express - depending on our NOT having to seize every opportunity, to play "game" a la Roosh V. Nevertheless, support and reconstruction of a protracted grammar of White motives allows for emergence of attention to the more quiet, loyal ones. In these circumstances rife with treachery and traitors, European men need reminders of our loyal women.
With that in mind, I start this thread of videos or just plain music that expresses loyalty and sensitive concern from our co-evolutionaries.
This one is a good start - Dido showing loyalty to what appears to be an ordinary, working class White man.
I will be adding more videos of this kind and, of course, welcome others to contribute their favorite videos of this kind to this thread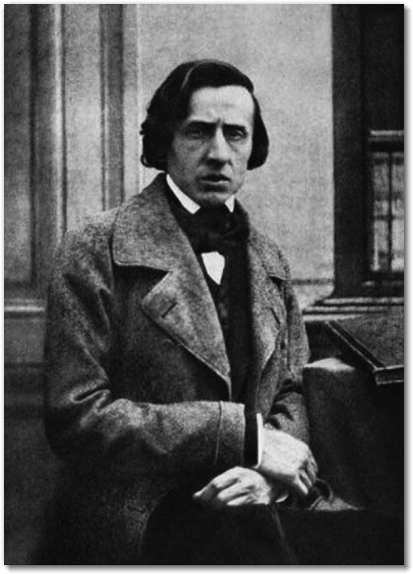 As it did with Beethoven and Bach, so BBC Radio 3 is dedicating a period of unbroken play-time to the greatest of piano composers, Frédéric Chopin (1810-1849). The Chopin Experience will last be broadcast over 17-18 May 2008. It will include all his compositional output, about which a fellow genius wrote:-
He did not task himself, nor study to be a national musician. Like all truly national poets he sang spontaneously without premeditated design or preconceived choice all that inspiration dictated to him, as we hear it gushing forth in his songs without labor, almost without effort. He repeated in the most idealized form the emotions which had animated and embellished his youth; under the magic delicacy of his pen he displayed the Ideal, which is, if we may be permitted so to speak, the Real among his people; an Ideal really in existence among them, which every one in general and each one in particular approaches by the one or the other of its many sides. Without assuming to do so, he collected in luminous sheaves the impressions felt everywhere throughout his country - vaguely felt it is true, yet in fragments pervading all hearts. Is it not by this power of reproducing in a poetic formula, enchanting to the imagination of all nations, the indefinite shades of feeling widely scattered but frequently met among their compatriots, that the artists truly national are distinguished?

... Chopin must be ranked among the first musicians thus individualizing in themselves the poetic sense of an entire nation, not because he adopted the rhythm of POLONAISES, MAZOURKAS, and CRACOVIENNES, and called many of his works by such names, for in so doing he would have limited himself to the multiplication of such works alone, and would always have given us the same mode, the remembrance of the same thing; a reproduction which would soon have grown wearisome, serving but to multiply compositions of similar form, which must have soon grown more or less monotonous. It is because he filled these forms with the feelings peculiar to his country, because the expression of the national heart may be found under all the modes in which he has written, that he is entitled to be considered a poet essentially Polish. His PRELUDES, his NOCTURNES, his SCHERZOS, his CONCERTOS, his shortest as well as his longest compositions, are all filled with the national sensibility, expressed indeed in different degrees, modified and varied in a thousand ways, but always bearing the same character.
From Franz Liszt's Life of Chopin.
The Chopin Experience can be appreciated on-line, of course, and for 7 days after broadcast.
Because this will cost you money. $19.95 a year, in fact. But for that you get full access to the entire and most wide-ranging serious music back-catalogue in the world. And to me that's as near to a gift as one can get.
Naxos decided to open its doors in this way to the internet listener in 2003. I don't think it has precipitated the other giants to follow suit - no doubt because they cannot make money doing it. But then they can't make money at all. The music industry in general, and not just the serious side, is in growing difficulties, and where it will all end is not yet foreseeable.
But the corpus of Western music will stand as long as Western Man survives. And, certainly, the quality of music-making is as strong as ever. There's enough of it to explore at Naxos to last at least the year of the life of the subscription.
The catalogue includes a very nearly full representation of late romantic nationalist composition, which is the subject of this post.
There was a golden period for nationalistic composers lasting arguably from the operatic exploits of Michael Glinka (1804-1857) until deep into the 20th century. It was made possible in no small measure because the compositional dependency on the patronage of great churchmen and petty princes was withering. Artistically, however, the Age of Enlightenment did not provide sufficient answers. The roots of the nation and its meaning for its people were not matters of interest to the old or new elites of Europe. But the people themselves were another matter. With the obvious exception of France, most of the European nations produced men desirous of expressing the soul of their homelands in sound.
In the music world descriptions of nationalist music tend, as one might expect, to be a trifle circumspect. Much emphasis tends to be placed upon the composer's conceivably non-political search for the national soul in ancient folk tales, traditions and songs. It was a natural enough place to look, of course. The question remains, however, as to how nationalism then fits with nationalism now. My answer is that that special reverence which informed the best nationalist composition, and which was answered by all those who loved it so long ago, still obtains among listeners today. Nothing has changed, beyond the fact that the race issue has been thrust upon us where once such a pass would have been unimaginable. Reaching down into the lives of our ancestors and finding there a reflection of our collective selves is no less proper now than before, and probable more necessary than ever. Marxism, anyway, makes crap art.
The following list, should you wish to explore the Naxos option, might be worth your time. It is not complete by any means There is no song, for example. I have not included Glinka's successors in Mother Russia: that loose association of like-minded composers who came to be called The Mighty Handful. Likewise Norway's most famous composer Edvard Grieg (1843-1907) and the great Czecks Leoš Janá?ek and (1854-1928)) Antonín Leopold Dvo?ák (1841-1904) have been left off. I would have liked to reference the Slovak, Vitezlav Novák (1870-1949). But his Moravian & Slovak Suite is not catalogued by Naxos. The lesser known Scot, Alexander Mackenzie (1847-1935), is also not catalogued but deserves a mention here. Anyway, here's my list, much of it rather obvious I know ... but not all. Some you may care to challenge. That and any other ommissions will be most carefully studied by me in the thread.
One evening last November I took my daughter to a concert given in Brighton by the English classical pianist, Joanna MacGregor. The evening and Miss MacGregor were provocative and inspiring in roughly equal proportions, and I wrote about it and her here.
Last Sunday afternoon BBC Radio 3 broadcast a concert which Miss MacGregor gave the previous night in the Assembly Rooms, Bath. It was her recital contribution to the opening night of the
2006 Bath International Music Festival, and featured much the same content and the same contrasts I blogged about - Professor Longhair staring across the platform at J S Bach, for example. For the next three or four days the curious can still hear a programme repeat here. It lasts about 90 minutes (and if you use IE you can pause/advance it - but not with Mozilla).
I put "recital contribution" in italics because Miss MacGregor also makes a weighty administrative contribution to this year's Festival, being its new Artistic Director. She speaks about this part of her role at the beginning of the programme:-
When I came to the Bath Festival I was struck, obviously, by the existing core customer audience which is very loyal, and they love chamber music –high quality chamber music – and you've got these wonderful venues like the Assembly Rooms, the Guild Hall.

But I knew I wanted to sort of open it up, and I knew I needed to open it up to other audiences. And I also needed to bring my personality into all this - and, of course, I'm so interested in so many different kinds of music.

So straight away I knew I was going to invent a new focus on traditional music, a new focus on electronica, maintain and expand the jazz programme and let the jazz programme completely burst its banks, you know … and invade the rest of the programme, all this kind of thing. And, of course, my big thing is "never putting anybody in boxes". So I would never ever say, "OK, it's world music and it's cool, and it's classical music over here everybody. And in the blue corner it's jazz, you know." It's just never gonna happen like that with me. And I think this recital programme is an example of that.
Seeing it is the weekend, I thought I might be forgiven for an even more discursive post than usual
Having become something of a recluse in my old age, I rarely go out these days. Only my addiction to classical music occasionally gets me moving. As Mozart is my second favourite to Bach and as this year is the 250th anniversary of the birth of Mozart, however, I decided (or Anne decided) that it would be a good time for me to go to a Mozart concert. So we went this evening to a performance of the famous Requiem (in the Beyer realization).
To help get us in the mood for some of the greatest of German music, we had some good German peasant food for tea before going to the concert. For starters we had some excellent Zwiebelfisch (raw herring pickled with onions, peppercorns etc) followed simply by ham and mustard on Roggenbrot (black bread). The ham was the strong-tasting Gypsy ham, which I got from our local Croatian delicatessen.
When we arrived at Brisbane's newish and first class concert hall, I was amazed at the crush of people. Every seat was booked. I was of course delighted to see such a robust following for Kunst und Kultur so far from its homeland. The Requiem is rather sombre by Mozart's standards, so had I thought it might not attract a big audience.
The audience was of course overwhelmingly of Northern European appearance, though there was also a good scattering of North Asians—mostly Han, I think.
We had the overture from Zauberfloete for starters followed by piano concerto 27 (his last). While I was listening to the concerto I kept thinking that it sounded more like Kammermusik than something for a full orchestra so I was rather pleased to note later that the program notes also decribed it as having "a chamber-music mood".
When we got to the Requiem after intermission, the forces available were excellent. There was a huge choir and a strong string section—including 4 double basses and six celli. Other than that however there was only a few brass players. The big traditional pipe organ (much acclaimed when it was built) supplied the wind sounds.
Slightly suprisingly, the conductor was European—Estonian in fact. Half a world away from Europe we still needed European talent. Since by far the greatest part of classical music is of Northern European origin, however, I suppose it stands to reason that Northern Europeans should have the best feel for it.
The Requiem itself was so absorbing that it seemed to me to take only 15 minutes, though I believe it took more like an hour. I greatly enjoyed the complex music of my Volk (using that term somewhat broadly) and I was nearly as pleased to see that many others of the Volk still do too.
Today is of course the birthday of J.S. Bach—of whom I am a great afficianado. So Anne and I went to an organ concert at a nearby Lutheran church to celebrate the occasion. Both the organ and the organist were excellent and Bach's ringingly self-confident music grabbed me from the very first notes.
The thing that inspired this post however was the prominence of East Asians on the occasion. The man selling tickets at the door was Chinese in fact. It reminded me that I have often read that the great Western classical music has a proportionately much bigger following in China and Japan than it does in the West.
I am very grateful for that. It could well be that Western culture is now decadent and much of our glorious cultural heritage stands in danger of being largely lost. I was for instance horrified to find out that, at the end of his high school years, my son had never heard of such great English poets as Wordsworth and Coleridge. I promptly sat down and read him some of course. The only introduction to poetry that his school gave him was to a very minor black poet! I happen to have known the black poet concerned (Kath Walker) and can tell you that she was essentially a whiner and little more.
So our kids are being de-educated and de-acculturated and it seems possible that there will one day be very few of our Volk left who will know enough to carry on the knowledge and appreciation of past wonders and attainments. That Asians may keep alive what we do not is therefore some comfort to me. While there is life there is hope.
When I first heard the music of Bach at age 13 it was an electrifying experience for me. It would be sad indeed if the generations to come never got the exposure that would introduce them also to our crowning musical achievements. But I think that lack of exposure is probably already happening in far too many cases. So if Asians keep alive our great cultural traditions it will all be to the good.
Yesterday evening I took my daughter to Brighton College to see the inimitable and wholly entertaining Joanna MacGregor in concert. The experience, both visceral and cerebral, left me pondering – and that, in turn, left me searching all today for a quiet moment in which to fix some of those thoughts.
A Joanna MacGregor concert is, within the small, refined world of classical piano performance, an event. She brings to the platform so many conflicting qualities – thorough-going unconventionality, inner simplicity and warmth, a distinct impression of personal frailty, a quite awesome power when called upon, a high cerebral capacity, utterly eclectic tastes – one can only call her, in contemplation of the fusion of these things, an artist. Quite probably, she is a unique artist. Certainly, she is a unique individual.