Majorityrights Central > Category: White Communities & Micro-Economies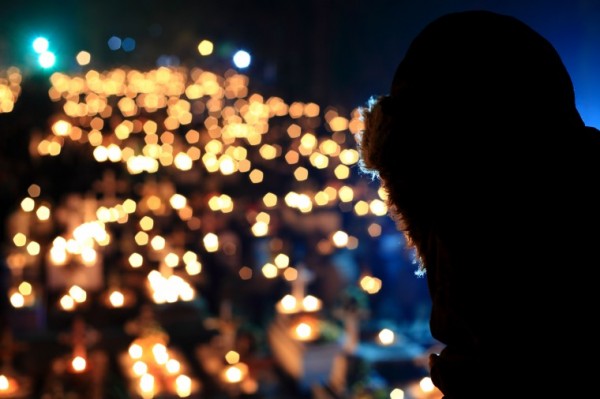 DanielS, in comment 147409 on Wed, 28 Oct 2015 wrote:

Jimmy, while defending the enjoyable pagan sourced holiday of Halloween against the Orthodox Church, we might also take occasion to note that the Christian Church has arrogated what is the most sacred holiday to our ethnic genetic interests, which is the day following - November 1rst - in Eastern Europe it is still a day when European folks commemorate their forebears, visiting the cemetery to pay special respects. It is practiced there in cloaked manner. But reverent respect that should be directed toward our ancestors has been largely diverted by the Church and back into its Judeo-religion; worse still in the west, where the "All Saints Day" (Nov. 1) diversion has been taken so far that our ancestor reverence is but the vaguest remnant, a phantom holiday, somehow indicated on some calendars, but not observed - merely alluded-to very indirectly for those who care to look behind the etymology of the name, "Halloween", and into its true history.
Upon reviewing the matter of Halloween, I see that I was so focused on the importance of the European day of our ancestor veneration - or what should be the point of celebration on November 1 - commemoration of our forebears (typically including a family visit to their graveside), that I lost sight of the fact that the Church was not only distracting from the true significance of the November 1 celebration for us; but also that Halloween itself was not a part of the mere diversion and distraction from the holiday. While many in East Europe see November 1 as an important holiday, Halloween still tends to be perceived by them through the churchly lens as a recent and corrupt affectation imposed from the commercial West, rather than an integral part of the holiday.
My response to Jimmy was correct in the general idea - of the Church burying our most sacred holiday - viz., in reverence of our ancestors - but I had neglected his point in fact of Halloween itself being an integral part of the holiday, not a fluffed-up and commercialized imposition to distract from the real thing: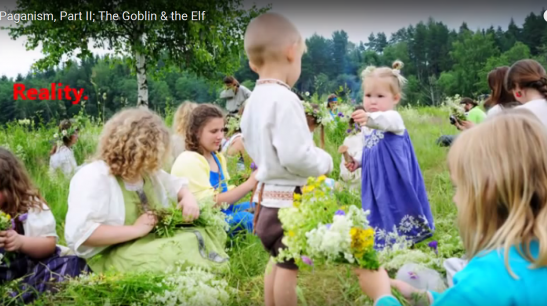 Initiating the children into becoming one with their forebears.
As the most important, sacred, commemorative holiday practice in reconstruction of our EGI through the initiation of our true Traditional Youth is under assault by The Orthodox Church (in this case), it becomes particularly relevant to highlight against the false Traditional Youth and their Orthodox Christian religion of our debates.
Apologies to Jimmy for the initial misapprehension of his post and his purpose:
Jimmy Marr in comment 147408 on Wed, 28 Oct 2015 16:08 wrote (emphasis added):

In evidence by the October 24th, 2015 edition of The Moscow Times, Christ-insanity is continuing to wage its age-old war against [the true] Traditional Youth.

The Education Ministry of northwestern Russia's Arkhangelsk region has banned Halloween celebrations at local schools, citing the holiday's harmful effect on children, the FlashNord news agency reported Monday.

The ministry's statement said that Halloween is "incoherent to basic traditional values and causes a negative influence on fragile minds."

The ban was instituted a week after the Russian Orthodox Church in Siberia's Krasnoyarsk region called on local authorities to ban Halloween on a similar basis, the Komsomolskaya Pravda newspaper reported. Priest Maxim Zolotukhin told local STS-Prima television station that children may get depressed after Halloween because they do not understand the difference between make-believe and reality, and so evil will enter their souls.

Russia's regional authorities have displayed hostility toward Halloween many times over the years.

In February this year, a school director in Siberia's Khanty-Mansiisk autonomous district was fired for organizing a Halloween party at his school last year, the Snob magazine reported at the time.

And in 2013, the Omsk regional Education Minister Sergei Alexeyev issued a letter against Halloween celebrations in schools. He explained that Halloween includes "death cult propaganda" that can damage student's psychiatric and "spiritual-ethical health," local news website NGS Omsk reported.

In 2014, Public Chamber member Georgy Fyodorov wrote a letter to Russia's Culture Minister Vladimir Medinsky asking him to officially ban Halloween. Fyodorov saw the celebration as an "ideological security threat" to Russia and proposed the promotion of traditional Russian festivals instead, the Izvestia newspaper reported.

Inasmuch as the war against Halloween is a proxy war waged by christians against [the real] Traditional Youth, it is little wonder that metaphysical mercenaries would attempt to distort the meaning of that name and use it as spiritual camouflage. Their masters have taught them well.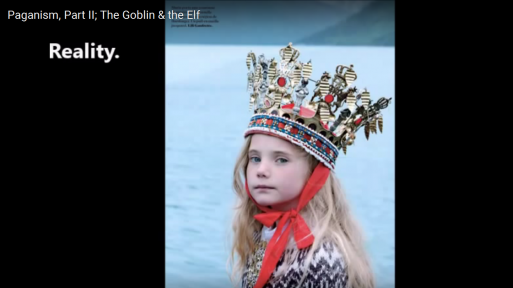 Halloween Ritual for the True Traditional Youth of Europe.
ThuleanPerspective /Youtube Transcript, 'Paganism, Part II; The Goblin & The Elf, 04 Dec 2014:

The children are not [considered] real people yet, not until they go through this initiation rite on Halloween…when they enter the realm of death, dressing up as the dead, taking on the identity of a dead person.. in a sense they become this person.. they have the same name, the same honor and the same death as the person they chose to become in this initiation ritual. The dead person, of course, is one of the dead forbears.

You can say that they believed in reincarnation.
Let us note also the ethnic genetic reincarnation.
Ibid:

So, they are returning to the Yule Tide and they are returning in the night. They are lead by the Sorcerer and the deity from farm to farm with these children to bring them back home… the families wished them welcome with some food on the table… to enable them to eat and feel welcome when they come back home.

During the Christian era, those in Church power wanted to destroy this tradition, they wanted to destroy European culture. So they demonized these children and turned them into grotesque creatures, mocking them for their "superstitious belief in goblins" and so-forth when in reality they didn't believe in any such things.

But the farmers could no longer put the food on a table inside the home for the children because church authorities might find out; so they had to put it into the barn.

These were not evil spirits, they were merely children returning for their initiation ritual [into the legacy of their forebears].

[Even so] the children were perceived by church people as becoming as twisted goblins [misunderstanding their transit with the dead where they were communing with elves, which were the spirit of the dead].

The children are the reborn dead relatives.

The elves were known to always sing, dance and read poetry because they are trying to preserve their memory..

This illustrates what the Christians have done to our culture. They have taken a beautiful, European, pagan religion, tradition, pagan culture, and twisted it…

..turned it into some grotesque mockery of what it really was.

The grotesque, twisted image of our religion was made by the Christians in an attempt to destroy, to weed-out our roots, to cut our roots so that our culture, our peoples would fall.

What the church could not burn they twisted.

But the European culture was beautiful, rich, advanced and most importantly, it was ours.
An argument by Mick Lately:
Mick Lately in comment 147410 on Wed, 28 Oct 2015 18:01 wrote:

I think Halloween is being turned into perverted paganism and that it is part of the whole "weaponized anthropology" campaign. Not to mention that it's "cultural appropriation" for non-whites to celebrate Halloween.

I would support the official ban of Halloween as a temporary wartime measure and allow it and Christianity back when the Jews and non-whites have been defeated.
A significant rebuttal to Mick Lately by Kumiko Oumae:
Kumiko Oumae in comment 147414 on Thu, 29 Oct 2015 02:37 wrote:

Weaponised against who, though? The 'weaponisation' of anthropology is when research of the culture and history of an ethnic group is used by belligerent groups to facilitate their mission objectives. However, our mission objective as ethno-nationalists and ethno-regionalists is to:

1. Defeat those who try promote mass mestizaje;
2. Promote viewpoints which would enhance people's willingness to reinforce national and regional borders;
3. Promote regional integration and common security perimeters on the basis of shared ethnic and cultural heritage, as well as shared economic interests.

In order to prevent our enemies from occupying positions of cultural power, it's necessary to get everyone to quit looking to churches for guidance, because the churches are opposed to everything that we stand for.

There is probably nothing more that the churches would love to do in their own form of 'weaponised anthropology', than to re-colonise the minds of the people through some form of renewed culture war, and thus disarm them mentally before anything even gets off the ground.

You can't just place a temporary ban on culture because [you imagine that] it's 'inconvenient' for you to have to fight on that level. The enemies are not going to suspend their own culture war against you to be 'fair' to you in the meantime.

Jews, Christians, Muslims, and the whole liberal media combine that is arrayed against you, are not going to call truce on you if you promise them that you'll stop celebrating Halloween. They'd just have liberals and Jews hollow it out into a purely commercialised holiday with no content at all, and Christians and Muslims would then bash it and present themselves as a false opposition to such 'commercialism' as part of their own recruiting drives.

Retreating from the sociocultural domain has never produced good results, not ever. In the conflict that is going to come later, these kinds of arguments that are occurring in the sociocultural domain are going to form part of the crucial groundwork that will determine the way that conflict will manifest, how it will be fought, and what the outcome of that conflict will be. Dealing with laying that groundwork can't be put off until later. The content of the conflict and the ideas around which that conflict is fought, determine the nature of the outcome of that conflict in the event of victory.

That is part of why I am never interested in advocating collaboration with Christianity in the pre-conflict environment, not even as a cynical play. That is a losing game, because firstly, Christianity cannot be trusted to maintain a martial posture or to adhere to the ethno-nationalist or ethno-regionalist principles. In the aftermath, if collaboration with Christianity resulted in a Christian-dominated outcome, then it would mean that everything was done for nothing.

The religion issue is not a side-issue, it's not a mere 'question' that is asked and answered in a little policy book somewhere. It's a core part of the problem in the North Atlantic. Getting rid of Christianity is a necessary pre-condition to the survival of the peoples of the North Atlantic.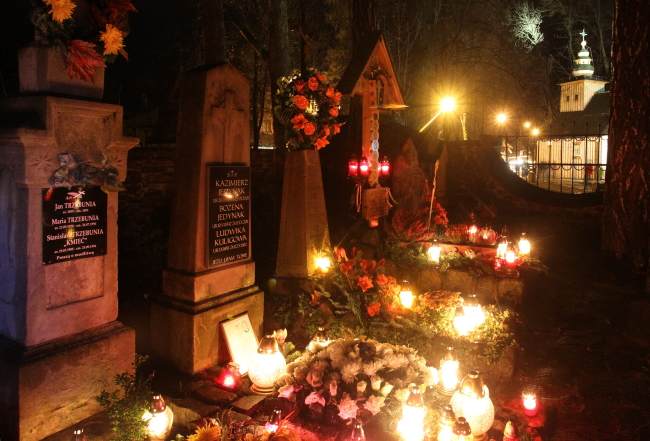 - By Dr. Graham Lister
Look, I don't have the time or inclination to point-out the half-baked thinking of MR's commentators or interviewed guests (if I think them to be in error). Kevin MacDonald can defend himself can he not? After all, if his ideas are completely robust how can he be subject to a 'humiliation'? All ideas, political, philosophical and scientific, have to be stress-tested in order to investigate their validity. Why anyone is so much of a 'special snowflake' that they get an apriori exemption from this process is beyond me.
Now, no-one that's sane thinks the individual per se can or should be 'abolished', but people have very odd and damaging ideas about what 'the individual' is and what it represents - such that over the longer term the ideology of 'individualism' has extremely deleterious effects as its model of reality is not in alignment with the true social ontology. Human beings, including Europeans, evolved in small, highly social/group orientated bands. It's really not rocket science to understand that variation in fitness is partitioned into a group element and an individual element (whilst obviously selecting for or against specific alleles and associated phenotypic traits). In fact, such an observation mathematically and logically flows from basic population genetics, which Hamilton went on to describe as 'inclusive fitness' and the importance of relatedness to the evolution of behaviour and life history traits (like female biased sex-ratios in the Hymenoptera etc). Price simplified inclusive fitness theory with his work. And it's developed since. Steven Frank's book on social evolution is still the best starting point for anyone seriously interested in the topic.
Returning to the politics and philosophy parts of the discussion, Aristotle is my favourite thinker in these areas. First of all, he would suggest that a proper balance between the 'parts' and the 'whole' (individuals and the group) is necessary for both to fully flourish. There is a mutual interdependence and reciprocity between the two levels of social reality. Secondly, Aristotle would suggest that there may be many ways to live (like being a Lockean liberal perhaps), but many ways to live are ultimately sub- optimal with the goal of full and genuine human flourishing. And this is true at both the individual level and the group level. And yes the interests of a given individual and a given group can be conflict (again this flows from very basic evolutionary biology and the game-theoretic issue of 'free-riders'). Thus there must be mechanisms for maintaining the health of both individuals and the collective. It starts by the recognition of the fact that the individual is social and utterly dependent upon the collective in numerous ways that liberal 'individualistic' ideology willfully ignores.
Ultimately, I reject liberalism as a set of false ideas about the human world - it has the ontology of humans both as individuals and as communities wrong. Bad ideas eventually result in bad consequences and one hopes vice versa. Thus, I am broadly an Aristotelian communitarian. And I think that must incorporate the realities of human nature (groupishness) and our bio-cultural differential status regarding different groups of human beings. Note, it's a political axis of differences (bio-cultural) that ultimately ends up in the Schmittian friend-enemy distinction, not some bullshit about equality vs inequalities except that I very naturally value my own well being and life more highly than a random stranger's and I also value the life of my extended community both today and tomorrow (the idea of an intergenerational 'moral economy').
Being a non-liberal, I am against cheap all-encompassing forms of universalism or the moral plateau as philosophers call it. Rather I believe in a nested hierarchy of moral responsibility. I have much more moral duties to my own children than my next door neighbour's kids, let alone some family in China (that of course does not imply I, by default, hate people in China or wish them harm just that I feel I have minimal moral responsibilities towards them). But I do have some properly warranted moral responsibilities to my neighbourhood and my community. Moral responsibility varies with proximity (properly understood).
Roger Scruton writes about a hierarchy of moral responsibility often. Here he speaks about in the context of the absurd (and liberal) idea of 'animal rights.'
OK, I have previously attempted on many occasions to write about and explain my thoughts on topics such as societal homogeneity and social capital etc. I will not endlessly repeat myself.
As for the idiotic, paranoid reaction by some to my reappearance, it was simply a function of me taking a quick look at MR in a quite moment and seeing folks speculation about my death! And I posted some chucks from an essay I had been reading. I am starting to get to grips with using a tablet and MR as a site isn't the easiest to use; so out of laziness I didn't put the comments in quotation marks. Only when someone posted them to the front page as my own did I feel duty-bound to privately point out that fact. But they're still good points that I agree with about 90%
No coordination with Danny or GW etc. Seeing a conspiracy at every turn is how Jews think - they project onto others their own deeply ingrained mindset. It's both pathetic and undignified to follow that way of thinking quite so slavishly.
Speaking of slaves, can anyone seriously doubt the USA is a vassal state of Israel? The best superpower money can buy? And yet Americans still persist in their hurbris that they are the model Europeans 'must' follow? Look, if KM or indeed anyone else is pushing that as some sort of 'idea' they can go fuck themselves. Savvy?
If Mr. Bowery wishes to contribute to MR go for it. Who the fuck cares either way?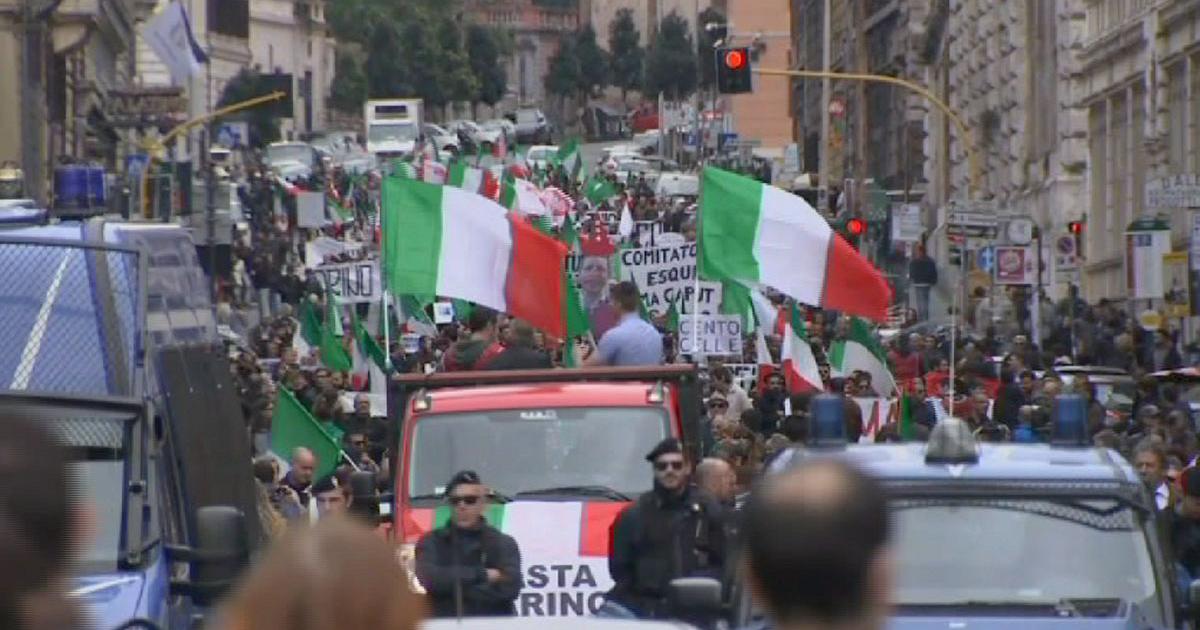 Anti-immigration protests in Rome
People of Tor Sapienza interviewed by Italian TV networks say that they are forced to go out in the morning carrying a knife for fear of assaults, and that in the area every 100 metres there is an apartment building of squatters while "our own people have no home."

They say that men and women are unemployed. A girl says that she's about to lose her job and her mother and brother are jobless, so she's going to ask for the hospitality of the immigrant centre: 30 euros a day, accommodation, food, and cigarette voucher— not a bad deal.
- Enza Ferreri on anti-immigration protests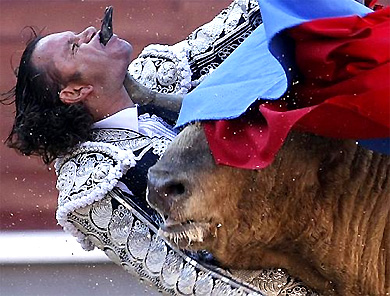 Anti-racism is prejudice. It is not innocent. It is hurting and it is killing people.
After a delay, the administration's final "Affirmatively Furthering Fair Housing" regulation is now expected to be announced in December. Originally scheduled for finalization in October, the new Housing and Urban Development Department rules will force all cities and suburbs to accept subsidized housing in the name of racial diversity, superceding all local zoning ordinances.

The Orwellian-sounding regulation would force some 1,200 municipalities to redraw zoning maps to racially diversify suburban neighborhoods.
While temporarily punting away politically fraught issues may be smart politics, it's cowardly leadership.

Under the scheme, HUD plans to map every US neighborhood by race and publish "geospatial data" pinpointing racial imbalances. Areas deemed overly segregated will be forced to change their zoning laws to allow construction of subsidized and other affordable housing to bring more low-income minorities into "white suburbs." HUD's maps will be used to select affordable housing sites.

It's part of the administration's ambitious agenda to eliminate "racial segregation," ZIP code by ZIP code, block by block, through the systematic dismantling of allegedly "exclusionary" building ordinances. In effect, federal bureaucrats will have the power to rezone your neighborhood.

Of course, Obama and Democrats are loath to inject this decidedly radical issue into the elections, so they'll keep it out of the headlines until after voters go to the polls.

While temporarily punting away politically fraught issues may be smart politics, it's cowardly leadership.

If the president's policies are so popular, why does he have to try to hide them from voters? And who can trust Democrats now distancing themselves from him and his ideas when they voted with him 99% of the time previously?
Paul Sperry, Hoover Institution media fellow and author of "The Great American Bank Robbery," which exposes the racial politics behind the mortgage crisis - government attempt to increase minority home-ownership instigated the sub-prime housing crisis.
http://nypost.com/2014/10/26/obamas-plans-for-a-secret-radical-agenda-after-the-elections/

http://whiterabbitradio.net/white-genocide-white-suburbs-soon-legally-forced-to-accept-racial-diversity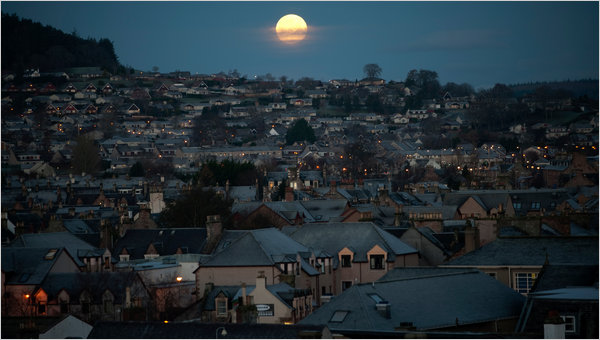 While distinguishing characteristics of Europeans may be the relative independence of mature individuals, sovereignty, self sufficience, autonomy and agency, can anybody really doubt that we are socially created and dependent upon cooperation to some extent and somewhere along the line? Lets not be absurd and value individualism so much as to lose its source.
As European peoples, the connections of our social systemic interdependence are protracted and delicate but as such, allow for their creative organization, coordination and the negotiation of win-win scenarios.
If both individual and our whole people are to be valued then in our separatist concern, let us finally share a narrative that honors those who harmonize our people while demonstrating effectiveness in removing interlopers and imposers upon our E.G.I.
For our tenuous but necessary social connectedness is also what allows these patterns of connection to be disrupted by hostile outsiders and the selfish, short-sighted and exploitative of our own - whether less than ordinary folks or elite.
"Attorney of the damned", author of "Defensive Racism" dies imprisoned by ZOG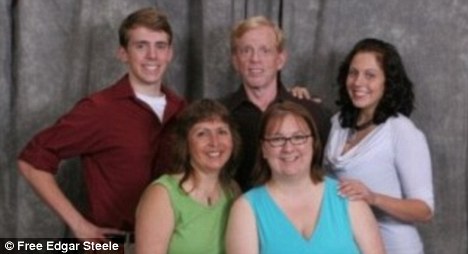 "Get the story out folks" - Stan Hess
From: Cyndi Steele, Sent: Thursday, September 04, 2014 8:35 PM
Subject: News about Ed that I prayed I would never have to deliver!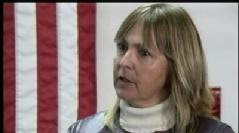 Cyndi Steele
"The past 4 years Ed and my family have been living in a nightmare. Today, my greatest fear has come to life or maybe I should say death. Please read the message below that is being posted on the Free Edgar Steele website and sent to all of his supporters as I type this. It is with great heartbreak and devastation that I send you this news."
______________________________________________
Competition's authentic value as opposed to its having been the most overvalued, misinterpreted biological fact of European Peoples' interests (thank you Mr. and Ms. Dumb Bastard, Right-Winger).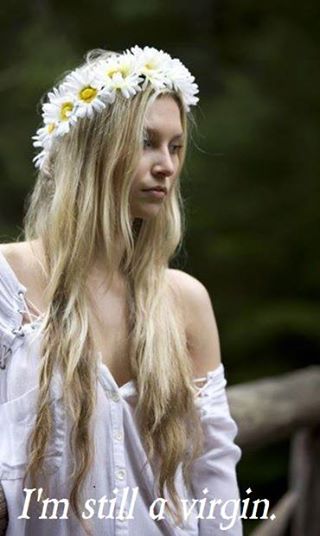 This will not be a rigorous piece, rather it is meant to shed some light on a few important considerations by moving them through the terministic screens of a personal history. The issues taken into consideration are the over-valuation of competition - which corresponds closely with boiling everything down to equality/inequality being the problem, that is, the stupid right-wing position of being against "egalitarianism" - to the detriment of other methodological concerns in evaluation of qualitative identity.
Objectivism results in a susceptibility in Europeans to having their enemies shift close genetic identity into objectivist individualism and liberalism, leading to their adopting an array of absurdly affected, non-European identities. While there can be many such diversionary sub-identities, such as student/teacher of a particular non-European study at university, universalism, eastern mysticism, religion, of course, even foreign cuisine, any full treatment of diversionary identity must address sub-identities in music and sports – these will be a predominant theme here as I am familiar with them as identities, strongly held, yet come to recognize where they were more or less diversionary from European identity, quasi identities and competitions to be set aside in favor of more authentic identity.
It should not be too hard to provide facts and numbers as to the impact of these competitions and identities on European people, nor that these can significantly diminish our resource of European identity. Nevertheless, while youth in particular may be susceptible to such diversionary competition and identity, these activities also model means of identity, social participation and evaluation in determination of authenticity which do not necessarily entail violent conflict, immediately lethal, zero sum results – which we should be particularly concerned to keep to a minimum within European genus and species.
Leicester is the tenth largest city in England, and the first, it is said, in which the English natives have been tipped over into minority status (though that is not officially confirmed). It is also the burial place of "the last English king", and of the arising of the first English Community Group.
The group was formed last year with the help and guidance of the English charity, The Steadfast Trust. Its first significant project has been a poll of local opinion in areas like Braunstone where there is a high proportion of English people resident. Some 5,000 questionnaires were sent out, and 112 were returned completed. That's a 2.24% response rate. Now, that's not a high rate, and probably doesn't exceed the average vote in the city (these days) for the BNP. But if one doesn't pay too much heed to the number, there is some pretty startling stuff here.
The question, of course, is how far from representativeness the results are for the English of Leicester. A YouGov study conducted in 2006 showed that 55% of respondees agreed with BNP policies when the name of the party was not attached to them, falling to 49% when it was. So I wouldn't write it off merely as an exercise in assorting the BNP supporters from the good folk of Leicester.
Here, anyway, are the survey results.