Majorityrights Central > Category: White Communities & Micro-Economies
I've known for some time now that since about 2011 or 2012 that the Chinese have unfortunately adopted the "White Left" as a slur term for White (or what they perceive as White) cultural Marxists and corollary liberals.
However, I'm not really worried about the Chinese smear "White Left" for a couple important reasons.
White Left (ethno) Nationalism is internally consistent in its position. And in its rule structure, it is not only totally different from cultural Marxism and liberalism, it is in fact closer to the opposite in its disposition to White (European descent) boundaries and borders, regarding rather a serious concern to curate our history, to maintain our inheritance and lineage. This internal consistency of White Left definition is immediately verifiable as such and can be referred to at any time - the application of the term has been consistent in its call for an effective genetic unionization of our peoples - recognizing in and out groups - genetic group(s) called "our" people as opposed to genetic friends and enemies - this provides for accountability to human ecology, historical social capital; and crucially, among the important reasons to retain the moniker "left", accountability against potential elite betrayal (as they are in key positions to do most damage from limited positions); along with safe guarding not only the interests of rank and file, it ensures criteria ("union rules") that provide for their accountability as well, against any propensity which they, as rank and file, may have toward over-liberalization of national/group bounds, viz. significant transgressions of bounds and borders.
White Left (ethno) Nationalism is Nationalist - therefore it is not liberal, it speaks of ecological delimitations of peoples, not universal liberalism as the Chinese smear term would describe, or similarly, as our smear term "Red Left", i.e., Jewish left, would be descriptive of - a "universal leftism" - i.e., a universal liberalism which the Chinese call White Left and what I call "Red" or "Jewish Left", is prescribed by Jewish interests and their internationalist right wing cohorts, prescribed for others and instigated of them to participate in activism toward a withering away of the state in favor of an arbitrarily composed and controllable international proletariat.
Whereas our Class, the White Class, corresponds to the whole delimited ethno Nation, rich, poor, private property and business owners, whomever, innocent until proven guilty - as a rule, accounts requested should be kept to a minimum.
But because we are accountable as nationalists, of our rank and file while maintaining a vigilance on elite betrayal and liberal internationalism, we are therefore able to cooperate with our left nationalist friends, such as the Chinese and other left nationalists, against right wing / liberal imperialism as it would be imposed by Jewish interests along with their right wing/liberal White cohorts and their Muslim and black shock troop enforcers.
Finally, the Chinese term, White Left, that has been in vogue in China since about 2011 to label White/Jewish Cultural Marxists/liberals, is a word spoken in Chinese; while we speak English and take full advantage of our capacity to define White Left Nationalism as we see fit, and have done that, consistently.
It is entirely different from liberalism and cultural Marxism. Rather it is true security in what is most important and true liberation for our people, our sovereignty as such.
If anything, the Chinese use of the term "White Left" as a smear only confirms Jewish hegemony over prevailing and pervasive discourse - with cultural Marxism reaching its apex during the final days of television's pre-eminence (a horrible situation where this TV box issued propaganda and you could not talk back, interact and correct what it was saying) in the early 1990's after the fall of The Soviet Union and before the advent of the internet. The dialectic between Jewish left and Jewish right began a slow, controlled evolution away from the Marxist culture of critique following the fall of communism; and went into full swing in the other direction of Jewish controlled dialectic, with the sub-prime crisis of 2008, as Jewish consolidation of power niches made criticism of "the right" no longer to their advantage, now that they were on top of seven power niches - critique of the right began to "intersect" against their interests - i.e., a continued critique of the right and popularization of a friendly disposition toward a left perspective would highlight their unjust power and influence; as such would call for unionized alliances against them. Hence, they have marshaled the hegemony of discourse more and more against "the left", with the spearhead "Alternative Right." At this point, they have so successfully hoodwinked the masses it seems the YKW have everybody constantly ranting against "the left" ...how convenient, what a Cohencidence!
Of course they rattle on with a bunch of cliches - typically accusing us of trying to apply artificial concepts to nature, of being anti-nature, being on an impossible quest for "equality"; and they constantly interpose straw men as opposed to what we are really saying - saying cultural Marxism and liberalism are "the left" - when, in fact, these "movements" are the opposite of left activism, the opposite for White unionization, anyway - i.e., anything but a "White Left."
But they carry on with these cliches and ridiculous distortions that cultural Marxism has promulgated, oblivious to the fact that we are not guilty of the theoretical errors, gross distortions of hermeneutics and social contructionism, the flagrant violation of scientific fact that they point to as examples of "our perfidy" in advance of their newly (((consecrated))) heroic bastion of truth and anti-PC, the "Right" and "Alt-Right."
And so I say to my Left Nationalist Chinese comrades, with a wink at that term, comrade, what you are calling "White Left" is not a White left at all, but cucked Whites and cucking Jews who are imposing liberalism and cultural Marxism upon the west, opening its bounds and boundaries with the aim now of aligning its right wing reaction against Muslim "extremists", "Hispanics" and Asians.
The Left as liberalism is an oxymoron that the regular right and Alt Right slavishly partakes of, as their Jewish flank does and would have them do. A White Left (ethno) Nationalism observes the principle of unionization, its recognition and maintenance of in and out groups, which is the opposite of liberalism and its arbitrary doing away with any such provision for accountability to unionized bounds and borders.
To repeat in sum, the Chinese slur 'White Left' as a designator of Cultural Marxism and its liberal activism shows Jewish discourse hegemony and influence, its diversion from true White Left Nationalism. It is a testimony to Jewish hegemony in discourse heretofore and how much they don't want a true White left.
It is a reflection really, of how much the YKW and their right wing cohorts, sell outs, loyalists to their elitist ilk, whatever, don't want us to have a concept of a proper White Left, unionization of our peoples to provide for social accountability and vigilance on elite betrayal as such, in a way that right wing, objectivist and otherworldly criteria do not provide - they propose disingenuous and naive avoidance of social accountability.
It just goes to show how comprehensive that the Jews have been in denying a White left, in cucking the very notion, that they have the vast nation of China calling White liberals and cultural Marxists, "the White Left"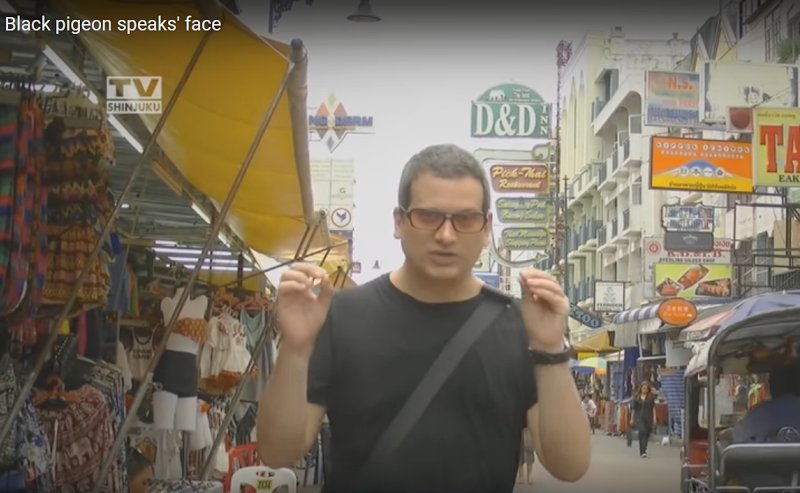 Maybe Black Pigeon Speaks isn't Jewish, but I'd want to see a DNA test to prove that, both for reasons of what he says and for how he looks - seems quite Jewish on both counts. And yes, he fits well, even if ad hoc, with the Jewish marketing campaign of Jewish hegemonic interests against "the left" - particularly in this propaganda piece to promote the Chinese slur of liberalism and cultural Marixism as "White Left."
Along with the deception of hegemonic Jewish discourse, one by which they are doing all they can to align White advocacy with their Jewish interests against "the left", one must also take into account the fact that if Jewish crypsis can fool White people into not making a distinction between Whites and Jews, think how much more their crypsis would fool Chinese!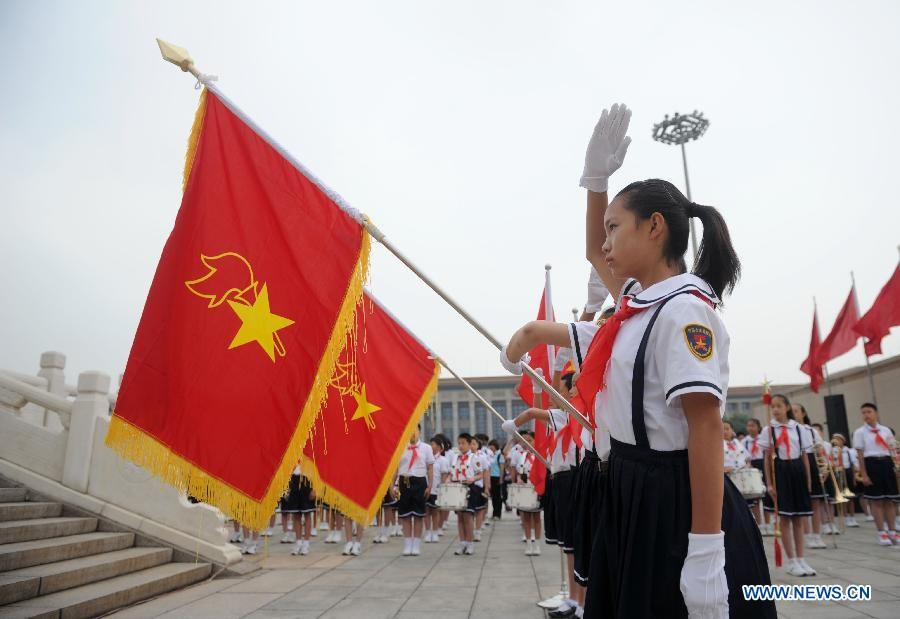 Kumiko Oumae: That (esteemed Red color) is non ironically what they're growing up around
Kumiko Oumae: Also, the yellow stuff symbolises the ethnic groups.
daniel sienkiewicz: Anyway, for now, its most important for me to be internally consistent, which I am.
Kumiko Oumae: Eg, the big yellow star flanked by four little stars on the China flag, is Han Chinese plus ethnic minorities
daniel sienkiewicz: So they are claiming "left nationalism" for red and yellow?
daniel sienkiewicz: and not left internationalism in the Jewish sense?
daniel sienkiewicz: as in eradication or withering away of the state on behalf of the international workers union?
It just goes to show how comprehensive that the Jews have been in controlling the discourse so as to deny a White left, because they know how serviceable that a proper definition of the term would be - they've tried to cuck the very term and have the vast nation of China calling White liberals and Cultural Marxists, "the White left."
However, adding the term "Nationalist", and more specifically "ethnonationalist" to the term White Left, helps greatly to counter its being misunderstood as liberal or cultural Marxist. That helps, along with our internal consistence and its reliable heuristic utility indeed.
It is a reflection really, of how much the YKW and their right wing cohorts, sell outs to their nation/ loyalists to their elitist ilk, whatever, don't want us to have a concept of a proper White left, unionization of our peoples to ensure accountability and vigilance on elite betrayal; how irresponsible they are to the nations which birthed them and to the means by which nationhood would provide for the human and pervasive ecology necessary for world maintenance.

Abraham Anon
Kumiko was telling me about her disgust with Hillary and the YKW's wars, citing an egregious collateral damage to schools and education: this will obstruct solutions to the root of social problems and exacerbate social problems from the root as the schools and formative educational years of vast demographics are being destroyed. She is enraged by the damage this will do to personal and social skills. She asks what can be done?
I suggest a new variant of the 12 step meetings. Why? Because when people have been that damaged and obstructed by an interpersonal problem - such as Islamic abuse - it will be primarily these people who have sufficient understanding; they will have sufficient concern; it will be a necessity for them to take the time and show patience; to articulate the difficulties in full significance of the impact to them and society; and to search for solutions.
People who have not gone through this will generally not have sufficient understanding of the difficulties of getting through it, even if they did have inclination and take time from their faster track to a good life to put up with the wild and frustrating expressions that result from traumatic experiences and pervasive abuse.
The "victims" themselves will carry most of the load - by "sharing their hope, strength and inspiration" indispensable coping skills will find their way among them. But that doesn't mean that people coming from a background undergirded by normal philosophy and interpersonal relations shouldn't interact with them; in fact, that is one of the first differences I would make from the 12 Step programs - to have intermittent interaction from people from healthy backgrounds so that they can model normalcy for them and share normal skills. To make sure that bad thinking doesn't keep circulating and gets directed out before long.
So, there could be Visitors Meetings and Skilled Workshop Meetings to go along with the usual kinds of 12 Step meetings -
Speaker Meetings, in which one person tells the story of their struggle with the problem.
Step Meetings, in which one of the Steps is focused-on, with each person in the group having a chance to discuss their take and experience with that step.
The next change that I would propose is putting into question whether 12 should be the number of steps; of course it has pagan origin and has been hijacked by Abrahamism, but perhaps another number should be proposed to make the break more clear.
Of course the content of the steps should be significantly different as well. I will only sketch-in what they might look like. Suggestions from others are more than welcome.
One of the excellent features of the 12 step program idea is that one is not excluded for lacking skills or for not contributing dues. All that is required is a belief that you have a problem with the stated issue of the meeting group and that you comply with a few of its basic guidelines. There are no leaders. You agree to not expose the identity of those who go to meetings and to not gossip about them to people outside the group. You agree enough with the 12 steps (rather, we'll go with 14 steps, why not?) to allow them to provide coherence; and, except for speaker meetings, you allow a chance for each person who wants to talk.
Ok. There are probably some things that I'm forgetting but that's enough to start. Let me have a stab at how the steps might read:
The 14 Steps of Abraham-Anon
1. Came to understand that I had a problem with Abrahamism and that I could not handle it alone.
2. Came to identify positive attributes of my distinct race and my share in these positive attributes. Affirmed these daily to provide faith in mine and my people's worth as opposed to the Abrahamic god.
3. Conducted a fearless and searching personal inventory in order to purge its memes which may harm myself, my people, and in order to make amends to anyone who I have harmed in the name of Abrahamism or because I was inappropriately directing my response to it.
4. Came to understand the truth of how harmful Abrahamism is.
5. Came to understand Abrahamism is not a necessary evil nor a relative cultural preference; there are other "gods" and better ways.
6. Came to understand that its practice and promotion must be rejected by our people.
7. Came to understand that its perpetrators can and must be punished - ranging from denunciation, to social ostracism, to denationalization, to severe personal punishment in some cases.
8. Came to believe in the priceless gift of serenity to be found in the faith that my race, my place within it, and our interests are being looked after by the best and greater part of my people; by myself included.
9. Came to believe not only in the reality of distinct kinds of people, but also their right to preserve their differences.
10. Came to believe in the DNA Nation and international ethno-nationalism (genetic and territorial bounds); as the means to such maintenance of distinct peoples; their quantities and qualities of genetic inventory; their habitats through national territorial delimitations; qualitative and quantitative foreign enclave delimitations.
11. Came to believe that the Abrahamic religion and the Abrahamic man is already an imperialist hybrid and therefore his fate and place is the subject of our discretion.
12. Came to believe that Abrahamism can and should be destroyed once and for all.
13. Came to believe facilitating that destruction to be our prerogative as the people who are willing and capable of respecting racial differences, their right to be preserved in ethno-states, among the DNA Nation; and knowing that there is no avoiding the issue of morals - that every society will have some things that are legitimate, some things prohibited and some things obligated - will seek moral orders based on the Silver Rule as opposed to The Golden Rule.
14. Came to understand that the homeostasis of our ethnostates are contingent upon having the decency and wisdom to respect an option for sacred and devotional enclaves for those preferring strict monogamy (e.g., they want to choose carefully enough, devote themselves to that important choice; and/or concentrate on their endeavors otherwise, not chasing around for partners); and that those wanting to protect more liberal personal prerogatives must assent to that sacrosanct option and to strict national borders of citizenship - paradigmatic conservatism.
AFP, 'Four police killed at US race bias protest: chief', 08 Jul 2016:

Washington (AFP) - Four police officers were killed, at least seven were wounded and a civilian was also hurt late Thursday when two snipers opened fire during a protest in Dallas against police racial bias, authorities said.

City Police Chief David Brown said two gunmen shot at "police officers from elevated positions during the protest/rally", sparking an intense search for at least two suspects, adding that they had threatened to plant a bomb.

The Dallas Police Department tweeted a photograph of a man dressed in a camouflage shirt with an assault rifle slung over his shoulder.

"This is one of our suspects. Please help us find him!" the police department tweeted.

The suspects "have threatened to plant a bomb in the downtown area," Brown told reporters.

The protests were part of demonstrations taking part in several cities against the fatal police shootings of African American men in Minnesota and Louisiana this week.

Brown initially said two of the officers were in surgery and three were in critical condition. The condition of the other officers was unclear.

An earlier toll had 10 officers shot, including three dead. Brown told reporters a civilian was also wounded.

"An intensive search for suspects is currently under way. No suspects are in custody at this time," Brown said in a statement.

Brown said police had "cornered" one of the suspects, and warned that there may be more than two suspects.

Dallas police has reached out to federal law enforcement agencies for help—the Federal Bureau of Investigation and Bureau of Alcohol, Tobacco, Firearms and Explosives.

Several hundred people attended the Dallas rally, which ended just before the shots rang out around 9:00 pm (0200 GMT Friday), reports said.

Witnesses reported hearing dozens of gunshots that sounded like semi-automatic rifle fire. "The shots were coming from the roof," a protester told KTVT television, a CBS affiliate.

Video posted online showed protesters marching when the shots rang out, scattering the crowd.

Police warned protesters to flee the area, saying the scene remained an active-shooter situation.

SWAT teams were deployed to the scene, reports said.
The situation
After the events involving the shooting in Minneapolis, Minnesota on 7 July 2016, it had seemed that a significant flashpoint in the story of race relations in the United States had suddenly arrived, and it was a moment that would have served the interests of the Black Lives Matter movement primarily.
Video footage of a police officer of Asian or American Indian descent, having shot a 32 year old black school cafeteria worker named Philando Castile four times in his car, while he was reaching for his wallet to show his license and registration after having been pulled over for a driving with a broken rear brake light, had been posted all over the internet and was on the the verge of becoming part of a new master signifier in the discussion of violence and law enforcement in the United States.
Despite the officer being of Asian or American Indian descent, critical theorists would have framed the conversation as being one of institutional white supremacy which suffuses the police force as it is a gendarme of the accumulated wealth of the United States, which is characterised as a white power structure.
The video footage was all over the internet and was being viewed around the world.
Another case was a shooting that took place in Baton Rouge, Louisiana on 5 July 2016. A black man named Alton Sterling was killed by two white police officers as they fired four times into his body at point blank range outside a convenience store. It's thought that it was a case of police responding to an anonymous call about someone threatening people with a gun outside the store, but it's said that Sterling was only there by sheer chance at the time that the police arrived.
That incident was also recorded by several phone cameras held by bystanders, and also was seen around the world.
Together, those two stories had coalesced into a master signifier for 'police injustice and systemic racism against African-Americans', and they were stories in which the factual details of the shootings could not be used to disabuse people of the narrative being propagated by Black Lives Matter and certain elements of the liberal media establishment.
The outcome
At the time of the protests in Dallas, Texas, the narrative was unfolding, and people were of the belief that perhaps the state would be able to manage the situation with reconciliation attempts, as many Dallas police officers were reaching out to the African-American community in an attempt to promote 'peace' and avert further strife.
That was not to be, as the appearance of black snipers who began shooting policemen, and the setting of bombs, and the fact that the black protesters and demonstrators began cheering on international television when the shooting began, shattered the narrative before it had become settled, and tore up any chances of reconciliation, shifting the topic away from 'police injustice caused by systemic racism', and instead back toward 'disproportionate black crime aimed toward police officers'.
The new developments in the story by AFP that I quoted at the beginning of this article, are now eclipsing all of the events of the past 48 hours.
It makes a person wonder, do African-Americans actually understand how to apply the lessons of Gramsci and Foucault, and do they actually understand Strategic Communications, or do they merely pretend to? African-Americans actually had full command of the narrative, but within 48 hours they have now done an incredibly kind service to their adversaries by completely ruining it for themselves.
All in all, it seems that the entire sequence of events could ultimately serve as an opportunity for white people in the United States to make the case for racial separatism, as it is increasingly obvious that the differing communities in the United States cannot live together in the same civic space without there being incessant outbursts of violence. Since the antagonistic contradictions cannot actually be resolved, it is clear that the only path to conflict cessation is one of racial separatism.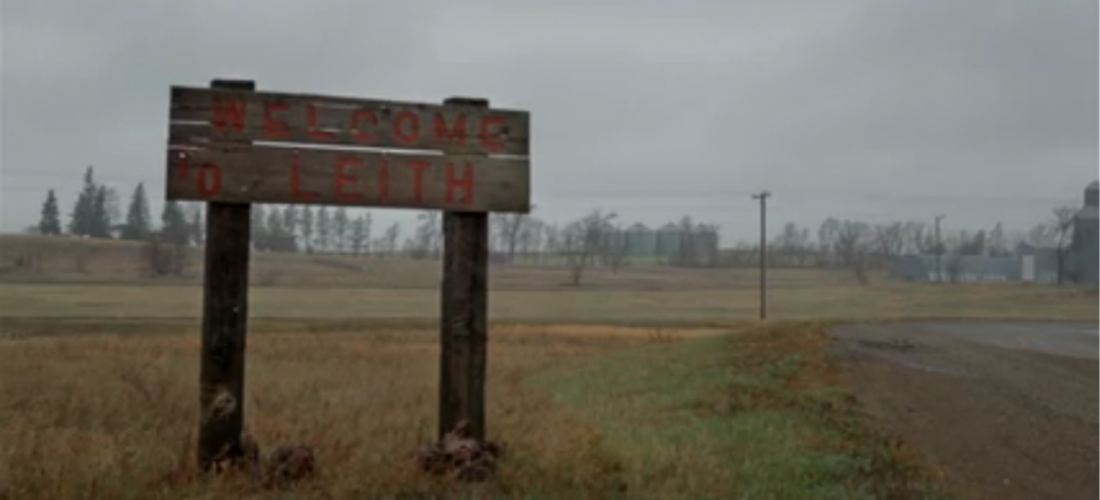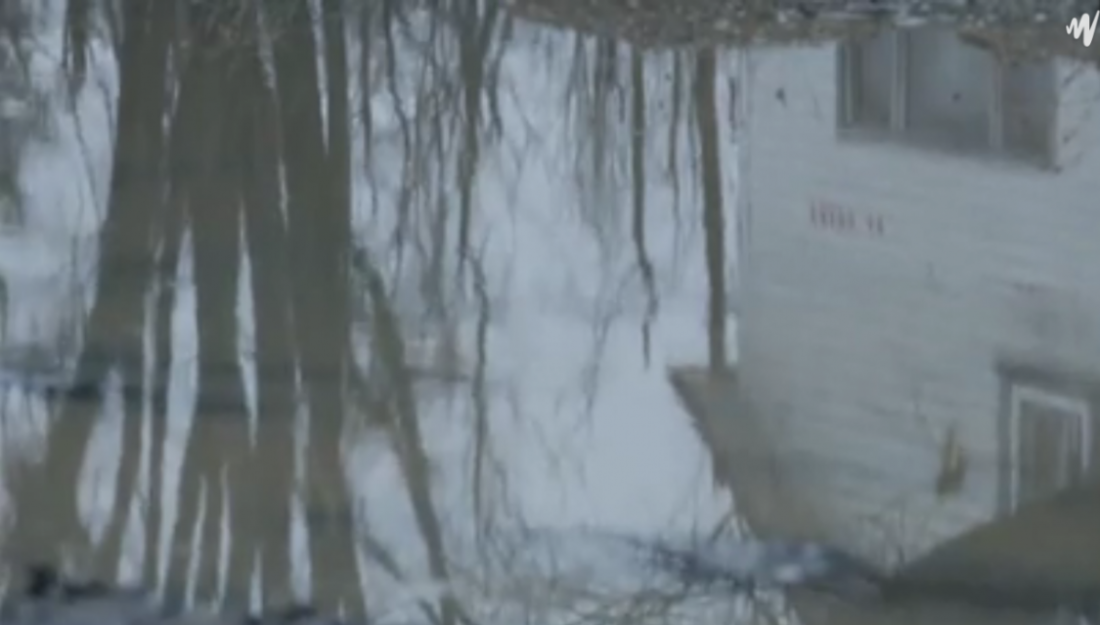 Besides capturing beautiful location shots, this documentary provides more insight and even some balance to the heretofore mainstream media portrayal of Craig Cobb's gambit to start a White preserve in tiny Leith, North Dakota. The bit of balance is surprising given that the production is coming from a perspective which is highly unsympathetic to Cobb and the White separatist cause.
1) The documentary does allow for Cobb to sneak-in the fundamentally legitimate argument that Whites should be able to establish separatism in order to preserve themselves.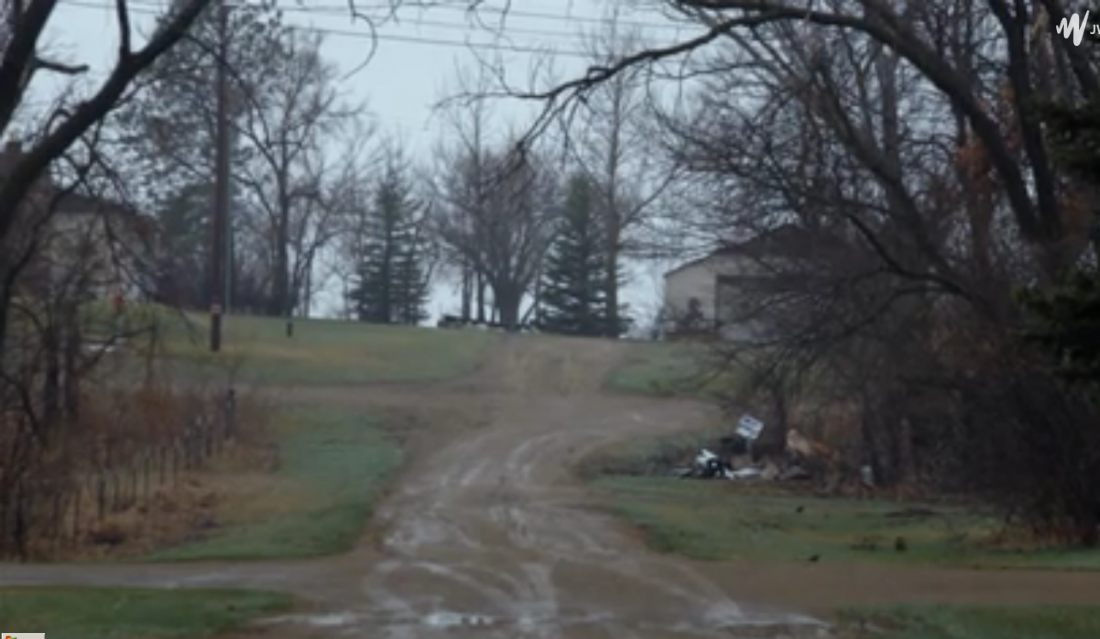 2) However, it takes advantage of a wrong turn that Cobb takes in separatist advocacy, and one that the demographic preponderance of American WN can be susceptible to, which is to associate White separatism with Nazism and its corollary of pursuing an antagonistic, literally supremacist, even "exterminationist" agenda. This willing association of WN with "NS" Germany stems from a false either/or regarding WWII, an either/or which maintains that there was simply a wrong and simply a right side in that conflict.
3) Stemming from a myopic reaction to Jewish sponsored liberalism in America and the frustration for unpopularity that will result of the "NS Germany simply right" response not being accepted (not even by many Whites who would be sympathetic to White separatism), the SPLC (Southern Poverty Law Center) has a rather easy task to demonstrate that Cobb is not just trying to build a separatist White community that can amenably coordinate with others.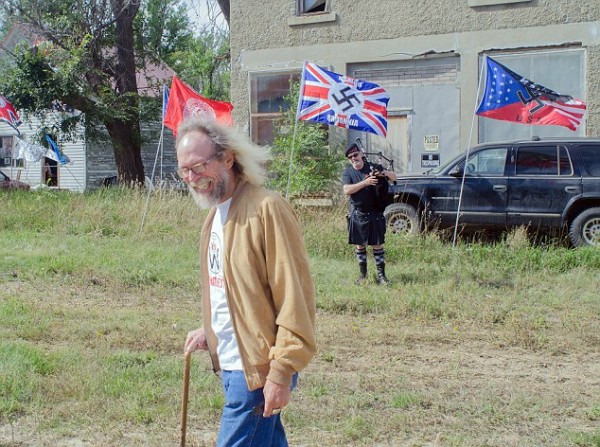 a) He invited-into Leith some of the most salient and provocative White advocates, purchasing property in Leith for Alex Linder, the NSM ("neo-Nazis") and Tom Metzger.
Linder of course couldn't be more brazen in his rhetoric, calling for the elimination of Jews and so on; the NSM couldn't be more flamboyant in their display, as they literally came into town bedecked in Nazi regalia, posting the like flags around Cobb's house in Leith, and unabashedly proclaiming their unanimity with "NS" ideology.
Metzger doesn't approve of such flamboyant and anachronistic tactics, but he has taken a position contrary to the PTB (powers that be) over the years, a position that the SPLC has tried to associate with senseless violence - despite his clear advice against that.
b) Along with the negative media reputation of these White exponents as embellished by the heretofore mainstream media and the SPLC, the SPLC begins to build a case to trace Cobb's associations with these figures, as they have been following them over the years in an effort to connect them to a history of violence with further implications.
- as in the case the SPLC brought and won against then California resident Metzger, who was found "vicariously responsible" through a tenuous association with a skinhead who killed a black in a spontaneous street fight in Oregon.
- Matt Hale, fellow in Cobb's religion -"Creativity" - was effectively set-up (by a wired-FBI informant who coaxed Hale to almost say that he approved of killing a judge) on charges of plotting to kill the judge who ruled against him in a patent case regarding the church logo and was sent to jail for 40 years. In connection with that bogus case, Cobb had published the address of the judge. Heidi Beirich (SPLC) admits that it is unknown whether that information aided and abetted the subsequent murder of two family members of that judge.
- VNN (Linder) associate and Cobb supporter, Frazier Glenn Miller, came unhinged one day and shot three people involved with the production of "To Kill a Mockingbird." This was after the Leith Fiasco was over and Cobb was driven out of town not to return; but with that, the SPLC et al. were able to argue more persuasively that there was a danger when he was in town; and with some Leith property still in the hands of White advocates that the danger loomed of these types coming to Leith again and coming unhinged.
It is already well known to the world that Cobb's case was not helped by his gun toting stroll with Kynan Dutton, a display compounded with verbal taunting of a neighbor. They were arrested for that and brought-up on charges of making terrorist threats.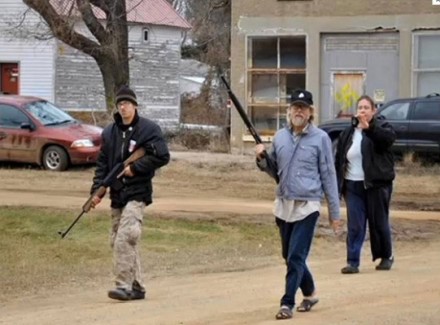 Further threatening gestures alleged to Cobb that the documentary makes known to people who'd not been riveted to the event's details, are that Cobb was apparently publishing the address, names and other information about family members of his neighbors - the Christian couple whom he antagonized in the gun stroll. While people of our sophistication might understand Christians are a part of a hostile world view, Cobb was not exercising necessary discretion with regard to their skill level - nor for their emotional latitude given that the man he was verbally antagonizing on line and in the end, in his gun toting walk, had a 17 year old daughter murdered in Washington prior to coming to Leith, North Dakota. But to make Cobb's indelicacy hardest to ignore, this man read online where Cobb was encouraging ex-convicts to come to Leith and telling them that, "now is the time to draw your sword."
Of course the context of Cobb's words and actions must be taken into account - these things will be given hostile framing by the SPLC in advice to the movie makers and this couple along with the other liberal town folk. But still, anyone who would tout Cobb as having aced as a fine PR man for WN is sorely mistaken.
...and there were people whom he could have won over - the documentary shows one Leith townsman who does not seem hostile to Cobb, saying that "people can believe what they want, I guess."
Additional new information, adding some balance and mitigating circumstance sympathetic to Cobb's perspective is noted in the film. Prior to the stroll, Cobb and Dutton's property had been vandalized; Dutton's car tires were slashed and the car was spray-painted with the words, "go home." Dutton's partner is also seen being confronted by a neighbor who drives up to her, apparently to intimidate her. Hence, there was some provocation from the other end and reason to perceive the need to defend themselves against their neighbors prior to their ill-fated stroll. And there are other indications that Cobb and Dutton were up against threats.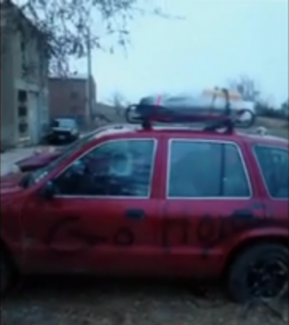 There is an irony in the suggestion that Cobb has a home.
These factors were in addition to all of the media hoopla and antagonism that had preceded, the "anti-racist" rallies and SPLC attention that was brought to bear against Cobb's initiatives in the town.
Another irony came about when the SPLC summoned go-to victim group coalitions to harangue the White separatist - WN circles note that the American Indian groups who were among those brought-into Leith to protest Cobb's effort to build a separate and sovereign territory based on his people's genetic kind had been bused there from reservations which are their exclusionary racial preserves.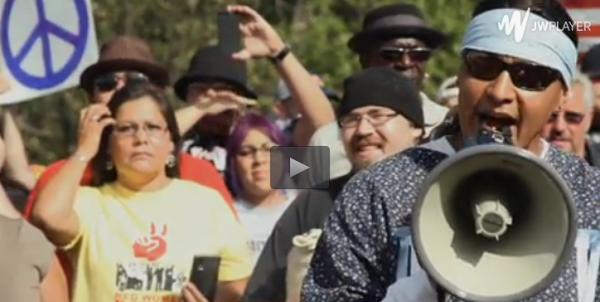 In addition to showing the counter-intimidation and vandalism by Cobb's neighbors, there was another bit of balance provided in the film, significantly against the case that Cobb was "terrorizing" people to where they felt in immanent danger.
A photographer named Gregory Bruce came on a moral high-horse from another North Dakota town to intervene in Leith. He not only made a special effort to thwart and document the thwarting of Cobb's plans, but he also boldly announced that neither he nor anybody else in town was afraid or threatened by Cobb. This bravado that Bruce horned-in with undermined the case for Cobb's threateningness and opened the way for Cobb to be granted a plea bargain.
Another mitigating factor to the charge of "terrorist threats" and the idea that the people of Leith considered themselves to be in immanent danger was that Cobb was never threatening to the interracial couple in Leith (Bobby and Cheryl Harper) nor to Bobby by himself. The documentary tried to make hay out of the DNA test given by the talk show (The Trishia Goddard Show that Cobb appeared-on with the interracial couple), "showing" that Cobb was 14 % black, but Cobb dismissed it graciously despite being publicly hoisted by the petard of his objectivism (Cobb is not 14% black by any reasonable metric).
While Cobb was imprisoned for his gun toting walk and threats, had a felony put on his record, can no longer legally posses fire arms and underwent significant costs, he did manage to mitigate his sentence by admitting his mistake and was freed; finally, the documentary showed some balance again, by interviewing legal counsel advising the audience that justice was served - and in terms of the relative circumstances of the Leith fiasco, it was a fairly just result.
Justice to the eminently legitimate and noble cause of White separatism, however, was not served; but that is largely due to Cobb's association with Nazism as it cut him off from broad support for what should be his absolutely legitimate goal of White sovereignty and survival; but with his "public relations" effort, he gave legitimacy instead to the worst antagonists to the cause of White survival and the separatism that is necessary to that end.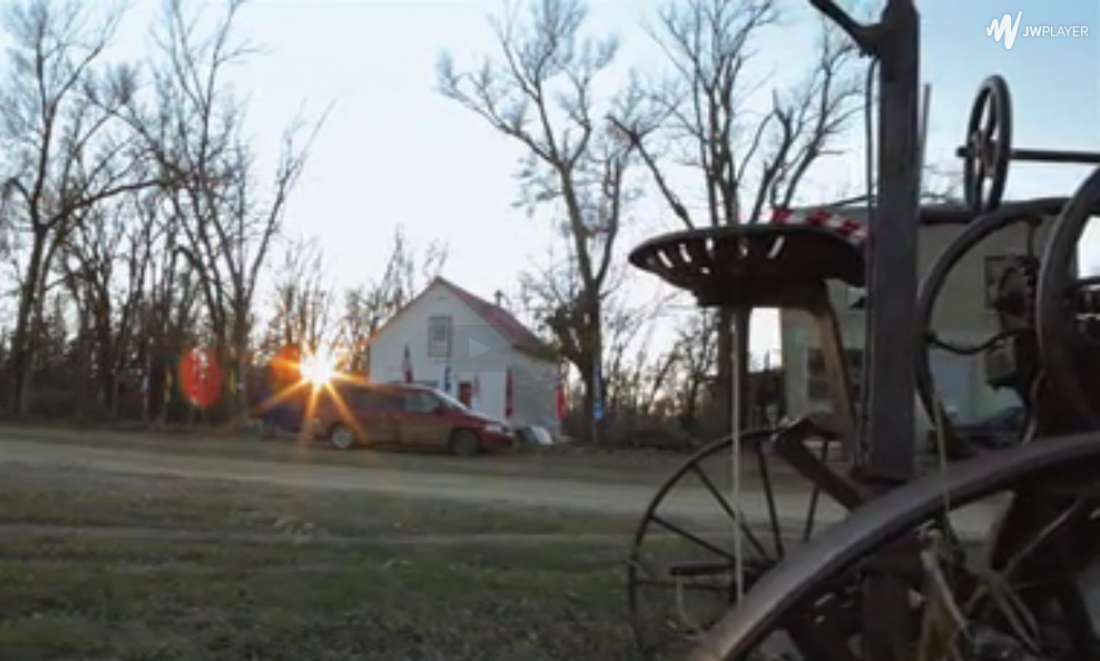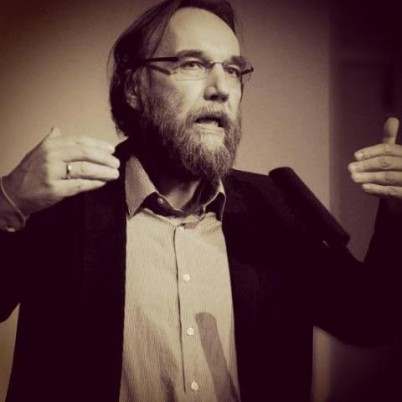 Dugin/Stark interview
: Beginning concession to White Post Modernity
Whereas he used to have a completely botched notion of post modernity - mixing-up what should be the antidote to modernity and liberalism with liberalism itself - it now appears that we are improving Dugin's understanding - viz., that modernity is the problem and the essence of liberalism.
His ideas in this talk are largely amenable and well considered.
His proposition that the state is a bit too much of an artifice to suffice by itself and that there needs to be a hypothesized realm, as we would say, beyond the physically verified moment, which girds and orients a people, is also well considered.

However, now that we are getting him to a better understanding of "post moderntiy", viz. White post modernity, we need to get him to a better understanding of biological reality and "racism."
Anti-racism is the quintessential modernist liberal notion; it is a Cartesian farce: It has been proposed as innocent but it is not -
Anti-racism is prejudiced, it is not innocent, it is hurting and it is killing people.

For "racism" is a necessary concept in a benign form, which is not supremacism nor a singular conclusion to aggrandizement and annihilation of an opposing people (as YKW propose and liberals might accept as a definition). It is in fact, a practical concept that is practiced by ordinary people everyday of necessity, as a non-Cartesian requirement of the human condition, of being in the world - one must discriminate in human-sized categories, including social classification - of one's own people and of other peoples - to form a coherent basis of ones own and to form a basis of human ecologies for our systemic coherence, social accountability, warrant and agency.
These classifications are "hermeneutic", that is to say that they are not absolutely empirically based in every moment, as the taken-for-granted and the state of partial knowledge - faith, if you will - must subsist behind the working hypothesis.
Call it a working hypothesis, call it faith, call it rules, call it narrative, call it taken for granted, call it the partly unknown, call it a mystery, a quest, an adventure, some of that as you must, some of it you might, as it has practical function to ensconce the under-determining facts of the empirical; but I have believed and continue to believe that a sacred overlay, in orientation and guidance of a people is a good idea.
I believe that it is a hermeneutic notion nevertheless, which is itself accountable to deal concretely with biology, sex and genetics, mediating toward fairness and justice in regards to this social capital - otherwise, without this empirical accountability, this "spiritual" realm will be the realm of evil charlatans.
While I am adamant about the right and oughtness of fighting when one's own borders and EGI are being infringed upon, I am not a hawk. Geopolitical warfare has never been something that appealed to me, let alone with any sort of passion.
I'm very averse to the idea of going beyond my national boundaries to fight, particularly when my own nation is totally screwed-up, needs tending and where innovative thinking might solve problems as opposed to trying to solve them by resorting to warring abroad.
The problem is that there are valid arguments that there are vital requirements along the Silk Road, in the Middle East and in Africa - resource and population management that is indispensably necessary even to the most innovative and independent peoples. In these concerns, I'm going to invite the reader to consider with me the possibility of re-drawing ethno-nationalist and regional lines on this map.

As you can guess, conversations with Kumiko have got me taking these matters under consideration, and I hope that she will soon put up an article discussing issues that the neo-cons have failed to make in clear and persuasive terms.
Tangential to neo-con issues is an interesting philosophical question for another day: how, in detailed form, to set up a rule structure which will sort out and punish the genetic legacy of criminals; and facilitate the rebirth of those genetic components that have suffered unjustly at the hands of criminals in previous generations. In this case, I am thinking more in terms of those who have historical grievances with Russians - while it is true that I don't feel this grievance as do some others that I've known, it is nevertheless only practical to set the question aside for the time being - though it is a question that can apply to any people who have benefited or suffered from historical atrocities.
Europeans, now, are asked even more fundamental questions than relative guilt and merit, but are asked to address the matter of our identity, period - that we are a people (different from Jews and others), to establish who we are, what the nature of our common moral order is, to understand that the obfuscation of that would-be peoplehood is a part of a war against us - and that there is, indeed, a war against us; finally, we are asked what is the nature of that war and what it consists over?
When considering these matters from a White Nationalist perspective, Russian people are not conceived as inherent enemies, nor, even, is the humongous expanse of their nation high on the list, if on the list at all, of things intolerable to allow to remain. At first blush, I can imagine living with it - it's always been that way in my lifetime; its reach contracted after the fall of The U.S.S.R., but still remains bigger than Pluto.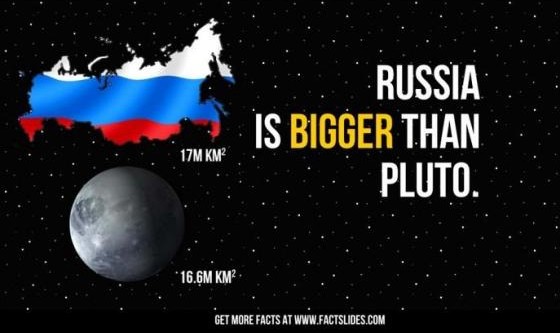 Nevertheless, we ought to reconsider this from an Asian perspective, and from a perspective of acute European interests.
I didn't expect to have occasion at this point to consider aloud the possibility of attempting to align formal industrial military objectives with ours as White Nationalists. Oil, resources, even absurd and brutal regimes in the Middle East and Africa inflicting harm upon their own do not stir any passion in me to fight. The function of Asian countries and Western countries do, however, have requirements and rationale to get these nations under compliance. And in hopes of facilitating the human resource of Kumiko's military perspective, I am going to imagine empathic military geo-political objectives, so that we might envisage a grand chess board result in our victory.
From that standpoint I attend to the fact that as nationalists and as White people in particular, fighting for the survival and sovereignty of our nations, that militarization and the geopolitics of resource and population management will ultimately be necessary.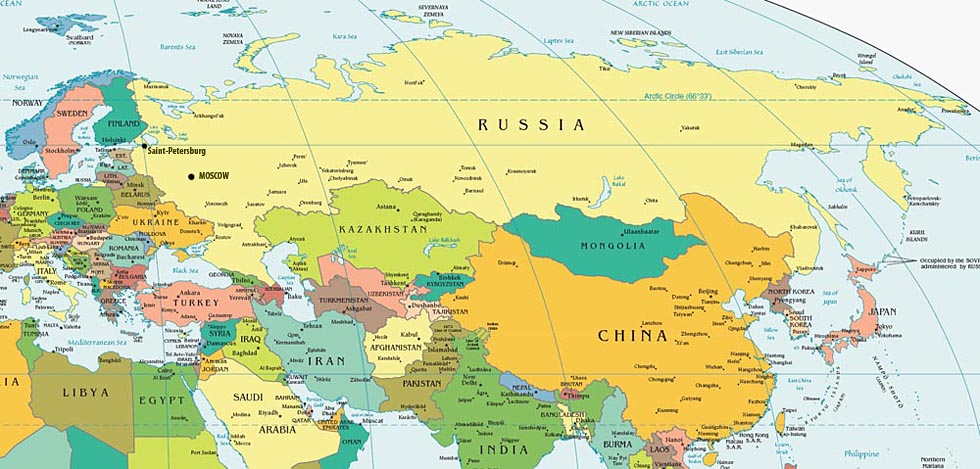 Asia and the West have things that we need from one another, including cooperation against antagonisms from the Middle East and Africa.
Not only do we need resources from these places but we need mutual help in border control and repatriation projects.
What about Russia? It is so big. Why not just work with them and allow its vast space to become a place for White people to grow into?
While it is true that another traditional passion for some war mongers is hating Russians and maybe I should hate them, I don't hate them. Nor do I care if people want to move there; furthermore, I completely understand not wanting to fight them. I don't want to fight Russians; the war in Ukraine has been instigated by Judaized and neo-liberal means and motives and it disgusts me.
Even so, WN tendencies to look upon Russia as the great White hope ignore the propositional, neo-liberal, mercantile and Judaized aspects of Russia - as if its political class has no corruptions analogous to The US that will wreak havoc with such projects to connect with Russia as a partner in White Nationalism.
On the other hand, while I favor Ukrainian and Belarusian sovereignty, as I favor all ethnonational sovereignty, I am opposed to a hot war approach with Russia to increase their sovereignty.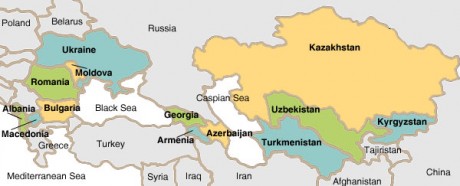 But neither am I in favor of a hot war approach to defending Russia's humongous eastern stretch and southern conflicts.
Rather than abandon to foreign invaders the natural ethnonationalist homelands of our European evolution and engage in White flight to move into lands that apparently represent imperialist aggrandizement - beyond ethnonational mandate - on the part of Russia, to reiterate, neither am I particularly interested in fighting to protect Russia's imperial overreach.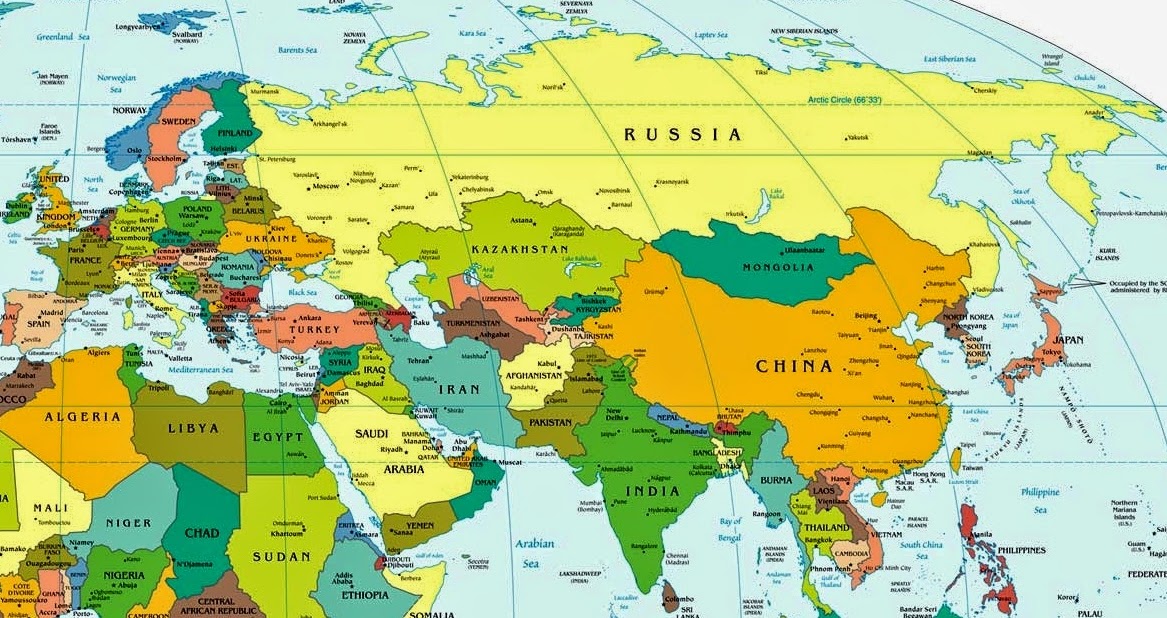 In a word, defending what is apparently an imperial over-reach is Russia's problem and an issue that can be turned to our advantage as Europeans in order to gain cooperation with our EGI, its borders and vital resources.
We need Chinese, Japanese and other Asian cooperation more than we need Russia's imperialist headaches; and China and Japan are not about to start loving Russia more than their own interests which are impacted by Russia's Eastern and Southern interference.
We need cooperation with Asia to compel compliance with regard to resource, EGI and border management. And we might compel Russia's compliance as well with those needs by means of the West's regional alliance with Asia.
Thus, while we might not engage a war of maneuver in either Russia's west nor east, we might well consider lending approval to Asian positioning in Russia's east and south.
That is, allowing the "stick" (as opposed to "carrot") of some of these lands as potentially sovereign Asian places: with enclaves Russian and enclaves Asian, the farther east you go, the more the general area would be Asian with fewer Russian enclaves and vis a versa - the farther West, the fewer Asian enclaves until you reach a point where it would be a Russian only ethnostate. And the carrot to Russia would be less contentious relations with its neighbors, more secure borders, and more cooperation in resource garnering, management and use. That is not necessarily a bad deal.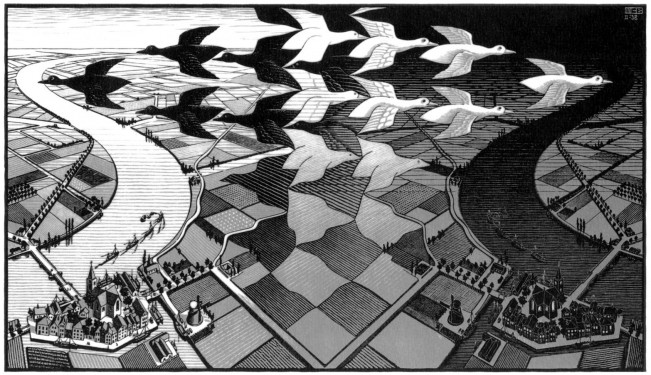 Toward an Asian-Atlantic regional cooperation.
1. The genetic-make-up and territorial boundaries of the European ethno-states shall be restored, maintained and protected.
2. To achieve this end we propose alignment with the Asian ethno-states and region.
3. Something like the E.U. and North Atlantic would be necessary to achieve that alliance and its success.
However, it will also involve some quid pro quo.
4. First, we see it as being in both of our interests to secure our peoples against impositions of Middle-Eastern and African populations; against imposition of the Abrahamic religions; and against interference of these peoples and religions in our vital resources.
5. Toward that end, it is in the interest of both Asians and Europeans to remove these populations to the greatest extent possible from our geo-political territories; and, again, to remove significant imposition/interference upon our mutual vital resource interests.
6. Sacrosanct European territories in the Americas, Australia and New Zealand will likely need to become smaller at any rate in order to be maintained and defended. But with the increased manageability of defense will come an opportunity to offer cooperation to Asians to have some sacrosanct territories of their own in these places. We will respect and cooperate with one another toward the defense of our territories in diaspora, seeing African and Middle-Eastern (saliently Jewish and Muslim) populations as those who must be guarded against and compelled to as great a distance from our people as possible, removed from civic nationalization and its proximity.
7. Russia/ns will be seen as having an analogous situation to White Americans. In order to have a safer, more manageable ethno-state and something to offer in exchange with the Euro-Asian regional alliance, they will be required to contract in size considerably, particularly from its expanse eastward into Asia and its geo-political interference there and to its south, unilaterally along the Silk Road. Russia's ethno-state will be more secure as it will be forced into a more cooperative and less antagonistic relation with the rest of the geo-polity.
The key deal is this: we will compel Russia to relinquish parts of its territory (leaving it no good choice but to comply). In exchange we will require Asian assistance in cleansing and defending our territories from imposition by non-natives - particularly Africans, Middle Easterners, Muslims and Jews. And we will require compliance in securing our vital resources and transportation routes.
The advantages to European peoples and Asians in this alliance is clear.
But what regional and national lines might you imagine and what advantages to Russia and others do you see for compliance? Discuss.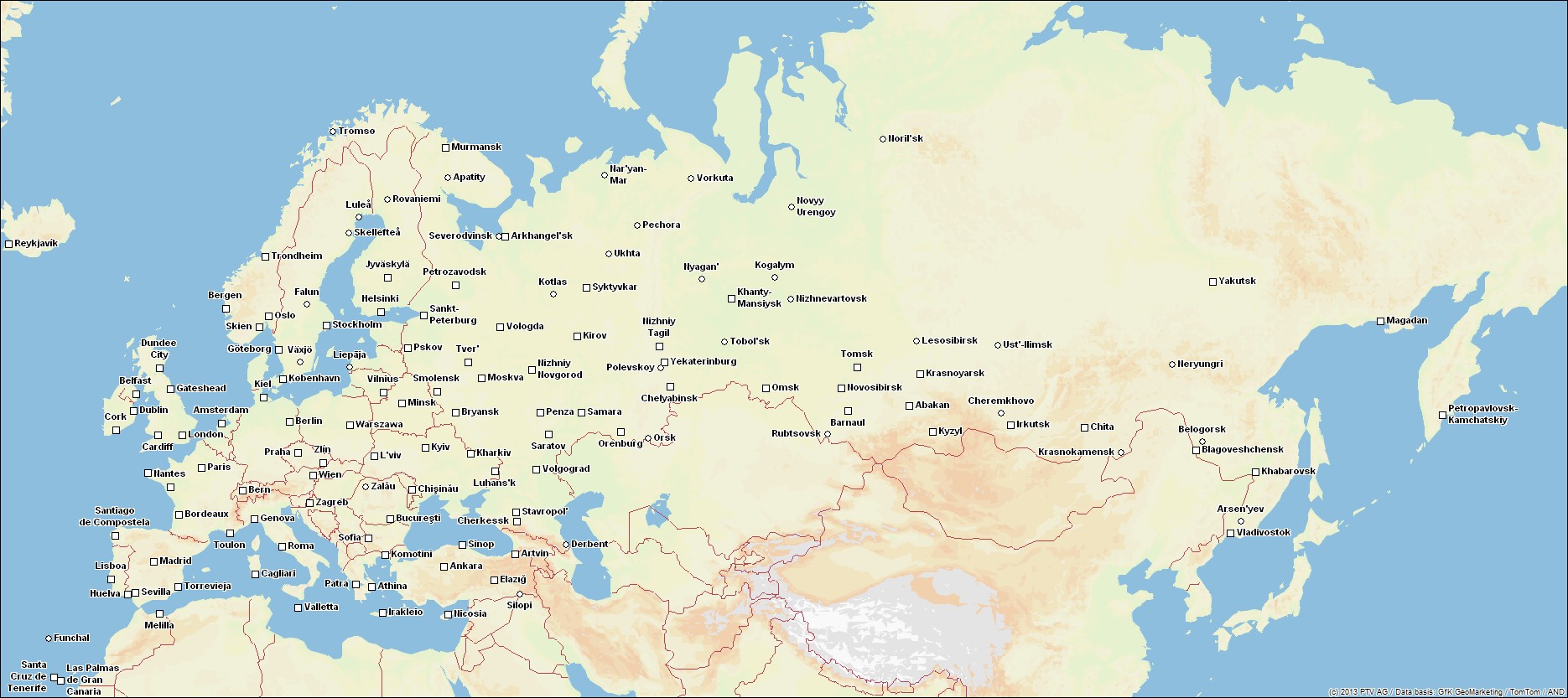 As there are no Russian cities larger than 600,000 east of lake Baikal (near the city of Irkutsk, centrally to the north of Mongolia), and only four larger than 300,000, one way of arranging the pockets, enclaves, ethno-state outposts as it were, would be to have a symmetrical "M.C. Escher-like" arrangement (as in the image called "Day and Night" above), i.e., an entering of these enclaves into the others general regional sphere - enclaves which would, nevertheless, represent sovereign states.
The plan would emphasize deportation and re-doing citizenship in favor of native lines, viz., on the basis of ethnostates. That is unlike the Moscow - Berlin - Paris axis, which apparently seeks to reconstruct the same old right-wing, propositional/objectivist oil interests.
Note: I can see how this could create incentive for Eastern European nations to cooperate - from a position of strength and in cooperation with White diaspora (note the interview of Tomasz Szczepański under the fold).
The Eastern European nations may agree to cooperation despite history of disputes (sometimes serious), and facilitate this ethno-nationalist and regional cooperation if their borders and native populations are guaranteed. If they are a part of a plan that guarantees that and necessary resources from the Silk Road - accomplished by increased cooperation with Asia and a Russia dealing from a cooperative position; then perhaps ethnonational and regional alliance with Asia can work. I.e, Russia has to offer more than trade in natural resources garnered through its vast expanse and fist waving at anybody who doesn't see their interests being secured inasmuch.
The area that is to be reserved as sacrosanct to the Russian ethnostate would be contracted from imperial dimensions and more in line with ethno-national proportions.
It is a contraction in concession to cooperation with other ethno-European nations that WN America will likely need to undergo as well.
This will make Russia more defensible and more worth cooperating with for the rest of Europe and Asia - as they will be required to join this Euro-Asian regional cooperation against middle eastern interference - whether Arab, Islamic or Jewish, they will be beholden to our terms and we will have the necessary resources of the Silk Road.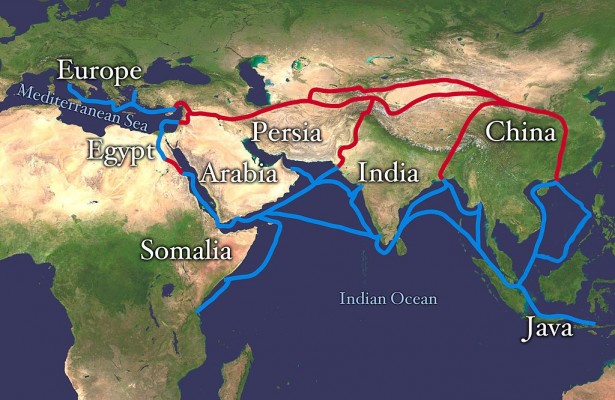 The other side of the deal for compliance and cooperation to garner vital resources, is that our vital EGI will be cooperated with in protection as well - including not only in border defense, repatriation and de-nationalization of the majority of non-natives from European and Asian countries, but most strictly the border defense, de-nationalization and removal of non-natives from European nations; while allowing for some accountable quota of Asians and Europeans in one another's nations and regions.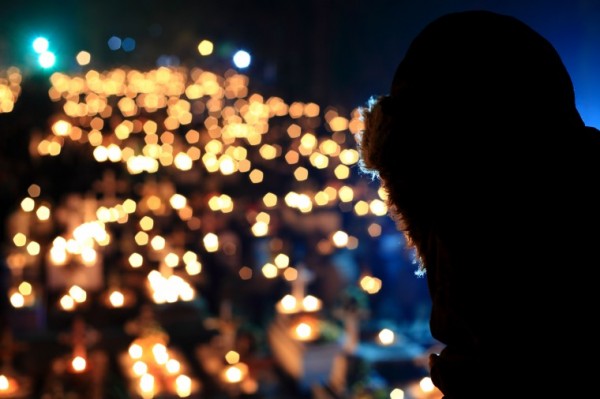 DanielS, in comment 147409 on Wed, 28 Oct 2015 wrote:

Jimmy, while defending the enjoyable pagan sourced holiday of Halloween against the Orthodox Church, we might also take occasion to note that the Christian Church has arrogated what is the most sacred holiday to our ethnic genetic interests, which is the day following - November 1rst - in Eastern Europe it is still a day when European folks commemorate their forebears, visiting the cemetery to pay special respects. It is practiced there in cloaked manner. But reverent respect that should be directed toward our ancestors has been largely diverted by the Church and back into its Judeo-religion; worse still in the west, where the "All Saints Day" (Nov. 1) diversion has been taken so far that our ancestor reverence is but the vaguest remnant, a phantom holiday, somehow indicated on some calendars, but not observed - merely alluded-to very indirectly for those who care to look behind the etymology of the name, "Halloween", and into its true history.
Upon reviewing the matter of Halloween, I see that I was so focused on the importance of the European day of our ancestor veneration - or what should be the point of celebration on November 1 - commemoration of our forebears (typically including a family visit to their graveside), that I lost sight of the fact that the Church was not only distracting from the true significance of the November 1 celebration for us; but also that Halloween itself was not a part of the mere diversion and distraction from the holiday. While many in East Europe see November 1 as an important holiday, Halloween still tends to be perceived by them through the churchly lens as a recent and corrupt affectation imposed from the commercial West, rather than an integral part of the holiday.
My response to Jimmy was correct in the general idea - of the Church burying our most sacred holiday - viz., in reverence of our ancestors - but I had neglected his point in fact of Halloween itself being an integral part of the holiday, not a fluffed-up and commercialized imposition to distract from the real thing: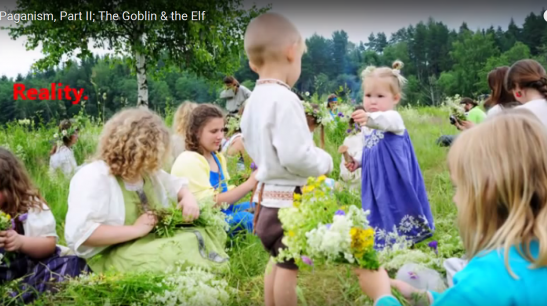 Initiating the children into becoming one with their forebears.
As the most important, sacred, commemorative holiday practice in reconstruction of our EGI through the initiation of our true Traditional Youth is under assault by The Orthodox Church (in this case), it becomes particularly relevant to highlight against the false Traditional Youth and their Orthodox Christian religion of our debates.
Apologies to Jimmy for the initial misapprehension of his post and his purpose:
Jimmy Marr in comment 147408 on Wed, 28 Oct 2015 16:08 wrote (emphasis added):

In evidence by the October 24th, 2015 edition of The Moscow Times, Christ-insanity is continuing to wage its age-old war against [the true] Traditional Youth.

The Education Ministry of northwestern Russia's Arkhangelsk region has banned Halloween celebrations at local schools, citing the holiday's harmful effect on children, the FlashNord news agency reported Monday.

The ministry's statement said that Halloween is "incoherent to basic traditional values and causes a negative influence on fragile minds."

The ban was instituted a week after the Russian Orthodox Church in Siberia's Krasnoyarsk region called on local authorities to ban Halloween on a similar basis, the Komsomolskaya Pravda newspaper reported. Priest Maxim Zolotukhin told local STS-Prima television station that children may get depressed after Halloween because they do not understand the difference between make-believe and reality, and so evil will enter their souls.

Russia's regional authorities have displayed hostility toward Halloween many times over the years.

In February this year, a school director in Siberia's Khanty-Mansiisk autonomous district was fired for organizing a Halloween party at his school last year, the Snob magazine reported at the time.

And in 2013, the Omsk regional Education Minister Sergei Alexeyev issued a letter against Halloween celebrations in schools. He explained that Halloween includes "death cult propaganda" that can damage student's psychiatric and "spiritual-ethical health," local news website NGS Omsk reported.

In 2014, Public Chamber member Georgy Fyodorov wrote a letter to Russia's Culture Minister Vladimir Medinsky asking him to officially ban Halloween. Fyodorov saw the celebration as an "ideological security threat" to Russia and proposed the promotion of traditional Russian festivals instead, the Izvestia newspaper reported.

Inasmuch as the war against Halloween is a proxy war waged by christians against [the real] Traditional Youth, it is little wonder that metaphysical mercenaries would attempt to distort the meaning of that name and use it as spiritual camouflage. Their masters have taught them well.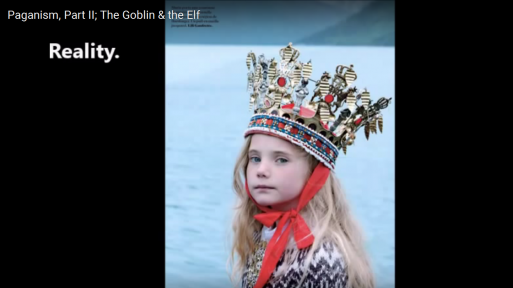 Halloween Ritual for the True Traditional Youth of Europe.
ThuleanPerspective /Youtube Transcript, 'Paganism, Part II; The Goblin & The Elf, 04 Dec 2014:

The children are not [considered] real people yet, not until they go through this initiation rite on Halloween…when they enter the realm of death, dressing up as the dead, taking on the identity of a dead person.. in a sense they become this person.. they have the same name, the same honor and the same death as the person they chose to become in this initiation ritual. The dead person, of course, is one of the dead forbears.

You can say that they believed in reincarnation.
Let us note also the ethnic genetic reincarnation.
Ibid:

So, they are returning to the Yule Tide and they are returning in the night. They are lead by the Sorcerer and the deity from farm to farm with these children to bring them back home… the families wished them welcome with some food on the table… to enable them to eat and feel welcome when they come back home.

During the Christian era, those in Church power wanted to destroy this tradition, they wanted to destroy European culture. So they demonized these children and turned them into grotesque creatures, mocking them for their "superstitious belief in goblins" and so-forth when in reality they didn't believe in any such things.

But the farmers could no longer put the food on a table inside the home for the children because church authorities might find out; so they had to put it into the barn.

These were not evil spirits, they were merely children returning for their initiation ritual [into the legacy of their forebears].

[Even so] the children were perceived by church people as becoming as twisted goblins [misunderstanding their transit with the dead where they were communing with elves, which were the spirit of the dead].

The children are the reborn dead relatives.

The elves were known to always sing, dance and read poetry because they are trying to preserve their memory..

This illustrates what the Christians have done to our culture. They have taken a beautiful, European, pagan religion, tradition, pagan culture, and twisted it…

..turned it into some grotesque mockery of what it really was.

The grotesque, twisted image of our religion was made by the Christians in an attempt to destroy, to weed-out our roots, to cut our roots so that our culture, our peoples would fall.

What the church could not burn they twisted.

But the European culture was beautiful, rich, advanced and most importantly, it was ours.
An argument by Mick Lately:
Mick Lately in comment 147410 on Wed, 28 Oct 2015 18:01 wrote:

I think Halloween is being turned into perverted paganism and that it is part of the whole "weaponized anthropology" campaign. Not to mention that it's "cultural appropriation" for non-whites to celebrate Halloween.

I would support the official ban of Halloween as a temporary wartime measure and allow it and Christianity back when the Jews and non-whites have been defeated.
A significant rebuttal to Mick Lately by Kumiko Oumae:
Kumiko Oumae in comment 147414 on Thu, 29 Oct 2015 02:37 wrote:

Weaponised against who, though? The 'weaponisation' of anthropology is when research of the culture and history of an ethnic group is used by belligerent groups to facilitate their mission objectives. However, our mission objective as ethno-nationalists and ethno-regionalists is to:

1. Defeat those who try promote mass mestizaje;
2. Promote viewpoints which would enhance people's willingness to reinforce national and regional borders;
3. Promote regional integration and common security perimeters on the basis of shared ethnic and cultural heritage, as well as shared economic interests.

In order to prevent our enemies from occupying positions of cultural power, it's necessary to get everyone to quit looking to churches for guidance, because the churches are opposed to everything that we stand for.

There is probably nothing more that the churches would love to do in their own form of 'weaponised anthropology', than to re-colonise the minds of the people through some form of renewed culture war, and thus disarm them mentally before anything even gets off the ground.

You can't just place a temporary ban on culture because [you imagine that] it's 'inconvenient' for you to have to fight on that level. The enemies are not going to suspend their own culture war against you to be 'fair' to you in the meantime.

Jews, Christians, Muslims, and the whole liberal media combine that is arrayed against you, are not going to call truce on you if you promise them that you'll stop celebrating Halloween. They'd just have liberals and Jews hollow it out into a purely commercialised holiday with no content at all, and Christians and Muslims would then bash it and present themselves as a false opposition to such 'commercialism' as part of their own recruiting drives.

Retreating from the sociocultural domain has never produced good results, not ever. In the conflict that is going to come later, these kinds of arguments that are occurring in the sociocultural domain are going to form part of the crucial groundwork that will determine the way that conflict will manifest, how it will be fought, and what the outcome of that conflict will be. Dealing with laying that groundwork can't be put off until later. The content of the conflict and the ideas around which that conflict is fought, determine the nature of the outcome of that conflict in the event of victory.

That is part of why I am never interested in advocating collaboration with Christianity in the pre-conflict environment, not even as a cynical play. That is a losing game, because firstly, Christianity cannot be trusted to maintain a martial posture or to adhere to the ethno-nationalist or ethno-regionalist principles. In the aftermath, if collaboration with Christianity resulted in a Christian-dominated outcome, then it would mean that everything was done for nothing.

The religion issue is not a side-issue, it's not a mere 'question' that is asked and answered in a little policy book somewhere. It's a core part of the problem in the North Atlantic. Getting rid of Christianity is a necessary pre-condition to the survival of the peoples of the North Atlantic.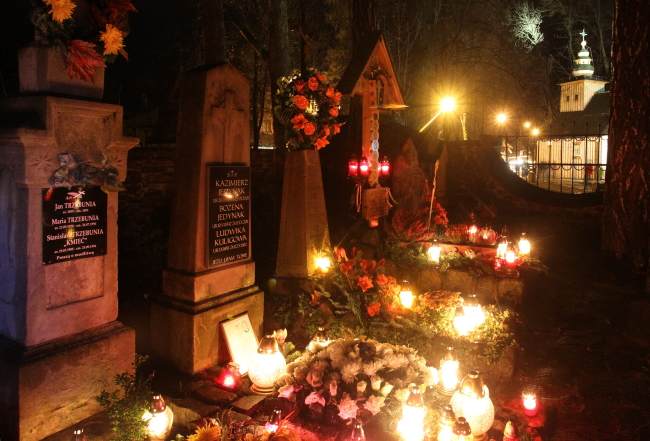 - By Dr. Graham Lister
Look, I don't have the time or inclination to point-out the half-baked thinking of MR's commentators or interviewed guests (if I think them to be in error). Kevin MacDonald can defend himself can he not? After all, if his ideas are completely robust how can he be subject to a 'humiliation'? All ideas, political, philosophical and scientific, have to be stress-tested in order to investigate their validity. Why anyone is so much of a 'special snowflake' that they get an apriori exemption from this process is beyond me.
Now, no-one that's sane thinks the individual per se can or should be 'abolished', but people have very odd and damaging ideas about what 'the individual' is and what it represents - such that over the longer term the ideology of 'individualism' has extremely deleterious effects as its model of reality is not in alignment with the true social ontology. Human beings, including Europeans, evolved in small, highly social/group orientated bands. It's really not rocket science to understand that variation in fitness is partitioned into a group element and an individual element (whilst obviously selecting for or against specific alleles and associated phenotypic traits). In fact, such an observation mathematically and logically flows from basic population genetics, which Hamilton went on to describe as 'inclusive fitness' and the importance of relatedness to the evolution of behaviour and life history traits (like female biased sex-ratios in the Hymenoptera etc). Price simplified inclusive fitness theory with his work. And it's developed since. Steven Frank's book on social evolution is still the best starting point for anyone seriously interested in the topic.
Returning to the politics and philosophy parts of the discussion, Aristotle is my favourite thinker in these areas. First of all, he would suggest that a proper balance between the 'parts' and the 'whole' (individuals and the group) is necessary for both to fully flourish. There is a mutual interdependence and reciprocity between the two levels of social reality. Secondly, Aristotle would suggest that there may be many ways to live (like being a Lockean liberal perhaps), but many ways to live are ultimately sub- optimal with the goal of full and genuine human flourishing. And this is true at both the individual level and the group level. And yes the interests of a given individual and a given group can be conflict (again this flows from very basic evolutionary biology and the game-theoretic issue of 'free-riders'). Thus there must be mechanisms for maintaining the health of both individuals and the collective. It starts by the recognition of the fact that the individual is social and utterly dependent upon the collective in numerous ways that liberal 'individualistic' ideology willfully ignores.
Ultimately, I reject liberalism as a set of false ideas about the human world - it has the ontology of humans both as individuals and as communities wrong. Bad ideas eventually result in bad consequences and one hopes vice versa. Thus, I am broadly an Aristotelian communitarian. And I think that must incorporate the realities of human nature (groupishness) and our bio-cultural differential status regarding different groups of human beings. Note, it's a political axis of differences (bio-cultural) that ultimately ends up in the Schmittian friend-enemy distinction, not some bullshit about equality vs inequalities except that I very naturally value my own well being and life more highly than a random stranger's and I also value the life of my extended community both today and tomorrow (the idea of an intergenerational 'moral economy').
Being a non-liberal, I am against cheap all-encompassing forms of universalism or the moral plateau as philosophers call it. Rather I believe in a nested hierarchy of moral responsibility. I have much more moral duties to my own children than my next door neighbour's kids, let alone some family in China (that of course does not imply I, by default, hate people in China or wish them harm just that I feel I have minimal moral responsibilities towards them). But I do have some properly warranted moral responsibilities to my neighbourhood and my community. Moral responsibility varies with proximity (properly understood).
Roger Scruton writes about a hierarchy of moral responsibility often. Here he speaks about in the context of the absurd (and liberal) idea of 'animal rights.'
OK, I have previously attempted on many occasions to write about and explain my thoughts on topics such as societal homogeneity and social capital etc. I will not endlessly repeat myself.
As for the idiotic, paranoid reaction by some to my reappearance, it was simply a function of me taking a quick look at MR in a quite moment and seeing folks speculation about my death! And I posted some chucks from an essay I had been reading. I am starting to get to grips with using a tablet and MR as a site isn't the easiest to use; so out of laziness I didn't put the comments in quotation marks. Only when someone posted them to the front page as my own did I feel duty-bound to privately point out that fact. But they're still good points that I agree with about 90%
No coordination with Danny or GW etc. Seeing a conspiracy at every turn is how Jews think - they project onto others their own deeply ingrained mindset. It's both pathetic and undignified to follow that way of thinking quite so slavishly.
Speaking of slaves, can anyone seriously doubt the USA is a vassal state of Israel? The best superpower money can buy? And yet Americans still persist in their hurbris that they are the model Europeans 'must' follow? Look, if KM or indeed anyone else is pushing that as some sort of 'idea' they can go fuck themselves. Savvy?
If Mr. Bowery wishes to contribute to MR go for it. Who the fuck cares either way?