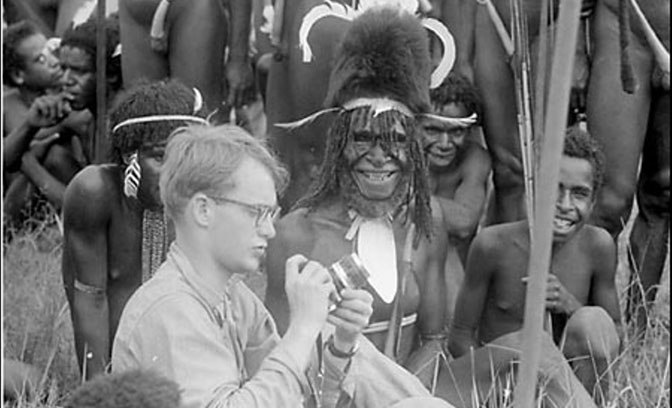 Monoculturalism meets Rockefeller (and eats him)
White Post Modernity (Post Modernity defined in accordance with White interests)
As I believe the parsing of these forms and ways are too important to gloss over, with many people not having a concept of what to do in response to the disorder of modernity, what to make of what has been called "post modernity", I have decided to forefront this outline here:

Monocultural society = all people are seen as pretty much the same; therefore, those not fitting in the world view are other than human - perhaps good for the communal stew pot; or in the present situation, as we move toward globalization, "one world", we find ourselves in a place where "racists" might be thought of as less than human.*
Traditional society = ethnocentrism, recognizing in and out groups. The king and god looks-after his own people. There are other groups and they have different ways. They are treated not as inhuman but as outsiders and with different sets of concerns.
Modernity = a quest for universal foundations; seeing all people as pretty much the same (or comparable by commensurate standards), their wreckage among all change is a necessary hazard on the way in Progress to foundational truth -
Tended to be oblivious to good coordination with other people because of its narcissistic propensity to see all peoples as being essentially the same (or comparable by commensurate standards).
Held inherent contradiction in identity/performance requirement - "be different so you can fit in."
And a pernicious cycle for its valuation of change for the "new" as representing progress - celebration of what is new…this is no longer new: work to change - celebrate change - this is no longer new - work to change - grinding away at traditional forms in perpetuity.
"Wailing" is an intermediate stage between Traditionalism and Modernity as noted by Pearce and his students, which I'd not itemized previously, of their outline of forms and ways of life. Wailing represents an experience of not knowing what to do when confronted by the chaos of modernity and the inadequacies of traditionalism to contemporary performance requirements. It seems to be a stage where many WN's have been stuck – expressed sometimes in a yearning for premodernism.
Post Modernity = recognition that change does not necessarily lead to progress, unshakable foundations, or good things - among those negative effects are profound disorder, hyper-relativism and the lack of accountability that comes with it (incl. destruction of Whites); hence, post-modernity tries for optimal balance between being sure to reconstruct one's people and benign traditions, recognizing that there are outsiders, with different ways; while also gauging change, and where beneficial making innovation accordingly. It has the ability to reconstruct traditional practices without "the pangs of self loathing" for the appearance of conformity, since where it participates in traditional practices it does so knowingly. I.e., it can also disengage from traditional practices and make modernist innovation where advantageous.
...
I don't know what's so hard to understand or why the value to Whites is hard to see, but..
Jews wouldn't do anything so dishonest as to misrepresent these ideas so Whites couldn't understand them properly and use them effectively, would they? They'd never promote liberal modernity to the detriment of Whites instead, would they?
Of course they would: Jewish and Jewish approved academics have been promoting a hyperbolic form of Modernity (at least regarding Whites) as if it were "Postmodernity"

..........
Dugin seems to be making an important mistake in going with the Jewish prescribed "dada" definition of postmodernity. That is what prompted me to make this post. So that we can make use of the post modern turn, affording ourselves the advantages of traditional reconstruction and modernist innovation, where best for White people.

* Note: Bowery's stipulation that those who will not allow for, but rather insist on breaching, freedom from association might lose their human status appears to be a monocultural rule worth establishing.

.....................................
I had attached my application of this outline conceived by my teacher W. Barnett Pearce, his colleagues and students, as an addendum on my previous post. I have reintroduced it by itself, here. I'd been a bit shy with it, mostly to protect Barnett, a liberal, whom I doubt would have appreciated how my politics might reflect on his active career. Still, he must have had some sympathy for my plight, as in our first meeting he personally provided me with one of my first big clues in handling the matter of race amidst the PC storm: a paper that he'd authored with Julia T. Wood, "Sexists, racists, and other classes of classifiers."
I sought-out Barnett originally precisely because he was an Anglo-Saxon - i.e., at the heart of what should be the American mainstream, as I saw it. I corresponded with him for a while, met with him to discuss pursuing graduate school under his tutelage, only to find he'd moved-on to Chicago by the time I moved-up to where his then university Chair had been. Without recourse, I met with his long-time colleague instead, whom I assumed was Irish. Ok, not fully mainstream, but not bad either. Enough to express some nasty incredulity as to what the Jews were up-to with the media and so on – I said to him, "you'd think they would have learned their lesson by now." Actually, I said even worse, if you can believe it, oh my god, much much worse before it became clear that this Irish instructor of mine was Jewish. Not a little oops! This was 1991, so yes, I can claim that I am not exactly a newcomer to skepticism of Jewish interests. I was able to overcome those major faux pas enough to learn a good deal for the next few years, though not surprisingly, not enough to get myself fully matriculated into the mainstream of a graduate career – i.e., I was not willing to get with the liberal/PC program.
I met Barnett again at a conference in 1994 in New Hampshire – there is a story among stories there too, for another time. Finally, I invited him to a conference that I had organized with other top ranking scholars in social constructionism in 2008. While I did what I had set out to do, the event made it clear that I was not going to persuade these liberals with my notions of pervasive ecology and an accurately realist application of social constructionism. Even so, I could not help but give a bear-hug to the big-hearted Barnett as I said goodby to him from the airport. Nevertheless, as the conference had been an economic failure (talk about needing to learn the difference between ought and is), I was a bit shy about keeping up with the presenters. When I finally took a look at what Barnett was up-to again, his picture had that look – he was all too skinny. In fact, the picture was dated by a few months and he had already died.