Majorityrights Central > Category: The Proposition Nation

Web archive from 2014 reveals something amazing
Order of Battle
As you all are aware, Mike Enoch, now revealed to be actually Michael 'Enoch' Peinovich, is the founder of the website The Right Stuff, which opened in 2012 and hosts the popular and dubiously overwrought podcasts Fash the Nation and The Daily Shoah.
The Right Stuff has spent the entirety of the past four years serving up piping-hot reactionary narratives all of which just so happen to serve the geostrategic agenda of the architects of Russian foreign policy by carrying out Active Measures, American domestic honeypot agenda of the FBI, and the Israeli security agenda.
But if anyone had pointed that out before today, such a person would have been called 'paranoid' and even 'insane'. After today however, such a person would simply be called 'well informed'.
Note: The name 'Pejnovic' has a diaspora in 20 countries worldwide and has its highest concentration in Zagreb, Gospic and Klenovac, Croatia. It is found in small numbers in Peru, in the United States, and in the Russian Federation. 'Peinovich' is a Russian-Jewish variant that found its way into the diaspora of the United States and in Argentina.
The whole saga leading up to the revelation of Enoch's real identity, started after Red Ice Radio hosted a show on 26 December 2016 in which Reactionary Jew was invited on as a guest and Lana Lokteff asked the audience to give them feedback on whether right-wing Jews have a place in the supposedly ethno-nationalist political scene that has recently been emerging in the west.
This question was of course met with outrage from various quarters as would be expected. But what was truly interesting was that many of the users and even some global moderators at The Right Stuff began to respond to that provocative question in the affirmative. That was met with deep suspicion by everyone, because it is suspicious.
The controversy and trolling then moved to 4chan /pol/, which is basically the wild west. People from The Right Stuff orchestrated a two week long posting and sliding campaign in which non-stop wall-to-wall pro-Israel propaganda posts and threads were created by them. 4chan /pol/ moderators then began banning all of the TRS people who were doing that, and the details of the bans were then taken back to the TRS forums and presented there.
This is just an example of some of the things that the TRS people were putting up:


TRS then proceeded to deny everything. They claimed that other groups were impersonating them. Some claimed that Hillary Clinton's CTR was conducting pseudo-operations against them. Some claimed that EU Stratcom was targeting them. Some claimed that British intelligence was targeting them. Some claimed that 'SJWs' and Chicago Antifa were trolling them. They claimed that somehow Stormfront was trying to make them look bad. The claims were feverish and frenetic, bold and brash, and all diversionary nonsense.
Somewhere along the way, the TRS people decided that since they were trapped in that situation, the ultimate distraction would be to initiate a miniature Cyberwar against 8chan for no apparent reason. TRS decided to attempt a DDoS against 8chan. It failed. At this point, 8chan /baphomet/ became interested in the feud and many of its denizens informed TRS that they must stop their behaviour immediately, and that they must also apologise for the DDoS attacks and that they must apologise for making the pro-Israel posts, on air, or it would be war.
TRS basically then told 8chan /baphomet/ to "bring it on".
8chan is however, an anonymous message board that sits on the edge of the Darknet. So they brought it, but no one really will ever know who 'they' are. TRS found itself being DDoS'd and this forced them to take shelter under Cloudflare. While the TRS staff were attending to that, they also found themselves being doxxed and the process was being crowdsourced on 8chan /baphomet/.
TRS then tried to go back to 4chan /pol/ and play the two sites against each other by claiming that 8chan /baphomet/ were actually the Antifa. Of course, TRS had just previously bombastically accused 4chan /pol/ of being the Hillary campaign on one hand and of being western intelligence on the other, so no one at 4chan was really in the mood for yet another round of that nonsense again. Furthermore, TRS had misunderstood the nature of anonymous message boards, supposing that there was a real dividing line between the 'communities' at 8chan and at 4chan. There is no such dividing line in actuality, because no one is seriously loyal to an anonymous message board. It's just a vehicle through which various actors can drape themselves in a cloak of trendy anonymity. There is no 'community'.
The Right Stuff subsequently found itself being Blown The Fuck Out by all of its adversaries, and all of their adversaries were able to maintain anonymity during the process.
Isn't that marvellous?
Outcomes
It turns out that Michael 'Enoch' Peinovich is a Javascript Developer and a Public Relations Professional who has worked as a Front End Developer at BurrellesLuce, Time Inc, and Vook. He's from New York. Vook was later rebranded as Pronoun, and is now a subsidiary of Holtzbrink Publishing Group.
Oh, and Peinovich is a Russian Jew married to a Jewish woman named Ames Friedman.
In 2010 he ran an Anarcho-capitalist blog called 'Emptiness', at which his wife made several comments with her real name.
In the same year, Peinovich also wrote an article for the Mises Institute.
On 03 July 2015, Peinovich appeared on Red Ice Radio, and actually mentioned that article which he had written for the Mises Institute, when he was explaining to them that he 'used to be a libertarian'. He cryptically commented after the 13 minutes 25 seconds timestamp, "if you find it, ask if it's me, and if you get it right, maybe I'll tell you."
At this point I don't think anyone will need to be making any guesses about that anymore. On top of that, Peinovich earlier admitted to everything on the TRS forums before basically transforming himself into the 'shut it down' meme and shutting everything down:

There is no more speculation, there is only fact. Mike 'Enoch' Peinovich in fact admitted to what he has done.
Datamining concerns
Assuming that the entire TRS entity either originated as or became a full spectrum Information Operation, it means that all the usernames, email addresses, IP addresses, access logs, security questions, and password hashes that were submitted by people who—against all good advice—chose to actually register on the ridiculous TRS forum have a not-insignificant probability of falling into the hands of any number of adversaries who Peinovich may have allegiance to. FBI? Mossad? Who even knows at this point?
Does anyone really think this story is over? For some people, the problems may only just have begun.
Questions Remain
The remaining question would be, who knew about Michael 'Enoch' Peinovich's Jewish identity before it was exposed today, when did they know, and if anyone did know, why wasn't it exposed via normal channels much earlier?
A lot of people were in a position to have noticed the fact that Peinovich was in fact a Russian Jew orchestrating a massive disinformation campaign against everyone, one which may have influenced the outcome of the American election and created significant disruption in other English-speaking countries.
This is a partial list of the people who have directly interacted with Peinovich in some way over the past few years, and who one would think ordinarily should have detected that something was very wrong:
Richard Spencer
Greg Johnson
Kevin MacDonald
Colin Liddell
Jared Taylor
Andrew Anglin
Lana Lokteff
Henrik Palmgren
David Duke
Colin 'Millenial Woes' Robertson
Bob DC aka Wolf Wall Street
Kyle Bristow
James Edwards
John Friend
Sam Dickson
Jack Donovan
William Regnery
Andrew 'Weev' Auernheimer
It's truly astounding that supposedly none of those people noticed anything, despite them having either worked with him and having been in interviews with him, or them having called in to TRS during its radio shows. At one point, Peinovich was even brought into a live podcast during the NPI 2015 conference.
Of particular significance is Peinovich's relationship to Kyle Bristow. Bristow is the Executive Director of Foundation for the Marketplace of Ideas, Inc., an Alt-Right organisation that advocates on behalf of Alt-Right figures and coordinates legal services for them. Peinovich joined its board of directors on 11 December 2016, joining five lawyers, and law student, and a journalist who were already on the board of directors there. I presume they too might like everyone to believe that they didn't notice anything?
Another one of key significance is Peinovich's connection to Andrew 'Weev' Auerenheimer. Weev is the person who basically did a significant amount of work on the TRS website in order to 'secure' it. At some point between 2014 and 2017, the Paypal donations on that site were deactivated and only the Bitcoin donations remained. If Weev was the one who implemented that change, did he not notice the email address linked to their Paypal account was a glaring giveaway about who Mike Enoch really is? But if he did notice the disturbing truth, why did he not alert anyone? Many people could speculate.
Here are some examples of obvious clues that they could have picked up on: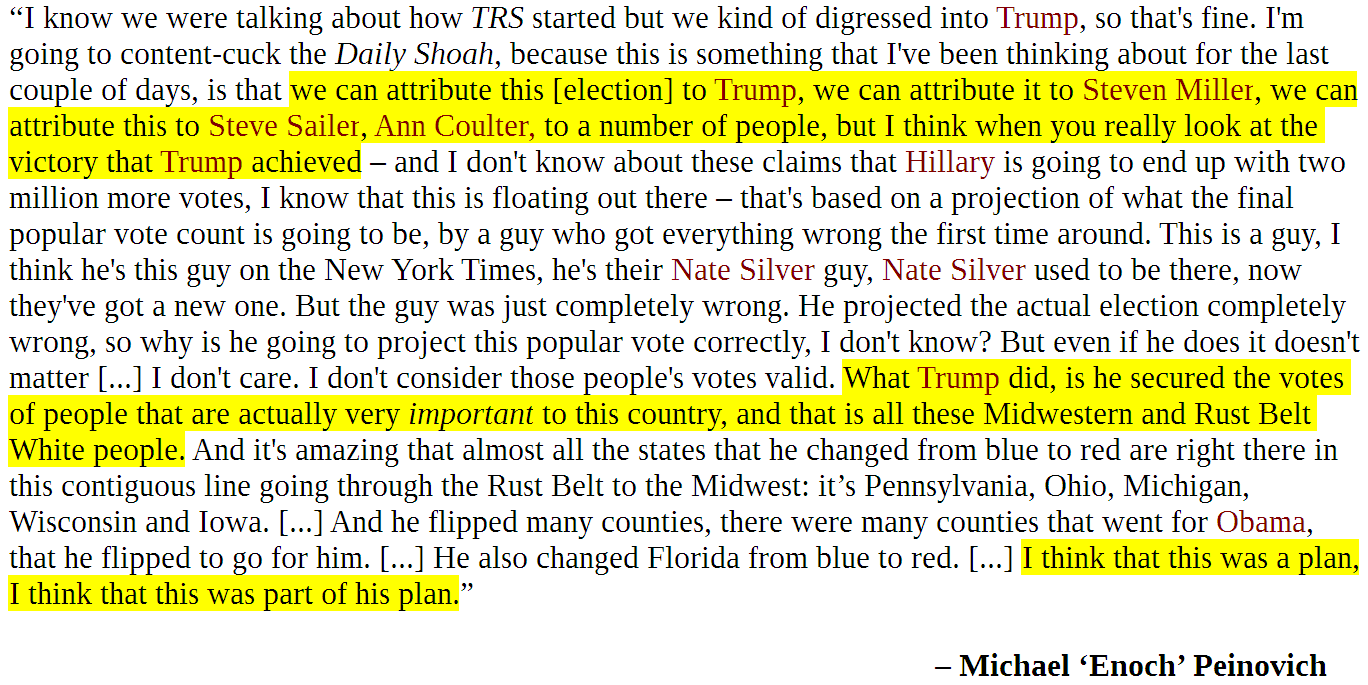 Just as large swathes of the American population were getting ready to give up on the system as it presently exists and to instead settle into total cynicism, along came the Trumpists and outlets like The Right Stuff, who managed to revitalise and rescue the ridiculous system yet again!
And also there was this extra incident here:

Fucking incredible. All of the anti-semitic rhetoric that was going on there basically was a cover for the fact that a whole Jewish operation was being conducted right under the noses of the supposedly 'red pilled' and 'savvy' generation of new American right-wing activists.
Over the coming days and weeks, I'm sure that all kinds of explanations will be forthcoming from all of those people. The question that needs to be asked over and over again, is this: Who knew about Peinovich's Jewish identity before today, and if any of them did know, when precisely did they know, and why did they not reveal it as soon as they became aware of it?



German Council of Economic Experts: 5 "wise men" entrusted to render reports that Merkel and the German government can and have used to justify the mass introduction of aliens upon the European habitat, the ensuing replacement of the German, and finally the European genome.
Wikipedia, 'German Council of Economic Experts':

The Council has five members which are nominated by the federal government and appointed by the president of Germany.

In the media, the council is often referred to as the Five Sages of Economy ("Fünf Wirtschaftsweisen"), or the "wise men":

Christoph M. Schmidt (since March 2009, and since March 2013 chairman)
Peter Bofinger (since March 2004)
Lars Feld (since March 2011)
Isabel Schnabel (since March 2014)
Volker Wieland (since March 2013)
These five "wise men" have Angela Merkel's ear and confidence - they've been appointed with her approval and their reports to her are being used to try to explain and justify the waves of migrants being imposed upon Germany and Europe -
Ibid:

Every year the Council prepares an annual report which is published before or by November 15.
German Council of Economic Experts, Annual Report 2016/17 -

INFLUX OF REFUGEES: INTEGRATION AS A KEY CHALLENGE:

Asylum-related immigration to Germany dominated the economic and socio-political debate from autumn 2015 to spring '16.

Highlights in criticism of the analysis:
1. The council takes a comparative basis of what was required to integrate East German and Balkan "asylum seekers"—integration meaning that it took about 20 years for them to be generally gainfully employed—and attempts to project how long similar integration would take of the Middle Eastern and North African "asylum seekers".
2. Taking in such factors as education and German language acquisition it concludes that by the year 2080 there would be no economic loss to the German social security system—there would be no economic gain either: the analysis fails to point out that the effort is pointless from an economic standpoint even IF there are no problems resulting from the introduction of vast numbers of non-European peoples into Germany other than the factors cited in the analysis—that is to say, they have not, for example, taken into account the cost of terrorism, terrorism prevention, strains on infrastructure and genetic reaction from German/European peoples. Even if there were no terrorist acts to come or to prepare for, even if there was not European racial backlash, at best, by 2080 the program would be an economic wash.
3. The variables that they take into account to factor as a difference from the task of integrating prior (European) "asylum" seekers as compared to the present mass of Middle Eastern "asylum" seekers are the capacity to learn German language - i.e., well enough to function in gainful employment, and the ability of the "asylum" seekers to support themselves financially. 91% of applicants since the migration crisis began have been given a temporary residence permit. To get a permanent residence permit after three years, an "asylum" seeker must demonstrate proficiency the German language (language level C1) and earn their living independently. A permanent residence permit after five years may be granted if a seeker can demonstrate at least level A2 knowledge of German and can at least partially earn their living. Once granted a residence permit a person also is a German citizen and as such has the right to go anywhere within the EU.
4. It is not only acknowledged that 70% of "asylum seekers" are male and under 30, it is strongly implied that this is a feature and not a problem, because they are more accustomed to work than females of their Islamic culture.
5. The capitalist motive for bringing in these "laborers" is bereft of intelligence, because they are intending to build an anachronistic industrial model—i.e., more unskilled labor and less development of robotics. Furthermore, again, as their presence is at best an economic wash with regards to social security by the year 2080—even IF they do turn out to be dutiful workers right along—the frequently-heard argument that they are necessary to fund pensioners is bereft.
And none of this takes into account the genetic destruction of Germans and the implication for the destruction the European genome as these "asylum seekers" would be "integrated" over the next 60 years.

See also: Already 40% of German residents under age five are of migrant background.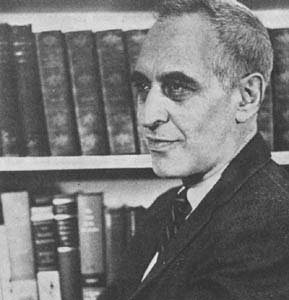 (((Frank Meyer, father of paleoconservatism))) and its (((opposition))) to (((neoconservatism)))
Both in terms of its meta-contextual frames and in terms of its content, this piece is meant to deepen Greg Johnson's account of the Alternative Right history and trajectory.
Steve Bannon has brought into high relief the underpinnings of the Alternative Right and has crystallized the underlying agenda - implicit White nationalist support was to be used via The Alternative Right/Lite to win for the Republicans and then, as usual, implicit White nationalism was to be discarded, the primary difference this time being that it was not in favor of the bracketed refurbished version of conservatism, "neo-conservatism", but rather in favor of a bracketed refurbishment of paleoconservatism - Alt Right/Alt Lite contra "The Left" - i.e., contra ethno-nationalism.
- It begins with the philosophy of (((Frank Meyer))):
Frank Meyer saw himself more sophisticated and opposed to the simplified hawkishness of (((Irving Kristol's))) neo-cons - who advocated neo-liberal policies domestically while advocating wars for Israel abroad.
Meyer and his paleoconservatism are actually a more virulent expression of Jewishness. He wanted Americans to identify with, support and affix Abrahamic culture domestically (calling things like that "conservative"), while allowing for politics conducive to mediating neo-liberal interests through feudalistic compradors and Jewish interests abroad.
This is the school of thought from whence came (((Paul Gottfried))), Reagan "conservatism", Pat Buchanan, and Sam Francis.
That (((paleoconservative))) school of thought, in opposition to the (((neocons)))), became foundational for The NPI of Sam Francis and William Regnery II.
By 2008 Paul Gottfried recognized that both the neo-con brand and the paleocon brand had shot their wad in terms of marketable brand name. If he was to be able to co-opt the White vote in order to use it to put the ultimately neo-liberal / pro Israel Republican party back in power, useful to Jews and oligarchs as usual, he needed to re-brand the agenda as something other than neocon, something other than paleocon even, rather as something "new", "rebellious", "anti-establishment" and the term and general concept of the Alternative Right was born - essentially not a big tent, but a tentosphere (a tent of tents) of anti-social types (anti-"leftist" was to be the common angle that they were seeded: meaning anti- the (((distorted and abusive))) social advocacy of ((("PC"))) - which, from a White ethnonational standpoint, should rather have been called by the term liberalism or cultural Marxism of the Frankfurt school). In order to be accepted into the Alternative Right tentosphere one had to be against this, what they called "The Left" and was duty-bound to tolerate one another's guiding anti-social organizing ideologies - for any of a gamut of stigma, ranging from adulation of Jesus, Darwin, Abraham or Hitler - Jew friendly Alt Lite to Hard Right Hitler idolatry - you didn't have to be in a particular tent of the tentosphere, but you had to treat its given array of tents as valid ....until perhaps the paleocon finally came to power. Then your job as an Alt Righter, your duty to use Whites to resurrect the Republican party and the reason for the fame you could not believe had been granted you was done - unless, perhaps, you remain sufficiently Abrahamic or otherwise stigmatically, didactically right wing enough to be sufficiently yoked.
It is all more sinister than that as you hear Steve Bannon, believing himself to be objectively the ultimate pragmatist on behalf of Western ideals, having affixed himself like a fat, blood-filled tic, valencing, full, sucking goy blood, the ultimate Shabbos Goy - vectoring the horizontal transmission of the bracket.
America's and Europe's White ethno-national bases are being sucked and directed into friend enemy distinctions exactly as the brackets see fit according to their evil Abrahamic god.
Whites may be allowed to live as useful cows, technoslaves or breeding partners for Jews, but otherwise they, like all other ethnicities besides Jews, are to be bred-out with others.
Paleocon world view, the Frank Meyer world view supplants what should be the friend / enemy distinctions for White ethno-nationalism.
Whereas the fundamental outgroups if not enemies should be Jews, Muslims, blacks and liberal traitors (in the case of Whites, usually operating under some right wing ideas, notably Christianity, Austrian school objectivism, supremacism, yes, paleoconservatism too, etc).
And against them, the fundamental in-groups should be White ethnonationalisms in alliance with Asian ethno-nationalisms…
Instead the Abrahamic world view determines the friend enemy distinction:
America's (((controlled))) proposition nation is "us" if not our "friend"; Israel, Jews, at least the "nice" ones, are "us" if not our "friends", the (((Russian Federation - parasitic propositional empire bigger than the moon; equipped with its Jews and Orthodox church))) is "us", if not our "friend"; blacks, their staggering population explosion, bio-power and hyper-assertiveness are "us", if not our "friends"; Islam, especially "moderate" Islam is "us" if not our "friend": these shock troops and compradors are marshaled against White and Asian ethnonationalisms in alliance.
Bannon puts the major friend-enemy distinction as the brackets would have it in stark relief -
Buzzfeed, Steve Bannon: "The Judeo-Christian West versus atheists. The underlying principle is an enlightened form of capitalism, that capitalism really gave us the wherewithal. It kind of organized and built the materials needed to support, whether it's the Soviet Union, England, the United States, and eventually to take back continental Europe and to beat back a barbaric empire in the Far East.
In the meantime, Richard Spencer has had a wad of Jewish scum shot all over his face - he and the Alternative Right have been used by the Republicans and the YKW as usual. Now for the futile reaction, also part of the plan…along with the placation:
Buzzfeed News, "This Is How Steve Bannon Sees The Entire World" 16 Nov 2016:

The soon-to-be White House chief strategist laid out a global vision in a rare 2014 talk, one where he said racism in the far right gets "washed out" and called Vladimir Putin a kleptocrat. BuzzFeed News publishes the complete transcript for the first time.

Donald Trump's newly named chief strategist and senior counselor, Steve Bannon, laid out his global nationalist vision in unusually in-depth remarks delivered by Skype to a conference held inside the Vatican in the summer of 2014.

Well before victories for Brexit and Trump seemed possible, Bannon declared there was a "global tea party movement" and praised European far-right parties like Great Britain's UKIP and France's National Front. Bannon also suggested that a racist element in far-right parties "all gets kind of washed out," that the West was facing a "crisis of capitalism" after losing its "Judeo-Christian foundation," and he blasted "crony capitalists" in Washington for failing to prosecute bank executives over the financial crisis.

The remarks — beamed into a small conference room in a 15th-century marble palace in a secluded corner of the Vatican — were part of a 50-minute Q&A during a conference focused on poverty hosted by the Human Dignity Institute, which BuzzFeed News attended as part of its coverage of the rise of Europe's religious right. The group was founded by Benjamin Harnwell, a longtime aide to Conservative member of the European Parliament Nirj Deva to promote a "Christian voice" in European politics. The group has ties to some of the most conservative factions inside the Catholic Church; Cardinal Raymond Burke, one of the most vocal critics of Pope Francis who was ousted from a senior Vatican position in 2014, is chair of the group's advisory board.

BuzzFeed News originally posted a transcript beginning 90 seconds into the then-Breitbart News chairman's remarks because microphone placement made the opening mostly unintelligible, but we have completed the transcript from a video of the talk on YouTube. You can hear the whole recording at the bottom of the post.

Here is what he said, unedited:

Steve Bannon: Thank you very much Benjamin, and I appreciate you guys including us in this. We're speaking from Los Angeles today, right across the street from our headquarters in Los Angeles. Um. I want to talk about wealth creation and what wealth creation really can achieve and maybe take it in a slightly different direction, because I believe the world, and particularly the Judeo-Christian west, is in a crisis. And it's really the organizing principle of how we built Breitbart News to really be a platform to bring news and information to people throughout the world. Principally in the west, but we're expanding internationally to let people understand the depths of this crisis, and it is a crisis both of capitalism but really of the underpinnings of the Judeo-Christian west in our beliefs.

It's ironic, I think, that we're talking today at exactly, tomorrow, 100 years ago, at the exact moment we're talking, the assassination took place in Sarajevo of Archduke Franz Ferdinand that led to the end of the Victorian era and the beginning of the bloodiest century in mankind's history. Just to put it in perspective, with the assassination that took place 100 years ago tomorrow in Sarajevo, the world was at total peace. There was trade, there was globalization, there was technological transfer, the High Church of England and the Catholic Church and the Christian faith was predominant throughout Europe of practicing Christians. Seven weeks later, I think there were 5 million men in uniform and within 30 days there were over a million casualties.

That war triggered a century of barbaric — unparalleled in mankind's history — virtually 180 to 200 million people were killed in the 20th century, and I believe that, you know, hundreds of years from now when they look back, we're children of that: We're children of that barbarity. This will be looked at almost as a new Dark Age.

But the thing that got us out of it, the organizing principle that met this, was not just the heroism of our people — whether it was French resistance fighters, whether it was the Polish resistance fighters, or it's the young men from Kansas City or the Midwest who stormed the beaches of Normandy, commandos in England that fought with the Royal Air Force, that fought this great war, really the Judeo-Christian West versus atheists, right? The underlying principle is an enlightened form of capitalism, that capitalism really gave us the wherewithal. It kind of organized and built the materials needed to support, whether it's the Soviet Union, England, the United States, and eventually to take back continental Europe and to beat back a barbaric empire in the Far East.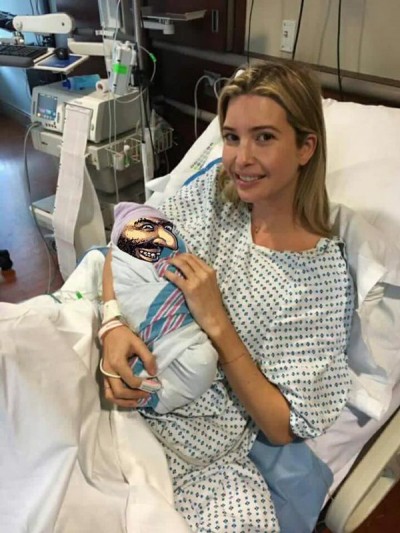 The Alt-Right/Alt-Left has given birth to "new" (((White))) leadership.
"And this will be a sign for you: You will find a baby wrapped in strips of cloth and lying in a feeding trough."—Luke 2:12 (ISV)
State of the art Jewish agenda - how it looks at this point vis-a-vis Trump:
At this point it is evident that top echelon of Jewish interests have come to recognize that they and their race mixing agenda are so far ahead that they've decided to get good with the White right-wing, to blend with and steer their reaction.
Hence they have gotten out in front of the reaction that their PC liberalism has created in Whites; and with that, they are orchestrating the "White" us / them, friend / enemy distinction.
Though I disagree with him on some important, fundamental issues, to give credit where credit is due, Wolf Wallstreet was incisive in his hypothesizing two differing agendas among Jewish elites: Plan A, of the Noel Ignatiev kind, wants to wipe Whites out completely - relatively more expressed by Hillary and Bill than Trump.
Plan B is taken by the kind of Jewish elite not quite so crazy and a bit more fore-thinking - realizing that they can use what they perceive as the "better breeds" of Whites, they want to leave some of them around to interbreed with and help steer their elitist political agenda - against interests that ethnonationalists shouldn't be against and on behalf of interests that ethnonationalists should not be for.
Rather than wanting America, the proposition nation, to fall, with its neo-liberal component being a world's foremost manufacturer and exporter of race mixing, rivaled only by Judaic, Islamic and Christian influences; they want the American political institution along with other Abrahamic/proposition nations to come more thematically, if not comprehensively under Jewish and neo-liberal lackey guidance.
A Trump victory does not only buy us some time, it buys them and their word-smiths some time - for one thing, to make (((the USA))) and (((the Russian Federation))) into good friends, and at one with (((White))) national politics.
Following the U.S. as an alternative right base, the Russian Federation is the Jews first option after Israel for a vector of parasitic control.
Needless to say that the U.S. is not an ethnostate, but neither is the Russian Federation, in either its vast size or content. As proposition nations, both are susceptible and heavily influenced by Jewish interests. Don't believe the stuff that (((they))) have gotten (((the Alternative Right))) to believe about Russia being good friends to Assad - they disarmed a defense program that took Assad decades to develop in defense against Israel. And now Trump wants to let ISIL destroy Assad. Even more laughable is The Orthodox Nationalist claim that China is a solid ally with the Russian Federation. Not true to say the least.
The Russian Federation is not opposed to Israel and to Jews. The Russian Federation was complicit in the overthrow of Gaddafi.
The proposition nations of the US and the Russian Federation, along with those nations that Jewish and neo-liberal interests are turning into proposition nations through immigration and race mixing, are not strictly opposed to Islam as they are guided, but use Islam as shock troops and compradors to destroy ethnonationalism - as in the case of what they did to Gaddafi and in what Putin has done and Trump would do to Assad. Such is the case of Trump's and Putin's position with regard to Asian ethnonationalism.
Trump and the Jewish political class have installed a stance which is hostile to the idea of Asian ethnonationalisms entering any cooperation with White American ethnonationalist counterparts; as if Trump and the Jewish political class have as their chief concern a common interest with White American workers - that is Not true:
Business Insider, "Donald Trump said wages are 'too high' in his opening debate statement", 10 Nov 2016
NPR, 'How Trump Broke Campaign Norms But Still Won The Election', 09 Nov 2016 (emphasis added):

JAMES FALLOWS: So [Trump's] main point, it's based on something that is in my view largely just wrong [...] factually incorrect—and that is the idea that essentially the economic problems America has is because China is—in particular but also Mexico and Japan and South Korea - are stealing our factories and stealing our jobs. [...] They've been losing them mainly to automation. They've been losing them mainly to the robotization of factories around the world. And that is why I can tell you from going back and forth to China that in every single country of the world, including China and Japan and South Korea and Mexico, the employment problem is the hollowing out of factory-type jobs because of automation.
It is a dubious prospect for ethnonationalists to want to "protect" the proposition nation anyway.
Right/Alt Right Misguidance Against Left Nationalism
By contrast to the right-wing objectivism that the Alternative Right is beholden to, which is manipulated and susceptible to Jewish and neo-liberal entryism, White ethnonationalism needs a position more characteristically White Left Nationalist: this would turn a critical eye toward the (((corruption))) of leaders of proposition nations such as Trump and Putin (if it can be said at all that Putin is in charge of 'a nation' rather than a parasitic aggrandizement larger than the moon) and what are becoming proposition nations ... such as those in Western Europe; at the same time it would turn a sympathetic eye toward and a cooperative stance toward the legitimate basis of ethnonationalism in Asia and the rest of the second world - in Europe exemplified by the Intermarium - to cooperate in our sovereign justice against the hegemony of Jewish interests, their misguiding of neo-liberal internationalism; as it backs shock troops and compradors among Islam and African population and biopower.
Trump has installed his contrasting, friendly, supportive stance toward black Americans (his singular racial/ethnic sponsorship, in fact) with his highly combative stance regarding Mexicans as if the former stance is strictly common ground with White ethnonationalism and both responses are anything but "solutions" to problems that his friends (YKW and right-wingers) created. But did you know that La Raza see themselves as a neo-race, aligned against blacks and against Jews? Who would have a problem with that?
Wikipedia, 'Texas' (emphasis added):

Under the Mexican immigration system, large swathes of land were allotted to empresarios, who recruited settlers from the United States, Europe, and the Mexican interior. The first grant, to Moses Austin, was passed to his son Stephen F. Austin after his death.

Austin's settlers, the Old Three Hundred, made places along the Brazos River in 1822. Twenty-three other empresarios brought settlers to the state, the majority of whom were from the United States. The population of Texas grew rapidly. In 1825, Texas had about 3,500 people, with most of Mexican descent. By 1834, the population had grown to about 37,800 people, with only 7,800 of Mexican descent.

Many immigrants openly flouted Mexican law, especially the prohibition against slavery. Combined with United States' attempts to purchase Texas, Mexican authorities decided in 1830 to prohibit continued immigration from the United States.
That law was an expression of Mexicans' express prohibition of blacks in their territory. What's the problem with prohibiting them?
A policy such as that, wrapped up in the fundamental base of La Raza's ethnonationalism, is something that White ethnonationalists could strive to leverage cooperation with. "But no!" say the Alternative Right, "they are Leftist, we cannot cooperate with Leftists!"
White ethnonationalism might perhaps even cooperate with the Turkish Kurds against Erdogan ..but "no!", say the Alt-Right, "we cannot cooperate with Leftist Kurds against Erdogan! - He believes in 'god', the god of Abraham… he follows laws in line with our Christian laws", they continue, "... in line with…"
Erdogan's administration, by the way, was almost as quick to congratulate Trump as Putin was.
Trump has aligned White interests with an obsequious stance toward Jews.
Say what you will, make your arrogant, snarky, condescending comments, gloating as you look downward, as the somebodies that you are now - bullfrogs perched on lily-pads - but if you think a choice between Hillary and Trump was anything but an expression of just how pathetic your objectivist aversion to decency and cooperation is, as it has been manipulated by the powers that be and continues to be, then you only increase the chance that your legacy will breed with Jews and other non-Whites, and your opportunity to participate as stewards of human and pervasive ecology will steadily decrease and steadily become more Jewish..

While we might take note of bonafide and cooperative ethnonational reasons as to why Japan was 93% in favor of Clinton, why the Philippines have set about to break with The US, etc…lets take a moment to give some kudos to White Americans and their advocates for exercising what was their better of two choices in a rigged deck.
Let me return a condescending congratulations to the Alt-Right on the stay of their execution….there is time to boil the frog slowly, where Kek does not jump out of the pot to reclaim itself as an Asian font of energy, culturally appropriated by Jewish hubris and misapplied by the Alt-Right, in near equal hubris.
Lawrence Murray is an excellent writer, obviously intelligent, not completely off theoretically - though still off, lets take a look at his victory lap with the still too meager, if not distorted, alternative right light that is thrown from the right wing torch that he carries:
The Right Stuff / Lawrence Murray, 'Now I am become President, Leader of the Free World', 09 Nov 2016:

On the far end of Manhattan's West Side, a different story was unfolding at the Jacob Javits Center. A massive convention hall named after former New York senator (((Jacob Javits))), it was supposedly chosen for its glass ceiling, which Clinton would symbolically shatter as our first female president-elect. Instead, it became a glass pitcher of liberal tears. The choice for Clinton's ill-fated coronation symbolized something else as well. (((Javits))) was a major force behind the 1965 Hart-Celler Act, which ended the country's eurocentric immigration quotas and resulted in the rising tide of color we are currently grappling with. Each generation has become more "diverse," and so in turn each cohort of new voters. It's why New York was a solid lock for parachute candidate Clinton, and a hopeless cause for its native son, President Trump.
(((Native step-son indeed)))
ibid:

As the post mortems will surely tell us in the next few days, there just wasn't enough turnout from voters of color. There just weren't enough Hart-Celler Americans to stop President Trump. Not even the creation of an entirely new minority class over the last 50 years, Latinos, was enough to prevent a nativist and civic nationalist from being elected. But frankly, this was our last opportunity to strike back at the ballot. President Trump won by a wavy Caucasian hair. Having to literally drive the Amish to the polls in order to save the White race was poetic, though not a long-term solution.

But such problems are for another time, for now we celebrate. We celebrate the year that White populism shattered the glass ceiling of identity politics in the postwar West, as predicted. An article in The Atlantic puts it succinctly: "[President] Trump was carried to victory by a wave of right-wing populist nationalism, as working- and middle-class white Americans turned out in droves to vote." President Trump's victory is a monumental paradigm shift, or has the potential to solidify into one. The media called Teflon Don every name in the book and tried to tie him to all manner of anti-establishment heretics. President Trump did not waver; he undertook the hero's journey and emerged victoriously in the name of the Amerikaner Shire.
Rather did (((The Atlantic))) inaugurate a paradigm shift from Jewish plan A to Jewish plan B - the slow Kek boil, the intermarrying with the frogs, er "Keks" who manage to jump out of the boiling pot.
ibid:

There is now a biblical flood of authors and pundits talking about "working class Whites," "White voters," "White males," "non-college Whites," "less-educated Whites," "blue-collar Whites," "rural Whites," and even the unspeakable phrase "White identity politics." This is yuuuge. We have a mandate from our folk for nationalism. The largest ethnic group in the West, the native peoples of Europe and their descendants in Greater Europe, is being recognized as an important political interest. Granted, it's an interest that our rulers on both sides of the Atlantic insist must be vanquished, but that they must now name us explicitly is massively important to the spread of our ideas.

The concept of the enemy has returned to politics.
(((Whites))) with "leftist" enemies, with Asian enemies, "Islamic extremist" enemies and so far as they can help it (((and they can force choices that you should not want to make, such as Hillary or Trump))), "friends" with "moderate Jews"..."moderate Islam"...."moderate blacks"... "friends with the right wing" - the "that's the way it is" club, the Jesus suicide map club and friendkinstein club 88 - European neighbors be damned ..be friends with "the alternative right" and its (((entryist big tent, and with that perhaps the "alternative left"))).
ibid:

Get ready for the storm, because White people, this is your fault. Because of your existence, millions of members of designed oppressed groups must live in fear of being treated like outsiders.
While you are at it, brace yourself if you are an ethnonationalist, for the reality that the US has been the adversary of ethnonationalism in most cases, as in Vietnam, the Philippines, in Japan, the Turkish Kurds and more - indeed, where have they defended ethnonationalism?
ibid:

Americans will have to decide very soon—quickly—where they stand on President Trump. The choice now is pro-Trump or anti-Trump, and nationalists as much as anti-nationalists have made him into an avatar of American Whiteness.
That's right, the Alternative Right has been co-opted into representation of their interests by that fool: that crass businessman, that mere promoter of the brand name attached to his failed, toxic assets as a means to pay off the Jewish financiers saddled with his shallow but grandiose vision, now intimately entwined with Jewish values - Donald Trump is here to represent (((White interests))).
ibid:

With his opponent out of the way (probably for good), where people stand on this choice will become much more salient.
With Hillary, the quintessential personification of the White man hating bitch out of the way, hopefully it will continue to feed their right-wing hubris to help highlight and distinguish them as they tend to obfuscate and muck-up the ethnonationalist agenda.
ibid:

Our position is not unassailable, but it is stronger than ever before. So we celebrate, that President Trump has given rise to nationalism, to America First, to formal recognition of the Alt-Right, to outing cuckservatives as #NeverTrump turncoats, to (((anti-globalist))) memes entering the public consciousness, to levels of shvitzing that shouldn't even be possible, and more than anything else to hope for the future of our people, not just in the United States but around the world. This is as much a victory for White Americans as it is for Swedes, Australians, the British, the French, and other European peoples. We will make the world save for ethnocracy.
Jews have money and they know that they can buy their way into enough of you such that your (((Whiteness))) around the world will be mixed with their motives.
ibid:

We knew the world would not be the same. A few people laughed, a few people cried, most people were silent. I remembered the line from the shitlord scripture the Bhagavad Reeeeeeeta; Kek is trying to persuade the prince that he should save his people, and to impress him takes on his frog-headed form, and says, "Now I am become meme, the destroyer of cucks." I suppose we all thought that, one way or another.
You aren't Kek, but you are frogs, you are somebodies, somebody frogs on lily-pads; on water boiling slowly now; perhaps you'll jump out of the pot and into the waiting arms of your kosher mates; before that, to prove your anti-Jewish credentials, perhaps you'll do them a favor by exterminating the undesirables from among them, while also true to your (((Fuhrer))), killing those inferior "lefty" Whites.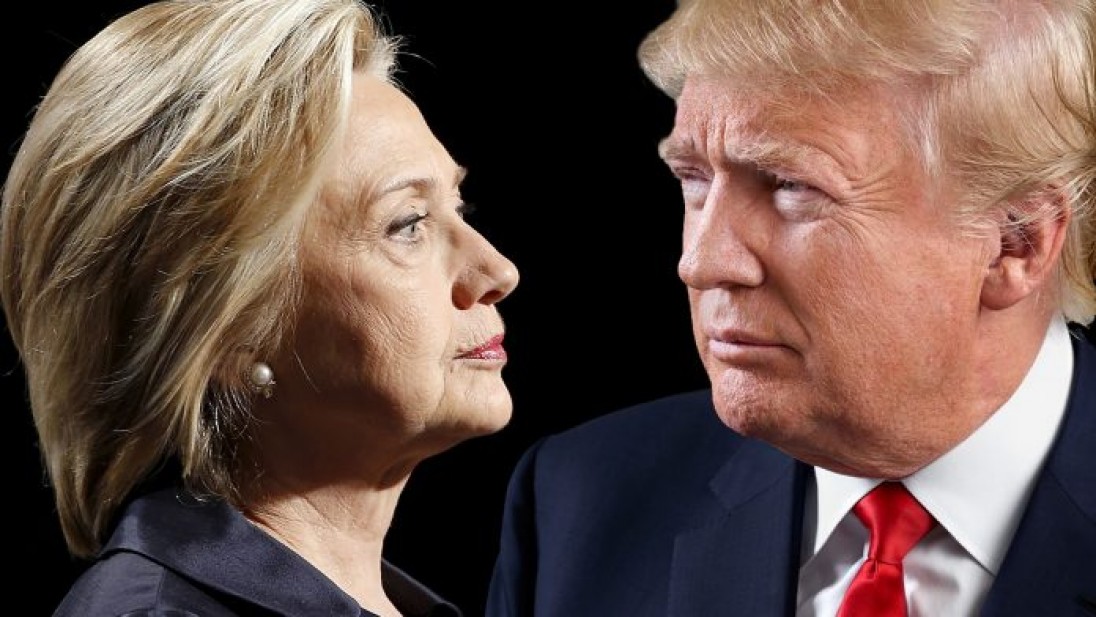 Regarding your people's history and future, the (((choice))) you get with U.S. politics is no choice.
Hearts and Minds is one of the best, if not the best, Vietnam War documentary - sent our way courtesy of TT.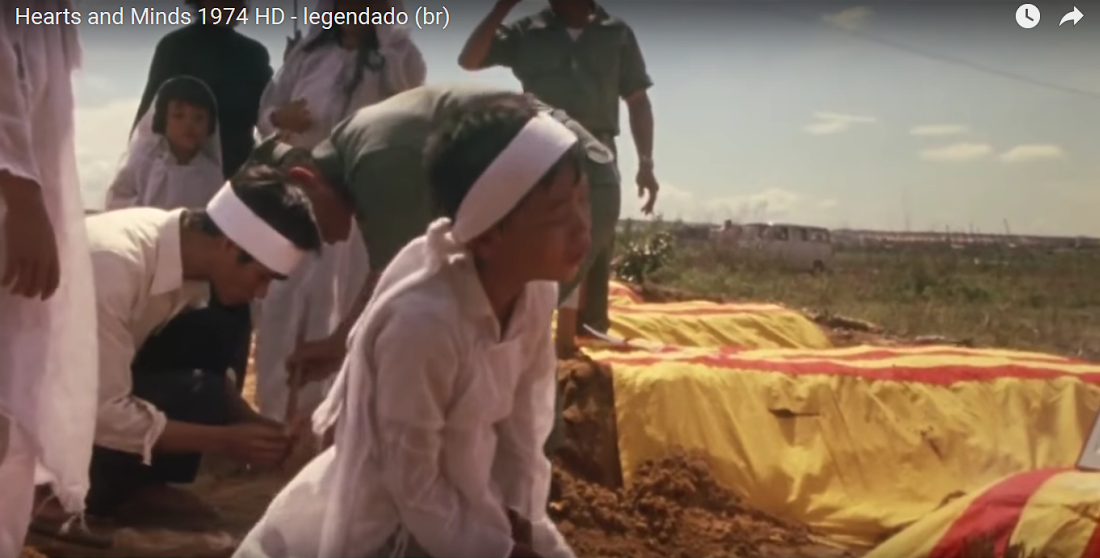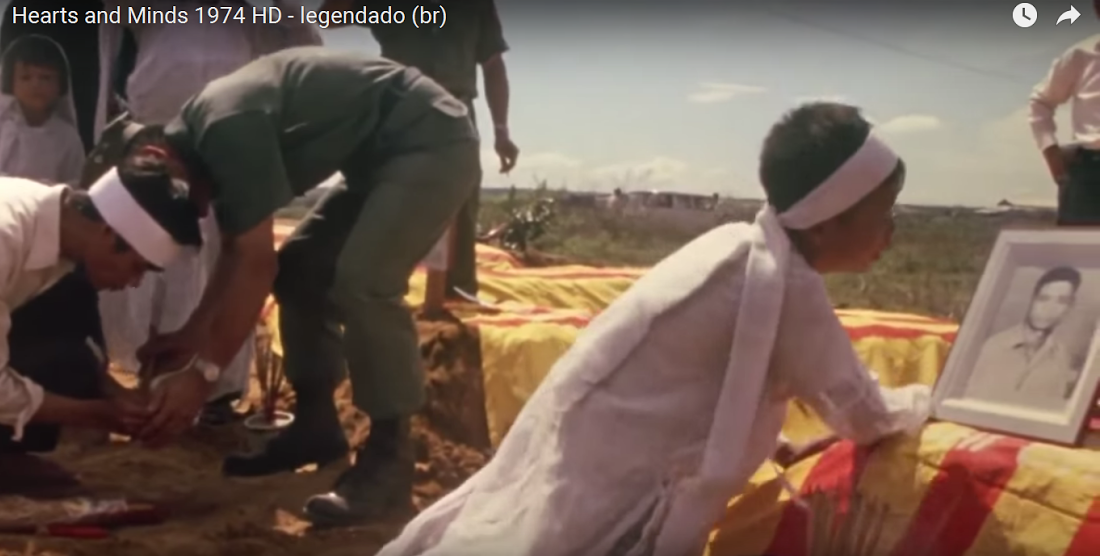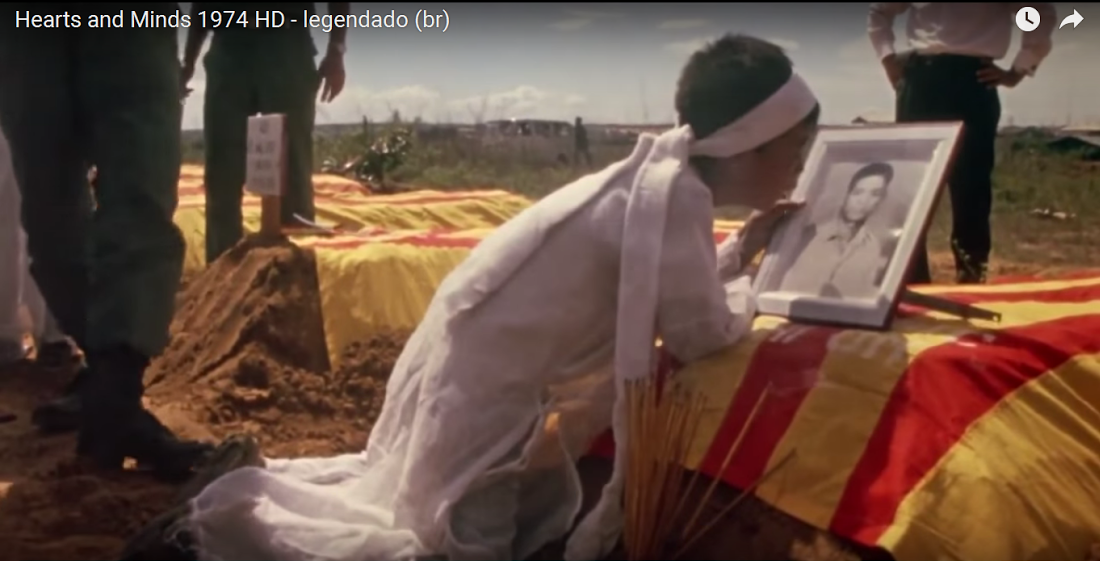 When I hear blanket criticisms (most recently by Scott Roberts) of those who protested and rebelled against habits of imperial warfare and sought a different way during that era, it sickens me. I have spoken many times of how the era's essence of midtdasein is not understood - it is not a universal call for peace. It is rather a gauge of one's folk and one's place among them - a gauge which allows for assessment of clear and present danger to authentic interests - thus, a legitimate fight or not. Vietnam and its circumstance were not a clear and present danger to White Americans or their interests - though you'll hear an echoing (((Walt Rostow))) in the film proclaiming otherwise; and through his kind of mis-assessment, a draft was required, authentic being violated. Hidden thus, beneath the overt expression of the times is an extremely meaningful gauge to authentic male being as opposed to their being used, say, in corporate or Jewish wars.
This is a documentary that puts Michael Moore's efforts to shame. If it does not fill you with disgust there is something very wrong with you. In a truly heartbreaking scene, a Vietnamese woman tries to get into a grave with what is her dead son; his child cries in agony over his photo; the scene then cuts ironically to General Westmoreland proclaiming that "The oriental doesn't put the same high price on life as does the westerner. Life is plentiful, life is cheap in the orient.."
One American Vietnam vet comments throughout but we don't find out until late in the film the price that he's paid. Another American vet is shown as a returning hero, a released POW. Early-on in the documentary, he's shown addressing audiences in his hometown of Linden, New Jersey - all White then, it is something frightfully different now, a black nightmare; a true case for flight of fight - domestically.
Richard Thpenther warnth you to mind your "P&Q"ths
Richard Thpenther thays, "If you are not right on "the PQ" (the Polish question), we are going to purge you from thith movement" (((The Alternative Right))).
"We have to thtop doing everything for thith Polish Catholic Country."
...of course what Spencer is aspiring to is a blended philo-German/Semitic/Russian alliance between (((Germany))) and the (((Russian Federation))) - imperium - which apparently requires a pinther movement on the "PQ" - against Polish ethno-nationalism and its Promethian Intermarium alliances of ethno-nations and regions.
Trump is just that man to float Richard's penny loafers.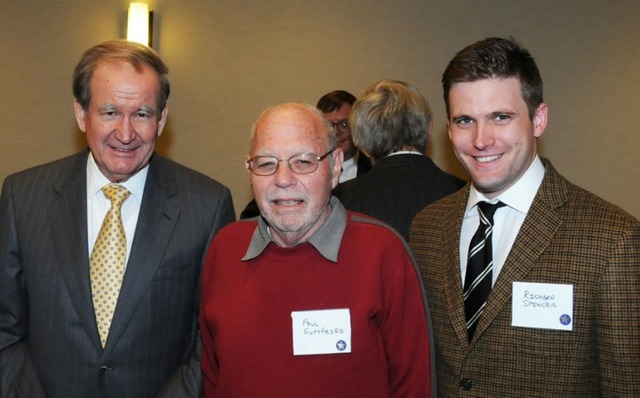 Darlings of the Alternative Right: From left - Pat Buchanan, wry on the "PQ" and its role in the "unnecessary war" ... Poland having "had it coming" for having taken over a tiny, but strategic, mountain train station from the Czechs, just prior to the threatened, impending war against them, thus "proving their fickleness"; center, (((Paul Gottfried))), ever sympathetic to the more Germanic Jew as opposed to the Eastern Jew, he coined the term "Alternative Right", mentored Spencer in his philo-Germanic/Jewish perspective and is doing all he can to ensure that it is Jew friendly and treats "THE Left" as the enemy. And to the right, Richard Thpenther himthelf - his three quarters Russian one quarter Turkish wife (out of the picture) - A Dugin/Eurasian imperium enthusiast; who wishes to do away with eithno-nationalism, and replace it with a philo Germanic/Semitic - Russian Imperium from ThanFranthithco, to New York, to Lithbon, to Vladivathtok.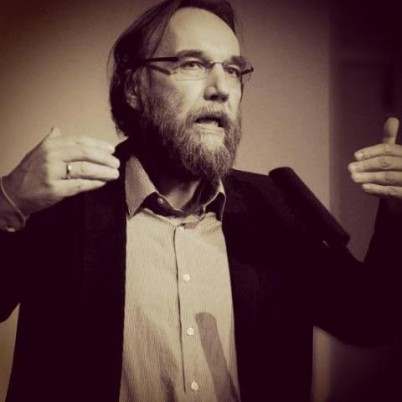 Dugin: proposing the Altright a deal - give up European ethnonationalism in exchange for a blended, de-racinated people (for what he proposes), Siberian tundra and Asian conflict.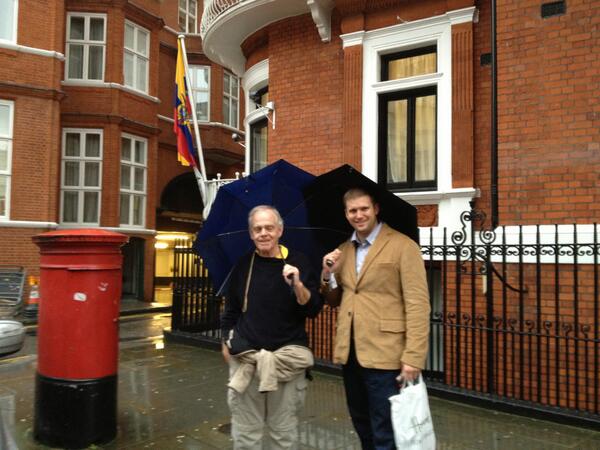 Richard is comfy under Regnery's umbrella - an umbrella of these Alt Right views.
Rounding-out the Altright tentosphere for the Jewish tent - Stark and von Goldstein discuss the Presidential debate:
It was hard for (((von Goldstein))) to declare Trump the winner of the debate and as having done well (because, for one thing, Trump did not do well, back-peddling, "if I don't win, I will get to Pennsylvania Ave. one way or another", defending his "unbelievable" business ventures, etc.).
But (((von Goldstein's))) take on this confirmed the hypothesis: (((They))) don't really care so much who wins as long as their controlled political system, including the Republican party, is resurrected - such that it includes Whites, that is, including (((huwhites))) as a re-defined vanguard. (((They))) seek to retain their position as the masters of discourse (in Stark's previous discussion, as the reader might recall, they had (((The Truth Will Live))) on their panel to continue the effort to define for us right and left, now including (((the Alternative Left))) - so as to try to bury this White Left Nationalist platform. An important thing for them, of course, is to include Jews as an edgy, trendy but included component of the Alt Right big tent, which is "going to make a real impact on the world"... notice also how von Goldstein is adamantly against the TPPA and, of course, the Iran deal, as just so horrible.
Trump's introduction into the narrative is as controlled opposition - very apropos for Goldstein (name of the embodiment of false opposition in Orwell's 1984) to direct attention to the created problem of the right and YKW, the created problem being Mexicans and the destruction of the domestic economy and quality of life (he directs attention for responsibility for those problems away from Jews, objectivists and blacks). ...and to the "solution" - Trump and his legacy.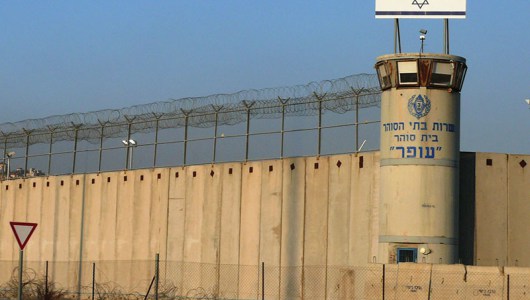 Israeli construction companies want the contract to build the Mexican border wall.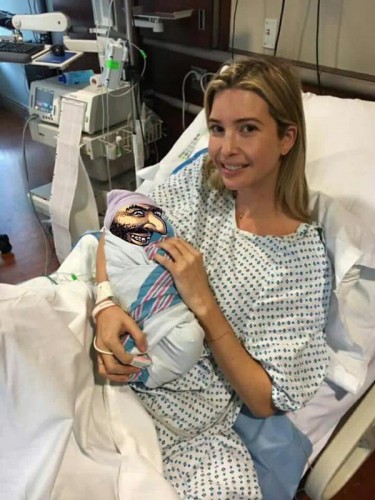 Trump's legacy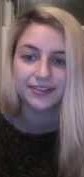 "The Truth Will Live" ...rather the lies will try to live but they're not White, they're Jewish.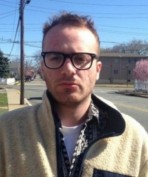 von Goldstein, "We, The Alt-Right, are going to make a real impact on the world" ...von Goldstein was apparently tapped by Gottfried to flesh out the Jewish-friendly tent of the Alt Right Tentoshere.
They raise "the P.Q." to try to counter attack the exposure here of what they are doing.
Allowing some 14/88 Hitler, cool, in their tentosphere, divisive, anti-social and ultimately destructive to a well founded WN defense that it is ... is something that they prop up as their "anti-Jewish immunity" while Jews allow for it and the right goes on obliviously, insufficiently aware that it is a position highly manipulable by Jews.
...with that, Greg Johnson will round out the Altright tentosphere with snooty, right wing elitist hubris, that is soft on blacks and inclined to be assiduously exclusionary of any White marginality and organic circumspection.
Here is a recent example of right-wing hubris and blithe imposition of blacks against The White Class, et al.
RRW, "West Virginia: Is Catholic Charities bringing in foreign laborers for a poultry plant to compete with Americans?"

Posted by Ann Corcoran on September 26, 2016

Here are some of the facts as we know them:

West Virginia is a relatively new resettlement state which has received only 176 refugees in the last ten fiscal years.

However, in addition to Catholic Charities resettling refugees, Episcopal Migration Ministries wants to open a new office in Charleston. Presently CC has three locations and one of those is in Moorefield, WV.

What else is in Moorefield? I'll tell you! There is a Pilgrim's Pride poultry plant located there.

Here are some things we know about Pilgrim's Pride:

It is owned by the Brazilian meat giant—JBS (you may know them as Swift & Co.) headquartered in Greeley, CO.

And, now get this. The very same Labor Department, that I would normally be complaining about, says that in some locations in the US, Pilgrim's Pride is DISCRIMINATING against African American job applicants, Caucasians and women! They are choosing Hispanic laborers (and it would appear refugee laborers) over Americans!
Notice how the right continually prefers blacks over "Hispanics" - a language designation which frequently includes people who are White, mostly White but mixed with Amerindian and/or some kind of Amerindian that is benign as compared to blacks.
This is a matter that has to be re-assessed - "Oh, these patriotic black Americans who used to be so good to live with before the Jews ruined their families" - colossal Bullshit of the right.
On the contrary: You Mexicans cleanse blacks from your neighborhoods? The more power to you. Lets make a deal.
Ditto that deal for Asian ethno-national/regionalist cooperation with European/White ethno-national regionalists against Jews, Muslims and blacks.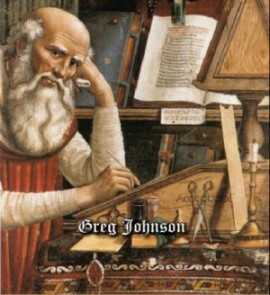 Fail: on this one, your erudition yields an
F-
In minute 2:18 - 2:21:18 of a discussion with TRS, Greg Johnson proposes to do away with the idea that John Locke's notion of civil individual rights is a key fundament of U.S. politics and suggests that it is only portrayed as such by Jewish interests.
First and foremost, Greg is ignoring the fact that it is in the group interests of Whites to criticize this notion for basically the same reasons that Jews have - especially for its bias against their capacity for group discrimination.
Johnson argues that Calvinism and Republicanism, in the latter case in particular, by way of reading Montesquieu, were exponentially more important to the founders. Maybe they were, but that doesn't translate to what became important in the life of ordinary everyday Americans for over 100 years.
Are people concerned with The Republic? Well, of course not very much in any practical sense. You can set aside the bit about Montesquieu being more influential by a factor of a hundred. This is a case of an erudite man pulling rank to the detriment not only of the truth, but of important utility.

The second matter is of Calvinism and its inherent means to exclude Jews. The separation of Church and State is integral to The U.S. Constitution, so any such notion of this being more relevant than Lockeatine rights in the every day lives of Americans - or even for those who set the agendas - is way off the mark. Again, it displays a wish for some of that unused erudition to come in handy in a place where it does not really help.
To look at Locke's notion of individual rights as set against and problematizing group organization is the best way to critique the foundations of America in terms of what has left racial defense susceptible. This is what makes racial defense extremely difficult, because it de-legitimizes group organization.
Given individual rights as the characteristic and definitive law of the land, when people raise concerns about how borders and boundaries are to be maintained, i.e., when people do try to tarry with these strictures, at best they tend to render crazy propositions (disingenuous or naive) that not only will the markets take care of themselves by the magic hand, but boundaries and borders around groups will be taken care of by the magic hand as well. In a word, Locke's empirical objectivism is a force of liberalism that is available for easy exploitation - by Jewish interests, liberals and other later day objectivists, be they Austrian School or other form of objectivist.
Nobody around here is saying that Jewish interests would not have taken advantage of The Constitution's empirical basis. Nobody should be naive enough, however, to believe that just because Jews reject it for its troubling of group organization and discrimination, that we should not problematize it on that basis as well, in order to discriminate on behalf of ourselves.
Greg is being that naive and asking us to be that naive when he tries to pull rank and suggest that Montesquieu is more influential by a factor of a hundred. Well, maybe he was to the founders. But ask Americans, including politicians, what matters to them when push comes to shove - for the past hundred years or so, what matters to them? Montesquieu, Calvin or their Lockeatine rights?