Majorityrights Central > Category: The Proposition Nation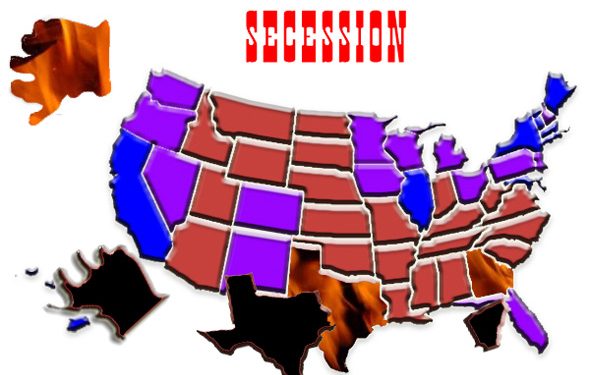 Yeeeehaaah! Sooweeeee! Get em ....Leroy and Schlomo
"The United States Should Seriously Consider Peaceful Partition", so says Vincent Law at AltRight on 24 April 2017.
How convenient that Vincent Law, a Ukrainian American (?) living in St. Peterberg, Russia, would proffer how balkanization of The US might go.
The right wing and Jewish perspective from which he comes is not to be trusted on either side of this issue. They created these conflicts, they created these immigration problems and now they want to create hackneyed "solutions." They may bemuse and distract larpers, but in the end they will serve a Jewish and complicit right wing perspective. This will create disaster and conflict for others while these weasels A) escape to gated communities or B) escape the country entirely if need be (with their money, of course); finally, e.g., leaving remaining Whites to get raped by blacks (who are "really not so bad", or perhaps "your problem", when in fact, it was their perspective that long ago imposed them on normal Whites et al.).
Meanwhile right wingers from other races will be trying to swing deals established by Jews and right wingers as well. Saying that the kind of Jews and right wing huxters posing as "ethno nationalists" on this thread at Alt-Right represent White people and their ethnonationalism. They don't. And they will create conflicts with people that White ethno nationalists should ally (not integrate or fight) with: Asian and Amerindian ethno nationalists.
The Right Wing/Alternative Right cannot be trusted with this issue any more than anything else - i.e., not at all. They are the ones who put Trump and his Jewish entourage into power. And that is just for starters in terms of their screw-ups. There are some basic issues that need to sorted out yet - not interminable matters, but too important to go right ahead and start bargaining on the bases and within the parameters that Jews and right wingers establish. They cannot even be trusted to say what is White or not.
silviosilver ✓ᵀʳᵘᵐᵖ ˢᵘᵖᵖᵒʳᵗᵉʳ Kumiko Oumae • 2 days ago

Asians do not belong in white ethnostates. It's as simple as that.

F—k off and die, please.
Kumiko Oumae reply to silviosilver ✓ᵀʳᵘᵐᵖ ˢᵘᵖᵖᵒʳᵗᵉʳ • 2 days ago

I completely agree that Asians should not be on the same side of the line as White people if a partition occurs in North America. That's precisely why I placed Asians and Hispanics together outside of the White ethnostate partition in the hypothetical scenario I described. Re-read what I actually wrote.

I would not even ask you to moderate the tone or language that you take when dealing with Asian people, since I think that Asian people do need to know how White Americans really feel on this issue, so as to shatter the illusion of there being any kind of shared destiny. You want to promote ethnic division in North America. So do I.

The American 'melting pot' was never going to work out. And even if it somehow did work out, it would be undesirable for all groups concerned. And so it should never be allowed to work out.
DanielS: Silver is an (admitted) non-White (who "wouldn't be surprised if he is part Jewish", but at any rate, "has an affinity for Anatolia and the Levant"). He lives in England, not America, and agitates to deliberately stir-up strife among Whites while he tries to create enemies for them among non-Whites. In this case, with Asians. I drove him away from Majorityrights long ago for these reasons. He is in no way to be taken seriously, as a representative of Whites; nor as a negotiator of ethnonationalism in good or bad faith.
While I draw attention to Alt-Righters, trolls and the experience that I have of them misrepresenting White interests, Kumiko calls some interesting facts to my attention about Alt-Right.com. - they allow for slurs against Asians in their comments, but if you use the word "Jew" the comment will be blocked.
She also noted that she was the only one who gave an up-vote to Bowery's comment:
jabowery • a day ago

Sortocracy: Sorting proponents of social theories into governments that test them. http://sortocracy.org
Bowery's idea of Sortocracy is among the most fair and intelligent on the thread, but the drawback of Sortocracy is for his/its empirical bias, as it lacks the historical element that hermeneutics corrects for. If that were to be incorporated, and it could be, it could be a very good vehicle.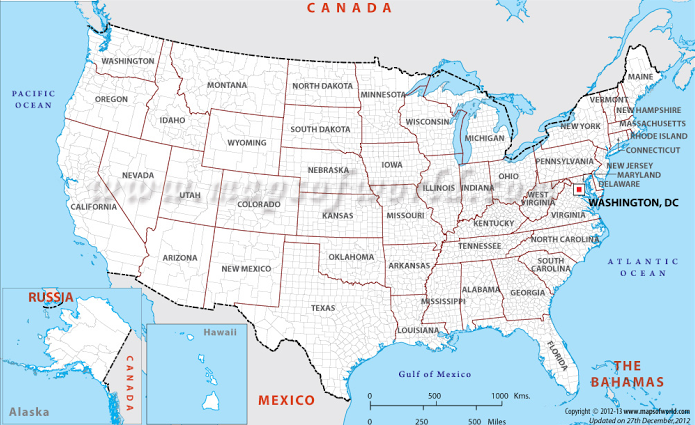 Clicking on the map will take you to a site that allows you to click further onto particular states to see all of their counties. For various reasons this is a helpful grid when examining matters of secession.
The YouTube channel N.D.L has put out a new video today, which really captures the sadness of what policing in Sweden must be like now.
Progressive cultural manifestations flourish under the protection of the state, while at the same time the policymakers undermine that same protection by allowing a retrogressive demography to enter and replace the citizens of the country. Additionally, the Anarchist Bloc attacks the police at every turn, exacerbating the instability of the situation.
Sometimes video really does depict it better than text.
The government of Stefan Lofven really has the same kind of haplessness and incompetence that the government of Harold Wilson had. I'm sure that no one truly wishes for this in their heart of hearts—but I think that if the situation should deteriorate to an extent where governance is impossible in Sweden and the electoral system continues to deliver up the wrong result, in such a case I would hope that the Swedish security services have contingency plans on hand to fight the decline in the same way that British services had contingency plans in the 1970s.
Until the last moment.
Kumiko Oumae works in the defence and security sector in the UK. Her opinions here are entirely her own.
What is this?
Donald Trump's increasingly roulette-like to-do list has now delivered up the latest 'event'. Donald Trump will be addressing the US Congress today on Wednesday 0200 UTC (Tuesday 2100 EST). This is not a 'State of Union Address', because as a new president it is not expected that Donald Trump would yet know what the status of the United States is. For this reason it is customary that although a US President can call for a 'State of the Union' address at any time he wants, no president other than Dwight D. Eisenhower has ever called such an address in his first year.
As such, Trump's address to the US Congress today should be understood as being an address, but not a 'State of the Union' address.
What should you look for?
When he addresses lawmakers from the Senate and the House, Trump will likely talk about tax cuts, and tax reform, regulatory adjustments, his plans for job creation, the construction of the border wall with Mexico, the abolition of the Affordable Care Act, and other issues, if White House Press Secretary Sean Spicer is to be believed. Spicer also added that the supposed theme of the address is going to be "the renewal of the American spirit."
I can't wait to see the kind of vacuous nonsensical stream-of-conscious word-salad which will be deployed across the lectern in search of a meaning, once Trump actually starts ad-libbing in the middle of his own speech as he so often tends to do.
In terms of the substance of his speech, I'm expecting that it will be in the combined tradition of Madison Grant, Franklin D. Roosevelt, and Dwight D. Eisenhower – which is to say, a crybully session in which people will be entreated to 'discover' that all of the problems of White and Jewish Americans and Israeli Jews, all the problems that they have, are somehow to be blamed on Asians and Mexicans.
Aside from that, I think there should be a short list of things to watch for in this speech.
1. Which pledges does he remember to mention, and which does he quietly drop?
The White House has said that the first half of the president's speech should focus on his campaign promises, and which ones he has been able to honour so far. I'd suggest that you should keep on hand – which is to say, keep in right in your hand on your tablet – the Washington Post's tracker of the 60 key promises which Trump made to his constituents. By looking at what makes it into the speech and what does not, you might be able to discern what his emphasis is, or perhaps promises he's demoted to a lesser priority or even abandoned.
2. Does he appear under pressure and agitated, or is he calm and confident?
Donald Trump is strongly influenced by Norman Vincent Peale, and a key to understanding his psychology is to understand Peale. If you don't already know of that horrendous individual, I'm sad to say that you won't have the time to get all briefed up on it before the speech airs, because it's a whole tangled mess of nonsense which takes at least six hours to get familiar with.
What to watch for is his facial expression in tandem with his 'off script' moments, since the key to understanding his 'off script' moments is that they are spoken to himself and not to the audience. The audience can either choose to opt in or not, but his little utterances like "so true", and "we are going to win bigly", are as much for his own autohypnotic benefit as they are for providing a repetitive touchstone for his audience to engage in the same autohypnotic self-reassurance.
Another pattern that is clearly observable is Trump's willingness to transform personal disputes into grand narratives which are then inserted ad-lib into his speeches. Anyone or anything that he chooses to go off script to mention for criticism, is going to be something that he is actually worried about in some way.
US Presidents also often tend to use opportunities when addressing the US Congress to define and signal against state or non-state actors that they view as adversaries. The time is generally not used to define or confront domestic political targets. Yet it it likely that he will do so.
The thing therefore to watch for, is whether he gets pre-occupied on targeting domestic political targets and ends up constraining or limiting the time he spends describing or explaining his foreign policy stances. The ratio of time spent will tell us perhaps not a lot about the direction of the whole administration, but it will tell us more about where Trump's mind as 'Commander in Chief' is most focussed.
3. Law and Order?
His attitude toward his own constituents will be most perceived through the stances he takes on law and order issues, which form a large part of why his supporters backed him during the electoral campaign. The question is whether he will dignify them with adult explanations of the challenges that lie ahead, or whether he will stick with the sloganeering he has used so far.
A big signal to watch for is if he devotes this time to attacking 'the press' in sweeping generalised terms. If he does this, it should be interpreted as a sign that he is still in campaign mode, and that in fact, he may be planning to keep doing that because he is already looking toward the election campaign of 2020.
Expect the topics – if he chooses to treat the audience as adults – to be ranging among counter-terrorism, his Muslim countries immigration ban which curiously omits Saudi Arabia, Qatar, and the United Arab Emirates and which he is planning to reintroduce with new wording, his attempts to deport undocumented Mexican migrants, the border wall, increased military spending or an end to the sequester, supporting the 'blue lives matter' phenomenon, and so on.
4. Addressing divisions?
Will he try to placate the demographic groups who are opposed to his presidency? Or will he ignore them?
Crucially, watch for him to try to reach out to African-Americans. There is a real chance that he will do that, because that is a 'safe' move. African-Americans are the most disorganised and least politically coherent group in the United States and it would be seen as a 'great PR' move which he would be able to execute at no actual political cost to himself.
He'd simply be getting criticism from the Alt-Right for it, a demographic group which he knows will support him no matter how much he spits on their faces, because they made memes for him and campaigned for him for free. They did it for free.
More crucially, it will be instructive to watch for how Donald Trump will address the accusations that he has not deterred supposed 'anti-Semitic' behaviour among his supporters. Trump may take this opportunity to respond by once again putting the Alt-Right under the bus, a move which again will come at no cost to himself, because the Alt-Right will still continue to support him after he does that.
Watch Twitter if you begin to see this happening during the speech, and you might even be able to see the Alt-Right live-Tweeting its own shameful cuckholdry. You could also look at the live thread on Daily Stormer to see the same cuck phenomenon take place.
I'm not saying it's guaranteed to happen. I'm just saying it's very likely to happen. There are a lot of variables in play.
5. Nonsensical Anglo-Saxon outreach?
Trump may try to make some kind of absurd outreach to Britain by trying to once again make a verbal connection between the social phenomenon which got him elected in the United States, and the phenomena which led to 'Vote Leave' being the outcome in the EU referendum in Britain in 2016.
If he makes this outreach, it should be interpreted as a sign of his weakness, as it would be a signal that he feels that he need to lean on the existence of a non-existent 'club'.
Brexit, which gave rise to #GlobalBritain, is economically the complete and total opposite of #MAGA, and that is the most important sphere of reality which decides almost everything. Any attempt to link the two is really just an attempt of the latter to grasp the coattails of the former.
They share nothing.
6. Paul Ryan's face and hands?
It should be possible to watch Paul Ryan's reactions in order to gauge to some extent how far – if at all – Trump strays 'off script', as the Speaker of the House has vacillated between sometimes voicing support for the President, sometimes openly disagreeing with him, and occasionally taking the position of refusing to comment when asked about the content of Trump's tweets.
Any adverse expressions on his face – a face which he will of course be trying to keep as stony and placid as possible throughout the speech if he can possibly do so – and any moments at which he pointedly refuses to clap when the cue comes for him to clap, could be indicative of a serious split between the Republicans in Congress and the White House, or indicative that Trump has simply dived off script in a dramatic way.
Keep in mind that 'Trump off script', can also mean 'Trump actually mouthing neoreactionary things that Steve Bannon gleaned from Curtis Yarvin and then mouthed into Trump's ear at the last minute before the speech'.
7. Length of the speech?
White House sources indicate that they expect the speech to last between 65 and 80 minutes. If it ends up being significantly shorter or significantly longer than that, then it would signal that something unexpected has happened, and it'll be up to observers to assess what precisely that was.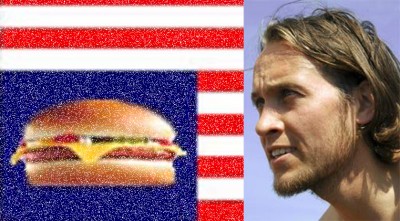 Not just a government issue patriotard, but full-blown ZOG agent.
Brett Stevens isn't just your average garden variety asshole - though he certainly is that as well - nor is he just your standard, government issue patriotard: he is an alphabet agent (or some proxy thereof) making word salad in service of ZOG and the YKW otherwise. The best that we can for him is that we might examine how an agent as such goes about twisting language games to the ends of his master.
I never liked what Brett Stevens was doing, was inclined to ignore him as being at best some sort of coward dispatched to re-direct WN into American patriotardism - with his dip-shit hamburger logo and all - likely an FBI agent, annoyingly, twisting our concepts around to that end: but now he's emerged full blown didactic to illustrate how an FBI agent (or whatever kind of agent he is) goes about twisting and retooling language games to make them fully YKW and ZOG amenable.
Of course those in service of the YKW do not feel the need to be especially covert about their advocacy in all places nowadays, particularly with The Alternative Right Tentosphere being what (((it is))), as it is devised to be YKW friendly - markedly so in its charter name site, Alternative Right, which re-published the Brett Stevens article "The Roots of Modern Anti-Semitism." They feel no need to be ashamed of their defense of Jewish interests, they are free to exercise their chutzpah, as they do by way of Stevens in this article. However, the real points for style in shabbos service come into play as Stevens and committee go to work confounding and re-directing proper ethno-nationalist understanding of the world that the more sophisticated and Jew-wise would otherwise be sorting out. We'll have a protracted look at how Stevens is doing that in a recent Red Ice interview of his - "Deconstructing Modernity" with Henrik Palmgren - after we first take look at that short piece of his, "The Roots of Modern Anti-Semitism", as it lays blame solely on the shoulders of Whites for their ethno-national disintegration, an argument typical of YKW chutzpah, and equally typical of them in tasking shabbos goy to argue as such.
Alternative Right, "THE ROOTS OF MODERN ANTI-SEMITISM, by Brett Stevens, 17 Feb 2017: While anti-Semitism makes no sense because it scapegoats one group for the failure of the much larger phenomenon of Western Individualism, it is easy to see how it came about in modern times because of the unfortunate affinity of a large percentage of Jews for egalitarian ideologies which also reveals the eternal tragedy of the Jewish people in Europe and Eurasia:
Ok, so we can see that Stevens is not only shabbos goy enough to play the eternal scapegoat card on behalf of the YKW, but he would also play their card of blaming our demise solely on our individualism and lack of rectitude, and how convenient an argument, now that Jewish interests have more money than god - according to them, we are supposed to see "a pathological desire for 'equality' in ourselves, to believe we are afflicted with a vain wish to emulate quite the magnanimity of Zion. They want these conceits to be seen as the key and sole cause of our problems. We should not try to emulate their organizational success with any of that leftism stuff. They want us to believe that they simply can't help it that they have vastly disproportionate money, power and influence, it is merely an offshoot of their inborn talent that they are able to be so magnanimous with your freedom, they're just better than you are. According to them, we should not succumb to time immemorial prejudices, they want you to believe that these prejudices, looking upon their money as having been funneled up to them by usury, are as "baseless" as depicting them as the veritable blood suckers of social capital in a wood carving of old.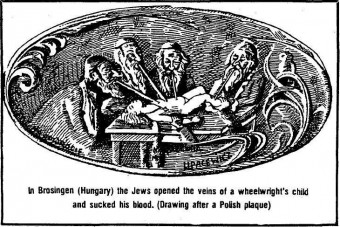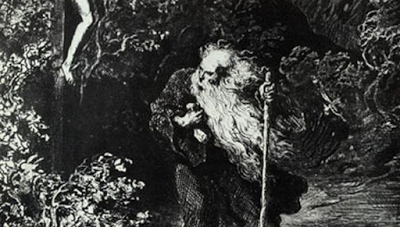 Stevens supplants depiction of YKW as the blood suckers of ancient prejudice in favor of "The Wandering Person-of-a-certain-ethnicity"
Ibid:

More legs than body.

"In 1934, according to published statistics, 38.5 percent of those holding the most senior posts in the Soviet security apparatuses were of Jewish origin. They too, of course, were gradually eliminated in the next purges. In a fascinating lecture at a Tel Aviv University convention this week, Dr. Halfin described the waves of soviet terror as a "carnival of mass murder," "fantasy of purges", and "essianism of evil." Turns out that Jews too, when they become captivated by messianic ideology, can become great murderers, among the greatest known by modern history."

When 2% of the population represents nearly 40% of the Communist Party, they will be targeted. Theodor Herzl, one of the founders of Zionism, recognize this when he noticed that among national populations, those who do not fit the national profile are attacked whenever things go wrong. But even more, when a stereotype becomes somewhat true, the brutality that follows seems justified or at least forgivable to most people, despite being unrealistic.

Naturally the tragedy of the Jews comes into play here. The Jewish diaspora began before the Jewish people were exiled from Palestine. It lies in the mixed-race nature of the Jewish population, who were probably once European but became merged with Asiatics and Asiatic-African hybrids because of Israel's place as the center of world commerce at the time.
Right. Stevens wants us to believe that the Jewish population were probably once European…and a species, we should suppose, perhaps to be considered in the same genus and cultural milieu with us once again: According to him, we are supposed to empathize with them on two grounds: After all, since their diaspora, they believe that they have been subject to unfair prejudice, viz. as being parasites upon the various populations of the world that they have circulated among - an unfair prejudice, they believe, against a symptom of their being homeless - kind of like our European diaspora in America have been depicted in their "White privilege"; and, secondly, we should be able to relate to them as being of common European origin - even though there is ZERO genetic evidence of that.
Ibid: Jews are a bourgeois tragedy: successful in business, they accepted everyone, which led to them changing from a European population to a mixed one. This guaranteed a home on none of the continents and, when their homeland in the middle east was dispossessed them, a wandering group who could never point to an origin and say "there, alone, we belong."

Like the good businesspeople of the West today, the original Jews accepted diversity because it made good business sense. Thriving businesses do not turn down customers because of their national origin. But in doing so, the Jewish people invited in the hybridization that ensured they would never have a racial home or continental home except themselves.

This fundamental alienation led to a fascination with anti-majority movements for many Jews, explaining their higher participation in Leftist movements. However, their lack of an identity in one of the four root races — Australid, Caucasian, Asian and African — then turned against them, as even the Communists recognized the power of nationalism.

While this seems like a problem without solution, nationalism solves [it]. A new race was made: the Jewish people. It belongs to no one but itself, and it needs its own homeland, whether in Israel or Madagascar. It will never be European again, but it can be the best of what it is, and this begins with a divorce from the alienation that has led it into so many disasters.

In the meantime, these historical events prove how nonsensical anti-Semitism is. Our problem in the West is that we are following the path that the ancient Jews did because, as individuals, we are willing to "succeed" at the expense of civilization. We cannot blame others for our own moral failing, and indeed, doing so obscures what we must do, which is to change our ways. First published at Amerika.org
Yes, they would have us believe that we should fully empathize with their right to a sovereign homeland while they have been integral in imposing unimaginably vile and burdensome numbers of interlopers upon us, in our nations and against our groups, against our will, because now they would lie and say, "we are of common stock and culture"..."but even so, they have evolved from us in these beleaguered diaspora circumstances to be different enough", even more "the special light unto us goyim - to give us a lesson of what it means to live as diaspora among diversity; from their besieged sovereign of Zion." According to them, we should be sympathetic to their aloof perch, because they are still like us in having started out in the same place as us; and with that duel empathic circumstance of origin and diaspora, were so "kind" as to have bequeathed a common Abrahamic "ethnic culture", of Noahide law, a tutelary yoke of obsequiousness to their rule, which we are supposed to recognized as a kindness offered and accepted just as the Alternative Right has in their quid-pro-quo with Zionism ...we are supposed to treat it not as the imperialist base and rule of Jewish diaspora operations, but as a completely sympathetic national ally which never did us any harm, just like its scapegoated diaspora, who started out just like us - we are supposed to believe, were wandering tribes of Europe, just like us.
OK, that's enough baloney there from Stevens' more forthright advocacy for Jews. However, Stevens has not only been put-up to turning simple anti-Semitic "prejudices" of old on their heads and into "sympathetic" excuses for them, he is also tasked with going after the more arcane and sophisticated kinds of topoi used by myself, Kumiko, GW and Bowery - Stevens is at pains to twist careful ethno-nationalist thought around and into ZOG interests, as one can see in the recent interview that he did to pitch his book, "NIHILISM: BETWEEN NOTHINGNESS & ETERNITY", in a podcast called "DECONSTRUCTING MODERNITY" with Henrik Palmgren at Red Ice Radio, 8 Feb 2017.
First of all, deconstruction is a mainstay premise of what modernity does to clear-away "the arbitrary" in its quest after foundational essences. It is NOT so concerned to not subject to arbitrary deconstruction and experimentation the precious inheritance that is. So, we already have a clue that Stevens is probably not going to give us something radically different from the modernity we've been getting as it concerns our interests at all (certainly not something like White Post Modernity) but something a lot more like bald modernity and nihilism in the service of the "reality of inequality", a "reality" that just so happens to serve the ehem, rather unequal position now of Jewish power and interests - who will try to placate us, if we are good sheeple, by sneaking-in some "radically" traditional Noahide consolation (yoking).
Brett Stevens - Profile of a ZOG agent? Probably Yes.
Brett Stevens says that he "came to the Alternative Right" through the "Dark Enlightenment" and "Neo-Reaction" - the latter two spheres of the Internet always struck me as Jewish language games as well; though I never investigated these Internet bubbles, Kumiko tells me that they are, indeed, fronts to divert the attention of STEM types, in particular, away from Jewish power and influence as key problems; and to direct people instead to see problems as being located strictly in "modernity" and "solutions", even if only stoically conciliatory, to be found by embracing "traditional" reaction by contrast - i.e., owning "reaction", the devil term attributed by leftists to right-wingers ("reaction" being a "good thing" now that the YKW are on top). Not only are these YKW/Zionist dodges of "The Dark Enlightenment" and "Neo-Reaction" the auspices that Stevens has come through, but they have emerged especially meaningful to understand as strategic language games within the political era at hand, as it has been revealed by Steve Bannon that he recommends this material, having read it and having been significantly influenced by it.
It is important, therefore, to understand not only agent Stevens overt advocacy of Jews, but also to untangle the more covert web-spinning that he is using to obfuscate, enmesh, entangle and frap-up genuine ethno-nationalist concerns with whatever arcane language games, including Dark Enlightenment and Neo-Reactionary misdirection that he can avail, in this case with Henrik -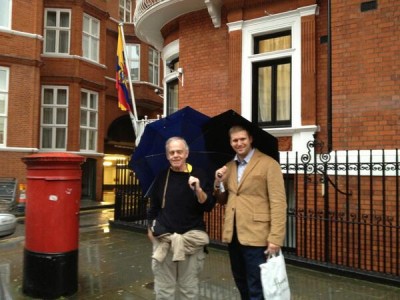 Regnery, Spencer, prime umbrellas of (((Alt-Right))) big-tentosphere.
Dear Daniel, I'm a reporter at Reveal News, a news service and public radio program in California. Thanks for responding to my Twitter message.

We're doing some reporting on Richard Spencer and Bill Regnery. I saw the "Richard Thpenther" post on Majorityrights.com, complete with a foto of the 2 of them together, and thought that you could certainly point me in the right direction on some basic factual issues, if you were willing.

So, I'd like to have a conversation. I'm happy to abide by whatever ground rules you set. Here's my bio, if you'd care to check me out, and my contact info is below. Thanks for your consideration, and please let me know how you'd like to proceed.

Looking forward, Lance Williams, Senior Reporter, Reveal from The Center for Investigative Reporting
Before moving on to detail the discussion that I had with Williams, I want to recap the left-right paradigm as it is conceived for majorityrights platform, since Williams was asking for my perspective on matters and since like everything that I've gleaned from academia and niftily re-tooled for our ethnonationlist interests, it has been attacked, no matter how well aimed, how effective and how coherent in those aims. Since I have not been able to overcome this misplaced jealousy, or naivety, bad advice or whatever causes the intransigence of this contentiousness, I must repeat myself.
Recently, I have been challenged again on the concept of left and right that I use. I refuse to back down and shouldn't back down for the utility and intelligibility of the concept of left and right as I conceive it. It is intelligible, intuitive even, as it underlies patterns of ordinary language use. It only becomes confused and counter-productive as people try to play along with the more "sophisticated" versions (perversions, really) that Jews have spun through media and academia; which the disingenuous or naive have bought into - as they disingenuously/naively see it serving their interests - the more "sophisticated version" puts forth an oxymoronic definition - that the left is synonymous with liberalism - an oxymoron indeed, conceiving a "union" without prerogative of membership inclusion and exclusion; in fact, by this definition, a union would be just the opposite, it is a "union" that would constantly seek the opening of its membership bounds, to never exclude any "scab" as its highest value (to unionize the entire world as members of the union, we can only imagine). The "sophisticated" White response and what the Jews want, what those disingenuous/naively going along with the arrangement of their terms do, is to say, "no, I'm not a leftist, not a liberal, I'm on the right! - and I can prove that I am not a racist. I'm pure, not arbitrarily setting union bounds of my racial group, despite merit or not, I'm basing membership on unassailable, objective facts and merit alone."
Ironically, this objectivist response underpins liberalism itself, the very form of the affliction against racial and national maintenance.
Naturally, any halfway intelligent and conscientious White, concerned for White EGI, is going to be mortified that Whites are going along with this, as it puts precious, circumspect patterns at risk and frightens-away potential membership for its lack of accountability. The Jews know this and they promote White identity as right wing because they know that it is going to deter group loyalty where it does not have them reacting into headlong disaster - a trap, fighting on supremacist grounds, (hubris) where they literally become the bad guys who get into disastrous conflict with those that should be their allies (some of them White ethno-nationalists, some of them non-White ethno-nationalists) - vilified as subhuman, these ethno-nationalist adversaries (nemesis) are nevertheless able to fight back very well, and greatly damage the EGI authoritatively designated by the right as its cause, as their adversaries have the collective moral high ground in the concept of social accountability.

Of course those disingenuously/naively going along with the right wing, objectivist version of nationalism, are veering toward two dubious premises with regard to any claims of nationalism: 1) Where otherwise nationalism is not something that just comes together by the invisible hand of nature as it is supposed to, then one or a relatively small number of leaders will assert what is the national group and direct it by their authority which 2) Tends toward limited accountability, as their purported merit for the position is the result of sheer factual (gawd given or sheer natural) merit to make assertions of themselves - it "just wound-up that way" as a result of (gawd given or sheer) nature; and again, the same would supposedly hold true with group and national boundaries - they are supposed to hold up basically because of sheer nature (or gawd). It is a tendency to want to de-emphasize social accountability (to want to have unassailable warrant, to ascribe to oneself innocence/to be unburdened of guilt and responsibility); and to see outcomes as a result of one's sole agency and sheer nature; while minimizing any joint construction and negotiation of those outcomes.
Quite naturally, such a fool's game as this, bereft of social accountability as it is, and has been, is a sucker's game that the Jews (and others, but the Jews most importantly) can take advantage of: it is ripe for them to find some White "leaders" and buy them-off or otherwise hoodwink them into leading, in accordance with Jewish interests, the White sheeple - who naively buy into the right wing, objectivist, "that's the way it isness", and less the matter of social construction and accountability that would allow them to effectively maintain their group defense, or even individual defense, ultimately - deliberate designation, delimitation of group boundaries, would immediately correspond with a form of unionization (you are in the union or you are not); an idea underlying any considered concept of "Left." Whereas the disingenuous and naive go along with the Jewish arrangement of the terms, i.e., that "the left" means unionization only for non-Whites and those antagonistic to White men and their bounds - a prohibition of unionized boundaries for Whites, this is of course an absurd contradiction for Whites - from their end, it is liberalism: a prescription to rupture would-be unionized boundaries, borders, and the social accountability that would facilitate those boundaries and borders by contrast to sheer liberalized mishandling.
Lets pretend for a moment that people are not so retarded as to not be able to understand that and move on.
By contrast, what I have diagnosed as the concept of left nationalism within ordinary language and sustaining a consistent pattern of understanding, making consistent sense, is that: The moment one recognizes the truth by contrast - that we are in interaction, have some social connection and social indebtedness for the origin and maintenance of our manifest form of existence, therefore some responsibility and accountability; further recognizing that we make things together with other people, more or less - more, when we are more obviously responsible for a joint construction and less, but still some, in the agreement of how the more brute facts come to count - we are in the realm of the social and acknowledging the potential for accountability. And once we are in the world of accountability, we are in the world of delimitation, where not just anything goes. We are recognizing social responsibility and then the possibility that we have responsibility more to some than others - more responsibility to those within the "group", the group designated by consensus and negotiated authority; including responsibility to those deserving of membership but requiring incentive to remain loyal, though they are not on top of the game and ready for higher organizational roles at this time.
In sum, leftism is about recognizing the inextricable reality of interaction, social indebtedness and responsibility, therefore the motion for unionization as a means of accountability and group maintenance, designating out-groups and in groups thereupon, with social accountability as such. Nationalism, ethno-nationalism and racial defense, are a matter of larger scale unions.
Rightism is a motion in its ultimate trajectory toward unassailable warrant in objectivity or divine ordinance, to reduce social accountability through purported objectivity, supra-social principles or divine will. Now, one might object that rightists can be nationalists, or responsive to social needs. What I would say to that is that the moment they are doing that, they are doing a "left thing", they are going into the social world and its accountability, left nationalism, but without the premises that would solidly ground and sustain group systemic maintenance inasmuch as they retain rightist premises as their ideal and their aim, the lack of accountability thereof; as such, they are primed for subversion by people willing to use the leverage of collaborative agency against them.
Now lets see how this concept played out when I was queried by "RealNews" senior reporter, Lance Williams.
Majorityrights.com

Dear Daniel,

I'm a reporter at Reveal News, a mews service and public radio program in California. Thanks for responding to my Twitter message.

We're doing some reporting on Richard Spencer and Bill Regnery. I saw the "Richard Thpenther" post on Majorityrights.com, complete with a foto of the 2 of them together, and thought that you could certainly point me in the right direction on some basic factual issues, if you were willing.

So, I'd like to have a conversation. I'm happy to abide by whatever ground rules you set. Here's my bio, if you'd care to check me out, and my contact info is below.

Thanks for your consideration, and please let me know how you'd like to proceed.

Looking forward.

LW

Lance Williams
Senior Reporter
Reveal from The Center for Investigative Reporting
1400 65th St. Suite 200
Emeryville, Ca. 94608
https://www.revealnews.org/
office: 510-809-3175
cell: 415-298-2317
Naturally, at this point, I looked at the RealNews outfit's website, took note of who headed and staffed it, what their basic mission is - obviously very Jewish, very anti-White (pardon the term, as it is misused by those who would misrepresent White ethno-nationalism), very involved in Jewish headed, non-White coalitions, antagonistic to White ethno-nationalism and its necessary alliances.
First on the list: Colored guy, perhaps mixed Semitc origin:
https://www.revealnews.org/author/aaron-sankin

Aaron Sankin
Reporter
.(JavaScript must be enabled to view this email address)
@asankin
415-786-0793
Second on the list, Jewish guy:
https://www.revealnews.org/author/aaronglantz

Aaron Glantz
Senior Reporter
.(JavaScript must be enabled to view this email address)
@Aaron_Glantz
510-982-2967
Third on the list,
Colored guy, who is apparently often assigned to do the audio interviews:
https://www.revealnews.org/author/al-letson

Al Letson
Reveal Host
.(JavaScript must be enabled to view this email address)
@al_letson
510-809-3160
And on it goes; eventually the list comes to Lance Williams, who requested to talk to us and politely did just that (I don't know if he's part Jewish or not, but he clearly doesn't have a big problem working with them):
https://www.revealnews.org/author/lance-williams/

Lance Williams
Senior Reporter
.(JavaScript must be enabled to view this email address)
@LanceWCIR
510-809-3175
The list goes on like this, apparently having some Whites, obviously liberal, a strong representation of those who are not White males, but it is well over-represented by Jews in its staff and at its leadership.
Executive Director:
https://www.revealnews.org/author/robert-j-rosenthal

Robert J. Rosenthal
Executive Director
.(JavaScript must be enabled to view this email address)
@rosey18
510-809-3162
Chair:
https://www.revealnews.org/author/phil-bronstein

Phil Bronstein
Executive Chair
.(JavaScript must be enabled to view this email address)
Bronstein! I'm not sure if he's related to Trotsky, but!

Here is what I prepared, and in fact did say to senior reporter Lance Williams of Revealnews:

First, please let me say a few words about Majorityrights' platform as I've taken it, because it will quickly come to the point of how I have developed it as a corrective to the kinds of errors being made by The Regnery circus, NPI, Richard Spencer and the Alternative Right.
Majorityrights (at this point) advocates White/European ethno-nationalisms and sees itself as allied with Asian and Indio ethno-nationalisms. It does not identify with Jewish interests, as if they are White, it treats them as a separate racial category, outside of the White/European race; and, in fact, does not identify with Abrahamic religions at all - seeing them as destructive [providing maps destructive] to ethnonational interests. It does not identify with Nazism or any kind of supremacism or scientism - by scientism, I simply mean the notion that sheer "nature" and "objective" science should decide our course of action without individual and social correctives and cultivation. We are not Alternative Right, not Right wing in any sense as I conceive right and left to be: The right and with it, liberalism, is based on an idea of objectivism which is short on accountability - "because that's just the way it is according to natural or divine law." It lends itself to disingenuousness and hubris among elites and to naivety in the masses.
The left - a White Left Nationalism and any ethnonationalism as I hold it to be properly defined, is about accountability to the full social group as maintained through a form of unionization - that puts it in contrast to the universalism and pretenses of objectivity of the right; because there are in groups and out groups - you are in the union or you are not and the union - it looks after your relative interests as a member, not solely because of what is deemed your objective merit. It is a perspective which looks after the rank and file, to ensure that they are treated fairly and have incentive to maintain the union even though they may not be on top of the game or marginalized somehow, to make sure that they do not facilitate scabbing of the union so to speak; but it keeps a particular eye on elites, to hold them accountable to group systemic interests, to make sure that they do not betray us since obviously they are capable of doing the most damage. That concern is bringing us to people like Regnery, Spencer and those in the Alt-Right.
Because they take these right wing positions that we reject, positions which people cannot take or are justifiably afraid of, it turns-off a broad base as it is an incompassionate, insane and stupid position; but in order to try to connect with the mainstream and populism, they are forced to cobble together coalitions upon a tacit agreement to tolerate one another's anti-social positions as such - whether its holocaust denial or supremacism, some sort of nutty Abrahamic religion; or, what is stigmatic from a White nationalist point of view, acceptance of Jews in their alliance. These cobbled-together anti-social coalitions of the Alt-Right I call the Alt Right tentosphere - a big tent of different tents. Some tents are completely friendly with Jews.
The template of running the gamut from Nazi sympathy to working with Jews and some members actually being Jews is completely consistent with Regnery, his publishing history and what I see as this strategy of Jewish alliance for shepherding masses into this tentosphere of the Alternative Right.
Now, the concept of the Alternative Right goes back to a 2008 article, edited by Richard Spencer, written by Paul Gottfried (who is Jewish); and with it he was trying to counteract the headlong destruction of Whites who could be valuable to Jewish interests and what he calls "Western values", including Judeo-Christian values as he saw them being destroyed by means of a trajectory from Irving Kristol to the Neo-Cons; a trajectory that did not place enough emphasis on stabilizing enough useful idiots among Whites - the means to keep Whites from reacting too much and to be maintained as useful idiots for Jews was called paleoconservatism - it began with Frank Meyer, a Jewish scholar who shaped Reagan's so called conservatism: Its not really a whole lot more conservative than the neocons because all it does is maintain capitalism (i.e., maintain a liberal economic system), maintain Judeo-Christianity (which for Whites is liberal - moral liberalism, altruism), pay some lip service to the wonderful culture of the west; while allowing for genetic arguments upon which Whites can survive on an "objective" basis; thus the selection for the relative interests and ways in which these useful idiots will be deployed and intermarry will remain with the Jews as the organizing factor among a right wing elitist cadre.
You're witnessing that in Trump. But we need to say a bit more before we move onto Trump.
Now then, why do Regnery and Spencer take this position as "Alt-Right" against the quote "Left"? Well, you need to begin with why Jewish interests would want to take a position against the quote, "left."
Jewish interests have had disproportionate power and hegemonic influence through seven key niches:
1) Media 2) Money and Finance 3) Academia 4) Politics 5) Religion 6) Law and Courts 7) Business and Industry.
Naturally, they don't want organized peons criticizing, dismantling and taking away that power. So what do they do? Well, of course, they look toward the old faithful sell-outs among the White right-wing elitists - offer them deals in turn for compliance, ease their conscience with the objectivist arguments they've always coveted as unassailable warrant, "these are just the facts of life"....and "say, by the way, you've got money, want to keep it and have even more, don't you? You can continue to do well for yourselves ..and you hate those 'lefties' anyway, complaining that they want some of that too, so lets organize a coalition, a "movement" to be popularized against the left. ...make it real stylish and edgy ...appeal to those disaffected millennials in their internet bubbles, we'll call it 'The Alternative Right".
Of course now, a major left unit, left union so to speak, would be the union of ethno-nation. And the Jewish and right wing objectivist way to disrupt that unionization is to encourage right wing reactionary populism and its corollary reactionary liberalism.
Now then, again, Majorityrights platform is conceived so that a proper ethno-nationalist view is not buried by the Regnery circus (as our GW aptly calls it), not buried, enmeshed in what it has been doing with The Right and the Alternative Right.
They are only doing quasi ethno-nationalsim as it is perverted through objectivism and coalition with Jewish interests: fighting against social accountability, going along with the Jewish prescription of trying to represent White interests through right wing means.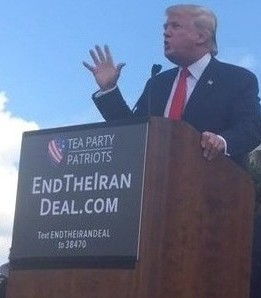 Trump's campaign was initiated in his agreement to dismantle the Iran Deal on Israel's behalf. David Duke used to sternly caution against candidates who threatened to take Israel's side against Iran.
​"Today, this hallowed Day One of the Trump Age" - so begins The Right Stuff article,"Requiem for a Dead Presidency", (therightstuffbiz 20 Jan 2017), in which they hail the new age of a White Nationalist quid-pro-quo with Israel; while saying goodbye to the Israeli unfriendly Obama/Brzezinski platform. In this post, I hope to elaborate on the hypothesis that Kumiko and I are developing as to what is behind the "irony" that surrounds the Alt-Right's effusion over the Trump Election.
David Duke: "It will be known as a day of salvation. ..this day was when we finally realized with all of our heart and soul that we would ultimately win, and that is the only thing that has hither held us back. Because the black pilling is what holds us back. When people know that victory is assured, that all we have to do is throw our minds and bodies and spirits into this war for everything truly holy and beautiful and against everything ugly and evil…this is a more important day than at Tours or The Gates of Vienna" - David Duke Show, 20 Jan 2017.

Inauguration day highlighted some of the irony of the Alternative Right in their enthusiasm for Trump and The Republican Party. The Alternative Right are people who fancy themselves White Nationalist at their core and Jew-wise at their most radical. Marked changes in the positions of WN and willful blindness to the irony of their effusive support for Trump show the hallmarks of their having been co-opted by a successful marketing campaign - taking their interests to resuscitate a moribund Republican Party, and even more fundamentally, marshaling the White vote to reconstruct the political system which they had accurately seen is not only corrupt, but inherently averse to acting in their ehtnonationalist interests and susceptible to corruption as such. So what has changed them, what has brought them to a different position regarding American politics and its parties? The long standing position of White Nationalism had been that "there is not a dime's worth of difference between the Democrat and Republican party" in terms of their service to White Ethno-nationalism and that "the US Government is 'ZOG."
Jewish Journal, "Top 5 Jewish inauguration moments: Rabbi Hier, 'America First,' Chuck Schumer and more" - 20 Jan 2017: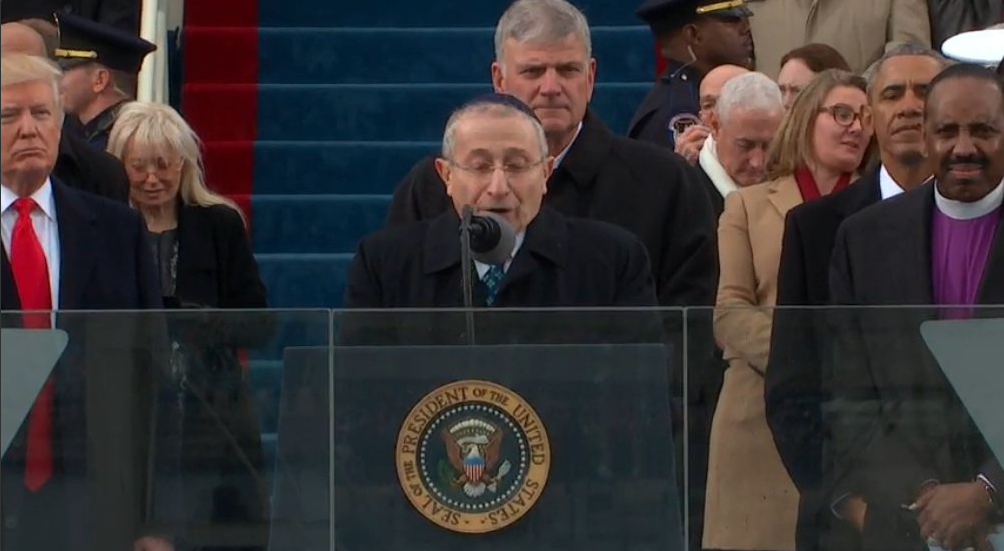 Rabbi Marvin Hier during his prayer at the inauguration. Screenshot from YouTube

1. Rabbi Marvin Hier blesses President Donald Trump.

"Bless President Donald J. Trump and America and our great nation," the Museum of Tolerance and Simon Wiesenthal Center founder said. "By the rivers of Babylon we wept as we remembered Zion," he said, quoting the Psalm.

"The five Christian clerics all gave benedictions that varied from asking God's blessings on America and the Trumps to declaring the importance of personal faith in Jesus as the only path to redemption," wrote J.J. Goldberg in the Forward.

"It was left to the one non-Christian, Rabbi Marvin Hier…to quote the parts of the Bible that remind us of society's obligation to the poor, the weak and powerless. Hier, a conservative-leaning Orthodox rabbi, has been under pressure for weeks from Jewish leftists to make a bold statement at the inaugural and speak up for social justice. I don't think they expected to deliver, but he did — elegantly.
2. President Trump invokes the phrase "America First."
President Donald Trump used the same terminology he often used during his campaign, despite the phrase's association with a 1940s-era anti-Semitic organization.

"From this day forward, a new vision will govern our land," Trump said. "From this day forward it's going to be only America first. America first."

During the campaign, dozens of American Jewish historians took exception with Trump's use of that particular slogan.
3. Sen. Chuck Schumer provided a stark contrast to the inauguration speech


In contrast to Trump's inauguration speech, Sen. Churck Schumer delivered a speech that emphasized diversity, tolerance, immigrants and the importance of government in people's lives. He read excerpts from Civil War officer Maj. Sullivan Ballou who vowed to offer his life to defend the Union.

"Whatever our race, religion, sexual orientation, gender identity," Schumer said, "whether we are immigrant or native-born, whether we live with disabilities or do not, in wealth or in poverty, we are all exceptional in our commonly held, yet fierce devotion to our country, and in our willingness to sacrifice our time, energy, and even our lives to making it a more perfect union."

Many in the crowd booed Schumer during his speech.
4. Ivanka Trump and Jared Kushner drive!


Twitter exploded at the news that the other First Couple – Trump's daughter Ivanka and her husband Jared Kushner – received rabbinic permission to drive during the inauguration festivities that would take place on Shabbat. As observant Jews the Kushners do not drive on the Sabbath.

According to a report in Kol Barama radio, the couple had been granted special permission by a rabbi to use a vehicle because of "safety" concerns.

Later, Twitter re-exploded when Jewish Insider reporter Jacob Kornbluh revealed the Kushners were not holding a Christian prayer book during the Trump family prayer service at the St. John's church.
5. Battle of the Mazel Tovs

A few minutes apart, Trump received congratulations via Twitter from two very different fans.

"Congrats to my friend President Trump," tweeted Prime Minister Benjamin Netanyahu. "Look fwd to working closely with you to make the alliance between Israel&USA stronger than ever."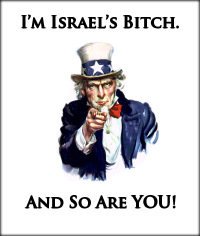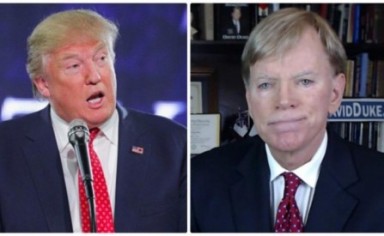 Viewing the source behind the web archive from 2014 reveals something amazing.
This article is Part 1 of an ongoing series about the TRS scandal.
See also: Part 2.
Order of Battle
As you all are aware, Mike Enoch, now revealed to be actually Michael 'Enoch' Peinovich, is the founder of the website The Right Stuff, which opened in 2012 and hosts the popular and dubiously overwrought podcasts Fash the Nation and The Daily Shoah.
The Right Stuff has spent the entirety of the past four years serving up piping-hot reactionary narratives all of which just so happen to serve the geostrategic agenda of the architects of Russian foreign policy by carrying out Active Measures, American domestic honeypot agenda of the FBI, and the Israeli security agenda.
But if anyone had pointed that out before today, such a person would have been called 'paranoid' and even 'insane'. After today however, such a person would simply be called 'well informed'.
Note: The name 'Pejnovic' has a diaspora in 20 countries worldwide and has its highest concentration in Zagreb, Gospic and Klenovac, Croatia. It is found in small numbers in Peru, in the United States, and in the Russian Federation. 'Peinovich' is a Russian-Jewish variant that found its way into the diaspora of the United States and in Argentina.
The whole saga leading up to the revelation of Enoch's real identity, started after Red Ice Radio hosted a show on 26 December 2016 in which Reactionary Jew was invited on as a guest and Lana Lokteff asked the audience to give them feedback on whether right-wing Jews have a place in the supposedly ethno-nationalist political scene that has recently been emerging in the west.
This question was of course met with outrage from various quarters as would be expected. But what was truly interesting was that many of the users and even some global moderators at The Right Stuff began to respond to that provocative question in the affirmative. That was met with deep suspicion by everyone, because it is suspicious.
The controversy and trolling then moved to 4chan /pol/, which is basically the wild west. People from The Right Stuff orchestrated a two week long posting and sliding campaign in which non-stop wall-to-wall pro-Israel propaganda posts and threads were created by them. 4chan /pol/ moderators then began banning all of the TRS people who were doing that, and the details of the bans were then taken back to the TRS forums and presented there.
This is just an example of some of the things that the TRS people were putting up:


TRS then proceeded to deny everything. They claimed that other groups were impersonating them. Some claimed that Hillary Clinton's CTR was conducting pseudo-operations against them. Some claimed that EU Stratcom was targeting them. Some claimed that British intelligence was targeting them. Some claimed that 'SJWs' and Chicago Antifa were trolling them. They claimed that somehow Stormfront was trying to make them look bad. The claims were feverish and frenetic, bold and brash, and all diversionary nonsense.
Somewhere along the way, the TRS people decided that since they were trapped in that situation, the ultimate distraction would be to initiate a miniature Cyberwar against 8chan for no apparent reason. TRS decided to attempt a DDoS against 8chan. It failed. At this point, 8chan /baphomet/ became interested in the feud and many of its denizens informed TRS that they must stop their behaviour immediately, and that they must also apologise for the DDoS attacks and that they must apologise for making the pro-Israel posts, on air, or it would be war.
TRS basically then told 8chan /baphomet/ to "bring it on".
8chan is however, an anonymous message board that sits on the edge of the Darknet. So they brought it, but no one really will ever know who 'they' are. TRS found itself being DDoS'd and this forced them to take shelter under Cloudflare. While the TRS staff were attending to that, they also found themselves being doxxed and the process was being crowdsourced on 8chan /baphomet/.
TRS then tried to go back to 4chan /pol/ and play the two sites against each other by claiming that 8chan /baphomet/ were actually the Antifa. Of course, TRS had just previously bombastically accused 4chan /pol/ of being the Hillary campaign on one hand and of being western intelligence on the other, so no one at 4chan was really in the mood for yet another round of that nonsense again. Furthermore, TRS had misunderstood the nature of anonymous message boards, supposing that there was a real dividing line between the 'communities' at 8chan and at 4chan. There is no such dividing line in actuality, because no one is seriously loyal to an anonymous message board. It's just a vehicle through which various actors can drape themselves in a cloak of trendy anonymity. There is no 'community'.
The Right Stuff subsequently found itself being Blown The Fuck Out by all of its adversaries, and all of their adversaries were able to maintain anonymity during the process.
Isn't that marvellous?
Outcomes
It turns out that Michael 'Enoch' Peinovich is a Javascript Developer and a Public Relations Professional who has worked as a Front End Developer at BurrellesLuce, Time Inc, and Vook. He's from New York. Vook was later rebranded as Pronoun, and is now a subsidiary of Holtzbrink Publishing Group.
Oh, and Peinovich is a Russian Jew married to a Jewish woman named Ames Friedman.
In 2010 he ran an Anarcho-capitalist blog called 'Emptiness', at which his wife made several comments with her real name.
In the same year, Peinovich also wrote an article for the Mises Institute.
On 03 July 2015, Peinovich appeared on Red Ice Radio, and actually mentioned that article which he had written for the Mises Institute, when he was explaining to them that he 'used to be a libertarian'. He cryptically commented after the 13 minutes 25 seconds timestamp, "if you find it, ask if it's me, and if you get it right, maybe I'll tell you."
At this point I don't think anyone will need to be making any guesses about that anymore. On top of that, Peinovich earlier admitted to everything on the TRS forums before basically transforming himself into the 'shut it down' meme and shutting everything down:

There is no more speculation, there is only fact. Mike 'Enoch' Peinovich in fact admitted to what he has done.
Datamining concerns
Assuming that the entire TRS entity either originated as or became a full spectrum Information Operation, it means that all the usernames, email addresses, IP addresses, access logs, security questions, and password hashes that were submitted by people who—against all good advice—chose to actually register on the ridiculous TRS forum have a not-insignificant probability of falling into the hands of any number of adversaries who Peinovich may have allegiance to. FBI? Mossad? Who even knows at this point?
Does anyone really think this story is over? For some people, the problems may only just have begun.
Questions Remain
The remaining question would be, who knew about Michael 'Enoch' Peinovich's Jewish identity before it was exposed today, when did they know, and if anyone did know, why wasn't it exposed via normal channels much earlier?
A lot of people were in a position to have noticed the fact that Peinovich was in fact a Russian Jew orchestrating a massive disinformation campaign against everyone, one which may have influenced the outcome of the American election and created significant disruption in other English-speaking countries.
This is a partial list of the people who have directly interacted with Peinovich in some way over the past few years, and who one would think ordinarily should have detected that something was very wrong:
Richard Spencer
Greg Johnson
Kevin MacDonald
Colin Liddell
Jared Taylor
Andrew Anglin
Lana Lokteff
Henrik Palmgren
David Duke
Colin 'Millenial Woes' Robertson
Kyle Bristow
James Edwards
John Friend
Sam Dickson
Jack Donovan
William Regnery
Andrew 'Weev' Auernheimer
It's truly astounding that supposedly none of those people noticed anything, despite them having either worked with him and having been in interviews with him, or them having called in to TRS during its radio shows. At one point, Peinovich was even brought into a live podcast during the NPI 2015 conference.
Of particular significance is Peinovich's relationship to Kyle Bristow. Bristow is the Executive Director of Foundation for the Marketplace of Ideas, Inc., an Alt-Right organisation that advocates on behalf of Alt-Right figures and coordinates legal services for them. Peinovich joined its board of directors on 11 December 2016, joining five lawyers, and law student, and a journalist who were already on the board of directors there. I presume they too might like everyone to believe that they didn't notice anything?
Another one of key significance is Peinovich's connection to Andrew 'Weev' Auerenheimer. Weev is the person who basically did a significant amount of work on the TRS website in order to 'secure' it. At some point between 2014 and 2017, the Paypal donations on that site were deactivated and only the Bitcoin donations remained. If Weev was the one who implemented that change, did he not notice the email address linked to their Paypal account was a glaring giveaway about who Mike Enoch really is? But if he did notice the disturbing truth, why did he not alert anyone? Many people could speculate.
Here are some examples of obvious clues that they could have picked up on: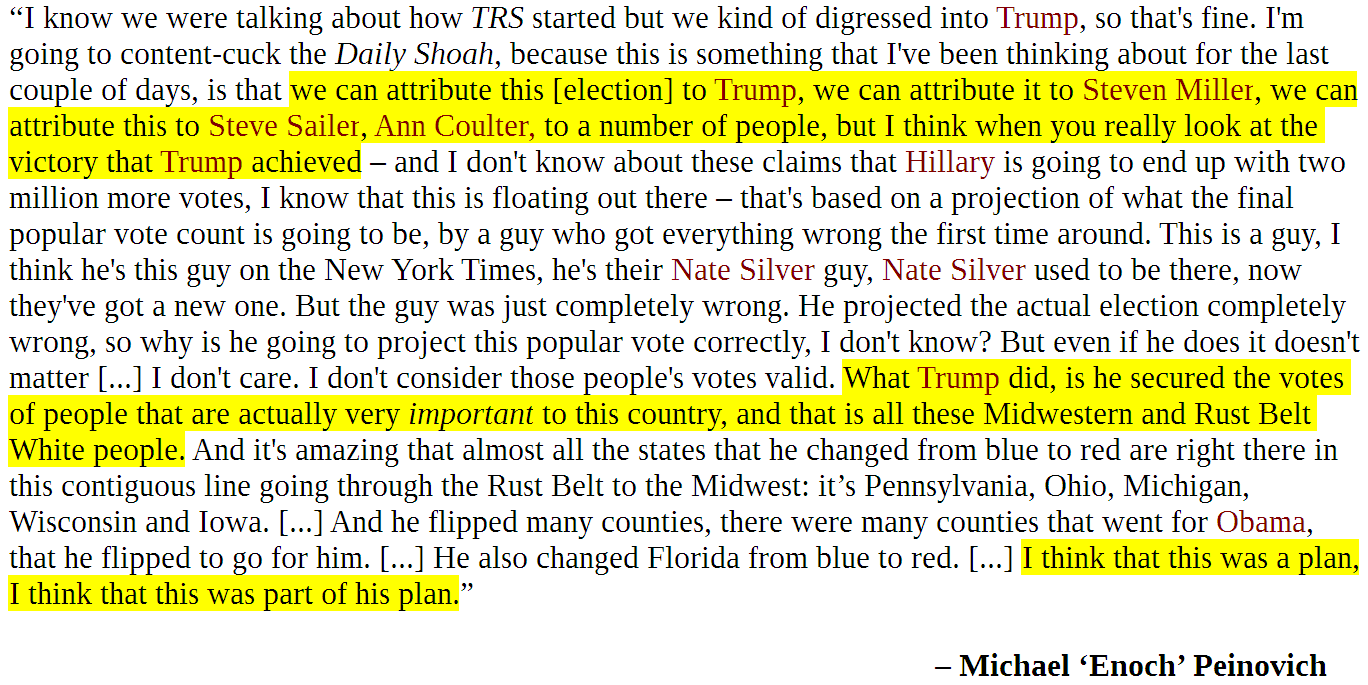 Just as large swathes of the American population were getting ready to give up on the system as it presently exists and to instead settle into total cynicism, along came the Trumpists and outlets like The Right Stuff, who managed to revitalise and rescue the ridiculous system yet again!
And also there was this extra incident here:

Fucking incredible. All of the anti-semitic rhetoric that was going on there basically was a cover for the fact that a whole Jewish operation was being conducted right under the noses of the supposedly 'red pilled' and 'savvy' generation of new American right-wing activists.
Over the coming days and weeks, I'm sure that all kinds of explanations will be forthcoming from all of those people. The question that needs to be asked over and over again, is this: Who knew about Peinovich's Jewish identity before today, and if any of them did know, when precisely did they know, and why did they not reveal it as soon as they became aware of it?



German Council of Economic Experts: 5 "wise men" entrusted to render reports that Merkel and the German government can and have used to justify the mass introduction of aliens upon the European habitat, the ensuing replacement of the German, and finally the European genome.
Wikipedia, 'German Council of Economic Experts':

The Council has five members which are nominated by the federal government and appointed by the president of Germany.

In the media, the council is often referred to as the Five Sages of Economy ("Fünf Wirtschaftsweisen"), or the "wise men":

Christoph M. Schmidt (since March 2009, and since March 2013 chairman)
Peter Bofinger (since March 2004)
Lars Feld (since March 2011)
Isabel Schnabel (since March 2014)
Volker Wieland (since March 2013)
These five "wise men" have Angela Merkel's ear and confidence - they've been appointed with her approval and their reports to her are being used to try to explain and justify the waves of migrants being imposed upon Germany and Europe -
Ibid:

Every year the Council prepares an annual report which is published before or by November 15.
German Council of Economic Experts, Annual Report 2016/17 -

INFLUX OF REFUGEES: INTEGRATION AS A KEY CHALLENGE:

Asylum-related immigration to Germany dominated the economic and socio-political debate from autumn 2015 to spring '16.

Highlights in criticism of the analysis:
1. The council takes a comparative basis of what was required to integrate East German and Balkan "asylum seekers"—integration meaning that it took about 20 years for them to be generally gainfully employed—and attempts to project how long similar integration would take of the Middle Eastern and North African "asylum seekers".
2. Taking in such factors as education and German language acquisition it concludes that by the year 2080 there would be no economic loss to the German social security system—there would be no economic gain either: the analysis fails to point out that the effort is pointless from an economic standpoint even IF there are no problems resulting from the introduction of vast numbers of non-European peoples into Germany other than the factors cited in the analysis—that is to say, they have not, for example, taken into account the cost of terrorism, terrorism prevention, strains on infrastructure and genetic reaction from German/European peoples. Even if there were no terrorist acts to come or to prepare for, even if there was not European racial backlash, at best, by 2080 the program would be an economic wash.
3. The variables that they take into account to factor as a difference from the task of integrating prior (European) "asylum" seekers as compared to the present mass of Middle Eastern "asylum" seekers are the capacity to learn German language - i.e., well enough to function in gainful employment, and the ability of the "asylum" seekers to support themselves financially. 91% of applicants since the migration crisis began have been given a temporary residence permit. To get a permanent residence permit after three years, an "asylum" seeker must demonstrate proficiency the German language (language level C1) and earn their living independently. A permanent residence permit after five years may be granted if a seeker can demonstrate at least level A2 knowledge of German and can at least partially earn their living. Once granted a residence permit a person also is a German citizen and as such has the right to go anywhere within the EU.
4. It is not only acknowledged that 70% of "asylum seekers" are male and under 30, it is strongly implied that this is a feature and not a problem, because they are more accustomed to work than females of their Islamic culture.
5. The capitalist motive for bringing in these "laborers" is bereft of intelligence, because they are intending to build an anachronistic industrial model—i.e., more unskilled labor and less development of robotics. Furthermore, again, as their presence is at best an economic wash with regards to social security by the year 2080—even IF they do turn out to be dutiful workers right along—the frequently-heard argument that they are necessary to fund pensioners is bereft.
And none of this takes into account the genetic destruction of Germans and the implication for the destruction the European genome as these "asylum seekers" would be "integrated" over the next 60 years.

See also: Already 40% of German residents under age five are of migrant background.