Majorityrights Central > Category: Education
Alex Linder interviewed (try not to let the Australian accent of his interviewer bother you).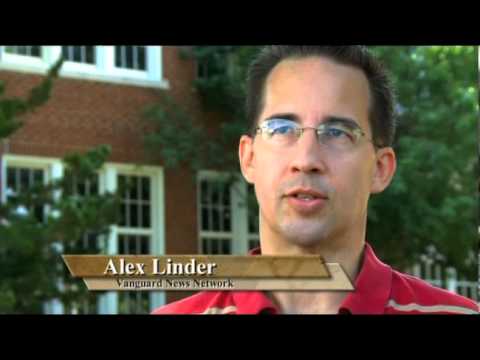 There is or can be a misunderstanding.
- that I simply want to refrain from going ahead and killing Jews et al. on principle, naivete or for petty moral reasons.
- that I and we could not be content nor ever recognize that we'd be better off if they were gone.
But that is not the case.
It is the case rather that it is generally not a good idea to announce that you want to get them all whether you think it is necessary or not.
It would be hard to realize but worse, might work to our detriment if not conceived and promoted properly.
It is not only a strategic matter but a theoretical matter: for what we want ultimately is separatism (killing is a species thereof).

Separatism can be argued not only by broader and more practical metrics, but if it is achieved, it is more feasible for the purpose of killing - as opposed to taking the stance that even while they remain tangled up in our hair, we might succeed in the complex affair of teaching people to know, psychologically, what to do because Alex says so (bold and intelligent though most of his arguments are)...
As opposed to Alex saying so, if they are to be killed it would be for the broadly intelligible, broadly acceptable (therefore possible to facilitate) and operationally verifiable reason that they will not leave us alone when given the option, but insist on their imposition to our exploitation and long term extinction - a verifiable consequence and reason for their imposition - to eliminate us as a people, therefore a highly assertable warrant to preempt it.
This could be demonstrable even in their refusal to allow our benign and fair act of separating and expelling them from our people.
Given these considerations hence, my motto: separatism is the first step, separatism is the ultimate aim, separatism is always possible.
For his insolent defiance of Roger Waters plea that he not play Israel, he might have been singing "We don't need no education" right along with Pink Floyd .....but actually, maybe Jesse Hughes, his friends and fans could use a little. Try a caveat on Abrahamic fellowship.
Jesse Hughes, commencing an Eagles of Death Metal concert, Tel Aviv, 12 July 2015:

Now I'm also going to tell you another true story before I bring the rest of the boys up here. We decided to end the tour in this fuckin' city because we knew we couldn't top it once we got here. That is 87 percent the absolute truth. But then we got this letter from this cocksucker named Roger Waters (jeers from crowd). Do you want to know what I wrote that cocksucker back? Two words: Fuck You!...Fuck You! Ain't nobody goin' to keep me from my people here in Tel Aviv! Ain't Nobody!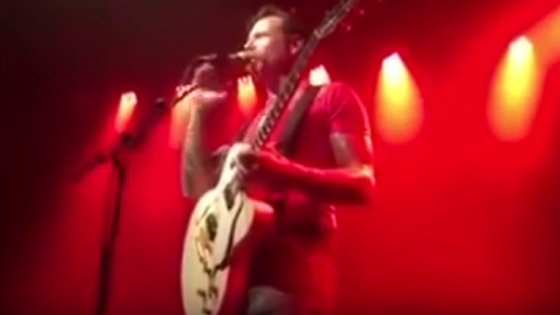 Among other blundering statements, Hughes referred to Israelis as 'his people.' Unless there is something that we don't know about him, they are not his people. The crowd at Bataclan, who should be referred to as "his people", apparently did not know either that Israelis are not their people, or perhaps did not think attending a concert of someone who said that should, would, cost them their lives.
International Business Times, 'Paris attacks: Eagles of Death Metal defied pro-Palestine boycott movement and Roger Waters to play Israel', 20 Nov 2015:

A video has emerged of Eagles of Death Metal berating Pink Floyd founder and anti-Israel campaigner Roger Waters at a gig in Tel Aviv months before the Paris shooting at the Bataclan theatre.

The clip, from the band's Tel Aviv concert in July, shows lead singer Jesse Hughes offering an expletive-laden riposte to a letter sent to the band by Waters urging them to shun Israel. It has been circulated in the wake of atrocities that claimed the lives of 132 people on 13 November.

In it Hughes tells the Tel Aviv crowd the band decided to end their tour in the city because they "could not top it". The audience then boos mention of the Waters letter before Hughes shouts: "You want to know what I wrote that c********r back? Two words: f**k you!"

Waters, who has been accused of anti-Semitism, joined the Boycott, Divestment and Sanctions (BDS) Movement - an anti-Israel pressure group - in 2012. Upon joining he called out to other musicians in an article he wrote for the Guardian: "[This is] a plea to my colleagues in the music industry, and also to artists in other disciplines, to join this cultural boycott."

Roger Waters wrote to Eagles of Death Metal to urge them to boycott Israel.

The Paris attacks brought the video of Eagles of Death Metal back into focus because the formerly Jewish-owned Bataclan theatre which in the past has hosted pro-Israel Army events, and where the band were performing the night 89 people were killed, had supposedly been harassed by pro-Palestinian supporters in 2008.
Jesse Hughes is a "devout Christian." That explains his confusion over who "his people are."
He was interviewed before the Tel Aviv concert by "Consequence of Sound"..
CoS, 'Fly Like an Eagle of Death Metal: An Interview with Jesse Hughes', 1 Oct 2015:

At 43, Jesse Hughes hasn't become an old man just yet. With the energy of a 16-year-old, he makes the most eccentric man in the world sound like a boozy liar.

The Eagles of Death Metal frontman has an opinion — often obscenity-filled — about everything. "But I'm not a bag of wind!" he insists. Around 30 minutes after our prearranged meeting time, before Eagles of Death Metal's show in July, Hughes appears at his trendy hotel in the heart of Tel Aviv with two Israeli locals he just met at the falafel stand down the road. He's dressed in typical Hughes attire: black-and-white-striped t-shirt with the sleeves cut off, suspenders, light jeans, and a neon green trucker cap with "Eagles of Death Metal" printed in Hebrew lettering.

A second after we meet, he's chatting away on a tangent. Hughes is rarely off one. He sounds bluesy, even lusty when he talks, and when he gets especially riled up on a topic, he'll bow his head, slap his knee, and speak like a southern debutant, referring to his fans as "the kids." Hughes is as verbose as your archetypal reverend, hardly getting through his thoughts without breaching into song and then dissolving into giggles. Present him with a handshake or a voice recorder, and the truth serum starts to work.

Yeah, I've been shot before. Look. [shows scar on armpit] It made a canal through one of my muscles. I'll tell you how it went down: I was going through a really ugly divorce, and I'm a devout Christian, so divorce isn't a concept to me. I went through a very typical, clichéd "I served you my whole life, and this is what I get" anger. I weighed about 250 pounds, I was a big ol' redneck boy. I was managing this privately owned chain of video stores and part-time freelancing for the Republican Party and speech writing and shit like that. The most awful thing I could think of immediately was to start taking speed. I lost 80 pounds, got really depressed. My mother called Joshua [Homme] because she felt he was one of the only dudes I listened to.

He dishes it out today. During our conversation, he gets into the full specifics of being saved from addiction by bandmate Joshua Homme, how he's already written half of EODM's next album, and how he's struggling to convince everyone he's a devout Christian who gets high and uses the phrase "titty-wobbling." He talks about his face being a nipple on his album cover as seriously as his faith. "I know what you're thinking — my life's a contradiction," he admits.

It's dark stuff, but Jesse "The Devil" Hughes has a wicked sense of humor — crushing, hypnotic, and frequently laugh-out-loud ridiculous. "My way of thinking is," he shrugs, "it's gonna be harder in hell for me than for y'all. I'm just not going to be the fool that doesn't know why he's there."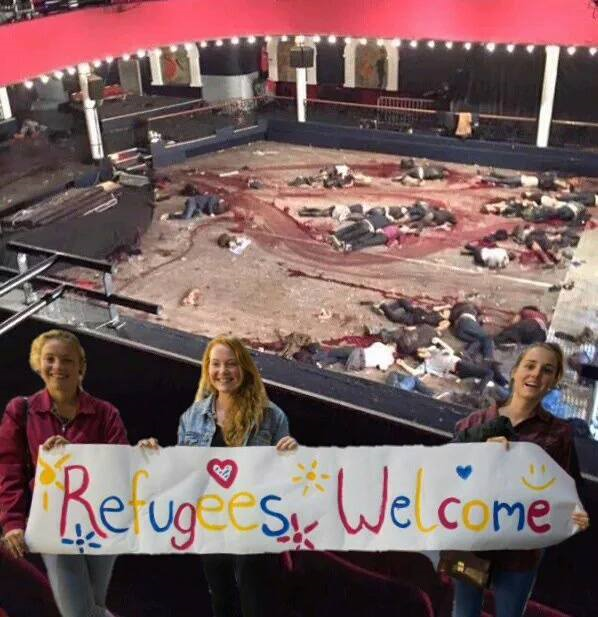 Christianity and its Enlightened step-child play a strong part in the confused identity and allegiance of welcomers as well.. ...and in the upshot of that confusion…
________________________________________________________________________
Addendum:
Note that troll JamesUK likes to associate us with the right-wing circus and any sort of unflattering speculation that he possibly can; but I will leave that aside, at least for now in order to address this:
"Didn't you say in a previous posting that Eagles of Death Metal represented white culture?"
I said that the Eagles of Death Metal fans represent implicitly White culture. Evidently their fans are predominantly White genetically; but the fact that the band leader, and likely a significant percentage of their fans, have a confused identity (case in point, thinking that Jews can be a part of their kin) as a result of Christianity and other Jewish crypsis, provides an excellent occasion to address those implicitly White demographics who suffer this confused identity as a result of Christianity.
I was not wrong to treat them as an implicitly White demographic, that remains true.
The band and audience alike reinforce this assumption by appearance, by the likelihood that they are predominantly, genetically White (European).
However, the band's confused identity is misleading from the start, with their name: one associates death metal with paganism, a Nordic paganism defiant of Christianity in particular - and therefore assumes that the band and audience would have little to do with identifying as Israelis, with Judaism, or even its offspring, Christianity - let alone Hughes vehement "devotion."
Hughes' devout Christianity compounds the confused identity by taking his erstwhile White identity and enmeshing it with the Jewish narrative and identity, albeit as servile gentile other in relation to Israel, Jews and other non-Whites - the "undifferentiated gentile others", as GW says.
As Hughes also made clear (unclear rather), in the CoS interview, he is quite contradicted and does not even expect to be recognized by the Abrahamic god.
His fans at the Bataclan also reflect and express this ambiguous identity, but with good natured participation in a bit of carousing, defiant music, irreverent language, devil sign, etc. I say "good natured" because they were apparently healthy, functioning people who had bearings outside of sex-drugs-rockn'roll.
Nevertheless, they lightheartedly though naively frolic with the Jewish god, tweak its nose and defy its rules for some practical latitude despite the unfortunate necessity of trafficking in its terms to some extent for the historical fact of their moral order having been entangled with it for two centuries. They are fooled by it on a profound level, however, as their seriousness, their devout service is reserved for the "other" - not for themselves - as they identify as the other.
That is in contrast the Muslims, who have their own form of puritanical servility to the Abrahamic god, submission to the Jewish god.
By further contrast to the Muslims, a certain amount of ambiguity, variety of sacrament and celebration is good and necessary in the social world of praxis - acceptance of that adds to the claim that the Bataclan audience have an aspect of good naturedness - i.e., an aspect that is not puritanical or fanatical in a way that does not allow their people to be human, social creatures and to be themselves in their particular, idiosyncratic White ways.
A homogeneous looking band and audience that accepts the misnomer of "death metal" provided the first clue that they have a good natured acceptance of some ambiguity, non-purity, i.e., an acceptance even of some relation to aspects of their natural White identity, even if only implicitly.
However, the extent of their connection to the Abrahamic religion contradicts that and brought them into the fold of its absolutizing fight, which will accept no other identity - will not accept White identity as the separate social entity that it is. Some of them came into ultimate confrontation of inhumanity to their humanity in social difference as a people separate from the Jewish god of Muslims.
The confused identity of our people at Bataclan became a confused message that the Israelis accepted disingenuously, that ISIL accepted on face value, that the band, audience, and I, allowed for in good faith - a confusion nevertheless inadvertently passed-on in the news of their death, presenting a perfect reason and occasion to sort-it-out here.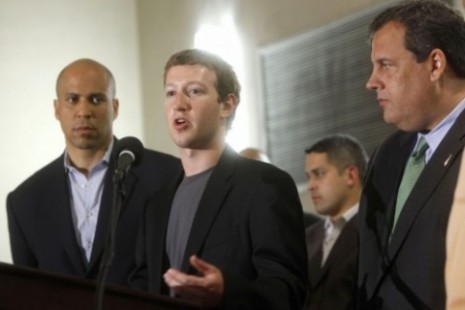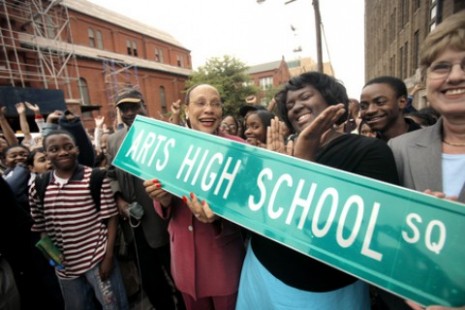 Facebook file photo release: Mulatto, Zuckerberg and Gov. Christie (Mulattoes not to be confused with Anglin. Resemblance coincidental)

Of and for those with a hyper-assertive and wholly undeserving sense of entitlement - e.g., blacks and mudsharks - to those who get what they want, when they want:
Zuckerberg misdirects 100 million dollars and educational resources - wasted on Newark, New Jersey public schools and its overwhelming black student bodies. Of course the talk now is: what happened to the money? Why didn't 100 million dollars help?
Can you imagine?
The centuries of sacrifice that Europeans made to contribute to the scholarly corpus, the days and years that scholars like Gregor Mendel went without female touch and appreciation (while Negroes were accommodating harems).
The lonely suffering that many an intellectual quest entailed to yield knowledge ...
To endure the hatred of liberals, pointedly, often White females whom he lives to love - miseducated to base instinct and anti-White interests, so typically making "anti-racism" a litmus test of initial interaction episodes with White males, whom she typically dismisses on slightest indication of circumspection as "wimpishness" or "nerdishness", and after he "fails" the incitement of her litmus test of "alpha males"- viz. a liberal who shrugs-off all comers, from everywhere - as simply her prerogative, these females for whom he is starved for even talk of concern about heritage, now give their ultimate treasures to blacks, and empower those who take not only the economic capital of centuries, but even his last recourse, his intellectual quest, and force him to teach and educate those, such as blacks, who would torture and destroy him, turn his world into a science fiction nightmare, who take his ultimate treasure, his co-evoutionary women, for apes who have NOTHING to compensate him with, nevertheless proceeding as if they are entitled… still, the powers-that-be and their gate-keepers would even take what remaining consolation, of monetary and intellectual compensation, means by which he may perhaps have found redemption in an exceptional wife, of merit for her commitment to a sovereign life in respect of our peoples.
Liberals try to dismiss his concerns with conciliatory advice: "she's stupid."
Hmm. "She's stupid"...and "she's stupid and she's stupid and she's stupid".. before long "she" has become an uncountable noun….
Uncountable though the noun is, they are "all his fault, because he doesn't man-up."
Not only does she need education ..to become still more liberal, to become still more Judaized and negretized..
He must educate the throngs of Negroes, and Muslims, etc., to make them more capable of his dispossession, of taking his co-evolutionary treasure. It's "civil rights": The involuntary, forced servitude to non-Whites and mudsharks. Everything that he sublimated and sacrificed-for, endured hell and torture for, must go to them. Including a trend of those White women of qualitative difference, who may not have appreciated finer intellectual quest, but may have been sufficient compatriots in a White Class. They'd take not only those of modest intellectual endowment, they would not only embezzle economic means, not only White women and public money to blacks, they would force him into directing his intellectual quest in their service. They would take the means by which he might even find and be found by the exceptions, and rather further equip those who would betray him and those, e.g. blacks and Muslims, who would enslave him and torture him to death, a techno-slave or a nerd slave of some sort wallowing in masochism of cuckold porn.
September 8, 2015

"Covering Innovation & Inequality in Education"

What happened with the $100 million that Newark schools got from Facebook's Mark Zuckerberg? Not much:

A new book delves into how the project went wrong


Dale Russakoff spent four and a half years reporting about Mark Zuckerberg's $100 million gift to Newark public schools for her new book "The Prize: Who's In Charge of America's Schools?"



"The goal of improving education in Newark is not a hopeless one"- Dale Russakoff


Yes, it is hopeless - and worse: it is to rob and rape Europeans not only of their birthright, but of their intellectual history and posterity..
Yes, The Prize… Who's In Charge of America's Schools?... as it was with Brown vs. Board of Education - school desegregation and "civil rights", the prize continues to be wrested from Whites by means of cultural-Marxist coalitions, its most recent permutation with CAIR and its discriminated-against Muslim school boy..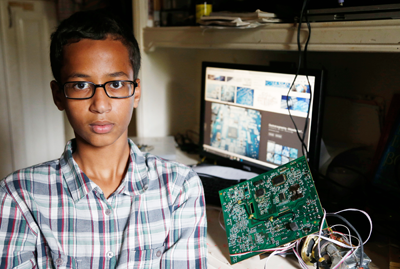 Ahmed Mohamed: Clock Boy.
In the United States, a 14-year old student at Irving MacArthur High School named Ahmed Mohamed brought a device to his school that somehow caused school administrators to call the police, and the police then arrested him.
This is because all of them at least momentarily seemed to have believed that the device he had brought to school was 'a hoax bomb'. It became immediately apparent that it was not a hoax bomb, and was in fact a clock inside of a pencil case.
Subsequently, a media frenzy developed around Ahmed Mohamed, which has led to an outpouring of sympathy directed toward him from various segments of American society.
The incident went viral on social media and the hashtag "#IStandWithAhmed" was the top non-promoted United States trend on Twitter early on Wednesday morning. Some people alleged that Mohamed was arrested only because of his Muslim name, or because of the way he looked. Many liberals and Muslims claimed the situation was a case of 'Islamophobia'.
Many others would be inclined to gloss over this story, filing it away as just being an example of Americans being 'too paranoid about terrorism', embarrassing themselves, and then reversing course.
However, there are actually more interesting patterns at work here.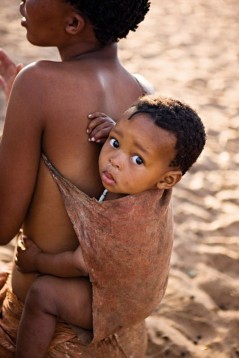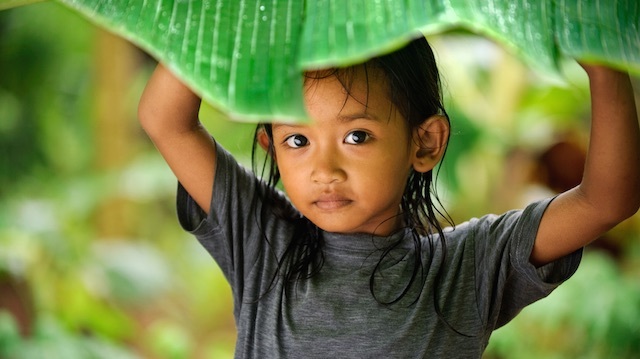 An ancient instinct that is vital: " Wait, who are you? "

What is it really, that is called "xenophobia"?: Article translated and republished from "Nya Dagbladet Analys"



What really is referred to by the word "xenophobia"?

Xenophobia is no human idea, it is not a political ideology. The inherent notion that individuals from other ethnic groups are different is as old as humanity itself.

That political leaders throughout human history have tried to either foment or stifle this innate team spirit does not change its origin or function. Ultimately, while it has often come to be called xenophobia, it is a kind of defense mechanism of an ethnic group. It has a cohesive function but is also vital to the group's survival.

It is easy to think today that racism is obsolete in modern societies, and political ideas that multicultural and multi-ethnic societies are something we can decide to create, and then use various integration programs as a tool to make this work artificially.

It is important to remember that "xenophobia" has always been the human diversity condition. Without this desire or sense of distinction and boundaries no ethnic group could have existed for very long before it would be adulterated and perish again.

The world's major ethnic groups; blacks, whites and Asians, and all its subsets of peoples did not come into existence overnight. It has taken nature tens of thousands, if not millions of years to enrich the earth with the human diversity which we have today. The birth of a new ethnic group has always been dependent on a distinct geographic location. For the purpose of various ethnic groups' birth and continued maintenance, they have always required "xenophobia", more properly termed "alien skepticism" or "stranger caution" as a prerequisite.

The principle or the basic human function is exactly the same as in individuals. An individual who is not skeptical or cautious when confronted with a stranger will not survive in the long run. This instinct is basically in all living creatures on earth and is deeply rooted.

The function and conclusion of prejudices

"Alien skepticism" or "fear" of the unknown is a kind of first line of defense. Here comes the concept of prejudice. An individual always makes a first assessment of the foreigner—a judgment before it knows any details for sure. We must also understand that individual assessment, when the unknown has become known, can shift from prejudice to "judgment", a conclusion based on knowledge.

However, today we are told by the modern political system that prejudice is just ignorance and as soon as this ignorance is gone, the foreigner should be welcomed. In fact, the individual's or group's conclusion could be that the foreigner cannot necessarily be given a pass, and may intend to cause us harm.

Racists in every expression of the negative sense, of course, are also those who want to cause an ethnic group's unity and uniqueness to perish through mixing and division. Many nations and entire civilizations during the history of humanity have vanished for this reason. Either by displacement and extinction or by blending them away out of all recognition.

A true defender of the world's human diversity turns naturally against both extremes of racism and genocide. Moreover, the criminalization of these two extremes is stated in the UN Declaration of Human Rights of 1948, saying that not only is performance of these acts criminal but it is also criminal to instigate them. Thus, the express intent or encouragement to try to create a multi-ethnic society, which inherently violates the right to the preservation of the ethnic and cultural characteristics of the group, or displacement or eradication of a people, could fall within the scope of this crime. In the UN declaration it says, among other things, that the following shall be considered as genocide:

"Deliberately inflicting on the group conditions of life intended to lead to its complete or partial physical destruction; (d) to take measures intended to prevent births within the group; (e) Forcibly transferring children of the group to another group. "

In the ongoing development of today's Sweden where a large number of non-European immigrants are coming to the country, a natural segregation process is marked by Swedes who move away from immigrant areas while various immigrant groups cluster together, and those immigrant groups quickly receive a residence permit and can select where in the country they want to stay. In this way the crime referred-to in the last paragraph concerning genocide may be relevant, eg. in cases where parents are not allowed to put their children into any school but are forced to send them to the local multi-ethnic schools where Swedish children in many Swedish schools already are a minority in their own country.

In the next step they might endeavor to create a multi-ethnic society through the use of integration programs, and this could fall within the scope of "hate crimes" because there would be a restriction of the indigenous group's autonomy.

The general conclusion regarding the question of earth's ethnic diversity is that the property known as "xenophobia" is a necessary evil. The key instead now is to thwart its extremes. The leading political establishment in general seems to dumb-down and exaggerate the image of our instinct for caution, instincts like defense and self-preservation. This they do, among other things, by trying to characterize as a disease, what is actually an instinct and a function that acts as a guarantor for the conservation of all communities, by using a negative-sounding designation such as "xenophobia". If there is an "undue fear" of the unknown, its assessment must of course be something that is considered "reasonable" and make sense, and it needs to exist and be expressed.

There has also been a confusion between the fact that ethnic groups are different and should be valued as such, with the idea that ethnic groups are ranked differently, the two are very different things. The most extreme manifestations of the debate would not even concern themselves with the thought that there are different kinds of people on earth.

This is often presented as options of black and white, where either you accept today's multicultural and ethnic change in Sweden beyond recognition, or you accept hatred and abuse against all immigrants who are in Sweden and the need to advocate a hundred percent purity. Swedes are a generally balanced people and have an absolutely predominant wish for neither of these extremes. Discernment is often the first casualty when debate deteriorates.

Reliance on these extremes and extremists, mainly in politics, business and the media is driving the currently extreme situation. However, what remains and ensures that we can get a more balanced society and social climate in the future, is that our age-old instinct for self-preservation can take on a balanced and natural expression.

Swedes may be very open-minded, but they also have a right to their own preservation.

NYD Analysis
I would like to take occasion to set out a neglected and important matter for consideration - the hypothesis that "testing" and "lesson giving" are not only underpinnings of liberalism but can be disingenously used and enormously abused as excuses for all manner of trangression. With the false halo of innocence under the rubiric of enlightenment empiricism these ways of looking at the world moved from the laboratories of science to gain vast popularity and practice, not only for the good reasons of solid, verfiable warrant and benign remedies, but also for utility among the populous contra postive traditions and inherited forms - the enlightenment's prejudice against the superstition of prejudice can serve as powerful and destructive warrant in the wrong hands, giving thoughtless actions, ill-considerd for their ramifications, an ostensible appearance of noble precedent.
For decades now, I have been considering the idea that "lesson giving" could provide a convenient excuse for liberalism, viz. as an excuse for those taking liberties by its means and in regard to the effect on those who are more or less violated by the taking of liberties, which is then written-off as "a lesson."
I saw that the idea of "testing" could also be disingenuously used along with "lesson giving" to provide excuses for excessive license and liberal behavior. I suspected thus, that "testing" and "lesson giving" were being used all too conveniently to bypass accountability to social capital and human ecologies.
The excess of these ideas, their pervasiveness and popularity are set in motion at the very theoretical underpinnings of liberalism. To begin, these were a liberation from mere tradition, custom, habit, superstition - e.g., from absurd religious requirements. The evangelizing of these values gradually spread through just about all of the world. Liberalism became the water in which we swim - toxic waters for its impervious linearty, promise of limitless progress, pursued as an impervious and deliberately non-discriminatory technology to the destruction of our peoples in their distinct human ecologies. Liberalism which started out as a liberation from tradition became a pervasive tyranny of its own, requiring a second liberation. Nevertheless, to begin, and to some extent always, the empirical project of suspending belief, testing and learning from the results is a positive liberation and compelling for some very good reasons.
Even so, testing and lesson giving become overvalued for their material yield, of course, and as a holdover of the enlightenment's own customs, habits, positive attributes in culture and peoples. There remains a willful naivete of these notions which is very compelling, seductive as it combines a promise of both innocence and powerful warrant; to get there, however, requires theoretical detachment from human agency, subjectivity, social relevativity and with that, a detachment from accountability - leaving adherents susceptible to the disingenous: the perversion of these notions to the point of hyperbolic liberalism is largely a result of Jewish academia, media and political manipulation; but also provides convenient excuses for objectivists to disingenuously accrue power; while the promotion of objectivism at the same time serves as a means of creating a naivete ripe for exploitation as it finds its way down to an intransigence in pop-culture.
Left unaccountable, unsophisticated by the post modern turn and in the wrong hands (e.g., popular puerile hands and those who would pander to them), these ideas can provide almost boundless excuses for the most destructive liberal behavior. Just about anything can be written-off as "testing" and "lesson-giving."
Thus, it is an eminently worthy consideration for Majorityrights to engage and focus on these matters which underwrite liberalism. We need to understand where they go too far, what qualitative and quantiative limitations there should perhaps be and by contrast also the proper applications - post modernity does not only evaluate progress but the value of tradition and inherited forms as well.
I would call attention to the detriment of the popular application of the empirical view, in its tendency to focus on momentary and episodic units of analysis, while doing violence to relational and cultural/systemic processes and ecology; with that, rupturing historical evolutionary patterns.
At this very moment I realize that I have been misunderstood previously as not recognizing that science proper is capable of taking patterns into account. Of course it can. Let me correct that here by noting that it is especially in the popular manifestation of empiricism through enculturation of the enlightenment project, in turn instigated for hyperbolic liberal purposes by YKW, that this "empiricism" is conducted with crass and destructive carte blanche.
We call these problems of "modernity" while recognizing that they have been twisted and exaggerated beyond all reason by the YKW.
They (the YKW) have done the same to post modernity, to where it is unrecognizable as the postive correction to modernity that it was meant to be (e.g., a liberation from mere facticity and a capacity to reconstruct traditional and inherited forms where good and benign). That is why I have been so vigilant to articulate the post modern remedy for the public project as it is supposed to be - as a means to manage the best and worst of modernity and tradtional/inherited forms.
I have called attention to the fact that hermeneutics and social constructionism proper provide a post modern remedy - especially for the public - to help them away from this myopic, scientistic focus and disingenuous bypassing of accountability that filters down from the specialty of the scientist to common, everyday, popular menality and practice.
I have called attention to the fact that reconstructing the validity and warrant of social classification (viz., "race") is necessary to provide delimitation to calibrate, regulate and govern accountability to systemic historical processes and human ecology.
I have indicated that the idea of sacrament (monogamy, life-long and or partner-wise) must be introduced for people to have the authentic freedom of choice within and between group relations. Particularly as ritualized, this would re-connect the episode (the empirical) to the broader relational and historic pattern - accountability to its ennobling and caring ensconement. It is a connection of accountbility to the historical systemic group pattern. It provides integrity to the whole group - and a control variable, if you want to look at it scientifically.
But these are only the broadest outlines. I have yet to get people to participate in this critique and remedy of modernity and of its Jewish distortions, despite its obvious necessity and importance as it bears upon our experience of runaway liberalism to the detriment of our group's human ecology.
Hence, I pluck-out and focus on the popular abuse of these two enlightenment memes: "testing and lesson giving."
Consider with me, if you will, where the use of these memes are valid and where they become abuse.
And what to do in remedial application? How does it work?
How can you know things before you test them thoroughly? How do you know if your partner is, or will be appropriate enough unless you "test" them? Can "testing" be relied upon to provide an accurate assessment? Testing can have an episodic bias and focus to the detriment of the relational and protracted cultural/systemic patterns. A lesson may be too costly.
The problem and the question is to provide practical means for assessment when trying to correct for the potential reckage of an over-emphasis on "testing" (writing-off caution), "lesson giving" (writing off the damage) and its resultant liberalism.
Testing and lesson giving create a problem for accountability. These ideas are all too facile. The "tester" can apparently always justify the test as providing a lesson and postive feedback therefore - even if the consequences were negative in the sense of being destructive to individuals, relationships and the cultural/systemic pattern.
Hermeneutics seeks to amend this relation blindness with the inclusion of broader social systemic historical views.
As European(White) Nationalists, we all know that the wake of the World Wars has not birthed favorable circumstances for our people. Thus, we are decidedly less satisfied than Max Hastings that a marked separatism from Jewish power and influence was not achieved, its necessity not even understood; and along with that that a pervasive liberalism should have won-out as consequence, potentially auguring the final chapter for Europeans in entirety.
Was it "hubris" for Poland to want its nation back? I rather think not. It's called ethno-nationalism and it is that which we should support as opposed to internationalism. Germany was still huge after Versailles. On the Polish border, all it had lost were Posen, Bromberg and Thorn. Danzig became neutral. The Max Hastings account introduces yet more discussion of Versailles to make it more understandable as an effort at justice, as it always appeared when looking at the territorial divisions. However, there have been a couple of parties who want me to run strong anti-Polish propaganda.
The large problem with that is that for those of us who view White Nationalist media as our veritable news source now (finding other, anti-White media wholly intolerable), a hypotrophied unanimity with Nazism and its antecedent regime's military campaigns is what we get: for whatever reasons, but probably because America is so German- American that a "by-golly, Hitler was absolutely right!" perspective is all too convenient (and the most popular and economically supported of any WN perspective) in the wake of Jewish and Neo-liberal destruction; and all the more motivated with guilt trips of World War II being most pressing upon them; their having least perspective on anything but a direct desire to throw guilt trips off as entire fabrication: nuances of perspective and history are cast aside, and ultimately, the unfortunate difficulty they have in seeing our family relations and the more relative and complex justice of the circumstance seeds potential inter-European conflict, if not war. Seeds sown oblivious to the fact that we do not care to lay guilt trips upon them, certainly not subsequent generations, they go ahead and try to lay guilt trips upon us for events before our fathers lives even. Just as they want it understood that they and their forefathers were not ex-nihilo evil, but had reasons for their wars, so too those of "Allied" descent wish to claim the same.
Yes, there were corrupt forces manipulating the circumstances, but there were also justly reasoned motives. The circumstances were a great deal more complicated and justified from an Allied perspective than The Hitler contingent of WN will ever admit. That's a problem if you want to treat WN as your media. Because Nazi Germany and Kaiser Germany were not pure and sheer victims, as the salient contingent of WN wish to claim. But so long as their childish and Jewish style of argumentation is what is being served in WN discourse, I am left no choice but to balance things off in the service of truth. There are several sites out there for those who want to take a "Hitler only good everyone else bad" perspective. You will not hear that the German regimes did have choices: Polish, Belarusian, Ukrainian and other Nationalisms, even the British, of course, could have been aligned, willing and able to fight Soviet incursions (had done so already in some instances).
Until there are other, or more, WN sites which care for the truth and represent events in the context of their nuance and balance, I must continue to highlight discussions such as that from Max Hastings. In fact, there is much there that one would never hear and learn about if the now standard WN position on several sites - "Germany's war efforts only good, their people only victims" - were the only perspective heard; and there is a great deal of intimidation that it be the only perspective heard in WN, to the point where the opposite of PC is in effect, to where it is a veritable taboo to say anything negative about Nazi Germany and its predecessors and anything good about the Allies and their predecessors. In truth, of course, there are many things for Germans to be proud of, and some things to not be so proud of. For some reason, that is too complex a fact for some to cope with. Those of us who are sick of that childish unanimity might find Max Hastings discussion refreshing and informative.
There are thoughts on responsibility in World War I which echo very much that of WWII. Thoughts on Versailles foreign to WN discourse. And of course the great taboo in WN, to suggest that a German military could have done anything worth resisting. It was of course noble to burn the library of Leuven (they just had to do that, didn't they?); to do whatever I am not allowed to speak about to Belgian civilians there, in Dinant and elsewhere, to French and other civilians; in Kalisz as well. No, Germany was always a perfect nation, nobody can say otherwise; if you want to blame anybody, conveniently blame Poland as Hitler and Goebbels suggested, or as Friedrich the Great might have proposed of his then vanquished neighbor.