Majorityrights Central > Category: Education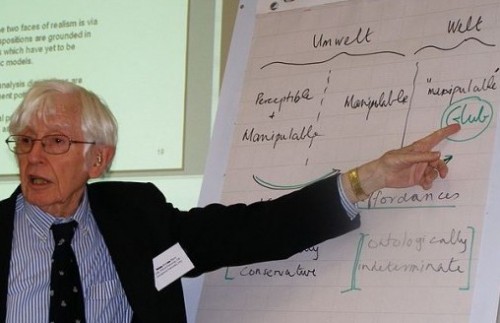 Rom Harré
, Philosophy of science and psychology Professor at Oxford and Georgetown. Notable ideas:
ethogenics
, positioning theory
Contradiction in Lived and Told Narratives

Brownwyn Davies, University of New England, Australia

Rom Harré, University of Oxford

INTRODUCTION

The ubiquity of contradiction in human affairs has long been commonplace. Social contradictions were identified by Marx as the source of social change. Repertoires of mutually contradictory "personas" have been demonstrated to be characteristic of people living in complex societies (Argyle, 1976; De Waele & Harré, 1976). At the same time it is evident that there have also been powerful social norms requiring at least the appearance of consistency in displays of character, in modes of talking and writing and even in patterns of thought.

Research on language and social interaction, vol. 2; 1991/1992: 1-36

Though contradiction is a logical concept that names a relation between propositions, it has a well established use as a general metaphor for incompatibilities of many kinds. It is one of the concepts by which "modernity" has bee defined. So in post-modernity one would expect at least some of the uses of "contradiction" to be called into question, particularly those in which it has a normative role. According to Parker (1989, p. 48), modernity itself, "is contradictory: Its discourse promises scientific truth as the solution to humanity's problems on the one hand, and on the other attributes responsibility and the power to make meaning to individuals."

We two, as individual authors, have been both constituted by, and active participants in, the construction of that modern world. We now find ourselves fascinated by the spaces opened up by its deconstruction, particularly in the work of feminist authors (1) such as Weedon (1987), Walkerdine (1981, 1984, 1985), Haug (1987). This paper, then, stands at the interface between the modern and the post modern worlds: While still being caught up, inevitably, in the discursive practices of the modern world we nonetheless wish to make contradiction a topic for examination in light of such feminist post-modern/ post-structuralist writing.

As a person in our contemporary world one has access to many ways of talking about oneself and one's activities in that world: that is, one has access to multiple forms and styles of discourse. These ways of telling may remain discreet and the contradictions that sometimes exist between them may not become manifest nor present problems for resolution or accommodation. But they may overlap. They may be used as parts of some larger whole. And within that whole they may be profoundly contradictory. Furthermore each discourse may itself be made up of contradictory elements. Billig et al. (1988) give the example of liberal discourse containing ideological commitments to the rights both of the individual and the collective. He also cites educational discourse which espouses as values both equality and authority. In each case there is a discreet discourse containing oppositional and and contradictory imperatives.

Yet one of the predominant features of ways of producing ourselves as persons in the modern world is to present what we do as relatively coherent and non-contradictory, both as we interpret what we do and in the various accounts that we give of what we have done and will do. Numerous strategies exist for dealing with blatant contradictions in those productions. For instance there is the bureaucratic device of "wearing different hats." Each "hat" represents a different set of constraints, aims and repertoires of proper actions.

The movement from the complex array of lived experience to the relatively coherent stories that we tell about that experience will be a central focus of this paper. Like Haug (1987) we see lived experience as inherently contradictory and the appearance of coherence and and non-contradiction as discursive constructions. As Haug (1987) puts it, "human beings, in the process of their socialization, work at restructuring the given elements of their lives until such time as their existence becomes relatively uncontradictory: In other words until social action becomes possible." We wish to explore how it is that non- contradiction has become such a fundamental requirement of the production of self and in contrast how the recognition of contradiction has been greeted by feminist post structuralist authors in particular as fundamental to understanding their experience.

Told and Lived Narratives

Told narratives

Told narratives, including both the stories one tells about oneself and other people, and those narrations we call literature and drama, are generally framed within coherent conventions of discourse and tend to show each character as continuous and often, though not always, as predictable. The purpose of told stories in everyday life is often to show how conflicts and contradictions have been, might be, or even should be dealt with (Sabini & Silver 1981). Told stories are usually finite with well marked beginnings and endings. An orderly state of affairs is interrupted by the appearance of a predicament, a course of events unfolds in which the problem is resolved, and a new orderly state of affairs comes into being (Harré,1979). Such stories appear as accounts, told versions of events that are used retrospectively to order the complex array of lived experiences. As Huag (1987, p. 48) says:

We are not assuming that human beings live according to plan, or in continuities, nor even that they are always determined by the same consistent factors…continuities are manufactured retrospectively in the mind.

One focus in this paper is on those discursive practices through which intelligibility and warrantability are created.

Lived Narratives

Told stories are the means of providing the narrative frameworks through which we interpret strips of lived experience as they occur, that is they serve to guide the actions that make up lived narratives. Who one takes oneself to be at any one time and what one takes oneself to be doing form essential parts of the lived narrative. One's actions are played out with interactive others who provide one with (and whom one provides with) subject positions in the collective flow of talk. These positions may be taken up or refused (however difficult that refusal might be), by any one of the members of the momentary collective. Thus lived narratives inform readings of told narratives and told narratives inform lived narratives (Bruner, 1986; Davies, 1989; Davies & Harré, 1990)...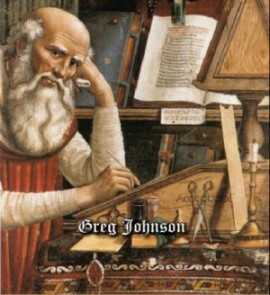 Fail: on this one, your erudition yields an
F-
In minute 2:18 - 2:21:18 of a discussion with TRS, Greg Johnson proposes to do away with the idea that John Locke's notion of civil individual rights is a key fundament of U.S. politics and suggests that it is only portrayed as such by Jewish interests.
First and foremost, Greg is ignoring the fact that it is in the group interests of Whites to criticize this notion for basically the same reasons that Jews have - especially for its bias against their capacity for group discrimination.
Johnson argues that Calvinism and Republicanism, in the latter case in particular, by way of reading Montesquieu, were exponentially more important to the founders. Maybe they were, but that doesn't translate to what became important in the life of ordinary everyday Americans for over 100 years.
Are people concerned with The Republic? Well, of course not very much in any practical sense. You can set aside the bit about Montesquieu being more influential by a factor of a hundred. This is a case of an erudite man pulling rank to the detriment not only of the truth, but of important utility.

The second matter is of Calvinism and its inherent means to exclude Jews. The separation of Church and State is integral to The U.S. Constitution, so any such notion of this being more relevant than Lockeatine rights in the every day lives of Americans - or even for those who set the agendas - is way off the mark. Again, it displays a wish for some of that unused erudition to come in handy in a place where it does not really help.
To look at Locke's notion of individual rights as set against and problematizing group organization is the best way to critique the foundations of America in terms of what has left racial defense susceptible. This is what makes racial defense extremely difficult, because it de-legitimizes group organization.
Given individual rights as the characteristic and definitive law of the land, when people raise concerns about how borders and boundaries are to be maintained, i.e., when people do try to tarry with these strictures, at best they tend to render crazy propositions (disingenuous or naive) that not only will the markets take care of themselves by the magic hand, but boundaries and borders around groups will be taken care of by the magic hand as well. In a word, Locke's empirical objectivism is a force of liberalism that is available for easy exploitation - by Jewish interests, liberals and other later day objectivists, be they Austrian School or other form of objectivist.
Nobody around here is saying that Jewish interests would not have taken advantage of The Constitution's empirical basis. Nobody should be naive enough, however, to believe that just because Jews reject it for its troubling of group organization and discrimination, that we should not problematize it on that basis as well, in order to discriminate on behalf of ourselves.
Greg is being that naive and asking us to be that naive when he tries to pull rank and suggest that Montesquieu is more influential by a factor of a hundred. Well, maybe he was to the founders. But ask Americans, including politicians, what matters to them when push comes to shove - for the past hundred years or so, what matters to them? Montesquieu, Calvin or their Lockeatine rights?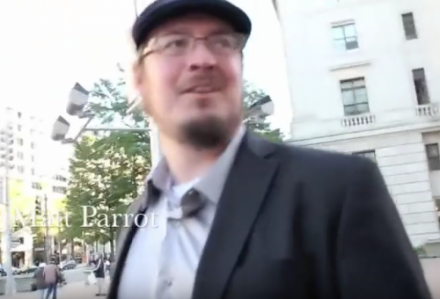 Matt Parrott at NPI.
Summary: A two-part critical examination, conducted by Kumiko Oumae, of many areas of Matt Parrott's Christian traditionalism, from Matt's faith fundamentals as an Orthodox Christian traditionalist and nationalist - in that order - to Matt's views on freemasonry, the relationship of Judaism to Christianity, the pagan past, how religion renews, global baptism, Christian universalism, homosexuality, Africa and the population question, and Syria.
Can I just say, from a personal perspective, that I thought the interview was a success, notwithstanding any hostilities which may have existed prior to it (and since). Kumiko was very well prepped and she did a great job of maintaining a high tempo of relevant and close questioning, to which Matt responded generously.
My thanks to you both.
This is part one: The fundamentals of Matt's Orthodox Christian traditionalism examined, Freemasonry, Judaism and Christianity, the making of religions.
1 hr 22 mins, 75 MB.

Abraham Anon
Kumiko was telling me about her disgust with Hillary and the YKW's wars, citing an egregious collateral damage to schools and education: this will obstruct solutions to the root of social problems and exacerbate social problems from the root as the schools and formative educational years of vast demographics are being destroyed. She is enraged by the damage this will do to personal and social skills. She asks what can be done?
I suggest a new variant of the 12 step meetings. Why? Because when people have been that damaged and obstructed by an interpersonal problem - such as Islamic abuse - it will be primarily these people who have sufficient understanding; they will have sufficient concern; it will be a necessity for them to take the time and show patience; to articulate the difficulties in full significance of the impact to them and society; and to search for solutions.
People who have not gone through this will generally not have sufficient understanding of the difficulties of getting through it, even if they did have inclination and take time from their faster track to a good life to put up with the wild and frustrating expressions that result from traumatic experiences and pervasive abuse.
The "victims" themselves will carry most of the load - by "sharing their hope, strength and inspiration" indispensable coping skills will find their way among them. But that doesn't mean that people coming from a background undergirded by normal philosophy and interpersonal relations shouldn't interact with them; in fact, that is one of the first differences I would make from the 12 Step programs - to have intermittent interaction from people from healthy backgrounds so that they can model normalcy for them and share normal skills. To make sure that bad thinking doesn't keep circulating and gets directed out before long.
So, there could be Visitors Meetings and Skilled Workshop Meetings to go along with the usual kinds of 12 Step meetings -
Speaker Meetings, in which one person tells the story of their struggle with the problem.
Step Meetings, in which one of the Steps is focused-on, with each person in the group having a chance to discuss their take and experience with that step.
The next change that I would propose is putting into question whether 12 should be the number of steps; of course it has pagan origin and has been hijacked by Abrahamism, but perhaps another number should be proposed to make the break more clear.
Of course the content of the steps should be significantly different as well. I will only sketch-in what they might look like. Suggestions from others are more than welcome.
One of the excellent features of the 12 step program idea is that one is not excluded for lacking skills or for not contributing dues. All that is required is a belief that you have a problem with the stated issue of the meeting group and that you comply with a few of its basic guidelines. There are no leaders. You agree to not expose the identity of those who go to meetings and to not gossip about them to people outside the group. You agree enough with the 12 steps (rather, we'll go with 14 steps, why not?) to allow them to provide coherence; and, except for speaker meetings, you allow a chance for each person who wants to talk.
Ok. There are probably some things that I'm forgetting but that's enough to start. Let me have a stab at how the steps might read:
The 14 Steps of Abraham-Anon
1. Came to understand that I had a problem with Abrahamism and that I could not handle it alone.
2. Came to identify positive attributes of my distinct race and my share in these positive attributes. Affirmed these daily to provide faith in mine and my people's worth as opposed to the Abrahamic god.
3. Conducted a fearless and searching personal inventory in order to purge its memes which may harm myself, my people, and in order to make amends to anyone who I have harmed in the name of Abrahamism or because I was inappropriately directing my response to it.
4. Came to understand the truth of how harmful Abrahamism is.
5. Came to understand Abrahamism is not a necessary evil nor a relative cultural preference; there are other "gods" and better ways.
6. Came to understand that its practice and promotion must be rejected by our people.
7. Came to understand that its perpetrators can and must be punished - ranging from denunciation, to social ostracism, to denationalization, to severe personal punishment in some cases.
8. Came to believe in the priceless gift of serenity to be found in the faith that my race, my place within it, and our interests are being looked after by the best and greater part of my people; by myself included.
9. Came to believe not only in the reality of distinct kinds of people, but also their right to preserve their differences.
10. Came to believe in the DNA Nation and international ethno-nationalism (genetic and territorial bounds); as the means to such maintenance of distinct peoples; their quantities and qualities of genetic inventory; their habitats through national territorial delimitations; qualitative and quantitative foreign enclave delimitations.
11. Came to believe that the Abrahamic religion and the Abrahamic man is already an imperialist hybrid and therefore his fate and place is the subject of our discretion.
12. Came to believe that Abrahamism can and should be destroyed once and for all.
13. Came to believe facilitating that destruction to be our prerogative as the people who are willing and capable of respecting racial differences, their right to be preserved in ethno-states, among the DNA Nation; and knowing that there is no avoiding the issue of morals - that every society will have some things that are legitimate, some things prohibited and some things obligated - will seek moral orders based on the Silver Rule as opposed to The Golden Rule.
14. Came to understand that the homeostasis of our ethnostates are contingent upon having the decency and wisdom to respect an option for sacred and devotional enclaves for those preferring strict monogamy (e.g., they want to choose carefully enough, devote themselves to that important choice; and/or concentrate on their endeavors otherwise, not chasing around for partners); and that those wanting to protect more liberal personal prerogatives must assent to that sacrosanct option and to strict national borders of citizenship - paradigmatic conservatism.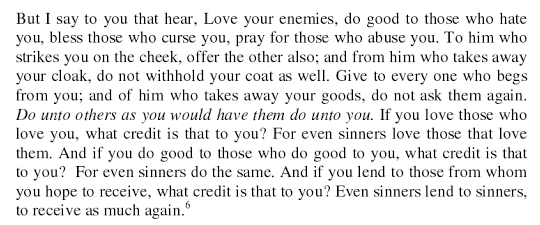 The Sermon on The Mount Ensconces The Golden Rule of Altruism
Majorityrights prefers to deal with verifiable reality as opposed to speculative theory and faith based systems of rules as we look after the interests of our people. We are looking after genetic groupings and genetic interests as key criteria, even if these are not the only important verifiable criteria to keep track of our peoplehood and that of others. Rationale and rule structures are another criteria for that purpose.
While existence is of course equiprimordial to genetic interests, to secure it for any span and legacy requires rationale and varying degrees of sophistication to negotiate complex rule structures of interaction. "Rules" (1) are the term of common currency that we will use for the logics of meaning and action that people use to negotiate interaction and these complex, protracted exchanges beyond episode, close personal relationships in yield to maturity of their full social system; and its relation to other social systems.

For those of us who are coming from this kind of perspective, where we perceive ourselves as rationally and empirically grounded, it is difficult to understand someone like pastor David Blackburn, his love of Jesus that would have him not only forgive, but want to share his love of Jesus with the men who raped and murdered his wife and unborn child; but to my knowledge, he is at least not hoping to get them released from prison.
It is even more difficult to understand European peoples allowing, even welcoming foreign incursions into The U.K., Sweden, France and Germany - it is difficult to fathom the mindset of a Merkel, who would destroy our European peoples in service to non-Europeans. But there is one rule, convoluted rule, that they have in common and makes their position intelligible to us despite their apparent irrationality.
The Golden Rule is a part of the Sermon on the Mount, which is a central text in the Christian faith. It states: "Do unto others as you would have them do unto you". There are similar instructions in many other cultures.

Despite receiving high respect and wide popularity, the rule raises critical questions. What is the recommendation more exactly, and is it good advice?
This post will prepare a discussion of the work of Jan Tullberg - viz., the difference between the golden rule of benevolence as opposed to the silver rule of reciprocity - as it applies to assist in the reconstruction of a necessary consensus of moral rules among European peoples and for coordinating our relations to others.
____________
There is a consensus among advocates of European peoples that in essence we seek to secure the existence of our people. There is much dispute over how that is to be done…

Business Insider writer, Ruchika Agarwal, claims that racial discrimination has no scientific basis and yet everybody perceives racial categories. [?]
The particular evidence that she cites being studies that show that people are less empathetic to other races.
She suggest that while it is hard to control unconscious responses, conscious efforts to combat bias and increased interaction with other "races" could help our brains see that our brains are "99.99% the same."
These conclusions by this recent economics and telecommunications graduate from The University of Florida reveal her institutional conditioning.
Despite the fact that everybody perceives racial categories, even on levels of pre-conscious brain function, these categories "don't exist!"
Here are the scientific premises she takes:
1) Race as a category is perceived in neurological responses of the older parts of the brain but 2) can be rejected as categorizations on a conscious level through neural re-routing in newer parts of the brain.
These are the same premises that Dr. MacDonald takes in his classic article, "White Ethnocentrism - Can Americans Really Be Brainwashed?"
However, MacDonald renders diametrically opposite inferences and prescription.
- that racial categories are perceived pre-consciously in older parts of the brain and therefore do exist.
- that racial categories can be consciously denied through conditioning of the newer parts of the brain and therefore that is cause for concern (because it means that Whites can be brainwashed).
- hope of defending against brainwashing through conditioning of newer parts of the brain might be found in the process of making conscious assertion of identification with heretofore implicit White groups - as Scott Roberts is doing by making explicit pro White statements before groups of Trump supporters, who are an implicit White identity.
This kind of thing should be done to counteract the reverse position, the kind of brainwashing that this being promulgated through the University of Florida:
- racial categories are perceived by everyone, even on an unconscious level - therefore do not exist?
- racial categories can be denied by the newer parts of the brain, therefore that is cause for encouragement - [!??] that we might throw-off accountability to the wisdom of our human ecology and systemic history?
- racial categorization might be overcome ultimately through increased mixing with other " " races" " as it will compel people to overcome their implicit identities - [!??] i.e., their precious, ancient evolution survived through a myriad of struggles and adaptations?
Business Insider, "There is no scientific validity to this dangerous and pervasive notion — yet all of us are probably guilty of it"

In their 2009 paper in The Journal of Neuroscience, researchers at Peking University did an experiment in which they showed white and Chinese students clips of white and Chinese faces both in pain and not in pain while they measured their brain activity using functional magnetic resonance imaging (fMRI). The researchers were paying particular attention to brain activity in an area of the brain called the anterior cingulate cortex (ACC), which scientists think plays a key role in registering our own pain and empathy for another person's pain.

For all of the participants, ACC activity was significantly higher while they were viewing painful expressions on the face of someone of their own race, and lower when they viewed pain on the face of another race. The results were in accordance with the hypothesis the researchers started with — that social relationships between individuals influence empathic responses, where an individual experiences higher empathic responses for those in the same perceived social category.

[...]

No one wants to believe that he or she is racist. However, there is enough conclusive evidence to suggest that the vast majority of us are either consciously or sub-consciously less empathetic toward people of other races. While it is hard to control subliminal responses, a conscious effort to act without bias could be a way to combat the surreptitious racism. Or maybe increased interactions with different 'races' could help our brains see that we are 99.9% the same.
Sometimes I notice stories that are so awful that I almost think it's some kind of joke, before I realise that it's actually serious.
Here's one such example of this:
Daily Mail, 'Militant teachers demand schools stop promoting 'British values' as it makes children from other cultures feel inferior', 28 Mar 2016:

That moment when memes meet reality.

Guidelines want to encourage children to appreciate British values
But teachers reject the move, which they say is linked to colonialism
Critics have accused teaching unions of waging 'ideological war'

Teachers are demanding that schools stop promoting 'fundamental British values' over claims it could make children think other cultures are inferior.

The National Union of Teachers said telling children about the country's democracy, law and traditions could encourage 'cultural supremacy' and urged a new focus on 'international human rights' instead.

Under government guidelines, which are aimed at tackling extremism in the wake of the Trojan Horse scandal, children must be taught about being a British citizen as well as tolerance other faiths and lifestyles.

However, union leaders said the term was demeaning to other cultures 'particularly in the context of multicultural schools and the wider picture of migration'.

Delegates passed a motion in favour of campaigning to scrap it during the NUT annual conference in Brighton today.

Christopher Denson, an NUT representative from Coventry, said: 'We need to fight to reject this notion of British values, to fight for notions of human values and human rights.

'We have to stand together across communities to bring down barriers, bring down borders, to say no to Islamophobia, no to anti-Semitism, no to fascism and any form of racism.'

The motion said that migrants make a 'huge economic, political and social contribution' to the country and that public services and businesses would 'face severe difficulties' without them.

It criticised the government for only taking in a 'minute fraction' of refugees and vowed to campaign for 'policies that welcome' them to the country.

The union agreed to 'gather and collate' teaching materials on migrants and refugees for members to use in classrooms from now on.

Mr Denson said he disliked using the term 'fundamental British values' in his classroom when many of his pupils had ancestry in countries which had encountered British colonialism.

He said: 'The inherent cultural supremacism in that term is both unnecessary and unacceptable.

'And seen with the Prevent agenda, it belies the most thinly veiled racism and a conscious effort to divide communities.'

He added: 'It's our duty to push real anti-racist work in all schools. And that doesn't mean talk of tolerating other's views, but genuine, inclusive anti-racist work.'

He said he had requested a week of themed assemblies every year in his school, with topics including apartheid and the rise of Islamophobia 'in the context of anti-Semitism in the 1930s'.

'This year we focussed on the migrant crisis in Calais, the Mediterranean and beyond,' he added.

'We organised a politics day for Year 8s [aged 12 to 13] in the week before Easter.

'They had a day to form a political party in their tutor groups to come up with a manifesto, film a broadcast, and make banners and take part in a debate.

'Apart from the quality of the work, the other thing that really made my proud was that every single tutor group had as a policy, 'refugees welcome, open the borders'.

'We need to be pushing at every level for anti-racism to be in the core curriculum for every child.'

Many of the activists at the conference said they had been to migrant camps over the channel to take food and provisions.

Christine Blower, general secretary of the NUT said: 'Schools and teachers play a key role in welcoming migrant and refugee children and young people to this country, and supporting their progress within schools.

'The NUT condemns the Government's inadequate response to the current migrant situation, which has exacerbated the suffering for so many, including school-age children and young people.

'The NUT has produced a guide to Welcoming Refugee Children to your School and has a dedicated section on its website for teaching resources which have been provided by teachers for teachers, on the issue.

'The NUT will continue to work with Show Racism the Red Card, Hope Not Hate and others, to campaign for Government policies that welcome migrants and refugees to this country. The NUT will also continue to press for anti-racism work to be enshrined within the curriculum of all schools.'

The requirement on schools to teach fundamental British values was introduced in 2014 in a bid to crack down on extremism in schools.

It followed the Trojan Horse scandal, in which state schools in Birmingham were infiltrated by hardliners who tried to impose an Islamic agenda.

Ofsted, the schools regulator, has been penalising schools which do not sufficiently show that they are promoting British values.

Chris McGovern, of the Campaign for Real Education, said: 'Teachers should not be playing the role of fifth columnists in the ideological war currently being fought over our national identity and our national sovereignty.

'Teaching children that British values are part of "cultural supremacism" will, at best, make them feel guilty about being British and, at worst, radicalise them in order to 'make up' for the sins of their fathers.

'If one wishes to destroy a nation and build a "brave new world" you begin by indoctrinating and brainwashing the children.

'This process of 're-education' has started some years ago in our schools and we are, now, seeing its consequences in the suppression of free speech on our university campuses.

'The notion of 'value relativism' - that all views are equally valid - has reached saturation point in our schools.

'In many classrooms this has led to the views of terrorists being given equal weigh to those of the victim of terrorism. Against this background the latest motions from the NUT come as no surprise, at all.'

The Department for Education has been contacted for comment.
I'm sure that the Department for Education will be just as speechless as I am right now.
Alex Linder interviewed (try not to let the Australian accent of his interviewer bother you).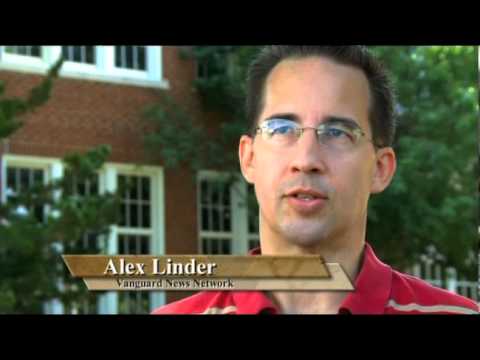 There is or can be a misunderstanding.
- that I simply want to refrain from going ahead and killing Jews et al. on principle, naivete or for petty moral reasons.
- that I and we could not be content nor ever recognize that we'd be better off if they were gone.
But that is not the case.
It is the case rather that it is generally not a good idea to announce that you want to get them all whether you think it is necessary or not.
It would be hard to implement and worse, might work to our detriment if not conceived and promoted properly.
It is not only a strategic matter but a theoretical matter: for what we want ultimately is separatism (killing is a species thereof).

Separatism can be argued not only by broader and more practical metrics, but if it is achieved, it is more feasible for the purpose of killing - as opposed to taking the stance that even while they remain tangled up in our hair, we might succeed in the complex affair of teaching people to know, psychologically, what to do because Alex says so (bold and intelligent though most of his arguments are)...
As opposed to Alex saying so, if they are to be killed it would be for the broadly intelligible, broadly acceptable (therefore possible to facilitate) and operationally verifiable reason that they will not leave us alone when given the option, but insist on their imposition to our exploitation and long term extinction - a verifiable consequence and reason for their imposition - to eliminate us as a people, therefore a highly assertable warrant to preempt it.
This could be demonstrable even in their refusal to allow our benign and fair act of separating and expelling them from our people.
Given these considerations hence, my motto: separatism is the first step, separatism is the ultimate aim, separatism is always possible.