Majorityrights Central > Category: Thread Wars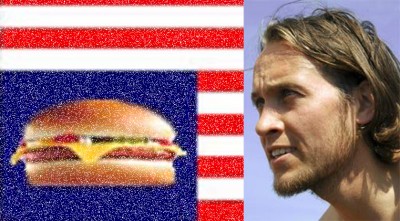 Not just your government issue patriotard, but full-blown ZOG agent.
Brett Stevens isn't just your average garden variety asshole - though he certainly is that as well - nor is he just your standard, government issue patriotard: he is an alphabet agent (or some proxy thereof) making word salad in service of ZOG and the YKW otherwise. The best that can be said for him is that we might examine how an agent as such goes about twisting language games to the ends of his master.
I never liked what Brett Stevens was doing, was inclined to ignore him as being at best some sort of coward dispatched to re-direct WN into American patriotardism - with his dip-shit hamburger logo and all - likely an FBI agent, annoyingly, twisting our concepts around to that end: but now he's emerged full blown didactic to illustrate how an FBI agent (or whatever kind of agent he is) goes about twisting and retooling language games to make them fully YKW and ZOG amenable.
Of course those in service of the YKW do not feel the need to be especially covert about their advocacy in all places nowadays, particularly with The Alternative Right Tentosphere being what ((it is))), as it is devised to be YKW friendly - markedly so in its charter name site, Alternative Right, which re-published the Brett Stevens article "The Roots of Modern Anti-Semitism." They feel no need to be ashamed of their defense of Jewish interests, they are free to exercise their chutzpah, as they do by way of Stevens in this article. However, the real points for style in shabbos service come into play as Stevens and committee go to work confounding and re-directing proper ethno-nationalist understanding of the world that the more sophisticated and Jew-wise would otherwise be sorting out. We'll have a protracted look at how Stevens is doing that in a recent Red Ice interview of his - "Deconstructing Modernity" with Henrik Palmgren - after we first take look at that short piece of his, "The Roots of Modern Anti-Semitism", as it lays blame solely on the shoulders of Whites for their ethno-national disintegration, an argument typical of YKW chutzpah, and equally typical of them in tasking shabbos goy to argue as such.
Alternative Right, "THE ROOTS OF MODERN ANTI-SEMITISM, by Brett Stevens, 17 Feb 2017: While anti-Semitism makes no sense because it scapegoats one group for the failure of the much larger phenomenon of Western Individualism, it is easy to see how it came about in modern times because of the unfortunate affinity of a large percentage of Jews for egalitarian ideologies which also reveals the eternal tragedy of the Jewish people in Europe and Eurasia:
Ok, so we can see that Stevens is not only shabbos goy enough to play the eternal scapegoat card on behalf of the YKW, but he would also play their card of blaming our demise solely on our individualism and lack of rectitude, and how convenient an argument, now that Jewish interests have more money than god - according to them, we are supposed to see "a pathological desire for 'equality' in ourselves, to believe we are afflicted with a vain wish to emulate quite the magnanimity of Zion. They want these conceits to be seen as the key and sole cause of our problems. We should not try to emulate their organizational success with any of that leftism stuff. They want us to believe that they simply can't help it that they have vastly disproportionate money, power and influence, it is merely an offshoot of their inborn talent that they are able to be so magnanimous with your freedom, they're just better than you are. According to them, we should not succumb to time immemorial prejudices, they want you to believe that these prejudices, looking upon their money as having been funneled up to them by usury, are as "baseless" as depicting them as the veritable blood suckers of social capital in a wood carving of old.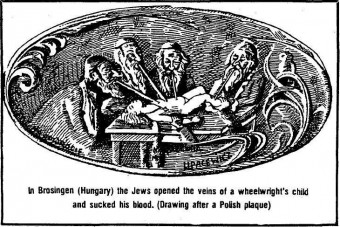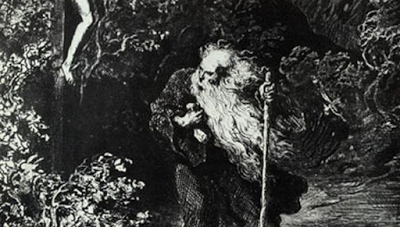 Stevens supplants depiction of YKW as the blood suckers of ancient prejudice in favor of "The Wandering Person-of-a-certain-ethnicity"
Ibid:

More legs than body.

"In 1934, according to published statistics, 38.5 percent of those holding the most senior posts in the Soviet security apparatuses were of Jewish origin. They too, of course, were gradually eliminated in the next purges. In a fascinating lecture at a Tel Aviv University convention this week, Dr. Halfin described the waves of soviet terror as a "carnival of mass murder," "fantasy of purges", and "essianism of evil." Turns out that Jews too, when they become captivated by messianic ideology, can become great murderers, among the greatest known by modern history."

When 2% of the population represents nearly 40% of the Communist Party, they will be targeted. Theodor Herzl, one of the founders of Zionism, recognized this when he noticed that among national populations, those who do not fit the national profile are attacked whenever things go wrong. But even more, when a stereotype becomes somewhat true, the brutality that follows seems justified or at least forgivable to most people, despite being unrealistic.

Naturally the tragedy of the Jews comes into play here. The Jewish diaspora began before the Jewish people were exiled from Palestine. It lies in the mixed-race nature of the Jewish population, who were probably once European but became merged with Asiatics and Asiatic-African hybrids because of Israel's place as the center of world commerce at the time.
Right. Stevens wants us to believe that the Jewish population were probably once European…and a species, we should suppose, perhaps to be considered in the same genus and cultural milieu with us once again: According to him, we are supposed to empathize with them on two grounds: After all, since their diaspora, they believe that they have been subject to unfair prejudice, viz. as being parasites upon the various populations of the world that they have circulated among - an unfair prejudice, they believe, against a symptom of their being homeless - kind of like our European diaspora in America have been depicted in their "White privilege"; and, secondly, we should be able to relate to them as being of common European origin - even though there is ZERO genetic evidence of that.
Ibid: Jews are a bourgeois tragedy: successful in business, they accepted everyone, which led to them changing from a European population to a mixed one. This guaranteed a home on none of the continents and, when their homeland in the middle east was dispossessed them, a wandering group who could never point to an origin and say "there, alone, we belong."

Like the good businesspeople of the West today, the original Jews accepted diversity because it made good business sense. Thriving businesses do not turn down customers because of their national origin. But in doing so, the Jewish people invited in the hybridization that ensured they would never have a racial home or continental home except themselves.

This fundamental alienation led to a fascination with anti-majority movements for many Jews, explaining their higher participation in Leftist movements. However, their lack of an identity in one of the four root races — Australid, Caucasian, Asian and African — then turned against them, as even the Communists recognized the power of nationalism.

While this seems like a problem without solution, nationalism solves [it]. A new race was made: the Jewish people. It belongs to no one but itself, and it needs its own homeland, whether in Israel or Madagascar. It will never be European again, but it can be the best of what it is, and this begins with a divorce from the alienation that has led it into so many disasters.

In the meantime, these historical events prove how nonsensical anti-Semitism is. Our problem in the West is that we are following the path that the ancient Jews did because, as individuals, we are willing to "succeed" at the expense of civilization. We cannot blame others for our own moral failing, and indeed, doing so obscures what we must do, which is to change our ways. First published at Amerika.org
Yes, they would have us believe that we should fully empathize with their right to a sovereign homeland while they have been integral in imposing unimaginably vile and burdensome numbers of interlopers upon us, in our nations and against our groups, against our will, because now they would lie and say, "we are of common stock and culture"..."but even so, they have evolved from us in these beleaguered diaspora circumstances to be different enough", even more the special light unto us goyim - to give us a lesson of what it means to live as diaspora among diversity; from their besieged sovereign of Zion. According to them, we should be sympathetic to their aloof perch, because they are still like us in having started out in the same place as us; and with that duel empathic circumstance of origin and diaspora, were so "kind" as to have bequeathed a common Abrahamic "ethnic culture", of Noachide law, a tutelary yoke of obsequious to their rule, which we are supposed to recognized as a kindness offered and accepted just as the Alternative Right has in their quid-pro-quo with Zionism ...we are supposed to treat it not as the imperialist base and rule of Jewish diaspora operations, but as a completely sympathetic national ally which never did us any harm, just like its scapegoated diaspora, who started out just like us - we are supposed to believe, were wandering tribes of Europe, just like us.
OK, that's enough baloney there from Stevens more forthright advocacy for Jews. However, Stevens has not only been put-up to turning simple anti-Semitic "prejudices" of old on their heads and into "sympathetic" excuses for them, he is also tasked with going after the more arcane and sophisticated kinds of topoi used by myself, Kumiko, GW and Bowery - Stevens is at pains to twist careful ethno-nationalist thought around and into ZOG interests, as one can see in the recent interview that he did to pitch his book, "NIHILISM: BETWEEN NOTHINGNESS & ETERNITY", in a podcast called "DECONSTRUCTING MODERNITY" with Henrik Palmgren at Red Ice Radio, 8 Feb 2017.
First of all, deconstruction is a mainstay premise of what modernity does to clear-away "the arbitrary" in its quest after foundational essences. It is NOT so concerned to not subject to arbitrary deconstruction and experimentation the precious inheritance that is. So, we already have a clue that Stevens is going to probably give us not something radially different for our interests at all (certainly not White Post Modernity) but something a lot more like bald modernity and nihilism in the service of the "reality of inequality", a "reality" that just so happens to serve the ehem, rather unequal position now of Jewish power and interests - who will try to placate us, if we are good sheeple, by sneaking-in some "radically" traditional Noachide consolation.
Brett Stevens - Profile of a ZOG agent? Probably Yes.
Brett Stevens says that he "came to the Alternative Right" through the "Dark Enlightenment" and "Neo-Reaction" - the latter two spheres of the Internet always struck me as Jewish language games as well; though I never investigated these Internet bubbles, Kumiko confirms that they are, indeed, fronts to divert the attention of STEM types, in particular, away from Jewish power and influence as key problems; and to direct people instead to see problems as being located strictly in "modernity" and "solutions", even if only stoically conciliatory, to be found by embracing "traditional" reaction by contrast - i.e., owning "reaction", the devil term attributed by leftists to right-wingers ("reaction" being a "good thing" now that the YKW are on top). Not only are these YKW/Zionist dodges of "The Dark Enlightenment" and "Neo-Reaction" the auspices that Stevens has come through, but they have emerged especially meaningful to understand as strategic language games within the political era at hand, as it has been revealed by Steve Bannon, that he recommends this material, having read it and having been significantly influenced by it.
It is important, therefore, to understand not only agent Stevens overt advocacy of Jews, but also to untangle the more covert web-spinning that he is using to obfuscate, enmesh, entangle and frap-up genuine ethno-nationalist concerns with whatever arcane language games, including Dark Enlightenment and Neo-Reactionary misdirection that he can avail, in this case with Henrik -
This article is Part 3 of an ongoing series about the TRS scandal. See also: Part 1 and Part 2.
After everything began crashing down around them amidst the wake of the TRS scandal, in which Michael 'Enoch' Peinovich was spectacularly doxxed and his personal information made available to everyone, one might be wondering what lessons the people at TRS chose to learn from all that.
On 24 January 2017, the people at TRS seemed to indicate what they had 'learned':

So, they have learned that what they need is "more person to person meet-ups". Do they even realise the situation that they are in? They are presently the least trustworthy people imaginable, and there is Mike 'Enoch' Peinovich calling for more person to person meet-ups, presumably with himself and the other massively compromised people around him.
And Enoch continues:

He's "not going to throw Cernovich under the bus". But why? I think you have to wind the tape back a bit to see why:

Oh, right. Because they apparently need the 'Alt-Lite celebs'. I assume everyone will find out why in due course and it will all end up being published here by me in another article within the next six months to a year, given that their OpSec is completely nonexistent half the time anyway.
But this is one for the ages:

Really, I can't decide which is worse: The fact that (1) Mike 'Enoch' Peinovich claims to have a 'pure Nordic phenotype', or (2) the fact that there is a whole section of the Alt-Right which actually believes it because it's politically convenient.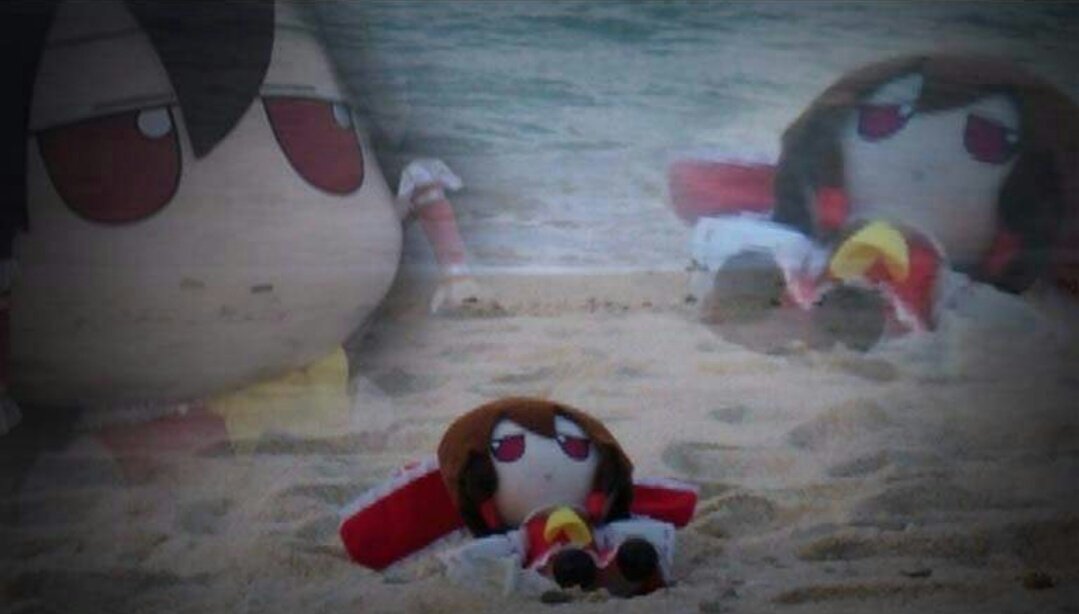 It really makes me contemplate the meaning of life. Or at least, it would, if there were such a thing as a 'meaning of life'.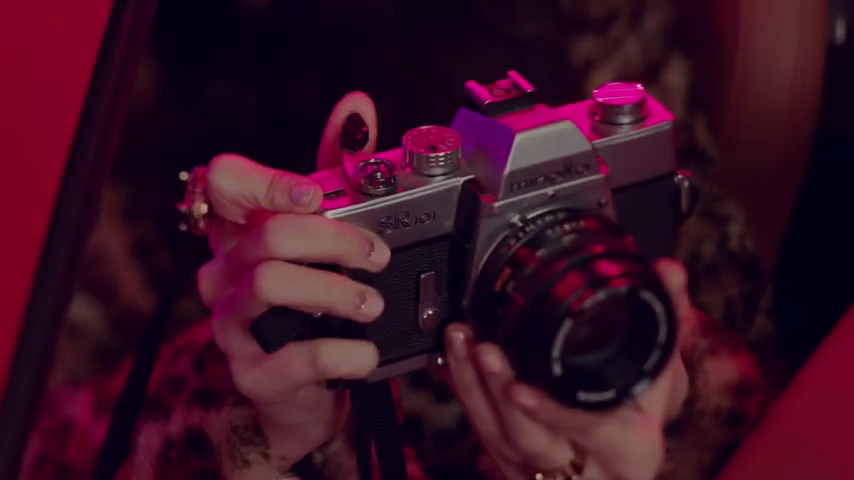 I'm staying on this story until every last detail is known.
Enter the next level
This article is Part 2 of an ongoing series about the TRS scandal. See also: Part 1.
Kind of like some kind of political equivalent of a K-R&B song about how a man just keeps lying so much that there is always another layer of lies beneath his first layer of lies, Michael 'Enoch' Peinovich of The Right Stuff has been lying on a whole different level beneath the presently-existing lies.
However, rather than contemplating the fun concept of trolling with musical metaphors, I want you to instead follow me on a journey into the other barrel beneath the barrel that TRS had already sunk to the bottom of.
Welcome to Part 2 of the ongoing drama.
The present situation
So far, Michael 'Enoch' Peinovich and his supporters have been frantically trying to channel all the discussions about his standing in the western ethno-nationalist scene toward his Jewish wife, Ames Friedman, as though the problem is confined only to her and as though the perniciousness and hypocrisies of these revelations can be mitigated by simply removing her from the situation through divorce. They have been resolutely ignoring the manifest high likelihood of Peinovich himself being Jewish, at least through his father's side.
In a recent Rebel Yell podcast, Peinovich subtly referred to himself as a person of 'mixed Jewish ancestry'. At 01:19:06 of that podcast, he said:

But while people were grappling with that revelation, there is another secret lurking behind that.
As it turns out, Peinovich is additionally Jewish through his mother's side. Seriously. This is actual reality. This is really happening. Read that sentence again, and consider the implications of it.
Peinovich is around and about 75% Jewish at least.
What we now know
Utilising the information that the first doxxing was able to dredge up, we were able to use that information to pivot across various branches of his family, including his siblings, but the most important link is that of his birth-mother.
Michael 'Enoch' Peinovich's father is Michael P. Peinovich. Peinovich senior is married to Billie Gleissner, but we have not taken the time to deeply examine Gleissner, because Gleissner is not Michael 'Enoch' Peinovich's birth-mother. Rather, Gleissner is his step-mother.
Michael 'Enoch' Peinovich's father and his step-mother Billie Gleissner married each other in 1983. So who then, is Peinovich's birth-mother?
We discovered that Michael 'Enoch' Peinovich's birth-mother is Paula Sippel. Prior to 1983 she was known as Paula Enockson Peinovich-Sippel, her surname through her mother's side is Enockson. That is the maternal name, which is likely the source of the nickname 'Enoch' which Michael 'Enoch' Peinovich is using literally in plain view.
Sometimes it's the thing which is in plain view which paradoxically garners the least attention.
Two plus two is four
We know that Michael 'Enoch' Peinovich's father gets the name Peinovich from a Russified and Americanised variant of the Croatian name Pejnovic, and that the name is associated with Jewish demographies in Croatia.
We also know that Peinovich's father married twice, and that in both cases he married women with Jewish surnames: Paula Enockson Peinovich-Sippel, and Billie Gleissner.
Additionally, we know that Peinovich's mother carries the name Enockson through her own mother's side of their family.
And then, to top it all off, Michael 'Enoch' Peinovich 'accidentally' married a Jewish woman himself, Ames Friedman, the woman who is now at the centre of this recent Alt-Right scandal along with Michael 'Enoch' Peinovich.
Even the most sceptical people, in their heart of hearts, in their intuition, they know that there must be something there. There's something. But they won't admit it to themselves. Is it because of a cult of personality?
"How dare you speak the truth!?"
The most popular narrative among the sobbing defenders of Peinovich is that the people who are most viciously attacking TRS in the wake of this scandal, are people who have something to gain from bringing down TRS. Okay, sure.
Let's be real here. TRS, the 'inner party', and the Alt-Right leadership core all got caught covering up a massive den of hypocrisy and money-grubbing deception at TRS, and they piled lies on top of lies within lies.
Michael 'Enoch' Peinovich had absolutely laughably ineffective OpSec, and as such it was possible to get his personal information and to discover everything about the fraud he was perpetrating. It was also possible to pivot across his family tree because his whole family maintained an ostentatious social media presence which could be easily dredged in the aftermath of the doxxing.
If you get caught doing something that you're not supposed to be doing, and there is a good strategic reason for me to amplify the exposure of that scandal, then I will amplify it.
The 'purity spiral' meme
The TRS crowd desperately wants to call all of this 'purity spiralling' and thereby they hope to place a lid on the ongoing scandal.
I don't call it 'purity spiralling'. I call it 'actually tackling the problem of Jewish subversion'.
Does this sound extreme? Some people are saying that the stance taken by the anti-TRS people such as myself, is 'more extreme than Adolf Hitler'. Nothing could be further from the truth. Even someone such as George H.W. Bush would have purged someone like Michael 'Enoch' Enockson Peinovich-Sippel just as fast, if Bush had been able to have his way.
Don't believe me? Here are the Zionists complaining about George H.W. Bush:
Commentary Magazine / Tevi Troy, 'How the GOP went Zionist', 01 Dec 2015 (emphasis added):

[...] For the first 45 years of Israel's existence, the Republican Party was deeply divided when it came to the Middle East. Powerful forces inside the GOP had long been at best uncomfortable with Israel and at worst openly hostile. Those forces included big businessmen and oilmen with deep connections and interests in Arab lands and so-called foreign-policy realists who did not see why the U.S. should maintain a special relationship with a tiny, economically negligible country surrounded by 22 Arab nations that wished it would disappear.

[...]

Following Reagan's lead and influenced by the neoconservatives who had gravitated to the GOP, pro-Israel voices became more confident in expressing their view of the ties that bound the United States and the Jewish state—the same monotheistic roots, which disposed them to an appreciation for human dignity and self-determination, and a shared belief in a covenantal founding of both nations. This view helped the GOP establish an ideological framework for foreign policy beyond the binary question of Communist versus anti-Communist.

None of this was seamless. Reagan was succeeded by George H.W. Bush, himself quite literally a Country Club Republican and oilman by birth and occupation and a foreign-policy realist by disposition. He famously complained about the Israel lobby, saying ludicrously that he, the president, was "one lonely guy" up against "some powerful political forces" made up of "a thousand lobbyists on the Hill." His secretary of state, James Baker, was even worse, earning the wrong kind of immortality with his line, "F— the Jews, they don't vote for us anyway." Even as these attacks were going on, there were signs that Bush had already become an anachronism in a rapidly changing world—most notably the fact that the Baker line was leaked to the press by his disgusted fellow cabinet secretary Jack Kemp, a key figure in remaking the party as pro-Israel.
Also, objectively speaking, George H.W. Bush was better on trade issues than Donald Trump ever will be, and you will also find that unlike Donald Trump, George H.W. Bush was closer to a coherent global ethno-nationalist position, as seen in Bush's stance on the Jewish Question, and in Bush's stance on the defence of Eastern Europe and Central Asia from Russian colonial aggression.
Really makes you think, doesn't it? Maybe someone should clone Bush senior and bring him back to power? I'm just raising it as an interesting point so that people can consider the present situation in context.
Shekel farmers
But hey, no, people like Mike Cernovich, Milo Yiannopolous, Paul Gottfried, Lauren Cherie Southern and Michael 'Enoch' Enockson Peinovich-Sippel bandied around some fashy-looking memes on Twitter and told people to give up on searching for their own candidates or building their own parties, and instead rallied people to throw in their lot with Donald Trump under various stylistic guises – ranging from one extreme which is 'Gorilla Mindset book', to the other extreme which is 'favicon.ico is an open oven which is really edgy' – and as a result the Alt-Right in the United States became incapable of identifying the very same Jews that they professed to be on guard against.
The Alt-Right did however become very proficient at: (a.) supporting stupid protectionist trade policies to spite Asian manufacturers and prop up American oligarchical cronies, (b.) crafting insults that were calibrated to really annoy Hispanics, and (c.) supporting the slashing of (c, i.) their own health care provisions and (c, ii.) their own social security benefits, (d.) re-enabling the potential for a pointless future American war against Iran, and (e.) just as an extra bonus present for Israel they even managed to elevate Jared Kushner to the position of being literally the most powerful Jew to have ever inhaled oxygen in the universe.
For an encore, performed live from the front deck of the Lusitania, the Alt-Right will probably next declare an undying support for Michael 'Enoch' Enockson Peinovich-Sippel, with some stupid excuse like "no punching to the right", whatever that even means. Watch and see, that will happen!

Viewing the source behind the web archive from 2014 reveals something amazing.
This article is Part 1 of an ongoing series about the TRS scandal.
See also: Part 2.
Order of Battle
As you all are aware, Mike Enoch, now revealed to be actually Michael 'Enoch' Peinovich, is the founder of the website The Right Stuff, which opened in 2012 and hosts the popular and dubiously overwrought podcasts Fash the Nation and The Daily Shoah.
The Right Stuff has spent the entirety of the past four years serving up piping-hot reactionary narratives all of which just so happen to serve the geostrategic agenda of the architects of Russian foreign policy by carrying out Active Measures, American domestic honeypot agenda of the FBI, and the Israeli security agenda.
But if anyone had pointed that out before today, such a person would have been called 'paranoid' and even 'insane'. After today however, such a person would simply be called 'well informed'.
Note: The name 'Pejnovic' has a diaspora in 20 countries worldwide and has its highest concentration in Zagreb, Gospic and Klenovac, Croatia. It is found in small numbers in Peru, in the United States, and in the Russian Federation. 'Peinovich' is a Russian-Jewish variant that found its way into the diaspora of the United States and in Argentina.
The whole saga leading up to the revelation of Enoch's real identity, started after Red Ice Radio hosted a show on 26 December 2016 in which Reactionary Jew was invited on as a guest and Lana Lokteff asked the audience to give them feedback on whether right-wing Jews have a place in the supposedly ethno-nationalist political scene that has recently been emerging in the west.
This question was of course met with outrage from various quarters as would be expected. But what was truly interesting was that many of the users and even some global moderators at The Right Stuff began to respond to that provocative question in the affirmative. That was met with deep suspicion by everyone, because it is suspicious.
The controversy and trolling then moved to 4chan /pol/, which is basically the wild west. People from The Right Stuff orchestrated a two week long posting and sliding campaign in which non-stop wall-to-wall pro-Israel propaganda posts and threads were created by them. 4chan /pol/ moderators then began banning all of the TRS people who were doing that, and the details of the bans were then taken back to the TRS forums and presented there.
This is just an example of some of the things that the TRS people were putting up:


TRS then proceeded to deny everything. They claimed that other groups were impersonating them. Some claimed that Hillary Clinton's CTR was conducting pseudo-operations against them. Some claimed that EU Stratcom was targeting them. Some claimed that British intelligence was targeting them. Some claimed that 'SJWs' and Chicago Antifa were trolling them. They claimed that somehow Stormfront was trying to make them look bad. The claims were feverish and frenetic, bold and brash, and all diversionary nonsense.
Somewhere along the way, the TRS people decided that since they were trapped in that situation, the ultimate distraction would be to initiate a miniature Cyberwar against 8chan for no apparent reason. TRS decided to attempt a DDoS against 8chan. It failed. At this point, 8chan /baphomet/ became interested in the feud and many of its denizens informed TRS that they must stop their behaviour immediately, and that they must also apologise for the DDoS attacks and that they must apologise for making the pro-Israel posts, on air, or it would be war.
TRS basically then told 8chan /baphomet/ to "bring it on".
8chan is however, an anonymous message board that sits on the edge of the Darknet. So they brought it, but no one really will ever know who 'they' are. TRS found itself being DDoS'd and this forced them to take shelter under Cloudflare. While the TRS staff were attending to that, they also found themselves being doxxed and the process was being crowdsourced on 8chan /baphomet/.
TRS then tried to go back to 4chan /pol/ and play the two sites against each other by claiming that 8chan /baphomet/ were actually the Antifa. Of course, TRS had just previously bombastically accused 4chan /pol/ of being the Hillary campaign on one hand and of being western intelligence on the other, so no one at 4chan was really in the mood for yet another round of that nonsense again. Furthermore, TRS had misunderstood the nature of anonymous message boards, supposing that there was a real dividing line between the 'communities' at 8chan and at 4chan. There is no such dividing line in actuality, because no one is seriously loyal to an anonymous message board. It's just a vehicle through which various actors can drape themselves in a cloak of trendy anonymity. There is no 'community'.
The Right Stuff subsequently found itself being Blown The Fuck Out by all of its adversaries, and all of their adversaries were able to maintain anonymity during the process.
Isn't that marvellous?
Outcomes
It turns out that Michael 'Enoch' Peinovich is a Javascript Developer and a Public Relations Professional who has worked as a Front End Developer at BurrellesLuce, Time Inc, and Vook. He's from New York. Vook was later rebranded as Pronoun, and is now a subsidiary of Holtzbrink Publishing Group.
Oh, and Peinovich is a Russian Jew married to a Jewish woman named Ames Friedman.
In 2010 he ran an Anarcho-capitalist blog called 'Emptiness', at which his wife made several comments with her real name.
In the same year, Peinovich also wrote an article for the Mises Institute.
On 03 July 2015, Peinovich appeared on Red Ice Radio, and actually mentioned that article which he had written for the Mises Institute, when he was explaining to them that he 'used to be a libertarian'. He cryptically commented after the 13 minutes 25 seconds timestamp, "if you find it, ask if it's me, and if you get it right, maybe I'll tell you."
At this point I don't think anyone will need to be making any guesses about that anymore. On top of that, Peinovich earlier admitted to everything on the TRS forums before basically transforming himself into the 'shut it down' meme and shutting everything down:

There is no more speculation, there is only fact. Mike 'Enoch' Peinovich in fact admitted to what he has done.
Datamining concerns
Assuming that the entire TRS entity either originated as or became a full spectrum Information Operation, it means that all the usernames, email addresses, IP addresses, access logs, security questions, and password hashes that were submitted by people who—against all good advice—chose to actually register on the ridiculous TRS forum have a not-insignificant probability of falling into the hands of any number of adversaries who Peinovich may have allegiance to. FBI? Mossad? Who even knows at this point?
Does anyone really think this story is over? For some people, the problems may only just have begun.
Questions Remain
The remaining question would be, who knew about Michael 'Enoch' Peinovich's Jewish identity before it was exposed today, when did they know, and if anyone did know, why wasn't it exposed via normal channels much earlier?
A lot of people were in a position to have noticed the fact that Peinovich was in fact a Russian Jew orchestrating a massive disinformation campaign against everyone, one which may have influenced the outcome of the American election and created significant disruption in other English-speaking countries.
This is a partial list of the people who have directly interacted with Peinovich in some way over the past few years, and who one would think ordinarily should have detected that something was very wrong:
Richard Spencer
Greg Johnson
Kevin MacDonald
Colin Liddell
Jared Taylor
Andrew Anglin
Lana Lokteff
Henrik Palmgren
David Duke
Colin 'Millenial Woes' Robertson
Kyle Bristow
James Edwards
John Friend
Sam Dickson
Jack Donovan
William Regnery
Andrew 'Weev' Auernheimer
It's truly astounding that supposedly none of those people noticed anything, despite them having either worked with him and having been in interviews with him, or them having called in to TRS during its radio shows. At one point, Peinovich was even brought into a live podcast during the NPI 2015 conference.
Of particular significance is Peinovich's relationship to Kyle Bristow. Bristow is the Executive Director of Foundation for the Marketplace of Ideas, Inc., an Alt-Right organisation that advocates on behalf of Alt-Right figures and coordinates legal services for them. Peinovich joined its board of directors on 11 December 2016, joining five lawyers, and law student, and a journalist who were already on the board of directors there. I presume they too might like everyone to believe that they didn't notice anything?
Another one of key significance is Peinovich's connection to Andrew 'Weev' Auerenheimer. Weev is the person who basically did a significant amount of work on the TRS website in order to 'secure' it. At some point between 2014 and 2017, the Paypal donations on that site were deactivated and only the Bitcoin donations remained. If Weev was the one who implemented that change, did he not notice the email address linked to their Paypal account was a glaring giveaway about who Mike Enoch really is? But if he did notice the disturbing truth, why did he not alert anyone? Many people could speculate.
Here are some examples of obvious clues that they could have picked up on: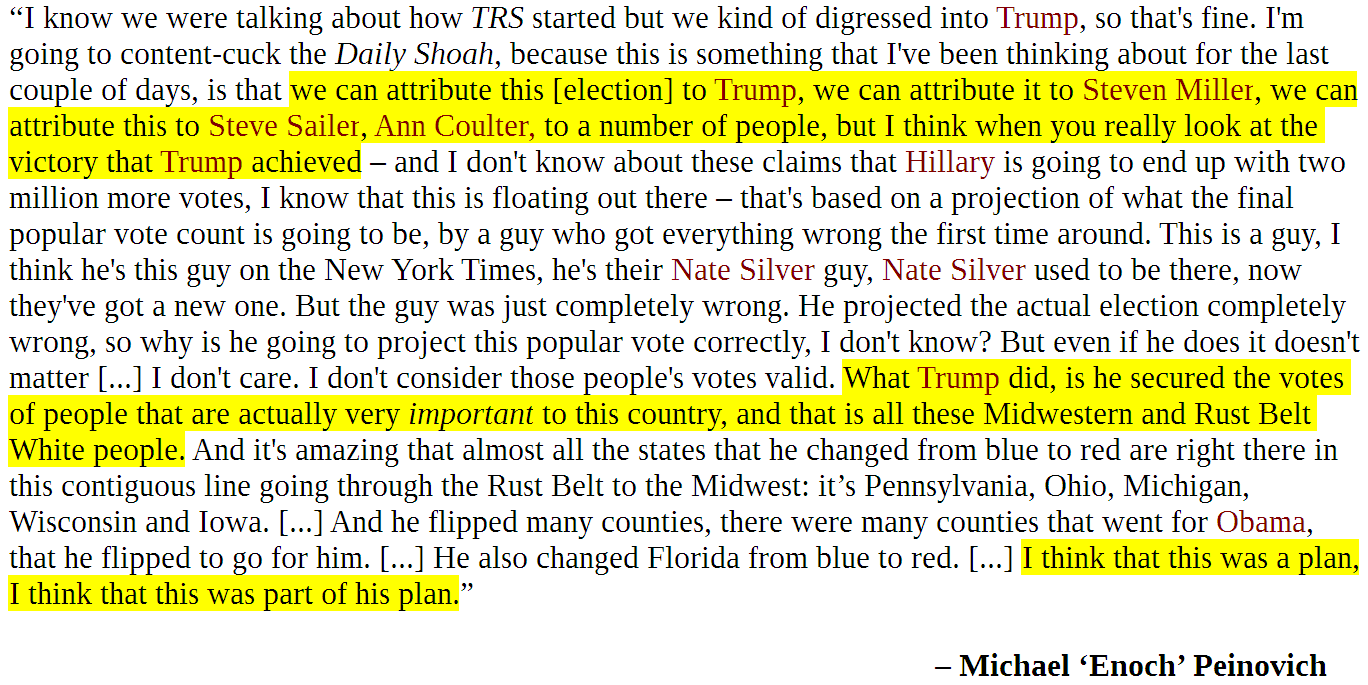 Just as large swathes of the American population were getting ready to give up on the system as it presently exists and to instead settle into total cynicism, along came the Trumpists and outlets like The Right Stuff, who managed to revitalise and rescue the ridiculous system yet again!
And also there was this extra incident here:

Fucking incredible. All of the anti-semitic rhetoric that was going on there basically was a cover for the fact that a whole Jewish operation was being conducted right under the noses of the supposedly 'red pilled' and 'savvy' generation of new American right-wing activists.
Over the coming days and weeks, I'm sure that all kinds of explanations will be forthcoming from all of those people. The question that needs to be asked over and over again, is this: Who knew about Peinovich's Jewish identity before today, and if any of them did know, when precisely did they know, and why did they not reveal it as soon as they became aware of it?
Breitbart is a medium much visited by members of the tribe of Snarks. Indeed, it is owned by Snarks, and the stance it takes on the Great Issue is typically Snarkish: Snarkish interests are a non-Snark interest; Israel is "special"; Islamic extremism is very, very bad for Snarks and non-Snarks alike; likewise, untrammelled immigration from Muslim lands is very, very bad; civic values for non-Snark "nationalists" are quite alright, but real nationalism is "far right", etc, etc. And, of course, there is no Snarkish Question. All that's anti-Semitism, of course ... just Nazi-talk.
It can be difficult to execute an attack on this prescription. Crypsis does not help. But attacks will usually result in deleted comments and, at times, the capital punishment of a Disqus identity ban. Sometimes, though, it can be done.
Apologies for the shocking doggerel.
verbatim • 11 hours ago

But ... but ... the Jewish Director of Social Media at Sweden's Bonnier Publishing - a huge Jewish multi-media owner - wrote an article titled "Our Whiteness – a democracy problem".

https://majorityrights.com/weblog/news_comments/director_of_social_media_at_swedens_bonnier_publishing_says_sweden_and_euro

Why would she do that? Does she say the same thing about Israel, I wonder? Do Jews seek the debilitation and genetic dissolution of the European host, or does it just seem that way?

Well, I expect it's "anti-Semitic" even to ask this question, and it would be just awful to be "anti-Semitic". So let's not think about it at all, hey?

Dexy verbatim • 10 hours ago

The nazis once conquered through purity.
Now Kalergi's their path to security.
And amidst all the rape,
They've a goat for their scape.
The kapo's their patsy and surety.

verbatim Dexy • 10 hours ago

There is a tribe which must conquer through debilitation,
This Kalergi's a cover for their abomination,
And amidst all the rape,
The Swedish male is the scape.
While useful idiots shouting "Nazi" speed on the death of the nation.

Dexy verbatim • 10 hours ago

As die Bilderbergs bungled and bumbled,
Their Nazi World Order we rumbled.
Their Viertereich Global
Was evil, not noble.
And to Hades the hellions tumbled.

verbatim Dexy • 10 hours ago

The 'berg was built upon high finance
And that on a group with a stance
For the supremacy, see
For all eternity
Of just one ancient allegiance.

Dexy verbatim • 10 hours ago

Ain't ye heard of the prince called Bernhard?
He took the thirdreich's defeat hard.
His Bilderberg Group
Were all in the loop,
And vowed the Free West to retard.

verbatim Dexy • 9 hours ago

Uncle Julian heard Bernhard's news
And rang David in New York for his views
"We must use it", he cried
"What a great place to hide
While we realise the destiny of the Jews."

Dexy verbatim • 9 hours ago

The Jews are not whom to be feared,
They are used as the globalists' beard.
Nor ought they be hated,
For they are still fated
To save us from our pitches qu€€red.

verbatim Dexy • 9 hours ago
What you say has one fatal flaw
Global capital knows the IQ score
But it's not East Asians they bring to our land
But African, South Asian, Arab contraband
So not profit but another motive matters more.

Dexy verbatim • 9 hours ago
Indeed this is not about cash.
The economy's destined to crash.
The kraut plot eugenic?
They would call it eirenic:
A chimaera to rise from the ash.

verbatim Dexy • 9 hours ago
So you think the American's border
Has been opened by Germany's order
To dissolve away
White America, but hey
The Germans, too
Are going down the existential loo
So what's that, some kind of mental disorder?

Dexy verbatim • 9 hours ago

To understand Christendom's dip,
You should read up on Op Paperclip.
The beasts of Berlin
Have a new way to win,
But the scales we shall very soon tip.

verbatim Dexy • 9 hours ago

Your switch to religion is noted
But it's our genes which Power has voted
Shall have no instrumentality
in their coming Globality
Yet Israel is strangely immune
These globalists all dance to one tune.

Dexy verbatim • 9 hours ago

You are woefully, wilfully blind
To the struggles of the Hebrew kind.
The nazis all boasted,
As the mozlems they hosted,
That Israel's death warrant was signed.

verbatim Dexy • 8 hours ago

Sight is called blindness and love is called hate
Precisely so Europe will join with the Caliphate
For that holds no fear
For those who adhere
To the faith which Adolf planned to annihilate.

Dexy verbatim • 8 hours ago
That makes absolutely no sense.
Are you bonkers or just a bit dense?
I've no wish to be terse,
But defeatism's worse.
Now bugger off back home to Rense.

verbatim Dexy • 8 hours ago

The sense which makes you so tense
Is a genetic not cultural defence
They can't help what flows in the vein
Even when retributions predictably bring pain
The cycle always starts up again
In the end, to answer this Question
Requires a geographic concession.

Dexy verbatim • 8 hours ago

This has been a lot of fun.
It could still run and run.
But your lies are overspun.
Guess that makes you a Hun.

microlight verbatim • 8 hours ago

Agreed.

Celtic Saint Dexy • 8 hours ago

Brilliant 'Verse-off'!!

Jane Dexy • 9 hours ago

Wow what a fab poetic battle this morning guys. I feel I need to up vote verbatim for keeping it going, but must agree with Dexy when it comes to the NWO plan.

verbatim Jane • 9 hours ago

He's wrong, babe; for the reasons given. Globalism is an instrument - a very powerful one indeed, but an instrument nevertheless. The goals of those whom it serves are crucially different to the goals of global Capital as such, and it is in that difference that the identity of true power can be ascertained.

Of course, there are those who are desperate not to ascertain this identity; and they are not only Jews but weak and suggestible Europeans also. I don't know which Dexy is, but his notion of German "Nazi" supremacy would suggest a Jewish or part-Jewish origin.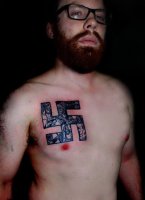 Andrew Auernhemer a.k.a. "Weev"
Weev has been a figure associated with WN for several years now and at MR since at least 2010.
I had given him something of the benefit of the doubt as being on our side, since he was on friendly terms with MR prior to my coming here. Weev was well liked by Søren Renner, who, among other gestures of affinity, posted this sad video at Majorityrights, showing Weev explaining his side of the story around the time of his prosecution, just before going to jail for the ATT hack.
Only a few remarks about Weev stand out from what Søren told me, otherwise I had only a general feel of Weev's place with regard to WN, based on the impromptu "briefing" that Søren gave me about him and then from what limited attention I paid to Weev after Søren departed MR.
Weev emerged from jail and posted photos of himself proudly showing-off his swastika emblazoned chest. I was disgusted with him for that and for his cooperation with The Daily Stormer. I was also disgusted with Søren for his appreciation of Angln's approach at The Daily Stormer and I wanted to flush out what mutual position the three might occupy. I posted this picture here at MR, Weev with giant swastika tattoo on chest - - it did serve to get Søren to respond: Søren struck me as both hypersensitive in his response on the one hand and impervious on the other, given the fact that I was not exactly exposing anything heretofore a secret. If they think that this is such a sound approach then it seems to me that it could be easily defended by such I.Q. powerhouses. In fact, Søren departed MR and ended contact with me, suggesting that I was taking it too seriously (while maybe he was the one who was being too sensitive).
But anyway, coming back to the few remarks that Søren had made about Weev. Søren said that "Weev is a Jew' but he's OK."
I didn't carry much weight at MR at that time and didn't feel it my prerogative to throw any around. I'd say that I went into a sort of denial about it, but really, with Weev in particular going to jail, he wasn't going to be much harm to us no matter what or how he was.
I liked Søren, quirky, cartoon character sort of guy that he is, and excuses for this remark were swimming only semi-consciously in the back of my head. Maybe he didn't mean to say that Weev is a literal Jew, but this was Søren's way of saying that Weev s "a bit of an a-hole, but OK" - an a-hole who is on our side, if not our a-hole.
Or maybe Weev is only a little bit Jewish of his genetic background, but is really on our side. Even at the time I tended to be very skeptical that people who were any part Jewish could be on our side; but again, he was going to jail and therefore of no immanent threat.
Maybe he isn't Jewish at all and Søren is just showing off his I.Q. snobbery; or that he will make an exception for a Jew if he is a Wittgenstein or a Weev inasmuch as their "genius" is useful for our side. I don't think these types of Jews will act reliably in our interest, but in this situation, Søren's predilection seemed good natured, funny and fairly harmless. Even though Søren could have some susceptibility to favor I.Q. over racial distinction, the importance of the distinction from Jews was fairly well buffered - it wasn't going to easily float past me, anyway. GW thought Weev is a Jew, though I'm not sure how he came to that opinion.
At any rate, Søren's participation at Majorityrights decreased during the time of Weev's incarceration. I was a bit sour on him for his appreciation of The Daily Stormer angle but he was more than welcome by me to post and otherwise participate. I had been and have been busily trying to build up an alternative platform from the standard right-wing, "Hitler and Jesus are us, Jews are White like us too, and should be included if they want." I am serious about this platform not taking on that nonsense. So, when Søren suddenly reappeared with a few gratuitously disagreeable remarks and this silly post, I decided to make a post calling to account those popular WN figures - Duke, Anglin and Weev apparently looking to redeem Hitler.
As he hadn't in years, Søren came on to Skype to chat with me, saying that I was too backward looking, that I was taking it too seriously and that I shouldn't have brought Weev into it; then he removed me from his Skype contacts and that was the last I heard from him.
OK, before too long Weev re-emerges in the right-wing after coming out of jail, now with a Swastika on his chest and as a big hero of the The Daily Stormer et al., presumably. I didn't pay much attention to him at The Daily Stormer since that tent of the alternative right-wing tentosphere is fairly circumscribed, buffered buffoonery. However, I started to catch wind of Weev making the rounds of the tentosphere.
With Weev at a safe distance now and making rounds on common subject matter, it was worth a listen to some of what he might have to say at this point. Since he is from Arkansas and has experienced blacks, it is quite reasonable to believe, in accordance with all indications, that Weev is sincere in his dislike of them - he has some sincere common interest with WN. Hell, if he is acting, he does a good job of it and of articulating grievances with Jews too.
But any man who causes the name of a website called "Gay Ni****s of America" to appear on the front page of the website of US presidential candidate (and US president to be) Barack Obama, cannot be all bad. lolllzzzzllllolllzzzzzz indeed.
On February 11, 2007, an attack was launched on the website of US presidential candidate (and future US president) Barack Obama, where the group's name was caused to appear on the website's front page.
As another one coming to Dana Anthiochus' leaky border between White and non-White interests, Weev came to talk with Dana on 25 September 2015 about computer technology, his concerned advice on race and state-of-the-art warfare.
I insisted that Kumiko have a listen with me, and render a critique, as these concerns bear upon her expertise. We developed an outline which I will post below. A Weev article has been long on the back-burner, but has become relevant now with Dennis Fetcho's experience and criticism, if not exposure of Weev.
Though a right-winger himself, Dennis Fetcho has some interesting things to say.
He did a podcast of his own and one with Nick Spero recently to discuss Weev. Fetcho finds Weev's covering stories risible - Weev being a Christian identitarian concerned with White interests and so on. "Christian Identiy?', Fetcho says, "before he was a Mormon, he doesn't know what he is." But of the fact that that Weev is Jewish and that he was always on "the enemy side" Fetcho is confident. Weev apparently made Fetcho's life hell, attacking and damaging his websites as he apparently would do any site that was "anti-Semitic."
Fetcho maintains further, that Weev was not prosecuted by the U.S. Government singularly for hacking A.T.T. as he maintains, but because he was a nuisance who had done the same thing to many people, hacking and trolling them relentlessly as a part of a team that caused many innocent people significant problems.
Now we have Weev's triumphant return to White Nationalism, with him presenting himself as a cult hero if not integral to their right-wing sites and aspirations. He is treated like a "hero" at The Daily Stormer and other alternative right sites for his recent print station hacking stunt - at least he claims it as his handiwork; Fetcho doesn't believe that he acted alone to cause the printers at some American universities and some in China to print-out a poster with an anti-Jewish statement, and declaring world wide "White supremacism" with two large swastikas on each side of the text. Fetcho makes the point that this is barely newsworthy. I concur and did not run the story at MR and would not have if not for the implications of Weev's detrimental involvement with WN.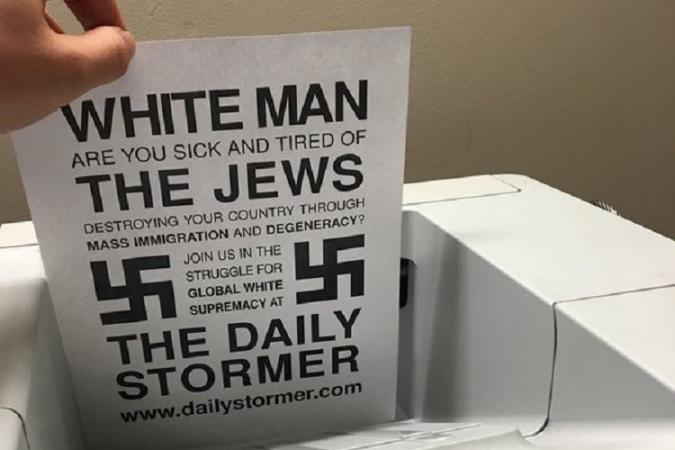 Weev, "I chose the swastika image because it is a symbol universally recognizable to all printers."
What good does it do to create a "problem" of printing out anti-Semitic posters with Swastikas, proclaiming global White supremacism into print stations at the heavily Jewish American universities and in China?
It is perfect public relations - for the ADL.
Universities are not known for their skin head types, nor are book worms likely to be roused to enact global Nazism. The universities are replete rather with empowered Jewish folks, who can proclaim that they have a growing problem with anti-Semitism, need to clamp-down and need more assistance from the State.
This kind of vainglory printing-out in China works against projects like MR's, to build regional alliance between Asia and Europe.
My reaction from the onset would suffice without any elaborate conspiracy. Our eminently noble cause of White sovereignty is only harmed by association with Nazism and "supremacism." It will only harm Whites, set us against each other and turn-off normal Whites, needless to say how non-Whites would react.
No White advocates were talking in terms of "White supremacism" until Weev brought it back in his talk with Dana Antiochus.
No concerned White advocates subscribe to White supremacism because it is at odds with the separatism to which we aspire - attempting to dominate others is at odds with separatism. In trying to resurrect this concept of "White supremacism" Weev is attempting to brand us with a term as surely as he has branded himself with a corny tattoo as if to brand and represent us with it. He would libel us by associating our cause with the term that Jewish groups have been trying to smear White advocates with for decades - despite the fact that nobody, except for Weev now, promotes the term.
It does no good to Whites, but it does however, serve the interests of the ADL. It divides Whites, turns off normal Whites to our cause, creates the notion that Jews need more state protection on their side, etc.
Coming back to Dana Antiochus' 25 Sep 2015 talk: Weev pushed the envelope of violence, declared world wide "White supremacism" the way forward and the intimidating idea that drone warfare would make the normal means of fighting for your people obsolete.
My initial impression that this was just a right-winger giving the right-wingers at Renegade what they want - a new Swastika tattoo, some Jew, Jew, Jew, unanimity with Uncle Adolf and you're good to go.
With Fetcho's intervention, however, Auernheimer looks more like a provocateur than the friendly rogue, Weev.
Andrew Auernheimer, a.k.a., "Weev", the suspicious friend of The Daily Stormer and TRS, just so happens to be their Johnny on the spot when their sites have problems.
Fetcho claims that Weev does have some Jewish background, which we (GW and I, DanielS) have reason to suspect as well.
Fetcho maintains that the US government didn't go after Weev for the singular hacking of ATT accounts incident as he claimed, but rather because he was hacking and harassing innocent people all over the place, including Fetcho relentlessly.
Fetcho renders plausible arguments against Weev's "great hack" of the printer stations at several universities, and apparently in China as well. He asks first, whether he really did this this by himself? Then takes the premise to what follows by saying that this is not a newsworthy story on its face value (I agree, and had not run it at MR). It accomplishes little of positive value, but does create a "problem" for the Jewish laden universities that requires them to provide a "solution" of clamping down on hate speech. This is an attendant benefit to our enemies by associating WN with Nazism and "supremacism."
And that is the large point that I believe Fetcho has got very right - there is a close approximation of Zero White advocates who have been claiming "White supremacism" and yet what Auernheimer has been doing re-vitalizes the Jewish smear line of "White supremacism" along with the Nazi association in order to discredit WN and turn people off.
Moreover, what sincere White Nationalist would hack Chinese printers to announce "global White supremacism" ? Most probably none.
But a Jewish sponsored troll, trying to prevent Chinese and White cooperation just might.
Who is served by associating "White Nationalism" with The Daily Stormer, Nazism and "Supremacism" ? Jewish groups are served.
Here is the Nick Spero "Circus Maximus" show in which Weev is discussed in the third hour: The first two hours are Lee Rogers, the third hour Dennis Fetcho. Lee Rogers is your standard anti-Jewish right-winger, not much new but no harm if you can ignore his "holohoax" line and his falling on the AH side of the false either/or; moving to hour three, Dennis Fetcho has interesting things to say about Weev.
Again, Fetcho is a right-winger, with those foibles, including the pro-reich, "it was all a holohoax", 9-11 and all that usual boring right-wing stuff, but the things he is saying about Weev gather sense.
He talks about Weev on his own show as well:
Hour 1
Garbage World of Hackers

Hour 2
Weev and ADL Crafted Messages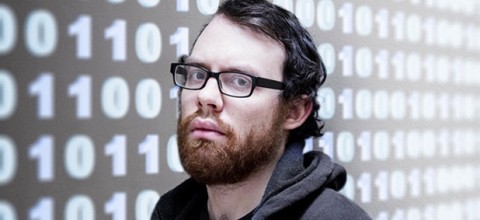 Beware of the right-wing: they are full of fools and foolers.
On black hat hacking at red ice.
Weev on identifying companies with unknown liabilities
Weev tells his side of the story to RT
Weev on why he trolls
Weev on the difference between trolling and hacking

Here is an outline of Kumiko's initial take on Weev's discussion - with Antiochus, 25 September 2015 - on computer tech, race and state-of-the-art warfare. Since these topics square with her expertise on all counts and with our concerns on all counts, her opinion is quite relevant. This is just an outlne that I took down as dictation from what we gathered at the time (last September).

Weev on the players and the technological transformation of war: "it will be massively a-symmetric and robotic."
1. Showing ATT its vulnerabilities was a good turn; but revealing the data to (((Gawker))) was tactless.
2 Don't talk to the police! Weev should not have talked to the police.
3. "Black hat" is the wrong term to self ascribe, it underscores an unduly negative angle that adversaries would attribute to Weev - he should not cop to that, but rather identify as a "Gray hat."
4. Should not say German patriots are setting fire to refugee camps or that he wants to kill blacks just because they are black.
5. His idea of robotic and drone war is problematic - it does Not render traditional forces obsolete. In certain circumstances you want troops in there in certain circumstances you don't.
For another significant point of criticism, there are more ways to counter robot and drone technology than Weev is taking into account.
Kumiko has other assessments and critiques of his politics and computer abilities: where he is mistaken, where he could do better.
6. Very important: you still need popular sentiment on your side. It is not enough, especially not nowadays, to think in terms of warfare being so asymmetrical that just one percent or a small percent can fight and win.
7. His view on Christianity, newly reconsidered as it may be, could be reasonable enough: reminiscent of Bohrmann.
8. He is correct that it should not be a false either/or between universalistic Christianity, Jews and Islam. They are all beyond the pale.
9. His association with Anglin and other right wingers is dubious. NS Germany was leftist at its inspiration, onset and groundswell.
10. Assad never offered nor had any intention of stepping down. Russia made a duplicitous offer to take Assad down in exchange for keeping its port but The US decided to try to take him down themselves. The results were still bad but the motives were different than Weev made it out to be.
Regarding Auernheimer's assessment of the inexorable link between Isis, Israel, The US - the deal with Iran indicates that business interests and geopolitics can override Israeli interests
11. He overstates the exclusivity of White accomplishment in computer technology.
12. His troll of Obama's website with "Gay n*****s of America" was very funny.
Since I am paying more attention to things Asian as a result of Kumiko's participation here, a couple of videos and a composition of Facebook comments relevant and illustrative of issues that I have been discussing have come to my attention.
Asian illustrations of..
1. Advised social confirmation and elevation: of the value of ordinary routine practices; in this case, participation in social routine.
2. Bad parenting advice: "You are from Sweden" and simply Swedish by proposition - abrogates racial accountability and leaves one susceptible to Jewish trolling for racial divisiveness and strife instead. Why the suspicion of Jewish trolling? Because of a salient example…
3. A composition of fake tweets: attributed to Americans apparently mocking the atomic bombing of Japan:
Captioned "stay 'classy' America" - the fraud and motive to create a division between Whites and East Asians is traceable to Jewish motives.

Coming to these examples throwing light on racial accountability from Asia, one at a time -

1. Advised celebration of ordinary routine:
Kumiko likes Korean and Japanese pop music videos and she showed me this Japanese one.
Participation in..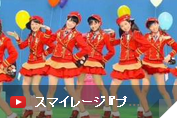 ..routine social service..
If WN can show bearance upon what might otherwise be construed as an appeal to yellow fever by the presentation of this video, there is actually bearing upon an important point that I made in my article about "the dark side of self actualization" and how to otherwise moderate and optimize actualization.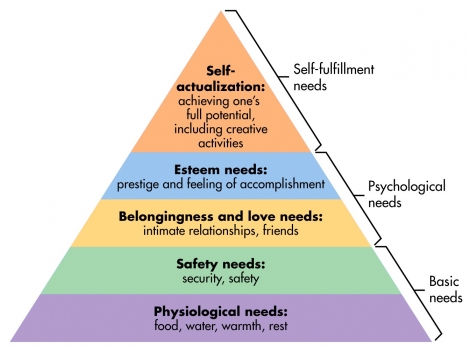 That is to say, one thing that needs to happen in our re-socialization of actualization is for the value of individual self actualization to become part of a rotating and optimizing process of attention, to where it does not always and statically occupy the top of a hierarchy. That over-emphasis has, of course, destabilized and lent to the rupture of our racial/social systemic homeostasis. The inference I've made is that one of the aspects of actualization that needs to be constructed, elevated in importance and encouraged to enjoy is not only a sufficient amount of routine but also routine cooperative social participation in our tried and true practices and procedures. That will not only allow us to learn and develop skills from our forebears, to cultivate them, but it is also necessary to create a platform for elaboration and innovation; i.e., it is prerequisite and socially as important as actualization.
This video shows a song and dance of girls in Japanese postal service uniforms. The point that I am trying to make is that celebrative or otherwise reverential treatment like this, of the ordinary and social routine, might help to emphasize sufficient sufficience, so to speak, in enjoyment of necessary but ordinary social routines, unions, trade guilds, syndicates and with it, an elevation of appreciation of ordinary necessity so that it is not dwarfed nor its vital necessity discouraged by singular social appreciation and veneration of the extraordinary and the sacred.
I hypothesize this elevating celebration of routine (in this case social) practices as one side of the necessary elevation of the social esteem of routine; another side of "routine" elevation would be ceremony and sacral treatment of exemplary practices.
2. Bad parenting advice: The oriental woman in this video was adopted by Swedish parents and brought-up with that idea that she is "simply Swedish, the same as any other Swede", by proposition.
If she were taught that she was an adopted girl of Korean descent, who was and should be welcomed as counting of a manageable, benign but accountable enclave of Swedish nationals, she would have an efficient enough explanation at her disposal to discharge most conflict on the issue.
By contrast, there is insufficient accountability in insistence upon her parents well meaning but bad advice - simply asserting that she is Swedish just like all other Swedes.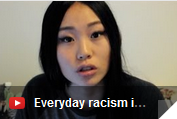 She sets herself up for abuse
Adopted by Swedish parents and growing up in Sweden, she responds to the question from a Swedish man, "where are you from?" that she is "from Sweden." The man responds in turn, "no, where are you really from?"
She takes this as an example of "racism" and tries to correct the man in the motive she perceives of his question, answering that she is "Swedish just like every other Swedish national" - as her parents taught her.
However, I'd guess that the man's question was not "racist" in a negative sense. Yes, it was racial in the sense that he was trying to get an accurate sense of how to classify her, but why? Because he thought negatively of her and of her being in Sweden? Probably not.
He was quite possibly asking her for one or all of the following three reasons:
a) He found her attractive and wanted to know where her sort was from for future and general reference.
b) He found her attractive and saw the question as an opportunity for an ice breaker.
c) If she answered, "Korea", chances are that he would enjoy showing his good-will toward her, by confirming her honest account and her people as really OK, and that as a part of a reasonable and accountable number of her kind of immigration, take occasion to show support for her participation with Sweden.
That is to say, what the man was doing was "racism" by definition in the sense that he was attempting to classify people genetically (not doing the mere liberal thing of pretending to be blind to racial classifications but judging people instead by propositions), but it was, in all likelihood, a benign kind of classifying, motivated by respect and a wish for accountability.
Because she treated it as "racism", i.e., classification for negative motives, she attempted to denounce it and hide behind the well meaning but fundamentally dishonest advice of her parents that as a propositional Swede she was the same as an evolutionary Swede.
As such she denies the possibility of honest accountability that would serve to limit negative treatment of her in Sweden and gain her support from those who have an honest concern for the management of native Swedes.
Instead, for denying accountability and denouncing the account requested as "racist" she sets herself up for abuse from at least two kinds in particular.
She will perhaps get some abuse from jealous and racially concerned Swedes, e.g., Swedish women miffed with yellow fever. That would be understandable if Asian immigration were taken too far at any rate, but when there is no accountability it is likely to be more provocative of the racially sensitive Swede for her to say, "I am the same as you", have the same history, etc. But even at that, it is probable that she did not really receive much of the gaffe from true Swedish women. What abuse that she got and experienced, with truly saddening pain, most likely came from Jewish trolls looking to stir conflict between Whites and Asians.

She gets abused by what probably are some Jewish trolls trying to provoke conflict between Asians and racially aware Whites: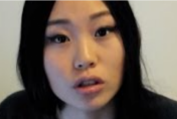 3. What makes me hypothesize Jewish trolling? viz., that Jewish trolls can be trying to provoke her and provoke conflict between Whites and Asians?:
How about this. Kumiko showed me this composition, supposedly of Facebook posts by American people speaking of their own accord, saying that they are happy that Japan sustained nuclear bomb attacks in WWII and would be quite happy for it to happen again.
I grew up in America and for 34 years spent there never encountered an American who would speak remotely like this about Japan or the atomic bombing of Japan. Furthermore, if one reads these comments it is clear by a careful discourse analysis that the writer of all of these comments is one or a few people. If one is more careful still, to take style and motive into account, the Jewish hand is evident.
Though it may seem like obvious trolling to some of us, unfortunately this was apparently taken seriously by some Japanese audiences and even shown on Japanese news as if it were an honest reflection of American sentiments - when in truth, these are not remotely accurate statements of Americans: Stay classy America? No, stay "classy" with your divide and conquer chutzpah Jews - greatest shame is upon you and we are watching you.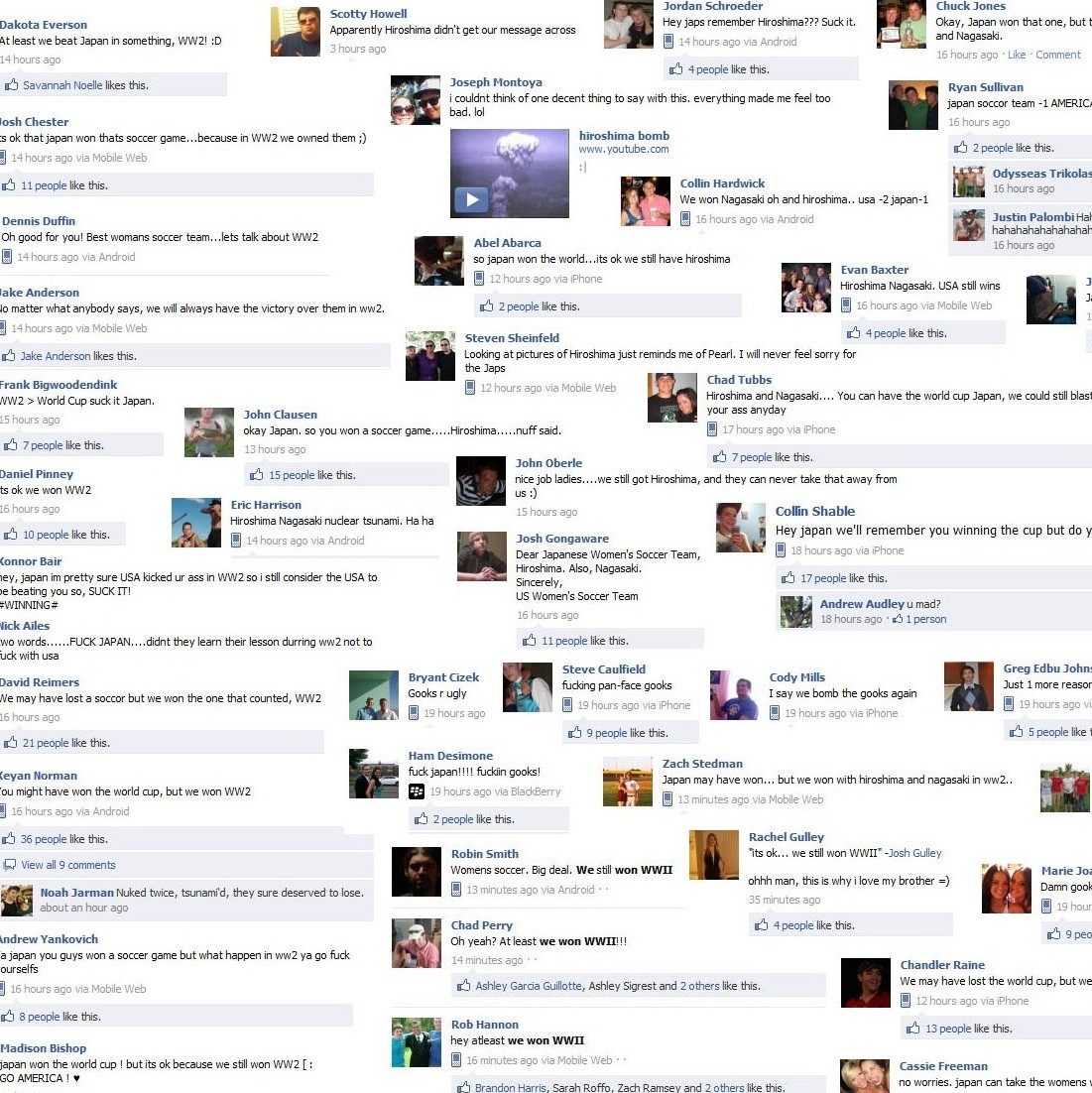 Full composition under the fold..

Summary
I don't frequent comment sections of other people's sites often, but when I do, I always manage to outrage someone. This time I've managed to really cause something unexpectedly interesting to happen.
Today I managed to get myself banned from none other than the Daily Stormer's comments section, apparently because I laughed at the Jews, I laughed at the Russians, I laughed at Andrew Anglin, and because I defended and upheld the actual existence of Operation Reinhard, and because I laughed while 'stepping over' the event. I guess my refusal to feel guilt or remorse for anything—and my incessant attempts to break down the liberal petty-moralist system—is something that he finds to be particularly disturbing. I'm task-oriented to the extreme, I don't have time to care for and fluff the egos or feelings of warm-blooded mental slaves.
I am too cold for him and his friends!
In a fashion almost entirely reminiscent of the infamously duplicitous Hal Turner, he chooses to ban me for some incoherent reason, while he leaves the teeming hordes of Jewish and Russian trolls entirely free to roam and comment unmolested.
'Too Cold'
I present for your perusal the primary comment which Anglin has said merited my banning. I do this because this is a comment that is relevant to the ethno-nationalist struggle, and because it is part of my perspective on what kind of psychological disposition is necessary in order to win going forward:
Kumiko Oumae, 'Paris Happenings: Meme Warfare', 15 Nov 2015, 10:36 UTC | Comment 2361565572:

[...] Without giving my opinion on it either way, I will only remind you of the strongest speech that Heinrich Himmler ever made:

Heinrich Himmler, 04 Oct 1943:

None of them has seen it, has endured it. Most of you will know what it means when 100 bodies lie together, when 500 are there or when there are 1000. And to have seen this through and—with the exception of human weakness—to have remained decent, has made us hard and is a page of glory never mentioned and never to be mentioned. Because we know how difficult things would be, if today in every city during the bomb attacks, the burdens of war and the privations, we still had Jews as secret saboteurs, agitators and instigators. We would probably be at the same stage as 1916 or 1917, if the Jews still resided in the body of the German people.

[...]

We have the moral right, we had the duty to our people to do it, to kill this people who would kill us. We however do not have the right to enrich ourselves with even one fur, with one Mark, with one cigarette, with one watch, with anything. That [right] we do not have. Because we don't want, at the end of all this, to get sick and die from the same bacillus that we have exterminated. I will never see it happen that even one bit of putrefaction comes in contact with us, or takes root in us. On the contrary, where it might try to take root, we will burn it out together.

But altogether we can say: We have carried out this most difficult task for the love of our people. And we have suffered no defect within us, in our soul, or in our character.

I would add that purely as a thought-exercise, it seems to me that those who now attempt to deny that those events occurred, are those who are saying, "It should be the case that everyone should be crippled by guilt about all this if it had occurred".

Holocaust-denialism does not overcome the original problem of the post-war mentality: the idea that anyone should adhere to an ideology that would rise or fall upon the 'truth' or 'non-truth' of those war-time activities in the first place.

'Holocaust-denialism'—the panicked claim that 'it did not happen'—flows forth from a latent liberal-humanitarian cuck mentality (albeit a twisted and repressed variant of it), for the same fundamental reason that 'Holocaustianity'—the cultivation of guilt and policy preferences of self-sabotage as a form of contrition for it—is an overt liberal-humanitarian cuck manifestation.

The only correct response is to do neither of those things, and to instead just step over it. Just don't worry about it.
You can see it for yourself. Clicking on the link takes you to the thread in context, and allows you to see my comment in context.
It Happened
On a psychological level, people should not be feeling anguish.
Operation Reinhard was a thing which happened during the Second World War.
Breakfast was a thing that happened this morning. Lunch happened this afternoon. The sun went up, and the sun went down.
What of it?
Anyone who is feeling anguish, whether that anguish leads to a fervent belief in 'Holocaustianity' and the attendant feelings of guilt that it seemingly demands, or whether that anguish leads to a fervent 'Holocaust denialism' out of some attempt to escape from a hypothetical guilt, the common denominator is that the guilt is there and such a person is made weak by it.
As I said in my comment, you have to step over it. Whenever you are found to be espousing some form of ethno-nationalist politics, you will inevitably be confronted with the question of Operation Reinhard.
You'll be talking about something to do with the preservation of your ethnic group's dominance over its own civic space, and someone will pop the question on you, saying, "Exclusionary politics leads inevitably to horror. Isn't this all a bit fascistic, to place the survival of your ethnic group as a central concern? What about the holocaust, what about the six million?"
What is the appropriate response? The appropriate response is, "I've stepped over it".
Operation Reinhard? "I've stepped over it". Einsatzgruppe D in Crimea? "I've stepped over it". Nanking Incident? "I've stepped over it". Bataan Death March? "I've stepped over it". Marco Polo Bridge Incident? "I've stepped over it". Parit Sulong Incident? "I've stepped over it". Palawan Incident? "I've stepped over it". Laha Incident? "I've stepped over it!".
Whenever a person chooses a course of action in war, someone will be killed as a result along the way. Once the war has started, there is no going back, otherwise the lives expended previously would be rendered vain. This is called 'the cement of blood'.
When someone begins to break up the cement of blood, and begins to feel anguish and remorse, it—as Jonathan Bowden would have put it—'endwarfs' them. It makes the person smaller. Once a person or a population group has become endwarfed, they no longer have that motive energy through which they can pursue their own destiny. Instead, they become psychologically subject to the will of others who, through the use of henpecking and guilt-mongering, can drive them into any kind of self-destroying policies that they want.
Soy Sauce
People who are 'endwarfed', show as one of their key traits a desire not for action and control, but rather, for innocence. Seeking innocence, they renounce their ability to act, instead they either begin to hope that others will act for them, others who are 'taller' and 'have the moral high ground'. But a moral high ground does not really exist, because a moral high ground presupposes the existence of a universal morality, and universal morality does not exist. It is never possible to have 'moral high ground' when arguing with the enemy or with those who are endwarfed, whether they be overtly endwarfed, or latently endwarfed.
Because those people who are seeking innocence rather than action and strength are forever on the run from themselves internally, forever avoiding guilt by refusing to take actions, they are highly unstable and emotional, and are completely unreliable as a result. When these people become the arbiters of what you can and cannot say in a public space, in the office, in colleges and universities, or on internet forums, you can be sure that total chaos, instability and inconsistency will be the result.
As someone with no regrets and no concept of guilt, I'm happy to have wrecked the place during the brief two weeks that I was allowed to comment at Daily Stormer, and if given the opportunity I'd do it again, and I'd use Andrew Anglin's salty tears as a substitute for soy sauce afterwards.