Majorityrights Central > Category: Pervasive Ecology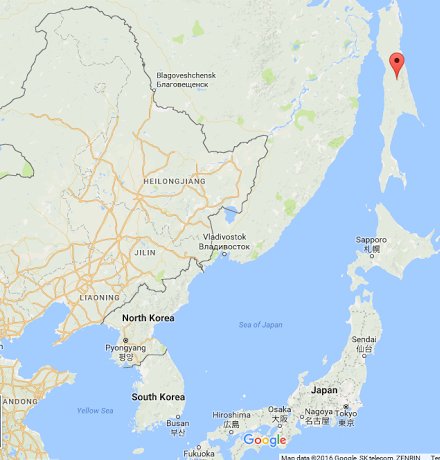 Trump appointed Putin cronie Tillerson, Secretery of State, to join in capture there,
Sakhalin
, of what would, should be Japan's natural and crucial resource
If Japan were in control of Sakhalin, an island to its north, and a logical extension of its homeland, its ethno-state, and if Japan and its closely related Asian relatives were in control of their native lands of Kamchatka and Eastern Siberia, not only would Japan and its Asian relatives be in rightful control of lands that are a natural part of their ethno-states; instead of these territories being of the vast imperial aggrandizement of The Russian Federation; but instead of The Russian Federation extending its practice of aggrandizement and parasitism of the resources of aggrandized territories, Japan would have the natural gas resource that goes with its rightful north island, which could largely solve immediate critical problems of its energy requirements - resources so urgently needed, alleviating options heretofore so limited by the territorial impingement, that it was forced to take extra risks with nuclear power precisely as it was deprived of traditional fossil fuel sources; but persevered in its characteristic self reliance to place the Fukushima nuclear reactor within its constrained and populated national territory despite that obviously being far from optimal. Disaster betrayed that pattern of self reliance while the imperialist parasitism of Putin's Russian Federation has been ramped-up with outrageous chutzpah, in alliance with Trump and Netanyahu - against Asian ethno-nationalism and its emerging alliances with European ethno-states.
Fortune, 'This Island Holds the Secret to Rex Tillerson and Vladimir Putin's Relationship', 14 Dec 2016:

If Vladimir Putin has a man crush on anyone in business, it's probably Rex Tillerson, the ExxonMobil chief executive Rex Tillerson Trump just nominated to head the State Department.
​
Aljazeera, 'New US state chief a perfect fit for Russia', 14 Dec 2016:

Friendship between Putin and Rex Tillerson dates back to 1990s when the Texas oilman established a US energy presence.
Fortune, 'This Island Holds the Secret to Rex Tillerson and Vladimir Putin's Relationship', 14 Dec 2016:

As to the reason why, all you need to do is look at Sakhalin, a windswept, earthquake-prone island off Russia's Pacific coast where temperatures can fluctuate 110 degrees throughout the year. It's this forbidding territory that Exxon (xom, -0.28%), under Tillerson, has turned into one of Russia's most lucrative oil provinces, affording Russia a crucial entry into the fast-growing oil markets of Asia, generating nearly $5 billion in tax dollars and other revenue for the government to date, and generally being, by Moscow's lights, a good corporate citizen.
Indeed, if Japan and its relatives native to the habitat of eastern Siberia were in control of territories reasonable for ethno-statism, as opposed to these territories being under the control of the Russian Federation's imperial aggrandizement, Japan and its close Asian relatives would have access to vital natural gas resources desperately needed, and could have/might still place any supplementary nuclear reactor projects in regions remote from human populations, essential habitat and tectonic fault lines.
From what I gather, The Russian Federation's economy is based on this unjust territorial aggrandizement, resource parasitism and its raw materials sales. This is in marked contrast to the strategy of the world's third largest economy—Japan—which builds its GNP through labor, manufacturing and technological innovation.
But it is not only Japan and natives of East Asia that the Jewy parasitism of The Russian Federation's aggrandizement impacts—it impacts all neighbors of its vast imperial overstep, an overstep of anything remotely like a Russian ethno-state. The Russian Federation and its forerunners have done so historically, it is doing so now, in a new Jewy alliance with Trump and Tillerson, and it will continue to do so, so long as the elephant in the room is not recognized: The Russian Federation is not an ethno-state!
It is an imperialist enterprise aligned against our necessary Asian ethno-nationalist allies. We need ethno-nationalist alliance with our Chinese, South Korean and Japanese counterparts against Islam and against Israel. The Trumpist alternative is the opposite, it is an objectivist, civic "nationalist" alliance of a Jewed-up USA, a Jewed-up Russia, Israel and whatever Muslim compradors they can enlist to suppress ethno-national rebellion against their imperial supremacism. Their ostensible solution to the problem of "radical Islam" is nothing more than the old "solution" phase, a "solution" for the reaction to a problem that they created.
The Intercept, 'Rex Tillerson's Exxon Mobil Frequently Sought State Department Assistance, New Documents Show', 17 Jan 2017:

A February 2009 cable published by Wikileaks shows Exxon Mobil asking then-U.S. Ambassador to Russia John Beyrle to intervene on its behalf and speak to the Russian government about its then-stalled offshore drilling project in a major oil and gas field to the east of Russia called Sakhalin.

"Exxon Mobil [officials] told the Ambassador on January 31 that GOR [Government of Russia] refusal to approve project budgets has halted development of new Sakhalin 1 fields," reads the cable. Kremlin officials, perhaps motivated by anti-American sentiment, were blocking approval of a budget needed to move forward with the project until a Russian entity took control of 51 percent of the deal.

Exxon Mobil officials hoped that the incoming Obama administration could persuade the Russians to change course on the project. The president of Exxon Mobil's Russian operation and its Sakhalin project manager "told the Ambassador they believed a warming of U.S.-Russian relations could help reverse the refusal to approve the Sakhalin 1 budget," and "asked the Ambassador for USG support in pressing the GOR to act on the matter."

In May 2009, the Sakhalin 1 consortium agreed to sell 20 percent of the gas extracted from the field to Russia's state-owned company Gazprom, and production continued.

Other cables released by Wikileaks suggest Exxon Mobil pushed for better U.S.-Russia relations to advance its business interests.

One 2007 cable noted that Russian-based executives of Exxon Mobil and other U.S. firms met with Under Secretary of State Reuben Jeffery III in Moscow and argued that "the best way to engage Russia and enhance global energy security is to focus on positive dialogue geared towards helping Russia improve its oil and gas investment climate." Russia, the oil firms noted, "is about to embark on a new era of oil and gas development in areas (East Siberia and Arctic regions) that cannot be exploited without Western technologies and expertise."

Tillerson's ties to Russia — which center around the joint venture he signed in 2011 as the CEO of Exxon Mobil with Russian state-owned company Rosneft to drill for oil on the Arctic shelf — have been a source of controversy. After the signing, Tillerson was presented with an "Order of Friendship" award from Russian President Vladimir Putin.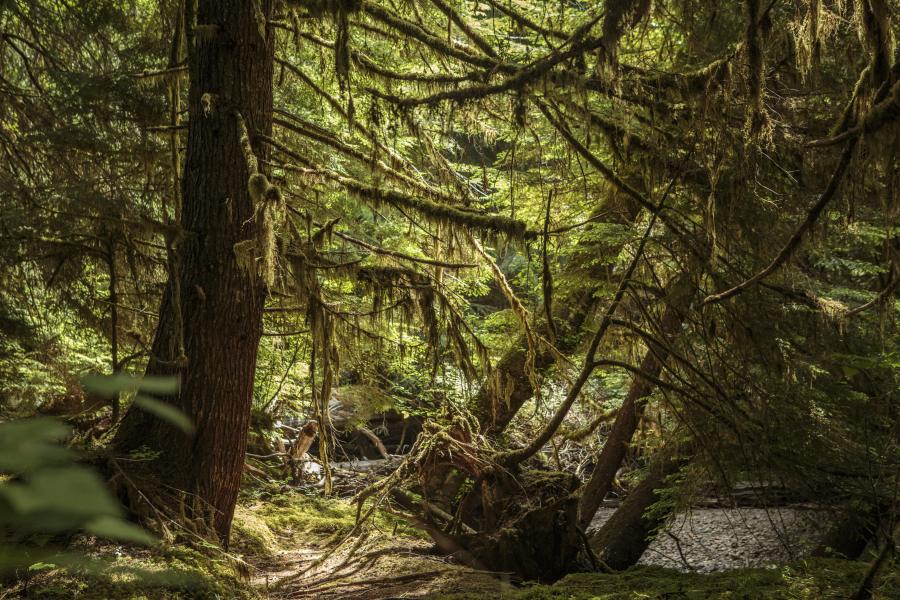 This nonsense has got to stop.
#Earth2Trump

Join the Resistance to Trump's Attack on Our Environment and Civil Rights

The #Earth2Trump Roadshow is coming — or has already come — to a town near you this month.

The roadshow is rallying and empowering defenders of civil rights and the environment to resist Trump's dangerous agenda. Stopping in 16 cities on its way to D.C., it's bringing thousands of people to protest at the presidential inauguration.

Having kicked off in Oakland and Seattle on Jan. 2, the #Earth2Trump Roadshow is touring the country bringing speakers, musicians, outrage, fun and hope to a total of 16 cities as it progresses toward the presidential inauguration on Jan. 20.

The free shows feature national and local speakers, great musicians, and an opportunity to join a growing movement of resistance to all forms of oppression and all attacks on our environment. We must stand and oppose every Trump policy that hurts wildlife; poisons our air and water; destroys our climate; promotes racism, misogyny or homophobia; and marginalizes entire segments of our society.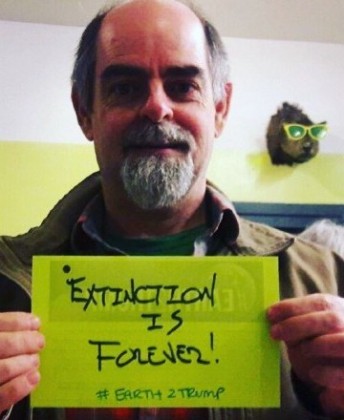 That includes White people and our species too, baldy. We are not Trump.
Trump does not represent White people, our best interests, nor our best relation to environment and others.
Brackets have been co-opting, along with their liberal trainees, issues of environmental and species diversity as if it is their cause and then militating against "racism" as if Europeans are not a species with habitat, as if discrimination against more prolific breeders and antagonistic species who encroach is not an essential capacity to maintain speciation and habitat sustainability; the liberals here also tuck a campaign against "misogyny" into their environmentalism, as if females should bear no critique on behalf of human ecology? As if hatred of men, White men, has not been open season for over 60 years now, and doesn't warrant a response?
To allow our cause of European advocacy to be associated with right-wing destruction of human and natural ecology is no longer acceptable. Nor is it for the brackets to continually associate their liberal political causes with environmentalism and biodiversity.
We can give credit where credit is due to those living ecologically - e.g., a native American tribe living with the environment - great.
We can call to account our right-wingers and liberals where they are not living ecologically, where international capital, industrial, consumer society, liberal universalism impact ourselves and others deleteriously: a key difference of White Post Modernity is that unlike Modernity, it does not merely stop when it is forced to stop by nature. It recognizes internal relation, limits and differences that make a difference. It has a deliberate stance in that regard from the onset. Unlike the mono-culturalism of primitive groups and the universalim of liberal modernist societies, White Post Modernity recognizes the delimitations of pervasive ecology and reflexive effects in internal relation from the start....including instances where liberals and brackets try use "environmentalism" to prevent more developed countries from assisting growing ethnostates - and vis a versa, where they obstruct those growing ethno-states from cooperating with more developed nations in their contraction into ethno-states.
But we also need to be critical where criticism is due, not only of females, delicate and sensitive creatures though they are, not only of White right-wingers who screw-up the issue of ecology, in one way or another, where they try to deal with it, or where they're downright antagonistic, but where racial groups impact the rest of the world.
Right wingers, liberals and their bracket masters are going to have to recognize that their "anti-racism" thing is a fundamental scourge against necessary human classification - which is requisite for accountability and necessary discrimination on behalf of human ecology, thus ultimately, all ecology.

Our emergent qualities as people (the qualitative whole being greater than the sum of its parts), what resonates in our psyche, stirring it to respond as such to that which is genetically close, vital and essential, regenerative not only of our kin, but the fauna, creatures and to take the emergent to an extreme, even of inanimate objects of our natural habitat, is a profound matter.
And how do we pursue consideration of these matters? Our co-evolution provides what we call "internal relation", that is, rule structures that are evolved symbiotically or come about equiprimordially from the same circumstances, concerns, affordances and limitations.
Those episodic manifestations which suggest the origin of that symbiosis, that which is most essential to reconstructing the pattern of our people, of the aeons, have normally been called upon as sacred - because these episodes reveal what is that deep, that important to our fitness as a physical, biological and human system, we institutionalize the practice of the sacred episode as it manifests - at our best, never losing site of its organic source, what it is doing, and its re-emergent truth at our service - not as a nightmarish fateful return to the hideous limitation of patterns but of a replenishment from the essence of our patterns as we set about the next spiral upward.
The comfortable (optimum unused potentiality for change in maintenance of homeostatic function) default mindset is established and delimited by the parameters of our personal interests amidst our folk and their interests - however, since both we as humans, and the human ecological systems of which we are a part are far more complex to maintain than systems of creatures which rely on mood signals, the reconstruction of our human ecological systems inevitably relies upon hermeneutics to aid in the reconstruction of its authentic scope.
Science and nature can strongly indicate what we should do; but irrespective of that, there is a difference (especially with Europeans, complex as we are), between what IS and what is apparently suggested by science as opposed to what might be suggested through philosophy - the complexities, varieties, and yes, contradictions that can and will challenge us with choices beyond scientistic explanation.
Even so, there are not only profound reasons to be rigorously concerned for the emergent (as GW is), there are also practical reasons - in following its resonance, we are guided directly with what has shown naturally fit for our well being through the ages; and we have the innocence of positively identifying with what we "love" as it is close, vital, a necessary part of us, as opposed to asserting discrimination against others and being subject to the charge of being anti-this or anti-that, of gross indifference, arbitrary cruelty, double standards, supremacism and "racism."
Finally, the circumstance which has GW riveted on this starting point does not mean that is not my starting point as well, since there is no choice for anyone not deceiving themselves with some Cartesian mind game. But that does not mean that looking at the more protracted form and speculative breadth of our systems along with the means by which they are understood and reconstructed is contradictory to their authentic well being, insufficiently deep and closed to what is - on the contrary; and there are great advantages in this deliberation, taking the form of substantial accountability, coherence, warrant and agency in human ecology.
Stonehenge, the prehistoric monument located in Wiltshire, is carefully aligned on a sight-line that points to the winter solstice sunset (opposed to New Grange, which points to the winter solstice sunrise, and the Goseck circle, which is aligned to both the sunset and sunrise).

Archaeologists believe it was constructed from 3000 BC to 2000 BC and it is thought that the winter solstice was actually more important to the people who constructed Stonehenge than the Summer solstice.

The winter solstice was a time when cattle was slaughtered (so the animals would not have to be fed during the winter) and the majority of wine and beer was finally fermented.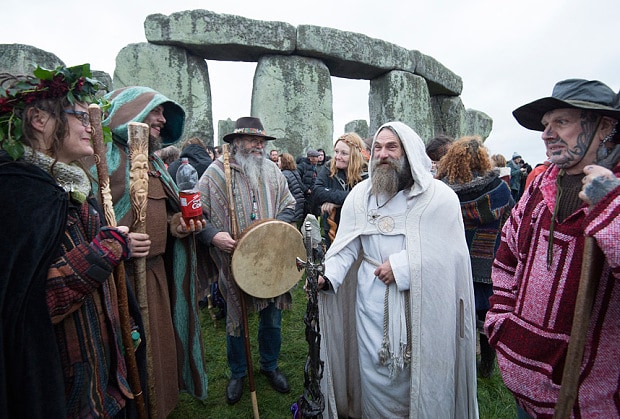 These larpers could have used deeper scientific bearing (Photo: Eddie Mullholand).
They showed up a day early for the solstice in 2009.
For the discerning Euro-folk pagan, the winter solstice is due to occur this year on December 21rst.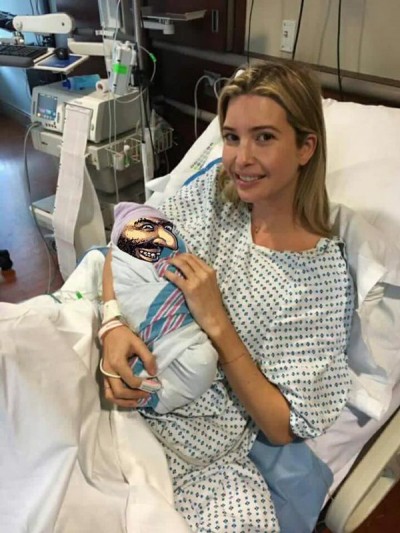 The Alt-Right/Alt-Left has given birth to "new" (((White))) leadership.
"And this will be a sign for you: You will find a baby wrapped in strips of cloth and lying in a feeding trough."—Luke 2:12 (ISV)
State of the art Jewish agenda - how it looks at this point vis-a-vis Trump:
At this point it is evident that top echelon of Jewish interests have come to recognize that they and their race mixing agenda are so far ahead that they've decided to get good with the White right-wing, to blend with and steer their reaction.
Hence they have gotten out in front of the reaction that their PC liberalism has created in Whites; and with that, they are orchestrating the "White" us / them, friend / enemy distinction.
Though I disagree with him on some important, fundamental issues, to give credit where credit is due, Wolf Wallstreet was incisive in his hypothesizing two differing agendas among Jewish elites: Plan A, of the Noel Ignatiev kind, wants to wipe Whites out completely - relatively more expressed by Hillary and Bill than Trump.
Plan B is taken by the kind of Jewish elite not quite so crazy and a bit more fore-thinking - realizing that they can use what they perceive as the "better breeds" of Whites, they want to leave some of them around to interbreed with and help steer their elitist political agenda - against interests that ethnonationalists shouldn't be against and on behalf of interests that ethnonationalists should not be for.
Rather than wanting America, the proposition nation, to fall, with its neo-liberal component being a world's foremost manufacturer and exporter of race mixing, rivaled only by Judaic, Islamic and Christian influences; they want the American political institution along with other Abrahamic/proposition nations to come more thematically, if not comprehensively under Jewish and neo-liberal lackey guidance.
A Trump victory does not only buy us some time, it buys them and their word-smiths some time - for one thing, to make (((the USA))) and (((the Russian Federation))) into good friends, and at one with (((White))) national politics.
Following the U.S. as an alternative right base, the Russian Federation is the Jews first option after Israel for a vector of parasitic control.
Needless to say that the U.S. is not an ethnostate, but neither is the Russian Federation, in either its vast size or content. As proposition nations, both are susceptible and heavily influenced by Jewish interests. Don't believe the stuff that (((they))) have gotten (((the Alternative Right))) to believe about Russia being good friends to Assad - they disarmed a defense program that took Assad decades to develop in defense against Israel. And now Trump wants to let ISIL destroy Assad. Even more laughable is The Orthodox Nationalist claim that China is a solid ally with the Russian Federation. Not true to say the least.
The Russian Federation is not opposed to Israel and to Jews. The Russian Federation was complicit in the overthrow of Gaddafi.
The proposition nations of the US and the Russian Federation, along with those nations that Jewish and neo-liberal interests are turning into proposition nations through immigration and race mixing, are not strictly opposed to Islam as they are guided, but use Islam as shock troops and compradors to destroy ethnonationalism - as in the case of what they did to Gaddafi and in what Putin has done and Trump would do to Assad. Such is the case of Trump's and Putin's position with regard to Asian ethnonationalism.
Trump and the Jewish political class have installed a stance which is hostile to the idea of Asian ethnonationalisms entering any cooperation with White American ethnonationalist counterparts; as if Trump and the Jewish political class have as their chief concern a common interest with White American workers - that is Not true:
Business Insider, "Donald Trump said wages are 'too high' in his opening debate statement", 10 Nov 2016
NPR, 'How Trump Broke Campaign Norms But Still Won The Election', 09 Nov 2016 (emphasis added):

JAMES FALLOWS: So [Trump's] main point, it's based on something that is in my view largely just wrong [...] factually incorrect—and that is the idea that essentially the economic problems America has is because China is—in particular but also Mexico and Japan and South Korea - are stealing our factories and stealing our jobs. [...] They've been losing them mainly to automation. They've been losing them mainly to the robotization of factories around the world. And that is why I can tell you from going back and forth to China that in every single country of the world, including China and Japan and South Korea and Mexico, the employment problem is the hollowing out of factory-type jobs because of automation.
It is a dubious prospect for ethnonationalists to want to "protect" the proposition nation anyway.
Right/Alt Right Misguidance Against Left Nationalism
By contrast to the right-wing objectivism that the Alternative Right is beholden to, which is manipulated and susceptible to Jewish and neo-liberal entryism, White ethnonationalism needs a position more characteristically White Left Nationalist: this would turn a critical eye toward the (((corruption))) of leaders of proposition nations such as Trump and Putin (if it can be said at all that Putin is in charge of 'a nation' rather than a parasitic aggrandizement larger than the moon) and what are becoming proposition nations ... such as those in Western Europe; at the same time it would turn a sympathetic eye toward and a cooperative stance toward the legitimate basis of ethnonationalism in Asia and the rest of the second world - in Europe exemplified by the Intermarium - to cooperate in our sovereign justice against the hegemony of Jewish interests, their misguiding of neo-liberal internationalism; as it backs shock troops and compradors among Islam and African population and biopower.
Trump has installed his contrasting, friendly, supportive stance toward black Americans (his singular racial/ethnic sponsorship, in fact) with his highly combative stance regarding Mexicans as if the former stance is strictly common ground with White ethnonationalism and both responses are anything but "solutions" to problems that his friends (YKW and right-wingers) created. But did you know that La Raza see themselves as a neo-race, aligned against blacks and against Jews? Who would have a problem with that?
Wikipedia, 'Texas' (emphasis added):

Under the Mexican immigration system, large swathes of land were allotted to empresarios, who recruited settlers from the United States, Europe, and the Mexican interior. The first grant, to Moses Austin, was passed to his son Stephen F. Austin after his death.

Austin's settlers, the Old Three Hundred, made places along the Brazos River in 1822. Twenty-three other empresarios brought settlers to the state, the majority of whom were from the United States. The population of Texas grew rapidly. In 1825, Texas had about 3,500 people, with most of Mexican descent. By 1834, the population had grown to about 37,800 people, with only 7,800 of Mexican descent.

Many immigrants openly flouted Mexican law, especially the prohibition against slavery. Combined with United States' attempts to purchase Texas, Mexican authorities decided in 1830 to prohibit continued immigration from the United States.
That law was an expression of Mexicans' express prohibition of blacks in their territory. What's the problem with prohibiting them?
A policy such as that, wrapped up in the fundamental base of La Raza's ethnonationalism, is something that White ethnonationalists could strive to leverage cooperation with. "But no!" say the Alternative Right, "they are Leftist, we cannot cooperate with Leftists!"
White ethnonationalism might perhaps even cooperate with the Turkish Kurds against Erdogan ..but "no!", say the Alt-Right, "we cannot cooperate with Leftist Kurds against Erdogan! - He believes in 'god', the god of Abraham… he follows laws in line with our Christian laws", they continue, "... in line with…"
Erdogan's administration, by the way, was almost as quick to congratulate Trump as Putin was.
Trump has aligned White interests with an obsequious stance toward Jews.
Say what you will, make your arrogant, snarky, condescending comments, gloating as you look downward, as the somebodies that you are now - bullfrogs perched on lily-pads - but if you think a choice between Hillary and Trump was anything but an expression of just how pathetic your objectivist aversion to decency and cooperation is, as it has been manipulated by the powers that be and continues to be, then you only increase the chance that your legacy will breed with Jews and other non-Whites, and your opportunity to participate as stewards of human and pervasive ecology will steadily decrease and steadily become more Jewish..

While we might take note of bonafide and cooperative ethnonational reasons as to why Japan was 93% in favor of Clinton, why the Philippines have set about to break with The US, etc…lets take a moment to give some kudos to White Americans and their advocates for exercising what was their better of two choices in a rigged deck.
Let me return a condescending congratulations to the Alt-Right on the stay of their execution….there is time to boil the frog slowly, where Kek does not jump out of the pot to reclaim itself as an Asian font of energy, culturally appropriated by Jewish hubris and misapplied by the Alt-Right, in near equal hubris.
Lawrence Murray is an excellent writer, obviously intelligent, not completely off theoretically - though still off, lets take a look at his victory lap with the still too meager, if not distorted, alternative right light that is thrown from the right wing torch that he carries:
The Right Stuff / Lawrence Murray, 'Now I am become President, Leader of the Free World', 09 Nov 2016:

On the far end of Manhattan's West Side, a different story was unfolding at the Jacob Javits Center. A massive convention hall named after former New York senator (((Jacob Javits))), it was supposedly chosen for its glass ceiling, which Clinton would symbolically shatter as our first female president-elect. Instead, it became a glass pitcher of liberal tears. The choice for Clinton's ill-fated coronation symbolized something else as well. (((Javits))) was a major force behind the 1965 Hart-Celler Act, which ended the country's eurocentric immigration quotas and resulted in the rising tide of color we are currently grappling with. Each generation has become more "diverse," and so in turn each cohort of new voters. It's why New York was a solid lock for parachute candidate Clinton, and a hopeless cause for its native son, President Trump.
(((Native step-son indeed)))
ibid:

As the post mortems will surely tell us in the next few days, there just wasn't enough turnout from voters of color. There just weren't enough Hart-Celler Americans to stop President Trump. Not even the creation of an entirely new minority class over the last 50 years, Latinos, was enough to prevent a nativist and civic nationalist from being elected. But frankly, this was our last opportunity to strike back at the ballot. President Trump won by a wavy Caucasian hair. Having to literally drive the Amish to the polls in order to save the White race was poetic, though not a long-term solution.

But such problems are for another time, for now we celebrate. We celebrate the year that White populism shattered the glass ceiling of identity politics in the postwar West, as predicted. An article in The Atlantic puts it succinctly: "[President] Trump was carried to victory by a wave of right-wing populist nationalism, as working- and middle-class white Americans turned out in droves to vote." President Trump's victory is a monumental paradigm shift, or has the potential to solidify into one. The media called Teflon Don every name in the book and tried to tie him to all manner of anti-establishment heretics. President Trump did not waver; he undertook the hero's journey and emerged victoriously in the name of the Amerikaner Shire.
Rather did (((The Atlantic))) inaugurate a paradigm shift from Jewish plan A to Jewish plan B - the slow Kek boil, the intermarrying with the frogs, er "Keks" who manage to jump out of the boiling pot.
ibid:

There is now a biblical flood of authors and pundits talking about "working class Whites," "White voters," "White males," "non-college Whites," "less-educated Whites," "blue-collar Whites," "rural Whites," and even the unspeakable phrase "White identity politics." This is yuuuge. We have a mandate from our folk for nationalism. The largest ethnic group in the West, the native peoples of Europe and their descendants in Greater Europe, is being recognized as an important political interest. Granted, it's an interest that our rulers on both sides of the Atlantic insist must be vanquished, but that they must now name us explicitly is massively important to the spread of our ideas.

The concept of the enemy has returned to politics.
(((Whites))) with "leftist" enemies, with Asian enemies, "Islamic extremist" enemies and so far as they can help it (((and they can force choices that you should not want to make, such as Hillary or Trump))), "friends" with "moderate Jews"..."moderate Islam"...."moderate blacks"... "friends with the right wing" - the "that's the way it is" club, the Jesus suicide map club and friendkinstein club 88 - European neighbors be damned ..be friends with "the alternative right" and its (((entryist big tent, and with that perhaps the "alternative left"))).
ibid:

Get ready for the storm, because White people, this is your fault. Because of your existence, millions of members of designed oppressed groups must live in fear of being treated like outsiders.
While you are at it, brace yourself if you are an ethnonationalist, for the reality that the US has been the adversary of ethnonationalism in most cases, as in Vietnam, the Philippines, in Japan, the Turkish Kurds and more - indeed, where have they defended ethnonationalism?
ibid:

Americans will have to decide very soon—quickly—where they stand on President Trump. The choice now is pro-Trump or anti-Trump, and nationalists as much as anti-nationalists have made him into an avatar of American Whiteness.
That's right, the Alternative Right has been co-opted into representation of their interests by that fool: that crass businessman, that mere promoter of the brand name attached to his failed, toxic assets as a means to pay off the Jewish financiers saddled with his shallow but grandiose vision, now intimately entwined with Jewish values - Donald Trump is here to represent (((White interests))).
ibid:

With his opponent out of the way (probably for good), where people stand on this choice will become much more salient.
With Hillary, the quintessential personification of the White man hating bitch out of the way, hopefully it will continue to feed their right-wing hubris to help highlight and distinguish them as they tend to obfuscate and muck-up the ethnonationalist agenda.
ibid:

Our position is not unassailable, but it is stronger than ever before. So we celebrate, that President Trump has given rise to nationalism, to America First, to formal recognition of the Alt-Right, to outing cuckservatives as #NeverTrump turncoats, to (((anti-globalist))) memes entering the public consciousness, to levels of shvitzing that shouldn't even be possible, and more than anything else to hope for the future of our people, not just in the United States but around the world. This is as much a victory for White Americans as it is for Swedes, Australians, the British, the French, and other European peoples. We will make the world save for ethnocracy.
Jews have money and they know that they can buy their way into enough of you such that your (((Whiteness))) around the world will be mixed with their motives.
ibid:

We knew the world would not be the same. A few people laughed, a few people cried, most people were silent. I remembered the line from the shitlord scripture the Bhagavad Reeeeeeeta; Kek is trying to persuade the prince that he should save his people, and to impress him takes on his frog-headed form, and says, "Now I am become meme, the destroyer of cucks." I suppose we all thought that, one way or another.
You aren't Kek, but you are frogs, you are somebodies, somebody frogs on lily-pads; on water boiling slowly now; perhaps you'll jump out of the pot and into the waiting arms of your kosher mates; before that, to prove your anti-Jewish credentials, perhaps you'll do them a favor by exterminating the undesirables from among them, while also true to your (((Fuhrer))), killing those inferior "lefty" Whites.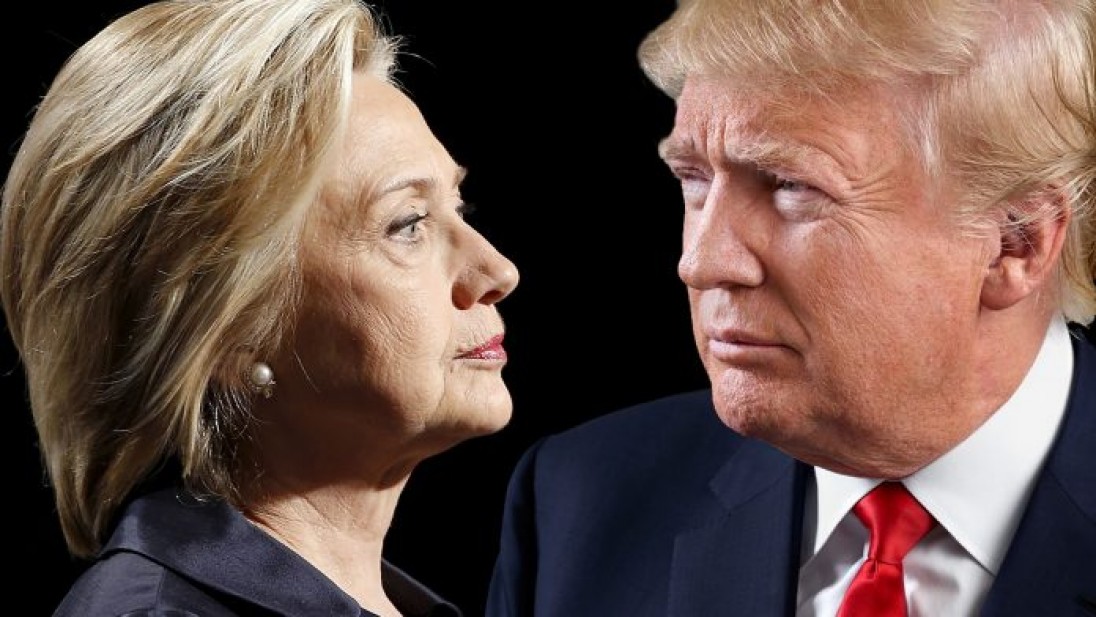 Regarding your people's history and future, the (((choice))) you get with U.S. politics is no choice.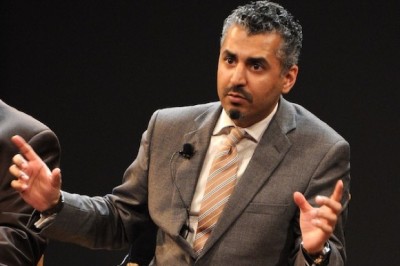 Maajid Nawaz, an activist against "Muslim extremism", is placed on The (((SPLC)))'s hate list. The SPLC is a Massad controlled group which has, in effect, washed its hands of Nawaz (for not representing their authentic dirty work enough?); while Spectator reporter (((Cohen))) libelously attributes that SPLC designation and liberal irresponsibility as being the first fatwa issued by "The White Left."
The White Left has NOT issued its first, or any fatwa, as Nick Cohen asserts, but what The SPLC has done is tantamount to aiding and abetting one.
One may argue that Nick Cohen is as confused as his audience about the terms "left" and "liberal", but it is not likely that someone with the name Cohen and entrusted to a prominent writing position at The Spectator is trying to be careful about clearly describing a platform to serve the full class of White interests - i.e., a White Left, not to be confused with liberalism, a confusion of terms promoted by his fellow tribesmen, and by which they've been able to confuse the public for decades now.
In fact, he does indulge in a new twist. Whether he fancies himself as being descriptive of White liberals (in his view, Jews, such as Mark Potok of the SPLC, would be included as White) or he has some idea of the power of our burgeoning White Left platform, and therefore seeks to confuse it pre-emptively, he is attributing to the term "White left" logics of meaning and action which do not follow from our platform of White Left Nationalism - The White Class.
Indeed, I had discussed the case of Maajid Nawaz with Kumiko, who had explained to me the irony of The SPLC placing this man on their "hate list."
While I am against making the distinction between "radical and moderate" Islam, as I recognize all of Islam to be harboring and wielding our destruction, whether most active in a present episode or not, I would not go so far as to put at risk to a fatwa a man who has, in fact, come to denounce the more violent and destructive expressions of Islam and is trying to encourage other Muslims to take advantage of more healthy, moderate and liberal life possibilities.
Kumiko showed me this video of a speaking engagement of Nawaz's, where he describes his project. She and I agree that Nawaz is a bit off in his recommendations - we would ultimately prefer a full denunciation of Islam in favor of Left Nationalism for his people, but also agree that such sudden prescription is both unrealistic and would be even more dangerous to him; as would our taking his side, in defense of him against the SPLC. Kumiko figured that we would not help him, that we would contextualize him in a way that exposes him more to Muslim violence by associating him with platforms (such as this) of White advocacy; while making an association here would also expose him to further Jewish vitriol, such as The SPLC placing him on their "hate list."
Nevertheless, we think, "of all the Muslims to put on their hate list!" ?
The last straw for me though, making it a bad option to keep silent, was this Cohen guy trying to say that "The White Left" has issued a "fatwa" on Maajid Nawaz, when in fact it is The SPLC that is putting him at that risk, with a clear signal to more radical Muslims - "have a go at him, we wash our hands of defending him in his attempt to moderate Islam."
Now then, for a look at the article which attempts to blame something which Cohen calls "the white left" for this.
The Spectator, "The white left has issued its first fatwa", by Nick Cohen, 31 Oct 2016:


Maajid Nawaz

[Cohen]: I have never advised anyone to use the English libel laws. I spent years helping the campaign to reform them, and am proud of the liberalisation I and many, many others helped bring. I have to admit, though, our achievement was modest.
...and hypocritical, as now you misappropriate the term and in fact libel what would be a proper articulation of The White Left, if the term were disentangled from decades of Jewish journalese confusing "left and liberal;" and understood properly by contrast - by the public, and somehow by copyright law.
Ibid: Libel in England remains sinister in intent – the defendant has to prove he or she was telling the truth – and oppressive in practice. Parliament and the asinine Leveson inquiry into the press failed to tackle the horrendous costs, and kept libel as the preserve of the rich and the reckless. You can risk spending £1 million before a case comes to court. Despite reform, libel courts remain the place oligarchs and charlatans go to suppress the truth.
Well, I will not initiate a case against the sinister intent of Jewish media, even though I believe it is their sinister intent to prevent White (as in not Jewish) people from organizing, unionizing in their exclusive defense - a defense of those Whites who are relatively innocent, who are not right wing supremacists, but are rather characteristically cooperative, non-coercive separatists: White Left ethnonationalists - that there is by contrast an antagonism, a persistent, sinister intent on the part of (((media, academia and other niches))) to confuse the term "left" with "liberal" when it applies to Whites and a would-be "White Left" in order to keep them from defending themselves against the genocide that is being launched against them by Jewish and neo-liberal interests: by means of open immigration of exploding non-White populations, "anti-racism" (i.e., prohibition of White discrimination on the basis of racial and ethnic groups, even in national interest), ubiquitous promotion of race-mixing, endless propaganda of Whites as evil, advancing non-White interests with and against the concept of "White privilege" applied across the board, to all Whites, as something to be "legally corrected" ...their right to abstain from forced contract and imposition undone - a feudal differentiation of laws which disadvantage White organized defense; compelling their mere servitude, their ultimate extinction enforced at the behest the YKW and neo-liberal PTB.
Not only would Cohen libel the term, "White Left," saying "it has issued a fatwa" but he's libeled The White Left also by associating it with neo-liberalism and the SPLC in its nefarious irresponsibility to put further at risk a man who is risking his safety to try to encourage more reasonable ways for Muslims.
The White Left is issuing no such fatwa against this man, and rather believes that his heart is in the right place, even if still a bit misguided.
Ibid: Last night, however, I found myself advising the anti-fascist campaigner Maajid Nawaz to sue in the London courts. I even gave him the names of lawyers who would be happy to help. The attack he is facing is so grotesque, ferocious remedies seem the only response.
It is not "fascism" that he is campaigning against inasmuch as he is articulate - it is the right-wing feudalism of Islam and its (terroristic, if need be) imposition of imam compradores, radical shock troops and the feudal Muslim way of life against what would have been Left ethnoationlaist nations; if not for the destructive imposition as aided and abetted by neo-liberals.
Ibid: Nawaz's enemy is not the usual user of the libel law: a Putin front-man or multinational. It is an organization that ought to share Nawaz's values, but because of the crisis in left-wing values does the dirty work of the misogynists, the racists, the homophobes, the censors, and the murderers it was founded to oppose. It does it with a straight face because, as I am sure you will have guessed, the fascism in question is not white but Islamic. And once that subject is raised all notions of universal human rights, and indeed basic moral and intellectual decency, are drowned in a sea of bad faith.
Lets clarify what is really going on here, Nawaz's enemies are right wingers, Jews (such as the SPLC) and neo-liberals who seek Islamic compradores and shock troops to disrupt Left ethnonationalsm.
Ibid: Nawaz is from Essex. He has fought and been beaten up by white British neo-Nazis. He fell in with Hizb ut-Tahrir while he was young. When he ended up in a torture chamber in an Egyptian jail, he abandoned Islamism for liberalism. Since then, he and his Quilliam Foundation have struggled against both the white far right and the Islamist far right. They have defended liberal Muslims and, indeed, all of us from lethal blasphemy taboos and the threat of terrorism. They respect freedom of speech, including the freedom of their enemies to speak. (When they asked me to introduce their report on online extremism, I was pleased to see them warning the state against the folly of trying to ban extremism rather than argue against it.) Quilliam and Nawaz support women's rights and gay rights. They believe that there is no respectable reason why men and women with brown skins should not enjoy the same rights as men and women with white skins. They think they should try to stop young Muslims joining Islamic State, not just for the sake of the Yazidis they will take into sex slavery, or the civilians they will tyrannise and kill, but for the sake of the young Muslims themselves.
And now you would try to say that we, "The White Left," are issuing a "fatwa" against a man who is trying to do this good work? Who is libelous here? Not The White Left: we issue no such fatwa. On the contrary, we commend his good intention.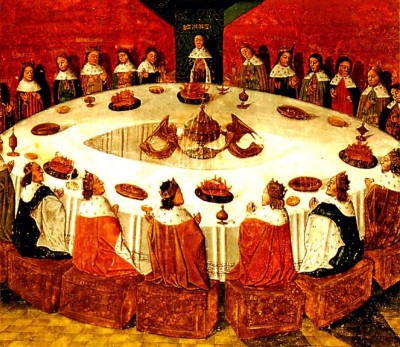 First is not the same as most essential (inter esse), a take-away from prior thread.
Updated (significantly) the morning of October 18th CET
I agree that it is important to not set the bar too high and that is something which GW helps to articulate very well - i.e., the Heideggerian place of MidtDasein - by ensconcing the authentic consciousness of the subject in a world view that is not all that conscious - not feeling constantly compelled by the instrumental, for reasons too subjective, too objective, or too "the They" but resonating rather, with the emergent - he contributes thus significantly to the articulation of its authentic form, in this holding fast attention to resonance, from resonance of subjective emergence to resonance of the objective field, a position which does partake of the calculative (Cartesian) while not remaking stuck there, generally. On the other hand, also generally, Heidegger helps to not set the bar too high, by suggesting that authentic thinking generally occurs slowly, in a meandering, qualitative survey by poesis. While the subject is the inevitable entering point of caring interest, its viewpoint is calibrated authentically from there, taken away from inauthenticity and into engagement with its full organic process by re-attention to "there-being" (which occurs, I suppose, when resonance with a relative concern is particularly acute), from momentary concerns to a broad systemic view based in the relative interests (inter esse) of one's folk (social group/midtdasein) within the emergent world - that is another description of midtdasein; and if the subject is centered not in objectivity, but within the purview of the folk, in praxis; and folk leaders share this view to their relative interests, the calibration of the group should feed back to serve the authentic interests of the subjective starting point which the subject will come back to inevitably in resonance - a resonance that should meld with the group's interests, in the moment they seek to re-orient anew, to call back from estrangement their authentic position of caring. But if the subject is not getting sufficient feedback from the system, marginalized as such, their authentic concern would bring to bear their subjective perspective on the system's inauthenticity, acting as a homeostatic corrective (I believe it was Heidegger's student, Gadamer, who fostered this idea).
Thus, First - subject - isn't the same as most Essential (inter-esse) - Midtdasein - subject ensconced in a world view of relation within the folk. In fact, the first subjective relation is not to this third person (Cartesian) point of view, but rather, the subject acting into relation of second person address - parental relation, as biological creatures with reflexive capacities unique among biological creatures. From that starting point, it moves into emergent and third person relation (us) to calibrate midtdasein - if the social system is correctly oriented - which it presently is not (because it is estranged, all too Cartesian: objective/subjective, all too moved into the third person "they") - hence the need for centering not rigidly stuck in the Cartesianism of the psychological perspective, but in the communication perspective, in interaction, its affordance of a view confirmed and delimited by the relative interests of the human ecological system, beginning with the first to second person relation and then prompting engagement in non-universal maturity, to socialization in midtdasein - a worldview gauged against the relative interests of the social group. The interests of the subject as participant in the social group, its authentic being, are held fast as they naturally resonate in emergent delimitation against material reality, including its own affordances and constraints, matters of physics; and for the need to coordinate caring activity/existence in relation to the emergence of other authentic social groups, biological creatures, the necessities of their organic systems in emergent relation to our systemic organic necessities.
Heidegger does advise or describe as authentic then, a holding fast of this essence, the resonance of emergent qualities of the subject, the people, the MidtDasein and its world setting taken to heart.
The holding metaphor is interesting because it implies two separated appendages, or at any rate, the capacity to embrace and coddle that which is inbetween and captivate it to one's subjective attention.
Adding
GW: Cartesian epistemology, then, is dangerously self-referential, and that applies to the Cartesian sum as well as its cogito ... to what the model can say about the subject. Subjectivity truly is a chalk circle.

To break this, Heidegger proposed that every thing from a single particle to the universe has a being of its own and, therefore, a truth thereof which discloses itself to an action or state or site (depending on one's interpretation) called Dasein. Now, to overcome the difficulty of representation in the Mind, because thought, emotion and sensation are each, in their own way, representational, Hiedegger proposed essential thinking as the mind-activity which is active in Dasein's way of seeing what is disclosed.
This is good in that it helps supply a much fuller understanding, encourages attention to where our subjective emergent qualities resonate with the emergent qualities beyond the subjective; but you are sweeping aside other aspects that Heidegger suggests for relieving Cartesian rigidity, viz., the idea of Caring, there-being (taking attention out of one's head), the folk and their delimitation as such - these are not an affectation to Heidegger nor an arbitrary application.
You have reminded me of the aspect of Heidegger in which he calls attention to "spreading out what is interesting - inter esse - and taking to heart what is most essential - then holding fast" - that would be a Heideggerian means for subjective emergence resonating with emergent qualities of the objective…
The holding metaphor is interesting because it implies two separated appendages, or at any rate, the capacity to embrace and coddle that which is inbetween and captivate it to one's subjective attention.
What you may not be respecting in what I am getting at is how Heidegger's system would assign being to the folk - and how the subjective would have a different qualitative relation to it, within it, in midtdasein, than to the rest of the "site of disclosure"... it would be a relative quality and a Caring which goes beyond and then delimits the subjective perspective from The They and The The which would make a non-Cartesian difference. The holding metaphor which you remind me of in your attention to emergence is interesting.
Heidegger does advise or describe as authentic then, a holding fast of this essence of resonance of emergent qualities of the subject, the people, the MidtDasein and its world setting taken to heart.
GW: Only by fitting the two realms together may one reconcile false Dasein to "midtdasein" ... may one reconcile the formed personality, with all its error, to the "site" of disclosure of the thing which is the people. That is what my Ontological Transit, in all its gauche simplicity, is designed to do. Understand it before you criticise it.
Well, you can put it that way, its implied in what I've said, but rather than its being incumbent upon me to "understand" a reification like "the personality", you might be open to understand before criticizing the reason why autobiography will provide a better means of fitting predilections of the corporeal self to the "site" of disclosure - which includes one's folk.
I can appreciate that you want "personality" to fit a closer reading of the corporeal and its genetic expression, but the concept of autobiography is not mutually exclusive and will, rather, facilitate "the fitting together" of authentic expression of the personality and the "site of disclosure."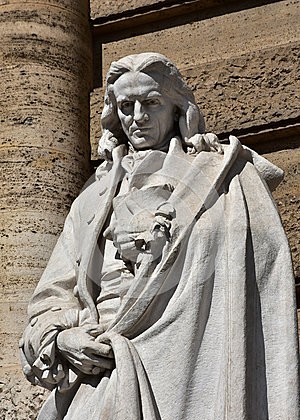 Taking the hermeneutic turn and praxis - Vico: first in defiance upon Descartes.
The Terms As DanielS Deploys Them.
Caveat: I'm likely to continue to work on these definitions for a little while even after I post this, so let that be a warning to whomever might find that disconcerting….a few more small, clarifying adjustments as of Wednesday, 2 November morning, CET
Left - social group conceptualization, unionization and accountability thereof, which, by definition thus, and by diametrical contrast to the tendency of liberalism, seeks to distinguish and designate in-groups and out-groups and ways, with an eye toward systemic maintenance of the in-group (and concomitant routinized coordination with outgroups) in leverage against destructive and unnecessary injustice to social capital, inhumaneness, natural hazard, and against out-group antagonism. It is vigilant of elite accountability because their betrayal can do most ready harm, but it sees fit to accountability to and from rank and file as well.
Because it implies a union of in-groups as opposed to out-groups, it is necessary to specify, with a prefix, which "left" one is advocating or denouncing.
Through my experience and assessment, it is clear to me that Jewish and liberal interests do not want us to deploy this organizing, unionizing function on our behalf but rather want to deploy this notion of unionized advocacy against Whites, in liberalization of our bounds and borders; thus, they obfuscate, where they do not outrghtly prohibit White organization as such. They want to confuse Whites and have them argue against their own interests, by having them argue against "The Left", i.e., arguing against their own social organization and compassion with the mistaken idea that the liberalism of those who would seek to disrupt our group defense and maintenance is "The Left" - though it is not a left for us, for our exclusive unionization; for us, rather, it is liberalization. However, they've succeeded in getting WN and Alternative Right to do just that - to talk in terms of "The Left" being the enemy, along with it, imputing several ideas that would not be true of a White Left, as I define it - for prime example, it is not about equality/inequality - to argue against "equality" is to chase a cunning red cape posed by the Red Left - viz. Jewish inspired international coalitions of anti-White unions have been supplied this notion to dangle before potential adherents and to bait the right, inducing a spooking reaction against social mindedness on their part. Even recently, to my shock, GW thought that I was advocating "equality" (though I've been explicit not to do that in several articles discussing incommensurability) and against "elites" though I've never been against elites and their abilities (but against their abuse and betrayal, if there is that, of course). Nor is it applying unnatural concepts - there is a significant difference between treating "the White race", say, as a largely precise working hypothesis, very real but interactive and verifiable, as opposed to treating it as an exact but imagined concept to be imposed upon reality, or denied reality.
Commensurability and incommensurabilty, that is, how the rule structures of entities and their trajectories, behaviors or practices match up or not, is a superior conceptual tool to equality/inequality, as it takes into account qualitative issues and the appropriateness or not of comparison and competition, the appropriateness or not of positions within ecological niches - It is superior in terms of practicality, not trying to put things together that don't work together; and it is superior in particular in the capacity to acknowledge human dignity, place and part; to avoid conflict as a result of false comparison.
In a White Left, I am primarily concerned with EGI. I recognize economics to be important, of course, but the social organizing function of EGI is my primary concern. The union would correspond with what we know as the White/European race, with subsidiary categories for its subgroups and nations.
It takes account of facts which are more objective, but has as its foremost concern the relative interests of the group and thus, those objective facts are applied with the interest of that criteria and its coordination in mind. Of course it is going to be in the interest of the group for those who are doing well to keep doing well.
The White Left is not antagonistic to elite capability and reward but rather has an eye toward its accountability to and from group interest and has an eye toward accountability of and to the rank and file to keep them in line and happy for their part in homeoestasis - systemic maintenance.
The White Left is separatist, not supremacist; it aspires to restore the sovereignty of European peoples and their vast majority in native European states and territories - to be sovereign for the purpose of securing our EGI there and in other continents - the Americas, Australia, New Zealand. But because The White Left employs the supranational concept of unionization, "The DNA Nation", it is operative independent of territoriality.
The White Left is Left Ethno-nationalist and thereby not imperialist.
As I have said before, this view is like a cat, landing on its feet in providing good orientation and perspective every time - it is inherently stable in its view on the group, the potential traitor and the outgroup..
Liberalism - the tendency for individuals to want to be free of in-group unionization, ways and accountability, free of their inherent forms, in extreme expression; and to welcome what had been outsider individuals and ways into the group with limited accountability - hence, their preference for objectivist, "naturalistic" ideas - because "that's just the way it is." Objectivist international capitalists and Jewish interests would be interested in taking advantage of this and therefore promote it to Whites, who are vulnerable to it for known reasons.
The Right - a tendency to want to be unburdened of group responsibility and consideration, and thus to divine authority, supranatural theory or facticity and objectivism - I mean by that aspired-for objectivity (as if one has no concern for subjective and relative interests) thus, "objectivism" as opposed to "relative" and "subjective". The objectivism of which I speak is not Ayn Rand's objectivism (which is more like subjectivism, in subjective interests, actually) though most other aspects of libertarian objectivism are objectivist. Objectivism, subjectivism and relativism are not perfectly separable, but one or another of these can be emphasized to the expense of another. By facticity, I mean an insufficient liberation from arbitrary subjugation to the flux of facts for lack of hermeneutic, narrative/ conceptual resource (hermeneutics is defined a few paragraphs below) or failure to recognize its resource to liberate one (through principles or rules based historical experience, narrative sequence that can provide agentive coherence) from the fact that facts are under-determining for human orientation and imagination; thus require hermeneutic, conceptual or narrative orientation.
The right emphasizes the objective, usually for the purpose of hiding their relative group (left) interests (that tends to be the hidden motive where aliens are imposed upon them against their will and they cannot forthrightly proclaim their relative group interests - they have to say, "well, these are just facts"), or hiding elite interests, a wish to not be accountable, perhaps even to betray group interests. Thus, they are anti-social and rather try to argue against group accountability sheerly on the basis of objective facts (or religions beliefs). What group organization that happens stance then despite their rational blindness ("It has nothing to do with my subjective/relative interests, that's just the way it is, I/we have no part in what happens and thus no social accountability") tends to lead to elitism, supremacism, imperialism but ultimately disorganization and dissolution for its inherent instability (add to that instability can also be due to insufficient respect for relativist praxis - social girding - by contrast to strained-for objectivism - for universal foundations, etc - tends to have a reflexive effect of hyper-relativism)...which brings us to "The Alternative Right."

The Alternative Right is Paul Gottfried's Jewish coinage because Jews are desperate that there not be a White Left. The Alternative Right, then, has become a successful Jewish trick to get all of the anti-social reactionary movements into a relatively controlled opposition - the Nazis, the scientistic, the Jesus people, those who want to include Jews within our in-group and allow them to define our terms, despite all evidence that that should not be done.
There is an inherent rule for those who want to be included as part of this tentosphere - an Alt Right tent of tents, which includes tents that reject the term and some of its tents - you have to allow for the other's anti-social positions and basically argue against "The Left."
This can assimilate praxis and practicality for a time - its true that it will be allowed attention by Jewish media and gain popularity with reactionaries, coordinating them for a time; and it is true that it is difficult to circumscribe, pin-down and counter for a time; but it will be countered where it does not come apart because it is anti-social, lacking the grounding of optimal praxis and thus inherently unstable.
That pretty much rebuts Colin Liddell's recent claim that this amorphousness of the Alternative Right is an "advantage, because they can't be easily categorized and countered by our enemies." That may be somewhat true for a time, but their ambiguity ultimately provides means for subversion and misdirected conflict nevertheless…ultimately, the lack of unity will lead to dissolution. And, on the other-hand, so what if people understand where The White Left is coming from? Yes, that's right. This is who we are, and as such we can coordinate well with other peoples. And this is who we are not, people who have not learned from right-wing, supremacist, imperialist history.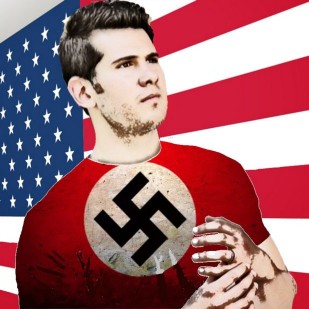 Crowder, the "new leader of the Alt Right", providing "immunity from subversion and disunity" (lol)
To give you a prima facie idea of how ridiculous the Alternative Right is by contrast, their premise is that we have to minimize infighting and with that, one of their first suggestions is that you should not ostracize and sweat the "little things", e.g. Christianity, scientism, Jews and Hitler, but rather should embrace those who want, e.g., to redeem and resurrect Hitler and his ideology - though there has been no greater instigator of White ingroup fighting than Hitler.
They are just that ridiculous. Whether they are allowed to join up with all of their tents or not, Jews have to love the Alternative Right, because it is theoretically gauche.
It is good for Jews if Whites identify as Christian, so that they remain under Noahide law. It is good for Jews if Whites remain scientistic and objectivist, because they will put a chill on social conscience, and, of course, it is good for Jews if they continue to not see through Jewish crypsis, and try to treat Jews as White (but perhaps special Whites)..
Failing that, it's better for Jews that Whites identify as "Nazis" than be a White Left, because there is limited utility and ultimately there is in-group destruction with that identity.
Cartesian - a wish to separate facts, theory or "mind" from interaction. Its pursuit can go in a direction outside of nature, into pure theory, or in an empirical direction of pure facts. This can be a natural wish among those who feel guilty or unfairly burdened by social customs or impositions, and by those disingenuous, looking to avoid accountability ("these are just the facts, there is, was, no recourse").

In fact, "anti-racism" is Cartesian, it is not innocent, it is prejudiced, it is hurting and it is killing people.
Anti-racism is a machination conceived and promulgated by Jewish interests to take advantage of the Enlightenment's objectivist prejudice against prejudice (prejudice against even necessary prejudice).
Cartesianism is one of modernity's leading components. Its destructiveness, including through the prejudice against prejudice, called for philosophers to conceive of the hermeneutic, post modern turn (for fuller definition, i.e., a proper understanding of the concept, Modernity, Traditional Ethnocentric and primitive, Monocultural societies, see White Post Modernity).
Praxis, Theoria and Poesis are Aristotlean epistemological categories:
Praxis - is the social world as Aristotle conceived it, which constrains theoretical application to some extent by our human nature - people being biological creatures, evolved for optimal, not maximal need satisfaction, mammalian creatures evolved to care about relationships, especially close personal relationships; and because we are interactive and thus agentive (we can learn, change course and respond in ways other than predicted, to some extent) - given these facts, Aristotle juxtaposed Praxis to "Theoria", which is pure theoretical knowledge - which can be applied fruitfully to physics, but would be an epistemological blunder to apply strictly to Praxis - suggesting that Phronesis (practical judgment) is thus necessary in consideration of social matters - Praxis. He also proffered the category of Poesis - the arts and crafts.
Now, since Descartes took Theoria to its extreme in trajectory of social detachment and consensus had it that that was destructive to maintain as anything but a provisional perspective, philosophers since Vico have been arguing more or less that even in theoretical matters we need to acknowledge engagement in subjective and relative social group interactive interests - to center our world view in praxis. The post modern turn pursues a trajectory to take even theoria to be subsumed by praxis. This is central to what Heidegger is trying to do - to rescue folk from the Cartesian estrangement, famously observing with that that thinking is more like (poesis) the organic forms of poetry than the blindered controls of science - "science does not think", he said.
Hermeneutics - is a project conceived to conduct inquiry properly, not destructively as did the Cartesian aspiration for its imperviousness and rational blindness to interaction. It is meant, rather to coordinate and integrate these epistemological realms.
It is a process of inquiry in which the inquirer considers themself engaged to some extent with the object of inquiry. It cannot be detached from facts and divorced from reality indefinitely since that would be violation of its anti-Cartesian mandate; but it does afford a close or broad look at the facts, depending upon need or predilection - GW, prefers a close look; nevertheless, the facts are under determining for humans. We need narrative, language and concepts to flesh out perspective and accountability on our personal and social lives in their authentic, systemic, temporal and historical breadth. Hermeneutics acknowledges that as necessary orientation and contextualizaton of facts, it acknowledges our social participation in those narratives and even in the reconstruction of some aspects of facts on the basis of those narratives. It is not at all anti-science - on the contrary, but it maintains rather that science is not all that is necessary nor all-determining in how facts count.
These narratives are important, of course, for the coordination of our group systemic maintenance, since we do have antagonists and we do have the option to mix with others where not straightforwardly eliminating ourselves.
Midtdasein - non-Cartesian attention to engaged process of thought in relative social interest: i.e., "there-being" amidst one's folk (praxis).
Self 1 - Corporeal
Self 2 - Auto(biographical) / hermeneutic
The hermeneutic aspect of self is important for coherence, accountability, agency and warrant.
Coherence, Accountability, Agency and Warrant - I talk about these features of narrative capacity in this article: Kant's Moral System As Coherence, Accountability, Agency, and Warrant.
That article should not be read in and of itself - it is meant to segue into an article which amends and corrects Kant's oversights - this article, to be specific: White Left Imperative to Defense, Systemic Health of European peoples (also called Leftism as a Code Word):
These things are so central to my terminological framework and I've talked about them so many times that I took them for granted and had forgotten to mention them here.
Social Constructionism (proper): is a way of looking at things from a social perspective - Praxis - a human centric, human interactive perspective - it holds that where we cannot literally construct facts (in some cases, we can), then we have capacity to determine how facts count - it recognizes that there is a degree of agency afforded in recognizing the social aspects of life - in conjoint construction; and it is a remedy to Cartesian and other kindred destruction, such as theological.
This agentive aspect of social constructionism is crucial to tap, as it is both true and useful - the better the morale for our side, the better to organize action against antagonists, despite liberal uncaring and on behalf of ourselves if our people believe that they have agency. Otherwise, our enemies can and will use deterministic arguments and language against us - e.g., "immigration flows are inevitable."
One can test and tell where it is being abused and misrepresented as a notion, if you have to put the word "mere" before social construct; or if it is said that it is "just" a social construct. If you have to put the word mere or just before what is being proposed as a social construct, that means it is not accountable to the social world's consensus and understanding with regard to what is real and factual, that "mere" or "just" indicates a Cartesian, supra-natural and supra-social proposition.
By contrast, in its proper form, social constructionism (proper) is another post modern idea, along with hermeneutics, that does not deny facts or say that you can make of yourself just whatever you like (as solipsism might claim) - again, as that would be a violation of its anti-Cartesian mandate. It does allow for the recognition of group perspectives, interests, reality and defense along with the reality of other, differing groups, with different, perhaps incommensurate, antagonistic or cooperative ways; but acknowledges that how facts count and to some extent how they evolve is negotiated (it is possible to make an argument that the White race should be bred-out of existence, as Andrew Anglin argued just a few years ago, and it is factually possible to argue that we are not "race distinct" enough, because we can be bred-out of existence with other races, but we believe those are poor arguments).
In defense of ourselves we acknowledge that we live in communication, that the facts of our lives are fleshed-out in authentic or imaginative form with language and narrative - by social communicative means which lend to accountability, thus lending to the obligation to accountability to social capital, particularly in regard to matters that are closer to hard facts and not highly negotiable in terms of how they count, particularly regarding survival and the reconstruction of our qualitative forms.
The Communication Perspective - takes interaction as the unit of analysis as opposed to the group unit of analysis which sociology takes, or the individual unit of analysis, which psychology takes. It is held to ask more incisive questions and get better answers, but it needs material to operate on - thus, it claims the same turf, i.e., the same unit of observation as other disciplines. Since we are in the position of having to defend our race against "anti-racism", it is most useful for us to claim much of the same unit of observation as sociology - which takes social group as its unit of observation - because a "race" is a group concept. It will also claim the same turf as philosophy, economics, biology, physics, even psychology and more, where necessary.
White - People of overwhelming European descent. It has (understandably) been the preferred term for European peoples living outside of Europe. It does not include Jews. And Whites have the capacity to make that determination and exclude people from their nation who they recognize as detrimental to their EGI.
White/European peoples are a taxonomy and sub taxonomies, i.e., scientific and social classifications that should be politicized and "unionized" to some extent in order to defend them against liberal uncaring and outgroup antagonism. Through our kind of unionization and accountability (e.g., in DNA Nation), we seek to maintain both the genus and the distinct kinds of Whites/Europeans - the genus of our social classification, viz. its slightly more hypothetical/political form, I call "The White Class."
This is a White ethnonational Left which would seek alliances with Asian left nationalists against Jewish and Islamic interests, de-racinated objectivist interests; and to contain black bio-power and population explosion.
The Class - It is a union of people with members and non-members: as White Nationalists, we are interested in how it corresponds quite exactly with both the idea of the nation as your "skin" (your genetic group, genus and species) and native nationalism, along with its borders and boundaries. Elites are members of the class up to the point that they betray its interests; i.e., this is different from conventional class theory in that it does not treat wealth and unequal ability as necessary cause for exclusion, whereas rather significant burden-to and betrayal of general class interests would be sufficient cause for ostracism - whether of the elite or the rank and file.
To avoid "wall papering" over significant differences between necessary skills and roles among the class interest, their differing interests, concerns and vulnerabilities to exploitation, we prefer an idea of syndicalism - i.e., a union of various unions - which, within the class of classes (the nation) do not necessarily keep one permanently bound to a particular union - or even a member of a specific union, necessarily, other than the union of the nation.
With social units of analysis, crucial matters such as demography are addressed - human species are assessed and can be recognized as being under threat of extinction.
Our haplogroup varieties, ways of life and their relation to the land are another reason why the interactive unit of analysis that the communication perspective takes is significant - it allows for the management not only of our human ecologies, but a necessary attention to pervasive ecology...
Another term, this one that I have coined - Pervasive Ecology.
"Marginals"
The guys at TRS, the "alt right's" "The Daily Shoah", said that term really "triggered" them.. "because it means that these people are 'losers' and 'unwanted"...
I got news for them, they are marginals, as is everybody from time to time within human systems, including our greatest geniuses - that makes them marginal by definition.
Marginal perspectives are crucial to know where the social systemic shoe is pinching and where it is in need of homeostatic correction (as opposed to runaway) for the human ecology.
But as I have said before, a key trick - and it is a typical reversal of terminological logic on the part of Jewish academia - was in regard to the concept of "marginals": i.e., to put across the idea that "marginals" were those from outside the group that needed to be included within the group as opposed to marginals being those who are already within the group but for the time being at least, further out toward the boundaries - the idea of requesting accounts from them being that these marginals have perspective on the system and worthwhile feedback as to its homeostasis - systemic maintenance.
Trying to deny the reality of social group classifications has been tried - by John Locke, and it has been an illustration of how Cartesianism can unfold to catastrophe.
American propositionalism is founded on its basis and it has spawned a popular culture with no regard for the social realm, only "the self actualization" of the 'winners" ..no regard for the implications and impact on human ecological systems.
That is why my model of humanity looks after a "prescriptive", rather, advisory topoi: Retooling of Maslow's pop psychology hierarchy of needs to "self actualization", advising that it be taken into a basis in socialization (optimally circulating in praxis as central for European social groups), which would ensconce being (midtdasein), routine, craft and sacred practice, self actualization (farther reaches of special personal quest).
Moral orders: the rule structures that organize what is legitimate, obligatory or prohibited among a people, giving them an accountable social order. There has never been a human circumstance absence some semblance of these rule structures.
Sex as dominance and submission in tension with human dignity, a mechanism which makes sex sexy.
Sex as celebration - an option taking for granted the pattern and its boundaries, that you are sharing-in worthwhile common resource. A liberal attitude with regard to sex, particularly among one's group, as people are sharing in common resource, can be reasonable if the boundaries and the pattern are secure - besides literal and rules based boundaries and borders, an additional necessary means of the pattern's security is an institutionalized provision for an option for sex as sacrament.

Sex as sacrament - an option which does not take the pattern and its boundaries for granted and rather thus, does not treat sex as a mere function and causative fact of nature beyond our human discretion, but seeks means and social enclaves, ideally, for careful observation of the value in patterns beyond moment and episode. It is an option for those who want to take a very careful attitude with regard to birthing and partnering, including ensconcing a commitment to monogamy as a viable option. It is moreover an important option to uphold in order to maintain systemic homeostasis .. staving-off cynicism and disorder, maintaining incentive structure and thus reason for loyalty and to fight for the pattern.
Sacrament as episodic connection and reverence for that which is essential and vital to the pattern.
Augustinian Devils vs Manichean Devils:
Manichean Devils are trickster devils - they reflect human level agency to change the rules of a game in order to fool you if they think you might win the game. It may be hypothesized that tribal peoples from the South and Middle East are more attuned to this sort of Devil as they are more evolved in competition with each other for resources rather than competition against the elements of nature; even where food was not all that abundant at least they were not up against the winter.
Augustinian Devils are natural obstacles and problems. If you can solve them, they don't change the rules because they lack human level agency. It is my hypothesis that Europeans are evolved more to focus on this kind of devil - preparation for the harsh winter and scarcity were challenge enough, thus Europeans, especially Northern Europeans, prefer that Augustinian Devils do the selecting and killing as surviving these conditions was valuable ability enough..
The ultimate devils facing humanity are Augustinian devils thus it is incumbent upon European evolution to not lose this virtue; and not be defeated by the Manichean devils of tribalists.
For ready example, if we are to avoid asteroids, super volcanoes, catastrophic climate change, etc., and get to outer space of necessity.
Coming back to the marginal and who should be ostracized or not then, this issue should be taken into account for our selective strategy. If someone is strong enough to survive, that is to say, they have demonstrated that they have the genotypic strength (genetic level ) of our kind to survive without undue help, then barring the fact that they are not an undue burden on society, they should be given the benefit of the doubt - innocent until proven guilty.
Marginals should be allowed the opportunity to be deployed in our interest, to contribute to the maintenance of borders and boundaries - if they will do that or not, should be a key criteria as to whether or not we allow Augustinian devils to be a deciding factor in their survival from our end.
In fact, as the White demographic becomes older, I have argued that the marginal group that is our elderly can move from a liability to become a great asset - a geriatric army in this regard - they have wisdom, experience, perspective to deploy on our behalf and as they have proven their genotypic strength for their longevity, they also have less to lose; having already lived most of their life and being beyond child bearing age, they should be called upon to take greater risks on behalf of our legacy.
Phenotypic strength can be an indicator of genetic strength, as can beauty, but as we know, these matters can also be superficial in terms of indicators of abilities and functions valuable to our people or not. The puerile in particular may be lured into their visual appeal and not see through to assessment of longer term and deeper genetic values. Nevertheless, phenotypic health and beauty can be signs of health and functionality and thus, should not be dismissed as purely superficial and of no importance whatsoever. It is just that there has to be some amount of mature critique against its true long term value to mitigate its over emphasis by the episodic myopia of the puerile and those who would pander to it (give them candy).

Genotypic and phenotypic strength is thus an important distinction to make common among puerile Europeans, in particular, as our evolution and its merits would not be displayed as much through episodic and tribal competition but in endurance and regulation of natural patterns and obstacles.