While I have made comments in this regard in the past, I have been meaning to make a post about this for a long time. Now is as appropriate a time as ever to forefront a critical position toward labor.
In The United States, Labor Day 2015 falls on Monday, September 7th
.................
People may think that as an advocate of a new position that I am calling "The White Left" that I am enormously sympathetic to White labor and that we are ready to hear detailed, practical, step by step, concrete advice, facts and figures as to what White labor ought to do.

On the contrary, I believe White labor are some of the biggest fools that there are, particularly where they do what they do best - dutifully putting their nose to the grindstone to make society run amenably for all. They keep the gears of this neo-liberal ship running smoothly and grinding away at our White EGI. Their labor is basically contributing to a system aimed at their destruction and if they had any sense they would try to find a way out. In effect, they should go on strike.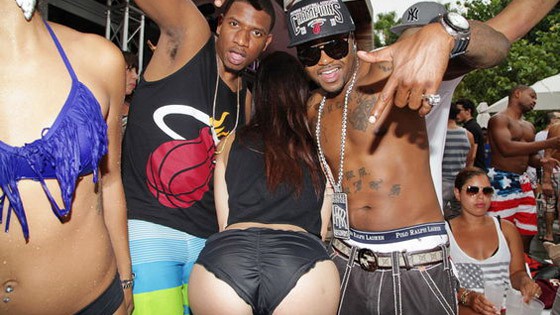 Last years' Labor Day party in Miami, displaying what has become an appropriate image for the state of labor.

You say that you have a family to pay for? You are doing me a favor? I think not.
And if you are contributing to this society, are you even doing your kids a favor?
There are those who maintain that they must participate and work in a way that serves the system in order to take care of their White family and of course that may be true. But it would be tragic if they do not begin to build bridges with other Whites (and select non-White nativist nationalists) toward a unionization of EGI and White economic sovereignty, since the life boat they have put their family on by participating in the system is taking them to drift further and further out into the ocean of non-Whites. They are merely providing their children a superficially comfortable situation within what are destined to be increasingly horrible circumstances - and that comfortable buffer can be taken away in an instant without unionized rules for them to coordinate in defense against neo-liberalism and its Red Left, PC enforcement wing.
Still, so long as the unionization of Whites continues to be demonized by White Nationalists, as they insist on confusing "The White Left" with "The Red Left", as they insist on associating "Third Positionism" with objectivist confusion and right wing crap, such as a religions which do not recognize EGI and concerns for this world as important, we are obviously not ready for a strike. No, don't worry, I am not calling for you to walk away from your salary, for that would mean that we are ready for war of maneuver, ready to take over the system which we all agree is working against our EGI.
We are nowhere near ready for that, as the right wing or the right wing elements of third positionism continually confuse, disorganize and frighten away the popular support necessary for a war of position (conceptual organization, territorial and strategic position) as precursive to support a war of maneuver (taking over government).
In trying to organize a war of position thus, we must first render a theoretical sketch rather than get lost prematurely in the practical and concrete. We are talking metapolitcs: White workers of the world conceptually uniting with the aim of political separatism and sovereignty.
WN still insist upon either identifying as reactionaries, as "the right" or as being "beyond left and right" and as long as third postionism equates to confusion as such, obstructs organized unionizations of our people, and rather merges with counter-productive or downright destructive right-wing perfidy, then we are at the stage of having to stake-out a war of position. Unless we are coordinated there can be no war of maneuver for Whites to take control of our nations and see to our people's interests.
Almost all sites and programs associated with White interests are still determined to argue that "the left" is the enemy or that the term has no utility. I am suspicious of their motives or of the motives of those from whom they gain support and guidance.

The most recent example is Matt Forney, who tried once again to put this needless confusion across. His latest gambit on behalf of his Jewish and neo-liberal masters occurred when talking to Robert Stark.
Matt Forney pushes the counterproductive, Jew prompted line now as something that we need in particular as men - as men we need to move beyond right and left, while favoring the right on balance.
Sure, Matt, we don't want to do anything like unionize in our interests as White men. That would be an awfully fearful thing in the eyes of your Jew masters and your liberal White woman friends. We are "betas" because we don't want their sloppy seconds or is it sloppy one hundred and 22nds? But who is desperate? We are not real men because we advocate a White left (which, as we define it, might look quite a bit like and have quite a bit in common with third positionism) but you are a real man?
We do have bigger fish to fry than poor Matt, who boasts about how he went around screwing and dumping Filipino girls (an appropriate place to aim his revenge?), and so we will leave him to the confused world that he would induce White men into, on behalf of his Jewish masters, supposedly moving beyond right and left - that is to say, beyond the call for White unionization and syndicalism.
To articulate a clear war of position, to where we, as White men, have intrinsic value as designated by union membership, for the first time ever, our inherent social capital recognized, innocent until proven guilty, now that would be a fearful thing indeed to his Jewish and neo-liberal masters.
Can you imagine? People would actually have to treat us and our EGI fairly?
That would be an awfully fearful thing to his Jewish masters and to the objectivists sell-outs, the White sluts who wish to block our war of position, maintain the neo-liberal anarchy and atomization among White men until there is no chance of us seizing power by maneuver…
Keep reading…