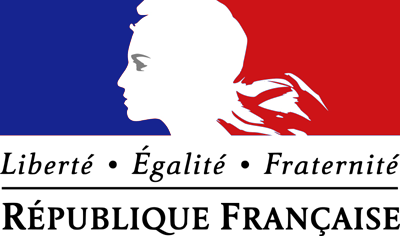 Events in France affect Germany.
There's only so long that an idiot can keep-on-keeping-on, until all sections of the more rational elements of the establishment begin to question that idiot's ability to remain politically viable.
We've all heard already about how the defence and security sector has found Germany to be a land of absurdity for quite a while now. But that alone is not enough to see someone removed from office. The preponderant political power in a liberal state is the haute-bourgoisie. Economic power precedes political power. This means that understanding the background financial and economic signals and the way that these signals interact with the overt political landscape, enables us to see an event developing from far off, and allows us to adjust our own tactics accordingly.
The Paris attacks have been a nightmare for Merkel because it has awakened criticism not only from German people in the street, but also among opportunistic members of her own party who are seeing now that she is at the weakest she ever has been, and that now is a chance for them to mount a political challenge. But the success of that challenge, when it comes, depends on the acquiescence or at least the sign of a resigned inevitability from financial players who are the stakeholders in the 'success' or 'failure' of Germany.
The time when it would be politically expedient to remove Merkel, would be in December at the CDU conference, where someone would be able to demand that she should hand in her resignation, and twist her arm until she does. Who would be most likely to replace her in such a case? Most likely Wolfgang Schaeuble.
So our big question is: How likely is it that Angela Merkel will be forced to resign in December and be replaced by Wolfgang Schaeuble?
One way to find this out, would be to look at the macroeconomic stances of Merkel and Schaeuble, compare them, then watch and see how the ECB and the large players are behaving, to see if they are making any moves that would suggest that they don't expect Merkel to still be there by the end of December.
It's known that Schaeuble is more of a tight-fisted politician than Merkel when it comes to certain aspects of economic policy—Schaeuble hates expansionary policies much more than Merkel does. And for those of you who thought that it wasn't possible to hate expansionary policies more than Merkel, I have to tell you, it's possible, Schaeuble does precisely that. On that issue, he is pretty depressing.
Therefore, it stands to reason, that if you see Mario Draghi at the ECB suddenly deciding to rush through a lot of actions to carry out more expansionary economic policy (something which he certainly ought to do) within a time frame before the end of December, and that if you see big global economic stakeholders 'forecasting' interest rates that are even more subterranean than at present, along with 'forecasting' more quantitative easing, one of the factors motivating that choice could be that they are positioning themselves for a future in which Merkel is forced to resign. Why? Because it's easier to carry out those actions before Schaeuble gets in. That way, when Schaeuble gets in, he would have to accept that it is already happening.
So, let's see what people are saying as of this Friday evening:
Bloomberg Business, 'Draghi Says ECB Will Do What It Must to Spur Price Gains', 20 Nov 2015, 1349 UTC (emphasis added):

European Central Bank President Mario Draghi set the scene for further stimulus in two weeks' time, saying the institution will do what's necessary to reach its inflation goal rapidly. The euro fell.

"If we decide that the current trajectory of our policy is not sufficient to achieve that objective, we will do what we must to raise inflation as quickly as possible," Draghi said in a speech in Frankfurt on Friday. "In making our assessment of the risks to price stability, we will not ignore the fact that inflation has already been low for some time."

Draghi's comments underline the ECB's concern that the inflation rate in the 19-nation euro area, currently 0.1 percent, will slip further from its target of just under 2 percent amid a high degree of economic slack and slumping oil prices. Policy makers are weighing the need for an expansion to the 1.1 trillion-euro ($1.2 trillion) quantitative-easing program that started in March, or measures such as taking the deposit rate further below zero.

The yield on German 2-year bonds slid to a record low of minus 0.389 percent and the euro dropped. The single currency was down 0.4 percent at $1.0689 at 2:47 p.m. Frankfurt time.

Power Tool

"A further stimulus announcement in December is a virtual certainty," said Marco Valli, chief euro-area economist at UniCredit SpA in Milan. "'We will do what we must' leaves little room for interpretation: if they fail to reach target, they do more."

The ECB's Governing Council will meet in Frankfurt on Dec. 3 for its next monetary-policy meeting. While Draghi and Executive Board member Peter Praet, the institution's chief economist, have indicated more easing is in the cards, some governors have expressed unease.

Estonia's Ardo Hansson, Slovenia's Bostjan Jazbec and Germany's Jens Weidmann have signaled since the last meeting that they see no need to ease policy further just now.

"I see no reason to talk down the economic outlook and paint a gloomy picture," Weidmann said in a speech at the same event as Draghi. "Crucially, the decline in oil prices is more of an economic stimulus for the euro area than a harbinger of deflation."

Praet said in an interview this week that taking no action in circumstances of such low inflation risks the ECB's credibility, and has argued that the fall in oil prices is increasingly a sign of weakening demand.

QE Adjustment

"If we conclude that the balance of risks to our medium-term price stability objective is skewed to the downside, we will act by using all the instruments available within our mandate," Draghi said. "In particular, we consider the asset-purchase program to be a powerful and flexible instrument, as it can be adjusted in terms of size, composition or duration to achieve a more expansionary policy stance."

He added that the interest rate on the deposit facility "can empower the transmission" of asset purchases, "not least by increasing the velocity of circulation of bank reserves."

Draghi said core inflation, which excludes energy and food, is also a signal of too-weak price pressures. The rate was 1.1 percent in October. While that's the highest reading in more than two years, it's still barely half the goal for the headline rate.

Core Concern

"Low core inflation is not something we can be relaxed about, as it has in the past been a good forecaster for where inflation will stabilize in the medium-term," he said. "While core industrial goods will receive support from the depreciation of the euro, an increase in core services inflation –- today close to an all-time minimum –- will depend on rising nominal wage growth. For that to pick up, the economy needs to move back to full capacity as quickly as possible."

The ECB is currently buying 60 billion euros a month of bonds and intends to do so through at least September 2016. The deposit rate is at a record-low minus 0.2 percent.

There is "little room for doubt that the central bank is not only about to step up its monetary stimulus, but plans to do so decisively," said Nick Kounis, head of macro research at ABN Amro Bank NV in Amsterdam. "We expect the ECB to step up the pace of QE by 20 billion euros per month, signal that purchases will go on beyond September, and expand the eligible universe of assets to include regional bonds. We also expect a 10 basis-point reduction in the ECB's deposit rate and guidance that it would be cut further if necessary."
And:
Bloomberg Business, 'Euro Resumes Drop as Draghi Leaves Little Doubt of More Stimulus', 20 Nov 2015, 1708 UTC (emphasis added):

The euro fell for the first time in three days after European Central Bank President Mario Draghi said policy makers will do what they must to raise inflation "as quickly as possible."

The shared currency weakened to almost a seven-month low against the dollar and dropped versus all of its 16 major peers. Draghi said in Frankfurt that downside risks to price growth have increased in recent months. The euro also fell after German producer prices declined more in October than forecast.

"It was clearly meant to stress that the ECB remains active and we've seen market responses accordingly—the euro has dropped back," said Shaun Osborne, chief foreign-exchange strategist at Bank of Nova Scotia in Toronto. "The market is taking on board the message from Draghi that we should be prepared for potentially quite aggressive actions in December."

The euro declined 0.7 percent to $1.0655 at 12:07 p.m. New York time, after gaining 0.9 percent in the previous two days. It touched $1.0617 on Nov. 18, the lowest since April 15. The shared currency fell 0.8 percent to 130.86 yen.

Draghi said last month that ECB policy makers would review the degree of monetary stimulus at their December meeting. Since then, the euro has weakened almost 6 percent versus the dollar as traders increased bets that officials may extend the bond-buying program or further cut the deposit rate.

German producer prices fell an annual 2.3 percent in October, after a 2.1 percent decline the previous month, the nation's federal statistics office said Friday. Economists surveyed by Bloomberg forecast a 2 percent drop.

"We should be in little doubt that the ECB are again attempting to adjust the monetary policy dial, likely via extending and increasing QE, while another cut in the deposit rate is also on the cards," said Jeremy Stretch, head of foreign-exchange strategy at Canadian Imperial Bank of Commerce in London. "While far from an explicit aim, easing monetary conditions via a cheaper euro is also a positive by-product of such policies."

The euro pared its decline as ECB official and Bundesbank President Jens Weidmann said he didn't see any reason to "paint a gloomy picture" of the region's economy. He warned that the longer ultra-loose monetary policy was in place, the less effective it can become.
And:
Bloomberg Business, '14 Predictions for 2016 from the Brightest Minds in Finance', 20 Nov 2015, 0501 UTC (emphasis added):


[...]

Rebecca Patterson, chief investment officer of Bessemer Trust, which oversees more than $100 billion in assets

The biggest risk for Europe in the year? "It's the refugee crisis," says Patterson. "I think it's the biggest challenge to the European Union yet. The horrible terrorist attacks in Paris increased the risk that the refugee crisis could result in a political and/or policy shift, or simply lead consumers to change their spending patterns. Either could weigh on sentiment around European growth and corporate profits." Patterson is on alert for any such changes but remains overweight European equities and positioned for a weaker Euro, she says. "The Paris attacks sadly shone a light on the European refugee crisis; I assume more investors globally now are thinking more about what millions of immigrants can mean for an economy and respective markets. However, I am still not sure that investors globally have adequately thought through what market spillovers the European refugee crisis could trigger over the coming year."

[...]

Erik Nielsen, chief economist at UniCredit

"Expect further divergence between the Fed and the ECB, with the former hiking rates a couple of times next year and the latter expanding its balance sheet more than it has presently announced."

[...]
Of course, the situation in Germany is not the only reason why the ECB would take the actions that it is going to take, it was likely something that was always going to happen. But the time frame within which it is occurring and the reaction of market participants to that risk event, seems to indicate that a lot of people are paying attention to this. Look at the 3 week and 1 month Euro-dollar volatility term structure, and you can see that they are reacting to European risks and not just to the upcoming 16 December Federal Reserve meeting in the USA: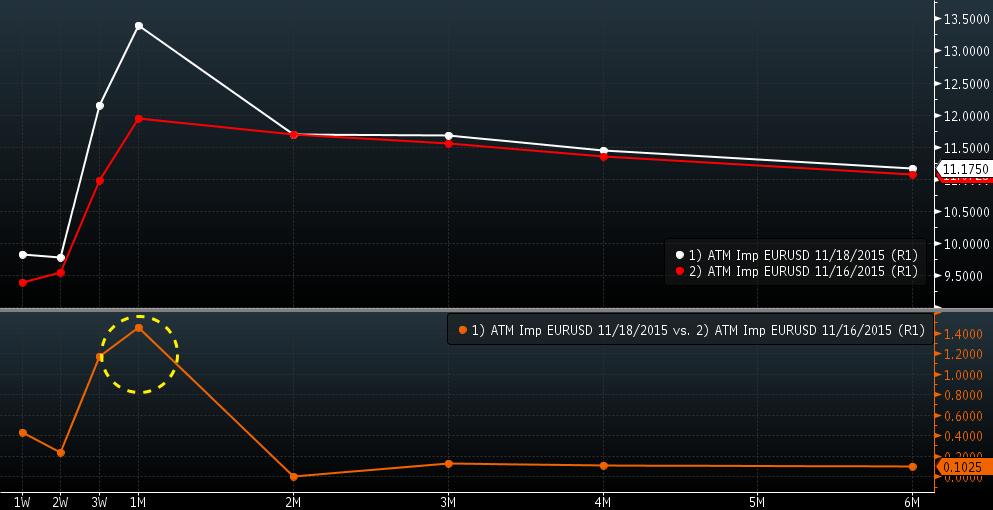 Also, given that there are numerous arguments for why Mario Draghi did not have to take the earlier-described actions in the short term (one of those being the oil prices argument), and given that he is determined to do it anyway, it would indicate that it is an attempt to get out in front of Schaeuble so as to pre-emptively make it more difficult for Schaeuble to get his way on monetary policy, and it would therefore mean that it is possible to be confident that Merkel is going to be gone by the end of December.
What does this mean for ethno-nationalists? Well, it means that it would probably be prudent to begin altering our rhetoric and policy suggestions with an eye toward a near-term future in which Merkel is not there. This will require some adjustments which would be best made sooner rather than later. We should be particularly vigilant against the idea that the removal of Merkel is a magical solution to all problems. Schaeuble's disposition is one that presents a slightly altered set of problems to the European Union, and we would need to explore what those are ahead of time and be ready to criticise them when they come.
There needs to be an urgent study of all facets of Wolfgang Schaeuble's politics. He might be chancellor of Germany very soon.
Kumiko Oumae works in the defence and security sector in the UK. Her opinions here are entirely her own.