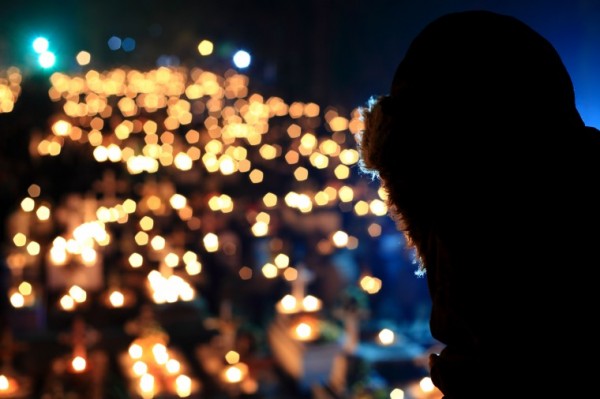 DanielS, in comment 147409 on Wed, 28 Oct 2015 wrote:

Jimmy, while defending the enjoyable pagan sourced holiday of Halloween against the Orthodox Church, we might also take occasion to note that the Christian Church has arrogated what is the most sacred holiday to our ethnic genetic interests, which is the day following - November 1rst - in Eastern Europe it is still a day when European folks commemorate their forebears, visiting the cemetery to pay special respects. It is practiced there in cloaked manner. But reverent respect that should be directed toward our ancestors has been largely diverted by the Church and back into its Judeo-religion; worse still in the west, where the "All Saints Day" (Nov. 1) diversion has been taken so far that our ancestor reverence is but the vaguest remnant, a phantom holiday, somehow indicated on some calendars, but not observed - merely alluded-to very indirectly for those who care to look behind the etymology of the name, "Halloween", and into its true history.
Upon reviewing the matter of Halloween, I see that I was so focused on the importance of the European day of our ancestor veneration - or what should be the point of celebration on November 1 - commemoration of our forebears (typically including a family visit to their graveside), that I lost sight of the fact that the Church was not only distracting from the true significance of the November 1 celebration for us; but also that Halloween itself was not a part of the mere diversion and distraction from the holiday. While many in East Europe see November 1 as an important holiday, Halloween still tends to be perceived by them through the churchly lens as a recent and corrupt affectation imposed from the commercial West, rather than an integral part of the holiday.
My response to Jimmy was correct in the general idea - of the Church burying our most sacred holiday - viz., in reverence of our ancestors - but I had neglected his point in fact of Halloween itself being an integral part of the holiday, not a fluffed-up and commercialized imposition to distract from the real thing: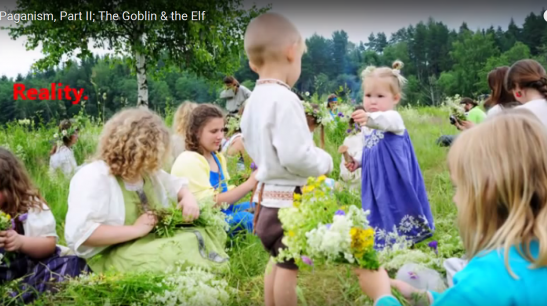 Initiating the children into becoming one with their forebears.
As the most important, sacred, commemorative holiday practice in reconstruction of our EGI through the initiation of our true Traditional Youth is under assault by The Orthodox Church (in this case), it becomes particularly relevant to highlight against the false Traditional Youth and their Orthodox Christian religion of our debates.
Apologies to Jimmy for the initial misapprehension of his post and his purpose:
Jimmy Marr in comment 147408 on Wed, 28 Oct 2015 16:08 wrote (emphasis added):

In evidence by the October 24th, 2015 edition of The Moscow Times, Christ-insanity is continuing to wage its age-old war against [the true] Traditional Youth.

The Education Ministry of northwestern Russia's Arkhangelsk region has banned Halloween celebrations at local schools, citing the holiday's harmful effect on children, the FlashNord news agency reported Monday.

The ministry's statement said that Halloween is "incoherent to basic traditional values and causes a negative influence on fragile minds."

The ban was instituted a week after the Russian Orthodox Church in Siberia's Krasnoyarsk region called on local authorities to ban Halloween on a similar basis, the Komsomolskaya Pravda newspaper reported. Priest Maxim Zolotukhin told local STS-Prima television station that children may get depressed after Halloween because they do not understand the difference between make-believe and reality, and so evil will enter their souls.

Russia's regional authorities have displayed hostility toward Halloween many times over the years.

In February this year, a school director in Siberia's Khanty-Mansiisk autonomous district was fired for organizing a Halloween party at his school last year, the Snob magazine reported at the time.

And in 2013, the Omsk regional Education Minister Sergei Alexeyev issued a letter against Halloween celebrations in schools. He explained that Halloween includes "death cult propaganda" that can damage student's psychiatric and "spiritual-ethical health," local news website NGS Omsk reported.

In 2014, Public Chamber member Georgy Fyodorov wrote a letter to Russia's Culture Minister Vladimir Medinsky asking him to officially ban Halloween. Fyodorov saw the celebration as an "ideological security threat" to Russia and proposed the promotion of traditional Russian festivals instead, the Izvestia newspaper reported.

Inasmuch as the war against Halloween is a proxy war waged by christians against [the real] Traditional Youth, it is little wonder that metaphysical mercenaries would attempt to distort the meaning of that name and use it as spiritual camouflage. Their masters have taught them well.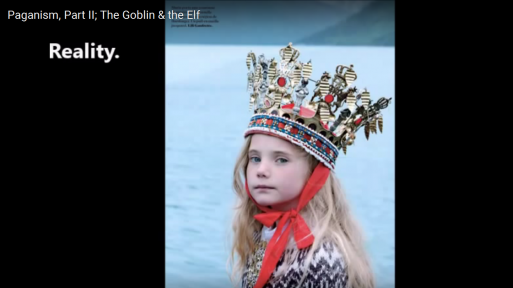 Halloween Ritual for the True Traditional Youth of Europe.
ThuleanPerspective /Youtube Transcript, 'Paganism, Part II; The Goblin & The Elf, 04 Dec 2014:

The children are not [considered] real people yet, not until they go through this initiation rite on Halloween…when they enter the realm of death, dressing up as the dead, taking on the identity of a dead person.. in a sense they become this person.. they have the same name, the same honor and the same death as the person they chose to become in this initiation ritual. The dead person, of course, is one of the dead forbears.

You can say that they believed in reincarnation.
Let us note also the ethnic genetic reincarnation.
Ibid:

So, they are returning to the Yule Tide and they are returning in the night. They are lead by the Sorcerer and the deity from farm to farm with these children to bring them back home… the families wished them welcome with some food on the table… to enable them to eat and feel welcome when they come back home.

During the Christian era, those in Church power wanted to destroy this tradition, they wanted to destroy European culture. So they demonized these children and turned them into grotesque creatures, mocking them for their "superstitious belief in goblins" and so-forth when in reality they didn't believe in any such things.

But the farmers could no longer put the food on a table inside the home for the children because church authorities might find out; so they had to put it into the barn.

These were not evil spirits, they were merely children returning for their initiation ritual [into the legacy of their forebears].

[Even so] the children were perceived by church people as becoming as twisted goblins [misunderstanding their transit with the dead where they were communing with elves, which were the spirit of the dead].

The children are the reborn dead relatives.

The elves were known to always sing, dance and read poetry because they are trying to preserve their memory..

This illustrates what the Christians have done to our culture. They have taken a beautiful, European, pagan religion, tradition, pagan culture, and twisted it…

..turned it into some grotesque mockery of what it really was.

The grotesque, twisted image of our religion was made by the Christians in an attempt to destroy, to weed-out our roots, to cut our roots so that our culture, our peoples would fall.

What the church could not burn they twisted.

But the European culture was beautiful, rich, advanced and most importantly, it was ours.
An argument by Mick Lately:
Mick Lately in comment 147410 on Wed, 28 Oct 2015 18:01 wrote:

I think Halloween is being turned into perverted paganism and that it is part of the whole "weaponized anthropology" campaign. Not to mention that it's "cultural appropriation" for non-whites to celebrate Halloween.

I would support the official ban of Halloween as a temporary wartime measure and allow it and Christianity back when the Jews and non-whites have been defeated.
A significant rebuttal to Mick Lately by Kumiko Oumae:
Kumiko Oumae in comment 147414 on Thu, 29 Oct 2015 02:37 wrote:

Weaponised against who, though? The 'weaponisation' of anthropology is when research of the culture and history of an ethnic group is used by belligerent groups to facilitate their mission objectives. However, our mission objective as ethno-nationalists and ethno-regionalists is to:

1. Defeat those who try promote mass mestizaje;
2. Promote viewpoints which would enhance people's willingness to reinforce national and regional borders;
3. Promote regional integration and common security perimeters on the basis of shared ethnic and cultural heritage, as well as shared economic interests.

In order to prevent our enemies from occupying positions of cultural power, it's necessary to get everyone to quit looking to churches for guidance, because the churches are opposed to everything that we stand for.

There is probably nothing more that the churches would love to do in their own form of 'weaponised anthropology', than to re-colonise the minds of the people through some form of renewed culture war, and thus disarm them mentally before anything even gets off the ground.

You can't just place a temporary ban on culture because [you imagine that] it's 'inconvenient' for you to have to fight on that level. The enemies are not going to suspend their own culture war against you to be 'fair' to you in the meantime.

Jews, Christians, Muslims, and the whole liberal media combine that is arrayed against you, are not going to call truce on you if you promise them that you'll stop celebrating Halloween. They'd just have liberals and Jews hollow it out into a purely commercialised holiday with no content at all, and Christians and Muslims would then bash it and present themselves as a false opposition to such 'commercialism' as part of their own recruiting drives.

Retreating from the sociocultural domain has never produced good results, not ever. In the conflict that is going to come later, these kinds of arguments that are occurring in the sociocultural domain are going to form part of the crucial groundwork that will determine the way that conflict will manifest, how it will be fought, and what the outcome of that conflict will be. Dealing with laying that groundwork can't be put off until later. The content of the conflict and the ideas around which that conflict is fought, determine the nature of the outcome of that conflict in the event of victory.

That is part of why I am never interested in advocating collaboration with Christianity in the pre-conflict environment, not even as a cynical play. That is a losing game, because firstly, Christianity cannot be trusted to maintain a martial posture or to adhere to the ethno-nationalist or ethno-regionalist principles. In the aftermath, if collaboration with Christianity resulted in a Christian-dominated outcome, then it would mean that everything was done for nothing.

The religion issue is not a side-issue, it's not a mere 'question' that is asked and answered in a little policy book somewhere. It's a core part of the problem in the North Atlantic. Getting rid of Christianity is a necessary pre-condition to the survival of the peoples of the North Atlantic.