Majorityrights Central > Category: Law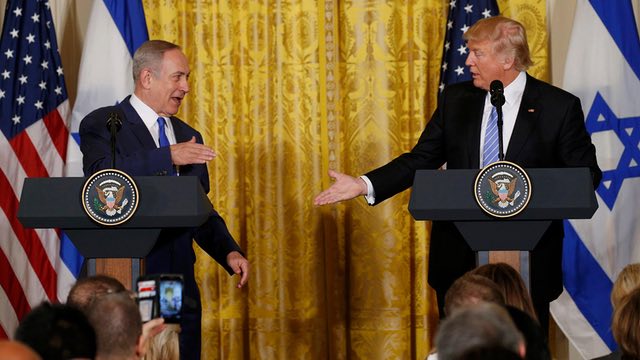 Joint press conference
In a move that surprised no one other than the denizens of the American Alt-Right, Donald Trump has just handed Benjamin Netanyahu a collection of the largest diplomatic prizes that any Prime Minister of Israel could ever hope to attain.
Donald Trump highlighted the prospects for a "great peace deal" in the Middle East while at a joint press conference, as both Israel and the United States are signalling a change in the relationship compared to that of the preceding US administration. Whereas previously relations were fraught with issues on which the two countries did not see eye to eye, Donald Trump is reorienting the United States toward a stance where there will be virtually no daylight between the two countries.
Handing over the keys
Donald Trump simply walked into the room and began systematically undoing four decades of US diplomacy, with a completely casual air of confidence.
Speaking cordially alongside Netanyahu, Trump announced that he does not actually care whether the 'solution' to the Israeli-Palestinian conflict should be centred around negotiations of a two-state solution, or whether it should be some other kind of solution, nor was he concerned about the structural content of the solution.
"I'm looking at two-state and one-state and I like the one that both parties like. I'm very happy with the one that both parties like," Trump said.
In a single sentence, Donald Trump had just given Israel the green light to proceed ahead on course with its plan for 'Greater Israel'.
Some may ask how that conclusion could be derived from the statement.
It's easy, Gaza and the West Bank have no real leverage at a negotiating table with Israel, other than that which other countries wield on its behalf. Israel is the occupying power which holds de facto control over 100% of Palestinian natural resources and all the investment banks. Additionally, the system of checkpoints used by Israel have the net economic effect of dis-integrating the Palestinian economy to the point that greater than 40% of Palestinian GDP is wasted on dealing with the effects of the security infrastructure which is in place.
Therefore, when Donald Trump says that he is going to 'be happy' with whatever deal the Israelis and Palestinians reach between themselves, he is essentially saying that the United States will no longer utilise its power to cajole or corral Israel into actually having to sit at the table with the Palestinian Authority in any substantive way.
Starting the engine
Trump seemed to forget that Palestine even needed to be part of the conversation, as Israelis and their concerns remained firmly centred throughout the joint press conference. Trump touched on all the issues that were strategically important to Israel, the issue of Iran, anti-Zionist messaging in the Palestinian school system, and the Israeli desire to get Palestinians to acknowledge and recognise Israel as a 'legitimate Jewish state'.
The United States also stopped being part of the conversation, effectively. Having cleared the United States of any actual obligation to do anything, and having alleviated the United States of having any part in the process, Trump was essentially indicating that the role of the United States would now be reduced to that of letting whatever happens, happen.
Driving away after a small caution
As Trump continued to basically give Israel everything it wanted, Benjamin Netanyahu began actually physically vibrating with pleasure at what he was hearing. The United States would no longer even play the limited role that it had been playing as a supposed peace-broker anymore. That responsibility has now passed into the hands of Netanyahu.
Much has been made in some quarters of the fact that Trump chose to say to Netanyahu, "I'd like to see you pull back on settlements for a little bit."
Netanyahu absolutely did not care about being told that. Minutes later, Netanyahu dismissed the caution entirely by saying that settlements are "not the core of the conflict", and that they would talk to each other more about it so as not to keep "bumping into each other." He then made no commitment to halt the construction of settlements.
So Netanyahu accepted what was basically a small caution for him to hold back on building settlements for a little while, presumably because it was starting to look too brazen in the news cycle, a caution which he is free to ignore if he likes. In exchange he got Donald Trump to drag forty years of US diplomacy into the recycle bin.
'Compromise'
During the joint press conference, Trump said that there would need to be "compromise from both sides." There was no mention of precisely what that 'compromise' would look like, but I think that we just saw what it looks like. We saw it on live international television.
Basically, Netanyahu will agree to let Trump gently needle him on his state's violations of the Fourth Geneva Convention of 1949, and in exchange, Netanyahu will continue to violate that very same convention while shaping the circumstances under which Israeli-Palestinian 'peace negotiations' will take place. The United States will simply let that happen. The United States will also at the same time completely adopt the foreign policy preferences of Israel with regards to Iran, and help Israeli commanders to achieve their objectives absolutely for free.
That's the 'compromise'.
It's unprecedented, because prior to this moment no American president – not even Ronald Reagan – had budged on the basic commitment to the two-state solution, nor had any US president prior to Donald Trump entered into a dialogue with Israel in which the opening salvo of the diplomatic exchange was to constrain America's role to that of a mere cheerleader on the sidelines. Donald Trump reversed both of those things in less than half an hour.
'Strategic Cucking'
Over at the Daily Stormer, Andrew Anglin non-ironically and non-sarcastically described the aforementioned 'compromise' in which Netanyahu gets 100% of what he wants, this way:
Daily Stormer / Andrew Anglin, 'Trump Prods Bibi on Palestine Settlements', 15 Feb 2017:

[...]

Very minimal cucking there.

And the cucking there was was strategic cucking.

[...]
Seriously. What the fuck.
What the actual fuck.
Related Articles: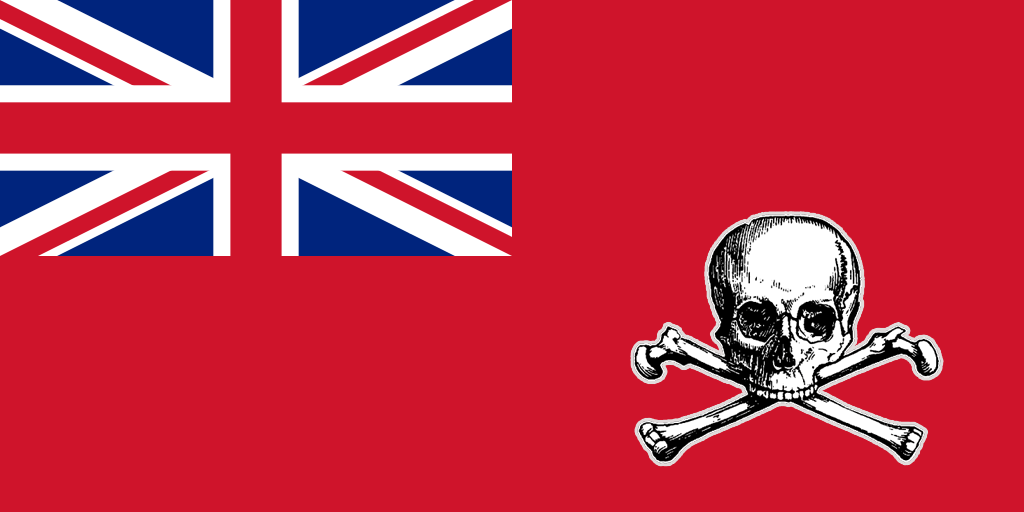 It's really great
Question. What's the difference between:
being a pirate running a multi-ethnic drug-ferrying operation to generate money which is kept off-the-books for the financing of covert operations,
being a mercenary who is paid to attack slave-ships and liberate slaves,
being a radically forward-deployed coastguard which defends the borders of Britain at the edge of someone else's shores on extended lines of supply, and
being a Knight Commander of the Order of the British Empire?
Trick question. They are all potentially the same thing, and that's what makes Britain great.
The only people in parliament who seem to have any understanding of this history however, are the people in Theresa May's wonderful cabinet.
Weaponised history
The difference in opinion between Amber Rudd and Justin Welby is very instructive:
ITV News, 'Home Secretary faces backlash in parliament for capping lone child refugees', 09 Feb 2017:

The Home Secretary faced a backlash in parliament after it was announced that the number of lone child refugees coming to the UK will be capped.

Amber Rudd insisted that the move to cap the scheme to just 350 children, far fewer than the 3,000 originally expected, closed to avoid encouraging people-traffickers.

Ministers quietly announced on Wednesday that 200 children had been brought in under the so-called Dubs Amendment and it will close after another 150 are settled in Britain.

[...]

Responding to the Commons, Rudd said: "I am clear that when working with my French counterparts, they do not want us to indefinitely continue to accept children under the Dubs Amendment because they specify, and I agree with them, that it acts as a draw. It acts as a pull.

"It encourages the people-traffickers."

She also suggested that local authority funding had come into the equation when deciding how many child refugees would be settled under the programme.

[...]

The Archbishop of Canterbury, Justin Welby said he was "saddened and shocked" to learn of the Government's decision to stop the scheme.

"Our country has a great history of welcoming those in need, particularly the most vulnerable, such as unaccompanied children," he said.

"Refugees, like all people, are treasured human beings made in the image of God who deserve safety, freedom and the opportunity to flourish."

He added: "We must resist and turn back the worrying trends we are seeing around the world, towards seeing the movement of desperate people as more of a threat to identity and security than an opportunity to do our duty.

"We cannot withdraw from our long and proud history of helping the most vulnerable."
The Home Secretary is correct, and the Archbishop of Canterbury is incorrect, as per usual, because Christianity is stupid and will make you become stupid.
The apparently long, proud history of British people 'helping the most vulnerable' in a scenario like the one that is presently unfolding in Syria, has only one historical precedent actually, and it is the historical precedent of the West Africa Squadron.
Philanthropic activities
The West Africa Squadron sprung out of the changing economic structural necessities in 1808 after Parliament passed the Slave Trade Act of 1807. The Squadron's mission was to suppress the Atlantic Slave Trade by attacking slave ships off the coast of West Africa.
Letters of Marque were also issued to allow private security contractors, also known as 'pirates', to act on behalf of the British government under 'false flags' to attack Spanish, French, Portuguese, Arab, and American slave ships within the same mission scope. A particularly iconic practice was to approach a contact while flying the British red ensign, and then run it down the flagpole at the last minute and elevate the black Skull and Bones flag in its place before attacking the contact. Under the Skull and Bones, it was possible to exist in a parallel legal reality where you could do anything to anyone without a care in the world. This also happens to be the essence of what Ernst Junger would later refer to as the 'dual state'.
The programme was later expanded by the 1840s to encompass North Africa, the Middle East, and the Indian Ocean, as Pax Britannica began to become entrenched across the major sea-lanes into the western hemisphere.
Notice how none of that involved inviting every single African into Britain. On the contrary, by taking the fight to the slave traders – both legally and extra-legally – it enabled the British to accomplish:
a great work of humanitarianism,
the pursuit of various geostrategic and geoeconomic objectives against Britain's rivals,
disincentivising the activities of the slave traders, and
the ability to simply hijack virtually any ship and steal it, with popular support.
As Cecil John Rhodes once said, "Pure philanthropy is very well in its way, but philanthropy plus five percent is a good deal better."
And really, it is, isn't it?
Anyone who doubts can simply contrast the premiership of Theresa May against the premiership of Angela Merkel. Which is faring better? Exactly. I rest my case.
Related Articles:
I was going to write about this myself, but then I realised that an article about this already existed on Ars Technica, so I will simply present it here without preamble:
Ars Technica UK, 'Giuliani announces he'll be Trump's czar for the cyber thing', 12 Jan 2017 (emphasis added):

Former NY mayor tells Fox that private industry will solve cybersecurity for the US.

On Fox News' morning show Fox & Friends, former mayor (and frequent proxy for Donald Trump) Rudy Giuliani announced that he would be coordinating a cybersecurity advisory group for the Trump administration.

Giuliani's bona fides for this role apparently spring from his time as chair of the "Cybersecurity, Privacy and Crisis Management Practice" at the New York law firm Greenberg Traurig, a position he assumed a year ago. However, it's not clear that Giuliani has ever had any direct experience in cybersecurity law or policy. Giuliani previously was a partner in a Houston-based international law firm Bracewell (formerly Bracewell & Giuliani) for over 10 years, and he ran his own security consulting firm based on his mayoral experience and credibility from New York City's measures taken after the September 11, 2001 terror attack. But Giuliani is really counting on private industry to provide all the answers.

"The President-elect decided that he wanted to bring in on a regular basis the private sector—the corporate leaders in particular and thought leaders in particular for cyber, because we're so far behind," said Giuliani. "And it's his belief which I share, that a lot of the solutions are out there, we're just not sharing them. It's like cancer—there's cancer research going on all over the place. You'd almost wish they'd all get together in one room, and maybe they'd find a cure."

Giuliani said he believes that industry will have to lead an answer to cybersecurity rather than government. "That's where we have the great creativity and we have the huge amount of money, and that's where we have these great companies, the greatest in the world," Giuliani said this morning. "So the idea here is to bring together corporate leaders and their technological people. The president will meet with them on an ongoing basis, as well as anyone else in the administration… I'll coordinate the whole thing."

The goal appears to be a one-way flow of information from industry to the government. "Number one, it'll give the government all the information available in the private sector," Giuliani explained. "Number two, it'll form a little more connection between these people who are doing cybersecurity so they can work with each other. Some of these people, you put one and two together, you're going to come up with six."

Much of the private sector already shares information with each other, so it's not really clear what benefit other than presidential face time corporate executives and "technological people" will get out of this proposed arrangement. The financial industry, for example, has the Financial Services Information Sharing and Analysis Center; the auto, aviation, telecommunications, health, retail, and transportation industries, among others, all have their own organizations as well.

Previously, there have been efforts, including the Cybersecurity Information Sharing Act of 2015, to encourage an exchange of information between government and industry. And the Obama administration made attempts to foster other industries to form information sharing and analysis organizations (ISAOs) through the Department of Homeland Security's National Cybersecurity and Communications Integration Center. That administration also encouraged information sharing standards.

It's not clear what roles any ISAOs will have in this new cybersecurity body, or even who the "thought leaders" Giuliani wants to participate will be. But Giuliani apparently wants to include foreign cybersecurity firms, including some from Israel. "They have tremendous cyberdefense research," he said this morning. "We don't get access to that over here."

This post originated on Ars Technica
So there's that. Apparently Rudy Giuliani knows just enough about cybersecurity to try to delineate precisely what it is and where it begins and ends, but not enough to know that IO, EW and 'CW' exist along a long gradient and that outsourcing a government's cybersecurity to a foreign state's supposedly 'private' companies, is a really bad idea because all the things on the gradient actually cannot be disentangled from each other.
The fact that the Trump administration would allow any input from Israel on this issue, is enabled because they have been able to take advantage of the mandate handed to them by their apparently desperate supporters, to such an extent that they have been able to now embark on reversing even the most reasonable policies of the Obama administration. The Trump administration is continually signalling that the US after 20 Jan 2017 will be trusting Israel to a degree that is unprecedented in American history.
Basically they are handing over what can only be described as a critical institutional chokepoint in the cyber domain, to Israel.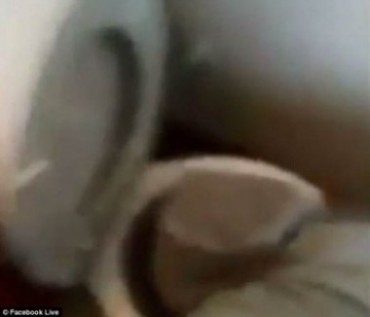 The toilet: where "Civil Rights" would place your senses.
Once you arrive at your destination - The United States Public Institution - there above the portal as you enter Orwellian hall, looms the placard, the ubiquitous injunction to leave your senses behind: "Discrimination on the basis of race, religion, sex, disability, etc, is prohibited by federal law."
You are not to deploy your eyes, ears, sense of touch, senses generally, to discriminate in defense of yourself and your kindred folk's group interests.
In the event that you get any ideas on the way to the public institution, ideas to return to your senses, react, perhaps even "over react", big brother is there with you too, as you make your way via public transportation, U.S.A. - whether bus, tram, train or the waiting rooms - big brother is there to remind you, watching you, reminding you not to come to your senses too rashly - looming ominously, pervasively over your head, right along with cctv cameras and sundry advertisements are the "public service announcements" that "hate crimes" are subject to an additional massive fine and ten years imprisonment.
So as not to forget, there hanging over your head is a reminder of this specially enhanced law, "discrimination on the basis of race, religion, sex, disability" etc, is against the federal civil rights act - you are to be reminded of the compensatory penalties that you will be subject-to if you give way to your senses and react to patterns of black criminality and to the fact that they are rarely charged with this law, even though you know them to be racist, even though they commit vastly more racially motivated crimes against Whites. You are to be reminded not to embark upon that slippery sensible slope, especially because the sloping trail may lead you to the realization that the same can be said about Jews - that they commit vastly more crimes against Whites, viz., if White collar crimes are taken into account; if laws were properly drafted so as to proscribe deliberate or reckless destruction to E.G.I. such as perpetrated through the social engineering of School Integration, the '64 Civil Rights Act, '65 Immigration and Naturalization Act, The Rumford Fair Housing Act, Section 8 Housing, H.U.D. and the subsequent 2008 subprime mortgage crisis.
Of course the objectivists, so proud of this pure system of theirs, wouldn't want to sully it by coming to their senses either - otherwise they might ask, "a crime is a crime, so why the additional penalty in recognition of cultural patterns?"
Alex Linder has a suggestion for them - blacks commit far more interracial crime, therefore, Whites "require" compensatory punishment to balance things out: "Hate crimes are affirmative action for Whites", for their under-representation in interracial criminality. ....he might have added, probably would add, the vastly disproportionate representation by Jews in White collar and social engineering crimes (inasmuch as they could be on the books) committed against Whites and others' EGI.
In regard to the Chicago incident, apparently the fact that the White kid was also mentally disabled facilitated liberal mentality to generate a rare hate-crime charge against black perpetrators: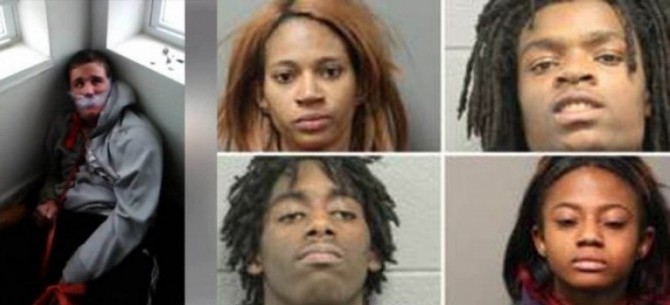 ABC News, "Hate-Crime Charges Filed in Attack on Mentally Disabled Man", 5 Jan 2017:

Four black people were charged with hate crimes Thursday in connection with a video broadcast live on Facebook that showed a mentally disabled white man being beaten and taunted, threatened with a knife and forced to drink from a toilet.

The assault went on for hours, until Chicago police found the disoriented victim walking along a street, authorities said.

The suspects, who were jailed, can be heard on the video using profanities against white people and President-elect Trump.

Police spokesman Anthony Guglielmi said investigators initially concluded that the 18-year-old man was singled out because he has "special needs," not because he was white. But authorities later said the charges resulted from both the suspects' use of racial slurs and their references to the victim's disability.
DM, "Black teens are charged with a HATE CRIME after live-streaming torture of white disabled man who they held prisoner for days before he escaped - as cops reveal they have shown NO remorse," 5 Jan (updated 8 Jan): 2017:

[...]

...that's when the sisters tied him up and the group started torturing him for about six hours. Half an hour of this torture was live-streamed on Facebook, showing the group beating the young man, cutting off a piece of his scalp, forcing him to drink toilet water. At one point in the video, one of the four yells 'f*** Donald Trump. F*** white people' at the victim.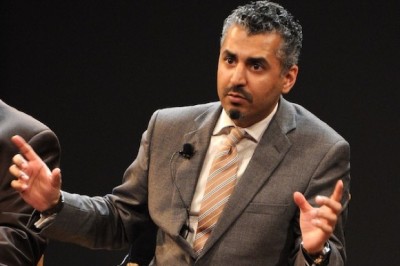 Maajid Nawaz, an activist against "Muslim extremism", is placed on The (((SPLC)))'s hate list. The SPLC is a Massad controlled group which has, in effect, washed its hands of Nawaz (for not representing their authentic dirty work enough?); while Spectator reporter (((Cohen))) libelously attributes that SPLC designation and liberal irresponsibility as being the first fatwa issued by "The White Left."
The White Left has NOT issued its first, or any fatwa, as Nick Cohen asserts, but what The SPLC has done is tantamount to aiding and abetting one.
One may argue that Nick Cohen is as confused as his audience about the terms "left" and "liberal", but it is not likely that someone with the name Cohen and entrusted to a prominent writing position at The Spectator is trying to be careful about clearly describing a platform to serve the full class of White interests - i.e., a White Left, not to be confused with liberalism, a confusion of terms promoted by his fellow tribesmen, and by which they've been able to confuse the public for decades now.
In fact, he does indulge in a new twist. Whether he fancies himself as being descriptive of White liberals (in his view, Jews, such as Mark Potok of the SPLC, would be included as White) or he has some idea of the power of our burgeoning White Left platform, and therefore seeks to confuse it pre-emptively, he is attributing to the term "White left" logics of meaning and action which do not follow from our platform of White Left Nationalism - The White Class.
Indeed, I had discussed the case of Maajid Nawaz with Kumiko, who had explained to me the irony of The SPLC placing this man on their "hate list."
While I am against making the distinction between "radical and moderate" Islam, as I recognize all of Islam to be harboring and wielding our destruction, whether most active in a present episode or not, I would not go so far as to put at risk to a fatwa a man who has, in fact, come to denounce the more violent and destructive expressions of Islam and is trying to encourage other Muslims to take advantage of more healthy, moderate and liberal life possibilities.
Kumiko showed me this video of a speaking engagement of Nawaz's, where he describes his project. She and I agree that Nawaz is a bit off in his recommendations - we would ultimately prefer a full denunciation of Islam in favor of Left Nationalism for his people, but also agree that such sudden prescription is both unrealistic and would be even more dangerous to him; as would our taking his side, in defense of him against the SPLC. Kumiko figured that we would not help him, that we would contextualize him in a way that exposes him more to Muslim violence by associating him with platforms (such as this) of White advocacy; while making an association here would also expose him to further Jewish vitriol, such as The SPLC placing him on their "hate list."
Nevertheless, we think, "of all the Muslims to put on their hate list!" ?
The last straw for me though, making it a bad option to keep silent, was this Cohen guy trying to say that "The White Left" has issued a "fatwa" on Maajid Nawaz, when in fact it is The SPLC that is putting him at that risk, with a clear signal to more radical Muslims - "have a go at him, we wash our hands of defending him in his attempt to moderate Islam."
Now then, for a look at the article which attempts to blame something which Cohen calls "the white left" for this.
The Spectator, "The white left has issued its first fatwa", by Nick Cohen, 31 Oct 2016:


Maajid Nawaz

[Cohen]: I have never advised anyone to use the English libel laws. I spent years helping the campaign to reform them, and am proud of the liberalisation I and many, many others helped bring. I have to admit, though, our achievement was modest.
...and hypocritical, as now you misappropriate the term and in fact libel what would be a proper articulation of The White Left, if the term were disentangled from decades of Jewish journalese confusing "left and liberal;" and understood properly by contrast - by the public, and somehow by copyright law.
Ibid: Libel in England remains sinister in intent – the defendant has to prove he or she was telling the truth – and oppressive in practice. Parliament and the asinine Leveson inquiry into the press failed to tackle the horrendous costs, and kept libel as the preserve of the rich and the reckless. You can risk spending £1 million before a case comes to court. Despite reform, libel courts remain the place oligarchs and charlatans go to suppress the truth.
Well, I will not initiate a case against the sinister intent of Jewish media, even though I believe it is their sinister intent to prevent White (as in not Jewish) people from organizing, unionizing in their exclusive defense - a defense of those Whites who are relatively innocent, who are not right wing supremacists, but are rather characteristically cooperative, non-coercive separatists: White Left ethnonationalists - that there is by contrast an antagonism, a persistent, sinister intent on the part of (((media, academia and other niches))) to confuse the term "left" with "liberal" when it applies to Whites and a would-be "White Left" in order to keep them from defending themselves against the genocide that is being launched against them by Jewish and neo-liberal interests: by means of open immigration of exploding non-White populations, "anti-racism" (i.e., prohibition of White discrimination on the basis of racial and ethnic groups, even in national interest), ubiquitous promotion of race-mixing, endless propaganda of Whites as evil, advancing non-White interests with and against the concept of "White privilege" applied across the board, to all Whites, as something to be "legally corrected" ...their right to abstain from forced contract and imposition undone - a feudal differentiation of laws which disadvantage White organized defense; compelling their mere servitude, their ultimate extinction enforced at the behest the YKW and neo-liberal PTB.
Not only would Cohen libel the term, "White Left," saying "it has issued a fatwa" but he's libeled The White Left also by associating it with neo-liberalism and the SPLC in its nefarious irresponsibility to put further at risk a man who is risking his safety to try to encourage more reasonable ways for Muslims.
The White Left is issuing no such fatwa against this man, and rather believes that his heart is in the right place, even if still a bit misguided.
Ibid: Last night, however, I found myself advising the anti-fascist campaigner Maajid Nawaz to sue in the London courts. I even gave him the names of lawyers who would be happy to help. The attack he is facing is so grotesque, ferocious remedies seem the only response.
It is not "fascism" that he is campaigning against inasmuch as he is articulate - it is the right-wing feudalism of Islam and its (terroristic, if need be) imposition of imam compradores, radical shock troops and the feudal Muslim way of life against what would have been Left ethnoationlaist nations; if not for the destructive imposition as aided and abetted by neo-liberals.
Ibid: Nawaz's enemy is not the usual user of the libel law: a Putin front-man or multinational. It is an organization that ought to share Nawaz's values, but because of the crisis in left-wing values does the dirty work of the misogynists, the racists, the homophobes, the censors, and the murderers it was founded to oppose. It does it with a straight face because, as I am sure you will have guessed, the fascism in question is not white but Islamic. And once that subject is raised all notions of universal human rights, and indeed basic moral and intellectual decency, are drowned in a sea of bad faith.
Lets clarify what is really going on here, Nawaz's enemies are right wingers, Jews (such as the SPLC) and neo-liberals who seek Islamic compradores and shock troops to disrupt Left ethnonationalsm.
Ibid: Nawaz is from Essex. He has fought and been beaten up by white British neo-Nazis. He fell in with Hizb ut-Tahrir while he was young. When he ended up in a torture chamber in an Egyptian jail, he abandoned Islamism for liberalism. Since then, he and his Quilliam Foundation have struggled against both the white far right and the Islamist far right. They have defended liberal Muslims and, indeed, all of us from lethal blasphemy taboos and the threat of terrorism. They respect freedom of speech, including the freedom of their enemies to speak. (When they asked me to introduce their report on online extremism, I was pleased to see them warning the state against the folly of trying to ban extremism rather than argue against it.) Quilliam and Nawaz support women's rights and gay rights. They believe that there is no respectable reason why men and women with brown skins should not enjoy the same rights as men and women with white skins. They think they should try to stop young Muslims joining Islamic State, not just for the sake of the Yazidis they will take into sex slavery, or the civilians they will tyrannise and kill, but for the sake of the young Muslims themselves.
And now you would try to say that we, "The White Left," are issuing a "fatwa" against a man who is trying to do this good work? Who is libelous here? Not The White Left: we issue no such fatwa. On the contrary, we commend his good intention.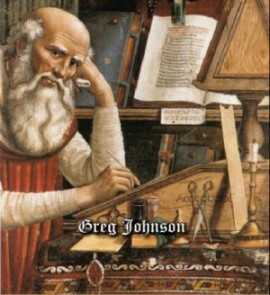 Fail: on this one, your erudition yields an
F-
In minute 2:18 - 2:21:18 of a discussion with TRS, Greg Johnson proposes to do away with the idea that John Locke's notion of civil individual rights is a key fundament of U.S. politics and suggests that it is only portrayed as such by Jewish interests.
First and foremost, Greg is ignoring the fact that it is in the group interests of Whites to criticize this notion for basically the same reasons that Jews have - especially for its bias against their capacity for group discrimination.
Johnson argues that Calvinism and Republicanism, in the latter case in particular, by way of reading Montesquieu, were exponentially more important to the founders. Maybe they were, but that doesn't translate to what became important in the life of ordinary everyday Americans for over 100 years.
Are people concerned with The Republic? Well, of course not very much in any practical sense. You can set aside the bit about Montesquieu being more influential by a factor of a hundred. This is a case of an erudite man pulling rank to the detriment not only of the truth, but of important utility.

The second matter is of Calvinism and its inherent means to exclude Jews. The separation of Church and State is integral to The U.S. Constitution, so any such notion of this being more relevant than Lockeatine rights in the every day lives of Americans - or even for those who set the agendas - is way off the mark. Again, it displays a wish for some of that unused erudition to come in handy in a place where it does not really help.
To look at Locke's notion of individual rights as set against and problematizing group organization is the best way to critique the foundations of America in terms of what has left racial defense susceptible. This is what makes racial defense extremely difficult, because it de-legitimizes group organization.
Given individual rights as the characteristic and definitive law of the land, when people raise concerns about how borders and boundaries are to be maintained, i.e., when people do try to tarry with these strictures, at best they tend to render crazy propositions (disingenuous or naive) that not only will the markets take care of themselves by the magic hand, but boundaries and borders around groups will be taken care of by the magic hand as well. In a word, Locke's empirical objectivism is a force of liberalism that is available for easy exploitation - by Jewish interests, liberals and other later day objectivists, be they Austrian School or other form of objectivist.
Nobody around here is saying that Jewish interests would not have taken advantage of The Constitution's empirical basis. Nobody should be naive enough, however, to believe that just because Jews reject it for its troubling of group organization and discrimination, that we should not problematize it on that basis as well, in order to discriminate on behalf of ourselves.
Greg is being that naive and asking us to be that naive when he tries to pull rank and suggest that Montesquieu is more influential by a factor of a hundred. Well, maybe he was to the founders. But ask Americans, including politicians, what matters to them when push comes to shove - for the past hundred years or so, what matters to them? Montesquieu, Calvin or their Lockeatine rights?
I'll cut up an article here:
MSN / New York Times, 'Donald Trump Plays Down Role of U.S. in Global Crises', 21 Jul 2016:

CLEVELAND — Donald J. Trump, on the eve of accepting the Republican nomination for president, said Wednesday that if he were elected, he would not pressure Turkey or other authoritarian allies about conducting purges of their political adversaries or cracking down on civil liberties. The United States, he said, has to "fix our own mess" before trying to alter the behavior of other nations.
Interesting!
[...] "This is not 40 years ago," Mr. Trump said, rejecting comparisons of his approaches to law-and-order issues and global affairs to Richard Nixon's. Reiterating his threat to pull back United States troops deployed around the world, he said, "We are spending a fortune on military in order to lose $800 billion," citing what he called America's trade losses. "That doesn't sound very smart to me."

Mr. Trump repeatedly defined American global interests almost purely in economic terms. Its roles as a peacekeeper, as a provider of a nuclear deterrent against adversaries like North Korea, as an advocate of human rights and as a guarantor of allies' borders were each quickly reduced to questions of economic benefit to the United States.
This is really one of the most remarkable things about Trump. The most remarkable thing about him is that he says directly what other American leaders have cunningly masked all along. In that sense, Trump is not a fundamental change in America's behaviour, he is more like America without the mask on, and with a different set of priorities.
Whereas previously, America was interested in encircling and enclosing Russia to prevent its expansion in the post-Soviet space, the elements of America that are now more interested in enclosing China are making Trump into their vehicle.
[...] Mr. Trump's discussion of the crisis in Turkey was telling, because it unfolded at a moment in which he could plainly imagine himself in the White House, handling an uprising that could threaten a crucial ally in the Middle East. The United States has a major air base at Incirlik in Turkey, where it carries out attacks on the Islamic State and keeps a force of drones and about 50 nuclear weapons.

Mr. Trump had nothing but praise for President Recep Tayyip Erdogan, the country's increasingly authoritarian but democratically elected leader. "I give great credit to him for being able to turn that around," Mr. Trump said of the coup attempt on Friday night. "Some people say that it was staged, you know that," he said. "I don't think so."
Trump is now Turkey. Erdogan is now America.
[...] Asked if Mr. Erdogan was exploiting the coup attempt to purge his political enemies, Mr. Trump did not call for the Turkish leader to observe the rule of law, or Western standards of justice. "When the world sees how bad the United States is and we start talking about civil liberties, I don't think we are a very good messenger," he said.

The Obama administration has refrained from any concrete measures to pressure Turkey, fearing for the stability of a crucial ally in a volatile region. But Secretary of State John F. Kerry has issued several statements urging Mr. Erdogan to follow the rule of law.
Donald Trump is in complete agreement with the Obama Administration on this issue. The only difference is a minor difference in rhetoric.
[...] Mr. Trump said he was convinced that he could persuade Mr. Erdogan to put more effort into fighting the Islamic State. But the Obama administration has run up, daily, against the reality that the Kurds — among the most effective forces the United States is supporting against the Islamic State — are being attacked by Turkey, which fears they will create a breakaway nation.

Asked how he would solve that problem, Mr. Trump paused, then said: "Meetings."
Translation: He will do nothing.
[...] Ousting President Bashar al-Assad of Syria, he said, was a far lower priority than fighting the Islamic State — a conclusion the White House has also reached, but has not voiced publicly.

"Assad is a bad man," Mr. Trump said. "He has done horrible things." But the Islamic State, he said, poses a far greater threat to the United States.
Trump is actually lying here. Trump has previously said that he would deliberately allow ISIL to do maximum damage to the Syrian government, because that is in the American national interest, which he considers to be more important than coordinating with global stakeholders.
[...] He said he had consulted two former Republican secretaries of state, James A. Baker III and Henry Kissinger, saying he had gained "a lot of knowledge," but did not describe any new ideas about national security that they had encouraged him to explore.
Donald Trump is reverse-Nixon, that's all you need to know.
[...]

"To me, 'America First' is a brand-new, modern term," he said. "I never related it to the past."

He paused a moment when asked what it meant to him.

"We are going to take care of this country first," he said, "before we worry about everyone else in the world."
Well, there it is.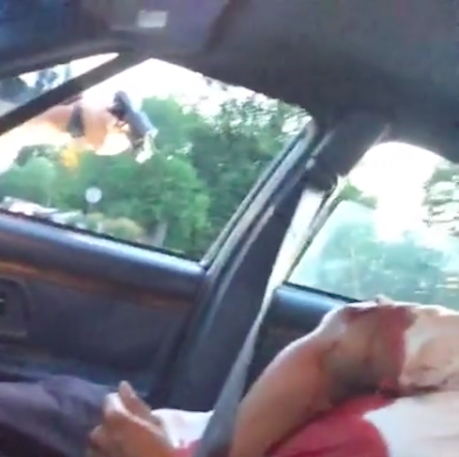 A policeman shot and killed a black motorist that he pulled-over in the Minneapolis area of Minnesota. First accounts have it that the girlfriend and child of Philando Castile sat helpless but compliantly-by as Castile also attempted to comply with the officer's orders but was shot to death. There is video which might corroborate Castile's efforts to cooperate despite the fact that he was carrying a fire-arm when the police officer pulled him over.
It is tragic that a benign black lost his life and that the police officer's life will be ruined by this event. We can anticipate violent and destructive actions coming from blacks and White victims by way of response this summer.
But from a racialist standpoint, i.e., from the standpoint of people who recognize that Whites need to live separately from blacks, this is for the ultimate good. The more innocent the black victim was, the better an indication it is that Whites cannot live with blacks and need to live separately from them. Ill advised though the police officer's shooting may have been, he was probably displaying psychological deterioration - burn-out from having to deal with black behavioral patterns and other imposed political correctness in the day-to-day. The more violent and destructive that blacks become as a result, the more Whites will be forced to realize that they have no good choice but to live separately from blacks.
Daily News, "Minnesota man Philando Castile shot and killed by cops during traffic stop; girlfriend pleads for help on Facebook livestream (WARNING: GRAPHIC CONTENT)"

Woman livestreamed heartbreaking moments after her boyfriend was shot and killed by a cop in Minnesota late Wednesday.

In a Facebook video, Lavish Reynolds claims that the couple was pulled over in the Minneapolis-St. Paul area for a busted taillight and that her boyfriend, identified by WCCO as Philando Castile, was shot four or five times.

Philando Castile, 32, was shot and killed by police during a traffic stop in Falcon Heights, a suburb of St. Paul, Minn., Wednesday evening. (Facebook)

She said that Castile told the officer he was carrying a permitted firearm and had been reaching for his wallet before the officer opened fire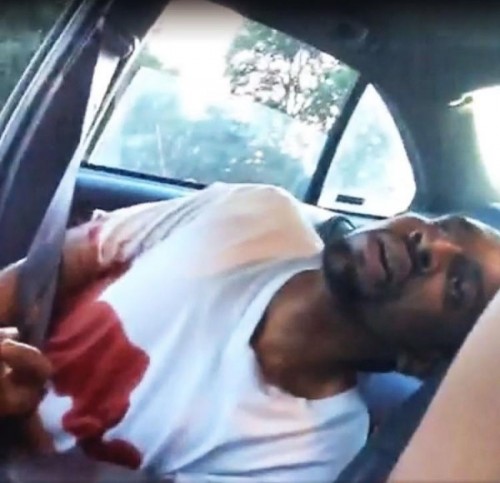 Press image for video
Ibid. "Please no, don't let him be gone. Why?!" Reynolds yells on her video as Castile, 32, slumps back in the driver's seat of his car, blood running across his shirt.

A St. Anthony police officer can be seen outside the car, his gun drawn on Castile. Reynolds, who like Castile is black, describes him as Asian.

"I told him not to reach for it," cop says as he continues to point his weapon into vehicle. "I told him to get his hand off it."

Near the end of clip, Reynolds starts to scream as she sits handcuffed in back of a police cruiser with young daughter.

"It's OK, mama," the little girl says as her mother pleads for help from Facebook viewers. "It's OK, I'm right here with you."

St. Anthony's confirmed the shooting took place in Falcon Hgts, a St. Paul suburb that hosts the state fair, around 9 p.m.

Castile, a cafeteria supervisor at a local Montessori school, later died at Hennepin County Medical Center.
The Daily News adds a link and article remarking that along with Castile's death, the similar event of "Alton Sterling's death (the day before) calls for justice against rotten cops."