Majorityrights Central > Category: Christianity
For his insolent defiance of Roger Waters plea that he not play Israel, he might have been singing "We don't need no education" right along with Pink Floyd .....but actually, maybe Jesse Hughes, his friends and fans could use a little. Try a caveat on Abrahamic fellowship.
Jesse Hughes, commencing an Eagles of Death Metal concert, Tel Aviv, 12 July 2015:

Now I'm also going to tell you another true story before I bring the rest of the boys up here. We decided to end the tour in this fuckin' city because we knew we couldn't top it once we got here. That is 87 percent the absolute truth. But then we got this letter from this cocksucker named Roger Waters (jeers from crowd). Do you want to know what I wrote that cocksucker back? Two words: Fuck You!...Fuck You! Ain't nobody goin' to keep me from my people here in Tel Aviv! Ain't Nobody!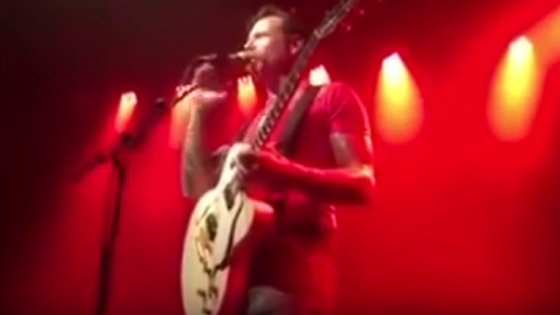 Among other blundering statements, Hughes referred to Israelis as 'his people.' Unless there is something that we don't know about him, they are not his people. The crowd at Bataclan, who should be referred to as "his people", apparently did not know either that Israelis are not their people, or perhaps did not think attending a concert of someone who said that should, would, cost them their lives.
International Business Times, 'Paris attacks: Eagles of Death Metal defied pro-Palestine boycott movement and Roger Waters to play Israel', Nov 20, 2015:

A video has emerged of Eagles of Death Metal berating Pink Floyd founder and anti-Israel campaigner Roger Waters at a gig in Tel Aviv months before the Paris shooting at the Bataclan theatre.

The clip, from the band's Tel Aviv concert in July, shows lead singer Jesse Hughes offering an expletive-laden riposte to a letter sent to the band by Waters urging them to shun Israel. It has been circulated in the wake of atrocities that claimed the lives of 132 people on 13 November.

In it Hughes tells the Tel Aviv crowd the band decided to end their tour in the city because they "could not top it". The audience then boos mention of the Waters letter before Hughes shouts: "You want to know what I wrote that c********r back? Two words: f**k you!"

Waters, who has been accused of anti-Semitism, joined the Boycott, Divestment and Sanctions (BDS) Movement - an anti-Israel pressure group - in 2012. Upon joining he called out to other musicians in an article he wrote for the Guardian: "[This is] a plea to my colleagues in the music industry, and also to artists in other disciplines, to join this cultural boycott."

Roger Waters wrote to Eagles of Death Metal to urge them to boycott Israel.

The Paris attacks brought the video of Eagles of Death Metal back into focus because the formerly Jewish-owned Bataclan theatre which in the past has hosted pro-Israel Army events, and where the band were performing the night 89 people were killed, had supposedly been harassed by pro-Palestinian supporters in 2008.
Jesse Hughes is a "devout Christian." That explains his confusion over who "his people are."
He was interviewed before the Tel Aviv concert by "Consequence of Sound"..
CoS, 'Fly Like an Eagle of Death Metal: An Interview with Jesse Hughes', 1 Oct 2015:

At 43, Jesse Hughes hasn't become an old man just yet. With the energy of a 16-year-old, he makes the most eccentric man in the world sound like a boozy liar.

The Eagles of Death Metal frontman has an opinion — often obscenity-filled — about everything. "But I'm not a bag of wind!" he insists. Around 30 minutes after our prearranged meeting time, before Eagles of Death Metal's show in July, Hughes appears at his trendy hotel in the heart of Tel Aviv with two Israeli locals he just met at the falafel stand down the road. He's dressed in typical Hughes attire: black-and-white-striped t-shirt with the sleeves cut off, suspenders, light jeans, and a neon green trucker cap with "Eagles of Death Metal" printed in Hebrew lettering.

A second after we meet, he's chatting away on a tangent. Hughes is rarely off one. He sounds bluesy, even lusty when he talks, and when he gets especially riled up on a topic, he'll bow his head, slap his knee, and speak like a southern debutant, referring to his fans as "the kids." Hughes is as verbose as your archetypal reverend, hardly getting through his thoughts without breaching into song and then dissolving into giggles. Present him with a handshake or a voice recorder, and the truth serum starts to work.

Yeah, I've been shot before. Look. [shows scar on armpit] It made a canal through one of my muscles. I'll tell you how it went down: I was going through a really ugly divorce, and I'm a devout Christian, so divorce isn't a concept to me. I went through a very typical, clichéd "I served you my whole life, and this is what I get" anger. I weighed about 250 pounds, I was a big ol' redneck boy. I was managing this privately owned chain of video stores and part-time freelancing for the Republican Party and speech writing and shit like that. The most awful thing I could think of immediately was to start taking speed. I lost 80 pounds, got really depressed. My mother called Joshua [Homme] because she felt he was one of the only dudes I listened to.

He dishes it out today. During our conversation, he gets into the full specifics of being saved from addiction by bandmate Joshua Homme, how he's already written half of EODM's next album, and how he's struggling to convince everyone he's a devout Christian who gets high and uses the phrase "titty-wobbling." He talks about his face being a nipple on his album cover as seriously as his faith. "I know what you're thinking — my life's a contradiction," he admits.

It's dark stuff, but Jesse "The Devil" Hughes has a wicked sense of humor — crushing, hypnotic, and frequently laugh-out-loud ridiculous. "My way of thinking is," he shrugs, "it's gonna be harder in hell for me than for y'all. I'm just not going to be the fool that doesn't know why he's there."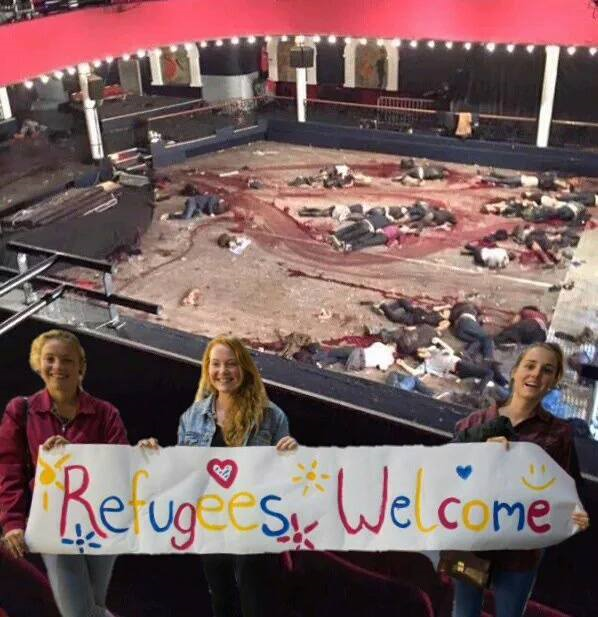 Christianity and its Enlightened step-child play a strong part in the confused identity and allegiance of welcomers as well.. ...and the upshot of that confusion…
________________________________________________________________________
Addendum:
Note that troll JamesUK likes to associate us with the right-wing circus and any sort of unflattering speculation that he possibly can; but I will leave that aside, at least for now in order to address this:
"Didn't you say in a previous posting that Eagles of Death Metal represented white culture?"
I said that the Eagles of Death Metal fans represent implicitly White culture. Evidently their fans are predominantly White genetically; but the fact that the band leader, and likely a significant percentage of their fans, have a confused identity (case in point, thinking that Jews can be a part of their kin) as a result of Christianity and other Jewish crypsis, provides an excellent occasion to address those implicitly White demographics who suffer this confused identity as a result of Christianity.
I was not wrong to treat them as an implicitly White demographic, that remains true.
The band and audience alike reinforce this assumption by appearance, by the likelihood that they are predominantly, genetically White (European).
However, the band's confused identity is misleading from the start, with their name: one associates death metal with paganism, a Nordic paganism defiant of Christianity in particular - and therefore assumes that the band and audience would have little to do with identifying as Israelis, with Judaism, or even its offspring, Christianity - let alone Hughes vehement "devotion."
Hughes' devout Christianity compounds the confused identity by taking his erstwhile White identity and enmeshing it with the Jewish narrative and identity, albeit as servile gentile other in relation to Israel, Jews and other non-Whites - the "undifferentiated gentile others", as GW says.
As Hughes also made clear (unclear rather), in the CoS interview, he is quite contradicted and does not even expect to be recognized by the Abrahamic god.
His fans at the Bataclan also reflect and express this ambiguous identity, but with good natured participation in a bit of carousing, defiant music, irreverent language, devil sign, etc. I say "good natured" because they were apparently healthy, functioning people who had bearings outside of sex-drugs-rockn'roll.
Nevertheless, they lightheartedly though naively frolic with the Jewish god, tweak its nose and defy its rules for some practical latitude despite the unfortunate necessity of trafficking in its terms to some extent for the historical fact of their moral order having been entangled with it for two centuries. They are fooled by it on a profound level, however, as their seriousness, their devout service is reserved for the "other" - not for themselves - as they identify as the other.
That is in contrast the Muslims, who have their own form of puritanical servility to the Abrahamic god, submission to the Jewish god.
By further contrast to the Muslims, a certain amount of ambiguity, variety of sacrament and celebration is good and necessary in the social world of praxis - acceptance of that adds to the claim that the Bataclan audience have an aspect of good naturedness - i.e., an aspect that is not puritanical or fanatical in a way that does not allow their people to be human, social creatures and to be themselves in their particular, idiosyncratic White ways.
A homogeneous looking band and audience that accepts the misnomer of "death metal" provided the first clue that they have a good natured acceptance of some ambiguity, non-purity, i.e., an acceptance even of some relation to aspects of their natural White identity, even if only implicitly.
However, the extent of their connection to the Abrahamic religion contradicts that and brought them into the fold of its absolutizing fight, which will accept no other identity - will not accept White identity as the separate social entity that it is. Some of them came into ultimate confrontation of inhumanity to their humanity in social difference as a people separate from the Jewish god of Muslims.
The confused identity of our people at Bataclan became a confused message that the Israelis accepted disingenuously, that ISIL accepted on face value, that the band, audience, and I, allowed for in good faith - a confusion nevertheless inadvertently passed-on in the news of their death, presenting a perfect reason and occasion to sort-it-out here.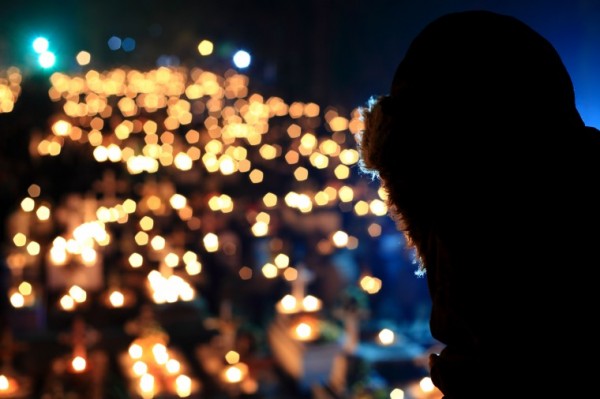 DanielS, in comment 147409 on Wed, 28 Oct 2015 wrote:

Jimmy, while defending the enjoyable pagan sourced holiday of Halloween against the Orthodox Church, we might also take occasion to note that the Christian Church has arrogated what is the most sacred holiday to our ethnic genetic interests, which is the day following - November 1rst - in Eastern Europe it is still a day when European folks commemorate their forebears, visiting the cemetery to pay special respects. It is practiced there in cloaked manner. But reverent respect that should be directed toward our ancestors has been largely diverted by the Church and back into its Judeo-religion; worse still in the west, where the "All Saints Day" (Nov. 1) diversion has been taken so far that our ancestor reverence is but the vaguest remnant, a phantom holiday, somehow indicated on some calendars, but not observed - merely alluded-to very indirectly for those who care to look behind the etymology of the name, "Halloween", and into its true history.
Upon reviewing the matter of Halloween, I see that I was so focused on the importance of the European day of our ancestor veneration - or what should be the point of celebration on November 1 - commemoration of our forebears (typically including a family visit to their graveside), that I lost sight of the fact that the Church was not only distracting from the true significance of the November 1 celebration for us; but also that Halloween itself was not a part of the mere diversion and distraction from the holiday. While many in East Europe see November 1 as an important holiday, Halloween still tends to be perceived by them through the churchly lens as a recent and corrupt affectation imposed from the commercial West, rather than an integral part of the holiday.
My response to Jimmy was correct in the general idea - of the Church burying our most sacred holiday - viz., in reverence of our ancestors - but I had neglected his point in fact of Halloween itself being an integral part of the holiday, not a fluffed-up and commercialized imposition to distract from the real thing: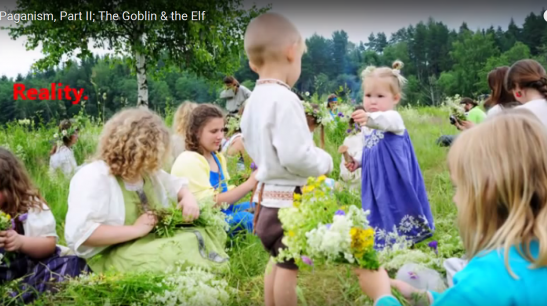 Initiating the children into becoming one with their forebears.
As the most important, sacred, commemorative holiday practice in reconstruction of our EGI through the initiation of our true Traditional Youth is under assault by The Orthodox Church (in this case), it becomes particularly relevant to highlight against the false Traditional Youth and their Orthodox Christian religion of our debates.
Apologies to Jimmy for the initial misapprehension of his post and his purpose:
Jimmy Marr in comment 147408 on Wed, 28 Oct 2015 16:08 wrote (emphasis added):

In evidence by the October 24th, 2015 edition of The Moscow Times, Christ-insanity is continuing to wage its age-old war against [the true] Traditional Youth.

The Education Ministry of northwestern Russia's Arkhangelsk region has banned Halloween celebrations at local schools, citing the holiday's harmful effect on children, the FlashNord news agency reported Monday.

The ministry's statement said that Halloween is "incoherent to basic traditional values and causes a negative influence on fragile minds."

The ban was instituted a week after the Russian Orthodox Church in Siberia's Krasnoyarsk region called on local authorities to ban Halloween on a similar basis, the Komsomolskaya Pravda newspaper reported. Priest Maxim Zolotukhin told local STS-Prima television station that children may get depressed after Halloween because they do not understand the difference between make-believe and reality, and so evil will enter their souls.

Russia's regional authorities have displayed hostility toward Halloween many times over the years.

In February this year, a school director in Siberia's Khanty-Mansiisk autonomous district was fired for organizing a Halloween party at his school last year, the Snob magazine reported at the time.

And in 2013, the Omsk regional Education Minister Sergei Alexeyev issued a letter against Halloween celebrations in schools. He explained that Halloween includes "death cult propaganda" that can damage student's psychiatric and "spiritual-ethical health," local news website NGS Omsk reported.

In 2014, Public Chamber member Georgy Fyodorov wrote a letter to Russia's Culture Minister Vladimir Medinsky asking him to officially ban Halloween. Fyodorov saw the celebration as an "ideological security threat" to Russia and proposed the promotion of traditional Russian festivals instead, the Izvestia newspaper reported.

Inasmuch as the war against Halloween is a proxy war waged by christians against [the real] Traditional Youth, it is little wonder that metaphysical mercenaries would attempt to distort the meaning of that name and use it as spiritual camouflage. Their masters have taught them well.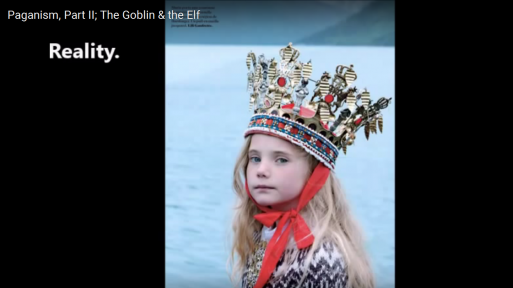 Halloween Ritual for the True Traditional Youth of Europe.
ThuleanPerspective /Youtube Transcript, 'Paganism, Part II; The Goblin & The Elf, 04 Dec 2014:

The children are not [considered] real people yet, not until they go through this initiation rite on Halloween…when they enter the realm of death, dressing up as the dead, taking on the identity of a dead person.. in a sense they become this person.. they have the same name, the same honor and the same death as the person they chose to become in this initiation ritual. The dead person, of course, is one of the dead forbears.

You can say that they believed in reincarnation.
Let us note also the ethnic genetic reincarnation.
Ibid:

So, they are returning to the Yule Tide and they are returning in the night. They are lead by the Sorcerer and the deity from farm to farm with these children to bring them back home… the families wished them welcome with some food on the table… to enable them to eat and feel welcome when they come back home.

During the Christian era, those in Church power wanted to destroy this tradition, they wanted to destroy European culture. So they demonized these children and turned them into grotesque creatures, mocking them for their "superstitious belief in goblins" and so-forth when in reality they didn't believe in any such things.

But the farmers could no longer put the food on a table inside the home for the children because church authorities might find out; so they had to put it into the barn.

These were not evil spirits, they were merely children returning for their initiation ritual [into the legacy of their forebears].

[Even so] the children were perceived by church people as becoming as twisted goblins [misunderstanding their transit with the dead where they were communing with elves, which were the spirit of the dead].

The children are the reborn dead relatives.

The elves were known to always sing, dance and read poetry because they are trying to preserve their memory..

This illustrates what the Christians have done to our culture. They have taken a beautiful, European, pagan religion, tradition, pagan culture, and twisted it…

..turned it into some grotesque mockery of what it really was.

The grotesque, twisted image of our religion was made by the Christians in an attempt to destroy, to weed-out our roots, to cut our roots so that our culture, our peoples would fall.

What the church could not burn they twisted.

But the European culture was beautiful, rich, advanced and most importantly, it was ours.
An argument by Mick Lately:
Mick Lately in comment 147410 on Wed, 28 Oct 2015 18:01 wrote:

I think Halloween is being turned into perverted paganism and that it is part of the whole "weaponized anthropology" campaign. Not to mention that it's "cultural appropriation" for non-whites to celebrate Halloween.

I would support the official ban of Halloween as a temporary wartime measure and allow it and Christianity back when the Jews and non-whites have been defeated.
A significant rebuttal to Mick Lately by Kumiko Oumae:
Kumiko Oumae in comment 147414 on Thu, 29 Oct 2015 02:37 wrote:

Weaponised against who, though? The 'weaponisation' of anthropology is when research of the culture and history of an ethnic group is used by belligerent groups to facilitate their mission objectives. However, our mission objective as ethno-nationalists and ethno-regionalists is to:

1. Defeat those who try promote mass mestizaje;
2. Promote viewpoints which would enhance people's willingness to reinforce national and regional borders;
3. Promote regional integration and common security perimeters on the basis of shared ethnic and cultural heritage, as well as shared economic interests.

In order to prevent our enemies from occupying positions of cultural power, it's necessary to get everyone to quit looking to churches for guidance, because the churches are opposed to everything that we stand for.

There is probably nothing more that the churches would love to do in their own form of 'weaponised anthropology', than to re-colonise the minds of the people through some form of renewed culture war, and thus disarm them mentally before anything even gets off the ground.

You can't just place a temporary ban on culture because [you imagine that] it's 'inconvenient' for you to have to fight on that level. The enemies are not going to suspend their own culture war against you to be 'fair' to you in the meantime.

Jews, Christians, Muslims, and the whole liberal media combine that is arrayed against you, are not going to call truce on you if you promise them that you'll stop celebrating Halloween. They'd just have liberals and Jews hollow it out into a purely commercialised holiday with no content at all, and Christians and Muslims would then bash it and present themselves as a false opposition to such 'commercialism' as part of their own recruiting drives.

Retreating from the sociocultural domain has never produced good results, not ever. In the conflict that is going to come later, these kinds of arguments that are occurring in the sociocultural domain are going to form part of the crucial groundwork that will determine the way that conflict will manifest, how it will be fought, and what the outcome of that conflict will be. Dealing with laying that groundwork can't be put off until later. The content of the conflict and the ideas around which that conflict is fought, determine the nature of the outcome of that conflict in the event of victory.

That is part of why I am never interested in advocating collaboration with Christianity in the pre-conflict environment, not even as a cynical play. That is a losing game, because firstly, Christianity cannot be trusted to maintain a martial posture or to adhere to the ethno-nationalist or ethno-regionalist principles. In the aftermath, if collaboration with Christianity resulted in a Christian-dominated outcome, then it would mean that everything was done for nothing.

The religion issue is not a side-issue, it's not a mere 'question' that is asked and answered in a little policy book somewhere. It's a core part of the problem in the North Atlantic. Getting rid of Christianity is a necessary pre-condition to the survival of the peoples of the North Atlantic.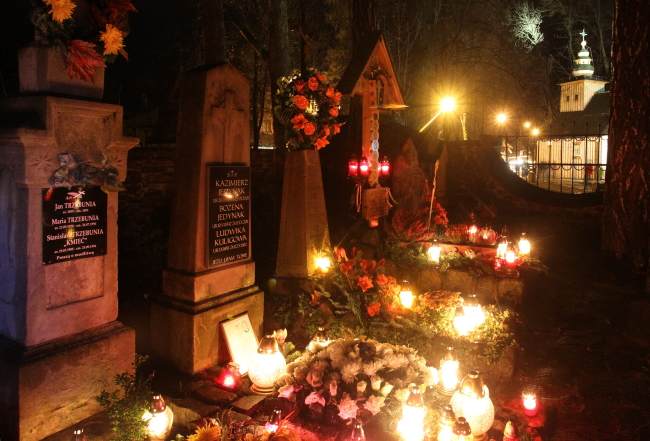 Vestiges in Christianity of Jewish thinking about the gentile have produced the following pathologies in the European religious life:
a) the replacement of the subject's relation to tribe and kind with a relationship with "God",
b) the related turn away from existenz (consciousness) in nature and life and to belief and proposition (salvation for an ever-lasting life after death),
c) the related notion of the immortal soul as the focus of concern.
All three leading directly to the liberal, ie, post-Christian, focus on "the individual" as a deracinated, sexually ambivalent agent busily "breaking all the bounds" of Nature to be "free".
d) In the absence of relation to tribe and kind, the related notion of (non-possible) boundless love for all men and, specifically, non-reciprocal altruistic works. These, of course, operate to drench the subject in a sense of "Christian righteousness" and self-sanctification (which equate in the liberal teleology to narcissism and feelings of moral superiority).
e) The imposition of a hyper self-critical moral regimen of uprightness (particularly in regard to religious piety and devotion, dogma, sexual repression, the aforementioned charity to the Other, etc) that is perfectly unrelated to the experience and knowledge of consciousness. It is not the object of Christianity that the subject should experience the liberative process:
absence ◄ habituality (mechanicity) ◄ immersion ◄ negation ◄ reverie ◄ sloth ◄ passivity ◄► intent ► attention ► stillness ► detachment ► affirmation ► appropriation ► presence ► non-ascription of identity ► self-annihilation ► Being
... but that he/she should busily concern his/herself to shape his/her life and actions in accordance with Jewish millenarianism. The Christian gets eternal life after death, the tribe of the Jews gets G_d's gift of the world in life.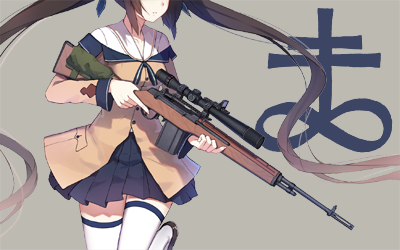 Les armes de Satan c'est la croix de Lorraine, et c'est la même artère et c'est la même veine.
An invitation to debate
If a person browses to the TradYouth website, they will be greeted with a gigantic link to 'the Orthodox Nationalist', which is a page which blatantly promotes Fr. Matthew Raphael Johnson.
Can the Traditionalist Youth Network explain why the blatantly Christian Fr. Johnson is a guiding influence for them?
And if a person reads through many of the articles being published by TradYouth and the Facebook timeline of its SoCal chapter, the influence of this individual and the body of tradition behind him is clear to see in their writing, because it flows through just about everything they write about.
On their 'chapters' page, they have the image of the 'Christ-chan nun' wearing a Christian cross, and the image carries the speech bubble, "Will you 'Deus Vult' for me?" That is a Christian battle cry from the Middle Ages. My response to their request is "Fuck No".
The image I've inset in this post, and the alternative kind of cross contained in it, can be considered as a thematic counterpoint to theirs.
Before I began to write this article, I did consider sending the people at TradYouth an email privately to ask them about their logic and their behaviour. But then I realised that there is nothing that I would ask them in private that can't also be asked in public, so I decided that they should be asked publicly for the sake of transparency.
There is also the fact that TradYouth and Majorityrights are not known for being particularly well-disposed toward each other in the first place, and that would have something to do with the fact that on one hand the TradYouth website is plastered with the symbols of Christian Orthodoxy and the sign of the Christian cross, whereas on the other hand here at Majorityrights we carry the logo of the Fleur de Lise which is the symbol of the Royal Secret whose meaning is the same as that of the Cross of Lorraine.
These are clearly not empty stylistic variations, but in fact represent a clear difference in philosophical and spiritual outlook which has manifested in design choices. TradYouth is pro-Christ. Majorityrights is explicitly anti-Christ and will remain so.
Why even ask for a debate, then?
The gulf of difference between our platforms should not be a reason for debates to be avoided. Nor should the fact that these are 'religious issues' be a reason to sideline them from discussion within an ethno-nationalist context. Many people in various ethno-nationalist groups have said that having frank and honest conversations about these things 'should be avoided' because they can be 'divisive'. But in life, contradictions cannot really be papered over, they must be dealt with and resolved, and so we should see these differences as an opportunity for conversation rather than a reason for refusing to talk to each other.
Can anyone at TradYouth explain why it is that they think aligning themselves to Russian Orthodox Christianity is helpful to the peoples of Europe at this juncture in history? I would like to hear their explanations or their rationalisations for why they have chosen to endorse Christianity. Doing this openly would enable people to evaluate the arguments and choose for themselves.
As many of our readers may be aware, I criticise Christianity frequently, there's a whole category for it.
However, there has been relatively little push-back. Christians and their supporters have been quiet. Almost too quiet. Conversation is needed so that ideas can be further explored.
I therefore would like to invite Matthew Heimbach or Matt Parrot to make contact with me, for the purpose of having an amicable interview and debate on the subject of religion.
Of course, I would make no pretence about my intentions, I would hope that I can convince them of the total and abject poverty of the Christian vision of humans and of the world, that Christianity lacks any kind of European core to it, and that it should be jettisoned as soon as possible. I would hope to have a debate in which all doors are barred in advance. The exits marked with excuses such as "it is tradition" and "people feel comfortable in churches" would be barred in advance.
I would also be happy to discuss the content of the book written by Corneliu Zelea Codreanu, 'For My Legionaries', with them. Codreanu and the Iron Guard were, despite the appearance of being Orthodox Christians, persons who seem to have managed to cloak pagan and anti-Christian ideas under what appeared at first glance to be a 'Christian' symbolism. This was certainly in the 1930s a very tactically astute way of going about their operations.
From reading the book, one can see that Codreanu in fact instructs his followers to openly defy the Abrahamic god for the sake of maintaining the integrity of the Romanian ethnic group and its sovereignty over its own civic space. Under the dogma of Christianity, this in fact would make them effectively non-Christian. In fact, it would not be unreasonable to say that Codreanu's dismissal of the striving for the heavenly afterlife, and Codreanu's veneration of a figure that they referred to as 'the Archangel Michael' who was responsible for such instructions, was in fact thematically akin to the figure of Lucifer as described by John Milton in 'Paradise Lost'.
Just as Lucifer in 'Paradise Lost' is depicted as asserting that it is better to rule on earth and rule in the underworld than to chase the ephemeral promise of some crumbs from the table in a supposed heaven, so too does Codreanu assert that it is better to defend the nation and be consigned to the coldness of the outer darkness, which is to say, 'hell', than it is to be a good Christian and let one's nation be thoroughly destroyed by liberals and Jews for the mere promise of 'heaven'.
I would challenge Matthew Heimbach and Matt Parrot to consider that, and evaluate the situation honestly.
Codreanu's actually-manifest religious views, his laudable dedication to his people was no different than that of the pre-Christian Brythonic pagan religions of the British Isles who believed that everyone goes to one place, the underworld, and that certain geographical sites allowed for close communication with the ancestors who went there, such as perhaps Stonehenge or Newgrange. That is also not very different from those found in Japanese Shintoism, where there is no heavenly reward, there is only the Dark World which stands behind this world. The boundary between this world and the world we can't see would be thinnest at certain locations such as in the forest at Yomotsu Hirasaka, and many other places around the globe.
With those kind of thoughts, choosing martyrdom when placed into battle is only logical, as there is nothing to lose.
Old framework, new framework
For a while now, pro-Christians have attempted to use Codreanu's legacy as an excuse to push their false promises of the afterlife and their false morality.
I posit that Codreanu's legacy should not be understood as an expression of Christianity, and that Codreanu's politics should instead be interpreted as a vibrant and noteworthy expression of paganism and Luciferianism, which rises against the tyranny of the Judeo-Christian god, and which rises against the flabby pacifistic ideas of Jesus of Nazareth.
People ought to fight against having all of humanity digested and turned into the shit of multi-racial 'brothers and sisters in Christ' in the melting-pot of the fleshy bowels of Christ.
In 1930, being tactful about that outlook and cloaking one's real anti-Christian views, was politically astute given what the social environment was like. In 2015, with Christianity on a steep decline among pretty much everyone in the west in the 18-29 age cohort, I can see no reason whatsoever for why anyone would still be bothering to be Christian, unless they actually believed in Christian nonsense. There is certainly no political gain that can be extracted from such a pretence.
The demographic which Christian culturalists are trying to appeal to, are mostly a demographic who don't even believe in Christianity in the first place. Christian culturalists are not only wasting everyone's time, but also spreading Christian values, values which are deeply harmful to ethno-nationalism. If Europeans are moving away from Christianity, no one ought to be inflicting it onto them again. A move away from Christianity is the correct choice.
For anyone who may be rolling their eyes and thinking that this invitation is excessively provocative and radical, you should not regard this as an example of 'Kumiko being edgy'. No, this idea of 'pro-Christian vs. anti-Christian' is a perspective which is thematically salient, because European society has had—broadly speaking—two modes of thought which have been placed in opposition to each other ever since the rise of Christianity.
The famous French poet Charles Pierre Péguy illustrates this in metaphor, which I will excerpt from:
Péguy oeuvres completes 06, page 291 (emphasis):

Les armes de Jésus c'est la croix de Lorraine,
Et le sang dans l'artère et le sang dans la veine,
Et la source de grâce et la claire fontaine;

The weapons of Jesus are the cross of Lorraine,
And the blood in the artery and the blood in the vein,
And the source of grace and the clear fountain;

Les armes de Satan c'est la croix de Lorraine,
Et c'est la même artère et c'est la même veine
Et c'est le même sang et la trouble fontaine;

The weapons of Satan are the cross of Lorraine,
And it's the same artery and it's the same vein
And it's the same blood and the troubled fountain;

Les armes de Jésus c'est l'esclave et la reine
Et toute compagnie avec son capitaine
Et le double destin et la détresse humaine;

The weapons of Jesus are the servant and the queen
And every company with her captain
And the double destiny and the human distress;

Les armes de Satan c'est l'esclave et la reine
Et toute compagnie avec son capitaine
Et le même destin et la même déveine;

The weapons of Satan are the servant and the queen
And every company with her captain
And the same destiny and the same misfortune;

Les armes de Jésus c'est la mort et la vie,
C'est la rugueuse route incessamment gravie,
C'est l'âme jusqu'au ciel insolemment ravie;

The weapons of Jesus are death and life,
It's the rugged road incessantly climbed,
It's the soul up till heaven insolently exploited;

Les armes de Satan c'est la vie et la mort,
Le désir et la femme et les dés et le sort
Et le droit du plus dur et le droit du plus fort.

The weapons of Satan are life and death,
Desire, woman, dice and chance
And the right of the toughest and the right of the strongest.
The two divergent paths spring 'from the same vein', because it is a choice, a perpetually-existing conjuncture which is placed before people as to what they will fight for, and how they will live their life. Look at it socially.
All of a people's original and beautiful traditions, along with its natural self-preserving behaviour, have been labelled as both 'pagan'—a word which literally means 'non-Christian'—and labelled as 'satanic'—a word which literally means 'adversarial [toward Jehovah]'. We live in a world where that dichotomy has been created due of the advent of Christianity.
If someone were to ask me whether I stand with Lucifer—who Christianity, Islam and Judaism would call 'Satan'—the answer I would give to that question is of course 'Yes, I stand with Lucifer, I stand with Satan'.
That would in fact be a logical statement, because whosoever takes up arms against Judaism, against Christendom and against Islam, is ipso facto 'antisemitic', 'islamophobic', 'pro-pagan' and 'satanic'.
There's nothing wrong with being 'antisemitic', 'islamophobic', 'pro-pagan' and 'satanic'. There is no reason to bat an eyelid at such labelling.
Kumiko Oumae works in the defence and security sector in the UK. Her opinions here are entirely her own.
Talk at Storm Trooper Radio is that there should be "honor" among White nationalists.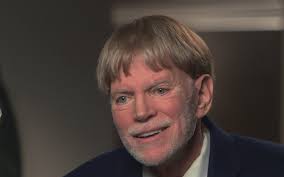 David Duke's undying commitment to Adolf Hitler
"Honor" is a term that those with numbers and military on their side would try to invoke.
What honor is there really in people who will never denounce Hitler's policies, no matter how obviously and utterly disrespectful those policies and beliefs may be to European peoples?
There is no honor, and that is why Duke and Anglin are not treated with honor here or anywhere with thoroughgoing intelligence. Do we really need to elaborate? Elaboration may be necessary for those in attendance at Storm Trooper, but not for those with any sense.
Soren is here asking a riddle. I trust that he is not here to distract from human concern - that Weev and he are not giving support to Anglin and, by proxy, to the likes of the cardboard Duke, to those who would fellate Hitler - and so I might ask him…what do you need Hitler for? Is it really so hard to see the utterly stupid, arbitrary destruction and total disregard of real concern for Europeans that these right-wing idiots coddle? That is the riddle, Soren.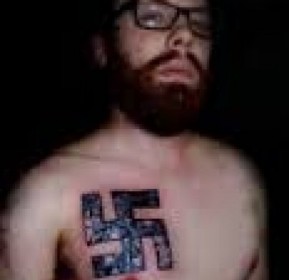 Hegel claimed that there are different kinds of intelligence
Is it not enough, for you, that we are all for Germans and German nationalism, but are against Hitler, for ridiculously obvious reasons?
You seek to gain allegiance with those who are SO STUPID as to get behind Hitler and Himmler - HIMMLER!?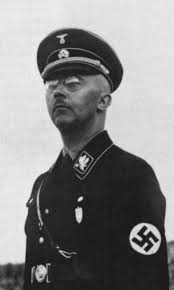 "Alpha male" Heinrich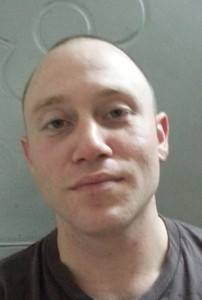 David Duke is endorsing Anglin now as an alpha and a fine representative of White Nationalism.

.......................

"If I looked like Himmler, I would not talk so much about race" - Albert Forster
This is being re-posted for a few reasons.
In the years since it was first posted there has yet to be any argument to refute its value to organizing the perspective of interests in whole and fundamental parts for those who care about European peoples. Though its further detail and application would provide benefit, it has not yet gained the currency it should have among WN, who mostly continue to argue that they are "of the right wing", against "The Left" or "neither left nor right", thereby foregoing organization in their power, and reacting as our enemies would have it.
The White left thesis may not have gained currency for another reason - it had a very short time (about 4 hours) as a leading article when first republished at Majority Rights before J. Richards posted a sensationalistict, highly conspiratorial and tabloidesque story, with ridiculous imagery leaping forth (the photoshopped arms on this man seem to parody the image just below on the White Left article) - distracting from the careful discussion that the White Left thesis deserves.
Next, for this essay to be understood properly, it needs the context of being published alongside the Kant essay (his moral system as coherence, accountability, agency and warrant). In fact, for the purpose of the Kant essay to be understood, it also needs this juxtaposition; but while important, it is a primary step at this point to the highly relevant arguments which the White Left essay makes. So as not to not distract from these more relevant concerns thus, I place the Kant essay secondly and under the fold, only advising that philosophically, theoretically, it is antecedent for a proper understanding of the history of European philosophical requirements. Finally, republication will provide occasion to shore-up minor errors that should not be passed-on as these essays are a worthwhile resource.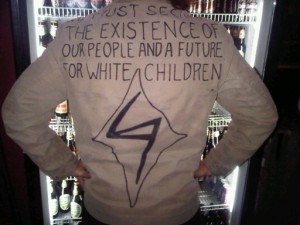 Leftism as a Code Word (Part 1):
When our advocates call our enemies The Left, they are making a crucial mistake: obfuscating our two greatest problems and the means of solution at the same time.
In an interview with Dr. Sunic, Professor MacDonald says, "these neocons, their only interest is Israel. [Otherwise] they tend to be on the Left [?]. They still are on the Left [?] when it comes to immigration. All these things are just really leftist." [?]
Dr. Norman Lowell says that "the Left" [?] has shipped industry and with it, jobs, to China.
In his article Women on the Left, Alex Kurtagic discusses some of the same subject matter that I had dealt with in a previous article, and to which I have given some consideration over the years – among that, sorting out different kinds of feminists in relation to White interests. In concluding that these "leftists" [?] have nothing to offer women, he places feminists in the same category: de Beauvoir, who did indeed fashion herself a leftist of sorts (taking women as her advocacy group, and Marxism as her guide), but was not Jewish; and Friedan, who was Jewish, but more liberal in what she promoted than leftist.
In an interview for Alternative Right, Kurtagic goes on attacking "the leeeft, the leeeft, the leeeeft," and I cringe, not for the reasons that he may think; i.e, he may think that I am lamenting an attack on a centralized economy, or open borders multiculturalism, PC "enrichment". Maybe he would think that I am waxing nostalgic for the Soviet Union where he and Sunic had the misfortune to grow up, or that I want to take away private property? Maybe he thinks I am cringing because I want to jealously limit his horizons, tell him what kind of art and architecture that he can have? Maybe he thinks I want everybody to be equal or treated equally? No, I am cringing because another perfect Jewish trick is being promoted to the detriment of White people.
These counterproductive ambiguities are circulating among our best advocates – hence the need of clarification and definition emerges salient. It is not about competing with them and showing them up; it is about getting the framework of our advocacy correct.
Naming the Jew can be risky business indeed and that assuredly accounts for why White advocates have used code words: e.g., liberals, non-Christians, leftists, etc. I submit that if one is in a situation where it is too dangerous to name the Jew, then liberal – at least in terms of its fundamental meaning, viz., openness to other groups of people – is the better code word as it also encompasses those problems of ours that are truly not of Jewish making but of our own. And that the Left is the worst code word. That is the subject of this thesis, for reasons that I will elaborate shortly. Agreed, the charge of liberalism is problematic, with a decided image problem, it has one appearing stodgy and logically entailing ground yielding conservatism in response; thus, another term should be supplied – but not the Left.
When one does have to confront the Jewish question more directly, but is in danger, not free to speak in just any way, one of the best strategies for defending against charges of anti-semitism should be to distinguish between "virulent" and "relatively benign" Jews in accordance with Faussette and Bowery's theory regarding the cycle of Jewish virulence. Jews, long a people without a nation (beginning with Babylonian captivity and for nearly 2,000 years after that), developed an uncaring, parasitic relation to their host nations, particularly among the elites of their vested interest. After a period of consolidating the wealth of a nation to themselves, the most 'virulent' ones escape over the border for a new host country to exploit, while the relatively 'benign', situated and accountable ones are subject to the wrath of the host nation's people who realize belatedly, "'the Jews' did this to us!" This perpetuates the cycle as the virulent elite bribe their way into a new country, gain farther sympathy, critical absolution and pseudo-justification for their exploits as they point to what 'they do to us': the Holocaust, the Inquisition, the pogroms, the Roman occupation.
With this distinction however, we should be able to mitigate the charge of anti-semitism, noting that our large grievance is with the virulent elite (as well as with White traitors, especially those in influential positions) not with those Jews normal, situated and accountable to a local culture. Nevertheless, as anybody who has experience will tell you, the pattern of antagonism and indifference to European interests exists not only among Jewish elitists, but in them as a whole. Thus, we need to discriminate against them and separate from them as an entire group, even if some are worse than others and should be looked upon as more criminally liable.
. . .
As with most normal White people, liking my people and myself, I spent most of my life saying that I was neither Left nor Right, if those terms emerged as an issue.
For good reason: as with all normal White people, I'd been repulsed, had a very strong aversion to identifying as leftist. I saw rabid Jewish advocates of non-Whites along with anti-White Whites and heard them called "THE Left" all my life. Yet, I looked at what was being called "the Right", and I could not quite do that either – it meant that one would be an ignorant hole by definition. I use this vulgarism deliberately to demonstrate that you can indeed, define a term through the pattern of its use in common parlance. Note that a person will be called a hole when they harm others when they do not have to; or, when they let people harm them when they do not have to. That's characteristic of the Right for a reason – they're not accountable; they wish to believe in their sheer, objective innocence and not accountable to an encompassing, but delimited "we", as such.
However, with our struggle's growing recognition of the disregard of our people in more difficult circumstances, middle, working class and more, their increasing awareness having shown in the Wall Street protests; moving to understanding of the consequences of corporate plutocracy's quest for cheap labor; its transgression of borders; its relation to the military industrial complex - growing recognition that this is not in our interest as Whites – our need to not identify as rightists becomes acute.
At the same time, with the population explosion threatening to overwhelm our demographic and our environment, it is also of acute importance to not identify with the phony "Left" either, which is really just more catastrophic liberalism, if you look at it. That understood, I have come to the realization that saying one is neither Left nor Right is an inarticulate halfway point to extricating oneself from promulgated Jewish definition of the terms. That once one sorts out Jewish perversion and corruption of the terms, that the Left is the best way for us to identify as White advocates.
When our advocates call our enemies "the Left" they are making a crucial mistake: obfuscating our two greatest problems and the means of solution at the same time.
Our advocates are obfuscating the agency of Jewish machinations hiding behind a twisted definition of "the Left." The Left has the moral high ground and the label, Left, has the appearance of that moral high ground because it is supposed to be socially accountable, even if it is a misnomer: which it is, in Jewish application of the term – leftist classification indeed, for Jews, non-Whites, and anti-White Whites, but prescribing obsequious, cataclysmic liberalism for Whites. With that, they are obfuscating the motive of Jews to define us as Rightists and their motivation to drive us there when we react to this misnamed liberal prescription.
At the same time, our advocates are obfuscating our other large problem – our wish for the "innocence" of objectivism or the appearance thereof, the pretense of such objectivism in order to avoid accountability – that is Rightism.
While Jews will use this argument too, that they are simply better, meritorious, when it serves their interests, Jewish political planners and academics generally want to maneuver us into a rightist position because it leaves us naive, organizationally weak, amoral, and unaccountable to our own as a relational class of people. White traitors also want us to be rightists so that they can avoid accountability.
Finally, in calling "the Left" our enemy, our advocates obfuscate the means of solution by creating an aversion to what we need – a social classification of ourselves as a people, a full class of people. The Left is always about social classification if you sort out abuse of the term.
Understood how the term is deployed when clear, "The Left" is a function of systemic classification, designating a group of people the interests of whom are to be looked after as a class – protecting against outsiders, e.g. "scab" union busters and plutocratic exploitation of labor. We classify ourselves as Whites for highly analogous reasons: to protect ourselves from opportunistic outsiders and from elitist exploitation and indifference.
If our philosophy is correct, as White advocates, we are leftists - that is because we are advocating a people, not objective facts. We are not simply describing facts, independent of interactive involvement and consequences. We are, if we are good White advocates, saying, "if a tree falls in the woods and there are no White people left to hear it, to talk about it, at least, it may make a noise, but may as well not for all it matters." We are taking a people-centric perspective and a White-people-centric position, specifically. We are acknowledging that nothing exists outside of interaction and how facts count must be negotiated between people. As mammals, caring about closer personal relationships, as we do, we most crucially care about White people.
In fact, the moment we refer to ourselves as Whites, or indigenous Europeans – when we refer to ourselves as a people - we are classifying, we are parceling a relative classification of ourselves socially and that is the reality. Whereas the Right, inasmuch as it pursues objectivism independent of interaction, social interaction, and a negotiation of how things count, is always something of an illusion.
If Kevin MacDonald looks at two DNA strands and says, this one is Jewish and this one is White, he must address at least one colleague with this information, in seeking agreement. In some cases, data will be agreed upon by nearly 100% of people and that will generally be called, "objective." A few may disagree, but they will be considered crazy. Nevertheless, the data, the observation and how it counts, occurs in social interaction (or it may as well not occur at all).
Moreover, to identify who we are as a full social class would give us the moral high ground and powerful organizational function at once. Whereas, when we are made averse to the term Leftism, we are obstructed from accountability to the relative classification of ourselves and others as a people – a classification that takes into account processes, all stages of development (within the lifetime) and evolution (beyond the lifetime); a classification that makes an important difference as it takes into account and respects our paradigmatic differences, differences that make a difference from other groups; our qualitative form and function, systemic pattern, its ecological disbursement, niche differences, logics of meaning and action understood as vastly different from non-Whites; that can make us more cooperative among ourselves and less conflicting with non-Whites when practicality is the better part of valor.
The White Class: viz., persons of native European descent, with interests relative to its class as such, would entail two-way accountability straight away, from those on top and from those in developmental, marginalized stages; i.e., to our relative, relational interests, irrespective of whether White traitors and non-Whites, those outside the White Class, are more or less "objectively" capable. Non-Whites might be allies, but they are not in the class. White traitors are traitors, their abilities only making them more offensive. The White Class, The Indigenous European Class (with its subcategories, yes), would define who we are and to whom we are largely accountable
Coming back to our first big problem in calling "them" the "Left." ...
When our advocates attribute Leftism to our enemies, they are not addressing the agentive Jewish machinations against our people, but rather attributing the problem to an ideology or less, a devil word, the "Left." This obfuscates the fact that Jews are classifying themselves and looking after their own interests, hiding their own agency in promoting hyperbolic liberal ideas and antagonism to Whites – promoting those outside or antagonistic to the White Class as "marginals" come to "enrich" us. Jewish agency is hidden behind the attribution of "the Left" – whether the agency behind economic Marxism or the cultural Marxism of PC.
Our second big problem obfuscated by calling our enemies, 'the Left.' Our wish for the "innocence" of objectivism or the appearance thereof, the pretense of such objectivism in order to avoid accountability.
Whether of religious speculation which seeks to establish its pure innocence, a clique of scientistic elitists who seek to establish the pure objective warrant of their discoveries, or the pure might-makes-right of the quasi-individual and the corporate "individual" of U.S. law, the Right is characterizable as a quest for objectivism which would make quick work of accountability – through a naïve wish to be innocent through objectivism or worse, through a cynical wish to avoid accountability through a pretense of objectivism.
The White Leftist perspective would not begrudge persons who do some things better their due, their difference, so long as they are accountable to the relative interests of the class; however, people tend to want to believe their success is more a result of their sheer independence than it actually is – the Right is pseudo objectivist, faithfully, slavishly leaving nature to its own devices – "we are caused", pseudo detached from the social, anti-social, therefore unaccountable and inhumane as such – "that's just the way it is", according to nature. Failing that, the Right can and will often seek to evade account in the elusive and insensible speculation of religion.
I would like to take occasion to set out a neglected and important matter for consideration - the hypothesis that "testing" and "lesson giving" are not only underpinnings of liberalism but can be disingenously used and enormously abused as excuses for all manner of trangression. With the false halo of innocence under the rubiric of enlightenment empiricism these ways of looking at the world moved from the laboratories of science to gain vast popularity and practice, not only for the good reasons of solid, verfiable warrant and benign remedies, but also for utility among the populous contra postive traditions and inherited forms - the enlightenment's prejudice against the superstition of prejudice can serve as powerful and destructive warrant in the wrong hands, giving thoughtless actions, ill-considerd for their ramifications, an ostensible appearance of noble precedent.
For decades now, I have been considering the idea that "lesson giving" could provide a convenient excuse for liberalism, viz. as an excuse for those taking liberties by its means and in regard to the effect on those who are more or less violated by the taking of liberties, which is then written-off as "a lesson."
I saw that the idea of "testing" could also be disingenuously used along with "lesson giving" to provide excuses for excessive license and liberal behavior. I suspected thus, that "testing" and "lesson giving" were being used all too conveniently to bypass accountability to social capital and human ecologies.
The excess of these ideas, their pervasiveness and popularity are set in motion at the very theoretical underpinnings of liberalism. To begin, these were a liberation from mere tradition, custom, habit, superstition - e.g., from absurd religious requirements. The evangelizing of these values gradually spread through just about all of the world. Liberalism became the water in which we swim - toxic waters for its impervious linearty, promise of limitless progress, pursued as an impervious and deliberately non-discriminatory technology to the destruction of our peoples in their distinct human ecologies. Liberalism which started out as a liberation from tradition became a pervasive tyranny of its own, requiring a second liberation. Nevertheless, to begin, and to some extent always, the empirical project of suspending belief, testing and learning from the results is a positive liberation and compelling for some very good reasons.
Even so, testing and lesson giving become overvalued for their material yield, of course, and as a holdover of the enlightenment's own customs, habits, positive attributes in culture and peoples. There remains a willful naivete of these notions which is very compelling, seductive as it combines a promise of both innocence and powerful warrant; to get there, however, requires theoretical detachment from human agency, subjectivity, social relevativity and with that, a detachment from accountability - leaving adherents susceptible to the disingenous: the perversion of these notions to the point of hyperbolic liberalism is largely a result of Jewish academia, media and political manipulation; but also provides convenient excuses for objectivists to disingenuously accrue power; while the promotion of objectivism at the same time serves as a means of creating a naivete ripe for exploitation as it finds its way down to an intransigence in pop-culture.
Left unaccountable, unsophisticated by the post modern turn and in the wrong hands (e.g., popular puerile hands and those who would pander to them), these ideas can provide almost boundless excuses for the most destructive liberal behavior. Just about anything can be written-off as "testing" and "lesson-giving."
Thus, it is an eminently worthy consideration for Majorityrights to engage and focus on these matters which underwrite liberalism. We need to understand where they go too far, what qualitative and quantiative limitations there should perhaps be and by contrast also the proper applications - post modernity does not only evaluate progress but the value of tradition and inherited forms as well.
I would call attention to the detriment of the popular application of the empirical view, in its tendency to focus on momentary and episodic units of analysis, while doing violence to relational and cultural/systemic processes and ecology; with that, rupturing historical evolutionary patterns.
At this very moment I realize that I have been misunderstood previously as not recognizing that science proper is capable of taking patterns into account. Of course it can. Let me correct that here by noting that it is especially in the popular manifestation of empiricism through enculturation of the enlightenment project, in turn instigated for hyperbolic liberal purposes by YKW, that this "empiricism" is conducted with crass and destructive carte blanche.
We call these problems of "modernity" while recognizing that they have been twisted and exaggerated beyond all reason by the YKW.
They (the YKW) have done the same to post modernity, to where it is unrecognizable as the postive correction to modernity that it was meant to be (e.g., a liberation from mere facticity and a capacity to reconstruct traditional and inherited forms where good and benign). That is why I have been so vigilant to articulate the post modern remedy for the public project as it is supposed to be - as a means to manage the best and worst of modernity and tradtional/inherited forms.
I have called attention to the fact that hermeneutics and social constructionism proper provide a post modern remedy - especially for the public - to help them away from this myopic, scientistic focus and disingenuous bypassing of accountability that filters down from the specialty of the scientist to common, everyday, popular menality and practice.
I have called attention to the fact that reconstructing the validity and warrant of social classification (viz., "race") is necessary to provide delimitation to calibrate, regulate and govern accountability to systemic historical processes and human ecology.
I have indicated that the idea of sacrament (monogamy, life-long and or partner-wise) must be introduced for people to have the authentic freedom of choice within and between group relations. Particularly as ritualized, this would re-connect the episode (the empirical) to the broader relational and historic pattern - accountability to its ennobling and caring ensconement. It is a connection of accountbility to the historical systemic group pattern. It provides integrity to the whole group - and a control variable, if you want to look at it scientifically.
But these are only the broadest outlines. I have yet to get people to participate in this critique and remedy of modernity and of its Jewish distortions, despite its obvious necessity and importance as it bears upon our experience of runaway liberalism to the detriment of our group's human ecology.
Hence, I pluck-out and focus on the popular abuse of these two enlightenment memes: "testing and lesson giving."
Consider with me, if you will, where the use of these memes are valid and where they become abuse.
And what to do in remedial application? How does it work?
How can you know things before you test them thoroughly? How do you know if your partner is, or will be appropriate enough unless you "test" them? Can "testing" be relied upon to provide an accurate assessment? Testing can have an episodic bias and focus to the detriment of the relational and protracted cultural/systemic patterns. A lesson may be too costly.
The problem and the question is to provide practical means for assessment when trying to correct for the potential reckage of an over-emphasis on "testing" (writing-off caution), "lesson giving" (writing off the damage) and its resultant liberalism.
Testing and lesson giving create a problem for accountability. These ideas are all too facile. The "tester" can apparently always justify the test as providing a lesson and postive feedback therefore - even if the consequences were negative in the sense of being destructive to individuals, relationships and the cultural/systemic pattern.
Hermeneutics seeks to amend this relation blindness with the inclusion of broader social systemic historical views.
On 02 August 2015, Robert Stark interviewed Matt Forney and they had a conversation with each other that went on for some time. One thing which leaped out to me about it in particular, is the questions rhetorically asked by Matt Forney after the 55 minute mark in the audio, which are transcribed here:
FORNEY: I'm not a Christian, but I'm familiar with Christian theology because I was raised as a Catholic—

1. Point to the portion of the Bible where it says that you have to slavishly support Israel.


2. Point the portion of the Bible where it says that you have to let your country be overrun by foreigners.


3. Point to the section of the Bible where it says that you have to endorse the degeneracy of gay rights.


4. Claiming that being a Christian is synonymous with sucking up to illegal aliens is completely counter to the idea of being a Christian.
Usually people aren't expected to answer rhetorical questions, but these ones are too funny to resist. So I've inserted some numbers, and I'll answer each one, so as to show the slavishness and unsuitability of Christianity when it comes to talking about the ethnic genetic interests of Europeans.
Christianity asks that you should show hospitality and support for all immigrants into your countries without complaining, which runs entirely contrary to your ethnic genetic interests. At the same time Christianity does however maintain that gay people are 'bad' and apparently advocates persecuting them for what seems to be no reason whatsoever. Of course, how that would help anyone's ethnic genetic interests, has yet to be determined.
Forney scores one out of four. It's a pretty bad score, but then most people don't seem to know what Christianity is really saying, and that's why they keep making these pro-Christian statements, even though Christianity is complete rubbish.
Kumiko Oumae works in the defence and security sector in the UK. Her opinions here are entirely her own.