Majorityrights Central > Category: European Union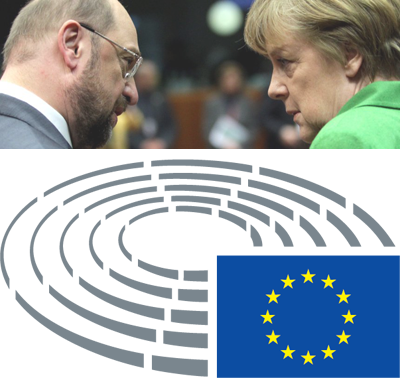 Martin Schulz and Angela Merkel.
Martin Schulz has been active in European politics for almost thirty years, and so he is a person who does not need an introduction. His position however is not one that is understood very well by normal people, because a lot of people don't know what the roles of the institutions of the European Union in the post-Lisbon Treaty environment are.
In his role as President of the European Parliament, Schulz would be responsible for the overall direction of international relations, and also is the custodian of the fundamental values of the European Union. The European Parliament is the first institution in the European Union, which prior to the implementation of the Lisbon Treaty had been seen as a mere talking shop, but subsequently developed into becoming one of the most powerful legislatures in the world in terms of both its legislative powers and executive oversight powers.
Of course, informally, the political history which the individual was acculturated with along with that person's connection to the national political power, means that it can usually be considered advantageous to a member state if one of their citizens is holding such an EU position.
Schulz hails from Germany, but what does Schulz think Germany's raison d'etre is? A look at his own words in Haaretz as reported by his friend Avraham Burg, reveals something interesting:
Haaretz, 'Say a big 'thank you' to Martin Schulz', Avraham Burg, 14 Feb 2014 (emphasis added):

[...] Martin Schulz, the president of the European Parliament, is a close friend of mine. On most issues connected to the Israeli-Palestinian conflict we disagree. He is closer to the Israeli mainstream, and his positions resemble those of Labor Party chairman Isaac Herzog. He once told me, during a frank and stern conversation, "For me, the new Germany exists only in order to ensure the existence of the State of Israel and the Jewish people." [...]
Schulz is of course, Jewish.
While I am adamant about the right and oughtness of fighting when one's own borders and EGI are being infringed upon, I am not a hawk. Geopolitical warfare has never been something that appealed to me, let alone with any sort of passion.
I'm very averse to the idea of going beyond my national boundaries to fight, particularly when my own nation is totally screwed-up, needs tending and where innovative thinking might solve problems as opposed to trying to solve them by resorting to warring abroad.
The problem is that there are valid arguments that there are vital requirements along the Silk Road, in the Middle East and in Africa - resource and population management that is indispensably necessary even to the most innovative and independent peoples. In these concerns, I'm going to invite the reader to consider with me the possibility of re-drawing ethno-nationalist and regional lines on this map.

As you can guess, conversations with Kumiko have got me taking these matters under consideration, and I hope that she will soon put up an article discussing issues that the neo-cons have failed to make in clear and persuasive terms.
Tangential to neo-con issues is an interesting philosophical question for another day: how, in detailed form, to set up a rule structure which will sort out and punish the genetic legacy of criminals; and facilitate the rebirth of those genetic components that have suffered unjustly at the hands of criminals in previous generations. In this case, I am thinking more in terms of those who have historical grievances with Russians - while it is true that I don't feel this grievance as do some others that I've known, it is nevertheless only practical to set the question aside for the time being - though it is a question that can apply to any people who have benefited or suffered from historical atrocities.
Europeans, now, are asked even more fundamental questions than relative guilt and merit, but are asked to address the matter of our identity, period - that we are a people (different from Jews and others), to establish who we are, what the nature of our common moral order is, to understand that the obfuscation of that would-be peoplehood is a part of a war against us - and that there is, indeed, a war against us; finally, we are asked what is the nature of that war and what it consists over?
When considering these matters from a White Nationalist perspective, Russian people are not conceived as inherent enemies, nor, even, is the humongous expanse of their nation high on the list, if on the list at all, of things intolerable to allow to remain. I can imagine living with it - it's always been that way in my lifetime; its reach contracted after the fall of The U.S.S.R., but still remains bigger than Pluto.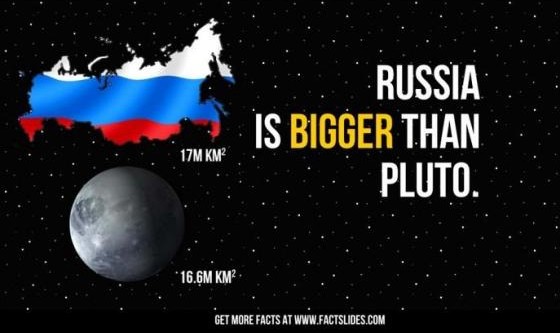 Nevertheless, we ought to reconsider this from an Asian perspective, and from a perspective of acute European interests.
I didn't expect to have occasion at this point to consider aloud the possibility of attempting to align formal industrial military objectives with ours as White Nationalists. Oil, resources, even absurd and brutal regimes in the Middle East and Africa inflicting harm upon their own do not stir any passion in me to fight. The function of Asian countries and Western countries do, however, have requirements and rationale to get these nations under compliance. And in hopes of facilitating the human resource of Kumiko's military perspective, I am going to imagine empathic military geo-political objectives, so that we might envisage a grand chess board result in our victory.
From that standpoint I attend to the fact that as nationalists and as White people in particular, fighting for the survival and sovereignty of our nations, that militarization and the geopolitics of resource and population management will ultimately be necessary.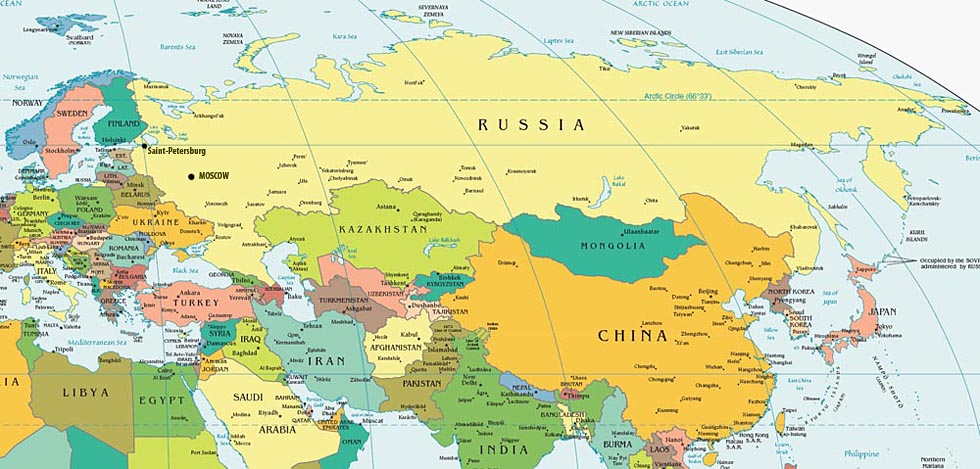 Asia and the West have things that we need from one another, including cooperation against antagonisms from the Middle East and Africa.
Not only do we need resources from these places but we need mutual help in border control and repatriation projects.
What about Russia? It is so big. Why not just work with them and allow its vast space to become a place for White people to grow into?
While it is true that another traditional passion for some war mongers is hating Russians and maybe I should hate them, I don't hate them. Nor do I care if people want to move there; furthermore, I completely understand not wanting to fight them. I don't want to fight Russians; the war in Ukraine has been instigated by Judaized and neo-liberal means and motives and it disgusts me.
Even so, WN tendencies to look upon Russia as the great White hope ignore the propositional, neo-liberal, mercantile and Judaized aspects of Russia - as if its political class has no corruptions analogous to The US that will wreak havoc with such projects to connect with Russia as a partner in White Nationalism.
On the other hand, while I favor Ukrainian and Belarusian sovereignty, as I favor all ethnonational sovereignty, I am opposed to a hot war approach with Russia to increase their sovereignty.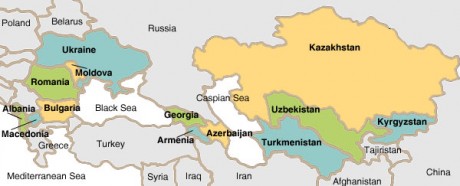 But neither am I in favor of a hot war approach to defending Russia's humongous eastern stretch and southern conflicts.
Rather than abandon to foreign invaders the natural ethnonationalist homelands of our European evolution and engage in White flight to move into lands that apparently represent imperialist aggrandizement - beyond ethnonational mandate - on the part of Russia, to reiterate, neither am I particularly interested in fighting to protect Russia's imperial overreach.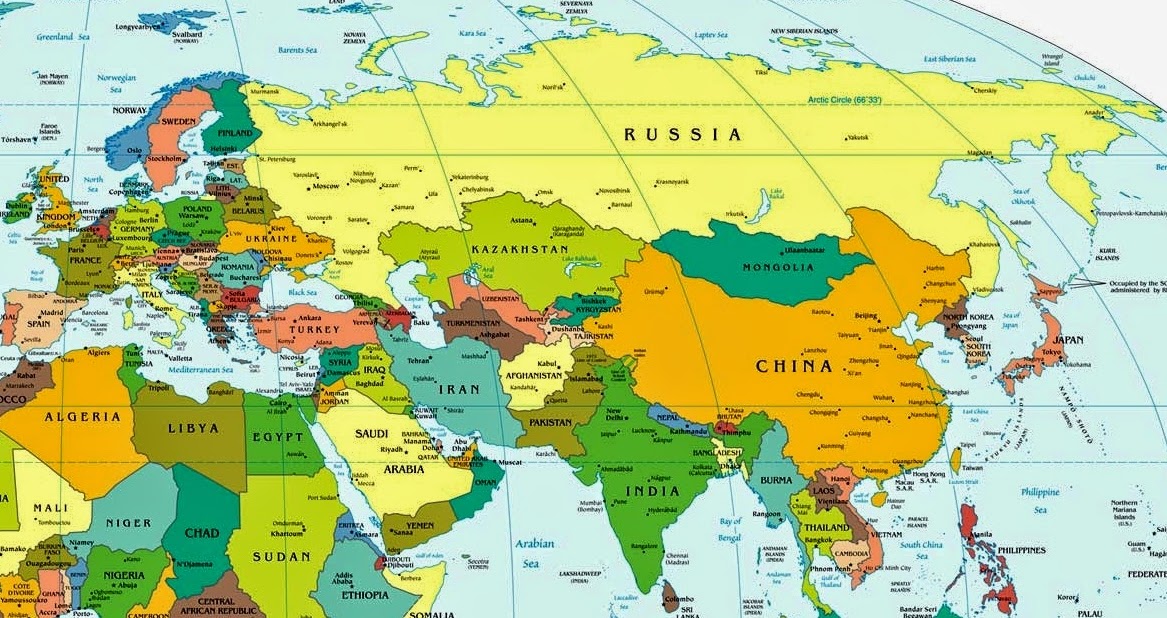 In a word, defending what is apparently an imperial over-reach is Russia's problem and an issue that can be turned to our advantage as Europeans in order to gain cooperation with our EGI, its borders and vital resources.
We need Chinese, Japanese and other Asian cooperation more than we need Russia's imperialist headaches; and China and Japan are not about to start loving Russia more than their own interests which are impacted by Russia's Eastern and Southern interference.
We need cooperation with Asia to compel compliance with regard to resource, EGI and border management. And we might compel Russia's compliance as well with those needs by means of the West's regional alliance with Asia.
Thus, while we might not engage a war of maneuver in either Russia's west nor east, we might well consider lending approval to Asian positioning in Russia's east and south.
That is, allowing the "stick" (as opposed to "carrot") of some of these lands as potentially sovereign Asian places: with enclaves Russian and enclaves Asian, the farther east you go, the more the general area would be Asian with fewer Russian enclaves and vis a versa - the farther West, the fewer Asian enclaves until you reach a point where it would be a Russian only ethnostate. And the carrot to Russia would be less contentious relations with its neighbors and more secure borders itself as it cooperates. That is not necessarily a bad deal.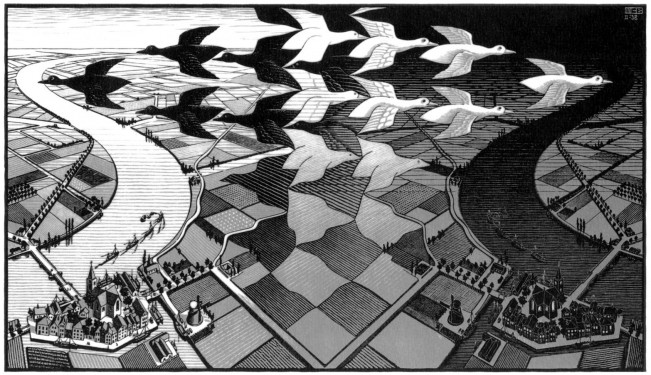 Toward an Asian-Atlantic regional cooperation.
1. The genetic-make-up and territorial boundaries of the European ethno-states shall be restored, maintained and protected.
2. To achieve this end we propose alignment with the Asian ethno-states and region.
3. Something like the E.U. and North Atlantic would be necessary to achieve that alliance and its success.
However, it will also involve some quid pro quo.
4. First, we see it as being in both of our interests to secure our peoples against impositions of Middle-Eastern and African populations; against imposition of the Abrahamic religions; and against interference of these peoples and religions in our vital resources.
5. Toward that end, it is in the interest of both Asians and Europeans to remove these populations to the greatest extent possible from our geo-political territories; and, again, to remove significant imposition/interference upon our mutual vital resource interests.
6. Sacrosanct European territories in the Americas, Australia and New Zealand will likely need to become smaller at any rate in order to be maintained and defended. But with the increased manageability of defense will come an opportunity to offer cooperation to Asians to have some sacrosanct territories of their own in these places. We will respect and cooperate with one another toward the defense of our territories in diaspora, seeing African and Middle-Eastern (saliently Jewish and Muslim) populations as those who must be guarded against and compelled to as great a distance from our people as possible, removed from civic nationalization and its proximity.
7. Russia/ns will be seen as having an analogous situation to White Americans. In order to have a safer, more manageable ethno-state and something to offer in exchange with the Euro-Asian regional alliance, they will be required to contract in size considerably, particularly from its expanse eastward into Asia and its geo-political interference there and to its south, unilaterally along the Silk Road. Russia's ethno-state will be more secure as it will be forced into a more cooperative and less antagonistic relation with the rest of the geo-polity.
The key deal is this: we will compel Russia to relinquish parts of its territory (leaving it no good choice but to comply). In exchange we will require Asian assistance in cleansing and defending our territories from imposition by non-natives - particularly Africans, Middle Easterners, Muslims and Jews. And we will require compliance in securing our vital resources and transportation routes.
The advantages to European peoples and Asians in this alliance is clear.
But what regional and national lines might you imagine and what advantages to Russia and others do you see for compliance? Discuss.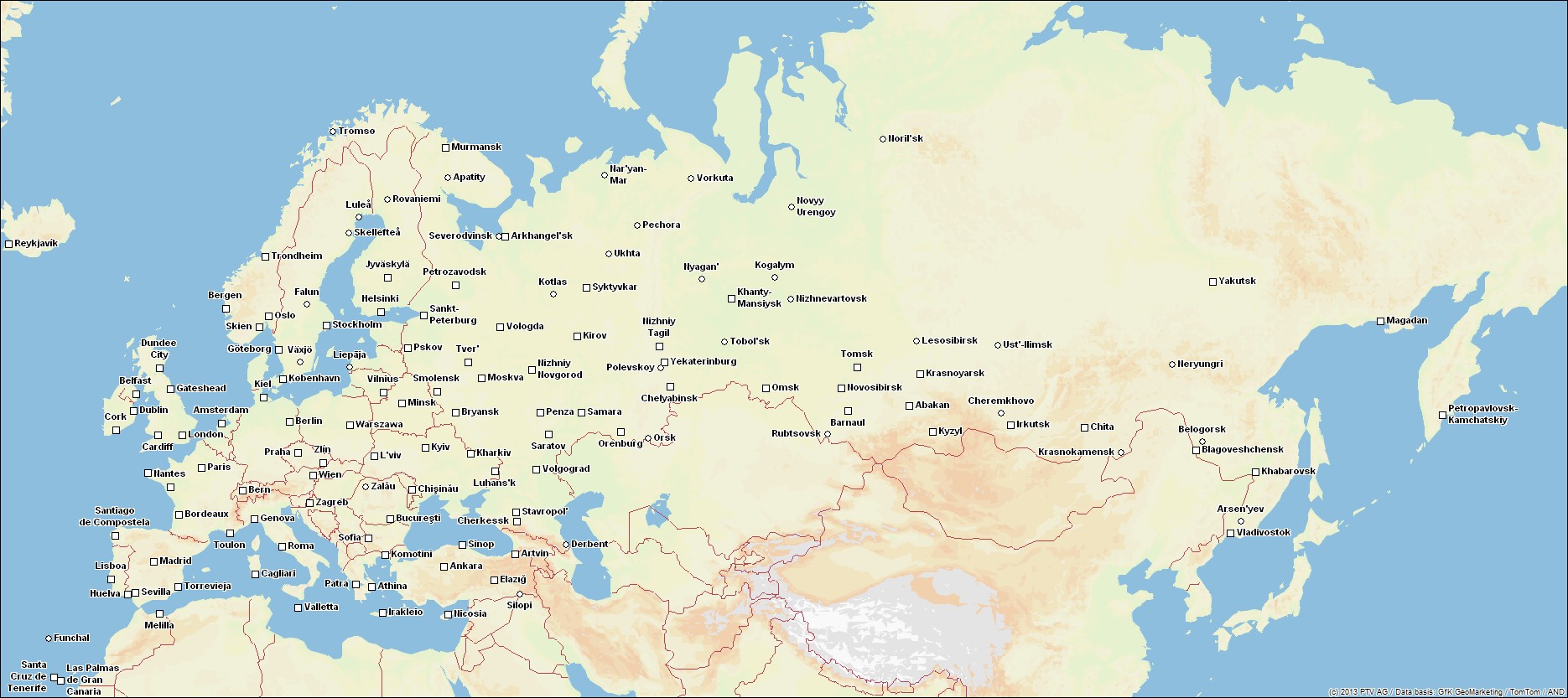 As there are no Russian cities larger than 600,000 east of lake Baikal (near the city of Irkutsk, centrally to the north of Mongolia), and only four larger than 300,000, one way of arranging the pockets, enclaves, ethno-state outposts as it were, would be to have a symmetrical "M.C. Escher-like" arrangement (as in the image called "Day and Night" above), i.e., an entering of these enclaves into the others general regional sphere - enclaves which would, nevertheless, represent sovereign states.
Note: I can see how this could create incentive for Eastern European nations to cooperate - from a position of strength and in cooperation with White diaspora (note the interview of Tomasz Szczepański under the fold).
The plan would emphasize deportation and re-doing citizenship in favor of native lines, viz., on the basis of ethnostates. That is unlike the Moscow - Berlin - Paris axis, which apparently seeks to reconstruct the same old right-wing, propositional/objectivist oil interests.
The Eastern European nations may agree to cooperation despite history of disputes (sometimes serious), and facilitate this ethno-nationalist and regional cooperation if their borders and native populations are guaranteed. If they are a part of a plan that guarantees that and necessary resources from the Silk Road - accomplished by increased cooperation with Asia and a Russia dealing from a cooperative position; then perhaps ethnonational and regional alliance with Asia can work. I.e, Russia has to offer more than trade in natural resources garnered through its vast expanse and fist waving at anybody who doesn't see their interests being secured inasmuch.
The area that is to be reserved as sacrosanct to the Russian ethnostate would be contracted from imperial dimensions and more in line with ethno-national proportions.
It is a contraction in concession to cooperation with other ethno-European nations that WN America will likely need to undergo as well.
This will make Russia more defensible and more worth cooperating with for the rest of Europe and Asia - as they will be required to join this Euro-Asian regional cooperation against middle eastern interference - whether Arab, Islamic or Jewish, they will be beholden to our terms and we will have the necessary resources of the Silk Road.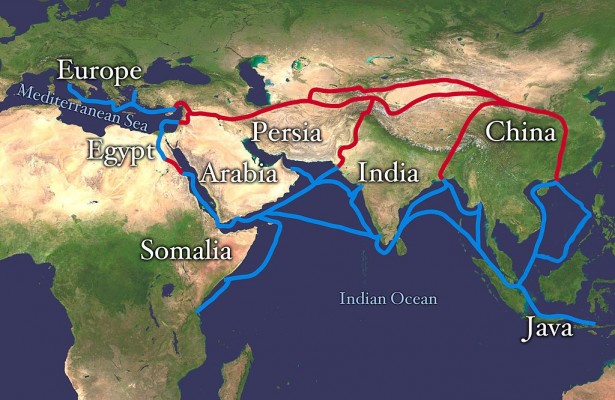 The other side of the deal for compliance and cooperation to garner vital resources, is that our vital EGI will be cooperated with in protection as well - including not only in border defense, repatriation and de-nationalization of the majority of non-natives from European and Asian countries, but most strictly the border defense, de-nationalization and removal of non-natives from European nations; while allowing for some accountable quota of Asians and Europeans in one another's nations and regions.
Much as we disapprove of the war in Ukraine and recognize the nefarious Jewish and capitalist machinations behind it, we should not, on the other hand, fail to recognize that Ukraine is a distinct nation of our European peoples which ultimately deserves its sovereignty as well - as a nation in European cooperation: i.e., be skeptical about European relations and "The EU" and NATO for precisely the same reasons as those behind the boggled conflict as it would have been, particularly with the Jewish hand wielding part; but not totally cynical of some concept of European Union, even if we have nothing like a bonafide version of that or national sovereignty at present. If we can ever be free of deracinated international capitalist control and Jewish influence ...we might dream big, we might even dream of wresting the powers of NATO to our genuine defense as European peoples and lands throughout.
To turn our dreams of our true interests as European peoples into a reality and with that, take our full sovereignty for the first time in millennia, we must wake from the Abrahamic fairy tale, chimera, really…
Happy Winter Solstice Europeans!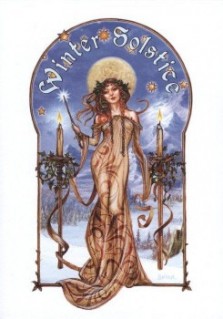 - Solstice card courtesy TT
They told me a fairy story 'till I believed in the israelite

They said there'll be snow at christmas
They said there'll be peace on earth
But instead it just kept on raining
A veil of tears for the virgin's birth
I remember one christmas morning
A winters light and a distant choir
And the peal of a bell and that christmas tree smell
And their eyes full of tinsel and fire

They sold me a dream of christmas
They sold me a silent night
And they told me a fairy story
'till I believed in the israelite
And I believed in father christmas
And I looked at the sky with excited eyes
'till I woke with a yawn in the first light of dawn
And I saw him and through his disguise

I wish you a hopeful christmas
I wish you a brave new year
All anguish pain and sadness
Leave your heart and let your road be clear
They said there'll be snow at christmas
They said there'll be peace on earth
Hallelujah noel be it heaven or hell
The christmas you get you deserve

Emerson, Lake & Palmer - I Believe In Father Christmas Lyrics | MetroLyrics

...and a Ukrainian folk song that has come to be known as the Christmas song "Carol of Bells"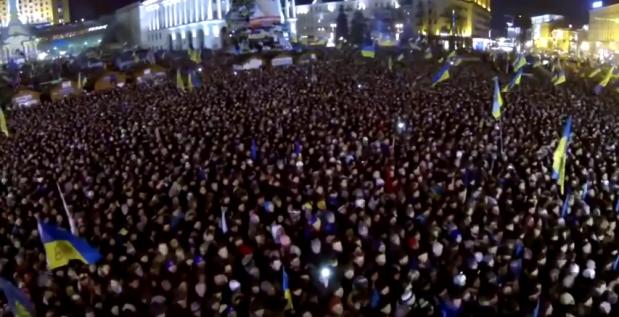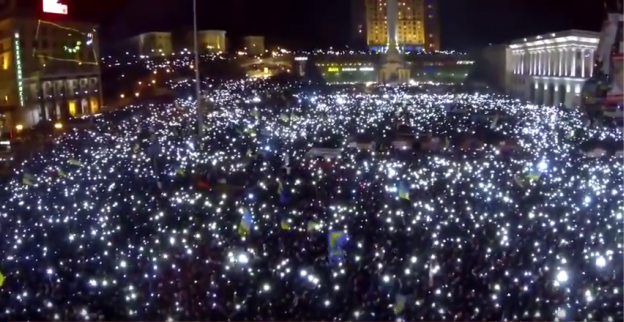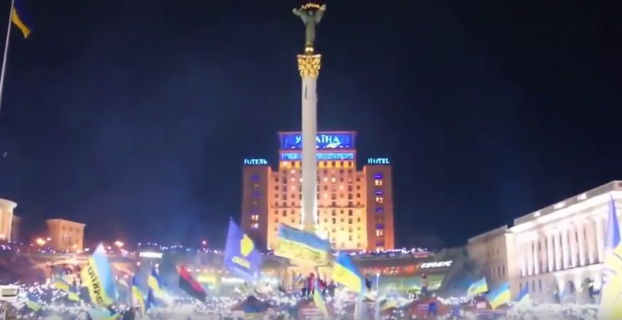 Introduction
This article is just a very condensed version of some observations that have been burning on my mind this week and which came up over tea and biscuits during conversations with some of my work colleagues. It may be edifying for European nationalists and regionalists, so I've chosen to make a short article about the subjects covered. People should feel free to ask me any questions they like in the comments section, if anyone would like a more expansive explanation about the concepts I'm trying—humorously but with serious intent—to illuminate here.
The somewhat provocative phraseology I'm using here is quite deliberate and is used for a reason that will be explained later on in the article.
Twilight of the Westphalian Model
We are living a world that has progressed and changed significantly since the advent of industrial warfare. In the early 1900s, everything about warfare tended to be the resolution of international disputes through a state actor's military personnel and machinery clashing in the spacial battlefield until someone was decisively defeated.
Now, this is no longer the case, after the late 1900s and early 2000s, war increasingly has become a matter of non-state actors waging war against other non-state actors, and in the case where states of a Westphalian inspiration came into contradiction with these non-state actors, the Westphalian states' objective usually was to find a settlement of the conflict that would satisfy the commercial and geostrategic needs of those nations. The battle also takes place in 'hearts and minds', getting hearts and minds on one's side has become not just an optional extra, but in many cases can be a crucial and decisive element of strategy.
The battle of 'hearts and minds' is happening in the case where you have to influence a 'foreign' population to co-operate with and support military operations that you are conducting inside their territory, or the case where you have to convince a 'foreign' population that your occupation of their territory is capable of providing safety and stability through effective counter-terrorism operations.
Increasingly, these same needs apply within the North Atlantic states as well, because we are actually now in a new generation of warfare. This is 5th generation warfare, not 4th generation warfare now. The events which took place in France on 13 November 2015 were a stark sign of that transition between generations having taken place.
ISIL's attack on Paris was not just an attack against state infrastructure in an attempt to affect the French government's policy preferences. It was not an attack that could be understood within the context of the Westphalian state model, or the world order that this model had given rise to. Instead, it was an attack against the Westphalian state model itself, and that is why the attackers chose the targets that they chose. They selected places that French people and the foreign residents of other culturally advanced populations would go to enjoy themselves. They chose to deliberately have amongst the assailants a mixture of people carrying Syrian passports alongside people who were second or third generation Muslim residents of European countries such as Belgium.
By selecting the targets in the way that they did, they were announcing that it was a fight of one population against another, one social group against another, in their view, and their intent was to make this fact clear to everyone. We on the other side should not shy away from acknowledging that this is really how it is. They believe that there is a 'global Ummah', a community of Muslims unconstrained by national borders, who are trying to uphold and enforce the rules of the Abrahamic monotheistic god over 'the Kaffir' who are pagans (this includes people who adhere closely to bonds of blood, which Islamic doctrine considers to be part of 'Jahiliyyah'), polytheists, atheists, and apostates.
The rise of this kind of view, represents a rise of what is best described as 'armed social movements'. Social movements have qualities that are distinct from that of traditional Westphalian state structures, even when they come to occupy the seats of power in a state. Armed social movements tend to have a cleanly defined 'us vs. them' world view, and the manifestation of state power which is filled by such movements, tends to be an outcome of battles fought in and against civil society, in the terrain of popular culture or through street battles or asymmetrical warfare. The manifestation of state power is not imposed from above, but rather, the manifestation of state power is a sign that the armed social movement has already triumphed among the population itself. The process is 'bottom up', rather than 'top down'.
Armed social movements fight against each other in the terrain of civil society and through popular culture, to determine who will ultimately capture state power in the long term future.
We are an international 'Satanic Alliance'?
In light of all of the above, the epithet which the jihadists have labelled us with, the epithet 'Satanic Alliance' comes into play and is a gateway to understanding the fundamental issue presently facing western civilisation, as well as a method for coming to terms with it.
On 01 November 2015, Al-Qaeda leader Ayman Al-Zawahiri published a sixteen minute video which spread across the Islamic world on social media and jihadist websites, calling for a unified Islamic front against the coalition of groups who are fighting against the imposition of Sharia law, which he described as forming a front against "the Satanic Alliance that attacks Islam". In his video, he takes a tone toward ISIL which is one of coalition-building, as he is seeking to caution them on the dangers that come from infighting among the various jihadist groups. He doesn't want ISIL, Jahbat Al-Nusra, and Ahrar Al-Sham to keep fighting against each other over their differences, rather he wants them to suspend their disagreements on who commands the jihadists (ie, Ayman Al-Zawahiri or Abu Bakr Al-Baghdadi?) and how it should be expressed (ie, Islam faithful to the 8th century, or Islam adapted to the 21st century?) and to instead unite against "the Satanic Alliance", and to "hone" their conduct so that they can convince the other Muslims that they "want to be ruled over by Sharia".
Whenever I hear these things, I always smile a little, because by saying things like that, they are drawing the lines very cleanly and obviously.
However, within the west there is still a muddled feeling amongst the general population about this, which needs to be ironed out. We are and have been and hopefully will continue to be—objectively speaking—living in an increasingly 'Satanic' society, if you take the definition of what 'Satanic' means from the religious texts of the three Abrahamic religions.
Look at what those three religions stand for, and then look at what we stand for and what we would like to see manifest, and you discover immediately that—as I've said before—we are a threat to the Abrahamic religions, we are their adversary. What does 'Satan' mean? It literally means 'the adversary'.
There are many important distinctions between the two sides, but the most important one in the context of the interests of the readers of Majorityrights is this one:
THEM: Islam—much like Christianity and Judaism—is a religion that actively and aggressively promotes mass race-mixing. It promotes submission to a single god which asserts that it 'created everything' and also asserts that this material world is of no real consequence because 'a test' of loyalty and submission to the monotheistic god is all that matters.
US: We as ethno-nationalists and ethno-regionalists are opposed to mass race-mixing, because we believe instead in the crucial importance of preserving ties of blood and proximity. Without preserving those ties, it would be impossible for a human being to truly find themselves, without which it would be impossible for human societies to ascend Maslow's hierarchy with the willpower, the intellectual liberty, and a culture advanced enough to promote the flourishing of the social processes that lead to an understanding of the pure and pristine true reality that existed in the time of the primordial era. Our will is projected into the material world, to shape it to our own form of 'justice', not the dictates of some Semitic desert god.
These two views are irreconcilably and diametrically opposed, and always will be.
Two camps: Make a decision, make a choice
Although some find it to be unsettling, the arrival of this amazing narrative brings clarity and doctrinal purity to a situation that previously seemed to lack it. Since 11 September 2001, the middle ground ought to have become entirely vulnerable to erosion. When the planes crashed into the World Trade Centre buildings in 2001, and when the bombs exploded on the trains in Madrid in 2003, and when the bombs exploded on the buses in London in 2005, and now in the wake of the migration crisis and the Paris attacks of 2015, all of these have painted and highlighted—in blood—the existence of two camps before humankind that everyone would have to choose between.
On one hand, there would be 'the camp of Islam', a global Ummah which was disjointed and did not have a Caliphate to represent it at the time. They would be the forthright defenders of monotheism and transcendental values in a world where such a defence had been sliding out of fashion. This camp would also include their fellow travellers, and some opportunists.
On the other hand, there would be 'the Satanic Alliance', a coalition of people who reject the philosophical basis of Abrahamic monotheism, and form a coalition to defend their material and intellectual interests. These people would struggle against Abrahamic monotheism for diverse reasons. This alliance would underpin the preservation of the beauty and freedom of native peoples everywhere and their ability to determine their own futures (ie, coinciding with the concept of a 'DNA Nation') in accordance with the tools—both genetic and memetic—handed down to them by their ancestors on the earth.
Sometimes, unexpected mouths utter statements that are true. George W. Bush actually stumbled partially onto the truth of the existence of this paradigm when he said, "Either you are with us or you are with the terrorists". Osama bin Laden also once said, "The world today is divided into two camps."
Both Bush and Bin Laden were essentially correct about that basic reality, although neither of them understood just how correct they were.
All the different operations by the two camps have since served to expose the people who claimed to be 'in the middle ground' as being actually through their actions on one side or on the other side, whether they are conscious of it or not.
The shrinking middle ground
Many people on the so-called centre-right, and many so-called radical traditionalists and court 'historians' and court 'scholars' were immediately exposed by the terrorist attacks and by the wars, and by the mass migration crisis.
All of those who rushed to make apologetics, excuses, and justifications for the Islamists prancing around in their midst, or else, made mealy-mouthed statements about how they 'respected' Islam or 'shared traditional values with them' and so 'are internally conflicted on how to react', or alternately, sought to allocate blame and condemnation onto the victims of Islamic terrorist attacks rather than onto the perpetrators, were all exposed. Some, such as the Jews and the Christians who are milling around among the ruling class in every western state, went so far as to actively campaign for more migrants when the mass migration and infiltration crisis began.
By these actions, they revealed themselves to everyone. Even the most naive observer of political affairs can now be convinced that there really are only two camps.
It is also worth mentioning that in fact, many conservatives of the traditionalist and civic nationalist sort, and almost all social democrats of every stripe, had always been in 'the camp of Islam' insofar as they refused to oppose mass migration from the Middle East and Africa, and they refused to criticise the fundamental basis of monotheism itself, restricting themselves only to criticising the methods of the so-called 'radicals'. Those who walked in ignorance were simply unaware of this, because court 'historians' and court 'scholars' and the mainstream media had all portrayed them as being opposed, and as a result, their actual complicity with 'the camp of Islam' went unrecognised. As a result of this confusion, such persons and groups only appeared to be in the middle ground in the eyes of the ignorant and the uninformed. So it is only in the sense of the perception of the people, that the events since 11 September 2001 have 'driven' those people out of the middle ground. In reality they were never in it. It only appeared to be so. A prime example of this would be Angela Merkel and most of the Christian Democratic Union party in Germany. The CDU is firmly in 'the camp of Islam', and always has been, it was only in the eyes of the ignorant that it has appeared otherwise (eg, those who were fooled by the false dichotomy of 'multiculturalism vs. integration'), until recently when it became openly apparent for all to see.
And so the middle ground, and even the perception of there being a middle ground, can now begin to wither. Rather than whining about methods, such as who kills who in what kind of brutal way, we should begin talking about the purpose behind the conflict and what its philosophical and spiritual basis is, and then offer a choice. In other words, we need to get down to the fundamentals.
Be confident
If we, the apparent 'Satanic Alliance' can stand together and remain completely and ruthlessly consistent in our narrative and defend the attractiveness and beauty of our Promethean goals, then we can gently—when and where we can—push the dialogue which encourages people to make the choice to join such an 'alliance'.
In that sense, everything which has happened since 11 September 2001, should be seen not as a disorganised series of tragedies and inconveniences, but rather, as an opportunity, a springboard from which we as ethno-nationalists and ethno-regionalists can jump forward and present—truthfully and with sincerity—the narratives and views of things like 'the Satanic Alliance' or 'the DNA Nation', 'the dark side of the Enlightenment', 'post-modernity proper', or 'taking the kingdom of heaven by force', or any other thought-form that is grounded in an absolute earthlyness of thought that we care to elucidate.
The Turkish airforce shot down a Russian Su-24M last week, and since that time, critical examination of Turkey has brought a number of issues that people had been warned about before to light in the media, which until now had been mostly ignored.
I had intended to write an article at Majorityrights about this, but then I realised that the Independent was actually saying everything that I was going to write, so in the interest of saving time, I will just quote them verbatim:
The Independent, 'War with Isis: Obama demands Turkey closes stretch of border with Syria', 01 Dec 2015 (emphasis added):

The US is demanding that Turkey close a 60-mile stretch of its border with Syria which is the sole remaining crossing point for Isis militants, including some of those involved in the massacre in Paris and other terrorist plots.

The complete closure of the 550-mile-long border would be a serious blow to Isis, which has brought tens of thousands of Islamist volunteers across the frontier over the past three years.

In the wake of the Isis attacks in Paris, Washington is making clear to Ankara that it will no longer accept Turkish claims that it is unable to cordon off the remaining short section of the border still used by Isis. "The game has changed. Enough is enough. The border needs to be sealed," a senior official in President Barack Obama's administration told The Wall Street Journal, describing the tough message that Washington has sent to the Turkish government. "This is an international threat, and it's coming out of Syria and it's coming through Turkish territory."

The US estimates some 30,000 Turkish troops would be needed to close the border between Jarabulus on the Euphrates and the town of Kilis, further west in Turkey, according to the paper. US intelligence agencies say that the stretch of frontier most commonly used by Isis is between Jarabulus, where the official border crossing has been closed, and the town of Cobanbey.

It has become of crucial importance ever since the Syrian Kurdish forces known as the People's Protection Units (YPG) captured the border crossing at Tal Abyad, 60 miles north of Isis's capital of Raqqa in June. Turkey had kept that border crossing open while Isis was in control on the southern side, but immediately closed it when the YPG seized the crossing point. The Turkish authorities are refusing to allow even the bodies of YPG fighters, who are Turkish citizens and were killed fighting Isis, to be taken back across the border into Turkey.

The US move follows increasing international criticism of Turkey for what is seen as its long-term tolerance of, and possible complicity with, Isis and other extreme jihadi groups such as al-Qaeda's branch in Syria, Jabhat al-Nusra Front, and Ahrar al-Sham. Not only have thousands of foreign fighters passed through Turkey on their way to join Isis, but crude oil from oilfields seized by Isis in north-east Syria has been transported to Turkey for sale, providing much of revenue of the self-declared Islamic State.

Last week a Turkish court jailed two prominent journalists for publishing pictures of a Turkish truck delivering ammunition to opposition fighters in Syria. President Recep Tayyip Erdogan claimed that the weapons were destined for Turkmen paramilitaries allied to Turkey fighting in Syria, but this was denied by Turkish political leaders close to the Turkmen.

Turkey is now under heavy pressure from the US and Russia, with President Vladimir Putin directly accusing Ankara of aiding Isis and al-Qaeda. In the wake of the shooting down of a Russian aircraft by a Turkish jet, Russia is launching heavy air strikes in support of the Syrian army's advance to control the western end of the Syrian Turkish border. The pro-opposition Syrian Observatory for Human Rights said a Russian air strike on the town of Ariha yesterday killed 18 people and wounded dozens more. Meanwhile Turkey said it had now received the body of the pilot killed when the plane was shot down and would repatriate it to Moscow.

The US demand that Turkey finally close the border west of Jarabulus could, if Turkey complies, prove more damaging to Isis than increased air strikes by the US, France and, possibly Britain. The YPG has closed half the Syrian frontier over the last year and defeated an Isis assault aimed at taking another border crossing at Kobani. Syrian Kurdish leaders say they want to advance further west from their front line on the Euphrates and link up with a Kurdish enclave at Afrin. But Turkey insists that it will resist a further YPG advance with military force. Instead, it had proposed a protected zone on the southern side of the border from which Isis would be driven by moderate Syrian opposition fighters.

The US has opposed this proposal, suspecting that the Turkish definition of moderates includes those the US is targeting as terrorists. It also appears to be a ploy to stop the YPG, heavily supported by US air power, expanding its de facto state along Turkey's southern flank. US officials are quoted as saying that there could be "significant blowback" against Turkey by European states if it allows Isis militants to cross from Syria into Turkey and then carry out terrorist outrages in Europe.

Meanwhile in Iraq, officials said three more mass graves had been found in the northern town of Sinjar, which Kurdish forces backed by US-led air strikes recaptured from Isis earlier this month.
This is relevant to two flashbacks from last year, to stories that were made available in Al-Monitor via Taraf:
Al-Monitor / Taraf, 'Opposition MP says ISIS is selling oil in Turkey', 13 Jun 2014:

A man works at a makeshift oil refinery site in Raqqa's countryside, May 5, 2013. (photo by REUTERS/Hamid Khatib)

The Islamic State of Iraq and al-Sham (ISIS) has been selling smuggled Syrian oil in Turkey worth $800 million, according to Ali Ediboglu, a lawmaker for the border province of Hatay from the main opposition Republican People's Party (CHP).

Speaking to Taraf, Ediboglu recounted the findings of his research on ISIS activities.

"ISIS is a terrorist organization that poses a global threat, a group that kills recklessly and believes that killing people is a ticket to heaven," Ediboglu said. "One would expect such a group to engage in certain attacks in Turkey any time. Turkey's cooperation with thousands of men of such a mentality is extremely dangerous. You can never know what demands they could make to Turkey, a country whose regime they consider to be un-Islamic. No one can guarantee they will not repeat the massacres they commit in Iraq today or carry out similar attacks in Turkey tomorrow."

Oil revenues

Ediboglu said: "$800 million worth of oil that ISIS obtained from regions it occupied this year [the Rumeilan oil fields in northern Syria — and most recently Mosul] is being sold in Turkey. They have laid pipes from villages near the Turkish border at Hatay. Similar pipes exist also at [the Turkish border regions of] Kilis, Urfa and Gaziantep. They transfer the oil to Turkey and parlay it into cash. They take the oil from the refineries at zero cost. Using primitive means, they refine the oil in areas close to the Turkish border and then sell it via Turkey. This is worth $800 million."

Is Turkish intelligence helping fighters?

Ediboglu further stated: "Fighters from Europe, Russia, Asian countries and Chechnya are going in large numbers both to Syria and Iraq, crossing from Turkish territory. There is information that at least 1,000 Turkish nationals are helping those foreign fighters sneak into Syria and Iraq to join ISIS. The National Intelligence Organization (MIT) is allegedly involved. None of this can be happening without MIT's knowledge."

Taraf's earlier report on diesel smuggling

Last Aug. 20, Taraf carried a report headlined "Smugglers riding on a billion dollars." It reported that Turkish soldiers clashed with and repelled hundreds of horse riders and thousands of foot smugglers at the Syrian border on a daily basis. It pointed out that the biggest fight between the [Syrian Kurdish] People's Protection Units (YPG) and the al-Qaeda-linked Jabhat al-Nusra in Rojava [northern Syria] was over the revenues from the sale of the region's petroleum products to Turkey.

The report noted that some 2,000 oil wells exist in the Rumeilan region, which lies on the other side of the border stretching between [Turkey's] districts of Cizre in Sirnak province and Nusaybin in Mardin province. "The region's oil is being smuggled to Turkey. The daily amount of smuggled diesel fuel has reached 1,500 tons, which corresponds to 3.5% of Turkey's consumption," it added.
And:
Al-Monitor / Taraf, 'Al-Qaeda Militants Travel To Syria Via Turkey', 28 Jul 2014:

A vehicle carrying supplies stands at a checkpoint of the Islamist rebel group Jabhat al-Nusra in Syria's Deir al-Zour countryside, July 27, 2013. (photo by REUTERS/Karam Jamal)

During the 2½ years of clashes in Syria, there has been constant debate about how Turkey's borders were crossed. There were reports that Islamic groups going to fight regime of President Bashar al-Assad — first and foremost al-Qaeda, which has supporters in Turkey — were crossing over the Turkish border.

Interesting claims

To find out more, we met with people close to al-Qaeda in Istanbul. These people are shopkeepers who live in the Fatih district of Istanbul, but who won't give their names. They have interesting things to say about the Syrian war. These sources told us that following the eruption of war in Syria, al-Qaeda elements from Europe, the Caucasus, Afghanistan and North Africa began crossing into Syria via Turkey. These sources also had interesting things to say about the clashes with the Kurdish PYD and how the border is crossed.

Met by intelligence officials

O.E., one of our sources, said he crossed the border and went to Syria before the Jabhat al-Nusra-PYD clashes. He crossed from an unsupervised area on the Turkish side to the Syrian side controlled by the PYD. O.E. said, "We told the PYD we were there for Jabhat al-Nusra and they let us pass." O.E. said many people cross the same way: "Fighters coming via Chechnya and Afghanistan are met at the Syrian border. There are intelligence officials there. Those crossing the border inform the intelligence people of their affiliation and under whose command they will be. Then, they cross the border and report to their units."

Treated in Turkey

O.E. said those heavily wounded in clashes are brought to Turkish hospitals. He added, "Some return to their countries by the same route. There are al-Qaeda mujahedeen from Afghanistan and the Caucasus fronts who come with their families. Most of them settle in Syria. There are hundreds of militants who come the same way from Northern Africa, the Caucasus, Europe and Afghanistan. They simply cross the Turkish border and join the fight."

1,000 Chechens to Syria

O.E. said Chechens are now one of the strongest groups in Syria. "Under their commander Abu Omar, about 1,000 Chechens came to Syria. First they were with Jabhat al-Nusra, but now they have moved over to the Islamic State of Iraq and Syria (ISIS)," he said.

There are also Turks

O.E. said many Turks had gone to Syria to fight. "Some were martyred. Some stayed for a while and returned. Some couldn't resist going back to Syria. A retired policeman who is a friend of mine went to Syria to fight. He trained fighters in weapons. Several of us went to Syria before the fighting between the PYD and Jabhat al-Nusra broke out. Without being asked anything on the Turkish side, we just crossed to an area of Syria controlled by the PYD. We told them we came to [fight with] Jabhat al-Nusra and they let us enter," O.E. said.

The ISIS fans the clashes

O.E. claimed that it was the ISIS that was flaming the clashes with the PYD. "The ISIS declared that Jabhat al-Nusra was its subordinate organization. Jabhat al-Nusra commanders refused this claim and said they were under al-Qaeda leader Ayman al-Zawahri. These claims caused disputes within the organization. Chechen groups under Abu Omar in Syria split from Jabhat al-Nusra and joined the ranks of the ISIS. It was the ISIS fighters who provoked the recent clashes with the PYD. Reports said the ISIS entered and opened fire in PYD-controlled villages to disrupt the non-hostility agreement between the PYD and Jabhat al-Nusra," he concluded.
And more recently:
Todays Zaman, 'Erdogan tacitly acknowledges claim MIT transported arms to Syria', 25 Nov 2015:

Syria-bound trucks operated by MIT were searched in January 2014 after prosecutors received tip-offs that they were illegally carrying arms to Syria. (Photo: DHA)

President Recep Tayyip Erdogan on Tuesday seemingly validated claims previously made by critics who alleged that the Turkish government was sending weapon-filled trucks to radical groups in Syria by sarcastically asking, "So what if the MIT [National Intelligence Organization] trucks were filled with weapons?"

Pro-government figures had previously claimed that trucks belonging to MIT that were intercepted en-route to Syria contained "humanitarian aid" for the Bayir-Bucak Turkmens who live just over the border from Turkey's southern Hatay province. Many claims were made by the opposition and Turkish media that the trucks were, in fact, transporting weapons to radical factions in Syria.

Early in 2014, an anonymous tip led to the interception of a number of trucks on the suspicion of weapons smuggling. The first operation took place in Hatay on Jan. 1, 2014. Another anonymous tip led to three more trucks being stopped and searched in Turkey's southern Adana province on Jan. 19, 2014.

Speaking to a room full of teachers on Tuesday gathered for Teachers' Day, Erdogan said, "You know of the treason regarding the MIT trucks, don't you? So what if there were weapons in them? I believe that our people will not forgive those who sabotaged this support."

Erdogan was speaking just hours after Turkey shot down a Russian Su-24 aircraft near the Syrian border on Tuesday morning after, Ankara has said, it violated Turkish airspace despite repeated warnings.

Erdogan accused the prosecutors investigating the MIT trucks of denying Turkmens the power to defend themselves. "Those [MIT] trucks were taking aid to the Bayir-Bucak Turkmens. Some were saying, 'Prime Minister Erdogan said, there were no weapons inside those trucks;' So what if there were?"

Justice and Development Party (AK Party) officials called the 2014 investigation of the MIT trucks "treason and espionage" on the part of the prosecutors because the trucks were claimed to be transporting humanitarian aid to the Bayir-Bucak Turkmens.

Erdogan, who was prime minister at the time, said during a television program immediately after the interception of the trucks became public knowledge that the trucks were carrying aid supplies to Turkmens in Syria.

Many high-level Turkish officials, including then-President Abdullah Gül, said the trucks' cargo was a "state secret," which led some to speculate that the trucks were carrying arms.

However, Syrian-Turkmen Assembly Vice Chairman Hussein al-Abdullah said in January 2014 that no trucks carrying aid had arrived from Turkey.

The recent military operation of the Syrian government, backed by Russian air strikes, in the rural area of Latakia, inhabited by Bayir-Bucak Turkmens has caused thousands of Turkmens to flee to the Turkish border. A Turkmen brigade commander called for Turkey's assistance and expressed his frustration that Turkey's helping hand had not been extended far enough.

Turkmen Commander Ömer Abdullah of the Sultan Abdülhamit Brigade, who is fighting against the forces of Syrian President Bashar al- Assad, recently called on Turkey to help the Turkmens being pounded with cluster bombs by the Syrian regime and Russian forces.

"We are trying to survive under unbearable brutality and we need Turkey's help," said Abdullah. Expressing criticism of the AK Party, Abdullah said: "Every day our Turkmen brothers are dying. We expect the government to support us. Why have they abandoned us? Our martyrs fall every day. Why are we being left alone? I don't understand."

Abdullah's claim pokes an important hole in the AK Party's claims, while also posing the question of to whom the MIT trucks, now widely accepted as transporting weapons, were sent.

CHP leader says they told AK Party not to send weapons to Syria

Main opposition Republican People's Party (CHP) leader Kemal Kiliçdaroglu said on Wednesday that Turkey had become a country importing terrorism from Syria.

"We told them [the AK Party] not to. They said they were sending humanitarian aid. Later the documents were revealed [refuting these claims]."

Kiliçdaroglu was referring to the Cumhuriyet daily's headline story in May which discredited AK Party and Erdogan's earlier claims that the trucks were carrying humanitarian aid to Turkmens. The article showed photos from the search of the MIT trucks which were revealed to be carrying heavy munitions. Kiliçdaroglu consequently asked to whom the trucks were going, if not to Turkmens.

After the publication of the stills as well as video, Erdogan lashed out at Cumhuriyet and its editor-in-chief, Can Dündar, for publishing the evidence, publicly vowing that Dündar would "pay a heavy price" for his report.

According to the report, there were six steel containers in the trucks which contained a total of 1,000 artillery shells, 50,000 machine gun rounds, 30,000 heavy machine gun rounds and 1,000 mortar shells. All of this is registered in the prosecutor's file on the MIT truck case, the report said.

Erdogan personally sued Dündar and is requesting that he be given a life sentence, an aggravated life sentence and an additional 42-year term of imprisonment on charges related to a variety of crimes, ranging from espionage to attempting to topple the government and exposing secret information.

Following the Cumhuriyet report, Prime Minister Ahmet Davutoglu said that it is "none of anybody's business" what the trucks contained. Speaking in a live broadcast on the Habertürk news station, in May, Davutoglu said, "This is a blatant act of espionage."

Tugrul Türkes, who made it into the AK Party cabinet on Tuesday after switching from the Nationalist Movement Party (MHP) in September, said in June that the trucks were not destined for Syrian Turkmens. Speaking on CNN Türk in June, Türkes said: "I swear that those weapons were not sent to Turkmens as they [Erdogan and other government officials] claim. We [the MHP] have connections with Turkmens [in Syria]."

Prosecutor admits 2,000 truckloads sent to Syria

A pro-government prosecutor who was appointed to the MIT trucks case inadvertently admitted in May that weapon-laden trucks made 2,000 trips to Syria, according to the lawyer of one of the defendants in the case.

Hasan Tok, the lawyer for former Adana Provincial Gendarmerie Regiment Commander Col. Özkan Çokay, who was involved in the search of MIT trucks in January 2014, said that he learned that there had been at least 2,000 trips made by MIT trucks to Syria from the prosecutor, Ali Dogan.

Dogan, known as a government loyalist, filed for a verdict of non-prosecution regarding the investigation after he was appointed to the position of Adana chief public prosecutor. According to Tok, Dogan had asked the defendants in a previous hearing, "2,000 trucks have passed [into Syria], why was this one specially chosen?"

"We didn't know 2,000 trucks had passed into Syria; may god bless Ali Dogan," said Tok.
Of course, the weapons did not go to the Turkmens. The weapons on those trucks actually went to groups like the FSA 10th Coastal Brigade which has conducted operations in line with Jahbat Al-Nusra and Ahrar Al-Sham. It's also reasonable to speculate that significant amounts of those supplies also found their way into the hands of ISIL.
Turkey's intense protectiveness about Russian interactions with their border, may have been due to the fact that they didn't want the Russians to be able to do air interdiction against what was an ongoing logistics operation taking place across that border.
It's a depressingly ridiculous sequence of events which gives Russia the ability to create a media narrative about how 'only Russia' is 'fighting the terrorists' with real determination, because Turkey is a part of NATO and is basically embarrassing NATO with its duplicitous behaviour.
There is a silver lining to these dark clouds, though. Up until just recently, Russia had been seeking to work with Turkey on the provision of oil and gas pipeline projects into Europe, which would have increased European dependence on Russian energy companies. Thanks to this sequence of events, Russia and Turkey are now at odds with each other, and Russia is seeking to suspend those projects and to place sanctions on Turkey.
All of this has not worked out too badly. Not only has Turkey's duplicity finally come to light in a way that makes it impossible for anyone in western governments to avoid dealing with it, but additionally the Russian government is now politically incapable of partnering with Turkey against the European Union's geostrategic interests with regards to energy concerns, at least in the near term, as negotiations on the Turkish Stream pipeline project are suspended.
This gives more time for the effects of the Iran deal to come into play, since Iran was able to enlist Russian assistance in the P5 negotiations to make the case for sanctions being removed, while at the same time positioning itself against Russia as an alternative energy supplier for Europe, which would be able to substitute its natural gas in place of Russia's and increase the diversification of supply. This would in turn lessen Russia's political influence in Europe.
Iran's infrastructure would not be ready to supply Europe in the near term, and so the near term quarrel between Russia and Turkey, gives the European Union more time to coordinate that infrastructure development with Iran, and potentially tilts the tables by making Russia appear less reliable as a supplier.
From that perspective, all of this is a win for the North Atlantic.
Kumiko Oumae works in the defence and security sector in the UK. Her opinions here are entirely her own.
How do you know when a set of principles is not exactly fit for purpose? When you have to opt out of them in order to not die:
RFI English, 'France to opt out of European human rights convention because of Paris attacks', 27 Nov 2015 (emphasis added):

A police officer in Paris this week. [Reuters]

France is to opt out of some aspects of the European Human Rights Convention while the state of emergency declared after this month's Paris attacks is in force. As well as raids on mosques and Islamic charities, police have swooped on radical environmentalists since the measure was introduced.

Some of the measures taken because of the state of emergency are "likely to necessitate exemption from some of the rights guaranteed" by the convention, the French authorities have told Council of Europe Secretary-General Thorbjorn Jagland.

States are allowed to opt out in case of war or a danger "threatening the life of the nation", although they cannot be exempted from certain provisions, including bans on torture and cruel and inhuman treatment.

Exemptions can be challenged at the European Court of Human Rights.

There have been 1,616 searches of premises, 211 arrests, 161 people charged and 293 weapons seized since the state of emergency was declared.

Among the premises raided have been mosques, prayer rooms and shops targeted because "radical Islamists" were said to frequent them or because some sermons given were judged extreme.

But others have been on the homes of people who have taken part in environmental protests and occupations, such as the camp at the site of the proposed airport near Nantes in western France and one aiming to stop a dam in the south-west where a protester was killed.

Several activists have been placed under house arrest, apparently for fear that they might have defied the ban on demonstrations ahead of the Cop21 climate conference, which opens on Sunday 29 December.

"Special measures are necessary for the conference's security" and there have been calls for "violent actions", according to warrants seen by Le Monde newspaper.

On Tuesday a group of intellectuals published an appeal to defy the state of emergency in Libération newspaper and a Facebook page calling for "disobedience" of the ban on Sunday's planned march for the climate had attracted 4,700 participants on Friday.
A person might be tempted to laugh, and indeed I myself am laughing. But at the same time, you have to think soberly to yourself, "How many people had to die in order to reach this point?"
Is it actually the case that European civil society is re-learning what 'being in a conflict' is about, the hard way?
Kumiko Oumae works in the defence and security sector in the UK. Her opinions here are entirely her own.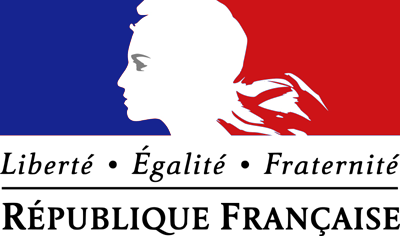 Events in France affect Germany.
There's only so long that an idiot can keep-on-keeping-on, until all sections of the more rational elements of the establishment begin to question that idiot's ability to remain politically viable.
We've all heard already about how the defence and security sector has found Germany to be a land of absurdity for quite a while now. But that alone is not enough to see someone removed from office. The preponderant political power in a liberal state is the haute-bourgoisie. Economic power precedes political power. This means that understanding the background financial and economic signals and the way that these signals interact with the overt political landscape, enables us to see an event developing from far off, and allows us to adjust our own tactics accordingly.
The Paris attacks have been a nightmare for Merkel because it has awakened criticism not only from German people in the street, but also among opportunistic members of her own party who are seeing now that she is at the weakest she ever has been, and that now is a chance for them to mount a political challenge. But the success of that challenge, when it comes, depends on the acquiescence or at least the sign of a resigned inevitability from financial players who are the stakeholders in the 'success' or 'failure' of Germany.
The time when it would be politically expedient to remove Merkel, would be in December at the CDU conference, where someone would be able to demand that she should hand in her resignation, and twist her arm until she does. Who would be most likely to replace her in such a case? Most likely Wolfgang Schaeuble.
So our big question is: How likely is it that Angela Merkel will be forced to resign in December and be replaced by Wolfgang Schaeuble?
One way to find this out, would be to look at the macroeconomic stances of Merkel and Schaeuble, compare them, then watch and see how the ECB and the large players are behaving, to see if they are making any moves that would suggest that they don't expect Merkel to still be there by the end of December.
It's known that Schaeuble is more of a tight-fisted politician than Merkel when it comes to certain aspects of economic policy—Schaeuble hates expansionary policies much more than Merkel does. And for those of you who thought that it wasn't possible to hate expansionary policies more than Merkel, I have to tell you, it's possible, Schaeuble does precisely that. On that issue, he is pretty depressing.
Therefore, it stands to reason, that if you see Mario Draghi at the ECB suddenly deciding to rush through a lot of actions to carry out more expansionary economic policy (something which he certainly ought to do) within a time frame before the end of December, and that if you see big global economic stakeholders 'forecasting' interest rates that are even more subterranean than at present, along with 'forecasting' more quantitative easing, one of the factors motivating that choice could be that they are positioning themselves for a future in which Merkel is forced to resign. Why? Because it's easier to carry out those actions before Schaeuble gets in. That way, when Schaeuble gets in, he would have to accept that it is already happening.
So, let's see what people are saying as of this Friday evening:
Bloomberg Business, 'Draghi Says ECB Will Do What It Must to Spur Price Gains', 20 Nov 2015, 1349 UTC (emphasis added):

European Central Bank President Mario Draghi set the scene for further stimulus in two weeks' time, saying the institution will do what's necessary to reach its inflation goal rapidly. The euro fell.

"If we decide that the current trajectory of our policy is not sufficient to achieve that objective, we will do what we must to raise inflation as quickly as possible," Draghi said in a speech in Frankfurt on Friday. "In making our assessment of the risks to price stability, we will not ignore the fact that inflation has already been low for some time."

Draghi's comments underline the ECB's concern that the inflation rate in the 19-nation euro area, currently 0.1 percent, will slip further from its target of just under 2 percent amid a high degree of economic slack and slumping oil prices. Policy makers are weighing the need for an expansion to the 1.1 trillion-euro ($1.2 trillion) quantitative-easing program that started in March, or measures such as taking the deposit rate further below zero.

The yield on German 2-year bonds slid to a record low of minus 0.389 percent and the euro dropped. The single currency was down 0.4 percent at $1.0689 at 2:47 p.m. Frankfurt time.

Power Tool

"A further stimulus announcement in December is a virtual certainty," said Marco Valli, chief euro-area economist at UniCredit SpA in Milan. "'We will do what we must' leaves little room for interpretation: if they fail to reach target, they do more."

The ECB's Governing Council will meet in Frankfurt on Dec. 3 for its next monetary-policy meeting. While Draghi and Executive Board member Peter Praet, the institution's chief economist, have indicated more easing is in the cards, some governors have expressed unease.

Estonia's Ardo Hansson, Slovenia's Bostjan Jazbec and Germany's Jens Weidmann have signaled since the last meeting that they see no need to ease policy further just now.

"I see no reason to talk down the economic outlook and paint a gloomy picture," Weidmann said in a speech at the same event as Draghi. "Crucially, the decline in oil prices is more of an economic stimulus for the euro area than a harbinger of deflation."

Praet said in an interview this week that taking no action in circumstances of such low inflation risks the ECB's credibility, and has argued that the fall in oil prices is increasingly a sign of weakening demand.

QE Adjustment

"If we conclude that the balance of risks to our medium-term price stability objective is skewed to the downside, we will act by using all the instruments available within our mandate," Draghi said. "In particular, we consider the asset-purchase program to be a powerful and flexible instrument, as it can be adjusted in terms of size, composition or duration to achieve a more expansionary policy stance."

He added that the interest rate on the deposit facility "can empower the transmission" of asset purchases, "not least by increasing the velocity of circulation of bank reserves."

Draghi said core inflation, which excludes energy and food, is also a signal of too-weak price pressures. The rate was 1.1 percent in October. While that's the highest reading in more than two years, it's still barely half the goal for the headline rate.

Core Concern

"Low core inflation is not something we can be relaxed about, as it has in the past been a good forecaster for where inflation will stabilize in the medium-term," he said. "While core industrial goods will receive support from the depreciation of the euro, an increase in core services inflation –- today close to an all-time minimum –- will depend on rising nominal wage growth. For that to pick up, the economy needs to move back to full capacity as quickly as possible."

The ECB is currently buying 60 billion euros a month of bonds and intends to do so through at least September 2016. The deposit rate is at a record-low minus 0.2 percent.

There is "little room for doubt that the central bank is not only about to step up its monetary stimulus, but plans to do so decisively," said Nick Kounis, head of macro research at ABN Amro Bank NV in Amsterdam. "We expect the ECB to step up the pace of QE by 20 billion euros per month, signal that purchases will go on beyond September, and expand the eligible universe of assets to include regional bonds. We also expect a 10 basis-point reduction in the ECB's deposit rate and guidance that it would be cut further if necessary."
And:
Bloomberg Business, 'Euro Resumes Drop as Draghi Leaves Little Doubt of More Stimulus', 20 Nov 2015, 1708 UTC (emphasis added):

The euro fell for the first time in three days after European Central Bank President Mario Draghi said policy makers will do what they must to raise inflation "as quickly as possible."

The shared currency weakened to almost a seven-month low against the dollar and dropped versus all of its 16 major peers. Draghi said in Frankfurt that downside risks to price growth have increased in recent months. The euro also fell after German producer prices declined more in October than forecast.

"It was clearly meant to stress that the ECB remains active and we've seen market responses accordingly—the euro has dropped back," said Shaun Osborne, chief foreign-exchange strategist at Bank of Nova Scotia in Toronto. "The market is taking on board the message from Draghi that we should be prepared for potentially quite aggressive actions in December."

The euro declined 0.7 percent to $1.0655 at 12:07 p.m. New York time, after gaining 0.9 percent in the previous two days. It touched $1.0617 on Nov. 18, the lowest since April 15. The shared currency fell 0.8 percent to 130.86 yen.

Draghi said last month that ECB policy makers would review the degree of monetary stimulus at their December meeting. Since then, the euro has weakened almost 6 percent versus the dollar as traders increased bets that officials may extend the bond-buying program or further cut the deposit rate.

German producer prices fell an annual 2.3 percent in October, after a 2.1 percent decline the previous month, the nation's federal statistics office said Friday. Economists surveyed by Bloomberg forecast a 2 percent drop.

"We should be in little doubt that the ECB are again attempting to adjust the monetary policy dial, likely via extending and increasing QE, while another cut in the deposit rate is also on the cards," said Jeremy Stretch, head of foreign-exchange strategy at Canadian Imperial Bank of Commerce in London. "While far from an explicit aim, easing monetary conditions via a cheaper euro is also a positive by-product of such policies."

The euro pared its decline as ECB official and Bundesbank President Jens Weidmann said he didn't see any reason to "paint a gloomy picture" of the region's economy. He warned that the longer ultra-loose monetary policy was in place, the less effective it can become.
And:
Bloomberg Business, '14 Predictions for 2016 from the Brightest Minds in Finance', 20 Nov 2015, 0501 UTC (emphasis added):


[...]

Rebecca Patterson, chief investment officer of Bessemer Trust, which oversees more than $100 billion in assets

The biggest risk for Europe in the year? "It's the refugee crisis," says Patterson. "I think it's the biggest challenge to the European Union yet. The horrible terrorist attacks in Paris increased the risk that the refugee crisis could result in a political and/or policy shift, or simply lead consumers to change their spending patterns. Either could weigh on sentiment around European growth and corporate profits." Patterson is on alert for any such changes but remains overweight European equities and positioned for a weaker Euro, she says. "The Paris attacks sadly shone a light on the European refugee crisis; I assume more investors globally now are thinking more about what millions of immigrants can mean for an economy and respective markets. However, I am still not sure that investors globally have adequately thought through what market spillovers the European refugee crisis could trigger over the coming year."

[...]

Erik Nielsen, chief economist at UniCredit

"Expect further divergence between the Fed and the ECB, with the former hiking rates a couple of times next year and the latter expanding its balance sheet more than it has presently announced."

[...]
Of course, the situation in Germany is not the only reason why the ECB would take the actions that it is going to take, it was likely something that was always going to happen. But the time frame within which it is occurring and the reaction of market participants to that risk event, seems to indicate that a lot of people are paying attention to this. Look at the 3 week and 1 month Euro-dollar volatility term structure, and you can see that they are reacting to European risks and not just to the upcoming 16 December Federal Reserve meeting in the USA: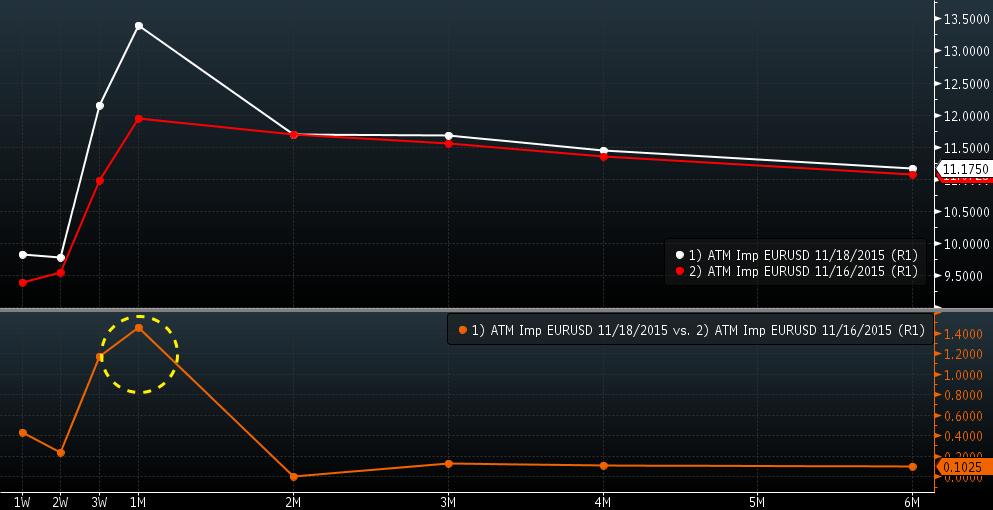 Also, given that there are numerous arguments for why Mario Draghi did not have to take the earlier-described actions in the short term (one of those being the oil prices argument), and given that he is determined to do it anyway, it would indicate that it is an attempt to get out in front of Schaeuble so as to pre-emptively make it more difficult for Schaeuble to get his way on monetary policy, and it would therefore mean that it is possible to be confident that Merkel is going to be gone by the end of December.
What does this mean for ethno-nationalists? Well, it means that it would probably be prudent to begin altering our rhetoric and policy suggestions with an eye toward a near-term future in which Merkel is not there. This will require some adjustments which would be best made sooner rather than later. We should be particularly vigilant against the idea that the removal of Merkel is a magical solution to all problems. Schaeuble's disposition is one that presents a slightly altered set of problems to the European Union, and we would need to explore what those are ahead of time and be ready to criticise them when they come.
There needs to be an urgent study of all facets of Wolfgang Schaeuble's politics. He might be chancellor of Germany very soon.
Kumiko Oumae works in the defence and security sector in the UK. Her opinions here are entirely her own.