So what are we to make of the crisis in Catalonia?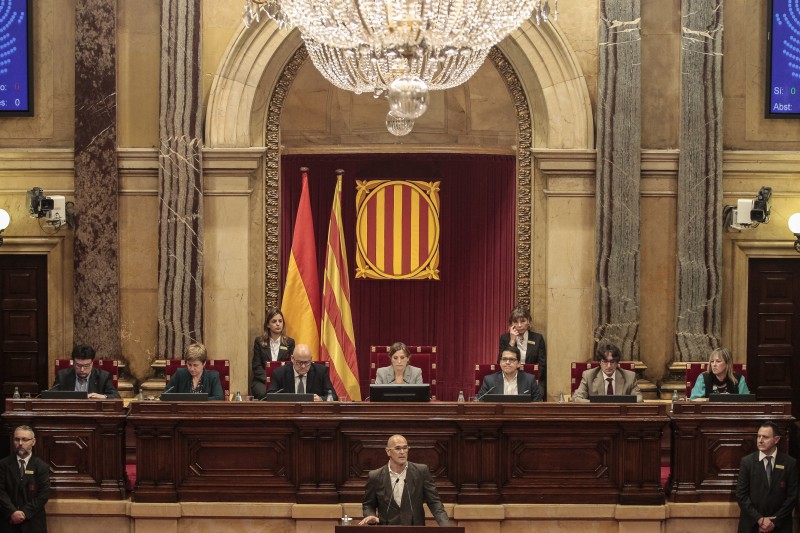 Momentous events have come to pass this afternoon, finally, in Barcelona, namely that the Catalan Parliament has voted to declare independence from Madrid, and just 40 minutes later Madrid has voted to furnish Mariano Rajoy with the power to invoke Article 155 of the Spanish constitution, suspending Catalan autonomy. I think it is time for us to acknowledge this development and ask, if only via this brief (and rapidly written) post, what it means.
There has been much written over the last few weeks about the conflicted state of Catalan opinion, and many claims about the (supposedly) indistinguishable and unified Spanish ethnic type, and consequently about the negative and materialistic motives of Catalans in escaping the tax-hungry Spanish regions to the south and west. To many of us it is self-evident that Spain is not just a state but a nation – we have all grown up with that belief – and the suddenness with which this whole crisis has exploded into our consciousness seems scarcely credible. After all, Yugoslavia was never a real country, and once the Berlin Wall was down it was fully expected that fracture would occur, and that fracture might be accompanied by violence. But this … this is happening in the liberal west of the continent to a key member of the EU, a member of NATO, a modern, industrialised democracy. According to the customary assumptions about the liberal democratic model, it shouldn't even be possible.
On the other hand, there is an undeniably ugly side to the Spanish government's reaction to the events in Barcelona thus far. It is patently obvious that there is no interest in trying to talk down the secessionists. The Spanish regions enjoy maximum autonomy already. There is nothing more to give in that direction. The political possibilities for negotiation have been stripped bare. All that remains is core principle and force, which express differently in each side.
This is, then, a classic contest between a genuine identitarian will, which cannot be satisfied with any amount of autonomy within another governing system, and the existential necessity of that system to maintain its integrity.
Well, we are ethnic nationalists. In such a battle, our guide to what is right is not romantic and sentimental and not predicated on an overriding desire for peace. We must favour what is most permanent and dear, and that is authentic peoplehood and identity. The Catalans have it. There are distinct genetic components in the people, stemming from a German influence which is seen nowhere else in the Iberian peninsula. They have a language and a particular culture and history, and they have a pride in that. These things are great givers of a courage which, on the surface anyway, looks as if it will not be brooked. The Catalans will face the force of the Spanish government, and probably fight back with civil unrest, for example by denying Madrid their taxes.
But there is another, related and larger contest here which steers us towards supporting Catalonia. All of us in the West, and especially in the European Union, are being ushered, by degrees, into a new supra-state. It is a top-down, elite-led project, and its implications for nations, as expressions of a particular descent, belonging and loyalty, are destructive. We see this most clearly today with the attempts by the EU bureaucracy to coerce Third World migrants upon the Visegrad states.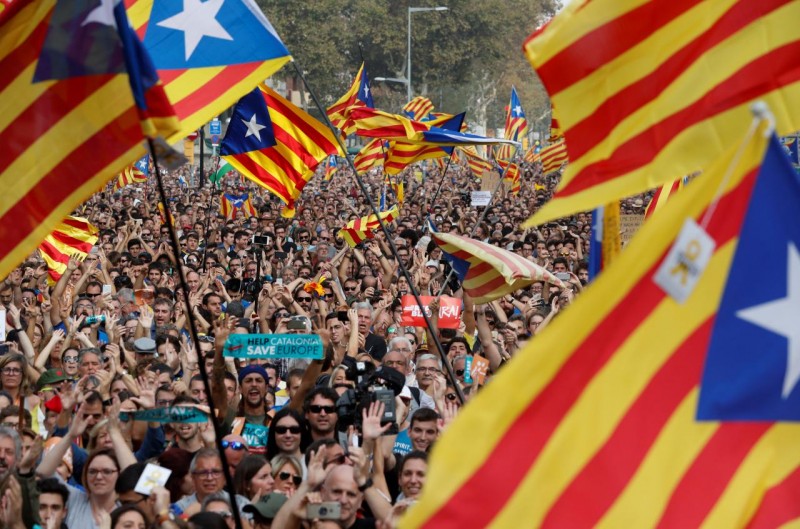 It is true that the Catalans do not seek freedom from Brussels, and seem not to have understood (any more than the SNP government in Edinburgh did in 2014) that Brussels cannot simply extend membership of the Union to a new European state. But above and beyond the politics is the over-arching contest for and against the ethnic life. Even if it does not know it today … even if the public discourse and the political ambition remain essentially liberal and not at all nationalist in any overtly recognisable sense… Catalonia is inducting itself into this historical contest. Spain, meanwhile, in announcing its cold determination to survive, is taking its own inevitable place in the opposing camp - inevitable because post-Franco Spain, the Spain of Juan Carlos and democracy and admission to the then EC, was a project of modernisation, and modernisation, as understood in the half century after World War II, with all the bells and whistles of a brave new, subsuming openness to the world and its markets and its peoples, had no time for the introspection and the values of ethnic survival and self-preservation.
Metapolitically, such modernisation always treats of ethnicity within assimilation (or melting-pot) theory, attaching no greater worth or meaning to it than a lab researcher typically attaches to lab-rats. Catalonian independence, like Brexit, like all the nationalist and near-nationalist advances in 2017, is inherently an insistence on the human worth and meaning of the ethnic life.
We are bound to support the Catalans in their brave bid for freedom and true autonomy. It is our fight.