Majorityrights Central > Category: Psychology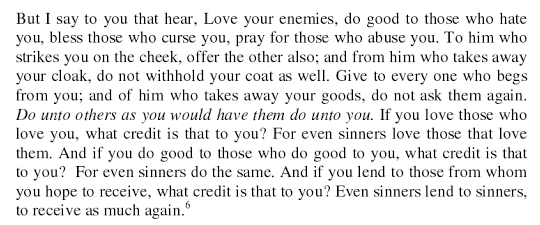 The Sermon on The Mount Ensconces The Golden Rule of Altruism

Majorityrights prefers to deal with verifiable reality as opposed to speculative theory and faith based systems of rules. Therefore, genetic groupings and genetic interests are key criteria, even if not the only important verifiable criteria of our peoplehood to keep track of. Existence is a precursor of course to genetic interests, but securing it for any span and legacy requires varying degrees of sophistication to negotiate complex interaction. The term of common currency that we will use for the logics of meaning and action that people use to negotiate interaction will be "rules." (1)

For those of us who perceive of ourselves as rationally and empirically grounded, it is difficult to understand pastor David Blackburn, his love of Jesus that would have him not only forgive, but want to share his love of Jesus with the men who raped and murdered his wife and unborn child; but to my knowledge, he is at least not hoping to get them released from prison.
It is even more difficult to understand European peoples allowing, even welcoming foreign incursions into The U.K., Sweden, France and Germany - it is difficult to fathom the mindset of a Merkel, who would destroy our European peoples in service to non-Europeans.
But there is one rule, one convoluted rule, that they have in common and makes their position intelligible to us despite what is to us, their irrational behavior…
The Golden Rule is a part of the Sermon on the Mount, which is a central text in the Christian faith. It states: "Do unto others as you would have them do unto you". There are similar instructions in many other cultures.

Despite receiving high respect and wide popularity, the rule raises critical questions. What is the recommendation more exactly, and is it good advice?
This post will prepare a discussion of the work of Jan Tullberg - viz., the difference between the golden rule of benevolence as opposed to the silver rule of reciprocity - as it applies to assist in the reconstruction of a necessary consensus of moral rules among European peoples and for coordinating our relations to others.
____________
There is a consensus among advocates of European peoples that in essence we seek to secure the existence of our people. There is much dispute over how that is to be done…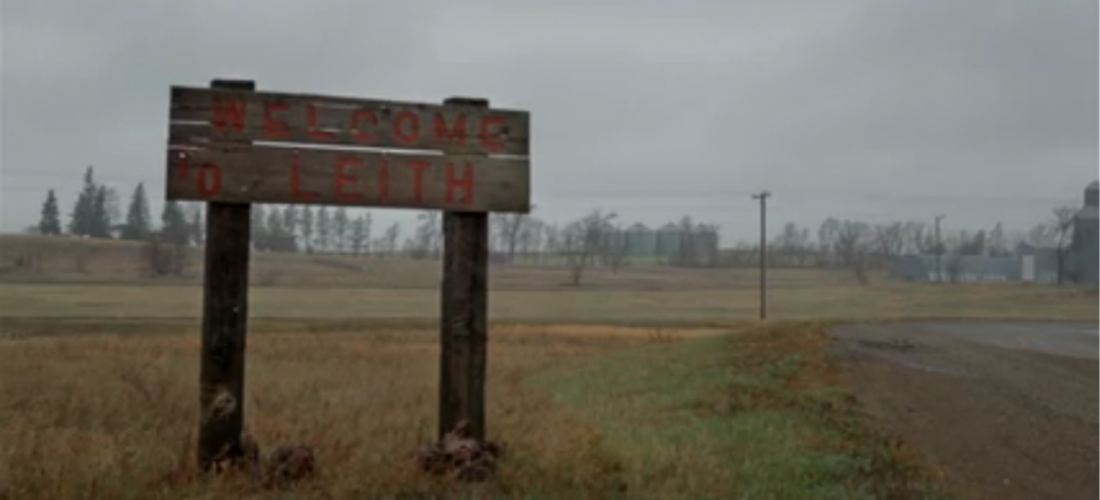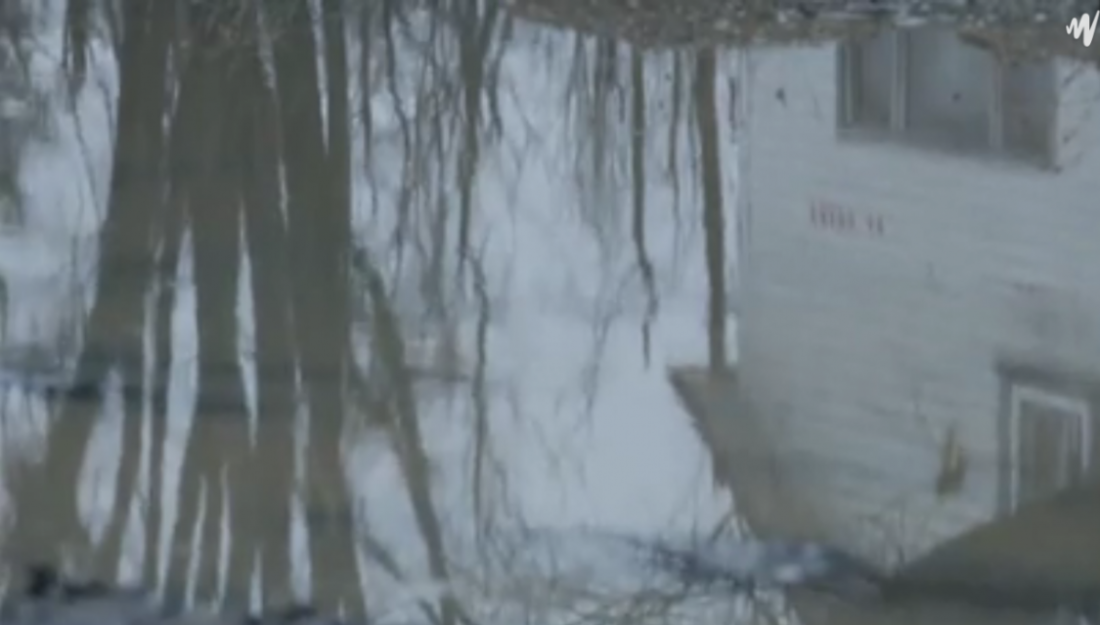 Besides capturing beautiful location shots, this documentary provides more insight and even some balance to the heretofore mainstream media portrayal of Craig Cobb's gambit to start a White preserve in tiny Leith, North Dakota. The bit of balance is surprising given that the production is coming from a perspective which is highly unsympathetic to Cobb and the White separatist cause.
1) The documentary does allow for Cobb to sneak-in the fundamentally legitimate argument that Whites should be able to establish separatism in order to preserve themselves.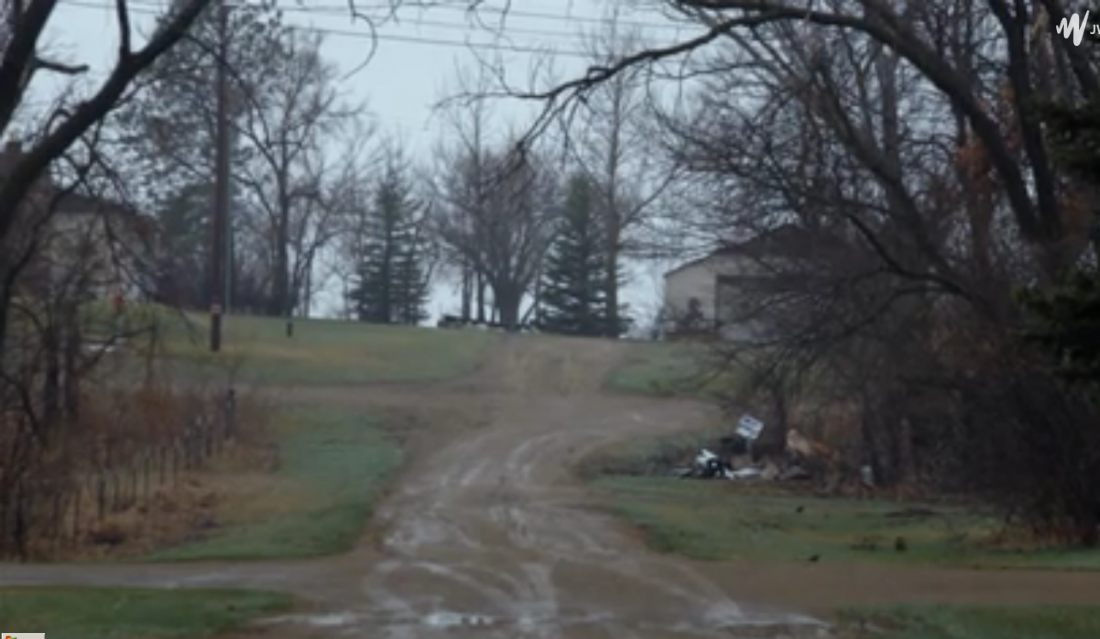 2) However, it takes advantage of a wrong turn that Cobb takes in separatist advocacy, and one that the demographic preponderance of American WN can be susceptible to, which is to associate White separatism with Nazism and its corollary of pursuing an antagonistic, literally supremacist, even "exterminationist" agenda. This willing association of WN with "NS" Germany stems from a false either/or regarding WWII, an either/or which maintains that there was simply a wrong and simply a right side in that conflict.
3) Stemming from a myopic reaction to Jewish sponsored liberalism in America and the frustration for unpopularity that will result of the "NS Germany simply right" response not being accepted (not even by many Whites who would be sympathetic to White separatism), the SPLC (Southern Poverty Law Center) has a rather easy task to demonstrate that Cobb is not just trying to build a separatist White community that can amenably coordinate with others.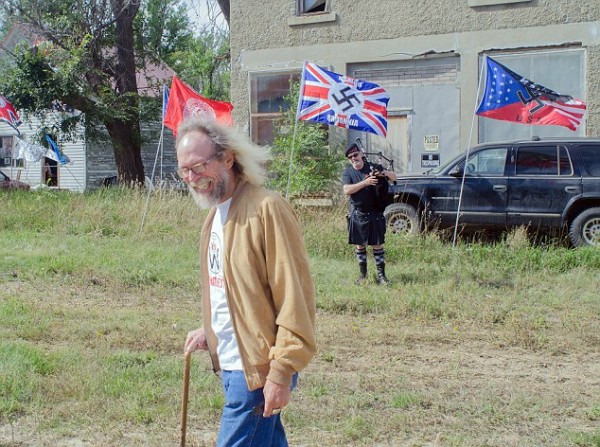 a) He invited-into Leith some of the most salient and provocative White advocates, purchasing property in Leith for Alex Linder, the NSM ("neo-Nazis") and Tom Metzger.
Linder of course couldn't be more brazen in his rhetoric, calling for the elimination of Jews and so on; the NSM couldn't be more flamboyant in their display, as they literally came into town bedecked in Nazi regalia, posting the like flags around Cobb's house in Leith, and unabashedly proclaiming their unanimity with "NS" ideology.
Metzger doesn't approve of such flamboyant and anachronistic tactics, but he has taken a position contrary to the PTB (powers that be) over the years, a position that the SPLC has tried to associate with senseless violence - despite his clear advice against that.
b) Along with the negative media reputation of these White exponents as embellished by the heretofore mainstream media and the SPLC, the SPLC begins to build a case to trace Cobb's associations with these figures, as they have been following them over the years in an effort to connect them to a history of violence with further implications.
- as in the case the SPLC brought and won against then California resident Metzger, who was found "vicariously responsible" through a tenuous association with a skinhead who killed a black in a spontaneous street fight in Oregon.
- Matt Hale, fellow in Cobb's religion -"Creativity" - was effectively set-up (by a wired-FBI informant who coaxed Hale to almost say that he approved of killing a judge) on charges of plotting to kill the judge who ruled against him in a patent case regarding the church logo and was sent to jail for 40 years. In connection with that bogus case, Cobb had published the address of the judge. Heidi Beirich (SPLC) admits that it is unknown whether that information aided and abetted the subsequent murder of two family members of that judge.
- VNN (Linder) associate and Cobb supporter, Frazier Glenn Miller, came unhinged one day and shot three people involved with the production of "To Kill a Mockingbird." This was after the Leith Fiasco was over and Cobb was driven out of town not to return; but with that, the SPLC et al. were able to argue more persuasively that there was a danger when he was in town; and with some Leith property still in the hands of White advocates that the danger loomed of these types coming to Leith again and coming unhinged.
It is already well known to the world that Cobb's case was not helped by his gun toting stroll with Kynan Dutton, a display compounded with verbal taunting of a neighbor. They were arrested for that and brought-up on charges of making terrorist threats.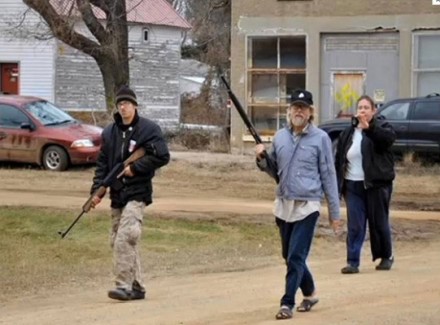 Further threatening gestures alleged to Cobb that the documentary makes known to people who'd not been riveted to the event's details, are that Cobb was apparently publishing the address, names and other information about family members of his neighbors - the Christian couple whom he antagonized in the gun stroll. While people of our sophistication might understand Christians are a part of a hostile world view, Cobb was not exercising necessary discretion with regard to their skill level - nor for their emotional latitude given that the man he was verbally antagonizing on line and in the end, in his gun toting walk, had a 17 year old daughter murdered in Washington prior to coming to Leith, North Dakota. But to make Cobb's indelicacy hardest to ignore, this man read online where Cobb was encouraging ex-convicts to come to Leith and telling them that, "now is the time to draw your sword."
Of course the context of Cobb's words and actions must be taken into account - these things will be given hostile framing by the SPLC in advice to the movie makers and this couple along with the other liberal town folk. But still, anyone who would tout Cobb as having aced as a fine PR man for WN is sorely mistaken.
...and there were people whom he could have won over - the documentary shows one Leith townsman who does not seem hostile to Cobb, saying that "people can believe what they want, I guess."
Additional new information, adding some balance and mitigating circumstance sympathetic to Cobb's perspective is noted in the film. Prior to the stroll, Cobb and Dutton's property had been vandalized; Dutton's car tires were slashed and the car was spray-painted with the words, "go home." Dutton's partner is also seen being confronted by a neighbor who drives up to her, apparently to intimidate her. Hence, there was some provocation from the other end and reason to perceive the need to defend themselves against their neighbors prior to their ill-fated stroll. And there are other indications that Cobb and Dutton were up against threats.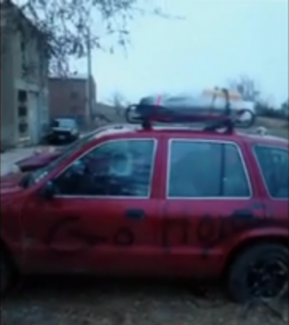 There is an irony in the suggestion that Cobb has a home.
These factors were in addition to all of the media hoopla and antagonism that had preceded, the "anti-racist" rallies and SPLC attention that was brought to bear against Cobb's initiatives in the town.
Another irony came about when the SPLC summoned go-to victim group coalitions to harangue the White separatist - WN circles note that the American Indian groups who were among those brought-into Leith to protest Cobb's effort to build a separate and sovereign territory based on his people's genetic kind had been bused there from reservations which are their exclusionary racial preserves.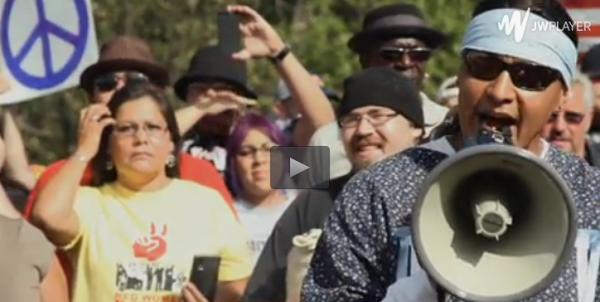 In addition to showing the counter-intimidation and vandalism by Cobb's neighbors, there was another bit of balance provided in the film, significantly against the case that Cobb was "terrorizing" people to where they felt in immanent danger.
A photographer named Gregory Bruce came on a moral high-horse from another North Dakota town to intervene in Leith. He not only made a special effort to thwart and document the thwarting of Cobb's plans, but he also boldly announced that neither he nor anybody else in town was afraid or threatened by Cobb. This bravado that Bruce horned-in with undermined the case for Cobb's threateningness and opened the way for Cobb to be granted a plea bargain.
Another mitigating factor to the charge of "terrorist threats" and the idea that the people of Leith considered themselves to be in immanent danger was that Cobb was never threatening to the interracial couple in Leith (Bobby and Cheryl Harper) nor to Bobby by himself. The documentary tried to make hay out of the DNA test given by the talk show (The Trishia Goddard Show that Cobb appeared-on with the interracial couple), "showing" that Cobb was 14 % black, but Cobb dismissed it graciously despite being publicly hoisted by the petard of his objectivism (Cobb is not 14% black by any reasonable metric).
While Cobb was imprisoned for his gun toting walk and threats, had a felony put on his record, can no longer legally posses fire arms and underwent significant costs, he did manage to mitigate his sentence by admitting his mistake and was freed; finally, the documentary showed some balance again, by interviewing legal counsel advising the audience that justice was served - and in terms of the relative circumstances of the Leith fiasco, it was a fairly just result.
Justice to the eminently legitimate and noble cause of White separatism, however, was not served; but that is largely due to Cobb's association with Nazism as it cut him off from broad support for what should be his absolutely legitimate goal of White sovereignty and survival; but with his "public relations" effort, he gave legitimacy instead to the worst antagonists to the cause of White survival and the separatism that is necessary to that end.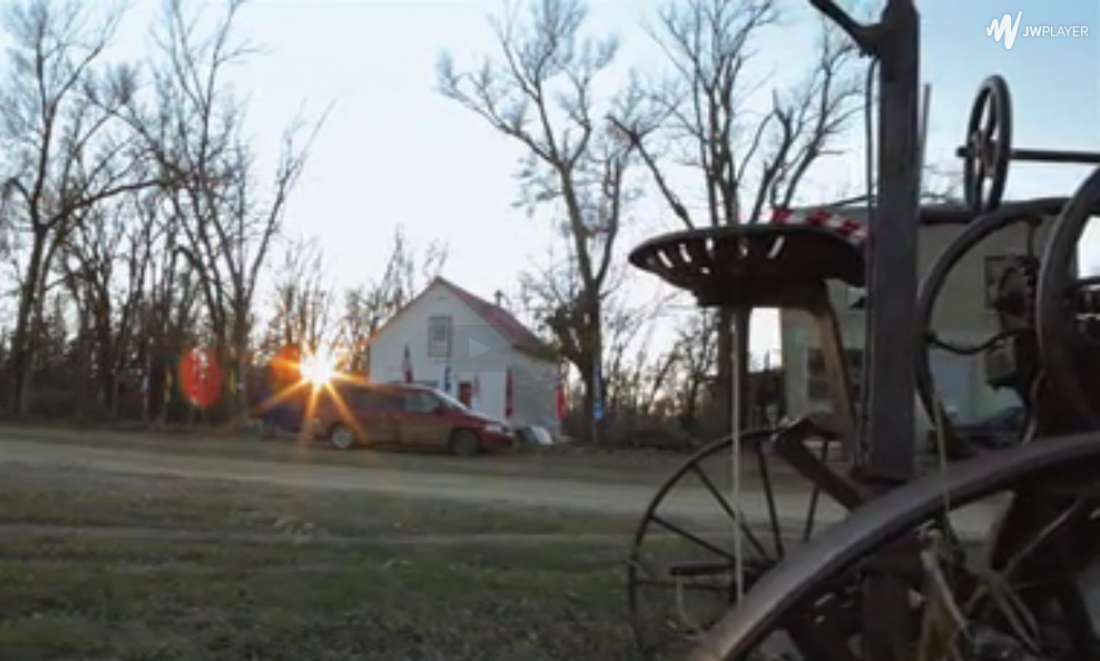 We have a great deal of respect for the work of Professor Kevin MacDonald and Dr. Tomislav Sunic here at Majorityrights.
However, the historical analyses and social criticisms of capable academics do not necessarily extend to sober prescriptions with regard to political requirements at hand and that is a fact unfortunately in evidence by their AFP's proposed Cabinet for a Trump Presidency.
While most people recognize that a White Nationalist political party putting-forth a platform and candidates is not likely to have a great deal of success at this point in history, what can be expected is that they use the platform to get an articulate message out, one that well represents European/White peoples. However, with the Cabinet that The American Freedom Party proposes for a Trump Presidency, they undermine not only that nominal value of running for mainstream political office, but the very credibility that they could have lent as exponents of White interests.
Nevertheless, the substantive issues to be dealt with are too important and therefore I want to avoid alienating people who should be on our side by proceeding to simply flout the ill-conceived offerings of some of White Nationalism's leading proponents; I will therefore spread blame around since its blunder is in truth most likely to be a joint effort.
Instead of focusing on any individual with their pants down, I want to look at a situation where the distortions of momentary euphoria and surprising cooperation have fueled the nostalgia and desperate larping of old timers, who should know better than to allow the insufficiently experienced to cast a net on their behalf all too wide in search of popularity - a big, big tent approach, or a tentsophere all too grand, for a more apt metaphor. I will venture this hypothesis as to the psychology behind this offering, more specifically, the apparent psychology of the positions of those who appear to be behind it. My guess (hypothesis) is as follows:
With the euphoria of the realization that their Internet radio programs are gaining wide audience and the fact that they were able to come together and to some extent combine their disparate audiences for a radio show at each other's networks (here and here), James Edwards and Lana Lokteff were able to influence a desperate lot of right-wing WN with the idea that they've got White representation figured-out and that they can bridge the differences between various right-wing positions in negotiation of the tentosphere.
What Lana and James do not understand is that they are afforded the opportunity by our enemies to do their thing for significant negative reasons - they are right-wingers who the Jews and liberals can count on to take people into easily controlled positions where not into positions so stigmatic and idiotic as to turn-off intelligent and capable people who might otherwise join our side.
Along with their effusive self congratulations, James Edwards and the Political Cesspool do a great job of repelling and/or stigmatizing WN from their first and foremost position as Jesus freaks. Despite that significant drawback, Keith Alexander is an intelligent man and is the brains behind the outfit. James is ordinary at best. However, he's gotten so caught-up in the enthusiasm of his show's WN popularity and the fact that despite being a Jesus freak, he has been able to combine efforts with another show taking-off in WN popularity - Red Ice - despite its espoused paganism and its position that Christianity is destructive to European interests. They are both intoxicated by the possibility of pooling their audiences and James even goes so far as to refer to the anti-Christian, Lana, as "a great mind."
In addition to larpish paganism, Lana, Red Ice, Radio 3-14, etc, traffics in idiotic conspiracy theories and Hitler/Reich resurrection - Red Ice will not for long suffer anybody who denounces Nazi Germany, doesn't think their objectives were perfectly conceived and entirely legitimate, who thinks Operation Reinhardt was a fact, etc. Where pandering to Reich nostalgia does not gain audience, they are all too happy to gain audience through a litany of conspiracy theorists too boring, too tediously absurd and too many to enumerate.
Enter the right-wing old timers and academics who are getting desperate - so desperate that when they see the kind of broad audience that these right-wing kids on the block are having, they want to believe it represents rigorous truth - after all, they are objectivists, they have the numbers, therefore what they are saying and doing must be good and true.
What then would James Edwards say? He's having success. He's a board member of The American Freedom Party. He has the approval of that Yankee PrOfessor MacDonald. He can represent wholesome 1950's Christian America. He thinks Pat Buchanan is fine and good .."unnecessary wars", the "revisionists" have it figured-out and all that bit.
James is getting real politically sophisticated too now. A regular pragmatist. He is even willing to reach-out into the big tentosphere and pool his efforts with the pagan/Hitler network, Red Ice.
Lets get swept-up with his enthusiasm and even larp a cabinet for President Trump. Oh, my, the right-wing: alt-right and tentosphere.
With the enthusiasm of this discovered magnanimity, he might try out his candidacy for "Press Secretary" of President Trump's Cabinet.
But even so, being the humble guy that he is, he will ask the counsel of his wise elders.
The counsel has a key new member - his imagination. And a central orientation to this new imagination is to project what he figures would please Lana Laktoff's audience to round-out the tentosphere's base - to make-up a cabinet that Donald Trump couldn't possibly lose with.
He's not fooling around here and as sure as "there is not a wasted word in the bible" and the ways of its elders hold the truth, he would never be so foolish as to place all hope in Lana's non-Christian audience. He'll also take into advice, real or imagined, those he and his close cohorts have more common rapport with:
James and Lana have inspired the counsel of Daniel Johnson, Keith Alexander, MacDonald, Sunic, Jared Taylor, Paul Gottfried…and ?
The result is this American Freedom Party "proposal of a Cabinet for Donald Trump."
I want to be kind. It does not make me happy to be critical or to cause humiliation, if it does. However, one of the crucial services that MR ventures to perform is to look after the correct theoretical - translate metapolitical - underpinnings of European representation.
Therefore, we will not treat this as it might seem at first blush - like a prank by our enemies - and will instead examine this list presented by American Freedom Party members. It is apparent that older members of pre-Internet, ivory tower insulated or business compromised positions have gotten swept-up in the enthusiasm of the Political Cesspool's and Red Ice's popularity, dubious though it, and the judgment behind it, may be. We will look at how the people in these proposed Cabinet positions would not well represent White/European peoples.
The bizarre eclecticism of this proposed Cabinet is an expression of - "tentosphere" prosthesis - its social organizational ineptitude:
American Freedom Party
2753 Broadway, Suite 245
New York, NY 10025
www.theamericanfreedomparty.us

FOR IMMEDIATE RELEASE

March 28, 2016

Re: The Board of Directors of the AFP Offer a Proposed Trump Cabinet

The current policies of the federal government have resulted in considerable dispossession of America's founding stock. Indeed, its awkwardly promoted policies of "diversity" are in reality tantamount to the physical removal of Americans of European extraction. At long last, we have in the candidacy of Donald Trump a possible bulkhead against the forces that are destroying the peoples of European extraction worldwide. We believe, therefore, that it is necessary for Donald Trump to choose his "Ambassadors, Public Ministers and Councils" with great deliberation while keeping in mind that, as president, he represents all U.S. citizens, including large segments of dispossessed white Americans. The present proposal is only a suggestion and an opinion of ours, which in no way implies that we are requesting Donald Trump's agreement or endorsement of the American Freedom Party. We would like to point out, however, that a significant number of American citizens of European extraction, often summarily labeled in the media as "White nationalists," are firm Donald Trump's supporters.

In this wise, the American Freedom Party proposed to Donald Trump and the American people the following persons for his Administration's key posts:

Vice President: Gov. Chris Christie. Governor Christie possesses the experience and temperament to balance a Trump Ticket.

Secretary of State: Sen. Jeff Sessions. Secretary of State is such an important position in a Trump administration that President Trump should pick someone whom he can rely on totally. This person is Senator Sessions.

Secretary of Treasury: Sen. Rand Paul. Senator Paul's father, Rep. Ron Paul, would be a better choice for this position, but due to the senior Paul's age, we feel that Senator Paul would handle this difficult assignment admirably—primarily because of father's teachings and influence.

Attorney General: Congressman Trey Gowdy. Congressman Gowdy has been a U.S. prosecutor and is a Tea Party member. He would be a good, solid choice for Attorney General.

Secretary of Defense: Newt Gingrich. Mr. Gingrich informally advised Defense Secretary Donald Rumsfeld and hopefully has learned that foreign entanglements are bad for America.

Secretary of Homeland Security: Ann Coulter. Ms. Coulter will do what needs doing and she will give proper direction and coordination with the Secretary of Agriculture to achieve administration goals.

Secretary of Labor: Oregon Governor Kate Brown. In keeping with Donald Trump's populist underpinnings, Oregon Governor Kate Brown would be a good choice. She is a proven champion of a living wage.

Secretary of Health and Human Services: Prof. Kevin B. MacDonald. Professor MacDonald is renowned worldwide as professor of Psychology at California State University, Long Beach (emeritus). He has written numerous scholarly works and is the leading White advocate and scholar.

Secretary of Transportation: Elon Musk. Mr. Musk is such a leading figure in industry, engineering and transportation (both on earth and in space) that every president should seek his advice and service.

Secretary of Energy: Senator John Thune. Senator Thune is a great choice for Energy Tsar because of his leading role in the senate in formulating energy policy. Also, because of his polished demeanor, his very presence commands respect.

FBI Director: Former Congressman Virgil Goode. Virgil Goode is an excellent choice for FBI director because he was a member of the Liberty Caucus, a libertarian-leaning congressional group and while he has strong, white-nationalist leanings, he will protect the individual liberties of all Americans—something that has been missing in past FBI directors.

Secretary of Veterans Affairs: General Jack Keane. General Keane is a four-star general and recipient of the Legion of Merit.

Secretary of Agriculture: William Daniel Johnson. Mr. Johnson is Chairman of the American Freedom Party. He is a farmer and a white nationalist. This cabinet post is extremely important because it handles food stamps and WIC (women, infant and children) food subsidies. These programs will be powerful tools to achieve repatriation of 30+ million illegal aliens in America.

United States Trade Representative: Senator Bernie Sanders. Senator Sanders is for protective tariffs. He would be a good choice to move America away from the job-killing trade approach of the last thirty years.

United Nations Ambassador: Jared Taylor. A clear choice for UN Ambassador is the urbane and intellectual Jared Taylor, founder of American Renaissance, the leading white advocate educational organization.

EPA Director: Jill Stein. Jill Stein is (and has been) the Green Party's presidential candidate. She would do an admirable job in protecting our environment for generations to come.

OMB Director: Former Governor Gary Johnson. Libertarian presidential candidate and former governor of New Mexico, Gov. Johnson has an outstanding record of spending reduction against a spendthrift state government. As Director of the Office of Management and Budget, he will keep executive spending in check.

Surgeon General: Dr. Ben Carson. Dr. Carson endorsed Donald Trump early on. This position would be good for both Dr. Carson and the nation.

Press Secretary: James Edwards. James Edwards is the host of "the Political Cesspool" radio show, a pro-white radio show. He has been a leading figure in the media fight to stop the genocide of the white race. President Trump could do no better than James Edwards in this position.

Poet Laurate: Michael Derrick Hudson. Not only is Mr. Hudson an accomplished poet, he courageously exposed the anti-white bias in today's poetry publishing world.

Chief of Staff: Former Governor Sarah Palin. (Last listed, but first in importance.) Gov. Palin's most demanding task will be in the dismantling of the below agencies.

Cabinet positions and Agencies to be Eliminated: We propose that the Trump Administration eliminate the following Agencies and their cabinet posts.
Secretary of Interior
Secretary of Commerce
Secretary of Housing and Urban Development
Secretary of Education

Very truly yours,
Tom Sunic, Ph.D
AFP Director in Charge

Contact: Tom Sunic, Ph.D, Director
Cellular 00385 91 1722 783 (Zagreb, Croatia)
or (213) 621-3000
Fax: (213) 621-2900
Email: .(JavaScript must be enabled to view this email address)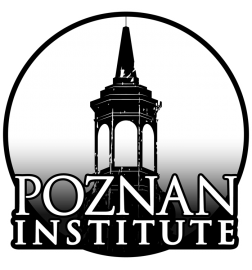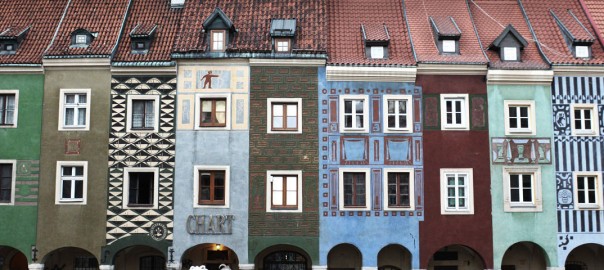 "The Poznan Institute" - A Middle Eastern Attempt to Defraud European Identity and Birthright of Genetic Capital
...by Promoting R Selection Tactics for Foreign Interlopers Under the Banner of European Identity.

As follow up to Kumiko's and my own articles prompted by disputes in regard to Roosh V's interloping on Ethno-national turf, I was compelled to look a bit more carefully upon "The Gamers/ P.U.A." infiltration of the Alternative Right Tentosphere. But I only had to look a small bit more carefully to be confronted very close to home by its facilitation of R selection strategies in these K selection habitats.
The reason I had not become immediately aware of the attack on this front, so close to home, is that I am not particularly interested in "Game" and "P.U.A." I have learned about myself and my nature through my dating experience and reflection thereupon that there are important differences in my motives as opposed to what is being promoted in what might be called popular philosophy - such as P.U.A. My point in "dating around" wasn't at all to screw as many women as possible - quite the opposite. What did I know about them? I cared whether they cared about themselves, their people and I, of course. Thus, while I might have been "intellectually promiscuous" in order to get and give feedback surrounding the well-being of our people and culture, it was not remotely my goal to merely go through women's defenses in order to discard them and cultural differences. Again, quite the opposite, it was more my motive to help them build-up defenses for their sake and ours as Europeans. I was intellectually promiscuous but otherwise careful because where I sought a partner, it was to be - a - partner who was appropriate to me and thought very much like me - as an ethnonationalist. In regard to the other women the I dated along the way, the primary objective was talking - that is, achieving political alignment to what would now commonly be called ethno-nationalist terms. In a word, I was acting in accordance with my European evolution as a K Selector. That is in marked contrast to Roosh V. and the R selection strategies that he is promoting.
So far removed from European mentality is Roosh V. that he was honestly surprised when a BBC interviewer responded that he "had not", when Roosh asked, "haven't you ever had sex with a woman who was drunk and asleep"? Roosh honestly presumed that the answer of his interlocutor would have been "yes, of course", he'd done that.
By way of contrast, not only am I capable of sleeping - just sleeping - with a woman; but especially if I do not know her well, of course I'd prefer that, and to part ways as we might, on friendly terms rather than to screw around with someone whom I do not know.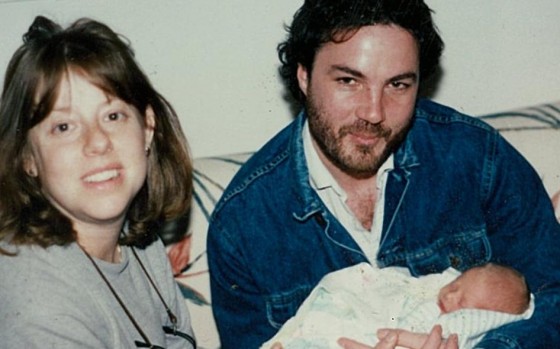 In further distinction of a caring European mentality: Not only would I not even try to sleep with this woman - let alone take advantage - but I went so far as to defy her psychiatrist's advice that she not have children and encouraged her to have this child with her husband.
Some object as Roosh himself objects to ask why people are making such a big deal about him, when there are these invaders and rapists all over Europe. Well, we do make a big deal about that as ethno-nationalists. However, as a common topic, he provides not only a ready illustration of their mentality, but also occasion to "make common" (etymology of communication) the understanding of it and the insidious means by which it would infiltrate. Witness now "The Poznan Institute." Having moved on from the P.U.A. / Game angle of infiltrating White genetic pools, he presents himself as only more completely one of a universal "We" - "neo-masculinity and patriarchy" camouflaged under the rubric of an ancient European city.
Poznań was founded by Polanie, the tribe from whom Poland has its name. The word "Poznań" comes from the Polish phrase "to make acquaintance" - because legend had it that the original Polish man, "Lech", the original Russian man, "Rus" and the original Czech man "Czech" met here, came to accord and then the latter two went on to establish their kingdoms in what are now their respective territories; while "Lech" nested in Gniezno (Polish for "nest") next to Poznań - which was in fact, the first capital of Poland. A percentage of Germans eventually settled in Poznań as well, largely encouraged to help build the city. For reasons similar as The U.S., Poland was weakened by incorporating Enlightenment principles in its (second ever, after The U.S.) Constitution. This left it susceptible to the territorial aggrandizement of Friedrich The Great and the Partition which erased Polish existence from the map for 123 years - from the 1790's to 1919 - when Józef Piłsudski led the Wielkopolska uprising to re-take Poznań on behalf of the Poles and the newly reforming Poland. It was audacious, it was brave, it was heroic, it was historically justified.
What fraction the man is Roosh V compared to Józef Piłsudski? How dare Roosh claim the name and the straight forward imagery of Poznań to drape himself - Roosh V - and his foreign agenda?
Roosh V. and his agenda are so alien and superficial to Native European interests that he was not on my radar. I was not interested.
Perhaps I should have noticed this long ago, but the truth is that until recently I had not paid much attention to Roosh. One commentator in a prior thread mentioned that he has presumed to situate himself in Poznań, Poland. Though I'd never seen him around, I had no reason to doubt it. Nevertheless, when looking into the matter, not only did I find that he is in Poznań, but I was surprised to find just how comfortable Roosh intends to make himself in Poznań.
Middle Easterners apparently share with blacks a brazen presumptuousness to make themselves at home among other peoples and in other people's homelands.
With that, he has this new "neo-masculinity" venue which he calls "The Poznan Institute":
Of "The Poznan Institute", he says:
Poznan Institute will serve as a reference archive for the neomasculinity platform, providing a central resource that explains the ideology in depth. Since neomasculine articles and videos are appearing in different locations across the internet, creating Poznan Institute ensures that none of those materials get lost with time.
First, a little background about some of the stuff that he intends to bring to Poznań and encourage among visitors here.
These are some scenes that Roosh looks upon approvingly from bars in Virginia, USA.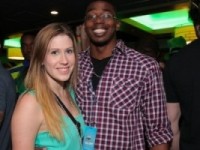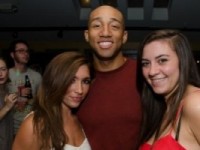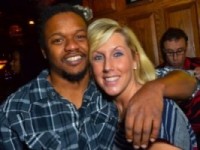 Here is the kind of European gene pool that he hopes to seize upon. This one in Iceland.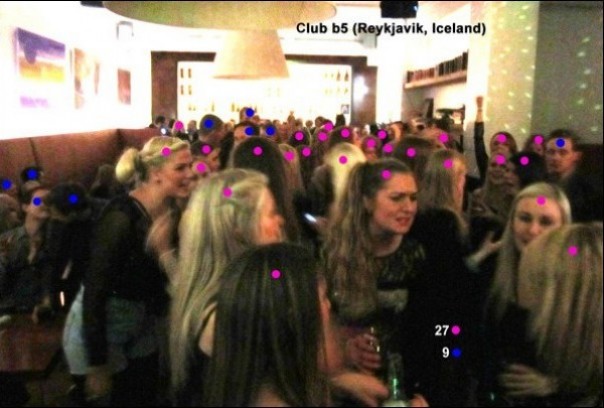 Pink dots signify targets.
Roosh V. has written several sex tourism and P.U.A. strategy guides. Bang Poland is one of them -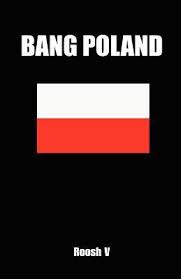 ...she kept saying, "No, no." I was so turned on by her beauty and petite figure that I told myself she's not walking out my door without getting fucked. At that moment I accepted the idea of getting locked up in a Polish prison to make it happen. She tried to go down on me but her mouth was too small. [...] I put on a condom, lubed up, and finally got her consent to put it in. The best way to visualize our lovemaking is an elephant mounting a kitten. My dick was half the thickness of her neck. I put her on her stomach and went deep, pounding her pussy like a pedophile.
Moving on to The BBC story that finds him in Poznań -
In December, The BBC aired a feature about Roosh: "Men at War." It starts by covering a Roosh seminar in England.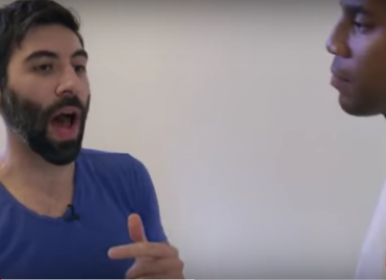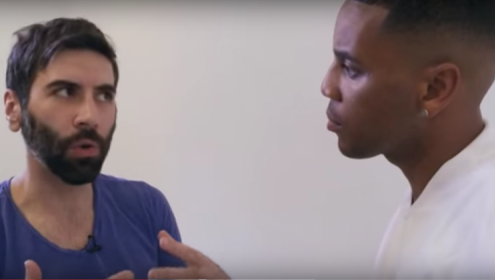 Mouth-big-enough talking to BBC interviewer prior to lecturing "a room full of men who are excited about what they are about to hear.. [so too is The BBC excited and waiting with a big enough mouth]."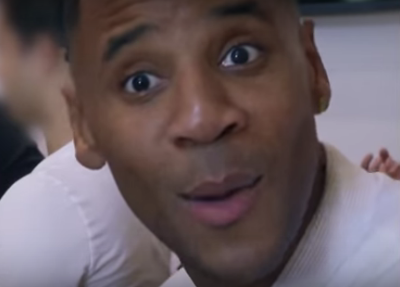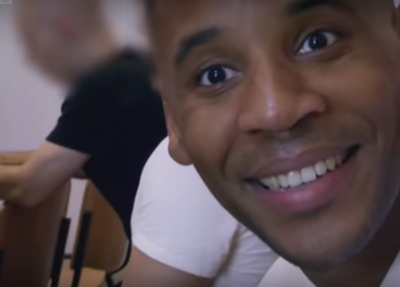 BBC reporter taking interest from the genetic interest of BBC
One of the attendees describes the meeting as having "a broad spectrum in terms of race and background."
......"look here" he says, "people are mixing together, and very few of them have met one another before."
Next, in order to keep up with Roosh, the BBC have to track him down for an interview in Poznań, Poland:
The BBC flies there to find out what Roosh is up to…
On the basis of the BBC interview, here is what is discernible about Roosh's living circumstances in Poznań.
"Roosh moved to Poznań a year ago"...

"..a small university town full of female students."
He had scurried back from Canada after having been met with popular protest and official denunciation there. "I've been back for only about 5 days. I'm still recovering from the drama," Roosh will go on to say in The BBC interview - which would place it in August, 2015..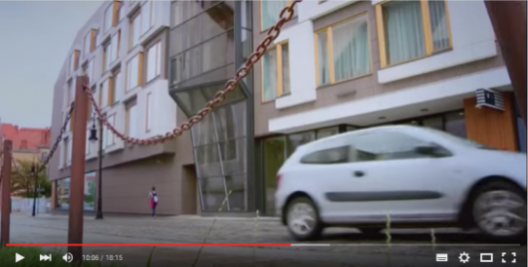 BBC is in Hotel Puro, located at corner ul. Stawna, Żydowska, Wroniecka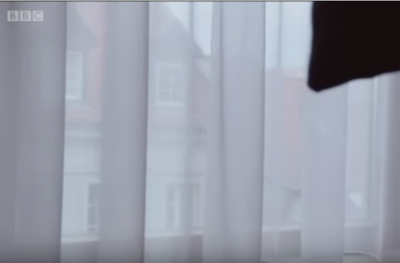 ul. Żydowska is outside of the BBC's hotel window
Before the BBC meets with Roosh,
"it's time for a refresher course."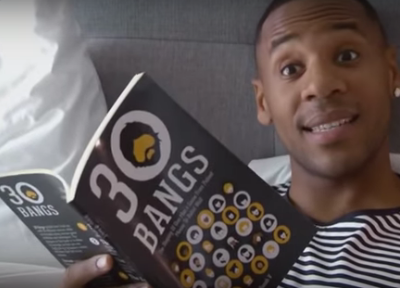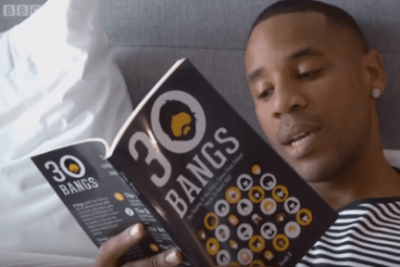 "It took at least 30 repetitions of no, Roosh, no,
until she allowed my penis to enter her vagina….
no meas no until it means yes."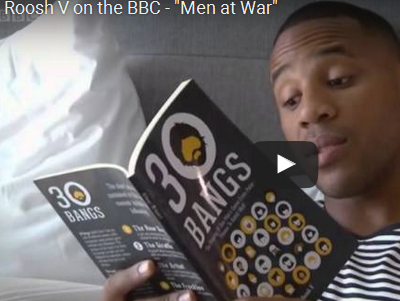 A clip of Roosh's is spliced in, as he narrates,
"I go to the supermarket to be a pervert,
to film that girl's ass and another girl's ass"..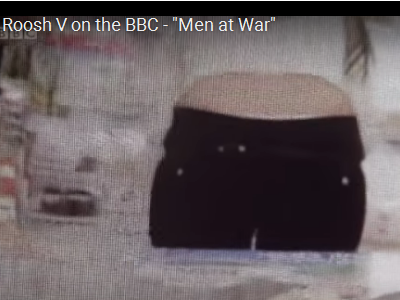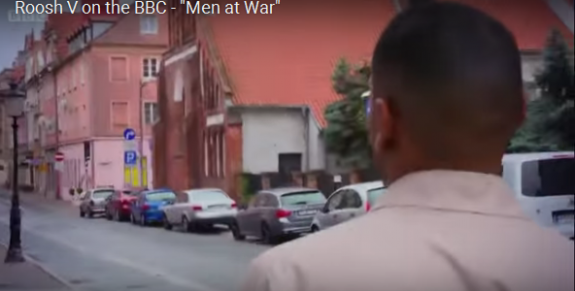 Here the BBC is making his way from the hotel and down ul. Wroniecka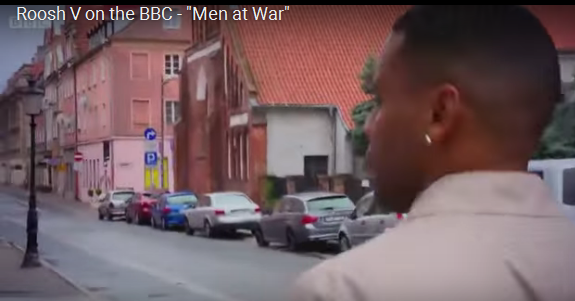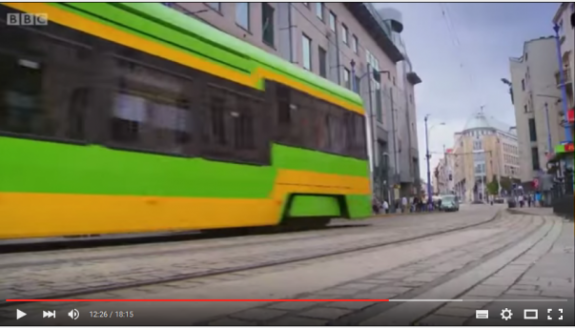 He moves through to the other side of the Old Market, directly across, at the end of ul. Wrocławska,
just a few minutes away..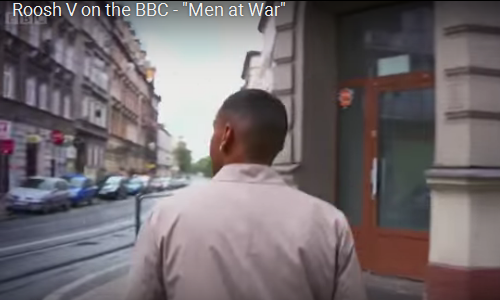 Here the BBC is on ul Strzelecka, another few blocks beyond,
making his way to meet Roosh in his apartment nearby.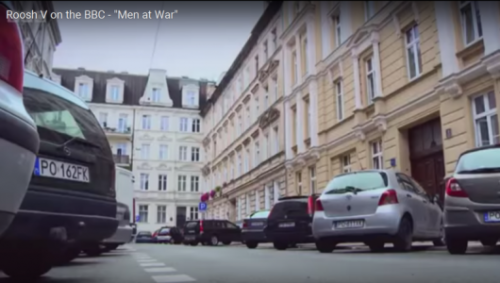 The very last moment of the BBC clip shows this scene,
which they apparently propose as the location of his apartment - ul. Kopernika
Here is what the BBC proposes to be a close-up location shot of his apartment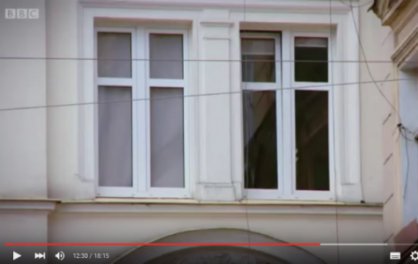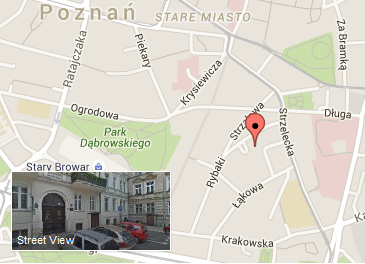 Google Maps confirmation of that place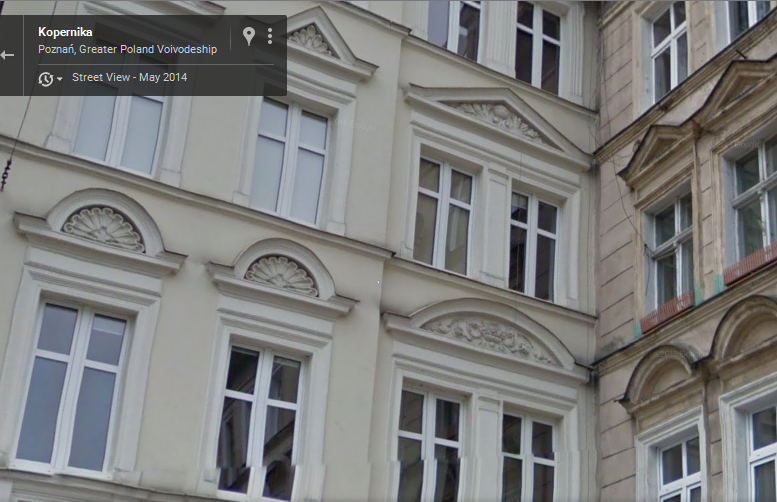 Google image confirmation of the proposed location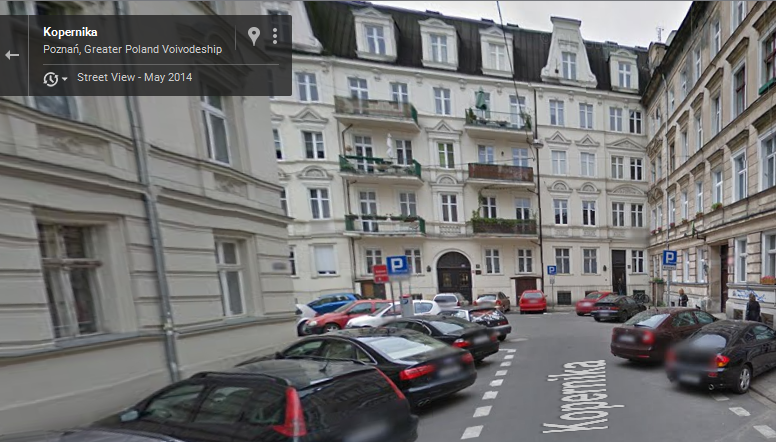 What they propose to be his apartment street entrance should be that brown entranceway with the semi-circle top at the end of the street
Alex Linder interviewed (try not to let the Australian accent of his interviewer bother you).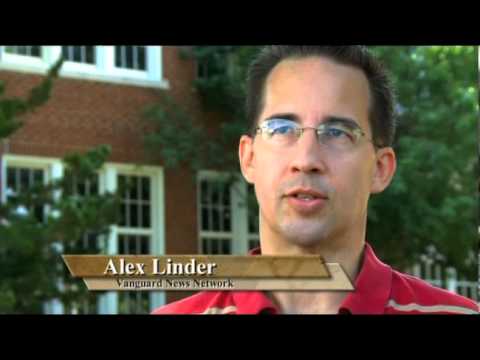 There is or can be a misunderstanding.
- that I simply want to refrain from going ahead and killing Jews et al. on principle, naivete or for petty moral reasons.
- that I and we could not be content nor ever recognize that we'd be better off if they were gone.
But that is not the case.
It is the case rather that it is generally not a good idea to announce that you want to get them all whether you think it is necessary or not.
It would be hard to implement and worse, might work to our detriment if not conceived and promoted properly.
It is not only a strategic matter but a theoretical matter: for what we want ultimately is separatism (killing is a species thereof).

Separatism can be argued not only by broader and more practical metrics, but if it is achieved, it is more feasible for the purpose of killing - as opposed to taking the stance that even while they remain tangled up in our hair, we might succeed in the complex affair of teaching people to know, psychologically, what to do because Alex says so (bold and intelligent though most of his arguments are)...
As opposed to Alex saying so, if they are to be killed it would be for the broadly intelligible, broadly acceptable (therefore possible to facilitate) and operationally verifiable reason that they will not leave us alone when given the option, but insist on their imposition to our exploitation and long term extinction - a verifiable consequence and reason for their imposition - to eliminate us as a people, therefore a highly assertable warrant to preempt it.
This could be demonstrable even in their refusal to allow our benign and fair act of separating and expelling them from our people.
Given these considerations hence, my motto: separatism is the first step, separatism is the ultimate aim, separatism is always possible.
​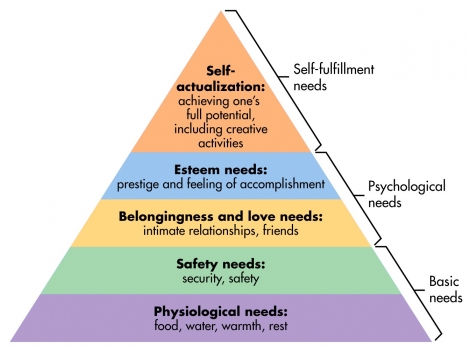 For many years I have argued that Maslow's hierarchy establishes an excellent point of departure - a paradigm to transform into a new paradigm on our behalf as Whites - as it does represent the apex of the American dream of individual self actualization, it also provides instantiation to look at the problems that can, and quite evidently do, ensue from its rule structure. Hence, a critique of it permits its highly relevant occasion to retool and socialize it to our concern as Whites. To do that we might look back to its classical origins in Aristotle, to its popularization in the feminism and the human potential movements of the 60s, to how we might transform and cast the path of needs and motives in optimal terms for both the individual and group interests of Whites.
However, the right-wing hasn't yet gotten the significance of my argument. Where they do see merit, they want to put it in their own Cartesian terms. They miss a crucial hermeneutic point in history, that Friedan's second wave of feminism had women acting through and in accordance of this paradigm - highlighting the vulgarity of its social disregard, self righteously pursuing "self actualization" while ignoring the "privilege" that men alone had of being required at the same time to go to Vietnam to die. But rather than seeing the valid gender aspect of the hippie protest of the draft as a male thing (a quest for midtdasein for males), the right-wing in their desperate, reactionary way, go along with the Jewish story that it was all about "free love", "civil rights for blacks", and "universal peace" or they cater to the right-wing story that hippies sought nothing that a real man should pursue - they were part and parcel of the downfall of Whites - our men, by reactionary contrast, have to learn how to be real men: and now the right-wing will be..
Defining real White men for you… with a lisp..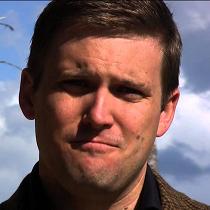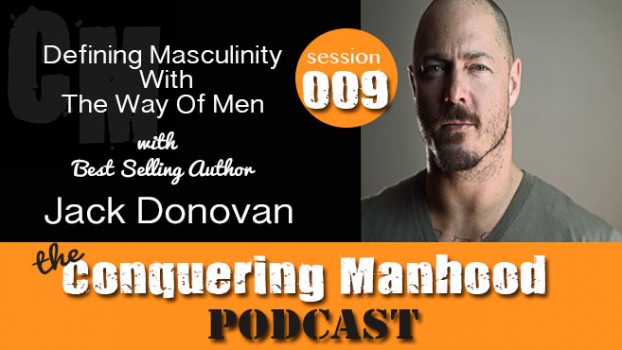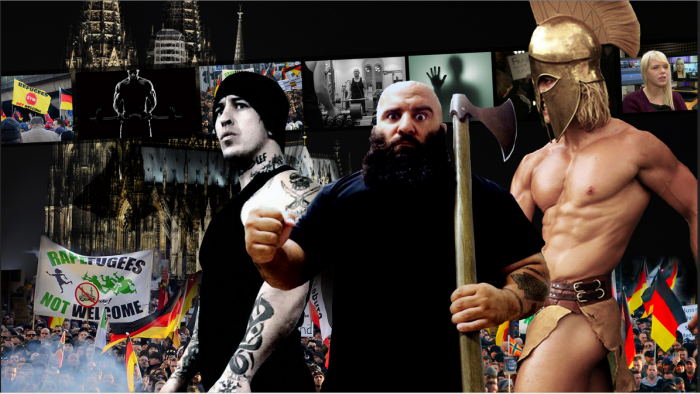 Puerto Ricans in attendance to karate movies and White boys imitating gay pride parades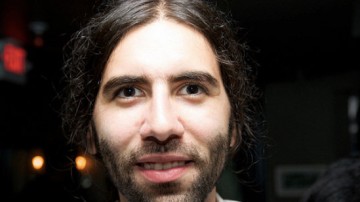 A return of what? A morning and evening call to prayer, perhaps.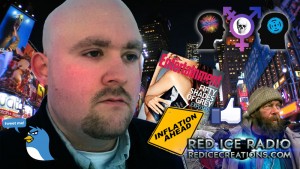 Sex tourism in South East Asia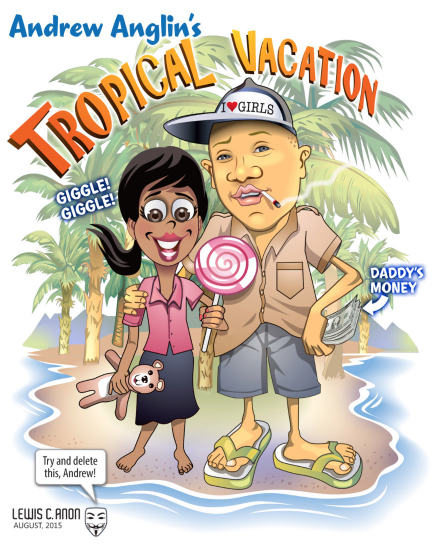 Ignore and talk past the White Left as defined at MR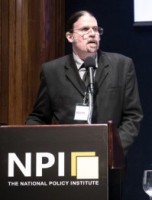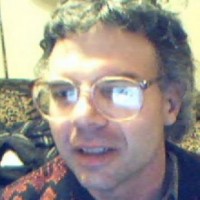 Pretend there's this "new thing" called "alt-left" and its anything but a foil for the Regnery circus' Alt-right.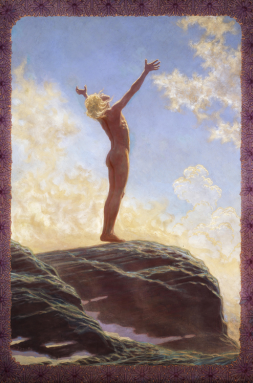 "Introducing the 'Alt left"
Ignore our many discussions as to the drawbacks of black hyper-masculinity in comparison to terms of optimal White/European masculinity - which need to be confirmed and which only MR has confirmed…
Instead toss the idea with a gay friend..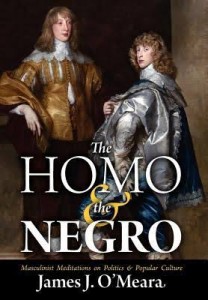 Who casts black hyper-masculinity in contrast to homosexuality.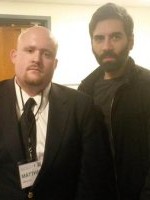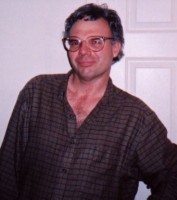 Even though you have no special concern for Whites and consider mixing with blacks to be no big deal..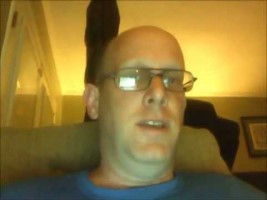 Even though you have no special concern for Whites, latch onto the alt-right big tent to compensate for your floundering market and source of ideas - such as the idea of re-tooling, transforming, viz., socializing, optimizing and normalizing Maslow's hierarchy in White/European interests (which can be safely ignored as having been discussed at MR for years).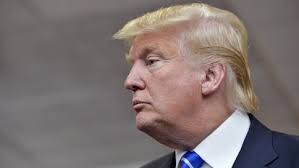 Be a crass businessman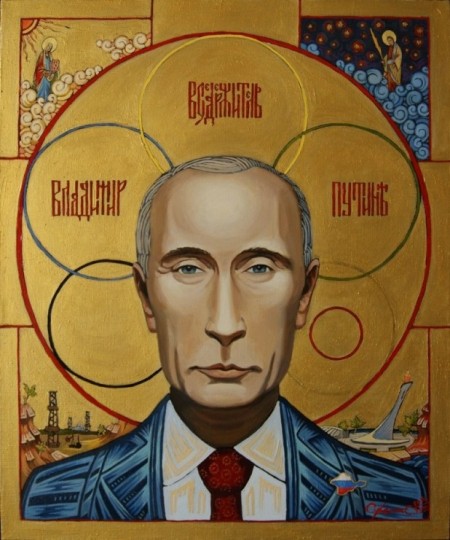 Kiss the ass [Welcome back!] of Jews and their proxies; and on their behalf..
Appropriate Asian lands and resources, allow Jews and neo-liberals to parasitically trade on that..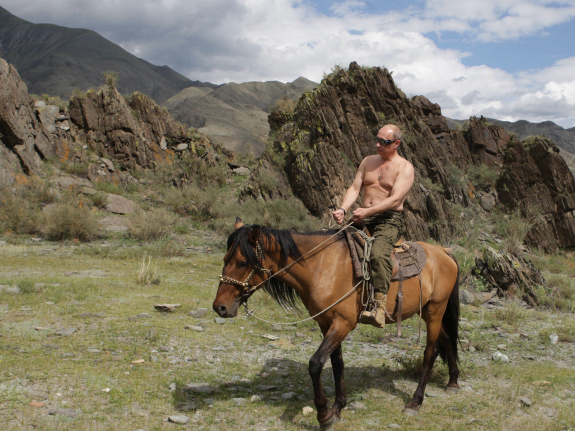 Aggrandizement as middle men at others expense instead of developing a Russian ethnostate.
...learn, in fact, how to act like a Jew and without honor so that you can get-over over there.


Atavistic intelligentsia - an apt term for themselves. And they "Hail 'The' Donald"
Puke.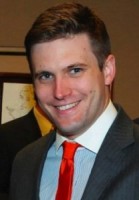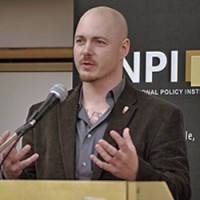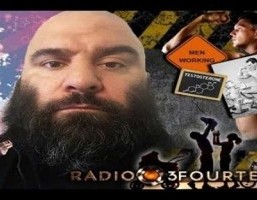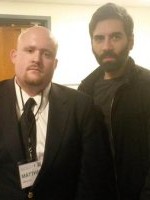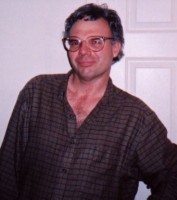 "Become who we are": Teaching us how to be real White men
Upchuck.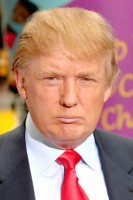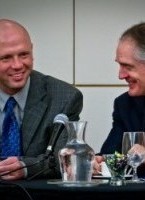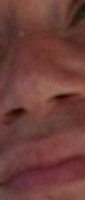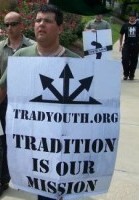 Compulsory Diversity News: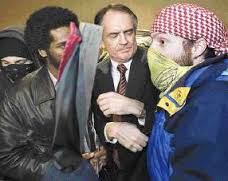 He knows you not…
..give 'who' hell? For Jewish academics to play both sides of "PC" is nothing new. While the re-normalization and motion to institutionalize social classification is a positive development - via 'give-em-hell Trump' in his campaign talk - the most important issue in the end, is not just normalization, but where the lines of institutionalized discrimination are to be drawn.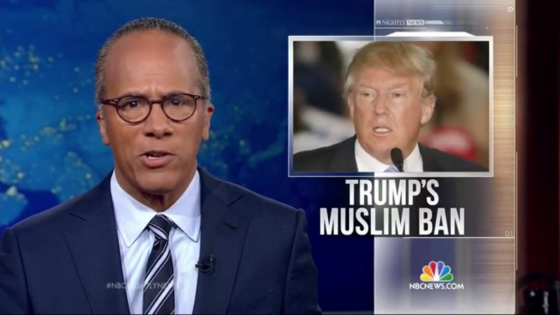 Trump is saying some things that we might like to hear, with a candor that purports contempt for "political correctness", a candor that has not been heard from the last 11 Presidents at least, spanning more than 60 years.
With that, he flouts the avoidance of "racial profiling" for having allowed the San Bernadino attack. It is indeed a positive development to assert the validity of "race" as a criteria.
"There were people who knew bad things were going on [with the family], and they didn't report it because of racial profiling."
Moreover, he takes the validity of "profiling", i.e., classifying people, a bit further to say that there should be a "total and complete shutdown of Muslims entering the United States."
NBC, 'Trump Calls for 'Complete Shutdown' of Muslims Entering the U.S.', 7 Dec 2015:

Republican presidential frontrunner Donald Trump on Monday called for a "total and complete shutdown of Muslims entering the United States," the most dramatic response yet to the string of terrorist attacks that have Americans increasingly on edge.

Trump released a statement citing polling data he says shows "there is great hatred towards Americans by large segments of the Muslim population."

Trump Calls for 'Complete Shutdown' of All Muslims Entering U.S.

"Until we are able to determine and understand this problem and the dangerous threat it poses, our country cannot be the victims of horrendous attacks by people that believe only in Jihad, and have no sense of reason or respect for human life," Trump said.
Yes, it is a candor and a disdain for pseudo-intellectual and polite appearance that we have not heard from a President since "give-em-hell Harry Truman."
Excellent though it is that race and other social classifications, and borders, are being re-invoked by "give-em-hell Trump" and that he is taking steps to re-normalize and re-institutionalize these criteria as a legitimate basis for discrimination…
one might wonder what, say, Japanese, et al., might think about who-for and how the "no-nonsense" lines are being drawn.
Playing "for/against PC" is nothing new for Jewish academia; i.e., one side playing "vanguard" while the other is "hand of restraint."

Playing "for and against PC" is nothing new for Jewish academia: In this 1990 essay for the New York Times, Richard J. Bernstein is playing the role of "restraint" -

New York Times, 'IDEAS & TRENDS; The Rising Hegemony of the Politically Correct", 28 Oct, 1990:

Central to p.c.-ness, which has roots in 1960's radicalism, is the view that Western society has for centuries been dominated by what is often called "the white male power structure" or "patriarchal hegemony." A related belief is that everybody but white heterosexual males has suffered some form of repression and been denied a cultural voice or been prevented from celebrating what is commonly called "otherness."

But more than an earnest expression of belief, "politically correct" has become a sarcastic jibe used by those, conservatives and classical liberals alike, to describe what they see as a growing intolerance, a closing of debate, a pressure to conform to a radical program or risk being accused of a commonly reiterated trio of thought crimes: sexism, racism and homophobia.

"It's a manifestation of what some are calling liberal fascism," said Roger Kimball, the author of "Tenured Radicals," a critique of what he calls the politicization of the humanities. "Under the name of pluralism and freedom of speech, it is an attempt to enforce a narrow and ideologically motivated view of both the curriculum and what it means to be an educated person, a responsible citizen."
The restrained activist vs the activist vanguardist
In a generation before, Supreme Court Justice Felix Frankfurter* played the role of "restraint," viz., the role of "activist restraint" opposed to "activist vanguard" - a role that shabbos goy Earl Warren was duped to take the lead in, as Chief Justice of an "activist Court."
We should be on the watch as well, then, for the shabbos goy being fore-fronted as the "vanguard activist", as:
Earl Warren was for the 1954 de-segregation (integration) decision and 1964 "civil rights" legislation..
Teddy Kennedy was for the 1965 Immigration & Naturalization Act,
Either Trump or Hillary Clinton can be used for - what? - we might not know exactly what for sure yet, other than that it would be another travesty. Hillary Clinton may well fit the role of shabbos goy "vanguardist" for their next demonstration of "chutzpah."

* Frankfurter, a Jew, presiding as Chief Justice in the Supreme Court prior, fancied his "a restrained activist Court" - and referred to his successor, Earl Warren, as "the dumb Swede" - worried that he would take the bait in such a headlong way of "activist vanguardism" that he would create an overly strong reaction.
Note: As it bears more attention, this article is duplicated from the MR News section, where it was originally published, 8 December 2015.
European Indigenous Ethno-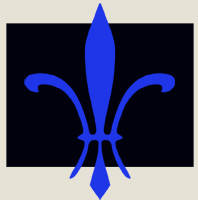 National & Regional Alliance

Hitler as Caesar: Historical lessons to be learned and new friend/enemy lines to be drawn.
Morgoth:

German National Socialism is the foundation of today's Anti White morality, so even if we granted this Pole everything, every atrocity, every murder and every slur, you can even say the Nationalism Socialism was a flawed ethos because it was merely a reflection of Zionism, which they do at Majority Rights, but that still leaves us in the situation of having to deal with the use of National Socialism to mentally cripple our people, and that would even include Poles and Ukrainians today, who would also be called ''Nazis'' for wanting to preserve their identity.

I simply cannot see a way around it or under it or over it, we must go straight through it and Poles etc are just going to have to deal with it, because if we fall so do they.
Unfortunate though I believe his hypothesis is, Morgoth has his hypothesis there.
By contrast and to repeat, this Italian/Polish American doesn't require ethno-nationalists to grant any guilt trips about Nazi Germany (whatever in particular he supposes that "I require to be granted", I don't know), but I do require fellow ethno-nationalists to be halfway intelligent and honest in drawing battle lines fit to the requirements of today and what we know now.
Morgoth's former picture of the week which, according to him, I wasn't supposed to look at critically: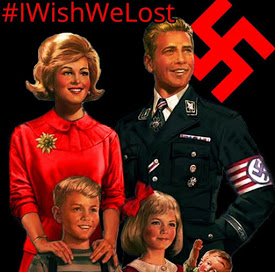 MR has another hypothesis here.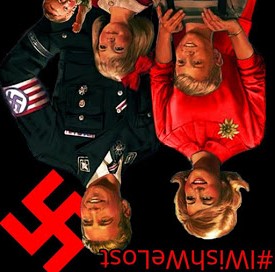 You did lose, and so did all Europeans because proper friend / enemy distinctions were not drawn.
I, we, are fighting with all we can to defend all native nationalists of all of Europe - western Europe absolutely as well. In fact, they are much better off without the justifiably negative stigma and inter-European strife that came along with that regime and its imagery; on the contrary, they can signal their clear cooperation on European ethno-nationalists grounds much better without it.
That's the working hypothesis here.
Poland has a unique situation to argue in nationalist terms. Having been subject to both Soviet and Nazi invasions, it is difficult for our enemies - by that, I mean the enemies of we ethnonationalists - to accuse us, by means of them, of being communists or Nazis - the usual bogey men raised to denounce nationalists. They will try to call all ethno-nationalists "Nazis", you say? Yes, they will try, but anyone who knows the lay of the land (say, in Poland and among Poles), knows that is ridiculous (and no, the next picture of the week that Morgoth put up, of a few bald Poles making Roman salutes behind a "blood and honor" flag is not a representative pattern).
With Poland having suffered among the most of those subject to Nazi invasion, nobody is going to call a true Pole "a Nazi" and have it stick in a credible way.
That typical argument among White Nationalists - "they are going to call you a Nazi anyway, therefore, may as well identify as one" - doesn't hold up.
The accusation remains a problem for many, however, particularly for those of German and German American extraction. As I have said before, the guilt trip is right on top of them - and it is difficult to have perspective - one is either completely at the opposite extreme, such as Frau Merkel, or, as some tactlessly claim, one must "go directly through it" and cop to the identity completely and unabashedly.
It isn't true: but for the guilt trips and the overwhelming abuse of liberalism, one may not have perspective to see any other options.
Whether for lack of perspective for overwhelming guilt trips looming upon them more directly as Germans or German Americans; or resulting from the position of those, such as Italians or Italian Americans, whose more marginal position is susceptible to disingenuous negative classification; or for a lack of empathic perspective for their ethnicity, such as the Irish, not having been particularly in the path of Nazi wrath; the overwhelming frustration pervasive liberalism's destruction has visited upon them tends to manifest two logical fallacies:
1. Overstated premise: Hitler and Nazism necessarily represented "White people" (which, of course, they did not, but only in part).
2. False either/or: It is either Hitler and Nazism or Jewish, neo-liberal rule and its runaway.
Of course cooperative ethno-nationalism is the alternative and proper way out of these illusory paradoxes.
As stated above, Poles, e.g., are in a unique situation to share the relative "innocence" of their nationalist perspective with other nations and unburden them of the guilt trips laid upon them - a service in unburdening ethnonationalist Germany, in particular, of guilt trips.
World War II is history and there is no sense in laying guilt trips upon subsequent generations of Germans and penalizing them.
While the same would apply to virtually all nationals willing to coordinate in ethno-nationalist terms, of course, German nationalism's recent history has been "mythologized" to the point where it is looked upon as pure evil, having had no rational reasons for its actions, operating ex-nihilo of sufficient cause - forcing would-be nationalists to lie prostrate before Jewish and liberal charges of "Nazism."
It was not ex nihilo evil; but neither does defense of Nazi Germany hold up to ethno-nationalist criteria.
So, how do ethnonationalists go about correcting the hubris of liberalism which has run rough-shod over the systemic bounds that ethno-nationalism would otherwise provide for our human ecologies?
And how do we look upon Nazism's imperialist over-correction, an exponential over-reach instigated by Jewish power and influence, neo-liberal powers and some overcompensations from its war-weary neighbors? We look upon it as a history that we can all understand by analogy to many examples in our own lives when we have over-reacted to provocation - now, at our best, we look upon it as history, to learn from. And when we see that our enraged response was directed in the wrong places or without correct measure, we try to do things differently the next time similar provocations arise.
Toward that measure of putting things in perspective and "demythologizing" Hitler, as it were, he is well likened to a Caesar type figure: in regard to whom people now should neither be guilty nor overwhelmingly proud. He did some things well, ok, that we can learn from, but particularly for his intra-European conflict, we should not extol him as a model: Caesar routed the Gauls - oh, good! (not). It would be ridiculous for me to expect people to shrug-that-off as a necessary cost; to say the Gauls "should just get-over it"; to say that all Europeans should affably resonate with and under Caesar's image; and that the Germans of the Teutoburg Forest must get with the program or "just deal with" the fact that we do not have sense enough to draw new lines, with new signifiers and worldview indications, making it clear that we are European allies now..
NPR/ Mary Beard, 'From Gladiator Duels To Caesar's Last Words: The Myths Of Ancient Rome,' 1 December 2015:

Julius Caesar, perhaps the most famous Roman of them all, had just conquered the Gauls in an absolutely brutal series of campaigns that even some Romans likened to genocide ...soon after establishes himself as dictator ...there is a sense that liberty is being removed by an autocratic leader and a group of what were actually his friends, stabbed him in the Senate.
Of course you aren't going to make normal people and people who want to fight on proper lines, entirely copacetic with Hitler and Nazi Germany. But you don't need to; in fact, it's a great disservice to western nations' ethno-nationalism, its share in the perspective on their innocence and trust thereof, a burdensome hindrance to participation in their eminent warrant of defense on ethno-nationalist grounds: because Nazism was not ethno-nationalism, not even national socialist, but imperialism in the end; and it certainly did not represent all White people and their nations.
Of course we must not fall into the trap of intra-European fighting again. But that is not enough - as we all know, we must regain our martial spirit and marshal it in the correct manner. Admire and learn from aspects of war and martial prowess of the past, yes, but the most crucial lesson to be learned, and the point, is to draw correct friend / enemy lines this time; to become ethno-nationalists in cooperation and/or coordination - not to become pacificists.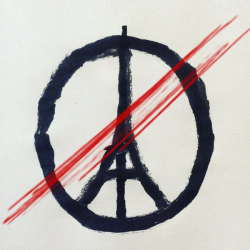 We must regain the will and warrant to kill those who would kill us, you say? Indeed, that is true. But it is a martial spirit that falls in line with ethno-nationalism and regional cooperation as well. Following a line that Bowery articulated: If people will not allow for our human ecology's discretion to exclude them, then they are abrogating freedom from (and of) association and our freedom of voluntary contract; i.e., they are treating us tantamount to slaves and we might even kill them in self defense if they will not cease and desist from that imposition - this will apply even to those who will refuse our orders of deportation and our assessment that they are to lose citizenship and/or right to abode in our ethnonations.

We must secure the existence of our people and a future for White children
Posted by Guessedworker on Mon, 21 Apr 2014 16:59 | #

So, let's look at the key elements of National Socialism - those which are not purely economic, at least - and determine what role, if any, they could have today.

Ayran supremacism (die Herrenrasse)

Today we are seeking to represent our people's natural right to life and land. Supremacism is completely off-target.

Slave-labour

Ditto.

Lebensraum

Ditto.

The cult of the Führer

The English, Scots, and Welsh, anyway, are simply too worldly and cynical to love up the leader to the required volume. Sorry. Can't be done.

The total state

Well, in significant respects the version of democracy we have now is not too far from totalitarianism. But I think the voting public might be quite interested in more democracy rather than less, or in genuine democracy rather than an abuse of it.

State terrorism

Who in their right mind ...

Eugenics, racial hygiene

All we really need is some awareness of self ... some honesty ... and the important aspects of racial life will take care of themselves. Won't they?

The militarisation of society

And so we arrive at the chief attraction, indeed, the only real attraction for many. The Schutzstaffel elite ... the Hitlerjugend ... a prescribed set of actions and horizons for the lost souls of urban Postmodernia. But is there any evidence from WW2, say, that this is the only foundation on which peoples can be called to their own defence? Really?