With all this exposing of sexual harassment, lording of privilege, White men need some lessons
Counter-Currents, "Who's Doing the Raping? - Aedon Cassiel

A meme circulating around social media after the revelations of Harvey Weinstein's behavior said, "If you're a man, don't say anything to a woman that you wouldn't want a man saying to you in prison."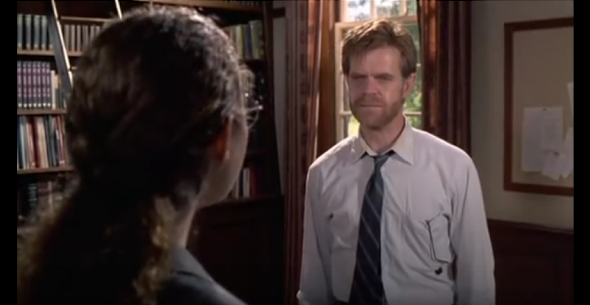 Virulent bracket (((David Mamet))) scripts White male abuse of power; and
narrates their 'come-uppance' from Oleana (1994, above) to Edmund (2005, below)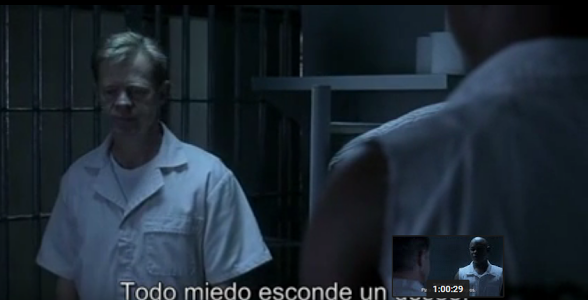 Ibid:

The fact remains that blacks continually and almost exclusively rape whites in prison. The evidence is based on studies conducted over the last 40 years (Davis 1968; Nacci 1978; Lookwood 1980; Starchild 1990). Why does this white victim preference prevail? Whites continue to be raped more severely and frequently and at a disproportionate rate than any other racial or ethnic group (in Gones 1967; Bowker 1980; Lookwood 1980). This racial inequality may be the largest in any violent crime committed in the United States. . . . Even if the minority of prisoners are black, the minority of victims are white (Sacco 1982, p. 91). When Lookwood (1980, p. 28) asked 'targets' to identify their aggressors at the time of their rape, most were black (80%), some were Hispanic (14%), and a few were white (6%). . . . Although many causation factors have been suggested for prison rape, they are all overshadowed by the racial categories of the victims and the rapists. Prison rape has been shown throughout this study to be racially motivated by predominantly black inmates specifically against white inmates who in turn are the victims. . . . racial hatred of whites by blacks appears to be the main force driving prison rape.

To put specific numbers on this, the report notes that studies consistently find that more than 90% of prison rapes are inter-racial and racially motivated. Blacks are found to be some 80% of the perpetrators, and whites are the vast majority of victims. Again, this is easily accessible in a peer-reviewed report published at a mainstream outlet. (So how are desegregated prisons working out for us now, huh?)

Can you connect the dots now? THIS is what political correctness means. "Political correctness" doesn't mean making everyone use polite wording and asking people not to be mean. "Political correctness" means that because we won't openly acknowledge the reality of the problem, white men raped by black men are literally one of the largest—and very possibly even the largest—category of sexual assault in the entirety of the whole United States, and you've been so ill-informed about this fact that I would sound like an alien if I were to say so in public, even though it is absolutely true.

Let me repeat that one more time so it sinks in: One of, and possibly the single largest demographic category of rape in the United States is the rape of white men by black men.
Related: David Mamet's Fraud Conservatism
An inveterate liberal panderer, including to women, Charlie Rose was/is a Bill Clinton type - Clinton was also considered "lovely" by women looking to advance themselves through sheer liberal rough-shod over social capital.
Charlie Rose (8:19): The film with Kevin Spacey... Spacey's directoral debut.

Faye Dunaway (8:25) Yeah, he's amazing. He's really just something. He's got it all, I think.

...you know, I just got a star on the Hollywood walk of fame out in Hollywood and he spoke to begin….

and I just was knocked (out)

....A Star!
The clip included in the New Yorker story, which is an interview of its author, Ronan Farrow, provides what may be the explanation behind this sudden deluge of stories about sexual harassment from powerful celebrities….
The curiosity is, "why now?" this sudden deluge of stories about sexual harassment from high powered celebrities?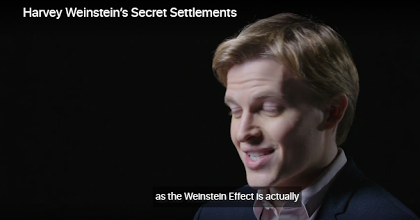 The "Weinstein effect" (of the media) looks like a campaign to dilute the impact of his story and similar stories of his fellow tribesman - whether himself, Roger Ales (Fox), Michael Oreskes (former senior editor of NPR), Louis CK, Al Franken, etc - by deluging the public, suddenly jamming them with these stories and adding goyim perpetrators as well (Bill O'Reilly, Charlie Rose, Kevin Spacey) - i.e., there is weakness in numbers, numbers and various kinds of perpetrators dilute their impact and ability to arouse focused indignation; and divert us from race to the most broad classification of gender.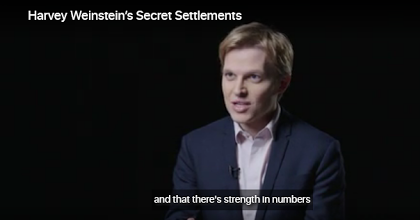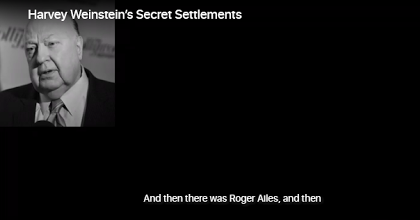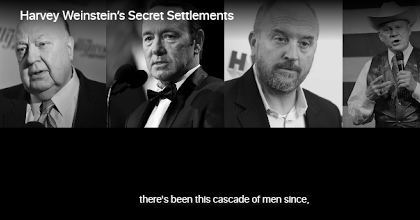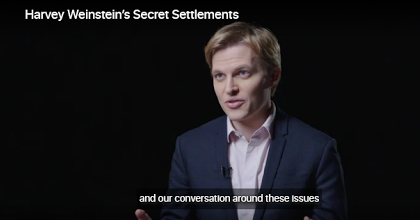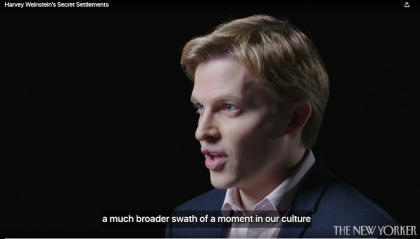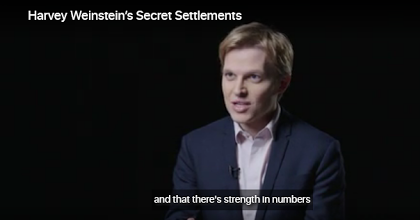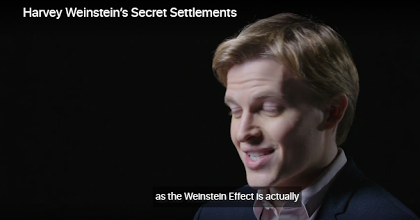 The Weinstein effect is sort of like an Abrahamic worker on your house by day, found guilty in a court of law of climbing into your under-aged daughters' bedroom during the night and groping her; then appointing himself moral policeman, hiring Mossad to look for sex crimes among everyone he can find in order to relativize his own misdeed.
...meanwhile, Abrahamic cohorts proceed full speed ahead with a marketing campaign from their power niches that the answer to all this "leftist degeneracy" is getting back to the Abrahamic faith.

The overload/jamming strategy, of 'see how terrible that men are', would occur with a wink and a nod through (((tribesman))), and specifically through Weinstein, who literally hired former Mossad agents for his case.