Majorityrights Central > Category: White Genocide: Europe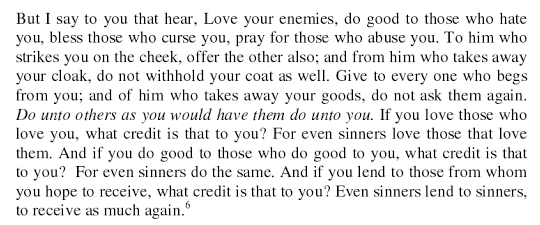 The Sermon on The Mount Ensconces The Golden Rule of Altruism
Majorityrights prefers to deal with verifiable reality as opposed to speculative theory and faith based systems of rules as we look after the interests of our people. Therefore, genetic groupings and genetic interests are key criteria, even if not the only important verifiable criteria to keep track of our peoplehood. Existence is a precursor of course to genetic interests, but securing it for any span and legacy requires varying degrees of sophistication to negotiate complex interaction. "Rules" (1) are the term of common currency that we will use for the logics of meaning and action that people use to negotiate interaction and protracted exchanges beyond episode and close personal relationships in yield to maturity.

For those of us who perceive ourselves as rationally and empirically grounded, it is difficult to understand pastor David Blackburn, his love of Jesus that would have him not only forgive, but want to share his love of Jesus with the men who raped and murdered his wife and unborn child; but to my knowledge, he is at least not hoping to get them released from prison.
It is even more difficult to understand European peoples allowing, even welcoming foreign incursions into The U.K., Sweden, France and Germany - it is difficult to fathom the mindset of a Merkel, who would destroy our European peoples in service to non-Europeans.
There is one rule, convoluted rule, that they have in common and makes their position intelligible to us despite their apparent irrationality.
The Golden Rule is a part of the Sermon on the Mount, which is a central text in the Christian faith. It states: "Do unto others as you would have them do unto you". There are similar instructions in many other cultures.

Despite receiving high respect and wide popularity, the rule raises critical questions. What is the recommendation more exactly, and is it good advice?
This post will prepare a discussion of the work of Jan Tullberg - viz., the difference between the golden rule of benevolence as opposed to the silver rule of reciprocity - as it applies to assist in the reconstruction of a necessary consensus of moral rules among European peoples and for coordinating our relations to others.
____________
There is a consensus among advocates of European peoples that in essence we seek to secure the existence of our people. There is much dispute over how that is to be done…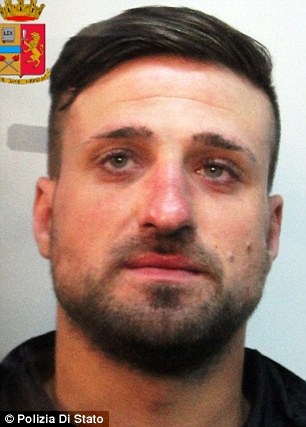 There is an absurd and detrimental habit of thought among WN who would draw the line of race too narrowly, snobbishly, and among those who would find weakening our defense convenient, that Sicilians are not White or are heavily
mixed with blacks
I have long advised against romanticized images of the Italian Mafia as portrayed in the legacy media. These are not organizations based on honor and family, as that media depicts, but rather criminal organizations based on money facilitated through treachery - these have not been organizations for our racial defense as we White Nationalists might hope.
In an irony, however, now that the immigration invasion has brought with it waves of African organized crime as well, suddenly the Cosa Nostra is forced to act in defense of its turf in racial terms - and just as suddenly, the legacy media condemns it, the Italian Mafia, as the problem in that interface - not the immigration invasion, not the organized crime that it brings. Needless to say, the legacy media does not express hope that Mafia will be of some good to the defense of our blood and soil.
In truth, Italian Mafia hasn't been especially good to Italian and European blood and soil. We can hope that the immigration invasion will force them to change that but to date there has been little to show in the way of honor from Italian Mafia: The Mafia of Campania, known as the Camorra, is hardly an organization which has prioritized Italian let alone other European blood and soil. They have been cooperating with Nigerian organized crime to spread Nigerian prostitutes all over Italy - an ugly blight that can be seen on the side of Italy's highways. They have gone against tradition, trafficking in heroine and other narcotics. They have taken hostage of Italian businesses to wreak havoc with the economy and possibilities of free enterprise. In one hideous example, having taken over the waste disposal business, they've merely dumped toxic waste on the Italian habitat - once productive local farms have been destroyed; a fact that can be proved by science; but these wastelands are readily perceived by the senses, the sight and smell of vast areas strewn with and beset with mounds of unnatural garbage and stench.
An unnatural stench emanates in Sicily as well, one of sulfur, around the garbage strewn and oil refinery lined parameters of Archimedes ancient home of Siracusa - where the Cosa Nostra has control in the oil refining industry.
However, with the aura of Mafia, inter-Italian rivalry, murder and background terror, there has been an apparent consolation - perhaps with the help of that background of corruption and terror, foreign incursions were held somewhat at bay - there is only so much use that foreigners can be put to and only so many of them that are needed to do it. After a certain amount they become a threat to anybody, including Sicilian mafia interests. That limiting condition would act to protect the genotype of Sicilians from overwhelming infiltration. In the foreground of terror, despite all urban legends of Sicilians being "part black", with inborn, ineducable aggression, they are vindicated of these ignorant attributions by anybody who takes time to observe them - a knowledgeable, considerate, European, White people.
Sicily, like the rest of Southern Italy, has that reputation of background terror which serves to instill a sense that you should be on best behavior with regard to traditions, the local people and potential transgression. In the year total that I spent in Italy and Sicily between 1996 and 1998, I observed in Italians a model European treatment of the Africans who were there. Africans were not walking around in three piece suits with attache cases as you'd see in Paris. Rather, they were allowed to vend an approved array of trinkets and accessories on the streets, with no sign that they could be mistaken for people integrated with Italians - the idea of mistaking them with Sicilians is laughable. If they remained on the street after 10:00p.m. they would be rounded up by baton wielding police, put into paddy wagons and taken away. If Europeans had to host Africans whatsoever, Italians provided a model of how it might be done to keep them in their place.
That protected the EGI from interracial imposition to a large extent. That protection was buttressed also by the reality of a deserved reputation that Italian men have of being very jealous of their women.
Nevertheless, so long as blacks are in your country at all they are a threat; with the aid and force of PC being what it is, they will make their way through cracks in a racial defense system. While Italian mafia and other men were perhaps busy fighting each other or trying to make money, I would always see two or three interracial couples (pretty Italian woman, Negro male) in just about all sizeable cities that I made my way through in Sicily and Campania - even some not so sizeable ones: a few came into my father's family village during a feast.
Most disturbing to me was the fact that despite the Italian reputation, with few exceptions, I was the only one doing the Italian thing of expressing my indignation and trying to say or do anything about these pairings - and I was the only one who was likely to have any trouble for it. Thus, to get away from the provocation and agitation - with it the rage of mine difficult to control on the front line of racial defense - was a large reason why I opted to live in Poland instead, comfortably ensconced as White and removed from looming threat.
However, I did not leave Sicily before speaking to Cosa Nostra. I told them, urgently, in trance, to stop fighting, destroying and killing each other Italians. I pleaded with them to defend themselves as Italians and Europe; I tugged at the rib of the Godmother; I believe that she heard il Padrino speak through me. Let us hope so, if not pray for that.
The roots of the word and in fact the original purpose of Mafia was in "a wall" to surround and protect the Italian family - at the onset of its organization the threat was from Spanish invasions. However, Sicilians have a deep history of defending against all manner of invasion - including of course from Islam. While the pervasive sounds of church bells rang through the noontime air of Agrigento in a way that might have intimidated Islam at one time, the locals there were the ones who told me that the most critical facilitator in the immigration problem (yes, it was already bad enough in 1998) now is this religion itself - Christianity.
I found that the Sicilians are deep - much deeper than Christianity.
By contrast to the wishes of legacy media, the DM, the cuck mayor of Palermo that the DM presents as an exemplary anti-racist White man, let us hope indeed that they heard il Padrino; that the Mafia will be of some good, and express its true honor, to be that wall, and to help protect the EGI of Italy and the rest of Europe - by means of terror if need be.

Business Insider writer, Ruchika Agarwal, claims that racial discrimination has no scientific basis and yet everybody perceives racial categories. [?]
The particular evidence that she cites being studies that show that people are less empathetic to other races.
She suggest that while it is hard to control unconscious responses, conscious efforts to combat bias and increased interaction with other "races" could help our brains see that our brains are "99.99% the same."
These conclusions by this recent economics and telecommunications graduate from The University of Florida reveal her institutional conditioning.
Despite the fact that everybody perceives racial categories, even on levels of pre-conscious brain function, these categories "don't exist!"
Here are the scientific premises she takes:
1) Race as a category is perceived in neurological responses of the older parts of the brain but 2) can be rejected as categorizations on a conscious level through neural re-routing in newer parts of the brain.
These are the same premises that Dr. MacDonald takes in his classic article, "White Ethnocentrism - Can Americans Really Be Brainwashed?"
However, MacDonald renders diametrically opposite inferences and prescription.
- that racial categories are perceived pre-consciously in older parts of the brain and therefore do exist.
- that racial categories can be consciously denied through conditioning of the newer parts of the brain and therefore that is cause for concern (because it means that Whites can be brainwashed).
- hope of defending against brainwashing through conditioning of newer parts of the brain might be found in the process of making conscious assertion of identification with heretofore implicit White groups - as Scott Roberts is doing by making explicit pro White statements before groups of Trump supporters, who are an implicit White identity.
This kind of thing should be done to counteract the reverse position, the kind of brainwashing that this being promulgated through the University of Florida:
- racial categories are perceived by everyone, even on an unconscious level - therefore do not exist?
- racial categories can be denied by the newer parts of the brain, therefore that is cause for encouragement - [!??] that we might throw-off accountability to the wisdom of our human ecology and systemic history?
- racial categorization might be overcome ultimately through increased mixing with other " " races" " as it will compel people to overcome their implicit identities - [!??] i.e., their precious, ancient evolution survived through a myriad of struggles and adaptations?
Business Insider, "There is no scientific validity to this dangerous and pervasive notion — yet all of us are probably guilty of it"

In their 2009 paper in The Journal of Neuroscience, researchers at Peking University did an experiment in which they showed white and Chinese students clips of white and Chinese faces both in pain and not in pain while they measured their brain activity using functional magnetic resonance imaging (fMRI). The researchers were paying particular attention to brain activity in an area of the brain called the anterior cingulate cortex (ACC), which scientists think plays a key role in registering our own pain and empathy for another person's pain.

For all of the participants, ACC activity was significantly higher while they were viewing painful expressions on the face of someone of their own race, and lower when they viewed pain on the face of another race. The results were in accordance with the hypothesis the researchers started with — that social relationships between individuals influence empathic responses, where an individual experiences higher empathic responses for those in the same perceived social category.

[...]

No one wants to believe that he or she is racist. However, there is enough conclusive evidence to suggest that the vast majority of us are either consciously or sub-consciously less empathetic toward people of other races. While it is hard to control subliminal responses, a conscious effort to act without bias could be a way to combat the surreptitious racism. Or maybe increased interactions with different 'races' could help our brains see that we are 99.9% the same.
Merkel: intent on revenge and genocide of Germans

TNO, "Germany Introduces Forced Integration" 16 April 2016:

The German government is to give nonwhite invaders preference in the job market and will legally force residential mixing in terms of a new "integration law."

The law will artificially create 100,000 jobs which will exclusively be allocated to "refugees"—even though there are currently 1.81 million Germans who are unemployed.

To enable this preferential treatment, a currently-existing law which requires employers to give preference to German job applicants will be suspended for three years—in other words, unemployed Germans will be pushed to the back of the seeking-work queue in favor of the nonwhite invaders.

The seasonally adjusted harmonized jobless rate in Germany was, according to Trading Economics, recorded at 4.3 percent in February of 2016, unchanged from the January rate. This means that 1.81 million Germans are out of work.

The proposed law, announced this week by the Angela Merkel government, is being packaged as a measure designed to make "refugees integrate into society in return for being allowed to live and work in the country."

Under the conservative-socialist coalition government's measures, the "asylum seekers" will face cuts to their welfare payments if they refuse to attend language classes or "lessons in German laws or cultural basics."

It has not been said what these "cultural basics" will entail, but, given their behavior in Germany up to this time, they will probably include exhortations not to rape, rob, commit crime, how to use toilets, etc.

The new law will also "punish" the nonwhites if they move away from the white German towns where they have been placed—because the law says the forming of "ghettos" must be prevented.
At the same time, Israel practices racial separatism, seeing no reason to take-on immigrants, let alone assimilate them with integration. On the contrary, the Jews protect their E.G.I. as sacrosanct while compelling others to blend-away theirs with each other.
Two From Terrible Tommy Metzger: Advice For Skins & White Separatists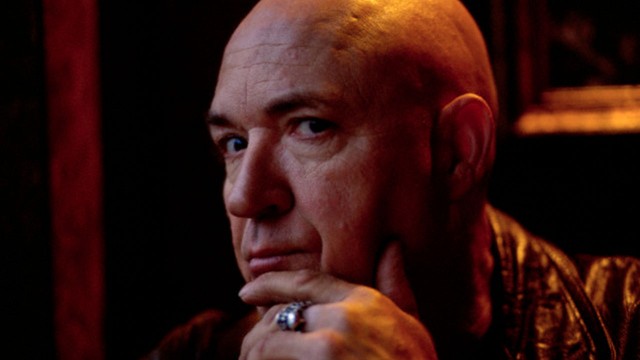 TT Metzger: White/European Unity and Separatism
When it comes to advocating for European peoples, wherever they are, against our elite traitors, hostile dead weight, those ideologies and ideologues which would cause serious fighting between us, you'd be hard pressed to find anyone with better experience and more genuine concern to bring to bear than TT Metzger. Having known him since 2009, I can attest to his concern to help coordinate our efforts so that we are, in fact, fighting on the same side, as we should-be. These two recent radio shows of his demonstrate that bonifide concern and experience that he has to share. I trust that he has these timely messages in mind for White / European advocates to understand at this juncture and that is why he'll let slide my sharing them prior to them going-up to his archive - they also provide good samples of his work for those who might like to join his radio club. If he doesn't forgive me, you know who to ask about where I'm buried!
Two from Terrible Tommy: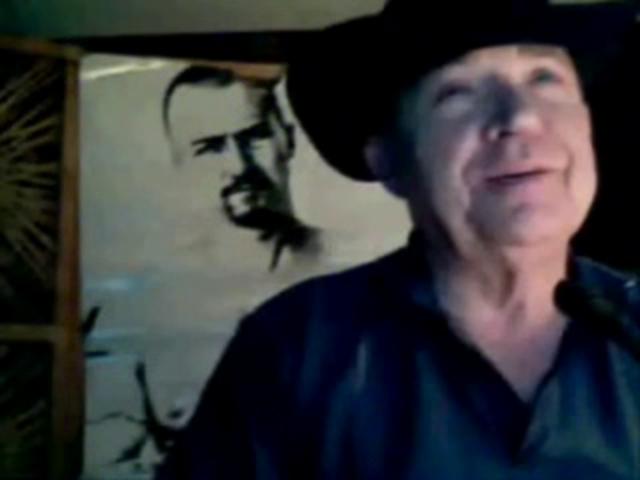 1) TT advises a skinhead eager to coordinate European interests: precocious skinhead EricOwens
2) In an interview by authors writing a book about The White Separatist Movement, TT articulates his thoughts on racial civic-economic structures, what we've done right and wrong: Authors-InterviewTTMetzger
...or Schulzed..
Nigel Farage looks on as European Commission's President Jean-Claude Juncker (L)
kisses the forehead of President of the European Parliament Martin Schulz Photo: AFP

Telegraph, "Juncker calls for 'compulsory' redistribution of 160,000 migrants", 9 Sep 2015.
Breitbart, BREXIT BENCH TEST: Dutch Voters Set To Oppose EU Expansion In Referendum THIS WEEK, 3 April 2016:

Dutch voters will decide on Wednesday whether to support a European treaty deepening ties with Ukraine in a referendum that will test sentiment towards Brussels ahead of Britain's June Brexit vote and could also bring a boost for Russia.

[...]

Any rejection by Dutch voters or by the government would give Russian President Vladimir Putin, who opposes deeper EU-Ukraine ties and who many Dutch blame for the downing by pro-Russian rebels of a plane travelling from Amsterdam, a victory in his war of words with the West.

[...]

"PUTIN'S SHADOW"

The government itself shied away from framing the vote in a Russian context but shifted tactic as the referendum approaches.

[...]

"Vladimir Putin's shadow is lurking fairly significantly over this treaty," said "yes" campaigner Joshua Livestro, arguing that a "no" vote will play into Putin's hands.

"Are we now going to give Putin what he wants after all?" he said.

Prime Minister Mark Rutte's cabinet initially stressed the treaty's economic benefits, but has since focused on its importance for Ukrainian reform in the areas of corruption, human rights and democracy.

"Everyone who wants progress in Ukraine is asking us to vote 'yes,' along with 27 other countries. That's what the referendum is about and nothing else," Deputy Prime Minister Lodewijk Asscher said on Friday.

"No" campaigners say the treaty is a first step toward full EU membership. "Legal scholars call it quasi membership," said Baudet.

Many Ukrainian politicians feel their country deserves the treaty and are keen to show they have made progress in aligning their country with EU standards since the 2014 uprising that toppled pro-Russian president Viktor Yanukovich.

In a Dutch television interview on Sunday, Foreign Minister Pavlo Klimkin emphasized progress in areas such as gay and transgender rights where the Dutch have always viewed themselves as progressive leaders.

"In the past 24 months since Maidan we've done more reforms than in the last 24 years," he said.
Considering "Putin's shadow" seemed as if it might be the issue up to this point.
But if the West is going to help Ukraine, it would do well to get a grip of its own reins.
Part of why gays are not typically worth making a litmus test and taking issue with in a negative sense is because they are not a big deal to normal people - they're a small percentage of the population, a biological fact of given populations and most people aren't interested in persecuting them or going to their bars. So why take the matter to PC hyperbole and bring it up as a salient issue, with even tranny tolerance a litmus test to consideration for European cooperation? PC is the last thing that Ukraine needs if our purpose is to secure its EGI along with that of other ethnostates.
Apparently the PTB (Powers That Be) understand that most people will not care but some will over-react to that PC angle, at a volume that might be appropriate if, instead, the PTB had explicitly stated that their displaying good-will to "diversity" and "multiculturalism" was the litmus test for their acceptability to the European Union. Thus would-be ethno-nationalists will divert their energy to that trivia (trannies, etc) and tar and obfuscate opposition to issue that is really important - so called "diversity" which is, in fact imposition of foreign populations - by associating such opposition with those who are hysterical and lacking the judgement of important priority.
Ah yes, when people balk, the PTB can back-off of pushing the "transgender" and gay issue out of respect for Judeo-Christian values; and perhaps most important of all, out of respect for Islam; then we can all agree that Ukraine needs to be tolerant of "diversity" and "multiculturalism" - unlike those hysterical, illiberal, non-Westernized, intolerant people who do not like transgenders - and then it will be ready to be Merkeled with the rest of Europe.
Frans Timmermans, First Vice-President of the European Commission:
Diversity is now in some parts of Europe seen as a threat. Diversity comes with challenges. But diversity is humanity's destiny. There is not going to be, even in the remotest places of this planet, a nation that will not see diversity in its future. That's where humanity is heading. And those politicians trying to sell to their electorates a society that is exclusively composed of people from one culture, are trying to portray a future based on a past that never existed, therefore that future will never be.

Europe will be diverse, like all other parts of the world will be diverse. The only question is, how do we deal with that diversity? And my answer to that is, by ensuring that our values determine how we deal with diversity and not giving up our values to refuse diversity. That will bring us down as a society.

If we don't get this right, I truly believe Europe will not remain the Europe we built. Europe will not remain a place of peace and freedom, for very long.
The person who, just yesterday, uploaded this video to YouTube claims that the original speech was made in October 2015, which would be one month after this little Timmermans gem, with which MR readers will be familiar:
Frans Timmermans, the Dutch vice-president of the European Commission, said that "diversity was the future of the world," and that Eastern European nations would just have to "get used to that."
It still seems very extraordinary - as if it can't really be happening - that there are white men in this world who are so corrupted and cosseted by the government bubble that they believe they don't have to listen to the European public at all about the European public's ethnic survival. They can just duck away with a little double-speak about mono-ethnicity having never existed in Europe. They say it. It becomes true in their heads. They free themselves thereby to act as they choose.
Yes, this one makes great play of the "human destiny" of gene-killing not just his own racial Europe but, eventually, every other ethnic group and tribe in the world, however small. But you and I both know it's racial Europe he personally intends to see successfully "diversified", and it's the necessary, righteous activism of racial Europeans which worries him. On which point, the YouTube thread has some incendiary responses, including several not at all subtle calls to violence. If there is going to be another Anders Breivik, Mr Timmermans should reflect long and hard as to why.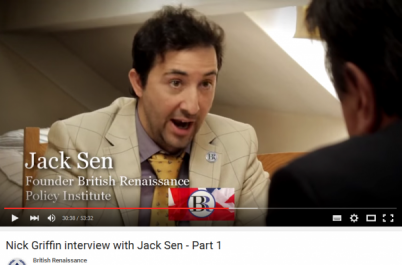 Senscreen
: "What are your thoughts regarding nationalists today [...] groups like National Action, even London Forum's Jez Turner? They seem quite fixated on the Jews to an extent that, it seems to be harming our efforts, I think." Nick Griffin: "Yes, I think it does."
Particularly as I was the instigator of the original phase of skepticism with regard to "Giacomo Vallone", with critical remarks in regard to the positions he espoused in an interview with "Dana Antiochus" at Renegade Broadcasting, it is relevant to weigh-in on this matter. While that exchange quickly exposed him in a lowly and amateurish sock-puppetting effort at dividing Europeans against each other, the combination of that amateurishness and the obvious anti-racial nature of his position caused me to not take him, or his associated "European Knights Project", too seriously. Still, his motives were of the worst kind. It has more serious implications as that project has germinated into controversial engagement with prominent ranks of White advocacy.
Is he the same person as Jack Sen? Well, both Sen and Vallone are associated with the European Knights Project. That's enough for me to dismiss them both. That is why I will only belatedly confirm together with you as to whether or not it is indeed the case that they are one and the same; though a cursory comparison of Sen and Vallone discussions seem to indicate one identity, we know enough about both of them already to dismiss them.
My run-in with Giacomo Vallone wasn't the first time that I had to take serious issue with a guest at another network - I took issue with Mark Dyal at Counter-Currents, and I still believe that I was right to do that as well: The thanks I got for that was being banned from Counter-Currents (oh well). Mark Dyal showed up as a guest of Dana Antiochus with the same kind of bullshit and I had another run-in with him there: Renegade should have appreciated that bit of critique also. However, I've also had reservations about Dana Antiochus - though I might be unfair to him. While I tried to be friends with Renegade, as you'll see, they turned out to be too right-wing in the end.
I tell you this - that Metzger is right about right-wingers.
They are disingenuous and/or naive and their tentosphere is always ripe for infiltration.
Anyway, the scandal in the tentosphere now is not only to see Giacomo Vallone as a fraud who has made his way into conversation with White Nationalism, but that he's actually the same person as Jack Sen - also having made his way into conversation with WN.
I was repulsed by Giacomo Vallone for a number of reasons from the onset, but he and his "European Knights Project" not only managed to get interviews with Renegade et al., but notably with Professor MacDonald. MacDonald is a bit too open to those with advanced academic pedigrees (Vallone claims to have graduated Princeton) and demeanor and a bit too closed to those without that. But that's another matter and not a major point here; MacDonald is a wonderful scholar despite sometimes not being the best judge of character.
In general, it is right-wingishness and desperation for social prosthesis to compensate for their anti-social positions that creates this vulnerability; a tentosphere trap that Jews maintain - a key objective being to keep us as right-wingers and "THE Left" as the enemy.
Now then, I was a bit skeptical (and couldn't be bothered since he is out of the ballpark) about the possibility that Vallone was the same person as Sen. Nevertheless, I already had sufficient evidence that Vallone and The European Knights Project are bad news: promoting civic nationalism, promoting black and mixed race people (e.g., "part black people are OK") and for some reason, inciting strident hatred between Germans and Poles; and apparently anybody and Poles; not only that, but using sock-puppets to instigate that divisiveness.
There was no reason to doubt that his dealings with White Nationalism were disingenuous and it was disappointing that MacDonald, et al., would entertain him. Mike Delaney also spoke with Vallone not long ago - an interview posted by Anglin - but these latter two are middle brow right-wingers, so their rubbing elbows with Vallone did not pique my attention in the sense that one of "ours" was being infiltrated. I would be quite happy for the Daily Stormer to crash and burn. It deserves to.
Then Jack Sen came onto the radar screen of WN, appearing at Jez Turner's London Forum and on Kevin MacDonald's site. These are people that I like, even if their right-wingishness causes them problems. I even posted the talk Sen gave to London Forum here at Majorityrights - it was about UKIP being controlled opposition, infiltrated by Jewish interests and so on. That didn't raise red flags for me - if he, KM and Jez suddenly liked each other, it seemed that he might indeed be a guy coming to his senses. What was curious, however, was his association with The European Knights Project, and Vallone, as I already knew that they were colossal bullshit.
Still, I'm not regularly following the goings-on of every right-winger as I already have their perfidy conceptually circumscribed. I might look at what they are up to, as they are engaged on the same turf, consider what is useful and reject what is not; but I'm not letting them dictate my terms, any more than I'd let Jews do it. So, if they want to rub elbows with Giacomo Vallone and the European Knights Project, it's their ship that's going down. I advise White advocates not to be right-wingers, but that's all I can do. KM, Greg Johnson and the rest of those among what I've taken to calling the tentosphere have tended to double-down in their position that "The Left" is the enemy.
Matt Heimbach is also cooperating with Sen and The European Knights Project - it seems as if there might be a corollary there, probably unbeknownst to Heimbach, to his being banned from The U.K. Sen was so disappointed about the ban?
Coming back to the show that has taken center ring for now, it is clear that "Giacomo Vallone" is bad news, but is he also the same person as Jack Sen? That really would be something as we will see in a moment by some of the implications.
But even if they are not the same person, the very fact that Sen would be associated with Vallone and the The European Knights Project is damning enough.
Lets set out the thread beneath the 2013 interview of Giacomo Vallone by Dana Antiochus at Renegade.
If it's Jack Sen doing this sock puppetry then that really would be something. We'll come to what Jack Sen might be up to after I set out this thread where I started the fight which initiated the awareness that Giacomo Vallone might be something more negative than just an ignorant newby. I begin with the first comment and before long, you'll see what will be shown to be Vallone using sock puppets to instigate German-Polish animus.
Renegade, Dana Antiochus interviews Giacomo Vallone, 14 Oct 2013

Comments

DanielS
2 years 5 months ago

Giacomo Vallone's remarks are not only tactless to the cause of mutual cooperation of European nationalism, but wrong..