Majorityrights Central > Category: Far Right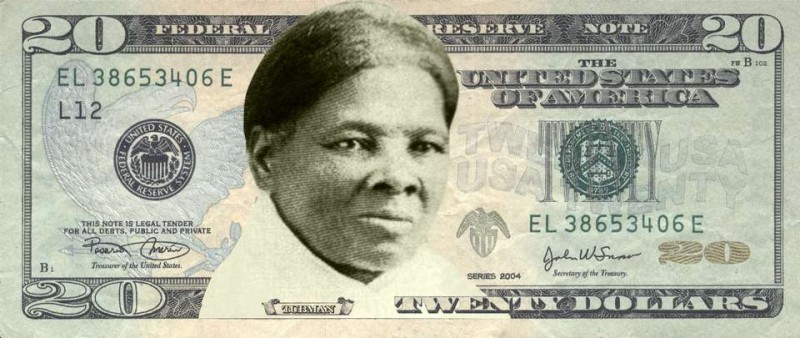 Whites have paid trillions for her children and must continue to pay and pay and pay for this people that they want nothing to do with, suffer from, die from, and had nothing to do with enslaving.
In fact, Whites are not free to reject voluntary contact with them, but are forced into involuntary contract with them, having payment for blacks imposed; nor are they free to decline to live, work and educate with blacks but have blacks imposed upon their living space; they must co-habitate, hire, buy and sell to blacks, educate blacks and in all other ways serve blacks; they cannot reject intermarriage and its offspring - the relationship of slavery has been effectively reversed - it is Whites who have been enslaved to black Ethnic Genetic Interests.
It is twisted "irony" by which the Jewish controlled Federal Reserve Back would make Andrew Jackson - nemesis of the concept of a Federal Reserve - the first casualty in the erasure of White currency. Perhaps the (((Banking Mile of London))) has an interest in this as well, nemesis of the Crown and all that Jackson was (Revolution and War of 1812: Battle of New Orleans, in particular). The Cherokee won't miss him either and an image of their guilt trip may have been an even more appropriate symbol to erase Jackson's ill will. But such is Jewish and Jewish inspired revisionism - the objective sought is always that which might be most devastating in effect to Whites.
Nothing is so effective in that regard than the terror of blacks and the thought of the replacement of our co-evolutionary women with them - they have been brought to bear to a complete reversal of taboos, to where it is now one of the greatest taboos to object that black males are inappropriate partners for White girls/women - and no symbol of unfair trade to White men is more graphic than a black woman proper - none more conducive to guilt trips at the disposal of those who have nothing positive to offer in exchange than a black woman who was a slave but smuggled herself and other blacks into free White communities:
Harriet Tubman is the perfect symbol of the endless guilt trip that Whites are supposed to feel, without hope of fair compensation - for even those few, long ago and almost always completely unrelated White right wingers, ridiculous enough to participate in slavery. Black slavery did absolutely no good to the vast percentage of normal, working class White men - not then and not ever. In fact, it led to the destruction of America by bringing blacks there, providing a presence of ongoing anti-White terror and destruction - against normal Whites and their habitats - while there was absolutely no good in this relation for Whites. Jewish interests, with the help of Christian fanatics, imposed blacks - making Whites ostensibly live by "White rules" in "civil rights" - really a Jewish perversion of freedom of association, rather involuntary association and imposed contractual servitude to blacks. But the YKW went further, to hold a blackout on black crime and accurate portrayal of black nature in their controlled media - on the contrary, with it they agitated blacks and guilt tripped Whites generations later with a disingenuous narrative; of White privilege and oppression; guilt trips about slavery and black poverty by which they have been able to bring Whites down, in fact able to reverse servitude for generations and convince the world that Whites deserve this - collective punishment as Whites, for being White.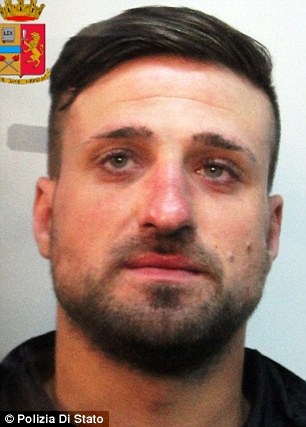 There is an absurd and detrimental habit of thought among WN who would draw the line of race too narrowly, snobbishly, and among those who would find weakening our defense convenient, that Sicilians are not White or are heavily
mixed with blacks
I have long advised against romanticized images of the Italian Mafia as portrayed in the legacy media. These are not organizations based on honor and family, as that media depicts, but rather criminal organizations based on money facilitated through treachery - these have not been organizations for our racial defense as we White Nationalists might hope.
In an irony, however, now that the immigration invasion has brought with it waves of African organized crime as well, suddenly the Cosa Nostra is forced to act in defense of its turf in racial terms - and just as suddenly, the legacy media condemns it, the Italian Mafia, as the problem in that interface - not the immigration invasion, not the organized crime that it brings. Needless to say, the legacy media does not express hope that Mafia will be of some good to the defense of our blood and soil.
In truth, Italian Mafia hasn't been especially good to Italian and European blood and soil. We can hope that the immigration invasion will force them to change that but to date there has been little to show in the way of honor from Italian Mafia: The Mafia of Campania, known as the Camorra, is hardly an organization which has prioritized Italian let alone other European blood and soil. They have been cooperating with Nigerian organized crime to spread Nigerian prostitutes all over Italy - an ugly blight that can be seen on the side of Italy's highways. They have gone against tradition, trafficking in heroine and other narcotics. They have taken hostage of Italian businesses to wreak havoc with the economy and possibilities of free enterprise. In one hideous example, having taken over the waste disposal business, they've merely dumped toxic waste on the Italian habitat - once productive local farms have been destroyed; a fact that can be proved by science; but these wastelands are readily perceived by the senses, the sight and smell of vast areas strewn with and beset with mounds of unnatural garbage and stench.
An unnatural stench emanates in Sicily as well, one of sulfur, around the garbage strewn and oil refinery lined parameters of Archimedes ancient home of Siracusa - where the Cosa Nostra has control in the oil refining industry.
However, with the aura of Mafia, inter-Italian rivalry, murder and background terror, there has been an apparent consolation - perhaps with the help of that background of corruption and terror, foreign incursions were held somewhat at bay - there is only so much use that foreigners can be put to and only so many of them that are needed to do it. After a certain amount they become a threat to anybody, including Sicilian mafia interests. That limiting condition would act to protect the genotype of Sicilians from overwhelming infiltration. In the foreground of terror, despite all urban legends of Sicilians being "part black", with inborn, ineducable aggression, they are vindicated of these ignorant attributions by anybody who takes time to observe them - a knowledgeable, considerate, European, White people.
Sicily, like the rest of Southern Italy, has that reputation of background terror which serves to instill a sense that you should be on best behavior with regard to traditions, the local people and potential transgression. In the year total that I spent in Italy and Sicily between 1996 and 1998, I observed in Italians a model European treatment of the Africans who were there. Africans were not walking around in three piece suits with attache cases as you'd see in Paris. Rather, they were allowed to vend an approved array of trinkets and accessories on the streets, with no sign that they could be mistaken for people integrated with Italians - the idea of mistaking them with Sicilians is laughable. If they remained on the street after 10:00p.m. they would be rounded up by baton wielding police, put into paddy wagons and taken away. If Europeans had to host Africans whatsoever, Italians provided a model of how it might be done to keep them in their place.
That protected the EGI from interracial imposition to a large extent. That protection was buttressed also by the reality of a deserved reputation that Italian men have of being very jealous of their women.
Nevertheless, so long as blacks are in your country at all they are a threat; with the aid and force of PC being what it is, they will make their way through cracks in a racial defense system. While Italian mafia and other men were perhaps busy fighting each other or trying to make money, I would always see two or three interracial couples (pretty Italian woman, Negro male) in just about all sizeable cities that I made my way through in Sicily and Campania - even some not so sizeable ones: a few came into my father's family village during a feast.
Most disturbing to me was the fact that despite the Italian reputation, with few exceptions, I was the only one doing the Italian thing of expressing my indignation and trying to say or do anything about these pairings - and I was the only one who was likely to have any trouble for it. Thus, to get away from the provocation and agitation - with it the rage of mine difficult to control on the front line of racial defense - was a large reason why I opted to live in Poland instead, comfortably ensconced as White and removed from looming threat.
However, I did not leave Sicily before speaking to Cosa Nostra. I told them, urgently, in trance, to stop fighting, destroying and killing each other Italians. I pleaded with them to defend themselves as Italians and Europe; I tugged at the rib of the Godmother; I believe that she heard il Padrino speak through me. Let us hope so, if not pray for that.
The roots of the word and in fact the original purpose of Mafia was in "a wall" to surround and protect the Italian family - at the onset of its organization the threat was from Spanish invasions. However, Sicilians have a deep history of defending against all manner of invasion - including of course from Islam. While the pervasive sounds of church bells rang through the noontime air of Agrigento in a way that might have intimidated Islam at one time, the locals there were the ones who told me that the most critical facilitator in the immigration problem (yes, it was already bad enough in 1998) now is this religion itself - Christianity.
I found that the Sicilians are deep - much deeper than Christianity.
By contrast to the wishes of legacy media, the DM, the cuck mayor of Palermo that the DM presents as an exemplary anti-racist White man, let us hope indeed that they heard il Padrino; that the Mafia will be of some good, and express its true honor, to be that wall, and to help protect the EGI of Italy and the rest of Europe - by means of terror if need be.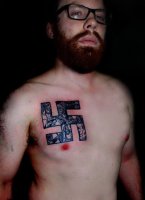 Andrew Auernhemer a.k.a. "Weev"
Weev has been a figure associated with WN for several years now and at MR since at least 2010.
I had given him something of the benefit of the doubt as being on our side, since he was on friendly terms with MR prior to my coming here. Weev was well liked by Søren Renner, who, among other gestures of affinity, posted this sad video at Majorityrights, showing Weev explaining his side of the story around the time of his prosecution, just before going to jail for the ATT hack.
Only a few remarks about Weev stand out from what Søren told me, otherwise I had only a general feel of Weev's place with regard to WN, based on the impromptu "briefing" that Søren gave me about him and then from what limited attention I paid to Weev after Søren departed MR.
Weev emerged from jail and posted photos of himself proudly showing-off his swastika emblazoned chest. I was disgusted with him for that and for his cooperation with The Daily Stormer. I was also disgusted with Søren for his appreciation of Angln's approach at The Daily Stormer and I wanted to flush out what mutual position the three might occupy. I posted this picture here at MR, Weev with giant swastika tattoo on chest - - it did serve to get Søren to respond: Søren struck me as both hypersensitive in his response on the one hand and impervious on the other, given the fact that I was not exactly exposing anything heretofore a secret. If they think that this is such a sound approach then it seems to me that it could be easily defended by such I.Q. powerhouses. In fact, Søren departed MR and ended contact with me, suggesting that I was taking it too seriously (while maybe he was the one who was being too sensitive).
But anyway, coming back to the few remarks that Søren had made about Weev. Søren said that "Weev is a Jew' but he's OK."
I didn't carry much weight at MR at that time and didn't feel it my prerogative to throw any around. I'd say that I went into a sort of denial about it, but really, with Weev in particular going to jail, he wasn't going to be much harm to us no matter what or how he was.
I liked Søren, quirky, cartoon character sort of guy that he is, and excuses for this remark were swimming only semi-consciously in the back of my head. Maybe he didn't mean to say that Weev is a literal Jew, but this was Søren's way of saying that Weev s "a bit of an a-hole, but OK" - an a-hole who is on our side, if not our a-hole.
Or maybe Weev is only a little bit Jewish of his genetic background, but is really on our side. Even at the time I tended to be very skeptical that people who were any part Jewish could be on our side; but again, he was going to jail and therefore of no immanent threat.
Maybe he isn't Jewish at all and Søren is just showing off his I.Q. snobbery; or that he will make an exception for a Jew if he is a Wittgenstein or a Weev inasmuch as their "genius" is useful for our side. I don't think these types of Jews will act reliably in our interest, but in this situation, Søren's predilection seemed good natured, funny and fairly harmless. Even though Søren could have some susceptibility to favor I.Q. over racial distinction, the importance of the distinction from Jews was fairly well buffered - it wasn't going to easily float past me, anyway. GW thought Weev is a Jew, though I'm not sure how he came to that opinion.
At any rate, Søren's participation at Majorityrights decreased during the time of Weev's incarceration. I was a bit sour on him for his appreciation of The Daily Stormer angle but he was more than welcome by me to post and otherwise participate. I had been and have been busily trying to build up an alternative platform from the standard right-wing, "Hitler and Jesus are us, Jews are White like us too, and should be included if they want." I am serious about this platform not taking on that nonsense. So, when Søren suddenly reappeared with a few gratuitously disagreeable remarks and this silly post, I decided to make a post calling to account those popular WN figures - Duke, Anglin and Weev apparently looking to redeem Hitler.
As he hadn't in years, Søren came on to Skype to chat with me, saying that I was too backward looking, that I was taking it too seriously and that I shouldn't have brought Weev into it; then he removed me from his Skype contacts and that was the last I heard from him.
OK, before too long Weev re-emerges in the right-wing after coming out of jail, now with a Swastika on his chest and as a big hero of the The Daily Stormer et al., presumably. I didn't pay much attention to him at The Daily Stormer since that tent of the alternative right-wing tentosphere is fairly circumscribed, buffered buffoonery. However, I started to catch wind of Weev making the rounds of the tentosphere.
With Weev at a safe distance now and making rounds on common subject matter, it was worth a listen to some of what he might have to say at this point. Since he is from Arkansas and has experienced blacks, it is quite reasonable to believe, in accordance with all indications, that Weev is sincere in his dislike of them - he has some sincere common interest with WN. Hell, if he is acting, he does a good job of it and of articulating grievances with Jews too.
But any man who causes the name of a website called "Gay Ni****s of America" to appear on the front page of the website of US presidential candidate (and US president to be) Barack Obama, cannot be all bad. lolllzzzzllllolllzzzzzz indeed.
On February 11, 2007, an attack was launched on the website of US presidential candidate (and future US president) Barack Obama, where the group's name was caused to appear on the website's front page.
As another one coming to Dana Anthiochus' leaky border between White and non-White interests, Weev came to talk with Dana on 25 September 2015 about computer technology, his concerned advice on race and state-of-the-art warfare.
I insisted that Kumiko have a listen with me, and render a critique, as these concerns bear upon her expertise. We developed an outline which I will post below. A Weev article has been long on the back-burner, but has become relevant now with Dennis Fetcho's experience and criticism, if not exposure of Weev.
Though a right-winger himself, Dennis Fetcho has some interesting things to say.
He did a podcast of his own and one with Nick Spero recently to discuss Weev. Fetcho finds Weev's covering stories risible - Weev being a Christian identitarian concerned with White interests and so on. "Christian Identiy?', Fetcho says, "before he was a Mormon, he doesn't know what he is." But of the fact that that Weev is Jewish and that he was always on "the enemy side" Fetcho is confident. Weev apparently made Fetcho's life hell, attacking and damaging his websites as he apparently would do any site that was "anti-Semitic."
Fetcho maintains further, that Weev was not prosecuted by the U.S. Government singularly for hacking A.T.T. as he maintains, but because he was a nuisance who had done the same thing to many people, hacking and trolling them relentlessly as a part of a team that caused many innocent people significant problems.
Now we have Weev's triumphant return to White Nationalism, with him presenting himself as a cult hero if not integral to their right-wing sites and aspirations. He is treated like a "hero" at The Daily Stormer and other alternative right sites for his recent print station hacking stunt - at least he claims it as his handiwork; Fetcho doesn't believe that he acted alone to cause the printers at some American universities and some in China to print-out a poster with an anti-Jewish statement, and declaring world wide "White supremacism" with two large swastikas on each side of the text. Fetcho makes the point that this is barely newsworthy. I concur and did not run the story at MR and would not have if not for the implications of Weev's detrimental involvement with WN.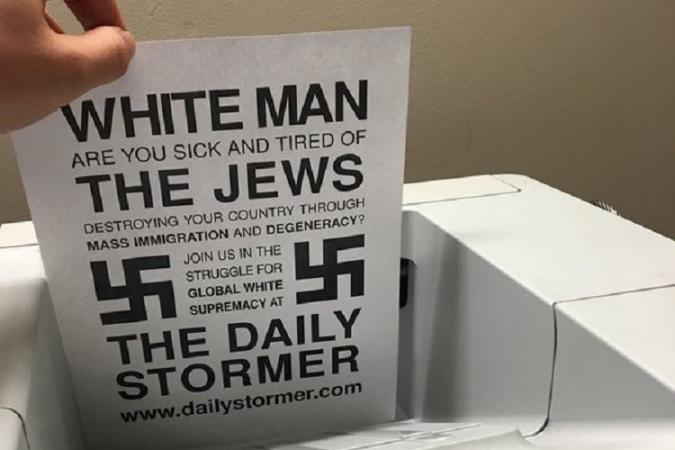 Weev, "I chose the swastika image because it is a symbol universally recognizable to all printers."
What good does it do to create a "problem" of printing out anti-Semitic posters with Swastikas, proclaiming global White supremacism into print stations at the heavily Jewish American universities and in China?
It is perfect public relations - for the ADL.
Universities are not known for their skin head types, nor are book worms likely to be roused to enact global Nazism. The universities are replete rather with empowered Jewish folks, who can proclaim that they have a growing problem with anti-Semitism, need to clamp-down and need more assistance from the State.
This kind of vainglory printing-out in China works against projects like MR's, to build regional alliance between Asia and Europe.
My reaction from the onset would suffice without any elaborate conspiracy. Our eminently noble cause of White sovereignty is only harmed by association with Nazism and "supremacism." It will only harm Whites, set us against each other and turn-off normal Whites, needless to say how non-Whites would react.
No White advocates were talking in terms of "White supremacism" until Weev brought it back in his talk with Dana Antiochus.
No concerned White advocates subscribe to White supremacism because it is at odds with the separatism to which we aspire - attempting to dominate others is at odds with separatism. In trying to resurrect this concept of "White supremacism" Weev is attempting to brand us with a term as surely as he has branded himself with a corny tattoo as if to brand and represent us with it. He would libel us by associating our cause with the term that Jewish groups have been trying to smear White advocates with for decades - despite the fact that nobody, except for Weev now, promotes the term.
It does no good to Whites, but it does however, serve the interests of the ADL. It divides Whites, turns off normal Whites to our cause, creates the notion that Jews need more state protection on their side, etc.
Coming back to Dana Antiochus' 25 Sep 2015 talk: Weev pushed the envelope of violence, declared world wide "White supremacism" the way forward and the intimidating idea that drone warfare would make the normal means of fighting for your people obsolete.
My initial impression that this was just a right-winger giving the right-wingers at Renegade what they want - a new Swastika tattoo, some Jew, Jew, Jew, unanimity with Uncle Adolf and you're good to go.
With Fetcho's intervention, however, Auernheimer looks more like a provocateur than the friendly rogue, Weev.
Andrew Auernheimer, a.k.a., "Weev", the suspicious friend of The Daily Stormer and TRS, just so happens to be their Johnny on the spot when their sites have problems.
Fetcho claims that Weev does have some Jewish background, which we (GW and I, DanielS) have reason to suspect as well.
Fetcho maintains that the US government didn't go after Weev for the singular hacking of ATT accounts incident as he claimed, but rather because he was hacking and harassing innocent people all over the place, including Fetcho relentlessly.
Fetcho renders plausible arguments against Weev's "great hack" of the printer stations at several universities, and apparently in China as well. He asks first, whether he really did this this by himself? Then takes the premise to what follows by saying that this is not a newsworthy story on its face value (I agree, and had not run it at MR). It accomplishes little of positive value, but does create a "problem" for the Jewish laden universities that requires them to provide a "solution" of clamping down on hate speech. This is an attendant benefit to our enemies by associating WN with Nazism and "supremacism."
And that is the large point that I believe Fetcho has got very right - there is a close approximation of Zero White advocates who have been claiming "White supremacism" and yet what Auernheimer has been doing re-vitalizes the Jewish smear line of "White supremacism" along with the Nazi association in order to discredit WN and turn people off.
Moreover, what sincere White Nationalist would hack Chinese printers to announce "global White supremacism" ? Most probably none.
But a Jewish sponsored troll, trying to prevent Chinese and White cooperation just might.
Who is served by associating "White Nationalism" with The Daily Stormer, Nazism and "Supremacism" ? Jewish groups are served.
Here is the Nick Spero "Circus Maximus" show in which Weev is discussed in the third hour: The first two hours are Lee Rogers, the third hour Dennis Fetcho. Lee Rogers is your standard anti-Jewish right-winger, not much new but no harm if you can ignore his "holohoax" line and his falling on the AH side of the false either/or; moving to hour three, Dennis Fetcho has interesting things to say about Weev.
Again, Fetcho is a right-winger, with those foibles, including the pro-reich, "it was all a holohoax", 9-11 and all that usual boring right-wing stuff, but the things he is saying about Weev gather sense.
He talks about Weev on his own show as well:
Hour 1
Garbage World of Hackers

Hour 2
Weev and ADL Crafted Messages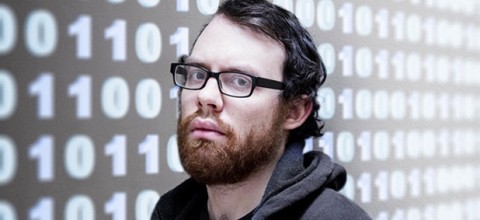 Beware of the right-wing: they are full of fools and foolers.
On black hat hacking at red ice.
Weev on identifying companies with unknown liabilities
Weev tells his side of the story to RT
Weev on why he trolls
Weev on the difference between trolling and hacking

Here is an outline of Kumiko's initial take on Weev's discussion - with Antiochus, 25 September 2015 - on computer tech, race and state-of-the-art warfare. Since these topics square with her expertise on all counts and with our concerns on all counts, her opinion is quite relevant. This is just an outlne that I took down as dictation from what we gathered at the time (last September).

Weev on the players and the technological transformation of war: "it will be massively a-symmetric and robotic."
1. Showing ATT its vulnerabilities was a good turn; but revealing the data to (((Gawker))) was tactless.
2 Don't talk to the police! Weev should not have talked to the police.
3. "Black hat" is the wrong term to self ascribe, it underscores an unduly negative angle that adversaries would attribute to Weev - he should not cop to that, but rather identify as a "Gray hat."
4. Should not say German patriots are setting fire to refugee camps or that he wants to kill blacks just because they are black.
5. His idea of robotic and drone war is problematic - it does Not render traditional forces obsolete. In certain circumstances you want troops in there in certain circumstances you don't.
For another significant point of criticism, there are more ways to counter robot and drone technology than Weev is taking into account.
Kumiko has other assessments and critiques of his politics and computer abilities: where he is mistaken, where he could do better.
6. Very important: you still need popular sentiment on your side. It is not enough, especially not nowadays, to think in terms of warfare being so asymmetrical that just one percent or a small percent can fight and win.
7. His view on Christianity, newly reconsidered as it may be, could be reasonable enough: reminiscent of Bohrmann.
8. He is correct that it should not be a false either/or between universalistic Christianity, Jews and Islam. They are all beyond the pale.
9. His association with Anglin and other right wingers is dubious. NS Germany was leftist at its inspiration, onset and groundswell.
10. Assad never offered nor had any intention of stepping down. Russia made a duplicitous offer to take Assad down in exchange for keeping its port but The US decided to try to take him down themselves. The results were still bad but the motives were different than Weev made it out to be.
Regarding Auernheimer's assessment of the inexorable link between Isis, Israel, The US - the deal with Iran indicates that business interests and geopolitics can override Israeli interests
11. He overstates the exclusivity of White accomplishment in computer technology.
12. His troll of Obama's website with "Gay n*****s of America" was very funny.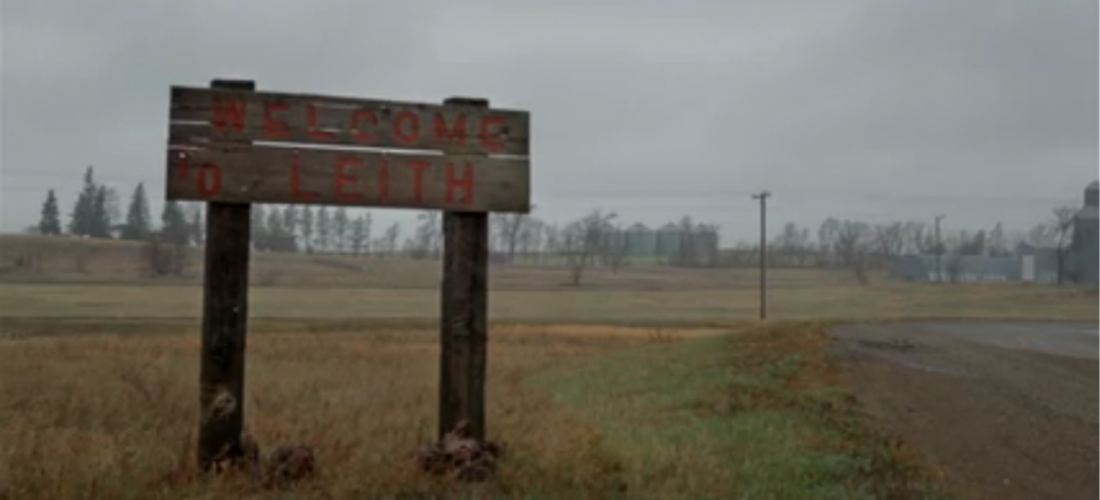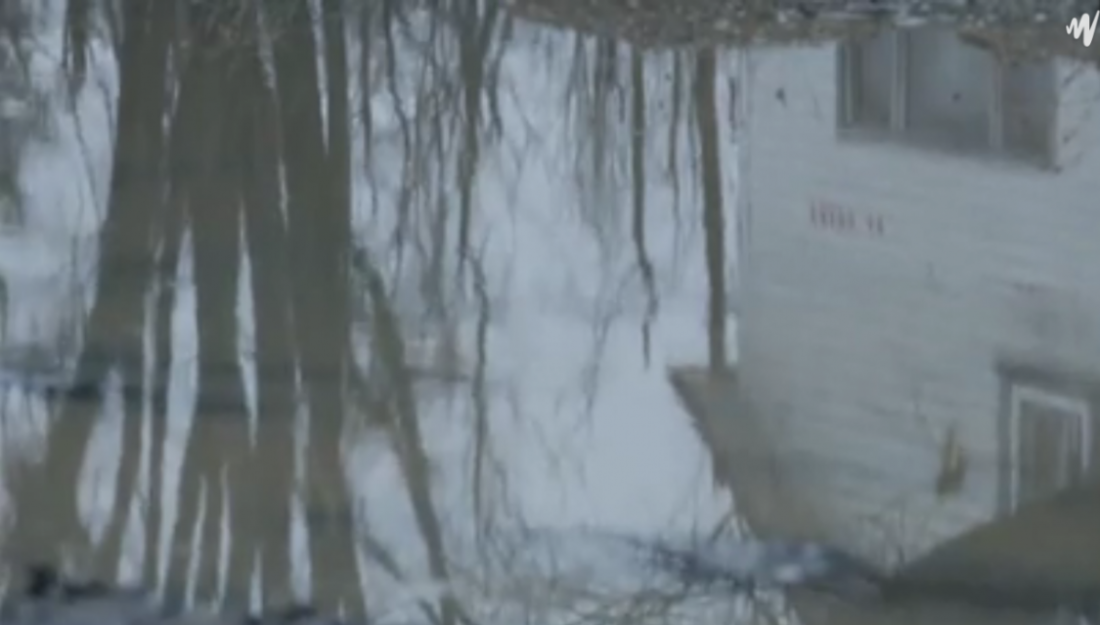 Besides capturing beautiful location shots, this documentary provides more insight and even some balance to the heretofore mainstream media portrayal of Craig Cobb's gambit to start a White preserve in tiny Leith, North Dakota. The bit of balance is surprising given that the production is coming from a perspective which is highly unsympathetic to Cobb and the White separatist cause.
1) The documentary does allow for Cobb to sneak-in the fundamentally legitimate argument that Whites should be able to establish separatism in order to preserve themselves.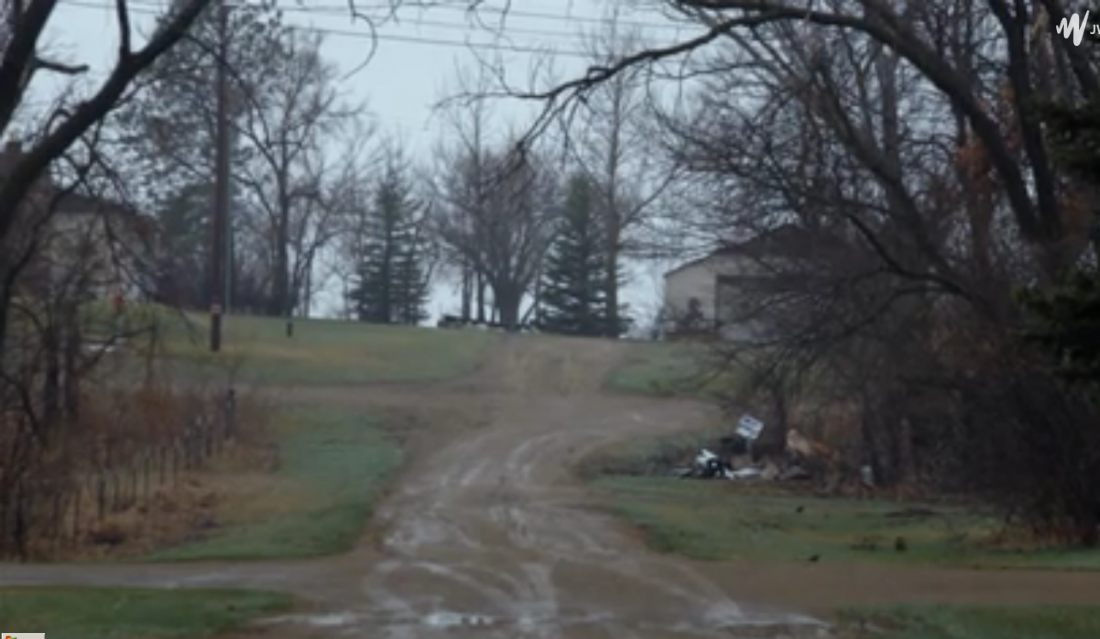 2) However, it takes advantage of a wrong turn that Cobb takes in separatist advocacy, and one that the demographic preponderance of American WN can be susceptible to, which is to associate White separatism with Nazism and its corollary of pursuing an antagonistic, literally supremacist, even "exterminationist" agenda. This willing association of WN with "NS" Germany stems from a false either/or regarding WWII, an either/or which maintains that there was simply a wrong and simply a right side in that conflict.
3) Stemming from a myopic reaction to Jewish sponsored liberalism in America and the frustration for unpopularity that will result of the "NS Germany simply right" response not being accepted (not even by many Whites who would be sympathetic to White separatism), the SPLC (Southern Poverty Law Center) has a rather easy task to demonstrate that Cobb is not just trying to build a separatist White community that can amenably coordinate with others.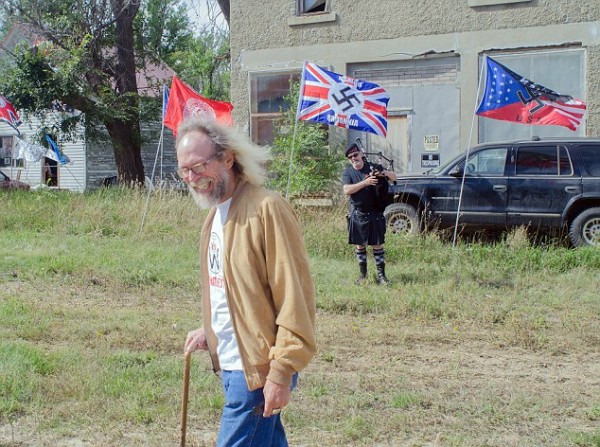 a) He invited-into Leith some of the most salient and provocative White advocates, purchasing property in Leith for Alex Linder, the NSM ("neo-Nazis") and Tom Metzger.
Linder of course couldn't be more brazen in his rhetoric, calling for the elimination of Jews and so on; the NSM couldn't be more flamboyant in their display, as they literally came into town bedecked in Nazi regalia, posting the like flags around Cobb's house in Leith, and unabashedly proclaiming their unanimity with "NS" ideology.
Metzger doesn't approve of such flamboyant and anachronistic tactics, but he has taken a position contrary to the PTB (powers that be) over the years, a position that the SPLC has tried to associate with senseless violence - despite his clear advice against that.
b) Along with the negative media reputation of these White exponents as embellished by the heretofore mainstream media and the SPLC, the SPLC begins to build a case to trace Cobb's associations with these figures, as they have been following them over the years in an effort to connect them to a history of violence with further implications.
- as in the case the SPLC brought and won against then California resident Metzger, who was found "vicariously responsible" through a tenuous association with a skinhead who killed a black in a spontaneous street fight in Oregon.
- Matt Hale, fellow in Cobb's religion -"Creativity" - was effectively set-up (by a wired-FBI informant who coaxed Hale to almost say that he approved of killing a judge) on charges of plotting to kill the judge who ruled against him in a patent case regarding the church logo and was sent to jail for 40 years. In connection with that bogus case, Cobb had published the address of the judge. Heidi Beirich (SPLC) admits that it is unknown whether that information aided and abetted the subsequent murder of two family members of that judge.
- VNN (Linder) associate and Cobb supporter, Frazier Glenn Miller, came unhinged one day and shot three people involved with the production of "To Kill a Mockingbird." This was after the Leith Fiasco was over and Cobb was driven out of town not to return; but with that, the SPLC et al. were able to argue more persuasively that there was a danger when he was in town; and with some Leith property still in the hands of White advocates that the danger loomed of these types coming to Leith again and coming unhinged.
It is already well known to the world that Cobb's case was not helped by his gun toting stroll with Kynan Dutton, a display compounded with verbal taunting of a neighbor. They were arrested for that and brought-up on charges of making terrorist threats.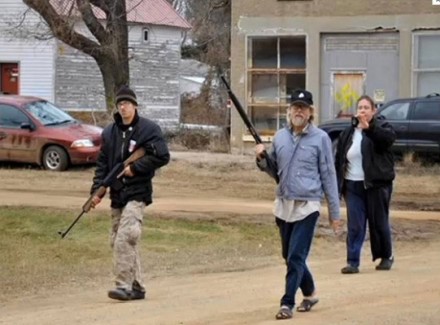 Further threatening gestures alleged to Cobb that the documentary makes known to people who'd not been riveted to the event's details, are that Cobb was apparently publishing the address, names and other information about family members of his neighbors - the Christian couple whom he antagonized in the gun stroll. While people of our sophistication might understand Christians are a part of a hostile world view, Cobb was not exercising necessary discretion with regard to their skill level - nor for their emotional latitude given that the man he was verbally antagonizing on line and in the end, in his gun toting walk, had a 17 year old daughter murdered in Washington prior to coming to Leith, North Dakota. But to make Cobb's indelicacy hardest to ignore, this man read online where Cobb was encouraging ex-convicts to come to Leith and telling them that, "now is the time to draw your sword."
Of course the context of Cobb's words and actions must be taken into account - these things will be given hostile framing by the SPLC in advice to the movie makers and this couple along with the other liberal town folk. But still, anyone who would tout Cobb as having aced as a fine PR man for WN is sorely mistaken.
...and there were people whom he could have won over - the documentary shows one Leith townsman who does not seem hostile to Cobb, saying that "people can believe what they want, I guess."
Additional new information, adding some balance and mitigating circumstance sympathetic to Cobb's perspective is noted in the film. Prior to the stroll, Cobb and Dutton's property had been vandalized; Dutton's car tires were slashed and the car was spray-painted with the words, "go home." Dutton's partner is also seen being confronted by a neighbor who drives up to her, apparently to intimidate her. Hence, there was some provocation from the other end and reason to perceive the need to defend themselves against their neighbors prior to their ill-fated stroll. And there are other indications that Cobb and Dutton were up against threats.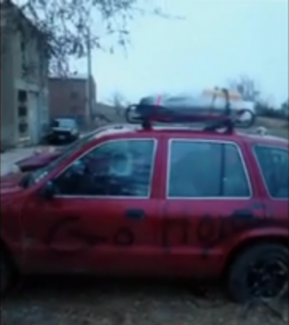 There is an irony in the suggestion that Cobb has a home.
These factors were in addition to all of the media hoopla and antagonism that had preceded, the "anti-racist" rallies and SPLC attention that was brought to bear against Cobb's initiatives in the town.
Another irony came about when the SPLC summoned go-to victim group coalitions to harangue the White separatist - WN circles note that the American Indian groups who were among those brought-into Leith to protest Cobb's effort to build a separate and sovereign territory based on his people's genetic kind had been bused there from reservations which are their exclusionary racial preserves.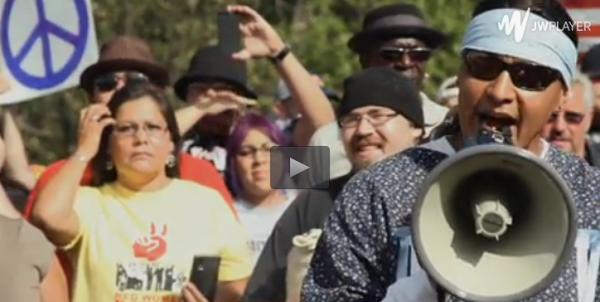 In addition to showing the counter-intimidation and vandalism by Cobb's neighbors, there was another bit of balance provided in the film, significantly against the case that Cobb was "terrorizing" people to where they felt in immanent danger.
A photographer named Gregory Bruce came on a moral high-horse from another North Dakota town to intervene in Leith. He not only made a special effort to thwart and document the thwarting of Cobb's plans, but he also boldly announced that neither he nor anybody else in town was afraid or threatened by Cobb. This bravado that Bruce horned-in with undermined the case for Cobb's threateningness and opened the way for Cobb to be granted a plea bargain.
Another mitigating factor to the charge of "terrorist threats" and the idea that the people of Leith considered themselves to be in immanent danger was that Cobb was never threatening to the interracial couple in Leith (Bobby and Cheryl Harper) nor to Bobby by himself. The documentary tried to make hay out of the DNA test given by the talk show (The Trishia Goddard Show that Cobb appeared-on with the interracial couple), "showing" that Cobb was 14 % black, but Cobb dismissed it graciously despite being publicly hoisted by the petard of his objectivism (Cobb is not 14% black by any reasonable metric).
While Cobb was imprisoned for his gun toting walk and threats, had a felony put on his record, can no longer legally posses fire arms and underwent significant costs, he did manage to mitigate his sentence by admitting his mistake and was freed; finally, the documentary showed some balance again, by interviewing legal counsel advising the audience that justice was served - and in terms of the relative circumstances of the Leith fiasco, it was a fairly just result.
Justice to the eminently legitimate and noble cause of White separatism, however, was not served; but that is largely due to Cobb's association with Nazism as it cut him off from broad support for what should be his absolutely legitimate goal of White sovereignty and survival; but with his "public relations" effort, he gave legitimacy instead to the worst antagonists to the cause of White survival and the separatism that is necessary to that end.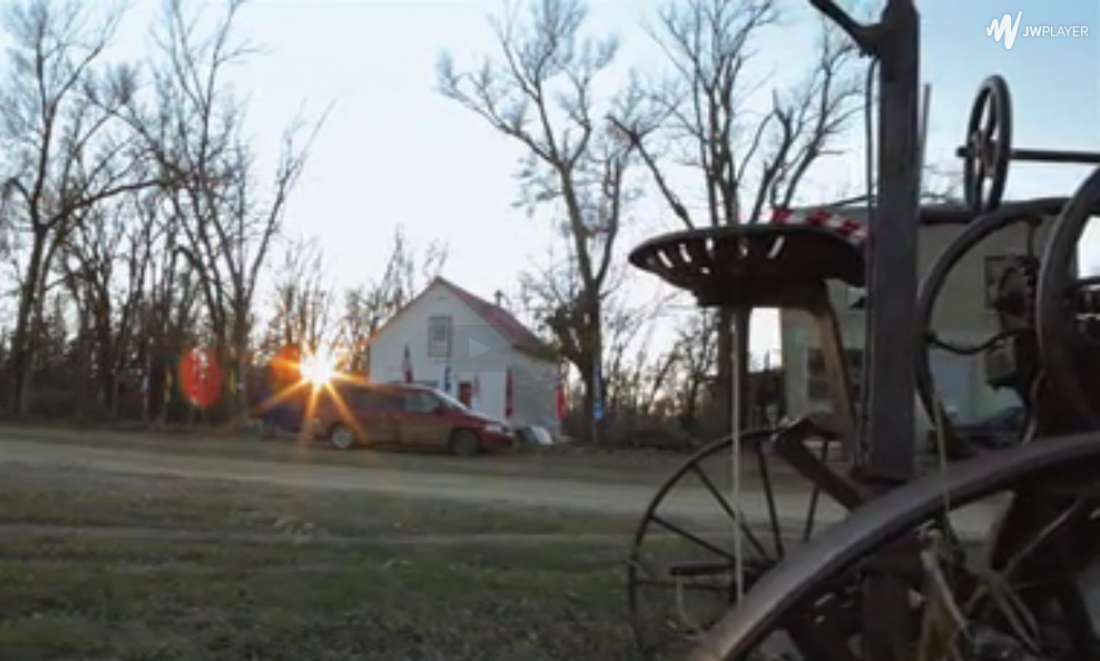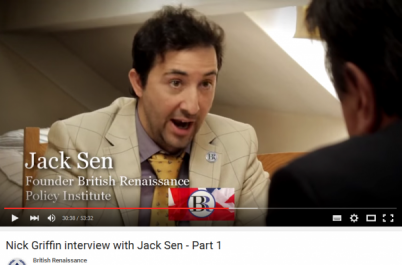 Senscreen
: "What are your thoughts regarding nationalists today [...] groups like National Action, even London Forum's Jez Turner? They seem quite fixated on the Jews to an extent that, it seems to be harming our efforts, I think." Nick Griffin: "Yes, I think it does."
Particularly as I was the instigator of the original phase of skepticism with regard to "Giacomo Vallone", with critical remarks in regard to the positions he espoused in an interview with "Dana Antiochus" at Renegade Broadcasting, it is relevant to weigh-in on this matter. While that exchange quickly exposed him in a lowly and amateurish sock-puppetting effort at dividing Europeans against each other, the combination of that amateurishness and the obvious anti-racial nature of his position caused me to not take him, or his associated "European Knights Project", too seriously. Still, his motives were of the worst kind. It has more serious implications as that project has germinated into controversial engagement with prominent ranks of White advocacy.
Is he the same person as Jack Sen? Well, both Sen and Vallone are associated with the European Knights Project. That's enough for me to dismiss them both. That is why I will only belatedly confirm together with you as to whether or not it is indeed the case that they are one and the same; though a cursory comparison of Sen and Vallone discussions seem to indicate one identity, we know enough about both of them already to dismiss them.
My run-in with Giacomo Vallone wasn't the first time that I had to take serious issue with a guest at another network - I took issue with Mark Dyal at Counter-Currents, and I still believe that I was right to do that as well: The thanks I got for that was being banned from Counter-Currents (oh well). Mark Dyal showed up as a guest of Dana Antiochus with the same kind of bullshit and I had another run-in with him there: Renegade should have appreciated that bit of critique also. However, I've also had reservations about Dana Antiochus - though I might be unfair to him. While I tried to be friends with Renegade, as you'll see, they turned out to be too right-wing in the end.
I tell you this - that Metzger is right about right-wingers.
They are disingenuous and/or naive and their tentosphere is always ripe for infiltration.
Anyway, the scandal in the tentosphere now is not only to see Giacomo Vallone as a fraud who has made his way into conversation with White Nationalism, but that he's actually the same person as Jack Sen - also having made his way into conversation with WN.
I was repulsed by Giacomo Vallone for a number of reasons from the onset, but he and his "European Knights Project" not only managed to get interviews with Renegade et al., but notably with Professor MacDonald. MacDonald is a bit too open to those with advanced academic pedigrees (Vallone claims to have graduated Princeton) and demeanor and a bit too closed to those without that. But that's another matter and not a major point here; MacDonald is a wonderful scholar despite sometimes not being the best judge of character.
In general, it is right-wingishness and desperation for social prosthesis to compensate for their anti-social positions that creates this vulnerability; a tentosphere trap that Jews maintain - a key objective being to keep us as right-wingers and "THE Left" as the enemy.
Now then, I was a bit skeptical (and couldn't be bothered since he is out of the ballpark) about the possibility that Vallone was the same person as Sen. Nevertheless, I already had sufficient evidence that Vallone and The European Knights Project are bad news: promoting civic nationalism, promoting black and mixed race people (e.g., "part black people are OK") and for some reason, inciting strident hatred between Germans and Poles; and apparently anybody and Poles; not only that, but using sock-puppets to instigate that divisiveness.
There was no reason to doubt that his dealings with White Nationalism were disingenuous and it was disappointing that MacDonald, et al., would entertain him. Mike Delaney also spoke with Vallone not long ago - an interview posted by Anglin - but these latter two are middle brow right-wingers, so their rubbing elbows with Vallone did not pique my attention in the sense that one of "ours" was being infiltrated. I would be quite happy for the Daily Stormer to crash and burn. It deserves to.
Then Jack Sen came onto the radar screen of WN, appearing at Jez Turner's London Forum and on Kevin MacDonald's site. These are people that I like, even if their right-wingishness causes them problems. I even posted the talk Sen gave to London Forum here at Majorityrights - it was about UKIP being controlled opposition, infiltrated by Jewish interests and so on. That didn't raise red flags for me - if he, KM and Jez suddenly liked each other, it seemed that he might indeed be a guy coming to his senses. What was curious, however, was his association with The European Knights Project, and Vallone, as I already knew that they were colossal bullshit.
Still, I'm not regularly following the goings-on of every right-winger as I already have their perfidy conceptually circumscribed. I might look at what they are up to, as they are engaged on the same turf, consider what is useful and reject what is not; but I'm not letting them dictate my terms, any more than I'd let Jews do it. So, if they want to rub elbows with Giacomo Vallone and the European Knights Project, it's their ship that's going down. I advise White advocates not to be right-wingers, but that's all I can do. KM, Greg Johnson and the rest of those among what I've taken to calling the tentosphere have tended to double-down in their position that "The Left" is the enemy.
Matt Heimbach is also cooperating with Sen and The European Knights Project - it seems as if there might be a corollary there, probably unbeknownst to Heimbach, to his being banned from The U.K. Sen was so disappointed about the ban?
Coming back to the show that has taken center ring for now, it is clear that "Giacomo Vallone" is bad news, but is he also the same person as Jack Sen? That really would be something as we will see in a moment by some of the implications.
But even if they are not the same person, the very fact that Sen would be associated with Vallone and the The European Knights Project is damning enough.
Lets set out the thread beneath the 2013 interview of Giacomo Vallone by Dana Antiochus at Renegade.
If it's Jack Sen doing this sock puppetry then that really would be something. We'll come to what Jack Sen might be up to after I set out this thread where I started the fight which initiated the awareness that Giacomo Vallone might be something more negative than just an ignorant newby. I begin with the first comment and before long, you'll see what will be shown to be Vallone using sock puppets to instigate German-Polish animus.
Renegade, Dana Antiochus interviews Giacomo Vallone, 14 Oct 2013

Comments

DanielS
2 years 5 months ago

Giacomo Vallone's remarks are not only tactless to the cause of mutual cooperation of European nationalism, but wrong..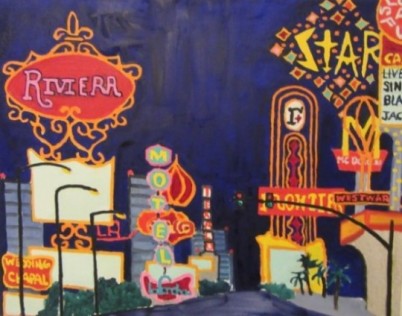 Vintage Las Vegas Strip II
- painting by Robert Stark
There is a significant problem in the theory of White/European advocacy.
Those who gravitate to White advocacy will, in veritable first order of necessity under the circumstances, seek to anchor their defense as right wingers; viz., upon objective grounds beyond relative socio-historical perspective and in unassailable universal warrant - the apparent necessity for that first step being that antagonism generally unbeknownst, namely of the Jews, has obfuscated other options.
A race is a social grouping and a discriminatory basis thereupon. Discriminatory social classifications are necessary for human ecology, coherence and accountability - and race would be one important discriminatory classification for humans.

However, the Jews came up with the concept of anti-racism, which is the effort to prohibit social classification of race and discrimination on its basis; and have applied the concept of prohibiting discrimination on the basis of other social classifications in relative social group interest as well - all weaponized for Jewish interests and primarily against White heterosexual males.
Implicit beneath everyday language, the term "the left" applies in a very distinct pattern to organizational efforts of full social unification and concern for a particular social group - union membership modeling what "the left" does. It is a model that can apply to any scale and purpose of group, including nation and race. Essentially then, "the left", itself, would be called "racist" for classifying on the basis of race or would be called some other discriminatory "ist", by Jews, depending upon what social group is organized, if they were not in power beyond criticism, looking after their interests and against White interests. In theoretical consistency, only "right-wingers" are antagonistic to these social classifications on principle. White unionization would be the normal defense for Whites, and it would be "leftist" in terms of ordinary usage. However, through academic, media, economic, religious, business, legal and political take-over, the Jews have been able to have Marxism, Cultural Marxism, its objectives to take-down White power and the ostensibly hallowed humanitarian social concern of their so-called social justice advocacy groups arrayed against it designated as "the left"; while White advocacy designated "the right."
From whence Jewish advocacy has maintained that steady stream of infuriatingly convoluted language games, starting with provocation of absurdly self destructive language games that they set forth with Christianity, to Critical Theory's incessant rhetorical abuse of White men, the exploitative and lethal implications to White men have been actively unleashed in fact, as sundry anti-White unions - "social justice warriors" who have been set against Whites, ultimately, despite their unwanted imposition, the necessity to force their social integration and to force Whites to share their most precious resources and vital resources with groups having vastly different Ethnic Genetic Interests - to the final incapacitation and elimination of White men going under the banner of "the left" and its objectives.
Not only has being told constantly and pervasively that which tortures you as a White man is "the left" repulsed White men to the ordinary term, but also to the concept of social unionization, full group inclusion and advocacy which lies beneath it. But the normal White response, of objectivity, has been eagle clawed by Jews as well. A system of universal and civil rights and "objective merit" - which started as a White thing, by Locke, to advance objective individual merit over elite class discrimination - was taken by Jews to weaponize Whites own rules against them - so that discrimination on behalf of their classification was held to be illegitimate as well, while this universalizing of rights over classification provided an exception - a special proviso for White men: Because they have enjoyed "historical privilege" as a result of the fruits of discrimination and exploitation, it would be "disingenuous" for White men to say that the same rights and means of judgment upon individual merit should apply to everyone. Hence, people in these minorities need group classification for the purpose of advocacy and advancement in compensation for having been historically discriminated against by White men; whereas White men need no such group advocacy.
Jews have been able to designate these "victim" advocacy groups and their anti-White causes as "The Left", what it means to be civilly responsible,"socially conscientious" and they have been able to designate and maneuver Whites who object and resist in social defense of their own people as "The right", and more usually, "The far right" with all of its socially irresponsible and recklessly dangerous implications.
Given the fact that White men, including ones who do not hate themselves, have found themselves in a situation where all kinds of unwanted social groupings have been forced upon them and that social imposition along with all social concern and sharing in resources has been called "the left", of course their initial response is going to be revulsion to the term and what it designates, through and through - the second "through" is the key, i.e., not only through the groups the Jews designate as valid to advocate, but through the very idea of group advocacy as it has been made didactic by those heretofore successfully using its means.
With the "left" being a matter of social concerns, what sane White man, after all, wants to participate in that socialization? On the contrary, he would quite naturally and more desperately than ever seek objective and pure warrant to defend himself above the conniving rhetoric and impositions of Jews, other non-Whites and insane liberals in the topsy turvey social milieu pan-mixer.
"Group advocacy is not the way of true and real White men; and by golly, I am going to make it my life's cause to find that pure way."
While it is the Jews who proposed calling this quest "far right", at least it is something that you can identify with along with those of kindred reaction. So long as you don't mind being associated with people that the Jews want you to be associated with, because of the ineptitude, counter-productivity, deserved social stigma and divisiveness to White social organization in their particular reactive quests for purity, you can have a market to try to bring people around to your particular right-wing, supra-social but what amounts to anti-White-social anchoring point - a point above or below the social group that is White/European, but not in White/human social register: that is the organic ground upon which the right, itself, parasitically feeds.
As the Jews have, through the so-called "left" (correctly referred to as "the red left") levied unbearable impositions and deliberate confusion on any means of maintaining White identity and defense, and because they have eagle clawed the sin qua non of White purity - objectivity, merit and rights - weaponizing it against Whites, Whites who care to defend themselves feel they must try to be more right-wing, pure and extreme than ever - and sometimes feel that they may as well "join the club" at that: after all, "they are going to call you these things", e.g., "an extreme right-winger anyway," right? So, you may as well choose one or more of these anti-White social things and get along with the rest: Right-wing elitist, Nazi, imperialist, chauvinist for one nation, Jesus freak, new age pagan kook, conspiracy theorist kook, anarchist, liberal who believes that real men are not bothered by miscegenation nor preoccupied with racial matters and so are going to calm us down from "reacting too much" against PC, masculinist heterosexual who ranks effeminacy and homosexuality the problem, right up there with White genocide, homesexual masculinist, who is going to teach White men what it means to be man, scientitistic Darwinist, polygamist, Arab who teaches PUA methods to go through as many White women as possible and ultimately impose R selective patriarchy upon them, objectivist who believes people should be judged on merit born of a pure vacuum, libertarian free enterpriser, mulatto with pretty French wife who ingratiates himself to Nazis by intimating a stiff arm salute and befriending sociopathic holocaust deniers, or even conservatively or liberally principled, anti-"left" or anti-Zionist Jew. I may have missed an anti-White social category or two, but you may as well identify as one of these, so they say: Take your pick. There may be squabbling as to which are included but that's accepted as inherent in their paradoxic rule structure -
And there is the significant problem in the theory of White advocacy.
Because the Right is comprised of people who are holding white knuckle and can't let go of the pursuit of pure objective warrant, Cartesianism beyond social accountability, whether in science, religion or theory - sub or above human social philosophy - it remains anti-social-reactionary, unstable, divisive and bereft of the socialial normative. To compensate somehow, perhaps through Regnery, a theory of theories has been derived which seeks to compensate for their anti-social alienation with a prosthesis of "the big tent." This was the VoR model, it was/is the Alternative Right model and it is becoming more the Renegade model.
On the other hand, those whose concern is genuinely for the entire White/European social group from the start and from ground-up, who consider all White/Europeans as innocent until proven guilty (until proven disloyal and divisive) are treated as "trouble makers" and to be ostracized insofar as they do come to see the facile, opportunistic, tangential and obstructive positions coming from those given a pass under the big tent for what they are - as coming from and guilty of defending causes that are irrelevant and divisive of genuine White/European advocacy, ethnonationalism, coherence and coordination thereof.
The people identifying as alternative right and typically those hovering in and around the racial market, have thus a common problem of trying to maintain their anti-White/European social and socially divisive of Whites positions; and to compensate for the maintenance of their initial right-wing, anti-social positions, they have tried to establish a gentleman's agreement - a big tent under which they might bring to bear their tangential and (actually) obstructive positions to the market of White/European advocacy and ethnonationalism - by (ironically) trying to prohibit as "anti-social" ("non-team players", etc) those who reject their anti-White/European-social positions. In a word, they want to paradoxically define "socialized White/European" with a rule that would prohibit and ostracize those who would quite reasonably prohibit those who are anti-anti-White/European-social.
To repeat in somewhat simpler form:
All of the people identifying as alternative right, and Renegade (Tanstaafl* goes there agreeing with them that "Hitler was right"....right about what?) as well, have a common problem of trying to compensate for their initial right wing, anti-social positions - compensating for the marginality and obstruction of their positions to White/European advocacy and ethnonationalism - by (ironically) trying to prohibit as "anti-social" ("non-team players", etc) those who reject their anti-White/European-social positions. In a word, they want to paradoxically define socialization of White/European-social advocacy with a rule that would prohibit and ostracize those who would prohibit those who are anti-anti-White/European-social.
"The alternative left" is a part of the alt right big tent. It is their attempt to provide a false opposition foil and a platform for their more liberal misfits who want to bring their own right wing unaccountable positions to bear on the ethno-nationalist market; while they obfuscate this true White Left platform as it operates in the interests of the White class and does not accept their anti-White positions.
* Finally, "neither right nor left" is another claim that right wingers will make in a last ditch effort to avoid social accountability to Whites in order to maintain their right wing aspect.
I've always seen Morgoth as a fellow traveler. There is ample proof of that in statements and gestures on my part. In fact, when he started a new blog, it was announced here at MR. I saw that it was a commendable effort in White nationalism. I did notice that some former MR people went there and that was fine with me. If people want to focus on different things and participate in a platform that has different rules then so be it. He has put-up and will continue to put-up some good articles. I also noticed that he gets quite a volume of comments. Fine. I didn't spend much time there and commented there a grand total of once. Basically, I see MR's platform as sound. Therefore, what other places (e.g. Morgoth's) are doing is either going to reinforce our program or highlight our positive difference by contrast.
Long story short, I didn't bother much with Morgoth's and didn't concern myself with it. I would take a look there but not as regularly as other places. In the few times that I did go there recently, I faintly noticed that there seemed to be more of the Naziphile sorts filing-in; there'd always been a few, but there does seem a bit more of the Andrew Anglin type crowd, "it's all a holohoax" sorts; and I recall Morgoth defending Anglin to some extent in the recent squabble with Alternative Right. These angles are a bit unfortunate but it didn't seem to be a main thrust; and again, I see MR distinguishing itself from that. I quickly visited recently to look at some of the headlines. I did notice the 4chan meme, "I wish we lost."...but did not stay long, perhaps that meme piqued my disinterest - I'm not interested in arguments of that sentiment, it turns me off and I left, without comment and without particular concern; no intention of saying anything.
Kumiko called my attention to the fact that she'd entered a comment there (there, since MR and I are a bit more concerned with meta-politics than mainstream politics). So I was back there, wading through Hitler and Swastika avatars, fret about the persecution of holocaust deniers and I saw that obnoxious "pic of the week" sitting there again, with Morgoth's email address placed proudly beneath.
It also almost seemed as if he was trying to recruit Kumiko, so to speak. He "hoped that she would become a regular feature." I suppose that I cannot blame him for trying, she is one of the best in the ethno-nationalist business. But that was still a bit of a funky thing to do.
Having to endure these irritations while there, I made a comment about his pic of the week; a comment, that's all; intended to go no further, but again, it was occasion for MR to distinguish itself for those who aren't comfortable with such imagery, see it as unnecessary and divisive.
Morgoth had a meltdown, started saying that he could not believe that I would say anything and how unreasonable that I was.
The argument (in reverse chronology) that ensued is instructive if not entertaining:
Morgoth, 27 Nov 2015, 20:53 CET:

Daniel I have posted one meme on my own site you did not like, now, I see things at MR I do not like, attacks on people such as Millennial Woes,for example. But the difference is I do not create a fake name and then stab you in the back in the comments of my blog. As I have already mentioned, I'm a bit funny about that.

That is the issue, and I think you should resolve it by:
1. Issuing me an apology in the comments of the latest blog post.
2. You or GW issuing me an apology at MR.
DanielS, 28 Nov 2015, 0737 CET:
Are you serious? I have absolutely nothing to apologize for. You should be the one to apologize if anyone. Saying (dishonestly) that I have had confrontations with a "long, long line of 'nationalists" ...and that "you can't remember who it was that I had confrontations with but it hardly matters." ... it hardly matters? I have had confrontations with zero people for their "nationalism" - to the contrary; that, and depicting my reasons as emotional and erratic is dishonest - I have been consistent and with good reason.
With regard to Milennial Woes, he came to MR to denounce me for criticizing his Jewish friend Ruth (a.k.a., "The Truth Will Live"), demanding that we take his link to MR down because I was critical of his Jewish friend's insistence not only that Jews should be able to be a part of the White struggle (the alt right in particular - and that is when I began to seriously see the need to distance myself and anybody who cares about Whites from the altright) i.e., when people were saying that she and other Jews should not only be included, but should be able to define our terms for us! Nevertheless, we took down his link without ceremony or rancor and sent him on his judeophilic way - he is [there now at Morgoth's], I suppose…
It is appropriate that her name is Morano...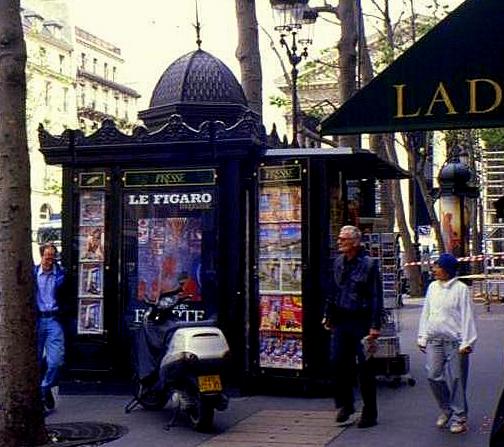 PARIS — Nicolas Sarkozy is threatening to strike a member of his center-right Les Républicains from the party's ticket for the French regional elections in December ...after MEP [Nadine] Morano said Saturday [September 26th] that France was a "Judeo-Christian country … a white race that welcomes strangers."
What is apparently happening here is that Nadine Morano, true to her name, is attempting to use Jewish crypsis to include Jews as "part of the 'White' race"... and that is probably why she has been able to get away with putting the two terms - White and race - together at all in a political context. Otherwise, her "controversial statement" in "defense of Judeo-Christianity" wouldn't be worth a second thought.
What merits re-attention to Morano is this, however. It seems that indeed the masters of discourse are trying to create a false solution to a false polemic and some right wingers are taking the bait: French "intellectuals" (read, "Jews") are trying to frame a discourse where some "Leftist" academics are going "rogue" and becoming "rightists."
Of course there is no mention of the Jew in this "new academic amalgam of left and right" but rather an attempt to create an "intellectual framework" to ruse a coalition against Marine Le Pen for the extent that she represents true ethno-nationalism, i.e., as a representative of the native French - which her father knows very well does not include Jews as "White" nor "Judeo-Christianity" as their rallying cry.
So, lets look at what is behind her, starting with the latest bullshit artist who would try to dupe native Europeans into thinking that he is on their side. His name is Michel Onfray and the Jewish media is trying to create a sensation about how this "former leftist" is now incorporating "the right."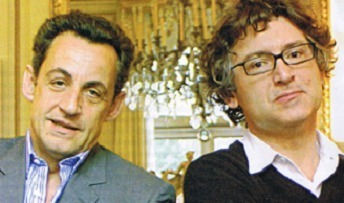 Right-winger Sarkozy has new company from "former leftist intellectual" Michel Onfray
As one reads through the media gibberish, however, it is apparent that Jewish academia is encouraging him to "turn rightward" in order to enable Jews to assimilate Whites, White interests, turn them away from authentic ethno-nationalism and toward a myopic focus against Islam on behalf of "we, the multi-cultural and pluralistic Europe."
J'accuse: Leftist intellectuals turn right

Politico, "Unusual ideological bedfellows in France are uniting against globalization and the euro", Oct. 19, 2015:

PARIS — When the newspaper Libération last month accused self-professed "left of the left" philosopher and best-selling author Michel Onfray of "doing the [far-right party] Front National's bidding," French intellectuals circled the wagons.
Their definitions of left and right, not mine.
..to the rescue from left and right to defend Onfray, they did what intellectuals do in these cases: organize a public debate.
Intellectuals?
The headline of the event, to be hosted at the Maison de la Mutualité on October 20 by political weekly magazine Marianne..
Marianne magazine, created by Axel Kahn, the son of a Jewish father, Catholic mother…the magazine is now owned by Robert Assaraf, a Moroccan Jew ...the magazine calls Nicolas Sarkozy "a right wing candidate."
In support of its sometime contributor Onfray, sets a new standard for navel-gazing: "Can we still debate in France?"

Spoiler alert: The fury stirred up by the controversy offers a good clue to the answer.

Onfray is only the latest French thinker whom government-friendly media and Socialist party officials accuse of pushing ideas similar to the far-right - on immigration, the role of Islam in society and the need to restore France's battered sense of self.
Ah yes, now that Islam is becoming a bit much, enough of Sarkozy's right-wingishness, some are even assimilating the "far-right" to take an audacious stance against… immigration!
They include the moralist philosopher Alain Finkielkraut .."a former left-wing radical and now member of the French Academy who has written several books on the waning of France's traditional republican culture and the country's "unhappy identity" (the title of one of his books);
"Alain Finkielkraut (born 30 June 1949) is a French essayist and public intellectual. He has written books and essays on a wide range of topics, many on the ideas of tradition and identitary violence, including Jewish identity and antisemitism, French colonialism, the mission of the French education system in immigrant assimilation, and the Yugoslav Wars."
Régis Debray, a 1960s companion of Che Guevara who later became an adviser to former Socialist president Mitterrand;
...known for his theory of mediology — a critical theory of the long-term transmission of cultural meaning in human society — and for fighting with Marxist revolutionary Che Guevara (in Bolivia in 1967) and advancing Salvador Allende's "Marxist" régime (Chile, early 1970s)
Eric Zemmour, a far-right journalist and TV debater whose book "Le suicide français" ('The French suicide') on "the 40 years that destroyed France" became an unlikely best-seller last year;
Éric Zemmour was born in Montreuil (today in Seine-Saint-Denis) on August 31, 1958, to an Algerian family that came to Metropolitan France during the Algerian War. He identifies as a Jew of Berber origin, and above all as a French Jew.
..even Michel Houellebecq, recluse novelist whose book, "Submission," describes a future France as an Islamic theocracy.
Besides Jews in support, Onfray has a Marxist revolutionary and a gentile who is willing to go to jail in order to fight Islam (with Jewish blessing). These are supposed to be our friends. They were "the left" and now they are "the right", or leaning "right"...
What they don't know is that we are The White Left and we don't buy their shit for a moment.
Let's carry on then…
The new 'new reactionaries'

The 'controversy' has simmered for a long time. In 2002 the 'left-leaning' magazine Nouvel Observateur was already putting Finkielkraut on its cover to wonder whether he was part of the "new reactionaries."
Not even a good bluff at false opposition.
It is now pervasive and part of the permanent French debate. It hasn't been restricted to the realm of high-brow discourse.
Of course not, the Jewish media would try to promote its controlled opposition as much as possible.
After French Prime Minister Manuel recently criticized Onfray for one of his tirades, he was called "a moron" in return by the philosopher. And earlier this year, Valls was deemed "a bore" by Houellebecq after venturing that he didn't agree with the writer's somber vision.
Gee, these "intellectuals" are daring.
Libération's outburst was prompted by the latest in a long string of provocative statements Onfray has made in recent months, attacking the Socialist government's policies and principles.

In an interview with Le Figaro,
Le Figaro is owned and controlled by Serge Dassault, born Serge Bloch, both his parents are of Jewish heritage.
..on September 8, the writer criticized what he called "the emotional response" to the picture of a dead refugee child that made headlines around the world and prompted French President François Hollande to soften on the issue of quotas for accepting asylum-seeker quotas.
Yes, sure, "the intellectuals" are coming to our European defense on the matter of immigration.
Onfray, who declined a request for comment for this article, went on to accuse France's successive governments of "being contemptuous of the people" — what he calls, using the English term, "the 'old school' people": French blue-collar workers, the unemployed, the poor, the pensioners. As for National Front leader Marine Le Pen, he said: "I don't resent her as much as I resent those who made her possible."
Onfray resents the possibility of European ethno-nationalism emerging.
Sacrebleu!
The dispute comes a few weeks after Jacques Sapir, an economist from the far left who has long campaigned against the euro, suggested the creation of an "anti-euro national liberation front" that might extend up to and including Le Pen's party.
Sapir is a "far left" economist, son of psychoanalyst, Michel Sapir (Sapir = Jewish), he teaches in Russia and is perhaps a part of negotiating a quid pro quo between Russia and Le Pen = continue to ease-up on the Jews and Russia will give you more support.
Sapir added, in a Libération interview, that it was undeniable that the far-right National Front had "changed in the last years." He is also one of France's staunchest defenders of Vladimir Putin's policies, and the author of a blog hailing what he sees as the Russian president's many "successes" both economically and on the international stage.
Like I said.
Trojan horse of globalization

Onfray has called Sapir's idea of an anti-euro alliance "interesting." Some of the philosopher's critics see a bitter irony in the fact that in 2002, he created a "People's University" in Normandy, where he resides, to counter the rising influence of the National Front's ideas. That's the year when the party's founder Jean-Marie Le Pen, father of current leader Marine, made it to the second round of the French presidential election against then-president Jacques Chirac after having defeated Socialist candidate Lionel Jospin.
I.e., Onfray is a useful tool for Jews…
The real split in French politics, as Onfray now sees it, is between the ruling, pro-European elites of both the conservative and socialist parties and the French people, who, he often says, have been betrayed "since 1983" — when then-president Mitterrand, a Socialist, converted to pro-market policies.
Oh yes, the problem is those damn socialists (don't want to take away anything from plutocrats, especially not Jewish ones).
Ideological overlap between the National Front and France's far left is not entirely new. The nationalist party has long sought and received support from French workers disillusioned by the mainstream left parties. Some former communist strongholds are now areas where the FN gets its largest support.
What a surprise! White Leftism works ..all of the people cannot be fooled all of the time.
'This government from the left can't seem to find an intellectual on its side.'
Jews like to use "intellectual" as a code word for their own rhetorical bullshit artists, who will now try to disassociate themselves from the liberalism that their people and flunkies created, that they are here and now calling "the government of the left".
But most truthfully and most crucially, neither will The White Left find a Jew on its side.
Marine Le Pen herself stands a serious chance of winning the Nord-Pas de Calais district in the upcoming regional elections in December. The industry-dominated area was long ruled by the socialist or communist left. The anti-capitalist, anti-U.S. and populist platform of the National Front strikes a chord with voters who resent the changes brought by globalization.
...by Jewish and objectivist sellout globalization.
"Europe is seen by those intellectuals as just a Trojan horse of globalization," said Laurent Joffrin, the editor of Libération who led the anti-Onfray charge. "What unites those intellectuals is opposition in general to modern times - to the governing left, to market-friendly Europe, to immigrants seen as armies of Islam. They never venture to tell us what should be done."
...they found a useful idiot, an objectivist goy liberal to be a convenient foil for their false dichotomy.
Now the greater "intellectuals" are going to rescue us from this fool-hearty liberal.
'The people vs. the euro'

Leftists like Onfray now find themselves agreeing with the other end of the political spectrum on a couple of key themes.

The first is the fate of France's poor and working class – the "proletariat" Onfray says has been abandoned by the right and the left alike. In that vision, the governing left's policies favor the globalized elite and the well-to-do, while catering to the needs of minorities ("the margins," says Onfray) — such as immigrants, homosexuals and women.
...and women? French women are "minorities" that the "intellectuals" are going to defend against on behalf of who? ..and against who? ... seems both Jews and White objectivist sell-outs would like to blame the other.
The second theme is the visceral hostility towards Europe and the euro, seen as constraining economic and social policy and a fatal blow to the infamous "exception française," a large and costly welfare state that's supposed to shield the French from the turmoils of the global economy.

The drama is being played daily in the court of public opinion. Think of it as "the people vs. the euro."
Is that how we should think about it?
"The latest eruption doesn't come in a vacuum," said Pascal Bruckner, an essayist and fiction writer, and one of the few French intellectuals who still presents himself as "pro-Europe, and rather Atlanticist."

"There has long been a tradition of intellectuals defining themselves against the government, and if Valls thinks he can be a book critic, then the reaction is understandable," Bruckner said. "What's striking today is that it looks like this government from the left can't seem to find an intellectual on its side"
Bruckner is another convenient objectivist, a proponent for returning to the enlightenment; with that, Jews can set-him-up as a foil.
Meanwhile, France continues to struggle with the economic crisis. Even as unemployment in the eurozone as a whole has declined steadily since early 2013, it keeps rising in France and may soon go above the monetary union's average.

France's intellectuals grapple with globalization, as does the rest of the society.
They again quote Joffrin, the other objectivist foil:
"This increases the disillusion of traditional left voters," said Joffrin, "because the government so far can't show results for its pro-euro, fiscally strict policies."

The zeitgeist is summed up by the term "sinistrose," the deep-rooted pessimism that has long passed as a trait of the French psyche but is taking a turn for the worse in times of economic and political uncertainty.
The new solution to the enlightenment's radical skepticism, the Jews will tell us how to integrate "right and left" ... waiting ...here comes..
The anti-European feeling even permeates the governing left. When Marine Le Pen last week addressed Hollande in the European Parliament by calling him [Merkel's] "vice-chancellor for the France region," she was only slightly more aggressive than Hollande's former economy minister, Arnaud Montebourg, who was fired from the government last year after saying that France's austerity policies were "dictated by Germany's right."

"Europe here serves as proxy for globalization," said a government adviser, who didn't want to be identified for fear of "adding fuel to the fire." "I call it the defeatist wing of French intellectual life: There's no chance we'll be able to make it, so let's retract and retreat."
No, no, the Jews and their shabbos goy are here to save us from our skepticism…and put our long held prejudices into debate..
And, yes, debate.

The new talk-show culture
The "Saving Philosopher Onfray" operation has no shortage of theatricality. It involves best-selling authors, whose pictures more often than not grace the covers of glossy news magazines, complaining about a "media conspiracy" to silence them.

Onfray's best-selling books provide frequent cover stories for the news weeklies, and Finkielkraut seems like he has a permanent seat on French TV talk shows. Even government-supportive media, such as Libération or L'Obs, are eager takers for interviews with the supposedly silenced reactionaries.
Come the "neutral media" to apply the hand of restraint to these "rogue reactionaries"
Authors with more established "intellectual" credentials, such as Finkielkraut, are pushing back against what they consider an anti-racist or "anti-fascist" thought police. The philosopher recently defended the right of Nadine Morano, a French MP from Nicolas Sarkozy's party Les Républicains, to say France was a "white race" country.
There is the payoff: all this build-up to allow Morano, and her Morano crypsis, to pawn-off Jews as White and manipulate White treatment of out-groups: "France is a Judeo-Christian country … a white race that welcomes strangers."
And the Crescendo of the pilpul - playing the goyem off of one another:
Le Pen's party, he writes in his most recent book, "La Seule Exactitude," must be criticized for itself — because it is a "party of demagogues, ignoring both the complexity of political action and economic laws, promoting the cult of the strong man to the point of making Vladimir Putin not only an ally but a role model."
Marine, your Russian Jewish alliance won't spare you for being a shabbos goy - another one, Onfray, on behalf of French Jews, seeks to assimilate your position and use that against you.
Back to the other useful foil…
Bruckner said it remains to be seen whether the controversy will be "just a prairie fire, chased next week by another piece of news" or a sign that "the divorce will become permanent between the ruling left and the intellectuals."
Yes, sure, we want those "intellectual" Jews to swing rightward ... right where we are not.
In the meantime there is whispering that the big Mutualité meeting might be canceled after all — especially since neither Onfray nor Finkielkraut has agreed to appear as a witness for his own defense.
Didn't you say that what "intellectuals" did best was organize debates?
Take heart, Onfray and friends, Islam didn't come to debate either.
You might take the debate to the Middle-East, take Nadine Morano…she can defend her concept of Judeo-Christian Whiteness ...there.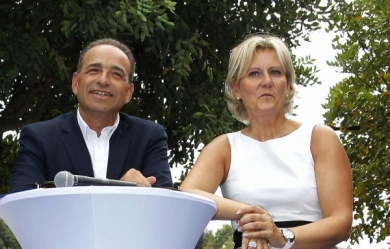 Jean-François Copé (Romanian Jewish father, Algerian Jewish mother) and Morano
Morano has felt that "we need a tonic, and UMP Jean-Francois Copé best placed to embody the word, with strength and ability to address the issues without taboos" ...a representation of the "uninhibited right."