Majorityrights Central > Category: Genetics & Human Bio-Diversity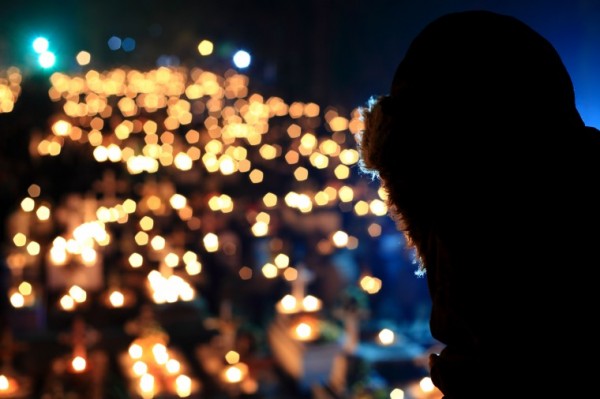 DanielS, in comment 147409 on Wed, 28 Oct 2015 wrote:

Jimmy, while defending the enjoyable pagan sourced holiday of Halloween against the Orthodox Church, we might also take occasion to note that the Christian Church has arrogated what is the most sacred holiday to our ethnic genetic interests, which is the day following - November 1rst - in Eastern Europe it is still a day when European folks commemorate their forebears, visiting the cemetery to pay special respects. It is practiced there in cloaked manner. But reverent respect that should be directed toward our ancestors has been largely diverted by the Church and back into its Judeo-religion; worse still in the west, where the "All Saints Day" (Nov. 1) diversion has been taken so far that our ancestor reverence is but the vaguest remnant, a phantom holiday, somehow indicated on some calendars, but not observed - merely alluded-to very indirectly for those who care to look behind the etymology of the name, "Halloween", and into its true history.
Upon reviewing the matter of Halloween, I see that I was so focused on the importance of the European day of our ancestor veneration - or what should be the point of celebration on November 1 - commemoration of our forebears (typically including a family visit to their graveside), that I lost sight of the fact that the Church was not only distracting from the true significance of the November 1 celebration for us; but also that Halloween itself was not a part of the mere diversion and distraction from the holiday. While many in East Europe see November 1 as an important holiday, Halloween still tends to be perceived by them through the churchly lens as a recent and corrupt affectation imposed from the commercial West, rather than an integral part of the holiday.
My response to Jimmy was correct in the general idea - of the Church burying our most sacred holiday - viz., in reverence of our ancestors - but I had neglected his point in fact of Halloween itself being an integral part of the holiday, not a fluffed-up and commercialized imposition to distract from the real thing: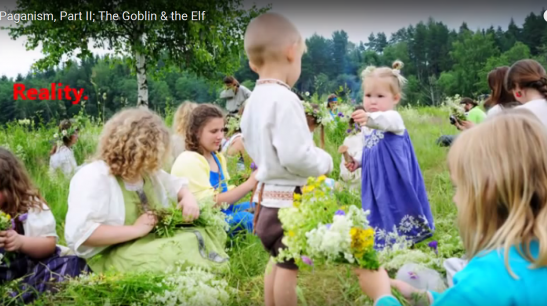 Initiating the children into becoming one with their forebears.
As the most important, sacred, commemorative holiday practice in reconstruction of our EGI through the initiation of our true Traditional Youth is under assault by The Orthodox Church (in this case), it becomes particularly relevant to highlight against the false Traditional Youth and their Orthodox Christian religion of our debates.
Apologies to Jimmy for the initial misapprehension of his post and his purpose:
Jimmy Marr in comment 147408 on Wed, 28 Oct 2015 16:08 wrote (emphasis added):

In evidence by the October 24th, 2015 edition of The Moscow Times, Christ-insanity is continuing to wage its age-old war against [the true] Traditional Youth.

The Education Ministry of northwestern Russia's Arkhangelsk region has banned Halloween celebrations at local schools, citing the holiday's harmful effect on children, the FlashNord news agency reported Monday.

The ministry's statement said that Halloween is "incoherent to basic traditional values and causes a negative influence on fragile minds."

The ban was instituted a week after the Russian Orthodox Church in Siberia's Krasnoyarsk region called on local authorities to ban Halloween on a similar basis, the Komsomolskaya Pravda newspaper reported. Priest Maxim Zolotukhin told local STS-Prima television station that children may get depressed after Halloween because they do not understand the difference between make-believe and reality, and so evil will enter their souls.

Russia's regional authorities have displayed hostility toward Halloween many times over the years.

In February this year, a school director in Siberia's Khanty-Mansiisk autonomous district was fired for organizing a Halloween party at his school last year, the Snob magazine reported at the time.

And in 2013, the Omsk regional Education Minister Sergei Alexeyev issued a letter against Halloween celebrations in schools. He explained that Halloween includes "death cult propaganda" that can damage student's psychiatric and "spiritual-ethical health," local news website NGS Omsk reported.

In 2014, Public Chamber member Georgy Fyodorov wrote a letter to Russia's Culture Minister Vladimir Medinsky asking him to officially ban Halloween. Fyodorov saw the celebration as an "ideological security threat" to Russia and proposed the promotion of traditional Russian festivals instead, the Izvestia newspaper reported.

Inasmuch as the war against Halloween is a proxy war waged by christians against [the real] Traditional Youth, it is little wonder that metaphysical mercenaries would attempt to distort the meaning of that name and use it as spiritual camouflage. Their masters have taught them well.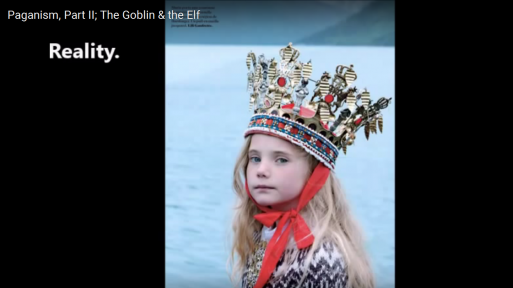 Halloween Ritual for the True Traditional Youth of Europe.
ThuleanPerspective /Youtube Transcript, 'Paganism, Part II; The Goblin & The Elf, 04 Dec 2014:

The children are not [considered] real people yet, not until they go through this initiation rite on Halloween…when they enter the realm of death, dressing up as the dead, taking on the identity of a dead person.. in a sense they become this person.. they have the same name, the same honor and the same death as the person they chose to become in this initiation ritual. The dead person, of course, is one of the dead forbears.

You can say that they believed in reincarnation.
Let us note also the ethnic genetic reincarnation.
Ibid:

So, they are returning to the Yule Tide and they are returning in the night. They are lead by the Sorcerer and the deity from farm to farm with these children to bring them back home… the families wished them welcome with some food on the table… to enable them to eat and feel welcome when they come back home.

During the Christian era, those in Church power wanted to destroy this tradition, they wanted to destroy European culture. So they demonized these children and turned them into grotesque creatures, mocking them for their "superstitious belief in goblins" and so-forth when in reality they didn't believe in any such things.

But the farmers could no longer put the food on a table inside the home for the children because church authorities might find out; so they had to put it into the barn.

These were not evil spirits, they were merely children returning for their initiation ritual [into the legacy of their forebears].

[Even so] the children were perceived by church people as becoming as twisted goblins [misunderstanding their transit with the dead where they were communing with elves, which were the spirit of the dead].

The children are the reborn dead relatives.

The elves were known to always sing, dance and read poetry because they are trying to preserve their memory..

This illustrates what the Christians have done to our culture. They have taken a beautiful, European, pagan religion, tradition, pagan culture, and twisted it…

..turned it into some grotesque mockery of what it really was.

The grotesque, twisted image of our religion was made by the Christians in an attempt to destroy, to weed-out our roots, to cut our roots so that our culture, our peoples would fall.

What the church could not burn they twisted.

But the European culture was beautiful, rich, advanced and most importantly, it was ours.
An argument by Mick Lately:
Mick Lately in comment 147410 on Wed, 28 Oct 2015 18:01 wrote:

I think Halloween is being turned into perverted paganism and that it is part of the whole "weaponized anthropology" campaign. Not to mention that it's "cultural appropriation" for non-whites to celebrate Halloween.

I would support the official ban of Halloween as a temporary wartime measure and allow it and Christianity back when the Jews and non-whites have been defeated.
A significant rebuttal to Mick Lately by Kumiko Oumae:
Kumiko Oumae in comment 147414 on Thu, 29 Oct 2015 02:37 wrote:

Weaponised against who, though? The 'weaponisation' of anthropology is when research of the culture and history of an ethnic group is used by belligerent groups to facilitate their mission objectives. However, our mission objective as ethno-nationalists and ethno-regionalists is to:

1. Defeat those who try promote mass mestizaje;
2. Promote viewpoints which would enhance people's willingness to reinforce national and regional borders;
3. Promote regional integration and common security perimeters on the basis of shared ethnic and cultural heritage, as well as shared economic interests.

In order to prevent our enemies from occupying positions of cultural power, it's necessary to get everyone to quit looking to churches for guidance, because the churches are opposed to everything that we stand for.

There is probably nothing more that the churches would love to do in their own form of 'weaponised anthropology', than to re-colonise the minds of the people through some form of renewed culture war, and thus disarm them mentally before anything even gets off the ground.

You can't just place a temporary ban on culture because [you imagine that] it's 'inconvenient' for you to have to fight on that level. The enemies are not going to suspend their own culture war against you to be 'fair' to you in the meantime.

Jews, Christians, Muslims, and the whole liberal media combine that is arrayed against you, are not going to call truce on you if you promise them that you'll stop celebrating Halloween. They'd just have liberals and Jews hollow it out into a purely commercialised holiday with no content at all, and Christians and Muslims would then bash it and present themselves as a false opposition to such 'commercialism' as part of their own recruiting drives.

Retreating from the sociocultural domain has never produced good results, not ever. In the conflict that is going to come later, these kinds of arguments that are occurring in the sociocultural domain are going to form part of the crucial groundwork that will determine the way that conflict will manifest, how it will be fought, and what the outcome of that conflict will be. Dealing with laying that groundwork can't be put off until later. The content of the conflict and the ideas around which that conflict is fought, determine the nature of the outcome of that conflict in the event of victory.

That is part of why I am never interested in advocating collaboration with Christianity in the pre-conflict environment, not even as a cynical play. That is a losing game, because firstly, Christianity cannot be trusted to maintain a martial posture or to adhere to the ethno-nationalist or ethno-regionalist principles. In the aftermath, if collaboration with Christianity resulted in a Christian-dominated outcome, then it would mean that everything was done for nothing.

The religion issue is not a side-issue, it's not a mere 'question' that is asked and answered in a little policy book somewhere. It's a core part of the problem in the North Atlantic. Getting rid of Christianity is a necessary pre-condition to the survival of the peoples of the North Atlantic.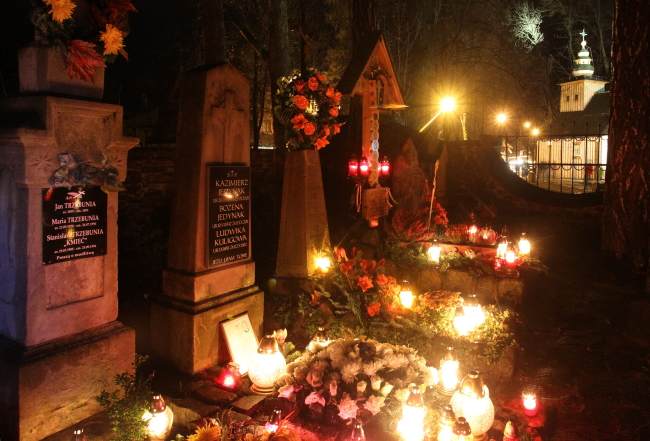 Not a matter of guilt, not even a matter of Christianity, Islam or capitalism, but rather the usual suspects making their agenda clear. This expression shows that something different: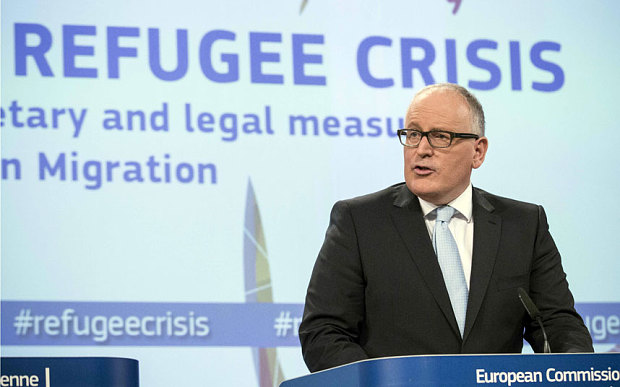 Frans Timmermans, the Dutch vice-president of the European Commission, said that "diversity was the future of the world," and that Eastern European nations would just have to "get used to that."
It is an unusually brazen assertion of "programmatic coercion" - G.W.
It is a significant statement of the motives of the powers-that-be to impose their programmatic intent to destroy the European genome.
Strabag Corp. is proposing to unleash what amounts to a technologically advanced amphibious attack on native European populations. On October 1rst, a press release inauguration has been set for the first in an exorbitant plan of 1,000 landing platforms to be deployed in the Mediterranean. In light of this, please take note of Kumiko Oumae's report in the newly established Majorityrights.com News section.
Strabag corporation plans to build a bridge from from Al Huwariyah in Tunisia to Agrigento in Sicily.

Since the idea for the creation of a bridge between Africa and Europe is a project that would take them until the year 2030 to complete if it gets started on time and isn't thwarted in some way, they want to call on Austria to supply state funding for 1,000 rescue platforms to be permanently installed into international waters between North Africa and Italy. The first one of these platforms will be unveiled in the water on 1 October 2015, in Licata Harbour. The press will be invited at 0630 that day.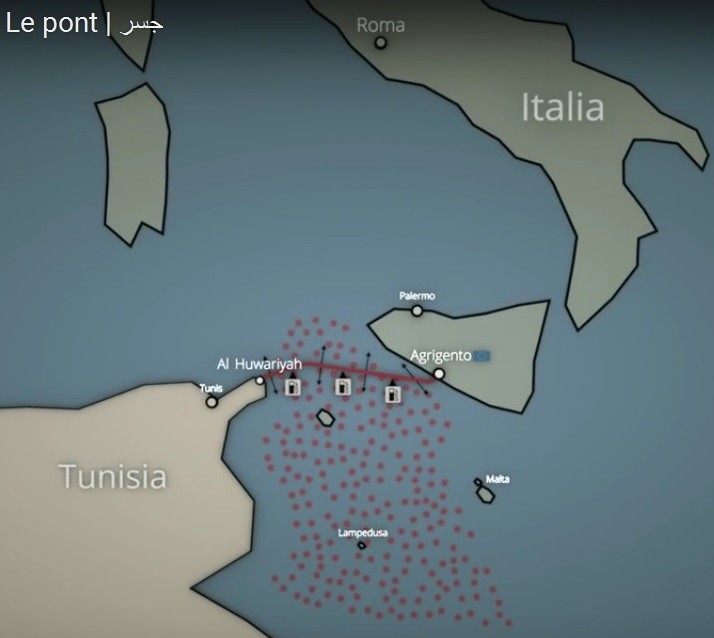 Map shows where in the Mediterranean the bridge is planned and 1,000 platforms are to be arrayed
Outreach to exponentially growing African and Middle Eastern populations, with an extravagance of rescue operations to facilitate their migration into Europe - a migratory affliction that would wipe-out native European populations - apparently knows no limits. No expense and detail of concern would be spared while the threat to the very survival of Europeans that these plans augur to aid and abet is ignored.
Tom Sunic
Below is my response to "A New Chapter in the Fascist Internationale" by Alexander Reid Ross, in Counterpunch, September 16, 2015.

Mr. Alexander Reid Ross, Counterpunch
Dear Mr. Ross:
I read with great interest your article, "A New Chapter in the Fascist Internationale," published in Counterpunch and must commend you on your polished syntax and a good, albeit somewhat hasty summary of what is awkwardly termed the "World National-Conservative Movement." As a long time reader and admirer of some Counterpunch authors who dispel the myth of progress and who tackle the liberal mystique of permanent economic growth, it is quite possible that we have more in common than what may appear in my critical remarks. Having ties with many so-called "White nationalists" in all parts of the world, and being also a Director of the American Freedom Party, let me try to put things into a short conceptual and linguistic perspective first.
The words 'Fascism' and 'Nazism' are constantly used as weapons to vilify people who identify as White and have a sense of White interests, to the point that these words have now become meaningless. Both have been so much subject to semantic distortions over the last 70 years, to the point that there is no longer any meaningful relationship between current movements labeled with those terms and the cultural-political movements in the Europe of the early twentieth century. (I am sure Noam Chomsky would partly agree with that). Instead, the term 'Fascism' is tossed around today as a generic locution in order to criminalize and pathologize any non-conformist White person or any group of White people by implying that they are nothing more than xenophobic haters.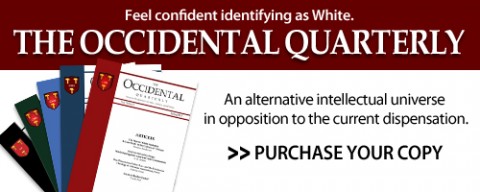 Hence, if we look at Fascism or National Socialism through such demonological glasses, we run the risk of landing in the realms of the ancient Greek underworld, more worthy of the Hesiod's and Homer's prose and certainly not into a dispassionate Elysian field of objective historical narrative. I am probably acutely (and sadly) aware of the "antifascist meta-language," having grown up in what was known as communist Yugoslavia. Back then "Fascist beasts," "Croat Fascist monsters," "Nazi terrorists," were a central part of the Communist Party vernacular, and any non-conformist thinker was routinely and permanently consigned to this home-grown bestiary. Alas, what I am witnessing now in the USA and EU media, as well as in higher education, is a recapitulation of these paleo-communist memes, albeit dressed up in more attractive attire and blessed with the legitimacy that only the elite media can confer.
I hope you have read some of the authors mentioned in your article. Otherwise, again, one runs the risk of entangling oneself in the dialogue of the deaf. Apart from books by "mainstream" scholars such as Zeev Sternhell and Ernst Nolte, it is very difficult to find any other contemporary authors who more or less objectively document the intellectual origins of Fascism or Nationalism Socialism. Rather than describing the very real problems confronting these societies or attempting an honest appraisal of the popular appeal and economic achievements of these cultures, we see little more than gratuitous moralizing while at the same time the monstrous police states and mass murder perpetrated by the Left* during the same period are ignored. Without wishing to sound pretentious with my own intellectual baggage, there is no way one can fully grasp the birth of the "conservative revolution," or Fascism, or National Socialism without being fully proficient in the German and the French languages and knowing very well the cultural heritage of Europe prior to 1922 and 1933.
The fears and concerns motivating the current increase in what you would call fascist parties stem from the tidal waves of non-European immigration that are affecting almost all European countries. These fears and concerns are quite different than those that gave rise to fascism in the 1920s and 1930s, and they are quite legitimate. The attitude of the left* is that people are essentially interchangeable, so that it makes no difference who immigrates to the US or Europe, and the native Whites of those areas have no legitimate interests in preserving their political, demographic and cultural dominance. This is simply not the case.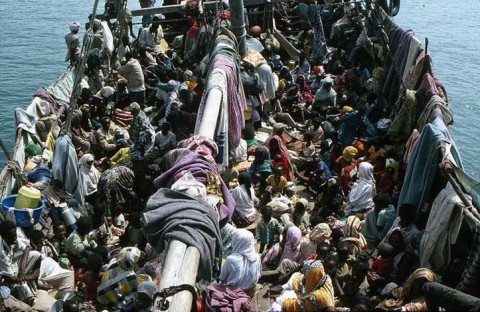 The immigration issue is critical. The US is projected to be majority non-White in just a few years, and even European countries like the UK that have had relatively homogeneous populations deriving from what is a relatively homogeneous European gene pool for thousands of years are projected to be majority non-White within the century. The ongoing crisis centered most glaringly in Germany promises to speed the day when native Germans, whose ancestors have dominated Central Europe for well over 1000 years will become a minority.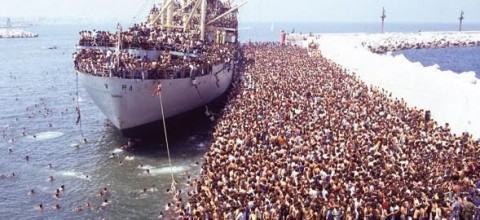 The view that immigrants are interchangeable ignores the costs of multiculturalism in terms of increased conflict, lack of willingness to contribute to public goods like health care, and social cohesion. Thus it's one thing for the US to have immigrants from various parts of Europe; they have assimilated very well. It's quite another thing to have immigrants from the Middle East and Africa with very different cultures and very different psychological traits (including IQ levels), and strong tendencies not to assimilate.

This view also ignores the long history of ethnic conflict in multi-ethnic, multicultural societies. The idea that societies where Whites become a minority will live in peace and harmony is Utopian to say the least, especially given the fact that Whites are now being blamed for all the problems of non-White groups, including the educational failures of Blacks and other immigrant groups (an argument that ignores the success of East Asians in Western societies). The hostility toward Whites with their history of colonialism and expansion will not end when Whites become a minority. It is a very real fear among a great many Whites that these changes are absolutely not in their long-term interests. It is quite reasonable and makes the appeal of populist politicians like Donald Trump in the US understandable.
On the personal level, yes, I must admit, I feel more at ease talking to working class Americans when visiting a village in the Ozarks, or being a guest of honor at a simple farmer's house in the German Harz. One finds that the common sense and political judgment of these people often surpass those of many modern scholars focused solely on demonizing movements they do not understand and promoting utopian projects that ignore human nature in favor of creating multicultural societies that are not only prone to ethnic conflict, but violate the legitimate interests of Whites who have dominated these areas for hundreds or, in the case Europe, thousands of years.
Regardless of our possible disagreements and despite the fact that you will likely dismiss me by simply classifying me as a "White supremacist" or "White nationalist" or whatever, I must point out the following: The ongoing balkanization of the USA (where voting patterns increasingly reflect racial divides) bears remarkable similarity to what occurred in the former Yugoslavia shortly before it broke down in 1991. The current EU and the floods of non-European immigrants in Europe — and yes, at this very moment there is a quasi-state of emergency resulting from the migrants/invaders swamping my native Croatia — do not bode well for a starry-eyed project of multiracial and ecumenical conviviality. When the proverbial push comes to shove, one no longer needs to study diverse Levantine or African haplotypes or immerse oneself in the books of cultural pessimists. One must then be ready to weather the storm either by voting for Donald Trump or the American Freedom Party's Bob Whitaker, or whoever is willing to salvage one's heritage. I am sure that in a case of emergency you will also figure out which side of the fence it is better to sit on.
Best wishes,
Tom Sunic, PhD
www.tomsunic.com
http://american3rdposition.com/

* Editor's note: Sunic is talking about the Red Left here, and its liberal prescriptions for Whites. He is Not talking about the White Left
.......................................................
Tramp steamers leaving for Italy from Libya. Photos courtesy Louis Beam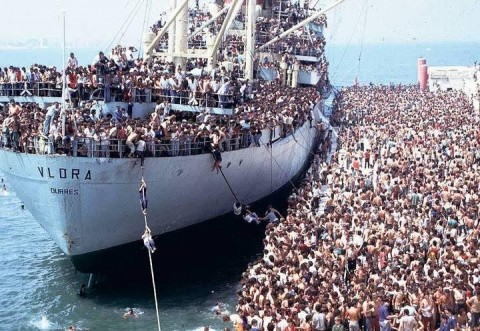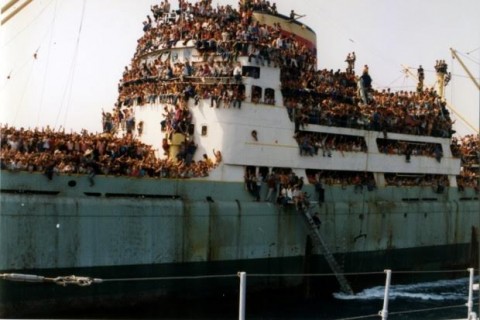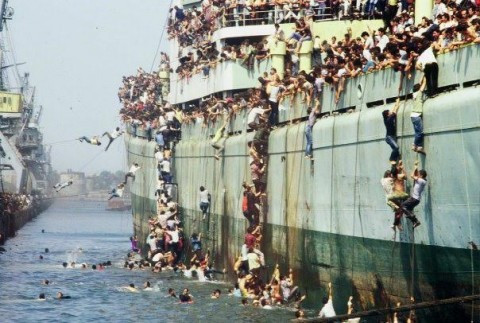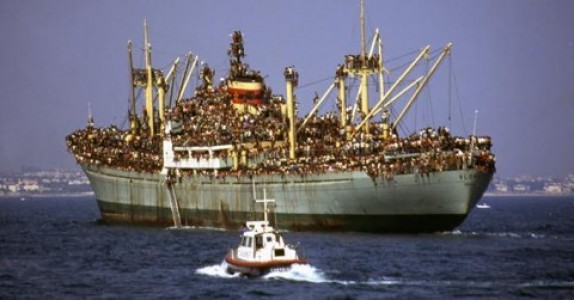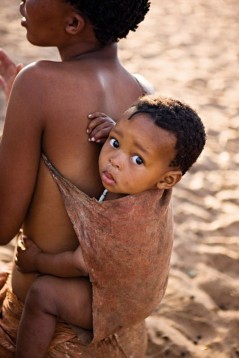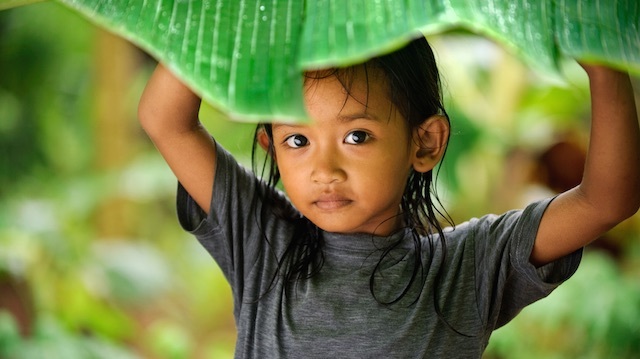 An ancient instinct that is vital: " Wait, who are you? "

What is it really, that is called "xenophobia"?: Article translated and republished from "Nya Dagbladet Analys"



What really is referred to by the word "xenophobia"?

Xenophobia is no human idea, it is not a political ideology. The inherent notion that individuals from other ethnic groups are different is as old as humanity itself.

That political leaders throughout human history have tried to either foment or stifle this innate team spirit does not change its origin or function. Ultimately, while it has often come to be called xenophobia, it is a kind of defense mechanism of an ethnic group. It has a cohesive function but is also vital to the group's survival.

It is easy to think today that racism is obsolete in modern societies, and political ideas that multicultural and multi-ethnic societies are something we can decide to create, and then use various integration programs as a tool to make this work artificially.

It is important to remember that "xenophobia" has always been the human diversity condition. Without this desire or sense of distinction and boundaries no ethnic group could have existed for very long before it would be adulterated and perish again.

The world's major ethnic groups; blacks, whites and Asians, and all its subsets of peoples did not come into existence overnight. It has taken nature tens of thousands, if not millions of years to enrich the earth with the human diversity which we have today. The birth of a new ethnic group has always been dependent on a distinct geographic location. For the purpose of various ethnic groups' birth and continued maintenance, they have always required "xenophobia", more properly termed "alien skepticism" or "stranger caution" as a prerequisite.

The principle or the basic human function is exactly the same as in individuals. An individual who is not skeptical or cautious when confronted with a stranger will not survive in the long run. This instinct is basically in all living creatures on earth and is deeply rooted.

The function and conclusion of prejudices

"Alien skepticism" or "fear" of the unknown is a kind of first line of defense. Here comes the concept of prejudice. An individual always makes a first assessment of the foreigner—a judgment before it knows any details for sure. We must also understand that individual assessment, when the unknown has become known, can shift from prejudice to "judgment", a conclusion based on knowledge.

However, today we are told by the modern political system that prejudice is just ignorance and as soon as this ignorance is gone, the foreigner should be welcomed. In fact, the individual's or group's conclusion could be that the foreigner cannot necessarily be given a pass, and may intend to cause us harm.

Racists in every expression of the negative sense, of course, are also those who want to cause an ethnic group's unity and uniqueness to perish through mixing and division. Many nations and entire civilizations during the history of humanity have vanished for this reason. Either by displacement and extinction or by blending them away out of all recognition.

A true defender of the world's human diversity turns naturally against both extremes of racism and genocide. Moreover, the criminalization of these two extremes is stated in the UN Declaration of Human Rights of 1948, saying that not only is performance of these acts criminal but it is also criminal to instigate them. Thus, the express intent or encouragement to try to create a multi-ethnic society, which inherently violates the right to the preservation of the ethnic and cultural characteristics of the group, or displacement or eradication of a people, could fall within the scope of this crime. In the UN declaration it says, among other things, that the following shall be considered as genocide:

"Deliberately inflicting on the group conditions of life intended to lead to its complete or partial physical destruction; (d) to take measures intended to prevent births within the group; (e) Forcibly transferring children of the group to another group. "

In the ongoing development of today's Sweden where a large number of non-European immigrants are coming to the country, a natural segregation process is marked by Swedes who move away from immigrant areas while various immigrant groups cluster together, and those immigrant groups quickly receive a residence permit and can select where in the country they want to stay. In this way the crime referred-to in the last paragraph concerning genocide may be relevant, eg. in cases where parents are not allowed to put their children into any school but are forced to send them to the local multi-ethnic schools where Swedish children in many Swedish schools already are a minority in their own country.

In the next step they might endeavor to create a multi-ethnic society through the use of integration programs, and this could fall within the scope of "hate crimes" because there would be a restriction of the indigenous group's autonomy.

The general conclusion regarding the question of earth's ethnic diversity is that the property known as "xenophobia" is a necessary evil. The key instead now is to thwart its extremes. The leading political establishment in general seems to dumb-down and exaggerate the image of our instinct for caution, instincts like defense and self-preservation. This they do, among other things, by trying to characterize as a disease, what is actually an instinct and a function that acts as a guarantor for the conservation of all communities, by using a negative-sounding designation such as "xenophobia". If there is an "undue fear" of the unknown, its assessment must of course be something that is considered "reasonable" and make sense, and it needs to exist and be expressed.

There has also been a confusion between the fact that ethnic groups are different and should be valued as such, with the idea that ethnic groups are ranked differently, the two are very different things. The most extreme manifestations of the debate would not even concern themselves with the thought that there are different kinds of people on earth.

This is often presented as options of black and white, where either you accept today's multicultural and ethnic change in Sweden beyond recognition, or you accept hatred and abuse against all immigrants who are in Sweden and the need to advocate a hundred percent purity. Swedes are a generally balanced people and have an absolutely predominant wish for neither of these extremes. Discernment is often the first casualty when debate deteriorates.

Reliance on these extremes and extremists, mainly in politics, business and the media is driving the currently extreme situation. However, what remains and ensures that we can get a more balanced society and social climate in the future, is that our age-old instinct for self-preservation can take on a balanced and natural expression.

Swedes may be very open-minded, but they also have a right to their own preservation.

NYD Analysis
"At your feet or at your throat" ?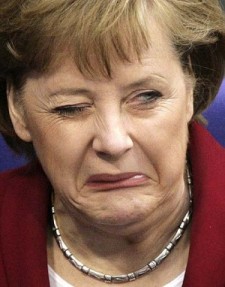 Frau Merkel: A problem with German character.
Is it the case that:
Germans are an enormously logical people, who are capable of wonderful math, science, engineering and technology.
However, that top heavy focus on logic causes them to have weak planks in judgment, such that they will keep on following a logic to its runaway (and/or over-correction/overcompensation), even when it is clearly socially destructive?
We're not even emphasizing the Nazi example now, we're talking about how, in the salient example of Frau Merkel, they are treating Greece by comparison to the migration crisis.
Nevertheless, "a rule is a rule": just as reaction to Jews implied the compensatory rule quite exactly, the Nazis mirrored the Jews in significant, literal ways. Hitler, e.g., maintained: "an eye for an eye a tooth for a tooth" (never mind that one might engage the fact that Leviticus 24 is didactic, and showing people how Not to be, by comparison to the compassion of every other chapter of Leviticus)...
Now, Frau Merkel's regime expects Europeans to appreciate the logical conclusion of her Jewish guilt reaction, a byproduct of Jew thinking, as it were:
To the Greeks -
First principle: unanimity: "pay us back our predatory, usurious loans", no room for social praxis and concern for ancient European human ecology and social capital.

To the waves of non-European migrants invading our homelands -
The universal principle: good will and the Christian golden rule: ""The right to political asylum has no limits on the number of asylum seekers" - it's an altruism and compassion, a logic of meaning and action that must continue to no end.
Though I am not well placed as a critic of German character, one does have to wonder..as I have observed before, in regard to those who say that Germans are/or should be our "leaders."
Are a people so top-heavy on logic that they would follow it through to its logical conclusion despite what should be the obvious judgment regarding the logic's vast social destruction to be entrusted with leadership?
It is, rather, apparent that sheer and top heavy logic is good for following rules and orders, not for leadership.
Leadership should be logical but top-heavy in judgment.
However, I am told that 30% of Germans still do Not believe that merely speaking German makes one German, so of course I do not want to exclude Germans across the board from a place at the table of leadership: just that they may not be well placed at the head of the table and certainly not as sole occupants of the table of leadership of Europe at this stage in history.
Not only is the hyperbolic liberalism of German leadership an expression of guilt riddenness, but it is a guilt riddenness for their prior (Nazi) regime's lack of social judgment for optimal social unanimity and relations (of Europeans and others) - which has made stigmatization of sufficient racism all too easy for liberals - and worse now, a guilt ridden liberal self destruction which the rest of Europe is supposed to share in because of the Nazi lack of social judgment (which in particular cases worked deliberately against us - ! - * and generally speaking worked against us all in result) and because they are so fucking logical - as to carry an absurd lack of judgment and self destruction to its extreme!
* European countries which were targeted for elimination or demotion in sovereignty and influence are supposed to feel guilty and take part in the demise as well.
I am not well placed to critique German character as I will be criticized as being prejudiced against them, but I am for them, not against them - it is their liberals whom I dislike, as I dislike all liberals, imperialists and anti-nationalists; and I like and advocate the 30 percent of normal ones, the normal nationalists along with the ones who can be persuaded to come around.
But I feel obligated under the circumstances - am prompted by Kumiko, who is particularly angered: Not only is Germany's leadership inviting terrorist cells, it is inviting bizarre and primitive third world practices - such as teaching boys that women are a man's property; that it is fine to kill those who insult the pedophilic prophet…
Judgment catching up with logic but a bit late:
http://wapzku.tk/watch/KVWAIKoatWM
And of course, I hasten to add, that with this "logic" it is apparently fine to destroy the ancient EGI of Europe, our human ecologies and all that goes with it…
...and wouldn't that logic come in handy to figure its way around and rationalize all sorts of liberal contradictions and sensible affronts to itself and its neighbors - to make good logical sense of their destruction and ours?

European brothers and sisters, Germany is not far away and its "logic" will spill over sooner or later…we have got to exercise some judgment on their behalf, ours and intervene.
We do not share in their guilt, we do not want to burden them with guilt and we can share with them our free, unburdened ethnonationalist conscience.
Kumiko noted a very interesting additional aspect to this German propensity to be top heavy in logic, that they do not seem to manage ambiguity and contradiction as well as other populations.
Inasmuch as that is true, and it seems that it might be as a pattern (again, not across the board), it would be a problem for dealings in Praxis (the social world) as Aristotle noted, where a certain amount of ambiguity and uncertainty is necessary for its inherent interactive, agentive and reflexive nature - thus, Phronesis (literally, practical judgment) is required and the acceptance of a certain amount of ambiguity necessary to manage social ecologies.

That seems to go to the realm of epistemology and judgment.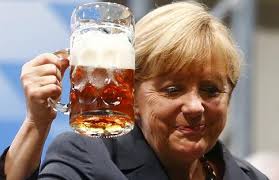 Prost: have a beer, relax your fore-brain so that it's logics do not continue imperviously, obliviously apace, but lets let the liberal German leadership sit-this-one-out and concentrate on their social, mammalian brain as it cares for closer, personal relations lest their reptilian brain's "logic" over-react, over-correct and over-compensate against those closer relations.
While I have made comments in this regard in the past, I have been meaning to make a post about this for a long time. Now is as appropriate a time as ever to forefront a critical position toward labor.
In The United States, Labor Day 2015 falls on Monday, September 7th
.................
People may think that as an advocate of a new position that I am calling "The White Left" that I am enormously sympathetic to White labor and that we are ready to hear detailed, practical, step by step, concrete advice, facts and figures as to what White labor ought to do.

On the contrary, I believe White labor are some of the biggest fools that there are, particularly where they do what they do best - dutifully putting their nose to the grindstone to make society run amenably for all. They keep the gears of this neo-liberal ship running smoothly and grinding away at our White EGI. Their labor is basically contributing to a system aimed at their destruction and if they had any sense they would try to find a way out. In effect, they should go on strike.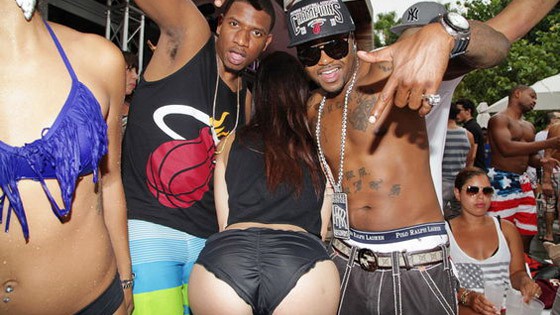 Last years' Labor Day party in Miami, displaying what has become an appropriate image for the state of labor.

You say that you have a family to pay for? You are doing me a favor? I think not.
And if you are contributing to this society, are you even doing your kids a favor?
There are those who maintain that they must participate and work in a way that serves the system in order to take care of their White family and of course that may be true. But it would be tragic if they do not begin to build bridges with other Whites (and select non-White nativist nationalists) toward a unionization of EGI and White economic sovereignty, since the life boat they have put their family on by participating in the system is taking them to drift further and further out into the ocean of non-Whites. They are merely providing their children a superficially comfortable situation within what are destined to be increasingly horrible circumstances - and that comfortable buffer can be taken away in an instant without unionized rules for them to coordinate in defense against neo-liberalism and its Red Left, PC enforcement wing.
Still, so long as the unionization of Whites continues to be demonized by White Nationalists, as they insist on confusing "The White Left" with "The Red Left", as they insist on associating "Third Positionism" with objectivist confusion and right wing crap, such as a religions which do not recognize EGI and concerns for this world as important, we are obviously not ready for a strike. No, don't worry, I am not calling for you to walk away from your salary, for that would mean that we are ready for war of maneuver, ready to take over the system which we all agree is working against our EGI.
We are nowhere near ready for that, as the right wing or the right wing elements of third positionism continually confuse, disorganize and frighten away the popular support necessary for a war of position (conceptual organization, territorial and strategic position) as precursive to support a war of maneuver (taking over government).
In trying to organize a war of position thus, we must first render a theoretical sketch rather than get lost prematurely in the practical and concrete. We are talking metapolitcs: White workers of the world conceptually uniting with the aim of political separatism and sovereignty.
WN still insist upon either identifying as reactionaries, as "the right" or as being "beyond left and right" and as long as third postionism equates to confusion as such, obstructs organized unionizations of our people, and rather merges with counter-productive or downright destructive right-wing perfidy, then we are at the stage of having to stake-out a war of position. Unless we are coordinated there can be no war of maneuver for Whites to take control of our nations and see to our people's interests.
Almost all sites and programs associated with White interests are still determined to argue that "the left" is the enemy or that the term has no utility. I am suspicious of their motives or of the motives of those from whom they gain support and guidance.

The most recent example is Matt Forney, who tried once again to put this needless confusion across. His latest gambit on behalf of his Jewish and neo-liberal masters occurred when talking to Robert Stark.
Matt Forney pushes the counterproductive, Jew prompted line now as something that we need in particular as men - as men we need to move beyond right and left, while favoring the right on balance.
Sure, Matt, we don't want to do anything like unionize in our interests as White men. That would be an awfully fearful thing in the eyes of your Jew masters and your liberal White woman friends. We are "betas" because we don't want their sloppy seconds or is it sloppy one hundred and 22nds? But who is desperate? We are not real men because we advocate a White left (which, as we define it, might look quite a bit like and have quite a bit in common with third positionism) but you are a real man?
We do have bigger fish to fry than poor Matt, who boasts about how he went around screwing and dumping Filipino girls (an appropriate place to aim his revenge?), and so we will leave him to the confused world that he would induce White men into, on behalf of his Jewish masters, supposedly moving beyond right and left - that is to say, beyond the call for White unionization and syndicalism.
To articulate a clear war of position, to where we, as White men, have intrinsic value as designated by union membership, for the first time ever, our inherent social capital recognized, innocent until proven guilty, now that would be a fearful thing indeed to his Jewish and neo-liberal masters.
Can you imagine? People would actually have to treat us and our EGI fairly?
That would be an awfully fearful thing to his Jewish masters and to the objectivists sell-outs, the White sluts who wish to block our war of position, maintain the neo-liberal anarchy and atomization among White men until there is no chance of us seizing power by maneuver…
Keep reading…

Not German.
There is a common myth that English people are a mixture between Celts and Germans, and that they are mostly German. This myth is pervasive and opens the door to many misunderstandings. As a service to the Majorityrights' readership, I will present just a small teaser quote from Stephen Oppenheimer's 2006 article on this subject which exists at Prospect Magazine.
Here:
Prospect, 'Myths of British ancestry', Stephen Oppenheimer, Oct 2006, wrote (emphasis):
The fact that the British and the Irish both live on islands gives them a misleading sense of security about their unique historical identities. But do we really know who we are, where we come from and what defines the nature of our genetic and cultural heritage? Who are and were the Scots, the Welsh, the Irish and the English? And did the English really crush a glorious Celtic heritage?

Everyone has heard of Celts, Anglo-Saxons and Vikings. And most of us are familiar with the idea that the English are descended from Anglo-Saxons, who invaded eastern England after the Romans left, while most of the people in the rest of the British Isles derive from indigenous Celtic ancestors with a sprinkling of Viking blood around the fringes.

Yet there is no agreement among historians or archaeologists on the meaning of the words "Celtic" or "Anglo-Saxon." What is more, new evidence from genetic analysis (see note below) indicates that the Anglo-Saxons and Celts, to the extent that they can be defined genetically, were both small immigrant minorities. Neither group had much more impact on the British Isles gene pool than the Vikings, the Normans or, indeed, immigrants of the past 50 years.

The genetic evidence shows that three quarters of our ancestors came to this corner of Europe as hunter-gatherers, between 15,000 and 7,500 years ago, after the melting of the ice caps but before the land broke away from the mainland and divided into islands. Our subsequent separation from Europe has preserved a genetic time capsule of southwestern Europe during the ice age, which we share most closely with the former ice-age refuge in the Basque country. The first settlers were unlikely to have spoken a Celtic language but possibly a tongue related to the unique Basque language.

Another wave of immigration arrived during the Neolithic period, when farming developed about 6,500 years ago. But the English still derive most of their current gene pool from the same early Basque source as the Irish, Welsh and Scots. These figures are at odds with the modern perceptions of Celtic and Anglo-Saxon ethnicity based on more recent invasions. There were many later invasions, as well as less violent immigrations, and each left a genetic signal, but no individual event contributed much more than 5 per cent to our modern genetic mix.

[...]
You can click the link in the quote and read the full article. These facts should be of great assistance to British readers—particularly the English—because it will allow them to demonstrate that they exist as a native people to the British Isles, and are distinct from continental Europeans such as the Germans who they are most often associated with.
Given that they are native people, and not a proposition nation, their claim to their land is beyond contention.
Kumiko Oumae works in the defence and security sector in the UK. Her opinions here are entirely her own.