Majorityrights Central > Category: That Question Again
For his insolent defiance of Roger Waters plea that he not play Israel, he might have been singing "We don't need no education" right along with Pink Floyd .....but actually, maybe Jesse Hughes, his friends and fans could use a little. Try a caveat on Abrahamic fellowship.
Jesse Hughes, commencing an Eagles of Death Metal concert, Tel Aviv, 12 July 2015:

Now I'm also going to tell you another true story before I bring the rest of the boys up here. We decided to end the tour in this fuckin' city because we knew we couldn't top it once we got here. That is 87 percent the absolute truth. But then we got this letter from this cocksucker named Roger Waters (jeers from crowd). Do you want to know what I wrote that cocksucker back? Two words: Fuck You!...Fuck You! Ain't nobody goin' to keep me from my people here in Tel Aviv! Ain't Nobody!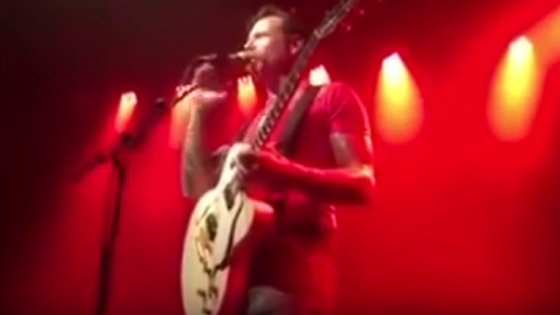 Among other blundering statements, Hughes referred to Israelis as 'his people.' Unless there is something that we don't know about him, they are not his people. The crowd at Bataclan, who should be referred to as "his people", apparently did not know either that Israelis are not their people, or perhaps did not think attending a concert of someone who said that should, would, cost them their lives.
International Business Times, 'Paris attacks: Eagles of Death Metal defied pro-Palestine boycott movement and Roger Waters to play Israel', Nov 20, 2015:

A video has emerged of Eagles of Death Metal berating Pink Floyd founder and anti-Israel campaigner Roger Waters at a gig in Tel Aviv months before the Paris shooting at the Bataclan theatre.

The clip, from the band's Tel Aviv concert in July, shows lead singer Jesse Hughes offering an expletive-laden riposte to a letter sent to the band by Waters urging them to shun Israel. It has been circulated in the wake of atrocities that claimed the lives of 132 people on 13 November.

In it Hughes tells the Tel Aviv crowd the band decided to end their tour in the city because they "could not top it". The audience then boos mention of the Waters letter before Hughes shouts: "You want to know what I wrote that c********r back? Two words: f**k you!"

Waters, who has been accused of anti-Semitism, joined the Boycott, Divestment and Sanctions (BDS) Movement - an anti-Israel pressure group - in 2012. Upon joining he called out to other musicians in an article he wrote for the Guardian: "[This is] a plea to my colleagues in the music industry, and also to artists in other disciplines, to join this cultural boycott."

Roger Waters wrote to Eagles of Death Metal to urge them to boycott Israel.

The Paris attacks brought the video of Eagles of Death Metal back into focus because the formerly Jewish-owned Bataclan theatre which in the past has hosted pro-Israel Army events, and where the band were performing the night 89 people were killed, had supposedly been harassed by pro-Palestinian supporters in 2008.
Jesse Hughes is a "devout Christian." That explains his confusion over who "his people are."
He was interviewed before the Tel Aviv concert by "Consequence of Sound"..
CoS, 'Fly Like an Eagle of Death Metal: An Interview with Jesse Hughes', 1 Oct 2015:

At 43, Jesse Hughes hasn't become an old man just yet. With the energy of a 16-year-old, he makes the most eccentric man in the world sound like a boozy liar.

The Eagles of Death Metal frontman has an opinion — often obscenity-filled — about everything. "But I'm not a bag of wind!" he insists. Around 30 minutes after our prearranged meeting time, before Eagles of Death Metal's show in July, Hughes appears at his trendy hotel in the heart of Tel Aviv with two Israeli locals he just met at the falafel stand down the road. He's dressed in typical Hughes attire: black-and-white-striped t-shirt with the sleeves cut off, suspenders, light jeans, and a neon green trucker cap with "Eagles of Death Metal" printed in Hebrew lettering.

A second after we meet, he's chatting away on a tangent. Hughes is rarely off one. He sounds bluesy, even lusty when he talks, and when he gets especially riled up on a topic, he'll bow his head, slap his knee, and speak like a southern debutant, referring to his fans as "the kids." Hughes is as verbose as your archetypal reverend, hardly getting through his thoughts without breaching into song and then dissolving into giggles. Present him with a handshake or a voice recorder, and the truth serum starts to work.

Yeah, I've been shot before. Look. [shows scar on armpit] It made a canal through one of my muscles. I'll tell you how it went down: I was going through a really ugly divorce, and I'm a devout Christian, so divorce isn't a concept to me. I went through a very typical, clichéd "I served you my whole life, and this is what I get" anger. I weighed about 250 pounds, I was a big ol' redneck boy. I was managing this privately owned chain of video stores and part-time freelancing for the Republican Party and speech writing and shit like that. The most awful thing I could think of immediately was to start taking speed. I lost 80 pounds, got really depressed. My mother called Joshua [Homme] because she felt he was one of the only dudes I listened to.

He dishes it out today. During our conversation, he gets into the full specifics of being saved from addiction by bandmate Joshua Homme, how he's already written half of EODM's next album, and how he's struggling to convince everyone he's a devout Christian who gets high and uses the phrase "titty-wobbling." He talks about his face being a nipple on his album cover as seriously as his faith. "I know what you're thinking — my life's a contradiction," he admits.

It's dark stuff, but Jesse "The Devil" Hughes has a wicked sense of humor — crushing, hypnotic, and frequently laugh-out-loud ridiculous. "My way of thinking is," he shrugs, "it's gonna be harder in hell for me than for y'all. I'm just not going to be the fool that doesn't know why he's there."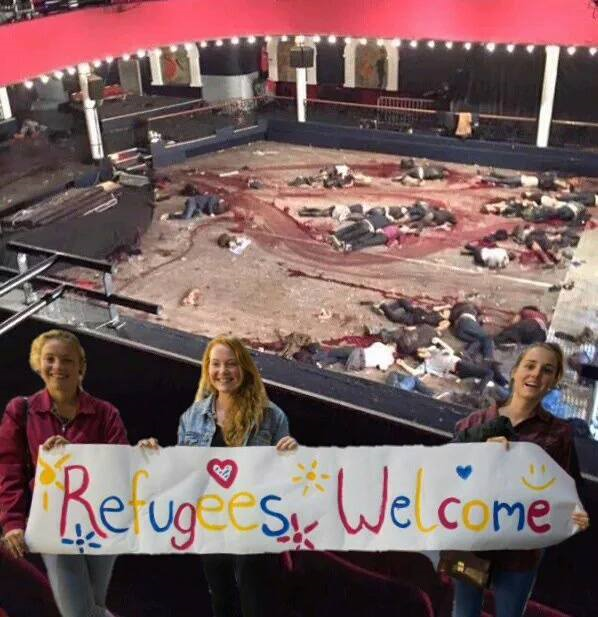 Christianity and its Enlightened step-child play a strong part in the confused identity and allegiance of welcomers as well.. ...and the upshot of that confusion…
________________________________________________________________________
Addendum:
Note that troll JamesUK likes to associate us with the right-wing circus and any sort of unflattering speculation that he possibly can; but I will leave that aside, at least for now in order to address this:
"Didn't you say in a previous posting that Eagles of Death Metal represented white culture?"
I said that the Eagles of Death Metal fans represent implicitly White culture. Evidently their fans are predominantly White genetically; but the fact that the band leader, and likely a significant percentage of their fans, have a confused identity (case in point, thinking that Jews can be a part of their kin) as a result of Christianity and other Jewish crypsis, provides an excellent occasion to address those implicitly White demographics who suffer this confused identity as a result of Christianity.
I was not wrong to treat them as an implicitly White demographic, that remains true.
The band and audience alike reinforce this assumption by appearance, by the likelihood that they are predominantly, genetically White (European).
However, the band's confused identity is misleading from the start, with their name: one associates death metal with paganism, a Nordic paganism defiant of Christianity in particular - and therefore assumes that the band and audience would have little to do with identifying as Israelis, with Judaism, or even its offspring, Christianity - let alone Hughes vehement "devotion."
Hughes' devout Christianity compounds the confused identity by taking his erstwhile White identity and enmeshing it with the Jewish narrative and identity, albeit as servile gentile other in relation to Israel, Jews and other non-Whites - the "undifferentiated gentile others", as GW says.
As Hughes also made clear (unclear rather), in the CoS interview, he is quite contradicted and does not even expect to be recognized by the Abrahamic god.
His fans at the Bataclan also reflect and express this ambiguous identity, but with good natured participation in a bit of carousing, defiant music, irreverent language, devil sign, etc. I say "good natured" because they were apparently healthy, functioning people who had bearings outside of sex-drugs-rockn'roll.
Nevertheless, they lightheartedly though naively frolic with the Jewish god, tweak its nose and defy its rules for some practical latitude despite the unfortunate necessity of trafficking in its terms to some extent for the historical fact of their moral order having been entangled with it for two centuries. They are fooled by it on a profound level, however, as their seriousness, their devout service is reserved for the "other" - not for themselves - as they identify as the other.
That is in contrast the Muslims, who have their own form of puritanical servility to the Abrahamic god, submission to the Jewish god.
By further contrast to the Muslims, a certain amount of ambiguity, variety of sacrament and celebration is good and necessary in the social world of praxis - acceptance of that adds to the claim that the Bataclan audience have an aspect of good naturedness - i.e., an aspect that is not puritanical or fanatical in a way that does not allow their people to be human, social creatures and to be themselves in their particular, idiosyncratic White ways.
A homogeneous looking band and audience that accepts the misnomer of "death metal" provided the first clue that they have a good natured acceptance of some ambiguity, non-purity, i.e., an acceptance even of some relation to aspects of their natural White identity, even if only implicitly.
However, the extent of their connection to the Abrahamic religion contradicts that and brought them into the fold of its absolutizing fight, which will accept no other identity - will not accept White identity as the separate social entity that it is. Some of them came into ultimate confrontation of inhumanity to their humanity in social difference as a people separate from the Jewish god of Muslims.
The confused identity of our people at Bataclan became a confused message that the Israelis accepted disingenuously, that ISIL accepted on face value, that the band, audience, and I, allowed for in good faith - a confusion nevertheless inadvertently passed-on in the news of their death, presenting a perfect reason and occasion to sort-it-out here.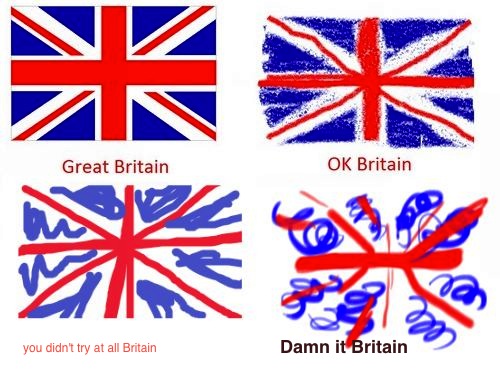 Guess which one of these is applicable to Colin Liddell.
The situation
It is said that one does not always have the luxury of being able to choose where one is sent to fight. What first started out as a criticism carried out by Colin Liddell at the Alternative-Right against Andrew Anglin's Daily Stormer, has morphed into something completely different, because of one line—one truly breathtaking sentence fragment—that Liddell tried to slide past the readers:
Colin Liddell / Alternative-Right, 'Joining the Dots on Andrew Anglin', 08 Nov 2015 (emphasis added):

As for the palatability of Streicher-esque anti-Semitism, it is certainly palatable for many White Nationalists – indeed in-itself it hardly bothers me as history is full of unsavoury characters and I rather like history – but for other Whites, not to mention those Jews who might want to identify as Whites and help our cause (and there are some), it is certainly a different story.
Amazing. Apparently, Colin Liddell is okay with allowing the Jews to form the intellectual equivalent of a forward operating base which would of course be geared entirely toward sabotage, behind the lines of ethno-nationalist movements.
It's one of the most breathtaking things I've ever seen from a European ethno-nationalist, ever.
Now, Majorityrights contributors don't like the Daily Stormer, and our platform differs significantly. I am not defending the Daily Stormer, I have no interest in that, since I disagree with them on almost everything. However, for Colin Liddell to say that there are Jews out there who want to identify as whites and 'help', that is a truly stunning statement. In reality, there are no Jewish groups that have any interest in helping European ethno-nationalists. That is a phenomenon which absolutely does not exist anywhere.
Why should any ethno-nationalist want to give space for Jews to enter a movement that they have been historically hostile toward and are hostile toward even today? It's impossible to understand it. Everyone has criticisms of the Daily Stormer and negative comments to make about the viability of Andrew Anglin's approach, but if the criticism is coming from an angle that is beneficial to the Jewish lobby, then that cannot and should not be accepted.
Excuses, excuses
Many people, including Colin Liddell himself apparently believe that Jews in Europe can be courted as allies because of a perception that the Jews would be antagonistic toward the influx of Muslims and the threat of radical Islam that accompanies it. Here at Majorityrights we take the threat of the Islamisation of Europe very seriously and see it as one of the major problems of the era, a generational conflict that will continue.
However, we do not believe that the Jews can be a real ally in that conflict.
Why do we not believe that? It's because the Jewish position is one where they would like to avoid having terrorists menacing them in their neighbourhoods in Europe, but Jewish civic groups also have no problem whatsoever balancing their concern about that against their other concern which is to avoid having an environment where a single culture predominates in the continent.
See here:
World Jewish Congress, 'Jewish and Muslim leaders urge European Union heads not to pander to extreme-right', 30 May 2011 (emphasis added):

In Brussels, leaders of Islamic and Jewish communities from several European countries today presented a joint declaration to the presidents of the three main European Union institutions. Ahead of a meeting of European religious leaders representing all major faiths in Europe, Bosnian Grand Mufti Mustafa Ceric and Brussels Chief Rabbi Albert Guigui handed the document on behalf of the 33 signatories to Commission President José Manuel Barroso, European Parliament President Jerzy Buzek and European Council President Herman Van Rompuy.

The declaration stresses that "Jews and Muslims live side-by-side in every European country and our two communities are important components of Europe's religious, cultural and social tapestry. Both Muslims and Jews have deep roots and historical experience on this continent." It raises concern about "increasing manifestations of Islamophobia (anti-Muslim bigotry) and anti-Semitism in countries across Europe."

The joint declaration goes on to say: "Bigotry against any Jew or any Muslim is an attack on all Muslims and all Jews. We are united in our belief in the dignity of all peoples" and urges "all Europeans of conscience to put a stop to any group that espouses racist or xenophobic ideologies long before they are in a position to gain legislative or other power. We must never allow anti-Semitism, Islamophobia, xenophobia or racism to become respectable in today's Europe. In that regard, we call upon all political leaders not to pander to these groups by echoing their rhetoric."

The signatories also declared: "We remember together the horrors that took place on this continent in the 1940s - a campaign of mass murder, unique in history, which resulted in the annihilation of one third of world Jewry in the Holocaust. That atrocity and others, such as the mass killing of Muslim civilians in Bosnia-Herzegovina during the 1990s, resulted from the triumph of racist and xenophobic ideologies that demonized those that they targeted."

This Europe-wide interfaith initiative – the first of its kind – was set in motion last December with the first Gathering of European Muslim and Jewish Leaders in Brussels. It is modelled on a similar cooperative effort in the United States organized by the Foundation for Ethnic Understanding. Co-sponsors are the European Jewish Congress, the FFEU, the Muslim Jewish Conference the World Council of Muslims for Interfaith Relations and the World Jewish Congress.
What kind of activities might be necessary in order to make sure that Muslims and Jews would both end up on the same page in that regard? They would have to schedule some kind of symposiums in which the Jewish cultural critics would brief their Muslim counterparts on what works against Europeans and what does not work, and the Jews would have to begin some kind of outreach to so-called European Muslims so that an understanding could be reached, right?
Well, here's an example of that:
International Council of Jewish Women, '2nd European Muslim-Jewish Symposium', 05 Sep 2012 (emphasis added):

[...]

BEST PRACTICES: A EUROPEAN JEWISH MUSLIM DIALOGUE
Jewish as well as Muslim Authorities from Serbia, United Kingdom, France, Germany and Sweden were heard. Several speakers explained the efficiency of their strategies to fight extremism. In Germany where many neo-Nazis groups are violent, the Jews will help the (Turks) Muslims to be heard. They speak out together to defend their rights especially on the important subjects of circumcision, ritual slaughtering, at the government. They want to be sure that their children go through the right path. Their relations as well as their cooperation are excellent and they want to make it official. In United Kingdom, where anti-Muslim bigotry is strong, the extreme right aggravates tensions in promoting hatred and violence in the Muslim districts. Jews will enhance the role of the Muslim righteous who saved Jews during the Holocaust; A conference of British Imams and Rabbis work together productively with the ministries on the field.

The most remarkable step greeted by the participants was the case story of the creation by Rabbi Michel Serfaty of Amitié Judéo Musulmane de France with his partners and his Muslim co-chair Scherazade Zerouala for the Paris district: the bus of Friendship between Jews and Muslims has since 2007 crisscrossed the French towns and suburbs with local press conferences. The most efficient means to fight against discriminations and prejudices are Jews and Muslims involved to speak out together and "SAY NO TO HATRED". Ignorance, fear and contempt breed violence, and that is the way to face it. This action carried on for 9 years, going on round France 8 times, with 10 people, and 15 sub-branches in the country was a challenge: mostly to build a united front to make a correct presentation of the Jew and the Muslim in our work with children and their mothers.

[...]
Jewish lobby groups are triangulating, they are positioning themselves so that in the case where Muslim groups become the largest share of all ethno-religious minority groups in the European Union, they would be ready for that scenario, and could survive in it.
Jews and Muslims are right now in 'the season of twinning', and what a time for them to have chosen to do that! See here:
Foundation for Ethnic Understanding, 'FFEU's 8th Annual Global Season of Twinning', 01 Oct 2015 (emphasis added):

In the face of escalating sectarian violence and increasing expressions of Islamophobia, anti-Semitism and other forms of bigotry across North America, Europe and around the world, thousands of Muslims and Jews will be coming together in scores of cities around the globe to declare: We Refuse to Be Enemies.

We Refuse to be Enemies is the theme of the 8th Annual Season of Twinning, which every November and December brings together Muslims and Jews - and people of other faiths as well - to hold joint events focused on educating communities about one other, working together on behalf of people in need and standing together against bigotry.

The Season of Twinning officially kicks-off on Sunday, November 1 with an Interfaith rally in Trenton, NJ, to be followed by events in Washington, New York, Detroit, Los Angeles, London, Paris, Brussels, Tel Aviv Rabat, Morocco, and scores of other cities in nearly 20 countries around the world. There have already been several events associated with the Season of Twinning over the past several weeks, including an inspiring Interfaith Peace Walk in Melbourne, Australia and a Surfers for Peace aquatic manifestation by Jewish and Muslim surfers off the beach in Biarritz, France.

The Season of Twinning was initiated in 2008 by the Foundation for Ethnic Understanding (FFEU) - a New York-based nonprofit organization dedicated to building a global movement of Muslims and Jews focused on strengthening ties between our communities.

"In the face of multiple crises now roiling Muslims and Jews in the Middle East and around the world and of increasing efforts by demagogues and extremists to incite our communities against each other, it is more critical than ever that Muslims and Jews come out in public to say 'We Refuse to Be Enemies,'" said FFEU President Rabbi Marc Schneier. "We can agree to disagree respectfully on the Israeli-Palestinian conflict while resolving to build ties of communication and cooperation for the betterment of both communities and the larger communities in which we live side by side."

[...]
Quelle surprise! The Jews want to have an amicable relationship with the Muslims. They want to explore the possibility of continuing to undermine the European Union together, while they leave the disagreement about the Israeli-Palestinian conflict in the Levant.
Anyone who understands the strategies that have been used by Jews when dealing with Muslims in the past, should actually not be surprised by any of this. This kind of political manoeuvring has happened in the past:
Jewish History, '710 - 719' (emphasis added):

711 July 19, TARIK IBN ZIYAD (Spain)
A Moslem general. He defeated King Roderick, the last of the Visigoth kings, at the Battle of Rio Barbate (Guadalete) near Xeres de la Frontera. The Jews backed [Tarik ibn Zayid] in his battles. After each city was conquered (Cordova, Granada, Malaga), Jews were often given positions of safeguarding Moslem interests. One of his generals, Kaula al Yahudi, had many Jews under his command.

712 March, TOLEDO (Spain)
The Jewish inhabitants opened the gates for the Moslem invaders under Tarik ibn Zayid marking the end of Visigothic rule in Spain and the beginning of 150 years of peace. Thus began what was known as the Golden Age of Spain. The Iberian caliphate was independent of Baghdad and encouraged the flowering of Spanish-Jewish culture at the same time that it was being suppressed by the Baghdad caliphate.
'150 years of peace'. Also known as '150 years Arab Muslims raping and killing the Europeans'.
Why do the Jews seek a situation where one culture cannot dominate? Why do they want to flood your countries with hostile migrants? The answer is less complicated than you might think:
Rabbi Doug Kahn / Jweekly, 'The wisdom of Earl Raab — at 90', 26 Mar 2009 (emphasis added):

When Earl Raab served as executive director of the Jewish Community Relations Council, he posted in his office an article citing a study that concluded that cigar smokers have a longer life expectancy than non-smokers.

One might wonder about the credibility of the study — but Earl turns 90 next week. His cigar-smoking days are behind him, and the Underwood Noiseless typewriter, on which he banged out hundreds of articles and uncommon wisdom for this paper, is in mothballs.

But Earl and his fertile mind continue to go strong.

Although he retired more than 20 years ago, his influence endures. A man of great humility, who claimed to be the national ping pong champion of the Galapagos Islands during World War II, Earl shaped the field of Jewish community relations nationally.

His genius was to recognize in San Francisco an extraordinary laboratory for studying and shaping the Jewish community at large — which he wrote about in an October 1950 piece for Commentary magazine. He had come to San Francisco on assignment from his and Kassie's farm in Maine and decided never to leave.

In the "From the American Scene" column, Earl wrote a piece titled "There's No City Like San Francisco." In it, he wrote: "There are 55,000 Jews in San Francisco, and not even the historic traces of a ghetto. There is a Jewish community that has been called, with reason, the wealthiest, per capita, in the country. There is at the same time a startling poverty of ant-Semitic tradition. San Francisco, for cities of its size, is the nation's 'white spot' of anti-Jewish prejudice… So far as the city and its institutions are concerned, the Jew is a first-class citizen. It may well be that he can live in San Francisco with a greater degree of personal dignity than in any other large city in the country."

Raabisms will long endure at S.F.-based JCRC, among them: "A certain kind of America" (the idea that American Jews and other minorities are most secure when democratic institutions are strong) and "An educable moment" (Earl's way of explaining why a bad thing happens to a good community and how to turn it into an opportunity).

[...]
In 1993 Earl Raab also wrote:
Earl Raab / San Francisco Jewish Bulletin, 23 Jul 1993:

We have tipped beyond the point where a Nazi-Aryan party will be able to prevail in this country. We have been nourishing the American climate of opposition to bigotry for about half a century. That climate has not yet been perfected, but the heterogeneous nature of our population tends to make our constitutional constraints against bigotry more practical than ever.
That is a positive feedback loop. As the level of heterogeneity increases, so increases the adherence to constraints against 'bigotry' for the sake of civil concordance under liberalism. Those constraints then make it more difficult for anyone to make arguments in favour of taking action against further increases in heterogeneity, which then results in a 'requirement' for more constraints against 'bigotry', and so on.
The same plan is on the agenda for Europe. It's crucial for everyone to understand that this is what their intention is. There are no compromises or negotiations that can be had with the Jews. It is what it is.
Only pretending to be retarded
Later on, a torrent of criticism was poured in Liddell's direction from Daily Stormer and from every other angle, because despite all the differences that may exist between the strands of ethno-nationalist thought in the North Atlantic, most people seem to agree that the Jews are not to be underestimated.
Colin Liddell reacted by effectively claiming that he was only pretending to be retarded, and that they were allegedly trying to troll the Daily Stormer by partially imitating its writing style and extreme rhetoric.
See here:
Colin Liddell / Alternative-Right, 'White Surviv(irl) or Auschwitz of the Internet?', 11 Nov 2015 (emphasis added):

First off, let's deal with my previous article, as it managed to trick most people. It was—in case you hadn't realized—a deferential tribute to the actual style of The Daily Stormer.
This came off as particularly hollow in the context of the Jewish Question, given that when I asked Colin Liddell about whether he still stood by his earlier statements on alliances with Jews, he said that he still stood by those statements, as you can see from the comments sections.
So it was not a pretence of any sort. It's more like Liddell's follow-up post was a form of damage control after he had made a spectacular misstep and didn't want to back down from it.
Greg Johnson of Counter-Currents however seems to have taken the claim of pretence at face value, without addressing the Jewish Question, and so he responded to Liddell, saying:
Greg Johnson, 'White Surviv(irl) or Auschwitz of the Internet?', Disqus comment 2353921213, 11 Nov 2015 18:37:

Well I'm relieved. I took your last article as in earnest and regarded it as a serious lapse by an otherwise sound writer, not as a parody of Anglin himself.
This is really surprising to me. Was he not aware of what Liddell was saying just earlier? The things that Liddell had said, are really 180 degrees contrary to the clearly-articulated and laudable stances that I had come to associate with Johnson. For example, a while ago, Greg Johnson ran this really good article at Counter-Currents:
Greg Johnson / Current-Currents, 'Reframing the Jewish Question', 27 Oct 2015 (emphasis added):

[...]

Some nationalists pursue these questions, but others choose to abstain, merely advocating ethnonationalism but not touching the "J.Q."

I wish to suggest that this framing of the Jewish question is entirely wrong. The Jewish question is not something distinct from ethnonationalism. It is not a separate, higher-order, entirely optional set of questions from which ethnonationalists can recuse themselves. On the contrary, the Jewish question is a simple, straightforward application of the basic principle of ethnonationalism.

If ethnonationalism calls for the replacement of multicultural societies with monocultural ones, then Jews, as a distinct people, belong in their own homeland and not scattered among other nations. Thus if England is to be English, Sweden to be Swedish, Ireland to be Irish, alien populations need to be repatriated to their own homelands, Jews included. That is the ethnonationalist answer to the Jewish question.

[...]
That is exactly the correct stance there.
But that is exactly the opposite of what Colin Liddell was calling for on 08 Nov 2015. Since Colin Liddell thinks that Jews should be part of European ethno-nationalist groups, whereas Greg Johnson clearly visualises a future in which Jews would not be inside the European continent. Quite clearly Johnson does not believe that Jews should be part of European ethno-nationalist groups, or he would not be able to come up with such an opinion.
To repeat, the reason that Greg Johnson is able to conceptualise a future in which Jews are not in Europe, is because he does not see them as part of the European ethno-nationalist advocacy group.
How then can Johnson be okay with Liddell, given that from Johnson's perspective, Colin Liddell would be doing ethno-nationalism precisely wrong? This looks like a clear contradiction.
In fact, Johnson went so far as to ban the commenter UH from being able to post at Counter-Currents, when UH made arguments that were quite similar to those made by Colin Liddell.
Those arguments that were made by the commenter UH, were rebutted by the commenters Verlis and Theodore, here, here, and here.
The need for consistency
The Alternative-Right has a big tent. Their big tent is completely incoherent, because it contains a whole array of people who don't agree with each other on core issues and whose outlooks are totally irreconcilable with each other.
Majorityrights has the correct platform for the advocacy of European peoples, and their regional autonomy. It formulated this platform by firstly considering the diverse opinions of ethno-nationalists. Secondly, after a process of argumentation an authentic theory emerged, which is known as left-nationalism or national-syndicalism. Step three is to equip European peoples with these ideas which are necessary to facilitate a transition toward true ethnostates and to enter into sustainable alliances within regional frameworks.
Having an actual platform and consistently communicating that platform, is more important than trying to create the largest possible tent. The events of the past week only throw the truth of that observation into stark relief.
Kumiko Oumae works in the defence and security sector in the UK. Her opinions here are entirely her own.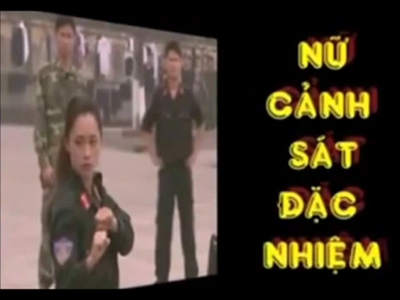 Oh, hey, has anyone in Europe noticed that Sweden is not Vietnam?
I'm going to do something interesting which might be new to some readers, but which I think is a necessary part of cornering liberals so that they cannot continue to wear the masks of various other political groupings. I'm going to criticise the situation in Sweden, but I'm going to do it in a polemical form and it will be done from the left. It will be done so that people can see what that might look like.
Sometimes people talk about how a country is destroyed 'in slow motion', and you have to watch trends develop over a very long period of time in order to find out what the tricks of the reactionaries look like. Other times, you can find the template by just watching for a matter of a few weeks, as the pattern of behaviour exhibited by the reactionaries is just a sped-up version of the long-term template that they have been using all along.
As Sweden backslides into becoming one of the most reactionary and frankly dangerous European countries to live in, we can see a microcosm of how that disaster is fomented in a single snapshot of just the past eight weeks.
Here's Step One:
Yahoo News, 'EU needs more legal ways in for refugees: Swedish PM', 07 Sep 2015:

STOCKHOLM (Reuters) - Sweden will propose that the European Union set up more legal ways for refugees to arrive in the country, Prime Minister Stefan Lofven said on Monday, announcing a push to make the Nordic country more welcoming for asylum seekers.

Lofven said the EU must introduce a permanent and obligatory redistribution mechanism for when disasters trigger drastically higher numbers of refugees seeking entry into the bloc, and that the EU should increase its number of quota refugees to about 100,000 from the 22,000 that the EU had earlier agreed.

Sweden has received more asylum seekers per capita than any other nation in Europe, giving weight to its voice over the crisis, which has intensified in recent days as thousands of migrants, many refugees from Syria, arrive mostly in Germany.

"Sweden, Germany and a few other countries have for a long time been alone, taken their responsibility. That's not good enough," Lofven told a news conference. "All countries in the EU must stand up for human values and do their duty."

On Tuesday, Lofven will travel to Berlin to meet German chancellor Angela Merkel to discuss the European migration crisis. He will also meet the Austrian chancellor Werner Faymann.

[...]
The reactionary bourgeoisie calls for even more migrants to enter the country because of their desire to knock down organised labour by using a reserve army of labour. They are completely out of control because the broad mass of the population has failed to establish institutional structures that would keep them in check. The labour unions have been totally co-opted by liberal-capitalists and the union bosses are on their payroll and can no longer be trusted. Clearly, someone needs to establish new labour unions that are independent from the control of the Swedish political establishment.
The reactionary bourgeoisie are even now passing laws that 'allow the migrants to integrate into the labour market', by which they mean setting up a multi-tier labour arrangement. What does that mean? It means that the migrants and low-skilled Swedish workers alike all will find themselves thrown into a semi-feudalist mode of production despite living territorially inside of a so-called 'advanced' economy. It will be a subordinated mode which the reactionary bourgeoisie would maintain by implementing enforced stagnation.
If that is allowed to continue, automation and mechanisation of the economy would be stalled, and in fact would go backwards, because there would be no incentive to develop productive forces further. Automation and mechanisation is usually spurred by a shortage of cheap labour, not a glut of it.
Here's Step Two:
Yahoo News, 'Sweden to increase spending on helping immigrants by $214 million', 10 Sep 2015:

STOCKHOLM (Reuters) - Sweden will increase spending on better integrating immigrants into the labor market and increase compensation for municipalities where refugees settle, the government said on Thursday.

Next year, the added spending measures will total 1.8 billion Swedish crowns ($214 million).

Earlier this week, Prime Minister Stefan Lofven said the government would oblige all municipalities to accept refugees. The new spending includes a roughly 50 percent increase of the yearly compensation from the central government to 125,000 crowns per person up to the age of 65, it said in a statement.

Labor market measures include more money to validate foreign exams taken by immigrants and to the Swedish Public Employment Service for finding jobs quicker.

In its latest forecast, in July, the Swedish Migration Agency expected 74,000 asylum seekers this year, but an official told daily Dagens Nyheter on Thursday the figure would likely be revised upwards to above 80,000.
That money to 'increase spending' is not going to come from the pockets of the haute-bourgeoisie and their banking associates. Instead, it will come from the income taxes and regressive sales taxes that are imposed by the liberal-capitalist state against the broad mass of the people.
In other words, the taxes to pay for that 'increase in spending' will be collected from the proletariat and the petty-bourgeoisie. They will be asked to pay for their own enslavement, and pay for their own harassment by clerical-reactionaries in Muslim dress, and pay for their own impoverishment, and pay for the rising crime as Muslims rape their children. They'll be told to accept this, because otherwise, someone might call them 'racist'. And everyone knows how people are afraid of social organisation like how cats are afraid of water. Probably.
Here's Step Three, just twelve days later:
Yahoo News, 'Sweden needs to borrow more, cut costs to meet refugee numbers: finance minister', 22 Oct 2015:

STOCKHOLM (Reuters) - Sweden will need to borrow more money and cut costs across the board to meet the expense of record numbers of asylum seekers arriving in the country, Finance Minister Magdalena Andersson said on Thursday.

"It is going to take longer for us to get back to balanced public finances," Andersson told reporters. "It also going to mean that we are going to need to borrow money."

Earlier in the day, the Migration Agency said it expected up to 190,000 asylum seekers to arrive in Sweden this year.
The Swedish haute-bourgeoisie would like to thank you for accepting 10,000 migrants. Oh, sorry, they mean 22,000. No wait, they meant 74,000. Or was that 80,000? No, they really meant 190,000. But it might be even more later.
The cuts enacted by the state onto itself will not be a cut in the amount of money being funnelled toward servicing debts and bailing out banks, but rather will be a cut to the quality of social services, hospitals, and schools for the broad mass of ethnic Swedish people.
The haute-bourgeoisie who run the Swedish government should no longer be permitted to call themselves 'progressive', nor should they be allowed to call themselves 'leftists'.
For maximum irony and maximum punishment, the Swedish haute-bourgeoisie should instead be forced to experience an actual left-nationalist revolution right in their face which will utterly dispossess them of everything that they purport to own, so that they can see what actual leftism looks like.
And now before you readers start asking me if I'm trafficking in pure heroin in this post, just stay with me for a moment and actually engage in this thought experiment. It's just a thought experiment, but I'm doing this so that you understand a particular point here.
Kumiko's left-nationalist thought experiment for Sweden:

It is precisely at the very time when the haute-bourgeoisie are frenziedly accommodating terrorism and facilitating economic privations the likes of which have never before been seen in a European country, that Swedish progressives, socialists, and nationalists, formerly working separately, have united into a single party, the Socialist Workers Party of Sweden, to lead the revolutionary struggle of the entire people.

The Socialist Workers Party of Sweden is now founded. It is the party of the working class. By correctly formulating a mass line based on a mass perspective, it will help the proletariat lead the revolution waged for the sake of all oppressed and exploited people. From now on, you should join the party, and assist the vanguard in implementing the following goals:

1. To overthrow the Swedish liberal-capitalist government and to overthrow the ideological state apparatuses of the haute-bourgeoisie;

2. To abolish the Swedish monarchy;

3. To establish a Swedish worker-peasant-soldier government which caters to the needs of the broad mass of the people, facilitating the development of productive forces and the maintenance of an advanced and progressive culture;

4. To confiscate the assets of all banks and all other enterprises belonging to the reactionaries and put them under the actual control of the worker-peasant-soldier government;

5. To confiscate all the land in the northern zone of the country belonging to the reactionaries and re-distribute it back to the poor Sami peasants;

6. To implement a 6-hour working day and guaranteed annual income (GAI);

7. To abolish the forced buying of government bonds, abolish all taxes that are used for maintaining mass migration, and abolish all unjust taxes hitting the poor;

8. To deport all clerical-reactionaries from the country, and to shut down all ecclesiastical authorities, turning all Churches, Mosques, and Synagogues into secular community centres;

9. To dispense education to all the Swedish people, and maintain it at the highest quality, ensuring that it is laicist so that no religion may be taught;

10. To maintain equality between man and woman, with absolutely no exceptions;

11. To commit to the responsible maintenance of a market economy until its historical necessity is exhausted. The market economy would undergo an extended period of transition with several steps of development utilising mixed social and economic structures in which socialist factors are gradually strengthened and made dominant, so as to lay the groundwork for the transformation away from the market economy and into socialism.
Obviously, the following groups will not be able to accept even the thought of such a programme, as it effectively confiscates all of their property and outlaws them:
Swedish reactionaries.
Arab and African migrants.
Jews.
That would be fortuitous, given that all three of those subversive miscreant groups could then be hunted down and arrested by the military or secret police, and then they could be sent to a detention facility and subsequently deported from the country.
Now, what is the point of this thought experiment? Well, I invite any of the Swedish readers of Majorityrights, to find some Swedish so-called 'leftists' in your neighbourhood. Propose my thought experiment programme goals to them with a straight face and with a seeming seriousness of intent, and then see how they react to it.
If the so-called 'leftists' react to the programme with horror and loathing because it harms the pro-immigration agenda, then you can say to them, "Oh, I see, you aren't really leftists at all, you're actually just a bunch of liberals who love getting cucked by black and Arab men".
And you yourself will have also learned an interesting political lesson at the same time, from that whole experience.
Kumiko Oumae works in the defence and security sector in the UK. Her opinions here are entirely her own.
Vestiges in Christianity of Jewish thinking about the gentile have produced the following pathologies in the European religious life:
a) the replacement of the subject's relation to tribe and kind with a relationship with "God",
b) the related turn away from existenz (consciousness) in nature and life and to belief and proposition (salvation for an ever-lasting life after death),
c) the related notion of the immortal soul as the focus of concern.
All three leading directly to the liberal, ie, post-Christian, focus on "the individual" as a deracinated, sexually ambivalent agent busily "breaking all the bounds" of Nature to be "free".
d) In the absence of relation to tribe and kind, the related notion of (non-possible) boundless love for all men and, specifically, non-reciprocal altruistic works. These, of course, operate to drench the subject in a sense of "Christian righteousness" and self-sanctification (which equate in the liberal teleology to narcissism and feelings of moral superiority).
e) The imposition of a hyper self-critical moral regimen of uprightness (particularly in regard to religious piety and devotion, dogma, sexual repression, the aforementioned charity to the Other, etc) that is perfectly unrelated to the experience and knowledge of consciousness. It is not the object of Christianity that the subject should experience the liberative process:
absence ◄ habituality (mechanicity) ◄ immersion ◄ negation ◄ reverie ◄ sloth ◄ passivity ◄► intent ► attention ► stillness ► detachment ► affirmation ► appropriation ► presence ► non-ascription of identity ► self-annihilation ► Being
... but that he/she should busily concern his/herself to shape his/her life and actions in accordance with Jewish millenarianism. The Christian gets eternal life after death, the tribe of the Jews gets G_d's gift of the world in life.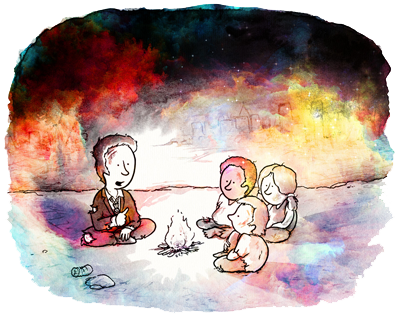 Yes, the North Atlantic was completely destroyed, but for a wonderful moment in time we had no Islamophobic comments on Facebook!
There are few things in politics more fulfilling than seeing greed and fear—which are not 'bad' emotions, it's all about context—combine to create genuinely good performance art, a kind of art that is a work of genuine originality. That's how it is with the Facebook censorship story, it just gets better by the day.
The law firm Jun Lawyers, which specialises in IT Law and is headed by Jun Chan-jo, has seen an opportunity for publicity and profit. It is going to be found through the fact that between Angela Merkel, Heiko Maas, Anetta Kahane, Eva-Maria Kirschsieper and Mark Zuckerberg, they have virtually no capability at all of actually policing all the 'hate speech' that now exists on Facebook due to the reaction of a sizeable number of German citizens to the migrant influx that Angela Merkel herself invited into Germany.
The continued existence of 'hate speech' all over Facebook means that the liberal government is violating its own laws and its own constitution. Since Facebook is also possibly violating those same laws, and since none of them can do a single thing about it without installing something akin to the 'Great Firewall of China' or the 'Great Keyword Filter of South Korea' —except aimed at the all-pervasive 'Far Right hate speech' rather than say, 'reactionaries', or 'Far Left Marxists', or 'anarchists'—Jun Lawyers can be sure that the German legal tangle is a gift that will keep on giving. The liberal government has effectively promised to win at whack-a-mole, has made it illegal to lose, and is now finding itself unable to stop losing.
Now finding themselves trapped in a forest of the censorship laws of their own making which they are legally obligated to enforce, and with social media being used to propagate messages of 'hate' toward everyone and everything, the liberal-capitalist occupied German government is considering suing Facebook, the German court system is considering whether to find the German government to be in violation of its own constitution, while the Jun Lawyers firm is suing both the liberal government and Facebook simultaneously.
I would urge all ethno-nationalists out there not to be angry with Jun Chan-jo. His name will appear a lot in the media going forward, but it is prudent to regard him as the 'Gordon Gecko' of IT Lawyers, and to take a tolerant stance toward him. I've heard some unfortunate stories about people sending him hateful emails and tweets which insult him on the basis of his Korean ethnicity and so on. Please do not do this to him. It's just business, isn't it? Jun Chan-jo should not be regarded with hatred, he should be regarded with love, because he's just doing his job and he's doing it very well.
Let's remember the relevant section of that famous speech that Gordon Gecko made in the 1987 film 'Wall Street':
Gordon Gekko, 'Wall Street', 1987:
The point is, ladies and gentleman, that greed, for lack of a better word, is good. Greed is right, greed works. Greed clarifies, cuts through, and captures the essence of the evolutionary spirit. Greed, in all of its forms; greed for life, for money, for love, knowledge has marked the upward surge of mankind.
The aggregate effect of the self-serving actions of Jun Chan-jo is that he's basically calling the liberal government and Facebook on their own bluff and forcing them to try to follow through on their own laws. He's performing the socially useful and totally logical function of holding the liberal government and the clique of Jews who own Facebook to account for the laws that they themselves committed to. But the government can't comprehensively follow through on these laws, because it's operationally impossible for them to police all of the things which are being said about Muslim migrants daily on social media in Germany. All the state apparatus can really do is strike a small number of 'offenders' randomly, and then when this proves ineffective, it turns on itself to play internal blame-games in response to legal challenges.
Look for yourself at the circular firing-squad which has manifested:
McClatchyDC, 'Germany considers charges against Facebook for hate speech', 21 Oct 2015 (emphasis added):

Highlights:

Chastened by its Nazi past, Germany long ago banned incitement of racial hatred
Refugees crisis has prompted posts that many feel violate those laws
Posters have been charged, and Facebook officials might be

BERLIN—The anti-refugee post on Facebook by a 29-year-old Berlin woman last spring seemed little different from many of the hate-filled rants that pop up on social media sites.

"Let's get rid of the filth," she wrote. Then, referring to a series of arson fires that have destroyed refugee housing under construction across Germany, she continued: "many more refugee centers will burn, hopefully with the doors boarded up."

But there was a difference between her words and many others that appear online: She was a German, posting in Germany. And while social media globally might assume a more American character of erring on the side of free speech over censorship, Germany does not share this view when it comes to hate speech.

The woman was charged with violating Germany's hate speech law, convicted and sentenced to five years of probation. She's not the only poster to have run afoul of the law: A 25-year-old man from the small town of Passau in Bavaria was fined 7,500 euro (about $8,500) for a Facebook post offering to deliver "a gas canister and hand grenade, for free," to a group of asylum seekers. A 34-year-old Berlin man was fined 4,800 euro (about $5,500) for posting: "I'm in favor of reopening the gas chambers and putting the whole brood inside."

Now, with the swelling number of refugees prompting still more such posts, German prosecutors are considering going after Facebook itself for acting as a home for posts that advocate racial hatred and violate laws against neo-Nazi speech.

German prosecutors are investigating possible charges against three Facebook managers, prompted by a complaint that they failed to act against racist comments about Europe's refugee crisis.

The complaint came from German attorney Chan-jo Jun, of Wuerzburg. In it, he claimed to have flagged more than 60 Facebook entries that would violate German hate-speech laws. In an interview in Die Welt newspaper, he noted that the posts he flagged – some even featuring Nazi insignia and people posing while giving a Nazi salute – are strictly forbidden by German law.

But, he said, Facebook responded to his complaints by saying the content didn't violate Facebook's community standards, and the posts were not removed. He made copies of the posts and sent them to Facebook's German managers by registered mail.

"We need to put an end to the arrogance with which some companies try to translate their system of values to Europe," he said.

In the complaint he filed, he noted, "Facebook Germany encourages the dissemination of offensive, punishable content through its actions in Germany."

Germans have complained for years about what they see as warped morality on Facebook and other U.S.-based social media sites, where nudity is strictly controlled but posters are allowed to spout hate-filled screeds that Germany outlawed after the Nazi reign of Adolf Hitler.

German Justice Minister Heiko Maas recently announced that Germany would establish "a task force to combat hate speech on social media platforms, notably Facebook, and a number of social networks, including Facebook, are to take part."

"Racist, inciting statements are inconsistent with our system of values and cannot be justified under any imaginable aspect," he said. "One thing is clear: If Facebook gets complaints about racist and xenophobic messages that violate criminal laws, then the company must react and delete such posts quickly and reliably. . . . There must be as little space in social media for racism and xenophobia as there is on the street."

Facebook has agreed to take part in and partially fund the task force, but for many it's showing too little concern about a matter Germans take seriously.

Facebook has announced measures to counter hate speech. However, in the past it has also noted that the site "allowed discussions on the network to be conducted using robust diction." Overall, German officials claim they have received word from Facebook that it prefers a policy of "discuss, not delete," in many cases.

German news stories have quoted German Facebook policy manager Eva-Maria Kirschsieper as defending her company's policies by noting that Facebook reaches a billion users far beyond Germany's borders.

"It is a constant challenge to balance the interests of this diverse community and we are constantly working to adjust our policies and procedures to be even more effective and sensitive to the concerns of local communities," she said.

Konstantin von Notz, a member of the Green party who is considered the group's top expert on the Internet, questioned whether Facebook is following its own anti-hate speech guidelines. He noted that members of his party have been attacked on Facebook and have filed criminal charges. "Some of what is being posted not only goes against German law but also against Facebook's own terms of business," he said.

This week, the German tabloid Bild ran a two-page spread of nothing but hateful Facebook comments, complete with user names and profile photos. The comments were directed at the large number of refugees seeking asylum in Germany, and those who support them.

"Green pig, hang them all," said one post directed at Claudia Roth, a pro-refugee Green politician. Another was more general: "A bullet for every Muslim and their supporters." "Muslims are worse than cockroaches. We don't want Islam in Germany and Austria," read another. Another poster, identified as Silvio Bettin, asked, "Aren't we all a little Nazi?"
The best thing that can happen is for this chaos to continue. It's an unlimited and unwinnable censorship battle which the liberal-capitalist occupation government in Germany has plunged itself into. About 35 million migrants in total may be heading toward Europe, and Germany is refusing to permit political discussion of Angela Merkel's monstrous open-doors policy to take place on the public political stage. So, the conversation persists on the internet, and then the liberal government chooses to include such conversation under the rubric of the enforcement of its 'racial hatred' censorship laws.
If the liberal occupation government wants to adopt a zero-tolerance policy toward 'hate speech' and if they promise to follow through on that impossible task, then I give my warmest regards and a jaunty salute to anyone who is able to engage in culture-jamming or legal-jamming actions to put that ridiculous censorship system under stress. The liberal occupation government might as well be trying to censor discussion of the weather.
To all the patriotic Germans out there, I encourage you to keep posting 'offensive' things, and to keep organising and engaging in street actions, and in so doing, keep jamming up the liberal censorship system.
Kumiko Oumae works in the defence and security sector in the UK. Her opinions here are entirely her own.
It is appropriate that her name is Morano...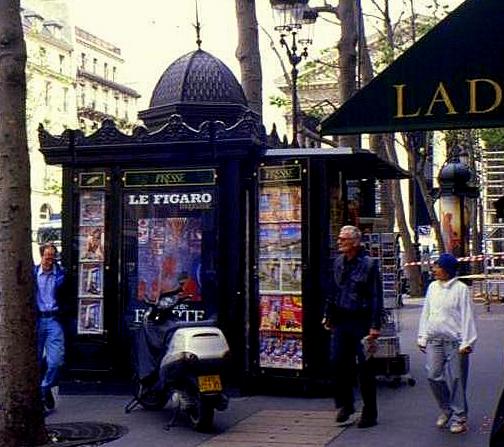 PARIS — Nicolas Sarkozy is threatening to strike a member of his center-right Les Républicains from the party's ticket for the French regional elections in December ...after MEP [Nadine] Morano said Saturday [September 26th] that France was a "Judeo-Christian country … a white race that welcomes strangers."
What is apparently happening here is that Nadine Morano, true to her name, is attempting to use Jewish crypsis to include Jews as "part of the 'White' race"... and that is probably why she has been able to get away with putting the two terms - White and race - together at all in a political context. Otherwise, her "controversial statement" in "defense of Judeo-Christianity" wouldn't be worth a second thought.
What merits re-attention to Morano is this, however. It seems that indeed the masters of discourse are trying to create a false solution to a false polemic and some right wingers are taking the bait: French "intellectuals" (read, "Jews") are trying to frame a discourse where some "Leftist" academics are going "rogue" and becoming "rightists."
Of course there is no mention of the Jew in this "new academic amalgam of left and right" but rather an attempt to create an "intellectual framework" to ruse a coalition against Marine Le Pen for the extent that she represents true ethno-nationalism, i.e., as a representative of the native French - which her father knows very well does not include Jews as "White" nor "Judeo-Christianity" as their rallying cry.
So, lets look at what is behind her, starting with the latest bullshit artist who would try to dupe native Europeans into thinking that he is on their side. His name is Michel Onfray and the Jewish media is trying to create a sensation about how this "former leftist" is now incorporating "the right."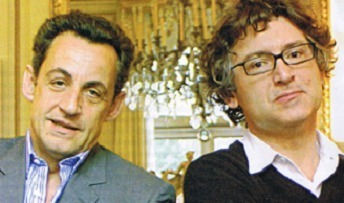 Right-winger Sarkozy has new company from "former leftist intellectual" Michel Onfray
As one reads through the media gibberish, however, it is apparent that Jewish academia is encouraging him to "turn rightward" in order to enable Jews to assimilate Whites, White interests, turn them away from authentic ethno-nationalism and toward a myopic focus against Islam on behalf of "we, the multi-cultural and pluralistic Europe."
J'accuse: Leftist intellectuals turn right

Politico, "Unusual ideological bedfellows in France are uniting against globalization and the euro", Oct. 19, 2015:

PARIS — When the newspaper Libération last month accused self-professed "left of the left" philosopher and best-selling author Michel Onfray of "doing the [far-right party] Front National's bidding," French intellectuals circled the wagons.
Their definitions of left and right, not mine.
..to the rescue from left and right to defend Onfray, they did what intellectuals do in these cases: organize a public debate.
Intellectuals?
The headline of the event, to be hosted at the Maison de la Mutualité on October 20 by political weekly magazine Marianne..
Marianne magazine, created by Axel Kahn, the son of a Jewish father, Catholic mother…the magazine is now owned by Robert Assaraf, a Moroccan Jew ...the magazine calls Nicolas Sarkozy "a right wing candidate."
In support of its sometime contributor Onfray, sets a new standard for navel-gazing: "Can we still debate in France?"

Spoiler alert: The fury stirred up by the controversy offers a good clue to the answer.

Onfray is only the latest French thinker whom government-friendly media and Socialist party officials accuse of pushing ideas similar to the far-right - on immigration, the role of Islam in society and the need to restore France's battered sense of self.
Ah yes, now that Islam is becoming a bit much, enough of Sarkozy's right-wingishness, some are even assimilating the "far-right" to take an audacious stance against… immigration!
They include the moralist philosopher Alain Finkielkraut .."a former left-wing radical and now member of the French Academy who has written several books on the waning of France's traditional republican culture and the country's "unhappy identity" (the title of one of his books);
"Alain Finkielkraut (born 30 June 1949) is a French essayist and public intellectual. He has written books and essays on a wide range of topics, many on the ideas of tradition and identitary violence, including Jewish identity and antisemitism, French colonialism, the mission of the French education system in immigrant assimilation, and the Yugoslav Wars."
Régis Debray, a 1960s companion of Che Guevara who later became an adviser to former Socialist president Mitterrand;
...known for his theory of mediology — a critical theory of the long-term transmission of cultural meaning in human society — and for fighting with Marxist revolutionary Che Guevara (in Bolivia in 1967) and advancing Salvador Allende's "Marxist" régime (Chile, early 1970s)
Eric Zemmour, a far-right journalist and TV debater whose book "Le suicide français" ('The French suicide') on "the 40 years that destroyed France" became an unlikely best-seller last year;
Éric Zemmour was born in Montreuil (today in Seine-Saint-Denis) on August 31, 1958, to an Algerian family that came to Metropolitan France during the Algerian War. He identifies as a Jew of Berber origin, and above all as a French Jew.
..even Michel Houellebecq, recluse novelist whose book, "Submission," describes a future France as an Islamic theocracy.
Besides Jews in support, Onfray has a Marxist revolutionary and a gentile who is willing to go to jail in order to fight Islam (with Jewish blessing). These are supposed to be our friends. They were "the left" and now they are "the right", or leaning "right"...
What they don't know is that we are The White Left and we don't buy their shit for a moment.
Let's carry on then…
The new 'new reactionaries'

The 'controversy' has simmered for a long time. In 2002 the 'left-leaning' magazine Nouvel Observateur was already putting Finkielkraut on its cover to wonder whether he was part of the "new reactionaries."
Not even a good bluff at false opposition.
It is now pervasive and part of the permanent French debate. It hasn't been restricted to the realm of high-brow discourse.
Of course not, the Jewish media would try to promote its controlled opposition as much as possible.
After French Prime Minister Manuel recently criticized Onfray for one of his tirades, he was called "a moron" in return by the philosopher. And earlier this year, Valls was deemed "a bore" by Houellebecq after venturing that he didn't agree with the writer's somber vision.
Gee, these "intellectuals" are daring.
Libération's outburst was prompted by the latest in a long string of provocative statements Onfray has made in recent months, attacking the Socialist government's policies and principles.

In an interview with Le Figaro,
Le Figaro is owned and controlled by Serge Dassault, born Serge Bloch, both his parents are of Jewish heritage.
..on September 8, the writer criticized what he called "the emotional response" to the picture of a dead refugee child that made headlines around the world and prompted French President François Hollande to soften on the issue of quotas for accepting asylum-seeker quotas.
Yes, sure, "the intellectuals" are coming to our European defense on the matter of immigration.
Onfray, who declined a request for comment for this article, went on to accuse France's successive governments of "being contemptuous of the people" — what he calls, using the English term, "the 'old school' people": French blue-collar workers, the unemployed, the poor, the pensioners. As for National Front leader Marine Le Pen, he said: "I don't resent her as much as I resent those who made her possible."
Onfray resents the possibility of European ethno-nationalism emerging.
Sacrebleu!
The dispute comes a few weeks after Jacques Sapir, an economist from the far left who has long campaigned against the euro, suggested the creation of an "anti-euro national liberation front" that might extend up to and including Le Pen's party.
Sapir is a "far left" economist, son of psychoanalyst, Michel Sapir (Sapir = Jewish), he teaches in Russia and is perhaps a part of negotiating a quid pro quo between Russia and Le Pen = continue to ease-up on the Jews and Russia will give you more support.
Sapir added, in a Libération interview, that it was undeniable that the far-right National Front had "changed in the last years." He is also one of France's staunchest defenders of Vladimir Putin's policies, and the author of a blog hailing what he sees as the Russian president's many "successes" both economically and on the international stage.
Like I said.
Trojan horse of globalization

Onfray has called Sapir's idea of an anti-euro alliance "interesting." Some of the philosopher's critics see a bitter irony in the fact that in 2002, he created a "People's University" in Normandy, where he resides, to counter the rising influence of the National Front's ideas. That's the year when the party's founder Jean-Marie Le Pen, father of current leader Marine, made it to the second round of the French presidential election against then-president Jacques Chirac after having defeated Socialist candidate Lionel Jospin.
I.e., Onfray is a useful tool for Jews…
The real split in French politics, as Onfray now sees it, is between the ruling, pro-European elites of both the conservative and socialist parties and the French people, who, he often says, have been betrayed "since 1983" — when then-president Mitterrand, a Socialist, converted to pro-market policies.
Oh yes, the problem is those damn socialists (don't want to take away anything from plutocrats, especially not Jewish ones).
Ideological overlap between the National Front and France's far left is not entirely new. The nationalist party has long sought and received support from French workers disillusioned by the mainstream left parties. Some former communist strongholds are now areas where the FN gets its largest support.
What a surprise! White Leftism works ..all of the people cannot be fooled all of the time.
'This government from the left can't seem to find an intellectual on its side.'
Jews like to use "intellectual" as a code word for their own rhetorical bullshit artists, who will now try to disassociate themselves from the liberalism that their people and flunkies created, that they are here and now calling "the government of the left".
But most truthfully and most crucially, neither will The White Left find a Jew on its side.
Marine Le Pen herself stands a serious chance of winning the Nord-Pas de Calais district in the upcoming regional elections in December. The industry-dominated area was long ruled by the socialist or communist left. The anti-capitalist, anti-U.S. and populist platform of the National Front strikes a chord with voters who resent the changes brought by globalization.
...by Jewish and objectivist sellout globalization.
"Europe is seen by those intellectuals as just a Trojan horse of globalization," said Laurent Joffrin, the editor of Libération who led the anti-Onfray charge. "What unites those intellectuals is opposition in general to modern times - to the governing left, to market-friendly Europe, to immigrants seen as armies of Islam. They never venture to tell us what should be done."
...they found a useful idiot, an objectivist goy liberal to be a convenient foil for their false dichotomy.
Now the greater "intellectuals" are going to rescue us from this fool-hearty liberal.
'The people vs. the euro'

Leftists like Onfray now find themselves agreeing with the other end of the political spectrum on a couple of key themes.

The first is the fate of France's poor and working class – the "proletariat" Onfray says has been abandoned by the right and the left alike. In that vision, the governing left's policies favor the globalized elite and the well-to-do, while catering to the needs of minorities ("the margins," says Onfray) — such as immigrants, homosexuals and women.
...and women? French women are "minorities" that the "intellectuals" are going to defend against on behalf of who? ..and against who? ... seems both Jews and White objectivist sell-outs would like to blame the other.
The second theme is the visceral hostility towards Europe and the euro, seen as constraining economic and social policy and a fatal blow to the infamous "exception française," a large and costly welfare state that's supposed to shield the French from the turmoils of the global economy.

The drama is being played daily in the court of public opinion. Think of it as "the people vs. the euro."
Is that how we should think about it?
"The latest eruption doesn't come in a vacuum," said Pascal Bruckner, an essayist and fiction writer, and one of the few French intellectuals who still presents himself as "pro-Europe, and rather Atlanticist."

"There has long been a tradition of intellectuals defining themselves against the government, and if Valls thinks he can be a book critic, then the reaction is understandable," Bruckner said. "What's striking today is that it looks like this government from the left can't seem to find an intellectual on its side"
Bruckner is another convenient objectivist, a proponent for returning to the enlightenment; with that, Jews can set-him-up as a foil.
Meanwhile, France continues to struggle with the economic crisis. Even as unemployment in the eurozone as a whole has declined steadily since early 2013, it keeps rising in France and may soon go above the monetary union's average.

France's intellectuals grapple with globalization, as does the rest of the society.
They again quote Joffrin, the other objectivist foil:
"This increases the disillusion of traditional left voters," said Joffrin, "because the government so far can't show results for its pro-euro, fiscally strict policies."

The zeitgeist is summed up by the term "sinistrose," the deep-rooted pessimism that has long passed as a trait of the French psyche but is taking a turn for the worse in times of economic and political uncertainty.
The new solution to the enlightenment's radical skepticism, the Jews will tell us how to integrate "right and left" ... waiting ...here comes..
The anti-European feeling even permeates the governing left. When Marine Le Pen last week addressed Hollande in the European Parliament by calling him [Merkel's] "vice-chancellor for the France region," she was only slightly more aggressive than Hollande's former economy minister, Arnaud Montebourg, who was fired from the government last year after saying that France's austerity policies were "dictated by Germany's right."

"Europe here serves as proxy for globalization," said a government adviser, who didn't want to be identified for fear of "adding fuel to the fire." "I call it the defeatist wing of French intellectual life: There's no chance we'll be able to make it, so let's retract and retreat."
No, no, the Jews and their shabbos goy are here to save us from our skepticism…and put our long held prejudices into debate..
And, yes, debate.

The new talk-show culture
The "Saving Philosopher Onfray" operation has no shortage of theatricality. It involves best-selling authors, whose pictures more often than not grace the covers of glossy news magazines, complaining about a "media conspiracy" to silence them.

Onfray's best-selling books provide frequent cover stories for the news weeklies, and Finkielkraut seems like he has a permanent seat on French TV talk shows. Even government-supportive media, such as Libération or L'Obs, are eager takers for interviews with the supposedly silenced reactionaries.
Come the "neutral media" to apply the hand of restraint to these "rogue reactionaries"
Authors with more established "intellectual" credentials, such as Finkielkraut, are pushing back against what they consider an anti-racist or "anti-fascist" thought police. The philosopher recently defended the right of Nadine Morano, a French MP from Nicolas Sarkozy's party Les Républicains, to say France was a "white race" country.
There is the payoff: all this build-up to allow Morano, and her Morano crypsis, to pawn-off Jews as White and manipulate White treatment of out-groups: "France is a Judeo-Christian country … a white race that welcomes strangers."
And the Crescendo of the pilpul - playing the goyem off of one another:
Le Pen's party, he writes in his most recent book, "La Seule Exactitude," must be criticized for itself — because it is a "party of demagogues, ignoring both the complexity of political action and economic laws, promoting the cult of the strong man to the point of making Vladimir Putin not only an ally but a role model."
Marine, your Russian Jewish alliance won't spare you for being a shabbos goy - another one, Onfray, on behalf of French Jews, seeks to assimilate your position and use that against you.
Back to the other useful foil…
Bruckner said it remains to be seen whether the controversy will be "just a prairie fire, chased next week by another piece of news" or a sign that "the divorce will become permanent between the ruling left and the intellectuals."
Yes, sure, we want those "intellectual" Jews to swing rightward ... right where we are not.
In the meantime there is whispering that the big Mutualité meeting might be canceled after all — especially since neither Onfray nor Finkielkraut has agreed to appear as a witness for his own defense.
Didn't you say that what "intellectuals" did best was organize debates?
Take heart, Onfray and friends, Islam didn't come to debate either.
You might take the debate to the Middle-East, take Nadine Morano…she can defend her concept of Judeo-Christian Whiteness ...there.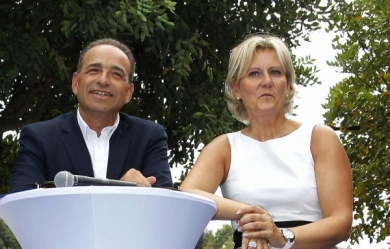 Jean-François Copé (Romanian Jewish father, Algerian Jewish mother) and Morano
Morano has felt that "we need a tonic, and UMP Jean-Francois Copé best placed to embody the word, with strength and ability to address the issues without taboos" ...a representation of the "uninhibited right."
Not a matter of guilt, not even a matter of Christianity, Islam or capitalism, but rather the usual suspects making their agenda clear. This expression shows that something different: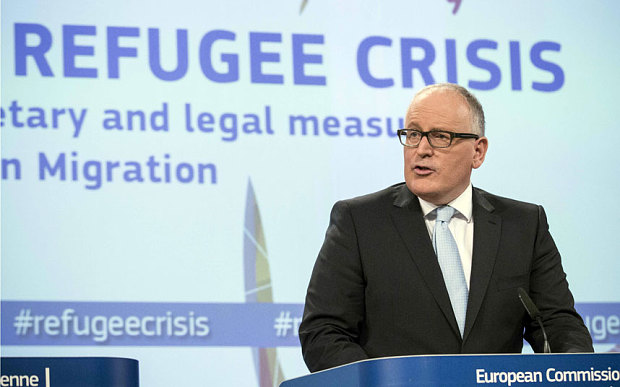 Frans Timmermans, the Dutch vice-president of the European Commission, said that "diversity was the future of the world," and that Eastern European nations would just have to "get used to that."
It is an unusually brazen assertion of "programmatic coercion" - G.W.
It is a significant statement of the motives of the powers-that-be to impose their programmatic intent to destroy the European genome.
Dresden, Germany protests migrant invasion. In the meantime, Gregor Gysi has promoted death to Germans.
Former apparatchik of the communist East German GDR government and ever the Jewish henchman, Gregor Gysi has been calling normal Germans "Nazis" for resisting their death through assimilation in waves of imposed immigration, calls for their elimination (death) as such - to him, "a very fortunate" prognosis.
Ladies and gentlemen, I hereby prompt you to participate at the protest,"Live better without Nazis - diversity is our future", on the 6th of June at 10a.m. in Neurupinn. We have to take a stand against the Nazis. Because of our history between 1933 - 1945 we are obliged to treat refugees properly. We also have to save their lives in the Mediterranean. There has to be a legal [unbureaucratic] way to get asylum in Europe. Countries like Poland - very Catholic by the way - have to be willing to accept [more] refugees. Oh, and by the way: Every year more native Germans die than there are born. That is very fortunate. It's because the Nazis are not very good at having offspring. This decline [of Germans] is why we are so dependent on immigration from foreign countries. - See you at the protest. Goodbye! Gregor Gysi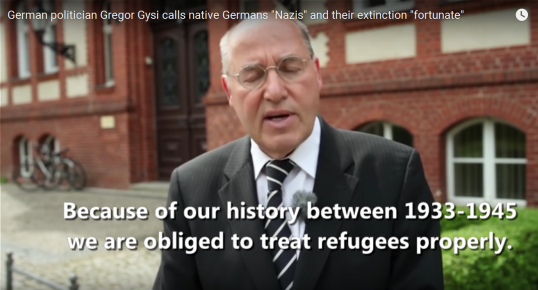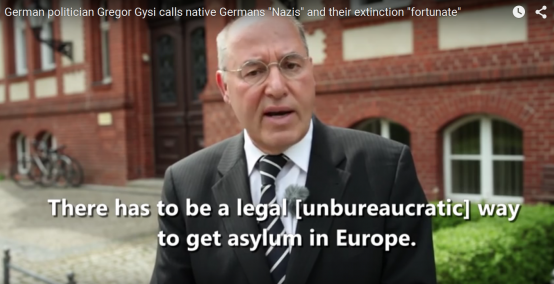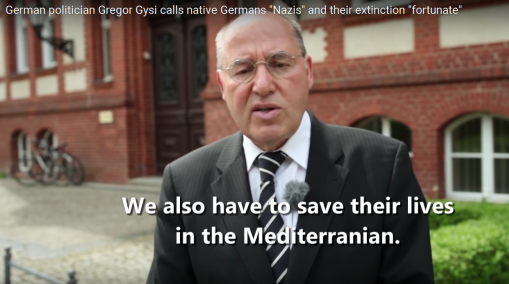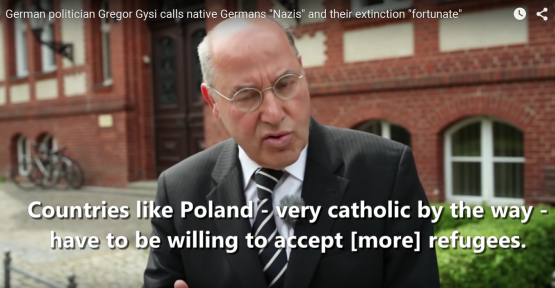 Oh, and by the way: