Majorityrights Central > Category: That Question Again

Web archive from 2014 reveals something amazing
Order of Battle
As you all are aware, Mike Enoch, now revealed to be actually Michael 'Enoch' Peinovich, is the founder of the website The Right Stuff, which opened in 2012 and hosts the popular and dubiously overwrought podcasts Fash the Nation and The Daily Shoah.
The Right Stuff has spent the entirety of the past four years serving up piping-hot reactionary narratives all of which just so happen to serve the geostrategic agenda of the architects of Russian foreign policy by carrying out Active Measures, American domestic honeypot agenda of the FBI, and the Israeli security agenda.
But if anyone had pointed that out before today, such a person would have been called 'paranoid' and even 'insane'. After today however, such a person would simply be called 'well informed'.
Note: The name 'Pejnovic' has a diaspora in 20 countries worldwide and has its highest concentration in Zagreb, Gospic and Klenovac, Croatia. It is found in small numbers in Peru, in the United States, and in the Russian Federation. 'Peinovich' is a Russian-Jewish variant that found its way into the diaspora of the United States and in Argentina.
The whole saga leading up to the revelation of Enoch's real identity, started after Red Ice Radio hosted a show on 26 December 2016 in which Reactionary Jew was invited on as a guest and Lana Lokteff asked the audience to give them feedback on whether right-wing Jews have a place in the supposedly ethno-nationalist political scene that has recently been emerging in the west.
This question was of course met with outrage from various quarters as would be expected. But what was truly interesting was that many of the users and even some global moderators at The Right Stuff began to respond to that provocative question in the affirmative. That was met with deep suspicion by everyone, because it is suspicious.
The controversy and trolling then moved to 4chan /pol/, which is basically the wild west. People from The Right Stuff orchestrated a two week long posting and sliding campaign in which non-stop wall-to-wall pro-Israel propaganda posts and threads were created by them. 4chan /pol/ moderators then began banning all of the TRS people who were doing that, and the details of the bans were then taken back to the TRS forums and presented there.
This is just an example of some of the things that the TRS people were putting up:


TRS then proceeded to deny everything. They claimed that other groups were impersonating them. Some claimed that Hillary Clinton's CTR was conducting pseudo-operations against them. Some claimed that EU Stratcom was targeting them. Some claimed that British intelligence was targeting them. Some claimed that 'SJWs' and Chicago Antifa were trolling them. They claimed that somehow Stormfront was trying to make them look bad. The claims were feverish and frenetic, bold and brash, and all diversionary nonsense.
Somewhere along the way, the TRS people decided that since they were trapped in that situation, the ultimate distraction would be to initiate a miniature Cyberwar against 8chan for no apparent reason. TRS decided to attempt a DDoS against 8chan. It failed. At this point, 8chan /baphomet/ became interested in the feud and many of its denizens informed TRS that they must stop their behaviour immediately, and that they must also apologise for the DDoS attacks and that they must apologise for making the pro-Israel posts, on air, or it would be war.
TRS basically then told 8chan /baphomet/ to "bring it on".
8chan is however, an anonymous message board that sits on the edge of the Darknet. So they brought it, but no one really will ever know who 'they' are. TRS found itself being DDoS'd and this forced them to take shelter under Cloudflare. While the TRS staff were attending to that, they also found themselves being doxxed and the process was being crowdsourced on 8chan /baphomet/.
TRS then tried to go back to 4chan /pol/ and play the two sites against each other by claiming that 8chan /baphomet/ were actually the Antifa. Of course, TRS had just previously bombastically accused 4chan /pol/ of being the Hillary campaign on one hand and of being western intelligence on the other, so no one at 4chan was really in the mood for yet another round of that nonsense again. Furthermore, TRS had misunderstood the nature of anonymous message boards, supposing that there was a real dividing line between the 'communities' at 8chan and at 4chan. There is no such dividing line in actuality, because no one is seriously loyal to an anonymous message board. It's just a vehicle through which various actors can drape themselves in a cloak of trendy anonymity. There is no 'community'.
The Right Stuff subsequently found itself being Blown The Fuck Out by all of its adversaries, and all of their adversaries were able to maintain anonymity during the process.
Isn't that marvellous?
Outcomes
It turns out that Michael 'Enoch' Peinovich is a Javascript Developer and a Public Relations Professional who has worked as a Front End Developer at BurrellesLuce, Time Inc, and Vook. He's from New York. Vook was later rebranded as Pronoun, and is now a subsidiary of Holtzbrink Publishing Group.
Oh, and Peinovich is a Russian Jew married to a Jewish woman named Ames Friedman.
In 2010 he ran an Anarcho-capitalist blog called 'Emptiness', at which his wife made several comments with her real name.
In the same year, Peinovich also wrote an article for the Mises Institute.
On 03 July 2015, Peinovich appeared on Red Ice Radio, and actually mentioned that article which he had written for the Mises Institute, when he was explaining to them that he 'used to be a libertarian'. He cryptically commented after the 13 minutes 25 seconds timestamp, "if you find it, ask if it's me, and if you get it right, maybe I'll tell you."
At this point I don't think anyone will need to be making any guesses about that anymore. On top of that, Peinovich earlier admitted to everything on the TRS forums before basically transforming himself into the 'shut it down' meme and shutting everything down:

There is no more speculation, there is only fact. Mike 'Enoch' Peinovich in fact admitted to what he has done.
Datamining concerns
Assuming that the entire TRS entity either originated as or became a full spectrum Information Operation, it means that all the usernames, email addresses, IP addresses, access logs, security questions, and password hashes that were submitted by people who—against all good advice—chose to actually register on the ridiculous TRS forum have a not-insignificant probability of falling into the hands of any number of adversaries who Peinovich may have allegiance to. FBI? Mossad? Who even knows at this point?
Does anyone really think this story is over? For some people, the problems may only just have begun.
Questions Remain
The remaining question would be, who knew about Michael 'Enoch' Peinovich's Jewish identity before it was exposed today, when did they know, and if anyone did know, why wasn't it exposed via normal channels much earlier?
A lot of people were in a position to have noticed the fact that Peinovich was in fact a Russian Jew orchestrating a massive disinformation campaign against everyone, one which may have influenced the outcome of the American election and created significant disruption in other English-speaking countries.
This is a partial list of the people who have directly interacted with Peinovich in some way over the past few years, and who one would think ordinarily should have detected that something was very wrong:
Richard Spencer
Greg Johnson
Kevin MacDonald
Colin Liddell
Jared Taylor
Andrew Anglin
Lana Lokteff
Henrik Palmgren
David Duke
Colin 'Millenial Woes' Robertson
Bob DC aka Wolf Wall Street
Kyle Bristow
James Edwards
John Friend
Sam Dickson
Jack Donovan
William Regnery
Andrew 'Weev' Auernheimer
It's truly astounding that supposedly none of those people noticed anything, despite them having either worked with him and having been in interviews with him, or them having called in to TRS during its radio shows. At one point, Peinovich was even brought into a live podcast during the NPI 2015 conference.
Of particular significance is Peinovich's relationship to Kyle Bristow. Bristow is the Executive Director of Foundation for the Marketplace of Ideas, Inc., an Alt-Right organisation that advocates on behalf of Alt-Right figures and coordinates legal services for them. Peinovich joined its board of directors on 11 December 2016, joining five lawyers, and law student, and a journalist who were already on the board of directors there. I presume they too might like everyone to believe that they didn't notice anything?
Another one of key significance is Peinovich's connection to Andrew 'Weev' Auerenheimer. Weev is the person who basically did a significant amount of work on the TRS website in order to 'secure' it. At some point between 2014 and 2017, the Paypal donations on that site were deactivated and only the Bitcoin donations remained. If Weev was the one who implemented that change, did he not notice the email address linked to their Paypal account was a glaring giveaway about who Mike Enoch really is? But if he did notice the disturbing truth, why did he not alert anyone? Many people could speculate.
Here are some examples of obvious clues that they could have picked up on: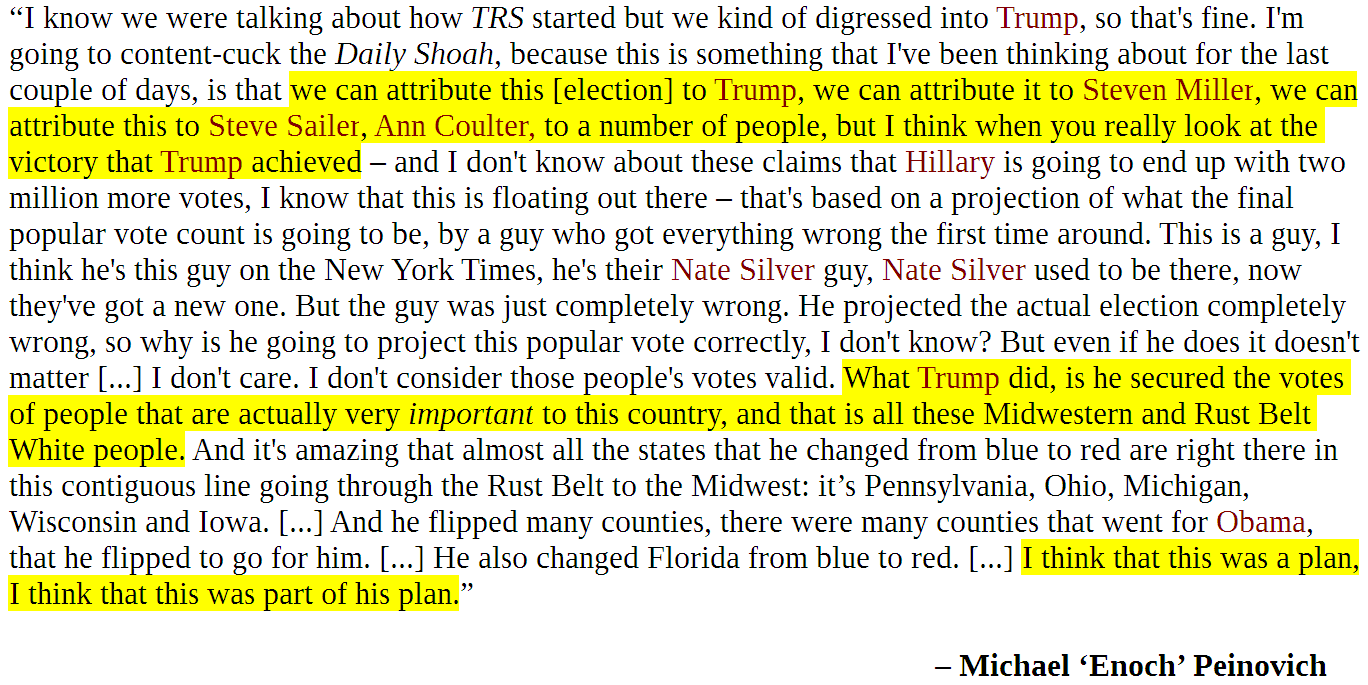 Just as large swathes of the American population were getting ready to give up on the system as it presently exists and to instead settle into total cynicism, along came the Trumpists and outlets like The Right Stuff, who managed to revitalise and rescue the ridiculous system yet again!
And also there was this extra incident here:

Fucking incredible. All of the anti-semitic rhetoric that was going on there basically was a cover for the fact that a whole Jewish operation was being conducted right under the noses of the supposedly 'red pilled' and 'savvy' generation of new American right-wing activists.
Over the coming days and weeks, I'm sure that all kinds of explanations will be forthcoming from all of those people. The question that needs to be asked over and over again, is this: Who knew about Peinovich's Jewish identity before today, and if any of them did know, when precisely did they know, and why did they not reveal it as soon as they became aware of it?
I was going to write about this myself, but then I realised that an article about this already existed on Ars Technica, so I will simply present it here without preamble:
Ars Technica UK, 'Giuliani announces he'll be Trump's czar for the cyber thing', 12 Jan 2017 (emphasis added):

Former NY mayor tells Fox that private industry will solve cybersecurity for the US.

On Fox News' morning show Fox & Friends, former mayor (and frequent proxy for Donald Trump) Rudy Giuliani announced that he would be coordinating a cybersecurity advisory group for the Trump administration.

Giuliani's bona fides for this role apparently spring from his time as chair of the "Cybersecurity, Privacy and Crisis Management Practice" at the New York law firm Greenberg Traurig, a position he assumed a year ago. However, it's not clear that Giuliani has ever had any direct experience in cybersecurity law or policy. Giuliani previously was a partner in a Houston-based international law firm Bracewell (formerly Bracewell & Giuliani) for over 10 years, and he ran his own security consulting firm based on his mayoral experience and credibility from New York City's measures taken after the September 11, 2001 terror attack. But Giuliani is really counting on private industry to provide all the answers.

"The President-elect decided that he wanted to bring in on a regular basis the private sector—the corporate leaders in particular and thought leaders in particular for cyber, because we're so far behind," said Giuliani. "And it's his belief which I share, that a lot of the solutions are out there, we're just not sharing them. It's like cancer—there's cancer research going on all over the place. You'd almost wish they'd all get together in one room, and maybe they'd find a cure."

Giuliani said he believes that industry will have to lead an answer to cybersecurity rather than government. "That's where we have the great creativity and we have the huge amount of money, and that's where we have these great companies, the greatest in the world," Giuliani said this morning. "So the idea here is to bring together corporate leaders and their technological people. The president will meet with them on an ongoing basis, as well as anyone else in the administration… I'll coordinate the whole thing."

The goal appears to be a one-way flow of information from industry to the government. "Number one, it'll give the government all the information available in the private sector," Giuliani explained. "Number two, it'll form a little more connection between these people who are doing cybersecurity so they can work with each other. Some of these people, you put one and two together, you're going to come up with six."

Much of the private sector already shares information with each other, so it's not really clear what benefit other than presidential face time corporate executives and "technological people" will get out of this proposed arrangement. The financial industry, for example, has the Financial Services Information Sharing and Analysis Center; the auto, aviation, telecommunications, health, retail, and transportation industries, among others, all have their own organizations as well.

Previously, there have been efforts, including the Cybersecurity Information Sharing Act of 2015, to encourage an exchange of information between government and industry. And the Obama administration made attempts to foster other industries to form information sharing and analysis organizations (ISAOs) through the Department of Homeland Security's National Cybersecurity and Communications Integration Center. That administration also encouraged information sharing standards.

It's not clear what roles any ISAOs will have in this new cybersecurity body, or even who the "thought leaders" Giuliani wants to participate will be. But Giuliani apparently wants to include foreign cybersecurity firms, including some from Israel. "They have tremendous cyberdefense research," he said this morning. "We don't get access to that over here."

This post originated on Ars Technica
So there's that. Apparently Rudy Giuliani knows just enough about cybersecurity to try to delineate precisely what it is and where it begins and ends, but not enough to know that IO, EW and 'CW' exist along a long gradient and that outsourcing a government's cybersecurity to a foreign state's supposedly 'private' companies, is a really bad idea because all the things on the gradient actually cannot be disentangled from each other.
The fact that the Trump administration would allow any input from Israel on this issue, is enabled because they have been able to take advantage of the mandate handed to them by their apparently desperate supporters, to such an extent that they have been able to now embark on reversing even the most reasonable policies of the Obama administration. The Trump administration is continually signalling that the US after 20 Jan 2017 will be trusting Israel to a degree that is unprecedented in American history.
Basically they are handing over what can only be described as a critical institutional chokepoint in the cyber domain, to Israel.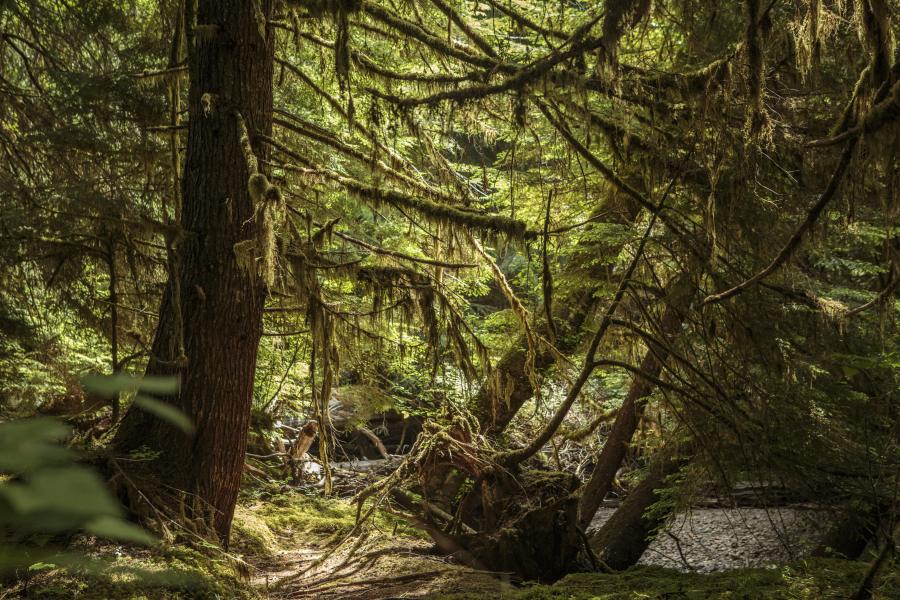 This nonsense has got to stop.
#Earth2Trump

Join the Resistance to Trump's Attack on Our Environment and Civil Rights

The #Earth2Trump Roadshow is coming — or has already come — to a town near you this month.

The roadshow is rallying and empowering defenders of civil rights and the environment to resist Trump's dangerous agenda. Stopping in 16 cities on its way to D.C., it's bringing thousands of people to protest at the presidential inauguration.

Having kicked off in Oakland and Seattle on Jan. 2, the #Earth2Trump Roadshow is touring the country bringing speakers, musicians, outrage, fun and hope to a total of 16 cities as it progresses toward the presidential inauguration on Jan. 20.

The free shows feature national and local speakers, great musicians, and an opportunity to join a growing movement of resistance to all forms of oppression and all attacks on our environment. We must stand and oppose every Trump policy that hurts wildlife; poisons our air and water; destroys our climate; promotes racism, misogyny or homophobia; and marginalizes entire segments of our society.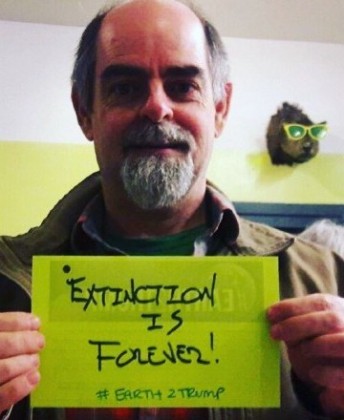 That includes White people and our species too, baldy. We are not Trump.
Trump does not represent White people, our best interests, nor our best relation to environment and others.
Brackets have been co-opting, along with their liberal trainees, issues of environmental and species diversity as if it is their cause and then militating against "racism" as if Europeans are not a species with habitat, as if discrimination against more prolific breeders and antagonistic species who encroach is not an essential capacity to maintain speciation and habitat sustainability; the liberals here also tuck a campaign against "misogyny" into their environmentalism, as if females should bear no critique on behalf of human ecology? As if hatred of men, White men, has not been open season for over 60 years now, and doesn't warrant a response?
To allow our cause of European advocacy to be associated with right-wing destruction of human and natural ecology is no longer acceptable. Nor is it for the brackets to continually associate their liberal political causes with environmentalism and biodiversity.
We can give credit where credit is due to those living ecologically - e.g., a native American tribe living with the environment - great.
We can call to account our right-wingers and liberals where they are not living ecologically, where international capital, industrial, consumer society, liberal universalism impact ourselves and others deleteriously: a key difference of White Post Modernity is that unlike Modernity, it does not merely stop when it is forced to stop by nature. It recognizes internal relation, limits and differences that make a difference. It has a deliberate stance in that regard from the onset. Unlike the mono-culturalism of primitive groups and the universalim of liberal modernist societies, White Post Modernity recognizes the delimitations of pervasive ecology and reflexive effects in internal relation from the start....including instances where liberals and brackets try use "environmentalism" to prevent more developed countries from assisting growing ethnostates - and vis a versa, where they obstruct those growing ethno-states from cooperating with more developed nations in their contraction into ethno-states.
But we also need to be critical where criticism is due, not only of females, delicate and sensitive creatures though they are, not only of White right-wingers who screw-up the issue of ecology, in one way or another, where they try to deal with it, or where they're downright antagonistic, but where racial groups impact the rest of the world.
Right wingers, liberals and their bracket masters are going to have to recognize that their "anti-racism" thing is a fundamental scourge against necessary human classification - which is requisite for accountability and necessary discrimination on behalf of human ecology, thus ultimately, all ecology.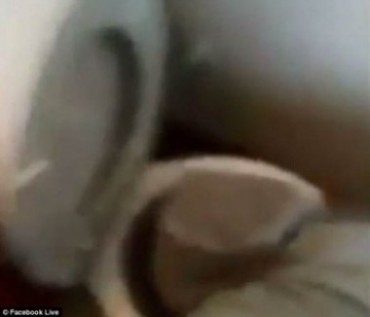 The toilet: where "Civil Rights" would place your senses.
Once you arrive at your destination - The United States Public Institution - there above the portal as you enter Orwellian hall, looms the placard, the ubiquitous injunction to leave your senses behind: "Discrimination on the basis of race, religion, sex, disability, etc, is prohibited by federal law."
You are not to deploy your eyes, ears, sense of touch, senses generally, to discriminate in defense of yourself and your kindred folk's group interests.
In the event that you get any ideas on the way to the public institution, ideas to return to your senses, react, perhaps even "over react", big brother is there with you too, as you make your way via public transportation, U.S.A. - whether bus, tram, train or the waiting rooms - big brother is there to remind you, watching you, reminding you not to come to your senses too rashly - looming ominously, pervasively over your head, right along with cctv cameras and sundry advertisements are the "public service announcements" that "hate crimes" are subject to an additional massive fine and ten years imprisonment.
So as not to forget, there hanging over your head is a reminder of this specially enhanced law, "discrimination on the basis of race, religion, sex, disability" etc, is against the federal civil rights act - you are to be reminded of the compensatory penalties that you will be subject-to if you give way to your senses and react to patterns of black criminality and to the fact that they are rarely charged with this law, even though you know them to be racist, even though they commit vastly more racially motivated crimes against Whites. You are to be reminded not to embark upon that slippery sensible slope, especially because the sloping trail may lead you to the realization that the same can be said about Jews - that they commit vastly more crimes against Whites, viz., if White collar crimes are taken into account; if laws were properly drafted so as to proscribe deliberate or reckless destruction to E.G.I. such as perpetrated through the social engineering of School Integration, the '64 Civil Rights Act, '65 Immigration and Naturalization Act, The Rumford Fair Housing Act, Section 8 Housing, H.U.D. and the subsequent 2008 subprime mortgage crisis.
Of course the objectivists, so proud of this pure system of theirs, wouldn't want to sully it by coming to their senses either - otherwise they might ask, "a crime is a crime, so why the additional penalty in recognition of cultural patterns?"
Alex Linder has a suggestion for them - blacks commit far more interracial crime, therefore, Whites "require" compensatory punishment to balance things out: "Hate crimes are affirmative action for Whites", for their under-representation in interracial criminality. ....he might have added, probably would add, the vastly disproportionate representation by Jews in White collar and social engineering crimes (inasmuch as they could be on the books) committed against Whites and others' EGI.
In regard to the Chicago incident, apparently the fact that the White kid was also mentally disabled facilitated liberal mentality to generate a rare hate-crime charge against black perpetrators: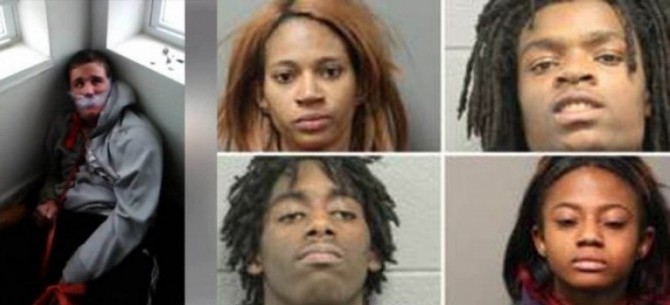 ABC News, "Hate-Crime Charges Filed in Attack on Mentally Disabled Man", 5 Jan 2017:

Four black people were charged with hate crimes Thursday in connection with a video broadcast live on Facebook that showed a mentally disabled white man being beaten and taunted, threatened with a knife and forced to drink from a toilet.

The assault went on for hours, until Chicago police found the disoriented victim walking along a street, authorities said.

The suspects, who were jailed, can be heard on the video using profanities against white people and President-elect Trump.

Police spokesman Anthony Guglielmi said investigators initially concluded that the 18-year-old man was singled out because he has "special needs," not because he was white. But authorities later said the charges resulted from both the suspects' use of racial slurs and their references to the victim's disability.
DM, "Black teens are charged with a HATE CRIME after live-streaming torture of white disabled man who they held prisoner for days before he escaped - as cops reveal they have shown NO remorse," 5 Jan (updated 8 Jan): 2017:

[...]

...that's when the sisters tied him up and the group started torturing him for about six hours. Half an hour of this torture was live-streamed on Facebook, showing the group beating the young man, cutting off a piece of his scalp, forcing him to drink toilet water. At one point in the video, one of the four yells 'f*** Donald Trump. F*** white people' at the victim.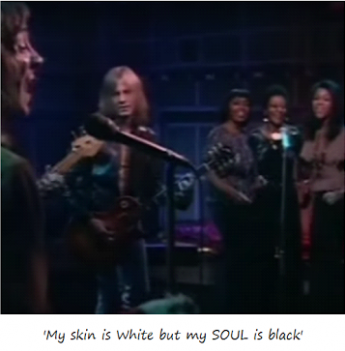 Black Coffee and Humble Pie - Eat It: British musicians quest for authentic organicism in their rock n' roll took a turn to estrangement from Whiteness.
To the British hippie looking to pursue his dream of rock stardom unfettered by the inorganicism of letters and to facilitate his effort to outflank musical competitors by dint of his capacity to assimilate black organicism - black soul - his motives might have appeared one and the same as self actualization in the hippie agenda - appearing as universal expression, absent as it were authentication through confrontation of his own mortality, in the draft and the stark contrast with the reality of MLK's "dream", let alone Malcolm X's.
There was a significant difference in motivation between British and American hippies in that the British context lacked the personal being toward death that confronted American hippies through the Vietnam draft; and the collective being toward death confronting them directly in day to day life with blacks in numbers; especially absent, as Americans were, the deep, historically confirmed social group of their (White) people and place, which British hippies took for granted.
Taking that for granted, the British hippies had a distorted view on blacks, largely seeing the pleasantly presented musical aspects of blacks, initially by ((Chess Records))); or representations in (((American and British media))) of blacks as "arbitrarily" oppressed. Without the lived experience of having to deal with blacks in numbers, on equal nationalist footing (actually not equal - blacks had an advantage in the sense that they were allowed to organize in their group interests, having had strident and powerful Jewish backing as such), but by contrast, given British hippies' capacity to rely on the superior warrant of their White historical people and place, their native experience lacked the existential circumstances of crisis which made for the profound element of hippiedom - its quest for midtdasein - especially for the White male part.
It is not that I lack of sympathy for their mistake, since when I was yet to be confronted by blacks in numbers - as I would be in a few years, with "school integration" - I myself looked upon American southerner's "prejudice" against blacks as "abhorrent." I didn't know from experience, but rather from what (((TV))) had told me. In fact, I incredulously asked my cousins from Alabama "why southerners were prejudiced against blacks?"
But whereas I merely needed to be bused to the black side of town, as I would be in 1971, to learn my lesson and eat humble pie, it could take considerably more to disabuse a British musician of his dream of being a part of the British rock n' roll invasion of America. He had brushed-up for months on his black licks while he spun Howlin' Wolf and Muddy Waters records as an isolated variable in his house - safely ensconced in a White nation (while perhaps envious of American success and seeing his superior lack of prejudice as means to rise above the crude, nouveau riche Americans) - removed from the American black movement's disconcerting contrast with the hippies' weird, organic expressions of White male midtdasein. On the one hand, there was the contrast of the intimidating aggression of black power as compared to the hippie goal for peaceful communal being; and on the other hand there was the awkwardness of the weird and unkempt hippies by contrast to the studied dress and manner (horn-rimmed glasses, thin ties and uniform black suits) that the Marxist Highlander School of Tennessee taught black civil rights activists to carry themselves with - an air prim and proper, full of "integrity" and "dignity" was to be projected with black "civil rights activism."
To the British hippie looking to pursue his dream of rock stardom unfettered by the inorganicism of letters and to facilitate his effort to outflank musical competitors by dint of his capacity to assimilate black organicism - black soul - his motives might have appeared one and the same as self actualization in the hippie agenda - appearing as universal expression, absent as it were authentication through confrontation of his own mortality, in the draft and the stark contrast with the reality of MLK's "dream", let alone Malcolm X's.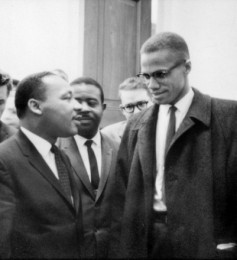 While sleeping with White whores, Marxist trained MLK projected innocence and promoted "a dream" to the naive and disingenuous, that black and White children could blend to no harm; black Muslim trained Malcolm X preached to the black power militancy of his own, proclaiming along with Elijah Muhammad that "the black man would rule."
He was not quite getting that the emulation of black organic being lacked the requisite delimitation of White midtdasein, the authentic, organic expression of its peoplehood; at that time organic White male being sought crucial reprieve from the habit of war, alleviation from monocultural (nee universal) male rites of passage and the overcompensating traditional male role of tribal aggression as a result. Having his ancient national recourse to duck the repercussions and the direct experience of living with blacks pursuing their own power nationalism and civic motives made it harder to dismiss the Enlightenment's prejudice against prejudice and the Jewish hard-sell misrepresentation of prejudice against blacks was invalid. The British rock musician could more easily fancy his grand tour of The US market as a gospel barnstorm; imagine his band on an evangelical mission, to demonstrate non-prejudice and good will toward blacks et al; he could not fully appreciate that his vision was a controlled illusion of (((The Western Media and Powers That-Be, generally))) that might be woken up to reality if only cold water were thrown in his small face by tour's end, when it was time to retreat home.
Still there was this great pitfall besides brackets for White males in their pursuit of authentic Being at this point. Their pursuit of midtdasein in correction of past over compensations that resulted of didactic incitement to arbitrary competition remained stigmatic against traditional gender roles - midtdasein was not only going against the male role of aggressive competitor, but against his pursuit of sheer victory and achievement, going against the pinnacle of stand-out actualization above society, or rather atop, but still comfortably aligned, which was the linear traditional direction of male quest.
Moving beyond mere custom and habit of tradition, to reject this quest of pinnacle actualization as a priority nevertheless remained stigmatic from the newly hegemonic modernist standpoint also - its sanctioned pursuit of self actualization as a universal good and in a universal context, transcendent of group interests, was the offered reward for any man who'd compete for it and win it - but offering no sympathetic rest for midtdasein. No, the naively anti-social, a-historical, a-contextual pursuit of self actualization was not only the upshot of traditional objectivism itself, but exploited and exacerbated by Jewish tribal interests who maintained group organization for themselves while inciting profound group competition for others: pandering to female inclination to incite genetic competition in modernist feminism; and otherwise distorting beyond reason the modernist rule structure; saliently, by means of "civil individual rights" and the prohibition of group classification and discrimination by Whites as "racism"; i.e., aiding out-groups, and leaving midtdasein a highly unsympathetic quest by contrast.
But another large pitfall of the hippie movement and why it did not succeed in becoming articulate in promulgating its organic motive of midtdasein, its profound importance, was that in an initial phase, at least, Being would move toward organic synthesis and against analysis - rebelling against the artificial divisions of analysis, whether the analysis facilitated by mere words or the more baroque analysis of academia and its traditions. Furthermore, males, especially in the disorder of modernity, tended not to be in the addressive position (how are you? can I have a date? Oh, I care about your feelings, why did he hurt you? etc.), a position that contributes to becoming articulate, a position that females occupy increasingly with the upshot of modernity, with the assumption that their intrinsic feelings and thoughts are worth consideration and worth more on the market - with incentive to maintain that increasingly competed for one up position through didactic incitement. Lacking that second person addressive position by contrast and incitement, males would tend to overcompensate, seeking stilted prosthesis in the detached third person position - e.g., a rock star to his audience.
This could result in a kind of estrangement, superficiality and naivete in the pursuit of authentic self actualization, particularly when pursued by alpha male musicians flouting education, "jive-talk" (as opposed to the basic talk), flouting the awkward sublimation, the nerdishness that is characteristic of a good part of authentic White male being. Again, this European soul, as it were, was distinct form the black power and civil rights movement which would view White organic variants as geeky White jive, lacking in the black man's "sou- ee oo - ee ou—- ooouwel - oou - ouwhel" and "in-teg-ritae."
Itchycoo Park: Over Bridges of Sighs.To rest my eyes in shades of green. Under Dreaming Spires. To Itchycoo Park, that's where I've been. What did you do there? - I got high. What did you feel there? - Well I cried. But why the tears there? - I'll tell you why - yyyyy. It's all too beautiful, It's all too beautiful. It's all too beautiful, It's all too beautiful. I feel inclined to blow my mind. Get hung up, feed the ducks with a bun. They all come out to groove about. Be nice and have fun. in the sun. I'll tell you what I'll do - What will you do? I'd like to go there now with you. You can miss out school. Won't that be cool. Why go to learn the words of fools? What will we do there? We'll get high. What will we touch there? We'll touch the sky. But why..
Because authentic White male being will manifest the quirkiness of our optimal sublimation, the appreciation of which is a part of our K selection strategy, its authentic expression was revealed in initial spontaneous, organic expression - that is essential to why this celebration of the weird was a part of hippiedom as well. Blacks, and R selectors generally, are not circumspect enough in their concerns to be weird in the flighty way that Whites are - blacks are cool and overly comfortable, at home in the world, their patterns are too old, stable, masculine and no-nonsensical to be weird in the White way. If sufficiently understood, the appreciation of this optimal White male sublimation would serve to gauge authentic praxis, between the Cartesian extremes of empirical myopia and abstract universalism. This median male sublimation, as opposed to over-confidence, gives us sufficient empathy and pause to spawn intellectual creativity. But within the inciting context of modernity, the pursuit of midtdasein for White males, was but a flicker that was extinguished when it was no longer required consolation against the absurdity of the Vietnam war.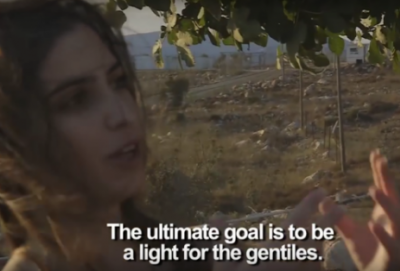 A Zeitgeist may be described in sober terms as the largely taken for granted (unconscious, hence "ghostly") logics of meaning and action comprising a moral order - the characteristic obligations, legitimacies and prohibitions constituting social paradigmatic parameters. I don't need to refer to the oft quoted statement by Voltaire to suggest that given our prevailing zeitgeist, even where the progenitors of a theory via academia or media are not themselves Jewish, that they have dared not lay blame in the hands of the Jews. To cite Jews, their religion and practices as explanatory of social problems has been strictly prohibited since World War II; media and academia having circled the wagons more fervently and thoroughgoingly than ever against heretics of the paradigm - the zeitgeist of Jews as sacred cow. Nevertheless, it has only been more strong a taboo since the western world viewed footage of Operation Reinhard's wake, and the Nazi mirroring of themselves as chosen, but it is not a new taboo. The Bible, Old and New Testament, has in fact been "the Jewish media" for 2,000 years, designating Jews as chosen (if not misguided), as having donated Christ, the savior of Gentiles, savior of all non-Jews, Whites included; and texts be known, has made taboo self interested defense and action for Gentiles, interposing and prescribing upon them instead an obsequious Golden Rule that the Jews themselves would not adhere to.
It is an observable Jewish strategy within this zeitgeist for their adherents to be granted "rights of display" as they might disseminate, via academia and media, a good deal of penetrating, truthful information; but in the end those rights of display are curtailed and attention deflected from just those parts of information where Jewish ways and means are shown responsible for negative social and genetic consequences for other peoples.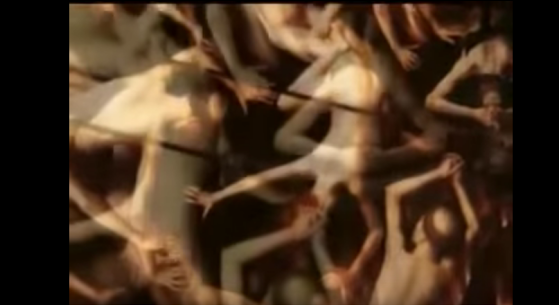 ..."but he loves you!"
Such is the case with Zeitgeist
- the 2007 film Zeitgeist; viz., its segment on religion. After setting out an array of fascinating information tracing sources of Judeo-Christian mythology to pagan roots - largely to Egyptian sun worship - there is, by segment's end, blame laid on the use of Christianity, by Roman leaders in particular, followed by a logical fallacy stealthily deployed: i.e., that all religions are mythologies used to cover-up the truth by those who know the truth and seek nefarious social rule by the obfuscating properties of religious mythos - all religions serve this purpose, therefore the Abrahamic religions generally and Judaism in particular should not be singled-out for special critique.
In fact, Christianity was not as much the means by which Roman leaders beginning with Constantine took power over the rest of Europe, so much as it was the means by which the Jews overthrew ancient Rome and ultimately, all of Western civilization - placing it all vaguely under the auspices of Noahide law - our Zeitgeist.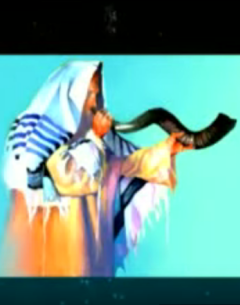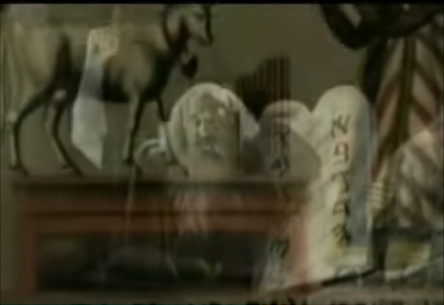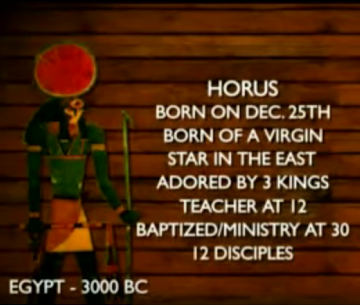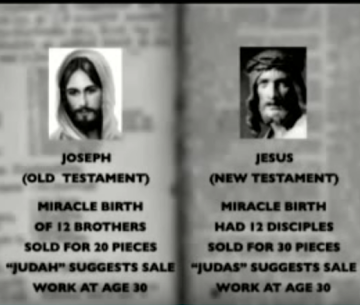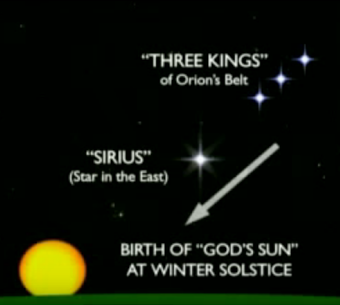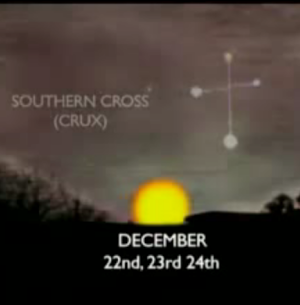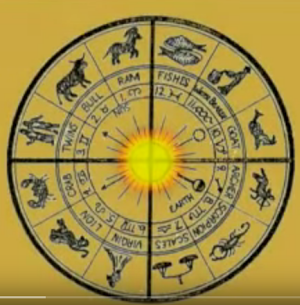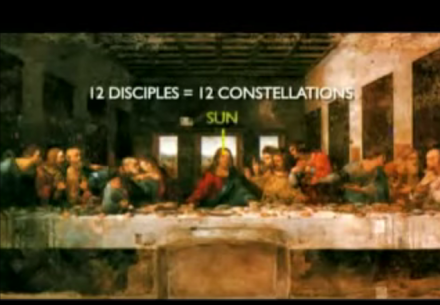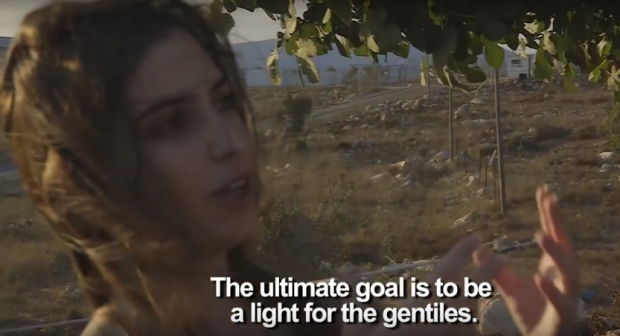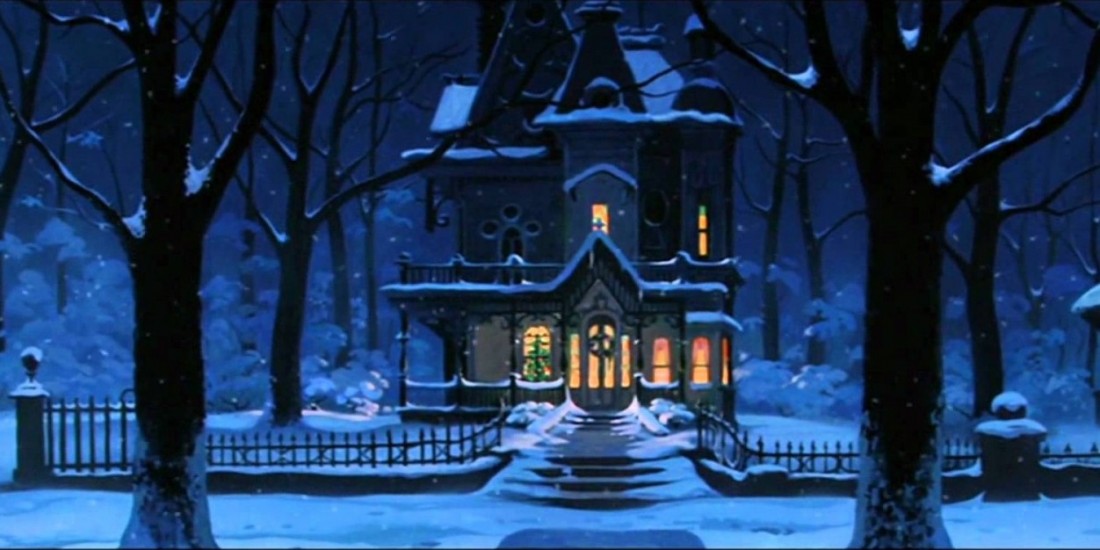 Victorian houses have something about them which speaks the home-iest of houses.
It was only upon gathering an entry for what is becoming a Majorityrights tradition at this time of year - "I Believe in Father Christmas" - that I learned belatedly of Greg Lake's passing. A handsome English lad, he also displayed his people's incisive thought - penetrating nefarious Jewish influence masquerading as innocence; and doing so at a time, 1975, when there was no popular tide to raise this political boat to defiantly sail despite inevitably incurring the stigma of "anti-Semitism;" with the danger attendant to that and of flying in the face of popular support from millennia of European consensus, sheepish acquiescence; the only support would have been what he could have plumbed from the truer depths of his native culture and intelligence.
BBC, 8 Dec 2016: Greg Lake, who fronted both King Crimson and Emerson, Lake and Palmer, has died aged 69.

He died on December 7th after "a long and stubborn battle with cancer", said his manager.

The news comes nine months after Lake's band-mate Keith Emerson died.


Keith Emerson, Greg Lake & Carl Palmer

One of the founding fathers of progressive rock, the British musician (Lake) is known for songs including In the Court of the Crimson King and his solo hit I Believe in Father Christmas.
Lyrics: I Believe in Father Christmas.

They said there'll be snow at Christmas
They said there'll be peace on Earth
But instead it just kept on raining
A veil of tears for the Virgin birth
I remember one Christmas morning
A winters light and a distant choir
And the peal of a bell and that Christmas Tree smell
And their eyes full of tinsel and fire

They sold me a dream of Christmas
They sold me a Silent Night
And they told me a fairy story
'Till I believed in the Israelite
And I believed in Father Christmas
And I looked TO the sky with excited eyes
'Till I woke with a yawn in the first light of dawn
And I saw him and through his disguise

I wish you a hopeful Christmas
I wish you a brave New Year
All anguish pain and sadness
Leave your heart and let your road be clear
They said there'll be snow at Christmas
They said there'll be peace on Earth
Hallelujah Noel be it Heaven or Hell
The Christmas we get we deserve.


Written by: Greg Lake, Peter John Sinfield, Serge Prokofieff
I present the following document for your perusal:
PR No. 298 PM TELEPHONES PRESIDENT-ELECT USA Islamabad: November 30, 2016 (emphasis added):

Prime Minister Muhammad Nawaz Sharif called President-elect USA Donald Trump and felicitated him on his victory. President Trump said, "Prime Minister Nawaz Sharif you have a very good reputation. You are a terrific guy. You are doing amazing work which is visible in every way. I am looking forward to see you soon. As I am talking to you Prime Minister, I feel I am talking to a person I have known for long. Your country is amazing with tremendous opportunities. Pakistanis are one of the most intelligent people. I am ready and willing to play any role that you want me to play to address and find solutions to the outstanding problems. It will be an honour and I will personally do it. Feel free to call me any time even before 20th January that is before I assume my office."

On being invited to visit Pakistan by the Prime Minister, Mr. Trump said that he would love to come to a fantastic country, fantastic place of fantastic people. Please convey to the Pakistani people that they are amazing and all Pakistanis I have known are exceptional people, said Mr. Donald Trump.
But back in 2011, Donald Trump tweeted the following:
Does he no longer believe this?
President-elect Trump says things which are often different than years-ago Twitter Trump. This is because one of these Trumps needs and desires the approval of the regular American people, whereas the other Trump has transcended the need for approval because he was elected.
Besides, it's not like this story I'm not showing you indicates that Israel covertly supports Pakistan or anything, and it's not like page 75 of a report I'm not showing you describes Afghan warlords who control vast resources or anything, and it could not possibly be the case that that an article I'm not showing you mentions how many of the Afghan warlords are actually linked to the Pakistani Inter-Services Intelligence and thus to the Pakistani Army or anything. So much information is just plainly present in public view, so much OSINT is everywhere, but who actually clicks on links to read anything? Plus, if many Americans are somehow unaware that Afghanistan has a 'border' with Turkmenistan, Uzbekistan, Tajikistan, China, India, Pakistan and Iran, then I suppose this entire thought process would not even occur to them.
Trump—the alleged 'white saviour'—would never continue to tolerate deeply defective arrangements just because they happen to be strategically good for the Israelis and Pakistanis, would he? His adoring fans are all screaming "no, never!" at their screens right now.

Oh, wait, he would do that, and it is going to be like that.
Although, if we heed the words of consistently-always-wrong people such as Andrew Anglin and the gaggle of idiots wearing red Trump-hats, perhaps they may be able to somehow convince us that Trump is actually playing 181 dimensional underwater jenga-chess?
Kumiko Oumae works in the defence and security sector in the UK. Her opinions here are entirely her own.