Majorityrights Central > Category: Business & Industry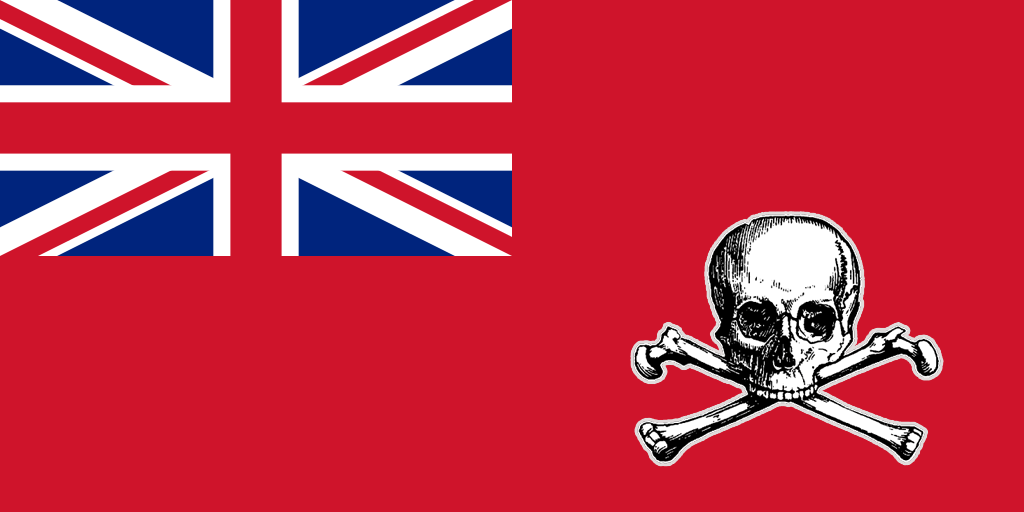 It's really great
Question. What's the difference between:
being a pirate running a multi-ethnic drug-ferrying operation to generate money which is kept off-the-books for the financing of covert operations,
being a mercenary who is paid to attack slave-ships and liberate slaves,
being a radically forward-deployed coastguard which defends the borders of Britain at the edge of someone else's shores on extended lines of supply, and
being a Knight Commander of the Order of the British Empire?
Trick question. They are all potentially the same thing, and that's what makes Britain great.
The only people in parliament who seem to have any understanding of this history however, are the people in Theresa May's wonderful cabinet.
Weaponised history
The difference in opinion between Amber Rudd and Justin Welby is very instructive:
ITV News, 'Home Secretary faces backlash in parliament for capping lone child refugees', 09 Feb 2017:

The Home Secretary faced a backlash in parliament after it was announced that the number of lone child refugees coming to the UK will be capped.

Amber Rudd insisted that the move to cap the scheme to just 350 children, far fewer than the 3,000 originally expected, closed to avoid encouraging people-traffickers.

Ministers quietly announced on Wednesday that 200 children had been brought in under the so-called Dubs Amendment and it will close after another 150 are settled in Britain.

[...]

Responding to the Commons, Rudd said: "I am clear that when working with my French counterparts, they do not want us to indefinitely continue to accept children under the Dubs Amendment because they specify, and I agree with them, that it acts as a draw. It acts as a pull.

"It encourages the people-traffickers."

She also suggested that local authority funding had come into the equation when deciding how many child refugees would be settled under the programme.

[...]

The Archbishop of Canterbury, Justin Welby said he was "saddened and shocked" to learn of the Government's decision to stop the scheme.

"Our country has a great history of welcoming those in need, particularly the most vulnerable, such as unaccompanied children," he said.

"Refugees, like all people, are treasured human beings made in the image of God who deserve safety, freedom and the opportunity to flourish."

He added: "We must resist and turn back the worrying trends we are seeing around the world, towards seeing the movement of desperate people as more of a threat to identity and security than an opportunity to do our duty.

"We cannot withdraw from our long and proud history of helping the most vulnerable."
The Home Secretary is correct, and the Archbishop of Canterbury is incorrect, as per usual, because Christianity is stupid and will make you become stupid.
The apparently long, proud history of British people 'helping the most vulnerable' in a scenario like the one that is presently unfolding in Syria, has only one historical precedent actually, and it is the historical precedent of the West Africa Squadron.
Philanthropic activities
The West Africa Squadron sprung out of the changing economic structural necessities in 1808 after Parliament passed the Slave Trade Act of 1807. The Squadron's mission was to suppress the Atlantic Slave Trade by attacking slave ships off the coast of West Africa.
Letters of Marque were also issued to allow private security contractors, also known as 'pirates', to act on behalf of the British government under 'false flags' to attack Spanish, French, Portuguese, Arab, and American slave ships within the same mission scope. A particularly iconic practice was to approach a contact while flying the British red ensign, and then run it down the flagpole at the last minute and elevate the black Skull and Bones flag in its place before attacking the contact. Under the Skull and Bones, it was possible to exist in a parallel legal reality where you could do anything to anyone without a care in the world. This also happens to be the essence of what Ernst Junger would later refer to as the 'dual state'.
The programme was later expanded by the 1840s to encompass North Africa, the Middle East, and the Indian Ocean, as Pax Britannica began to become entrenched across the major sea-lanes into the western hemisphere.
Notice how none of that involved inviting every single African into Britain. On the contrary, by taking the fight to the slave traders – both legally and extra-legally – it enabled the British to accomplish:
a great work of humanitarianism,
the pursuit of various geostrategic and geoeconomic objectives against Britain's rivals,
disincentivising the activities of the slave traders, and
the ability to simply hijack virtually any ship and steal it, with popular support.
As Cecil John Rhodes once said, "Pure philanthropy is very well in its way, but philanthropy plus five percent is a good deal better."
And really, it is, isn't it?
Anyone who doubts can simply contrast the premiership of Theresa May against the premiership of Angela Merkel. Which is faring better? Exactly. I rest my case.
Related Articles: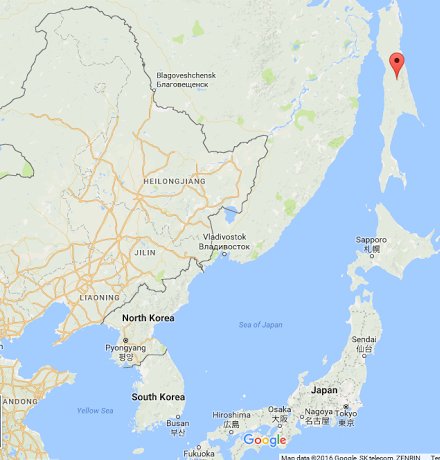 Trump appointed Putin cronie, Tillerson, Secretery of State to join in capture there,
Sakhalin
, of what would, should be Japan's natural and crucial resource
If Japan were in control of Sakhalin, an island to its north, and a logical extension of its homeland, its ethno-state, and if Japan and its closely related Asian relatives were in control of their native lands of Kamchatka and Eastern Siberia, not only would Japan and its Asian relatives be in rightful control of lands that are a natural part of their ethno-states; instead of these territories being of the vast imperial aggrandizement of The Russian Federation; but instead of The Russian Federation extending its practice of aggrandizement and parasitism of the resources of aggrandized territories, Japan would have the natural gas resource that goes with its rightful north island, which could largely solve immediate critical problems of its energy requirements - resources so urgently needed, alleviating options heretofore so limited by the territorial impingement, that it was forced to take extra risks with nuclear power precisely as it was deprived of traditional fossil fuel sources; but persevered in its characteristic self reliance to place the Fukushima nuclear reactor within its constrained and populated national territory despite that obviously being far from optimal. Disaster betrayed that pattern of self reliance while the imperialist parasitism of Putin's Russian Federation has been ramped-up with outrageous chutzpah, in alliance with Trump and Netanyahu - against Asian ethno-nationalism and its emerging alliances with European ethno-states.
Fortune, 'This Island Holds the Secret to Rex Tillerson and Vladimir Putin's Relationship', 14 Dec 2016:

If Vladimir Putin has a man crush on anyone in business, it's probably Rex Tillerson, the ExxonMobil chief executive Rex Tillerson Trump just nominated to head the State Department.
​
Aljazeera, 'New US state chief a perfect fit for Russia', 14 Dec 2016:

Friendship between Putin and Rex Tillerson dates back to 1990s when the Texas oilman established a US energy presence.
Fortune, 'This Island Holds the Secret to Rex Tillerson and Vladimir Putin's Relationship', 14 Dec 2016:

As to the reason why, all you need to do is look at Sakhalin, a windswept, earthquake-prone island off Russia's Pacific coast where temperatures can fluctuate 110 degrees throughout the year. It's this forbidding territory that Exxon (xom, -0.28%), under Tillerson, has turned into one of Russia's most lucrative oil provinces, affording Russia a crucial entry into the fast-growing oil markets of Asia, generating nearly $5 billion in tax dollars and other revenue for the government to date, and generally being, by Moscow's lights, a good corporate citizen.
Indeed, if Japan and its relatives native to the habitat of eastern Siberia were in control of territories reasonable for ethno-statism, as opposed to these territories being under the control of the Russian Federation's imperial aggrandizement, Japan and its close Asian relatives would have access to vital natural gas resources desperately needed, and could have/might still place any supplementary nuclear reactor projects in regions remote from human populations, essential habitat and tectonic fault lines.
From what I gather, The Russian Federation's economy is based on this unjust territorial aggrandizement, resource parasitism and its raw materials sales. This is in marked contrast to the strategy of the world's third largest economy—Japan—which builds its GNP through labor, manufacturing and technological innovation.
But it is not only Japan and natives of East Asia that the Jewy parasitism of The Russian Federation's aggrandizement impacts—it impacts all neighbors of its vast imperial overstep, an overstep of anything remotely like a Russian ethno-state. The Russian Federation and its forerunners have done so historically, it is doing so now, in a new Jewy alliance with Trump and Tillerson, and it will continue to do so, so long as the elephant in the room is not recognized: The Russian Federation is not an ethno-state!
It is an imperialist enterprise aligned against our necessary Asian ethno-nationalist allies. We need ethno-nationalist alliance with our Chinese, South Korean and Japanese counterparts against Islam and against Israel. The Trumpist alternative is the opposite, it is an objectivist, civic "nationalist" alliance of a Jewed-up USA, a Jewed-up Russia, Israel and whatever Muslim compradors they can enlist to suppress ethno-national rebellion against their imperial supremacism. Their ostensible solution to the problem of "radical Islam" is nothing more than the old "solution" phase, a "solution" for the reaction to a problem that they created.
The Intercept, 'Rex Tillerson's Exxon Mobil Frequently Sought State Department Assistance, New Documents Show', 17 Jan 2017:

A February 2009 cable published by Wikileaks shows Exxon Mobil asking then-U.S. Ambassador to Russia John Beyrle to intervene on its behalf and speak to the Russian government about its then-stalled offshore drilling project in a major oil and gas field to the east of Russia called Sakhalin.

"Exxon Mobil [officials] told the Ambassador on January 31 that GOR [Government of Russia] refusal to approve project budgets has halted development of new Sakhalin 1 fields," reads the cable. Kremlin officials, perhaps motivated by anti-American sentiment, were blocking approval of a budget needed to move forward with the project until a Russian entity took control of 51 percent of the deal.

Exxon Mobil officials hoped that the incoming Obama administration could persuade the Russians to change course on the project. The president of Exxon Mobil's Russian operation and its Sakhalin project manager "told the Ambassador they believed a warming of U.S.-Russian relations could help reverse the refusal to approve the Sakhalin 1 budget," and "asked the Ambassador for USG support in pressing the GOR to act on the matter."

In May 2009, the Sakhalin 1 consortium agreed to sell 20 percent of the gas extracted from the field to Russia's state-owned company Gazprom, and production continued.

Other cables released by Wikileaks suggest Exxon Mobil pushed for better U.S.-Russia relations to advance its business interests.

One 2007 cable noted that Russian-based executives of Exxon Mobil and other U.S. firms met with Under Secretary of State Reuben Jeffery III in Moscow and argued that "the best way to engage Russia and enhance global energy security is to focus on positive dialogue geared towards helping Russia improve its oil and gas investment climate." Russia, the oil firms noted, "is about to embark on a new era of oil and gas development in areas (East Siberia and Arctic regions) that cannot be exploited without Western technologies and expertise."

Tillerson's ties to Russia — which center around the joint venture he signed in 2011 as the CEO of Exxon Mobil with Russian state-owned company Rosneft to drill for oil on the Arctic shelf — have been a source of controversy. After the signing, Tillerson was presented with an "Order of Friendship" award from Russian President Vladimir Putin.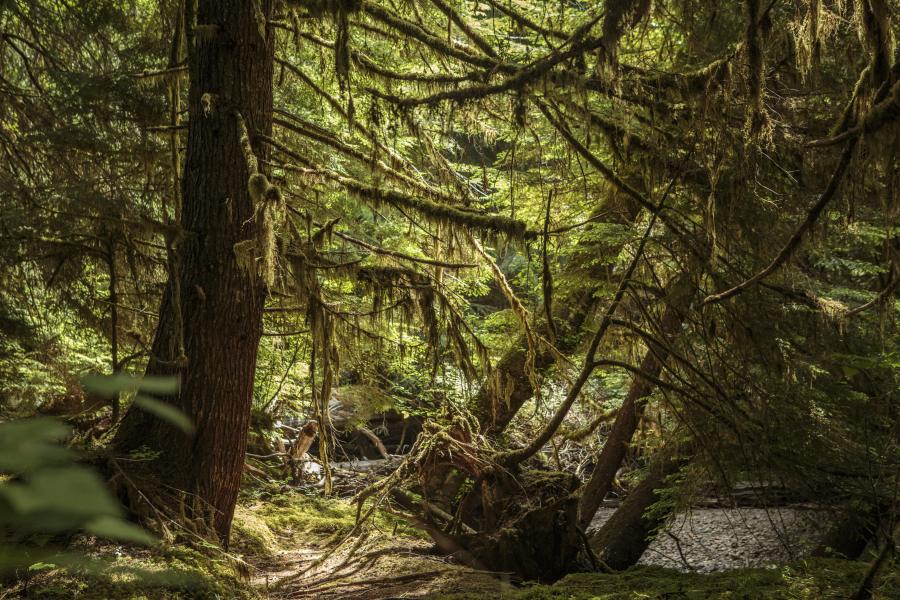 This nonsense has got to stop.
#Earth2Trump

Join the Resistance to Trump's Attack on Our Environment and Civil Rights

The #Earth2Trump Roadshow is coming — or has already come — to a town near you this month.

The roadshow is rallying and empowering defenders of civil rights and the environment to resist Trump's dangerous agenda. Stopping in 16 cities on its way to D.C., it's bringing thousands of people to protest at the presidential inauguration.

Having kicked off in Oakland and Seattle on Jan. 2, the #Earth2Trump Roadshow is touring the country bringing speakers, musicians, outrage, fun and hope to a total of 16 cities as it progresses toward the presidential inauguration on Jan. 20.

The free shows feature national and local speakers, great musicians, and an opportunity to join a growing movement of resistance to all forms of oppression and all attacks on our environment. We must stand and oppose every Trump policy that hurts wildlife; poisons our air and water; destroys our climate; promotes racism, misogyny or homophobia; and marginalizes entire segments of our society.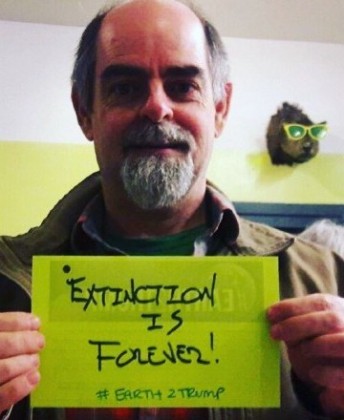 That includes White people and our species too, baldy. We are not Trump.
Trump does not represent White people, our best interests, nor our best relation to environment and others.
Brackets have been co-opting, along with their liberal trainees, issues of environmental and species diversity as if it is their cause and then militating against "racism" as if Europeans are not a species with habitat, as if discrimination against more prolific breeders and antagonistic species who encroach is not an essential capacity to maintain speciation and habitat sustainability; the liberals here also tuck a campaign against "misogyny" into their environmentalism, as if females should bear no critique on behalf of human ecology? As if hatred of men, White men, has not been open season for over 60 years now, and doesn't warrant a response?
To allow our cause of European advocacy to be associated with right-wing destruction of human and natural ecology is no longer acceptable. Nor is it for the brackets to continually associate their liberal political causes with environmentalism and biodiversity.
We can give credit where credit is due to those living ecologically - e.g., a native American tribe living with the environment - great.
We can call to account our right-wingers and liberals where they are not living ecologically, where international capital, industrial, consumer society, liberal universalism impact ourselves and others deleteriously: a key difference of White Post Modernity is that unlike Modernity, it does not merely stop when it is forced to stop by nature. It recognizes internal relation, limits and differences that make a difference. It has a deliberate stance in that regard from the onset. Unlike the mono-culturalism of primitive groups and the universalim of liberal modernist societies, White Post Modernity recognizes the delimitations of pervasive ecology and reflexive effects in internal relation from the start....including instances where liberals and brackets try use "environmentalism" to prevent more developed countries from assisting growing ethnostates - and vis a versa, where they obstruct those growing ethno-states from cooperating with more developed nations in their contraction into ethno-states.
But we also need to be critical where criticism is due, not only of females, delicate and sensitive creatures though they are, not only of White right-wingers who screw-up the issue of ecology, in one way or another, where they try to deal with it, or where they're downright antagonistic, but where racial groups impact the rest of the world.
Right wingers, liberals and their bracket masters are going to have to recognize that their "anti-racism" thing is a fundamental scourge against necessary human classification - which is requisite for accountability and necessary discrimination on behalf of human ecology, thus ultimately, all ecology.



German Council of Economic Experts: 5 "wise men" entrusted to render reports that Merkel and the German government can and have used to justify the mass introduction of aliens upon the European habitat, the ensuing replacement of the German, and finally the European genome.
Wikipedia, 'German Council of Economic Experts':

The Council has five members which are nominated by the federal government and appointed by the president of Germany.

In the media, the council is often referred to as the Five Sages of Economy ("Fünf Wirtschaftsweisen"), or the "wise men":

Christoph M. Schmidt (since March 2009, and since March 2013 chairman)
Peter Bofinger (since March 2004)
Lars Feld (since March 2011)
Isabel Schnabel (since March 2014)
Volker Wieland (since March 2013)
These five "wise men" have Angela Merkel's ear and confidence - they've been appointed with her approval and their reports to her are being used to try to explain and justify the waves of migrants being imposed upon Germany and Europe -
Ibid:

Every year the Council prepares an annual report which is published before or by November 15.
German Council of Economic Experts, Annual Report 2016/17 -

INFLUX OF REFUGEES: INTEGRATION AS A KEY CHALLENGE:

Asylum-related immigration to Germany dominated the economic and socio-political debate from autumn 2015 to spring '16.

Highlights in criticism of the analysis:
1. The council takes a comparative basis of what was required to integrate East German and Balkan "asylum seekers"—integration meaning that it took about 20 years for them to be generally gainfully employed—and attempts to project how long similar integration would take of the Middle Eastern and North African "asylum seekers".
2. Taking in such factors as education and German language acquisition it concludes that by the year 2080 there would be no economic loss to the German social security system—there would be no economic gain either: the analysis fails to point out that the effort is pointless from an economic standpoint even IF there are no problems resulting from the introduction of vast numbers of non-European peoples into Germany other than the factors cited in the analysis—that is to say, they have not, for example, taken into account the cost of terrorism, terrorism prevention, strains on infrastructure and genetic reaction from German/European peoples. Even if there were no terrorist acts to come or to prepare for, even if there was not European racial backlash, at best, by 2080 the program would be an economic wash.
3. The variables that they take into account to factor as a difference from the task of integrating prior (European) "asylum" seekers as compared to the present mass of Middle Eastern "asylum" seekers are the capacity to learn German language - i.e., well enough to function in gainful employment, and the ability of the "asylum" seekers to support themselves financially. 91% of applicants since the migration crisis began have been given a temporary residence permit. To get a permanent residence permit after three years, an "asylum" seeker must demonstrate proficiency the German language (language level C1) and earn their living independently. A permanent residence permit after five years may be granted if a seeker can demonstrate at least level A2 knowledge of German and can at least partially earn their living. Once granted a residence permit a person also is a German citizen and as such has the right to go anywhere within the EU.
4. It is not only acknowledged that 70% of "asylum seekers" are male and under 30, it is strongly implied that this is a feature and not a problem, because they are more accustomed to work than females of their Islamic culture.
5. The capitalist motive for bringing in these "laborers" is bereft of intelligence, because they are intending to build an anachronistic industrial model—i.e., more unskilled labor and less development of robotics. Furthermore, again, as their presence is at best an economic wash with regards to social security by the year 2080—even IF they do turn out to be dutiful workers right along—the frequently-heard argument that they are necessary to fund pensioners is bereft.
And none of this takes into account the genetic destruction of Germans and the implication for the destruction the European genome as these "asylum seekers" would be "integrated" over the next 60 years.

See also: Already 40% of German residents under age five are of migrant background.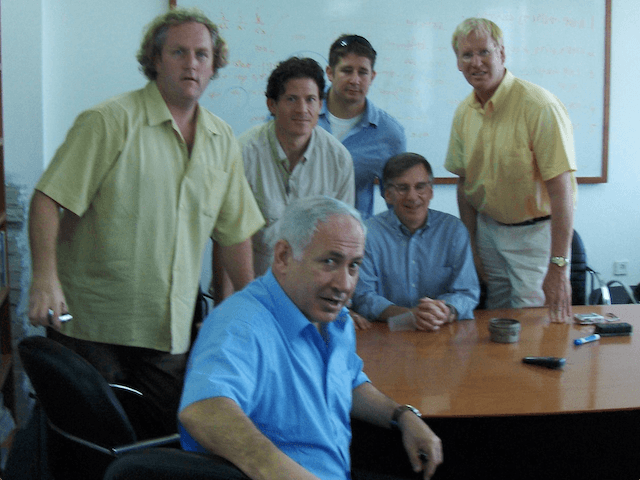 Guess which group of people the Americans got played by this time? The usual. Israel. Yet again!
We time travel to 'discover' the horrifying truth which is that those two tendencies—Alt-Right and Alt-Lite—are actually one and the same.
Looking at what white people 'accomplished' through the American election, it's possible to give a general assessment of the present state of play. Being Asian confers on me a certain kind of critical distance from the whole situation, which I will leverage to maximum effect now.
Huwhite Americans cast ballots for Donald Trump when the choice was placed in front of them, and in doing so they delivered a stinging slap to the faces of the supposedly shadowy circle of Vietnamese rice-farmers, Laotian basket-weavers, Chinese assembly-line workers, Mexican auto technicians and Guatemalan strawberry growers who have been manipulating the world from behind the scenes through the nefarious but curiously honest-looking work that they do with their hands. Or something.
There's no word yet on whether supposedly 'awakened' ballot-casting huwhite Americans will ever take a rest from attacking Asian and Hispanic working people for a single moment in history, nor is there any word as to whether huwhite Americans will get around to perhaps attenuating the power of the Jewish-American advocacy groups which are operating in America.
So far, Donald Trump has been pretty chaotic and disordered in the assembly of his transition team, but these are some of the effects observed so far:
And that's not even half of it. The next four years will involve all of that and more, in overdrive.
Story Time
While all of that is going on, white American racial advocates are crowing about how 'the neocons were stopped'. Alt-Right triumphalism seems to be presently centred around the celebration of the alleged defeat of 'the neocons' which was supposedly effected through the electoral victory of Trump.
If you were to listen uncritically to Kevin MacDonald, you'd think that this had occurred:
Occidental Observer, 'An Historic, Quite Possibly Revolutionary Victory!', 09 Nov 2016:

[...] Trump accomplished a hostile takeover of the Republican Party and won without the support or with only lukewarm and vacillating support from much of the GOP elite.

[...]

Trump has unmasked the neocons. The neocons have dominated the intellectual and foreign policy establishment of the Republican Party since the 1980s. [...] I would be shocked if neocons were given any role in the GOP.
Norman Podhoretz disagrees with Kevin MacDonald, however:
Times of Israel, 'Norman Podhoretz, the last remaining 'anti-anti Trump' neoconservative', 07 Sep 2016 (emphasis added)

[...] "Many of the younger — they're not so young anymore — neoconservatives have gone over to the Never Trump movement. And they are extremely angry with anybody who doesn't share their view," he recently told The Times of Israel. "But I describe myself as anti-anti Trump. While I have no great admiration for him, to put it mildly, I think she's worse. Between the two, he's the lesser evil."

In a wide-ranging phone interview last week, the former longtime editor of Commentary magazine discussed what he thinks of the race and its implications for Israel. A critic of the Clintons since they gained national prominence decades ago, Podhoretz said the former secretary of state's role in creating the conditions for the Iran nuclear deal is itself enough reason to support her rival.

[...]

"I once said that Trump is Pat Buchanan without the anti-Semitism," he said. "By that, I meant that he seemed to be a nativist, an isolationist, and a protectionist. Those are sort of the three pillars of the Buchanan political creed. But whereas Buchanan really believes that stuff, I don't think Trump does. I think he's perfectly capable of turning on a dime on each one of those issues."

Because Trump's son-in-law, Jared Kushner, is an Orthodox Jew and his daughter, Ivanka, converted, he said Trump would likely be "predisposed" toward sympathy with Israel. "But again, I'm not saying I would confidently predict what he would do as president," he added. "I only have a sort of hunch." [...]
Meanwhile, Mike Pence is going to be Vice President, and it's worth remembering that he said this in 2011:
CSPAN, 'U.S. Foreign Policy Priorities', 01 Mar 2011 (emphasis added):

MIKE PENCE: Thank you, Chairman. I want to thank the Secretary of State [Hillary Clinton] for her testimony and for her service to the country. It is good to see you back before the committee. I also want to thank you specifically for the efforts by the administration and your offices to further isolate Libya during a time of extraordinary tragedy in the streets, tragedy of which I think we are probably only partially aware. I want to continue to encourage and urge the administration to stand with those that are standing in that now-bifurcated country to use all means at our disposal to provide support and certainly associate myself with Mr. Royce's comments about isolating radio communications and would express appreciation for your efforts at Geneva and elsewhere to facilitate a coordinated international response, including a no-fly zone. Qadhafi must go. I am grateful to hear the Secretary of State and the administration take that position unambiguously.
Some readers may be expressing surprise. "What, you remembered that?" Yes, I remember it, because I have a memory—especially when it comes to war—that goes back more than four and a half seconds. Donald Trump also supported intervention in Libya and then turned around afterwards and pretended that he didn't.
Steven K. Bannon is on the transition team, and he also manages Breitbart. This Breitbart here:
Breitbart / Larry Solov, 'Breitbart News Network: Born In The USA, Conceived In Israel', 17 Nov 2015 (emphasis added):

A lot of people don't realize this but Breitbart News Network really got its start in Jerusalem. It was the summer of 2007, and Andrew had been invited to tour Israel as part of a media junket. I agreed to tag along as his lawyer and best friend. What neither of us knew at the time was that the trip would change our lives and give us the inspiration for Breitbart News Network.

One night in Jerusalem, when we were getting ready for dinner, Andrew turned to me and asked if I would de-partner from the 800-person law firm where I was practicing and become business partners with him. He said he needed my help to create a media company. He needed my help to "change the world."

Perhaps it was because we were in such an historic place, or because I was energized by the courage of the Jewish people in the Holy Land, or maybe it was the alcohol at cocktail hour, but I said "yes."

We were blown away by the spirit, tenacity, and resourcefulness of the Israeli people on that trip. Andrew could be quite convincing, not to mention inspiring, and I decided right there and then to "throw away" (my Mom's phrase) a perfectly good, successful and safe career in order to start a "new media" company with Andrew Breitbart out of his basement and my home office.

From that humble beginning grew Breitbart News Network.

One thing we specifically discussed that night was our desire to start a site that would be unapologetically pro-freedom and pro-Israel. We were sick of the anti- Israel bias of the mainstream media and J-Street. By launching Breitbart Jerusalem, the journey comes full circle and a promise between two friends is fulfilled. And in a very real sense, Breitbart News Network returns to its roots.

Larry Solov is President and CEO of Breitbart News Network.
Kevin MacDonald himself effectively advertises the fact that he knows that Steven K. Bannon is not anti-semitic in the slightest, by having Marcus Alethia write it on the very same site—the Occidental Observer—which he is the editor of:
Occidental Observer / Marcus Alethia Ph.D., 'Anti-Semitism as Political Assassination: The Smearing of Steve Bannon', 15 Nov 2016 (emphasis added):

The corporate media would have us believe that President-Elect Trump's newly appointed Chief Strategist and Senior Counselor Stephen K Bannon is a raging anti-Semite, and "white supremacist." Though best known now for his role in the Trump campaign, Bannon is a former US Naval officer, Goldman Sachs banker, director of Earth-science research at Biosphere 2, film producer, and chairman of Breitbart News. Over the last 24 hours he has been subjected to a well-orchestrated crescendo of op-eds and tweets attacking his character and political views.

[...] The media know that the charge of anti-Semitism is tremendously damaging. If they get away with using this on Bannon, I fear they will continue using it towards many others associated with the Trump administration. They go low. Period.

The fact that this is a smear without foundation seem obvious from statements made by Jewish friends and associates of Bannon. Former Breitbart reporter Ben Shapiro left the news site after a falling out with Bannon, and there is no love lost between the two. Yet he writes, "I have no evidence that Bannon's a racist or that he's an anti-Semite." David Horowitz states that the accusation is completely without foundation. Milo Yiannopoulos, one of Breitbart's main writers, wrote many of the headlines Bannon is currently under fire for, and he's half Jewish. Orthodox Jew Joel Pollack, Breitbart staff writer, states "Steve is a friend of the Jewish people and a defender of Israel, as well as being a passionate American patriot and a great leader," and he goes on to say that not only is Bannon not anti-Semitic, "if anything, he is overly sensitive about it, and often takes offense on Jews' behalf." [...]
I could go on listing examples of egregious pro-Israel signs within the Trump transition team indefinitely, but I won't. I've made my point there.
There is also some sad comedy to be found in the fact that here I am penning this article in which I attack Steven Bannon on the basis that he is too friendly to Israel, and then I look on Occidental Observer and find them running an article that is literally written by a Zionist who is defending Bannon from the charge of anti-semitism. Well, okay!
Get into the Delorean
The next thing that I want to do is show that contrary to the opinion of those who think that the 'Alt-Lite', is a watered-down version of the 'Alt-Right' on the subject of Israel and Jewish advocacy groups, the real truth is that the 'Alt-Lite' was what the 'Alt-Right' really was all along.
How do I know this? I know it by time-travelling to the year 2010, and 'rediscovering' that the Alt-Right's active compromise with Jews was actually on the agenda all along, because the present situation is a hypothetical that Kevin MacDonald and Steve Sailer had already entertained back then. They indicated that they would accept it if it should ever happen to manifest in front of them.
See here:
VDARE / Steve Sailer, 'Norman Podhoretz's Why Are Jews Liberal? Not Good Enough', 25 Oct 2009 (emphasis added):

[...]

As I noted in my VDARE.COM article The Cuban Compromise, Jews, like Cubans, have earned the right to special privileges due to their political power. Just as Cuban exiles have controlled American foreign policy toward Cuba and won their relatives unique status as refugees rather than immigrants, America can afford to let Israel push around the Palestinians because it pleases a domestic bloc.

And, in the unlikely event of something terrible happening to the Jewish state, we would no doubt grant refugee status to Israeli Jews.

But what America can`t continue to afford is the pervasive unrealism imposed by the current code of silence about Jewish power and interests.

Thus Jewish demonization of immigration reform patriots appears to have two motivations:

A reasonable concern about Israelis, which can be assuaged by special accommodations
An unreasonable form of ancestor worship, which couldn`t survive satire, but is protected by the current taboos

And this demonization is the single most important reason that America's immigration disaster is still above criticism, long after it has become obvious that it is a disaster, and despite the fact that an overwhelming number of Americans are strongly opposed to it.

Jews will do fine when they compete openly in the marketplace of ideas. They don't have to rig the market as well.
Of course, the compromise that Sailer is willing to make does not only involve Palestine, but actually involves doing just about anything for Israel on command, since Israel's security concerns certainly do not extend only to cover Palestine.
What do I mean by this?
I'll quote Kevin MacDonald to illustrate the American position even more clearly:
Occidental Observer / Kevin MacDonald, 'Lawrence Auster Gets Unhinged', 23 Apr 2010 (emphasis added):

[...]

I am perfectly happy for Jews to live where they want. I just wish they would not continue to oppose the interests of people like me. Obviously, in saying this, I am implying that I don't believe in genetic determinism in the area of political choices. It is within the power of Jews to change their political behavior. In fact, rather than behaving like mindless robots acting out of a genetic imperative, Jews have always been flexibly responsive to historical contingencies, and this agrees with everything we know about human psychology.

It really doesn't matter if groups with little power and influence oppose the interests of White Americans. But it matters greatly if a substantial component of the elite in terms of wealth as well as political power and media influence opposes our interests and brings to economic ruin and political oblivion anyone (Jew or non-Jew) who comes to our defense.

Nor do I have any conceptual problem with Jews living in Israel. As I wrote in my previous comments on Auster, I would be willing to make a quid pro quo with the organized Jewish community: If you support white ethno-nationalism in the US and provide intensive, effective support for ending and reversing the immigration policy of recent decades (i.e., something approaching the support you presently provide Israel), I would be willing to go to the wall to support Jewish ethno-nationalism in Israel, even at substantial cost for the US.
The election of Donald Trump and his transitional team, could be an example of the kind of 'quid pro quo' which MacDonald might have been describing in 2010. Other than mental retardation, that's the only other logical explanation for why MacDonald and large sections of the Alt-Right are actually celebrating the rise of Donald Trump.
Supporting Jewish ethno-nationalism in Israel also has ramifications such as being compelled to defend Israel from whatever threats Jewish advocacy groups perceive as emanating from Syria. Views which look like they are parodies of themselves, end up being taken seriously:
The Algemeiner, 'Israeli Officials: We'd Prefer Al-Qaeda-Run Syria to an Assad Victory', 04 Jun 2013 (emphasis added):

Israeli officials are voicing their concern over Bashar al-Assad's recent advances in his country's civil war, Israeli Army Radio reported.

According to Israel Hayom, senior Israeli officials were quoted as saying that "al-Qaeda control over Syria would be preferable to a victory by Assad over the rebels."

Officials believe that an Assad victory would strengthen Iran, as a weakened Syrian regime would become more reliant on the Islamic Republic. The Iran-Hezbollah-Syria axis would thus become an even greater threat to Israel, the officials said.

"Assad is now Iran," the officials said, according to Israel Hayom. "Any of these [Al-Qaeda] groups would be less problematic for Israel than an Assad regime that is a puppet of Iran," the officials were quoted as saying.
Would Kevin MacDonald be willing to 'go' to that particular 'wall' to support Jewish ethno-nationalism in Israel, if organised Jewish advocacy groups are willing to ease the process of mass deportations and the construction of a border structure between the United States and Mexico? Is Kevin MacDonald willing to literally invade Syria and ramp up the involvement of the US Army in Central Asia before also going kinetic against Iran, in exchange for Jewish-Americans in the American media lending their tacit support to a crackdown against Hispanics?
That seems to be the actual substance of the frankly squalid 'quid pro quo' that MacDonald is willing to make if it's applied to the situation in 2016.
But there's more:
PJ Media / David P. Goldman, 'Trump is the Best Thing That Has Happened to Israel in Years', 14 Nov 2016 (emphasis added):

[...] The Establishment is floored and flummoxed. It doesn't understand what it did wrong, it doesn't understand why it has been evicted from power, and it can only explain its miserable situation as the consequence of an evil conspiracy. In short, the Establishment is having a paranoid tantrum, compounding its humiliation with a public meltdown. Sadly, that includes liberal Jews.

Trump's election is the best thing that has happened to Israel in many years. It eliminates the risk of a diplomatic stab in the back at the Security Council and sends a dire warning to Iran, the only real existential threat to the Jewish State. The security of the Jewish people in their homeland is vastly enhanced by the vote on November 8, and Jews everywhere should thank God that the head of state of the world's most powerful country is a friend of Israel with Jewish grandchildren. Instead of slanders, Jews should offer up prayers of Thanksgiving.
Oh. Well, that's awkward for the Alt-Right. I guess the confusion has arisen from the fact that liberals and Jewish advocacy groups had been seeing Donald Trump surrounded by throngs of white nationalists—some of whom professed to be anti-semitic—and so the Jewish advocacy groups began to assume that that where there is smoke, there is fire. Wrong assumption.
Little did the liberals and Jewish advocacy groups know that in fact American white nationalists—some of whom professed to be anti-semitic—actually supported and voted for the single most pro-Jewish candidate in the history of the United States, and they did this in order to spite Hispanics and Asians who had nothing to do with anything.
In other words, American white nationalists basically clowned themselves, for tariffs and the promise of a border wall.
Art of the Possible?
I couldn't end this article without talking about what is practical, so here it is. The most comprehensive course of action would have been to build a movement from the ground up which was capable of addressing the issues that needed to be addressed without also scaring people away. I previously talked about what that could look like in the most basic sense here:
Majorityrights.com / Kumiko Oumae, 'Donald Trump stares into the abyss in Iowa as it stares into him. And also you.', 31 Jan 2016 (emphasis added):
[...] It is said that economic power precedes political power. Where does economic power come from? Not strictly from an abundance of wealth, but rather, from controlled scarcity. For example, if I had control of all water in a country, my power over its governance would be unrivalled. But if everyone could create disparate water-fountains everywhere without my permission, then my power would vanish almost immediately. The same logic applies to political movements, if they are to have any power in the material world at all, then they have to be able to make credible bargains [and threats].

In the context of American ethno-nationalist movement figures who claim to appreciate the merits of National Socialism or some variant of it, which kind of economic power should they be aiming to control? They should be aiming to control the one thing which is in abundance everywhere. The people's labour power. Most people in the United States have only their labour power that they can either choose to give to an employer or withhold from an employer, and any movement that were to gain the ability to switch labour on or off at will and at mass, would be one of the most powerful lobbies in the United States. Given that labour union density in the United States hovers around a pathetic figure like 10%, it is not like there is much competition in that realm from the liberals or anyone else.

Despite this, year after year Americans do nothing other than wait for the next white saviour to descend and save them, while paradoxically festooning their websites with the symbols of a labour movement that actually emerged as a 'workers party' from the ground up and not from the top down. [...]
However, Americans are apparently too lazy to take a national syndicalist path, so that didn't happen and of course isn't happening. In fact, it's unlikely to ever happen, because the specific social and economic conditions in the US almost guarantee that it won't happen.
The only option besides that would be to have ironically just let Hillary Clinton win, when the competition between Trump and Hillary manifested. If Hillary Clinton had won, everything would continue on as it has been going since 2008 except with the added bonus of there being maximum legislative gridlock. A multiplicity of lobbyists all competing for attention in a frenetic circle of Clinton Foundation connections that span every sector and every ethnic group across the globe would have also been present, which would have at least provided a somewhat open doorway for various divergent interests to push on the ship of state and potentially alter its trajectory. Maybe.
Hillary Clinton was frequently derided as basically an influence-peddling whore, and she is indeed that. But I have always said that a multifaceted whore should be preferred over a monogamously pro-Israel candidate. Clinton was also the more predictable of the two candidates because everyone had read all of her emails, and most alphabet agencies in Europe and Asia had basically mapped out all of the relationships she had in the digital realm.
With the election of Donald Trump, all of the multifacetedness goes away, and there is a total consolidation of Jewish-American lobby power behind Trump which is not structurally mitigated in any way whatsoever. The learning curve for dealing with him is also steeper. Israel is the only power that has a head start on lobbying him. Furthermore, Trump will have the power to act as a Republican president with a Republican Senate, a Republican House of Representatives, and mostly Republican state legislatures across the United States.
Objectively speaking, if the Alt-Right's professed intent was to decrease the potential power of Jewish advocacy groups in the United States, the world is about to discover in January 2017 that the Alt-Right have actually accomplished the exact opposite of that as a result of bringing about the election of Donald Trump.
Does this seem complicated?
Zionists have commented in the past that 'none of this this was seamless':
Commentary Magazine / Tevi Troy, 'How the GOP went Zionist', 01 Dec 2015 (emphasis added):

[...] For the first 45 years of Israel's existence, the Republican Party was deeply divided when it came to the Middle East. Powerful forces inside the GOP had long been at best uncomfortable with Israel and at worst openly hostile. Those forces included big businessmen and oilmen with deep connections and interests in Arab lands and so-called foreign-policy realists who did not see why the U.S. should maintain a special relationship with a tiny, economically negligible country surrounded by 22 Arab nations that wished it would disappear.

[...]

Following Reagan's lead and influenced by the neoconservatives who had gravitated to the GOP, pro-Israel voices became more confident in expressing their view of the ties that bound the United States and the Jewish state—the same monotheistic roots, which disposed them to an appreciation for human dignity and self-determination, and a shared belief in a covenantal founding of both nations. This view helped the GOP establish an ideological framework for foreign policy beyond the binary question of Communist versus anti-Communist.

None of this was seamless. Reagan was succeeded by George H.W. Bush, himself quite literally a Country Club Republican and oilman by birth and occupation and a foreign-policy realist by disposition. He famously complained about the Israel lobby, saying ludicrously that he, the president, was "one lonely guy" up against "some powerful political forces" made up of "a thousand lobbyists on the Hill." His secretary of state, James Baker, was even worse, earning the wrong kind of immortality with his line, "F— the Jews, they don't vote for us anyway." Even as these attacks were going on, there were signs that Bush had already become an anachronism in a rapidly changing world—most notably the fact that the Baker line was leaked to the press by his disgusted fellow cabinet secretary Jack Kemp, a key figure in remaking the party as pro-Israel.
If some people were lazy and just wanted to work within the GOP system against Jewish lobby groups, it would have been at least more logical to have tried to rehabilitate the 'Texan faction', also known as the Anglo-Saxon Country Club Republicans and oilmen (popular plebeian misconceptions about their role aside). Those kinds of networks would be the most likely places to find ways to subtly reorient the direction of the United States, or at least to slow down the present direction.
Incomprehensibly, the Alt-Right instead chose to use the power of memetics amplified by Russian Active Measures, to stand themselves squarely behind a German real estate developer from the Northeast of the United States whose family has literally married into Jewish blood. Trump then won the GOP primary.
The Alt-Right emerged onto the scene and found that Jewish advocacy groups were very influential already, and they have now—absurdly—taken actions which have only enhanced the influence of those advocacy groups even more.
People often council against playing within the system. Not only did the Alt-Right choose to play within the system despite being warned about the hazards involved anyway, they also did so in the most incompetent way possible. Whatever the ultra-Zionist Trump administration does in the next eight (yes, eight) years will be placed definitively on the Alt-Right's epitaph because they championed him all the way into the Oval Office, and Trump's legacy—which is going to be awful when viewed from any possible angle—will be forever associated with that designation. Anyone who doubts this, only needs to look at the Wikipedia article for 'Alt-Right' and take note of how much ideological garbage has piled up there. It's about as coherent as one of Trump's speeches when it's taken at face value.
Conclusion
Contrary to popular understanding, the 'Alt-Lite' is not a watered down variant of the 'Alt-Right', rather, the 'Alt-Lite' is the actual manifest reality which is revealed in plain view once the 'Alt-Right' text is subjected to symptomatic reading and everyone is confronted with its blank spots, confronted with what it must repress to organise itself in practice, to preserve its rhetorical consistency and its allegedly anti-semitic narrative.
The 'Alt-Right' should be understood as an ongoing storytelling session which allows an objectively pro-semitic pro-American outcome in practice, to be represented back to the followers as the opposite of what it actually is. The 'Alt-Right' is always and permanently in a pseudo-battle against the 'Alt-Lite' reality it creates, and it maintains its cohesion in the social media space through the attestation of the adherent to the 'purity' of 'really being anti-semitic' despite this. As such, there is 'always more work to be done'.
Adherents are consumed in the process of always trying to verbally 'purify' their intentions but never actually accomplishing their stated objectives, because they are in fact standing in the middle of the swamp without any actual socioeconomic plan for how to drain that swamp.
Kumiko Oumae works in the defence and security sector in the UK. Her opinions here are entirely her own.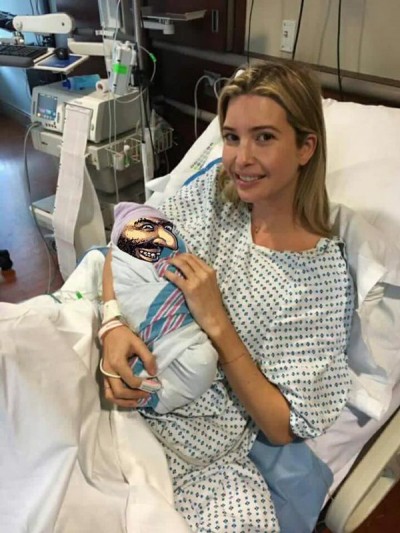 The Alt-Right/Alt-Left has given birth to "new" (((White))) leadership.
"And this will be a sign for you: You will find a baby wrapped in strips of cloth and lying in a feeding trough."—Luke 2:12 (ISV)
State of the art Jewish agenda - how it looks at this point vis-a-vis Trump:
At this point it is evident that top echelon of Jewish interests have come to recognize that they and their race mixing agenda are so far ahead that they've decided to get good with the White right-wing, to blend with and steer their reaction.
Hence they have gotten out in front of the reaction that their PC liberalism has created in Whites; and with that, they are orchestrating the "White" us / them, friend / enemy distinction.
Though I disagree with him on some important, fundamental issues, to give credit where credit is due, Wolf Wallstreet was incisive in his hypothesizing two differing agendas among Jewish elites: Plan A, of the Noel Ignatiev kind, wants to wipe Whites out completely - relatively more expressed by Hillary and Bill than Trump.
Plan B is taken by the kind of Jewish elite not quite so crazy and a bit more fore-thinking - realizing that they can use what they perceive as the "better breeds" of Whites, they want to leave some of them around to interbreed with and help steer their elitist political agenda - against interests that ethnonationalists shouldn't be against and on behalf of interests that ethnonationalists should not be for.
Rather than wanting America, the proposition nation, to fall, with its neo-liberal component being a world's foremost manufacturer and exporter of race mixing, rivaled only by Judaic, Islamic and Christian influences; they want the American political institution along with other Abrahamic/proposition nations to come more thematically, if not comprehensively under Jewish and neo-liberal lackey guidance.
A Trump victory does not only buy us some time, it buys them and their word-smiths some time - for one thing, to make (((the USA))) and (((the Russian Federation))) into good friends, and at one with (((White))) national politics.
Following the U.S. as an alternative right base, the Russian Federation is the Jews first option after Israel for a vector of parasitic control.
Needless to say that the U.S. is not an ethnostate, but neither is the Russian Federation, in either its vast size or content. As proposition nations, both are susceptible and heavily influenced by Jewish interests. Don't believe the stuff that (((they))) have gotten (((the Alternative Right))) to believe about Russia being good friends to Assad - they disarmed a defense program that took Assad decades to develop in defense against Israel. And now Trump wants to let ISIL destroy Assad. Even more laughable is The Orthodox Nationalist claim that China is a solid ally with the Russian Federation. Not true to say the least.
The Russian Federation is not opposed to Israel and to Jews. The Russian Federation was complicit in the overthrow of Gaddafi.
The proposition nations of the US and the Russian Federation, along with those nations that Jewish and neo-liberal interests are turning into proposition nations through immigration and race mixing, are not strictly opposed to Islam as they are guided, but use Islam as shock troops and compradors to destroy ethnonationalism - as in the case of what they did to Gaddafi and in what Putin has done and Trump would do to Assad. Such is the case of Trump's and Putin's position with regard to Asian ethnonationalism.
Trump and the Jewish political class have installed a stance which is hostile to the idea of Asian ethnonationalisms entering any cooperation with White American ethnonationalist counterparts; as if Trump and the Jewish political class have as their chief concern a common interest with White American workers - that is Not true:
Business Insider, "Donald Trump said wages are 'too high' in his opening debate statement", 10 Nov 2016
NPR, 'How Trump Broke Campaign Norms But Still Won The Election', 09 Nov 2016 (emphasis added):

JAMES FALLOWS: So [Trump's] main point, it's based on something that is in my view largely just wrong [...] factually incorrect—and that is the idea that essentially the economic problems America has is because China is—in particular but also Mexico and Japan and South Korea - are stealing our factories and stealing our jobs. [...] They've been losing them mainly to automation. They've been losing them mainly to the robotization of factories around the world. And that is why I can tell you from going back and forth to China that in every single country of the world, including China and Japan and South Korea and Mexico, the employment problem is the hollowing out of factory-type jobs because of automation.
It is a dubious prospect for ethnonationalists to want to "protect" the proposition nation anyway.
Right/Alt Right Misguidance Against Left Nationalism
By contrast to the right-wing objectivism that the Alternative Right is beholden to, which is manipulated and susceptible to Jewish and neo-liberal entryism, White ethnonationalism needs a position more characteristically White Left Nationalist: this would turn a critical eye toward the (((corruption))) of leaders of proposition nations such as Trump and Putin (if it can be said at all that Putin is in charge of 'a nation' rather than a parasitic aggrandizement larger than the moon) and what are becoming proposition nations ... such as those in Western Europe; at the same time it would turn a sympathetic eye toward and a cooperative stance toward the legitimate basis of ethnonationalism in Asia and the rest of the second world - in Europe exemplified by the Intermarium - to cooperate in our sovereign justice against the hegemony of Jewish interests, their misguiding of neo-liberal internationalism; as it backs shock troops and compradors among Islam and African population and biopower.
Trump has installed his contrasting, friendly, supportive stance toward black Americans (his singular racial/ethnic sponsorship, in fact) with his highly combative stance regarding Mexicans as if the former stance is strictly common ground with White ethnonationalism and both responses are anything but "solutions" to problems that his friends (YKW and right-wingers) created. But did you know that La Raza see themselves as a neo-race, aligned against blacks and against Jews? Who would have a problem with that?
Wikipedia, 'Texas' (emphasis added):

Under the Mexican immigration system, large swathes of land were allotted to empresarios, who recruited settlers from the United States, Europe, and the Mexican interior. The first grant, to Moses Austin, was passed to his son Stephen F. Austin after his death.

Austin's settlers, the Old Three Hundred, made places along the Brazos River in 1822. Twenty-three other empresarios brought settlers to the state, the majority of whom were from the United States. The population of Texas grew rapidly. In 1825, Texas had about 3,500 people, with most of Mexican descent. By 1834, the population had grown to about 37,800 people, with only 7,800 of Mexican descent.

Many immigrants openly flouted Mexican law, especially the prohibition against slavery. Combined with United States' attempts to purchase Texas, Mexican authorities decided in 1830 to prohibit continued immigration from the United States.
That law was an expression of Mexicans' express prohibition of blacks in their territory. What's the problem with prohibiting them?
A policy such as that, wrapped up in the fundamental base of La Raza's ethnonationalism, is something that White ethnonationalists could strive to leverage cooperation with. "But no!" say the Alternative Right, "they are Leftist, we cannot cooperate with Leftists!"
White ethnonationalism might perhaps even cooperate with the Turkish Kurds against Erdogan ..but "no!", say the Alt-Right, "we cannot cooperate with Leftist Kurds against Erdogan! - He believes in 'god', the god of Abraham… he follows laws in line with our Christian laws", they continue, "... in line with…"
Erdogan's administration, by the way, was almost as quick to congratulate Trump as Putin was.
Trump has aligned White interests with an obsequious stance toward Jews.
Say what you will, make your arrogant, snarky, condescending comments, gloating as you look downward, as the somebodies that you are now - bullfrogs perched on lily-pads - but if you think a choice between Hillary and Trump was anything but an expression of just how pathetic your objectivist aversion to decency and cooperation is, as it has been manipulated by the powers that be and continues to be, then you only increase the chance that your legacy will breed with Jews and other non-Whites, and your opportunity to participate as stewards of human and pervasive ecology will steadily decrease and steadily become more Jewish..

While we might take note of bonafide and cooperative ethnonational reasons as to why Japan was 93% in favor of Clinton, why the Philippines have set about to break with The US, etc…lets take a moment to give some kudos to White Americans and their advocates for exercising what was their better of two choices in a rigged deck.
Let me return a condescending congratulations to the Alt-Right on the stay of their execution….there is time to boil the frog slowly, where Kek does not jump out of the pot to reclaim itself as an Asian font of energy, culturally appropriated by Jewish hubris and misapplied by the Alt-Right, in near equal hubris.
Lawrence Murray is an excellent writer, obviously intelligent, not completely off theoretically - though still off, lets take a look at his victory lap with the still too meager, if not distorted, alternative right light that is thrown from the right wing torch that he carries:
The Right Stuff / Lawrence Murray, 'Now I am become President, Leader of the Free World', 09 Nov 2016:

On the far end of Manhattan's West Side, a different story was unfolding at the Jacob Javits Center. A massive convention hall named after former New York senator (((Jacob Javits))), it was supposedly chosen for its glass ceiling, which Clinton would symbolically shatter as our first female president-elect. Instead, it became a glass pitcher of liberal tears. The choice for Clinton's ill-fated coronation symbolized something else as well. (((Javits))) was a major force behind the 1965 Hart-Celler Act, which ended the country's eurocentric immigration quotas and resulted in the rising tide of color we are currently grappling with. Each generation has become more "diverse," and so in turn each cohort of new voters. It's why New York was a solid lock for parachute candidate Clinton, and a hopeless cause for its native son, President Trump.
(((Native step-son indeed)))
ibid:

As the post mortems will surely tell us in the next few days, there just wasn't enough turnout from voters of color. There just weren't enough Hart-Celler Americans to stop President Trump. Not even the creation of an entirely new minority class over the last 50 years, Latinos, was enough to prevent a nativist and civic nationalist from being elected. But frankly, this was our last opportunity to strike back at the ballot. President Trump won by a wavy Caucasian hair. Having to literally drive the Amish to the polls in order to save the White race was poetic, though not a long-term solution.

But such problems are for another time, for now we celebrate. We celebrate the year that White populism shattered the glass ceiling of identity politics in the postwar West, as predicted. An article in The Atlantic puts it succinctly: "[President] Trump was carried to victory by a wave of right-wing populist nationalism, as working- and middle-class white Americans turned out in droves to vote." President Trump's victory is a monumental paradigm shift, or has the potential to solidify into one. The media called Teflon Don every name in the book and tried to tie him to all manner of anti-establishment heretics. President Trump did not waver; he undertook the hero's journey and emerged victoriously in the name of the Amerikaner Shire.
Rather did (((The Atlantic))) inaugurate a paradigm shift from Jewish plan A to Jewish plan B - the slow Kek boil, the intermarrying with the frogs, er "Keks" who manage to jump out of the boiling pot.
ibid:

There is now a biblical flood of authors and pundits talking about "working class Whites," "White voters," "White males," "non-college Whites," "less-educated Whites," "blue-collar Whites," "rural Whites," and even the unspeakable phrase "White identity politics." This is yuuuge. We have a mandate from our folk for nationalism. The largest ethnic group in the West, the native peoples of Europe and their descendants in Greater Europe, is being recognized as an important political interest. Granted, it's an interest that our rulers on both sides of the Atlantic insist must be vanquished, but that they must now name us explicitly is massively important to the spread of our ideas.

The concept of the enemy has returned to politics.
(((Whites))) with "leftist" enemies, with Asian enemies, "Islamic extremist" enemies and so far as they can help it (((and they can force choices that you should not want to make, such as Hillary or Trump))), "friends" with "moderate Jews"..."moderate Islam"...."moderate blacks"... "friends with the right wing" - the "that's the way it is" club, the Jesus suicide map club and friendkinstein club 88 - European neighbors be damned ..be friends with "the alternative right" and its (((entryist big tent, and with that perhaps the "alternative left"))).
ibid:

Get ready for the storm, because White people, this is your fault. Because of your existence, millions of members of designed oppressed groups must live in fear of being treated like outsiders.
While you are at it, brace yourself if you are an ethnonationalist, for the reality that the US has been the adversary of ethnonationalism in most cases, as in Vietnam, the Philippines, in Japan, the Turkish Kurds and more - indeed, where have they defended ethnonationalism?
ibid:

Americans will have to decide very soon—quickly—where they stand on President Trump. The choice now is pro-Trump or anti-Trump, and nationalists as much as anti-nationalists have made him into an avatar of American Whiteness.
That's right, the Alternative Right has been co-opted into representation of their interests by that fool: that crass businessman, that mere promoter of the brand name attached to his failed, toxic assets as a means to pay off the Jewish financiers saddled with his shallow but grandiose vision, now intimately entwined with Jewish values - Donald Trump is here to represent (((White interests))).
ibid:

With his opponent out of the way (probably for good), where people stand on this choice will become much more salient.
With Hillary, the quintessential personification of the White man hating bitch out of the way, hopefully it will continue to feed their right-wing hubris to help highlight and distinguish them as they tend to obfuscate and muck-up the ethnonationalist agenda.
ibid:

Our position is not unassailable, but it is stronger than ever before. So we celebrate, that President Trump has given rise to nationalism, to America First, to formal recognition of the Alt-Right, to outing cuckservatives as #NeverTrump turncoats, to (((anti-globalist))) memes entering the public consciousness, to levels of shvitzing that shouldn't even be possible, and more than anything else to hope for the future of our people, not just in the United States but around the world. This is as much a victory for White Americans as it is for Swedes, Australians, the British, the French, and other European peoples. We will make the world save for ethnocracy.
Jews have money and they know that they can buy their way into enough of you such that your (((Whiteness))) around the world will be mixed with their motives.
ibid:

We knew the world would not be the same. A few people laughed, a few people cried, most people were silent. I remembered the line from the shitlord scripture the Bhagavad Reeeeeeeta; Kek is trying to persuade the prince that he should save his people, and to impress him takes on his frog-headed form, and says, "Now I am become meme, the destroyer of cucks." I suppose we all thought that, one way or another.
You aren't Kek, but you are frogs, you are somebodies, somebody frogs on lily-pads; on water boiling slowly now; perhaps you'll jump out of the pot and into the waiting arms of your kosher mates; before that, to prove your anti-Jewish credentials, perhaps you'll do them a favor by exterminating the undesirables from among them, while also true to your (((Fuhrer))), killing those inferior "lefty" Whites.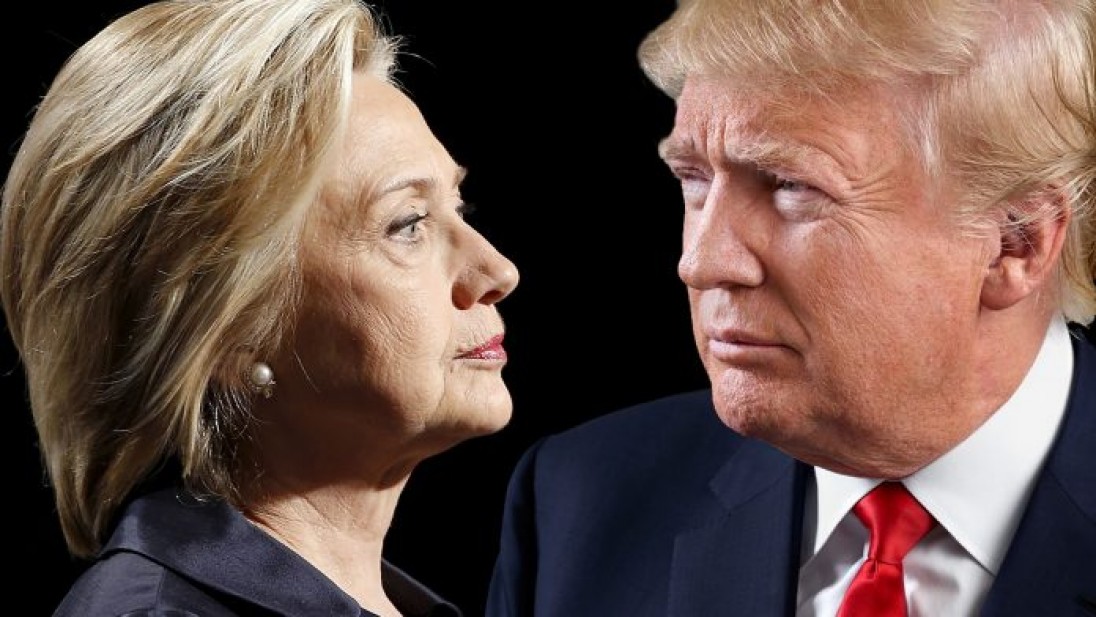 Regarding your people's history and future, the (((choice))) you get with U.S. politics is no choice.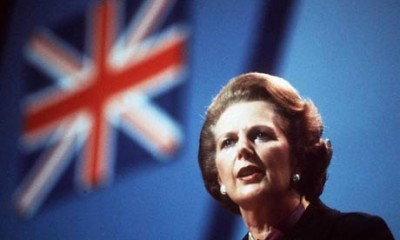 "There is no such thing as society"
In that act of being mistaken, anyway - let's leave a way out for people understandably reacting to the Jewish misrepresentation of the terms, "left" and "post modernity".
Internal Relation and Emergence
You don't have to take a position which places your people (praxis) as the central gauge. You can go on like a right wing fool for Jews and place a "quest for truth, facts and universal foundations" (and "inequality" even?) above all - even wreck your own people in that "noble quest;" but you'd be an unnecessary fool, a dupe for Jews and Jewish thinking in so doing. You don't have to put our people at the center - but you can, as factual verification and reality checking are available in an instant if you are not dealing with reality; whereas the principles upholding our people took many centuries to create and are much more precious and difficult to reconstruct, if ever they can be. It isn't necessary to place facts at the center - people are born of facts and if afforded correct principles, proper agency and accountability, our people will come to continually adjust their interests with the facts. Hence, the right's whole arbitrary-making quest for facts and episodic verification at the expense of principled interest in our people is the height of folly.
Chasing mere facts and perfect verification away from "faith" in our people will tend to take them into runaway, beyond our people's systemic interests - as opposed to taking the White post modern turn into its facilitation of the preservation and reconstruction of our people - where the facts are ensconced in the sufficiently deep emergent reality of our people's systemic history to afford re-framing at their authentic place in relation to our human ecological system.
Right and Altright reactionary fan club - scavenging the wreckage of continued reaction.
The right, "alternative right", those in their orbit, lay in wait as vultures for things like GW's latest surprise: as I stepped aside from a discussion of British politics, he applied the theoretical wrecking ball again to "THE left" and "post modernity" at their behest (he isn't so lame as to have to do it for himself); ill-prepared for the surprise in that context, I put up a threadbare defense against what I've come to see as a part of GW's autobiography - "champion of the right, universal foundational unifier against the left's class divisiveness."
GW - working class hero who sees their classification as a critical problem of imposed nationalist division.
If you are coming here, like myself, chances are that you appreciate GW's ability - you delight as he wields a scalpel on behalf of White/ethno-national sovereignty, more often a wrecking ball to the pretenses of academia and scholarship that are working against it.
We value this, want him to continue, want him to be satisfied with his part and his contributions.
What follows here is going to show little appreciation for that, which is abundant and shows forth in spontaneity for the surfeit of his intelligence - often yielding indispensable flourishes and insights that I myself cherish. This piece is rather an ungrateful piece in that regard, given that he has stood by me as I set about chartering a new platform for Majorityrights; and I sent scurrying many who had deep appreciation and respect for him as well; but it is neither for myself nor "his own good" that I proceed not feeling particularly guilty about that - nor is the matter of face saving a pressing matter for either of us - the sake is proper theoretical grounds, which is always my central motivation. Still this will appear rather like a hit piece - as it takes aim, focuses on the clumsier props of GW's worldview, philosophical underpinnings and aspirations - not on better sides and ideas, which will emerge cybernetically in balance of fact.
If you are coming here, you probably appreciate and identify with GW's rogue path: as a completely disaffected outsider to the academic fray, he early on rejected the nonsense coming out of there, particularly from fields dealing with social issues. And you delight along with him as he continues to apply the wrecking ball to their cherished liberal ruses under cover of "The left", their wish to open important borders and boundaries, to bring down individual merit, to drag others down into primitive individual and group failure - instinctively, you sense him taking down liberal bullies who are smug enough to insulate themselves from the consequences of the unsupportable concepts of social "justice" that they wield against those native White populations least responsible for others problems, most likely to suffer from liberalism and least likely to gain from the applications known as "The Left" - applications which can recognize just about any collective unionization of interests except one kind - White. Certainly a (((coincidence))).
Most people who've come here, myself included, have also experienced mystification over GW's not being satisfied with that. You have been at least temporarily mystified as he evades into the arbitrary recesses ever available by the empirical philosophy that underpins modernity; and as he continually applies its wrecking ball, secure in the faith that it will leave in its wake only that which is fine and good; a wrecking ball summarily dismissing scholarship, conceptual tools and principles that others set forth to guide social action.
I have been stunned as he sends the wrecking ball my way as well, summarily dismissing even carefully culled and profoundly warranted philosophical ideas, eminently useful conceptual tools and important rhetorical positions that I have geared to his same White ethno-nationalist interests; while his modernist philosophy willy-nilly casts me into the role of the "lefty academic" foil in key moments.
I am no longer mystified by this.
A reactionary position is mostly retreating (evading) and attacking - whatever looks like an enemy or Trojan horse - but for its instability, it is susceptible to chase after the red cape.
An early contentious streak in the autobiography over-reinforced by circumstance, ability and admirers.
GW is wonderful, we love GW, but like the rest of us, he is not perfect. There is a residual strain of contentiousness in his autobiography that stems from his early disaffection and precocious disregard of liberal prescriptions coming from academia. It's a part of his autobiography that he takes a great deal of pride-in. It is also socially confirmed enough so that he continues to chase its red cape known as "THE left;" and keeps applying the modernist wrecking ball to any concepts the tiniest bit speculative in circumscribing social interests; or adopting any terms also used by liberal "left" academics - even if used in different ways, he will understand it in THE left way that he is familiar with - and summarily dismiss it as such or apply the wrecking ball.
Unlike most people disaffected of liberal academia, he is not of the working class sort content to shake his fist at academic pomposity, to find solace in a beer and the pragmatism of his working class buddies, allowing the union misrepresentatives to negotiate his interest with their fellow liberals of academic background; nor is he content to join in with the White collar and middle class who typically denounce the worst of academic socialists as unrealistic, while they go along with the liberal anti racism of the academe, signaling their one-upness to the lower classes by denouncing as backward superstition whatever defensively racist discrimination they might even require.
He does share a few things in common with the typical middle class perspective however. Naturally, he has a bias toward viewing his success in positivist terms, as having come about from his gray matter and personal initiative, not because he derived any benefit from artificially imposed social bounds against competition and to circumscribe cooperation.
Though he can relate to the working class "xenophobia", he maintains that their maintenance of who they are among a collective "we" (i.e., particular native European nationals) and their choice of whom to intermarry with (same particular native European national) is something that should and can emerge naturally from their genetics - an identity that will emerge naturally, provided they do not have liberal, Fabian and Marxist ideas imposed upon them; the last thing GW wants is to impose another artifice upon them, one which he believes could divide them against their upwardly mobile English brethren, and in turn, divide the middle class even more against them. I.e., the "left" and "right" is normally taken as an economic divider and unifier of class, not a racial nationalist one as I am proposing. The middle class, as much as any, might be reluctant to 'get it' and not identify with a "White left," in which case we would be back to the divisive issue, not the uniting issue that both GW and I seek - we may not agree on terminology but we do agree on native nationalism.
Thatcherite obectivism a means for personal advancement and foundational unification of nationalism.
In fact, GW is a native nationalist, deeply offended by the class system which has long hampered English unity. Thus, he is not content to disavow the worst of liberal and Marxist academics, writing-them-off as the idiots that they are, while leaving the working class to the fate that liberalism will bring to them, and, if left unabated, to all of us eventually. Like a few, more ambitious among us, he set about to get things right, to open a platform for White nationalists, even before it was quite the immanent practical necessity that it is now.
He aspires to identify the ontological connection between all English classes which, if unfettered by artificial constructs, would have them acting as native nationalists in loyal unanimity to their interests.
In that regard, Margaret Thatcher represented to him a liberating moment from the incredibly burdensome artifices of liberal, Fabian and Marxist Left union delimitations and by contrast an opportunity to unite as nationalists on natural positivist grounds.
Normal first reaction that doesn't take Post Modern turn as it fails to see liberalism flying under left colors.
Indeed, most anybody of this ambition, myself included, who cares about our race and its ethnonational species, starts out in reaction to the absurd, contradictory and destructive liberal rhetoric coming out of academia and reaches to grab hold white knuckle to foundational truths, particularly scientific fact, which cannot be bamboozled by the rhetoric of liberal sophistry (which we later come to recognize as more often than not, Jewish in original motive). And we do grab hold white knuckle - that is to say, scientistically, in rigid over and misapplication of hardish science to the social realm, as we cannot trust the social realm, its rhetorical caprice if not deception - its ongoing disordering effects that apparently threaten to rupture social order anew with every agentive individual. Coming from a non-Jewish, Christian cultural perspective, where our bias starts, if not Jesus, we first liken ourselves to Plato and then modern scientists seeking to gird and found our place and our people's place, whereas "they" are Pharisees and sophists, wielding the sheer rhetoric that we are going to debunk with our pure, native ability and motives. In a word, we are going to do science against their dishonest bias against us - they are indeed being deceptive and biased on behalf of unfair people; we see it as our objective to establish universal foundational truth that will be unassailable to this sophistry.
That is the normal first reaction of a White person who cares about themself and our people - it was mine and it was GW's - a nascent White nationalist in response not only to the anti-White discourse coming out of the university, but in response to the very frame of the discourse - that is to say, taking on the frame [Jewish and liberal social stuff and lies versus White science and truth] - against accusations of privilege, racism and exploitation, we sought pure innocence in truth beyond social tumult and disingenuous rhetorical re framing. We (understandably) acted with absolute revulsion to anything like social concern and accountability - why should we be accountable to ever more alien imposition? - itself neither offering nor asking for an account sufficient to maintain our EGI - and where our people are eerily unconcerned or antagonistic to our people as well, we are only more compelled to take on the task ourselves - to pursue pure warrant. Our first reaction to the liberal chimera called "THE left" is: "I" noble servant of postulates - theorems - axioms - upon universal foundational truth."
Beyond our people's relative social interests even, we must save ourselves from the lies of "The left" (never minding that their first lie is that they represent our left) and found our moral/ontological basis where Jews, other tribalists and our selfish liberals, who only care about themselves, can never again manipulate it. We hold white knuckle, rigidly, in reaction to Jewish sophistry.
History will show that our people who pursued and secured sovereignty, health and well being found a philosophy advanced of that - competent and able to secure their social interests. They'd taken the White Post Modern turn from this reactionary position.
For reasons unfolding here, including reasons of his personal autobiography, GW has yet to appreciate and take the post modern turn.
Personal ability and interpersonal circumstances have facilitated his carrying-on in a typical first philosophical position of an amateur outsider in regard to academia - the epistemological blunder of "they are just sophists who provide nothing but nonsense while 'I' and my pure thoughts in relation to 'theory' am going to set the world aright" - an epistemological error in the relation of knower to known that is born in reaction and puerile hubris, carried on by being strong, smart enough to persist long after most people would shrink back from the signs of its limitations; going further uncorrected as it has been endorsed by "no enemies to the right" (a dubious principle, if there ever was one); it has grown into a surprisingly big and audacious ego wielded as a wrecking ball against "post modern philosophy." We are supposed to rest assured on his faith that in the aftermath of wreckage, that the emergent qualities of his mind are all that is required besides the occasional foil to play off of in order to clarify and carry the modernist program forward to unshakeable, universal, foundational truth - unassailable to any social reconstruction. Never mind that we are already willing to agree upon most of the fundamental rules that he would seek - our agency is not necessary if it is going to suggest anything like planned social construction of systemic defense. No, that's all impure stuff to be cast aside; and by contrast of true Platonic form, if you are freed from that ignorance and come to know the good he will secure, you will do that good.
He is not satisfied to simply negotiate, reason-things-out and reach an understanding among his people, he is not even particularly concerned that it won't be a damn bit of good if people can't understand his philosophical yield - he wants to secure that good on ontological foundations beyond praxis - beyond the capacity for manipulation. Most sophomores abandon this, their freshmen objective, as not only obsolete philosophy, but in fact, come to recognize it as destructive philosophy - a destruction which GW continues, with tremendous faith, without need of Aristotelian compass, that tremendous confidence to persevere where Wittgenstein failed.
The boomer generation - libertarianism and egocentrism.
The likes of Bowery and GW will be slower, if ever, to make the turn in direction, not because they are stupid, of course, quite to the contrary, but because they have the mental horsepower necessary to keep patching and operating the antiquated and obsolete technology that is modernity; and stem predilection both motivates them and enables them to do that; they are more self sufficient, less immediately reliant on the social (why carry others weight?); more confirmed by females by being reliable as such (concentrating on how to do things, not stepping on the toes of females by asking questions of social control - as long as you are at one end of the competition you are OK - liberal or the right wing end); confirmed by non academic workers in their more pragmatic concerns; and confirmed by right wingers in their penchant for anti-social theory beyond social manipulation - exactly, they are also slow to take the turn, of course, because they have an understandable lack of trust in liberal-social narratives; this unwillingness to suspend disbelief may be increased inasmuch as they have benefited as baby boomers, less harried for their identity in the parts of their life-span experienced prior to the culture of critique and in their personal initiatives after its reprieve - in Bowery's case, with aspects of the objectivism behind Ron Paul's libertarian "revolution"; and in GW's case, during the Thatcher years (Thatcher's initial backers having discovered her reading Wittgenstein's cousin, Hayek, who obliviously carried forward upon the Tractatus) - years of brief, partial liberation from liberal-left union fetters - "there is no such thing as society" - in either case, a false friend facilitated as false opposition - viz., an expression of steered objectivism derived of Austrian schools beginning with Wittgenstein.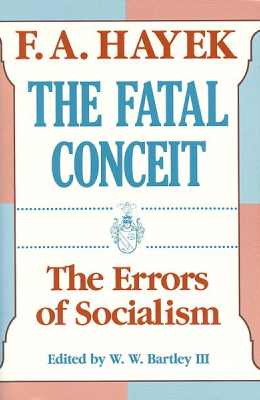 The title is a projection of objectivism
.
Subtitle: look who else is reading it.
What is confirmed to me - in a roundabout way, when GW dons his powdered wig, grabs a quill pen, does his best John Locke or whatever voice serves, and says oh, "that's just Aristotle and his rhetoric," "all of the good ideas are coming from the right", "based in nature, none of this praxis stuff", says that he "never loses an argument against academics", etc., then continually re-applies radical skepticism of the empiricists and their forerunners - is that he is showing an ego driven and confirmed desire to carry-on the "pure" modernist project; viz., in his ontology project and his destruction of everything in its path, even treating Aristotle and William James as utter morons, GW is revealing a vain desire to do something all alone, like a combination of Wittgenstein's Tractatus Logico Philosphicus and Heidegger's Being & Time: "The world is everything that is the case" meets "the worldhood of the world" - without the post modern implications of the latter. All that is required is the emergent qualities of his mind to set the world's ontology aright - it will be "unassailable" by liberal, social, "left" rhetoric.
His reaction, confirmation and penchant for empirical verification against Jewish rhetoric has apparently caused him to disregard the post modern turn that was occuring also in Heidegger's philosphy, albeit in Heidegger's case, in that somewhat rigid, German way (which I find endearing).
GW appreciates Heidegger, so why does he not move forward from 1927 and why does he retreat to 1921 and the Tractatus? That he consders "OF being" the better starting point than Heidegger's "There Being" provides a clue to ego centrism and Cartesian anxiiety - he not only proposes the reconstruction of the Cartesian starting point, "Of being", but proposes it as an exclusive position, not even taking hermeneutc turns with Heidegger's non-Cartesan starting point, "There being."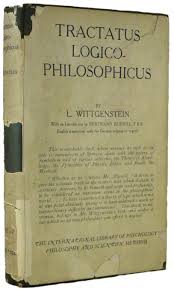 "Unassailably" proclaiming that "The world is everything that is the case"
Whereas Wittgenstein himself was forced to yield-to, if not recognize the necessity of, the post modern turn - so much so that he was embarrassed by his effort at a complete ontology in The Tractatus Logico Philosophicus - having proclaimed its logic "unassailable" at once upon completion, he later repudiated it, even took to referring to its author as if a different person.
The Motivation for Post Modernity
Part of the craze for "post modernity" is that people (correctly) sense that modernity is destroying their differences, their traditions, their ways of life, their people and their very lives. And yet they frequently found traditional societies destructive as well. Therefore they were happy to have not only backing of cross cultural studies, vouching that different ways of life are valid, but also some confirmation from the very foundational math and science which modernity pursued to an apex that finally turned back on itself.
Kurt Gödel had demonstrated that a theory of any complexity could not be both complete and unambiguous.
Neils Bohr had priorly announced that there is no instrument fine enough to resolve the wave/particle distinction.
Heisenberg's uncertainty principle elaborating from that was subtler still - that the observer is engaged in interaction and has reflexive effects upon that which he observes.
Confirmation of Aritstotle's Praxis and suggestion that it should be the radical basis of assessment, not pure objective facts.
These findings confirmed Aristotle's premises as set forth in Nichomachean Ethics - on the nature of Praxis - people are in reflexive relation, mostly requiring a degree of practical judgement as they are less predictable than the theoretical causality which the hard sciences pursue. It also would suggest placing praxis more in the center than theory - i.e., a socially based perspective where people are the arbiter, as opposed to "I think therefore I am" in relation to mere, indisputable facts and non-interactive third person behavioral units; a pursuit even outstripping the subject ultimately in favor of fixed theoretical facts - the Cartesian relation (pursued non-relation, as it were) of knower to known.
Vico was first to take the hermeneutic turn against Descartes, to bring ideas into historical context, the relation of knower to known into the social world of praxis
A relation knower to known other than the Cartesian model is required by modernity's recognized failures and impervious destruction.
Those who care about people, who see the destruction of Descarte's "relation" of knower to known, understand the wisdom of Aristotle, and realize that Vico - Descartes' first major critic - was in fact, proposing the taking of theoria into praxis: i.e., correctly placing people and praxis at the center of his world view. He was setting forth the historical, hermeneutic world view, the post modern world view. And, in turn, those who understand Heidegger will see that he was following in that same direction, which may be called "existential" and which is centered in praxis - the social world.
The White Post Modern turn is, of course, the best and most moral perspective for advocating people - Whites especially - Jews don't want that and so they fool the uneducated masses and most of the educated masses as well by reinterpreting the terms by which people - viz., White people, might understand this - and they get them to react against didactic misrepresentation. That is, they are getting them to react in aversion to what is good and healthy in racial advocacy by having made it didactic in misrepresentation - e.g., the highly sensible Post Modern is presented as "dada" (whereas I have secured its sensible form in White Post Modernity).
Bowery and GW were impelled on, for the didacticism of the (((liberal-left - contradiction of terms))) and for the (((misrepresentation))) that was this false opposition and its false promise to liberate us from The left, among other reasons. Objectivism, the neoliberalism and libertarianism of the Austrian school of economics, Thatcherism, is merely a false opposition that (((they))) set up against "(((The Left)))." It is a product of late modernity, derived of the Vienna School of Logical Positivism, which in turn was derived of Wittgenstein's Tractatus Logico Philosophicus.
Again, that was Wittgenstein's attempt to set-out a comprehensive and "unassailable" ontology - "The world is everything that is the case." He would later say that the Tractatus was "not a very good book", lest he be mistaken for one not recognizing that those who had taken the post modern turn had left this philosophical quest behind. Nevertheless, the Austrian school of logical positivism founded upon the Tractatus lived on through his cousin Hayek (who Thatcher was discovered dutifully reading); it was then taken up by von Mises et. al, who would conveniently and explicitly adopt this no-account modernist program against any one of subsequent generations who was the least bit reflective, who had any social complaints about how they and their people had been left without social capital after this generation of egocentric locusts devoured all social capital in their path. Waiting generations of right wing reactionaries, ensconced in their well protected Internet bubbles, were ready to look up to these libertarians for their lack of social concern, conveniently blaming the socially conscientious of prior generations for the problems - "The Left", where not "hippies", were the ones asleep at the wheel and leading us over a cliff, "but not the objectivists" and not (((The YKW))).
One-up intransigence of boomers meets generation Internet bubble for a right-wing cocktail, silencing socially conscientious voices between.
Because of GW's unwillingness to trust anybody but himself, he takes recourse in the one aspect of the post modern turn where his first person account of all the world's foundations might be claimed - emergentism. He has a problem, however, when I say that the world still interacts. He has to take recourse to the absurdly arbitrary claim that "life doesn't interact."
Emergentism, in fact, is one of the key contributing factors to the post modern turn - it challenges the reductionism and fixedness of the modernist ontology project in an important sense - the emergent whole being greater than the sum of its parts means that significant referents are changeable in complex systems, thus qualifying Bowery's criticism - "there is either a referent or there is not" - as this charge must yield to the fact that facts can be re-framed as they emerge physically, as they are designated by individuals and as they emerge in social consensus. And yes, what emerges still interacts in a myriad of ways.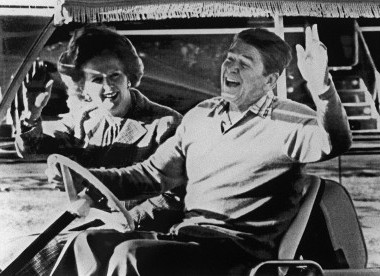 Gen Xer's were a bit late for the ride
"There is no such thing as society"
Their lack of faith in the social narratives as they are applied by YKW is understandable, the faith they show in the guiding principle of modernity to leave only what is fine and true in the wake of their wrecking ball is not. There comes a time to suspend disbelief. To draw a hypothetical boundary around our people is as good a time and place as any. "Wise men see lines and they draw them" - William Blake. And its not so hypothetical.
Perhaps because their boomer generation was early in line and they were intelligent enough to position themselves by means of objectivism for a deck chair on the higher end of a sinking Titanic, they can take some solace in writing-off those who might be going under first, if it does go down, as hazards of nature, having not acted "naturally" in EGI - Bowery in particular, being motivated by an affinity for the individuality of northern Europeans, abandoned ship (MR, anyway) when Dr. Lister and I began raising criticisms of "individualism über alles" and raising social concerns against that.
In fact, for this reason, Bowery issued an ultimatum ("either him or Lister") which defaulted to Graham's more social side, upon which Bowery expressed his "revulsion" for Majorityrights.