Majorityrights Central > Category: Business & Industry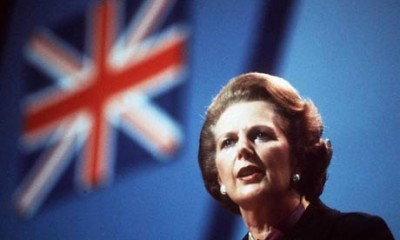 "There is no such thing as society"
In that act of being mistaken, anyway - let's leave a way out for people understandably reacting to the Jewish misrepresentation of the terms, "left" and "post modernity".
Internal Relation and Emergence
You don't have to take a position which places your people (praxis) as the central gauge. You can go on like a right wing fool for Jews and place a "quest for truth, facts and universal foundations" (and "inequality" even?) above all - even wreck your own people in that "noble quest;" but you'd be an unnecessary fool, a dupe for Jews and Jewish thinking in so doing. You don't have to put our people at the center - but you can, as factual verification and reality checking are available in an instant if you are not dealing with reality; whereas the principles upholding our people took many centuries to create and are much more precious and difficult to reconstruct, if ever they can be. It isn't necessary to place facts at the center - people are born of facts and if afforded correct principles, proper agency and accountability, our people will come to continually adjust their interests with the facts. Hence, the right's whole arbitrary-making quest for facts and episodic verification at the expense of principled interest in our people is the height of folly.
Chasing mere facts and perfect verification away from "faith" in our people will tend to take them into runaway, beyond our people's systemic interests - as opposed to taking the White post modern turn into its facilitation of the preservation and reconstruction of our people - where the facts are ensconced in the sufficiently deep emergent reality of our people's systemic history to afford re-framing at their authentic place in relation to our human ecological system.
Right and Altright reactionary fan club - scavenging the wreckage of continued reaction.
The right, "alternative right", those in their orbit, lay in wait as vultures for things like GW's latest surprise: as I stepped aside from a discussion of British politics, he applied the theoretical wrecking ball again to "THE left" and "post modernity" at their behest (he isn't so lame as to have to do it for himself); ill-prepared for the surprise in that context, I put up a threadbare defense against what I've come to see as a part of GW's autobiography - "champion of the right, universal foundational unifier against the left's class divisiveness."
GW - working class hero who sees their classification as a critical problem of imposed nationalist division.
If you are coming here, like myself, chances are that you appreciate GW's ability - you delight as he wields a scalpel on behalf of White/ethno-national sovereignty, more often a wrecking ball to the pretenses of academia and scholarship that are working against it.
We value this, want him to continue, want him to be satisfied with his part and his contributions.
What follows here is going to show little appreciation for that, which is abundant and shows forth in spontaneity for the surfeit of his intelligence - often yielding indispensable flourishes and insights that I myself cherish. This piece is rather an ungrateful piece in that regard, given that he has stood by me as I set about chartering a new platform for Majorityrights; and I sent scurrying many who had deep appreciation and respect for him as well; but it is neither for myself nor "his own good" that I proceed not feeling particularly guilty about that - nor is the matter of face saving a pressing matter for either of us - the sake is proper theoretical grounds, which is always my central motivation. Still this will appear rather like a hit piece - as it takes aim, focuses on the clumsier props of GW's worldview, philosophical underpinnings and aspirations - not on better sides and ideas, which will emerge cybernetically in balance of fact.
If you are coming here, you probably appreciate and identify with GW's rogue path: as a completely disaffected outsider to the academic fray, he early on rejected the nonsense coming out of there, particularly from fields dealing with social issues. And you delight along with him as he continues to apply the wrecking ball to their cherished liberal ruses under cover of "The left", their wish to open important borders and boundaries, to bring down individual merit, to drag others down into primitive individual and group failure - instinctively, you sense him taking down liberal bullies who are smug enough to insulate themselves from the consequences of the unsupportable concepts of social "justice" that they wield against those native White populations least responsible for others problems, most likely to suffer from liberalism and least likely to gain from the applications known as "The Left" - applications which can recognize just about any collective unionization of interests except one kind - White. Certainly a (((coincidence))).
Most people who've come here, myself included, have also experienced mystification over GW's not being satisfied with that. You have been at least temporarily mystified as he evades into the arbitrary recesses ever available by the empirical philosophy that underpins modernity; and as he continually applies its wrecking ball, secure in the faith that it will leave in its wake only that which is fine and good; a wrecking ball summarily dismissing scholarship, conceptual tools and principles that others set forth to guide social action.
I have been stunned as he sends the wrecking ball my way as well, summarily dismissing even carefully culled and profoundly warranted philosophical ideas, eminently useful conceptual tools and important rhetorical positions that I have geared to his same White ethno-nationalist interests; while his modernist philosophy willy-nilly casts me into the role of the "lefty academic" foil in key moments.
I am no longer mystified by this.
A reactionary position is mostly retreating (evading) and attacking - whatever looks like an enemy or Trojan horse - but for its instability, it is susceptible to chase after the red cape.
An early contentious streak in the autobiography over-reinforced by circumstance, ability and admirers.
GW is wonderful, we love GW, but like the rest of us, he is not perfect. There is a residual strain of contentiousness in his autobiography that stems from his early disaffection and precocious disregard of liberal prescriptions coming from academia. It's a part of his autobiography that he takes a great deal of pride-in. It is also socially confirmed enough so that he continues to chase its red cape known as "THE left;" and keeps applying the modernist wrecking ball to any concepts the tiniest bit speculative in circumscribing social interests; or adopting any terms also used by liberal "left" academics - even if used in different ways, he will understand it in THE left way that he is familiar with - and summarily dismiss it as such or apply the wrecking ball.
Unlike most people disaffected of liberal academia, he is not of the working class sort content to shake his fist at academic pomposity, to find solace in a beer and the pragmatism of his working class buddies, allowing the union misrepresentatives to negotiate his interest with their fellow liberals of academic background; nor is he content to join in with the White collar and middle class who typically denounce the worst of academic socialists as unrealistic, while they go along with the liberal anti racism of the academe, signaling their one-upness to the lower classes by denouncing as backward superstition whatever defensively racist discrimination they might even require.
He does share a few things in common with the typical middle class perspective however. Naturally, he has a bias toward viewing his success in positivist terms, as having come about from his gray matter and personal initiative, not because he derived any benefit from artificially imposed social bounds against competition and to circumscribe cooperation.
Though he can relate to the working class "xenophobia", he maintains that their maintenance of who they are among a collective "we" (i.e., particular native European nationals) and their choice of whom to intermarry with (same particular native European national) is something that should and can emerge naturally from their genetics - an identity that will emerge naturally, provided they do not have liberal, Fabian and Marxist ideas imposed upon them; the last thing GW wants is to impose another artifice upon them, one which he believes could divide them against their upwardly mobile English brethren, and in turn, divide the middle class even more against them. I.e., the "left" and "right" is normally taken as an economic divider and unifier of class, not a racial nationalist one as I am proposing. The middle class, as much as any, might be reluctant to 'get it' and not identify with a "White left," in which case we would be back to the divisive issue, not the uniting issue that both GW and I seek - we may not agree on terminology but we do agree on native nationalism.
Thatcherite obectivism a means for personal advancement and foundational unification of nationalism.
In fact, GW is a native nationalist, deeply offended by the class system which has long hampered English unity. Thus, he is not content to disavow the worst of liberal and Marxist academics, writing-them-off as the idiots that they are, while leaving the working class to the fate that liberalism will bring to them, and, if left unabated, to all of us eventually. Like a few, more ambitious among us, he set about to get things right, to open a platform for White nationalists, even before it was quite the immanent practical necessity that it is now.
He aspires to identify the ontological connection between all English classes which, if unfettered by artificial constructs, would have them acting as native nationalists in loyal unanimity to their interests.
In that regard, Margaret Thatcher represented to him a liberating moment from the incredibly burdensome artifices of liberal, Fabian and Marxist Left union delimitations and by contrast an opportunity to unite as nationalists on natural positivist grounds.
Normal first reaction that doesn't take Post Modern turn as it fails to see liberalism flying under left colors.
Indeed, most anybody of this ambition, myself included, who cares about our race and its ethnonational species, starts out in reaction to the absurd, contradictory and destructive liberal rhetoric coming out of academia and reaches to grab hold white knuckle to foundational truths, particularly scientific fact, which cannot be bamboozled by the rhetoric of liberal sophistry (which we later come to recognize as more often than not, Jewish in original motive). And we do grab hold white knuckle - that is to say, scientistically, in rigid over and misapplication of hardish science to the social realm, as we cannot trust the social realm, its rhetorical caprice if not deception - its ongoing disordering effects that apparently threaten to rupture social order anew with every agentive individual. Coming from a non-Jewish, Christian cultural perspective, where our bias starts, if not Jesus, we first liken ourselves to Plato and then modern scientists seeking to gird and found our place and our people's place, whereas "they" are Pharisees and sophists, wielding the sheer rhetoric that we are going to debunk with our pure, native ability and motives. In a word, we are going to do science against their dishonest bias against us - they are indeed being deceptive and biased on behalf of unfair people; we see it as our objective to establish universal foundational truth that will be unassailable to this sophistry.
That is the normal first reaction of a White person who cares about themself and our people - it was mine and it was GW's - a nascent White nationalist in response not only to the anti-White discourse coming out of the university, but in response to the very frame of the discourse - that is to say, taking on the frame [Jewish and liberal social stuff and lies versus White science and truth] - against accusations of privilege, racism and exploitation, we sought pure innocence in truth beyond social tumult and disingenuous rhetorical re framing. We (understandably) acted with absolute revulsion to anything like social concern and accountability - why should we be accountable to ever more alien imposition? - itself neither offering nor asking for an account sufficient to maintain our EGI - and where our people are eerily unconcerned or antagonistic to our people as well, we are only more compelled to take on the task ourselves - to pursue pure warrant. Our first reaction to the liberal chimera called "THE left" is: "I" noble servant of postulates - theorems - axioms - upon universal foundational truth."
Beyond our people's relative social interests even, we must save ourselves from the lies of "The left" (never minding that their first lie is that they represent our left) and found our moral/ontological basis where Jews, other tribalists and our selfish liberals, who only care about themselves, can never again manipulate it. We hold white knuckle, rigidly, in reaction to Jewish sophistry.
History will show that our people who pursued and secured sovereignty, health and well being found a philosophy advanced of that - competent and able to secure their social interests. They'd taken the White Post Modern turn from this reactionary position.
For reasons unfolding here, including reasons of his personal autobiography, GW has yet to appreciate and take the post modern turn.
Personal ability and interpersonal circumstances have facilitated his carrying-on in a typical first philosophical position of an amateur outsider in regard to academia - the epistemological blunder of "they are just sophists who provide nothing but nonsense while 'I' and my pure thoughts in relation to 'theory' am going to set the world aright" - an epistemological error in the relation of knower to known that is born in reaction and puerile hubris, carried on by being strong, smart enough to persist long after most people would shrink back from the signs of its limitations; going further uncorrected as it has been endorsed by "no enemies to the right" (a dubious principle, if there ever was one); it has grown into a surprisingly big and audacious ego wielded as a wrecking ball against "post modern philosophy." We are supposed to rest assured on his faith that in the aftermath of wreckage, that the emergent qualities of his mind are all that is required besides the occasional foil to play off of in order to clarify and carry the modernist program forward to unshakeable, universal, foundational truth - unassailable to any social reconstruction. Never mind that we are already willing to agree upon most of the fundamental rules that he would seek - our agency is not necessary if it is going to suggest anything like planned social construction of systemic defense. No, that's all impure stuff to be cast aside; and by contrast of true Platonic form, if you are freed from that ignorance and come to know the good he will secure, you will do that good.
He is not satisfied to simply negotiate, reason-things-out and reach an understanding among his people, he is not even particularly concerned that it won't be a damn bit of good if people can't understand his philosophical yield - he wants to secure that good on ontological foundations beyond praxis - beyond the capacity for manipulation. Most sophomores abandon this, their freshmen objective, as not only obsolete philosophy, but in fact, come to recognize it as destructive philosophy - a destruction which GW continues, with tremendous faith, without need of Aristotelian compass, that tremendous confidence to persevere where Wittgenstein failed.
The boomer generation - libertarianism and egocentrism.
The likes of Bowery and GW will be slower, if ever, to make the turn in direction, not because they are stupid, of course, quite to the contrary, but because they have the mental horsepower necessary to keep patching and operating the antiquated and obsolete technology that is modernity; and stem predilection both motivates them and enables them to do that; they are more self sufficient, less immediately reliant on the social (why carry others weight?); more confirmed by females by being reliable as such (concentrating on how to do things, not stepping on the toes of females by asking questions of social control - as long as you are at one end of the competition you are OK - liberal or the right wing end); confirmed by non academic workers in their more pragmatic concerns; and confirmed by right wingers in their penchant for anti-social theory beyond social manipulation - exactly, they are also slow to take the turn, of course, because they have an understandable lack of trust in liberal-social narratives; this unwillingness to suspend disbelief may be increased inasmuch as they have benefited as baby boomers, less harried for their identity in the parts of their life-span experienced prior to the culture of critique and in their personal initiatives after its reprieve - in Bowery's case, with aspects of the objectivism behind Ron Paul's libertarian "revolution"; and in GW's case, during the Thatcher years (Thatcher's initial backers having discovered her reading Wittgenstein's cousin, Hayek, who obliviously carried forward upon the Tractatus) - years of brief, partial liberation from liberal-left union fetters - "there is no such thing as society" - in either case, a false friend facilitated as false opposition - viz., an expression of steered objectivism derived of Austrian schools beginning with Wittgenstein.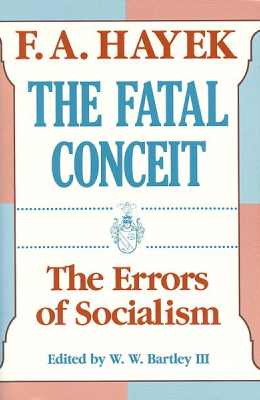 The title is a projection of objectivism
.
Subtitle: look who else is reading it.
What is confirmed to me - in a roundabout way, when GW dons his powdered wig, grabs a quill pen, does his best John Locke or whatever voice serves, and says oh, "that's just Aristotle and his rhetoric," "all of the good ideas are coming from the right", "based in nature, none of this praxis stuff", says that he "never loses an argument against academics", etc., then continually re-applies radical skepticism of the empiricists and their forerunners - is that he is showing an ego driven and confirmed desire to carry-on the "pure" modernist project; viz., in his ontology project and his destruction of everything in its path, even treating Aristotle and William James as utter morons, GW is revealing a vain desire to do something all alone, like a combination of Wittgenstein's Tractatus Logico Philosphicus and Heidegger's Being & Time: "The world is everything that is the case" meets "the worldhood of the world" - without the post modern implications of the latter. All that is required is the emergent qualities of his mind to set the world's ontology aright - it will be "unassailable" by liberal, social, "left" rhetoric.
His reaction, confirmation and penchant for empirical verification against Jewish rhetoric has apparently caused him to disregard the post modern turn that was occuring also in Heidegger's philosphy, albeit in Heidegger's case, in that somewhat rigid, German way (which I find endearing).
GW appreciates Heidegger, so why does he not move forward from 1927 and why does he retreat to 1921 and the Tractatus? That he consders "OF being" the better starting point than Heidegger's "There Being" provides a clue to ego centrism and Cartesian anxiiety - he not only proposes the reconstruction of the Cartesian starting point, "Of being", but proposes it as an exclusive position, not even taking hermeneutc turns with Heidegger's non-Cartesan starting point, "There being."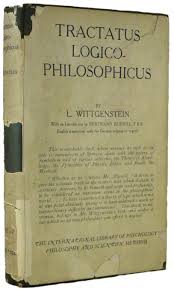 "Unassailably" proclaiming that "The world is everything that is the case"
Whereas Wittgenstein himself was forced to yield-to, if not recognize the necessity of, the post modern turn - so much so that he was embarrassed by his effort at a complete ontology in The Tractatus Logico Philosophicus - having proclaimed its logic "unassailable" at once upon completion, he later repudiated it, even took to referring to its author as if a different person.
The Motivation for Post Modernity
Part of the craze for "post modernity" is that people (correctly) sense that modernity is destroying their differences, their traditions, their ways of life, their people and their very lives. And yet they frequently found traditional societies destructive as well. Therefore they were happy to have not only backing of cross cultural studies, vouching that different ways of life are valid, but also some confirmation from the very foundational math and science which modernity pursued to an apex that finally turned back on itself.
Kurt Gödel had demonstrated that a theory of any complexity could not be both complete and unambiguous.
Neils Bohr had priorly announced that there is no instrument fine enough to resolve the wave/particle distinction.
Heisenberg's uncertainty principle elaborating from that was subtler still - that the observer is engaged in interaction and has reflexive effects upon that which he observes.
Confirmation of Aritstotle's Praxis and suggestion that it should be the radical basis of assessment, not pure objective facts.
These findings confirmed Aristotle's premises as set forth in Nichomachean Ethics - on the nature of Praxis - people are in reflexive relation, mostly requiring a degree of practical judgement as they are less predictable than the theoretical causality which the hard sciences pursue. It also would suggest placing praxis more in the center than theory - i.e., a socially based perspective where people are the arbiter, as opposed to "I think therefore I am" in relation to mere, indisputable facts and non-interactive third person behavioral units; a pursuit even outstripping the subject ultimately in favor of fixed theoretical facts - the Cartesian relation (pursued non-relation, as it were) of knower to known.
Vico was first to take the hermeneutic turn against Descartes, to bring ideas into historical context, the relation of knower to known into the social world of praxis
A relation knower to known other than the Cartesian model is required by modernity's recognized failures and impervious destruction.
Those who care about people, who see the destruction of Descarte's "relation" of knower to known, understand the wisdom of Aristotle, and realize that Vico - Descartes' first major critic - was in fact, proposing the taking of theoria into praxis: i.e., correctly placing people and praxis at the center of his world view. He was setting forth the historical, hermeneutic world view, the post modern world view. And, in turn, those who understand Heidegger will see that he was following in that same direction, which may be called "existential" and which is centered in praxis - the social world.
The White Post Modern turn is, of course, the best and most moral perspective for advocating people - Whites especially - Jews don't want that and so they fool the uneducated masses and most of the educated masses as well by reinterpreting the terms by which people - viz., White people, might understand this - and they get them to react against didactic misrepresentation. That is, they are getting them to react in aversion to what is good and healthy in racial advocacy by having made it didactic in misrepresentation - e.g., the highly sensible Post Modern is presented as "dada" (whereas I have secured its sensible form in White Post Modernity).
Bowery and GW were impelled on, for the didacticism of the (((liberal-left - contradiction of terms))) and for the (((misrepresentation))) that was this false opposition and its false promise to liberate us from The left, among other reasons. Objectivism, the neoliberalism and libertarianism of the Austrian school of economics, Thatcherism, is merely a false opposition that (((they))) set up against "(((The Left)))." It is a product of late modernity, derived of the Vienna School of Logical Positivism, which in turn was derived of Wittgenstein's Tractatus Logico Philosophicus.
Again, that was Wittgenstein's attempt to set-out a comprehensive and "unassailable" ontology - "The world is everything that is the case." He would later say that the Tractatus was "not a very good book", lest he be mistaken for one not recognizing that those who had taken the post modern turn had left this philosophical quest behind. Nevertheless, the Austrian school of logical positivism founded upon the Tractatus lived on through his cousin Hayek (who Thatcher was discovered dutifully reading); it was then taken up by von Mises et. al, who would conveniently and explicitly adopt this no-account modernist program against any one of subsequent generations who was the least bit reflective, who had any social complaints about how they and their people had been left without social capital after this generation of egocentric locusts devoured all social capital in their path. Waiting generations of right wing reactionaries, ensconced in their well protected Internet bubbles, were ready to look up to these libertarians for their lack of social concern, conveniently blaming the socially conscientious of prior generations for the problems - "The Left", where not "hippies", were the ones asleep at the wheel and leading us over a cliff, "but not the objectivists" and not (((The YKW))).
One-up intransigence of boomers meets generation Internet bubble for a right-wing cocktail, silencing socially conscientious voices between.
Because of GW's unwillingness to trust anybody but himself, he takes recourse in the one aspect of the post modern turn where his first person account of all the world's foundations might be claimed - emergentism. He has a problem, however, when I say that the world still interacts. He has to take recourse to the absurdly arbitrary claim that "life doesn't interact."
Emergentism, in fact, is one of the key contributing factors to the post modern turn - it challenges the reductionism and fixedness of the modernist ontology project in an important sense - the emergent whole being greater than the sum of its parts means that significant referents are changeable in complex systems, thus qualifying Bowery's criticism - "there is either a referent or there is not" - as this charge must yield to the fact that facts can be re-framed as they emerge physically, as they are designated by individuals and as they emerge in social consensus. And yes, what emerges still interacts in a myriad of ways.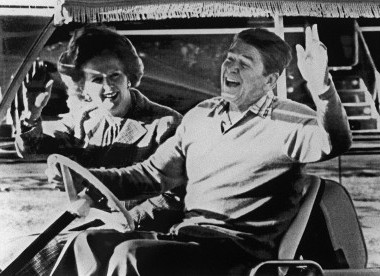 Gen Xer's were a bit late for the ride
"There is no such thing as society"
Their lack of faith in the social narratives as they are applied by YKW is understandable, the faith they show in the guiding principle of modernity to leave only what is fine and true in the wake of their wrecking ball is not. There comes a time to suspend disbelief. To draw a hypothetical boundary around our people is as good a time and place as any. "Wise men see lines and they draw them" - William Blake. And its not so hypothetical.
Perhaps because their boomer generation was early in line and they were intelligent enough to position themselves by means of objectivism for a deck chair on the higher end of a sinking Titanic, they can take some solace in writing-off those who might be going under first, if it does go down, as hazards of nature, having not acted "naturally" in EGI - Bowery in particular, being motivated by an affinity for the individuality of northern Europeans, abandoned ship (MR, anyway) when Dr. Lister and I began raising criticisms of "individualism über alles" and raising social concerns against that.
In fact, for this reason, Bowery issued an ultimatum ("either him or Lister") which defaulted to Graham's more social side, upon which Bowery expressed his "revulsion" for Majorityrights.
I'll cut up an article here:
MSN / New York Times, 'Donald Trump Plays Down Role of U.S. in Global Crises', 21 Jul 2016:

CLEVELAND — Donald J. Trump, on the eve of accepting the Republican nomination for president, said Wednesday that if he were elected, he would not pressure Turkey or other authoritarian allies about conducting purges of their political adversaries or cracking down on civil liberties. The United States, he said, has to "fix our own mess" before trying to alter the behavior of other nations.
Interesting!
[...] "This is not 40 years ago," Mr. Trump said, rejecting comparisons of his approaches to law-and-order issues and global affairs to Richard Nixon's. Reiterating his threat to pull back United States troops deployed around the world, he said, "We are spending a fortune on military in order to lose $800 billion," citing what he called America's trade losses. "That doesn't sound very smart to me."

Mr. Trump repeatedly defined American global interests almost purely in economic terms. Its roles as a peacekeeper, as a provider of a nuclear deterrent against adversaries like North Korea, as an advocate of human rights and as a guarantor of allies' borders were each quickly reduced to questions of economic benefit to the United States.
This is really one of the most remarkable things about Trump. The most remarkable thing about him is that he says directly what other American leaders have cunningly masked all along. In that sense, Trump is not a fundamental change in America's behaviour, he is more like America without the mask on, and with a different set of priorities.
Whereas previously, America was interested in encircling and enclosing Russia to prevent its expansion in the post-Soviet space, the elements of America that are now more interested in enclosing China are making Trump into their vehicle.
[...] Mr. Trump's discussion of the crisis in Turkey was telling, because it unfolded at a moment in which he could plainly imagine himself in the White House, handling an uprising that could threaten a crucial ally in the Middle East. The United States has a major air base at Incirlik in Turkey, where it carries out attacks on the Islamic State and keeps a force of drones and about 50 nuclear weapons.

Mr. Trump had nothing but praise for President Recep Tayyip Erdogan, the country's increasingly authoritarian but democratically elected leader. "I give great credit to him for being able to turn that around," Mr. Trump said of the coup attempt on Friday night. "Some people say that it was staged, you know that," he said. "I don't think so."
Trump is now Turkey. Erdogan is now America.
[...] Asked if Mr. Erdogan was exploiting the coup attempt to purge his political enemies, Mr. Trump did not call for the Turkish leader to observe the rule of law, or Western standards of justice. "When the world sees how bad the United States is and we start talking about civil liberties, I don't think we are a very good messenger," he said.

The Obama administration has refrained from any concrete measures to pressure Turkey, fearing for the stability of a crucial ally in a volatile region. But Secretary of State John F. Kerry has issued several statements urging Mr. Erdogan to follow the rule of law.
Donald Trump is in complete agreement with the Obama Administration on this issue. The only difference is a minor difference in rhetoric.
[...] Mr. Trump said he was convinced that he could persuade Mr. Erdogan to put more effort into fighting the Islamic State. But the Obama administration has run up, daily, against the reality that the Kurds — among the most effective forces the United States is supporting against the Islamic State — are being attacked by Turkey, which fears they will create a breakaway nation.

Asked how he would solve that problem, Mr. Trump paused, then said: "Meetings."
Translation: He will do nothing.
[...] Ousting President Bashar al-Assad of Syria, he said, was a far lower priority than fighting the Islamic State — a conclusion the White House has also reached, but has not voiced publicly.

"Assad is a bad man," Mr. Trump said. "He has done horrible things." But the Islamic State, he said, poses a far greater threat to the United States.
Trump is actually lying here. Trump has previously said that he would deliberately allow ISIL to do maximum damage to the Syrian government, because that is in the American national interest, which he considers to be more important than coordinating with global stakeholders.
[...] He said he had consulted two former Republican secretaries of state, James A. Baker III and Henry Kissinger, saying he had gained "a lot of knowledge," but did not describe any new ideas about national security that they had encouraged him to explore.
Donald Trump is reverse-Nixon, that's all you need to know.
[...]

"To me, 'America First' is a brand-new, modern term," he said. "I never related it to the past."

He paused a moment when asked what it meant to him.

"We are going to take care of this country first," he said, "before we worry about everyone else in the world."
Well, there it is.

The Joint Inquiry Into Intelligence Community Activities Before and After the Terrorist Attacks of 11 September 2001 has now had the 28 pages relating to Saudi Arabia declassified.
This means that an area of this document that used to be completely covered in black bars, now is almost completely visible. The Saudis were strongly opposed to having this section declassified and made available, as was the executive branch of the US. However, contradictions between different factions in the US Congress has led to a situation where it has been declassified.
Predictably, the framing that the western media has given it, is to try to portray it as though there is nothing interesting in the document. Nothing could be further from the truth. Every paragraph is actually interesting.
Here is a small selection of what is inside, with highlights placed on it by me: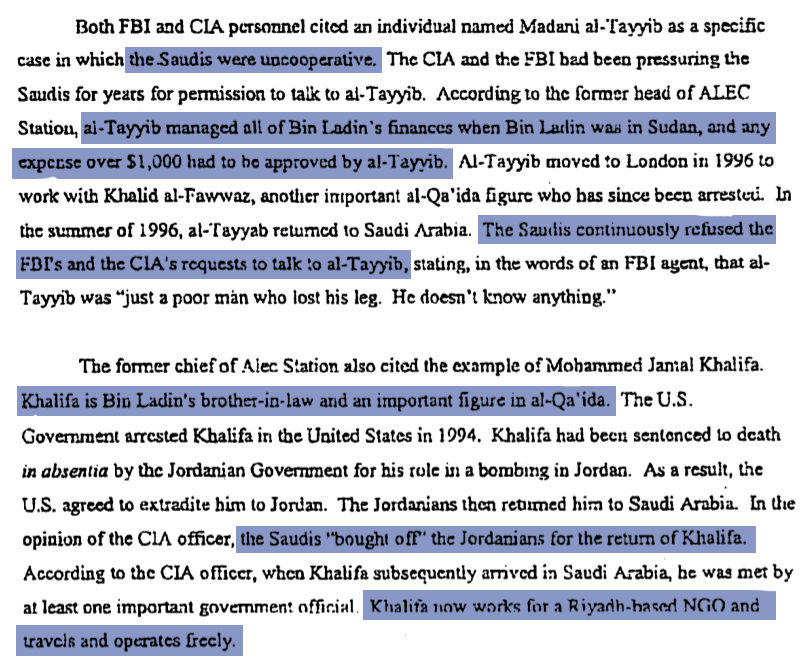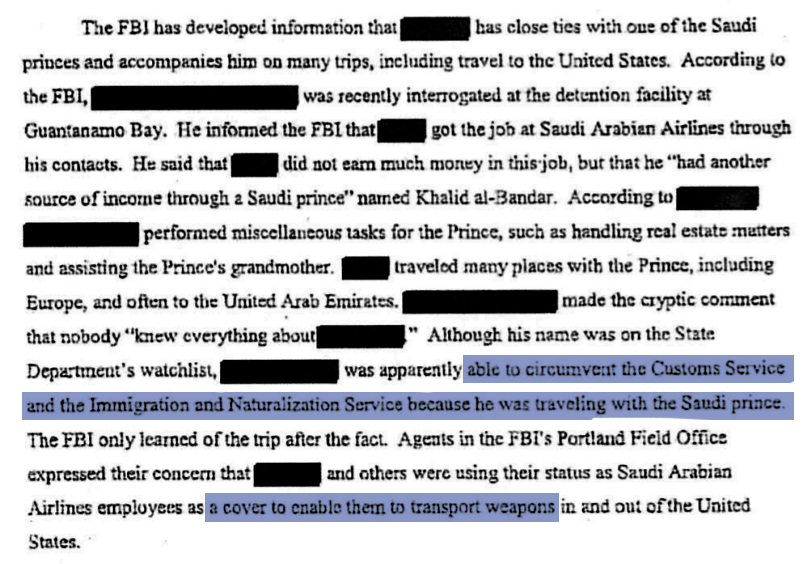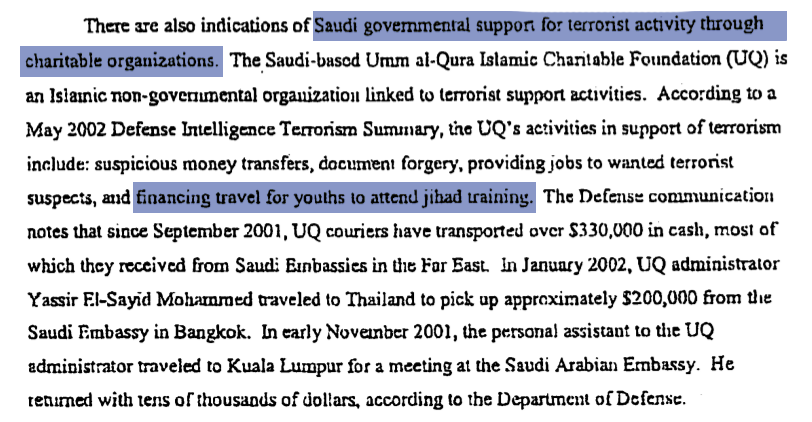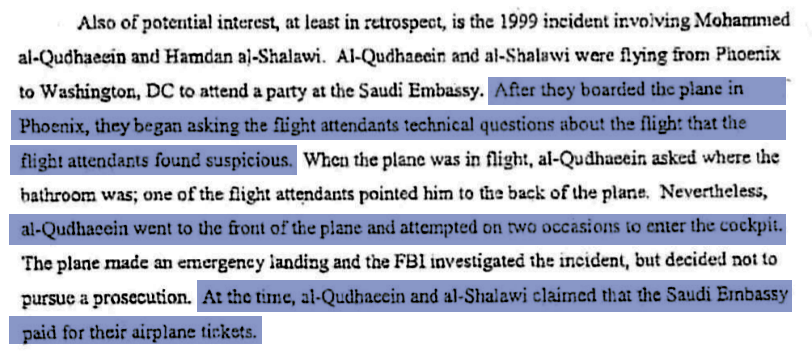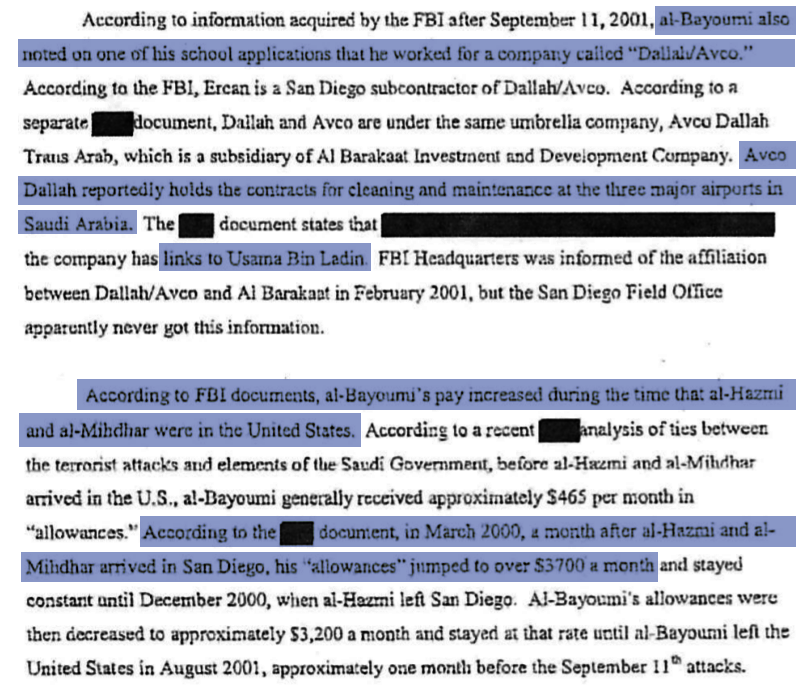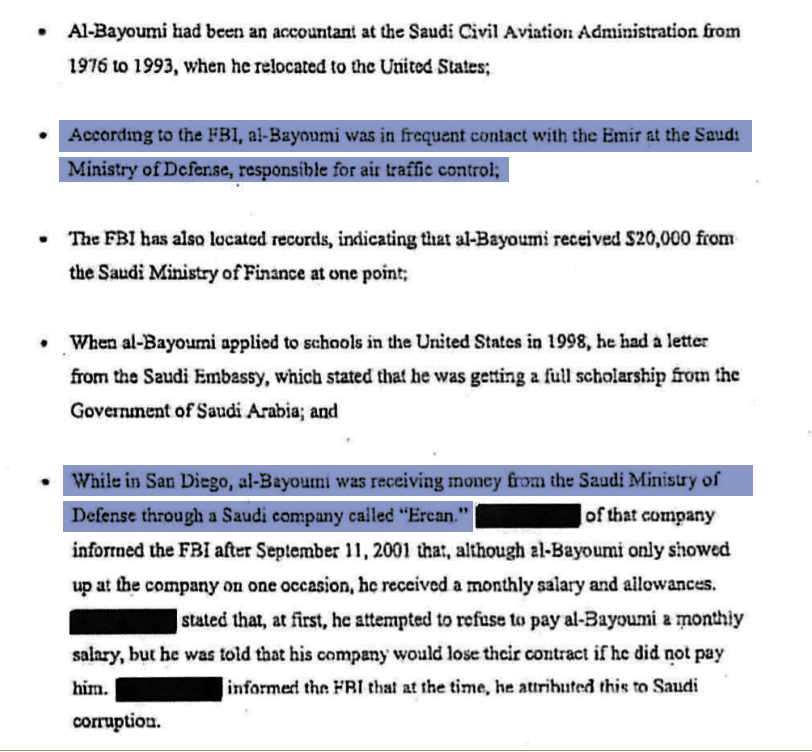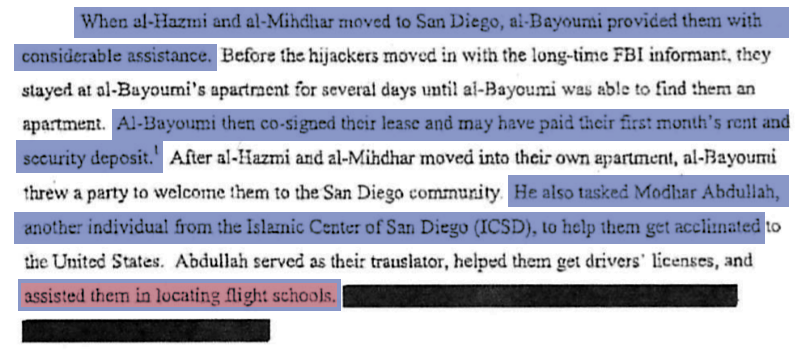 That is just a narrow selection of what is inside the document. I leave it to our readers to decide whether it looks interesting or not.
We should never forget that the attacks of 11 September 2001 were not just an attack against the United States, but rather an attack against the whole world. The centre of world finance, albeit flawed, had not exhausted its progressive potential, but it was attacked by the most regressive and most backward social forces. It is incumbent on us all to acknowledge where that attack came from and who supplied the ideological and logistical support which made it possible.
It should be clear that when the next memorial for the 11 September 2001 attacks is held, it should not be a time to make an oath of peace. Rather it should be a time to renew our intentions and recommit ourselves to permanent and neverending global war against all those who threaten to pull us asunder.
Kumiko Oumae works in the defence and security sector in the UK. Her opinions here are entirely her own.

Summary: Part three of a roundtable between Guessedworker, DanielS, and Kumiko Oumae, about Brexit and the leadership contest which is emerging in the aftermath of the decision.
The curtailment of the leadership contest within the Conservative Party, is discussed.
Recorded on 11 Jul 2016.

In the environment of Brexit as it presently exists, there are very few things which can be said as a certainty. Any real analysis of events really is going to begin after markets open on Monday morning, once political actors find themselves at work trying to figure out how to guide the UK's ship of state forward.
One thing which can already be seen however, is the budding counter-narrative which those who are in favour of continuing the EU's mass migration trend inside of the remaining 27 member states of Europe, are going to make up.
But before I present the counter-narrative which they are going to make up, I should first present what the actual reality is.
The presently existing and frankly obvious reality is that Brexit was largely a consequence of:
The pro-migration decisions made by the European Commission and the Council of the European Union, along with specific leaders such as Angela Merkel and Stefan Löfven.


The stances of the US State Department and the UK FCO during the 2011 - 2013 period which created the perfect storm of conflict which opened up routes for a whole wave of rapid migration from the Middle East and North Africa to enter the European Union.


The policies adopted by the ECB which exacerbated the 2008 crisis, prolonging it in the South of Europe and left much of South Eastern Europe in a state of underdevelopment, making the European Union one of the worst economic performers in the world in the post-2008 environment.


David Cameron's attempt to renegotiate the terms of UK membership of the European Union so as to placate the concerns of the British public and dis-incentivise a 'Leave' result, were handled incompetently by the Commission and the Council, because they seemed to think that Cameron was trying to troll them, when in fact what Cameron was trying to do was help the Commission to help itself. Statements from Jean-Claude Juncker and Angela Merkel hotly asserting that the agreement made with David Cameron was 'non-binding' in front of the whole world, were a classic case of the Commission's incompetence as a political player, and Merkel's actual stupidity.
The pro-European faction of the British bourgeoisie could not contain the populist response to these developments, and so incapable were they of containing it that one rival faction of the British bourgeoisie began to believe that charting a course outside of the EU was better for their own interests as well as the country as a whole. That rival faction correctly surmised that harnessing the populist response could take them to that place. This is what led to the creation of a 'Leave campaign', led by a collection of prominent Tories implicitly in alignment with a small segment of the Labour Party (Labour Leave), and UKIP. This faction of the British bourgeoisie expertly and valiantly exploited the situation as it was unfolding, to guide the British people toward a Leave vote, which enabled that faction to claim a mandate to de-pool the UK's sovereignty out of the EU and exit the bloc entirely.
The above observations—also known as 'the facts of reality'—are unacceptable to the European establishment on the continent, because the implications of this mean that they would see increased calls for them to stop doing what they are presently doing or else risk the total dissolution of the European Union as the same pattern could potentially emerge in other member states.
The European Union's leaders really don't want to sacrifice their mass migration agenda or their austerity agenda in order to save the union itself. They want to have their cake and eat it, and the only way they can do that is to try to convince the broad mass of the European population that the root problem is somehow actually the opposite of what it really is.
So instead, everyone will be told that somehow the reason for Brexit is because the EU itself somehow stoked 'Islamophobic tendencies' by implicitly approving of them—astonishingly—because it somehow didn't prostrate itself to the needs and concerns of Turks as well as Arabs and North Africans quite enough for their liking, and that by not prostrating itself it somehow gave the signal that it was okay to not prostrate oneself, which somehow led to Brexit.
Sounds impossible? Oh, it's possible. Indeed, they would have to have some real gall to try to flip the script at this stage in the game, yet they are going to try it, and Erdogan is leading the way as the first one to attempt it this absurdity:
Daily Sabah, 'Erdogan: EU's reluctance to accept Turkey has Islamophobic motives', 24 Jun 2016 (emphasis added):

President Recep Tayyip Erdogan said the European Union is reluctant to accept Turkey as a full member due to its Islamophobic motives.

Speaking at an iftar dinner in Istanbul on Friday, Erdogan said "The EU's double standard policy towards Turkey has become an undeniable fact,"

Touching upon the referendum held on June 23 in the United Kingdom to decide whether or not to stay in the EU, he said that the Britons' decision to leave the union will mark a new era for the EU.

Erdogan further added that the EU is likely to face more exits in short term if it "continues on the same path."

U.K. voters opted to leave the EU in a historic referendum on Thursday, sparking worries across European capitals over the political future of the bloc.

Almost 52 percent of voters rejected their country's 43-year EU membership.

Erdogan stressed that Turkey has always given its due importance to the acceleration of Turkey's EU membership bid but the bloc has always been delaying the process.

"Double standards are no longer hidden. They have put more obstacles on Turkey's path. They have been keeping Turkey waiting at their door for 53 years."

During his speech, Erdogan also criticized EU's asylum procedures.

"The EU bloc's bad humanitarian and immoral approach to immigrants has led to a serious debate about the trustworthiness of the European Union," he said.

The EU and Turkey signed a refugee deal on March 18, which aimed to discourage irregular migration through the Aegean Sea by taking stricter measures against human traffickers and improving the conditions of nearly 3 million Syrian refugees in Turkey.

The deal also allows for the acceleration of Turkey's EU membership bid and visa-free travel for Turkish nationals within the Schengen area, on the condition that Ankara meets 72 requirements set by the EU.

Although Turkey fulfilled most of the criteria last month, differences between Brussels and Ankara on anti-terror legislation have forestalled the visa-liberalization deal.

Turkey began its EU accession talks in 2005. In 1963, Turkey and the European Economic Community (the EU's former name) signed an association agreement.
Welcome to topsy-turvy land. In coming weeks I can almost guarantee that the political figures in Europe will begin partially echoing Erdogan's sentiments, and Europeans will be told that the only way to avoid future 'exits' is for people like Merkel and Löfven to show even more 'leadership by example', so that 'love can triumph over hatred'.
Achieving Frexit, Nexit, Czechxit, Polexit, and every other kind of exit, becomes increasingly more likely as the European leadership increasingly proves itself to be mentally retarded. Now that Brexit has actually succeeded, I'm perfectly happy to nihilistically contribute to propagating the narrative that ends the whole EU and gives space for something stronger and better to rise in its wake.
The strong shall live and the weak shall die. This applies to people, but also to institutions. The first word in the term 'European Union' is 'European', and if the European Union can no longer coherently act as the economic arm of Europe's defence in complement to NATO, then the European Union shouldn't exist. It's obvious. If the EU leadership couldn't handle a simple problem like the migration crisis and its political fallout, and if it couldn't even see off challenges from diverse opportunists like Boris Johnson, Michael Gove, Gisela Stuart, Nigel Farage, Priti Patel, Liam Fox, Andrea Leadsom, Iain Duncan Smith and Lord Ashcroft, then frankly the EU does not deserve to exist as a structure.
The flag of the United Kingdom of Great Britain and Northern Ireland is the symbol of the strongest political power in Europe, and those who want strength gather around it.
Kumiko Oumae works in the defence and security sector in the UK. Her opinions here are entirely her own.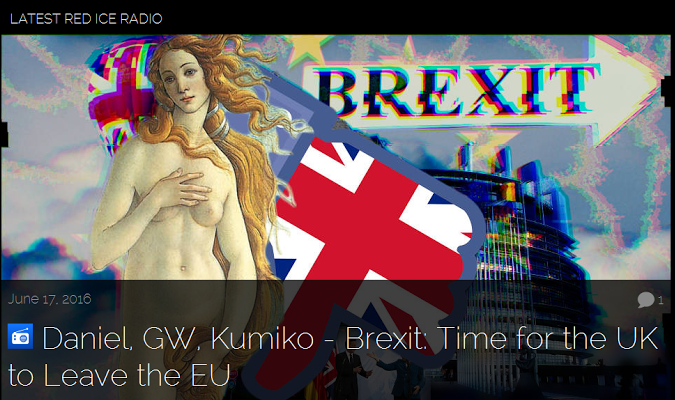 Vote Leave on 23 June.
Summary: This interview was hosted by Henrik Palmgren at Red Ice Radio, and the roundtable discussion was about Brexit and its significance for Europe and the world.
The first hour is freely available for all to download, the second hour is available with a subscription to Red Ice Radio.
The participants on the roundtable were:
Henrik Palmgren: Henrik Palmgren was born in Götaland, Sweden, the land of the Goths. He is the founder and Editor-and-Chief of Red Ice. Henrik is best known as the host of Red Ice Radio and TV, producing most of its content. He is primarily concerned with European heritage, culture and counteracting global internationalists.


Guessedworker (GW): An English nationalist in favour of international nationalism. Having lived in 1950s era Britain, he has since seen his nation undermined by neo-liberalism and Jewish-inspired leftism. He created Majorityrights.com in 2004 as a forum to find solutions for the myriad of problems facing not only the British people, but all European peoples as well.


Kumiko Oumae: The Eurasian affairs contributor for Majorityrights.com. She believes that in order for Europe to control its own destiny – and for it to be a good trade and global development partner for Asian countries – there must be a serious dialogue on Europe's historical role in the world and the justification of that role, as well as how the European states can resolve the crisis of legitimacy that their governments are presently facing. Kumiko also works in the security and defence sector in the United Kingdom.


Daniel Sienkiewicz: An ex-pat American of European descent, living in Europe. He has been troubled by the implications of "anti-racism" and has been testing various means to advocate for European peoples for as long as he can remember. Daniel rejects many common approaches, including all characteristically Cartesian attempts, such as scientism, as ineffective means to solve the problems that currently threaten ethnic Europeans.
We were honoured to have the opportunity to link up with Red Ice Radio in this way, they have our thanks.
Red Ice Radio, 'Brexit: Time for the UK to Leave the EU', 17 Jun 2016:

We begin by discussing Brexit and its significance in the ongoing struggle between nationalism and internationalism. Kumiko argues that, in many ways, the current economic paradigm in the West isn't quite internationalism proper, but rather the United States being allowed to dominate due to passivity on behalf of the European Union. Despite a few minor disagreements, all three guests adamantly support withdrawal from the European Union. We then discuss the original vision of the European Union – that of a unified, more prosperous Europe – and how the elites therein have sabotaged that vision by allowing in millions of non-European immigrants. Later, we talk about the unfortunate lack of patriotism within certain European countries. We conclude this episode with a discussion on the manner in which the mainstream media has used the murder of Jo Cox as an excuse to those in favor of Brexit.
Links: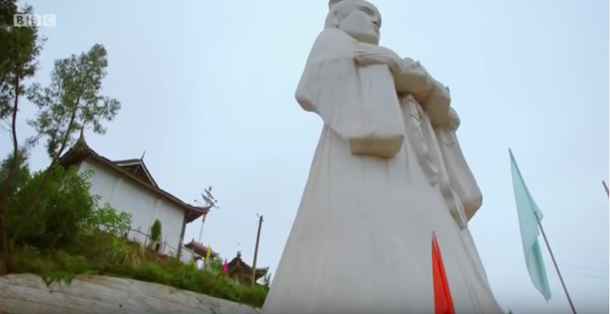 The worship of the Silk Mother is about 4,000 years old and still continues…

Kermit Alexander's punt return for nearly a touchdown suddenly crystallized several factors of my burgeoning masculine identity (I was only 9) and bonded it strongly with the Los Angeles Rams in a moment on Monday Night, October 26th 1970.
I was not completely oblivious to the fact that he was black nor even entirely without trepidation for the long term implications of siding with blacks - just a few years before it was Malcolm X who said that blacks were going to rule me, which of course I did not want - there were the black riots which burned Newark and killed some dozens in 1967; and there were the "chocolate nurses", whom I naturally did not identify with, and did not like, but surrounded me in the hospital when I was admitted for my tonsillectomy.
Oh, perhaps I exaggerate the exhilaration, elation and importance of this moment of Monday Night Football, under the spotlights which gleamed off the Rams and Vikings cool, streaking helmets, but I think not - even though it was but one moment and episode among a mass of factors which would misguide me for a few teenage years into mis-identification. I was devastated that the Rams were stopped in that episode on the goal line against the Vikings - The Vikings, who had been to the prior Super Bowl. But I was now hopeful and determined that "we" could play with them - and furious that my parents made me go to bed; miserable to wake up to find the Rams lost.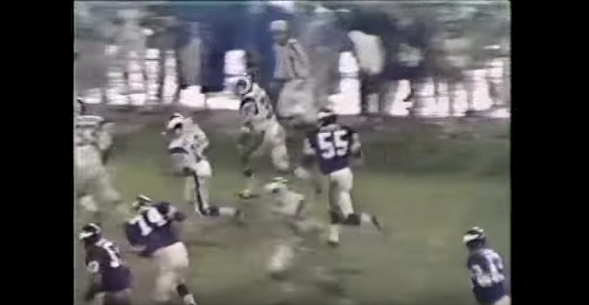 The Vietnam war, where men were expected to die, feminism, that blamed men for everything, my family's communicologial craziness and what was already society's (((the media and academia's))) anti-White prohibition against White identity, its crowning of blacks as what we now call the "untouchables" and Jews as taboo to even wonder about, let alone criticize.. some context and quite difficult for a boy hard programmed to like girls: yeah, I was starting to like girls, but of course not wanting to be deterministically beholden, at this point, to this situation - with all this context going against my identity and the need by contrast to identify with people who were on my side and who'd fight hard; given the hostility of my family and society, I needed some socially sanctioned identity, on my side, with those who'd fight.
NFL Films were a significant part of constructing a riveting identity, i.e., my entrancement into undue sports rooting in my teenage years.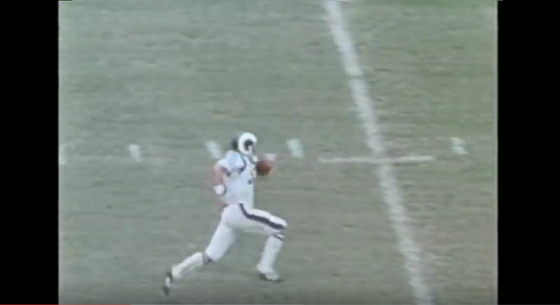 Jack Snow sprinting for a touchdown in N.F.L. Films
Lets continue with the topic of sportsfanship, how we might illustrate and redirect the illusionary escape of illusionary observational objectivity and diversionary identity. It's an important matter, leading to a cuckold identity if, as a habit, not broken (thankfully, I did).
Furthermore, by examining the romanticizing and compelling role that NFL Films play in identity creation, we might be able to take a few of its ideas for the building of our own identity creation.
Let's examine the films then and a little more of what could lure one into sports enthusiasm during teen years and beyond. It is a fanaticism that we could rather use to fight on behalf of our own peoples.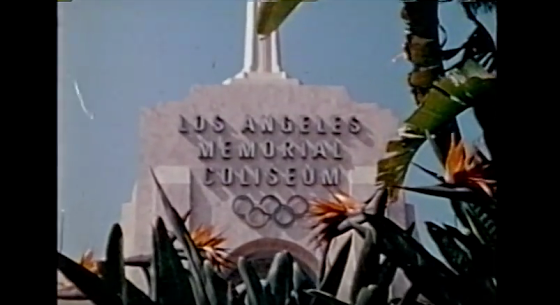 Los Angeles Coliseum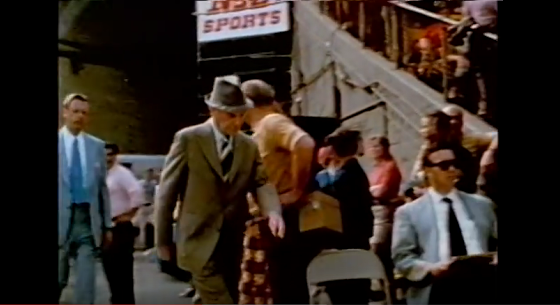 The coaches, adults, were all business and made this seem like serious business
In sunny California, Hollywood, manly battle took place in cool uniforms..
.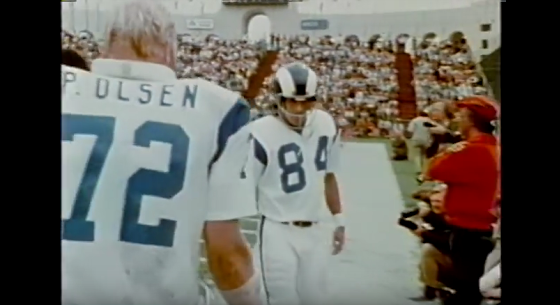 Appreciation
Snow (number 84) was one of my favorites ...they actually had White wide receivers in those days - they were good, too.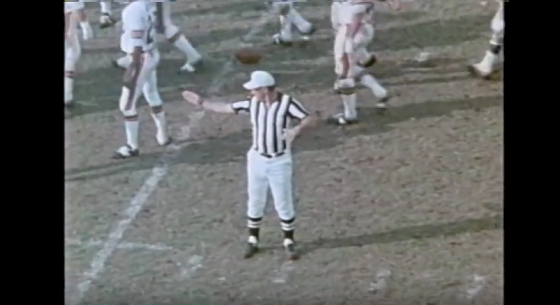 The officials made it official
The timing had something to do with it, sure. As I've said elsewhere, the early 1970's were a time when the Vietnam war was ending, the relaxed communal sense of Being being extended to White men was giving way to feminism - could be rabid, White man hating, feminism. My older sister was a cold feminist, when not a searing hot feminist, when not a disconcertingly light, breezy and trivializing feminist; my mother, when not having some sort of catharsis for herself through a breakdown and drinking, was usually hostile; if you knew my father, you could have some sense of why she was that way. I'm over that, and its not my point to complain, but to state the fact of why I needed some vicarious identity - which could neither so easily be had with my family nor with my (((diverse, multicultural society and its programs of forced integration.)))
OK, so, I was ripe for some escapism and masculine aggressive identification - a quasi serious thing, treated seriously by adults.
At the same time, through programs of school "integration", by the school year of 1970 my homeroom teacher was black, and there were plenty of blacks in the integrated class of my local elementary school. But in 1971-72, the integration program bused me to Nishuane, a mostly black school - and a nightmare.
Again, this wasn't long after Malcolm X declared that "the Honorable Elijah Muhammad said that the black man would rule" and not long after the black race riots in 1967 burned the nearby town where I was born, Newark; while it was taboo to take an identitarian stance against even saying anything about that, even then.
I've already mentioned a Bobby Murcer home run in September 1971 and the compellingness, the soothing reliability of baseball statistics, but there was something even more immediately mainlining into the older parts of the brain of the sports thing - NFL films.
I'm sure this kind of thing hooked many a kid, not just me.
In this I got a program, maybe what we'd now call a site, to identify with the venting of my spleen, my rage, will to action, to run, to identify with a tribe, to bask in the glory and to identify with, well, actually, White guys…..and we could share in widespread appreciation that was not forthcoming, personally, i.e., whereas we might otherwise not be given much support in identity (((to say the least))). In this quasi-identity, with our masculine strength alone and mere uniforms distinguishing teams [the players did not even come from the towns that "they played for!"] we could at least assimilate fighting for an identity together, not against our own - quite unlike my family, my (((American society))) and my Europe.
"The fearsome foursome", Deacon Jones, Merlin Olsen ...the cool uniforms, winning ways, Roman Gabriel, exotic Los Angeles. I could identify fiercely with them. On Monday night, October 24 1970, my parents let me stay up late….almost..I got to see Kermit Alexander's exhilarating punt return….the Rams were stopped on the goal line just before halftime. I was broken hearted, but optimistic that they could play the Vikings, they could win. I didn't want to be torn away from the TV but my parents would not let me stay up..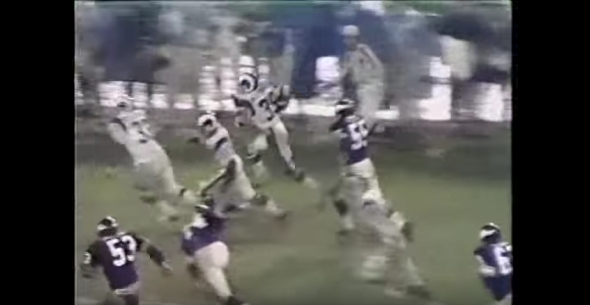 I wasn't paying attention to his race in that moment, he was on my side, my team
That moment set off an adrenaline rush as lights gleamed off streaking helmets, followed by the frustration of losing to the Vikings, a threatening team in uniforms just as cool as the Rams. From the cold north, men in Viking helmets came to play men in Ram helmets. Fascination set in.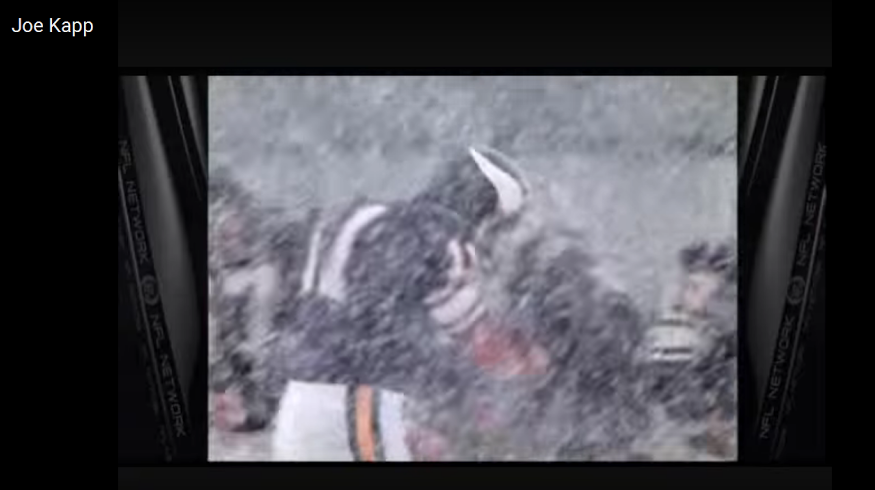 It is something of a challenge to provide alternatives to young White boys to the visual appeal and action of sports like football which blacks can do well (similar as the challenge of black musical ability and audio appeals, it even has some addictive properties).
I would remain fiercely loyal to my side and could not tolerate losing, fairly bad though Rams records were compared to the late 60's and what was to come in the 70's; even though the Vikings just about always got the best of them in the playoffs - and in excruciating manner.
In the 1974 playoffs, not only did White Rams fans suffer the indignation of having their team headed by one of the first black quarterbacks (And I didn't like it. Quarterback, the helm leader, was always a firmly White position), but they snatched defeat from the jaws of victory against the Vikings, again thwarted at the goal line.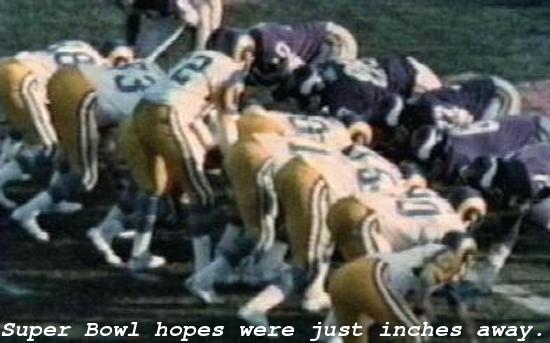 After starting hemmed at their own goal line, the Rams went the full length of the field to the Vikings goal line, where Harris threw an interception and the Vikings reversed fortune.
The Rams had a first down on the Vikings' one-yard line at the time. The penalty made it second and six, but quarterback James Harris threw an interception into the end zone on the next play and the Vikings eventually won, 14-10.

James Harris, one of the first black N.F.L. quarterbacks, helps the Rams to lose again to the Vikings in the 1974 playoffs.
Full Episode: In 1974, the Rams should of played the NFC Championship game against the Vikings in 70 degree Los Angeles instead of -12 degree wind chill factor Minnesota. Both teams were 10-4, and the Rams had won their one regular-season meeting. Until 1975, however, the NFL rotated playoff sites, and it was the NFC Central's turn to play host to the conference championship game. Forget about it being the NFC Championship game, name me any game that a team goes over 99 yards and gets no points and loses by 4 points. OVER 99 YARDS!!! That doesn't happen in Pop Warner. This is what happened. In the 3rd quarter, the Vikings hold a 7-3 lead. A punt pinned the Rams inside their 1-yard line, but we moved out of danger to their 25. Then Harris hit Harold Jackson for a 73-yard gain. Jackson should have scored, but he was nudged out of bounds by Jeff Wright at the Vikings' 2. One play later the Rams were less than six inches from a 10-7 lead. But Harris, who could have fallen forward for the go-ahead TD, switched to a long count.The refs said Hall of Fame guard Tom Mack flinched, costing the Rams five yards. Two plays later, linebacker Wally Hilgenberg intercepted Harris' tipped pass in the end zone. The Rams had gone 99 yards and produced no points. We lose by 4 points. The Viking curse.
In 1976 the Rams got thwarted on the goal-line in the playoffs against the Vikings once again.
In the 1976 playoffs, the Rams returned to the dreaded frozen north for another NFC title game. The temperature at kickoff was nine degrees.

The cold didn't seem to bother the Rams, who drove smartly down to the one-yard line, but then their luck—and maybe their confidence—froze. Knox sent wide receiver Ron Jessie on an end-around to the right, where Jessie was met at the goal line by a pack of purple defenders.

"He scored on the play," McCutcheon said. "I saw the ball over the (goal) line, in the end zone. They spotted the ball like on the one-inch line."

The Rams had cause to feel an ominous chill at that moment.

"We still had a couple of more plays to get the ball in," McCutcheon said. "I think he (Knox) called a quarterback sneak with (Pat) Haden and some other play I can't remember.

"That was really disappointing because we were one inch from the goal line, and that was the year we were running the ball so well—25-Lead, 44-Lead. I thought at that time we would certainly want to get the ball to one of our backs—preferably myself.

"I couldn't believe the quarterback sneak. So (on fourth down) we decided to go for the field goal, and they block it and take it back 99 yards."

Actually, it was only 90, but old Rams still have nightmares of Viking Bobby Bryant scooping up Tom Dempsey's aborted field goal attempt and racing toward the other end of the field. Jack Youngblood was so heartsick after the game that he couldn't talk—literally couldn't talk—for 15 minutes
While in 1977 it had been meteorological frustration, surprisingly, on the home turf…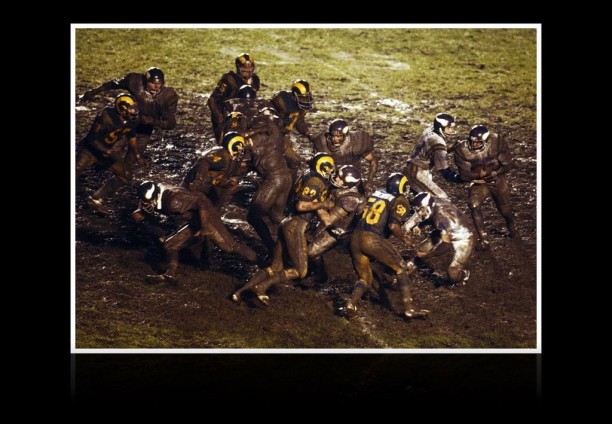 The 1977 "Mudbowl" stuck the erstwhile viable Rams in mud and loss to the Vikings yet again

Coming back to the onset of my enmeshment in this identity in 1970, I had wanted to identify with black Deacon Jones and was glad when his fearsome play was on our side, but I couldn't quite - I thought that he looked weird. I wanted rather to identify with Jim Bertelsen, Jack Youngblood, Fred Dryer, Roman Gabriel and Jack Snow.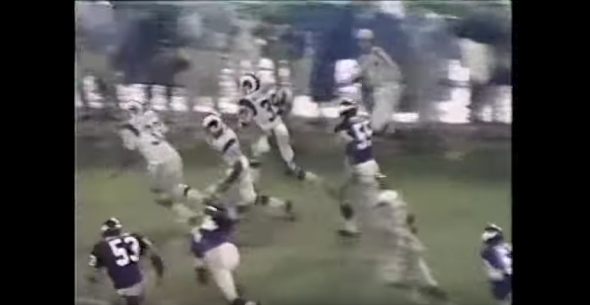 Yet just another few years before I'd had fantastic temper-tantrums when having my tonsils out. I did not like the chocolate nurses.
I plead innocent besides - how was I to know who Kermit Alexander was and what he could come to mean to us… why should I believe that adults would let this happen, when what was happening by way of blacks was so obviously bad in terms of their hyper-assertiveness.
Who'd want to live with these people who burned Newark, made things so ugly, but nevertheless had the nerve to say that they'd rule us?
Unbeknownst to me, this was the football season following the Super Bowl (IV) played by the first majority black team - The Kansas City Chiefs. That is to say nothing, of course, of my nine year old awareness (lack thereof) of the (((egregious forces and purposes))) behind the 1964 Civil Rights Act, The 1965 Immigration and Naturalization Act, and the 1968 Rumsford Fair Housing Act…

My father told me that the Chiefs would "three-point-them (the Vikings)-to-death." Place-kicker Jan Stenarud (3) and quarterback/holder Len Dawson (16) were a few of the minority of Whites on the Super Bowl winning Kansas City Chiefs - already, in 1970, a majority black N.F.L. football team, albeit the first one.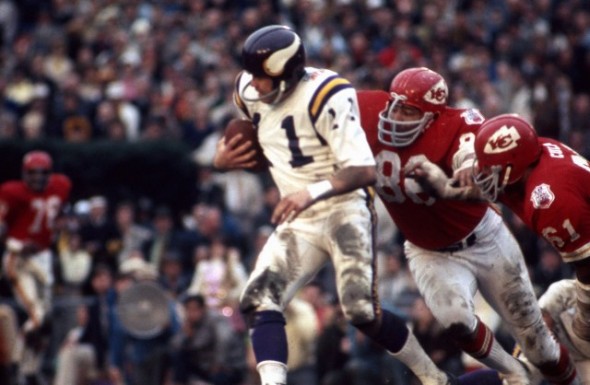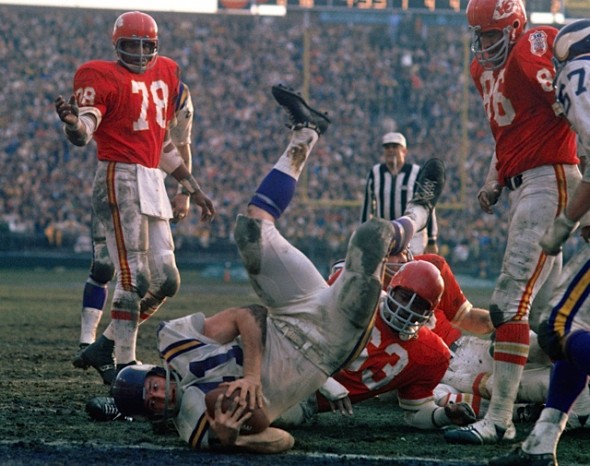 Whites playing the objectivist game gamely, but upended by first majority black team, Kansas City Chiefs, in Super Bowl III, January 1970.
By 1972 the war was ending and feminism, no longer constrained by the double standard of the (male only) draft and with it, the background need to grant some leeway to male protest for Being, came unhinged. I needed vicarious male identity more than ever.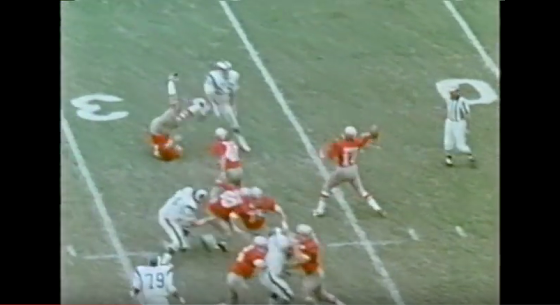 Action against the San Francisco 49ers
N.F.L. Film's style captured attention with Yoshi Kishi's innovative editing, John Facenda's deep voiced, stern narration and Sam Spence's riveting music: With slow motion, fast motion, varied shots, bustling action and music, music of burly combat, "Sunday with soul" - that music so compelling to the emotions of a kid who wants his identity ultimately dramatized, ranging from the toughest, the most earnest quest, manly American quest, epoch exhilaration to dark, grim, wide ranging venture, and heartbreaking sympathy, "the game that got away" - while husky voiced narrators, John Facenda and Pat Summerall in particular, embellished the seriousness of it all. The music here, during minute 1:12 - 2:20, as background to a Redskins - Eagles game, is particularly intriguing: here it is by itself - "undercover man" - one of my favorite among these Sam Spence and William Loose tunes. "The Horse" was not included among NFL film songs, but was/is a marching band staple along the sidelines of high school games that achieves much of the same sentimental effect. And there was that Monday Night Football intro music.
...another compelling tune to add to the collection - starting second 017.
If GW wonders what Hitler had going for him to excite a stadium and crowds in the street, well he certainly had something going for him, he must have, because he didn't even have war action going on at the time, let alone some of the things that the NFL has to draw-in and compel mass allegiance..
But while NFL Films served to seduce, corrupt and divert my identity for some time from better pursuits, it is also worth talking about how we might perhaps use some of its techniques to deploy to our cause.
At least it was something that people were paying attention to. It was not merely the moment when Kermit Alexander's fast twitching muscle fibers sprinted toward the end zone ..it was that and much more..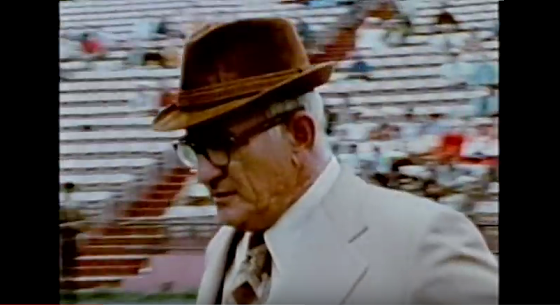 Tommy Prothro, with grim adult discipline and sacrifice of hours of training before the glory of the fans arrive.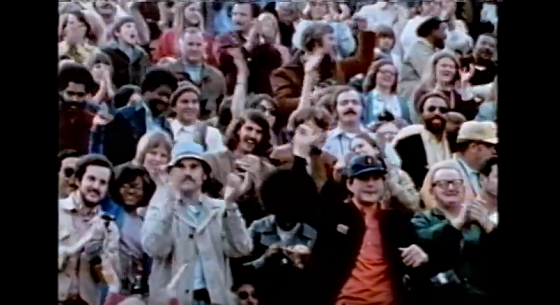 Fans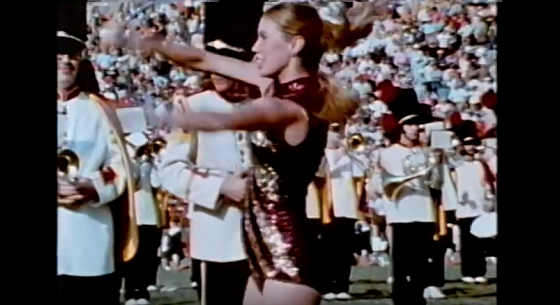 Cheerleaders and marching bands
There were massive stadiums packed with fans, pageantry, marching bands, cheerleaders…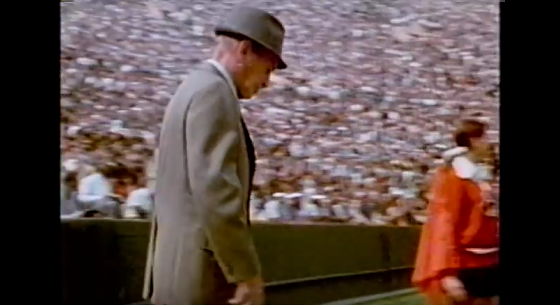 Paul Brown, the mature display of serious business when the masses of fans did arrive.
Here they were, the L.A. Rams - an opportunity for the requisite, more objective identity for me: they were from far away Los Angeles, with a team that was coming out of the 1960's with great records and an awesome manly reputation. My older brother told me that they had the "The Fearsome Foursome" - their defensive line featuring Deacon Jones, Merlin Olsen ..later Fred Dryer and Jack Youngblood ..with their cool names, add quarterback Roman Gabriel to that regard. They had the coolest uniforms too.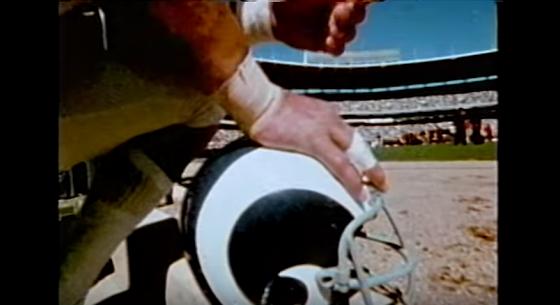 Helmet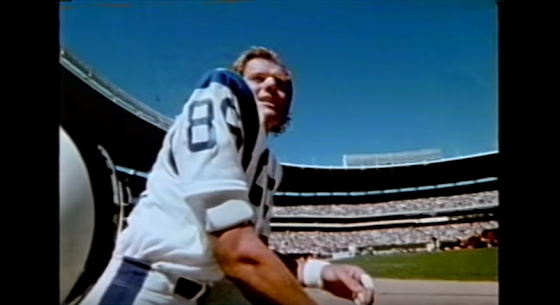 Fred Dryer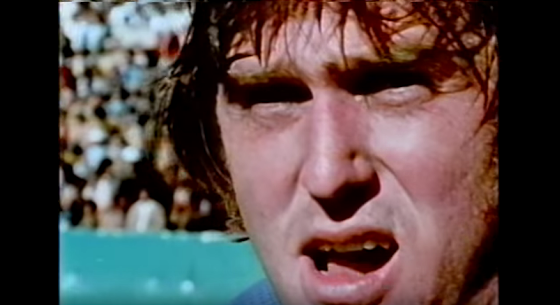 Jack Youngblood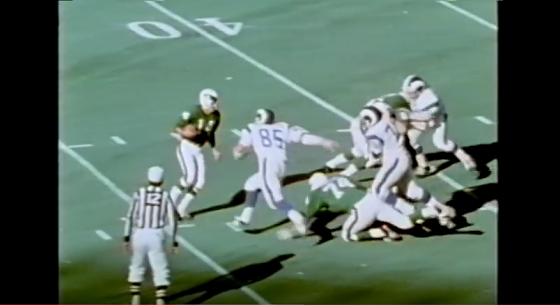 Jack Youngblood about to lower the boom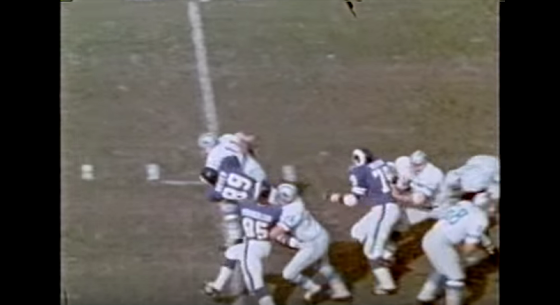 Fred Dryer making a sack with Youngblood in hot pursuit.
Roman Gabriel, a very cool name for the quarterback playing for the Rams in The Los Angels Coliseum..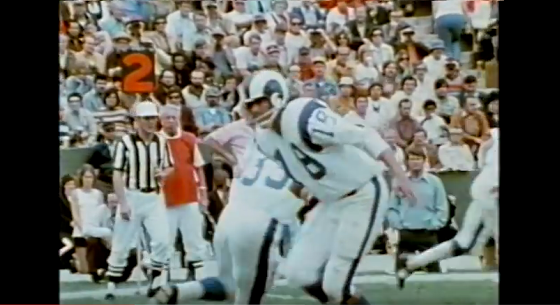 Roman Gabriel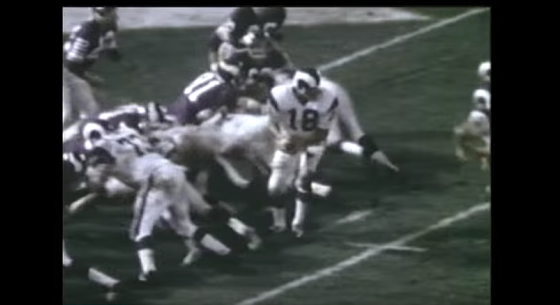 Roman Gabriel vs Vikings in '70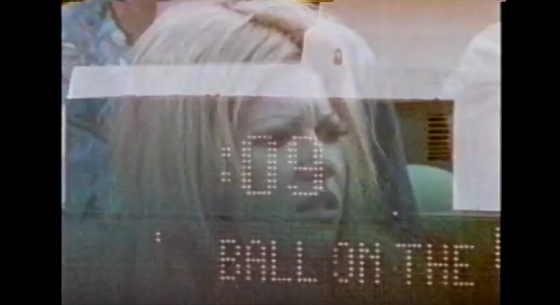 Concern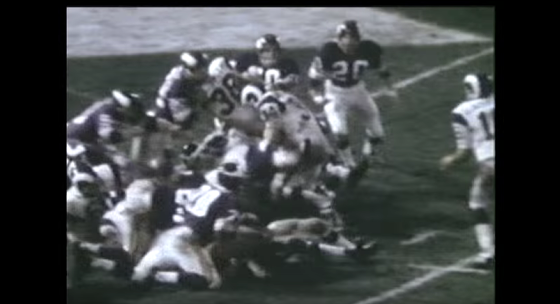 Action vs Minnesota Vikings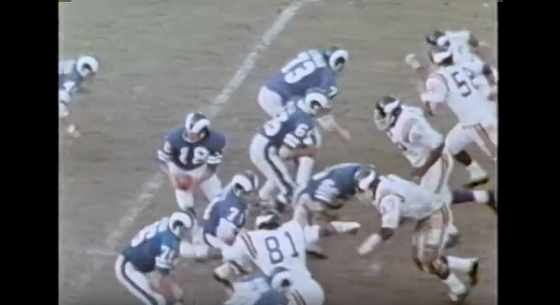 Roman Gabriel vs. Minnesota Vikings in 1972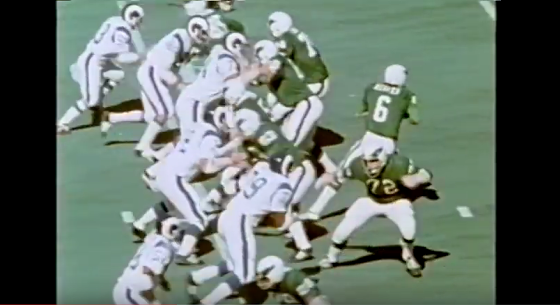 The Fearsome Foursome inveighs against The Philadelphia Eagles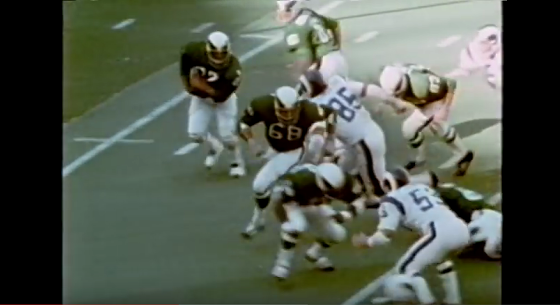 While Youngblood (85) was my favorite on Defense…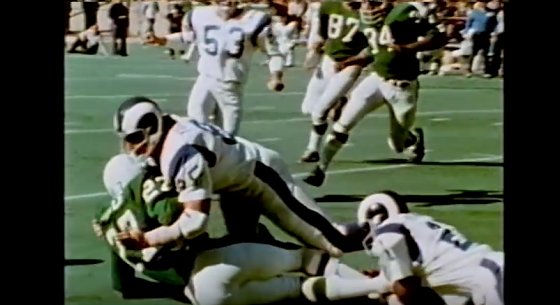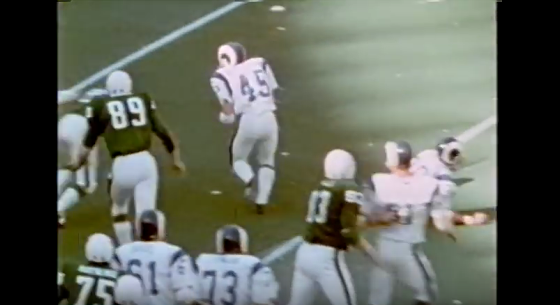 Jim Bertelsen (45) was my favorite on offense..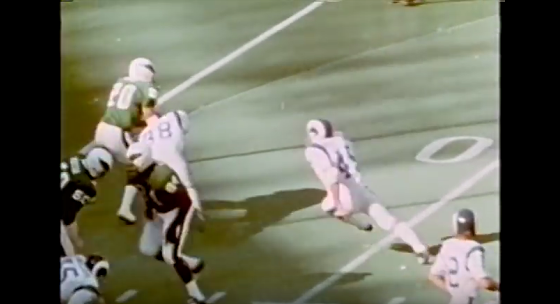 Jim Bertelsen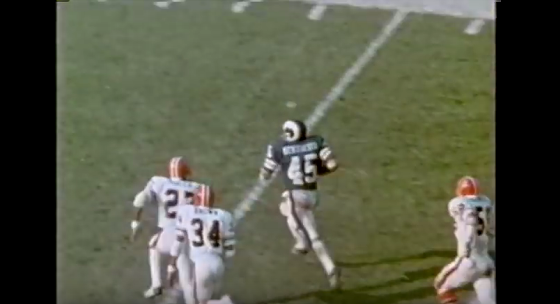 Jim Bertelsen bolting past Atlanta Falcon defenders.
Now let's step away from the Pattern, the Relationships and come back to the Episode and the Kermit Alexnder Moment…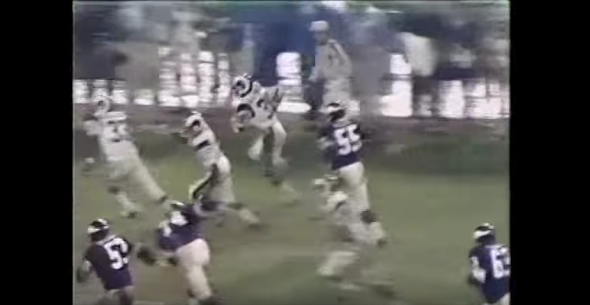 The Moment in 1970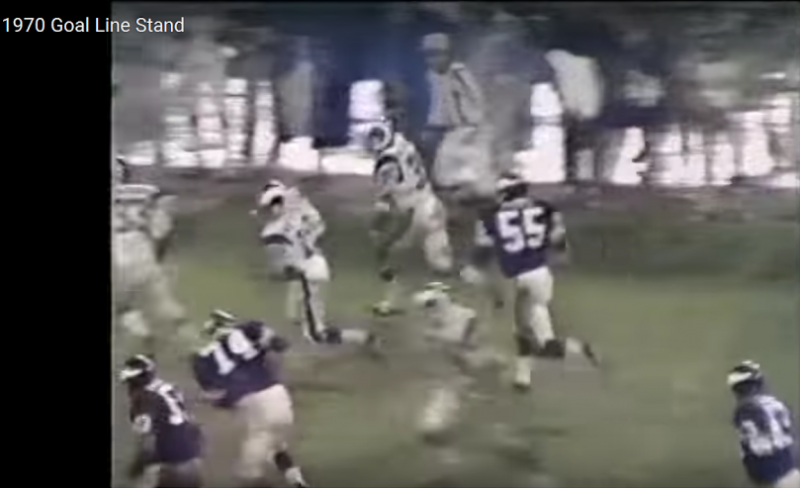 The Episode in 1970 - actually two episodes in succession: punt return; and then goal line stand.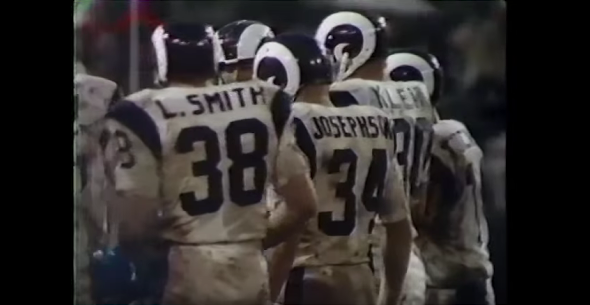 Goal line stand episode begins with the Rams in huddle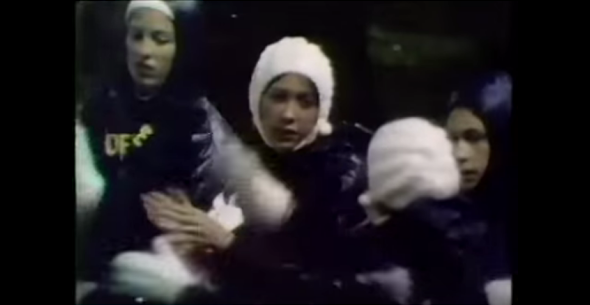 Sportsfanship in that Episode..(they look like girls sent by mom to church choir practice).
..and see how the Relationships and Patterns of White objectivism unfolded, especially in (((context)))...