Majorityrights Central > Category: World Affairs
Since I am paying more attention to things Asian as a result of Kumiko's participation here, a couple of videos and a composition of Facebook comments relevant and illustrative of issues that I have been discussing have come to my attention.
Asian illustrations of..
1. Advised social confirmation and elevation: of the value of ordinary routine practices; in this case, participation in social routine.
2. Bad parenting advice: "You are from Sweden" and simply Swedish by proposition - abrogates racial accountability and leaves one susceptible to Jewish trolling for racial divisiveness and strife instead. Why the suspicion of Jewish trolling? Because of a salient example…
3. A composition of fake tweets: attributed to Americans apparently mocking the atomic bombing of Japan:
Captioned "stay 'classy' America" - the fraud and motive to create a division between Whites and East Asians is traceable to Jewish motives.

Coming to these examples throwing light on racial accountability from Asia, one at a time -

1. Advised celebration of ordinary routine:
Kumiko likes Korean and Japanese pop music videos and she showed me this Japanese one.
Participation in..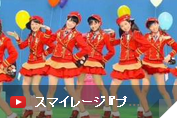 ..routine social service..
If WN can show bearance upon what might otherwise be construed as an appeal to yellow fever by the presentation of this video, there is actually bearing upon an important point that I made in my article about "the dark side of self actualization" and how to otherwise moderate and optimize actualization.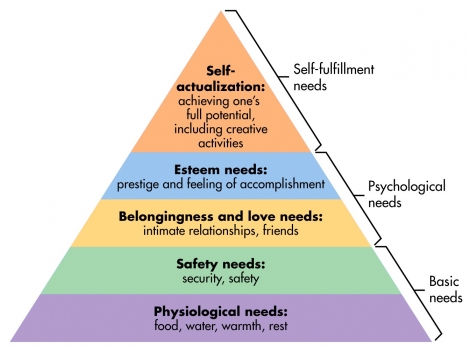 That is to say, one thing that needs to happen in our re-socialization of actualization is for the value of individual self actualization to become part of a rotating and optimizing process of attention, to where it does not always and statically occupy the top of a hierarchy. That over-emphasis has, of course, destabilized and lent to the rupture of our racial/social systemic homeostasis. The inference I've made is that one of the aspects of actualization that needs to be constructed, elevated in importance and encouraged to enjoy is not only a sufficient amount of routine but also routine social participation in our tried and true practices and procedures. That will not only allow us to learn from our forebears but it is also necessary to create a platform for elaboration and innovation; i.e., it is prerequisite and socially as important as actualization. This video shows a song and dance of girls in Japanese postal service uniforms.
The point that I am trying to make is that celebrative or otherwise reverential treatment like this, of the ordinary and social routine, might help to emphasize sufficient sufficience, so to speak, in enjoyment of necessary social routines and with it, an elevation of appreciation of ordinary necessity so that it is not dwarfed nor its vital necessity discouraged by singular social appreciation and veneration of the extraordinary and the sacred.
I hypothesize this elevating celebration of routine (in this case social) practices as one side of the necessary elevation of the social esteem of routine; another side of "routine" elevation would be ceremony and sacral treatment of exemplary practices.
2. Bad parenting advice: The oriental woman in this video was adopted by Swedish parents and brought-up with that idea that she is "simply Swedish, the same as any other Swede", by proposition.
By contrast, if she were taught that she was an adopted girl of Korean descent, who was and should be welcomed as counting of a manageable, benign but accountable enclave of Swedish nationals…
...there is insufficient accountability in insistence upon her parents well meaning but bad advice - simply asserting that she is Swedish just like all other Swedes.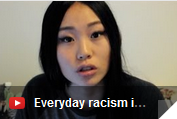 She sets herself up for abuse
Adopted by Swedish parents and growing up in Sweden, she responds to the question from a Swedish man, "where are you from?" that she is "from Sweden." The man responds, "no, where are you really from?"
She takes this as an example of "racism" and tries to correct the man in the motive she perceives of his question, answering that she is "Swedish just like every other Swedish national" - as her parents taught her.
However, I'd guess that the man's question was not "racist" in a negative sense. Yes, it was racial in the sense that he was trying to get an accurate sense of how to classify her, but why? Because he thought negatively of her and of her being in Sweden? Probably not.
He was quite possibly asking her for one or all of the following three reasons:
a) He found her attractive and wanted to know where her sort was from for future and general reference.
b) He found her attractive and saw the question as an opportunity for an ice breaker.
c) If she answered, "Korea", chances are that he would enjoy showing his good-will toward her, by confirming her honest account and her people as really OK, and that as a part of a reasonable and accountable number of her kind of immigration, take occasion to show support for her participation with Sweden.
That is to say, what the man was doing was "racism" by definition in the sense that he was attempting to classify people genetically (not doing the mere liberal thing of pretending to be blind to racial classifications but judging people instead by propositions), but it was, in all likelihood, a benign kind of classifying, motivated by respect and a wish for accountability.
Because she treated it as "racism", i.e., classification for negative motives, she attempted to denounce it and hide behind the well meaning but fundamentally dishonest advice of her parents that as a propositional Swede she was the same as an evolutionary Swede.
As such she denies the possibility of honest accountability that would serve to limit negative treatment of her in Sweden and gain her support from those who have an honest concern for the management of native Swedes.
Instead, for denying accountability and denouncing the account requested as "racist" she sets herself up for abuse from at least two kinds in particular.
She will perhaps get some abuse from jealous and racially concerned Swedes, e.g., Swedish women miffed with yellow fever. That would be understandable if Asian immigration were taken too far at any rate, but when there is no accountability it is likely to be more provocative of the racially sensitive Swede for her to say, "I am the same as you", have the same history, etc. But even at that, it is probable that she did not really receive much of the gaffe from true Swedish women. What abuse that she got and experienced, with truly saddening pain, most likely came from Jewish trolls looking to stir conflict between Whites and Asians.

She gets abused by what probably are some Jewish trolls trying to provoke conflict between Asians and racially aware Whites: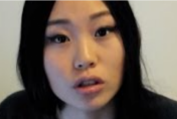 3. What makes me hypothesize Jewish trolling? viz., that Jewish trolls can be trying to provoke her and provoke conflict between Whites and Asians?:
How about this. Kumiko showed me this composition, supposedly of Facebook posts by American people speaking of their own accord, saying that they are happy that Japan sustained nuclear bomb attacks in WWII and would be quite happy for it to happen again.
I grew up in America and for 34 years spent there never encountered an American who would speak remotely like this about Japan or the atomic bombing of Japan. Furthermore, if one reads these comments it is clear by a careful discourse analysis that the writer of all of these comments is one or a few people. If one is more careful still, to take style and motive into account, the Jewish hand is evident.
Though it may seem like obvious trolling to some of us, unfortunately this was apparently taken seriously by some Japanese audiences and even shown on Japanese news as if it were an honest reflection of American sentiments - when in truth, these are not remotely accurate statements of Americans: Stay classy America? No, stay "classy" with your divide and conquer chutzpah Jews - greatest shame is upon you and we are watching you.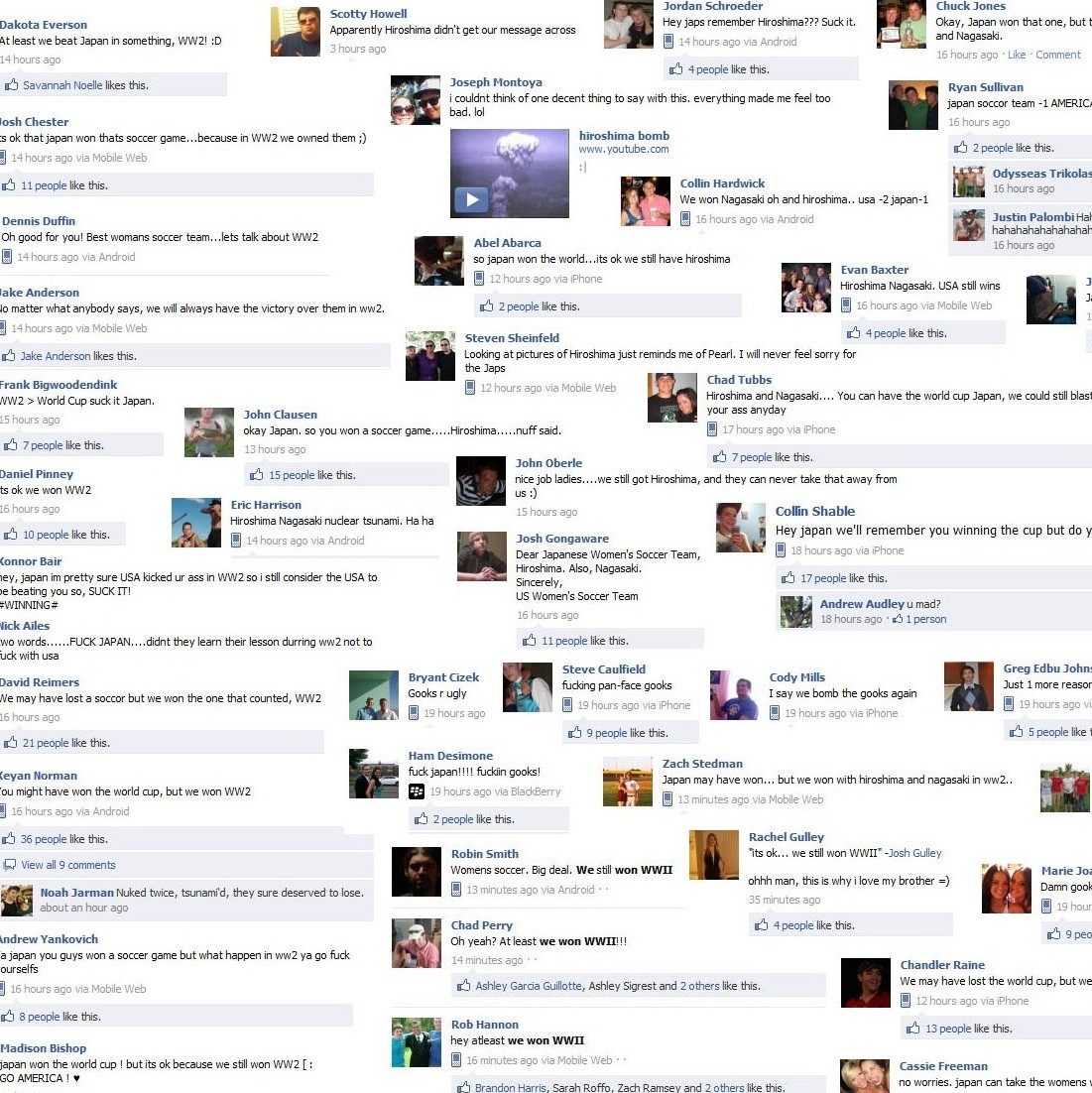 Full composition under the fold..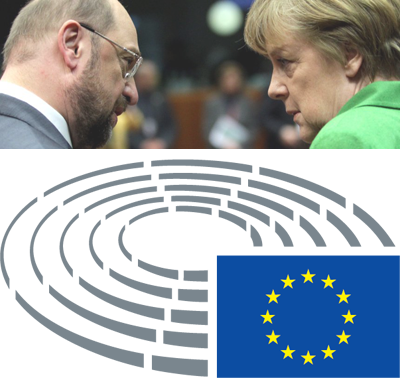 Martin Schulz and Angela Merkel.
Martin Schulz has been active in European politics for almost thirty years, and so he is a person who does not need an introduction. His position however is not one that is understood very well by normal people, because a lot of people don't know what the roles of the institutions of the European Union in the post-Lisbon Treaty environment are.
In his role as President of the European Parliament, Schulz would be responsible for the overall direction of international relations, and also is the custodian of the fundamental values of the European Union. The European Parliament is the first institution in the European Union, which prior to the implementation of the Lisbon Treaty had been seen as a mere talking shop, but subsequently developed into becoming one of the most powerful legislatures in the world in terms of both its legislative powers and executive oversight powers.
Of course, informally, the political history which the individual was acculturated with along with that person's connection to the national political power, means that it can usually be considered advantageous to a member state if one of their citizens is holding such an EU position.
Schulz hails from Germany, but what does Schulz think Germany's raison d'etre is? A look at his own words in Haaretz as reported by his friend Avraham Burg, reveals something interesting:
Haaretz, 'Say a big 'thank you' to Martin Schulz', Avraham Burg, 14 Feb 2014 (emphasis added):

[...] Martin Schulz, the president of the European Parliament, is a close friend of mine. On most issues connected to the Israeli-Palestinian conflict we disagree. He is closer to the Israeli mainstream, and his positions resemble those of Labor Party chairman Isaac Herzog. He once told me, during a frank and stern conversation, "For me, the new Germany exists only in order to ensure the existence of the State of Israel and the Jewish people." [...]
Schulz is of course, Jewish.
While I am adamant about the right and oughtness of fighting when one's own borders and EGI are being infringed upon, I am not a hawk. Geopolitical warfare has never been something that appealed to me, let alone with any sort of passion.
I'm very averse to the idea of going beyond my national boundaries to fight, particularly when my own nation is totally screwed-up, needs tending and where innovative thinking might solve problems as opposed to trying to solve them by resorting to warring abroad.
The problem is that there are valid arguments that there are vital requirements along the Silk Road, in the Middle East and in Africa - resource and population management that is indispensably necessary even to the most innovative and independent peoples. In these concerns, I'm going to invite the reader to consider with me the possibility of re-drawing ethno-nationalist and regional lines on this map.

As you can guess, conversations with Kumiko have got me taking these matters under consideration, and I hope that she will soon put up an article discussing issues that the neo-cons have failed to make in clear and persuasive terms.
Tangential to neo-con issues is an interesting philosophical question for another day: how, in detailed form, to set up a rule structure which will sort out and punish the genetic legacy of criminals; and facilitate the rebirth of those genetic components that have suffered unjustly at the hands of criminals in previous generations. In this case, I am thinking more in terms of those who have historical grievances with Russians - while it is true that I don't feel this grievance as do some others that I've known, it is nevertheless only practical to set the question aside for the time being - though it is a question that can apply to any people who have benefited or suffered from historical atrocities.
Europeans, now, are asked even more fundamental questions than relative guilt and merit, but are asked to address the matter of our identity, period - that we are a people (different from Jews and others), to establish who we are, what the nature of our common moral order is, to understand that the obfuscation of that would-be peoplehood is a part of a war against us - and that there is, indeed, a war against us; finally, we are asked what is the nature of that war and what it consists over?
When considering these matters from a White Nationalist perspective, Russian people are not conceived as inherent enemies, nor, even, is the humongous expanse of their nation high on the list, if on the list at all, of things intolerable to allow to remain. I can imagine living with it - it's always been that way in my lifetime; its reach contracted after the fall of The U.S.S.R., but still remains bigger than Pluto.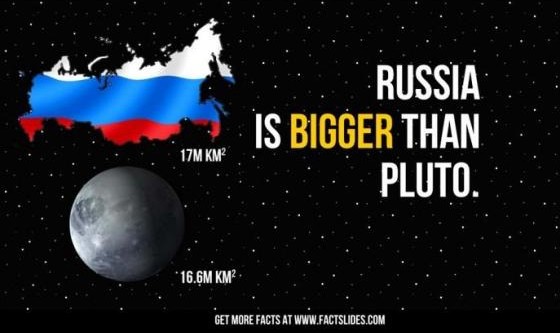 Nevertheless, we ought to reconsider this from an Asian perspective, and from a perspective of acute European interests.
I didn't expect to have occasion at this point to consider aloud the possibility of attempting to align formal industrial military objectives with ours as White Nationalists. Oil, resources, even absurd and brutal regimes in the Middle East and Africa inflicting harm upon their own do not stir any passion in me to fight. The function of Asian countries and Western countries do, however, have requirements and rationale to get these nations under compliance. And in hopes of facilitating the human resource of Kumiko's military perspective, I am going to imagine empathic military geo-political objectives, so that we might envisage a grand chess board result in our victory.
From that standpoint I attend to the fact that as nationalists and as White people in particular, fighting for the survival and sovereignty of our nations, that militarization and the geopolitics of resource and population management will ultimately be necessary.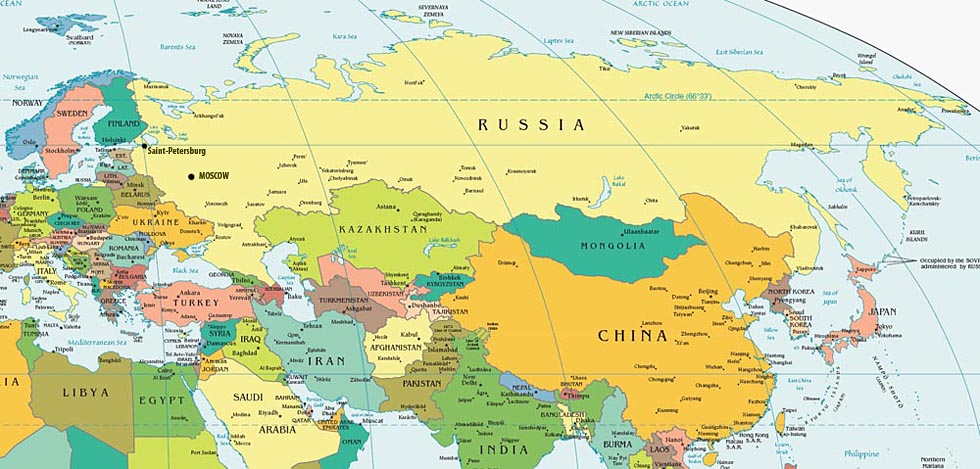 Asia and the West have things that we need from one another, including cooperation against antagonisms from the Middle East and Africa.
Not only do we need resources from these places but we need mutual help in border control and repatriation projects.
What about Russia? It is so big. Why not just work with them and allow its vast space to become a place for White people to grow into?
While it is true that another traditional passion for some war mongers is hating Russians and maybe I should hate them, I don't hate them. Nor do I care if people want to move there; furthermore, I completely understand not wanting to fight them. I don't want to fight Russians; the war in Ukraine has been instigated by Judaized and neo-liberal means and motives and it disgusts me.
Even so, WN tendencies to look upon Russia as the great White hope ignore the propositional, neo-liberal, mercantile and Judaized aspects of Russia - as if its political class has no corruptions analogous to The US that will wreak havoc with such projects to connect with Russia as a partner in White Nationalism.
On the other hand, while I favor Ukrainian and Belarusian sovereignty, as I favor all ethnonational sovereignty, I am opposed to a hot war approach with Russia to increase their sovereignty.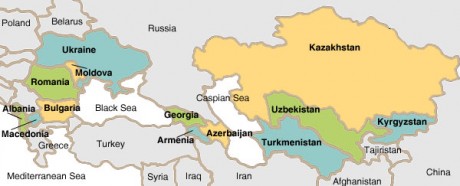 But neither am I in favor of a hot war approach to defending Russia's humongous eastern stretch and southern conflicts.
Rather than abandon to foreign invaders the natural ethnonationalist homelands of our European evolution and engage in White flight to move into lands that apparently represent imperialist aggrandizement - beyond ethnonational mandate - on the part of Russia, to reiterate, neither am I particularly interested in fighting to protect Russia's imperial overreach.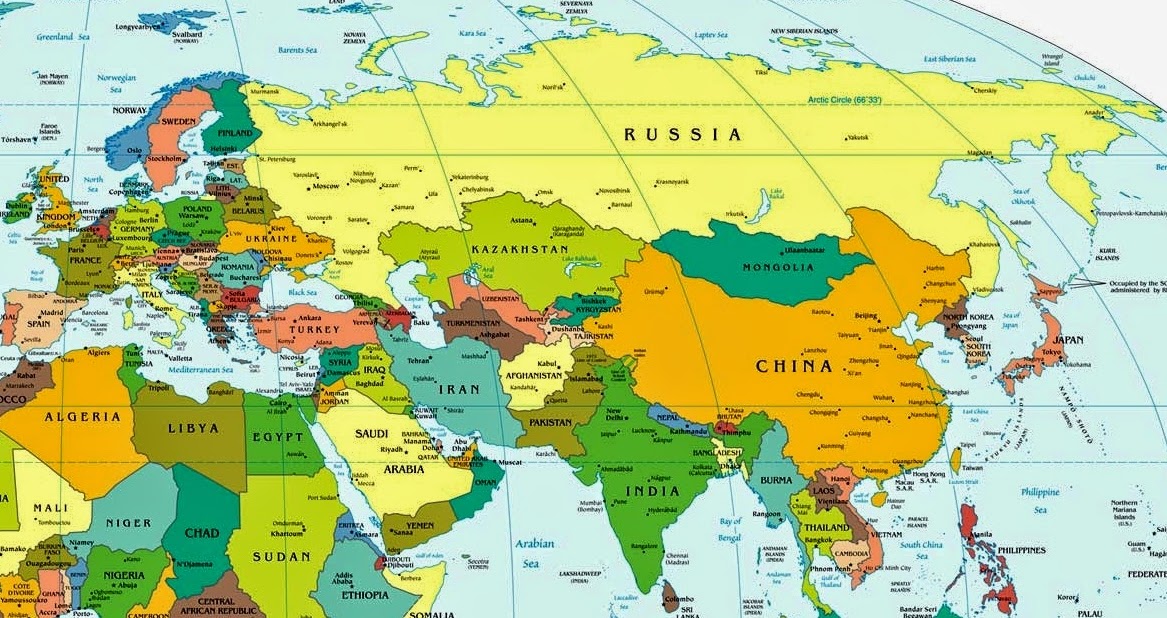 In a word, defending what is apparently an imperial over-reach is Russia's problem and an issue that can be turned to our advantage as Europeans in order to gain cooperation with our EGI, its borders and vital resources.
We need Chinese, Japanese and other Asian cooperation more than we need Russia's imperialist headaches; and China and Japan are not about to start loving Russia more than their own interests which are impacted by Russia's Eastern and Southern interference.
We need cooperation with Asia to compel compliance with regard to resource, EGI and border management. And we might compel Russia's compliance as well with those needs by means of the West's regional alliance with Asia.
Thus, while we might not engage a war of maneuver in either Russia's west nor east, we might well consider lending approval to Asian positioning in Russia's east and south.
That is, allowing the "stick" (as opposed to "carrot") of some of these lands as potentially sovereign Asian places: with enclaves Russian and enclaves Asian, the farther east you go, the more the general area would be Asian with fewer Russian enclaves and vis a versa - the farther West, the fewer Asian enclaves until you reach a point where it would be a Russian only ethnostate. And the carrot to Russia would be less contentious relations with its neighbors and more secure borders itself as it cooperates. That is not necessarily a bad deal.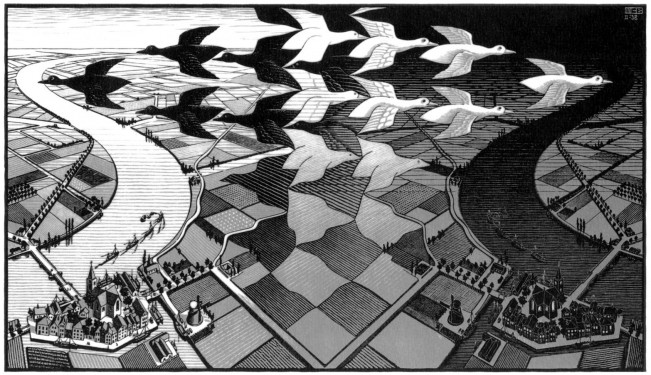 Toward an Asian-Atlantic regional cooperation.
1. The genetic-make-up and territorial boundaries of the European ethno-states shall be restored, maintained and protected.
2. To achieve this end we propose alignment with the Asian ethno-states and region.
3. Something like the E.U. and North Atlantic would be necessary to achieve that alliance and its success.
However, it will also involve some quid pro quo.
4. First, we see it as being in both of our interests to secure our peoples against impositions of Middle-Eastern and African populations; against imposition of the Abrahamic religions; and against interference of these peoples and religions in our vital resources.
5. Toward that end, it is in the interest of both Asians and Europeans to remove these populations to the greatest extent possible from our geo-political territories; and, again, to remove significant imposition/interference upon our mutual vital resource interests.
6. Sacrosanct European territories in the Americas, Australia and New Zealand will likely need to become smaller at any rate in order to be maintained and defended. But with the increased manageability of defense will come an opportunity to offer cooperation to Asians to have some sacrosanct territories of their own in these places. We will respect and cooperate with one another toward the defense of our territories in diaspora, seeing African and Middle-Eastern (saliently Jewish and Muslim) populations as those who must be guarded against and compelled to as great a distance from our people as possible, removed from civic nationalization and its proximity.
7. Russia/ns will be seen as having an analogous situation to White Americans. In order to have a safer, more manageable ethno-state and something to offer in exchange with the Euro-Asian regional alliance, they will be required to contract in size considerably, particularly from its expanse eastward into Asia and its geo-political interference there and to its south, unilaterally along the Silk Road. Russia's ethno-state will be more secure as it will be forced into a more cooperative and less antagonistic relation with the rest of the geo-polity.
The key deal is this: we will compel Russia to relinquish parts of its territory (leaving it no good choice but to comply). In exchange we will require Asian assistance in cleansing and defending our territories from imposition by non-natives - particularly Africans, Middle Easterners, Muslims and Jews. And we will require compliance in securing our vital resources and transportation routes.
The advantages to European peoples and Asians in this alliance is clear.
But what regional and national lines might you imagine and what advantages to Russia and others do you see for compliance? Discuss.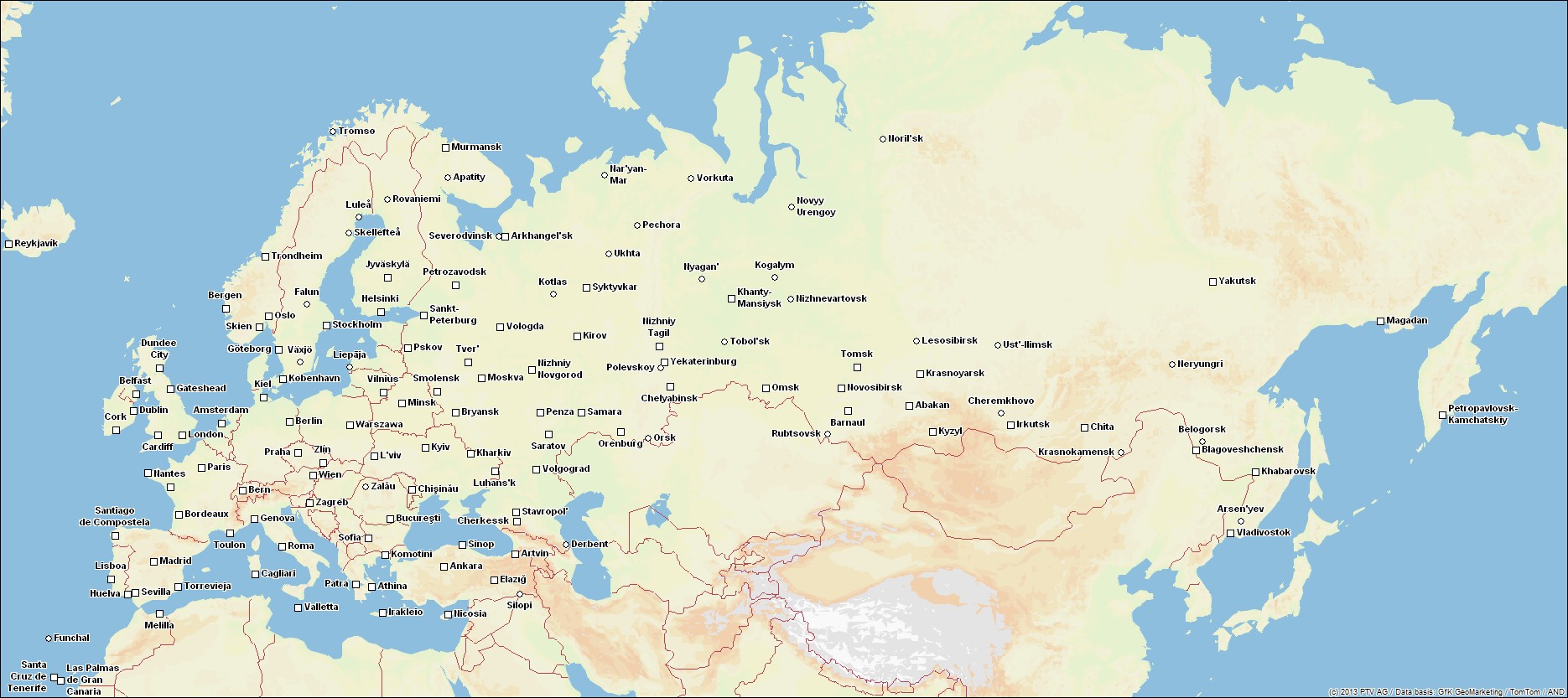 As there are no Russian cities larger than 600,000 east of lake Baikal (near the city of Irkutsk, centrally to the north of Mongolia), and only four larger than 300,000, one way of arranging the pockets, enclaves, ethno-state outposts as it were, would be to have a symmetrical "M.C. Escher-like" arrangement (as in the image called "Day and Night" above), i.e., an entering of these enclaves into the others general regional sphere - enclaves which would, nevertheless, represent sovereign states.
Note: I can see how this could create incentive for Eastern European nations to cooperate - from a position of strength and in cooperation with White diaspora (note the interview of Tomasz Szczepański under the fold).
The plan would emphasize deportation and re-doing citizenship in favor of native lines, viz., on the basis of ethnostates. That is unlike the Moscow - Berlin - Paris axis, which apparently seeks to reconstruct the same old right-wing, propositional/objectivist oil interests.
The Eastern European nations may agree to cooperation despite history of disputes (sometimes serious), and facilitate this ethno-nationalist and regional cooperation if their borders and native populations are guaranteed. If they are a part of a plan that guarantees that and necessary resources from the Silk Road - accomplished by increased cooperation with Asia and a Russia dealing from a cooperative position; then perhaps ethnonational and regional alliance with Asia can work. I.e, Russia has to offer more than trade in natural resources garnered through its vast expanse and fist waving at anybody who doesn't see their interests being secured inasmuch.
The area that is to be reserved as sacrosanct to the Russian ethnostate would be contracted from imperial dimensions and more in line with ethno-national proportions.
It is a contraction in concession to cooperation with other ethno-European nations that WN America will likely need to undergo as well.
This will make Russia more defensible and more worth cooperating with for the rest of Europe and Asia - as they will be required to join this Euro-Asian regional cooperation against middle eastern interference - whether Arab, Islamic or Jewish, they will be beholden to our terms and we will have the necessary resources of the Silk Road.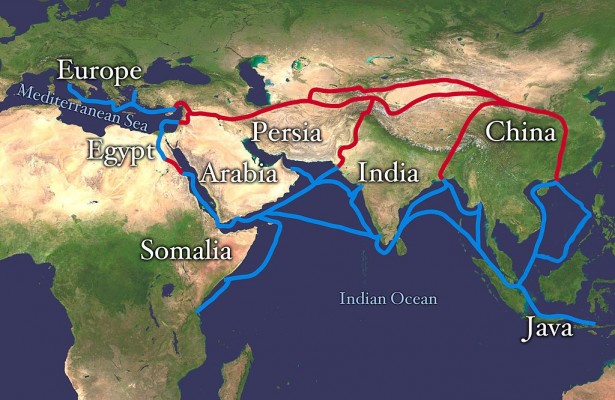 The other side of the deal for compliance and cooperation to garner vital resources, is that our vital EGI will be cooperated with in protection as well - including not only in border defense, repatriation and de-nationalization of the majority of non-natives from European and Asian countries, but most strictly the border defense, de-nationalization and removal of non-natives from European nations; while allowing for some accountable quota of Asians and Europeans in one another's nations and regions.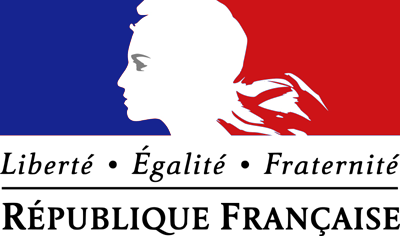 Events in France affect Germany.
There's only so long that an idiot can keep-on-keeping-on, until all sections of the more rational elements of the establishment begin to question that idiot's ability to remain politically viable.
We've all heard already about how the defence and security sector has found Germany to be a land of absurdity for quite a while now. But that alone is not enough to see someone removed from office. The preponderant political power in a liberal state is the haute-bourgoisie. Economic power precedes political power. This means that understanding the background financial and economic signals and the way that these signals interact with the overt political landscape, enables us to see an event developing from far off, and allows us to adjust our own tactics accordingly.
The Paris attacks have been a nightmare for Merkel because it has awakened criticism not only from German people in the street, but also among opportunistic members of her own party who are seeing now that she is at the weakest she ever has been, and that now is a chance for them to mount a political challenge. But the success of that challenge, when it comes, depends on the acquiescence or at least the sign of a resigned inevitability from financial players who are the stakeholders in the 'success' or 'failure' of Germany.
The time when it would be politically expedient to remove Merkel, would be in December at the CDU conference, where someone would be able to demand that she should hand in her resignation, and twist her arm until she does. Who would be most likely to replace her in such a case? Most likely Wolfgang Schaeuble.
So our big question is: How likely is it that Angela Merkel will be forced to resign in December and be replaced by Wolfgang Schaeuble?
One way to find this out, would be to look at the macroeconomic stances of Merkel and Schaeuble, compare them, then watch and see how the ECB and the large players are behaving, to see if they are making any moves that would suggest that they don't expect Merkel to still be there by the end of December.
It's known that Schaeuble is more of a tight-fisted politician than Merkel when it comes to certain aspects of economic policy—Schaeuble hates expansionary policies much more than Merkel does. And for those of you who thought that it wasn't possible to hate expansionary policies more than Merkel, I have to tell you, it's possible, Schaeuble does precisely that. On that issue, he is pretty depressing.
Therefore, it stands to reason, that if you see Mario Draghi at the ECB suddenly deciding to rush through a lot of actions to carry out more expansionary economic policy (something which he certainly ought to do) within a time frame before the end of December, and that if you see big global economic stakeholders 'forecasting' interest rates that are even more subterranean than at present, along with 'forecasting' more quantitative easing, one of the factors motivating that choice could be that they are positioning themselves for a future in which Merkel is forced to resign. Why? Because it's easier to carry out those actions before Schaeuble gets in. That way, when Schaeuble gets in, he would have to accept that it is already happening.
So, let's see what people are saying as of this Friday evening:
Bloomberg Business, 'Draghi Says ECB Will Do What It Must to Spur Price Gains', 20 Nov 2015, 1349 UTC (emphasis added):

European Central Bank President Mario Draghi set the scene for further stimulus in two weeks' time, saying the institution will do what's necessary to reach its inflation goal rapidly. The euro fell.

"If we decide that the current trajectory of our policy is not sufficient to achieve that objective, we will do what we must to raise inflation as quickly as possible," Draghi said in a speech in Frankfurt on Friday. "In making our assessment of the risks to price stability, we will not ignore the fact that inflation has already been low for some time."

Draghi's comments underline the ECB's concern that the inflation rate in the 19-nation euro area, currently 0.1 percent, will slip further from its target of just under 2 percent amid a high degree of economic slack and slumping oil prices. Policy makers are weighing the need for an expansion to the 1.1 trillion-euro ($1.2 trillion) quantitative-easing program that started in March, or measures such as taking the deposit rate further below zero.

The yield on German 2-year bonds slid to a record low of minus 0.389 percent and the euro dropped. The single currency was down 0.4 percent at $1.0689 at 2:47 p.m. Frankfurt time.

Power Tool

"A further stimulus announcement in December is a virtual certainty," said Marco Valli, chief euro-area economist at UniCredit SpA in Milan. "'We will do what we must' leaves little room for interpretation: if they fail to reach target, they do more."

The ECB's Governing Council will meet in Frankfurt on Dec. 3 for its next monetary-policy meeting. While Draghi and Executive Board member Peter Praet, the institution's chief economist, have indicated more easing is in the cards, some governors have expressed unease.

Estonia's Ardo Hansson, Slovenia's Bostjan Jazbec and Germany's Jens Weidmann have signaled since the last meeting that they see no need to ease policy further just now.

"I see no reason to talk down the economic outlook and paint a gloomy picture," Weidmann said in a speech at the same event as Draghi. "Crucially, the decline in oil prices is more of an economic stimulus for the euro area than a harbinger of deflation."

Praet said in an interview this week that taking no action in circumstances of such low inflation risks the ECB's credibility, and has argued that the fall in oil prices is increasingly a sign of weakening demand.

QE Adjustment

"If we conclude that the balance of risks to our medium-term price stability objective is skewed to the downside, we will act by using all the instruments available within our mandate," Draghi said. "In particular, we consider the asset-purchase program to be a powerful and flexible instrument, as it can be adjusted in terms of size, composition or duration to achieve a more expansionary policy stance."

He added that the interest rate on the deposit facility "can empower the transmission" of asset purchases, "not least by increasing the velocity of circulation of bank reserves."

Draghi said core inflation, which excludes energy and food, is also a signal of too-weak price pressures. The rate was 1.1 percent in October. While that's the highest reading in more than two years, it's still barely half the goal for the headline rate.

Core Concern

"Low core inflation is not something we can be relaxed about, as it has in the past been a good forecaster for where inflation will stabilize in the medium-term," he said. "While core industrial goods will receive support from the depreciation of the euro, an increase in core services inflation –- today close to an all-time minimum –- will depend on rising nominal wage growth. For that to pick up, the economy needs to move back to full capacity as quickly as possible."

The ECB is currently buying 60 billion euros a month of bonds and intends to do so through at least September 2016. The deposit rate is at a record-low minus 0.2 percent.

There is "little room for doubt that the central bank is not only about to step up its monetary stimulus, but plans to do so decisively," said Nick Kounis, head of macro research at ABN Amro Bank NV in Amsterdam. "We expect the ECB to step up the pace of QE by 20 billion euros per month, signal that purchases will go on beyond September, and expand the eligible universe of assets to include regional bonds. We also expect a 10 basis-point reduction in the ECB's deposit rate and guidance that it would be cut further if necessary."
And:
Bloomberg Business, 'Euro Resumes Drop as Draghi Leaves Little Doubt of More Stimulus', 20 Nov 2015, 1708 UTC (emphasis added):

The euro fell for the first time in three days after European Central Bank President Mario Draghi said policy makers will do what they must to raise inflation "as quickly as possible."

The shared currency weakened to almost a seven-month low against the dollar and dropped versus all of its 16 major peers. Draghi said in Frankfurt that downside risks to price growth have increased in recent months. The euro also fell after German producer prices declined more in October than forecast.

"It was clearly meant to stress that the ECB remains active and we've seen market responses accordingly—the euro has dropped back," said Shaun Osborne, chief foreign-exchange strategist at Bank of Nova Scotia in Toronto. "The market is taking on board the message from Draghi that we should be prepared for potentially quite aggressive actions in December."

The euro declined 0.7 percent to $1.0655 at 12:07 p.m. New York time, after gaining 0.9 percent in the previous two days. It touched $1.0617 on Nov. 18, the lowest since April 15. The shared currency fell 0.8 percent to 130.86 yen.

Draghi said last month that ECB policy makers would review the degree of monetary stimulus at their December meeting. Since then, the euro has weakened almost 6 percent versus the dollar as traders increased bets that officials may extend the bond-buying program or further cut the deposit rate.

German producer prices fell an annual 2.3 percent in October, after a 2.1 percent decline the previous month, the nation's federal statistics office said Friday. Economists surveyed by Bloomberg forecast a 2 percent drop.

"We should be in little doubt that the ECB are again attempting to adjust the monetary policy dial, likely via extending and increasing QE, while another cut in the deposit rate is also on the cards," said Jeremy Stretch, head of foreign-exchange strategy at Canadian Imperial Bank of Commerce in London. "While far from an explicit aim, easing monetary conditions via a cheaper euro is also a positive by-product of such policies."

The euro pared its decline as ECB official and Bundesbank President Jens Weidmann said he didn't see any reason to "paint a gloomy picture" of the region's economy. He warned that the longer ultra-loose monetary policy was in place, the less effective it can become.
And:
Bloomberg Business, '14 Predictions for 2016 from the Brightest Minds in Finance', 20 Nov 2015, 0501 UTC (emphasis added):


[...]

Rebecca Patterson, chief investment officer of Bessemer Trust, which oversees more than $100 billion in assets

The biggest risk for Europe in the year? "It's the refugee crisis," says Patterson. "I think it's the biggest challenge to the European Union yet. The horrible terrorist attacks in Paris increased the risk that the refugee crisis could result in a political and/or policy shift, or simply lead consumers to change their spending patterns. Either could weigh on sentiment around European growth and corporate profits." Patterson is on alert for any such changes but remains overweight European equities and positioned for a weaker Euro, she says. "The Paris attacks sadly shone a light on the European refugee crisis; I assume more investors globally now are thinking more about what millions of immigrants can mean for an economy and respective markets. However, I am still not sure that investors globally have adequately thought through what market spillovers the European refugee crisis could trigger over the coming year."

[...]

Erik Nielsen, chief economist at UniCredit

"Expect further divergence between the Fed and the ECB, with the former hiking rates a couple of times next year and the latter expanding its balance sheet more than it has presently announced."

[...]
Of course, the situation in Germany is not the only reason why the ECB would take the actions that it is going to take, it was likely something that was always going to happen. But the time frame within which it is occurring and the reaction of market participants to that risk event, seems to indicate that a lot of people are paying attention to this. Look at the 3 week and 1 month Euro-dollar volatility term structure, and you can see that they are reacting to European risks and not just to the upcoming 16 December Federal Reserve meeting in the USA: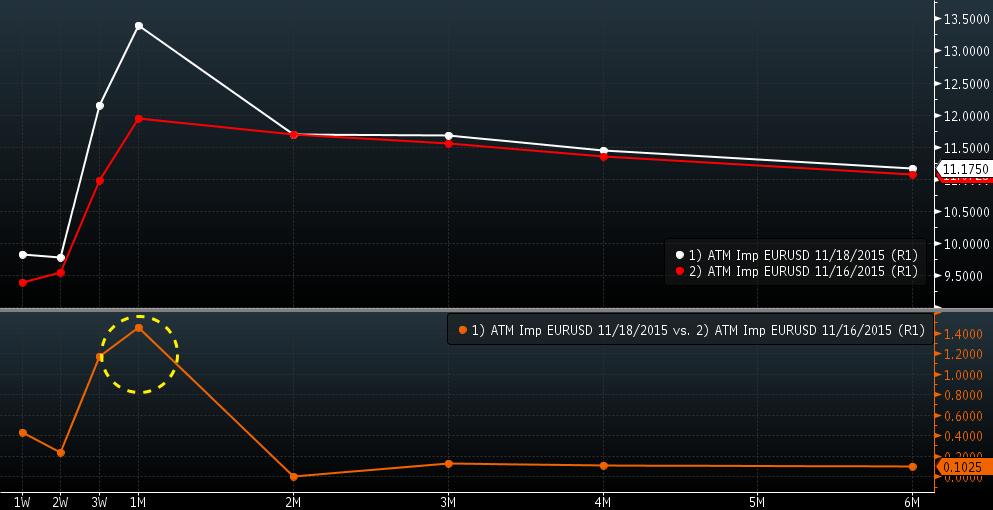 Also, given that there are numerous arguments for why Mario Draghi did not have to take the earlier-described actions in the short term (one of those being the oil prices argument), and given that he is determined to do it anyway, it would indicate that it is an attempt to get out in front of Schaeuble so as to pre-emptively make it more difficult for Schaeuble to get his way on monetary policy, and it would therefore mean that it is possible to be confident that Merkel is going to be gone by the end of December.
What does this mean for ethno-nationalists? Well, it means that it would probably be prudent to begin altering our rhetoric and policy suggestions with an eye toward a near-term future in which Merkel is not there. This will require some adjustments which would be best made sooner rather than later. We should be particularly vigilant against the idea that the removal of Merkel is a magical solution to all problems. Schaeuble's disposition is one that presents a slightly altered set of problems to the European Union, and we would need to explore what those are ahead of time and be ready to criticise them when they come.
There needs to be an urgent study of all facets of Wolfgang Schaeuble's politics. He might be chancellor of Germany very soon.
Kumiko Oumae works in the defence and security sector in the UK. Her opinions here are entirely her own.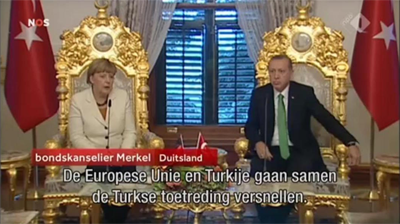 Dutch TV subtitle: "The European Union and Turkey together will accelerate Turkey's accession."
Even the title of this article does not do enough to convey the scale of the stunningly disingenuous 'negotiation' that Angela Merkel engaged in on Sunday. It was not a negotiation, it was Merkel just taking Europe's queen piece and both rook pieces off of the chessboard and tossing them through the window as Turkish mouths widened in grotesque delight.
As is well known, many of the migrants that are flowing into Europe at Angela Merkel's own invitation—and because of the perverse incentives created by governments like Germany and Sweden—make their transit through Turkey before arriving in Europe. At the same time, Merkel has been facing an internal party revolt as various opportunists are taking the crisis as a chance to challenge her leadership. Some others are revolting against her because the number of migrants that their regions are being asked to accept are more than their infrastructure can ever hope to efficiently handle.
Under these pressures—particularly the pressure arising from the fact that Merkel's concept of 'no upper ceiling to migration' was bound to clash with material constraints eventually—Merkel then found herself thrust into a negotiation with Turkey. The European Union had attempted to bribe Turkey with 3 billion euros, but the Turks decided that it was not enough.
So Merkel went to Turkey and offered them a faster track toward EU accession and visa-free travel, in addition to the bribe that had been previously offered.
Predictably, Erdogan and Davutoglu immediately decided to retract their side of the pseudo-informal 'agreement' as soon as Merkel went home. They have clarified that they actually made no promises to stop the migrants within their territory from travelling into Europe, ultimately. In fact, they have no intention of doing anything to stop the migration wave itself either:
DW, 'Turkey demands additional EU funding to address migration', 19 Oct 2015:

Turkish Prime Minister Ahmet Davutoglu said that an agreed sum of 3 billion euros ($3.4 billion) in return for Turkey's cooperation in stemming the flow of migrants in Europe would not be regarded as sufficient.

Speaking on Turkish television one day after German Chancellor Angela Merkel's visit to Istanbul on Sunday, Davutoglu said that the money would come from the "IPA" fund - money already earmarked for Turkey as an EU membership candidate . He said that Turkey wanted additional cash.

The 3 billion euro IPA fund proposal is no longer on the table, as we have said we will not accept it," Davutoglu said. "As for fresh resources, we're talking about a 3 billion euro amount in the first stage. But we don't want to fixate on this because the requirements may go up, and the assessment for this would need to be done annually."

Tit-for-tat diplomacy

German Chancellor Angela Merkel on Sunday offered Turkey the prospect of support for faster progress on its bid to join the European Union as well as an accelerated path to visa-free travel for Turks. This followed the summit in Brussels last week where EU leaders had agreed on a migration "action plan" with Turkey, where the figure of 3 billion euros ($3.4 billion) had been discussed.

Chancellor Merkel on Sunday had hailed as "very promising" progress on an EU-driven "action plan" after talks in Istanbul with Davutoglu and President Recep Tayyip Erdogan. Both Turkish President Erdogan and Davutoglu, whose ruling AK Party faces a general election on November 1, appeared keen to avoid any impression of weakness in dealing with European nations. They said earlier the EU had only recently realised Turkey's value in the crisis.

Davutoglu: Turkey 'not a concentration camp'

Prime Minister Davutoglu caused further controversy on Monday, saying that his country was "not a concentration camp" and that it would not host migrants permanently to appease the EU.

"I said this to Merkel too. No one should expect Turkey to turn into a concentration camp where all the refugees stay in," Davutoglu said.

The talks had however resulted in a "positive response" to the government's request for visa liberalization, he said.

His comments came as the flow of people along the so-called "Balkan Route" into Europe via Turkey continued, with thousands of people streaming Monday into the Balkans, where tighter border controls forced people to sleep in freezing temperatures. More than 630,000 people have landed on Europe's shores so far this year, most of them making risky sea crossings from Turkey to Greece.

ss/msh (Reuters, AFP)
All of those events were actually absolutely unnecessary from a straight power perspective. Why? Because, while Turkish politicians have a lot of bluster, and while they can deploy the threat of unleashing the migrants, the Turks were nevertheless negotiating from an extremely weak position.
Despite having had historical cultural connections to the regional groups to their west, south, south-east and east, Turkey has spent the past 20 years burning all of its bridges in all directions. In summary—and it is definitely a summary—Turkey's position looks like this:
Turkey is not some shrewd player. It's one of the most clownish and absurd players in the world at the moment, and although it has experienced some significant economic growth internally, its foreign policy is a complete shambles and it is nowhere near to being a serious world power.
Should we really believe that Merkel is so stupid that she could not find anything to use to twist the arms of the Turks? The Turks should never have been in a position to be the ones making any demands there.
Any European negotiator who wanted to really play the game the tough way could have given a variety of responses that could twist the arms of the Turks based on the above facts, such as:
"Do you understand the situation you're in? How about we just don't talk to you about EU accession ever again, until you remove the remnants of the Turkish Army from Cyprus?"


"Do you understand the situation you're in? How about we cancel all the NATO events that are on the calendar concerning Turkey?"


"Do you understand the situation you're in? How about we continue using the National Endowment for Democracy to assist your domestic political opponents so that they can erode your electoral powerbase and replace you with someone who will run Turkey in the way that we want?"


"Do you understand the situation you're in? How about we just ignore you and hedge against you demographically on a 30 year time frame, cultivating links with Kurds in the eastern part of your country so that we can encourage them to defy Ankara later and block you from having political control over a large section of your domestic energy resource base?"


"Do you understand the situation you're in? How about we just misplace boxes full of weapons and ammunition into the hands of the PKK? I'm sure you remember what that was like for you the last time we did that. In fact, since the PKK does so much independent illegal fundraising inside European countries, we could just stop policing them at all and see how you like that?"


"Do you understand the situation you're in? How about we just close the border between Turkey and the European Union, and build a giant fence surmounted by barbed wire and security cameras? The amount that it costs to take care of the migrants for a week is probably the same amount as it costs to build the fence."
Those kind of responses from a European negotiator, would have been the correct signalling and would have likely produced a much more satisfactory response from Turkey.
Rather than doing anything like that, Merkel instead went in and sat down on a golden throne next to Erdogan, and followed the exact choreography that the architects of Erdogan's election campaign wanted her to follow. She let Erdogan—a man who literally has been implicated in electoral fraud multiple times and is presiding over a ramshackle failure of a foreign policy—look strong, let him look competent, let him look like he was in charge, and gave him absolutely everything he wanted, absolutely for free.
No one is that absurdly fucking stupid by accident. Merkel had to have been doing that on purpose. That is the only reasonable conclusion that can be reached. It really is.
Furthermore, whose idea was it to send Merkel—a person who actually wanted the migrants to enter Europe in the first place—to have a negotiation with Turkey to try to keep the migrants out of Europe? I would love to know who was responsible for that absolutely stupid idea. Who on earth in their right mind would send Merkel to negotiate for the defence of Europe's borders while knowing about all the pro-migration actions that she had engaged in prior to that?
Kumiko Oumae works in the defence and security sector in the UK. Her opinions here are entirely her own.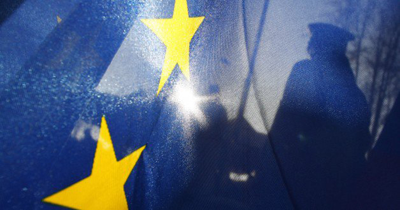 Controversy ahead.
Summary: This interview was with Tomislav Sunic about the migration problem in Europe. Kumiko Oumae was hosting, standing in for Guessedworker, along with DanielS as co-host.
The issues which we covered were:
The idea that part of the reason for the migration wave is psychological rather than strictly structural.
Discussion on whether the words 'migration' or 'crisis' were really appropriate descriptions of what is happening.
Discussion of weaknesses of Christianity in the face of an enemy.
The relationship between countries in South Eastern Europe.
Cases of religion being used as a cultural-historical identification rather than as a belief system.
The influx of migrants and the terrorist threat posed by them to the European Union.
The advantages which the defenders have over the invaders, given the disparity in average IQ.
'Better is worse', and how a deteriorating security situation can be a catalyst for total structural change in the case where all else fails.
I think it was a fantastic interview, I was really honoured to have Tomislav Sunic on our show, and I hope to have him back again as soon as possible. He's really one of the best ethno-nationalist speakers alive.
What happens when WNs accept Russian news reports uncritically? They get misled, that's what happens. Lasha Darkmoon has an article titled "America furious at Russia's stunning successes in Syria". It's based on an article which she took from Fort Russ, which was titled "Russian operation in Syria revealed the real sponsors of terrorism to the world".
Let's examine the core claims of Darkmoon's Russian-derived article.
Russian claim #1:
Darkmoon, 'America furious at Russia's stunning successes in Syria', 10 Oct 2015:

As soon as the Russian air force began to inflict serious blows, the Americans threw a tantrum fit. This is because ISIL militants had appealed to them for help.
Actual Reality: The Americans 'threw a tantrum' because the Russians were bombing everything without any concern for the balance of powers in the areas that they were hitting. This led to ISIL in fact gaining ground in some places such as Aleppo, and even involved instances where ISIL was able to induce the Russians to hit ISIL's inter-sectarian opponents.
See here:
Guardian, 'Isis seizes ground from Aleppo rebels under cover of Russian airstrikes', 10 Oct 2015:

Islamic State militants have scored their most significant advances in the province of Aleppo, the closest they have come to Syria's former commercial capital in two years, as it becomes increasingly clear that they are taking advantage of Russian airstrikes against the rest of the opposition to march into new territory.

As Russian planes continued to pound rebel forces in western Aleppo and other frontlines in the country, many of the opposition fighters who ousted Isis from the province at great cost last year found themselves pinned down and unable to halt the terror group's largely unopposed advance towards the city at the end of last week.

"Russian planes are striking the Free Syrian Army and laying the groundwork for Daesh [Isis] control of strategic areas in Aleppo," said a source from Tajammu al-Izzah, a moderate opposition group backed by western and Gulf states which has been hit by Russian airstrikes. "The truth is that Russia is backing Isis."

[...]

On Friday, taking advantage of the Russian bombing of western Aleppo that has forced the rebels to reinforce their defensive lines there, Isis pivoted towards the south and within hours had taken control of a series of towns and villages to the north of the city of Aleppo, the closest it has come since it was defeated by the opposition.

"Russia entered with the excuse of fighting Daesh and has barely bombed them," said a religious official serving with Jaysh al-Fateh, a coalition of rebels fighting the Assad government and whose fighters have been targeted by the Russian airstrikes.

"Russia did not come to fight Daesh. Why didn't they and the American coalition prevent them from advancing in northern Aleppo when they send armoured vehicles through the open desert before everyone's eyes?

"It is clear that both Russia and the regime are laying the groundwork for Daesh," he added. "We have a joke here that they all have one operations room."

[...]
The war is more complicated than Russians believe it is. Sometimes, what happens is that one Islamist group is incited to fight against another Islamist group because of competing territorial claims, or doctrinal disagreements, or because they are a front for a state-backed militia group which is using theological justifications for creating infighting within a particular sect. Because of this, radical Sunni Muslims can sometimes be fighting other radical Sunni Muslims.
If Russia simply gallivants into the middle of that situation and indiscriminately bombs everything that looks like an Islamist, they might in fact be upsetting the balance of terrorism—for lack of a better way of putting it—in a way that could unintentionally lead to ISIL gains.
Which appears to be precisely what the Russians have caused with their ham-fisted approach.


Russian claim #2:
Darkmoon, 'America furious at Russia's stunning successes in Syria', 10 Oct 2015:

More than 50 aircraft were transported to Syria. More than 2000 people were transported in transport aircraft to Syria. And not one of the vaunted NATO radars in Turkey, Bulgaria or the other countries in the region were efficient enough to record all this activity!
Actual Reality: Even civilian observers were able to see the movement of Russian aircraft.
Here's an example:
The Aviationist, 'Latest imagery shows 28 Russian aircraft (12 Su-24s, 12 Su-25s and 4 Su-30s) on the ground at airbase in Syria', 22 Sep 2015:


A satellite image has finally unveiled the whole Russian Air Force contingent made of 28 combat planes deployed to Syria: taken on Sept. 21, the photograph shows 4 Su-30SMs, 12 Su-25SMs and 12 Su-24s lined up, in the open air, along runway 17L at al-Assad International Airport, near Latakia, in western Syria.

[...]
And another example:
The Aviationist, 'Six Russian Su-34 Fullback bomber have just arrived in Syria. And this is the route they have likely flown to get there.', 29 Sep 2015:

Six Sukhoi Su-34 aircraft have eventually arrived at Latakia to join the Russian contingent already there.

Images allegedly shot around the al-Assad International Airport clearly show one Russian Fullback about to land at the airbase in western Syria where 28 Russian aircraft have arrived last week.

@ain92ru @pfc_joker @oryxspioenkop They arrived! pic.twitter.com/JCi4bIT4F5

— LuftwaffeAS (@LuftwaffeAS) 28 Settembre 2015

One of the photos taken from the ground shows the six aircraft trailing what seems to be an airliner over Idlib: the larger plane is probably a Russian Air Force Tu-154.

Said to be an airliner/transporter accompanied with 6 fighters crossing over Hama country side pic.twitter.com/cPbjVZssyi

— LuftwaffeAS (@LuftwaffeAS) 28 Settembre 2015

Interestingly, a Russian Air Force Tu-154 using callsign RFF7085 could be tracked online on Flightradar24 during its flight to Latakia on Sept. 28, likely exposing the route followed by the six Su-34s trailing their accompanying Tu-154.

As the below image shows, the aircraft flew in international airspace over the Caspian Sea, to Iran and entered Syrian airspace after flying over northern Iraq: did the Su-34s have all the required diplomatic clearances to fly north of Baghdad or did they simply "sneak" into Syria by hiding under the cover of the transport plane?

Hard to say.

Last week, US officials said that the first 28 Russian combat planes hid under the radar signature on the larger transport aircraft, in an attempt to avoid detection but there are chances that the flights had all the required clearances from the Iraqi Air Traffic Control agencies and were conducted as a standard long-range ferry flight: one tanker/airlifter, using radio and transponder, supporting multiple fast jets.

H/T to @LuftwaffeAS and @obretix. Image credit: Flightradar24.com.
If even random civilians on the internet can see it, that's probably a sign that their operations are not invisible, and are in fact being meticulously recorded—by civilians. At that point, whether NATO is or is not watching, becomes frankly irrelevant.


Russian claim #3:
Darkmoon, 'America furious at Russia's stunning successes in Syria', 10 Oct 2015:

US and ISIL (or ISIS) have close ties [...]
This statement seems to be based on a photograph that purports to show Abu Bakr Al-Baghdadi with John McCain.
Actual Reality: The man sitting with John McCain is not Abu Bakr Al-Baghdadi.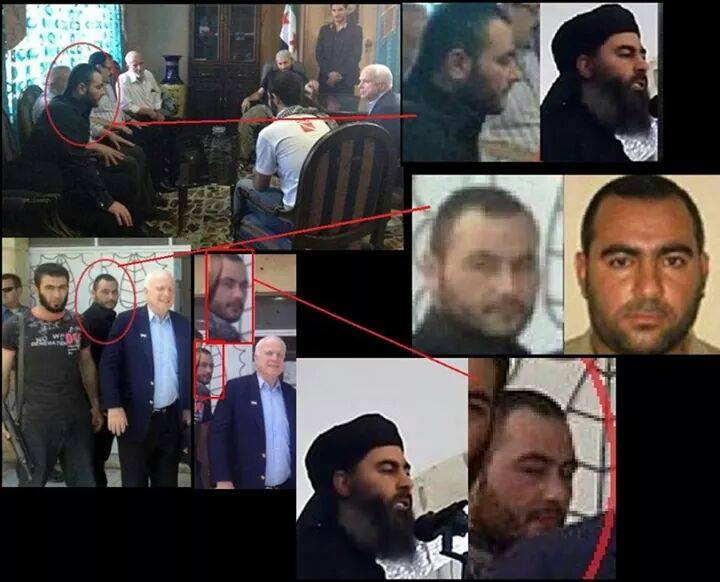 I'm sure you can all agree that the Russians were not even trying with that one. I'll be charitable and assume that's their idea of a joke. The man with John McCain obviously looks nothing like Al-Baghdadi. He is a member of the Northern Storm Brigade, a group which is fighting against ISIL.


Russian claim #4:
Darkmoon, 'America furious at Russia's stunning successes in Syria', 10 Oct 2015:

There is no perfidy here. We alerted everyone in advance what we were about to do. This included Netanyahu.
Actual Reality: That is true, the Russians did inform Israel in advance. They decided to be courteous to Israel. It's a really stupid thing to do, given that Netanyahu has no particular reason to keep any of the information secret from ISIL, as it is in Israel's geostrategic interest to let ISIL carry on wreaking havoc on Syria.
Recall this fact:
The Algemeiner, 'Israeli Officials: We'd Prefer Al-Qaeda-Run Syria to an Assad Victory', 04 Jun 2013:

[...]

According to Israel Hayom, senior Israeli officials were quoted as saying that "al-Qaeda control over Syria would be preferable to a victory by Assad over the rebels."

Officials believe that an Assad victory would strengthen Iran, as a weakened Syrian regime would become more reliant on the Islamic Republic. The Iran-Hezbollah-Syria axis would thus become an even greater threat to Israel, the officials said.

"Assad is now Iran," the officials said, according to Israel Hayom. "Any of these groups would be less problematic for Israel than an Assad regime that is a puppet of Iran," the officials were quoted as saying.
It's anyone's guess as to whether Israel's calculus on that issue has changed since 2013. By "any of these groups", that can mean Al-Qaeda which they mentioned, but it could also mean they'd be okay with letting ISIL run around doing things too, because "any" means "any", right? Who can know for sure?
Yet Russia does this, regardless:
Jewish Telegraphic Agency, 'Russia informed Israel ahead of airstrikes in Syria on ISIS', 30 Sep 2015:

[...]

Russian officials reportedly contacted their Israeli defense establishment counterparts about an hour before the attack, Israel's Channel 2 reported. Russian government officials also contacted Yossi Cohen, the national security adviser in the Prime Minister's Office, Haaretz reported, citing unnamed senior Israeli officials.

Last week, Israeli Prime Minister Benjamin Netanyahu met with Putin in Moscow to discuss the security threats to Israel from Syria. During the meeting, the two leaders agreed to coordinate between the Israeli and Russian militaries in order to avoid conflicts over Syria. Putin also told Netanyahu that Syria is not in a position to open a second front against Israel.

[...]
So in summary, the only one of those Russian claims which is true, happens to be the most disastrously idiotic one in practice. Apparently the Russians have never heard the phrase 'loose lips sink ships', since the loud-mouthed Russians seem to have been perfectly happy to give Israel a whole 60 minutes of warning ahead of each stage of their activities so far.
NATO on the other hand does not make a habit of giving Israel that kind of information, due to various reasons related to Israel's bad behaviour in the past, which I'm sure that all Majorityrights readers are aware of.
Kumiko Oumae works in the defence and security sector in the UK. Her opinions here are entirely her own.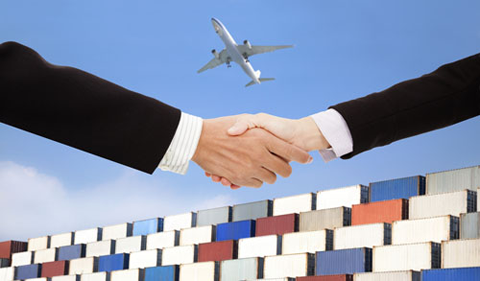 Let's build a good future for all regions!
Overview
The main points covered in this article are:
Broad agreement on the TPP has been reached.
The TPP actually does not incentivise mass migration, it is part of a process which is empowering people to live and work in their own lands.
The TPP is part of a trend of ongoing economic development in South East Asia, Central America and South America, which is concomitant with raising wages in those areas.
Regional imbalance is one of the core components of global economic crisis, which can be remedied by enabling people to actually buy the products they produce.
The advent of a multipolar world means that global ideological hegemony can no longer be easily held by one regional group.
Unlike the disastrous case of NAFTA, it is in fact strategically sound for all ethno-regionalists to endorse the TPP.
It is written with the intent of conveying the necessary information in the shortest amount of time. Read more beneath the fold.