Majorityrights Central > Category: World Affairs
Not a matter of guilt, not even a matter of Christianity, Islam or capitalism, but rather the usual suspects making their agenda clear. This expression shows that something different: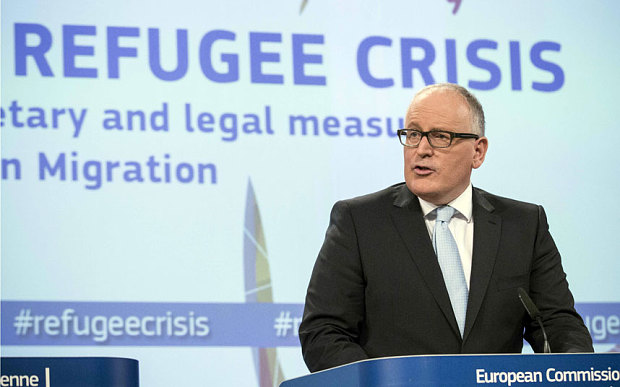 Frans Timmermans, the Dutch vice-president of the European Commission, said that "diversity was the future of the world," and that Eastern European nations would just have to "get used to that."
It is an unusually brazen assertion of "programmatic coercion" - G.W.
It is a significant statement of the motives of the powers-that-be to impose their programmatic intent to destroy the European genome.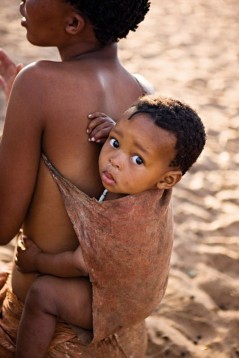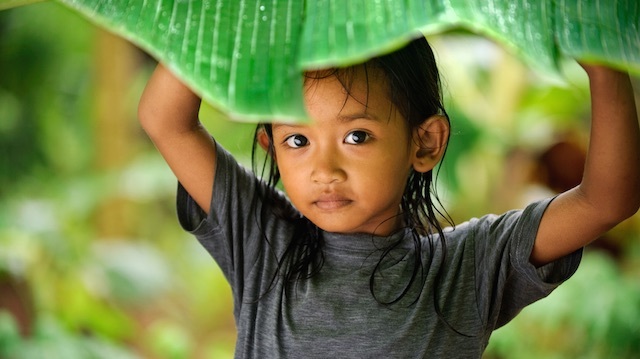 An ancient instinct that is vital: " Wait, who are you? "

What is it really, that is called "xenophobia"?: Article translated and republished from "Nya Dagbladet Analys"



What really is referred to by the word "xenophobia"?

Xenophobia is no human idea, it is not a political ideology. The inherent notion that individuals from other ethnic groups are different is as old as humanity itself.

That political leaders throughout human history have tried to either foment or stifle this innate team spirit does not change its origin or function. Ultimately, while it has often come to be called xenophobia, it is a kind of defense mechanism of an ethnic group. It has a cohesive function but is also vital to the group's survival.

It is easy to think today that racism is obsolete in modern societies, and political ideas that multicultural and multi-ethnic societies are something we can decide to create, and then use various integration programs as a tool to make this work artificially.

It is important to remember that "xenophobia" has always been the human diversity condition. Without this desire or sense of distinction and boundaries no ethnic group could have existed for very long before it would be adulterated and perish again.

The world's major ethnic groups; blacks, whites and Asians, and all its subsets of peoples did not come into existence overnight. It has taken nature tens of thousands, if not millions of years to enrich the earth with the human diversity which we have today. The birth of a new ethnic group has always been dependent on a distinct geographic location. For the purpose of various ethnic groups' birth and continued maintenance, they have always required "xenophobia", more properly termed "alien skepticism" or "stranger caution" as a prerequisite.

The principle or the basic human function is exactly the same as in individuals. An individual who is not skeptical or cautious when confronted with a stranger will not survive in the long run. This instinct is basically in all living creatures on earth and is deeply rooted.

The function and conclusion of prejudices

"Alien skepticism" or "fear" of the unknown is a kind of first line of defense. Here comes the concept of prejudice. An individual always makes a first assessment of the foreigner—a judgment before it knows any details for sure. We must also understand that individual assessment, when the unknown has become known, can shift from prejudice to "judgment", a conclusion based on knowledge.

However, today we are told by the modern political system that prejudice is just ignorance and as soon as this ignorance is gone, the foreigner should be welcomed. In fact, the individual's or group's conclusion could be that the foreigner cannot necessarily be given a pass, and may intend to cause us harm.

Racists in every expression of the negative sense, of course, are also those who want to cause an ethnic group's unity and uniqueness to perish through mixing and division. Many nations and entire civilizations during the history of humanity have vanished for this reason. Either by displacement and extinction or by blending them away out of all recognition.

A true defender of the world's human diversity turns naturally against both extremes of racism and genocide. Moreover, the criminalization of these two extremes is stated in the UN Declaration of Human Rights of 1948, saying that not only is performance of these acts criminal but it is also criminal to instigate them. Thus, the express intent or encouragement to try to create a multi-ethnic society, which inherently violates the right to the preservation of the ethnic and cultural characteristics of the group, or displacement or eradication of a people, could fall within the scope of this crime. In the UN declaration it says, among other things, that the following shall be considered as genocide:

"Deliberately inflicting on the group conditions of life intended to lead to its complete or partial physical destruction; (d) to take measures intended to prevent births within the group; (e) Forcibly transferring children of the group to another group. "

In the ongoing development of today's Sweden where a large number of non-European immigrants are coming to the country, a natural segregation process is marked by Swedes who move away from immigrant areas while various immigrant groups cluster together, and those immigrant groups quickly receive a residence permit and can select where in the country they want to stay. In this way the crime referred-to in the last paragraph concerning genocide may be relevant, eg. in cases where parents are not allowed to put their children into any school but are forced to send them to the local multi-ethnic schools where Swedish children in many Swedish schools already are a minority in their own country.

In the next step they might endeavor to create a multi-ethnic society through the use of integration programs, and this could fall within the scope of "hate crimes" because there would be a restriction of the indigenous group's autonomy.

The general conclusion regarding the question of earth's ethnic diversity is that the property known as "xenophobia" is a necessary evil. The key instead now is to thwart its extremes. The leading political establishment in general seems to dumb-down and exaggerate the image of our instinct for caution, instincts like defense and self-preservation. This they do, among other things, by trying to characterize as a disease, what is actually an instinct and a function that acts as a guarantor for the conservation of all communities, by using a negative-sounding designation such as "xenophobia". If there is an "undue fear" of the unknown, its assessment must of course be something that is considered "reasonable" and make sense, and it needs to exist and be expressed.

There has also been a confusion between the fact that ethnic groups are different and should be valued as such, with the idea that ethnic groups are ranked differently, the two are very different things. The most extreme manifestations of the debate would not even concern themselves with the thought that there are different kinds of people on earth.

This is often presented as options of black and white, where either you accept today's multicultural and ethnic change in Sweden beyond recognition, or you accept hatred and abuse against all immigrants who are in Sweden and the need to advocate a hundred percent purity. Swedes are a generally balanced people and have an absolutely predominant wish for neither of these extremes. Discernment is often the first casualty when debate deteriorates.

Reliance on these extremes and extremists, mainly in politics, business and the media is driving the currently extreme situation. However, what remains and ensures that we can get a more balanced society and social climate in the future, is that our age-old instinct for self-preservation can take on a balanced and natural expression.

Swedes may be very open-minded, but they also have a right to their own preservation.

NYD Analysis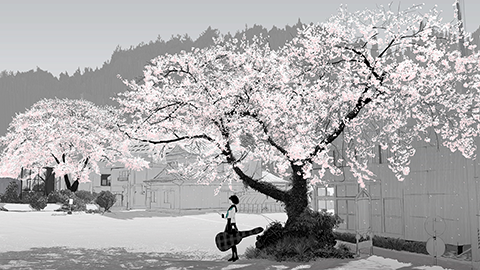 Don't worry, I'm the kind of foreigner that you'll like. Hopefully.
Majorityrights began with and has long been committed to freedom of speech, no matter how controversial the opinion, as I can clearly see from the archives. It has been published as an internet magazine with considerable bravery given the political environment and the risks that come from being misunderstood, and has had a pretty diverse set of contributors and viewers. On 14 October 2014, it marked its tenth year in operation, and I hope that its eleventh year coming in just a few months will be as illuminating as ever. As a newcomer, and as an East Asian woman, I feel privileged to be invited to submit articles from my perspective and experience.
Here, on what could be described as freedom of speech's front porch in its tenth year, we have a good place to talk frankly and honestly as neighbours and allies with common interests. What I'm about to provide is what I see as a necessary polemic against some positions that exist in Majorityrights' archives and an invitation to conversation as such.
It is said in warfare about the 'turning manoeuvre', that when you move into an opponent's rear in order to cut them off from their support base, you are taking the risk of getting yourself cut off from your own.
A similar manoeuvre has been attempted by many ethno-nationalists in Europe since 2001 on a political level with regards to the War on Terror, through their decision to advance negative attitudes toward it and their decision to develop talking points that reinforce those attitudes. They are refusing to endorse the War on Terror under the belief that this non-endorsement is somehow a 'good' angle to protest the political establishment from. It is not good. Those ethno-nationalists are getting themselves cut off because what they are doing actually undermines their own ability to address a severe demographic threat and also undermines their ability to address a persistent international security threat. It's an unfortunate situation, because it is crucial for people to be able to square the thoughts that are going on their heads with the reality on the ground: The reality of the necessity of overseas contingency operations.
To understand how things reached the stage that they have reached, first a person has to remember how things started out. The world was stunned to see the events that were taking place on television on 11 September 2001. Nineteen Arab men had hijacked airliners, and rather than putting the planes down at an airport and demanding a ransom, they chose to put the planes down by sending them into buildings in New York City.
People seem to have struggled to understand how this could happen.
Over time, a self-hating narrative built up in which the citizens of the North Atlantic were largely blaming their own governments for having allegedly 'fanned the flames of conflict in the Middle East' by allegedly 'supporting radical Islamists', while simultaneously also allegedly 'fanning the flames of conflict in the Middle East' by allegedly 'opposing Islamists and offending Muslims'. Both of these narratives cannot make sense at the same time, and I would argue that neither of those narratives are true. Furthermore, the apparent implication in both of those narratives is that the North Atlantic should refrain from pursuing its interests in the zone to the south.
That is an idea that should be rejected on the basis that it leads only to paralysis in the political sphere, and a loss of initiative in the military sphere. Groups which argue that the North Atlantic should adopt a passive stance and not assert its interests, and those who place blame onto the wrong people, may mean well, but they do not realise that the narratives they are creating can lead to serious crises which may not have actually been intended by those dissenting groups.
Zoologists refer to native species long evolved in isolation as "naive species" as they are susceptible to predation against which they have no evolved defense. Thus, it can have devastating effects when alien species are introduced to naive, native populations and habitats, even if inadvertently - as in the case of the brown tree snake or brown rats coming along with ships to the South Seas Islands, introducing them to naive species.
Recent inquiry into my DNA revealed that the root of my maternal side - U5b1e1 - has been long evolved in isolation in Northern Sweden and Finland.
This fact combined with discussion regarding the murder of Swedish native, Lisa Holm, to prompt the issue of naive human species being subject to predation against which they are not particularly evolved. The matter bears acute attention whether introduction of alien species is inadvertent or deliberate - as it surely is, in large part.
Beyond the Augustinian devils of nature and inadvertent human behavior, comes the manichean capacity of human behavior where the "naivete" of native species may be concerned - the issue of the powers-that-be and their means of exploiting "naivete" in native Whites. The imposition of predatory species must also be inflicted knowingly - as Tanstaafl correctly argues, nobody is more aware of genocidal effects than YKW.
Migration and lack of native preparation is not merely a result of Augustinian forces of nature or causes and impacts of market tendencies which might be solved conclusively. It is also a matter of manichean trickery - YKW rule changes of what openness, marginals and even what diversity means, to where they have imposed non-native "diversity" within native White populations, creating an atmosphere where social trust is and should be lowered - exploiting the fact that despite the unfortunate necessity of lowering trust for this alien introduction, that it is difficult for native Whites to relinquish trust for the conflict with their deep evolution of trust and the vastly preferable way of life that is corollary to that trust.
In a word, they are using manichean tricks to foil and exploit the Augustinian disposition we have toward problems - i.e., in regard to natural obstacles, in solution to which we are more evolved. The borders that might protect our habitats and evolution are impacted not only in an objectivist but also in a manichean fashion.
As Bowery has noted, our species, Northern in particular, have had a corrupt aspect of "civilization" imposed against our evolution. According to his cogent definition, "civilization" means that as opposed to individuals rising to defense, delegated groups are supposed to be responsible for border control - which would stave-off interlopers, especially in opportunistic pursuit of native females; in exchange, native European males are required to forgo, as unnecessary, our natural individual capacities to defend against interlopers; and with that, are expected to forgo untoward competition among our own for native co-evoltionary females.
The key problem is that the border control end of the bargain has been reneged upon, with YKW and objectivists opening-them-up, while the native males remain beholden to that part of their evolution as sublimated and aligned for civilization in trust that their social capital is guarded. More, even where they might respond they are prohibited from fighting as individual White men against interlopers as they are forced to unilaterally uphold their end of civilization's bargain.
A corruption is in place, therefore, where our natural sublimation and meandering ease with our co-evolutionary females is ensconced - held in place, we are required, forced, to "live by our rules" of civilized behavior, our dormant natural abilities to compete effectively with our individual innovation and group organizational capacity against non-Whites is blocked, as we are corruptly held to standards of civilization unilaterally - to where we are prohibited from competing as we naturally might, while those entrusted with border/boundary control are blinded, bribed, corrupted to reneg-upon their end of the bargain as YKW impose invasive species upon us, allowing no defense.
It is profoundly difficult to come to terms alone with the fact that our co-evolutionaries might betray us and that we should even have to say anything about it.
We might care to observe from there that as the border control end of the bargain is reneged upon, the native's evolved trust is corrupted thus as cynicism, creating hatred for the native kind's female "altruism", which becomes more like incitement, just as corresponding White male sublimation is transformed to resignation.
...........................
No, not a commitment to the 14 Words, but evergreen news of dedication to Israel: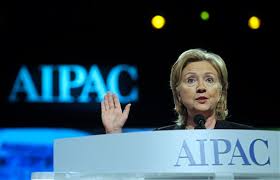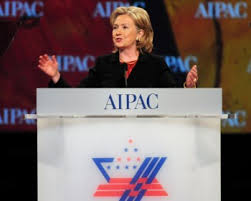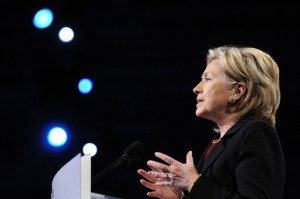 "For me, and for this entire Administration, our commitment to Israel's security and Israel's future is ROCK SOLID, UNWAVERING, ENDURING, and FOREVER!"
- Hillary
Along with TT Metzger, Louis Beam has been a charter White advocate of the "lone wolf" strategy in the struggle for White sovereignty. That is the strategy whereby one is conscious of inherent membership in the White race and active in defending our people while these positions and activities are kept covert - and apart from officially recognized membership.
This is a highly advisable strategy for most Whites to play it safe and actually be more effective. These people would be our underground while our spokespeople coordinate and organize our people and our defense conceptually.
In a spokesman role now, Louis has taken it upon himself to go directly into the belly of the beast - to Russia and Ukraine to report on the White on White conflict as instigated by U.S.corporate internationalists in tandem with Israeli and Jewish interests broadly.
.............
Russian/Ukrainian Trip, by Louis Beam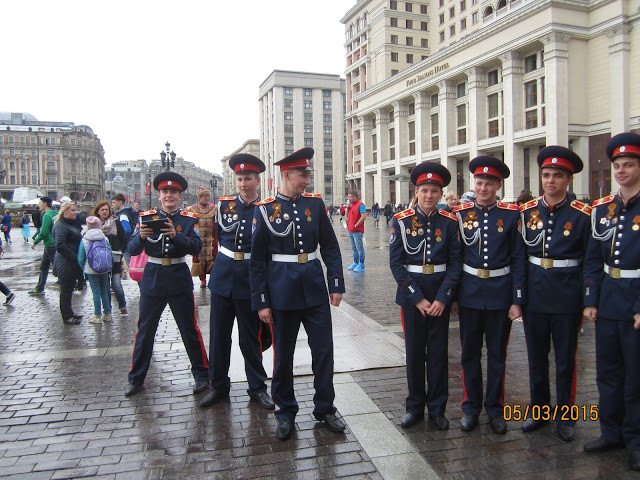 These are the young men senator John McCain and crazy war mongering generals like General Robert H. Scales, a former U.S. Army major general want American soldiers to help start sending home in body bags. Why? Because the lying senator from the state of Arizona, said they had invaded the Ukraine. Is this true? Did Russians invade Ukraine?
I went on a thirty day fact finding tour to find out. I wanted to know for myself if the call for American young men to kill once again and yet another war was justified or not.
Once, long ago in my youth, having believed the propaganda of the federal government and its spokesmen, I rushed off to Viet Nam as a volunteer to fight "a war for freedom" for the Vietnamese people. After two tours of heavy combat which included the Tet offensive of 1968, I came home having proudly served my country only to watch on television a few years later as North Vietnamese tanks rolled into Saigon May 1, 1975. While these tanks rolled into Saigon the President of the United States Gerald Ford played golf with no concern for the 58,000 American soldiers who had died, the over 300,000 thousand more wounded, and the 2,338 POW/MIA missing in combat. These may sound like numbers to you, but to me they are the young men I fought with, and I see faces, families, hopes, dreams, blood, sweat, and tearful screams when I read them.
From that bloody moment on I knew forevermore that the American political system was absolutely corrupt and would never have my obedience and faith again. (To my readers in Europe and Russia: do not confuse the military-industrial-police state complex that has become the government of this country through violation of our constitution, with the freedom loving, generous, God-fearing, hard working, sometimes homeschooling, lovers of liberty who are the bedrock people of this country. The corrupt, evil, war mongering, greedy monopoly capitalist, CIA led Federal Reserve banking government of the United States does not represent the people of this country—only themselves.. We are not the same people. Do not make the mistake of thinking so. For we who are ruled here, are not of a similar creed, faith, and hope for the future of this country and the world as the corrupt, lying, stealing low-life politicians who now run this country with near impunity for their crimes against its citizens and the people of other nations.
This essay will be about what I found out about the Russians and the Ukrainian people who are much the same in so many ways. It will not be written at one sitting but rather as the words and thoughts come to me over time. So, if you should come back to this page over the next month (June 2015) you might gain more insight.
Arriving in Moscow May 1, 2015, I went first to the Kremlin and the Tomb of the Unknown Soldier, for it was my desire to view the heart of the "evil empire" so many American political leaders and their accomplices, spokespeople in the "news" media have accused of invading the Ukraine with no less than "10,000 soldiers." If indeed that claim were true, it would be like "the pot calling the kettle black," as the U.S. military is currently directly involved in at least three wars – in Pakistan, Yemen, and Somalia – in addition to Iraq and Afghanistan for a total of five countries in case you are not counting. I could name more but that is enough to prove the point.
From the long time American news media descriptions of the Kremlin I had always thought it to be some dark, dirty, dungeon, where evil men plotted to take over the world. Nothing could be further from the truth now. It is one of the most beautiful places one could view and everybody from the tourists to guards are friendly. What a cultural shock that was to me. Try walking up to the walls of the American White House like I did the Kremlin and touching them! If you live long enough to reach the White House walls expect no less than five years imprisonment.
At the gates of the Kremlin: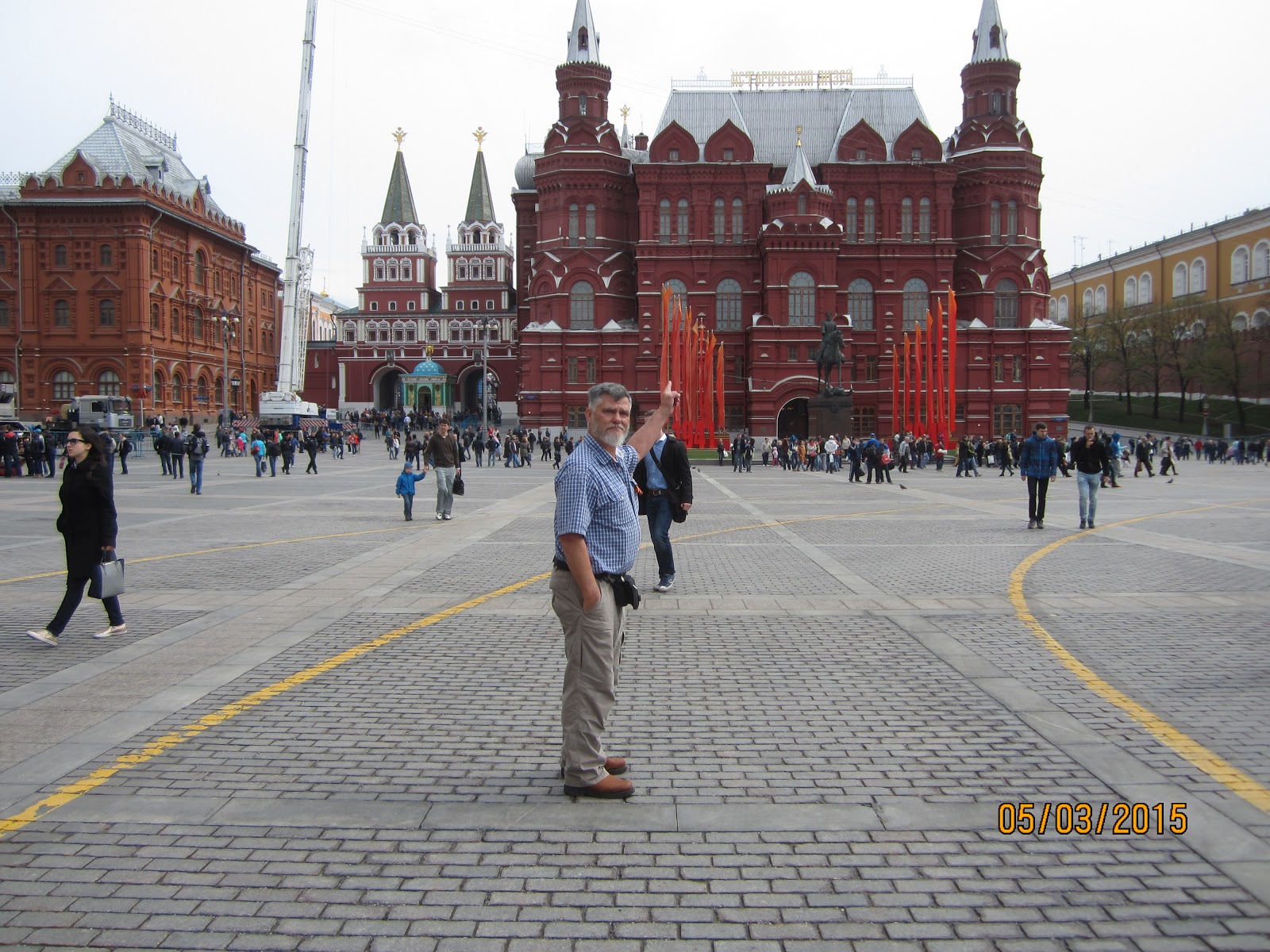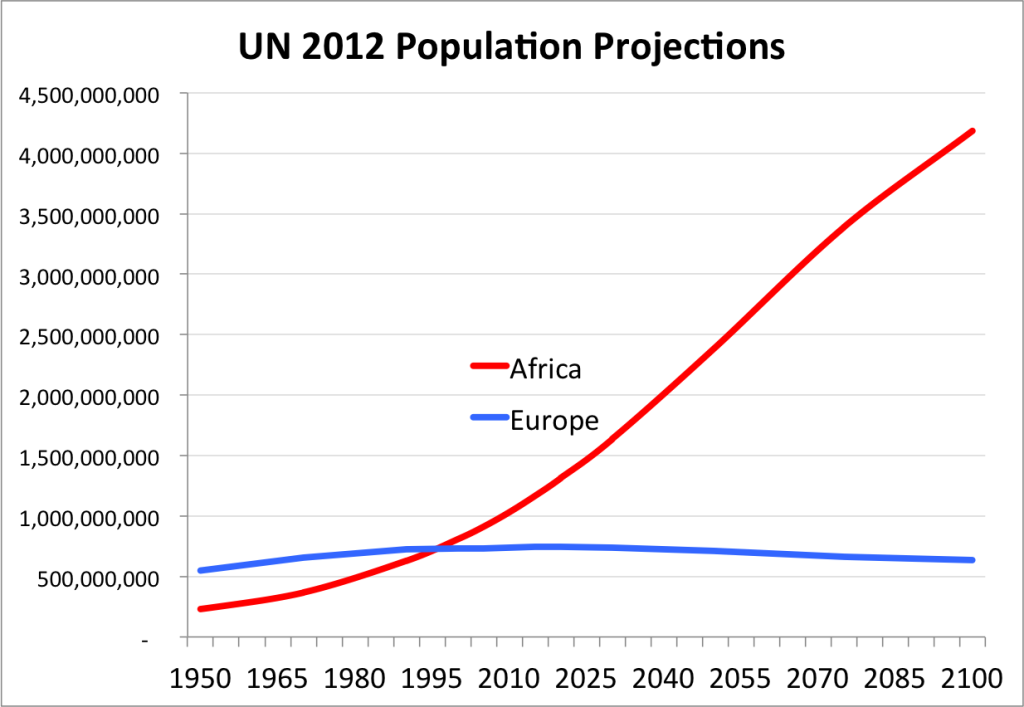 The World's Most Important Graph: African Population Projections
"The greatest danger of all is to allow new walls to divide us from one another. The walls between old allies on either side of the Atlantic cannot stand. The walls between the countries with the most and those with the least cannot stand. The walls between races and tribes, natives and immigrants, Christians and Muslims and Jews, cannot stand. These now are the walls we must tear down!"

He hears his master's voice
By Lasha Darkmoon, April 18, 2015
It is now only too clear that Americans have lost their country. The Jews are our masters and we are their slaves. What can we do about it?
An abridged adaption by Lasha Darkmoon of a recent article by Video Rebel.

Benjamin Netanyahu: "9/11 was good for Israel."
9/11 finally revealed to us the extraordinary chutzpah of our Jewish masters.
That the Israelis did 9/11 with the help of Jewish collaborators in PNAC and AIPAC has become all too apparent to the cognoscenti. The hidden criminality behind this event has been cleverly covered up by our Jewish owned media.
9/11 was a definite declaration of war against America by Israel.
The Israelis wired World Trade Center Towers 1, 2 and 7 for demolition. Tower 7 was never struck by a plane. Yet it fell down in 6.5 seconds.
The BBC was told by the Rothschild-owned Reuters news agency that WTC 7 had collapsed an hour before it did. America was still on Daylight Savings Time but Britain had just left Summer Time, so a confused BBC announced the collapse of WTC 7 fully 24 minutes before it happened in New York.
Knowing that your government can kill the President and blow up buildings with Americans inside, as in Oklahoma City and in New York, helps to restrain hostile criticism of the government. People are nervous and say to themselves, "If they can kill 3000 innocent Americans for Israel and get away with it, what chance do I have?"
9/11 unleashed America's "War on Terror" against various Muslim countries unable to accept direct invasion and conquest by Israel. This was America doing Israel's dirty work for it. Israel claims all the land from the Nile to the Euphrates. The War on Terror is simply a process allowing Jews to gain control of non-Jewish lands.
The War on Terror has cost American taxpayers trillions of dollars to date. 9/11 was used to justify military actions that have killed and maimed millions of people in the Middle East. Some of these people were Christians, but the majority were Muslims. Their descendants and friends, the one who survived the initial carnage, have been radicalized as a result. They now have every reason to seek revenge against their aggressors — the ones who perpetrated 9/11 and then used it as an excuse to plunder Islamic lands.
§