Majorityrights Central > Category: New Right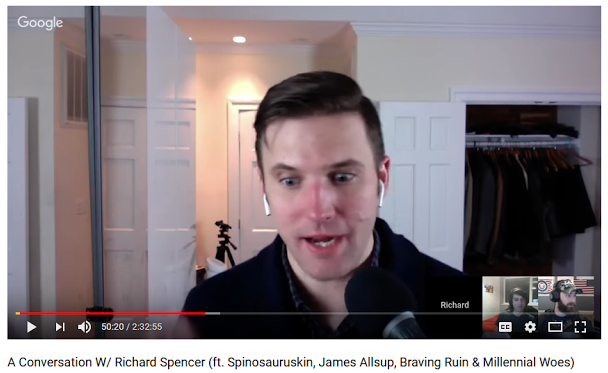 My conception of the ethnostate is imperialist - true ethno nationalism is a zero sum game.
"My conception of the ethnostate is imperialist actually." "True ethno nationalism is a zero sum game." - Richard Spencer
Fortunately, Britain seems to be joining the revised TPP11; and the Visigrad Groups are holding their own as a geopolitical connection on the upper Silk Road, to provide an ethnonational bulwark against any Spencer/Duginesque imperial blob larp that would sprawl oblivious to profound heritage, Lisbon to Vladivastok, Vladivastok to Nova Scotia.
Richard Spencer: I'd agree that my conception of the ethnostate, writ large conception, is imperialist actually, in the sense that it is a larger bloc, it is a geopolitical bloc.

50:00 I don't think ethnicity itself should be a dividing line. An intense ethno nationalism like 'Finland for the Fins and the Czech republic for the Czechs, or whatever that is', I don't think that's actually the way forward.

52:00: In terms of White I don't think this is at all controversial - you know one once you see one.

55:20 The whole idea of the ethnostate is about avoiding conflict. It's about creating - this is where my concept of the ethnostate might be slightly different than others. Some others might consider, say, Poland is an ethnostate. It's a linguistic- religious ethnic community (only difference?) - my concept of the ethno state is a concept of the ethnostate writ large; it is a geopolitical bloc for the White race. The whole point of this is that there would be a continental wide safe space, for White people, and there's not going to be conflict, there's not going to be racial conflict or racial suspicion.

Israel is in a very tricky situation, due to its creation, due to its foreign policy, due to its mentality, but…

His colleague, Evan McClaren, "Executive Director of NPI," puts forth a similar straw man, saying that "the Polish and Hungarian cavalry will not come to the rescue of White people." This is an insulting reference to WWII era Nazi propaganda footage that fictitiously staged Polish cavalry going up against Nazi Panzer tanks; and again, nobody is saying that Poland and Hungary, let alone their "cavalry", is going to come to the rescue alone. This is another straw man to disparage ethnonational sovereignty against Spencer's misguided delusion of Russo/German imperialism.

The fact is that global conflict is never going to go away ...that's one aspect of the ethno state, it must have nuclear weapons, it must have an army, it must be able to confront whether it be China, whether it be the Middle East, etc. ...it can confront other blocs around the world, so that we aren't going to be over-run by Chinese, we're not going to be over-run by an Islamic invasion and so on…
And YKW Richard? They've already invaded and infiltrated, so have the blacks and Muslims.
Perhaps the fact that Britain seems to be joining the revised TPP11 and the Visigrad Groups are holding their own as a geopolitical connection on the upper Silk Road can provide an ethnonational bulwark against the Spencer/Dugin imperialist blob that would sprawl oblivious to profound heritage, Lisbon to Vladivastok, Vladivastok to Nova Scotia.
Zero sum game is a straw man…
Spencer says Poland can't do it alone - a straw man because nobody is saying that (or should be saying that they can).

Trump's Globalist Nationalism:
Spencer calls ethno nationalism a zero sum game -
People who like ethno nationalism probably wouldn't dwell on that aspect but that is merely happy talk. That really is an expression of ethno nationalism, particularly with regard to neighboring countries - it is about competition, it is certainly not about civilizational nationalism or racial nationalism.

(Spencer tips is Molotov-Ribbentrop hand at this point)

One can see this in the ethnonationalism of western Ukrainians who seem to hate everyone and think everyone's out to get them.

....to me, the Poles, the Germans, the Russians, everyone…but the fact is, and I think this is very good when we looked at globalism vs nationalism and we all felt like we are in the same boat and there wasn't this zero sum competition where I, "as an American, want France to do poorly, I want Britain to do poorly" - it wasn't like that at all, and it should make us rethink that nationalist globalist divide….the fact is that Donald Trump, wearing a Trump hat or a Trump T-shirt became a meme across Europe for a nationalist expression… on the other hand you have the plucky nationalists, those people who are trying to reassert the sovereignty of the nation state itself and also to reassert their identities and cultures ...true ethno nationalims is, as we've seen in the 19th century, a zero sum game - if you are a French nationalist then your doing well is effectively bad for Germany and vice versa; German's rise is effectively bad for you - it is a zero sum game - we win you lose, you win we lose ...people who like ethno nationalism probably wouldn't dwell on that aspect, but that's merely happy talk, particularly with regard to neighboring countries; it really is about competition.
A zero sum game is an imperialist /supremacist model (what I call right wing) - that's a straw man of ethno nationalism and its true motive. Ethno-nationalism defined properly would provide for accountably delimited, manageable but sufficiently powerful units - manageable units which can then facilitate coordination of the whole regional powers, e.g. the region of Europe or Asia, etc.; which can then, in turn, coordinate between those regional interests.
Spencer is trying camouflage the quid pro quo; but tips his hand with condescending dismissal of Polish and European ethnonationalism, the anti western Ukraine bit - clues to his pro Russian Fed sentiment and neo-Molotov-Ribbentrop larp.
It is imperialism (e.g., Nazi imperialism), not nationalism, or even ethnonationalism, that caused the great wars.
8:03 Trump seems to be searching out a new foreign policy course. ... he seems to have a new rhetoric.

10:00 "The rocket man" (don't disturb Russian puppet N Korea)

12:55 Spencer defends Venezuela ..we leave them alone (for Putin to look after).

He does criticize Saudi and defend Iran….

17:13: In sum, new realism, new nationalism is window dressing. Ethno nationalists can't get their head around the fact that Estonia and Poland live within the shadow of America."
Sure, it's really hard to understand that we need alliances, powerful alliances, Richard.
...............................................
1:20 a pansy attempt at a cult of Richard Spencer personality..

2:30 so, I'm gonna just throw out a big question, what is the state of the altright?

Spencer answers:

We're in a difficult position.. derives from hostility and open suppression, private entities, silicon valley… deplatforming from funding services web services…

....push back for being recognized - catching flack for flying over the target…but what doesn't kill you (makes you stronger - Nietzsche)...

5:55 on the other hand we are experiencing a difficult time for internecine, intramural fights going on…

This needs to be talked about…

We need to give some people some tough love…some times the truth hurts.

8:00 Resistance in Poland..

11:05 I'm a public intellectual…we should not take sides in the second world war. (Really?)

13:20 I was disappointed with the foreign minister, who used this silly, baby boomer liberal language..this kind of stuff is stupid, 'you're becoming Americanist in the worst possible way.'

14:38 Within the right you are criticized more often for not embracing this petty nationalist mindset..whereas in mainstream outlets you are criticized as being a Nazi.

15:45 Poland cannot survive on its own (what country would or does?). It was recreated in 1919.

(It was re-established in 1919, upon Pilsudski's audacious taking-back of the ancient Polish city of Poznan in culmination of 123 years struggle to take back its nationhood from imperialist Austria, Russia and Prussia.)

16:20 it exists now as a Nato state…

(There are some problems with petty nationalism, but thanks for your concern Richard. We'll be ok without Russia's help.)

17:58 ..in desperate need of a racial, Pan European consciousness.

18:37 The last thing I would support is some sort of German supremacy (that's not exactly the problem - the problem is a combined German Russian imperialism.)

21:40 Spencer denounces cold war nostalgia and goes into the Duginesque critique of America - a "far far far greater threat than Russian nationalism… which seems extremely modest and reasonable in comparison to America." These former Eastern bloc countries don't get it (maybe you don't get it, Richard, and that's why you misconstrue ethnonationalism with imperialism). America is not going to be the savior of Poland; countries in the American sphere are subject to the worst aspects of America - immigration, homosexuality, feminism.

35:00 I will back down this time….(he had planned a visit to Poland but there were hints from high places that he was not welcome in Poland). I was visiting Europe, visiting Russia at least once a year and I will be back…

39:00 The opposition is scared, but that means we are culturally relevant when they are shutting us down.

42:00 Alt Right and optics ...

45:32 This moral signaling by denouncing people ....it is worth talking about the Swastika flag and Roman salute - its a double standard and bullshit compared to Marxist symbolism…

(Spencer and the Alt Right have this incessant bullshit line that the issues with Nazi Germany are surface matters of "optics" and conditioning, not that Nazi Germany was in large epistemological blunder).

Why can't you admit that you got suckered by your friend,

Mike Enoch

, who started the Nazi salute thing too?

48:11 Look at how I dress ... I don't need to engage in denunciations ...I don't think we can get away from the optics debate..

52:00 We should be bad asses ...people can go too far on both sides, problem of over reacting.

53:00 Everybody was wrong

54:00 We need to step back… our movement needs to be a little shocking…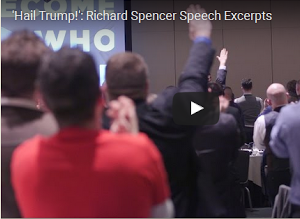 Nice try Richard, "hail Trump!"
.....hangout with Baked Alaska concludes:
2:17:16 Richard Spencer: It's all well and good to talk about we just want our little countries, we just want our little Poland, that's not going to cut it.
Get over it man. This straw-man. Who is saying that we just want our little Poland?
The YouTube channel N.D.L has put out a new video today, which really captures the sadness of what policing in Sweden must be like now.
Progressive cultural manifestations flourish under the protection of the state, while at the same time the policymakers undermine that same protection by allowing a retrogressive demography to enter and replace the citizens of the country. Additionally, the Anarchist Bloc attacks the police at every turn, exacerbating the instability of the situation.
Sometimes video really does depict it better than text.
The government of Stefan Lofven really has the same kind of haplessness and incompetence that the government of Harold Wilson had. I'm sure that no one truly wishes for this in their heart of hearts—but I think that if the situation should deteriorate to an extent where governance is impossible in Sweden and the electoral system continues to deliver up the wrong result, in such a case I would hope that the Swedish security services have contingency plans on hand to fight the decline in the same way that British services had contingency plans in the 1970s.
Until the last moment.
Kumiko Oumae works in the defence and security sector in the UK. Her opinions here are entirely her own.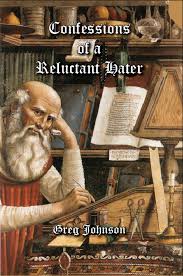 In background preparation for a piece that Kumiko has coming up, which will set-out some hidden content and meta-frames of The Alternate Right in its history and current relation to President Elect Trump's agenda, I decided that it would be helpful to provide a straight forward background of the Alt-Right - as detailed by one as capable as anybody of articulating its history and hoped-for future from an insider's perspective - Greg Johnson. He was asked by French Marxist, Laura Raim, to trace the most important intellectual roots and references of the Alternative Right:
Laura Raim interviews Greg Johnson on The Intellectual Roots and References of The Alt Right.

Laura Raim:

The first question is, what are the intellectual roots and references of the Alt Right?

I read that some people say that it's Sam Francis or James Burnham before him..

But what would you say would be the most important intellectual roots and references?

Well, the term Alt Right, I believe was coined around 2008 by (((Paul Gottfried))).

He gave a lecture where he basically declared the paleoconservative movement dead.

I think in the same lecture he also called for the creation of an Alternative Right.

So, I see the Alternative Right as primarily emerging from the paleocon movement in American political thought -

And the paleoconservatives would be people like Samuel Francis, Joseph Sobran and Patrick Buchanan.

Now, Richard Spencer was working for The American Conservative which was founded by Patrick Buchanan, (((Taki))) and a couple other people, to be a kind of flagship for paleoconservativatism -

Paleoconservatism defined itself in contradistinction to Neo-Conservatism, which they were trying to combat.

The paleocon movement sort of got old, a lot of its leading figures died, it never really effectively institutionalized itself, never effectively mobilized large donors.

Of course Patrick Buchanan has written many best selling books and had a lot of media access, he was the main face of it but he's getting old.

The American Conservative sort of lost steam.

(((Taki))) left, I believe, I can't remember when but he did create (((Taki's))) Magazine.

Richard Spencer ended up editing (((Taki's))) Magazine for a while.

Then he left Taki's Magazine and he created Alt-Right, um, "Alternative Right" in the beginning of 2010.

Sometime after that the fellow who was running Washington Summit Publishing and National Policy Institute, Louis Andrews died after a long battle with cancer.

So, those organizations were handed over to Richard Spencer.

I see really, primarily a continuity between the paleoconservatives and the birth of the term Alternative Right.

However, when the Alternative Right webzine was created, there was a fairly self conscious attempt to bring in a lot of different thought currents under that very vague umbrella -

That included things that were certainly not considered, uh, how to put it ..they weren't necessarily welcomed in paleocon circles, and that would include things like: neo-pagans, paleomasculinity, White nationalism, things like that.

And so, under that broad, sort of umbrella, there are a lot of different, uh, thought currents that sort of came together.

I actually wrote something about this at, I think it was the Occidental Quarterly On Line, just after the Alternative Right webzine launched. So if you want to cite that or quote that it's there on the web somewhere.

After a couple of years Spencer, I believe, sort of lost interest in editing Alternative Right and other people took it over, really, on day-to-day functioning and then he shut it down and launched his Radix publication.

I thought that was in someways a good idea because he felt like he had lost control of the brand.

On the other hand, Alternative Right was becoming a generic term.

And if you invent something like .. if you have a product that becomes synonymous with a whole genre, like Xerox or a Walkman, or something like that, the last thing you do is throw away such a valuable brand - but he did.

He walked away from the brand and Colin Liddell and Andy Nowicki have kept that alive.

And then a few years .ah, well, the last two years of course the brand has become much more mainstreamed -

Because of its vagueness a lot of figures that are, again, sort of closer to the mainstream of conservatism than I am ... I would define myself as a White Nationalist and as a New Rightist.. not as a, uhm, Alternative Rightist, although I would use that term because its a broad enough umbrella to encompass me.

Laura Raim:

You are more specifically a White Nationalist

Greg Johnson:

Yeah, and uh, I don't feel the need to use sort of vague broad umbrella terms but other people do; just because of their well, because they're not comfortable with being more specific; and I'm all for people being as explicit and involved as they want to be; and just respecting those decisions.

So, people like Milo Yiannopoulos, uh, Mike Cernovich, um, Vox Day, all of them, fairly prominent, connected with sort of the edgier reaches of the mainstream right, have started using that term (Alternative Right) as well.

Also a few people like Andrew uhm ...I'm blanking out his name…this is embarrassing… uh, the fellow that edits The Daily Stormer, uhm, Andrew Anglin..

Laura Raim: Oh, I know about him.

Greg Johnson:

Andrew Anglin of course ...as soon as, as soon as the term got popular, he started branding himself as Alternative Right. And that was just, it's sort of a douchy move on his part, a kind of trollish thing, to just kind of take advantage of the popularity of the term. And I don't blame him in the least for that.

Anyway, it [Alternative Right] is a very broad umbrella term but the main intellectual root of it comes out of the paleoconservative movement.

Now, as to what defines it today, I think the real core, the heart of it, the energy of it, really is White Nationalist, New Rightist people like that.

Laura Raim:

Richard Spencer writes, a "White Nationalist' is sort of an identitarian."

Greg Johnson:

Yeah, yeah. European identitarianism, that's another term that we borrowed from Europe. It's a good term, it's analogous to libertarianism, it states what's most important in your ideology, which is the preservation of your distinct racial, cultural and historical identity. So, it's a good term.

That really is I think the, where all the real energy is. That is what's generating a lot of the intellectual excitement, if you will ...on, on the right .... from the creation of memes and trolling and arguments.

In the past year and a half or two years, things that have come out of our sphere have actually started to shape mainstream political discourse….within the Republican Party for instance.

I think it was in 2012, Gregory Hood, at Counter-Currents, referred to mainstream conservatives as "cuckoled conservatives" - and that was really the inception of the "cuckservative" meme; which, when it became more widespread through Twitter, became a really effective barb that drove a lot of mainstream conservatives wild because it was so true.

So, we started shaping the discourse, and I think that's very valuable.

Now, another current of thought that is sort of flowing into the Alternative Right, that's very important, is, the sort of breakdown of the libertarian movement . This is very important.

I used to be a libertarian years ago, and I sort of followed this intellectual journey along time ago. Then in 2008, when the Ron Paul movement was getting started noticing how overwhelmingly White that Ron Paul supporters were ...and, it was an implicitly White thing. They weren't aware of the fact that this was a very White form of politics, it made sense more to White people than any other group.

And I was sort of betting at the time that a lot of these people would start breaking away from this and start moving in the direction of White identity politics.

And, when I was the editor of The Occidental Quarterly, near the end of that time, I actually set in motion an essay contest, on libertarianism and White racial nationalism. And the purpose of that was really to get our best minds to sort of think about this idea and create an analysis and work towards creating talking points that we could use to sort of ease the way of a lot of people toward our position. That, I didn't think bore any fruit at the time, at least I didn't see any.

A few years later, after the 2012 election campaign and the end of the Ron Paul movement, basically, within the libertarian sphere there was a real push by cultural leftists to basically just take it all over; and to eject anything that seemed conservative, patriotic or whatever; it became this leftist globalizing and really sometimes quite explicitly Jewish take-over.

What happened was that a lot of people were pushed-out by just revulsion. There were these intense discussion groups on line, where they, people would be battling one another about this. And a lot of people just left in disgust.

One of those online groups, a FaceBook group, actually became the source of The Right Stuff.

..therightStuff.biz, which now has The Daily Shoah, as their flagship podcast and so forth.

Those people are all ex-libertarians.

They moved out of libertarianism towards White identity politics in basically the same way that I did and other people have.

So, that really is a broad tributary that is flowing into White identity politics; and into the overall, Alt Right umbrella; and its a very vital force, too.

Most of the people involved in this are quite young. Most of them are quite educated. It's very interesting. I had a dinner recently with some new young people who have come into it in the past six months to two years; and then some people who have been around for decades: and um, the contrast could not have been more marked, because really, the people who had been in this for decades were all kind of misfits, you know they were uh, socially awkward and weird people. And uh, the younger crowd coming in were mostly quite impressive, sort of fratty, preppy, squared-away people, many of them with ex-recent military careers; most of them in their twenties or around thirty; and just a very different look and feel to this: people with a lot of agency, discipline and organization.

Now, there are a lot of people that we call "autistes," who are, if not outright autistic are at least on that spectrum. They're kind of socially awkward, yet they do perform valuable functions; they're great meme creators and number crunchers.

But there's also a large group of people coming into this who are just, they're very normal; in their presentation, in their background; they're the kind of people who, psychologically would not be inclined, to get involved with any kind of radical identity politics; but there's a wind in our sails now. ..and they feel, not only conviction, but they also feel like this is something that they can put their effort into and it might actually bear fruit. So, there's a great deal of excitement and intellectual vitality here.

And this is very interesting also uhm: one of the things that is sort of an internal, I guess, rift, within the Alt Right umbrella, is of course the Jewish question - I believe the term [Alt Right] was coined first by a Jewish writer, (((Paul Gottfried))), the paleocons have always been kind of friendly with Jews, publishing them and associating them in their conferences and things like that; and yet within the White Nationalist sphere there is a strong group of people who are quite critical of Jewish power and influence in our societies.

People like (((Milo Yiannopoulis and Mike Cernovich))) are Jewish to some extent, uh, in their identity - it's kind of disputed in Cernovich's case - because he put out his DNA profile and none of it came up Ashkenazic or Jewish at all. But there are people who left Russia claiming to be Jews who weren't, so he might be descended from that kind of line.

But anyway, that is a factor: There is a Jewish camp and a Jewish friendly versus a Jewish critical camp, split within the Alternative Right.

One of the interesting things that I've now been hearing about is, young Jews, like, including young (((Orthodox Jews))), which seems like a very unlikely category, uhm, are now being drawn into this. You know, they're reading Heatiste, they're sharing Alt Right memes…
Part two of Kumiko Oumae's critical examination of Matt Parrott's Christian traditionalism.
Subjects covered included: Global baptism, Christian universalism, homosexuality, Africa and the population question, Syria.
58 mins, 52.6 MB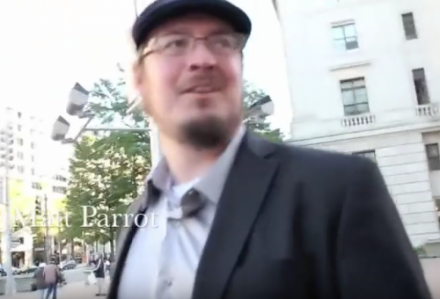 Matt Parrott at NPI.
Summary: A two-part critical examination, conducted by Kumiko Oumae, of many areas of Matt Parrott's Christian traditionalism, from Matt's faith fundamentals as an Orthodox Christian traditionalist and nationalist - in that order - to Matt's views on freemasonry, the relationship of Judaism to Christianity, the pagan past, how religion renews, global baptism, Christian universalism, homosexuality, Africa and the population question, and Syria.
Can I just say, from a personal perspective, that I thought the interview was a success, notwithstanding any hostilities which may have existed prior to it (and since). Kumiko was very well prepped and she did a great job of maintaining a high tempo of relevant and close questioning, to which Matt responded generously.
My thanks to you both.
This is part one: The fundamentals of Matt's Orthodox Christian traditionalism examined, Freemasonry, Judaism and Christianity, the making of religions.
1 hr 22 mins, 75 MB.
Ten people suffered stab wounds and other injuries on Sunday after members of a white nationalist group that planned to rally outside the California state Capitol building in Sacramento clashed with a larger group of counter protesters, authorities said.

The fight broke out when about 30 members of the Traditionalist Worker Party gathering to rally around noon Sunday were met by about 400 counter-protesters, California Highway Patrol Officer George Granada said.
Alhough Jewish controlled media is granting the grandiose and misleading left cover of the name, "Traditionalist Worker Party," and calling them a "white nationalist" organization, they are actually a right-wing group committed to Jesus and Christianity above all causes.
While having a preference to advocate for White faithful and Orthodox Christian Whites in particular, the group does cooperate with non-Christian White nationalists upon tacit agreement with "the alternative right", viz., its big tent condition to rise above "little disagreements" - markedly about Jesus, Hitler, scientism or Jewish inclusion - i.e., anti-social positions in reaction to the Jewish organized left. And to the extent that "altrighters" accept their Christian agenda - with Matt Parrott and Matt Heimbach of "Tradyouth" being "Altright" insiders - they are a part of a makeshift bureaucratic clique and a big tent (tentosphere) concerned to discourage attention to Majorityrights' platform.
In the meantime, the YKW will grant coverage to groups and individuals such as Heimbach and Parrott inasmuch as they act into an altercast as right wingers, allowing them to do what right wingers are wont to do - react as useful dupes for Jewish and objectivitst interests, associating White Nationalism with the stigma of anti-social behavior; their search for foundations beyond social accountability being futile and counterproductive to White interests; all the while they tend to mistake and accept definitions of accountability and social justice for the Jewish trammel of language games and anti-White rhetoric.
Although they had a permit to protest last Sunday in front of the Sacramento, California Courthouse, "The Chairman and Vice Chairman" of "The Traditionalist Worker Party" enlisted "The Golden State Skinheads" as security for their rally.
They said that they had planned the Sunday event in conjunction with the Golden State Skinheads "to make a statement about the precarious situation our race is in" after "brutal assaults" at Donald Trump events in California.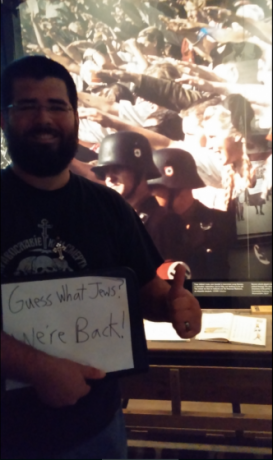 Matt Heimbach
"We stood our ground. We will be back," The L.A. Times reported "Traditionalist Worker Party Chairman" Matthew Heimbach as saying - he added that "in the clash, one of their marchers had been stabbed in an artery and six of the counter-protesters had also been stabbed."

Vice chairman Matt Parrott, who was not present at the Sacramento rally, blamed "leftist radicals" for instigating the violence. Videos and photos of the rally posted on social media showed the white nationalists vastly outnumbered by protesters from anti-fascist groups.
ABC News also reported that "Videos from the melee posted on social media showed mounted police officers dispersing a group of mostly young people, some with their faces covered, while some throw stones toward a man holding a stick and being shielded by police officers in riot gear.

Of the injured, two were taken to the hospital with critical stab wounds, but they were expected to survive, officials said.
Although it is difficult to get past the YKW media negative conditioning and by contrast to convince White Nationalists of the utility of a White Left Nationalist perspective, its utility remains, rather like a cat landing on its feet every time, lining up enemies, elite traitors and rank and file as well. The White Left Nationalist perspective maintains its stability, normalization, sustainability and thus adherence in social praxis, with key accountability from elites and rank and file.
I gleaned and refined this perspective from Metzger - who is entirely relevant to this discussion as it was he who organized American skinheads after the skinhead movement germinated in England in the 1980's. Metzger also found out the hard way, as did many, about the inherent instability and perfidy of the right as manifest in provocation, reaction and turncoats upon such tactics. He lost his house and business and had to file for bankruptcy for a prosecution of "vicarious liability" after a skinhead tenuously associated with him killed a black man in another state, hundreds of miles away.
With Metzger's central experience and racial conviction, I was able to reject the obvious stupidity of right wing associations with racial advocacy and to overcome the normal aversion to the Jewish abused term, "the left", as a mere diversion from its nifty organizing function, including racial organization.
I can see the pattern of what he and David (14 Words) Lane began to describe as the perfidy of "the right wing." I can also see the pattern behind and why Jewish interests want to dissuade us from a White left identity.
And once there, one can see more clearly the perfidy of acting into an altercast as right wing.
Heimbach and Parrott might not want to learn from those with more experience, but they should have known better anyway than to be involved with violent street altercations. In fact, even an act such as this - Heimbach shoving a person - can bring about a charge of assault under The U.S. legal system; YKW attorneys will be particularly vigilant for any such opportunity to affix "hate charges" given that the woman he shoved was black….add to that bringing skinheads and weapons into the occasion and you are asking to render yourself unto the legal system, useless to our cause. There will come a time when we can re-write the laws but that time is not now and they should have known better than to react into the altercast.
TT says, "stay out of the right!"
Though going under the grandiose ostensible left cover and misnomer of "The Traditionalist Worker Party", their right wing organization is committed to Jesus Christ above all. Matt Parrott has told Majorityrights that he will cooperate provisionally with White Nationalists and other ethnonationalists, though ultimately, he advocates for Christian rule to be imposed upon all people. As it is derived from Jewish interests and not grounded in the relativizing and normalizing realm of White praxis, their ideology will be inherently unstable and susceptible to Jewish manipulation. The altrighters seek to protect their pet anti social projects, Jesus, Hitler, Jews, scientism, etc; while attempts to ground White advocacy in accountability to praxis and genetics have been met by the Altright and Parrott, in particular, with bureaucratic imperviousness - Parrott also stating that he believes the Euro DNA Nations to be "wrong at every turn."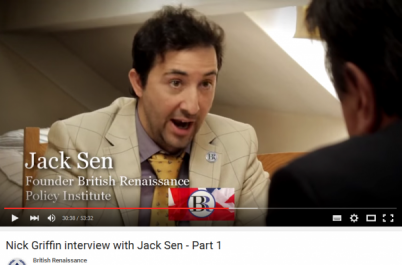 Senscreen
: "What are your thoughts regarding nationalists today [...] groups like National Action, even London Forum's Jez Turner? They seem quite fixated on the Jews to an extent that, it seems to be harming our efforts, I think." Nick Griffin: "Yes, I think it does."
Particularly as I was the instigator of the original phase of skepticism with regard to "Giacomo Vallone", with critical remarks in regard to the positions he espoused in an interview with "Dana Antiochus" at Renegade Broadcasting, it is relevant to weigh-in on this matter. While that exchange quickly exposed him in a lowly and amateurish sock-puppetting effort at dividing Europeans against each other, the combination of that amateurishness and the obvious anti-racial nature of his position caused me to not take him, or his associated "European Knights Project", too seriously. Still, his motives were of the worst kind. It has more serious implications as that project has germinated into controversial engagement with prominent ranks of White advocacy.
Is he the same person as Jack Sen? Well, both Sen and Vallone are associated with the European Knights Project. That's enough for me to dismiss them both. That is why I will only belatedly confirm together with you as to whether or not it is indeed the case that they are one and the same; though a cursory comparison of Sen and Vallone discussions seem to indicate one identity, we know enough about both of them already to dismiss them.
My run-in with Giacomo Vallone wasn't the first time that I had to take serious issue with a guest at another network - I took issue with Mark Dyal at Counter-Currents, and I still believe that I was right to do that as well: The thanks I got for that was being banned from Counter-Currents (oh well). Mark Dyal showed up as a guest of Dana Antiochus with the same kind of bullshit and I had another run-in with him there: Renegade should have appreciated that bit of critique also. However, I've also had reservations about Dana Antiochus - though I might be unfair to him. While I tried to be friends with Renegade, as you'll see, they turned out to be too right-wing in the end.
I tell you this - that Metzger is right about right-wingers.
They are disingenuous and/or naive and their tentosphere is always ripe for infiltration.
Anyway, the scandal in the tentosphere now is not only to see Giacomo Vallone as a fraud who has made his way into conversation with White Nationalism, but that he's actually the same person as Jack Sen - also having made his way into conversation with WN.
I was repulsed by Giacomo Vallone for a number of reasons from the onset, but he and his "European Knights Project" not only managed to get interviews with Renegade et al., but notably with Professor MacDonald. MacDonald is a bit too open to those with advanced academic pedigrees (Vallone claims to have graduated Princeton) and demeanor and a bit too closed to those without that. But that's another matter and not a major point here; MacDonald is a wonderful scholar despite sometimes not being the best judge of character.
In general, it is right-wingishness and desperation for social prosthesis to compensate for their anti-social positions that creates this vulnerability; a tentosphere trap that Jews maintain - a key objective being to keep us as right-wingers and "THE Left" as the enemy.
Now then, I was a bit skeptical (and couldn't be bothered since he is out of the ballpark) about the possibility that Vallone was the same person as Sen. Nevertheless, I already had sufficient evidence that Vallone and The European Knights Project are bad news: promoting civic nationalism, promoting black and mixed race people (e.g., "part black people are OK") and for some reason, inciting strident hatred between Germans and Poles; and apparently anybody and Poles; not only that, but using sock-puppets to instigate that divisiveness.
There was no reason to doubt that his dealings with White Nationalism were disingenuous and it was disappointing that MacDonald, et al., would entertain him. Mike Delaney also spoke with Vallone not long ago - an interview posted by Anglin - but these latter two are middle brow right-wingers, so their rubbing elbows with Vallone did not pique my attention in the sense that one of "ours" was being infiltrated. I would be quite happy for the Daily Stormer to crash and burn. It deserves to.
Then Jack Sen came onto the radar screen of WN, appearing at Jez Turner's London Forum and on Kevin MacDonald's site. These are people that I like, even if their right-wingishness causes them problems. I even posted the talk Sen gave to London Forum here at Majorityrights - it was about UKIP being controlled opposition, infiltrated by Jewish interests and so on. That didn't raise red flags for me - if he, KM and Jez suddenly liked each other, it seemed that he might indeed be a guy coming to his senses. What was curious, however, was his association with The European Knights Project, and Vallone, as I already knew that they were colossal bullshit.
Still, I'm not regularly following the goings-on of every right-winger as I already have their perfidy conceptually circumscribed. I might look at what they are up to, as they are engaged on the same turf, consider what is useful and reject what is not; but I'm not letting them dictate my terms, any more than I'd let Jews do it. So, if they want to rub elbows with Giacomo Vallone and the European Knights Project, it's their ship that's going down. I advise White advocates not to be right-wingers, but that's all I can do. KM, Greg Johnson and the rest of those among what I've taken to calling the tentosphere have tended to double-down in their position that "The Left" is the enemy.
Matt Heimbach is also cooperating with Sen and The European Knights Project - it seems as if there might be a corollary there, probably unbeknownst to Heimbach, to his being banned from The U.K. Sen was so disappointed about the ban?
Coming back to the show that has taken center ring for now, it is clear that "Giacomo Vallone" is bad news, but is he also the same person as Jack Sen? That really would be something as we will see in a moment by some of the implications.
But even if they are not the same person, the very fact that Sen would be associated with Vallone and the The European Knights Project is damning enough.
Lets set out the thread beneath the 2013 interview of Giacomo Vallone by Dana Antiochus at Renegade.
If it's Jack Sen doing this sock puppetry then that really would be something. We'll come to what Jack Sen might be up to after I set out this thread where I started the fight which initiated the awareness that Giacomo Vallone might be something more negative than just an ignorant newby. I begin with the first comment and before long, you'll see what will be shown to be Vallone using sock puppets to instigate German-Polish animus.
Renegade, Dana Antiochus interviews Giacomo Vallone, 14 Oct 2013

Comments

DanielS
2 years 5 months ago

Giacomo Vallone's remarks are not only tactless to the cause of mutual cooperation of European nationalism, but wrong..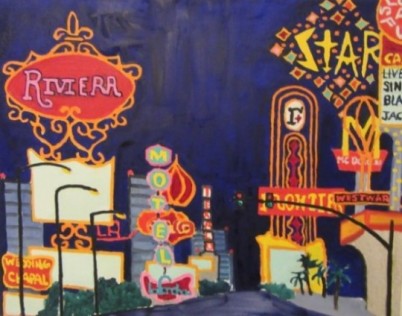 Vintage Las Vegas Strip II
- painting by Robert Stark
There is a significant problem in the theory of White/European advocacy.
Those who gravitate to White advocacy will, in veritable first order of necessity under the circumstances, seek to anchor their defense as right wingers; viz., upon objective grounds beyond relative socio-historical perspective and in unassailable universal warrant - the apparent necessity for that first step being that antagonism generally unbeknownst, namely of the Jews, has obfuscated other options.
A race is a social grouping and a discriminatory basis thereupon. Discriminatory social classifications are necessary for human ecology, coherence and accountability - and race would be one important discriminatory classification for humans.

However, the Jews came up with the concept of anti-racism, which is the effort to prohibit social classification of race and discrimination on its basis; and have applied the concept of prohibiting discrimination on the basis of other social classifications in relative social group interest as well - all weaponized for Jewish interests and primarily against White heterosexual males.
Implicit beneath everyday language, the term "the left" applies in a very distinct pattern to organizational efforts of full social unification and concern for a particular social group - union membership modeling what "the left" does. It is a model that can apply to any scale and purpose of group, including nation and race. Essentially then, "the left", itself, would be called "racist" for classifying on the basis of race or would be called some other discriminatory "ist", by Jews, depending upon what social group is organized, if they were not in power beyond criticism, looking after their interests and against White interests. In theoretical consistency, only "right-wingers" are antagonistic to these social classifications on principle. White unionization would be the normal defense for Whites, and it would be "leftist" in terms of ordinary usage. However, through academic, media, economic, religious, business, legal and political take-over, the Jews have been able to have Marxism, Cultural Marxism, its objectives to take-down White power and the ostensibly hallowed humanitarian social concern of their so-called social justice advocacy groups arrayed against it designated as "the left"; while White advocacy designated "the right."
From whence Jewish advocacy has maintained that steady stream of infuriatingly convoluted language games, starting with provocation of absurdly self destructive language games that they set forth with Christianity, to Critical Theory's incessant rhetorical abuse of White men, the exploitative and lethal implications to White men have been actively unleashed in fact, as sundry anti-White unions - "social justice warriors" who have been set against Whites, ultimately, despite their unwanted imposition, the necessity to force their social integration and to force Whites to share their most precious resources and vital resources with groups having vastly different Ethnic Genetic Interests - to the final incapacitation and elimination of White men going under the banner of "the left" and its objectives.
Not only has being told constantly and pervasively that which tortures you as a White man is "the left" repulsed White men to the ordinary term, but also to the concept of social unionization, full group inclusion and advocacy which lies beneath it. But the normal White response, of objectivity, has been eagle clawed by Jews as well. A system of universal and civil rights and "objective merit" - which started as a White thing, by Locke, to advance objective individual merit over elite class discrimination - was taken by Jews to weaponize Whites own rules against them - so that discrimination on behalf of their classification was held to be illegitimate as well, while this universalizing of rights over classification provided an exception - a special proviso for White men: Because they have enjoyed "historical privilege" as a result of the fruits of discrimination and exploitation, it would be "disingenuous" for White men to say that the same rights and means of judgment upon individual merit should apply to everyone. Hence, people in these minorities need group classification for the purpose of advocacy and advancement in compensation for having been historically discriminated against by White men; whereas White men need no such group advocacy.
Jews have been able to designate these "victim" advocacy groups and their anti-White causes as "The Left", what it means to be civilly responsible,"socially conscientious" and they have been able to designate and maneuver Whites who object and resist in social defense of their own people as "The right", and more usually, "The far right" with all of its socially irresponsible and recklessly dangerous implications.
Given the fact that White men, including ones who do not hate themselves, have found themselves in a situation where all kinds of unwanted social groupings have been forced upon them and that social imposition along with all social concern and sharing in resources has been called "the left", of course their initial response is going to be revulsion to the term and what it designates, through and through - the second "through" is the key, i.e., not only through the groups the Jews designate as valid to advocate, but through the very idea of group advocacy as it has been made didactic by those heretofore successfully using its means.
With the "left" being a matter of social concerns, what sane White man, after all, wants to participate in that socialization? On the contrary, he would quite naturally and more desperately than ever seek objective and pure warrant to defend himself above the conniving rhetoric and impositions of Jews, other non-Whites and insane liberals in the topsy turvey social milieu pan-mixer.
"Group advocacy is not the way of true and real White men; and by golly, I am going to make it my life's cause to find that pure way."
While it is the Jews who proposed calling this quest "far right", at least it is something that you can identify with along with those of kindred reaction. So long as you don't mind being associated with people that the Jews want you to be associated with, because of the ineptitude, counter-productivity, deserved social stigma and divisiveness to White social organization in their particular reactive quests for purity, you can have a market to try to bring people around to your particular right-wing, supra-social but what amounts to anti-White-social anchoring point - a point above or below the social group that is White/European, but not in White/human social register: that is the organic ground upon which the right, itself, parasitically feeds.
As the Jews have, through the so-called "left" (correctly referred to as "the red left") levied unbearable impositions and deliberate confusion on any means of maintaining White identity and defense, and because they have eagle clawed the sine qua non of White purity - objectivity, merit and rights - weaponizing it against Whites, Whites who care to defend themselves feel they must try to be more right-wing, pure and extreme than ever - and sometimes feel that they may as well "join the club" at that: after all, "they are going to call you these things", e.g., "an extreme right-winger anyway," right? So, you may as well choose one or more of these anti-White social things and get along with the rest: Right-wing elitist, Nazi, imperialist, chauvinist for one nation, Jesus freak, new age pagan kook, conspiracy theorist kook, anarchist, liberal who believes that real men are not bothered by miscegenation nor preoccupied with racial matters and so are going to calm us down from "reacting too much" against PC, masculinist heterosexual who ranks effeminacy and homosexuality the problem, right up there with White genocide, homesexual masculinist, who is going to teach White men what it means to be man, scientitistic Darwinist, polygamist, Arab who teaches PUA methods to go through as many White women as possible and ultimately impose R selective patriarchy upon them, objectivist who believes people should be judged on merit born of a pure vacuum, libertarian free enterpriser, mulatto with pretty French wife who ingratiates himself to Nazis by intimating a stiff arm salute and befriending sociopathic holocaust deniers, or even conservatively or liberally principled, anti-"left" or anti-Zionist Jew. I may have missed an anti-White social category or two, but you may as well identify as one of these, so they say: Take your pick. There may be squabbling as to which are included but that's accepted as inherent in their paradoxic rule structure -
And there is the significant problem in the theory of White advocacy.
Because the Right is comprised of people who are holding white knuckle and can't let go of the pursuit of pure objective warrant, Cartesianism beyond social accountability, whether in science, religion or theory - sub or above human social philosophy - it remains anti-social-reactionary, unstable, divisive and bereft of the socialial normative. To compensate somehow, perhaps through Regnery, a theory of theories has been derived which seeks to compensate for their anti-social alienation with a prosthesis of "the big tent." This was the VoR model, it was/is the Alternative Right model and it is becoming more the Renegade model.
On the other hand, those whose concern is genuinely for the entire White/European social group from the start and from ground-up, who consider all White/Europeans as innocent until proven guilty (until proven disloyal and divisive) are treated as "trouble makers" and to be ostracized insofar as they do come to see the facile, opportunistic, tangential and obstructive positions coming from those given a pass under the big tent for what they are - as coming from and guilty of defending causes that are irrelevant and divisive of genuine White/European advocacy, ethnonationalism, coherence and coordination thereof.
The people identifying as alternative right and typically those hovering in and around the racial market, have thus a common problem of trying to maintain their anti-White/European social and socially divisive of Whites positions; and to compensate for the maintenance of their initial right-wing, anti-social positions, they have tried to establish a gentleman's agreement - a big tent under which they might bring to bear their tangential and (actually) obstructive positions to the market of White/European advocacy and ethnonationalism - by (ironically) trying to prohibit as "anti-social" ("non-team players", etc) those who reject their anti-White/European-social positions. In a word, they want to paradoxically define "socialized White/European" with a rule that would prohibit and ostracize those who would quite reasonably prohibit those who are anti-anti-White/European-social.
To repeat in somewhat simpler form:
All of the people identifying as alternative right, and Renegade (Tanstaafl* goes there agreeing with them that "Hitler was right"....right about what?) as well, have a common problem of trying to compensate for their initial right wing, anti-social positions - compensating for the marginality and obstruction of their positions to White/European advocacy and ethnonationalism - by (ironically) trying to prohibit as "anti-social" ("non-team players", etc) those who reject their anti-White/European-social positions. In a word, they want to paradoxically define socialization of White/European-social advocacy with a rule that would prohibit and ostracize those who would prohibit those who are anti-anti-White/European-social.
"The alternative left" is a part of the alt right big tent. It is their attempt to provide a false opposition foil and a platform for their more liberal misfits who want to bring their own right wing unaccountable positions to bear on the ethno-nationalist market; while they obfuscate this true White Left platform as it operates in the interests of the White class and does not accept their anti-White positions.
* Finally, "neither right nor left" is another claim that right wingers will make in a last ditch effort to avoid social accountability to Whites in order to maintain their right wing aspect.