Majorityrights Central > Category: Political analysis
I'll cut up an article here:
MSN / New York Times, 'Donald Trump Plays Down Role of U.S. in Global Crises', 21 Jul 2016:

CLEVELAND — Donald J. Trump, on the eve of accepting the Republican nomination for president, said Wednesday that if he were elected, he would not pressure Turkey or other authoritarian allies about conducting purges of their political adversaries or cracking down on civil liberties. The United States, he said, has to "fix our own mess" before trying to alter the behavior of other nations.
Interesting!
[...] "This is not 40 years ago," Mr. Trump said, rejecting comparisons of his approaches to law-and-order issues and global affairs to Richard Nixon's. Reiterating his threat to pull back United States troops deployed around the world, he said, "We are spending a fortune on military in order to lose $800 billion," citing what he called America's trade losses. "That doesn't sound very smart to me."

Mr. Trump repeatedly defined American global interests almost purely in economic terms. Its roles as a peacekeeper, as a provider of a nuclear deterrent against adversaries like North Korea, as an advocate of human rights and as a guarantor of allies' borders were each quickly reduced to questions of economic benefit to the United States.
This is really one of the most remarkable things about Trump. The most remarkable thing about him is that he says directly what other American leaders have cunningly masked all along. In that sense, Trump is not a fundamental change in America's behaviour, he is more like America without the mask on, and with a different set of priorities.
Whereas previously, America was interested in encircling and enclosing Russia to prevent its expansion in the post-Soviet space, the elements of America that are now more interested in enclosing China are making Trump into their vehicle.
[...] Mr. Trump's discussion of the crisis in Turkey was telling, because it unfolded at a moment in which he could plainly imagine himself in the White House, handling an uprising that could threaten a crucial ally in the Middle East. The United States has a major air base at Incirlik in Turkey, where it carries out attacks on the Islamic State and keeps a force of drones and about 50 nuclear weapons.

Mr. Trump had nothing but praise for President Recep Tayyip Erdogan, the country's increasingly authoritarian but democratically elected leader. "I give great credit to him for being able to turn that around," Mr. Trump said of the coup attempt on Friday night. "Some people say that it was staged, you know that," he said. "I don't think so."
Trump is now Turkey. Erdogan is now America.
[...] Asked if Mr. Erdogan was exploiting the coup attempt to purge his political enemies, Mr. Trump did not call for the Turkish leader to observe the rule of law, or Western standards of justice. "When the world sees how bad the United States is and we start talking about civil liberties, I don't think we are a very good messenger," he said.

The Obama administration has refrained from any concrete measures to pressure Turkey, fearing for the stability of a crucial ally in a volatile region. But Secretary of State John F. Kerry has issued several statements urging Mr. Erdogan to follow the rule of law.
Donald Trump is in complete agreement with the Obama Administration on this issue. The only difference is a minor difference in rhetoric.
[...] Mr. Trump said he was convinced that he could persuade Mr. Erdogan to put more effort into fighting the Islamic State. But the Obama administration has run up, daily, against the reality that the Kurds — among the most effective forces the United States is supporting against the Islamic State — are being attacked by Turkey, which fears they will create a breakaway nation.

Asked how he would solve that problem, Mr. Trump paused, then said: "Meetings."
Translation: He will do nothing.
[...] Ousting President Bashar al-Assad of Syria, he said, was a far lower priority than fighting the Islamic State — a conclusion the White House has also reached, but has not voiced publicly.

"Assad is a bad man," Mr. Trump said. "He has done horrible things." But the Islamic State, he said, poses a far greater threat to the United States.
Trump is actually lying here. Trump has previously said that he would deliberately allow ISIL to do maximum damage to the Syrian government, because that is in the American national interest, which he considers to be more important than coordinating with global stakeholders.
[...] He said he had consulted two former Republican secretaries of state, James A. Baker III and Henry Kissinger, saying he had gained "a lot of knowledge," but did not describe any new ideas about national security that they had encouraged him to explore.
Donald Trump is reverse-Nixon, that's all you need to know.
[...]

"To me, 'America First' is a brand-new, modern term," he said. "I never related it to the past."

He paused a moment when asked what it meant to him.

"We are going to take care of this country first," he said, "before we worry about everyone else in the world."
Well, there it is.

The Joint Inquiry Into Intelligence Community Activities Before and After the Terrorist Attacks of 11 September 2001 has now had the 28 pages relating to Saudi Arabia declassified.
This means that an area of this document that used to be completely covered in black bars, now is almost completely visible. The Saudis were strongly opposed to having this section declassified and made available, as was the executive branch of the US. However, contradictions between different factions in the US Congress has led to a situation where it has been declassified.
Predictably, the framing that the western media has given it, is to try to portray it as though there is nothing interesting in the document. Nothing could be further from the truth. Every paragraph is actually interesting.
Here is a small selection of what is inside, with highlights placed on it by me: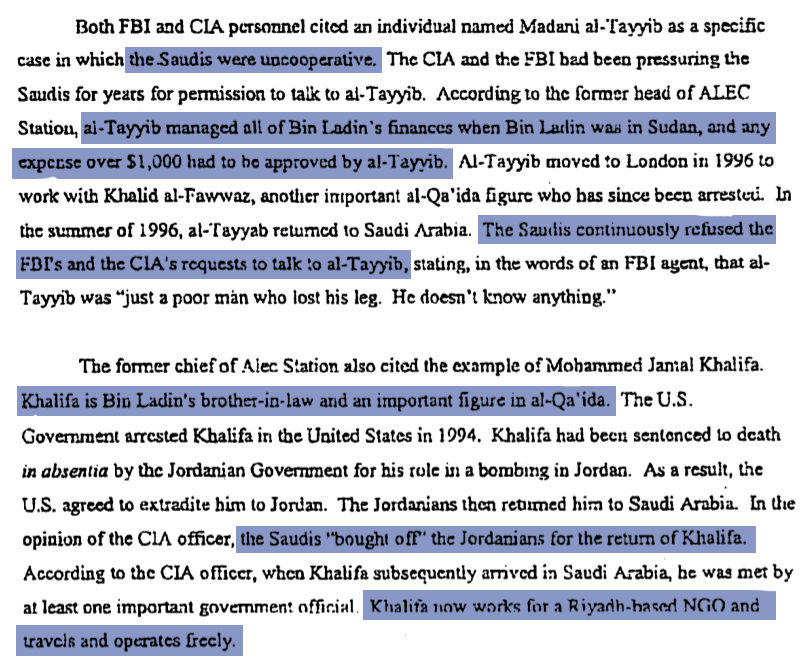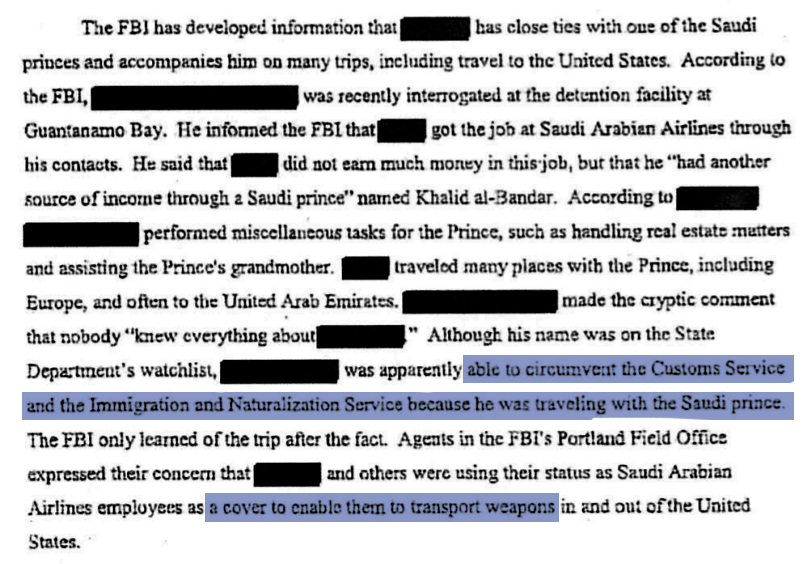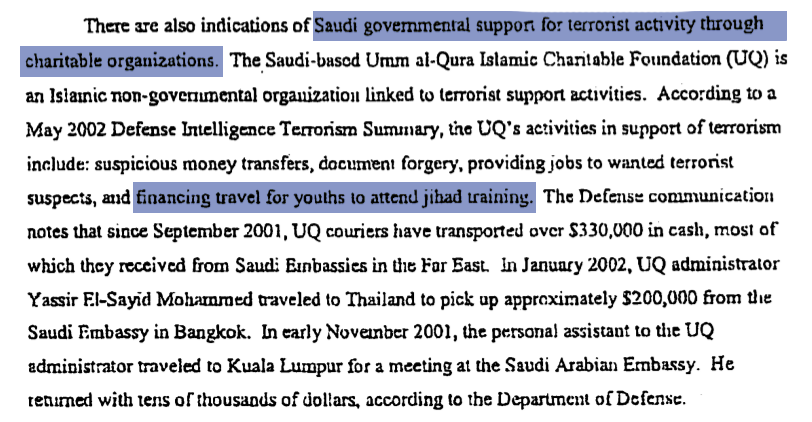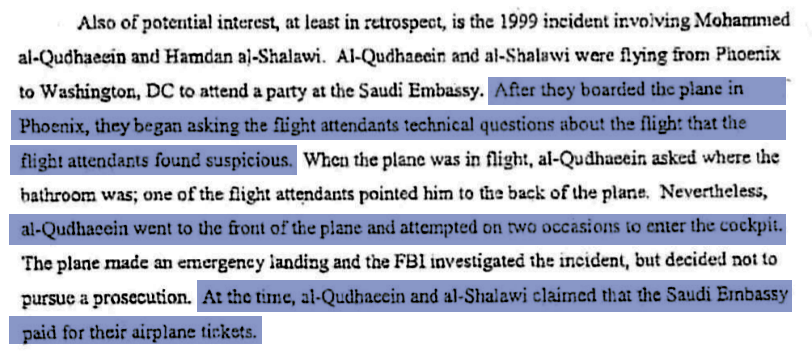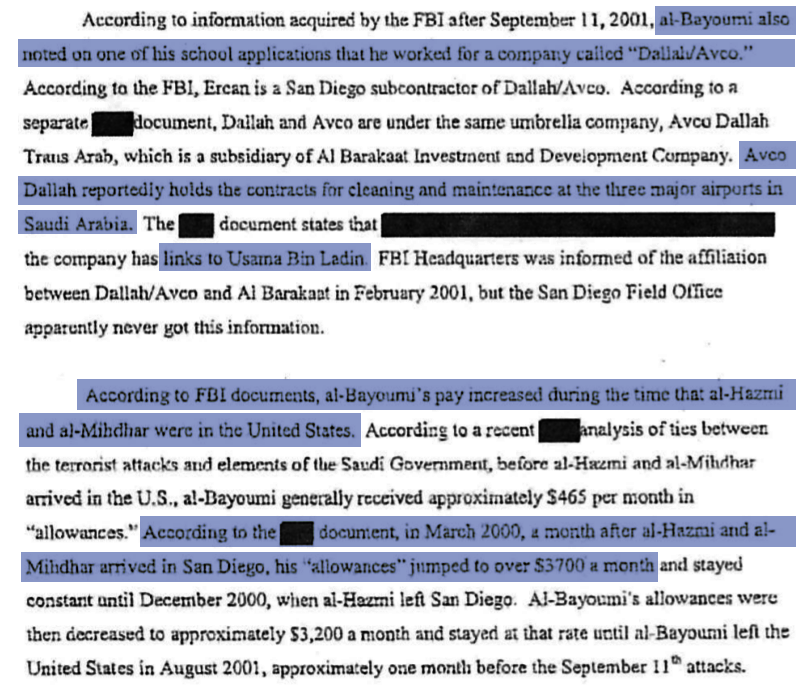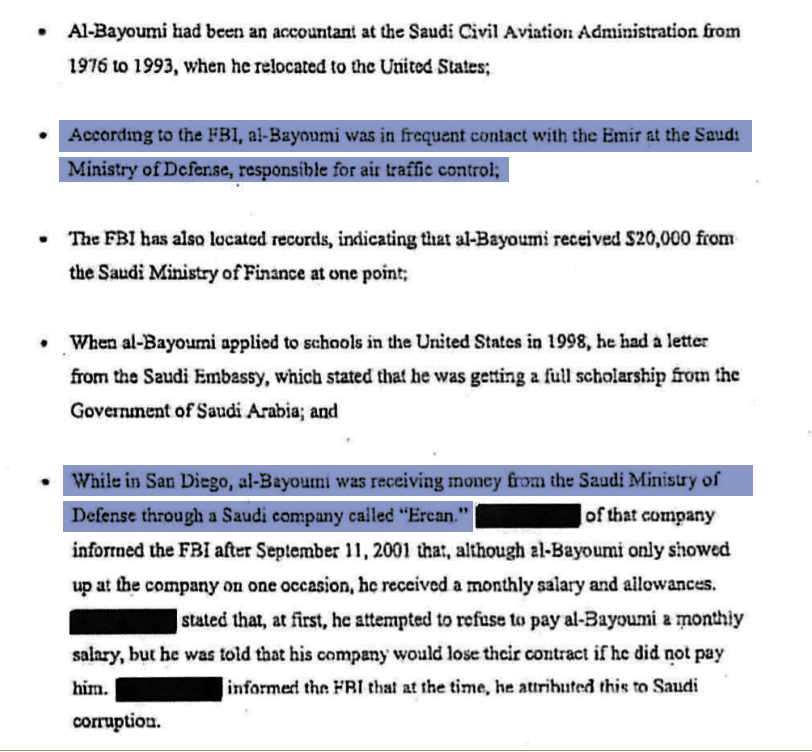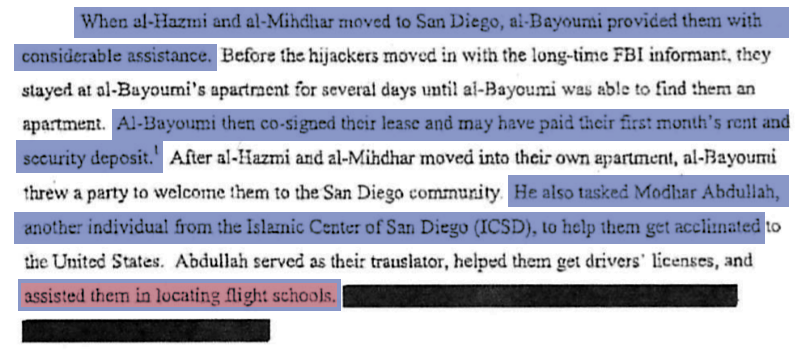 That is just a narrow selection of what is inside the document. I leave it to our readers to decide whether it looks interesting or not.
We should never forget that the attacks of 11 September 2001 were not just an attack against the United States, but rather an attack against the whole world. The centre of world finance, albeit flawed, had not exhausted its progressive potential, but it was attacked by the most regressive and most backward social forces. It is incumbent on us all to acknowledge where that attack came from and who supplied the ideological and logistical support which made it possible.
It should be clear that when the next memorial for the 11 September 2001 attacks is held, it should not be a time to make an oath of peace. Rather it should be a time to renew our intentions and recommit ourselves to permanent and neverending global war against all those who threaten to pull us asunder.
Kumiko Oumae works in the defence and security sector in the UK. Her opinions here are entirely her own.

Summary: Part three of a roundtable between Guessedworker, DanielS, and Kumiko Oumae, about Brexit and the leadership contest which is emerging in the aftermath of the decision.
The curtailment of the leadership contest within the Conservative Party, is discussed.
Recorded on 11 Jul 2016.
AFP, 'Four police killed at US race bias protest: chief', 08 Jul 2016:

Washington (AFP) - Four police officers were killed, at least seven were wounded and a civilian was also hurt late Thursday when two snipers opened fire during a protest in Dallas against police racial bias, authorities said.

City Police Chief David Brown said two gunmen shot at "police officers from elevated positions during the protest/rally", sparking an intense search for at least two suspects, adding that they had threatened to plant a bomb.

The Dallas Police Department tweeted a photograph of a man dressed in a camouflage shirt with an assault rifle slung over his shoulder.

"This is one of our suspects. Please help us find him!" the police department tweeted.

The suspects "have threatened to plant a bomb in the downtown area," Brown told reporters.

The protests were part of demonstrations taking part in several cities against the fatal police shootings of African American men in Minnesota and Louisiana this week.

Brown initially said two of the officers were in surgery and three were in critical condition. The condition of the other officers was unclear.

An earlier toll had 10 officers shot, including three dead. Brown told reporters a civilian was also wounded.

"An intensive search for suspects is currently under way. No suspects are in custody at this time," Brown said in a statement.

Brown said police had "cornered" one of the suspects, and warned that there may be more than two suspects.

Dallas police has reached out to federal law enforcement agencies for help—the Federal Bureau of Investigation and Bureau of Alcohol, Tobacco, Firearms and Explosives.

Several hundred people attended the Dallas rally, which ended just before the shots rang out around 9:00 pm (0200 GMT Friday), reports said.

Witnesses reported hearing dozens of gunshots that sounded like semi-automatic rifle fire. "The shots were coming from the roof," a protester told KTVT television, a CBS affiliate.

Video posted online showed protesters marching when the shots rang out, scattering the crowd.

Police warned protesters to flee the area, saying the scene remained an active-shooter situation.

SWAT teams were deployed to the scene, reports said.
The situation
After the events involving the shooting in Minneapolis, Minnesota on 7 July 2016, it had seemed that a significant flashpoint in the story of race relations in the United States had suddenly arrived, and it was a moment that would have served the interests of the Black Lives Matter movement primarily.
Video footage of a police officer of Asian or American Indian descent, having shot a 32 year old black school cafeteria worker named Philando Castile four times in his car, while he was reaching for his wallet to show his license and registration after having been pulled over for a driving with a broken rear brake light, had been posted all over the internet and was on the the verge of becoming part of a new master signifier in the discussion of violence and law enforcement in the United States.
Despite the officer being of Asian or American Indian descent, critical theorists would have framed the conversation as being one of institutional white supremacy which suffuses the police force as it is a gendarme of the accumulated wealth of the United States, which is characterised as a white power structure.
The video footage was all over the internet and was being viewed around the world.
Another case was a shooting that took place in Baton Rouge, Louisiana on 5 July 2016. A black man named Alton Sterling was killed by two white police officers as they fired four times into his body at point blank range outside a convenience store. It's thought that it was a case of police responding to an anonymous call about someone threatening people with a gun outside the store, but it's said that Sterling was only there by sheer chance at the time that the police arrived.
That incident was also recorded by several phone cameras held by bystanders, and also was seen around the world.
Together, those two stories had coalesced into a master signifier for 'police injustice and systemic racism against African-Americans', and they were stories in which the factual details of the shootings could not be used to disabuse people of the narrative being propagated by Black Lives Matter and certain elements of the liberal media establishment.
The outcome
At the time of the protests in Dallas, Texas, the narrative was unfolding, and people were of the belief that perhaps the state would be able to manage the situation with reconciliation attempts, as many Dallas police officers were reaching out to the African-American community in an attempt to promote 'peace' and avert further strife.
That was not to be, as the appearance of black snipers who began shooting policemen, and the setting of bombs, and the fact that the black protesters and demonstrators began cheering on international television when the shooting began, shattered the narrative before it had become settled, and tore up any chances of reconciliation, shifting the topic away from 'police injustice caused by systemic racism', and instead back toward 'disproportionate black crime aimed toward police officers'.
The new developments in the story by AFP that I quoted at the beginning of this article, are now eclipsing all of the events of the past 48 hours.
It makes a person wonder, do African-Americans actually understand how to apply the lessons of Gramsci and Foucault, and do they actually understand Strategic Communications, or do they merely pretend to? African-Americans actually had full command of the narrative, but within 48 hours they have now done an incredibly kind service to their adversaries by completely ruining it for themselves.
All in all, it seems that the entire sequence of events could ultimately serve as an opportunity for white people in the United States to make the case for racial separatism, as it is increasingly obvious that the differing communities in the United States cannot live together in the same civic space without there being incessant outbursts of violence. Since the antagonistic contradictions cannot actually be resolved, it is clear that the only path to conflict cessation is one of racial separatism.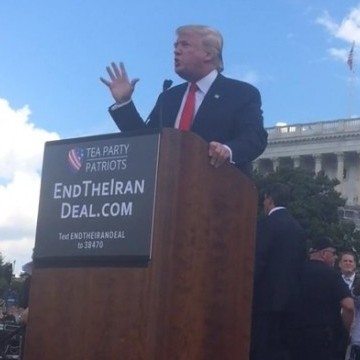 "The Iran deal is one of the worst deals ever"
In regard to foreign affairs, it has looked to me like Trump has been empowered politically by a commitment to the neo-con agenda of undoing the Iran deal. Kumiko sees the domestic motivation of a second tier of Jewish money - concerned for their U.S. real estate holdings - and backing Trump accordingly; even while he "radically defies" the highest rungs of Jewish money.
In his latest radio show - 6 July 2016 - Metzger sees another motivation behind Trump.
TT has never advocated Trump, nor Hillary, of course, in any positive sense, maintaining that he will not vote. Though he had previously been relatively partial to Trump, seeing him as provoking a certain amount of chaos for Whites to take advantage of, he now holds that a vote for Trump is a vote for the system - in particular, that Trump is being used to secure the Republican base (implicit Whites) and as such to save the Republican party - which should not be saved since it has long been gaining and using White working class voters by means of dog whistles to minor cultural issues, while ultimately betraying them for international corporatist and Jewish interests.
Though I'd hate to see that evil woman Hillary become President because her opposition did not have enough support, I hate even more to endorse the system, its false choice and false opposition.
It is looking more and more as if initial hunches about Trump are true - that Republican insiders were merely pretending to hate him as a harbinger of great crisis to the Republican party - a crisis dramatized in this kind of ShowTime presentation - in order to reinvigorate the Republican base (i.e., implicit Whites) - exciting them with the idea that they are being rebellious and Trump is rebelliously standing up to the system…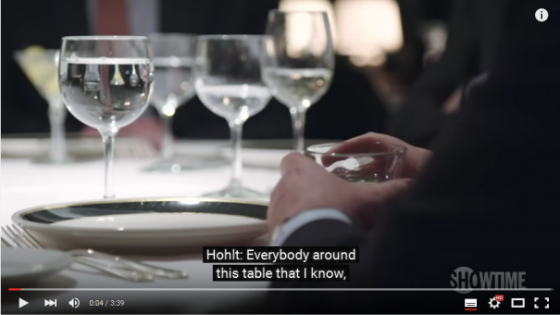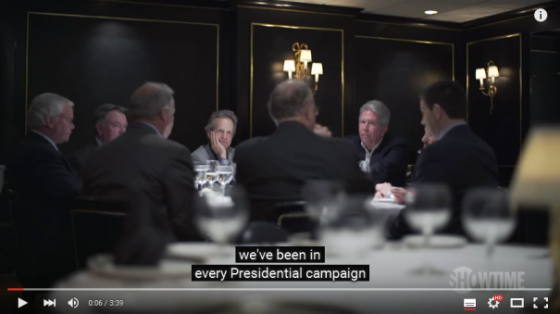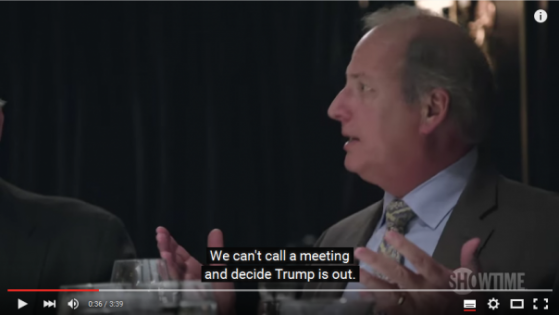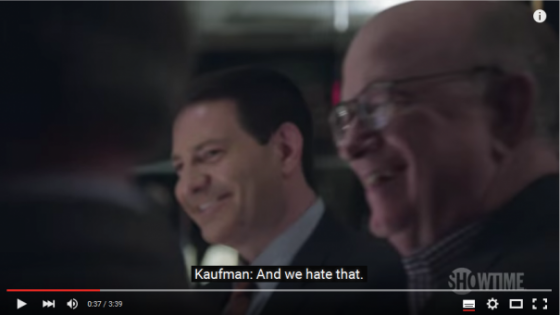 In fact, it is just the same old Democrat - Republican yin yang.
The "bleeding heart liberal" Democrats open borders and boundaries to muck-up any possibility for organized opposition - particularly an organized White middle, working or any White class, for that matter - and then after the mix has been unleashed upon the population to a sufficiently toxic extent, the Republicans are called-in to assert this mix as normal; they act into their role of asserting what it is to be a real American man, i.e., a strong, patriotic American civic nationalist - viz., one who sees any concern about being mixed-in with blacks and other races as betraying a sign of weak, effeminate nonsense, being ungrateful for the opportunity of the American dream, not an individually competent man who holds up to the competition; and of an un-American bent for old world or third world factionalism.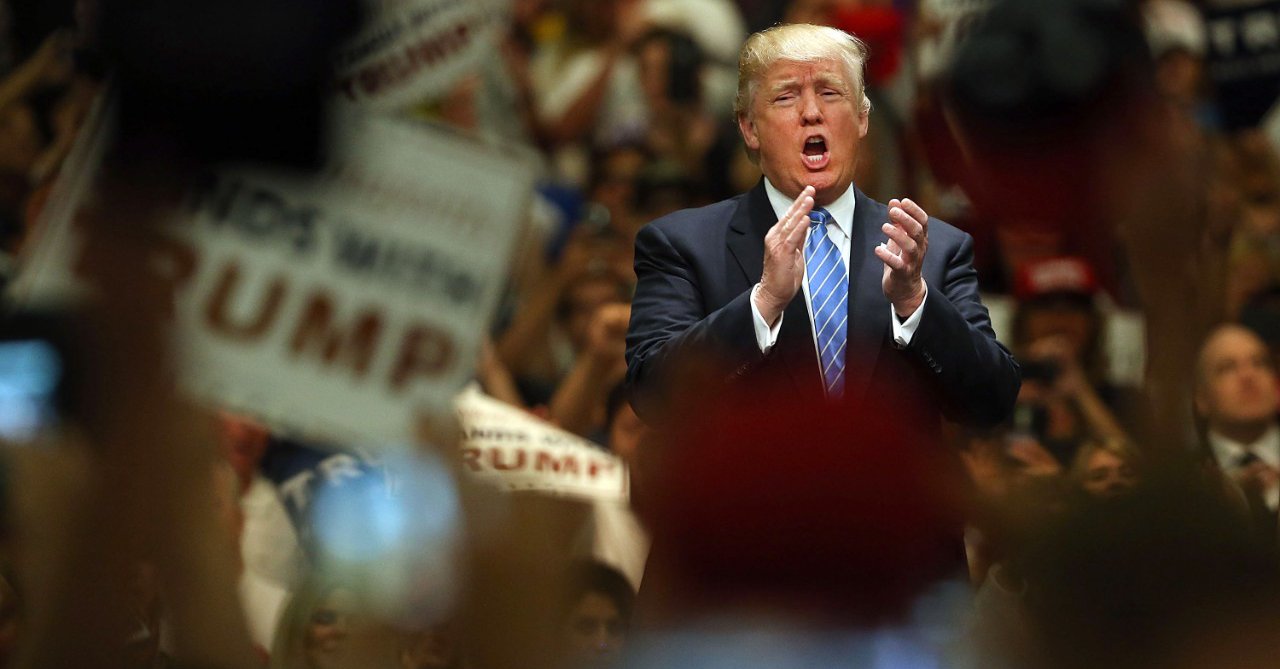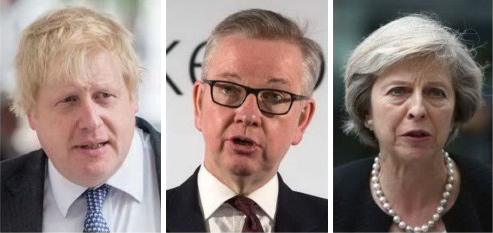 Left to right: Boris Johnson, Michael Gove, Theresa May.
Summary: A roundtable between Guessedworker, DanielS, and Kumiko Oumae, about Brexit and the leadership contest which is emerging in the aftermath of the decision.
Thoughts about the situation in Turkey are also explored.
Recorded on 30 Jun 2016.
Welcome, welcome to the theatre of 'I told you so'!
In my previous post on Brexit, I said:
Majorityrights / Kumiko Oumae, 'The coming battle over the meaning of Brexit.', 26 Jun 2016 (emphasis added):

The European Union's leaders really don't want to sacrifice their mass migration agenda or their austerity agenda in order to save the union itself. They want to have their cake and eat it, and the only way they can do that is to try to convince the broad mass of the European population that the root problem is somehow actually the opposite of what it really is.

So instead, everyone will be told that somehow the reason for Brexit is because the EU itself somehow stoked 'Islamophobic tendencies' by implicitly approving of [those tendencies]—astonishingly—because it somehow didn't prostrate itself to the needs and concerns of Turks as well as Arabs and North Africans quite enough for their liking, and that by not prostrating itself it somehow gave the signal that it was okay to not prostrate oneself, which somehow led to Brexit.

Sounds impossible? Oh, it's possible. [...]
Today:
Sky News, 'Turkey And EU Begin Brussels Accession Talks', 30 Jun 2016 (emphasis added):

A senior Turkish politician has said right-wing extremism is threatening "European civilisation" and that following Brexit, the EU needs a "fresh start with a fresh vision", which must include Turkey.

Omer Celik, Turkey's chief negotiator in the process of the country's proposed accession to the EU, also condemned the "anti-Turkish sentiments" expressed during the recent referendum campaign.

He was speaking at a media conference in Brussels following a meeting between EU officials and a delegation from Turkey that also included the country's foreign, finance and justice ministers.

The substance of the meeting was the opening of the latest phase of convergence reforms, known as 'chapters', that a state must fulfil before accession to the EU.

So far, of the 35 chapters that must be completed and ratified, 16 have been opened but only one - on science research - has been closed.

During the media conference, the Turkish delegation exchanged polite, but pointed barbs with EU officials.

Dutch foreign minister Bert Koenders and EU commissioner Johannes Hahn both called on Turkey to address concerns over "short-comings" on human rights, the rule of law, freedom of expression and the independence of the judiciary, indicating these were major sticking points to progress.

Mr Celik responded by saying it was Europe - not just Turkey - that needed to change.

"Without sorting out its problems it cannot give hope to its members or its neighbours… it needs a fresh start with a fresh vision. Such a start will have to include Turkey," he said.

"There are extreme right wing movements, there is anti-semitism and racism. These are the main threats against European civilisation," Mr Celik added.

Turkey joining the EU became a major topic of debate in the UK referendum, with the Leave campaign regularly voicing their alarm about the prospect of visa-free travel for "79 million" Turkish citizens - a point dismissed by David Cameron and Remain campaigners, who insisted that Turkey was "decades" away from joining.

Mr Celik condemned the tone of the debate in the UK, saying anti-Turkish rhetoric masked deeper problems across Europe.

"The extreme right are expressing themselves with anti-Turkish sentiment but these are all products of the same mentality," he said.

"The mainstream politics should stand up to this, not be weakened in the face of the extremist movements.

"When mainstream parties use these arguments against Turkey, they are making a mistake, they have to take responsibility, they have to stop this tendency."
No. We won't stop saying unkind things about Turkey. Not ever.

In the environment of Brexit as it presently exists, there are very few things which can be said as a certainty. Any real analysis of events really is going to begin after markets open on Monday morning, once political actors find themselves at work trying to figure out how to guide the UK's ship of state forward.
One thing which can already be seen however, is the budding counter-narrative which those who are in favour of continuing the EU's mass migration trend inside of the remaining 27 member states of Europe, are going to make up.
But before I present the counter-narrative which they are going to make up, I should first present what the actual reality is.
The presently existing and frankly obvious reality is that Brexit was largely a consequence of:
The pro-migration decisions made by the European Commission and the Council of the European Union, along with specific leaders such as Angela Merkel and Stefan Löfven.


The stances of the US State Department and the UK FCO during the 2011 - 2013 period which created the perfect storm of conflict which opened up routes for a whole wave of rapid migration from the Middle East and North Africa to enter the European Union.


The policies adopted by the ECB which exacerbated the 2008 crisis, prolonging it in the South of Europe and left much of South Eastern Europe in a state of underdevelopment, making the European Union one of the worst economic performers in the world in the post-2008 environment.


David Cameron's attempt to renegotiate the terms of UK membership of the European Union so as to placate the concerns of the British public and dis-incentivise a 'Leave' result, were handled incompetently by the Commission and the Council, because they seemed to think that Cameron was trying to troll them, when in fact what Cameron was trying to do was help the Commission to help itself. Statements from Jean-Claude Juncker and Angela Merkel hotly asserting that the agreement made with David Cameron was 'non-binding' in front of the whole world, were a classic case of the Commission's incompetence as a political player, and Merkel's actual stupidity.
The pro-European faction of the British bourgeoisie could not contain the populist response to these developments, and so incapable were they of containing it that one rival faction of the British bourgeoisie began to believe that charting a course outside of the EU was better for their own interests as well as the country as a whole. That rival faction correctly surmised that harnessing the populist response could take them to that place. This is what led to the creation of a 'Leave campaign', led by a collection of prominent Tories implicitly in alignment with a small segment of the Labour Party (Labour Leave), and UKIP. This faction of the British bourgeoisie expertly and valiantly exploited the situation as it was unfolding, to guide the British people toward a Leave vote, which enabled that faction to claim a mandate to de-pool the UK's sovereignty out of the EU and exit the bloc entirely.
The above observations—also known as 'the facts of reality'—are unacceptable to the European establishment on the continent, because the implications of this mean that they would see increased calls for them to stop doing what they are presently doing or else risk the total dissolution of the European Union as the same pattern could potentially emerge in other member states.
The European Union's leaders really don't want to sacrifice their mass migration agenda or their austerity agenda in order to save the union itself. They want to have their cake and eat it, and the only way they can do that is to try to convince the broad mass of the European population that the root problem is somehow actually the opposite of what it really is.
So instead, everyone will be told that somehow the reason for Brexit is because the EU itself somehow stoked 'Islamophobic tendencies' by implicitly approving of them—astonishingly—because it somehow didn't prostrate itself to the needs and concerns of Turks as well as Arabs and North Africans quite enough for their liking, and that by not prostrating itself it somehow gave the signal that it was okay to not prostrate oneself, which somehow led to Brexit.
Sounds impossible? Oh, it's possible. Indeed, they would have to have some real gall to try to flip the script at this stage in the game, yet they are going to try it, and Erdogan is leading the way as the first one to attempt it this absurdity:
Daily Sabah, 'Erdogan: EU's reluctance to accept Turkey has Islamophobic motives', 24 Jun 2016 (emphasis added):

President Recep Tayyip Erdogan said the European Union is reluctant to accept Turkey as a full member due to its Islamophobic motives.

Speaking at an iftar dinner in Istanbul on Friday, Erdogan said "The EU's double standard policy towards Turkey has become an undeniable fact,"

Touching upon the referendum held on June 23 in the United Kingdom to decide whether or not to stay in the EU, he said that the Britons' decision to leave the union will mark a new era for the EU.

Erdogan further added that the EU is likely to face more exits in short term if it "continues on the same path."

U.K. voters opted to leave the EU in a historic referendum on Thursday, sparking worries across European capitals over the political future of the bloc.

Almost 52 percent of voters rejected their country's 43-year EU membership.

Erdogan stressed that Turkey has always given its due importance to the acceleration of Turkey's EU membership bid but the bloc has always been delaying the process.

"Double standards are no longer hidden. They have put more obstacles on Turkey's path. They have been keeping Turkey waiting at their door for 53 years."

During his speech, Erdogan also criticized EU's asylum procedures.

"The EU bloc's bad humanitarian and immoral approach to immigrants has led to a serious debate about the trustworthiness of the European Union," he said.

The EU and Turkey signed a refugee deal on March 18, which aimed to discourage irregular migration through the Aegean Sea by taking stricter measures against human traffickers and improving the conditions of nearly 3 million Syrian refugees in Turkey.

The deal also allows for the acceleration of Turkey's EU membership bid and visa-free travel for Turkish nationals within the Schengen area, on the condition that Ankara meets 72 requirements set by the EU.

Although Turkey fulfilled most of the criteria last month, differences between Brussels and Ankara on anti-terror legislation have forestalled the visa-liberalization deal.

Turkey began its EU accession talks in 2005. In 1963, Turkey and the European Economic Community (the EU's former name) signed an association agreement.
Welcome to topsy-turvy land. In coming weeks I can almost guarantee that the political figures in Europe will begin partially echoing Erdogan's sentiments, and Europeans will be told that the only way to avoid future 'exits' is for people like Merkel and Löfven to show even more 'leadership by example', so that 'love can triumph over hatred'.
Achieving Frexit, Nexit, Czechxit, Polexit, and every other kind of exit, becomes increasingly more likely as the European leadership increasingly proves itself to be mentally retarded. Now that Brexit has actually succeeded, I'm perfectly happy to nihilistically contribute to propagating the narrative that ends the whole EU and gives space for something stronger and better to rise in its wake.
The strong shall live and the weak shall die. This applies to people, but also to institutions. The first word in the term 'European Union' is 'European', and if the European Union can no longer coherently act as the economic arm of Europe's defence in complement to NATO, then the European Union shouldn't exist. It's obvious. If the EU leadership couldn't handle a simple problem like the migration crisis and its political fallout, and if it couldn't even see off challenges from diverse opportunists like Boris Johnson, Michael Gove, Gisela Stuart, Nigel Farage, Priti Patel, Liam Fox, Andrea Leadsom, Iain Duncan Smith and Lord Ashcroft, then frankly the EU does not deserve to exist as a structure.
The flag of the United Kingdom of Great Britain and Northern Ireland is the symbol of the strongest political power in Europe, and those who want strength gather around it.
Kumiko Oumae works in the defence and security sector in the UK. Her opinions here are entirely her own.