​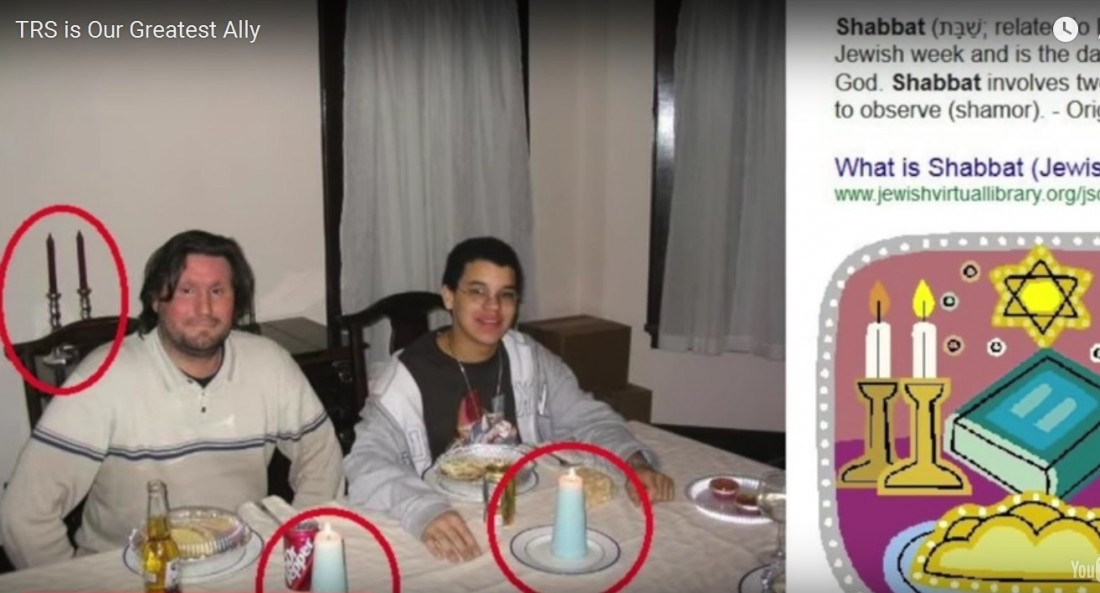 Peinovich, never having sounded thrown, traumatized and surprised by recent events, moves right along with his plan for the Daily Shoah, 24 Jan 2017, it must go on, as if there is no problem. That response from a Jewish advocate could be anticipated. "The Shoah" must go on, until they've corralled enough Whites into becoming Republicans (manipulable right-wingers).
1:45 Sven: So, yeah, it's here, it happened, we had the inauguration. Mike, you were down there.
1:53 Peinovich: Yeah, I was down there, I mean…
3:15 Peinovich: We went down Thursday afternoon and got down there Thursday night, went into the district (Washington D.C.) ... 3:24 we met up with Spencer ... 3:45 at one point we had about ten of us in a bar…. 3:52 we were like look, uh, the Deploraball was that night. I didn't realize, I didn't know that like Thursday was actually the big night. I didn't know this, I thought that the night of the inauguration would be when like the big parties and galas and stuff were… 4:14: Thursday night was fucking hilarious, now you might have read something about it in (((The Atlantic))) ... Sven: "yeah, I saw that, it was good coverage".. 4:24 Peinovich: I believe that Rosie Gray wrote an article for The Atlantic ... I was quoted in it, and she actually quoted me accurately, that's what I said. However, I did not say it carefully. I was cocky as fuck. I was not careful, careful, careful. ..I just was talking to her, it was fine.
5:03 Peinovich: It's not a secret where all this happened ... so. Spencer and I and a bunch of other people went over to the Deploraball which was at the National Press Club. It's not a secret that the bar right across the street from The National Press Club is called Shelleys, and its a cigar bar ....The Deploraball had like just gotten out. ..some people from the Deploraball were there but they were just like plebs ...like the main organizers, um were still, doing whatever they were doing back stage or whatever ... so we were there (at Shelleys) we were hanging out for a while, ran into some old friends and then you know 5:55 everybody was really supportive of me, like all the old friends, people I hadn't seen in months..
16:58 Peinovich: so we were in the cigar bar and as The Deploraball starts like, filing-out, I guess. Like some of these uh, alt-lite celebs start filing-in. .. and uh, (guilty/innocent voice) you know, we got some contacts in the alt-lite…this is a sophisticated operation, so I'm not going to name any names or give nay identities here but you know, (guilty/innocent voice) we have people ...we really do have the best people..I'll be honest with you, we really do have the best people, myself and a good friend of ours, a very good friend of ours, we're hanging-out in the bar ...and uh, you know, 17:40 one of our guys who knows some, is kind of like a liaison, who knows some of these alt lite guys, was kind of like, bringing them to meet us, which is kind of interesting…. 18:00 So yes, I met some of these people.. 18:04 So I met Cernovich, for the first time, in person. ...I was talking to him a couple times, you know over chats, chat messages and things like that, but for the first time I met him in person. ..and um, it was sort of funny because I know that there was a roomer floating around there that Cernovich, in fact, was the one that doxxed me. .. that's kind of a long story, mind as well get this shit on the table, because what the fuck, why not?....now Cernovich a while ago did in fact tweet-out a picture of me….indicating to me kind of that he knew who I was and I should back off him or something like that; but then he deleted it. I guess he thought better of it - it would look pretty bad for me (Cernovich) to be doxxing a pretty popular guy on the right; it would kind of look bad for my (Cernovich's) brand.
18:55 Peinovich: The first thing he said when he saw me, because obviously he knows what I look like was ...."it wasn't me, it wasn't me, it wasn't me!" and he was like waving his hands…I was like dude, it's fine, whatever, I know it wasn't you. But then I was kind of like hoping he could tell me who had given him my information… he was like, "I got an anonymous email"... and that was weeks before all this shit came out. So this is a thing that's being planned…these people were investigating us (Sven -19:34 - dude, I don't believe the anonymous email for one minute) Peinovich responds to Sven's not so helpful help Peinovich's story along: 19:35 Peinovich alright, fine alright, maybe that's true, I have my suspicions, but lets not go into it. We're not even going to mention the guy. Ok, he's not going to have anything to do with the Alt-Right, and we're not gonna even mention him, because he's not going to have anything to do with the alt-right, so he can just keep blogging. But um, yeah, Cernovich was a pretty nice, guy. In person it's tough to be an asshole to people. That's why I think, that's why we have to have more in-person meet-ups; and I'm not going to throw Cernovich under the bus. You know, we've had our disagreements. I've bantzed him, I don't like the fact that he posted the picture but he thought better of it.. whatever, there's nothing to be done anymore, it's actually made me freer than I ever was.
22:03 Peinovich: I was like, hey Cernovich? Our names are actually similar… are we, are we, no, neither of us are Jewish, ok, neither of us are Jewish, lets get that off the fucking table right now, and so I was like, 'are we brethren?' are we ethnic brethren? like what's your, what what ethnicity are you? What ethnicity is your name? And he was like ah, Croatian, and I was like oh, that's funny, because I'm Serbian, so now we actually have to kill each other. In fact, the funny thing is really the difference between the Serbs and the Croats is that um, is that the Croats are Catholic and the Serbs are Orthodox. That's basically the difference there, other than that they're probably very, very genetically similar. Cuz look, I'm like the Croats and the Serbs need to bury the hatchet. You know who's got to go is these fucking Albanians…right, like they got to go, they don't have [a place], they're Muslims. They've got to fucking go. They don't have a place in Europe.
23:05 Peinovich: ..and they're fucking animals dude..
24:01 Peinovich: Look, they're not like, they're not like fundamentalist Muslims, they're not like Isis. They're not like Muslim brotherhood or any of these fundamentalist Wahhabi, but what they are is exactly what you (Sven) described (prone to degeneracy, crime and miscegenation). They are basically a nation of shit-tier, kind of wiggery criminals. Like they're not entirely White; uhm, they're kind of like mixed-White, off White ...very swarthy people. ..they are mixed with Middle Eastern, Semitic, Levantine peoples that came in and brought Islam to their country. They're a mixed race, they're not like pure Aryan phenotypes here; but um, they're just shit tier. They're fucking garbage people. They're criminals. It does not surprise me at all that they would get involved with the local thug culture, that's what they do. I would be surprised if they didn't. ..they're country is run by the local thug culture, that is who the KLA, the so-called KLA, which is who The United States handed..
25:23 Sven: (says, joking) I'm half Armenian.
25:25 Peinovich: (irritated) We're talking about Albanians…Armenians are Christians, for the love of god.
25:35 Sven: I just, I misspoke. Jesus, jump down my throat for misspeaking Mr. 'around other Jews'.
25:42 Peinovich: Yeah, I know.
25:47 Alex: Albania used to be a real shit-hole. It's better now than it used to be.
25:54 Peinovich: yeah, it's…like ok, I mean and the other Balkan nations are significantly better; because they're not, you know, they're not off-White Muslims.
26:12 Sven: That's what those uh, freaks from that stupid band, what it it System of a Down, aren't they all uh, Albanians or something? Aren't they always crying about the genocide, or is that the Armenian genocide?
26:22 Peinovich: Holy shit! Are you doing this on purpose? ... are you confusing them on purpose? The Albanians should have suffered a genocide. ...they do look similar and supposedly there was a genocide on Albanians but unfortunately it was all bullshit. Milošević did nothing wrong, Karadžić did nothing wrong…
27:14 Peinovich: Now you know how you've made fun of me before, how if I let my hair grow a little bit too long it starts looping curly? Look at Slobodan Milošević and look at Radovan Karadžić and you'll see that that is a trait of Serbians. ...anyway, I'm not completely Serbian either, I'm also, a lot of my DNA is pure Nordic yeah, phenotype.
28:35 Peinovich: [Cernovich] apologized to me, he apologized to Richard ...29:06 it's hard to hate someone in person…particularly someone whose as ethnically close to you (Peinovich tries not to laugh).
43:05 Peinovich: This guy [that Peinovich was talking to] had known that I was protecting my doxx ... so he was still in that mode, he kind of forgot that we weren't in that mode any more, we were in like a new era. Then Spencer comes up to me [and] he was like "hey, Mike, that's Rosie Gray, you should go talk to her!" ....and so when Spencer introduced me to her ...she asked me "what's the future?" and I just said "the future is 'making America great again"...and then I just walked away.
45:05: Peinovich: and then the final thing from this party was you know that guy from last week that we were making fun of from the New Yorker, Andrew Marantz so he's like a short, little, it's funny, what's with these little short, skinny ginger guys and shit-libbery?....I see so many of these shit-libs who are these short, pencil-necked gingers. yeah, what else can you be (when you've caught the short end of the genetic stick like that)....47:00 Andrew Marantz is completely clueless about OUR culture, when I was talking to him over email….
134:53 Peinovich: Now that it doesn't matter...
1:35:00 Sven: We're basically going to retire the Daily Shoah and be something else. Because we're going to change things around and I don't know… do some things differently…
1:35:12 Peinovich: We're going to become just normie Republicans.
135:28 Sven: Yeah, we're basically just going to become Republicans, yeah and we're just going to basically drag all this stuff with it into that sphere..