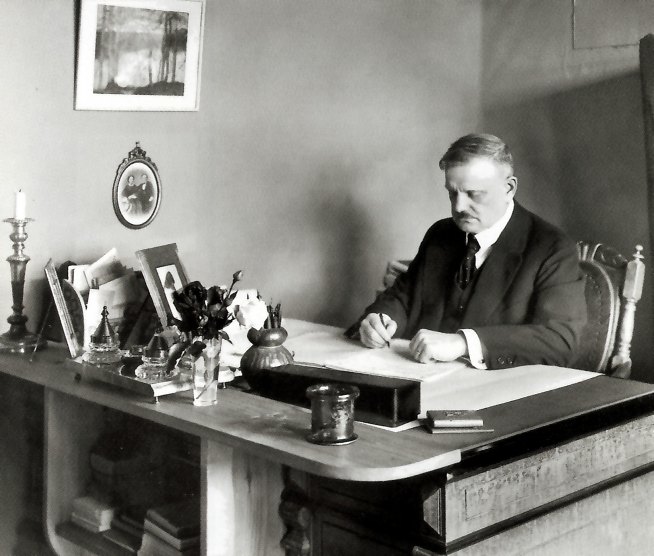 Sibelius in his study at Ainola, the house he named after his wife.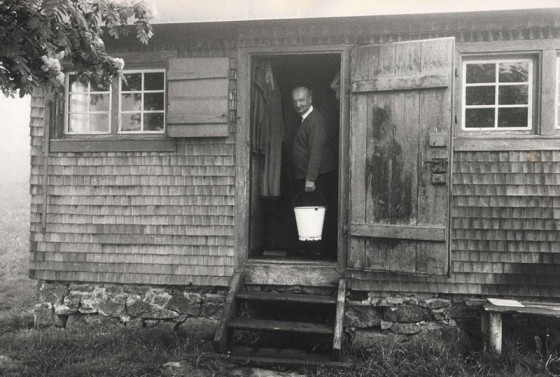 Heidegger and his hut in Todtnauberg, Black Forest.
A long time ago, when I was a young man trying then, as now, to figure it all out, I happened to hear a broadcast of a piece of music which changed my musical awareness completely, putting my youthful enthusiasm for prog into context and introducing me to the practise of actually thinking about the sound I was hearing, and the ideas in it, rather than just consuming its vitality whole, like a delicious fruit. That piece of music was the 7th Symphony in C Major by the Finnish composer and nationalist Jean Sibelius:
A performance by the Vienna Philharmonic conducted in1966 by Lorin Maazel – one Jewish conductor who continued to perform works by Sibelius despite attacks from the proponents of atonality. I prefer the classicism and close attention to detail of the Colin Davis/Boston Symphony Orchestra recording from 1975, which I owned at the time, and which got everything about right, to my ear. But that's not on YouTube, I regret to say.
The 7th Symphony is a gift to any philosophically-minded person, comprising, as it does, an intimate, poetic journey of a life from birth to death concentrated in a single movement of some 20 to 22 minutes duration. For what was essentially an orchestral shake down of the piece in 1924 Sibelius described it as a symphonic fantasy. But, musically, it was always a life-commentary of unsurpassed seriousness, and no fantasy at all. The motifs of the music are the motifs of your and my life. While there is a nod to a three-movement structure in the build-ups to the thrice-repeated, climactic teloi on the horns, the unbroken singularity of the subject matter required a matching compositional logic. Accordingly, the thematic elements and changing tempi flow uninterrupted and ever onward, truth on truth, to an appointment with the horns of crushing weight and finality, before the strings pick up again for the transition to an insistent, indeed strengthening B major, somehow going on, even now as darkness closes in. That total fidelity to the light is Heidegger's not-yet, the plea of existence itself, finishing (maybe, or maybe not, as religious hope) in a perfect cadence on C major. And then that, too, at the peak of its agony of knowing, is cut down by the final wave of the baton.
This sense of life's tenacity lost to finitude extends into the silence which follows, as if Sibelius composed that too. In contrast, the familiar soundscapes of a bare, grey Sibelian rock and freezing Sibelian forests, which once gestured to the eternal – for they were always too sheer for simple melancholy - now seem self-indulgent. There is no tone poetry for this.
Sibelius was not always possessed of such a refined existential sense. He broached the subject of death symphonically much earlier and much more figuratively, when he began sketching the 2nd movement of his 2nd Symphony in D major, while staying at Rapallo in Italy during the winter of 1901. The wiki notes to the symphony record that he wrote:
"Don Juan. I was sitting in the dark in my castle when a stranger entered. I asked who he could be again and again — but there was no answer. I tried to make him laugh but he remained silent. At last the stranger began to sing — then Don Juan knew who it was. It was death."[12] On the same piece of paper, he wrote the bassoon theme for the first part of the second movement, out of which a pizzicatoed string "walking bass" stems.
Fortunately, such conventional, stagey thinking was no longer in evidence when, a little over a dozen years later, he began conceiving what would become the 7th Symphony. It was a torturous process lasting ten years in all, during which he struggled with depression and alcoholism. "People do not understand what it cost me," he said later. Even so, other major pieces flowed out of him. His 5th Symphony in E-flat major and his musicologically enigmatic 6th in D minor were both begun after the 7th but published in 1919 and 1923 respectively. The now re-titled 7th was finally published in 1925. Of major works only the elemental Tapiola was published later, in 1926. Some sketches were written for an 8th Symphony, which may have included a choral movement à la Beethoven's 9th. A copyist transcribed twenty-three pages of the score, which were tried out orchestrally. But the composing was difficult, and eventually it ceased as Sibelius gave way to his personal demons.
Today, the silence spanning the three decades to his death early in 1957, at the age of 91, is regarded as the most profound in the history of Western music. The truth is that Sibelius could not, rather than would not, create. It is thought that he burnt the sketches for the 8th symphony. His wife Aino reported that, "In the nineteen-forties there was a great auto da fé at Ainola. My husband collected a number of manuscripts in a laundry basket and burned them on the open fire in the dining room. Parts of the 'Karelia Suite' were destroyed. I later saw remains of the pages which had been torn out, and many other things. I did not have the strength to be present and left the room. I therefore do not know what he threw onto the fire. But after this my husband became calmer and gradually lighter in mood."
There is no shortage of composers who, during this period of history, strove after the new in one form or another, prime among them Mahler, Schoenberg, Stravinsky, Debussy, Gershwin, Richard Strauss. It seems that creativity absolutely had to be assertive in the historiographical sense ... had to break the bounds and point to some new plane of Zarathustran existence hitherto missed by everybody. Sibelius was not at all immune to thinking afresh about orchestration. He was no hidebound reactionary. But existence just would not let go of his mind long enough for him to give himself over to the limits of scale of social thinking or to the revolutionary dynamics which infused and satisfied his musical contemporaries. It wasn't that he ever sat down and said, "So now I will present these victims of fashion with the very earth of our being." It is just an unavoidable consequence of existential concern that by its fidelity to the solid and present it offends against all those who look for human meaning somewhere else, not infrequently to what does not and cannot exist at all.
In this truthful endeavour Sibelius was not alone. Martin Heidegger began writing what, arguably, would be the most influential philosophical work of the 20th century in 1923, when he became an associate professor in Marburg. It was four years before he was ready to publish. His aim in Being and Time was no less than to re-found Western thinking on the meaning of the being of human being, to correct what he saw as an historiographical error of vast import, reaching back to the Greeks.
The very nature of Being and Time, with its novel conceptual language and its entirely deliberate challenge to attend and not just read, renders its interpretation particularly open to personalisation by the reader (which is hardly avoidable anyway). But it presumes for the solid in us, for the singular and the foundational, all of which is, by its truth, the truth of each of us and, so, knowable to each. For it needs to be said to every nationalist approaching Heidegger with doubts about his value to our politics, that while we necessarily exist and perceive as individuals nevertheless we only do so nature to nature. Ours is a being disclosed not only in its being with other beings, but in its ownself's relationship of kind … of a given, distinct pattern or line; and, further, a being which is most at one, most beautious and fitted when it is … in … kind.
These essential distinctions install Heidegger into our foundational thinking as nationalists with a force and propriety that I, for one, believe to have been missing. Certainly, Being and Time does not synthesise so directly, and with good reason. For, without these new distinctions, we are left with a problem of generalising insights into the life and experience of the individual to the life and experience of the group. It is a problem which is more than one of scale. Relation must be specified and, more than that, qualified, or one ends up like Greg Johnson implying meanings taken from Heidegger's vaunted Swabianism and Germanism to justify our nationalist ends, which is simply not good enough.
It is also true that Sibelius left us with the same problem. He was the incomparable example of an artist whose output straddled, on the one hand, a nationalism that was now turbulent with struggle, now pacific with fealty:
… together with a profound love of the land:
… and, on the other, this intimate focus on the personal drama of life and death. I doubt if it ever occurred to him to even attempt to draw together these separate foci. But then it doubtless never occurred to him that his people and his race could ever arrive at the point of obliteration which awaits us a few generations hence today.
That aside, there are Heideggerian observations one might easily ascribe to Sibelius. Sorge … concern … interest runs rather obviously through his earlier more nationalist output, nowhere more so than in the love and belonging, even reverence, of the Finlandia hymn. But it is also configured quite literally in the 7th Symphony as the long and vicissitudinous journey to C major. There is nothing from first to last that is not care-ing.
Further, as I have already intimated, there is a refinement in accessibility of Heidegger's Sein-zum-Tode ... "being towards death" in life. In Being and Time Heidegger is at pains to establish the distinction between the physiological or biological, medical concept of exitus with that of the ending of the possibility of "being-there". But Sibelius brings death to Heidegger's condition of "not-yet", and shows its habitual, essential assertiveness of life even at the point of physical extinction. Sibelius's final C major of the 7th IS the pure, concentrated voice of "being-there". Its singularity and constancy – a driving, life-long note of resistance – constitutes an agonistic beseeching of life's fate in death. That this is the ownmost characteristic of "being-there" is, I hold, the principal purport of the piece.
It contrasts and connects to the D major of the finale of the 5th Symphony, which is also arrived at (indeed, twice) after a period of perturbation and uncertainty. Likewise, that leads us in to the famously uplifting and life-affirming, swooping horn motif in triple time, taken - as every Sibelius buff knows - from the calls of a flight of sixteen swans which the composer once observed above his house in the countryside north of Helsinki.
From an existentialist standpoint, the 5th is Sibelius's broadest symphonic study, taking as its subject not, I would say, any aspect of the casual human existence, and not human being as such, but the consonance of all that subsists in Nature, including Man, and all that is of Nature in Man – also a constant in our existence.
Sibelius's 5th Symphony performed by from the Philharmonia Orchestra conducted by the authentic Sibelian Vladimir Ashkenazi.
But there is also a third common element, a third prompt in the life of absence. It can be heard first, I think, in the finale of the 2nd Symphony, holding fast in a sea of vicissitude and rising out of resolution to stand yet more resolute and in the light. It is a moment of self-realisation and possession ... cognitively speaking, an authentic and authenticising event:
Sibelius's 2nd Symphony performed beautifully by the Gothenburg Symphony Orchestra under the baton of the Venezuelan conductor Gustavo Dudamel.
The 2nd Symphony, although popularly linked with the struggle against rule by Tsarist Russia, and dubbed "the Symphony of Independence", was described by Sibelius as "a confession of the soul". So perhaps he did achieve a synthesis of sorts.
There was a further commonality between Sibelius and Heidegger, although not one inherent to Sibelius's musical oeuvre. But, it, too, has a certain eternal quality, and it was the enmity of the inimitable Semitic critic Theodore Adorno:
In a certain respect, his is the only 'subversive' music today. Yet not in a sense of destroying the undesirable status quo, but rather that of the Calibanian destruction of all the musical results of control over nature, which humanity bought dearly enough through the use of the tempered scale. If Sibelius is good, then the musical criteria that have been applied from Bach to Schoenberg – the wealth of relationships, articulation, unity within diversity, plurality within the singular - are invalid. All of that is betrayed by Sibelius to a nature that is not even nature, but rather the shabby photograph of the parental home."
That racist schtick was written in 1938 in Adorno's column "Besprechung" of the journal Zeitschrift für Sozialforschung. The journal was published, inevitably, by the Institut für Sozialforschung. He also described Sibelius as no better than a "scribbler" who is "at the level of amateurs who are afraid to take lessons in composition". A decade and a half later at a Darmstadt Summer Course for New Music he was still at it, citing Sibelius as a "dangerous example".
Adorno was not alone in his perfectly vicious desire to assure us Europeans that our expressions of national feeling are treif. On the occasion of Sibelius's 90th birthday the pianist and composer René Leibowitz took the opportunity to deliver himself of the ungracious opinion, "Sibelius, the worst composer in the world." Leibowitz was an influential proponent of Schoenberg's lifeless atonality and the Second Viennese School which functioned as a cultural amplifier.
Sibelius's crime was not simply to be revered by Finns as a national hero (he was, for example, commissioned to write a fifth symphony by the Finnish government in honour of his 50th birthday, which had been declared a national holiday). Neither was his crime to be loved, too, in Britain and America for the glories of his music. It was to be an exponent of, and contributor to, a broad cultural philosophy of the European mind. It was to direct the eyes and ears of those audiences not over Gustav Mahler's bridge to Schoenberg's junk but to an affirming and whole musical and cultural life. It was to model an emotionally conservative but intellectually modern musical counter-revolution which European audiences actually embraced (except in Germany, thanks to Adorno), and thereby to expose the sterility and emptiness of the Jewish revolutionary project of atonality.
A renewed artistic and cultural flowering is as much nationalism's true and diverse work as political, economic, and social renewal; for all are part of a sovereign and free European life. We are blessed to have Jean Sibelius, as well as the likes of Ralph Vaughan Williams and too, I think, Richard Strauss, among others, to guide us. But of these Sibelius is the greatest.