There's no "there there" to Russian investigation only where the Alt-Right doesn't want there to be.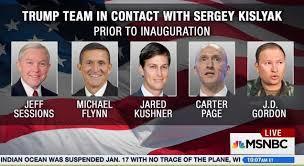 Whereas alt-right-wingers talk about there being 'no there there' to the Russian investigation, it is evident rather that the Trump administration and its functionaries were trying to conceal "thereness" - from Michael Flynn's refusal to comply with a Senate subpoena to list his contacts with Russian officials, to Jeff Sessions unofficial meetings with Russian Ambassador Sergey Kislyak, to Jared Kushner's wish expressed to the same Kislyak to set up a back channel communications system with the Kremlin- using clandestine Russian means and equipment! - probably the most damning connection so far to refute the alt-right-wing spin to extricate Russian-Jewish-Trump/U.S. and right wing interests from one another.
Washington Post, 30 May: Kushner and the seemingly omnipresent Sergey Kislyak — Moscow's ambassador to the United States — had talked about setting up a secret back-channel communication system with the Kremlin. According to U.S. officials briefed on intelligence reports, Kushner and Kislyak discussed using Russian diplomatic facilities to shield their conversations from our own country's intelligence apparatus. The move was unusual to say the least — and it happened several weeks before Trump was inaugurated, so Kushner was acting as a private citizen.

The meeting was picked up by U.S. intelligence and is said to have occurred between Dec. 1 and 2 at Trump Tower. Another controversial figure was also there — Michael Flynn, who was later ousted as Trump's national security adviser and is refusing to comply with a Senate subpoena demanding a list of his contacts with Russian officials between June 16, 2015, and Jan. 20, 2017.

This is the denial-slop being served-up by the Alt-Right:
Fash the Nation is back, returning to its vomit with Mike Enoch and sheer Trump advocacy on June 11th. After all this Jewishness and all their purported savvy in that regard, Jazzhands McFeels and Halberstrom do nothing but kiss the kosher-approved ass of Trump; while denying any significance to Russian-Jewish-Trump connections - "a nothing burger" - Fash the Nation Week 74: Leaky Comeys

Meanwhile, at Richard Spencer's
Alt-Right, (7 June 2017), Vincent Law spun their paleocon angle with the following: "Reality Winner's Russia Leaks Will End Up Destroying The Left. They chose the wrong hill to die on."
Here is the reality:
Washington Post, "Special counsel is investigating Trump for possible obstruction of justice, officials say", 14 June:

The special counsel overseeing the investigation into Russia's role in the 2016 election is interviewing senior intelligence officials as part of a widening probe that now includes an examination of whether President Trump attempted to obstruct justice, officials said.

The move by special counsel Robert S. Mueller III to investigate Trump's conduct marks a major turning point in the nearly year-old FBI investigation, which until recently focused on Russian meddling during the presidential campaign and on whether there was any coordination between the Trump campaign and the Kremlin. Investigators have also been looking for any evidence of possible financial crimes among Trump associates, officials said.

[Here's what we know so far about Team Trump's ties to Russian interests]

Trump had received private assurances from then-FBI Director James B. Comey starting in January that he was not personally under investigation. Officials say that changed shortly after Comey's firing.