Majorityrights News > Category: White Nationalism
60,000 join nationalist march carrying racist banners and chanting for 'White Europe.'
An estimated 60,000 people turned out in Warsaw for the march, with many chanting 'clean blood', 'pure Poland' and 'White Poland' and carrying posters with the words: 'White Europe of brotherly nations.'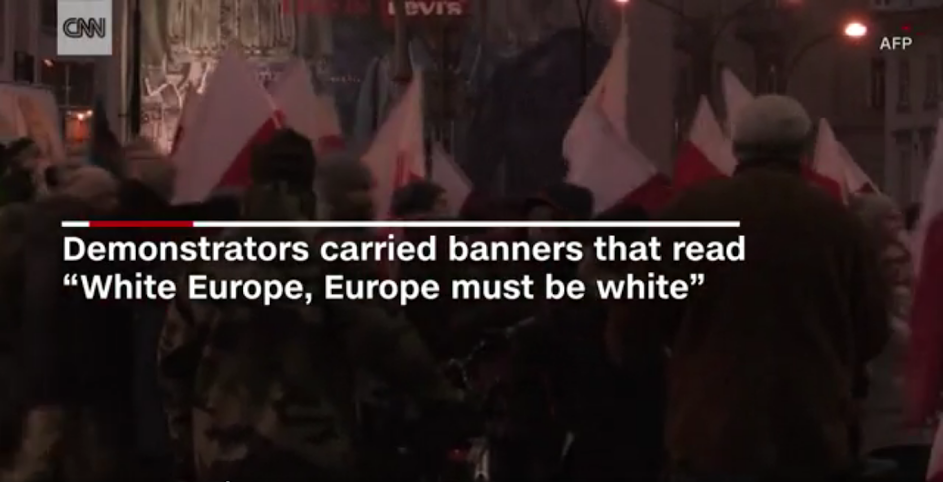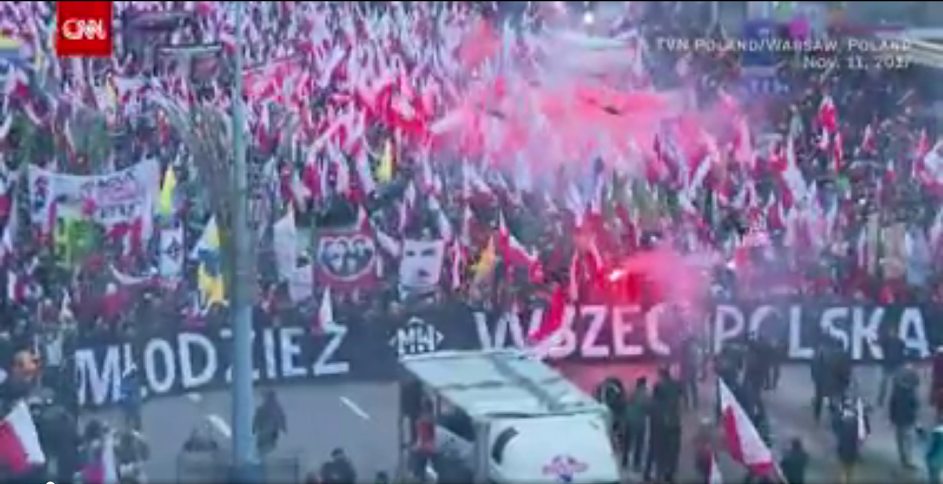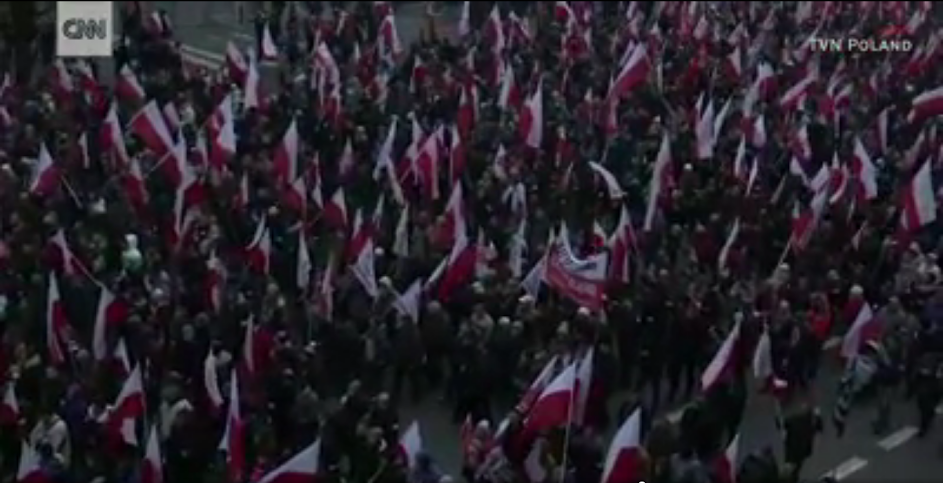 The Guardian, "'White Europe': 60,000 nationalists march on Poland's independence day", 12 Nov 2017:

60,000 join far-right march carrying racist banners and chanting for 'White Europe'

An estimated 60,000 people turned out in Warsaw for the march, with many chanting 'clean blood', 'pure Poland' and 'White Poland' and carrying posters with the words: 'White Europe of brotherly nations.

Demonstrators with faces covered chanted "Pure Poland, White Poland!" and "Refugees get out!". A banner hung over a bridge that read: "Pray for Islamic Holocaust."
Metro, "60,000 join nationalist march carrying racist banners and chanting for 'white Europe," 12 Nov 2017:

Tens of thousands of people carried symbols, religious slogans on banners and made racist chants during a march in Poland on Saturday.

An estimated 60,000 people turned out in Warsaw for the march, with many chanting 'clean blood', 'pure Poland' and 'white Poland' and carrying posters with the words: 'white Europe of brotherly nations'.
Poland's independence day celebrations turned ugly this weekend, as tens of thousands of nationalist protesters took to the streets, chanting anti-Muslim and anti-Jewish slogans and setting off flares.

The day celebrates the re-birth of Poland in November 1918, 123 years after the Prussian, Habsburg and Russian empires carved up Poland among themselves and erased it from the map of Europe. CNN.
Susan Grissom was found murdered in her home in a white oasis of 65 percent black Memphis (Harbor Town is nearly 70 percent white). She was murdered by a black career criminal.

Suspect arrested in Mud Island Murder

SBDL, "Her name is Susan Grissom: White Woman Living in Exclusive Memphis Neighborhood Murdered by Career Black Criminal", 12 Nov 2017:

Imagine living as a white minority in 65 percent black Memphis, a city where white taxpayers subsidize the enormous healthcare bill of black violence. Oh… did we mention Memphis is only 31 percent white?

It's not hard if you try.

Now, imagine living in a 70 percent white part of Memphis, an elite community and enviable zip code with a beautiful view of the skyline.

It's called Harbor Town, and it's an exclusive white enclave in a sea of Africans in America.


Imagine a white woman in her home in Harbor Town, only miles from where blacks have turned large portions of Memphis real estate into some of the most shockingly violent places in America.

Now, imagine a black male with a "history of burglary of a building, burglary of a motor vehicle, theft and vandalism" breaks into her home and murders her.

You'd have a situation where the white minority of Memphis, fleeing to an exclusive island whose population is nearly 3/4th's white, lives in a state of siege and persecution not unlike the white minority in South Africa. [Suspect arrested in Mud Island Murder, WREG.com, 11-12-17]:

Memphis police have arrested a man for the murder of a woman on Mud Island.

Kurtrell Williams was arrested in connection with the murder of Susan Grissom, who was found dead in her Harbor Town home on Island Drive on the night of Tuesday, Nov. 7.

Police obtained surveillance footage and a photo of a man using Grissom's credit card and shared it with the public Friday.

A flood of Crime Stopper tips lead to police positively identifying Williams as the suspect.

Police located Williams Friday night at a home on Brighton Road and arrested him without incident.

Her name is Susan Grissom.

She lived in an "aggressively white" area of Memphis where petty crime is unthinkable and a murder something you only see blacks committing on the nightly news. [Neighbors of murdered Harbor Town woman concerned about safety downtown, WMCA Action News Memphis, 11-9-17]:

Concerned residents met Thursday night to discuss safety concerns at the Downtown Memphis Commission's monthly safety meeting following the homicide of Susan Grissom.

Grissom was found killed at her Harbor Town home Tuesday night.

Memphis Police Colonel Gloria Bullock spoke at Thursday's meeting.

"I can assure you that we will find out the person/ persons responsible, as we always do," Col. Bullock said.

In the audience, listening with purpose, were friends and people who knew Grissom as a kind-spirited person and devoted mother.

"I was devastated because Susan was just a beautiful person," said Dawn Inman.

Inman said she came to the meeting looking for insight into the search for Grissom's killer and what city leaders are doing to ensure safety downtown.

"It takes a horrifying event for resources to be allocated?" Inman said. "I don't think that is the right approach."

Col. Bullock said downtown is one of the safest areas in the city and Police Director Mike Rallings has authorized extra patrols downtown and on Mud Island.

Councilman Berlin Boyd said he pushed for the extra patrols as a way to help residents feel safe.

"After I see that there is a homicide, I send an email requesting that we could get more patrol in that area," Boyd said.

Grissom graduated from Briarcrest in 1979. Her husband, daughter, and brother-in-law all also graduated from Briarcrest.

Grissom was a representative for optometric devices. She worked to connect optometrists in the Mid-South with contact lenses for their patients.

Memphis is a 31 percent white city.

Memphis is also a 65 percent black city, one of the most dangerous places in America.

White people sought refuge in Harbor Town, where the amenities of safe streets and rising property values were just a byproduct of their whiteness, just as violent streets and blighted property is a byproduct of blackness found all throughout Memphis.

Susan Grissom is now dead.

A daughter will never speak to her mother again.

A husband will never speak to his wife again.

And a career black criminal who is responsible for all of this will, more than likely, enter a plea deal to see his prison time reduced.

After all, the criminal justice system is inherently racist and the new Jim Crow, right?

But, it goes without saying, when Jim Crow protected a white majority population in Memphis, did home invasions by a black male such as the one you are reading about here, occur?
"Aspen Institute": (((Panel discusses))) Active Measures
The Alt-Right is discussed in minute 14:45:
Evelyn Farkas: Former Assistant Secretary of Defense for Russia, Ukraine and Eurasia: 14:45: It drives me crazy when Former Director Comey says that the Russians are coming back. To your point, they never left. I mean they're still here, they have all that information, they're in our cyber- and in our information-sphere.

Ned Price: And its broader than just Wikileaks and the overt or semi overt organs of the Russian government. I think one thing we noticed even after the election; you take the sort of trending story in Alt-Right or so-called Alt-Right circles: [example] hashtag #Syriahoax started in Russia and somehow make their way to the United States and started trending in some of the same circles that are collectively known as the Alt-Right. And I think the linkage between the two is not something we fully understand; how something jumps across he Atlantic like that and tends to land with the same group of people after originating in pro-Russia circles.
Now we need a non-Jewish panel discussing Israeli and Jewish influence over the American electorate - lol.
..in fact, there are some questions toward the end that bear upon that -
Charlie D. from Duke Law: 52:00: Would it help if we broadened the discussion about all foreign nations who are trying to influence our campaigns?

Panel averts the question -

Ned Price: 52:19: I would start with the proposition that it's natural for governments to have policy preferences. Clearly I would suspect lots of the NATO member countries were made uncomfortable listening to Donald Trump during the campaign speak of NATO being obsolete. I think that the issue is that in today's environment there has been attempt at criminalization on policy preferences on the part of foreign capitals. But I think we have to remember is a far cry from a NATO country, you know, privately rooting for Hillary Clinton and a strategic adversary getting involved in our election with Active Measures, covert influence, social media, you name it.

Julia Ioffe: They weren't probing and scanning our election infrastructure, yeah.

Audience Member: Have any of you considered the business role of the president and Russia; because he has, right now, no one will lend him money in New York City, no one will do business with him in New York City. He owes a great deal of money. Where does he get the money? There are a lot of rumors that he gets it from Russia. Have any of your explored any of that?

Julia Ioffe: 53:48: Both of his sons said that he (Trump) gets most of his money from them (Russia) ...and its not a crazy proposition either that if he's doing real estate in New York and Florida ...and guess where (((Russians))) who want to park their money outside of Russia, guess where they want to buy real estate? - (((New York and Florida))).
Paul Hickman

RIP Paul Hickman

The first radio interview I ever did was with Paul Hickman and he was without a doubt, the best interviewer I ever came across. A real gentleman. Here's the programme.

If anyone believes we are NOT fighting against a truly evil system, then the example of Paul Hickman is there for all to see – a good man prevented from earning his livelihood, thrown out of his jobs, hounded, persecuted and driven to suicide by the forces of darkness that rule this land. We'll not forget him, we'll turn our fury into energy and fight for victory and we WILL avenge him! Ave atque vale! - Jez Turner
RIP PAUL HICKMAN, Tanstaafl, 6 Nov 2017:

The team at the BM Sunwheel Office were saddened to hear of the death of West Midlands racial Nationalist and activist Paul Hickman. Paul Hickman was the broadcaster behind the on-line radio 'Voice of Albion' and operated on the internet as 'Birmingham Nationalist'. Ruthlessly hounded by self-styled anti-fascists, Paul lost his job and struggled to find work, his political activism also drew on to him the unwanted attentions of the State and its agencies. From what little information coming to us here, we are led to believe that Paul Hickman took his own life. A sad situation for someone still in their thirties and a loss to British Nationalism.

Also, from the sidebar at Renegade Broadcasting:

After 2 years of restrictive bail for posting non-PC stickers, being harassed and doxed by antifa and losing his employment, former Renegade host Paul Hickman took his life. RIP.

Listen to Paul's archives here.

This is sad news. I first spoke with Paul Hickman a little over four years ago when he was starting his program Voice of Albion at the White network. I had the pleasure of joining him on air on two occasions, in February and April of 2014.

I did not know Paul well, but had hoped to meet him in person someday. He helped educate me in several ways. He was a somber and perceptive man. He could clearly see the horror unfolding in Britain specifically but also for the White race more generally. He had been increasingly openly active in the British National Party, but by 2014 had became dissatisfied with the leadership of Nick Griffin. In response Paul became more radical, in the best possible sense, shifting his attention and support to British Movement and National Action. - Tanstaafl
National Vanguard, "Indicted New Jersey Police Chief Says Blacks are Like ISIS: Worthless", 3 Nov 2017:

Former Bordentown Township N.J. Police Chief, Frank Nucera Jr.

60-year-old local chief now facing Federal charges from FBI, US Attorney, that could result in 20 years in the largely-Black Federal prison system — the equivalent of a death sentence at worst and a life sentence at best.

THE FORMER chief of police of Bordentown Township, NJ has been charged with "hate crimes" by the Trump Justice Department after using racial slurs in relation to Black people and allegedly using excessive force on a Black criminal. New Jersey has seen a massive increase in non-White crime and population in the last several decades.

The controlled media reported that Frank Nucera Jr., the former police chief of the predominantly White small town outside Trenton, had been secretly recorded for months by one of his officers, the racial ancestry of whom has not been disclosed. (Nucera was also recently Bordentown's Township Manager.)

The officer recorded Nucera, who retired from his Police Chief position in February, speaking about a Black arrested for slashing the tires of a police cruiser: "Niggers are like ISIS, they have no value," Nucera told the officer secretly recording him.

The audio recordings captured several instances of his use of negative remarks directed at Black people: "They should line them all up and mow 'em all down," Nucera said, according to the complaint. "I'd like to be on the firing squad, I could do it." In one of the recordings outlined by prosecutors, Nucera said of Blacks that he was "tired of them" and "it's getting to the point where I could shoot one."

The complaint says two officers responded when a Bordentown Ramada Inn manager reported an 18-year-old Black male with a 16-year-old girl (her race unstated by the controlled media) had obtained a room under false pretenses and had used the pool at the motel. The Black apparently invited five other Blacks to the "party" (evident from Nucera's alleged remarks, though unreported by the controlled media), whose unruly behavior alarmed the manager.

When officers arrived, the Blacks resisted them and pepper spray was used by the police. Additional officers, including Nucera, arrived after the Blacks resisted arrest.

The 18-year-old Black male was being led to a stairwell when he stopped walking and began shouting at the officers. The complaint says an officer had placed his hand on the suspect's back to push him forward when Nucera approached from behind, grabbed the teen's head and pushed it. It allegedly struck a metal doorjamb separating the hallway from the stairwell. The suspect at first asked to be sent to the hospital, but later retracted that request.

In a recorded conversation at the police station after the arrest, Nucera said "it would have been nice" if a K9 unit had come to the hotel. "That dog, that dog will stop anything right then and there, I'm telling you. . . You'd have seen two f**king niggers stop dead in their tracks. I love when they do that. I just love that," the chief allegedly said, according to the complaint.

Acting New Jersey U.S. Attorney William E. Fitzpatrick (right) and "FBI Special Agent in Charge" Timothy Gallagher: They want to send Chief Nucera to a Black-dominated prison for 20 years — a likely death sentence.

About three months later, the complaint adds, Nucera was recorded as he attempted to defend the use of force at the motel "by arguing that numerous officers had to respond to the call 'cause of six unruly f**king niggers.'"

According to the recently unsealed criminal complaint, Nucera also promoted the use of police guard dogs to prevent disruptive behavior by Blacks at local high school basketball games and at an apartment complex with many Black residents. Bordentown is only 9 percent Black.

Nucera was arrested on "hate crimes" and "civil rights" violations — charges which carry a maximum sentence of 20 years in prison — but was released on $500,000 bond and ordered to give up his guns.

It's important to understand the background of the racial situation in New Jersey. High Black crime has been a fact of life in the area for decades. Many Whites fled Trenton for Bordentown, among other areas, after Black riots resulted in scores of buildings being burnt to the ground in 1968. (And 1968 was the second year of Black riots in the city; in the previous year, rioting was only quelled by bringing in the National Guard.) Also in 1968, White students boycotted Trenton High School because of violent attacks on White students there by the rapidly-increasing Black population. The White resistance, led largely by the racially-conscious Italian-American community there, was significant at first, but with open hostility from Jewish-run media and the federal government through its forced association ("civil rights") laws, the White protests went unheeded and most Whites simply relocated in order to protect their families.


In this 1968 issue of The Trentonian, the widespread destruction caused by "marauding young Negroes" is detailed. Little — except for a worsening of the situation and Jewish control and censorship of the media — has changed since then.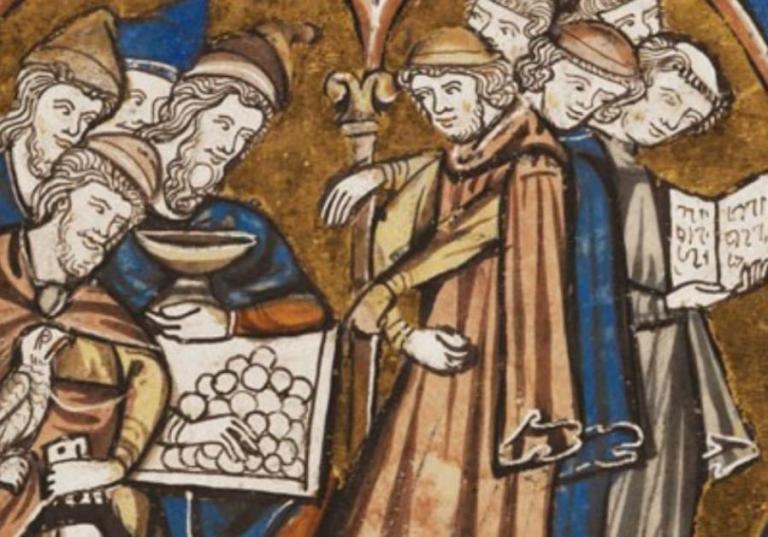 Story of Argobad
contextualizes the case brought against Jez Turner
First, some background on the Jez Turner case -
Europa, "BRITAIN'S VIGILANTE POLICE", 11 Oct 2017:

by Mike Walsh

Britain's most popular ethno-nationalists, supporters and members of the public, face a David and Goliath battle to protest a state-funded race-police force. Contrary to all legal precedents the Shomrim Security Group, with eighty guards, now patrols North London boroughs.

Shockingly, these armed and uniformed Jewish storm-troopers, are said to be the only 'private army on British soil' The patrolling race-police wear state-provided uniforms and cruise the streets in £15,000 patrol cars.

Ostensibly, the purpose of these menacing uniformed Jews, recruited from the Hasidic Jewish community in London, is to police boroughs and to act against what they describe as 'hate crimes'. Such would include criticism of Jewish or Israeli influence. Jewish and Asian groups are trained to make arrests and detain suspects until conventional police arrive.

It is well to reflect how news of a similar ethnic-European police force being sponsored would be greeted. Imagine for a moment, 80 British nationalists, concerned at the number of hate crimes perpetrated by non-Europeans on indigenous Britons, being given special status by the London police.

Shomrim, special Jewish police specifically looking after their community.

The self-appointed nationalist volunteers are trained, equipped and provided with liveried police cars by Britain's largest police force. Patrolling the streets of London this private force, not covered by authority or law, are tasked with identifying the perpetrators of anti-White hate criminals. Merely the suggestion would be considered preposterous. Is Britain the only country that sponsors a race-group private police force?

Jez Turner says: "It's utter disbelief that the Jews of Stamford Hill have set up their own police force which enforces their own Talmudic law on the streets of a White British city."

An anti-vigilante protest group, supported by members of the public, took their protest to the streets.Holding banners reading 'police impersonation is a crime' and surrounded by a large police escort, the group of 50 concerned residents gathered at Lea Bridge Roundabout. Speeches were made by the National Front's Tony Martin and the party's former organiser Martin Webster.

The massive police operation investigating this demonstration has been given the name Operation Saurus (reptile). Police officers openly admitted that it was carried out at the order of the far-left Jewish Community Security Trust (CST).

Mr Turner says, "All politicians are nothing but a bunch of puppets dancing to a Jewish tune, and the ruling regimes in the West for the last 100 years have danced to the same tune. Let's free England from Jewish control."

Britain's Crown Prosecution Service (CPS) is set to prosecute the founder of the London Forum debating society for alleged anti-Semitism after a Jewish group mounted an unprecedented challenge to their original decision not to prosecute.

The CPS case is likely to collapse as it is based on Article 17; European Human Rights Convention that says protection is not extended to 'those who would destroy that right'. It is unlikely that the organiser of an ad hoc debating society could be guilty of such a wacky bizarre allegation.

Why worry, lawyers will get richer, media will be enriched by anti-White propaganda, the political elite seen as tonguing the right backsides; the taxpayer pays for the repellent anti-White Carnival of Clowns.

When asked his reaction to the CPS decision to retreat under Jewish pressure, Jez Turner smiled and said: "Looks like I may be going away for a while, a free vacation at Her Majesty's pleasure. But whatever happens, I'll have a show trial first. And I'll make sure that I give them a show and go down fighting!"

The mask of liberal democracy is slipping away. As anger rises over mass immigration to the West, so the authorities will be resorting to ever more desperate methods to stifle dissent. The greatest consciousness-raising resource of the last twenty years may be lost to us.
Independent, "Crown Prosecution Service to review decision not to prosecute prolific anti-Semite", 8 Feb 2017:

Jez Turner's case re-examined after 13-month campaign against him.

Crown Prosecution Service has agreed to review decision not to prosecute far-right activist known for making vitrolic speeches against the "Jewish world order".

Jeremy Bedford-Turner's case will be re-examined following a 13-month campaign.

In a July 2015 speech to an "anti-Shorim" rally on Whitehall, Jeremy Bedford-Turner said "all politicians are nothing but a bunch of puppets dancing to a Jewish tune, and the ruling regimes in the West for the last one hundred years have danced to the same tune."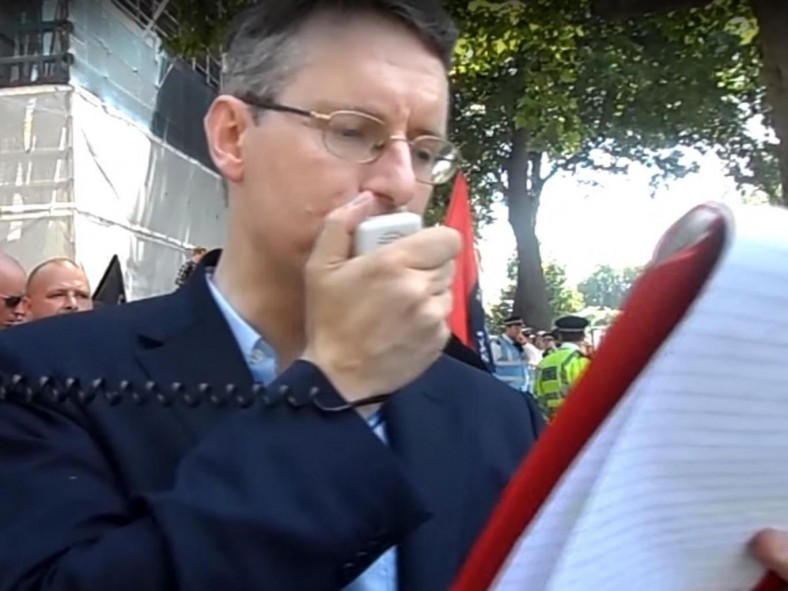 Jez Turner addresses small protest outside Whitehall
July 2015
"Agobard of Lyon and The Origins of the Hostile Elite"

Andrew Joyce, Ph.D., Occidental Observer, 2 Nov 2017:

As part of the introduction to my forthcoming volume of essays, Talmud and Taboo, I've included an overview of key developments in the historical relationship between Jews and Europeans. During the course of this overview I emphasize the historical suppression of European responses to Jewish group behavior, an important and perennial aspect of Jewish-European interactions. This suppression/taboo, as a thing in itself, tends to be less explored and understood when compared to the attention devoted to more obvious manifestations of Jewish influence (e.g. assertive action in influencing immigration control), but consideration of it is crucial to a complete understanding of Jews as a hostile elite. A working theoretical definition of what is meant by "Jews as a hostile elite" is of course also necessary, and is taken here as the implication not only that Jews have historically been opposed/hostile to the interests of the European masses, but also that Jews have had direct access to political power, or significant levels of influence over European elites in possession of it. While writing the introduction to Talmud and Taboo I was primarily concerned with the origins of the Jewish acquisition of this power or influence in Europe, the mode of its expression, and its evolution over the course of centuries. Due to restrictions of space in the introduction to Talmud and Taboo, I want to take the opportunity here to expand on one such example.

To date, our best understanding of modern Jewish political strategies in the context of the "taboo" can be found in Chapter 6 of Kevin MacDonald's Separation and Its Discontent: Toward an Evolutionary Theory of Anti-Semitism, titled "Jewish Strategies for Combatting Anti-Semitism." One section deals with "Political Strategies for Minimizing Anti-Semitism." MacDonald notes that Jews have been flexible strategizers in the political arena, buttressed by an IQ substantially above the Caucasian mean, and argues that the foundations for Jewish influence are wealth, education, and social status.[1] Today, Jews apply this influence in order to stifle negative discussion of their group, and at times to stifle any discussion of Jews at all. MacDonald points out that this is normally done via extensive communal support for "self-defense committees," which are a feature of every Diaspora population. These committees invariably lobby governments, utilize and influence legal systems, produce pro-Jewish and pro-multicultural propaganda, and fund pro-Jewish candidates or initiatives. Another of their vital functions has been to monitor and expose "anti-Semites," and to use legal systems in order to exact individual punishments, thereby making an example of individuals and thereby imposing a deterrent atmosphere on the rest of the population.

It almost goes without saying that in the modern era Jews have been very successful in making anti-Semitism a disreputable and unsavory enterprise. Perhaps more than any other shaming device, accusations of anti-Semitism can be socially and professionally devastating. Academic studies which argue that anti-Semitism has a rational and understandable basis, such as MacDonald's work, are monitored and excluded from scholarly discourse in an unceasing effort to maintain Jewish control over narratives concerning their group and deflecting antagonism to it. A foundational idea underpinning the creation of this most modern taboo is that anti-Semitism is a personal flaw indicative or psychiatric disorder and a social aberration, epitomized by the writing of the Frankfurt School of Social Research. Despite achieving an almost monolithic position in the public mind of most European populations, it is particularly noteworthy that such conceptualizations of anti-Semitism as an irrational and inexplicable form of psychosocial illness are extremely recent, having been developed only in the last sixty years by a cast of Jewish intellectuals—particularly those at the nexus of psychoanalysis and the Frankfurt School.

This reframing of European understandings of anti-Semitism has been due not only to Jewish influence in academia, the media, and the development of social policy, but also to a general ignorance among Europeans of the historical experiences of their ancestors. Europeans cannot come to terms with the issue of Jewish influence purely by confronting its contemporary manifestations – they must engage with the experiences of their forebears, and understand how and why they viewed Jews as a hostile elite.

All of these considerations led to me to one question: when and how did this "hostile elite" begin? Although Jewish influence was noted during the life of the Roman Empire, I excluded this period from my deliberations for a number of reasons. The first was that I wanted a close contextual proximity to present conditions; in other words, as a bare minimum I felt it necessary that I should find an early example of Jewish influence that still mirrored enough features of the modern experience to be broadly valid in comparison. Despite a proliferation of expatriate communities, during the Roman Empire, or at least until the sack of Jerusalem by Titus in AD 70, Jews could be considered as predominantly a national people rather than a Diaspora. It could thus be argued that relations between the Roman Empire and Jewish populations could on some level be understood within the framework of traditional diplomacy and power relations.

It was only after Rome's demolition of the Second Jewish Commonwealth in the first century that the Exilic period ushered in significantly novel forms of Jewish political activity. These political activities also became uniform, with Amichai Cohen and Stuart Cohen noting of the new Diaspora: "Notwithstanding variations dictated by vast differences of location and situation, all Jewish communities developed and refined a remarkably similar set of broad [political] strategies."[2] The second reason is related to the first in the sense that this set of Jewish political strategies had to be present in a broad geographical area of Europe. This breadth of geographical dispersion, and the subsequent extension of Jewish interactions with European populations, only occurred after the fall of the Roman Empire. A third and final reason for omitting the period of the Roman Empire was that my precondition of close contextual proximity required that the nation states of today, at least in their prototypical form, should be broadly recognizable. Finally, the Jews of Visigothic Spain, although wealthy, powerful, and incredibly hostile, have been discounted due to their failure to establish a relationship with Visigothic elites. This failure most notably resulted in the Jews providing assistance to a replacement elite — Muslim invaders.[3]

The set of "broad political strategies" referred to above requires further elaboration. Lacking a state, and insistent on remaining apart from their host nations, Diaspora Jewish populations developed an indirect and at times highly abstract style of politics in order to advance their interests. In Jewish sources it became known as shtadtlanut ("intercession" or "petitioning"), and represented a personal and highly involved form of diplomacy or statecraft that, in the words of the Cohens, "prioritized persuasion."[4] In the modern era we are familiar with such shtadlans as the Anti-Defamation League, and AIPAC. These bodies claim to represent all Jews, and the interests of all Jews, and do so when interacting with, interceding with, or "persuading" host nation governments or other arms of the White elite. However, the shtadlan as a large formal body or committee is a relatively modern development, and was a necessary response to the end of absolute monarchy at the beginning of the nineteenth century (and the corresponding rise of parliamentary democracy and the modern state). Prior to c.1815, Jews often pursued their interests via a small number of very wealthy and "persuasive" individual shtadlans who would form personal relationships with a king, prince, or other powerful members of the European elite. This was most pronounced during the Early Modern period when Hofjuden, or Court Jews, negotiated privileges and protections for Jews with European monarchs. An excellent example is that of Daniel Itzig (1723–1799), the Court Jew of Kings Frederick II the Great and Frederick William II of Prussia, who used his wealth and influence to persuade these monarchs to abolish many restrictions on Prussian Jews and grant them a succession of privileges. Put simply, the concentration of power in individuals meant that Jewish interests could also be negotiated by individuals.

However, although we may still see echoes of the old shtadlans in individuals like George Soros or Sheldon Adelson, the dispersal of political power following the collapse of the absolute monarchies required a greater number of Jewish "persuaders," thus necessitating the development of the modern Jewish "diplomatic" organization. Of course, the majority of these modern bodies vigorously deny their "diplomatic" or political function, preferring to style themselves as "self-defense" bodies or similar abstractions. Writing on the subject of shtadtlanut Samuel Freedman has argued that Jews have "become wedded to a "crisis model" in community-building, in which either Holocaust commemoration or opposition to anti-Semitism are the raison d'etre for the largest communal organizations, from the Simon Wiesenthal Center to the American Jewish Committee." This masking of deeper political interests should be seen as combining deception (of Europeans) and self-deception (among some Jews) in the broader Jewish strategy, or at least as a device designed to boost the recruitment of "persuaders." Jews (at least those not consciously engaged in deception) and Europeans are thus led to believe that such bodies are necessary to defend and protect a vulnerable community in crisis, when in fact their primary function is to advance the interests of an extremely wealthy, culturally invulnerable, and politically powerful community — a hostile elite.

Story of Argobad

contextualizes the case brought against Jez Turner

In searching for the origins of the hostile elite I was therefore looking for the earliest possible example of a Diaspora Jewish community in which shtadtlanut was in evidence — the obtaining of privileges and protections from a European elite, contrary to the interests of the masses of a given European population. Although I would very much welcome further suggestions from readers, the earliest convincing case that I have come upon concerns that of the Carolingian dynasty during the lifetime of Archbishop Agobard (c. 779–840).[5] Agobard was a Spanish-born priest and archbishop of Lyon during the Carolingian Renaissance. A fearless controversialist, Agobard gained fame and notoriety during his lifetime — and a place in posterity — by expressing his opposition to Jewish political influence in the Frankish kingdom. Agobard's Spanish origins are important. Bernard Bachrach notes that Agobard would have been very much aware of the scale and impact of Jewish influence, writing that "Agobard was born and raised in the Spanish March and Septimania where the Jews were extremely powerful. … He was aware of the power that the Jews of the Narbonnaise had exercised for centuries."[6]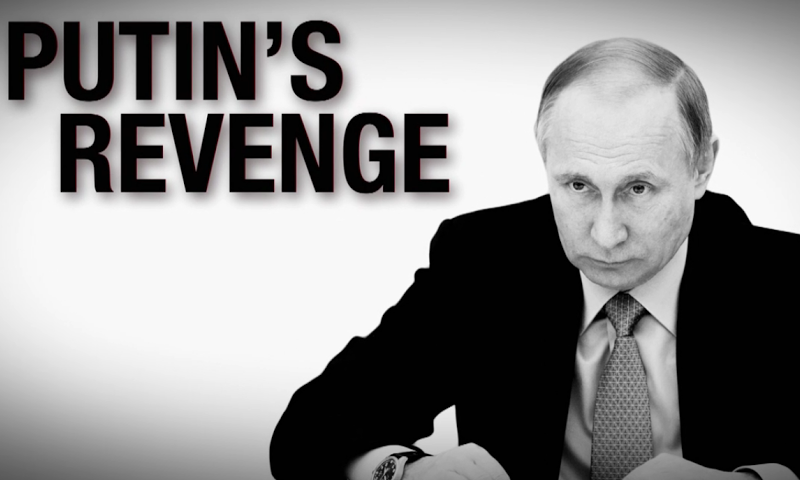 "The Collapse of the Soviet Union Was the Greatest Geo-Political Catastrophe of the Century" - Vladimir Putin
Last Day of The Soviet Union. Now subtitled by RT, "Stabbing The Empire", it provides further background - telling the story of the Bialowieza Accords that dissolved The Soviet Union.
On December 8th, 1991, the three leaders of Russia, Ukraine and Belarus signed the document which marked the end of the Soviet empire. The fate of the great conglomerate country was decided in less than 24 hours. It happened in secret in a remote residence in the Belavezha forest. Soon the agreement entered the history as the Belavezha Accords. Visit the place where it happened and reveal the mysterious details of the document with the eyewitnesses to the historic event only on RT.