Majorityrights News > Category: White Nationalism
The FBI is now investigating a story that almost everyone intuitively knew was true from the start:
The Hill, 'FBI probing far-right news sites: report', 20 Mar 2017:

The FBI is investigating whether far-right news websites contributed to Russia's interference in the 2016 presidential election, according to a new report.

The probe is focused on discovering whether Russian operatives used conservative outlets to help spread stories favoring now-President Trump, McClatchy said Monday.

McClatchy confirmed with two people familiar with the inquiry that the FBI's Counterintelligence Division is driving the investigation.

The sources said Russian operatives seemingly strategically timed computer commands called "bots" to blitz social media with pro-Trump stories.

The bots were used at times when Trump appeared struggling with 2016 Democratic presidential nominee Hillary Clinton, they continued.

McClatchy's sources said the bots mainly created millions of Facebook and Twitter posts linking to articles on far-right websites including Breitbart News, InfoWars and the Kremlin-backed RT News and Sputnik News.

The sources added that some of the stories were false or contained a mixture of fact and fiction.

Federal investigators are now examining whether the far-right news organizations took any actions aiding Russian operatives, they said.

The bots could have amplified pro-Trump news on Facebook and Twitter, regardless of the outlets' knowledge or involvement, the pair of sources noted.

"This may be one of the most impactful information operations in the history of intelligence," one former U.S. intelligence official told McClatchy, speaking on the condition of anonymity due to the matter's sensitivity.

FBI Director James Comey earlier Monday confirmed the Department of Justice (DOJ) is scrutinizing Russia's meddling in the 2016 race, including any possible ties between Moscow and officials from Trump's election campaign.

"As you know our practice is not to confirm the existence of an ongoing investigation," he said during a House Intelligence Committee hearing.

"But in unusual circumstances where it is in the public interest, it may be appropriate to do so," Comey added, noting the DOJ had authorized him to break bureau policy and publicly disclose the probe.

"This is one of those circumstances. I can promise you we will follow the facts wherever they lead."

Comey added the FBI's investigation began in late July and will include an assessment of whether any crimes were committed.
During the campaign itself, Louise Mensch had reported on basically the same thing. You can revisit that at Heatstreet, and I'll just give you an exerpt from that:
Heatstreet, 'How Russia's Twitter Bots And Trolls Work With Donald Trump Campaign Accounts', 20 Oct 2016:

If you've been following the Twitter fiasco that is the Donald Trump campaign, you will be aware of his association with the Alt-right and with Russia bot accounts.

Broadly speaking, Trump has two categories of support on Twitter. Alt-right trolls, and Russian bot accounts pretending to be patriotic Americans.*

In many cases, these two groups cross over. The altright contains actual humans, such as @prisonplanet, and many, many bots.

In this article I shall however examine the way in which Russian bots are created and used to follow and boost Trump online.

It is not that Donald Trump does not have widespread support. He does; even at his current polling lows, his support includes millions of Americans. It is, rather, that Trump's supporters are incredibly unlikely to use Twitter.

Broadly speaking ,Trump's real supporters aren't on Twitter – and Trump's Twitter supporters aren't real.

[...]

Three such bots that I videoed in the act of using this method were @Commander6080, @Sbragusa, and @jamesdgriffin. All have profiles that pretend to be Americans and to live in the USA.

How might this affect a twitter trend? What is the point of it? One scientist theorized as follows. It is a "fake trend" theory called "A Handoff":

Let's say you had a hashtag you wanted to get trending. You have a thousand bots (or Russian Trolls) and a popular account like Ricky Vaughn. You have the bots start using the hashtag, they start flooding twitter until it gets a high count (but not in the top 20 trends) then have a real person, Ricky Vaughn, start pitching the hashtag to his followers. Here is where the window of timing kicks in: within minutes, Ricky Vaughn can have something trending, but before he gets the hashtag to the top 15 you have almost all of the bots automatically delete their tweets with the hashtags. You've now started "a trend" quickly and have had it associated with "Ricky Vaughn" and not a 1,000 odd bots or Russian trolls.

[...]
This whole arrangement of social media manipulation is part of the communication operations side of the modern form of Russian Active Measures. The most remarkable thing about this arrangement is how it is tactically innovative and well-timed to exploit a particular weakness in American society specifically, but it is strategically unsophisticated because Russian commanders have also permanently ruined their own country's reputation among the international journalist community and among most people on social media.
It's highly abnormal for an entire country to transparently do something like that. Why would they choose to so carelessly and openly abandon even the appearance of any kind of 'normality' on national level?
There are a few reasons as to why they would have chosen to behave this way, but all of them seem to be capable of being summarised like this: Russian commanders may have been willing to sacrifice their country's perceived journalistic integrity in the eyes of most of the world, because they've already given up on the idea that they could ever create a narrative that could appeal to a broad audience. Instead, Russia is seeking to cultivate a very particular audience in Europe and North America (excluding the United Kingdom which they seem to be abandoning). They are seeking to cultivate that roughly 20% of the population which is somewhere vaguely in the nationalistic spectrum and is disillusioned about the political situation in their country, but also lacks grounding and experience in how the world actually works. Russian commanders want to shape the media experience through which those people will come to terms with the world around them, and thus, create a long-term 'following', even if those followers are not necessarily aware of what it is that they are following.
The utility of this is clear. 20% of a population is enough to seriously impact the operation of political institutions in western democracies which operate in a pluralistic mode. Russian journalism is not seeking to be liked by everyone, or even trusted. Russia just wants 20% of any given European population to be responsive to their input because that is the bare minimum that they need.
Visigrad Post, "Orbán: Brussels Must be Halted, and Hungary Must Stand Up Against International Capital", 24 March 2017:
Hungary – Prime Minister Viktor Orbán called March 15 an "indisputable proof" of the Hungarian nation's past, present and future, at a commemoration of the 1848-49 revolution and freedom fight on Wednesday, March 15.

Speaking in front of the National Museum, the prime minister said that European nations are in a "state of revolt", with the "winds of 48 blowing again on the continent". Over the past years European nations once again revolted against "the hypocritical alliance of the Brussels bureaucrats, the liberal international media and the insatiable global capital," Orbán said.

First the British, then the Americans rebelled, to be followed by others this year, he added. Orbán stressed the need for Brussels to take off the "masks of hypocrisy", and opt for straight speech and an open discussion of the future.

Orbán emphasised that the resettlement of illegal migrants must be prevented, the network financed from foreign funds made transparent, and the right to regulate taxes, wages and utility prices kept in national competence.

Orbán called March 15 an "indisputable proof" of the Hungarian nation's past, present and future. "We, living in the Carpathian Basin, at the buffer zone of cultures, empires and civilisations, can be proud of the greatest triumph of all, winning all wars for the survival of our homeland, our nation," he said.

He said 1848 had become a "moral compass" for the nation, one that shows who is "loyal, patriotic, dedicated and brave" on the one hand, and exposes "pettiness, perfidy and efforts to kill dreams and destroy the nation" on the other. The prime minister insisted that national unity should be retained and cemented day by day.

"But what should we do with those who want unrest and division rather than peace and unity . whose only pleasure lies in spoiling the holiday of others," he asked, referring to a group whistling during his speech. "It would be easy to mock them but we should not do that," he said adding that Hungarians should "stand their ground on the horizon of building the nation rather than in the skirmishes of petty parties."

"From the horizon of the Hungarian nation, one can choose the road that leads us to the wide gate of greatness or the one that leads to the swamp of hatred," he said.

Article originally published at Daily News Hungary.
Reuters, "Polish PM draws link between London attack and EU migrant policy", 23 Mar 2017:

Poland's prime minister drew a link on Thursday between an attack in London targeting the British parliament and the European Union's migrant policy, saying the assault vindicated Warsaw's refusal to take in refugees.


Poland's Prime Minister Beata Szydlo holds a news conference at the end of a European Union leaders summit in Brussels, Belgium, March 10, 2017. REUTERS/Yves Herman

Five people, including the attacker, were killed and about 40 injured on Wednesday after a car ploughed into pedestrians near the British parliament. Police believe the attack was "Islamist-related", but have given no details about the attacker, who they say was acting alone.

Poland's right-wing, eurosceptic government has refused to accept any of the 6,200 migrants allocated to it under the European Union's quota scheme that is designed to share the burden of taking in the large numbers of migrants and refugees who have come to Europe over the past two years.

"I hear in Europe very often: do not connect the migration policy with terrorism, but it is impossible not to connect them," Polish Prime Minister Beata Szydlo told private broadcaster TVN24.

Earlier this week the EU's migration commissioner, Dimitris Avramopoulos, on a visit to Warsaw, warned member states against failing to host refugees to help alleviate pressure on frontline states bearing the brunt of arrivals across the Mediterranean.

"The commissioner should concentrate on what to do to avoid such acts as yesterday in London ... Poland will not succumb to blackmail such as that expressed by the commissioner," Szydlo said.

"The commissioner is coming to Warsaw and trying to tell us: you have to do what the EU decided, you have to take these migrants .... Two days later another terrorist attack in London occurs," she said.

The leader of Szydlo's ruling Law and Justice party (PiS), Jaroslaw Kaczynski, said back in 2015 that refugees could bring diseases and parasites to Poland, which is staunchly Roman Catholic and has very few Muslim immigrants.

The migrant issue is just one of several over which Poland is at odds with the EU.

Also on Thursday Szydlo said Poland might not accept a declaration EU leaders are due to endorse in Rome this month that will chart the bloc's course after Britain leaves unless it addresses issues Warsaw considers crucial.
Visigrad Post, "V. Orbán: "Hungary is in a State of Siege", March 2017:

Hungary – Migrants are detained, police and army reinforced, and a second fence set up at the border. There is less talk of migrants arriving through the Balkans, yet Hungary is getting ready for a new wave. For Prime Minister Viktor Orbán, Hungary is in a state of siege.

Hungary "shouldn't risk changing the basic ethnic character of the country," he recently reaffirmed during an intervention at the Hungarian Chamber of Commerce and Industry, convinced that this would lead to a " depreciation of its value "and to "chaos ".

"How to do this?" he asked. "First, by preserving ethnic homogeneity. One can say such things now, which you would have been executed for during the past few years, as life has proven that too much mixing causes trouble," he said.

However, the Hungarian Prime Minister is not opposed to immigration, despite everything. And he is even more in favor of immigration — if it comes from Europe. Whether it is Ukrainian from the Eastern part of the country, or Westerners in Budapest. His recent remarks inviting with a note of sarcasm the Western refugees in Hungary did not pass unnoticed.

On the other hand, Viktor Orbán is firmer than ever on non-European immigration, and in particular illegal immigration.

Hungary in a state of siege

The border barrier, erected during the summer of 2015, is being reinforced by a second fence. Equipped with various electronic devices to improve the surveillance and reactivity of the territorial protection forces, this second barrier should make the border impermeable. This is at least what the Hungarian government hopes, fearing a new wave of migrants.

"We can not take it easy, now we are also in a state of siege, and even if the migratory wave has diminished, it has not stopped," said Prime Minister Orbán in front of new police recruits who took the oath to defend Hungary at the risk of their lives, if necessary.

For the strong man of Budapest, security is the precondition for Hungary and Europe to have a bright future. Security, and the rule of law.

"Laws must apply equally for everyone, also for those migrants who come here, and no kind of foolish human rights mumbo jumbo can overwrite this."

"Immigration is the Trojan horse of terrorism," recalled Mr Orbán. "We can not count on Brussels and on the European Union. They only make the task harder for us. We can only rely on ourselves," he said in front of the young recruits of the border hunters.

New treatments of migrants

Hungary has also taken it upon herself to openly contravene certain international conventions, as evidenced by criticism from the EU and the UN. But this is fully assumed.

Henceforth, Hungary systematically expells any clandestine intercepted on her soil. Their return to Serbia is automatic. Asylum seekers are now detained in closed centers, where they are housed in containers, in order to prevent fraudsters from using this procedure only to enter the EU and then to continue their illegal journey, as did almost unanimously the "asylum seekers".

Meanwhile, the globalist press is trying to pass off the Hungarian guards as sadistic and malicious torturers, using "proof" like photos and testimonies of migrants in Serbia. But this new, unfounded and disproportionate attack will not affect the government, strongly supported by the Hungarian population on the issue of migration.

According to Viktor Orbán, Hungary is today one of the safest countries in Europe. And he intends to preserve this asset in order to lead the country towards the economic revolution he intends to undertake.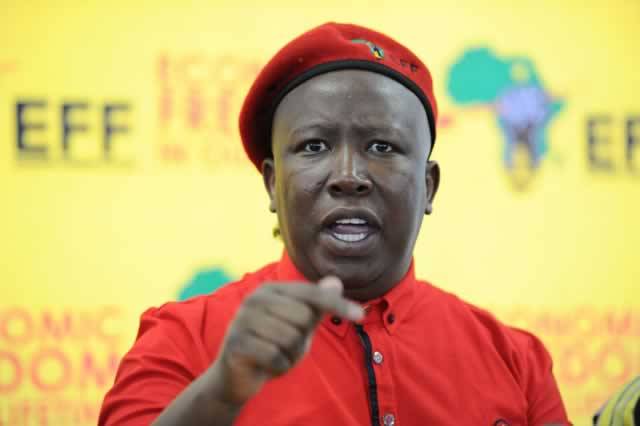 Julius Malema
URGENT: Suidlanders Reach out to Americans to Stop South African White Genocide. Source: occidentaldissent.com, Mar 16, 2017:

For a few days now, I had been getting calls from an unfamiliar number. I assumed it was just a solicitor trying to sell me something. After what seemed like the second or third time I have been called from this unknown number, I answered the phone this morning.

It turns out that I was being contacted by a South African group called the Suidlanders. A trusted comrade in the movement had given them my number. They are in the United States on a speaking tour to raise awareness about the rapidly worsening situation for Whites in South Africa. The Suidlanders are essentially the South African equivalent of our doomsday preppers except that they are prepping for the very real possibility of a Zimbabwe-style White Genocide.

None of what I was told by the Suidlanders this morning came as a surprise. I've been blogging about South Africa for years now. In recent months, I have written about the White ghettos, the black-on-white crime, particularly the horrific murders, and the news that President Jacob Zuma had thrown in his lot with Julius Malema and was calling for a united black front to dispossess White landowners. I've already written about it twice on my own initiative urging President Trump to intervene in South Africa and Congress to impose economic sanctions on South Africa.

So anyway, I was told the situation in South Africa is even worse than I thought. The ANC is losing power in South Africa after a 23 year reign. They are responding by scapegoating the White community for South Africa's problems. A civil war is a real possibility. The Suidlanders believe that a full blown crisis could be upon the White community within a month or two. They are over here to raise money in the event that they have to implement their Emergency Plan.

Here are some things you can do to help:

1.) Contact your representatives in Congress and urge them to impose economic sanctions on SA. I've already done so.

2.) Publicize this story on social media. Let's get the word out on Facebook, Twitter, YouTube. If you have a platform or radio show, contact the Suidlanders at .(JavaScript must be enabled to view this email address) to arrange an interview to discuss the situation in South Africa.

3.) If you support the South African cause, consider donating to the Suidlanders through their website.

4.) Pressure the Trump administration to intervene in South Africa. We made refugee crime in Sweden a big story. The South Africans are in much greater need of our help.

5.) Create buzz about this issue so it will enter the news cycle. Talk to your friends about it.

Note: Check out the podcast the Suidlanders did with Jared Taylor. If you are pressed for time, skip ahead to the 29:00 minute mark to get to the gist of the situation.
* Apartheid did apparently leave Asians to fend for themselves against Black Africans - and it is the reason many fled to The UK.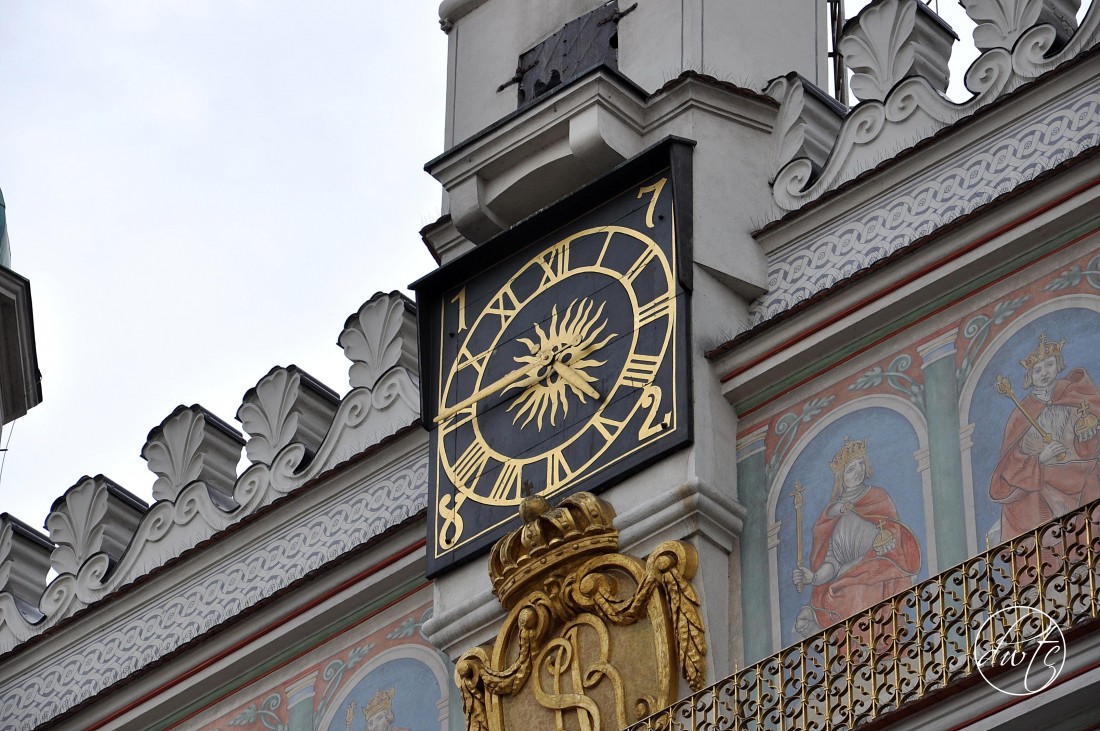 Western Voices World News, "Poland: Europe's Vanguard Nation," 1 March 2017"

In spite of its own internal issues, like every other European nation has, Poland refuses to take a single refugee because of 'security' fears. Poland has accepted less asylum-seekers per capita than almost any other European nation.

Poland will not be accepting a single refugee "because there is no mechanism that would ensure safety", the most powerful politician in the country has said.

Jaroslaw Kaczynski is the leader of Poland's ruling Law and Justice (PiS) party. PiS takes a nationalist, right-wing stance on most issues, vocally opposing EU plans to house and feed refugees fleeing the Syrian civil war and other humanitarian crises.

In a political broadcast published on YouTube, he said: "After recent events connected with acts of terror, [Poland] will not accept refugees because there is no mechanism that would ensure security."

The European Union has recently suggested that countries should be asked to accept a quota of refugees, or pay €250,000 (£200,000) for each asylum-seeker they turn away.

The money raised would be given to countries such as Greece, Germany and Italy who are currently housing a disproportionately high number of refugees.

But Mr Kaczynski also spoke out in opposition to these plans, which would see Poland asked to meet a quota of 6500 refugees or provide over €1.6bn (£1.25bn) in support for the humanitarian effort.

"Such a decision would abolish the sovereignty of EU member states – of course, the weaker ones," he said. "We don't agree to that, we have to oppose that, because we are and we will be in charge in our own country,"

Since taking control of the Polish government in 2015, the autocratic PiS has seized control of state media and the civil service, as well as passing a law to cripple the Polish supreme court by landing it with an unworkable caseload.

In 2015, Mr Kaczynski claimed that refugees were bringing "various parasites and protozoa" to Europe, including dysentery and cholera. PiS were elected on a vehemently anti-refugee and Eurosceptic platform.

With a population of nearly 40,000,000, Poland has a lower quota than other large European nations, though it is also a relatively poor country.

Last year, Eurostat found Poland accepted just 0.21 asylum-seekers per 1000 citizens, compared to 0.5 per thousand in the United Kingdom or 8.43 in Sweden.
At "Killer Culture" Peter Quiggins (Tierney) has put together this very caring and painstaking compilation of native Britons killed by migrant peoples, murders which have not received a fraction of the attention that the rare instance of a murder of a black, Steve Lawrence, by native Britons, has received. It is a quibble compared to this travesty that Quiggins addresses, but something to note nevertheless, that entitling the piece "Diversity Kills!" is a bit of mistake. Just like arguing "against equality" is bad tact, arguing against "diversity" is a trick that the YKW have set up deliberately because by default, under the powers that be, you are arguing for integration - the last thing that we'd want. Diversity should not be argued against at this point, the circumstances being what they are, with massive immigrant populations among, or in close proximity to ours not going away any time soon; in some cases, never - and all the more reason to take the cause of diversity for ourselves. However, his subtitle is quite fine stand alone: Britons murdered in Britain since the death of Stephen Lawrence: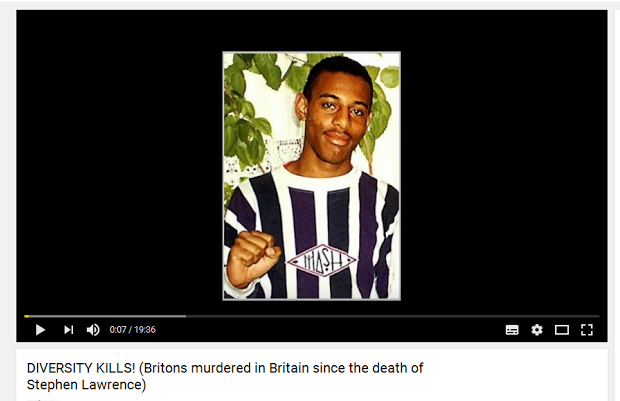 Stephen Lawrence has been mentioned over 2,000 times in Parliament.
MR carries great articles regarding the Stephen Lawrence case: A Nation Rejoices at last! - by Dan Dare; More Saint Stephenism on the way - by Guessedworker; The Crusade Against Discrimination in Britain - by Guessedworker; No Native Voices - by Guessedworker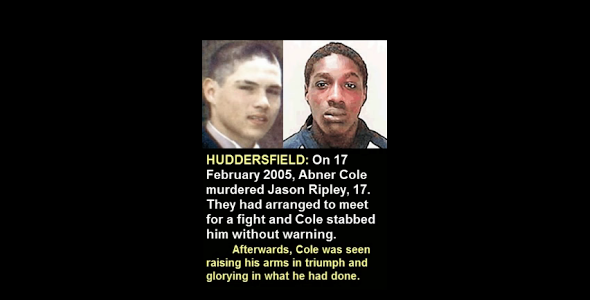 (Britons murdered in Britain since the death of Stephen Lawrence)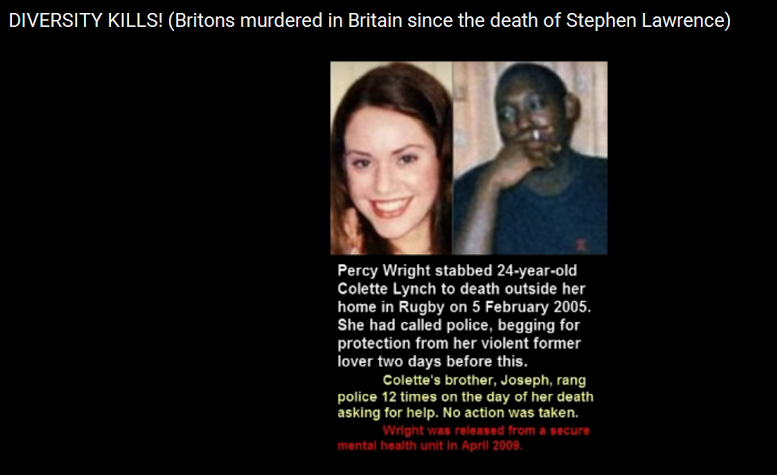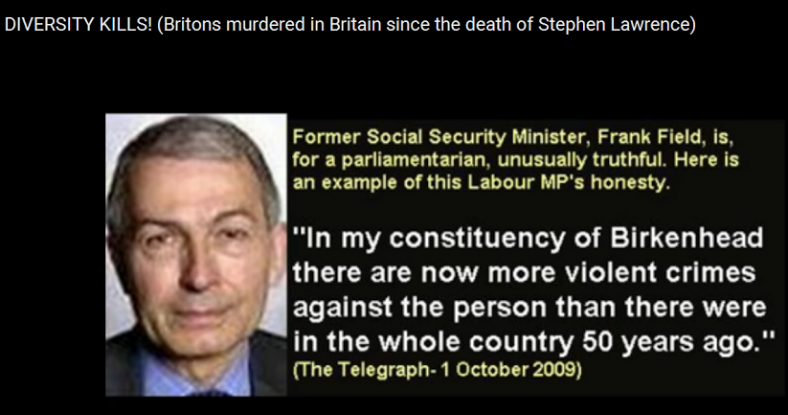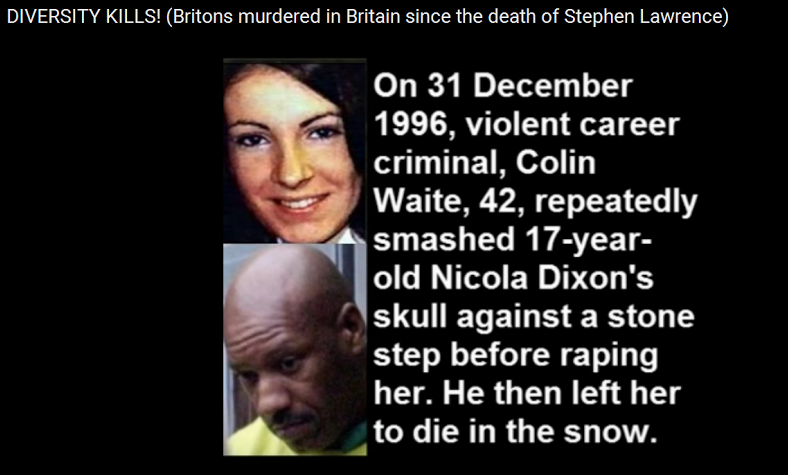 Backgrounding & Taken For Granted - Resistance is Futile. Add from Det Nya Landet - translation "Big Mulatto Brother"?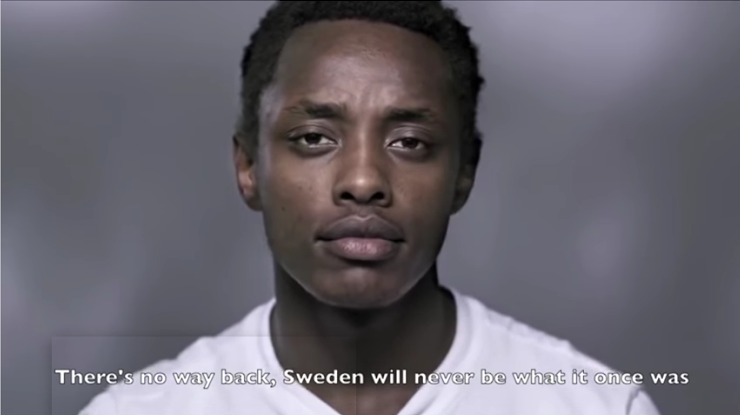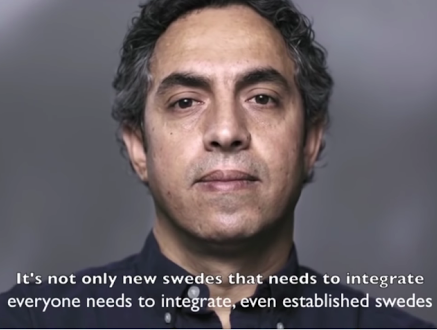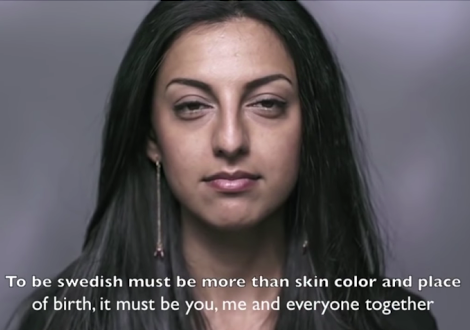 Below is another marketing campaign advert suggesting that "resistance is futile" - this one coming from the EU is a bit more subtle: It is an EU add run in Poland, and it is as if to suggest that blacks are to be taken for granted as a significant component of European history. However, in this instance, the "resistance is futile" message is not spoken, it is in the background - two blacks comfortably sit in the background of the same restaurant scene and a mulatto girl is fore-fronted; thus, backgrounding and taking for granted the interracial relationship of her parents.
The EU is backgrounding the racial integration of blacks, presenting to naive audiences (naive as to the bio-power of an invasive species) or audiences perhaps aware, but not in a position to voice objections (literally the case when these images are whisked-by semi-subliminally), that the place of blacks among them is something to be taken for granted. Resistance is futile, nobody will agree with your objection, it is taken for granted already.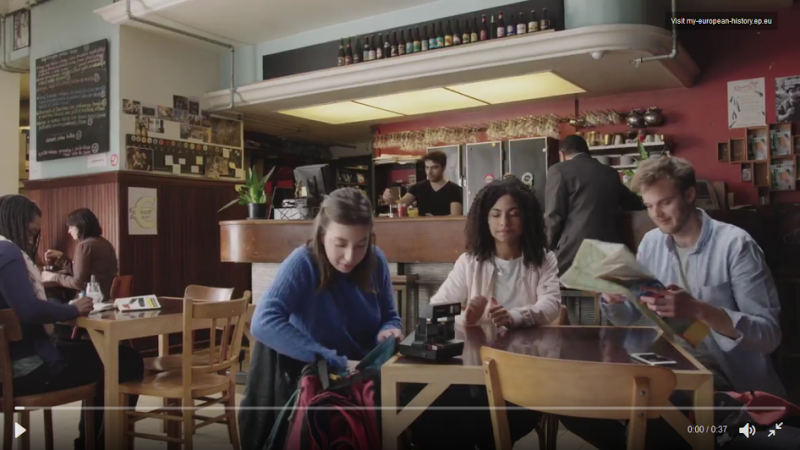 This is a screen shot from a quick add distributed by The European Union and shown in Poland to promote The EU's "My European History" program. Of seven people in the add, 3 are black. Of the blacks, a mulatto girl is centrally featured in the add, while the other two blacks are placed in the background, taking for granted their place in Europe and its history. The girl's mulattoness is also a form of backgrounding and taking for granted.
The add came by way of Twitter:
Parlament EuropejskiVerified account @Europarl_PL

My House of European History to kolekcja opowieści o Europie. Zgłoś swoją → https://my-european-history.ep.eu/?locale=pl ! RT i udostępnij!

#StoriesofEurope