Majorityrights News > Category: White Nationalism
While the profusion of churches throughout the world can be disconcerting, as they are devoted to a religion that is obfuscating and mis-directing the natural instincts of our EGI (ethnic genetic interests), there is a note of optimism in that some of these sublime structures and the artisanship that went into their making can be converted for religion aligned with our ethno-national interests.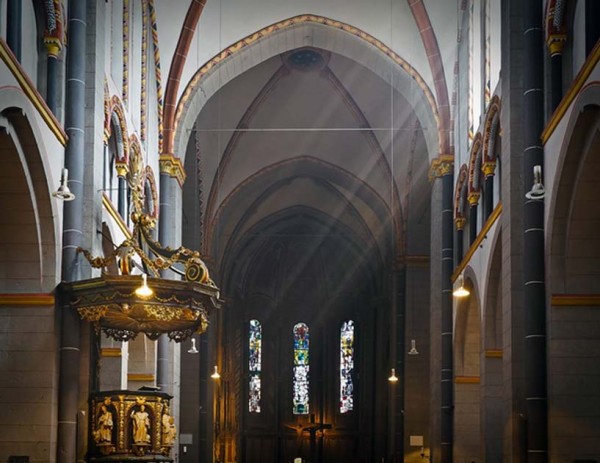 For example, hope for return to proper, natural religious function piques through some of the Spanish missions in California - some were configured to illumination of the solstice: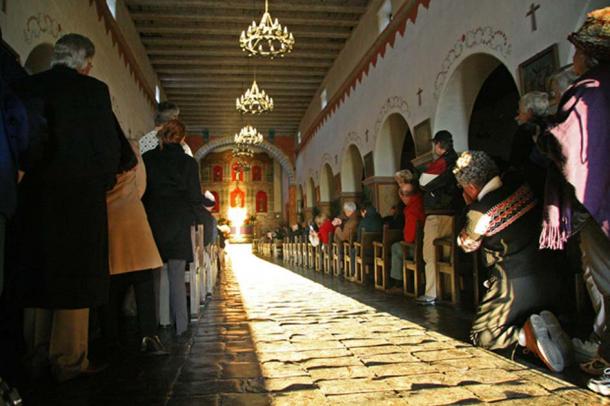 The 2007 midwinter solstice illumination of the main altar tabernacle of Old Mission San Juan Bautista, California. Rubén G. Mendoza/Ancient Editions, CC BY-ND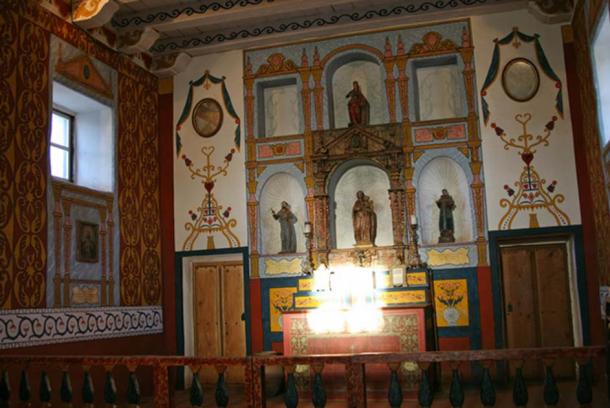 Winter solstice illumination of the main altar tabernacle of the Spanish Royal Presidio Chapel, Santa Barbara, California. The author first documented this solar illumination of the altar in 2004. Rubén G. Mendoza, CC BY-ND
On another level, some of the very elements of worship contained are only thinly veiled pagan icons and arrangement: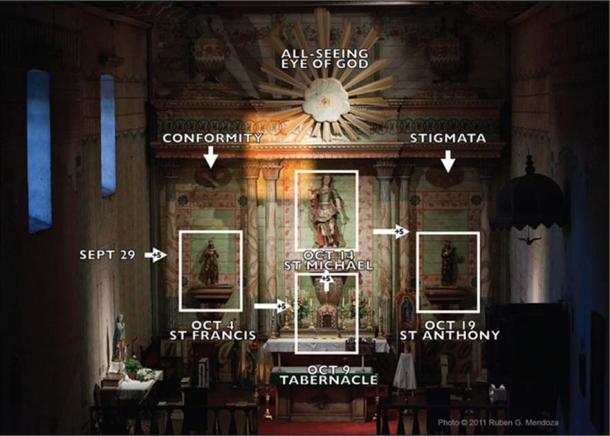 Schematic of the four successive solar illuminations of the saints of the main altar screen of Mission San Miguel Arcángel, California. Note illumination begins at the left with the Oct. 4 illumination of Saint Francis on his Feast Day. The author first identified and documented this solar array in 2003. Rubén G. Mendoza, CC BY-ND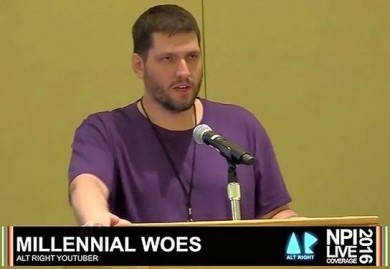 Mirror, 9 Jan 2017: "Racist vlogger who became global YouTube sensation unmasked"
...etc., so the headline and the hit piece reads.
On 5 June '15, Millennial Woes came to Majority Rights and left a comment * insisting that his link be removed from this site because I, DanielS, would not accept his friend, The Truth Will Live, a.k.a. (((Ruth))), as a part of our struggle, let alone as having a place to define our terms. I consider his position in her regard to have been naive at best, but probably more like an unsavory deal with the tentosphere. I really don't approve of this defense of the Jewish tent of the tentosphere. In addition, his going along with the Alt-Right's attribution of "THE Left" as the enemy is unacceptable; finally, he is annoying in coupling this attempt to join the Alt-Right in muting our platform, while perhaps garnering some of our ideas and auguring to misdirect them.
Even so, the doxing and smearing of him by a purportedly objective news source, The Mirror, is way out of line. Even I don't think he is remotely that bad or that he deserves that. But then again, beware the right, Alt-Right too - it's an unstable arrangement - the right has come back to bite countless adherents and those with misfortune to find themselves on the other side of their reactions over the years.
* The Millennial Woes comment that I am referring-to comes as the second in a series of three comments dated 3 - 5 June 2015, viz., #6, #14 and #17 and occurs withing the post called "The Lies Will Try To Live But They're Not White, They're Jewish."
Posted by Millennial Woes on Wed, 03 Jun 2015 12:27 | #6

Ruth, who has the channel "The Truth Will Live", is a close friend of mine. She and I speak regularly about the key issues of the alt-right, including the JQ, and she is on-board with all of it. In particular, residing in a Somali-heavy area of the US, she has to deal with their shit just like the rest of us do, and she hates it and opposes immigration from the Third World as wholeheartedly as any of us do.

To repeat, she is a close friend of mine and I know that she is a good, kind, decent person. I think it is wrong of you to besmirch her unless you have some evidence that she is a fake.

PS. And no, she didn't ask me to write this post! AFAIK she doesn't even know about this article.

Posted by Millennial Woes on Fri, 05 Jun 2015 11:41 | # 14

DanielS,

I understand your position, and I do understand the danger. However, I cannot stand by as my close friends are bad-mouthed when they have done nothing wrong whatsoever. (Note that you conflate Ruth's statements with Rachel Haywire's, when they are two very different people.)

Though I am grateful to your site for linking to my channel this last year or so, I ask you to remove that hyperlink now. I do not want to be associated with a site, however worthy it might be, that insults and dismisses my own friends.

Thank you, MW.

Posted by Millennial Woes on Fri, 05 Jun 2015 20:26 | # 17

DanielS "One extreme is to do the Christian services bit, helping Africans to no end. The other is to not care." She says it is wrong and extreme because they cannot take care of themselves well enough and it is the White man's burden to help them.

This golden rule is one of the most Jewy things imposed on Whites from the Bible.

MW: That's very strange, because it was I, a non-Jewish, non-religious, British-native white guy, who introduced Ruth to the idea that the White Man's Burden is a real thing - having arrived at this belief myself without any help, Jewish or otherwise. I came up with it, of my own volition, based on my own observations of my (white, non-Jewish, non-religious) people.

DanielS If you are that defensive of these women then we would view your link as a bum steer anyway.

MW: I don't even know what that phrase means. All I'm asking for is decency. Without a shred of evidence, you are ascribing a calculating, deceitful nature to a woman who simply doesn't have such a nature. If defending her makes me "defensive," so be it.
Millennial Woes argues that I conflate Ruth and Rachel Haywire, but I do not. In fact, my position with regard to Ruth was developed with interviews of her separately. Nor was I picking on her without evidence or for trivial reasons - it is most important to separate White advocacy from her sort of influence. For the record, I did not conflate Ruth's position with Rachel's: Ruth wanted to define the left for us, to encourage Abrahamism, she said that she believes in "the White man's burden" (that we owe help to Africans); and in the end she would pursues an agenda to have us treat Jews as a part of our cause, having kindred issues and concern for Western culture. But for a myriad of reasons, it is critical that there be White advocacy platforms free of Jewish influence (active influence, in particular), however benign it may appear (and the reason to discriminate against this one (((Ruth's positions))) wasn't really particularly hard to discern).
Reddit, "Yesterday a POLISH man accidentally hit a Kebab takeaway with a firework. THE OWNERS RAN OUT AND STABBED HIM TO DEATH BECAUSE ISLAM. Today BASED POLES are taking a stand and tearing down the takeaway brick by brick. SHOW THEM SOME LOVE!!HIGH ENERGY (youtube.com)
JewishPress, "Riots in Poland after Murder of Polish Man by Arab Immigrants", 2 Jan 2016:

Riots erupted in Elk, north-eastern Poland, following to the murder of a local resident on New Year's Eve, PAP reported.

According to PAP, on Saturday night, December 31, between 10 and 11 PM, a 21-year-old local resident named Daniel allegedly threw a firecracker at an Elk café called Kebab Prince. The café is owned by a local entrepreneur, and managed by immigrants from Tunisia, Algeria and Morocco. The café staff ran out at Daniel and, according to reports, stabbed him twice, which resulted in his death. The attackers were later arrested in connection with the stabbing murder.


Kebab Prince

On Sunday, January 1, according to police, the café building was surrounded by between 200 and 300 locals shouting Nazi slogans. They threw firecrackers and stones into the place, knocked down the glass window, destroyed the equipment inside and eventually set fire to the premises.

When police arrived at the location, the rioters began throwing stones at the officers, damaging several police cars. Next, the angry mob moved on to a second café belonging to the same owner, which they also burned down.

By Sunday evening a few dozen people were arrested in connection with the riots.

Elk Mayor Tomas Andrukevich appealed to local residents to remain calm and to honor the memory of the murdered man.

Before World War II, the Elk (then Lyck) and its surroundings were almost 95% Lutheran. After the majority German population was expelled, the majority religion in Elk became Roman Catholicism.

Lyck was the city where the first-ever weekly newspaper in Hebrew, HaMagid was founded in 1856 by Rabbi Eliezer Lipmann Silbermann. The paper eventually moved to Berlin. The local Jewish population was being persecuted even before the Nazis took power in 1933. In 1932, local pharmacist Leo Frankenstein was attacked – a hand grenade was thrown into his home. The wave of anti-Semitic attacks intensified after 1933 and many local merchants and intellectuals of Jewish descent were arrested. During Kristallnacht, Jewish shops and synagogue were plundered and destroyed in Lyck. Many Jews fled Lyck, some getting as far away as Shanghai. Of the Jews who stayed, 80 were murdered in German-Polish death camps.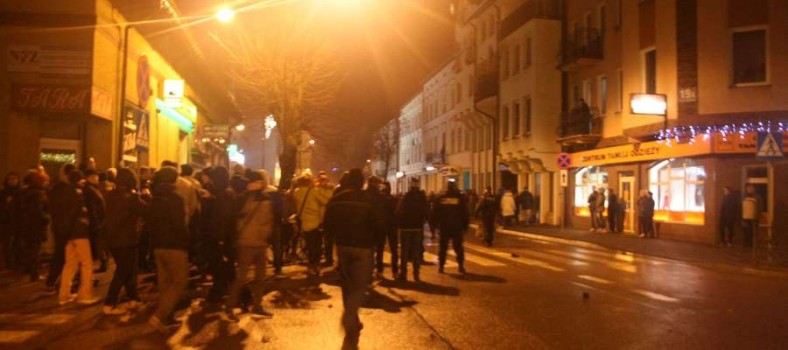 Clouds Over Europe, "More than 250 rioters SMASH kebab shop after 'group of Arab men stab young local to death"
At least 25 people were detained in the Polish town of Elk on Sunday after they smashed up a kebab diner and clashed with police, throwing firecrackers and stones. Up to 300 people took part in a rally after a Pole was allegedly killed by men of Arab descent.
TNO, "French Mayor on Trial for Truth", 24 Dec 2016:

The French mayor of the town of Béziers has been charged with "hate crimes" after saying that it was a "problem" that a class in a local school was 91 percent Muslim.

The charges were brought by the Jewish "International League against Racism and Anti-Semitism" (Ligue Internationale Contre le Racisme et l'Antisémitisme, LICRA).

Mayor Robert Menard denied his comments were discriminatory, saying he had "just described the situation in my town."


"The most striking proof of the great Replacement in progress. Just look at old class photos." - Mayor Robert Menard.

The comments were made back in September 2016, when Menard told French news channel LCI that "In a class in the city Center in my town, 91 percent of the children are Muslims. Obviously, this is a problem. There are limits to tolerance."

At the same time, Menard tweeted his regret at witnessing "the great replacement" of France's white population by Third World invaders.

According to French media, his comments were "seized upon" by LICRA, and the Jewish group immediately pressed charges for "hate" and "incitement."

After months of deliberation, Menard's trial date has now been set for March 8, LICRA announced on their Twitter feed.

After months of deliberation, Menard's trial date has now been set for March 8, LICRA announced on their Twitter feed.
Tanya Gersh has called upon Sherry Spencer to sell her Whitefish, Montana building.
Richard Spencer's mother, Sherry Spencer, had no intention of selling her Whitefish, Montana building until she received terrible threats, the threats she said came from Tanya Gersh, a local realtor with links to so-called "human rights" organizations.
According to Sherry Spencer, on November 22nd, Tanya Gersh spoke with her on the phone and she relayed that if Sherry Spencer did not sell her building that 200 protestors and the national media would show up outside - which would drive down the property value - until she complied. Gersh's other conditions included that Mrs. Spencer should publicly denounce her son in a statement written by the Montana Human Rights Network and that she make a donation to this organization from the sale of the property. As Gersh announced on Facebook, she was "spear heading" the campaign.
Gersh followed up on her conditions in a number of emails, which have been made public. She even shamelessly suggested that she act as Sherry's realtor! In other words, she and the local "human rights" organizations appeared to seek financial benefit from threats of protests and reputation damage. They also threatened tenants currently leasing space from Spencer's mom.
Sherry had no intention of selling her property in Whitefish until being harassed and receiving this pressure from Tanya Gersh, as leveraged by threats of protest from the anti-racist protest organizations - Love Lives Here and Montana Human Rights Network - apparently at her behest to serve three functions:
1) To punish her son for promoting White Nationalist sovereignty.
2) To profit her local real estate business by instigating Sherry to a fire sale of her property.
3) To profit liberal groups such as "Love Lives Here" through donation of sale proceeds to them or similar anti-racist organizations: which generally oppose the necessary practice of social classification and discrimination on the basis of those social classifications (a least as Whites may render them - as such, they call it "racism"); despite the fact that capacity for social classification and discrimination is humanly impossible to avoid and absolutely necessary for survival of and against certain human species; as well as a generally necessary practice in defense against predation in order to facilitate human and pervasive ecology.
The mother of white supremacist Richard Spencer claims she is suffering financially due to the backlash against her son's controversial views.

Sherry Spencer, who lives in Whitefish, Montana, said she is being forced to sell a building she owns in the small town because residents are rebelling against her son.


Sherry Spencer says she is being forced to considering selling the building she owns at 22 Lupfer Avenue (pictured), because of backlash against her son.

Richard Spencer shot to prominence last month when footage emerged of him delivering a 'hateful speech' at a white nationalist meeting held to celebrate Donald Trump's election win.

A video by The Atlantic taken inside the Ronald Reagan building showed Spencer, leader of the National Policy Institute, shouting, 'Hail Trump, hail our people, hail victory!' as some of the people in attendance lifted their hands in a Nazi salute.

He also claimed America belongs to white people, who he suggested are faced with the decision to either 'conquer or die'.

The speech drew intense criticism from the US Holocaust Memorial Museum, which said in a statement Spencer made: 'several direct and indirect references to Jews and other minorities, often alluding to Nazism.'

'He spoke in German to quote Nazi propaganda and refer to the mainstream media. He implied that the media was protecting Jewish interests and said, "One wonders if these people are people at all?"'

And according to Sherry Spencer, the criticism has been echoed by people in her hometown - where he son also has a business registered and visits regularly.

Sherry Spencer told KTMF she is selling a building she owns at 22 Lupfer Avenue, which she currently sublets. It houses a beauty salon and vacation rentals. She also runs a real estate business from the building.

'As painful as this is, I am exploring a potential sale of the building,' she said.

She also took aim at a local human rights group, Love Lives Here, and accused it of damaging her family.

'We are stunned by the actions of Love Lives Here, an organization claiming to advocate tolerance and equal treatment of all citizens, yet coursing financial harm to many innocent parties,' she said.

One of the strongest opponents to Sherry is local real estate agent Tanya Gersh, who said Spencer has backed her son and allowed him to spread his views.

'She is profiting off of the people of the local community, all the while having facilitated Richard's work spreading hate by letting him live and use her home address for his organization,' Gersh told the network.

Love Lives Here also responded to Sherry's remarks, saying it 'did not know what she (was) talking about'.

'We don't cause financial harm to anybody,' co-founder Ina Albert said, before going on to say the group does not have a specific problem with the Spencers.

'I don't know what (Richard) does when he comes here. But that is not our problem with Richard Spencer.

'It is the National Policy Institute and what that stands for and our town being smeared by his philosophy.'

The National Policy Institute was established in 2005 by Spencer, and it is described by the Southern Poverty Law Center as 'hate group'.

Gersh went on to call for Sherry to sell the building immediately, and then use the money to help human rights causes.

'(She) Could address this by selling the building, making a donation to human rights efforts, and making a statement in opposition to white supremacist ideas spread by Richard,' Gersh said.

Sherry Spencer also told the network she loves her son, but does not agree with his 'extreme positions'.


Sherry Spencer is pictured with her husband Dr. Rand Spencer at a benefit in April 2016
As Sherry Spencer writes:

These threats came from Tanya Gersh, a local realtor with links to "human rights" organizations Love Lives Here [Phone: 406-309-5678] and the Montana Human Rights Network [Phone:406-442-5506].

On November 22, Gersh and I spoke on the phone. She relayed to me that if I did not sell my building, 200 protesters and national media would show up outside — which would drive down the property value — until I complied. Gersh's other conditions included that I make a public denunciation of my son in a statement written by the Montana Human Rights Network and that I make a donation to this organization from the sale of the property. As Gersh announced on Facebook, she was "spear heading" the campaign.

Gersh followed up on her conditions in a number of emails, which I've just made public. She even shamelessly suggested that she act as my realtor! In other words, she and the local "human rights" organizations appeared to seek financial benefit from threats of protests and reputation damage.
Richard Spencer destroys a Rabbi asking a "Inclusion" question, Jew refuses to support Diversity
Visigrad Post, "Slovakia Prevents Islam From Becoming A State Religion", 1 Dec 2016: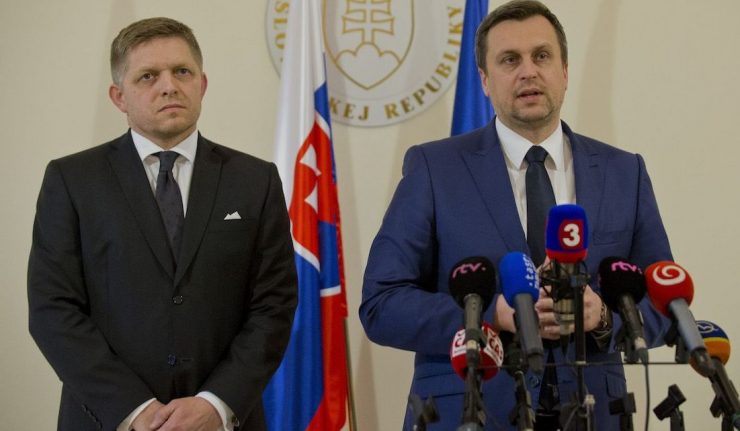 That's the way to do it: make Islam illegal.
Slovakia – On Wednesday 30 November the Slovak parliament passed a law proposed by members of the coalition of Prime Minister Robert Fico to prevent Islam from gaining official status in Slovakia.

The Slovak National Party (SNS) proposed that, in order for a religion to be formally recognized by the State, it should have at least 50,000 members -instead of the 20,000 members before that law- and so to have State grants and run its own schools.

For the time being according to the latest statistics Slovakia has 2,000 Muslims, 5,000 according to the Slovak Islamic Foundation. On the 5.4 million inhabitants in Slovakia, 62 per cent declare themselves Roman Catholics.

The president of the Slovak National Party Andrej Danko said on this subject that "Islamization begins with a kebab and this is what happens in Bratislava, we must be aware of what we could face in 5 or 10 years … We must do everything in our power to ensure that no mosques are built in the future."

The law was approved by two-thirds of the Slovak parliament, including the ruling coalition headed by left-wing prime minister Robert Fico and opposition parties. The Nationalist Party The SNS then proposed that not 50,000 but 250,000 should compose an official religion, which was immediately rejected.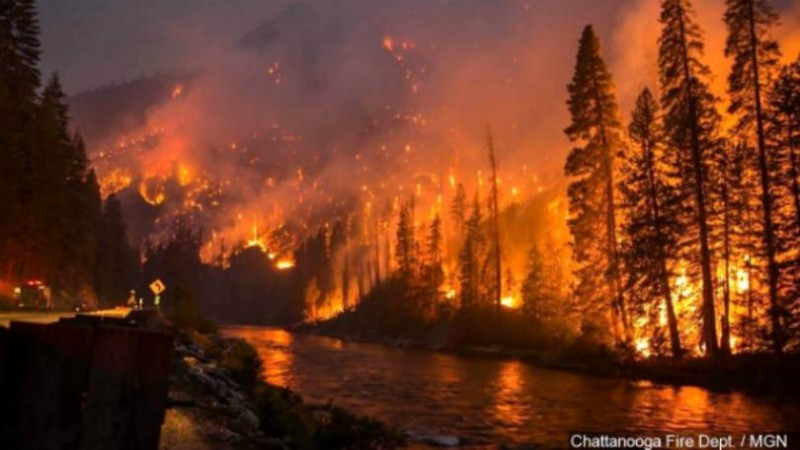 Though a resort area, and mostly White area, one in four people there live below the federal poverty level.
USA Today, "Extent of Tennessee fire damage comes into grim focus", 30 Nov 2016:

The center of Gatlinburg's tourist district escaped heavy damage, but "it's the apocalypse" on either side, said Newmansville Volunteer Fire Department Lt. Bobby Balding.

[...]

"In my 25 years of federal (park) service, I've participated in many fires, but none of that could have prepared me for this."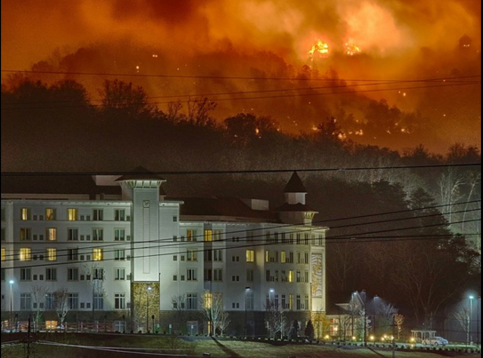 CNN, "Gatlinburg fires: 4 dead; crews search for missing", 30 Nov 2016:

Investigators believe the trail fire was "human caused," without offering further information, but it's still under investigation.