Majorityrights News > Category: White Nationalism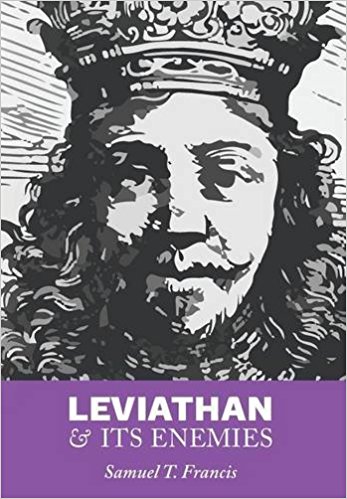 Sam Francis was creating 'young fogies" - Alex Linder.
It's going to require some nuance, but it is important to explain why James Lawrence is a walking piece of dog shit masquerading as a human being, a manifestation shown in is article at (((Alternative Right))):
Alternative Right, "THE COSMOPOLITAN CLASS", 24 Sept 2017.
In brief, James Lawrence has elevated Sam Frances young fogeyism = an aspiration to conceive of oneslelf as precociously wry in protection of the "traditional", already Jew infested culture, against "progressivism" - i.e., anti modernism without being sufficiently post modern (to incorporate both modern and inherited ways), as it stops with neo-traditionalism, read (((paleoconservatism))).
Now, Frances, and by proxy, Lawrence have some things right.
Namely, that there is a significant portion of influential White people circulating among our elite functions who do not have our ethnonational interests at heart. More, that there is a managerial elite who want to share in this self interested good fortune, who will thus also betray ethno nationals in order to gain favor of this elite, internationalist power.
It is also true that both these kinds of White people can gain international backing by importing foreigners against Whites (or exporting elitist interests, e.g., compradors, against ethnonationals) and they can and do also virtue signal by sacrificing Whites and quelling any backlash against foreign impositions on ethnonationalism.
But I more accurately and descriptively call these people right wingers, and their underpinning objectivism (which is directed by Jewry - hence, Lawrence's commitment to end his article in (((his masters))) bidding by espousing the "true right" on behalf of (((paleoconservatism))) against "the left"..."the Cosmopolitans" and the occasional bad Jew - yes, they have bad ones too, he knows.
Here Lawrence takes a turn into disingenuous speculation, by saying these Whites who betray eithnonationalism are not "traitors" - well, objectivists are not perfectly described "traitors", true - they are loyal to their own subjective interests through a disingenuous pretense of objectivism or naively subject to the subjective/relative interests of others through the pretense of objectivism.
Although there are distinct patterns of the treacherous Whites among elite positions, there is not necessarily a well organized elite group to which they subscribe as Lawrence would provide for the diversion of conspiracy theorists - it is more facile than that.
Indeed, the only real reason to circumscribe it so perfectly with the designation of a "Cosmopoitain" elite which is strictly loyal to its in group, is to function as a tool for Jews to deflect attention away from what is indeed their more organized half of the elite internationalist equation. So that they can point to their (((paleocons))), who can say, "see? we are the good ones", we have paleocons who are on your side, not like those bad Jews, we're here with you to protect your (((Christian traditions))) against those "Cosmopolitan elites" and the occasional bad Jew, like Soros and neo cons like William Kristol.
That is to say, like the site Alternative Right, James Lawrence is disguising, perhaps even to himself, the fact that he is kissing Jewish ass in order to keep his means to power afloat.
White elites who betray our interests are indeed one giant pole of our problem, but their loyalty functions a bit more arbitrarily on the happenstance of subjective fortune and selling out; along with the mutual admiration and facile croneyism of their "objective" attainment, which is why, in their unaccountabilty, they are so easily bribed and outmaneuvered by the Jewish group, which is organized as a distinct group and which will send forth posers as representatives of (((paleoconservatism))) against the "Cosmopolitan" elite.
That is to say, objectivism functions in a much more slippery way against ethnonational interests and Jewry knows how to play it - e.g., through reactionary narratives like those of Sam Francis and James Lawrence. It is a nebulous, quasi group created de facto by the ever present temptation of facile betrayal in self interest interest, and that is why it requires the ever present default vigilance of accountability through left nationalism and its White variant, the White class, White Left nationalism.
Why I Left The Altright, Sept 20, 2017:

viz., regarding AltRight.com Inc.

Jason Reza Jorjani writes:

A recent piece of trash 'journalism' in The New York Times entitled "Undercover With the Alt-Right" features video footage of me that was obtained surreptitiously and under false pretenses. It has been deceptively edited to make it appear as if I am advocating genocidal extreme right-wing policies. The five minute clip has been spliced together from a two hour meeting in a pub. My nightmarish prediction of a future that would follow from Western policymakers' failure to address the Muslim migrant crisis in the present has been taken out of context and made to appear as if it is advocacy for "concentration camps and expulsions and war… at the cost of a few hundred million people." It is one thing for such a deceptive film clip to have been produced by the Antifa organization Help Not Hate, it is another altogether for it to be embedded into a New York Times article. Jesse Singal and the Times are responsible for libel – or worse. I had a long and heated conversation with Mr. Singal in the course of which I clarified the concealed context of my butchered statements, but he did not convey my clarification in a responsible fashion when reproducing Antifa's slanderously spliced misquotes of me.

The article also suggests that the Alt-Right Corporation was created in a context that involved my dialogue with individuals in the Trump Administration, and that our aim was to become their policy advisement group (comparable to the Straussian think tank inside the Bush-Cheney Administration). In this context, the one-sentence parenthetical reference to my August 15th resignation from the Alt-Right Corporation and Arktos Media makes it appear as if I left the corporation only because lines of communication to people who had the ear of President Trump were cut off. It is true that my greater responsibilities to the Iranian opposition were not the sole cause of my departure. The formation of the Iranian United Front during the very same days as the Charlottesville disaster were only an opportunity to leave an organization with which I was already profoundly dissatisfied – an organization that I created. The New York Times hit piece did get one thing right, I was in fact "the architect of the Alt-Right Corporation." I suggested it to Richard Spencer. I'm afraid the time has come to confess why I did that, and to explain what the organization was supposed to be as opposed to what it has become.

Just after a very warmly received speech on "Occult Science and the Organic State" at the Identitarian Ideas conference in Stockholm in October of 2016, Daniel Friberg hired me as the Editor-in-Chief of Arktos Media – the press that had published my first book, Prometheus and Atlas, which went on to win the 2016 Parapsychological Association Book Award (the PA is a serious scientific organization accredited by the AAAS). In November of 2016, on the heels of President Trump's electoral victory, I attended the National Policy Institute conference in Washington DC in my capacity as a book distributor. In addition to being Editor-in-Chief, I was also the Head of Arktos US, so I was there manning the book stand. Richard Spencer and I had barely known each other for 24 hours when he called me up to the stage to present my vision for the future evolution of Arktos under my editorship. But subsequent events would draw us together.

You see, on account of the grossly distorted propaganda perpetrated by mainstream media infiltrators who lingered at our private dinner after the NPI press conference was dismissed, a mere handful of Roman saluting folks out of the more than 300 attendees cheering for Richard's speech were used to tar the entire gathering as some kind of Neo-Nazi rally. Less than a month after #Hailgate, a very prominent academic Philosophy blogger ran a story branding me as a "Neo-Nazi". The Leiter Report on me identified both my doctoral granting institution, the State University of New York at Stony Brook, and my place of work, the New Jersey Institute of Technology. Shortly thereafter, at a SUNY Stony Brook faculty meeting, I was denounced as an "Aryan White Supremacist" and a review of my doctorate was suggested with a view to making a public statement that would, for all intents and purposes, invalidate my degree in the eyes of my present employer and any future employers. The faculty forgot that I was still subscribed to the department listserv, and I was afforded the possibility of preparing a preemptive response that warranted further media coverage within the academic sphere. Leiter, however, dug his heels in.

Even the community of rebel scientists who had embraced me just months earlier, by honoring Prometheus and Atlas with the highest award in their circles, turned on me with a vengeance. Fortunately, thanks to the intervention of two prominent scientists whose names I will not mention, but one of whom is a Nobel Laureate, discussions about expelling me from the Parapsychological Association (PA) and the Society for Scientific Exploration (SSE) ended with a decision to publicly uphold the apolitical character of these organizations. Privately, however, the damage was done. I became a heretic even among heretics.

When the post-Hailgate writing was on the wall for me in academia, Richard Spencer visited New York for a few days. His right hand man, former Radix journal editor 'Hannibal Bateman' (who I really respect), slept over in my apartment and Richard and I got to spend a lot of time together. Between a business lunch at my favorite Persian restaurant on one day, and a long evening that ended with a Dionysian, intoxicated hours-long discussion at my apartment, my idea for a corporatist unification of the major institutions of the Alt-Right movement was seeded in Richard's psyche. But Richard did not know something about this act of inception, which I commemorated by leaving an Easter egg for the future in this picture that I suggested we take in front of Hermes, the Trickster, that evening.

What Richard did not know I disclosed to him about a month later during a late night dinner at the Hamilton restaurant in DC. After publishing Prometheus and Atlas with Arktos Media, I was approached by some people who had already been aware of my (entirely voluntary and unpaid) high-level advisement work with the (501c3 non-profit) Iranian Renaissance organization. These individuals facilitated some initially promising private meetings with incoming Trump Administration policy makers, with the aim of interesting them in our vision for an Iranian cultural revolution. They wanted to help build a new Persian Empire that would offer the West a staunch ally in the war against a nascent Islamic Caliphate. I was told that my book, Prometheus and Atlas, expressed exactly the kind of vision that they had for the future evolution of Man.

Hillary Clinton had given the so-called "Alt-Right" a great deal of unwarranted media attention, to the point where she helped to damn-near mainstream what she herself had described as a "fringe" movement. If the total mess that was then the Alt-Right could be unified, under my intellectual and ideological leadership, then it could be used to forward the aims that these backers claimed to share in common with me. This would have involved a course-correction that extricated the Alt-Right from the ghetto of "White Nationalism" – or as the mainstream media calls it, "White Supremacy" – toward a discourse of Indo-European identity. This inclusion of the Persian, Indian, and Buddhist traditions of the Eastern Aryan world was integral to another key aim: to transform divisive and defensively weak ethno-nationalism into a different vision for a new world order than the deracinating one of soulless globalist financiers. An inclusively identitarian Indo-European Community would be strong enough to take on China and Islam in the battle for planetary hegemony, as humanity faces existential threats from convergent advancements in technology that promise a superhuman future but could also yield a horrifyingly transhuman dystopia. My second book, World State of Emergency, basically lays out what we had in mind.

I corporatized the Alt-Right because a corporate structure allows for both outside investment and hierarchical governance. The key was to have a real brain installed at the pinnacle of the hierarchy. I was supposed to be the conduit for a major investment during the formative phase of the Alt-Right Corporation, and thereby assume its leadership – at least as far as fundamental questions of ideology were concerned. After listening to my explanation of who my potential backers were, and of what capabilities they had (which I urge him, even now, not to disclose for his own sake), Richard agreed that granted such an investment would be forthcoming I would be on point. What was especially compelling to him was the promise of direct engagement, through me, with people inside the White House such as Steve Bannon – something my backers suggested that I could, and should do, but that would not be possible with Richard at the helm. (Bannon, an avid reader of Julius Evola, is consequently familiar with Arktos, one of the only two English language publishers of Evola's writings.) After this meeting with Richard, I went on to discuss this scenario with every single core board member of our company, including Arktos CEO Daniel Friberg. In February of 2017, during another Identitarian Ideas conference in Stockholm, where the lead-in to my speech on "The Failure of Democracy" hinted at my central role in forming the Alt-Right Corporation, Daniel and I even shook on this deal.

That policy speech, in February of 2017, just a few weeks after the formation of the Alt-Right Corporation in late January, was supposed to be a prelude to the investment that I was promised would come later the same month. Well, the investment did not come in February. I was told that the funds would certainly be available by March. Then it was explained to me why there would have to be another delay until May. Meanwhile, Daniel Friberg had moved from a 53% shareholding in Arktos Media to 82%. This was never supposed to happen. I was promised the funds to buy out troublesome shareholders at Arktos and become Daniel's partner, rather than his employee.

I am afraid that I cannot disclose the reason for the repeated delays without also revealing the precise source of the funding and classified information about the particular persons involved in securing it. Suffice it to say, consulting open source material in the mainstream media will inform you that beginning in February of 2016, there was a sustained campaign by Neo-Cons and Neo-Liberals to derail the Trump Train. This began with the dismissal and threatened prosecution of General Michael Flynn, and continued with the sidelining of Steve Bannon. (Eventually this ended with the train-wreck of Bannon being forced out in August, the month I resigned from the Alt-Right.)

In addition to losing my opportunity to acquire a major shareholding in Arktos, Richard and Daniel increased their shares in the Alt-Right Corporation at my expense by making a deal involving what Richard admits was "monopoly money." Richard "sold" his website altright.com to the corporation, while Daniel made his website Metapedia a joint holding as well. At a board meeting on May 9th, Richard and Daniel came up with arbitrary monetary values for their websites, $10K and $15K respectively, and gave themselves 25% and 30% of our corporate shares, reducing my shareholding to 10% in the process. Initially, we had a 'knights of the round table' share structure, with each partner as an equal shareholder, a provisional arrangement arrived at as we awaited the funding that would have established me as the majority shareholder. If I were to apply the same principle that they did with their "monopoly money" deal, the scale of investment that I was supposed to bring in to the Alt-Right Corporation would have left me with something like a 95% shareholding.

Moreover, once the ownership of altright.com was officially handed over to our board, during a board meeting Tor Westman, who I insisted be brought onto the board in the first place (against Richard's objection), suggested that not everyone on the board should have access to the domain account information. Daniel added that not everyone on the Arktos Board had access to the Arktos website domain information (he meant me), and that it should be handled on a "need to know" basis. While this discussion, which took place with me present, was couched in terms of a suspicion of Henrik Palmgren of Red Ice, who was absent, Richard rightly understood Daniel's remarks as aiming to exclude me and agreed by replying, "I don't think Jason would go in and change anything, but…" He didn't need to finish the sentence. He only added that after restricting the access to Richard, Daniel, and Tor, the passwords should be changed.

What is worse is that in the long months of the Spring of 2017, as I waited for funding to materialize, I watched the corporation that was my brainchild turn into a magnet for white trash. Exactly the kind of people who were supposed to be sidelined by my centralization and corporatization of the Alt-Right were cultivated by Richard as the populist base for 'his' movement. I was sorry to see Daniel's Arktos affiliated and European-centered Right On journal, which had been in the business of publishing serious intellectual content when John Morgan was editing it, merged into an altright.com news and 'perspective' platform that has about as much perspective as a tabloid. The comments sections of our website devolved into a cesspool filled by the most despicable pond scum, former 4-chaners who would routinely pile on in trolling attacks against me every time I published something with a bit of intellectual content. "Iranians is brown poo-poo people" kind of sums it up. I decided to stop contributing until the investment came in and I could really clean things up. When Daniel and Richard agreed to lazily use Daniel's "Points of Orientation" from his pamphlet, The Real Right Returns, as the basis for an ideological statement to appear on the website, consulting the serious philosopher on the board to help edit it was only an afterthought to them.

In May, at a meeting in London, I was assured by the investors that the obstacles had at last been cleared and I could expect our collaboration to begin in June. When I reported this to Richard at a New York lunch at the end of the same month, he thoughtlessly and angrily dismissed a plan that the investors had shared with me for creating an economic and security corridor from the Baltic Sea to the Black Sea and across to the Caucasus. This "Neo-Scythian" Ukraine-based approach to the long-term revitalization and liberation of Europe – linked to a future, post-Islamic Greater Iran via the Caucasus – offended the Russophilia that has been fostered by his wife.

So I cannot say I was surprised when the backers ultimately failed to follow through with their long-promised investment. By late June the movement was long past its embryonic stage. A deformed creature, a mindless Frankenstein's monster had already entered the world. Of course this would not have happened if, between February and May, the angel investors had made good on their promises. Even though they are now responsible for my being libeled in the New York Times, potentially at the cost of my career in academia, I will not reveal their identities. It would catalyze a mainstream media scandal that none of us want to see. I am not interested in testifying before Congress, because the truth I would have to tell is stranger than fiction.
The key difference is that we are Left Ethnonationalists, therefore Not imperialists, not supremacists, with no aim of genocide or its denial; thus, if our organizational meetings were infiltrated the only possible complaint would be that we wanted separatism and sovereignty; we do not want "them" to be part of our government and governing; do not want them imposed upon us; and if they refuse our wish for separatism and sovereignty, then they are revealed as the imperialists, supremacists, the exploitative, the slave masters.
Independent, 20 Sept 2017:

"Anti-fascist activist goes undercover with 'alt right' to expose movement's rapid European expansion."

Hope Not Hate report reveals how the group is breathing new life into once dormant far-right and racist groups around the world. A toxic mix of antisemitism, Islamophobia and sexism is revealed at the heart of the "alt-right" movement, following an investigation by an openly-gay anti-fascist activist that sheds new light on the far-right's rising influence over political parties on both sides of the Atlantic.

Members of the group were caught discussing "gassing Jews" and killing their left-wing opponents after Hope Not Hate conducted a major study of white supremacists in the US and Europe.

The exposé reveals how the "alt-right" is breathing new life into once dormant far-right and racist groups around the world, uniting them under one international movement.

It uncovers the infiltration of the "alt-right" in the UK, with Sheffield-born blogger Paul Joseph Watson among those using their online following to reach audiences the traditional far-right has until now been unable to muster.

As a general principle The Independent avoids using the term "alt-right", on the basis it is a euphemism employed to disguise racist aims.

The report says a second, "moderate" wing – dubbed the "alt-light" – has become increasingly influential on right-wing politics in Britain, pushing Ukip and others into ever-more hard-line territory.

Far right

banned from using

their favorite meme.

Authors of the study The International Alternative Right: From Charlottesville to the White House also claim to have found links between the hard-right network and the Trump administration.

Speaking of his experiences infiltrating the network of white supremacists, Patrik Hermansson said: "For almost a year I've been at the heart of a world of extreme racism, antisemitism, Holocaust denial, esoteric Nazi rituals and wild conspiracy theories.

"What I found was a movement that sometimes glorifies Nazi Germany, openly supports genocidal ideas and is unrelentingly racist, sexist and homophobic."

Mr Hermansson said he first gained access to the movement after joining the far-right "think tank" London Forum, having claimed to have come to the UK as a disillusioned Swede curious about the "alt-right" and inspired by Brexit.

He was then introduced to other groups, including the Extremists Club and the Traditional Britain Group, which aims to "preserve the ancient traditions, peoples and beliefs" of the UK.

He said: "In this world, Holocaust denial and conspiracy theories are commonplace, so much so that a whole group exists to cater specifically for them.

"I spent endless mind-numbing hours at meetings of the [conspiracy theorist group] Keep Talking, listening to speakers deny climate change, debate whether 9/11 was a false flag attack or if an ill-defined 'they' sold birth certificates on the stock market. Trestle tables at the edge of the hall were adorned with Holocaust denial books."

The label "alt-right" was first adopted by white supremacist Richard Spencer, but was brought to mainstream attention by individuals with a larger social media presence such as Milo Yiannopoulos and Mike Cernovich.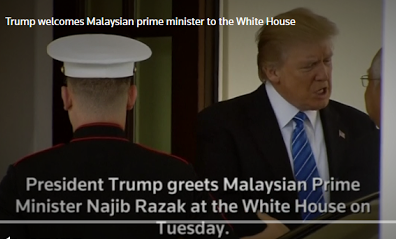 The YKW and right wing collude with Islam.
Malaysian Prime Minister Najib Razak is the comprador of compradors.
In what is going on a decade of the got-up (((paleoconservatism)) of the ((("alt-right"))), one of the key reasons its Jewish conception has fashioned "the left" as the grand-enemy is because left nationalism, its syndicalism, is a grand adversary of Abrahamism - especially the Islamic variant, a universalizing credo which prohibits ethnonational unionizations. Islam, as instituted by comprador imams, functions thereby as feudalist thuggery on behalf of Jewry and complicit right wingers - who make deals with the Islamic comprador (a middleman slave driver/enforcer upon the local population, killing them where they interfere) to exploit the labor and resources of would-be sovereign ethnostates.
Reuters, "Trump, Malaysia's Najib skirt round U.S. probe into 1MDB scandal", 12 Sept 2017:

WASHINGTON (Reuters) - U.S. President Donald Trump welcomed Malaysian Prime Minister Najib Razak to the White House on Tuesday, praising his country for investing in the United States while steering clear of an American investigation into a Malaysian corruption scandal.

The visit is important for Najib, who faces elections next year and wants to signal he is still welcome at the White House despite a criminal probe by the U.S. Justice Department into a state fund called 1Malaysia Development Berhad (1MDB).

Flanked by top advisers in the Cabinet Room, Najib told Trump that Malaysia Airlines would buy 25 Boeing 737 jets and eight 787 Dreamliners, and would probably add another 25 737s in the near future - a deal he said would be worth more than $10 billion within five years.

Najib said Malaysia's Employees Provident Fund, a major pension fund, wanted to spend $3 billion to $4 billion on U.S. infrastructure development.

Najib enjoyed close ties with Trump's predecessor, Barack Obama, playing golf in Hawaii in 2014, but relations cooled over human rights issues as well as the 1MDB scandal.

Najib founded the fund, which is facing money laundering probes in at least six countries including the United States, Switzerland and Singapore. He denies wrongdoing.

The U.S. Justice Department has said more than $4.5 billion was misappropriated from 1MDB by high-level officials of the fund and their associates, according to dozens of civil lawsuits it filed last year.

The Justice Department sued to seize some $1.7 billion in assets it said were bought with misappropriated 1MDB funds, but asked for a stay on its civil lawsuits in August because it was conducting a related criminal probe.

The White House had said it would not comment on the Justice Department investigation but a senior U.S. official acknowledged it was unusual to meet with Najib while 1MDB was under regulatory scrutiny.

"It's a weird situation, no doubt," the official said, explaining that the administration has prioritized developing relations with Southeast Asia to counter "huge gains" China has made in the region.
ABC, "Who are the white nationalists and Antifa? Part 1", 19 Sept 2017: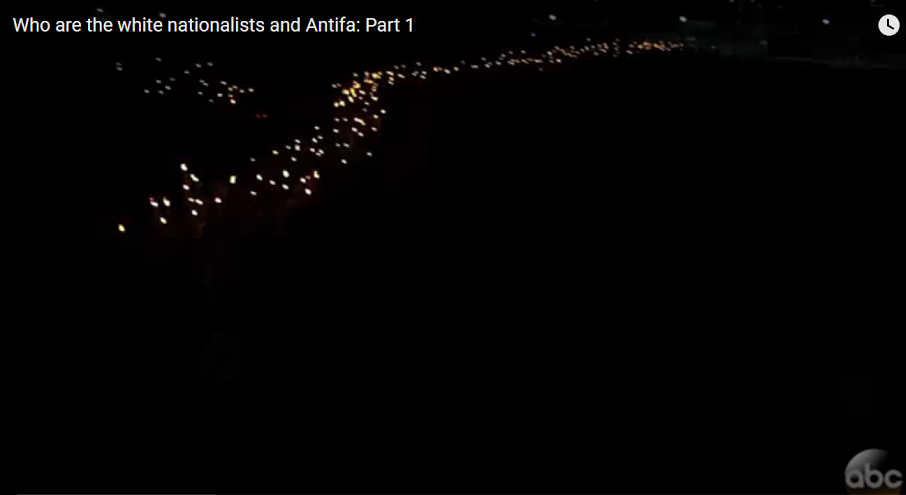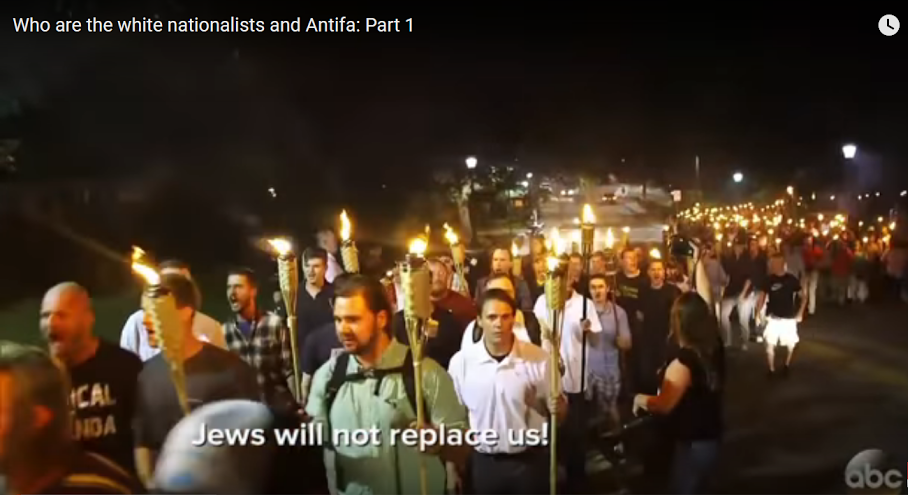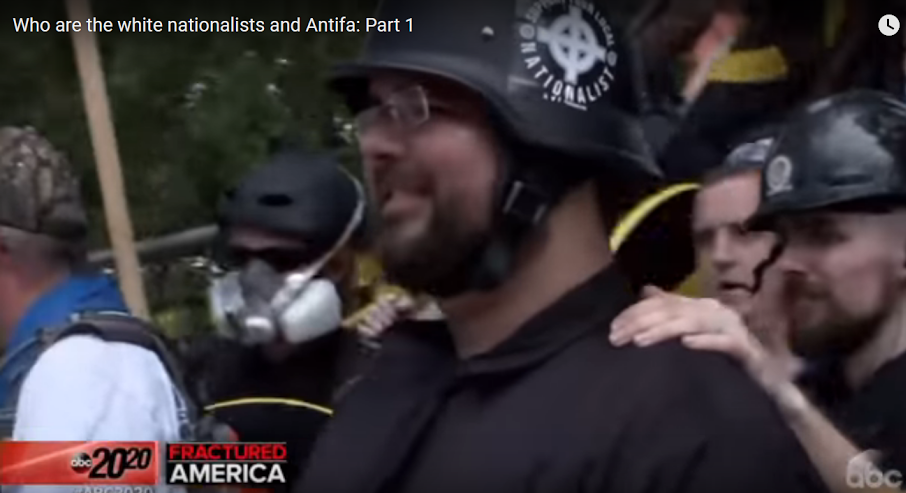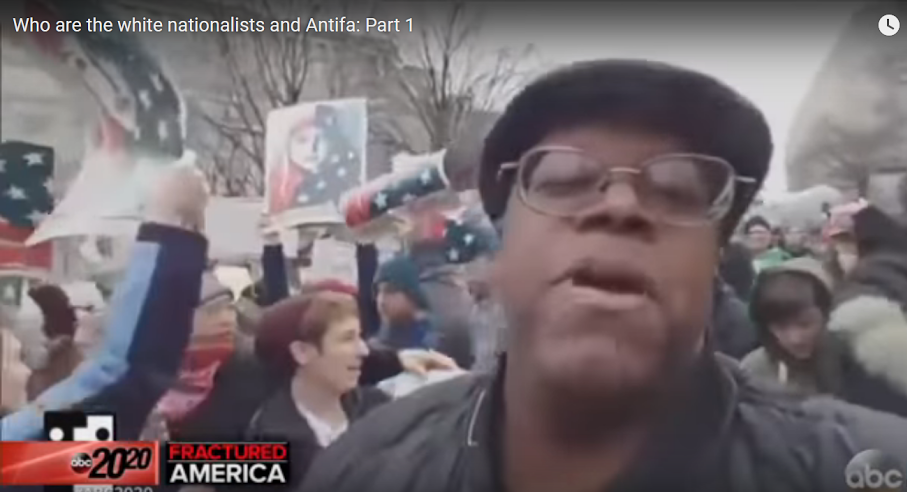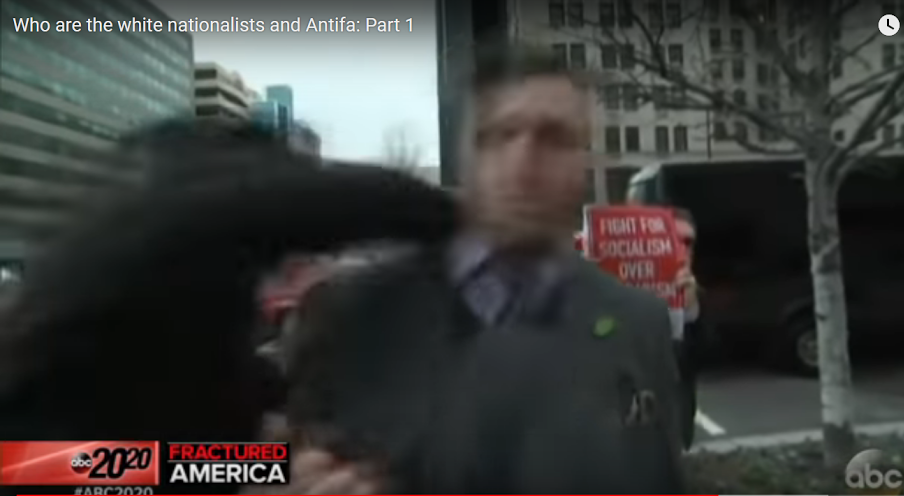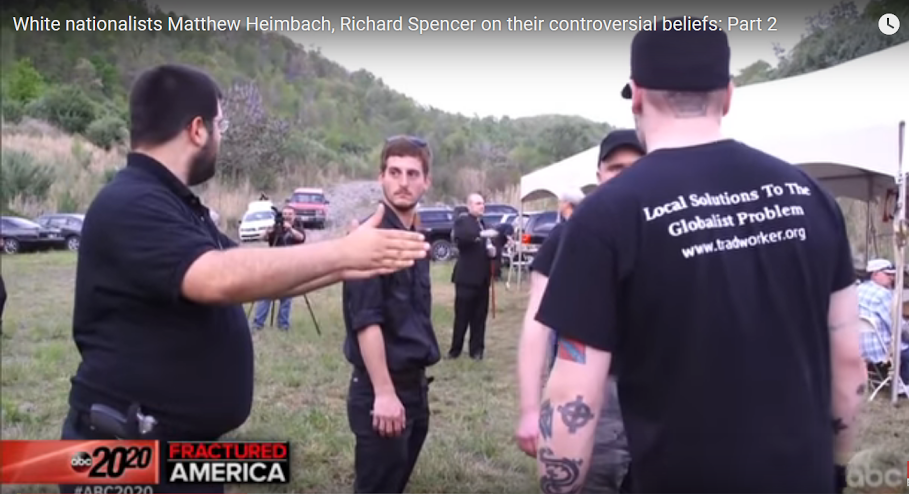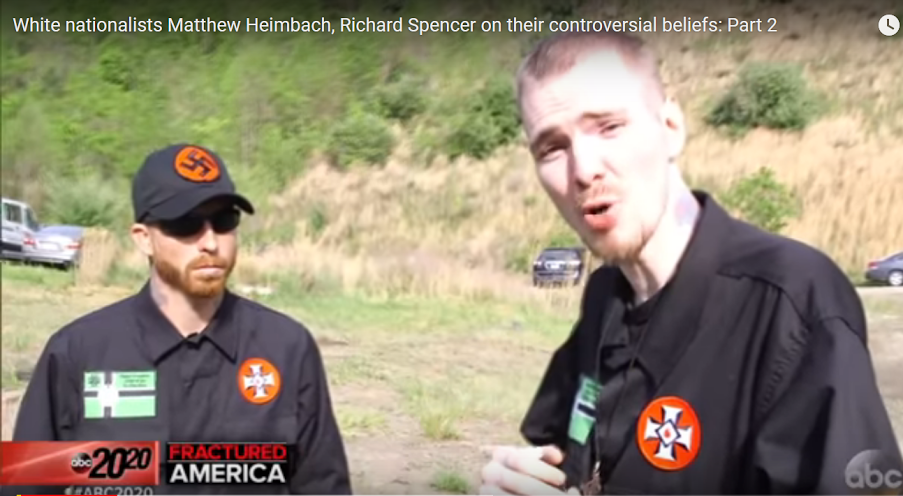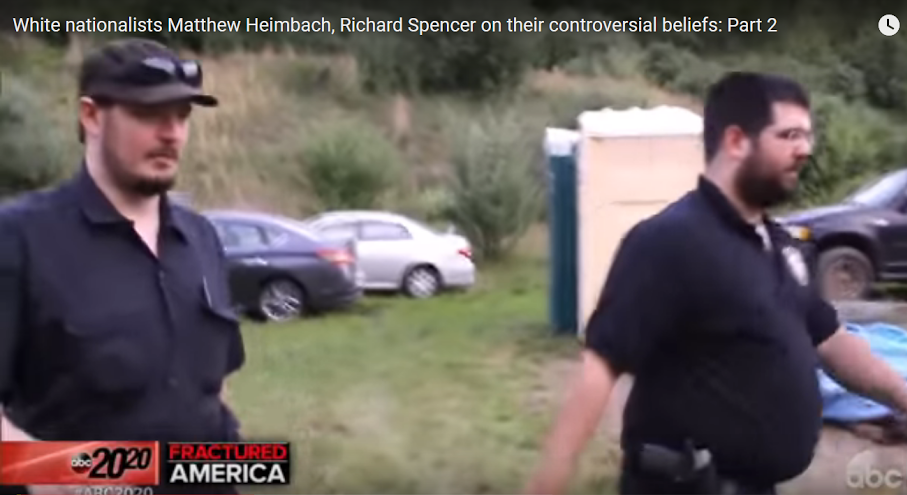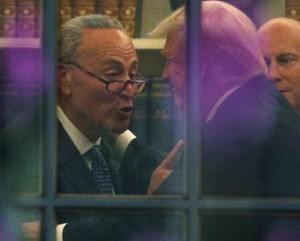 What did you really expect from Trumpstein?
Occidental Dissent, "(((Chuck Schumer))) Caught On Hot Mic Discussing Budding Partnership With President Cuck", 15 Sept 2017:

Hey, MAGApedes, I know you guys have gotten as slippery as water snakes in your defense of President Trump, but I would very much like to see y'all defend what you're about to hear courtesy of C-SPAN and a nice steaming hot mic.

Senate Minority Leader Chuck Schumer (D-N.Y.) took to the Senate floor Thursday morning to discuss Equifax's massive security breach; the physical limitations of a border wall; and his supposed agreement with President Trump, struck alongside his House counterpart Rep. Nancy Pelosi (D-Calif.), to work to preserve protections for immigrants who were brought to the U.S. illegally as children.

But before he officially took to the floor, Schumer bounded into the Senate chamber just after a speech by Senate Majority Leader Mitch McConnell (R-Ky.) and took a minute to converse with a colleague. "Sorry, just got here. Anything new?" Schumer can be heard saying on C-SPAN2's live feed of the Senate, though he's not seen on video. Then: "He likes us! He likes me, anyway," Schumer says with a chuckle.

Schumer is presumably referring to himself and Pelosi, and Trump's apparent affection for them — or one of them, anyway. He continues telling his unseen colleague that the statement he and Pelosi put out about Trump's DACA promise was "exactly accurate." "Here's what I told him," Schumer continues. "I said: 'Mr. President, you're much better off if you can sometimes step right and sometimes step left. If you have to step just in one direction, you're boxed.' He gets that."

Let's just be real here, Brothers, it's pretty damned bad.

Like, it's so bad that there really isn't much room for maneuver whatsoever.

You can't even make the argument that there is some sort of negotiating ploy alive here – most folks would say that we're either seeing Trump operating on a Sub-Saharan IQ level, or we're merely watching Jewry pulling a move honed by both time and use among peoples ranging from the Pagan Romans to the Catholic Poles.

Honestly, I see neither situation at play here – instead I see a man who because of blackmail (increasingly unlikely), through ignorance gifted by being a member of the 1% (possible), or by infection with the same egalitarian corruption that permeates both political parties (most possible) cares little about the White Man in the United States.

He would rather break bread with liberal Jews (and marry his daughter off to one), than sit with the working man whose ancestors built up this country from swamp, woods, and hostile wilderness.

But hey, if you're just an average Trump supporter, don't think I'm mocking you or gloating in the downfall of the President – the biggest fanbois are just in it for the money, their brand, or are trapped into a personality cult due to weird daddy issues that may never be cured.


Like you, I too was caught up in the frenzy during 2015 and 2016, and at points I truly hoped that Donald would at the very least buy us time by enacting policies that really aren't too radical when you break everything down.

I went to rallies, pushed The Don on normies sitting on the fence, and literally wrote 2,000 or so articles covering the most exciting political race in living memory.

I have no regrets, and I feel no remorse, but I would like you to take a long look at what the Alt-Right is offering – we'll actually fulfill our promises, and we'll actually work to make America (or at least a chunk of the country) great again.
Indeed, people should take a long hard look at what the Alt-Right is (((offering))), (((doing))), (((who they are collaborating with))) and not follow them into the Jewish bum steers that they take without regrets, remorse - without learning. People should also avoid following the Alt-Right's self defeating reactions thereof.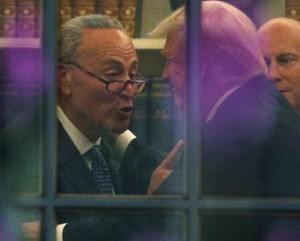 What did you really expect from Trumpstein?
My personal position with regard to so-called "Hispanics" is that we should first of all differentiate among them. "Hispanic" is an egregious term, auguring to do the very worst thing which we seek to stave-off, i.e., to blend away racial distinctions, as the term covers and then tends to politically coerce the blending of Amerindians, Whites, Jews and blacks.
We need to distinguish them hence. We need to distinguish Marrano "huWhites". We need to distinguish those who are black and have anything beyond a small amount of black - they should be looked upon as an out group - not our friends: e.g., Puerto Ricans typically have a significant amount of sub-Saharan African, 25%. Whereas Mexicans on average have only small amount, 4% as evaluated by National Geographic Human Genome Project, Gen 2.0. These kinds, Amerindians and Indios (mixed Indian and White) should be looked upon as people to cultivate as allies.
Certain Caribbean mixes should be shown some compassion in an effort to reconstruct as much as possible the now non-existent pure Indian strains which were forcibly bred-away with African slaves by Spanish conquistadors. Similarly, Indos should be allowed protection from furthering of the mongrelization that was visited upon them by the Spanish conquests.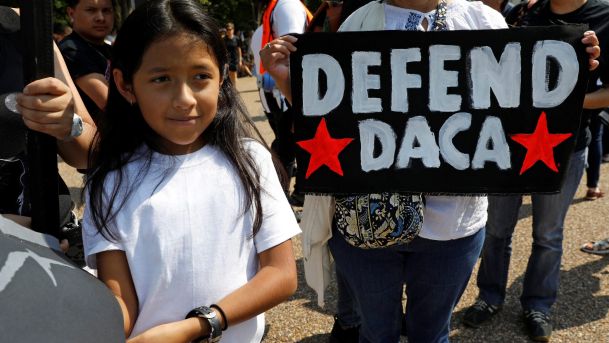 As these historical errors are corrected, "a new dream" act should be enunciated in which the riches and opportunities of the Americas are shared between Whites, Asians and Amerindios in exchange for friendly terms and alliance with Whites against black, Jewish and Muslim imposition.
This must be arranged in accordance with human ecological and resource management - especially population carrying capacity: which tends to be the elephant in the room that liberals overlook in their anti-racist fervor. Make the said kinds friends and hold them accountable to our alliance in pervasive ecology and human ecology of our distinct kinds. We do this deliberately, or we are without a vast alliance, in fact it is arrayed against us as distinct peoples (nationals) and our habitats all…

Opinion // Save DACA: We U.S. Jews Won't Let Trump End the American Dream

On DACA, the president appears unmoved by arguments of compassion, humanity, national interest or common sense. Now is the time to take a stand and take action.

"Dreamers" originally from Ecuador watch Attorney General Jeff Sessions' remarks on ending the DACA program on a smartphone in Manhattan, September 5, 2017. Credit: Drew Angerer/AFP

●DACA 'is being rescinded,' Sessions announces after Trump moves to kill 'Dreamers' program

●U.S. Jewish groups blast Trump's decision to scrap 'Dreamers' program as 'cruel, unnecessary'

●WATCH // Donald Trump vehemently defended 'Dreamers' on Fox News in 2011

The Trump administration moved on Tuesday to terminate the legal status of 800,000 immigrant children and young adults. These young people are currently protected by Deferred Action for Childhood Arrivals. DACA is only available to people who have been in the United States continuously since June 2007, so this decision will exclusively impact kids and young adults who have been in the country for at least 10 years and have impeccably clean records. About three quarters of the so-called "dreamers" have U.S. citizen family members, and one quarter have U.S. citizen children.

DACA is an executive action taken by President Barack Obama in 2012 after decades of failure in Congress to enact any kind of immigration reform. There is broad agreement across party lines that people who were brought to the United States as children by their parents did not make a choice to come here, and therefore should be allowed to stay in the country that they call home. Leaders of both parties, as well as business leaders, faith leaders, and the majority of Americans polled about it, support DACA and have urged President Donald Trump to keep it in place.

>> U.S. Jewish groups blast Trump's decision to scrap 'Dreamers' program as 'cruel, unnecessary'

■ Analysis: Trump's Cruel and Unusual Punishment of Unsullied Dreamers

Like generations of immigrants before, including millions of Jewish parents and grandparents, the parents of these kids have made enormous sacrifices, not for themselves, but in the hope that their children would have a chance at a real future.

These kids are American in all but paperwork, and they are now living in fear. In just a few months, they may not be able to legally work, and will face arrest, jail and deportation. These are kids who have gone to school, made friends, joined teams, grew up, enlisted in the military, went to college, went to work, volunteered and lived normal, American lives. This moment should feel scary, disturbing and eerily familiar to all Jewish Americans.

Ending DACA serves no legitimate policy purpose and in fact, will hurt the U.S. economy. Particularly as we work to recover from Hurricane Harvey, where many DACA recipients are actively taking part in rescue and rebuilding efforts, the cruelty of this decision is in plain view.

Ending DACA will also make us less safe. As losing legal status causes people to recede into the shadows, they will be afraid to call and cooperate with the police. More parents will be afraid to take their kids to school and to church, to the park and to the doctor. More kids will live in fear of the knock on the door that will take their parents away.

HIAS is the global Jewish organization that protects refugees. We stand for a world in which refugees find welcome, safety and freedom. Guided by our Jewish values and history, we bring more than 135 years of expertise to our work with refugees. But our work is just one piece of the larger culture of equality and welcome we strive to create together with our supporters in the American Jewish community. Threats to the DACA program are not only threats to immigrants, but to justice, fairness and the longstanding values of our country.

This country's history of accepting refugees and immigrants has offered generations of Jewish Americans the opportunity to recognize our full human potential and become part of the fabric of America. While there are disturbing elements that would deny this, and their voices are louder now, it is still true. It would be a stunning reversal and betrayal of our history to deny this opportunity to others who have already contributed so much.

The president appears unmoved by arguments of compassion, humanity, national interest or common sense. Now is the time for American Jews to take a stand and take action through elected officials in Congress. We can call Congress and insist that our representatives immediately pass a law that will allow these kids and young adults to stay here legally and permanently. This law must include no conditions or trade-offs, or in any way punish other immigrants.

We must restore basic fairness and morality to the way we treat immigrants in this country, and there is no better place to start than with these young Americans.

Melanie Nezer, Haaretz Contributor, is senior vice president of public affairs for HIAS, the global Jewish nonprofit that protects refugees
The Fetch, "Sabotaging Success – Blaming the "Goy" for "their failures", 7 Sept 2017:

Have you ever heard, or more acutely, how often have you heard Jews and/or their agents say things like, "You just blame Jews for everything", or "You are not taking responsibility for your own failures", or any number of permutations that might run off of these sentiments? Well, with the ongoing purge of Nationalists social media accounts, the de-funding or "deplatforming" of Nationalist oriented websites from such financial platforms as Paypal, Patreon, and other crowd funding sites, the idea that "the goy" are responsible for "their own failures" is rapidly being exposed as a complete and utter sham.

It is clear that Nationalists as well as ANYONE opposed to or presenting views that clash with the largely nameless and ever encroaching Bolshevik thought police are being targeted. This targeting is taking place on largely Jewish controlled platforms. It is estimated that Facebook, for example, is censoring or deleting over 1,000,000 posts per week at present, while Youtube's new "Googlag" restricted video mode is chewing up an untold number of videos and views. Not all of these necessarily speak directly about a "Jewish Question", but rather address issues that are brought about by Jewish political interests such as the mass flooding of Europe with sub-Sahara African migrants.

Never mind that Jewish policies have been an unqualified failure for Western nations. Lost opportunities to citizens of nations affected by Jewish policies is very real but difficult to quantify. Job losses to those speaking out against Jewish policies is becoming a near daily advertised occurrence in Jewish media, even as anti-White professors stump for massive reprisals and oppression of Europeans living within their own nations.

The recent assaults on business owners, such as O'Mei Restaurant in Santa Cruz, CA, and Club Jäger in Minneapolis, MN, only highlights that there remain ongoing sabotage of American businesses who dare support political efforts of those that Jewish media routinely demonize.

Taken in total, the idea that Jews are not actively sabotaging the West should no longer be relegated to "conspiracy". From global "boycotts" organized by Jews to support Jewish political interests, to the odd Twitter account that gets banned for "wrong think" (and there are tens of thousands of these), Jewish efforts to destroy peoples ability to succeed are being seen and felt everywhere.

It is clear: Jews DO sabotage "Goy" success, and then want to project that the failures of "goys" have everything to do with the Goy, but nothing to do with the targeted destruction being brought about by Jewish political pressure and power. The whole projection is straight from the "How to be a Psychopath" instruction manual.

This following video, an out-take from the end of nearly 2.5 hours of recorded material, speaks directly to this issue. Consequently, there is a little bit of fluff to begin the conversation, but the conversation heats up and is quite astute and poignant: https://www.bitchute.com/video/sQvHNoqNWPoD/

Let us know what you think.

Note: This video is embed from RadioITEL page on Vid.me and is also available on RadioITEL's new BitChute page. Join us on each of these. YT has placed this video in the Youtube Googlag restricted mode through the Brian Ruhe Show page.