Majorityrights News > Category: Globalisation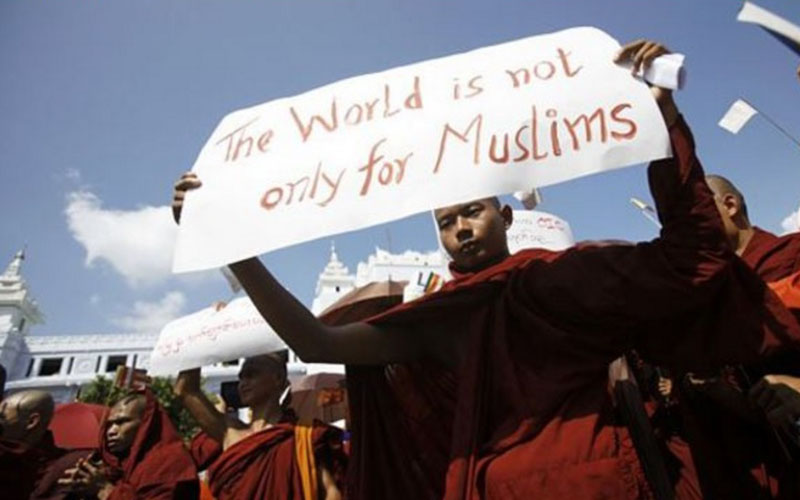 Burma, Malaysia, spat over Islam and migrants

Tensions between Buddhist-dominated Burma and Muslim-dominated Malaysia are rising once again after five Burmese workers were hacked to death with swords by a Malaysian mob in an ongoing dispute over religion and immigration between the two countries.

The government of Burma—properly named Myanmar—announced this week that it had sent out "safety instructions" to its nationals working in Malaysia after the sword attack—one of the latest in many such incidents in which hundreds have been killed.

The Burma government officially banned its nationals from seeking work in Malaysia a few weeks ago, precisely because of security fears following the ongoing clashes.

In the latest incident, four masked men wielding swords attacked Burmese workers after they had left a factory in the Serdang district on the outskirts of the Malaysian capital, Kuala Lumpur. Five were killed and two wounded.

Malaysian police said seven Burmese men had been detained shortly after the attack.

The origin of the violence is the current status of Burma's Rohingya Muslims—a Muslim group some 1.5 million strong. The Rohingyas have been involved in separatist activities—often linked to Islamism—for decades, and violent clashes between Buddhists and Muslims are common in that country.

Burma stopped its workers going to Malaysia in December, after Najib Razak, prime minister of the predominantly Muslim country, described Burma's treatment of the Rohingyas as "genocide" and called for foreign intervention.

There are however, at least 147,000 Burmese workers in Malaysia.
Cédric Herrou, arrested for smuggling migrants to his Alpine farm

Vice News, "On trial for helping migrants: French farmer faces charges for helping migrants cross the Italian border", 5 Jan 2017:

A farmer in southern France who smuggled migrants across the country's border with Italy is waiting to discover his sentence after being prosecuted this week for his actions.

Hailed a hero by many in Europe, denounced by others, 37-year-old Cédric Herrou estimates that so far he has helped more than 400 migrants stuck in Italy pass into France.

Herrou drove the migrants across the border in his van – the same van he uses to deliver eggs in his tiny Alpine village – deftly avoided police checkpoints using mountain lanes, and later provided shelter at his hilltop farm.

VICE News followed Herrou in the autumn, when he opened a temporary refuge housing 53 migrants in a derelict government building high in the Alps. With 15 people already at his home, he'd run out of space. Herrou was arrested just days later and on Wednesday went on trial in Nice for smuggling migrants.

The case typifies the region's struggle to resolve the migrant crisis and the public disagreement over how to handle it; drawing hundreds of demonstrators sympathetic to his cause to the court steps.

Herrou is the most prominent member in a migrant-helping collective formed in the valley village of Breil-sur-Roya. Their activities are well-documented by the local press and – until the arrest – they were tolerated by authorities.

"It is dangerous," he told us, shortly before he was detained. "I expect many people would want my arrest. But we are well organized… and the law is completely absurd, and stupid."

More than 170,000 mostly African refugees and migrants reached Italy in 2016, according to the United Nations High Commissioner for Refugees (UNHCR). Many paid traffickers to pack them into trucks for the long drive across Libya and the Sahara. Almost all clambered aboard the now emblematic rusting vessels which risk disaster to cross the Mediterranean Sea to Italy. But very few intended to remain there.
Diversity Macht Frei, 5 Jan 2017:


Alex Cioni, leader del Comitato Prima Noi, condannato dal Tribunale di Vicenza a 5 giorni di galera e 1.310 euro di ammenda per manifestazione non autorizzata.

Virtually every day, when I read Italian patriot sites, I see stories about asylum seekers, mainly sub-Saharans, staging spontaneous demonstrations, blocking traffic, holding up hand-scrawled placards protesting about something or other, usually the quality of the food they are given. Usually I don't even bother posting articles about these incidents here, because there are simply too many of them.

Sometimes the police divert traffic so the invaders can carry on their protests undisturbed; sometimes they talk to them and persuade them to return to their accommodation; they almost never arrest them unless the invaders physically attack them. But here we have an incident where a small group of Italian patriots gathered and held up banners for a few minutes at a hotel that had been marked as a future asylum centre. And were charged and convicted for doing so. The incident in question is shown in the video above. Their banners say things like "Stop fake refugees. Stop the Asylum Industry".

Five days in prison and a fine of 1,310 euros. This is the penalty imposed on Alex Cioni, leader of the Prima Noi Committee, by the Vicenza Tribunal His offence was to have demonstrated in front of a hotel marked as a future reception centre for migrants to show his disagreement with the arrival of the refugees.

The incident took place last 17 July when some representatives of the Prima Noi Committee displayed a banner and placards in front of the glass door in the Hotel Eden in Schio, expressing their unhappiness about the announced arrival of a substantial number of asylum seekers. An unauthorised demonstration, because - according to the judge - no request had been made in advance to the authorities responsible for public security.

Cioni was convicted for this reason, although the sentence was suspended because he had no criminal record. "The complaint filed by the Digos officials and the related judgement from the tribunal in Vicenza," said the Committee management, "represents an unequivocal clumsy attempt to intimidate our activity."

"A banner in a private place is not a demonstration for which reason the conviction for demonstrating is absurd," the person involved explained to the Alto Vicentino Online. "It makes no sense to call an initiative like ours a demonstration, lasting only a few minutes. It is clear the incident has been instrumentalised." Cioni will file an appeal however
Iohannis stops accession of Muslim Prime Minister

Visigrad Post, "Romania On The Brink Of A Political Crisis", 28 Dec 2016:

Romania – President Klaus Iohannis rejected the nomination of the country's first ever Muslim – and woman – candidate for Prime Minister, Sevil Shhaideh.

After winning the election early December, the PSD – Social Democrats – had to nominate a candidate for the office of Prime Minister. The president of the PSD, Liviu Dragnea is unable to become Prime Minister as he has been preliminarily refused by President Iohannis as he has been convicted for electoral fraud. Hence, he proposed Sevil Shhaideh, and it was likely he'd run the government through her.

Although President Klaus Iohannis asked the Social Democrats to pick someone else to lead the government, but he did not give any reason for this rejection.

Mr Dragnea has previously suggested he will fight any attempt by the president to block his choice of Prime Minister. "If Iohannis rejects our proposal, I'm not going to make a second one. We'll see each other in some other place," he said.


Sevil Shhaideh - rejected nominee for Romania' first ever Muslim – and woman - Prime Minister

Following the rejection, Mr Dragnea said he could begin the process of seeking to remove Mr Iohannis as president. "It seems the president clearly wants to be suspended," Mr Dragnea said. "We'll weigh our options very carefully, because we don't want to take emotional decisions. We don't want to trigger a political crisis for nothing, but if we come to the conclusion that the president must be suspended, I won't hesitate." As a matter of fact, several political observers claim that the two refusals – the first one, unofficial, of Dragnea, and the second one of Shhaideh – are unconstitutional.

On December 28, Mr Dragnea proposed Sorin Grindeanu as candidate for Prime Minister. President Iohannis is expected to name the Prime Minister on December 29. According to the Romanian constitution, if the candidate is not nominated by the President, the parliament will be dissolved and new elections will be held.
President Iohannis is indeed going along with the nomination of Grindeanu -
Sofia Globe "Romanian president designates Grindeanu new prime minister", 30 Dec 2016:

President Klaus Iohannis has designated veteran leftist Sorin Grindeanu as the new Romanian head of government. Previously, Iohannis refused to endorse a female, Muslim candidate who was criticized for her inexperience.

The 43-year-old Sorin Grindeanu would have 10 days to unveil his cabinet and seek the parliament's vote of confidence after being named by Iohannis on Friday.

The process is expected to go smoothly for the former telecommunications minister after the triumph of his moderate left PSD party in the parliamentary election earlier this month. The PSD won 45 percent of the seats and now holds a firm majority with their junior partners, the ALDE.

Grindeanu is a mathematician who has served as deputy mayor of the western city of Timisoara.
TNO, "U.N. Vote and Jewish Lobby Hypocrisy", 24 Dec 2016:
And Alt-Right hypocrisy as well, since The US was the only nation which supported Israel in the UN with regard to their illegal settlements - their chutzpah to fly in the face of the rest of the world probably rests on anticipation of help from their boy Trump
Ibid:

The U.S. Jewish lobby has rushed to defend Israel following the United Nations' Security Council (UNSC) motion condemning the illegal seizure of Palestinian land—highlighting the fact that they support the right of Jews to preserve their racial identity in their own ethnostate, but always strongly oppose any European demands for that same right.
TNO, "Israeli Illegal Settlements: The Facts", 26 Dec 2016:

Israel has demanded that the 14 nations who voted against the illegal Jewish settlements in the occupied West Bank "explain themselves"—for daring to oppose the Jewish ethnostate's breach of international law.

In reality, the Jewish settlements are illegal in terms of the Geneva Convention and the Hague Regulations, and if undertaken by any other state, would have resulted in international military intervention.

According to "Convention (IV) relative to the Protection of Civilian Persons in Time of War" of the Geneva Convention, an occupier is forbidden from transferring its own civilians into the territory it occupies.

"Individual or mass forcible transfers, as well as deportations of protected persons from occupied territory to the territory of the Occupying Power or to that of any other country, occupied or not, are prohibited, regardless of their motive. (12 August 1949. "Deportations, Transfers, Evacuations, Article 49.)

In addition, Article 55 of the Hague Regulations states that an occupying power's role is to safeguard occupied properties and maintain the status quo:

Art. 55. The occupying State shall be regarded only as administrator and usufructuary of public buildings, real estate, forests, and agricultural estates belonging to the hostile State, and situated in the occupied country. It must safeguard the capital of these properties, and administer them in accordance with the rules of usufruct. (Annex To The Convention: Regulations Respecting The Laws And Customs Of War On Land – Section III : Military Authority Over The Territory Of The Hostile State – Regulations: Art. 55.)

The construction of Jewish settlements in the occupied West Bank are clear violations of both these international treaties, and for Israel to demand that nations who uphold this law "explain themselves" is merely an indication of the chutzpah and hypocrisy which underpins that state.

These then, are the facts about the occupied West Bank:

The West Bank—including East Jerusalem—and the Gaza Strip together constitute the Occupied Palestinian Territories (OPT), which have been under Israeli military occupation since June 1967.

Prior to Israeli occupation, the West Bank was controlled by Jordan, and the Gaza Strip by Egypt.

Before the State of Israel was established in 1948, the West Bank and Gaza Strip were simply parts of Mandate Palestine; their "borders" are the result of Israeli expansion and armistice lines.

More than 300,000 Palestinians in the West Bank and Gaza Strip became refugees during Israel's conquest in June 1967; the vast majority were unable to return.

In 1967, Israeli forces ethnically cleansed and destroyed a number of Palestinian villages in the OPT, including Imwas, Beit Nuba, and others.

One of the first acts of Israeli authorities in East Jerusalem was to demolish the Mughrabi Quarter, expelling 600 residents and destroying 135 homes. In place of the 800-year-old Mughrabi Quarter, Israel created the Western Wall Plaza.
Heidegger midtdasein

LARB, "Heidegger and Anti-Semitism Yet Again: The Correspondence Between the Philosopher and His Brother Fritz Heidegger Exposed", 25 Dec 2016:

FOR QUITE SOME TIME, there has been a fair bit of murmuring and speculation surrounding the letters exchanged between the philosopher Martin Heidegger and his brother Fritz. Those who had seen the more than 500 pieces of correspondence, which have been stored at the German Literature Archive in Marburg since 2014, knew how explosive they would be. But in accordance with the wishes of Heidegger's family, they were not allowed to quote from them. But now — apparently in response to the intense international debate surrounding Heidegger's anti-Semitism triggered by the publication of the Black Notebooks three years ago — the family has agreed to release an abridged version of the letters, written between 1930 and 1946, in a newly published volume called Heidegger und der Antisemitismus ("Heidegger and Anti-Semitism") (Verlag Herder, Freiburg 2016). Inside these pages one finds an unvarnished picture of the philosopher's political disposition. In the Black Notebooks, a kind of diary of thoughts, Heidegger approached anti-Semitism from a philosophical remove, but these personal letters published expose him as a bona fide, unrepentant anti-Semite. They also show that — in contrast to prevailing beliefs — the Freiburg professor was politically well informed, and was an early and passionate supporter of National Socialism.

As early as the tail end of 1931, the 43-year-old Heidegger sent his brother a copy of Adolf Hitler's Mein Kampf for Christmas, praising the future dictator's "extraordinary and unwavering political instincts." Heidegger interprets the right-wing conservative minority cabinet under Reich Chancellor Franz von Papen — which governed with the help of President Hindenburg between June and December 1932 — as a Jewish conspiracy. And he complains that the Jews are:

gradually extricating themselves from the mood of panic into which they had fallen. That the Jews were able to pull off such a maneuver as the Papen episode just shows how difficult it will be to push back against everything represented by Big Capital (Großkapital) and the like.
Tanya Gersh has called upon Sherry Spencer to sell her Whitefish, Montana building.
Richard Spencer's mother, Sherry Spencer, had no intention of selling her Whitefish, Montana building until she received terrible threats, the threats she said came from Tanya Gersh, a local realtor with links to so-called "human rights" organizations.
According to Sherry Spencer, on November 22nd, Tanya Gersh spoke with her on the phone and she relayed that if Sherry Spencer did not sell her building that 200 protestors and the national media would show up outside - which would drive down the property value - until she complied. Gersh's other conditions included that Mrs. Spencer should publicly denounce her son in a statement written by the Montana Human Rights Network and that she make a donation to this organization from the sale of the property. As Gersh announced on Facebook, she was "spear heading" the campaign.
Gersh followed up on her conditions in a number of emails, which have been made public. She even shamelessly suggested that she act as Sherry's realtor! In other words, she and the local "human rights" organizations appeared to seek financial benefit from threats of protests and reputation damage. They also threatened tenants currently leasing space from Spencer's mom.
Sherry had no intention of selling her property in Whitefish until being harassed and receiving this pressure from Tanya Gersh, as leveraged by threats of protest from the anti-racist protest organizations - Love Lives Here and Montana Human Rights Network - apparently at her behest to serve three functions:
1) To punish her son for promoting White Nationalist sovereignty.
2) To profit her local real estate business by instigating Sherry to a fire sale of her property.
3) To profit liberal groups such as "Love Lives Here" through donation of sale proceeds to them or similar anti-racist organizations: which generally oppose the necessary practice of social classification and discrimination on the basis of those social classifications (a least as Whites may render them - as such, they call it "racism"); despite the fact that capacity for social classification and discrimination is humanly impossible to avoid and absolutely necessary for survival of and against certain human species; as well as a generally necessary practice in defense against predation in order to facilitate human and pervasive ecology.
The mother of white supremacist Richard Spencer claims she is suffering financially due to the backlash against her son's controversial views.

Sherry Spencer, who lives in Whitefish, Montana, said she is being forced to sell a building she owns in the small town because residents are rebelling against her son.


Sherry Spencer says she is being forced to considering selling the building she owns at 22 Lupfer Avenue (pictured), because of backlash against her son.

Richard Spencer shot to prominence last month when footage emerged of him delivering a 'hateful speech' at a white nationalist meeting held to celebrate Donald Trump's election win.

A video by The Atlantic taken inside the Ronald Reagan building showed Spencer, leader of the National Policy Institute, shouting, 'Hail Trump, hail our people, hail victory!' as some of the people in attendance lifted their hands in a Nazi salute.

He also claimed America belongs to white people, who he suggested are faced with the decision to either 'conquer or die'.

The speech drew intense criticism from the US Holocaust Memorial Museum, which said in a statement Spencer made: 'several direct and indirect references to Jews and other minorities, often alluding to Nazism.'

'He spoke in German to quote Nazi propaganda and refer to the mainstream media. He implied that the media was protecting Jewish interests and said, "One wonders if these people are people at all?"'

And according to Sherry Spencer, the criticism has been echoed by people in her hometown - where he son also has a business registered and visits regularly.

Sherry Spencer told KTMF she is selling a building she owns at 22 Lupfer Avenue, which she currently sublets. It houses a beauty salon and vacation rentals. She also runs a real estate business from the building.

'As painful as this is, I am exploring a potential sale of the building,' she said.

She also took aim at a local human rights group, Love Lives Here, and accused it of damaging her family.

'We are stunned by the actions of Love Lives Here, an organization claiming to advocate tolerance and equal treatment of all citizens, yet coursing financial harm to many innocent parties,' she said.

One of the strongest opponents to Sherry is local real estate agent Tanya Gersh, who said Spencer has backed her son and allowed him to spread his views.

'She is profiting off of the people of the local community, all the while having facilitated Richard's work spreading hate by letting him live and use her home address for his organization,' Gersh told the network.

Love Lives Here also responded to Sherry's remarks, saying it 'did not know what she (was) talking about'.

'We don't cause financial harm to anybody,' co-founder Ina Albert said, before going on to say the group does not have a specific problem with the Spencers.

'I don't know what (Richard) does when he comes here. But that is not our problem with Richard Spencer.

'It is the National Policy Institute and what that stands for and our town being smeared by his philosophy.'

The National Policy Institute was established in 2005 by Spencer, and it is described by the Southern Poverty Law Center as 'hate group'.

Gersh went on to call for Sherry to sell the building immediately, and then use the money to help human rights causes.

'(She) Could address this by selling the building, making a donation to human rights efforts, and making a statement in opposition to white supremacist ideas spread by Richard,' Gersh said.

Sherry Spencer also told the network she loves her son, but does not agree with his 'extreme positions'.


Sherry Spencer is pictured with her husband Dr. Rand Spencer at a benefit in April 2016
As Sherry Spencer writes:

These threats came from Tanya Gersh, a local realtor with links to "human rights" organizations Love Lives Here [Phone: 406-309-5678] and the Montana Human Rights Network [Phone:406-442-5506].

On November 22, Gersh and I spoke on the phone. She relayed to me that if I did not sell my building, 200 protesters and national media would show up outside — which would drive down the property value — until I complied. Gersh's other conditions included that I make a public denunciation of my son in a statement written by the Montana Human Rights Network and that I make a donation to this organization from the sale of the property. As Gersh announced on Facebook, she was "spear heading" the campaign.

Gersh followed up on her conditions in a number of emails, which I've just made public. She even shamelessly suggested that she act as my realtor! In other words, she and the local "human rights" organizations appeared to seek financial benefit from threats of protests and reputation damage.
Update: New York Times, "Trump Picks Rex Tillerson, Exxon C.E.O., as Secretary of State", 12 Dec 2016:

WASHINGTON — President-elect Donald J. Trump on Monday settled on Rex W. Tillerson, the chief executive of Exxon Mobil, to be his secretary of state, dismissing bipartisan concerns that the globe-trotting leader of the energy giant had forged a too-cozy relationship with Vladimir V. Putin, the president of Russia, transition officials said.

Mr. Trump planned to announce the selection on Tuesday morning, finally bringing to an end his public and chaotic deliberations over choosing the nation's top diplomat — a process that at times veered from rewarding Rudolph W. Giuliani, one of his most loyal supporters, to musing about whether Mitt Romney, one of his most vicious critics, might be forgiven.
Russia's Prime Minister Putin speaks with Tillerson in Sochi in 2011

President-Elect Trump 'will name Exxon CEO with close links to Putin as his secretary of state', snubbing Mitt Romney."

DM, "BREAKING NEWS, 10 Dec 2016:

Trump is expected to name Rex Tillerson as secretary of state.

Exxon Mobil chief emerged on Friday as the leading candidate.

Favored status was revealed as Giuliani withdrew.

U.S. President-elect Donald Trump is expected to name the chief executive of Exxon Mobil as the country's top diplomat, NBC News reported Saturday.

Exxon chief Rex Tillerson emerged on Friday as Trump's leading candidate for U.S. secretary of state and is expected to meet with him later on Saturday, a transition official told Reuters.

NBC News cited two sources close to the transition team in reporting that Tillerson will be named as secretary of state.

The president-elect had interviewed 2012 GOP nominee Mitt Romney twice – taking him to a three-Michelin starred dinner on one of those occasions.

Should Tillerson be nominated, his business ties, too, will come under scrutiny. Exxon Mobil has operations in more than 50 countries and boasts that it explores for oil and natural gas on six continents.

In 2011, Exxon Mobil signed a deal with Rosneft, Russia's largest state-owned oil company, for joint oil exploration and production. Since then, the companies have formed 10 joint ventures for projects in Russia.

In 2013, Russian President Vladimir Putin awarded Tillerson his nation's Order of Friendship.

'He has had more interactive time with Vladimir Putin than probably any other American with the exception of Henry Kissinger,' John Hamre, a deputy defense secretary to Bill Clinton told the Wall Street Journal.

But U.S. sanctions against Russia for its incursion into Crimea cost Exxon Mobil dearly, forcing it to scrap some projects and costing it at least $1 billion in losses. Tillerson has been a vocal critic of the sanctions.

Trump has spoken of wanting warmer relations with Moscow, which has sparked concerns in Congress that he could lift or loosen some of the sanctions on Russia.

Tillerson has been chairman and CEO of Exxon Mobil since 2006. He is expected to retire from the company next year.

Should Tillerson be nominated, climate change could be another divisive issue. The company is under investigation by the New York Attorney General's Office for allegedly misleading investors, regulators and the public on what it knew about global warming.

Trump's campaign was unavailable for comment.