Majorityrights News > Category: Awakenings
TNO, "Is Trump "Draining the Swamp?", 23 Dec 2016:

At least four senior executives with international bankers Goldman Sachs will get critical posts in the Donald Trump administration—even though he campaigned fiercely against that institution, with his closing campaign ad using an image of that company's CEO Lloyd Blankfein to condemn the "global power structure" for robbing America's working class and enriching the elite.


Trump's closing campaign TV ad which depicted Goldman Sachs CEO Blankfein as part of the globalist enemy.

The Goldman Sachs appointments are not the first indication that Trump has no intention of "draining the swamp" in Washington D.C. either.

Former Goldman Sachs partner Steven Mnuchin served as Trump's national finance chairman and is now Trump's nominee for U.S. Treasury secretary.

Trump has also nominated Goldman Sachs President (and the bank's de facto number two) Gary Cohn as his top economic adviser in the White House.

Other Goldman alums in Trump's inner circle include Anthony Scaramucci, a former Goldman banker and a member of the Trump transition team's executive committee, as well as Steve Bannon, Trump's campaign manager.

Trump's campaign ad described Goldman Sachs as part of "a global power structure that is responsible for the economic decisions that have robbed our working class, stripped our country of its wealth and put that money into the pockets of a handful of large corporations and political entities."

As the Bloomberg news service has pointed out, after "years as the face of Wall Street greed and the target of public scorn, the bankers at Goldman Sachs can be cheerful again.

"Not only has Trump's election stoked hopes for looser regulatory policies that will make it easier for banks to take bigger risks and book fatter profits, but Goldman also appears to have regained its place at the nexus between Wall Street and Washington," Bloomberg wrote.
CBS, "Donald Trump's Cabinet richest in U.S. history, historians say", 20 Dec 2016:

As he traveled the country on his thank you tour, President-elect Donald Trump touted his choices for his Cabinet and inner circle, a group historians say is the richest in U.S. history.

"And one newspaper criticized me, 'Why can't they have people of modest means?'" Trump said at a Des Moines, Iowa rally. "Because I want people that made a fortune. Because now they're negotiating with you, okay?"

Donald Trump's 14 Billlion Dollar Cabinet

How rich? CBS News estimates seven of Trump's picks are worth a combined $11 billion.

"I guess they have a few poor millionaires on it, but mostly it's billionaires," said Sen. Bernie Sanders.

Critics like Sanders say Trump's choices fly in the face of his populist campaign message. "You don't appoint a Cabinet of billionaires to be taking on the establishment," he said on Sunday's "Face The Nation."

Steve Mnuchin, Trump's Treasury pick has been estimated to be worth as much as $655 million. He and commerce secretary nominee Wilbur Ross, worth $2.5 billion, recently said they were attuned to the plight of working Americans.

"It's also not true all jobs are created equal. A guy that used to work in the steel mill, now flipping hamburgers, he knows it's not the same," Ross said in an appearance on CNBC.

Having millionaire and billionaire cabinet secretaries is not unprecedented. They tend to attract slots at Treasury and Commerce. But neither President Obama nor President George W. Bush had a single billionaire in their first Cabinets.
Pardon for quoting Bernie and other brackets but these are merely verifiable facts being cited here.
Quartz, "Trump's 17 cabinet-level picks have more money than a third of American households combined", 15 Dec 2016:

The 17 people who US president-elect Donald Trump has selected for his cabinet or for posts with cabinet rank have well over $9.5 billion in combined wealth, with several positions still unfilled. This collection of wealth is greater than that of the 43 million least wealthy American households combined—over one third of the 126 million households total in the US.

Affluence of this magnitude in a US presidential cabinet is unprecedented.
It is a game that Republicans have been playing for years, a few dog whistles in exchange for implicit White support of deracinating elite White Republicans in tandem with Jewish interests ....what is a bit new is that they are throwing a few milk bones to placate the explicit Whiteness in the Alt-Right so that they can co-opt White identity, not only into the Republican party but into their global geo-political agenda - on the side of fellow bracketed proposition empires, The U.S., Russia and Israel against Asia. This is a backwards and utterly dangerous friend/enemy arrangement and ultimately eschews Whites to a war footing in the interest of Jews against the ethnonationalism of others and ultimately, irrespective of White ethno-nationalism.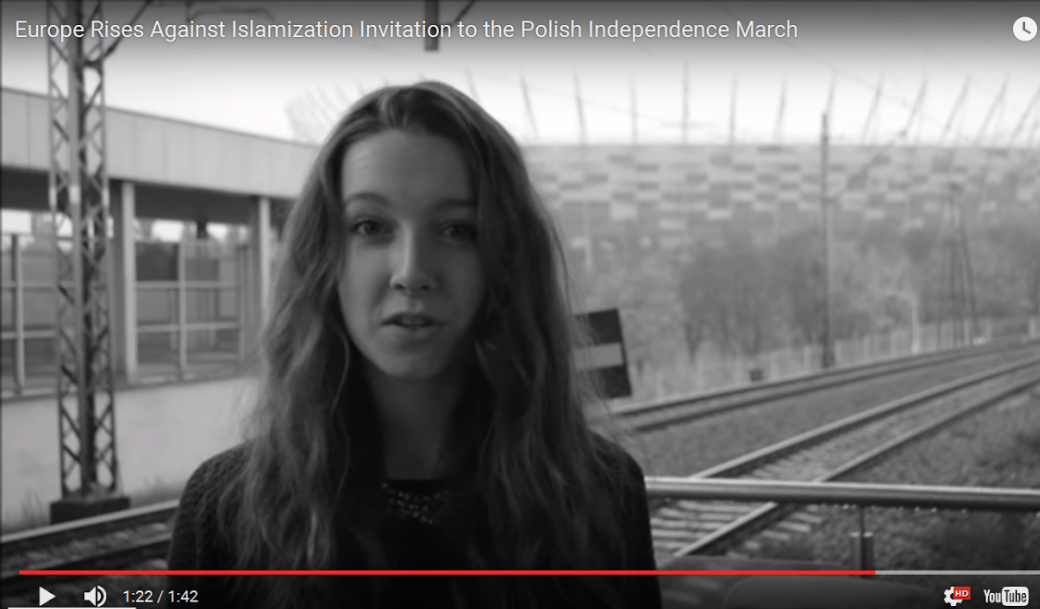 "This year, the organizers of the March of Independence, which commemorates the independence regained by Poland after November 11, 1918, against Germany and Bolshevik Russia, invite the Europeans to join them in Warsaw to assert their patriotism and protest against the "Islamization of the continent" (Video seen by clicking here or the image above).


On 11 November 1918, Poland reclaimed its independence after 123 years of occupation. Every years on the 11th of November, hundreds of thousand of Polish patriots celebrate their Independence Day. This year we are dedicating our independence to all of Europe. Now is the time when patriots of our whole continent must unite and fight together. We must defend our nations, traditions and culture. We must say no to multiculturalism and the dangerous experiments being conducted on the peoples of Europe. We see what radical Islam really stands for. Corrupt politicians and the establishment media are trying to make us believe that Europe must accept millions of immigrants. It is simply impossible to accept such numbers of people who do not understand or respect our cultures or obey our laws, and there are many terrorists among them. This is an invasion.


...join us in Warsaw on the 11th of November for the largest patriotic march in Europe.We invite you to the demonstration of freedom in Europe for the people of Europe. We are waiting for you. Tomorrow does belong to us.
"They are both essentially neo-liberal candidates, who will do nothing to impede imperial expansion" - Hedges, 7 Nov 2016: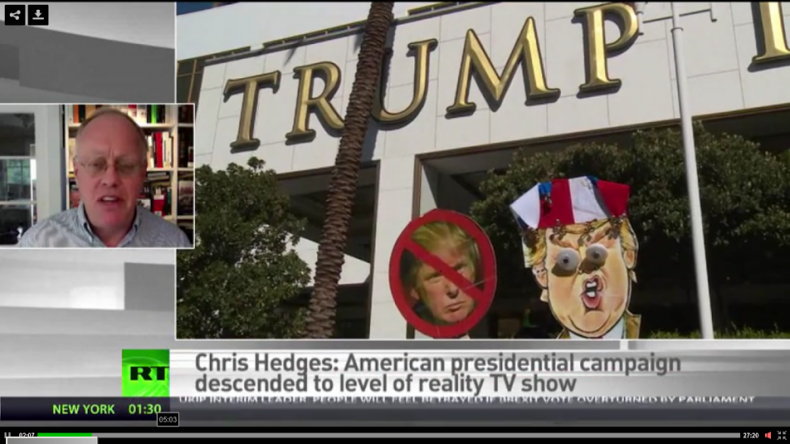 "Trump is a Public Relations disaster for The Unites States" - and that's part of why the establishment is against him - "but the establishment is so hated that when they trotted out Mitt Romney to attack him, people just laughed: it's the Romney's, the Clinton's, the Obama's - it's the establishment that people are turning against which is why Hillary Clinton is having such a difficult time competing against such an imbecilic and indisciplined and impulsive and frankly ignorant candidate."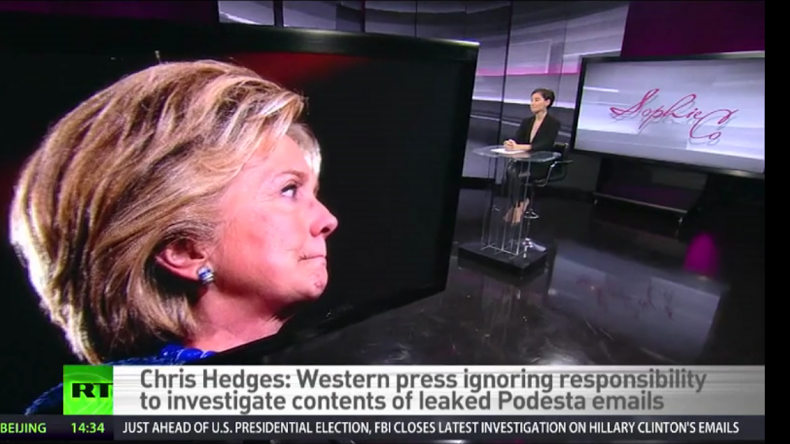 Hillary's camp has been able to manipulate the electoral process all the while. With that, she's had the press on her side, including to the point of pressuring the FBI to shut down the belated email investigations.
Figures compiled over 30 years:
Young black males, 4% of the population, commit half of all murders in America.
Don't heed the trivializing girl argument that the problem with blacks is that they do not work. While that is true, to merely put your nose to the grindstone and work to prove yourself responsible, unlike them, and make a state function that permits of these circumstances is the epitome of naivete (of being a cuck).
We don't have a black laziness problem, we have a Jewish, objectivist and black hyper-assertiveness problem, which imposes blacks, their cuckolding and violence upon us.
Example among the affliction -
DM, "Mother calls police on her son after he admits killing his pretty girlfriend and dumping her body in a lake", 6 Aug 2013

Khambrel Hadley and Alyssa Oakes had only moved in together in May

They often fought, police even responded to one of the arguments and classified a domestic incident

Hadley was caught when he was reported as having stolen a neighbor's car


A Florida mother made the toughest decision a parent can make Friday when she turned her son into police for murdering his girlfriend.

Shortly after Khambrel Hadley, 21, confessed to murdering girlfriend, Alyssa Oakes, 19, and told her where he dumped the body, his mother called 911 to report the crime. The alleged murderer was arrested later that afternoon, according to reports.

The doomed couple had moved into a Delano, FL., apartment just two months ago.


Accused murderer: Khambrel Hadley (right) allegedly confessed to murdering girlfriend Alyssa Oakes (left) and dumping her body in a wooded area near a lake.

Hadley's getaway was foiled when a neighbor called 911 to report his car stolen, according to WFTV, it didn't take long for cops to finger Hadley as the thief.

Oddly enough, Hadley had been hanging out with a man who's car he stole just the night before.

'He was pulling out of the apartment complex when I saw him take off,' the man told the station.

Police responded to Hadley's mother's 911 call by visiting the apartment he and Oakes shared, instead of finding the young woman, they found evidence of a struggle and what WESH called a 'brutal' murder.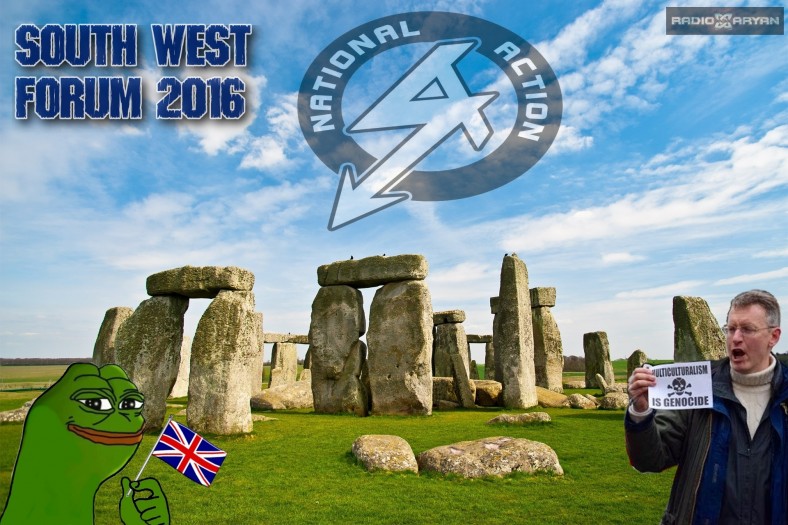 South West Forum: White British Nationalists, Max Musson, Ian Fotheringham and Jez Turner.
Paradise Island, A Parable by Max Musson which discusses the advantages of in-group preference.
WP, "Clinton aide Huma Abedin has told people she doesn't know how her emails wound up on her husband's computer", 29 Oct 2016:

Top Hillary Clinton aide Huma Abedin has told people she is unsure how her emails could have ended up on a device she viewed as her husband's computer, the seizure of which has reignited the Clinton email investigation, according to a person familiar with the investigation and civil litigation over the matter.

The person, who would not discuss the case unless granted anonymity, said Abedin was not a regular user of the computer, and even when she agreed to turn over emails to the State Department for federal records purposes, her lawyers did not search it for materials, not believing any of her messages to be there.

That could be a significant oversight if Abedin's work messages were indeed on the computer of her estranged husband, former congressman Anthony Weiner, who is under investigation for allegedly exchanging lewd messages with a 15-year-old girl. So far, it is unclear what — if any — new, work-related messages were found by authorities. The person said the FBI had not contacted Abedin about its latest discovery, and she was unsure what the bureau had discovered.

[Justice officials warned FBI that Comey's decision to update Congress was not consistent with department policy]

According to federal law enforcement officials, investigators found thousands of messages on Weiner's computer that they believe to be potentially relevant to the separate, Clinton email investigation. How they are relevant — or if they are significant in any respect — remains unknown.

Here's what happened after the FBI said it would examine newly discovered emails linked to Hillary Clinton's tenure as secretary of state.


When they where informed of FBI re opening the investigation due to Weiner.

Weiner and a lawyer for Abedin did not return messages seeking comment. Clinton has called on the FBI to release more information and predicted nothing would emerge that would change the FBI's conclusion that no charges were appropriate against her.

FBI Director James B. Comey wrote in a letter to lawmakers Friday that investigators would take "appropriate investigative steps" to determine if any of the messages contained classified information or if they could somehow advance the Clinton probe in another way.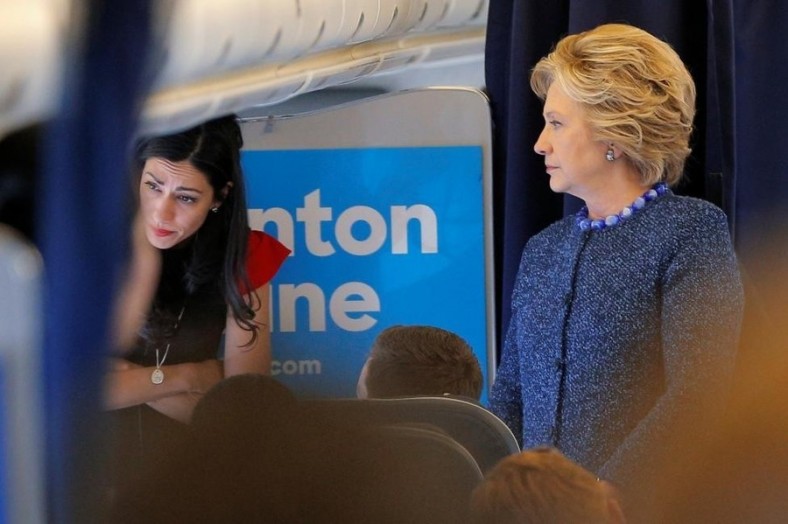 When they where informed of FBI re opening the investigation due to Weiner.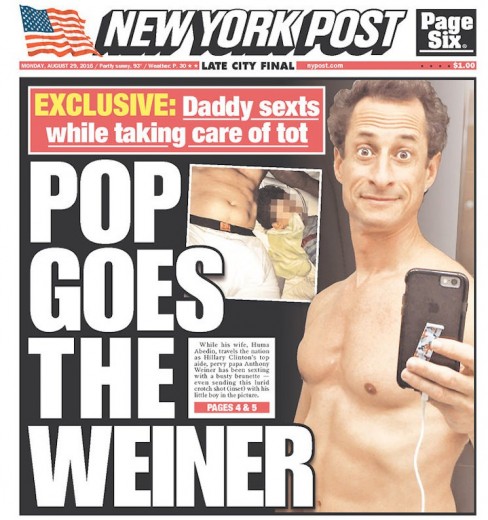 Huma Abedin's Jewish husband, Anthony Weiner
TNO, "Italy: More Invaders than all 2015", 25 Oct 2016:

More Africans have now invaded Italy this year than the total number who did so last year—and there are still over two months of 2016 to go.

Official figures show that over 153,000 nonwhite invaders have landed in Italy as of October 24, 2016. The figures were released following the landing of over 4,000 sub-Saharan invaders over the past weekend.

One of the invaders, Alhaji Kutubu Sankoh, from Sierra Leone, told an AFP reporter on the Norwegian ship, Siem Pilot, that he had left his home and set out for Europe after his father died of Ebola—raising the real possibility that the invaders are bringing that disease with them into Europe.

Meanwhile, residents in the northern Italian town of Gorino, Ferrara, successfully prevented the authorities from "placing" a number of invaders in their town by physically blockading all the public roads.