Majorityrights News > Category: Pervasive Ecology
Jonathan Porritt, author of The World We Made, feels the Green Party must still discuss population.

The Ecologist, "Jonathon Porritt calls for progressive case for taking control of EU immigration", 7 Dec 2017:

JONATHON PORRITT, author of The World We Made, joined the Green Party four decades ago. At that time the party keenly debated population growth, and the impact this would have on the environment. Today, Porritt argues, the referendum and anxiety around immigration means progressives still need to discuss this hotly contested issue.

These increasingly significant deficits are not caused by high levels of immigration: they're caused by wretchedly inadequate economic and fiscal policy.

When I joined the Green party in the mid-1970s population was a big issue, regularly debated with enthusiasm and intellectual rigour. People joining the Green party today would have to wait a long time before even hearing the word mentioned – and then might easily find themselves 'warned off' from this no-go territory.

I just don't get this. In a world where overall population growth projections are rising, and where global migration is still on the rise, it's a complete dereliction of all environmentalists' duty to protect the planet (particularly members of the Green party) to continue to ignore population growth and not to campaign for its reduction. Without such a reduction, all solutions to other aspects of ecological and social concern are made far more difficult to deal with.

A couple of weeks ago, myself and Colin Hines published a paper entitled The Progressive Case for Taking Control of EU Immigration – and Avoiding Brexit in the Process. This case is simple: Brexit could still be reversed; hard Brexit can certainly be avoided.

Population growth

But this won't happen unless Labour, the Lib Dems and the Green Party stop dickering around and come up with some serious ideas about more effectively managing immigration into and between EU countries. Without that, many of those who voted Brexit will cry out in rage at the referendum result being seen to be 'set aside', given that concern about immigration was paramount in their minds at that time.

Uncomfortable though this might be for contemporary greens – and indeed for all progressives – high levels of population growth and immigration go hand-in-hand. If net migration continues at around recent levels, then the UK's population is expected to rise by nearly 8 million people in 15 years, almost the equivalent of the population of Greater London (8.7 million).

At least 75 percent of this increase would be from future migration and the children of those migrants. As already indicated, future population growth would not stop there. Unless something is done about this growth, it is projected to increase towards 80 million in 25 years and keep going upwards.

It's important to be completely logical about this. For instance, the UK is already struggling to maintain critical infrastructure, to meet housing demand, and to invest sufficiently in education, healthcare and social services.

As Colin and I unhesitatingly pointed out in our paper, these increasingly significant deficits are not caused by high levels of immigration: they're caused by wretchedly inadequate economic and fiscal policy, going back at least a couple of decades. But continuing population growth clearly exacerbates those deficits.

Resolutely defended

The UK's Total Fertility Rate has not been above 2.1 children per mother since 1972, but 'population momentum' (increase in numbers of births when babies born at peak of population growth reach reproductive age), plus net immigration, has led to a population increase of nearly 10 million people since 1972.

And these challenges can only get worse. We know, as a matter of increasingly painful inevitability, that the lives of tens/hundreds of millions of people (particularly in Africa and the Middle East) will be devastated by the effects of climate change.

We know that many of those people will have no choice but to leave their homes and communities if they are to have any prospect of survival, let alone a better life. And we know that many of them will seek to come to Europe, as the place that offers the best possible refuge in an all-encompassing storm not of their own making.

How can anyone suppose that an 'open borders' positioning is an appropriate response to that kind of backdrop? How can most progressives stick to the line that the EU's principle of 'freedom of movement' should be resolutely defended, especially after resurgent right-wing populism has had such a negative impact on elections this year in France, the Netherlands, Germany, the Czech Republic and Austria?

All I can do, therefore, is to urge all environmentalists to open up their minds again and re-think the whole population/immigration nexus – from a radical, genuinely progressive perspective.


This Author

Jonathon Porritt is an environmentalist and author.
The New Observer, "Netanyahu: Race-mixing to Destroy Liberal Jews", 3 Dec 2017:

Israeli Prime Minister Benjamin Netanyahu has reportedly predicted that racial mixing between liberal Jews and non-Jews will wipe out Reform Judaism in America by 2070—and that as a result, the Jewish ethnostate must prepare itself for survival without being supported by the US.

The comments, first reported by the Hebrew-language Makor Rishon daily newspaper in Israel, have highlighted two important facts: firstly, that Netanyahu is acutely aware of the threat to racial identity posed by racial mixing of any sort; and secondly, that the liberal Jews in America are behind the support that country provides to Israel.

In the original report, Netanyahu said that Reform Judaism—which, according to Pew Center estimates, represented 35 percent of American Jews—"would disappear within two generations due to assimilation."

The publication of the report in Makor Rishon caused an uproar amongst Jews in America, and Netanyahu's office issued an oblique denial in a tersely-worded statement which said that the report was "inaccurate and do not reflect the Prime Minister's views." It was significant that the statement did not specifically deny using those words, a tactic often employed by politicians as a way of publicly backtracking from comments.

Makor Rishon's diplomatic correspondent, Ariel Kahana, however, confirmed that Netanyahu repeated the assessment several times in private talks, and that Israel's ambassador to the United States, Ron Dermer, has been heard making similar projections.

According to Kahana's reports, Netanyahu spoke of the scenario of the demise of Reform Judaism as a threat to Israel, saying the Jewish state needs to prepare for a day when it would no longer enjoy the base of support provided today by the Jewish community in the United States.

As the Jewish Telegraphic Agency pointed out, Netanyahu has been criticized by leaders of Reform Judaism "in the United States and beyond" over his government's refusal to implement a compromise that enlarges the space devoted to allowing Jewesses to pray at the Western Wall, as well as its support for a bill that would give the Orthodox Chief Rabbinate formal control over conversions—which would further cement Israel's ban on marriages between Jews and non-Jews.

The JTA makes no reference to the real reason for the split between "left" and "right" wing Jews, namely on how best to present Israel to the outside world.

The JTA also ignored the other elephant in the room—the fact that the Jewish lobby in America and European countries still all support Israel and its racial policies—while vehemently attacking any white people who dare to say that they seek to emulate Israel's plans to protect itself from being overrun by racial aliens.

Netanyahu's assessment that liberal Jews in America will disappear due to racial mixing is based on reportedly high intermarriage rates with non-Jews amongst that community.

This is however unlikely to affect the power of the Jewish lobby, because the Conservative and Orthodox branches of American Jewry—together the majority of Jews in the US—still maintain their Jews-only marriage policies, and will not disappear.

In fact, it is precisely the Orthodox Jews who wield such strong influence over the Donald Trump administration, which is proof in itself that the disappearance of Reform Jews will not dramatically affect the power of the Jewish lobby in America.

As the Israeli Haaretz newspaper reported in April 2017, the "New Jewish Elite of the Trump Age" are the "ultra-Orthodox and pro-Israel Hawks."

Haaretz reported that "among many moves aimed at reversing his predecessor's policies, President Trump recently decided not to make public the White House visitors logs.

"Had they been open, the lists would reveal the profound change 100 days of a Trump administration had brought about to the Jewish community's power structure.

"The atmosphere has changed, at least for us. There's a sense of familiarity and greater receptivity and that makes a better atmosphere," said Abba Cohen, vice president for federal affairs at Agudath Israel of America, a group representing the ultra-Orthodox stream."

The real threat to Jewish power in America will only come when—and if—America tips majority nonwhite, because the Jewish Lobby's power is directly linked to the presence of a majority white electorate—as controlling the electoral choices of a majority nonwhite population will prove much harder to do.
I've published this full article by The New Observer in order to allow the article to build up to this last - crucial - paragraph:
"The real threat to Jewish power in America will only come when—and if—America tips majority nonwhite, because the Jewish Lobby's power is directly linked to the presence of a majority white electorate—as controlling the electoral choices of a majority nonwhite population will prove much harder to do."
It makes a point, inadvertently in all likelihood, and it is a chief point that Kumiko has become vigilant about - that non-Whites who are aware of the JQ, its power and destruction to ethno-nationalism, are being compelled where they are observant, to oppose White advocacy in general (just as the Jews would have it via controlled reaction to cultural Marxism) because it (right-wing reaction) has become engrafted with Jewry and their agenda. The Alt-Right is no relief from this fact; quite the opposite, it is the ultimate in crypsis as it basically has a quid pro quo relation with Jewry's right wing position upon its full ascendancy (approximately following the 2008 American housing bust).
And so, while David Duke, KM, TRS, Mark Collett et al. will continue to make excuses for (((Trump's administration))); some Alt Right tents will bolster their JQ cred by apologetics for Nazi Germany; but generally they will wield the anti-social stigma that Jewry will encourage among Whites; while other tents among their big tent will be in their circuit ready to express their "compassionate side" by running apologetics with and for Lauren Southern, John K. Press, Mike Enoch and Faith Goldy…. in their broader sphere will be Stephan Molyneux, Breitbart, Fox etc.
That is to say, the Alt Right and its perspective against "the left" has been and remains a Jewish trick at the most fundamental, epistemic level of (against) praxis; a trick which non-White and White ethnonationalists alike cannot afford to ignore. For it is the anti-social right, bereft of social accountability in propensity for naturalistic fallacy and unhinged idealism that has precipitated wars catastrophic for everybody except for the ultimate benefit of YKW.
Frontline, "A Dispatch From Bonn: "1.5 To Stay Alive", 18 Nov 2017:


Faith Debrum, 12, is pictured near her home on the Marshall Islands. The island nation is part of an international coalition fighting to keep global temperatures from rising above 1.5 degrees Celsius. (Michelle Mizner/FRONTLINE)

BONN, Germany — One of 12-year-old Faith Debrum's favorite hobbies is diving off the seawall in front of her house and swimming to a nearby reef in search of interesting fish. When asked how climate change might affect that hobby, she had a ready answer: "1.5 to stay alive!"

It was a phrase that my reporting partner and I heard again and again while we were in the Republic of the Marshall Islands earlier this year speaking to children like Faith about the risks climate change pose to their country's future. "One-point-five" refers to the degrees Celsius (2.7 F) that scientists believe world temperatures can afford to rise by 2100 without making life on low-elevation island nations like the Marshall Islands nearly impossible. Researchers believe it would also keep the number of new heatwaves and heavy rains globally in check.

Beach house in Arno Atoll

"In the seminal 2015 Paris Agreement on climate, the world committed to holding global warming below 2 degrees Celsius by 2100 – but also "pursuing efforts to limit" warming to 1.5 degrees. That additional proviso was added under pressure from a "high ambition coalition" of 100 nations, which had spent years advocating for a 1.5-degree goal to be included in the agreement, and, against political odds, succeeded.

By all accounts, staving off the extra half-degree of warming will require radically new efforts – and soon. Climate experts say every year that passes without significant action will make it harder to reach the 1.5 target.

Already, temperatures have risen 1.1 degrees Celsius (2.0 F) since pre-industrial times. And, even with the Paris accord in place, temperatures are on track to surge by 3.2 degrees Celsius (5.8 F) by the end of the century. One study published this year pinned the planet's odds of achieving 2 degrees at just 5 percent – and of achieving 1.5 at just 1 percent.

Despite seemingly unsurmountable obstacles, those who advocated for 1.5 degrees in Paris were once again advocating for it at this year's United Nations climate negotiations in Bonn, while preparing for another major push at next year's conference in Katowice, Poland.

The half-degree between 1.5 and 2 may seem minor, but for low-lying coastal areas, it is imperative: According to climate models, it likely means an extra 10 centimeters (3.9 inches) of sea level rise, perhaps more. Those extra inches are critical for places like the Marshall Islands, where the mean elevation is six feet above sea level.

Researchers and environmental groups insist the goal is achievable.

The train has not left the station," said Andrew Jones, co-director of the nonprofit climate research group Climate Interactive. "It's leaving, though, and we need to run faster than we ever have in our lives to catch it."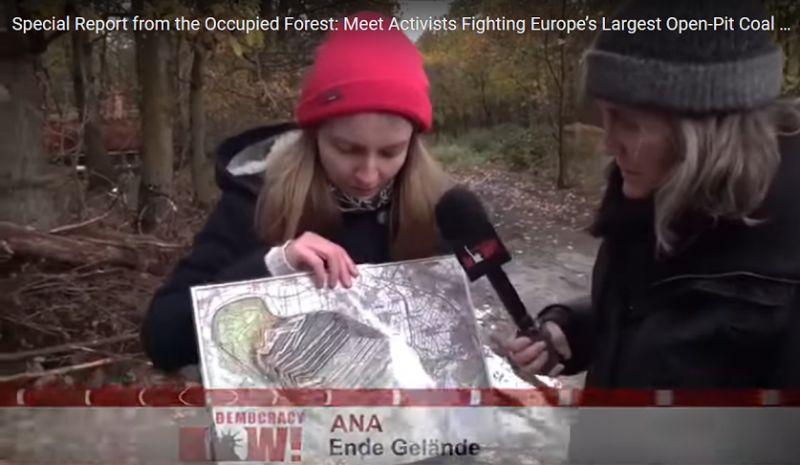 Again, while the source of this news story, unfortunately, is the anti-White Democracy Now, the protestors "look huWhite to me"; and their protests should not be at odds with the survival and protection of European peoples; quite the opposite, they are a part of pervasive ecology.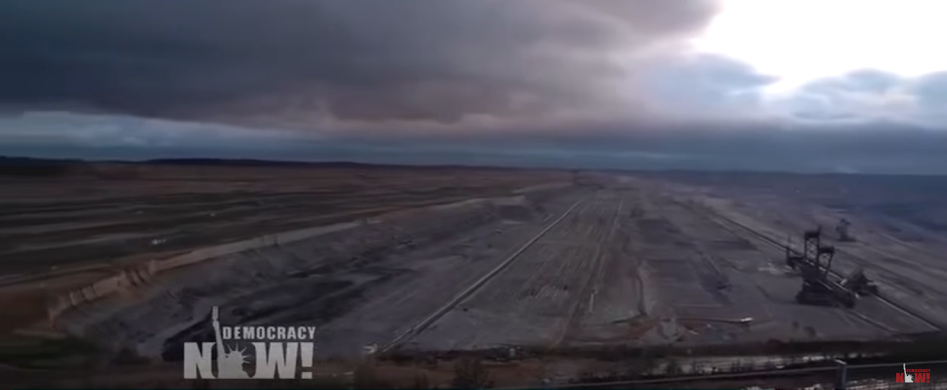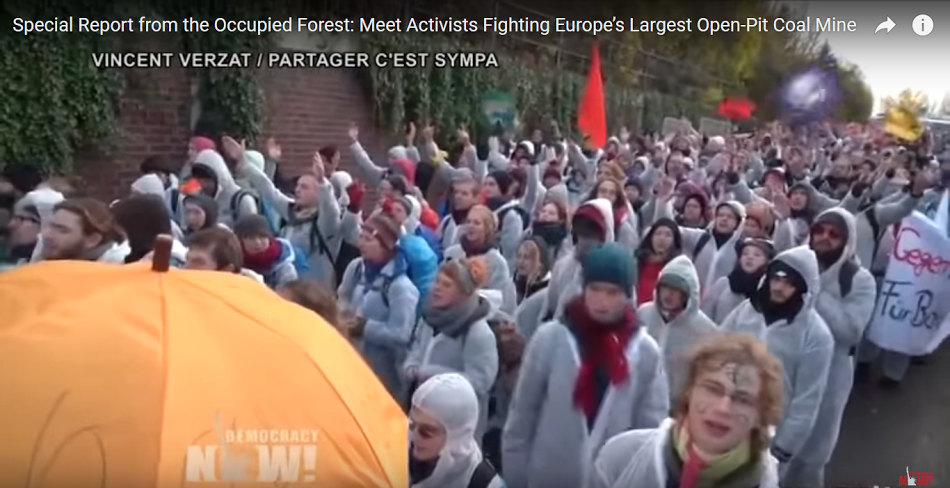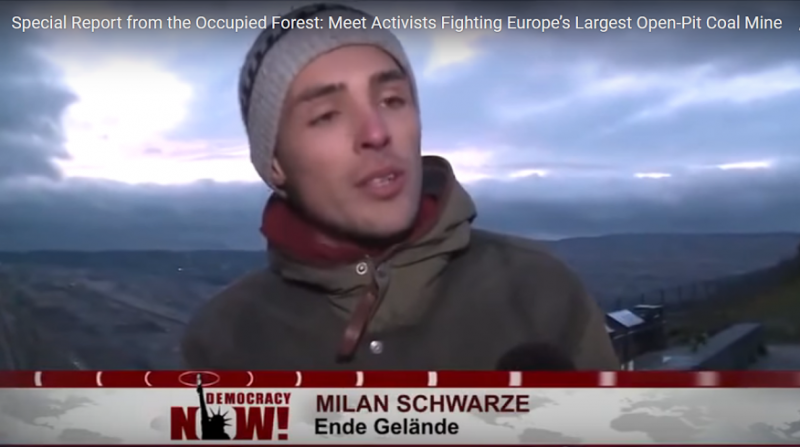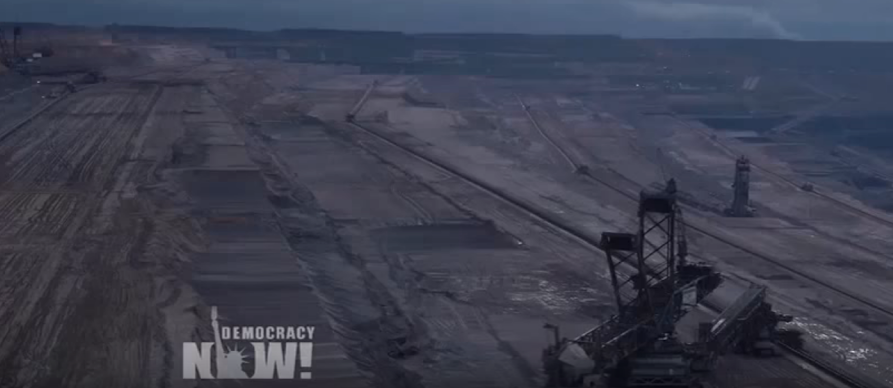 This open coal pit is nearly as big as Cologne, which is the next city here, where over one million people live.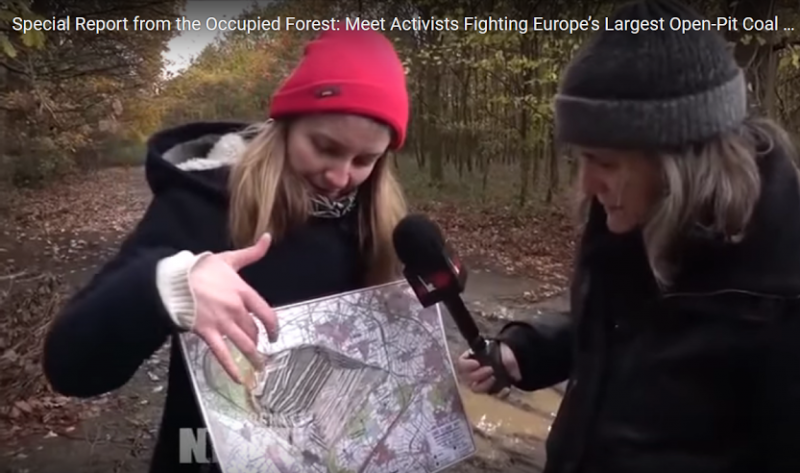 Basically, 90 percent of the forest is destroyed already because of the coal mining ...and we have less than 10 percent of the Hambach forest left.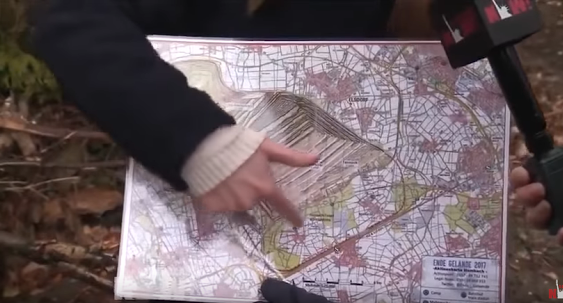 ...and we are trying to protect this last ten percent of the Hambach forest.
We will take you to the occupation of the Hambach forest…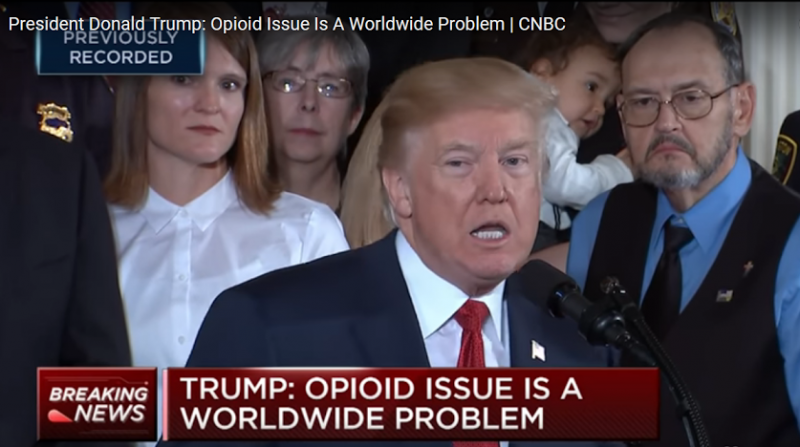 It is significant that Trump has declared his campaign against the opioid issue a worldwide problem.
It is a reflection of dishonesty and supremacism as opposed to a move toward ethnonational coordination.
A preliminary matter of suspicion has to do with resources being devoted to criminal enforcement rather than public health.
In particular, resources as such are not necessarily being devoted even for the public health management of the poor White communities impacted. But rather toward a covert means to deal with blacks and browns though criminalization; while resources will be devoted to foreign browns and yellows to a lesser extent through criminalization, but to a greater extent through politicization - their being seen as engaging in a covert war of drug trafficking - a depiction which could then mutate into broader, more explicit wars, markedly in Asia.
This comes back to dishonesty and supremacism as opposed to White Nationalism, which is supposed to represent ethnonationalism for European peoples.
As ethnonationals, we should be working on rule structures which lead to our separatism and sovereignty for ourselves, blacks, browns and yellows. We do not want to be a part of the same governance; and in fact, we need to be of a separate governance.
It is supremacist to detain migrants, drug users and petty dealers for any significant length of time in prisons - private jails in particular have been cited as being used for the literal supramacist purpose of slave labor.
Ethno-nationals would either repatriate them or work on the means of separatism, physically and legally; i.e., they would honestly admit that in seeing themselves as significantly different from these people, that they want to be separate; and need to separate, as opposed to generating an atmosphere of exploitation and revenge; or the liberal supremacism of integrationist genocide. That only separatism, not heirarchical control within the same governance will allow us to manage our peoples in good faith coordination with others.
As for the trafficking of opioids, cocaine and other drugs - again, rather than a government engaging in a dishonest, covert means of warfare against a people that Jews and right wingers see as a threat (Hispanics and Asians), White governance needs to acknowledge that drugs have long been, though clandestinely, a huge part of Western economies; and what needs to happen instead is an open and honest acknowledgement of the part these drugs play in the medical and recreational economy and as a public health issue - in the need for mental adventure and a certain amount of pleasure on the one hand; and in the need for escape into being, the need to deal with pain, anxiety, depression, boredom and despair on the other hand - particularly regarding the addictive aspects and the anti-social ramifications of abuse that can ensue. Thus, not only dealing with the punishable aspects of drug abuse, but in the social compassion of looking into and dealing with what might be lacking in these peoples lives that has them not seeing better recourse to drug abuse or illegal trafficking.
This would allow for a better management of our own peoples. In addition, this would allow for a fair, non-Jewish, non-right wing negotiation with Asian and South American peoples, as opposed to more brutal exploitation and catastrophic wars in the dishonest interests of Jews and right wingers.
Environment

NPR, "Climate Change Journalist Warns: 'Mother Nature Is Playing By Different Rules Now", 24 Oct 2017:

Fresh Air

Author Jeff Goodell says that American cities are under threat from extreme weather, rising sea levels and lax enforcement of environmental regulations. His new book is The Water Will Come.

TERRY GROSS, HOST:

This is FRESH AIR. I'm Terry Gross. Hurricanes Harvey, Irma and Maria have shown how extreme weather can destroy towns, cities and islands. My guest Jeff Goodell is the author of a new book about what cities around the world face in a future of rising seas and increasingly intense storms. It's called "The Water Will Come." Goodell is a contributing editor at Rolling Stone and has covered climate change for 15 years. He's also written about fossil fuels, including the coal industry and their impact on the environment.

Jeff Goodell, welcome back to FRESH AIR. So Hurricanes Irma, Harvey, Maria - all the climate people say no one event can be attributed with certainty to climate change. But what about the confluence of these three consequential hurricanes?

JEFF GOODELL: Well, I mean, I think that we're seeing what's happening as we're warming up the earth's climate here. I mean, it's a very well-established fact that as the ocean temperatures heat up, that is going to increase the intensity of these storms. One of the complicated things about what's happening in our - as CO2 levels rise in our climate is that no one can predict exactly how these sort of new impacts are going to play out and what kind of consequences we're going to see.

So you know, these hurricanes, these storms that we've seen this season are an indicator that, you know, we're moving into this sort of new age when the sort of old rules of how our climate works are off the table. And Mother Nature is playing by different rules now.

GROSS: So just to sum up, do you think that these three hurricanes are the result of climate change?

GOODELL: The hurricanes themselves are not the result of climate change. But certainly the additional intensity, the fact that we've had a number of Category 5 hurricanes is likely the result of warmer ocean temperatures and higher CO2 levels.

GROSS: So your book opens with a very upsetting description of what Miami might look like by the end of the 21st century. So give it a go for us. Describe what, like - your dystopian fantasy of what Miami will look like as a result of climate change.

GOODELL: Well, I mean, one of the problems with Miami is that it's very - you know, it's a very low-lying place. There's no high ground to run to. And so you know, with only, you know, 5 or 6 feet of sea level rise, which we could certainly see by the end of the century, you know, you're going to see major parts of the city inundated.

You're going to see more and more flooding in residential areas. You're going to see more and more kind of pollution coming out of those flooded areas like we're seeing in Houston with Harvey - major infrastructure like the airport underwater or not functional, massive losses in real estate investment along the coast, fleeing from low-lying areas inland, which are also going to be flooded out, places like Hialeah and Sweetwater. I think the real thing that you're going to see that people don't really think about is just this sort of economic collapse and economic problems that are going to be caused by a plummet in real estate values, which are really important to the Florida economy.

GROSS: What actually is happening in Miami now? You spent some time in Miami Beach, and you saw flooding just caused by high tides. Describe what you saw.

GOODELL: Well, I started this book, you know, shortly after Hurricane Sandy hit New York. And you know, there was nine feet of storm surge that came into New York. And I was talking to some scientists after that, and they said, you know, think about this as a sort of, you know, experiment of what sea level rise will look like. Imagine if you had nine feet that came in and didn't go away the way it did with Sandy. So then I started thinking about that, and other scientists said, well, if you're going to really think seriously about this, you need to go to Miami.

So I did. And I happened to be there on king tides, which is the time of - in the fall when the high tides are particularly high. And I started wandering around through Miami Beach on the western side of it in this sort of very wealthy neighborhood, and there was water up to my knees. I mean, there were people kayaking through the streets of Miami Beach on king tide. And it didn't take a whole lot of thinking to figure out that if you had 2 or 3 feet of sea level rise, much less 6 or 8 feet of sea level rise, this place was in big trouble. And thinking about that and thinking about what the kind of trouble it would be in and the kind of trouble that other coastal cities would be in was really the genesis of the book.

GROSS: What do the people who live there do about those waters that you can kayak in?

GOODELL: Well, since then - this was four years ago, and since then, they've, you know, invested $500 million in building - improving the storm drainage, improving - putting in a bunch of pumps. And so some of these areas are - you know, in short term, you know, the flooding has been better. But that's just a sort of short-term fix. And so what people are doing now is they are, you know, kind of living in a kind of denial.

They are hoping that - you know, a lot of people who live in Miami Beach aren't there for - they're not thinking about being there for the next 50 years. They're thinking about being there for the next five years and how much fun they can have and, you know, how they can enjoy their retirement or their parties on the beach. And there's not a lot of long-term thinking going on in a place like Miami Beach. And so basically people's time horizon is the next five years. And will I be OK for the next five years - you know, probably. And so that's where it's at. People who think more broadly about it - and there are a number that I know - are selling and moving.

GROSS: What makes Miami Beach so vulnerable?

GOODELL: Well, it's interesting. Miami Beach is a barrier island not unlike the Outer Banks or Galveston, Texas, or - you know, there's many barrier islands around on the East Coast and on the Gulf Coast. So that's one thing. It's low-lying. Its elevation is 4, 5, 6 feet at max. But the real problem with Miami that makes it different than a lot of other places is that it's built on this sort of porous limestone. The particular kind of limestone it's on is full of holes. And so what that means is that you can't build sea walls in the traditional sense around Miami Beach. In New York and in Boston and of course in the Netherlands, there's lots of sea walls, and they can be an effective, if problematic, way of keeping water back for a while.

But in Miami, that's not really possible because of this porous limestone, which means the seawater can just go right underneath a wall and just pop up on the other side. And this has complications not just for kind of protection of the place but also because as that seawater rises and begins to seep underneath, it gets into the freshwater drinking aquifer, which is very shallow in Miami. And so there's going to be impact. There's already problems with the salinization of drinking water. So there's going to be a problem with drinking water in the very near term also.

GROSS: What's Governor Rick Scott's position - the Florida governor - on climate change?

GOODELL: Rick Scott is, you know, a pioneering climate denier. Rick Scott has, you know, unofficially kind of prohibited government employees from using the phrase climate change in any kind of government communication. I mean, he's this sort of prototype for what we're seeing in the Trump administration with EPA Administrator Scott Pruitt and others who are basically just trying to deny that this is a problem.

And it's a particular disservice in Florida because Florida is, you know, so obviously at risk. It's not like he's the governor of Oklahoma or something where, you know, sea level rise is not going to be a problem. In Florida, it's a direct risk not only to people's lives with flooding but also just to the economic future of the state.

GROSS: So let's talk about the ice sheets. Many of them are melting, and that's affecting sea levels, causing them to rise. And that's affecting climate change and ocean levels. So let's start with the ice sheets. You say that there's much more melting in the Arctic than in Antarctica. Why is that?

Shearing glacier, Bradford Littlejohn

GOODELL: Well, a lot of the heat from the warming of the Earth is sort of concentrating itself up in the north in the Arctic right now, and that's the, you know, fastest melting place on the planet right now. And when we think about sea level rise, you know, there's a number of factors - the thermal expansion of the ocean, the melting of glaciers on land, you know, land-based glaciers around the world - but it's really - when it comes down to it, it's really all about Greenland and Antarctica. Those are the only two sort of big ice cubes on the planet that if they - when they go, that's big trouble. So what we've seen mostly right now is a lot of surface melting up in Greenland, and that's been a big cause for concern.

We've seen - in 2012 there was a record ice melt up there. And, you know, we're seeing acceleration of the glaciers in Greenland. But ice physics is very complex and, you know, scientists up until recently sort of had this idea that they could calculate how fast a big ice sheet like Greenland can melt and have a good idea of what sea level rise rates might be like in the future. But recently, a lot of attention is being focused in West Antarctica, especially this couple of glaciers there called Thwaites and Pine Island Glacier where the real problem is that you have a warming ocean - the ocean absorbs a lot of the heat of - as the atmosphere warms. And that warming ocean is getting underneath the ice sheets there, and that can cause big problems because you have melting from below.

And one of the things that scientists are figuring out is that you can calculate to a pretty good degree how fast an ice sheet will melt, but calculating how fast it can collapse is a whole a different thing. And some of the ice sheets in West Antarctica are a mile or two high. And if the water gets underneath them and they start to collapse, that could mean very rapid sea level rise.

GROSS: Yeah, why is a collapse so catastrophic?

GOODELL: Well, because you have an ice sheet that's, you know, a mile or two high. Imagine, you know, everyone - a lot of people have seen pictures of El Capitan. Imagine something like that or twice as high as that of sheer ice melting from below. And the physics of ice structure tells us that a cliff like that of ice can't stand on its own. So it will collapse, and as it collapses, it falls into the sea, and as it falls into the sea, sea levels rise. And so the risks of this are a really new idea that are only in the last three or four or five years are scientists really beginning to understand. And that's why when you talk to the best ice scientists in the world you hear a rising alarm in their voice about what we might potentially be facing.

GROSS: You've been to Greenland, and you say you actually stood on land that you might have been among the first people to stand on because it wasn't - it was ice before.


Photo, Earthworld

GOODELL: Yeah, it was a very surreal experience. I was there with a scientist named Jason Box, and we were flying a helicopter over the Jakobshavn Glacier, which is the fastest-moving glacier in the world. And he spotted this bare spot of ice, and he said, we have to land there, we have to land there. So we brought the helicopter down, and we jumped out and, you know, he shouted out new climate land. You know, this is - this patch of Earth has never been - you know, no human has stood here before and it hasn't been seen - you know, it hasn't been uncovered in tens of thousands of years. It was very profound because standing there and being on that bare patch of ground and seeing these enormous glaciers all around me, I had just been in Miami Beach, I mean, a few weeks before.

And you really connected, you know, I really connected in a visceral way, you know, what was happening in this faraway, distant place on this bare piece of ground that was being uncovered where I could actually see the ice going away fast with the rising waters in Miami Beach that I had seen and been wading through, you know, a few weeks earlier. And so this sort of connectedness of these places, which is so hard for most of us, including myself, to really grasp, I really felt in a very powerful way at that moment.

GROSS: I've seen film images of some of the ice and snow - I guess it's mostly ice - in the Arctic darkened by soot. Like, why is there soot there?

GOODELL: That's an interesting question. That's one of the things that I was up there to look at with the scientist who I traveled up there with, Jason Box, is, you know, we talked about wildfires earlier. As the wildfires in California and other - in Russia and in China and other places burn, that soot gets picked up and carried up into the circulatory patterns in the atmosphere and gets dropped places. And one of the places a lot of it gets dropped is in Greenland and in the Arctic. And it's really remarkable that even a small amount of darkening of snow has a big impact on how fast it will melt. It's the same reason why you wear a light-colored shirt on a hot day and you feel a lot hotter if you're wearing a black shirt. It absorbs the heat.

And in Greenland, where you have these vast ice sheets, if you get even a modest amount of soot on those ice sheets, both from wildfires or from industrial pollution like coal plants, it can really speed up the melting. And one of the things that's happening as scientists think harder and harder about what's happening on the ice sheets is they're understanding that there's a lot of new factors that they didn't consider before. Like, you know, 10 years ago, not very many scientists were really thinking about the impact that darker soot would have on the melt rate of the ice sheets in Greenland. But now they know that it's a significant factor.

And there's a lot of other factors that they think they have not considered very well that - including the friction on the bottom of the glaciers and the friction on the sides of the canyons as the glaciers move through them, the warming of the ocean on the bottom of the glaciers. There's just - it's a - you would think it's a very sort of simple idea of trying to calculate melt rate of ice, but it's in fact incredibly complex.

GROSS: Let's look at Alaska. Alaska's in a kind of interesting situation in that it's very dependent on fossil fuel. It raises a lot of money from fossil fuel. And at the same time, temperatures are rising in Alaska because of the whole phenomenon that we've been talking about - about how, you know, the Arctic is warming and ice is melting. So what are political leaders in Alaska saying about climate change and the impact it's having on the state and the connection of that to fossil fuels?

GOODELL: Well, they're not saying much. I'm actually just back from Alaska. I was just there for a few days. I just got back yesterday. So I've - and I talked to a number of politicians there, and, you know, the basic problem in Alaska is that, you know, their economy is dependent upon fossil fuels. Eighty percent or so of the revenues of the state come from oil and gas.

And so there's no real way that the state can continue to function by, you know, reducing the drilling and pumping of oil and gas. It's - they're just completely dependent upon it. So there is no conversation, basically, about, you know, reducing that. And in fact, they're talking about expanding it, looking into offshore drilling.

Right now, Congress is, you know, moving towards opening the Arctic National Wildlife Refuge to drilling, and nobody there that I talked to in the sort of political establishment is anything but, you know, sort of embracing that. What is beginning to happen, though, is they are beginning to realize that, you know, no matter what they do, they're going to be feeling impacts. They are feeling impacts.

When I was there with President Obama in 2015, we visited the villages on the - in the Arctic Circle that are already in trouble because of erosion from sea level rise. They're just going to have to relocate many coastal villages because of - they're just at risk now because the seas are higher and the storm surges are bigger.

So they're facing hundreds of millions of dollars in helping people adapt there. So they're beginning to have this, like, OK-so-how-are-we-going-to-adapt conversation. What are we going to do about this? And they're beginning to think more about the future in diversifying their economy and trying to encourage kind of what they call this, you know, sort of transition from an oil economy to a salmon economy. That's a big issue. But basically, it - they're in a really tough spot because they are really, you know, dependent upon the very fossil fuels that're doing them in. And it's a very vicious circle to be caught in.

GROSS: Do you think political leaders are acknowledging, OK, we're dependent on fossil fuels, but we acknowledge, at the same time, that fossil fuels are helping to lead to climate change, which is having an altering effect on the geography, the landscape, the life of Alaska?

GOODELL: Yeah. I mean, I don't think that they're - the political leaders that I've talked to up there - it's very hard to be a denier there in the sort of classic way of say, you know, Florida Governor Rick Scott or EPA Administrator Scott Pruitt because it's just all around. And the permafrost is melting. It's just, you know, obvious there.

But the question is, what can you do about it? And it's a really - for - if you're, you know, the governor or a senator from Alaska - and I'm not giving them a get-out-of-jail-free card, but, you know, for any politician, you know, keeping the economy going is the No. 1 job. And in Alaska, keeping the economy going for the moment means, you know, oil and gas drilling. And that's just the fact, and that's the way it's going to be in the near term.

The question is, how quickly can they diversify away from that? How quickly can they begin to build another, a new kind of economy based on clean energy? I mean, there's a lot of engineering ability in Alaska. I mean, look at the pipelines they've built. I mean, this is the headquarters of sort of big, you know, brilliant engineering.

And the idea of beginning to, you know, apply some of that to adaptation, to diversifying, to building new kinds of clean energy, you know, is really appealing. And I was, you know, trying to make the pitch to them up there that they can be a real leader in showing how to adapt to these massive changes that're coming and how to change from a fossil-fuel-dependent economy to something else. I mean, West Virginia's a classic example of a state that never did make that turn and has been sort of beholden to coal for, you know, 150 years, and it's just been, you know, devastating for the economy of that state.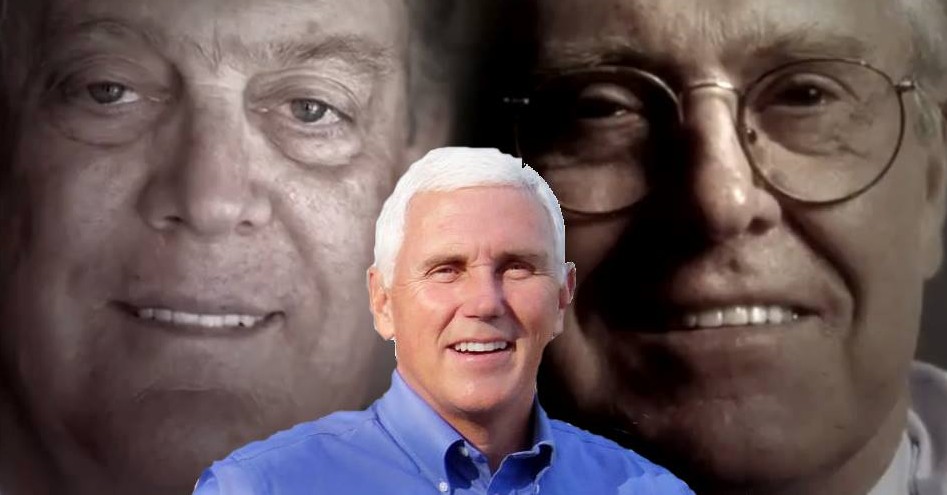 Pence owes his position to doing the dirty bidding of the Koch brother's interests, starting with lobbying against carbon tax, an initiative that wound up putting oil man Scott Pruitt in charge of EPA - the proverbial fox in charge of the hen house. That's not the half of Pence's classic story of right wing corruption.
NPR, "Understanding Mike Pence And His Relationship To Trump: 'His Public Role Is Fawning", 18 Oct 2017:

Though President Trump ran as an outsider, New Yorker writer Jane Mayer describes his vice president as "the connective tissue" between Trump and the billionaire donors in the Republican party.

TERRY GROSS, HOST:

This is FRESH AIR. I'm Terry Gross. Many of President Trump's critics are hoping he won't serve his full term, but what kind of president would Mike Pence make? That's one of the questions Jane Mayer sets out to answer in her new article about Pence titled "The President Pence Delusion." It's published in the current issue of The New Yorker.

She writes about how Pence became an evangelical Christian and how he became a favored candidate of billionaire backers, most especially the Koch brothers. She traces how religion and money shaped his ideology. She investigates how Pence became Trump's running mate and how much power he has in the White House and how he's used it.

Mayer is a staff writer for The New Yorker. She's also the author of the bestseller about the Koch Brothers titled "Dark Money: The Hidden History Of The Billionaires Behind The Rise Of The Radical Right." Last March in The New Yorker, she profiled another billionaire funder of right-wing causes, Robert Mercer, who she says has become a major force behind the Trump presidency.

Jane Mayer, welcome back to FRESH AIR. So I feel like I don't see Mike Pence very much, and I often wonder if he's a power behind the scenes or if he really doesn't matter that much within the Trump administration. So what's your impression?

JANE MAYER: Well, it's really hard to tell. He is - as Joel Goldstein, a specialist in the vice presidency, told me, he calls him the sycophant in chief because when you do see him, he's usually acting as an emcee to Trump or kind of echoing Trump and praising Trump. So his public role is really fawning. Behind the scenes, though, according to Newt Gingrich, he's 1 of the 3 people who have the most power in the Trump administration along with the chief of staff, John Kelly, and Trump himself.

GROSS: What are the signs that he's that powerful?

MAYER: Well, (laughter) that's a good question - because I think he acts as the connective tissue between the Trump administration and Congress, between the Trump administration and the - kind of the socially conservative base of the party. And most importantly, he is the connector between the Trump administration and the billionaire donors in the Republican Party. He is the guy who does most of the fundraising and outreach to the money.

GROSS: And the money includes the Koch brothers and Robert Mercer.

MAYER: It does. And one of the interesting things to me in writing about Pence is it poses such a juxtaposition between the way that Trump ran, which was as a populist outsider who was attacking the big-money forces in the Republican Party as corrupt and saying that they were puppeteers trying to control the candidates as puppets. And Trump made a huge point of saying, I'm my own man; I'm so rich; no one controls me. Yet as his vice president, he chose Mike Pence. And you could hardly find a candidate in the American political scene who has closer ties to the big donors and particularly the Koch brothers. He's been sponsored by them for years.

GROSS: So how do the Kochs first start backing Mike Pence?

MAYER: So this was when Pence was in Congress in 2009. He really did the Kochs a big favor. There was legislation pending that might have put a tax on carbon pollution, and it would have been terrible for Koch Industries. And Pence took up the cause and tried to help defeat that legislation and specifically carried around a pledge that the Kochs had created, trying to get people to sign it. And after he was successful in that, the Kochs invited him to come to their secret donor summits. And at that point on, they started showering him in money. So it was - it's really became a working relationship then. And I hadn't realized that until recently.

GROSS: One of the things you say Mike Pence is responsible for is bringing the Kochs and Donald Trump together. The Kochs didn't support Trump's candidacy. Charles Koch described the choice between Trump and Hillary as one between cancer or a heart attack. (Laughter) So what did Pence do to bring the Kochs and Trump together?

MAYER: Well, so this is what was interesting to me - is that Pence has been very close with the Kochs, and they have just showered money on his campaigns. And he's kind of act as a peacemaker between the Kochs and Trump. And but in that process, what interested me most was that I really do think that Trump ran as a different kind of Republican. He ran against the big-donors orthodoxy and kind of libertarian vision of people like the Kochs. He said he was going to deliver something for the little guys and build infrastructure all across the country and use the government in various ways that the Kochs disapprove of.

And what you've seen with Pence is that in many ways, Pence has brought in a ton of people who are allied with the Kochs into the government, and he's brought a lot of their policies in - so whether it's on environmental issues or tax policy now where the Kochs are working very closely with the Trump White House on the Trump tax plan. And it is a tax plan that the Kochs love, and it's a tax plan that's going to help the super-rich according to many nonpartisan analyses and not do very much for the middle class. So you're beginning to kind of see the government moving in the direction of the Kochs.

GROSS: You say 16 high-ranking officials in the Trump White House have ties to the Koch brothers.

MAYER: Well, and that's according to a study by a group called the Checks And Balances Program. And you can count them. You can see it online. They're - that's in the White House. There are also many, many people who've worked for the Kochs in the government at large, in the cabinet, in the other departments. And a tremendous number of people who work with and for Pence have gone in and out of working for the Kochs to the point that you had Politico saying - they quoted a Republican operative saying that the Koch operation really was the shadow campaign for Pence for president.

And chief among them really has been Pence's former chief of staff, Marc Short, who went - after working for Pence in Congress, he went to run the Koch's political operation, Freedom Partners. And then when Pence was chosen as vice president on the ticket, Marc Short came back, worked with Pence in the campaign and is now the head of Congressional Liaison in the Trump White House. So the man that actually ran the Koch's political operation is a key player inside the Trump White House.

"I got the phone call Nov. 12 at 2:39 in the afternoon," Tina Snyder recalled. Her 24-year-old son, Lee Winder, had been found in a shopping center parking lot near his car outside a Dunkin' Donuts.

Winder had become addicted to pain pills and died of a heroin overdose.


Washington Post, "Amid a targeted lobbying effort, Congress weakened the DEA's ability to go after drug distributors, even as opioid-related deaths continue to rise, a Washington Post and '60 Minutes' investigation finds", 15 Oct 2017:

In April 2016, at the height of the deadliest drug epidemic in U.S. history, Congress effectively stripped the Drug Enforcement Administration of its most potent weapon against large drug companies suspected of spilling prescription narcotics onto the nation's streets.

By then, the opioid war had claimed 200,000 lives, more than three times the number of U.S. military deaths in the Vietnam War. Overdose deaths continue to rise. There is no end in sight.

A handful of members of Congress, allied with the nation's major drug distributors, prevailed upon the DEA and the Justice Department to agree to a more industry-friendly law, undermining efforts to stanch the flow of pain pills, according to an investigation by The Washington Post and "60 Minutes." The DEA had opposed the effort for years.

The law was the crowning achievement of a multifaceted campaign by the drug industry to weaken aggressive DEA enforcement efforts against drug distribution companies that were supplying corrupt doctors and pharmacists who peddled narcotics to the black market. The industry worked behind the scenes with lobbyists and key members of Congress, pouring more than a million dollars into their election campaigns.

The chief advocate of the law that hobbled the DEA was Rep. Tom Marino, a Pennsylvania Republican who is now President Trump's nominee to become the nation's next drug czar. Marino spent years trying to move the law through Congress. It passed after Sen. Orrin G. Hatch (R-Utah) negotiated a final version with the DEA.

For years, some drug distributors were fined for repeatedly ignoring warnings from the DEA to shut down suspicious sales of hundreds of millions of pills, while they racked up billions of dollars in sales.

The new law makes it virtually impossible for the DEA to freeze suspicious narcotic shipments from the companies, according to internal agency and Justice Department documents and an independent assessment by the DEA's chief administrative law judge in a soon-to-be-published law review article. That powerful tool had allowed the agency to immediately prevent drugs from reaching the street.

Political action committees representing the industry contributed at least $1.5 million to the 23 lawmakers who sponsored or co-sponsored four versions of the bill, including nearly $100,000 to Marino and $177,000 to Hatch. Overall, the drug industry spent $102 million lobbying Congress on the bill and other legislation between 2014 and 2016, according to lobbying reports.

[TUESDAY UPDATE: Trump announces drug czar Marino will withdraw]

"The drug industry, the manufacturers, wholesalers, distributors and chain drugstores, have an influence over Congress that has never been seen before," said Joseph T. Rannazzisi, who ran the DEA's division responsible for regulating the drug industry and led a decade-long campaign of aggressive enforcement until he was forced out of the agency in 2015. "I mean, to get Congress to pass a bill to protect their interests in the height of an opioid epidemic just shows me how much influence they have."

Besides the sponsors and co-sponsors of the bill, few lawmakers knew the true impact the law would have. It sailed through Congress and was passed by unanimous consent, a parliamentary procedure reserved for bills considered to be noncontroversial. The White House was equally unaware of the bill's import when President Barack Obama signed it into law, according to interviews with former senior administration officials.

Top officials at the White House and the Justice Department have declined to discuss how the bill came to pass.

Michael Botticelli, who led the White House Office of National Drug Control Policy at the time, said neither Justice nor the DEA objected to the bill, removing a major obstacle to the president's approval.

"We deferred to DEA, as is common practice," he said.

The bill also was reviewed by the White House Office of Management and Budget.

"Neither the DEA nor the Justice Department informed OMB about the policy change in the bill," a former senior OMB official with knowledge of the issue said recently. The official spoke on the condition of anonymity because of the sensitivity of internal White House deliberations.

The DEA's top official at the time, acting administrator Chuck Rosenberg, declined repeated requests for interviews. A senior DEA official said the agency fought the bill for years in the face of growing pressure from key members of Congress and industry lobbyists. But the DEA lost the battle and eventually was forced to accept a deal it did not want.

[...]

Deeply involved in the effort to help the industry was the DEA's former associate chief counsel, D. Linden Barber. While at the DEA, he helped design and carry out the early stages of the agency's tough enforcement campaign, which targeted drug companies that were failing to report suspicious orders of narcotics.

When Barber went to work for the drug industry in 2011, he brought an intimate knowledge of the DEA's strategy and how it could be attacked to protect the companies. He was one of dozens of DEA officials recruited by the drug industry during the past decade.

Barber played a key role in early version of the legislation that would eventually curtail the DEA's power, according to an internal email written by a Justice Department official to a colleague. "He wrote the Marino bill," the official wrote in 2014.

Barber declined repeated requests for an interview.

With a few words, the new law changed four decades of DEA practice. Previously, the DEA could freeze drug shipments that posed an "imminent danger" to the community, giving the agency broad authority. Now, the DEA must demonstrate that a company's actions represent "a substantial likelihood of an immediate threat," a much higher bar.

[...]

Today, Rannazzisi is a consultant for a team of lawyers suing the opioid industry. Separately, 41 state attorneys general have banded together to investigate the industry. Hundreds of counties, cities and towns also are suing.

"This is an industry that's out of control. If they don't follow the law in drug supply, and diversion occurs, people die. That's just it, people die," he said. "And what they're saying is, 'The heck with your compliance. We'll just get the law changed.' "

[...]

'Drug dealers in lab coats'

2006: 52,277 deaths from prescription opioid overdoses since 2000.

Joe Rannazzisi came to DEA headquarters as an outsider with an attitude. He worked as an agent in Detroit, where he watched prescription drugs flood small towns and cities in the Midwest.

Hundreds of millions of pain pills, such as Vicodin and oxycodone, ended up in the hands of dealers and illegal users.

Rogue doctors wrote fraudulent prescriptions for enormous numbers of pills, and complicit pharmacists filled them without question, often for cash. Internet pharmacies, supplied by drug distribution companies, allowed users to obtain drugs without seeing a doctor.

"There were just too many bad practitioners, too many bad pharmacies, and too many bad wholesalers and distributors," Rannazzisi recalled.

[...]

Rannazzisi brought an aggressive approach to the diversion control office.

The year he took over, Linden Barber was promoted to run diversion control's litigation office, which crafted the legal arguments that supported the team. He was a former Army lawyer who served in Iraq. The cadre of attorneys who worked for him saw him as a tough litigator unafraid of an influential industry.

Barber and Rannazzisi formed a powerful combination that the drug companies would learn to fear. "Early on he did really good work," Rannazzisi said. "He jumped into the Internet cases when he first came here."

After shutting down the Internet pharmacies, Rannazzisi and Barber pursued the pain management clinics that replaced them and soon became as ubiquitous in South Florida as the golden arches of McDonald's. To get there, drug dealers and users would take the "Oxy Express" down Interstate 75.

"Lines of customers coming in and going out," said Matthew Murphy, a veteran DEA supervisor in Boston whom Rannazzisi hired to be chief of pharmaceutical investigations. "Armed guards. Vanloads of people from the Appalachia region driving down to Florida to get a prescription from a pain clinic and then get the prescription filled, going back to wherever they're from."

Back home, each 30-pill vial of oxycodone was worth $900.

DEA officials realized they needed a new strategy to confront this new kind of drug dealer.

"They weren't slinging crack on the corner," Rannazzisi said. "These were professionals who were doing it. They were just drug dealers in lab coats."

Rather than focusing on bad doctors and pharmacists, Rannazzisi and Barber decided to target the companies feeding the pill mills: the wholesale drug distributors, some of them massive multinational corporations.

[...]

"They definitely didn't like Joe Rannazzisi," Murphy said. "Not at all. He wasn't viewed as a person that they could work with. And maybe that was appropriate. He didn't want to work with industry much."

Rannazzisi was unmoved by their complaints.

"We're worried about their feelings being hurt because we were doing our job?" he said. "We were making them comply. We were holding their feet to the fire."

Murphy recalled a telling meeting with drug company representatives.

He said the president of one of the drug companies sat on the other side of the table, put his hands up and said, " 'You got us. What can we do to make this right?' " Murphy recalled.

Murphy said he had heard the same thing from drug dealers.

There was an important difference, Murphy noted.

"You know," he said, "the heroin and cocaine traffickers didn't have a class ring on their finger from a prestigious university."

'This is war'

2011: 121,468 deaths from prescription opioid overdoses since 2000.

In 2011, Linden Barber left the DEA to join the Washington, D.C., office of the law firm Quarles & Brady. He started a practice representing drug companies. "If you have a DEA compliance issue or you're facing a government investigation," he said in a promotional video for the firm, "I'd be happy to hear from you."

Barber's move turned out to be a key moment in the struggle between drug companies and the government, but it was far from the only one. Dozens of top officials from the DEA and Justice Department have stepped through Washington's revolving door to work for drug companies.

[...]

'it was bad'

2013: 149,853 deaths from prescription opioid overdoses since 2000.

The field generals in the DEA's war on opioids are men and women such as Jim Geldhof, a 43-year agency veteran who managed the diversion control program in the Detroit field office. He witnessed firsthand the heartbreak pain pills were causing across the Midwest.

One night, at a town hall meeting in Portsmouth, Ohio, Geldhof sat quietly as the Portsmouth High School gym fell dark and a large screen flickered with photographs.

Geldhof was in tears.

"Sons and daughters and grandsons and granddaughters in graduation pictures," he recalled. "Some were wearing football jerseys. They had their whole lives ahead of them, and then they were gone."


[...]

Geldhof, the DEA program manager in Detroit, was investigating a midsize Ohio-based drug distributor. Between 2007 and 2012, Miami-Luken had shipped 20 million doses of oxycodone and hydrocodone to pharmacies in West Virginia. About 11 million wound up in one county, Mingo, population 25,000.

Despite the rising death rate in West Virginia — the highest in the nation — Geldhof said his pleas in 2013 to halt Miami-Luken's operations were ignored by the legal office at headquarters.

"First we got blown off by the company," he said, "and then we got blown off by our own lawyers."

Novak suspected another reason for the slowdown.

At times, he said, some of his colleagues appeared more concerned with pleasing the industry than working on behalf of the public. Some of the lawyers had simply given up fighting the industry and seemed to be preparing for a future working with the companies they were supposed to be regulating, he said.

"It was not just one person who left the office; everyone started to leave. That's your payout. You do your time, and more and more people were auditioning for the industry. It stopped us from doing our jobs."

The departures gave the industry an unfair advantage, Novak said.

"There was a fear," he said. "It comes from seeing that some of the best and brightest former DEA attorneys are now on the other side and know all of the weak points. Their fingerprints are on memos and policy and emails."

[...]

Epilogue

2016: 197,713 deaths from prescription opioid overdoses since 2000.

John Mulrooney, the chief DEA administrative law judge, has been documenting the falling number of immediate suspension orders against doctors, pharmacies and drug companies. That number has dropped from 65 in fiscal year 2011 to six so far this fiscal year, according to the DEA. Not a single order has targeted a distributor or manufacturer since late 2015, according to Mulrooney's reports, which were obtained under the Freedom of Information Act.

Mulrooney said in his reports that the judges under him were handling so few cases at the DEA that they began hearing the cases of other federal agencies.

Mingo County

, West Virginia, racial makeup 97.1% White

[...]

A spokesman for Whitehouse said that the DEA could have expressed its opposition at any time.

"The fact that it passed the entire Senate without hearing any sort of communication that would have triggered concern of at least one senator doesn't really pass the smell test," the spokesman said.

Jim Geldhof, the DEA program manager in Detroit, retired from the agency at the end of 2015 after 43 years on the job. He said the companies were fully aware of their responsibilities under the law.

"When you're selling half a million pills to some pharmacy and you're telling me that you don't know what the rules are for a suspicious order?" said Geldhof, who is now working as a consultant to lawyers suing the industry. "All we were looking for is a good-faith effort by these companies to do the right thing, and there was no good-faith effort. Greed always trumped compliance. It did every time. It was about money, and it's as simple as that."

Just before Geldhof left, his two-year quest to persuade the DEA to take action against Miami-Luken finally paid off. In November 2015, the DEA accused the company of multiple violations of the law for allegedly failing to report orders for tens of millions of pain pills from pharmacies, most of them in West Virginia. That case — the most recent one to target a distributor — is pending.

Of the millions of pills sent to Mingo County, many went to one pharmacy in Williamson, the county seat, population 2,924. In one month alone, Miami-Luken shipped 258,000 hydrocodone pills to the pharmacy, more than 10 times the typical amount for a West Virginia pharmacy.

The mayor of Williamson has since filed a lawsuit against Miami-Luken and other drug distributors, accusing them of flooding the city with pain pills and permitting them to saturate the black market.

"Like sharks circling their prey, multi-billion dollar companies descended upon Appalachia for the sole purpose of profiting off of the prescription drug-fueled feeding frenzy," the lawsuit says.

...West Virginia was not alone among poor White areas targeted, but provides a graphic example of how much big pharma, big business, big money and the government care for disadvantaged Whites, as West Virginia is markedly the poorest and Whitest state in America.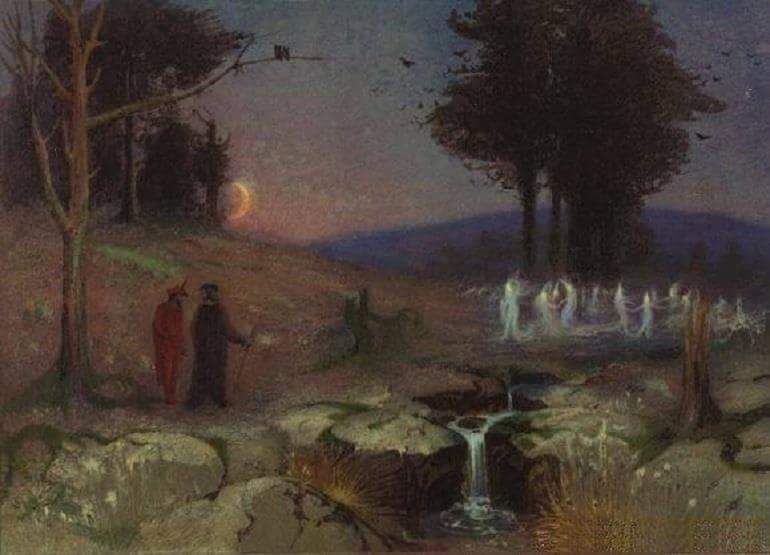 Almost heaven, West Virginia, the corporations can't lay off - Massey corp. strip mines its mountains, poisons its water and big pharma preys on the despair of the first casualties of cultural Marxism.