Majorityrights News > Category: Military Matters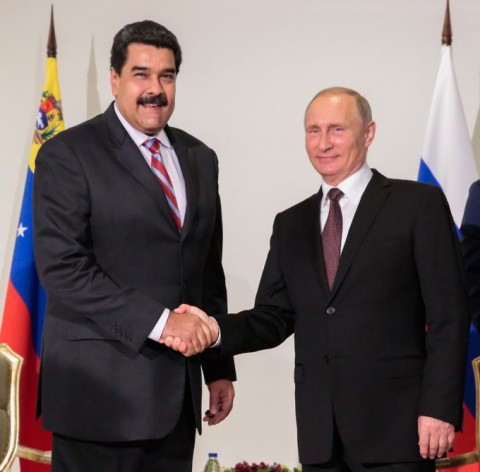 Venezuela, a back door against sanctions and a foothold in the Caribbean in the face of America once again: Venezuela's Maduro selling oil to Putin.
Venezuela tried to build their economy the wrong way, by selling oil and other natural resources rather than developing the infrastructure by which they might process the oil and other resources in order to sustain and advance their economy.
Venezuela is one of the pariah states along with Belarus and North Korea that the Russian Federation likes to play games with; the RF is now swooping-in for a foothold, for what could be increasing geopolitical control over the Caribbean and Gulf of Mexico.
Breitbart, "Report: Moscow Takes Control of Venezuelan Oil Assets amid Socialist Meltdown", 14 Aug 2017:

Venezuela needs cash, and Russia has it. Venezuela has oil, and Russia wants it. According to a special report at Reuters, the socialist meltdown in Venezuela is likely to end with Moscow controlling a good deal of that tormented country's most valuable asset: its oil fields.

According to Reuters, Russia's giant state-owned oil company Rosneft has been holding secret negotiations with its opposite number in Venezuela, PDVSA, to purchase "ownership interests in up to nine of Venezuela's most productive petroleum projects."

The number of Venezuela projects Russia would have substantial or ownership stakes in would jump from five to 14 if these deals go through. The new acquisitions would include projects in some of Venezuela's richest oil and natural gas fields.

The article goes on to note that Rosneft has already floated a billion dollars to PDVSA for promised future oil shipments, and the regime of socialist dictator Nicolas Maduro used Russian money to avoid defaulting on bonds at least twice. Russia announced one of these seemingly risky advance payments immediately after the United States announced a new round of sanctions against Maduro at the beginning of August.

Barron's explains that Russia's advance payments for Venezuelan crude are essentially a stealth strategy for buying the oil fields themselves. Russia writes huge checks for barrels of oil, Venezuela is unable to deliver the product or pay the debt, and Russia swaps the debt for equity in the oil projects.
New York Times, "Is Putin Getting What He Wanted With Trump?" 10 June 2017:

In the Senate last week, Richard Burr, a Republican from North Carolina, asked the fired F.B.I. director James Comey if he had "any doubt that Russia attempted to interfere in the 2016 elections." Mr. Comey responded with a single word: "None."

Indeed, he went on to tell the American public that the Russians "did it with purpose, they did it with sophistication, they did it with overwhelming technical efforts." And he warned: "They will be back," adding, "they are coming after America."

Vodka shots in the Kremlin, right? Not exactly.

Doubtless Vladimir Putin continues to derive satisfaction from having assaulted American democracy and embarrassed Hillary Clinton. But the Russian president had one paramount priority: to lift Western sanctions.
As MR has noted, the parasite "federation" that is the Russian Federation, works with rogue nations such as North Korea and Belarus. The Times article adds -
[ibid]

According to one estimate, a quarter of Russia's global weapons exports in 2015 were to rogue Venezuela, in transactions predominantly effected via loans. Last week, Moscow cut $1 billion from projected state budget revenues.
The Express -
Express, "TRUMP'S NEW THREAT? US President urged to act as Venezuela forges closer links to RUSSIA", 8 April 2017:

DONALD Trump could be forced to step in to save Venezuela amid fears the failing South American country could be about to turn to Russia or Iran for support.

The Trump administration in Washington is already dealing with a string of crises across the globe - including deadly conflict in Iraq and Syria and the fight against Islamic extremism.

But improving relations with Russia, who today claimed its relationship with the US was in "tatters", could prove to be the government's biggest challenge to date.

Russia has not been a threat to America since the Cold War era - yet Moscow could now have found a sneaky way to stir up new tensions with the US without even lifting a finger.

Venezuela has always enjoyed warm relations with Russia, purchasing more than £3.2billion worth of arms from the former Soviet state since 2005.

And in 2009, Russia approved a whopping £1.6bn loan for the Latin American nation as it struggled with an inflation crisis that has left thousands of people struggling to afford food.

However, experts in the US have now warned there could be more to the 'friendship' than meets the eye.

Speaking to the Senate Armed Services Committee, a US top military official warned Venezuela could be a "destabilising" factor in Latin America - claiming a "regional response" could be needed following the country's growing humanitarian crisis.

But he also warned the relationships fostered by Venezuela could pose a real threat to the US in the future.
New Observer, "Africans Storm Cadiz Beach as Invasion Force Tops 118,684 as of August 6", 10 Aug 2017:

African invaders have been filmed storming a beach in the Spanish city of Cadiz, after crossing the 60 miles between that city and the North African coast—and then scattering before authorities could catch up with them, in a vivid demonstration of the mass Third World invasion of Europe, just as the official number of nonwhite invaders of Europe has topped 118,684.


The video clip, filmed on August 9 on the Cadiz beachfront, shows a rubber dinghy full of nonwhites racing towards the beachfront, and just before it lands, the Africans disgorge and break out in a run for the beach, racing passed shocked holiday makers as they storm up into the city to vanish.

Invasion groups such as these are not counted in the official figures, which, according to the United Nations' "International Organization for Migration" (IOM), reached 118,684 of 6 August 2017.

Of this number 116,692 of the nonwhite invaders had landed by sea—mostly by being transported to Europe by either the European Union's own naval units or the race-traitor private far leftist European "charity" boats.

According to the IOM, the main nationalities of the nonwhite invaders arrivals (in descendant order) for June 2017 were as follows:

To Italy: Nigeria, Bangladesh, Guinea, Ivory Coast, Gambia; and to Greece: Syria, Iraq, Republic of Congo, Pakistan, Afghanistan.

For July 2016, the main nationalities of the invaders arriving by land in Bulgaria were Syria, Afghanistan, Iraq, and Turkey.

However, the IOM figures do not tell the full story of the extent of the nonwhite invasion.

According to the European Union's "European Asylum Support Office" (EASO) "Latest asylum trends – June 2017" report, in June this year, there were 58,403 "applications for international protection" made within the borders of the EU.

Of that number, "only" 7, 7 916 invaders claimed to be "Syrians," only 14 percent of the total number of recorded applications. In June 2017, Nigeria became the second main citizenship of origin, with 4,010 applications lodged—an indication that the fake refugee invasion is increasingly becoming sub-Saharan African in origin.
New Observer, "Violent Africans Storm Spanish Enclave of Ceuta in "WW Z" Type Zombie Attack", 7 Aug 2017:

At least 300 Africans—out of a mob of thousands—on Monday broke through the border fence surrounding the Spanish enclave of Ceuta in North Africa, in an attack which mirrored the mass zombie attack portrayed in the Hollywood film WW Z."



The co-ordinated mass African attack started at 5 a.m. at the fence near Tarajalat. They stormed the fence en masse, nearly overwhelming the border guards.

Many were stopped, but around three hundred managed to break into the tiny enclave, which is located on the Moroccan coastline on the North African coast.

The invaders were remanded then to an immigration detention center where they submitted formal "asylum" requests, even though none of them come from countries which qualify in the slightest manner for "refugee" status.

Their intention is—as has previously been shown—to simply get to mainland Europe, where they quickly "vanish" while the race-denying liberals "consider" the "asylum" applications.

The African invaders were filmed celebrating their successful attack.

Last week, 73 African invaders used wire cutters to break through the razor-wire fencing to gain access to Ceuta. Spanish border police stopped another 180 invaders from entering through the hole.

Spain's Interior Ministry estimated the number of invaders who had reached Spain via the border fence route had totaled 3,200 in 2016. So far in 2017, they say, that number has already doubled.

In February alone, about 850 African invaders pretending to be "refugees" stormed over the Ceuta border in a concentrated attack lasting four days.

Breitbart, "Eighteen Convicted in Mostly Muslim Rape Gang, Police Paid Child Rapist Informant £10k", 9 Aug 2017:

Seventeen South Asian men and one Caucasian woman have been convicted of involvement in a mostly Muslim sex grooming gang operating in Newcastle, in the largest case of its kind since Rotherham and Rochdale.

The gang was found guilty of nearly 100 offences, including the rape and human trafficking of vulnerable women and girls. They preyed upon teenage girls with drugs and alcohol at sex parties known as "sessions", Chronicle Live reports.

The police have come under strong criticism for paying almost £10,000 to a convicted child rapist to work as an informant in the case.

"We're appalled to learn that police paid a child rapist and planted him in the midst of vulnerable young girls", - Jon Brown, NSPCC

The victims were aged between 14 and 22 years old. They were passed around by their abusers and were sometimes said to be too intoxicated to even know what was happening to them.

One victim said she had been to 60 such "sessions", the BBC reports. She spoke of seeing two older men at one of them with a woman who seemed "frightened and scared, like a slave".
Amerika.org, "WHAT THE WEST CAN LEARN FROM THE MORIORI", 6 Aug 2017:
by Daryl Withycombe
The history of the Moriori, little known outside of Oceania, might appear like a fable, a cautionary tale that people came up with to educate their children. As unnerving as the dark legend about this forgotten tribe might be, the entire story really happened. Hopefully it will serve as a warning, to all other people around the world who chose to rebel against the laws of nature and descend down the path of the Moriori.
The story of the Moriori begins more than five hundred years ago, when a group of Maori left New Zealand by boat, looking for new unpopulated land to settle. After a long journey they landed on a remote island group, now known to us as the Chatham islands. The environment they encountered here was different from the one they left. Temperatures were colder and the crops they were used to growing would not grow. They were forced to adapt to these new circumstances. Their diet changed to one largely composed of fish and plants native on the islands.
These isolated islands never sustained a lot of people, thus the Moriori society inevitably remained a tight-knitted community. After a violent tribal conflict between different groups, a 16th century chief known as Nunuku-whenua declared that from now on, all violence would be forbidden, because of its destructive impact on such a small community. Disputes from now on would be settled through consensus, or, in the worst case, through a duel that would stop as soon as first blood was drawn. Cannibalism was forbidden and passive resistance to oppression was endorsed. This became known as the Code of Nunuku.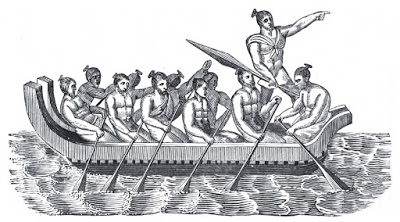 Maori war canoe
Because overpopulation would lead to violence, the Moriori decided to implement cruel measures to artificially constrain their population. It was not uncommon for them to castrate some of their newborn boys. The birth rate would be constrained as a consequence and the boys would remain docile, growing up to be the hunter-gatherer equivalent of Antifa and social justice bloggers.
Living in isolation, the Moriori could sustain their way of life for over 300 years. But then, in the 19th century, the vacuum they had created was suddenly punctured. British people began to land, bringing with them ex-convicts and Maori sailors. The formerly culturally homogeneous Moriori now had to learn to adapt to the presence of different cultures, but greater problems were still ahead of them.
The growth of the British population on New Zealand's Northern island had displaced two Maori tribes, the Ngāti Tama and Ngāti Mutunga. In 1835 these tribes, numbering about 500 people in total, captured a British ship and its crew and forced it to set sail for the Chatham islands. Some sources seem to claim that the Maori tribes traveled to the Chatham Islands, precisely because they knew how passive the Moriori were.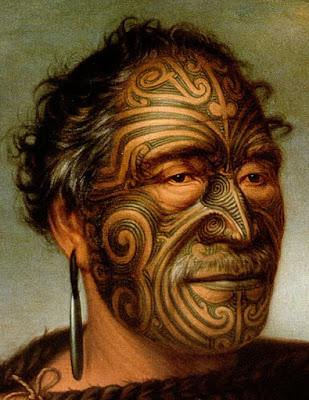 Tattooed warrior
When the Maori landed, the Moriori, who numbered around 2000 people, decided to take care of them. After they figured out that the Maori were not temporary visitors but planned on staying on the islands, the Moriori decided to withdraw to their sacred place. Here the Moriori debated with each other how they should deal with the newcomers. They decided to implement a policy of non-aggression, reportedly against the insistence of the young. The code of Nunuku had to be followed under all circumstances.
The Maori then began to lay claim to the land, wandering through it carrying weapons, without greeting the natives. If the Moriori inquired, they were told that they were now their vassals. Although most narratives don't lay out a precise time-line, it is clear that the first boatload of Maori killed a twelve year old Moriori girl and hung her flesh from posts. A second ship arrived a few weeks after this event, carrying another 400 Maori.
Hundreds of Moriori were murdered and cannibalized, the rest were enslaved. Instead of fighting back, the Moriori hid in holes beneath the ground. Moriori were forbidden from marrying each other by their Maori overlords and the Moriori women married Maori men. The Maori prohibited the Moriori language, and forced them to desecrate their sacred sites by urinating and defecating on them. Only 101 Moriori out of a population of about 2,000 were left alive by 1862. The last Moriori of unmixed ancestry, Tommy Solomon, died in 1933.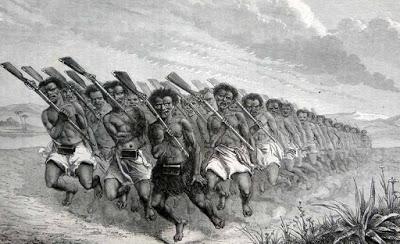 Maori warriors in the 19th century.
Lessons to Learn
It doesn't take a genius to figure out what the Moriori did wrong. Had the Moriori been ruthless, they could have sunk the first ship before it landed. Had the Moriori been more balanced, they could have risen up when a 12-year-old girl was murdered and hung from a pole. At the time, they were still dealing with a mere 500 invaders, among whom were women and children. Sadly, the Moriori submitted. By the time the second boat arrived, the outcome had been determined.
It's interesting that children in school are never taught about the Moriori. Instead, they are taught about the sacred trinity of Martin Luther King, Nelson Mandela, and Gandhi. We teach our children that they should submit when wronged and these children then grow up to be adults who will only submit when wronged.
We could consider it the outgrowth of Christianity, but it seems that Jesus's teachings never quite became dominant until the 20th century. Had these teachings become dominant earlier, Christianity would never have grown to be successful. Medieval knights were slapped in the face when knighted, told that these would be the last slaps they could ever accept without having to retaliate.
Europeans are modern day Moriori. When their continent is invaded by men in boats, they worry about the boats that sink, offer Turkey billions of dollars and decide to take in more invaders through an "air-bridge." When their children are raped in swimming pools and their women harassed, they do not see an invading force that's testing the waters, they see people who need to be educated about how to treat women. I'm sure the Moriori assumed the invading tribes could be taught to adapt their pacifist ethos too.
Mike Cernovich is exposed as being at best a dumb vehicle for Active Measures, as his #FireMcMaster hashtag is botted and propagated hundreds of thousands of times by the 600 most active Russian fake Twitter accounts ...

John Ziegler confronts Cernovich with that and Cernovich's conspiracy theory nonsense - that Soros* is pulling McMaster's strings - Cernovich quivers nervously and makes the feeble counter-allegation that 'Ziegler is anti-Zionist; just like McMaster.'
* We have long observed that Soros is a convenient Jew for other Jews to throw under the bus, particularly the more ardent Zionists.
John Ziegler, Free Speech Broadcasting.com, August 6th 2017, hour 2:

John Ziegler (25:55): Are you claiming that you alone are the reason that #FireMcMaster has been re-Tweeted at last check over 600,000 times worldwide - you're saying that's because of you?

Mike Cernovich: Amazing, the great citizens out there who support "America first", participating very active, there was a protest today in front of The White House, the people are showing up…

John Ziegler: No, Mike, let me tell you the facts. That happened because of Russian operatives on Twitter.

Mike Cernovich: They're everywhere, oh my god, the Russians. Imagine you talked about Jewish people the way you talk about Russians? Or you talked about Israel the way you talk about Russians?

John Ziegler: Are you anti-Semitic?

Mike Cernovich: You sound anti-Semitic and you sound xenophobic, because to me you're xenophobic of Russians, an entire race of people…Russia, Russia, Russia, Russia…

Do you hate Israel the way McMaster does?

John Ziegler: You don't want to answer the question because its troubling for you.

Mike Cernovich: McMaster hates Israel, do you hate Israel the way McMaster does? He fired pro-Israel Jews, he fired a guy for going to a Bar Mitzvah in Israel. Do you support that decision by McMaster?

John Ziegler (27:15): Are you denying that the 600 most well known Russian operative Twitter handles are responsible for the re-Tweets of the hashtag #FireMcMaster and that it was the top re-Tweet for all 600? Are you (Cernovich) denying that?

Mike Cernovich: I categorically deny that.

John Ziegler (29:03): "Here is my assessment; unless you're totally lying and since we're on the phone and we've never talked before in any substantive matter so I can't know for sure; but my sense is that you are not actively working on behalf of Russia; but that Russian forces see you as somebody that they can use because he is so dumb he doesn't realize he is being used and effectively you are being used as a stooge by Russia to do their dirty work for them among certain elements of the American population, i.e., the Trump cult.

That's my belief, why am I wrong?

Mike Cernovich: Well my belief is you're being used by anti-Zionist forces to support McMaster's attacks on Israel and that's why you support the purge of Jewish Trump supporters from the Trump administration.

John Ziegler: So you just think it is a coincidence that Russia is behind the fact that the #FireMcMaster hashtag has been re-Tweeted hundreds of thousands of times?

Mike Cernovich: I'm behind hat, I came up with that.

John Ziegler: Donald Trump, when he Tweets, if its a good Tweet, it might get 20,000 re-Tweets. #FireMcMaster has been re-Tweeted over 600,000 times world-wide because of you and you alone?

[...]

You think it's beautiful that the President said, basically, you're wrong, I'm not going to fire McMaster?

You implied on line that you did not believe that Trump wrote the statement that supported McMaster.

Mike Cernovich: No, Gen. Kelley definitely wrote that. I don't believe Trump wrote that, it doesn't sound anything like him.

John Ziegler: So, you don't believe Trump is in charge then?

Mike Cernovich: Trump delegates a lot of things.

John Ziegler: Delegates a statement of his personal beliefs about McMaster, his National Security Advisor?

With that, thanks for your time, and I'll be happy to send you the link to the entire interview un-edited.

Cernovich and Milo, Shills for the (((Trump agenda)))

That's Mike Cernovich, a conspiracy nut-job, who has become famous in the Alt-Right by being a Donald Trump supporter, who no longer wants to be known as a Donald Trump supporter but is still doing the work for Donald Trump, although Trump is rejecting that work on the issue of whether National Security Advisor, H.R. McMaster should be fired; if you understand all that, you've been listening very carefully and I appreciate it.
Related Story: From the week before, Ziegler does a good job exposing Milo Yiannopoulis as a mercenary stooge for Trump, brought onto Breitbart by Bannon and backed by Robert Mercer's agenda and money. Milo did not promote the interview, which he would tend to do if he thought he came off well (he didn't, his arguments came across as highly prefigurative, ill-fitting and mercenary for Trump).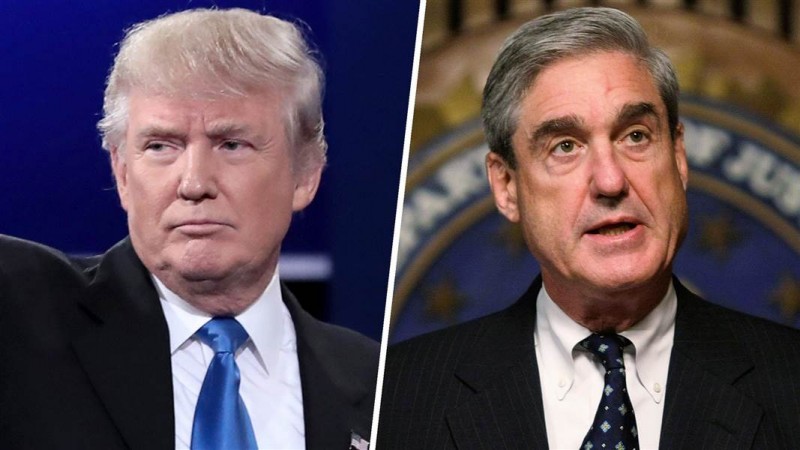 Trump administration cornered by Mueller in a grand jury investigation.
Trump was not able to veto new sanctions against Russian as it would have been hapless against Capitol Hill's unanimity on the measure, but betrayed his lack of innocence anyway by attaching a note of complaint (on behalf of his Russian friends?) to go along with his signing.
It would be a similar dead-ringer of guilt, revealing divided loyalties, if Trump tried to remove Mueller from the position of special investigation into Russian influence over his campaign, even if by the proxy of appointing someone who will do the dirty work where Sessions has recused himself - but now even that weasel-out of hiring someone to replace Sessions for the position to fire Meuller is being closed off; the Trump administration is being cornered, such that all administration personnel will be subject to appear before a grand jury and forced to present any documents, financial records, even emails that might have bearing - material evidence that they probably would not disclose voluntarily.
Politico, "Could Trump Fire Mueller? It's Complicated", 3 August 2017:

But the real question is what Congress would do to stop him.

It turns out that Senate Majority Leader Mitch McConnell has been calling ducks chickens all year long. In February, April and July, the Senate broke for 10 days or more. Each time, the Senate convened pro forma sessions. Subsequent reporting indicated that this was part of a plan hatched by the Senate GOP to prevent Trump from making any recess appointments at all. So it's highly unlikely that Trump will be able to make a recess appointment during the upcoming break.

Does this mean Trump can't ease out Sessions without sparking a messy confirmation process for his successor?

A Judiciary Committee confirmation hearing would inevitably rehash the firing of FBI Director James Comey, and even Republicans would be unlikely to confirm a nominee who didn't pledge to protect Mueller's investigation.

But Trump has other cards to play. He can appoint an acting attorney general and never get around to nominating a real one. By default, Rosenstein would take the helm. But Rosenstein is the one who hired Mueller, so if Trump's goal is to get rid of the special counsel, he needs to pick someone else as acting attorney general.
But while a Grand Jury investigation is anything but good news for Trump and his administration, it is not news failing his incapacity to get rid of the Mueller and the investigation altogether - it is standard operating procedure for a special investigation of this kind:
Washington Post, "Why Mueller's use of a grand jury confirms what we already knew", 3 August 2017:

reathless tweets and breaking-news banners notwithstanding, reports that special counsel Robert S. Mueller III has empaneled a grand jury in the ongoing investigation of the Trump campaign and potential Russian collusion are entirely unsurprising. This development isn't a nothing-burger, but it doesn't suggest anything we didn't already know.

Grand juries are how federal prosecutors conduct their investigations. The grand jury has the subpoena power that prosecutors need to compel reluctant witnesses to testify under oath. Grand jury subpoenas are also how prosecutors gather documents such as bank records, emails and corporate papers from entities or people who might not produce them voluntarily.

If a preliminary inquiry suggests there is nothing to a case, prosecutors might never empanel a grand jury. They and the FBI might conduct voluntary interviews, examine readily available documents and determine that no more formal inquiry is warranted.

That quick-look, let's-move-on scenario was never likely here. It's been clear for months that the allegations are sufficiently serious to merit a full investigation. And in the world of federal prosecutors, that means using a grand jury.

In fact, prosecutors in this probe have been using a grand jury for some time. Grand jury proceedings take place in secret, so there is often not a lot of news about what is happening in the room.

But someone who receives a subpoena to testify or produce documents is not bound by those secrecy rules. They are free to disclose — to the media or to anyone else — that they received a grand jury subpoena or testified in the grand jury. It may be that someone who just received a subpoena contacted a reporter and that has resulted in the "breaking news" stories.

The reality is that any investigation serious enough to warrant the appointment of a special counsel was always likely to involve a grand jury. It was always going to drag on for months. In a case this complex, it takes a long time to investigate the various allegations, subpoena and review relevant documents, and put relevant witnesses before the grand jury. If there are grants of immunity or plea deals to be negotiated, that takes time as well.

Mueller has already hired more than a dozen prosecutors to staff his investigation. Anyone who thought this was going to be over quickly was kidding themselves. The "news" confirms what we already knew.

Finally, it's important to remember that the existence of a grand jury investigation does not mean criminal charges will necessarily result. Especially in white-collar cases, it's not unusual for grand jury investigations to close with no charges being filed. The grand jury is the investigative tool that prosecutors use to determine whether charges are warranted – and sometimes the answer is no.

In the past weeks, there have been a number of startling and significant developments in the Russia probe. News that the special counsel is using a grand jury is not one of them.
European Outlook, "Propaganda", 31 July 2017:
By Bill Bailie #44 August 2017
Propaganda
Technology has revolutionised communications. Martin Luther nailed his thesis to the door of All Saints' Church in Wittenberg and changed the world. Benito Mussolini led the March on Rome to sieze power. And, in the sixties, we relied on street corner meetings and literature. Today, such primitive methods have been overtaken by the Internet.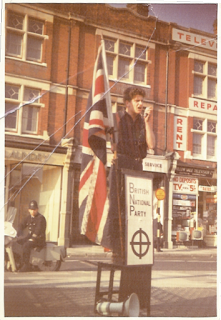 A young Bill Baillie campaigning for John Bean's British National Party in the 1964 general election.
We were not an insular nationalist party, we believed in European solidarity and social justice. I went overseas in 1965 and when I came home in 1970 we had been taken over by the National Front and our progressive policies had been dumped. I therefore joined Union Movement and embraced Oswald Mosley's vision of 'Europe a Nation'.
Social media is the modern way of communicating and video platforms such as Youtube are very effective. Donald Trump used Twitter and Facebook extensively in his presidential campaign and so did Emmanuel Macron in France.
Newspapers and magazines are expensive to produce and distribute but websites are affordable. We can reach more people on the Internet than we did in the old days by putting leaflets through letterboxes or selling newspapers on street corners. Competing with the mass media is obviously an unequal challenge but having discovered the truth it's our duty to encourage people to think for themselves and reject media brainwashing.
Newspapers, radio and television dominate public opinion but we can fight back by using the Internet. The State uses anti-terrorist legislation to silence its enemies but we can stay within the law by avoiding insulting or threatening language.
Ten years ago immigration was a taboo subject and only the lunatic-left talked about a "crisis of capitalism." Today, these ideas have gone mainstream and you don't have to be a political party in order to have an opinion. So, carry on blogging and posting on Facebook and Twitter. Let our voices be heard.
A Garden Green by William Harris,
first published in 'Lodestar' Winter 1986
Each year brings thousands of American tourists to Britain, and it is clear that many of them are seeking something the do not posses in their own continent. This, I suggest, is a past: their own past forged by their own ancestors, and not the pre-Colombian past of the Indian, which is the only true ancient thing they have. They must travel all these hundreds of miles in order to find their roots, be they of Celtic, Anglo-Saxon or Norman descent.
As so much nonsense is talked about Britain's 'mixture of races', it is worth quoting the words of Brian Branson in 'The Lost Gods of England'. In his chapter 'Who were the English?' he mentions these ethnic groups, adding "But none of these inter-breedings was what might be called in genetic terms 'a violent out-cross' such as would have been the case if Britain had been successfully invaded by an armada of Chinese, or Red Indians or African Bushmen. Apart from any alteration in physical appearance that would have befallen the new Island Race under such circumstances, one has only to suppose a pagoda in Canterbury, a totem pole in Trafalgar Square, and rock paintings in the Cheddar Gorge to imagine the cultural changes that would have ensued." He concludes that "the mongrelism of the English turns out to be more apparent than real." That was first published in 1957, before the minarets of the mosque loomed over the trees in Regent's Park.
Names are among the most ancient and lasting monuments in a culture, particularly those given to natural features in the landscape. In Britain they are usually Celtic, the Celts being the earliest of the above ethnic groups. The prefix 'Pen' for 'head' or 'headland' and the many instances of the name 'Avon', which means simply 'river' are two of the most obvious.
The names of our pubs are often far older than the buildings they adorn, and they tell us much. 'The George', and 'The Green Man', for instance, take us back to the traditional Mummers' Play of St George and the Turkish knight, and to a character in the Morris Dance, 'Jack in the Green'. The mummers would usually herald their appearance by announcing "Here come I". . . and in all these traditions, including that of traditional dance and song which is inseparable from it, there are a number of folk-heroes who emerge: St George, Robin Hood and Maid Marion, King Arthur, Hereward the Wake, Dick Whittington, Dick Turpin, Nelson and Lord Collingwood. The villains (all of whom are often cut down by St George in the course of the mummers' play) include: Prince Valentine, Captain Rover, Turkey Snipe, Little John, Bonaparte and Sambo. The last prompts me to remark that the blackening of faces (so upsetting to the susceptibilities of the liberal left of today), is probably far older than the 'Black and White Minstrels', or the minstrels who used to perform on seaside piers. There are accounts of wassailers or masqueraders blackening their faces, and the 'Giant of Salisbury' (a huge effigy , which used to be carried in all important processions in the city, which is now in the Salisbury and South Wiltshire museum) was found to have had his face blackened at some stage in the past, before he was 'cleaned up'. 'Morris', of course, is thought to derive from 'Moorish' so, like the Mummers' Play, it may date from the time of the Crusades.
After St George in the play has felled the Turkish knight, a doctor is called for, to 'cure' him. He is often played by a small boy dressed in a top hat and frock coat far too big for him and (in the version from Camborne, Cornwall) he says:
"I can cure the itch, the specs and the gout -
If there's nine devils, I can kick ten out."
He always cures the wounded knight so that the audience can then enjoy another bout of fighting but, in fact, his origins go back to the idea of death and resurrection which is the basis of most of the world's religions.
....tasked with out-Koshering other goyim alum and to put the hit on them gangster style for being in/convenient goyim to the kosher mob. From our point of view, we can be glad that Bannon's (((Paleocon))) misdirection into his (((Neo-Reaction))) is being throttled by a more distinctly (thereby didactic) Kosher and neo-liberal effort.
Scaramucci blanks like a hootchi.

First, some commentary on the situation by Kumiko:
Death match, Maxine Waters versus Steven Mnuchin.
A number of Cernovich's people are getting subpoena'd now too.
He's on Twitter this morning saying he's worried he'll be next.
All the FVEY accounts are indicating "LOL we're coming for all of you."
The collapse is going to be good fun.
Why would Cernovich be subpoena'd?
Because Putin, quite seriously.
It's encouraging that this has started to bleed into the Alt-Lite.
Since they thought that everyone had forgotten about them.
It forms part of the logic of why we have actively tried to keep our audience from falling into that garbage when it started up.
All of these people will go down with the ship, because that's how it works.
The only way to not get taken down is to just not be there.
"I'm just a blogger, surely I can be a grey vector of Active Measures and be left alone, right?"
Yeah no.
The only they were going to escape would have been if Trump had swiftly crushed the entire US intelligence community within a few months of entering office.
But these fluffy guys didn't think about that, and Trump was incompetent, so now it's all catching up to them.
There's still chances for them to squirm out, if Trump starts a firing spree before Graham's bill passes.
But it's looking like they won't make it.
Trump is behind schedule, since he fired Priebus today, but then he realized that Scaramucci doesn't care about anything and wants to actually fight Bannon.
So they are wasting precious time because Trump didn't realize that Scaramucci only wanted to enter the White House so he could destroy Priebus and Bannon.
....because they screwed him in a business deal back n 2016.
Now he's coming back pure ITALIAN BOSS.
...and now they are all falling over each other to try to 'calm that down'... wasting precious time.
That's why you see Raheem Kassam and Cernovich now trying to rally the base against Scaramucci "or it's all over" according Kassam.
If you want to be rid of Bannon's Neo-Reactionary misdirection into counter-Jihad Paleoconservatism, you have to love the hit Salabucci is putting on him.
Salabucci is just there to kill two guys.
He's just some guy Trump knew from some business thing, who used to also go on Fox News and give financial commentary.
He spent the whole electoral cycle accusing Trump of being a protectionist bastard, until he realized Trump could be induced to make it worth his while; so he quietly went pro-Trump, sold off his business, and then asked to join the Trump admin.
That's when Priebus and Bannon blocked him, saying he was on an agenda, and so it meant Scaramucci had divested himself for no reason. At this stage I assume he decided to go for the revenge plot, and this may be it.
So he becomes a factor in the chaos. ...since Trump is an idiot and brought him in despite the fact that he was a time bomb.
That's why Sean Spicer resigned, since he refused to work under Scaramucci, since he knew Scaramucci is there to wreck things.
Then Scaramucci immediately came in and destroyed Priebus as Spicer likely predicted, lol.
And is now attacking Bannon, claiming that "I'm here to serve America, unlike Bannon who is here to suck his own dick."
Anyway, yeah, this is why day to day politics can be fun.
On the other side, Trump just ruined his senate majority.
In the process of trying to pass the Obamacare repeal, Trump threatened to economically attack Alaska if Murkowski wouldn't vote 'Yes.'
In reaction, Murkowski doubled down on opposing Trump, and voted 'no.'
So Pence entered the chamber again to try to break the tie.
But then Collins and MCCAIN defected too.
....and the whole chamber erupted as McCain tilted his chin up.
...and the whole fucking thing imploded.
So now Trump is in a position where he is just getting nothing done.

That's what Kumiko had to say. Here's what The New Nationalist has to say. They consider themselves "Third Position," which means that they have some things right - like an eye on the J.Q. and some right wing perfidy. However, they remain insufficiently emancipated from the right wing and are unstable as a result, resorting to some wild speculation where socialization would be corrective.
The New Nationalist, "Move Over Trump, There's a New Sheriff in Town: Mad Tony 'The Mooch' Scaramucci", 28 July 2017:

Trumpian apologists are doing cartwheels and backflips trying to explain away the bizarre behavior of the administration's latest "communication director," one Anthony Scaramucci, also known as "The Mooch." Sean Spicer was a piker compared to this character. Predictably, The Mooch, 53, is a Goldman Sachs alum and hedge fund manager who boasts "29 years on Wall Street." He is a member of the nefarious Council on Foreign Relations and, on June 19, became senior VP and chief strategy officer for the U.S. Export-Import Bank.

During his first week on the job as Trump's chief mouthpiece, Scaramucci engaged the president's drama squad in a WWWF-style brahaha, culminating in an interview during which he declared, "I'm not Steve Bannon. I'm not trying to suck my own cock. I'm not trying to build my own brand off the fucking strength of the president. I'm here to serve the country." Classy.

In another rambling interview, The Mooch vowed to hunt down the White House leakers. He suggested that embattled White House Chief of Staff Reince Priebus would be fired if he leaks and said he was incensed that Priebus "cock-blocked" him for six months from getting a position in Trump's administration. He also called Priebus "a fucking paranoid schizophrenic" and seemed to imply that some White House staffers may have committed a felony by leaking sensitive financial information about Scaramucci, even though his financial disclosure form was publicly available. It is also interesting that The Mooch had nothing bad to say about globalists Jared Kushner, Gary Cohn and Dina Powell during his rant.

Sampling of the Mooch's claims:


The 6 most unusual quotes from Anthony Scaramucci's CNN interview

No sensible leader would turn such a man loose. No sensible leader would be undercutting his own attorney general six months into his presidency. His Secretary of State Tillerson is rumored to have had enough. There is every indication that the Trumpian executive branch is ungovernable; and worse, governed by tweet. Just about anybody within the sistema will distance themselves soon enough. Former media supporter Breibart is playing a role by doing exactly that.

It is just a matter of time before steps are taken to remove him. The New Nationalist (TNN) theorizes the trigger will be a market swoon, possibly triggered by a faux pas from "Red Queen" Donald himself. This happens after the cognescenti are convinced the rigged "markets" are bulletproof against Trumpian buffoonery and skullduggery. But alas, that will prove not to be the case.

This further reinforces our post-election theory regarding Trump mafioso and oligarch-like appointments. This is a devious and traitorous Trojan Horse operation designed to deliberately take what's left of the American system down. This is the end game of a multi-generation national demolition project.

Trump's role is as closer of that project. Unfortunately, few understand that, even his among his opponents. In fact, his Democratic opponents like Hillary and Obama are in on it. Readers need to jettison the erroneous Hanlon's Razor, which says, "Never attribute to malice that which is adequately explained by stupidity." There is true evil and malice at loose in the world and they operate at the highest level.

Although at this juncture this feels like watching red paint dry, it's anything but. This crisis phase, when it erupts, should last about six weeks, ending in total breakdown and chaos. The moving parts, such as a summer of urban turmoil (Baltimore and Ferguson multiplied) are in place. The neo-feudal plans of the Crime Syndicate and their international bankster bosses are in place. The police state and Gulag system have been tested and are in place. Human harvesting implementation was test run in Haiti and is in place. Human terrain intelligence for every person in America, if not the world, is in place, locked, loaded.