Majorityrights News > Category: Military Matters
CNN, 'We waited 6 months for Trump's 77-minute news conference. Here's what went down.', 11 Jan 2017:

(CNN)— It had been 169 days since President-elect Donald Trump—then the newly minted Republican nominee—took questions at an open news conference. On Wednesday, Trump broke the streak by hosting reporters, along with top aides, family and applauding staffers, for a wide-ranging, at times chaotic question-and-answer session.

Here's how it unfolded, minute-by-minute. All times eastern:

10:59 a.m.: Two-minute warning given for beginning of news conference.

11:13 a.m.: Incoming White House press secretary Sean Spicer comes to the podium, with Vice President-elect Mike Pence at his hip, and begins speaking as Trump and three of his children, along with a group of high level staffers, look on from the wings.

11:14 a.m.: Spicer calls out and rejects the content of documents made public by Buzzfeed on Tuesday night, saying it is "outrageous and irresponsible for a left wing blog" to publish "highly salacious and flat-out false information on the internet just days before (Trump) takes the oath office."

Spicer does not deny a CNN report that Trump and President Obama were presented classified documents that included, in a two-page synopsis, allegations that Russian operatives claim to have damaging information about Trump.

11:15 a.m.: Spicer says that Trump does not know a former campaign adviser named Carter Page. (Trump had mentioned Page by name during a March 2016 interview with the Washington Post.)

11:16 a.m.: Pence takes over from Spicer, says he is "honored to stand shoulder-to-shoulder with a new president who will make America great again." He praises Trump's energy, twice, and touts the "caliber" of the nominees selected by the transition staff. He then attacks the press as "irresponsible" and introduces Trump.

11:19 a.m.: Trump says he "maybe" won the nomination because of his frequent news conferences.

"We stopped giving them," he said, "because we were getting quite a bit of inaccurate news."

11:21 a.m.: Trump speaks for four minutes about the industries (auto, pharmaceutical) he has pressured or plans to and again promises to be "the greatest jobs producer that God ever created." He also talks about all the military bands that will be at the inauguration.

11:25 a.m.: "Speaking of veterans," Trump announces that he will appoint David Shulkin to head the Department of Veterans Affairs. Shulkin is currently the VA's undersecretary for health.

11:28 a.m.: Trump takes his first question, refuses to confirm or deny that he was briefed on Russian claims to have embarrassing information about him. He calls the unsubstantiated, published details "crap" and the work of "sick people."

11:32 a.m.: Asked if he would undo the actions taken against Russia put into place by the Obama administration in response to the hacks, Trump deflects and says: "If Putin likes Donald Trump, I consider that an asset, not a liability."

11:33 a.m.: After another question about his activities in Russia, Trump describes telling "many people" to beware of "cameras all over the place" during his visits.

He adds: "I'm also very much of a germaphobe. Believe me."

11:35 a.m.: "I have no loans with Russia," Trump says. Then claims he was, over the weekend, offered $2 billion to "do a deal in Dubai with a very, very very amazing man, a great, great developer," but turned him down. Not because he had to, but because he doesn't want "to take advantage."

11:37 a.m.: Trump is asked if he will release his tax returns. He says they are under audit, so he will not.

"The only ones who cares about my tax returns are reporters," Trump tells the questioner, a statement not backed up by recent polling.

11:38 a.m.: Sheri Dillon, an attorney for Trump, steps to the podium to explain why the President-elect will formally leave his businesses but not sell off his interests.

As CNN's Jill Disis and Jeremy Diamond report: "All of Trump's business and financial assets will be placed into the trust before he is inaugurated January 20, said Sheri Dillon, a lawyer for Trump. But she said he will still receive reports on the overall profit of the Trump Organization, his worldwide empire."

11:53 a.m.: Trump returns to the mic, calls Alabama Sen. Jeff Sessions' performance on Tuesday during his confirmation hearing "brilliant." What is he hearing from many people? That his cabinet will be "one of the great cabinets ever put together."

11:55 a.m.: Questioned about the plan to repeal and replace Obamacare, Trump says he could have "waited and watched and criticized" and "let it implode" this year, but decided to act because it's only fair to "the people."

Of the timing of the replacement, Trump adds, it will happen "on the same day or the same week… could be the same hour."

12:00 p.m.: On to jobs. Trump again touts the Carrier deal, calling his recent work to name and shame certain companies a statement of intent.

"The word is now out that when you want to move your plant to Mexico or some other place and you want to fire all of your workers from Michigan and Ohio and all these places that I won for good reason… not gonna happen that way anymore," he says.

Trump adds: "We don't have border" but "an open sieve," and urges companies to shop state-to-state for better deals—"as long as it's within the borders of the United States."

12:02 p.m.: Asked how he will make Mexico pay for a "fence" on the Southern border, Trump corrects a reporter: "It's not a fence, it's a wall."

He says negotiations with Mexico will begin shortly after he takes office. The country, he adds, will "in some form" reimburse the US for the cost of construction and says the "deal" will probably happen in less than 18 months.

12:05 p.m.: Trump pledges to name a Supreme Court nominee "within two weeks" of his inauguration.

12:06 p.m.: So what was Trump driving at with his Wednesday morning tweet that asked, "Are we living in Nazi Germany?" a reporter inquires.

He says that recent intelligence leaks were like something the government in Nazi Germany "would have done and did do."

12:07 p.m.: Trump refuses to answer a question from CNN's Jim Acosta.

12:12 p.m.: Asked by CNN's Jeremy Diamond why he spent weeks taking shots at US intelligence before having seen their work, Trump brushed past the question and says, "I think it's pretty sad when intelligence reports get leaked out to the press. I think it's pretty sad."

12:13 p.m.: Another reporter, ABC's Cecilia Vega steps up to ask the question that Trump refused to hear from CNN's Jim Acosta—whether the president-elect could "stand here today, once and for all, and say that no one connected to you or your campaign had any contact with Russia leading up to or during the presidential campaign?"

Trump dodges the question.

He speaks for 88 seconds—about the "respect" Russia will have for him; Chinese hackers; if his administration will "get along" with Putin (maybe); Hillary Clinton's "reset" button—but does not say whether any of his campaign associates spoke regularly with Moscow during the election.

12:15 p.m.: And that's a wrap.

On the way out, Trump explains that the stacks of papers and folders propped up on the table beside the podium are "all just a piece of the many, many companies that are being put into trust to be run by my two sons."

12:16 p.m.: Trump exits stage right.
If this pathetic press conference is a sign of things to come over the next four years, then it may turn out to be more of a commentary on Trump's supporters than on Trump himself.
It's possible that in the history of the United States, never have so many lemmings lined up, to morosely tumble off so many terraced cliffs, into so many yawning valleys, at the prompting of so few, with so little persuasive power exerted.
TNO, "Germany: 3,000 Sex Attack Victims in 2016", 4 Jan 2016:

Third World invaders pretending to be refugees in Germany preyed upon 2,000 adults and 1,000 children in 2015, a new study by monitoring group XZ Einzefall has shown - at least 1,964 of the sex attacks were serious,

The true number of attacks and victims is much higher, because police are under orders to withhold hundreds of reports and only respond if the media makes inquiries.

XY Einzefall is a German-based monitoring group which has carefully recorded every sex assault carried out in Germany since Angela Merkel opened that country's gates to the mass Third World invasion in 2015.

Their final report for 2016, which can be found in spreadsheet format here, reveals that reported incidents only total 1,964, consisting of at least 201 rapes, 1,559 sex attacks, and 204 sex attacks in public swimming pools.

Only incidents which were actually reported by the police, or which were reported in the controlled media, were added to the XZ Einzefall list. Their spreadsheet contains the links to the police and media reports.

Of the 201 reported rapes, at least 35 were minors, the study showed. Of the 1,559 sex attacks, 653 victims were minors, and of the 204 swimming pool sex attacks, 286 were minors.

This works out at nearly six serious sex attacks every day during 2016.

However, as XY Einzelfall points out in its study, these figures are merely the tip of the iceberg. Quoting a separate study in Austria, the groups said that "only a tiny fraction of all crimes are published as a police or media-report."

The Austrian study quoted compared complaints laid with the police to those reported by the police's media officers and those reported in the media. The difference was vast, the study said, finding that in Vienna, of the more than 200,000 complaints made to police, less than 2,000 police reports were actually published.

With regard to rape cases, the study found, of the 647 rapes reported to the police, only 15 were ever mentioned by police reports and media.

"For this reason," the study says, "the total number of crimes committed by migrants is much higher."

XZ Einzelfall also maintains an incident map which is regularly updated and which can be found here.
New Observer, "Violent African Invaders Storm Ceuta", 2 Jan 2016:

Thousands of violent Africans attempted to storm the Spanish enclave of Ceuta in Morocco on New Year's Day, attacking Moroccan and Spanish police with such ferocity that ten officers were badly wounded and one lost an eye.

A mob estimated to be between one and three thousand strong tried to jump over the double fence which surrounds the enclave—Europe's only land border with Africa. Thousands of Africans, fleeing their self-created economic disaster nations—regularly congregate around the enclaves in the hope of breaking in.

According to the central government's representative office in Ceuta, a first group of at least 1,100 sub-Saharan Africans stormed the border fence just after 4 a.m. on New Year's Day in an "extremely violent and organized" manner.

About 100 of the invaders managed to climb up the external fence and stayed on top for hours.

None however managed to get through, apart from two who were badly injured and taken to the hospital in Ceuta, the office said in a statement. A similar assault on December 9 saw more than 400 invaders smash their way into the tiny territory.

They tried "to force open some of the doors in the external fence, using iron bars, wire cutters, and large stones with which they assaulted Moroccan forces and (Spanish) Guardia Civil (police) agents," it added.
Minster Ben Wallace warns Isil planning chemical attack on Britain

DT, 1 Jan 2017:

"Isil wants to carry out mass chemical attack on Britain, minister warns"

Mr Wallace said: "Experts have warned that their ambition is a mass casualty attack and they have no moral barrier to using whatever means possible."

On Saturday he told the Sunday Times: "The ambition of IS or Daesh is definitely mass casualty attacks. They want to harm as many people as possible and terrorise as many people as possible.

"They have no moral objection to using chemical weapons against populations and if they could, they would in this country.

"The casualty figures which could be involved would be everybody's worst fear.

"We have certainly seen reports of them using it in Syria and Iraq (and) we have certainly seen aspiration for it in Europe."


Minster warns Isil are planning a chemical attack on Britain

Mr Wallace also warned about the threat from "the enemy within" as terror groups, Russia and cyber attackers were trying to plant "traitors" in the Government, the military and leading businesses.

"There are traitors. We have to be on our guard for the enemy within," he said.

"The insider threat, as we would call it, is real and it can be exploited and there are people trying to do that as we speak."
EUObserver, "The rise and shine of Visegrad", 30 Dec 2016:
The Visegrad leaders have made their voices heard on the EU stage.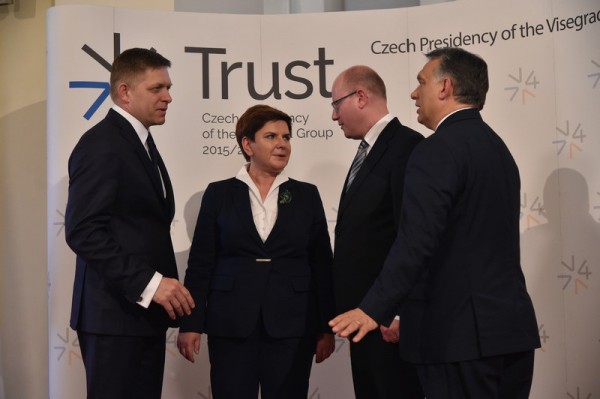 From left to right, Robert Fico, Beata Szydlo, Bohuslav Sobotka and Viktor Orban. (Photo: Czech government)
The name of a quiet medieval town in Hungary – Visegrad – has in recent times become synonymous with the word "rebellion" in Brussels.
Others, particularly if they are from one of the four countries in the loose association of the Visegrad Group, might argue that it stands for "alternative".
V4 countries are trying to weigh in on the EU's soul-searching process which was launched at a summit in Bratislava in September. (Photo: Kurt Bauschardt)
The group, also known as V4, was formed in Visegrad in 1991 and is comprised of the Czech Republic, Hungary, Poland and Slovakia. It has remained relatively obscure for almost 25 years.
Then the migration crisis hit.
The EU's inability to handle the crisis, combined with a tilt in the power structure within the union after the Brexit vote and increasingly bellicose and eurosceptic leaders in Hungary and Poland, has thrust the group to the fore.
In 2016, V4 leaders have pushed for a change in the EU's migration policy and has refused to accept asylum seekers under the EU's quota system. They also called for reform of the EU after the Brexit vote.
"The V4 basically fulfilled the role it was created for in the first place, to be a powerful lobby organisation." Daniel Bartha, the director of the Budapest-based Centre for Euro-Atlantic Integration and Democracy, told Euobserver.
"It now holds on to a significant number of votes in the European Council to offset Germany."
The original sin
Diplomats refer to a meeting of interior ministers in September 2015, when the four states were out-voted on migrant quotas, as the "original sin" that emboldened the group.
The V4 countries disagreed with the mandatory part of the system - even though in the end Poland, under its previous government, did not vote with the rest of the Visegrad nations - and particularly disliked how the European Commission rammed through its German-inspired proposal.
A year after the migration quotas were introduced, Slovak prime minister Robert Fico declared the idea politically dead. "Quotas today clearly divide the EU, therefore I think they are politically finished," he told journalists while his country was holding the rotating EU presidency.
Eastern EU states were not the only ones that did not like the quota system, but they were the most vocal about it, with Hungary and Slovakia challenging it in the EU Court of Justice.
Strong anti-immigrant rhetoric coming from the Visegrad leaders was initially criticised, but eventually the focus of the EU's migration policy shifted from taking in asylum seekers and distributing them fairly, to reinforcing border control and shutting down migration routes.
The issue has finally forced the realisation in the corridors of the Berlaymont, the EU commission's headquarters, that V4 countries could not be ignored.
But as one EU official observed, commission president Jean-Claude Juncker still surrounds himself with a small circle of close aides and is less open to influence from the V4.
The official gave the example of the commission proposal on "posted workers", which would require companies from the eastern EU to pay as much to their workers sent to Western Europe as their western counterparts.
In principle, the proposal makes sense in a single market, and some Western European states have long objected to easterners undercutting local wages. But 11 national parliaments objected to the commission's proposal, the bulk of them eastern nations. The commission decided in July to move ahead with the proposal anyway.
After Brexit vote
The Brexit vote was a shock to the EU, but it reinforced the V4's presence.
It has been interpreted as a vote against the ruling elite and mainstream politics, a public sentiment that Hungarian and Polish leaders have been successfully exploiting. Those two nations took it as a sign that the EU needs to change, and they were ready with an alternative.
"The European Commission hasn't fully understood what happened in the British referendum," Polish prime minister Beata Szydlo told reporters in July, when her country took over the V4 rotating presidency.
"The EU needs to return to its roots. We need to care more about the concerns of citizens and less about those of the institutions."
Similarly, Hungarian prime minister Viktor Orban said in June that democratic legitimacy for the EU can only come from the member states.
"We have to return to the notion that the basis of the EU is not its institutions, but the member states. The democratic feature of the EU can only be reinforced through the member states," he said after the British referendum.
There is yet a concrete proposal, but in the Slovak capital in September, the 27 member states kicked off a soul-searching "Bratislava process" to explore how the EU could be reformed to win back citizens, and the V4's ideas are bound to be influential.
"After Brexit, the EU's political centre of gravity has shifted towards the east," said analyst Daniel Bartha.
"France has had a declining economy since the early 2010s, so it has been less potent in offsetting Germany's dominance on the continent. New power centres are destined to emerge in the union."
But the V4's rise in EU politics might only be temporary, as many issues divide the four nations and would hamper their ability to influence EU politics.
"The harmony only exists from the outside. Migration is the key issue where the four agreed. On everything else – for instance energy – there is little agreement," said Bartha.
He cited as an example relations with Russia – a friend to Hungary but still regarded as a threat in Poland.
And Slovakia's government has largely muted its opposition to EU migration policy during its presidency of the EU Council.
EU officials have suggested engaging with the "more reasonable" elements within the V4 – Slovakia and the Czech Republic – to separate them from Poland and Hungary whenever possible.
"They need our gestures. It is that moment," argued one EU official.
TNO, "U.N. Vote and Jewish Lobby Hypocrisy", 24 Dec 2016:
And Alt-Right hypocrisy as well, since The US was the only nation which supported Israel in the UN with regard to their illegal settlements - their chutzpah to fly in the face of the rest of the world probably rests on anticipation of help from their boy Trump
Ibid:

The U.S. Jewish lobby has rushed to defend Israel following the United Nations' Security Council (UNSC) motion condemning the illegal seizure of Palestinian land—highlighting the fact that they support the right of Jews to preserve their racial identity in their own ethnostate, but always strongly oppose any European demands for that same right.
TNO, "Israeli Illegal Settlements: The Facts", 26 Dec 2016:

Israel has demanded that the 14 nations who voted against the illegal Jewish settlements in the occupied West Bank "explain themselves"—for daring to oppose the Jewish ethnostate's breach of international law.

In reality, the Jewish settlements are illegal in terms of the Geneva Convention and the Hague Regulations, and if undertaken by any other state, would have resulted in international military intervention.

According to "Convention (IV) relative to the Protection of Civilian Persons in Time of War" of the Geneva Convention, an occupier is forbidden from transferring its own civilians into the territory it occupies.

"Individual or mass forcible transfers, as well as deportations of protected persons from occupied territory to the territory of the Occupying Power or to that of any other country, occupied or not, are prohibited, regardless of their motive. (12 August 1949. "Deportations, Transfers, Evacuations, Article 49.)

In addition, Article 55 of the Hague Regulations states that an occupying power's role is to safeguard occupied properties and maintain the status quo:

Art. 55. The occupying State shall be regarded only as administrator and usufructuary of public buildings, real estate, forests, and agricultural estates belonging to the hostile State, and situated in the occupied country. It must safeguard the capital of these properties, and administer them in accordance with the rules of usufruct. (Annex To The Convention: Regulations Respecting The Laws And Customs Of War On Land – Section III : Military Authority Over The Territory Of The Hostile State – Regulations: Art. 55.)

The construction of Jewish settlements in the occupied West Bank are clear violations of both these international treaties, and for Israel to demand that nations who uphold this law "explain themselves" is merely an indication of the chutzpah and hypocrisy which underpins that state.

These then, are the facts about the occupied West Bank:

The West Bank—including East Jerusalem—and the Gaza Strip together constitute the Occupied Palestinian Territories (OPT), which have been under Israeli military occupation since June 1967.

Prior to Israeli occupation, the West Bank was controlled by Jordan, and the Gaza Strip by Egypt.

Before the State of Israel was established in 1948, the West Bank and Gaza Strip were simply parts of Mandate Palestine; their "borders" are the result of Israeli expansion and armistice lines.

More than 300,000 Palestinians in the West Bank and Gaza Strip became refugees during Israel's conquest in June 1967; the vast majority were unable to return.

In 1967, Israeli forces ethnically cleansed and destroyed a number of Palestinian villages in the OPT, including Imwas, Beit Nuba, and others.

One of the first acts of Israeli authorities in East Jerusalem was to demolish the Mughrabi Quarter, expelling 600 residents and destroying 135 homes. In place of the 800-year-old Mughrabi Quarter, Israel created the Western Wall Plaza.
... as Recorded by Refugee Resettlement Watch


20 Dec 2016: Terror around the world in the past few days…no thanks to these three 'leaders.'

Pictures speak a thousand words….

How many of you remember that when Obama took office, Turkish President Erdogan was supposed to be his best (only!) friend among world leaders? Later, after she opened the gates to migrant Muslim invaders, Erdogan and Merkel became pals.

21 Dec:

Austin, TX mayor works with White House to welcome Syrians against official state position.
22 Dec:
Obama State Department approves 100 Syrian Muslims for West Virginia state capitol

Where were you WV Republican Senator Shelley Moore Capito and Republican Rep. Alex Mooney? Only two choices!—either asleep-at-the-switch or in support of this move by a local 'interfaith' group to be named a federal subcontracting agency for the purpose of beginning a new refugee resettlement site in the state. (Charleston previously received a few refugees through Catholic Charities, but no where near this scale).


Did Mooney tell this nice lady that he is supporting Syrian Muslim resettlement in the state capitol? Charleston is in Mooney's district. Photo: https://www.nationaljournal.com/s/57741

If Capito and Mooney had put up significant opposition, we would have heard about it and this decision might have turned out differently.

So why go ahead with this new site at the West Virginia state capitol?

For new readers we have followed the growing controversy in Charleston extensively for months, see here.
West Virginia is one of the Whitest (and poorest) states in The United States. It is also one of the most beautiful, at least where Massey Corporation has not strip-mined its mountain tops (and poisoned drinking water and given cancer to locals with that same operation).
21 Dec: 23 years after Black Hawk Down we admit Somali 'refugees' to US at highest rates ever

Here is the map of where they went (again these are the numbers for October 1, 2016 to December 10, 2016). This is the number for resettled refugees only:
Update: New York Times, "Trump Picks Rex Tillerson, Exxon C.E.O., as Secretary of State", 12 Dec 2016:

WASHINGTON — President-elect Donald J. Trump on Monday settled on Rex W. Tillerson, the chief executive of Exxon Mobil, to be his secretary of state, dismissing bipartisan concerns that the globe-trotting leader of the energy giant had forged a too-cozy relationship with Vladimir V. Putin, the president of Russia, transition officials said.

Mr. Trump planned to announce the selection on Tuesday morning, finally bringing to an end his public and chaotic deliberations over choosing the nation's top diplomat — a process that at times veered from rewarding Rudolph W. Giuliani, one of his most loyal supporters, to musing about whether Mitt Romney, one of his most vicious critics, might be forgiven.
Russia's Prime Minister Putin speaks with Tillerson in Sochi in 2011

President-Elect Trump 'will name Exxon CEO with close links to Putin as his secretary of state', snubbing Mitt Romney."

DM, "BREAKING NEWS, 10 Dec 2016:

Trump is expected to name Rex Tillerson as secretary of state.

Exxon Mobil chief emerged on Friday as the leading candidate.

Favored status was revealed as Giuliani withdrew.

U.S. President-elect Donald Trump is expected to name the chief executive of Exxon Mobil as the country's top diplomat, NBC News reported Saturday.

Exxon chief Rex Tillerson emerged on Friday as Trump's leading candidate for U.S. secretary of state and is expected to meet with him later on Saturday, a transition official told Reuters.

NBC News cited two sources close to the transition team in reporting that Tillerson will be named as secretary of state.

The president-elect had interviewed 2012 GOP nominee Mitt Romney twice – taking him to a three-Michelin starred dinner on one of those occasions.

Should Tillerson be nominated, his business ties, too, will come under scrutiny. Exxon Mobil has operations in more than 50 countries and boasts that it explores for oil and natural gas on six continents.

In 2011, Exxon Mobil signed a deal with Rosneft, Russia's largest state-owned oil company, for joint oil exploration and production. Since then, the companies have formed 10 joint ventures for projects in Russia.

In 2013, Russian President Vladimir Putin awarded Tillerson his nation's Order of Friendship.

'He has had more interactive time with Vladimir Putin than probably any other American with the exception of Henry Kissinger,' John Hamre, a deputy defense secretary to Bill Clinton told the Wall Street Journal.

But U.S. sanctions against Russia for its incursion into Crimea cost Exxon Mobil dearly, forcing it to scrap some projects and costing it at least $1 billion in losses. Tillerson has been a vocal critic of the sanctions.

Trump has spoken of wanting warmer relations with Moscow, which has sparked concerns in Congress that he could lift or loosen some of the sanctions on Russia.

Tillerson has been chairman and CEO of Exxon Mobil since 2006. He is expected to retire from the company next year.

Should Tillerson be nominated, climate change could be another divisive issue. The company is under investigation by the New York Attorney General's Office for allegedly misleading investors, regulators and the public on what it knew about global warming.

Trump's campaign was unavailable for comment.