Majorityrights News > Category: Social liberalism
TNO, "US Black/Jewish Alliance—But Not in Israel", 17 Jan 2017:

The Jewish supremacist "Foundation for Ethnic Understanding" and the Anti-Defamation League have called for a new alliance with blacks against Donald Trump—but in Israel, which both organizations support, black "refugees" are locked up and deported in order to preserve the "Jewish nature of the state."

According to a report in the Jewish Forward newspaper ("Why Jews Must Fight for the Civil Rights of Muslims," January 9, 2017), Rabbi Marc Schneier, the president of the Foundation for Ethnic Understanding, said that:

"As we celebrate the birthday of Martin Luther King Jr., American Jews should reflect anew upon the epic struggle he led to free African-Americans from the shackles of bigotry and take pride in the singular role played by the Jewish community in support of King and African-Americans."

Rabbi Schneier continued by saying that

"As we await the advent of the new Trump administration, it is more important than ever for our community to reconnect with that uplifting chapter in American history half a century ago," and that to this end, "American Jews in 2017 must resolve that we will continue to speak out openly and assertively in support of the principle that Americans of all faiths and ethnicities — including Muslim Americans — must be accorded full civil rights and religious freedom as guaranteed by the U.S. Constitution and Bill of Rights."

Finally, Rabbi Schneier says that in "recent weeks, many rabbis and Jewish leaders have vowed that if the new administration institutes a Muslim registry, they themselves will be among the first to sign up for it."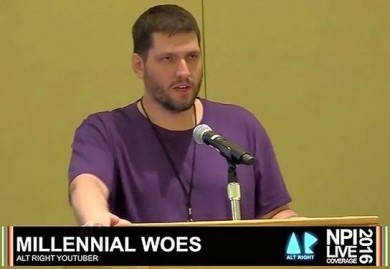 Mirror, 9 Jan 2017: "Racist vlogger who became global YouTube sensation unmasked"
...etc., so the headline and the hit piece reads.
On 5 June '15, Millennial Woes came to Majority Rights and left a comment * insisting that his link be removed from this site because I, DanielS, would not accept his friend, The Truth Will Live, a.k.a. (((Ruth))), as a part of our struggle, let alone as having a place to define our terms. I consider his position in her regard to have been naive at best, but probably more like an unsavory deal with the tentosphere. I really don't approve of this defense of the Jewish tent of the tentosphere. In addition, his going along with the Alt-Right's attribution of "THE Left" as the enemy is unacceptable; finally, he is annoying in coupling this attempt to join the Alt-Right in muting our platform, while perhaps garnering some of our ideas and auguring to misdirect them.
Even so, the doxing and smearing of him by a purportedly objective news source, The Mirror, is way out of line. Even I don't think he is remotely that bad or that he deserves that. But then again, beware the right, Alt-Right too - it's an unstable arrangement - the right has come back to bite countless adherents and those with misfortune to find themselves on the other side of their reactions over the years.
* The Millennial Woes comment that I am referring-to comes as the second in a series of three comments dated 3 - 5 June 2015, viz., #6, #14 and #17 and occurs withing the post called "The Lies Will Try To Live But They're Not White, They're Jewish."
Posted by Millennial Woes on Wed, 03 Jun 2015 12:27 | #6

Ruth, who has the channel "The Truth Will Live", is a close friend of mine. She and I speak regularly about the key issues of the alt-right, including the JQ, and she is on-board with all of it. In particular, residing in a Somali-heavy area of the US, she has to deal with their shit just like the rest of us do, and she hates it and opposes immigration from the Third World as wholeheartedly as any of us do.

To repeat, she is a close friend of mine and I know that she is a good, kind, decent person. I think it is wrong of you to besmirch her unless you have some evidence that she is a fake.

PS. And no, she didn't ask me to write this post! AFAIK she doesn't even know about this article.

Posted by Millennial Woes on Fri, 05 Jun 2015 11:41 | # 14

DanielS,

I understand your position, and I do understand the danger. However, I cannot stand by as my close friends are bad-mouthed when they have done nothing wrong whatsoever. (Note that you conflate Ruth's statements with Rachel Haywire's, when they are two very different people.)

Though I am grateful to your site for linking to my channel this last year or so, I ask you to remove that hyperlink now. I do not want to be associated with a site, however worthy it might be, that insults and dismisses my own friends.

Thank you, MW.

Posted by Millennial Woes on Fri, 05 Jun 2015 20:26 | # 17

DanielS "One extreme is to do the Christian services bit, helping Africans to no end. The other is to not care." She says it is wrong and extreme because they cannot take care of themselves well enough and it is the White man's burden to help them.

This golden rule is one of the most Jewy things imposed on Whites from the Bible.

MW: That's very strange, because it was I, a non-Jewish, non-religious, British-native white guy, who introduced Ruth to the idea that the White Man's Burden is a real thing - having arrived at this belief myself without any help, Jewish or otherwise. I came up with it, of my own volition, based on my own observations of my (white, non-Jewish, non-religious) people.

DanielS If you are that defensive of these women then we would view your link as a bum steer anyway.

MW: I don't even know what that phrase means. All I'm asking for is decency. Without a shred of evidence, you are ascribing a calculating, deceitful nature to a woman who simply doesn't have such a nature. If defending her makes me "defensive," so be it.
Millennial Woes argues that I conflate Ruth and Rachel Haywire, but I do not. In fact, my position with regard to Ruth was developed with interviews of her separately. Nor was I picking on her without evidence or for trivial reasons - it is most important to separate White advocacy from her sort of influence. For the record, I did not conflate Ruth's position with Rachel's: Ruth wanted to define the left for us, to encourage Abrahamism, she said that she believes in "the White man's burden" (that we owe help to Africans); and in the end she would pursues an agenda to have us treat Jews as a part of our cause, having kindred issues and concern for Western culture. But for a myriad of reasons, it is critical that there be White advocacy platforms free of Jewish influence (active influence, in particular), however benign it may appear (and the reason to discriminate against this one (((Ruth's positions))) wasn't really particularly hard to discern).
TNO, "Germany: 3,000 Sex Attack Victims in 2016", 4 Jan 2016:

Third World invaders pretending to be refugees in Germany preyed upon 2,000 adults and 1,000 children in 2015, a new study by monitoring group XZ Einzefall has shown - at least 1,964 of the sex attacks were serious,

The true number of attacks and victims is much higher, because police are under orders to withhold hundreds of reports and only respond if the media makes inquiries.

XY Einzefall is a German-based monitoring group which has carefully recorded every sex assault carried out in Germany since Angela Merkel opened that country's gates to the mass Third World invasion in 2015.

Their final report for 2016, which can be found in spreadsheet format here, reveals that reported incidents only total 1,964, consisting of at least 201 rapes, 1,559 sex attacks, and 204 sex attacks in public swimming pools.

Only incidents which were actually reported by the police, or which were reported in the controlled media, were added to the XZ Einzefall list. Their spreadsheet contains the links to the police and media reports.

Of the 201 reported rapes, at least 35 were minors, the study showed. Of the 1,559 sex attacks, 653 victims were minors, and of the 204 swimming pool sex attacks, 286 were minors.

This works out at nearly six serious sex attacks every day during 2016.

However, as XY Einzelfall points out in its study, these figures are merely the tip of the iceberg. Quoting a separate study in Austria, the groups said that "only a tiny fraction of all crimes are published as a police or media-report."

The Austrian study quoted compared complaints laid with the police to those reported by the police's media officers and those reported in the media. The difference was vast, the study said, finding that in Vienna, of the more than 200,000 complaints made to police, less than 2,000 police reports were actually published.

With regard to rape cases, the study found, of the 647 rapes reported to the police, only 15 were ever mentioned by police reports and media.

"For this reason," the study says, "the total number of crimes committed by migrants is much higher."

XZ Einzelfall also maintains an incident map which is regularly updated and which can be found here.
... as Recorded by Refugee Resettlement Watch


20 Dec 2016: Terror around the world in the past few days…no thanks to these three 'leaders.'

Pictures speak a thousand words….

How many of you remember that when Obama took office, Turkish President Erdogan was supposed to be his best (only!) friend among world leaders? Later, after she opened the gates to migrant Muslim invaders, Erdogan and Merkel became pals.

21 Dec:

Austin, TX mayor works with White House to welcome Syrians against official state position.
22 Dec:
Obama State Department approves 100 Syrian Muslims for West Virginia state capitol

Where were you WV Republican Senator Shelley Moore Capito and Republican Rep. Alex Mooney? Only two choices!—either asleep-at-the-switch or in support of this move by a local 'interfaith' group to be named a federal subcontracting agency for the purpose of beginning a new refugee resettlement site in the state. (Charleston previously received a few refugees through Catholic Charities, but no where near this scale).


Did Mooney tell this nice lady that he is supporting Syrian Muslim resettlement in the state capitol? Charleston is in Mooney's district. Photo: https://www.nationaljournal.com/s/57741

If Capito and Mooney had put up significant opposition, we would have heard about it and this decision might have turned out differently.

So why go ahead with this new site at the West Virginia state capitol?

For new readers we have followed the growing controversy in Charleston extensively for months, see here.
West Virginia is one of the Whitest (and poorest) states in The United States. It is also one of the most beautiful, at least where Massey Corporation has not strip-mined its mountain tops (and poisoned drinking water and given cancer to locals with that same operation).
21 Dec: 23 years after Black Hawk Down we admit Somali 'refugees' to US at highest rates ever

Here is the map of where they went (again these are the numbers for October 1, 2016 to December 10, 2016). This is the number for resettled refugees only:
* Yes, that's (((Klitchko))) in avid attendance, front and center.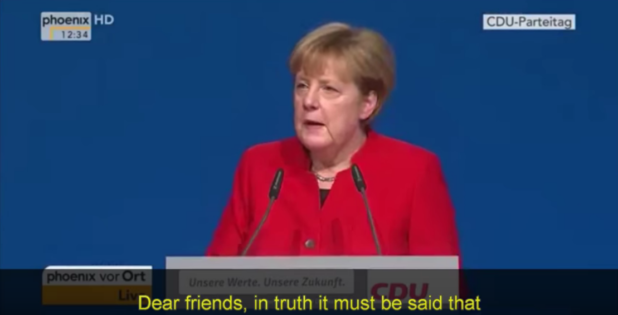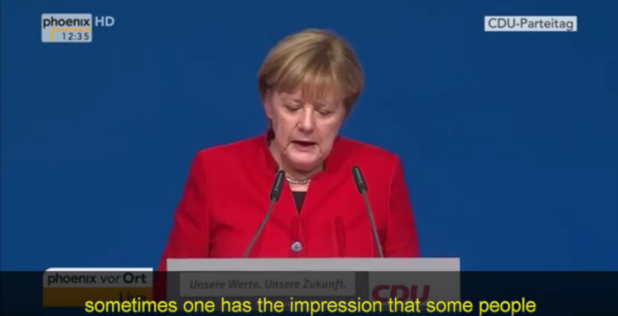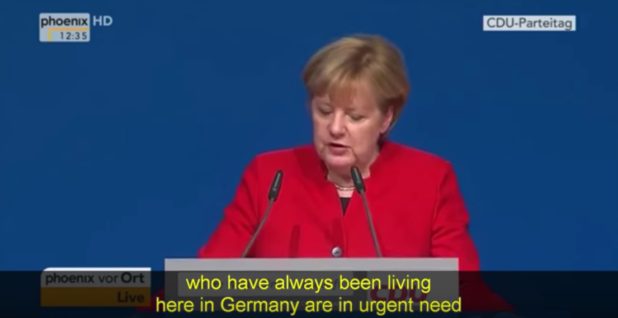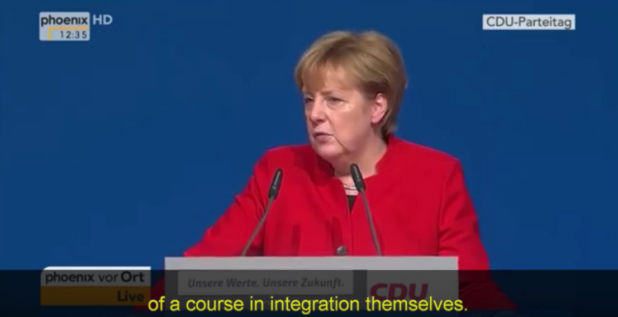 [...]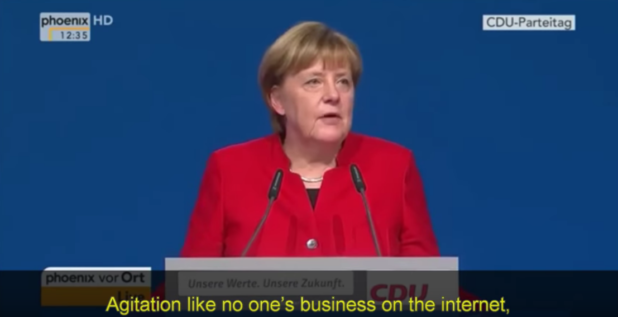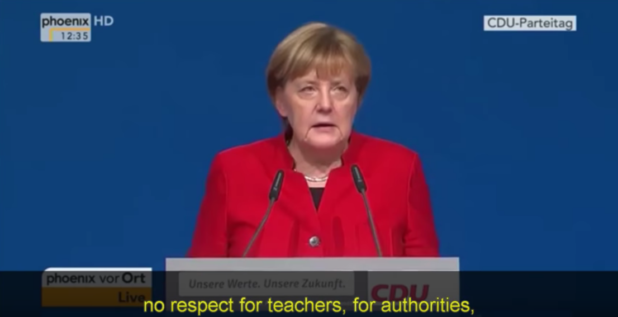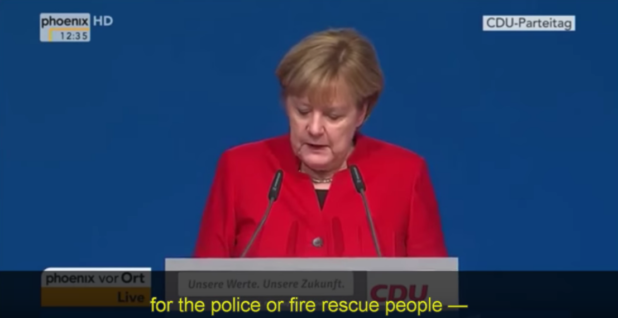 [...]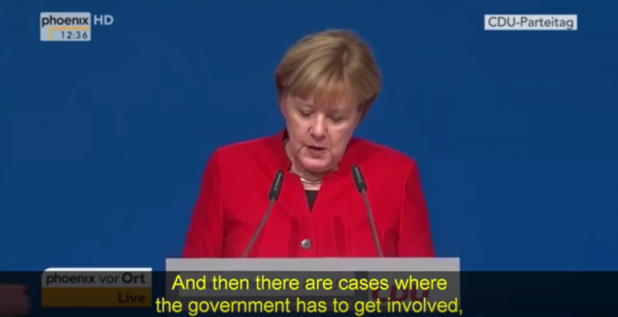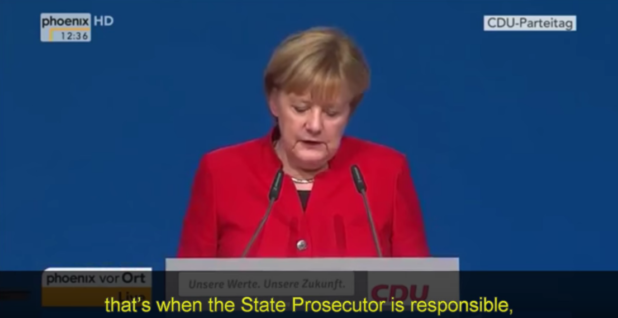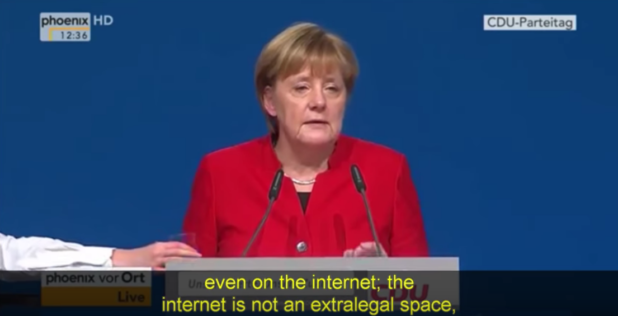 ..........
Independent, "How does the electoral college work in the US election? And is it really the best system?", 8 Nov 2016:

A run-down of how the American president will be elected and why it matters

Map of how many electoral votes each state has to cast. 270 to Win

With polling showing the race between Hillary Clinton and Donald Trump is tight, the way in which the votes are counted is crucial.

Here is a run-down of the US Electoral College voting system and why it matters so much.

How does the Electoral College system work?

The US president is not directly chosen by voters, but by 'electors' that people in a state vote for.

The more people in a state, the more electors an area has. For example, Texas has a population of 25 million and is afforded 38 Electoral College votes, while Delaware has a population of 936,000 and has only three votes.

There are 538 electors in total, corresponding to 435 members of Congress, 100 Senators and three additional electors for the District of Columbia. They will meet in their respective states on 19 December to ultimately elect the President.

Why is the Electoral College in place?

The system was established to ensure regional balance — it makes it mathematically impossible for a candidate with large amounts of support in just one region to overwhelm the vote.

What are the criticisms of the Electoral College?

It renders safe states almost irrelevant to the result of the election: for example it does not matter if Ms Clinton wins a state by five or 40 per cent, she will still get the same number of Electoral College votes.

Five states can vote to legalize marijuana on Election Day

Instead, the result hinges on a handful of states that are politically divided, which some say is undemocratic.

The swing states have a lot of power because most of them choose to elect whoever is the state-wide winner, regardless of the margin they won by.

If Mr Trump wins or loses by a tiny fraction in Florida, for example, all 29 votes flip depending on it.

Analysts also say the system favours smaller and more rural states, since the minimum number of electors a state can have is three — so states with very small populations are over-represented.

And the system technically allows the electors to hijack the result, since it is not certain the electors will vote the way their state does.

Although around 30 of the 50 states have passed laws – meaning their electors must vote according to the popular vote in their state – the punishment for not doing so can merely be a fine. This means they could potentially defy the electorate's choice.

Almost every state chooses to allocate all its Electoral College votes to whoever comes in first place statewide, regardless of their margin of victory.

Whoever gets to 270 electoral votes first – the majority of the 578 total votes – will win the election.
Figures compiled over 30 years:
Young black males, 4% of the population, commit half of all murders in America.
Don't heed the trivializing girl argument that the problem with blacks is that they do not work. While that is true, to merely put your nose to the grindstone and work to prove yourself responsible, unlike them, and make a state function that permits of these circumstances is the epitome of naivete (of being a cuck).
We don't have a black laziness problem, we have a Jewish, objectivist and black hyper-assertiveness problem, which imposes blacks, their cuckolding and violence upon us.
Example among the affliction -
DM, "Mother calls police on her son after he admits killing his pretty girlfriend and dumping her body in a lake", 6 Aug 2013

Khambrel Hadley and Alyssa Oakes had only moved in together in May

They often fought, police even responded to one of the arguments and classified a domestic incident

Hadley was caught when he was reported as having stolen a neighbor's car


A Florida mother made the toughest decision a parent can make Friday when she turned her son into police for murdering his girlfriend.

Shortly after Khambrel Hadley, 21, confessed to murdering girlfriend, Alyssa Oakes, 19, and told her where he dumped the body, his mother called 911 to report the crime. The alleged murderer was arrested later that afternoon, according to reports.

The doomed couple had moved into a Delano, FL., apartment just two months ago.


Accused murderer: Khambrel Hadley (right) allegedly confessed to murdering girlfriend Alyssa Oakes (left) and dumping her body in a wooded area near a lake.

Hadley's getaway was foiled when a neighbor called 911 to report his car stolen, according to WFTV, it didn't take long for cops to finger Hadley as the thief.

Oddly enough, Hadley had been hanging out with a man who's car he stole just the night before.

'He was pulling out of the apartment complex when I saw him take off,' the man told the station.

Police responded to Hadley's mother's 911 call by visiting the apartment he and Oakes shared, instead of finding the young woman, they found evidence of a struggle and what WESH called a 'brutal' murder.
DAILYKENN.com— "Elated Muslim lunatic celebrates winning suicide bomber drawing", 21 Oct 2016:

You would have thought he just won the lottery. Video reveals a Muslim loon ecstatic over winning the role of suicide bomber.

The Muslim will get the opportunity to blow himself up and take the lives of others when he does.

White globalists do much the same. They are ecstatic about the prospects of destroying themselves while harming others through the destruction of Western culture.

Both are the victims of self-destructive thought reform.

Read more here: Sun, "JIHAD'S YOUR LOT: Warped ISIS fanatics celebrate after 'drawing straws' to win the chance to launch the next suicide bombing", 21 Oct 2016: