Majorityrights News > Category: Social liberalism
This posting is not meant as an endorsement, but rather to allow for Hoppa to speak for himself since he is a central figure of Libertarianism and is frequently cited as an authority of its orientation as such. The talk is particularly relevant as a reference point as this lecture is on the topic of Libertarianism as it bears on The Alt-Right.
Chapo Trap House on How Richard Spencer Plays the Liberal Media, 14 June 2017:

Matt Christman

Angela Nagle (7:53): They think (also) that women making the completely voluntary choice to have children with a non-White man is White genocide (laughs) you know, it's just so ridiculous, I mean…

Matt Christman (8:05): interjecting sarcastically: Ah, excuse me, but, "cultural Marxism" much? Frankfurt School?

Angela Nagle (8:10): Laughs uproariously

Matt Christman (8:14): "It's not of their own volition."

Angela Nagle (8:14): laughing

Matt Christman (8:15): Porn! Jewish produced porn has brainwashed them into thinking that big dicks are more pleasurable to have sex with.

Angela Nagle (8:22): Continues to laugh in approval of the sarcasm.

Matt Christman (8:24): They literally believe that by the way.
It has always been theoretically uncomfortable when White advocates White knight or try to counter "the misogyny" of White advocacy on behalf of White mudsharks by suggesting that they are sheerly brainwashed by cultural Marxsim.
I have tended to lay off these arguments as I believe there is truth to cultural coercion and veritable psy-ops of cultural Marxism and demoralization through Jewish porn; and it is a help to take a step away from completely deterministic, objectivist arguments; better still, as opposed to the White genders blaming one another, to look critically at Jews, who have been egregiously critical of us and divisive of White men and women. These angles are true enough to consider along with being helpful to take the pressure off of gender antipathy and to put the social realm and culture (by which I mean rule structured practices) into play.
However, the cultural Marxism angle has always been insufficiently explanatory when dealing with "voluntary" miscegenation and White genocide. The little discourse above provides occasion for correction.
Angela Nagle might believe that outbreeding is not killing European genotypes; here White advocates haven't done that bad in showing that it (coercion that suppresses breeding of a race) can meet with the UN definition of genocide.
Matt Christman might think that all White advocates believe miscegenation and outbreeding is only a result of brainwashing; and maybe some do. But his and Angela Nagle's mockery exposes a puerility and weakness of their own argument, which calls for exploitation through the added sophistication of the hermeneutic circle.
White females, as any females, do have base drives that can incite genetic competition, miscegenation, incline toward strong black men with big weenies (though even I, in my distaste and disrespect for blacks on the whole, would not reduce miscegenation to only these causes) an inclination that can be activated under certain circumstances - particularly by pandering to them in atavistic circumstances such as the disorder of modernity. However, for a self proclaimed leftist, Nagle is making a surprisingly reductionist, liberal, right wing argument in saying "it's completely voluntary." There are definitely cultural rule structures that are encouraging and promoting it; and even more significantly, there are heavy taboos against criticizing it; even literal laws against taking critical and opposing stances against it. These are cultural/political violation of even the most reasonable and natural extent for mature White men (and women) to protect their kind.
This would be a part of the pleasure pain matrix that Matt Christman invokes. As White men overcome their right wing reactionary position and adopt the reality of social construction and the hermeneutic circle, they will not have to accept the "way it is-ness" of Matt Christman's "White knighting" on behalf of mudsharks (likely overcompensating pandering for the fact that he is ugly - about as ugly as the typical black woman - and desperate to be in the good graces of Jews, if not part Jewish himself).
But as we step into hermeneutics, we move beyond the tropism of the high contrast porn episode of the gargantuan black weenie and the White woman. But first, porn does some corrective favor in the sense that it is compelled to show that we White men can be quite well hung - so, if that's what a woman feels she needs. Finally, porn does not tend to reveal the fact that blacks are not necessarily heavy hung; I don't need to belabor this point here, except for the fact that their Not having a big weenie does not suddenly make them OK to intermarry with by our estimation. And as a very fundamental point, we are not discriminating against White guys with big Weenies.
Our kind was averse to blacks as children, before sexuality was even an issue, let alone weenies. After that it was the presumtuousness, arrogance, hyper-assertiveness, aggression, brutal antagonism and violence against Whites. Things that the puerile might find titillating, perhaps puerile girls, but not us. Along the way, we noticed subtleties of our female co-evolutionaries which we found compelling; and the physicality of blacks generally displeasing by contrast, let alone their behavior and the fall-out of their way of life.
We did not expect that we would be blamed for everything and told we owe them everything, including those we might hope to be our wives and daughters. We never could have imagined that we would be expected to accept this in servitude. We thought others would naturally think as we do, and though some naive adults thought it was a good idea to integrate us with blacks, when we got old enough, that we would join the rest of normal Whites who want to get away from them and be with Whites.
That didn't happen in any articulate way. And we have to confront not only the fact of cultural Marxism, but that our enemies are playing the objectivist angle where it works against us - heavily now that they've hoodwinked the Alt Right and other large tracts of popular culture to argue against PC and "the left."
We have to confront the fact of thrownness, that our group co-evolutionaries can miscegenate, but by the same token, thrownness, we are thereupon able to invoke and collaborate on cultural rule structures; it is not something that we have to accept as just the way it is, merely a voluntary choice that owes nothing to the tens of thousands of years of evolutionary struggle that went into our differentiation; along with its hundreds and thousands of years of social capital.
Even if they argue that some black guy might provide a more pleasurable moment and episode than some White guy, might be more confident (and coherent of identity, in part as a Jewish backed thug coalition) in the Jewish provoked disorder of modernity, where the rule structure of our guard and classificatory boundary is down, we can easily counter that plenty of us White guys are going to provide not only quite fine moments, but as we rebuild our full class, a far more pleasurable and satisfying way of life than the blacks manage.
With that, rather than mocking and laughing at the servitude of black interests that has been imposed upon White men, we will be having the last laugh as we send miscegenators and their half cast broods to live with blacks and the way of life that they create. They will either accept that or the recognition that they are indeed the supremacists and slave masters who need to be overturned by any means necessary. Do you know Angela and Matt, a White guy might not want to be a slave, paying for the babies of the mudsharks who destroy the genome bestowed them through tens of thousand of years of struggle, might just find a White woman's face and skin color more appealing, a European's way of life more pleasurable.
Angela Nagle claims to be open to talking to people who are dealing in topics forbidden by PC. We have offered to talk to her and that remains a standing invitation.
The Local, "Marseille attacker released by police day before stabbing rampage", 2 Oct 2017:

Tragic: The two victims of the Marseille knife attack were identified by their first names as cousins and best friends Mauranne (left) and Laura (right), both 20

The man who stabbed two young women to death in Marseille in an attack claimed by the Islamic State group used seven different identities and had been arrested just days earlier, French prosecutors said Monday.

The man who stabbed two young women to death in Marseille in an attack claimed by the Islamic State group used seven different identities and had been arrested just days earlier, French prosecutors said Monday.

Authorities said the man, who was shot dead by anti-terror troops after Sunday's attack outside the southern city's main train station, had previously used a Tunisian passport under the name Ahmed H., 29.

But investigators are seeking to confirm his identity as the attacker—who had a history of petty crime but was not on a jihadist watch list—used seven aliases, anti-terror prosecutor Francois Molins told reporters.

"The method of the attacker, a knife attack at a train station, responded to a permanent call from the terrorist group Daesh," Molins said, using another name for IS.

The jihadist group's propaganda agency Amaq claimed the killer was one of its "soldiers", while a source close to the investigation told AFP no solid evidence linked him to IS.

The attack in France's second biggest city followed a string of stabbings around Europe claimed by or blamed on Islamist radicals.

The man killed two 20-year-old cousins from the eastern city of Lyon. One was studying in Marseille and the other was visiting her for the weekend.

Molins confirmed that witnesses heard the attacker shout "Allahu Akbar" (God is Greatest) as he lunged at the women with a 20-centimetre (eight-inch) knife before threatening soldiers, who shot him dead.

The attacker's fingerprints showed he had had seven brushes with the law since 2005—most recently when he was arrested last week in Lyon.

He presented the Tunisian passport to police, saying he was divorced, used "hard drugs", and had no fixed address.

The shoplifting charges were dropped for lack of evidence, and local authorities "were not able to take a decision to deport him," Molins added. He was released on Saturday.

'Barbaric act'

Police evacuated Marseille's ornate Saint Charles station after the attack, temporarily halting all train traffic on some of France's busiest lines.

"I was on the esplanade just in front of the station," Melanie Petit, an 18-year-old student, told AFP. "I heard someone shout 'Allahu Akbar' and I saw a man who seemed to be dressed all in black."

French President Emmanuel Macron tweeted Sunday that he was "deeply angered by this barbaric act".

The attack comes as parliament prepares Tuesday to vote on a controversial anti-terror bill that transfers some of the exceptional powers granted to police under a 22-month-old state of emergency into national law.

France has been under a state of emergency since the IS gun and bomb attacks in Paris in November 2015—part of a string of jihadist assaults that have left more than 240 people dead over the past two years.

But rights groups warn that making parts of the state of emergency permanent would give police too much free rein in handling terrorism suspects.

Knives have been the weapon of choice in a string of smaller-scale attacks, in recent months, mainly targeting troops from the 7,000-strong Sentinelle anti-terror force set up to patrol the streets and vulnerable sites such as stations and tourist attractions.

In most cases, the attackers were shot dead at the start of their rampage, before they could kill others.

The Marseille attack came only days after IS released a recording of what it said was its leader Abu Bakr al-Baghdadi urging his followers to strike their enemies in the West.

The French government has deployed troops and its air force to the Middle East and is a leading partner in the US-led international coalition fighting IS in Iraq and Syria.
DM: The man, who was aged between 30 and 35, has not been formally identified.

On Friday the attacker – who was a North African of either Algerian or Tunisian origin – was arrested in Lyon for shoplifting.

He had no papers on him and was in 'an irregular situation in Europe', so giving the authorities a chance to place him under judicial control.
The Hill, "Trump signs resolution condemning white supremacists", 14 Sept 2017:

President Trump has signed a resolution condemning white supremacists following violence at a rally in Charlottesville, Va., last month, the White House announced late Thursday.

"As Americans, we condemn the recent violence in Charlottesville and oppose hatred, bigotry, and racism in all forms," Trump said in a statement released by the White House.

"No matter the color of our skin or our ethnic heritage, we all live under the same laws, we all salute the same great flag, and we are all made by the same almighty God," he continued.

"We are a Nation founded on the truth that all of us are created equal. As one people, let us move forward to rediscover the bonds of love and loyalty that bring us together as Americans."

The White House announced that Trump signed the measure hours after the president revisited his controversial response to the white supremacist violence in Charlottesville, saying there are "some pretty bad dudes on the other side also."

A bipartisan group of senators had introduced the measure amid concerns about Trump's response to the violence, which erupted as white nationalists rallied to protest the removal of a statue of Confederate General Robert E. Lee.

The resolution condemns "the racist violence and domestic terrorist attack" in Charlottesville, where a suspected white supremacist was accused of plowing a car into a crowd of counterprotesters, killing one and injuring more than a dozen others. It also rejects "white nationalism, white supremacy, and neo-Nazism as hateful expressions of intolerance that are contradictory to the values that define the people of the United States."

The White House announced earlier this week that Trump would sign the resolution.
GoEagleSearch, "White House says Trump to sign resolution condemning white nationalists", 13 Sept 2017:

WASHINGTON—The White House said Wednesday that President Donald Trump will sign a bipartisan congressional resolution condemning white nationalists, after the measure passed both chambers earlier this week.

The joint resolution targets the Ku Klux Klan, neo-Nazis, and other hate groups and urges the Trump administration "to use all available resources to address the threats posed by those groups."

Lawmakers said the legislation would put the president on the record opposing hate groups after violence erupted at a racially charged rally in Virginia last month.

White House spokeswoman Sarah Huckabee Sanders said Wednesday the president would sign the legislation.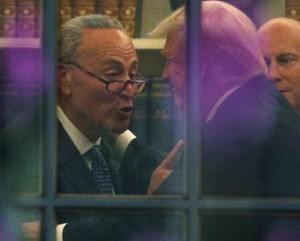 What did you really expect from Trumpstein?
My personal position with regard to so-called "Hispanics" is that we should first of all differentiate among them. "Hispanic" is an egregious term, auguring to do the very worst thing which we seek to stave-off, i.e., to blend away racial distinctions, as the term covers and then tends to politically coerce the blending of Amerindians, Whites, Jews and blacks.
We need to distinguish them hence. We need to distinguish Marrano "huWhites". We need to distinguish those who are black and have anything beyond a small amount of black - they should be looked upon as an out group - not our friends: e.g., Puerto Ricans typically have a significant amount of sub-Saharan African, 25%. Whereas Mexicans on average have only small amount, 4% as evaluated by National Geographic Human Genome Project, Gen 2.0. These kinds, Amerindians and Indios (mixed Indian and White) should be looked upon as people to cultivate as allies.
Certain Caribbean mixes should be shown some compassion in an effort to reconstruct as much as possible the now non-existent pure Indian strains which were forcibly bred-away with African slaves by Spanish conquistadors. Similarly, Indos should be allowed protection from furthering of the mongrelization that was visited upon them by the Spanish conquests.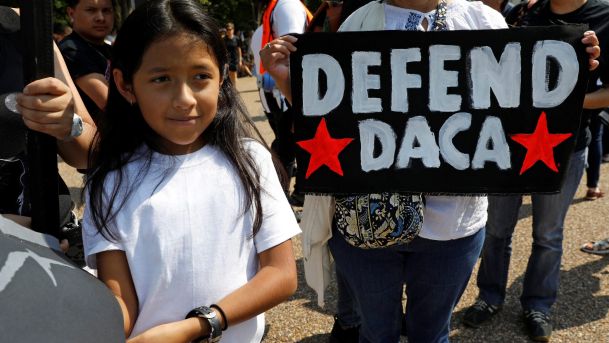 As these historical errors are corrected, "a new dream" act should be enunciated in which the riches and opportunities of the Americas are shared between Whites, Asians and Amerindios in exchange for friendly terms and alliance with Whites against black, Jewish and Muslim imposition.
This must be arranged in accordance with human ecological and resource management - especially population carrying capacity: which tends to be the elephant in the room that liberals overlook in their anti-racist fervor. Make the said kinds friends and hold them accountable to our alliance in pervasive ecology and human ecology of our distinct kinds. We do this deliberately, or we are without a vast alliance, in fact it is arrayed against us as distinct peoples (nationals) and our habitats all…

Opinion // Save DACA: We U.S. Jews Won't Let Trump End the American Dream

On DACA, the president appears unmoved by arguments of compassion, humanity, national interest or common sense. Now is the time to take a stand and take action.

"Dreamers" originally from Ecuador watch Attorney General Jeff Sessions' remarks on ending the DACA program on a smartphone in Manhattan, September 5, 2017. Credit: Drew Angerer/AFP

●DACA 'is being rescinded,' Sessions announces after Trump moves to kill 'Dreamers' program

●U.S. Jewish groups blast Trump's decision to scrap 'Dreamers' program as 'cruel, unnecessary'

●WATCH // Donald Trump vehemently defended 'Dreamers' on Fox News in 2011

The Trump administration moved on Tuesday to terminate the legal status of 800,000 immigrant children and young adults. These young people are currently protected by Deferred Action for Childhood Arrivals. DACA is only available to people who have been in the United States continuously since June 2007, so this decision will exclusively impact kids and young adults who have been in the country for at least 10 years and have impeccably clean records. About three quarters of the so-called "dreamers" have U.S. citizen family members, and one quarter have U.S. citizen children.

DACA is an executive action taken by President Barack Obama in 2012 after decades of failure in Congress to enact any kind of immigration reform. There is broad agreement across party lines that people who were brought to the United States as children by their parents did not make a choice to come here, and therefore should be allowed to stay in the country that they call home. Leaders of both parties, as well as business leaders, faith leaders, and the majority of Americans polled about it, support DACA and have urged President Donald Trump to keep it in place.

>> U.S. Jewish groups blast Trump's decision to scrap 'Dreamers' program as 'cruel, unnecessary'

■ Analysis: Trump's Cruel and Unusual Punishment of Unsullied Dreamers

Like generations of immigrants before, including millions of Jewish parents and grandparents, the parents of these kids have made enormous sacrifices, not for themselves, but in the hope that their children would have a chance at a real future.

These kids are American in all but paperwork, and they are now living in fear. In just a few months, they may not be able to legally work, and will face arrest, jail and deportation. These are kids who have gone to school, made friends, joined teams, grew up, enlisted in the military, went to college, went to work, volunteered and lived normal, American lives. This moment should feel scary, disturbing and eerily familiar to all Jewish Americans.

Ending DACA serves no legitimate policy purpose and in fact, will hurt the U.S. economy. Particularly as we work to recover from Hurricane Harvey, where many DACA recipients are actively taking part in rescue and rebuilding efforts, the cruelty of this decision is in plain view.

Ending DACA will also make us less safe. As losing legal status causes people to recede into the shadows, they will be afraid to call and cooperate with the police. More parents will be afraid to take their kids to school and to church, to the park and to the doctor. More kids will live in fear of the knock on the door that will take their parents away.

HIAS is the global Jewish organization that protects refugees. We stand for a world in which refugees find welcome, safety and freedom. Guided by our Jewish values and history, we bring more than 135 years of expertise to our work with refugees. But our work is just one piece of the larger culture of equality and welcome we strive to create together with our supporters in the American Jewish community. Threats to the DACA program are not only threats to immigrants, but to justice, fairness and the longstanding values of our country.

This country's history of accepting refugees and immigrants has offered generations of Jewish Americans the opportunity to recognize our full human potential and become part of the fabric of America. While there are disturbing elements that would deny this, and their voices are louder now, it is still true. It would be a stunning reversal and betrayal of our history to deny this opportunity to others who have already contributed so much.

The president appears unmoved by arguments of compassion, humanity, national interest or common sense. Now is the time for American Jews to take a stand and take action through elected officials in Congress. We can call Congress and insist that our representatives immediately pass a law that will allow these kids and young adults to stay here legally and permanently. This law must include no conditions or trade-offs, or in any way punish other immigrants.

We must restore basic fairness and morality to the way we treat immigrants in this country, and there is no better place to start than with these young Americans.

Melanie Nezer, Haaretz Contributor, is senior vice president of public affairs for HIAS, the global Jewish nonprofit that protects refugees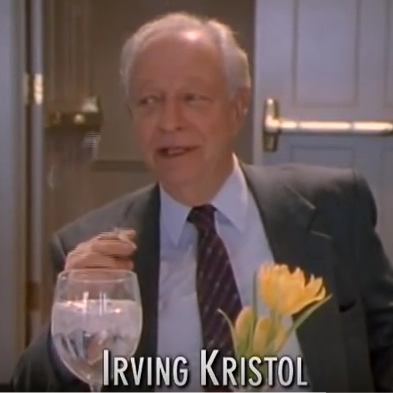 On the Significance of the Neo in Neo-Reaction
- when Jewish victimology turns attention to Jews as the victimizers, Jewish exceptionalism is invoked as "Neo" - "As long as I can remember I've been a '
Neo
'-Something: A
Neo-
Marxist, a
Neo
-Trotskyist, a
Neo-
Liberal, a
Neo
-Conservative and in religion, always,
Neo
-Orthodox, even while I was a
Neo-
Trotskyist and a
Neo
-Marxist….I'm going to end up a
Neo
, just
Neo
, that's all."
Intersectionality: Jewish ordering and exceptionalism in victimology - the "Neo-exceptions" of victimology in the age of treason:
Tanstaafl usually provides incisive insight into Jewish machinations. As he does here in his observation of "intersectionality", recognizing that to be the point at which Jewish victimology turns attention back to them as the victimizers - which then requires their interests to propose their exceptionalism to the rule - a rule which might be wiggled-out-of as they don themselves "neo" this or that.
Tan's incisiveness can, however, cut off important "ambiguities" - "ambiguities" that provide means for learning, creativity and agency in the realm of praxis - Tan accuses me of "jargon" for this word, which outlines the interactivity of the social world and its impossibility to predict 1000% for the human capacity for reflexive agency in responses; e.g., I was surprised by Tan when he wanted me to clearly understand that he had "no problem with Hitler." I expected him to change that, to observe problems, at least some problems with Hitler's worldview after a reading on his former network of the chapter in Table-Talk, viz., where Hitler discusses his opinion of Ukrainians, the subservient role he saw for those not killed in resistance to his aspiration for aggrandizement of their land. Tan had, after all, objected to Carolyn's insulting support of Hitler's disparagement.
Typically in this post also then, we should look-out for some blind spots in Tan's analysis for his tacit identification with a right-wing perspective, particularly Nazi apologetics.
The wish to vindicate Hitler can make for an over-focus, even if slightly, on Jews as the problem. If Jews were THAT much of the problem, virtually the only problem, then Hitler is apparently, largely vindicated for his "minor indiscretions". It is not that there should not be strong focus on on the J.Q. But it becomes an "over-focus" when in that incisive focus it parses-out and does not afford discussion of our part, our agency - where any sort of ambiguity is not allowed-for as it does not follow the "logic" of the J.Q. (us or them) - as was the case where Tan's logic accused someone like me of trying to distract, minimize or malign those who focus on the J.Q. Whereas I am, in fact, merely calling for the need to also examine the part some of our people play (as if we don't know that Jews like Alana Mercer try to focus singularly on that side of the equation) in our situation, with Jews and otherwise.
When Tan seeks to vindicate Hitler and unburden guilt and agency among his community of sympathizers - by suggesting rather that I am minimizing the J.Q., the singularly paramount issue, a life and death struggle against Jewish interests, as he expresses it - Tan is pushing Whites in the direction of repeating the same mistake, of headlong and disastrous reaction for wont of sufficiently deep and broad epistemic preparation - a necessary grounding especially in the praxis of European ethno-national coordination (which the motive of Hitler vindication precludes).
Furthermore, by not allowing for the "ambiguity" of praxis he performs an additional disservice by going along with a Jewish default on left and right - i.e., where they can't get you to cop to being a right winger or an alt-righter, they want you to say, as Tan does, "left and right is not a useful distinction." Tan adds cleverly, I am a "White winger."
While he has criticized Lawrence Auster for making liberalism the problem and not Jews, his overly precise focus has bi-passed the fact that liberalism is the problem in the sense that liberalism unfolds characteristically, in reality, as license against group classificatory interests - a consequent in reality especially given the manicheanism of Jewish interests which exaggerate and instigate that liberal prerogative indeed; though liberalism as it follows consequently of insufficient account to our interests is still the manifest problem, even if Auster complains about it, even if instigated by Auster's fellow YKW: And particularly if liberalism is hidden beneath titular conservatism, as in neo-conservatism or paleoconservatism, or the mistakenly presumed conservatism of Christianity - as any sort of conservatism that they propose will be under their Noahide control; thus not conservative of our sovereign classificatory interests.
Worse, Tan says that Gottfried wants to blame liberalism as well - and so he does, but even more so does Gottfried want to blame and vilify "The Left" - the unionized accountability to social classification - and to position White identity against it - and has, in the form of the Alternative-Right - everybody is blaming "the left" as a result of the language game Gottfried set in motion. And while it is not always correct to play "opposite day", in this case, it is - we should be asking why Gottfried et al. want us to do that? What is wrong about a White Right - Alt-Right or otherwise? Even more significantly, what is correct about a White Left perspective such that Gottfried et al. do not want us to identify with it?
I do believe that Tan's blind spots stem from his starting point in defense of his partial German heritage, partly from his STEM-nerd background as well, which has been overly-reinforced against the helpful ambiguities of praxis by right-wing reactionary communities in The US. Thus, he will gain dubious support, for example by fellow Hitler apologist Wolf Wall Street - who will call Tan "the greatest epistemologist in White Nationalism". When in fact, epistemology is one of Tanstaafl's blind spots and weak points.
That doesn't mean that most of what Tan has to say isn't good - it is. His amplification of the matter of crypsis is an important contribution. But incisive, good and significant as his citing "anti-racism as a Jewish construct" is, it hardly renders insignificant my observation that "anti-racism is Cartesian, it is prejudice, it is not innocent, it is hurting and killing people." His statement can be seen as a focus on the major pathogen afflicting European peoples, while my statement focuses on the fundamental element of our systemic immuno-deficiency.
Age of Treason, "Intersectional Jewing" 29 June 2017, Tanstaafl:

Concerning the jew victim narrative, AKA the jew version of history, which provides the much longer-term foundation for the past century's jew-defined/jew-driven anti-White "anti-racism" and post-WWII identity politics. The latest twist in the jew narrative concerns intersectionality, which encompasses all the bitter squabbling over rank in the anti-White victim hierarchy. The Occupy Wall Street movement called this hierarchy the progressive stack.

Broadly put, intersectional jewing is what happens when one form of jewing comes into conflict with another. The conflict I focus on here arises mainly out of the clash between two jew narratives: the lie that jews are "white", and the lie that Whites are evil. There is also a clash between the jew "anti-racism" fraud and the ongoing developments coming out of White science, mostly having to do with genetics and race.

In this Podcast: Play in new window | Download - I reexamine a number of older topics and connect them with more recent examples.

The intersectional jewing connection first clicked for me while writing about Bret Weinstein at Evergreen. The Tuvel Affair and Trans-Reality are all about the jewing and counter-jewing around sexual degeneracy and transracialism/crypsis.

An early example was discussed in Liberalism as a Suicide Pact, which has to do with the common kikeservative assertion that "muh liberalism/constitution is not a suicide pact" (for the jews) originating from Jackson's dissent in Terminiello.

The jewsmedia white-washing of the kikeservative Trump administration is discussed in A Tale of Two Steves: Decoding the Ongoing Bannonocaust and Intrigue in Trump's Palace.

Non-White/anti-White jew double-talk is covered in Jews Debate Whiteness and Jew Identity: Non-White, Anti-White.

Ezra Levant jewsplains the jewing of "hate speech" jewing in Canada.

Lawrence Auster's The First Law of Jewish Influence.

Alt-jew/JRx: On the Significance of the Neo in Neo-Reaction

Jonathan Haidt at Duke: Two incompatible sacred values in American universities.

Podcast: Play in new window | Download
Theresa May confirms white man attacked Muslims leaving mosque after Ramadan prayers

Security at mosques across the UK will be reviewed in the wake of the Finsbury Park terror attack, the Prime Minister has said. More follows…

Independent, 19 June, 2017 - Here is Theresa May's statement in full:

"This morning, our country woke to news of another terrorist attack on the streets of our capital city: the second this month and every bit as sickening as those which have come before.

"It was an attack that once again targeted the ordinary and the innocent going about their daily lives – this time British Muslims as they left a Mosque having broken their fast and prayed together at this sacred time of year.

"Today we come together - as we have done before – to condemn this act and to state once again that hatred and evil of this kind will never succeed.

"The Government's Emergency Committee, COBRA, has just met and I can set out what we know about what happened, and the steps that we are taking to respond.

"Just after twenty-past midnight, the Metropolitan Police received reports that a van had been driven into a crowd of people on Seven Sisters Road in Finsbury Park.

"Officers were in the immediate vicinity as the attack unfolded and responded within one minute.

"Police declared it a terrorist incident within eight minutes.

"One man was pronounced dead at the scene; eight injured were taken to three separate hospitals; while two were treated at the scene for more minor injuries.

"The driver of the van - a white man aged 48 - was bravely detained by members of the public at the scene and then arrested by police.

"The early assessment by the police is that the attacker acted alone.

"Our thoughts and prayers this morning are with the family and friends of the man who died and those who were injured.

"On behalf of the people of London – and the whole country – I want to thank the police and the emergency services once again for responding as they always do with great professionalism and courage.

"Extra police resources have already been deployed to reassure communities, and the police will continue to assess the security needs of Mosques and provide any additional resources needed, especially during this final week before Eid Al-Fitr, a particularly important time for the whole Muslim community.

"This was an attack on Muslims near their place of worship. And like all terrorism, in whatever form, it shares the same fundamental goal.

"It seeks to drive us apart; and to break the precious bonds of solidarity and citizenship that we share in this country.

"We will not let this happen.

"When I stood here for the first time as Prime Minister last Summer I spoke about our precious belief in the Union – not just the bond between the four nations of the United Kingdom – but the bond between all our citizens, every one of us, whoever we are and wherever we are from.

"At the heart of that bond is a belief in the fundamental freedoms and liberties that we all cherish; the freedom of speech; the freedom to live how we choose and yes, the freedom to practice religion in peace.

"This morning we have seen a sickening attempt to destroy those freedoms; and to break those bonds of citizenship that define our United Kingdom.

"It is a reminder that terrorism, extremism and hatred take many forms; and our determination to tackle them must be the same whoever is responsible.

"As I said here two weeks ago, there has been far too much tolerance of extremism in our country over many years – and that means extremism of any kind, including Islamophobia.

"That is why this Government will act to stamp out extremist and hateful ideology – both across society and on the internet, so it is denied a safe space to grow.

"It is why we will be reviewing our Counter-Terrorism strategy and ensuring that police and security services have the powers they need.

"And it is why we will establish a new Commission for Countering Extremism as a statutory body to help fight hatred and extremism in the same way as we have fought racism – because this extremism is every bit as insidious and destructive to our values and our way of life and we will stop at nothing to defeat it.

"Today's attack falls at a difficult time in the life of this city, following on from the attack on London Bridge two weeks ago – and of course the unimaginable tragedy of Grenfell Tower last week, on which I will chair another meeting of Ministers and officials later today.

"But what we have seen throughout – whether in the heroism of the ordinary citizens who fought off the attackers at London Bridge; the unbreakable resolve of the residents in Kensington; or this morning the spirit of the community that apprehended this attacker – is that this is an extraordinary city of extraordinary people.

"It is home to a multitude of communities that together make London one of the greatest cities on earth.

"Diverse, welcoming, vibrant, compassionate, confident and determined never to give in to hate.

"These are the values that define this city.

"These are the values that define this country.

"These are the values that this government will uphold.

"These are the values that will prevail."