Majorityrights News > Category: Jewish Diaspora
60,000 join nationalist march carrying racist banners and chanting for 'White Europe.'
An estimated 60,000 people turned out in Warsaw for the march, with many chanting 'clean blood', 'pure Poland' and 'White Poland' and carrying posters with the words: 'White Europe of brotherly nations.'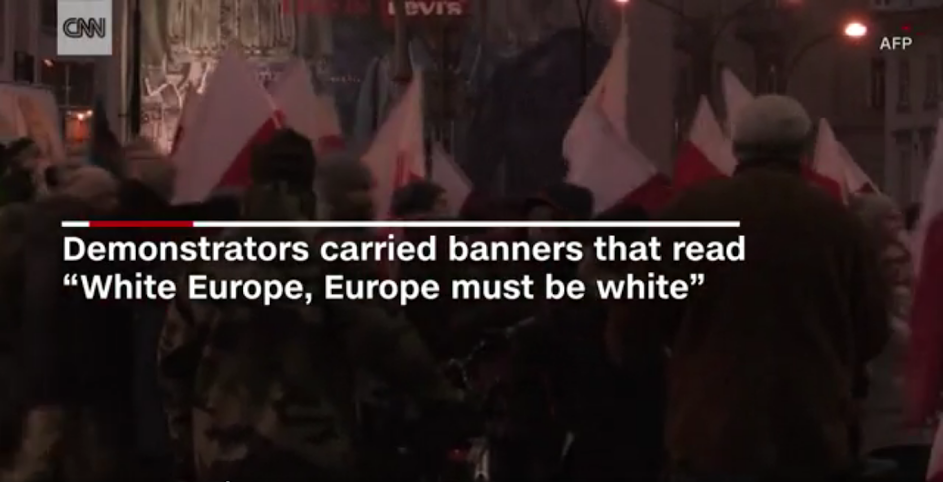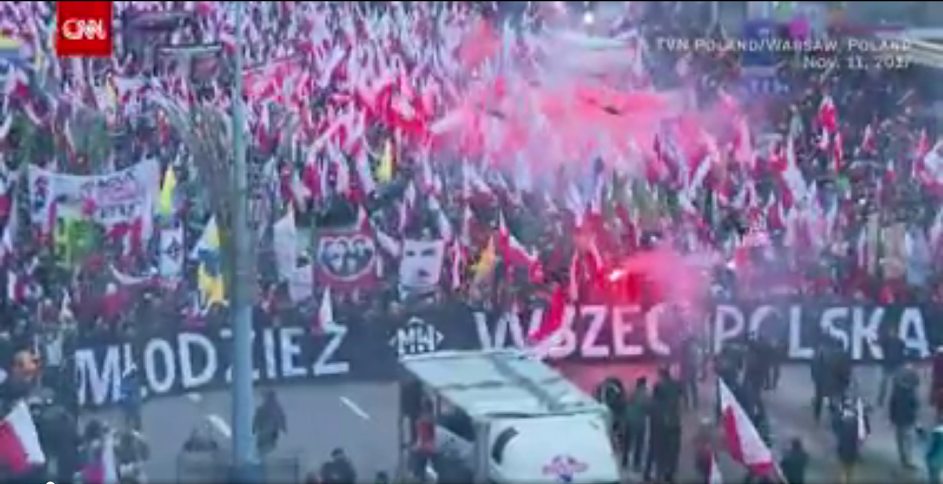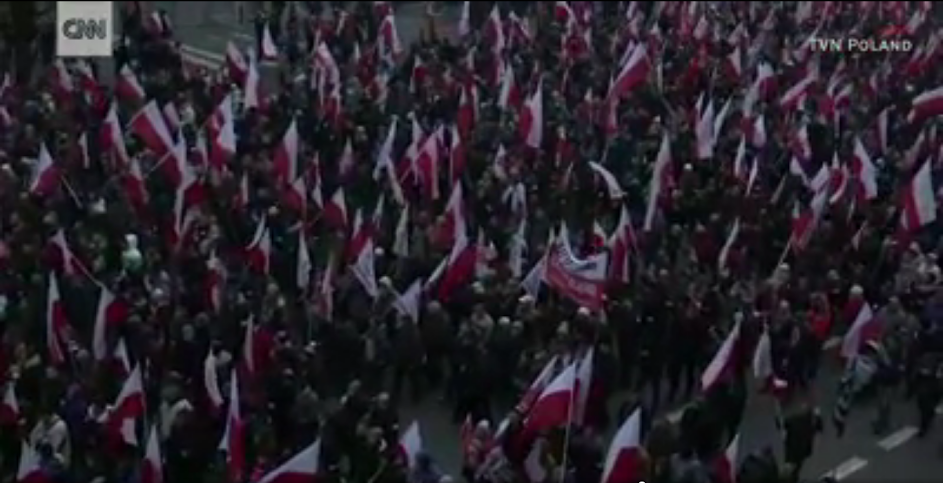 The Guardian, "'White Europe': 60,000 nationalists march on Poland's independence day", 12 Nov 2017:

60,000 join far-right march carrying racist banners and chanting for 'White Europe'

An estimated 60,000 people turned out in Warsaw for the march, with many chanting 'clean blood', 'pure Poland' and 'White Poland' and carrying posters with the words: 'White Europe of brotherly nations.

Demonstrators with faces covered chanted "Pure Poland, White Poland!" and "Refugees get out!". A banner hung over a bridge that read: "Pray for Islamic Holocaust."
Metro, "60,000 join nationalist march carrying racist banners and chanting for 'white Europe," 12 Nov 2017:

Tens of thousands of people carried symbols, religious slogans on banners and made racist chants during a march in Poland on Saturday.

An estimated 60,000 people turned out in Warsaw for the march, with many chanting 'clean blood', 'pure Poland' and 'white Poland' and carrying posters with the words: 'white Europe of brotherly nations'.
Poland's independence day celebrations turned ugly this weekend, as tens of thousands of nationalist protesters took to the streets, chanting anti-Muslim and anti-Jewish slogans and setting off flares.

The day celebrates the re-birth of Poland in November 1918, 123 years after the Prussian, Habsburg and Russian empires carved up Poland among themselves and erased it from the map of Europe. CNN.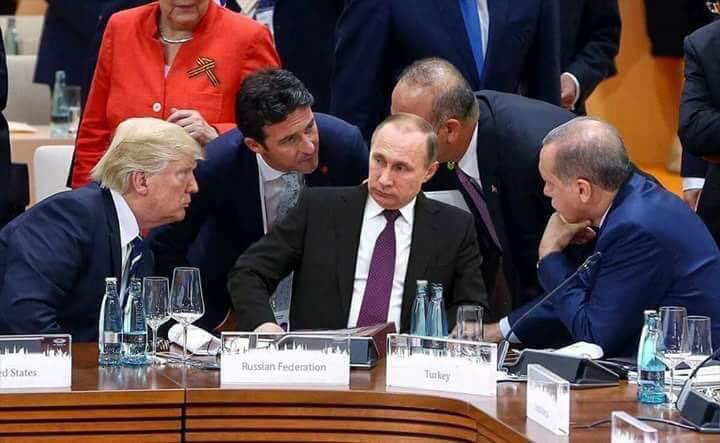 Newsweek, "Evidence of Trump-Russia Collusion Already Exists, Watergate Prosecutors Say", 14 Nov 2017:

There is definitive proof of whether the Trump campaign colluded with Russia during the 2016 election — and it exists in the email inboxes of Jared Kushner, Stephen Miller, Hope Hicks and others.

That's what several former Watergate prosecutors believe, telling Newsweek that evidence of collaboration between the Kremlin and the president's top campaign aides could literally be at Special Counsel Robert Mueller's fingertips. It just has to be uncovered.

"The key difference between this and Watergate is … at the time, you certainly didn't have computers," said Nick Ackerman, one of the prosecutors who probed the 1972 break-in at the Democratic party's Watergate offices. "Rather than use burglars to break into the Democratic National headquarters, they used Russian hackers. ... The question is whether that was coordinated in any way with the Trump campaign. Their emails will answer that question, once the special counsel gets its hands on them."

Kushner has reportedly turned over documents related to his campaign contacts with Russians to Mueller earlier this month, a voluntary move of cooperation between the White House senior adviser and the federal probe. Still, it remains unclear whether those documents include emails, as well as whether Kushner provided the entirety of his communications with Russians to the investigators. If he didn't provide investigators the full details about his correspondences, it certainly wouldn't be the first time the president's son-in-law failed to disclose his Russian contacts (or his business interests, for that matter), having been forced to revise his government security clearance forms with at least 100 foreign contacts previously left off the list.

Even if he's cooperating, Kushner may be lying about the campaign's interactions with the Russians, and doing a terrible job of covering it up, according to Jill Wine-Banks, another former Watergate prosecutor. At issue is his response to the discovery of a June meeting in Trump Tower attended by Kushner, other Trump campaign officials and Russian operatives. The meeting was set up by Donald Trump Jr.; Kushner said he didn't know what was going to be discussed and left early after being bored by the conversation.

"The data ... will make Kushner's defense fall entirely apart," Wine-Banks told Newsweek. "We know that statement was a total fabrication since the [Trump] campaign was looking for dirt on Hillary Clinton from the Russians … I have faith the grand jury will get down to the bottom of what really happened in that meeting."

Also at issue is the Trump campaign's involvement with Cambridge Analytica, the controversial data mining operation with apparent ties to Russia, which Kushner boasted was "brought in" to steer the campaign to victory.

"As far as Russian collision, right now there are two aspects: one is, did they micro target Hillary Clinton voters to suppress the vote?" Ackerman said. "We know that there was a data mining process that was done by Kushner out of Texas and we know that the Russians were doing targeting with Facebook and Twitter. The question is trying to compare the data sets to see if there was coordination between those two things.

"Email evidence already shows that the purpose of the meeting on June 9 was to bring incriminating evidence, supposedly emails about Clinton, to the campaign, but we don't know exactly what they did with that evidence after that meeting," Ackerman continued.
John Ziegler on possible evidence of collusion:

Why is Donald Trump reacting to Vlaimir Putin the way he has?

Because, if this was all bull crap, and there was nothing the Putin had on Trump; he was not compromised by Russia or by Putin at all; if only for political purposes, and Trump's not an imbecile, he's not brilliant but he's not an imbecile and he clearly is a political person - he likes to be liked… he would be attacking Vladimir Putin at every opportunity.

..especially on the issue of their meddling in the election. That would be just the natural inclination.

Now, not only is he not doing that, he's done the opposite of that.

He has been complimentary of Putin at every opportunity. And there is no evidence that he has punished Putin at all, for Russia's meddling, regardless of whether or not the Trump team colluded in that meddling.

And today, something even more startling than Trump's prior ass-kissing of Putin and his unwillingness to address this issue directly, of meddling having occurred.

Trump is on his foreign trip, he met with Putin, and then he told the press, that Putin told him, that Russia had nothing to do with the meddling; that it was the democrats doing, supposedly Trump quoting Putin.

And then Trump went our of his way to bash, by name - by name - the former heads of several of our intelligence agencies - including James Comey, calling them hacks and liars!

And completely buying into the idea, that the persons telling him the truth are not the people working for our own intelligence agencies, including, by the way, people that are still working for our intelligence agencies, including every major member of Congress, anybody with any credibility on this issue, or our side, has said, it's not even a question. Russia attempted to meddle in our elections.

8:03: It's not even a question. Russia attempted to meddle in our elections. And Trump is publicly saying, "no, I don't believe any of that because Vladimir Putin told me so." Seriously?

If Barack Obama had ever had a meeting with Vladimir Putin after winning re-election ..remember that election he won where he got caught telling .the Russian official tell Vladimir "I'll have more flexibility after the election?" Remember that whole thing which the media buried, and should have been a massive scandal, the conservative media went ape crap over that little thing, frankly only little in comparison, that was a bid deal to me at the time ...

Sean Hannity

Can you imagine if after winning the 2012 election, Obama had met with Putin, and all of our intelligence agencies were saying that yeah, Putin helped Obama win; and Obama then came out and bashed those intelligence agencies of The United States of America and said, "I believe Putin because he seems very sincere in what he's telling me" ...can you imagine the reaction of the Republicans in Congress, can you imagine the so-called conservatives in media? ...Sean Hannity would be live 24/7 outside of the White house.

Instead from the conservative media there is silence. In fact, if anything, they'll support Putin and Russia because Trump told us to. They'll be the one's we're supposed to believe over our own intelligence agencies. By the way, not a couple of them, all of them - with unanimity and certitude.
Flynn's lawyer denies reports

of quid pro quo with Turkey

The Hill, "Mueller investigating Flynn over alleged plan to turn cleric over to Turkey", 10 Nov 2017:

Special counsel Robert Mueller is looking into an alleged plot involving former national security adviser Michael Flynn to return a Muslim cleric living in the U.S. to Turkey, according to a Wall Street Journal report.

FBI agents have asked at least four people about a mid-December meeting in New York, in which Flynn and his son, Michael G. Flynn, allegedly spoke with representatives of the Turkish government about removing cleric Fethullah Gulen from the U.S. in exchange for as much as $15 million.

Turkey has issued a fatwa against Gulen

Turkish President Recep Tayyip Erdogan has accused Gulen of orchestrating a failed 2016 coup and has urged the U.S. to extradite the cleric.

The December meeting was attended by former CIA Director James Woolsey, who has described the proposal to The Wall Street Journal as "a covert step in the dead of night to whisk this guy away." Woolsey has said he attended at the request of an associate of Flynn and that he sought to notify then-Vice President Joe Biden through a mutual friend.

It's not clear how extensive Mueller's investigation into the alleged plan is. But that the special counsel is looking into the allegations adds to the breadth of the probe into Flynn, who has already come under scrutiny for work benefitting the Turkish government.

Mueller is conducting the criminal investigation into Russia's role in the 2016 presidential election, in particular whether members of President Trump's campaign colluded with Russian representatives or operatives during the race.

But that probe has also expanded to include potential criminal activity not involving the campaign. Last week, former Trump campaign chairman Paul Manafort was charged with money laundering and tax evasion stretching back years.

The individuals that described the alleged plan to remove Gulen to The Wall Street Journal did not attend the meeting in which the topic was purportedly discussed and were not directly told of the plot by Flynn or his associates.

Flynn has become a central figure in Mueller's investigation. He was forced to resign from his White House job in February — just 24 days into his tenure — after it was revealed that he had misled Vice President Pence about his conversations with the Russian ambassador in the months before Trump took office.

Since then, however, he has faced scrutiny for his lobbying work on behalf of Turkish interests and for not disclosing financial ties to Turkey and Russia.
Image PA

Bloomberg, "U.K. Cabinet Minister Resigns Over Secret Israeli Meetings", 8 Nov 2017:

- Aid secretary Patel held unofficial meeting with Netanyahu

- She failed to tell PM May or U.K. Foreign Office in advance

Priti Patel resigned as U.K. international development secretary over talks with the Israeli government behind Prime Minister Theresa May's back after more revelations of undisclosed visits came to light.

Patel failed to tell either May or the U.K. Foreign Office that she would be having 12 meetings with officials including Israeli Prime Minister Benjamin Netanyahu during a 13-day holiday in Israel in August. On Tuesday, it emerged that she had suggested giving British aid money to an Israeli army project and that she had held further unauthorized meetings.

"I offer a fulsome apology to you and to the Government for what has happened and offer my resignation," Patel said in a letter. May responded: "Now that further details have come to light, it is right that you have decided to resign and adhere to the high standards of transparency and openness that you have advocated."

[Read Patel's and May's letters here]

Israel's Haaretz newspaper reported Wednesday that Patel had also traveled to the Golan Heights in a breach of normal diplomatic protocol.

Those further revelations forced May to summon Patel back from a trip to Kenya within hours of her arrival. She then met the international development secretary on Wednesday evening for about half an hour, before her office made the resignation public.

'Active' Role

Patel's departure piles pressure onto May, who initially tried to keep her in place while issuing a public rebuke over her lapse. Patel is the second cabinet minister to quit May's government a week after Michael Fallon resigned as defense secretary over allegations of sexually inappropriate behavior.

May is struggling to maintain her grip on a government that's been rocked by multiple crises since she lost personal authority as a result of her failure to retain her parliamentary majority in June's national election.

Patel, one of the most prominent members of the campaign to leave the European Union, suggests in her letter that she is unlikely to let herself fade into obscurity now that she's been relegated to the back benches.

She promises to "take an active role" representing local residents now she's outside government and to "speak up for our country, our national interests and the great future that Britain has as a free, independent and sovereign nation."

Patel, 45, first won a seat in Parliament in 2010 and became a junior Treasury minister four years later. She joined the cabinet as development secretary when May succeeded David Cameron in the aftermath of the Brexit referendum.

The ministerial code that governs the behavior of members of the British government makes no specific mention of secret meetings with foreign heads of government, but it does urge ministers to take "special care" when talking about issues "which are the responsibility of other ministers."

On Tuesday, May's spokesman told reporters that on returning from her vacation, Patel had asked her officials whether British aid money could be given to support the Israeli army's relief work in the Golan Heights, which Israel seized from Syria in the 1967 Six-Day War. The idea was rejected—Britain doesn't recognize Israel's occupation of Golan.
President Donald Trump and Saudi Deputy Crown Prince and Minister of Defense Mohammed bin Salman meet at the White House in Washington, U.S., March 14, 2017. Kevin Lamarque | Reuters

CNBC, "Trump may have pushed Saudi Arabia and Iran closer to war", 7 Nov 2017:

- Saudi Arabia's moves over the past few days are bringing it closer to direct war with Iran.

- But this process seems to have been kick started by the new Saudi crown prince's meeting with President Trump in March.

- It's crucial to keep this conflict contained to the Middle East.

Crucial news keeps flying out of Saudi Arabia at a frantic pace, but here's the bottom line: The Saudis are marching ever closer towards a wider regional war. And the U.S. may have helped send them down that path.

Just to recap, in the last several days the new crown prince of Saudi Arabia has initiated a massive purge of dozens of his fellow princes, ministers, and others in the kingdom in what's been labeled as an "anti-corruption" sweep. Most of the headlines so far are understandably focusing on the one celebrity arrested, Alwaleed bin Talal, the billionaire investor seen and heard frequently for years on financial news channels like CNBC.

But that was just the first wave of news from Riyadh. Since the crackdown began on Saturday, the Saudis have considerably ramped up their accusatory rhetoric towards their neighbors. First, the kingdom squarely blamed Iran for a missile attack on Riyadh from Yemen that was thwarted by the U.S.-made Patriot anti-missile system. The Saudis called that attack "direct military aggression by the Iranian regime and may be considered an act of war."

Second, the Saudis accused Lebanon of — figuratively at least — declaring "war" against it because of aggression from Hezbollah. That statement spurred even Saudi ally and Egyptian President Abdel Fattah al-Sisi to publicly urge for calm.

al-Sisi may be too late. Because the common denominator in all these Saudi moves is a more focused preparation for a wider and more direct war with Iran for control of the region. As I noted when he was first put in his top position by his father King Salman in June, Crown Prince Mohammad bin Salman was already known as a hardcore hawk against Iran. Just a month before he was made crown prince, bin Salman declared that peace dialogue with Iran was impossible.

"More aggressive anti-Iranian hawks like bin Salman may have seen Donald Trump's election as an excuse to win the day over more dovish princes and ministers. And the White House seemingly gave Saudi Arabia a green light."

But the direct line to these more bellicose moves begins earlier than that and goes directly to the White House. While still deputy crown prince, bin Salman visited with President Trump in March of this year. During that meeting, they publicly declared Iran as the key regional security threat in the Middle East. That was step one.
Paul Hickman

RIP Paul Hickman

The first radio interview I ever did was with Paul Hickman and he was without a doubt, the best interviewer I ever came across. A real gentleman. Here's the programme.

If anyone believes we are NOT fighting against a truly evil system, then the example of Paul Hickman is there for all to see – a good man prevented from earning his livelihood, thrown out of his jobs, hounded, persecuted and driven to suicide by the forces of darkness that rule this land. We'll not forget him, we'll turn our fury into energy and fight for victory and we WILL avenge him! Ave atque vale! - Jez Turner
RIP PAUL HICKMAN, Tanstaafl, 6 Nov 2017:

The team at the BM Sunwheel Office were saddened to hear of the death of West Midlands racial Nationalist and activist Paul Hickman. Paul Hickman was the broadcaster behind the on-line radio 'Voice of Albion' and operated on the internet as 'Birmingham Nationalist'. Ruthlessly hounded by self-styled anti-fascists, Paul lost his job and struggled to find work, his political activism also drew on to him the unwanted attentions of the State and its agencies. From what little information coming to us here, we are led to believe that Paul Hickman took his own life. A sad situation for someone still in their thirties and a loss to British Nationalism.

Also, from the sidebar at Renegade Broadcasting:

After 2 years of restrictive bail for posting non-PC stickers, being harassed and doxed by antifa and losing his employment, former Renegade host Paul Hickman took his life. RIP.

Listen to Paul's archives here.

This is sad news. I first spoke with Paul Hickman a little over four years ago when he was starting his program Voice of Albion at the White network. I had the pleasure of joining him on air on two occasions, in February and April of 2014.

I did not know Paul well, but had hoped to meet him in person someday. He helped educate me in several ways. He was a somber and perceptive man. He could clearly see the horror unfolding in Britain specifically but also for the White race more generally. He had been increasingly openly active in the British National Party, but by 2014 had became dissatisfied with the leadership of Nick Griffin. In response Paul became more radical, in the best possible sense, shifting his attention and support to British Movement and National Action. - Tanstaafl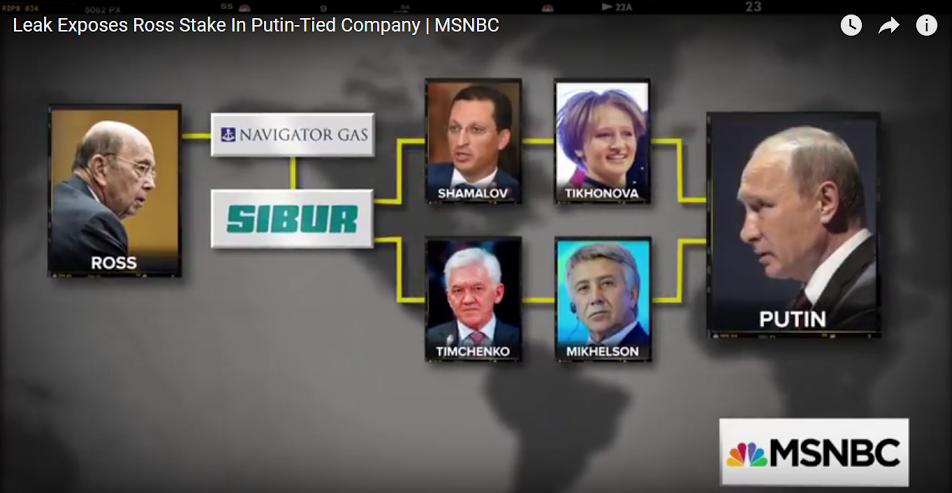 Pardon the liberal sources, but in the case of Democracy Now, for example, it was among the first sources to interview the author of the investigation and the coverage sticks pretty much to what he has to say. Democracy Now is literally an anti-White news program and Jewish as well - beginning with Amy Goodman, of course. Hence they are not going to amplify the wrong doings of Jews per se. Please take that under consideration. Critiques as such and suggestions of alternative sources on the story are welcome.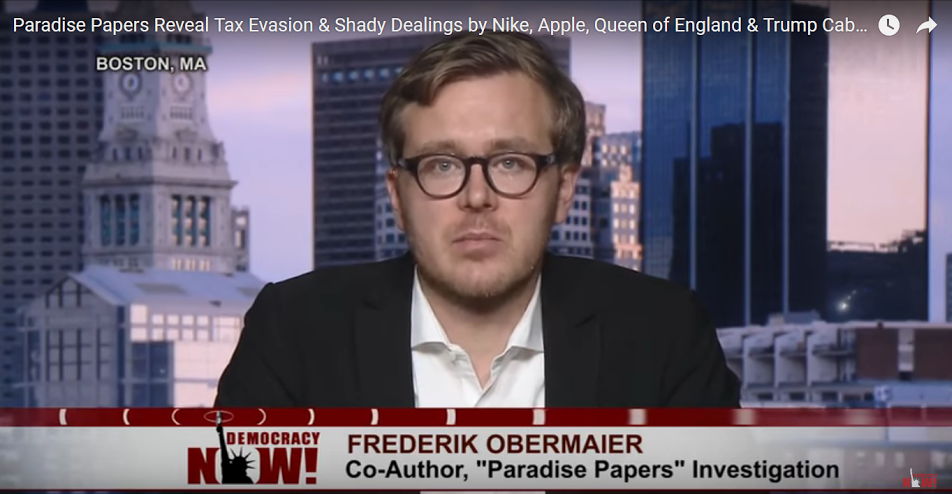 National Vanguard, "Indicted New Jersey Police Chief Says Blacks are Like ISIS: Worthless", 3 Nov 2017:

Former Bordentown Township N.J. Police Chief, Frank Nucera Jr.

60-year-old local chief now facing Federal charges from FBI, US Attorney, that could result in 20 years in the largely-Black Federal prison system — the equivalent of a death sentence at worst and a life sentence at best.

THE FORMER chief of police of Bordentown Township, NJ has been charged with "hate crimes" by the Trump Justice Department after using racial slurs in relation to Black people and allegedly using excessive force on a Black criminal. New Jersey has seen a massive increase in non-White crime and population in the last several decades.

The controlled media reported that Frank Nucera Jr., the former police chief of the predominantly White small town outside Trenton, had been secretly recorded for months by one of his officers, the racial ancestry of whom has not been disclosed. (Nucera was also recently Bordentown's Township Manager.)

The officer recorded Nucera, who retired from his Police Chief position in February, speaking about a Black arrested for slashing the tires of a police cruiser: "Niggers are like ISIS, they have no value," Nucera told the officer secretly recording him.

The audio recordings captured several instances of his use of negative remarks directed at Black people: "They should line them all up and mow 'em all down," Nucera said, according to the complaint. "I'd like to be on the firing squad, I could do it." In one of the recordings outlined by prosecutors, Nucera said of Blacks that he was "tired of them" and "it's getting to the point where I could shoot one."

The complaint says two officers responded when a Bordentown Ramada Inn manager reported an 18-year-old Black male with a 16-year-old girl (her race unstated by the controlled media) had obtained a room under false pretenses and had used the pool at the motel. The Black apparently invited five other Blacks to the "party" (evident from Nucera's alleged remarks, though unreported by the controlled media), whose unruly behavior alarmed the manager.

When officers arrived, the Blacks resisted them and pepper spray was used by the police. Additional officers, including Nucera, arrived after the Blacks resisted arrest.

The 18-year-old Black male was being led to a stairwell when he stopped walking and began shouting at the officers. The complaint says an officer had placed his hand on the suspect's back to push him forward when Nucera approached from behind, grabbed the teen's head and pushed it. It allegedly struck a metal doorjamb separating the hallway from the stairwell. The suspect at first asked to be sent to the hospital, but later retracted that request.

In a recorded conversation at the police station after the arrest, Nucera said "it would have been nice" if a K9 unit had come to the hotel. "That dog, that dog will stop anything right then and there, I'm telling you. . . You'd have seen two f**king niggers stop dead in their tracks. I love when they do that. I just love that," the chief allegedly said, according to the complaint.

Acting New Jersey U.S. Attorney William E. Fitzpatrick (right) and "FBI Special Agent in Charge" Timothy Gallagher: They want to send Chief Nucera to a Black-dominated prison for 20 years — a likely death sentence.

About three months later, the complaint adds, Nucera was recorded as he attempted to defend the use of force at the motel "by arguing that numerous officers had to respond to the call 'cause of six unruly f**king niggers.'"

According to the recently unsealed criminal complaint, Nucera also promoted the use of police guard dogs to prevent disruptive behavior by Blacks at local high school basketball games and at an apartment complex with many Black residents. Bordentown is only 9 percent Black.

Nucera was arrested on "hate crimes" and "civil rights" violations — charges which carry a maximum sentence of 20 years in prison — but was released on $500,000 bond and ordered to give up his guns.

It's important to understand the background of the racial situation in New Jersey. High Black crime has been a fact of life in the area for decades. Many Whites fled Trenton for Bordentown, among other areas, after Black riots resulted in scores of buildings being burnt to the ground in 1968. (And 1968 was the second year of Black riots in the city; in the previous year, rioting was only quelled by bringing in the National Guard.) Also in 1968, White students boycotted Trenton High School because of violent attacks on White students there by the rapidly-increasing Black population. The White resistance, led largely by the racially-conscious Italian-American community there, was significant at first, but with open hostility from Jewish-run media and the federal government through its forced association ("civil rights") laws, the White protests went unheeded and most Whites simply relocated in order to protect their families.


In this 1968 issue of The Trentonian, the widespread destruction caused by "marauding young Negroes" is detailed. Little — except for a worsening of the situation and Jewish control and censorship of the media — has changed since then.