Majorityrights News > Category: Jewish Diaspora
TNO, "US Black/Jewish Alliance—But Not in Israel", 17 Jan 2017:

The Jewish supremacist "Foundation for Ethnic Understanding" and the Anti-Defamation League have called for a new alliance with blacks against Donald Trump—but in Israel, which both organizations support, black "refugees" are locked up and deported in order to preserve the "Jewish nature of the state."

According to a report in the Jewish Forward newspaper ("Why Jews Must Fight for the Civil Rights of Muslims," January 9, 2017), Rabbi Marc Schneier, the president of the Foundation for Ethnic Understanding, said that:

"As we celebrate the birthday of Martin Luther King Jr., American Jews should reflect anew upon the epic struggle he led to free African-Americans from the shackles of bigotry and take pride in the singular role played by the Jewish community in support of King and African-Americans."

Rabbi Schneier continued by saying that

"As we await the advent of the new Trump administration, it is more important than ever for our community to reconnect with that uplifting chapter in American history half a century ago," and that to this end, "American Jews in 2017 must resolve that we will continue to speak out openly and assertively in support of the principle that Americans of all faiths and ethnicities — including Muslim Americans — must be accorded full civil rights and religious freedom as guaranteed by the U.S. Constitution and Bill of Rights."

Finally, Rabbi Schneier says that in "recent weeks, many rabbis and Jewish leaders have vowed that if the new administration institutes a Muslim registry, they themselves will be among the first to sign up for it."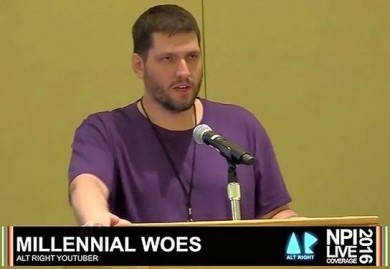 Mirror, 9 Jan 2017: "Racist vlogger who became global YouTube sensation unmasked"
...etc., so the headline and the hit piece reads.
On 5 June '15, Millennial Woes came to Majority Rights and left a comment * insisting that his link be removed from this site because I, DanielS, would not accept his friend, The Truth Will Live, a.k.a. (((Ruth))), as a part of our struggle, let alone as having a place to define our terms. I consider his position in her regard to have been naive at best, but probably more like an unsavory deal with the tentosphere. I really don't approve of this defense of the Jewish tent of the tentosphere. In addition, his going along with the Alt-Right's attribution of "THE Left" as the enemy is unacceptable; finally, he is annoying in coupling this attempt to join the Alt-Right in muting our platform, while perhaps garnering some of our ideas and auguring to misdirect them.
Even so, the doxing and smearing of him by a purportedly objective news source, The Mirror, is way out of line. Even I don't think he is remotely that bad or that he deserves that. But then again, beware the right, Alt-Right too - it's an unstable arrangement - the right has come back to bite countless adherents and those with misfortune to find themselves on the other side of their reactions over the years.
* The Millennial Woes comment that I am referring-to comes as the second in a series of three comments dated 3 - 5 June 2015, viz., #6, #14 and #17 and occurs withing the post called "The Lies Will Try To Live But They're Not White, They're Jewish."
Posted by Millennial Woes on Wed, 03 Jun 2015 12:27 | #6

Ruth, who has the channel "The Truth Will Live", is a close friend of mine. She and I speak regularly about the key issues of the alt-right, including the JQ, and she is on-board with all of it. In particular, residing in a Somali-heavy area of the US, she has to deal with their shit just like the rest of us do, and she hates it and opposes immigration from the Third World as wholeheartedly as any of us do.

To repeat, she is a close friend of mine and I know that she is a good, kind, decent person. I think it is wrong of you to besmirch her unless you have some evidence that she is a fake.

PS. And no, she didn't ask me to write this post! AFAIK she doesn't even know about this article.

Posted by Millennial Woes on Fri, 05 Jun 2015 11:41 | # 14

DanielS,

I understand your position, and I do understand the danger. However, I cannot stand by as my close friends are bad-mouthed when they have done nothing wrong whatsoever. (Note that you conflate Ruth's statements with Rachel Haywire's, when they are two very different people.)

Though I am grateful to your site for linking to my channel this last year or so, I ask you to remove that hyperlink now. I do not want to be associated with a site, however worthy it might be, that insults and dismisses my own friends.

Thank you, MW.

Posted by Millennial Woes on Fri, 05 Jun 2015 20:26 | # 17

DanielS "One extreme is to do the Christian services bit, helping Africans to no end. The other is to not care." She says it is wrong and extreme because they cannot take care of themselves well enough and it is the White man's burden to help them.

This golden rule is one of the most Jewy things imposed on Whites from the Bible.

MW: That's very strange, because it was I, a non-Jewish, non-religious, British-native white guy, who introduced Ruth to the idea that the White Man's Burden is a real thing - having arrived at this belief myself without any help, Jewish or otherwise. I came up with it, of my own volition, based on my own observations of my (white, non-Jewish, non-religious) people.

DanielS If you are that defensive of these women then we would view your link as a bum steer anyway.

MW: I don't even know what that phrase means. All I'm asking for is decency. Without a shred of evidence, you are ascribing a calculating, deceitful nature to a woman who simply doesn't have such a nature. If defending her makes me "defensive," so be it.
Millennial Woes argues that I conflate Ruth and Rachel Haywire, but I do not. In fact, my position with regard to Ruth was developed with interviews of her separately. Nor was I picking on her without evidence or for trivial reasons - it is most important to separate White advocacy from her sort of influence. For the record, I did not conflate Ruth's position with Rachel's: Ruth wanted to define the left for us, to encourage Abrahamism, she said that she believes in "the White man's burden" (that we owe help to Africans); and in the end she would pursues an agenda to have us treat Jews as a part of our cause, having kindred issues and concern for Western culture. But for a myriad of reasons, it is critical that there be White advocacy platforms free of Jewish influence (active influence, in particular), however benign it may appear (and the reason to discriminate against this one (((Ruth's positions))) wasn't really particularly hard to discern).
TNO, "Germany: 3,000 Sex Attack Victims in 2016", 4 Jan 2016:

Third World invaders pretending to be refugees in Germany preyed upon 2,000 adults and 1,000 children in 2015, a new study by monitoring group XZ Einzefall has shown - at least 1,964 of the sex attacks were serious,

The true number of attacks and victims is much higher, because police are under orders to withhold hundreds of reports and only respond if the media makes inquiries.

XY Einzefall is a German-based monitoring group which has carefully recorded every sex assault carried out in Germany since Angela Merkel opened that country's gates to the mass Third World invasion in 2015.

Their final report for 2016, which can be found in spreadsheet format here, reveals that reported incidents only total 1,964, consisting of at least 201 rapes, 1,559 sex attacks, and 204 sex attacks in public swimming pools.

Only incidents which were actually reported by the police, or which were reported in the controlled media, were added to the XZ Einzefall list. Their spreadsheet contains the links to the police and media reports.

Of the 201 reported rapes, at least 35 were minors, the study showed. Of the 1,559 sex attacks, 653 victims were minors, and of the 204 swimming pool sex attacks, 286 were minors.

This works out at nearly six serious sex attacks every day during 2016.

However, as XY Einzelfall points out in its study, these figures are merely the tip of the iceberg. Quoting a separate study in Austria, the groups said that "only a tiny fraction of all crimes are published as a police or media-report."

The Austrian study quoted compared complaints laid with the police to those reported by the police's media officers and those reported in the media. The difference was vast, the study said, finding that in Vienna, of the more than 200,000 complaints made to police, less than 2,000 police reports were actually published.

With regard to rape cases, the study found, of the 647 rapes reported to the police, only 15 were ever mentioned by police reports and media.

"For this reason," the study says, "the total number of crimes committed by migrants is much higher."

XZ Einzelfall also maintains an incident map which is regularly updated and which can be found here.
Reddit, "Yesterday a POLISH man accidentally hit a Kebab takeaway with a firework. THE OWNERS RAN OUT AND STABBED HIM TO DEATH BECAUSE ISLAM. Today BASED POLES are taking a stand and tearing down the takeaway brick by brick. SHOW THEM SOME LOVE!!HIGH ENERGY (youtube.com)
JewishPress, "Riots in Poland after Murder of Polish Man by Arab Immigrants", 2 Jan 2016:

Riots erupted in Elk, north-eastern Poland, following to the murder of a local resident on New Year's Eve, PAP reported.

According to PAP, on Saturday night, December 31, between 10 and 11 PM, a 21-year-old local resident named Daniel allegedly threw a firecracker at an Elk café called Kebab Prince. The café is owned by a local entrepreneur, and managed by immigrants from Tunisia, Algeria and Morocco. The café staff ran out at Daniel and, according to reports, stabbed him twice, which resulted in his death. The attackers were later arrested in connection with the stabbing murder.


Kebab Prince

On Sunday, January 1, according to police, the café building was surrounded by between 200 and 300 locals shouting Nazi slogans. They threw firecrackers and stones into the place, knocked down the glass window, destroyed the equipment inside and eventually set fire to the premises.

When police arrived at the location, the rioters began throwing stones at the officers, damaging several police cars. Next, the angry mob moved on to a second café belonging to the same owner, which they also burned down.

By Sunday evening a few dozen people were arrested in connection with the riots.

Elk Mayor Tomas Andrukevich appealed to local residents to remain calm and to honor the memory of the murdered man.

Before World War II, the Elk (then Lyck) and its surroundings were almost 95% Lutheran. After the majority German population was expelled, the majority religion in Elk became Roman Catholicism.

Lyck was the city where the first-ever weekly newspaper in Hebrew, HaMagid was founded in 1856 by Rabbi Eliezer Lipmann Silbermann. The paper eventually moved to Berlin. The local Jewish population was being persecuted even before the Nazis took power in 1933. In 1932, local pharmacist Leo Frankenstein was attacked – a hand grenade was thrown into his home. The wave of anti-Semitic attacks intensified after 1933 and many local merchants and intellectuals of Jewish descent were arrested. During Kristallnacht, Jewish shops and synagogue were plundered and destroyed in Lyck. Many Jews fled Lyck, some getting as far away as Shanghai. Of the Jews who stayed, 80 were murdered in German-Polish death camps.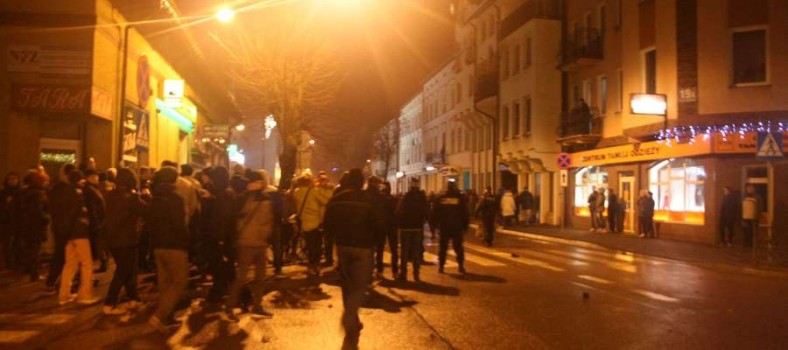 Clouds Over Europe, "More than 250 rioters SMASH kebab shop after 'group of Arab men stab young local to death"
At least 25 people were detained in the Polish town of Elk on Sunday after they smashed up a kebab diner and clashed with police, throwing firecrackers and stones. Up to 300 people took part in a rally after a Pole was allegedly killed by men of Arab descent.
Tory MP Philip Hollobone said: "Migration Watch's forecasts have always been thoroughly reliable."

Express, "BREXIT WARNING: 12 MILLION more migrants to arrive in UK in 25 years without hard Brexit", 29 Dec 2016:

MASS immigration will continue at "unacceptable" levels for at least two decades unless Britain makes a full break with Brussels, a report predicted last night.

Figures showed that annual net migration to the UK from EU countries would be unlikely to fall below 155,000 in the "medium term" if the country stays in the EU's Single Market.

And the Government's ability to reduce the influx will be "extremely limited" as long as the EU's free movement rules remain in force.

The disturbing forecast of near-record levels of migration for years ahead was set out in a report from the population think tank Migration Watch. It was being seen last night as a devastating blow to campaigners for a so-called "soft Brexit" that retain the UK's full Single Market membership.

[...]

"An increase of anything like 12 million in just 25 years is, quite simply, unacceptable to the British public and certainly not what they voted for in the referendum."

Tory MP Philip Hollobone said: "Migration Watch's forecasts have always been thoroughly reliable and are the best we are going to get from anyone.

[...]

"The picture they paint is completely unacceptable.

"We simply can't stay in the Single Market if it means we are going to get that sort of level of immigration.

"Above all, people voted in the referendum for a change in our approach to immigration."

[...]

"Total net immigration will add 12 million people to the population in just 25 years, more than the equivalent of the entire current populations of Bulgaria and New Zealand."

He added: "Theresa May needs to set out in no uncertain terms that when the UK leaves the EU it will also cease to be a member of the Single Market.
TNO, "U.N. Vote and Jewish Lobby Hypocrisy", 24 Dec 2016:
And Alt-Right hypocrisy as well, since The US was the only nation which supported Israel in the UN with regard to their illegal settlements - their chutzpah to fly in the face of the rest of the world probably rests on anticipation of help from their boy Trump
Ibid:

The U.S. Jewish lobby has rushed to defend Israel following the United Nations' Security Council (UNSC) motion condemning the illegal seizure of Palestinian land—highlighting the fact that they support the right of Jews to preserve their racial identity in their own ethnostate, but always strongly oppose any European demands for that same right.
TNO, "Israeli Illegal Settlements: The Facts", 26 Dec 2016:

Israel has demanded that the 14 nations who voted against the illegal Jewish settlements in the occupied West Bank "explain themselves"—for daring to oppose the Jewish ethnostate's breach of international law.

In reality, the Jewish settlements are illegal in terms of the Geneva Convention and the Hague Regulations, and if undertaken by any other state, would have resulted in international military intervention.

According to "Convention (IV) relative to the Protection of Civilian Persons in Time of War" of the Geneva Convention, an occupier is forbidden from transferring its own civilians into the territory it occupies.

"Individual or mass forcible transfers, as well as deportations of protected persons from occupied territory to the territory of the Occupying Power or to that of any other country, occupied or not, are prohibited, regardless of their motive. (12 August 1949. "Deportations, Transfers, Evacuations, Article 49.)

In addition, Article 55 of the Hague Regulations states that an occupying power's role is to safeguard occupied properties and maintain the status quo:

Art. 55. The occupying State shall be regarded only as administrator and usufructuary of public buildings, real estate, forests, and agricultural estates belonging to the hostile State, and situated in the occupied country. It must safeguard the capital of these properties, and administer them in accordance with the rules of usufruct. (Annex To The Convention: Regulations Respecting The Laws And Customs Of War On Land – Section III : Military Authority Over The Territory Of The Hostile State – Regulations: Art. 55.)

The construction of Jewish settlements in the occupied West Bank are clear violations of both these international treaties, and for Israel to demand that nations who uphold this law "explain themselves" is merely an indication of the chutzpah and hypocrisy which underpins that state.

These then, are the facts about the occupied West Bank:

The West Bank—including East Jerusalem—and the Gaza Strip together constitute the Occupied Palestinian Territories (OPT), which have been under Israeli military occupation since June 1967.

Prior to Israeli occupation, the West Bank was controlled by Jordan, and the Gaza Strip by Egypt.

Before the State of Israel was established in 1948, the West Bank and Gaza Strip were simply parts of Mandate Palestine; their "borders" are the result of Israeli expansion and armistice lines.

More than 300,000 Palestinians in the West Bank and Gaza Strip became refugees during Israel's conquest in June 1967; the vast majority were unable to return.

In 1967, Israeli forces ethnically cleansed and destroyed a number of Palestinian villages in the OPT, including Imwas, Beit Nuba, and others.

One of the first acts of Israeli authorities in East Jerusalem was to demolish the Mughrabi Quarter, expelling 600 residents and destroying 135 homes. In place of the 800-year-old Mughrabi Quarter, Israel created the Western Wall Plaza.
Heidegger midtdasein

LARB, "Heidegger and Anti-Semitism Yet Again: The Correspondence Between the Philosopher and His Brother Fritz Heidegger Exposed", 25 Dec 2016:

FOR QUITE SOME TIME, there has been a fair bit of murmuring and speculation surrounding the letters exchanged between the philosopher Martin Heidegger and his brother Fritz. Those who had seen the more than 500 pieces of correspondence, which have been stored at the German Literature Archive in Marburg since 2014, knew how explosive they would be. But in accordance with the wishes of Heidegger's family, they were not allowed to quote from them. But now — apparently in response to the intense international debate surrounding Heidegger's anti-Semitism triggered by the publication of the Black Notebooks three years ago — the family has agreed to release an abridged version of the letters, written between 1930 and 1946, in a newly published volume called Heidegger und der Antisemitismus ("Heidegger and Anti-Semitism") (Verlag Herder, Freiburg 2016). Inside these pages one finds an unvarnished picture of the philosopher's political disposition. In the Black Notebooks, a kind of diary of thoughts, Heidegger approached anti-Semitism from a philosophical remove, but these personal letters published expose him as a bona fide, unrepentant anti-Semite. They also show that — in contrast to prevailing beliefs — the Freiburg professor was politically well informed, and was an early and passionate supporter of National Socialism.

As early as the tail end of 1931, the 43-year-old Heidegger sent his brother a copy of Adolf Hitler's Mein Kampf for Christmas, praising the future dictator's "extraordinary and unwavering political instincts." Heidegger interprets the right-wing conservative minority cabinet under Reich Chancellor Franz von Papen — which governed with the help of President Hindenburg between June and December 1932 — as a Jewish conspiracy. And he complains that the Jews are:

gradually extricating themselves from the mood of panic into which they had fallen. That the Jews were able to pull off such a maneuver as the Papen episode just shows how difficult it will be to push back against everything represented by Big Capital (Großkapital) and the like.
TNO, "French Mayor on Trial for Truth", 24 Dec 2016:

The French mayor of the town of Béziers has been charged with "hate crimes" after saying that it was a "problem" that a class in a local school was 91 percent Muslim.

The charges were brought by the Jewish "International League against Racism and Anti-Semitism" (Ligue Internationale Contre le Racisme et l'Antisémitisme, LICRA).

Mayor Robert Menard denied his comments were discriminatory, saying he had "just described the situation in my town."


"The most striking proof of the great Replacement in progress. Just look at old class photos." - Mayor Robert Menard.

The comments were made back in September 2016, when Menard told French news channel LCI that "In a class in the city Center in my town, 91 percent of the children are Muslims. Obviously, this is a problem. There are limits to tolerance."

At the same time, Menard tweeted his regret at witnessing "the great replacement" of France's white population by Third World invaders.

According to French media, his comments were "seized upon" by LICRA, and the Jewish group immediately pressed charges for "hate" and "incitement."

After months of deliberation, Menard's trial date has now been set for March 8, LICRA announced on their Twitter feed.

After months of deliberation, Menard's trial date has now been set for March 8, LICRA announced on their Twitter feed.