Majorityrights News > Category: Sport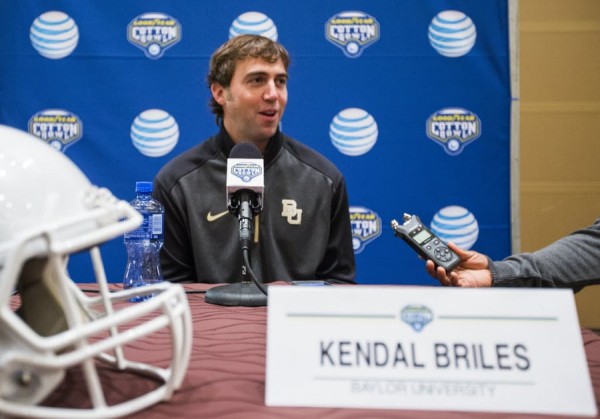 "Do you like white women? Because have a lot of them at Baylor, and they love football players." - Kendell Briles, Baylor College football recruiter, addressing black football prospects.
Washington Post, "Baylor moves to dismiss lawsuit alleging 52 rapes by 31 football players", 29 March 2017:

Baylor moved Tuesday to dismiss a federal lawsuit filed in January filed by a former student who claimed to have been gang-raped by a pair of football players in 2013. In addition, her complaint alleged 52 "acts of rape" committed by the school's football players between 2011 and 2014.

Those numbers were far higher than the eye-opening figures cited by school regents from the report of an outside law firm, which found that 17 women had reported 19 incidents of sexual or domestic assault by Baylor football players since 2011. However, in its court filing Tuesday, Baylor said it "does not agree with or concede the accuracy of Plaintiff's 146-paragraph complaint and its immaterial and inflammatory assertions."

"Baylor moves to dismiss Plaintiff's assault, failure to investigate, and negligence claims because they are barred by the two-year statute of limitations," stated the document, filed with a U.S. District Court that includes Baylor's home of Waco, Tex., in its jurisdiction. The move to dismiss also claimed that the allegations of the woman, referred to as Elizabeth Doe, "do not rise to the level of 'deliberate indifference.' "

Doe alleged in her complaint that on April 18, 2013 — an annual date known as "Diadeloso" ("Day of the Bear") at Baylor and marked by a lack of classes and an encouragement of social interaction — she was raped by two freshman football players, Tre'Von Armstead and Shamycheal Chatman, and that Baylor ignored the situation. She also claimed that her position as a member of the school's female recruiting team, called the Baylor Bruins, contributed to the incident.

"Baylor's recruiting policies and practices, along with the Baylor Bruin football hostess program, directly contributed to the creation of a culture of sexual violence that permeated Baylor and from which Ms. Doe would soon suffer," the lawsuit stated.

The lawsuit also contended that Kendal Briles, a former assistant football coach and son of former head coach Art Briles, told a recruit, "Do you like white women? Because we have a lot of them at Baylor, and they love football players."

[Art Briles says he 'did not cover up any sexual violence' at Baylor]

"While broadly and needlessly impugning the integrity of the many female students who honorably participated in the Bruins organization, Plaintiff does not allege that she herself was ever asked by any Baylor official, directly or indirectly, to participate in the 'good time' recruiting policy that she claims to have existed," Baylor said Tuesday, "nor does she claim that her alleged assault occurred in conjunction with any recruiting activity."

More broadly, the lawsuit claimed that "Baylor football players were responsible for … the most widespread culture of sexual violence and abuse of women ever reported in a collegiate athletic program," adding, "Baylor football under Briles had run wild, in more ways than one, and Baylor was doing nothing to stop it."

"Although Baylor appreciates the sensitivity and seriousness of the issue of sexual assault — a fact demonstrated by its voluntary release of the Pepper Hamilton investigation findings in May 2016 — Plaintiff's inflammatory and immaterial allegations must be disregarded when evaluating whether Plaintiff has stated a claim," the university said in Tuesday's filing.

Former Baylor football player Tre'Von Armstead arrested on sexual assault charges.

Armstead and Chatman were arrested last week and indicted in connection with the 2013 incident. Another former Baylor football player, Sam Ukwuachu, had a sexual-assault conviction overturned last week by a Texas appeals court, with the case remanded for retrial. Two other ex-Bears, Tevin Elliott and Shawn Oakman, have been convicted of and indicted on rape charges, respectively, in an ongoing scandal that has cost the jobs of Briles and other senior Baylor officials and spawned numerous lawsuits.

On Friday, lawyers for 10 women (in addition to Doe) who are suing Baylor for its alleged indifference to their rapes by football players filed notice to subpoena materials from Pepper Hamilton's investigation into the school. "It's long past time for the truth of how senior administrators discouraged and retaliated against the young women for reporting sexual assault," Jim Dunnam, one of the lawyers, said Monday (via the Waco Tribune-Herald).

"We'll never have transparency until they stop saying this was just a football problem," he added. "Every time they say it is just a football problem is further victimization of the over 100 young women who were wronged that had nothing to do with football."
Baylor's Kim Mulkey: "Knock Parents Concerned About Sexual Assault Scandal 'Right In The Face."

DeadSpin, "Baylor's Kim Mulkey: Knock Parents Concerned About Sexual Assault Scandal 'Right In The Face", 25 Feb 2017:

Today was senior day for the Baylor women's basketball team, and rather than spending her time at the mic focused solely on her soon-departing players, head coach Kim Mulkey took a different route.

The storied coach decided to share a few choice words for parents voicing concern over sending their daughters to a place currently being sued for allowing and enabling football players to commit an alleged 52 sexual assaults in four years. Or rather, she shared some instructions for the fans—who cheered her both during and after her speech—telling them that if a parent tells them they won't let their daughter attend Baylor, they should "knock them right in the face."
Related Story at MR: Miscegenating female college students.
Our football coaches weren't Marxists imposing black integration (they were objectivists imposing integration with blacks).
Anthony McClanahan, 46, a former player for the Dallas Cowboys, is accused of being a suspect in the grisly murder of his wife, Keri "KC" McClanahan, 28, who was found dead in a Park City condominium resort.

Adding another twist, McClanahan, a former college football star before he was signed and then cut by the Cowboys in the 1990s, is also accused of kidnapping his young son in an earlier case. He was identified as a suspect in the murder of Keri in court documents in the earlier case, which occurred in October.

On social media, the couple's photos tell the story of a happy couple devoted to fitness, children, and disaster relief (Keri was the mother of two children, but Anthony was not their father.) However, Keri's sister told a different story to the Tribune.

She told the newspaper that "there had been a history of domestic violence in the relationship," reported the newspaper. "Since Keri and Anthony McClanahan's marriage in January, Keri McClanahan had fled from him a couple of times, her sister said. On one occasion, she returned to her home state of Washington, where her family lives, but later returned to the home she shared with Anthony McClanahan in Arizona.

Recently, Keri McClanahan had 'sought refuge' in Utah, the sister said." According to the Salt Lake Tribune, Keri's sister said that "Anthony McClanahan tried to blame his behavior on injuries he'd suffered while playing football."

In the separate kidnapping case, he was accused in early October of "child kidnapping" in a case in which Anthony McClanahan "is accused of taking his son from school and refusing to release him to the boy's mother," KUTV reported. That case is still pending, but authorities revealed in court documents associated with it that McClanahan had been detained and was a suspect in his wife's murder. Source, Heavy.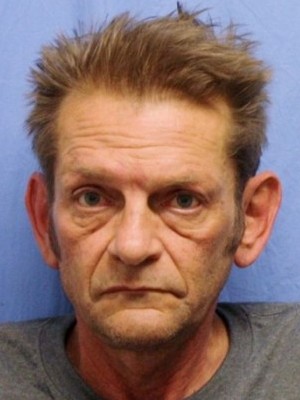 Adam W. Purinton: It's too late to instruct him on Schmittian lines of proper friend/enemy distinction.
Denver Post, "He yelled 'Get out of my country,' witnesses say, and then shot 2 men from India, killing one", 24 Feb 2017:

A 51-year-old man faces first-degree murder charges after shooting three men in an Olathe, Kan., bar Wednesday night, police say, reportedly telling two of them, local Garmin engineers from India, to "get out of my country."

One of the Indian men, Srinivas Kuchibhotla, 32, died in the hospital later from his gunshot wounds.

Authorities would not classify the shooting as a hate crime, but federal law enforcement officials said Thursday they are investigating with local police to determine if it was "bias motivated."

Adam W. Purinton, 51, of Olathe, was also charged with two counts of attempted first-degree murder for shooting two other patrons at Austin's Bar and Grill: Alok Madasani, 32, of Overland Park, Kan. and 24-year-old Ian Grillot, who tried to intervene.

Madasani had been released from a hospital Thursday and Grillot continued to recover.

Witnesses told the Kansas City Star and The Washington Post that Purinton was thought to have been kicked out the bar Wednesday night before the shooting took place.

"He seemed kind of distraught," Garret Bohnen, a regular at Austin's who was there that night told The Post in an interview. "He started drinking pretty fast."
Denver Post, "Some witnesses say Kansas shooting was racially motivated", 24 Feb 2017:

A bartender at Austins Bar and Grill in Olathe, Kansas, said that Adam Purinton used "racial slurs" before he started shooting on Wednesday night as patrons were watching the University of Kansas-TCU basketball game on television.

Srinivas Kuchibhotla, 32, died at an area hospital, police said. Alok Madasani, 32, and Ian Grillot, 24, were hospitalized and are in stable condition, they said. The Linkedin accounts for Kuchibhotla and Madasani say that they were engineers working at GPS-maker Garmin and had studied in India.
A whole bar in cuck attendance to the coddled black American basketball player but Adam W. Purinton decides to take his final stand to try to kill two or three people he thought were Middle Eastern - "terrorists hanging out in the bar? routing for the wrong team of black athletes?" or, was Purington "drawing the line", and saying "damn it! I'm not having those sand-Negroes supporting Negro ball too!" Not likely. Nor is it likely that Purinton was taking the H1B Visa angle into account, since his rage was directed toward people he took to be Middle Eastern and for their Middle Easternness and its imposed displacement of White Americans; not for any alleged affirmative action or salary undercutting importation of Indians whose nepotism would further exacerbate the displacement of White IT specialists.
This serves to illustrate that not only do many would-be White Nationalists need to learn to sublimate their grievances better, but need to do that in line with becoming MUCH more articulate about friend / enemy distinctions - who is who and what is what.
The crusade against racial discrimination and categorization of peoples is much to blame in keeping people inarticulate about proper friend / enemy distinctions. The only "consolation" in this instance is that one White guy used the "non-discrimination" principle to try to come to the aid of two people, Indians, who should be in the friend category.
Ibid, Denver Post, "He yelled 'Get out of my country!", February 24, 2017:

He reportedly came back into the bar and hurled racial slurs at the two Indian men, including comments that suggested he thought they were of Middle Eastern descent. When he started firing shots, Grillot, a regular at the bar whom Bohnen called "everyone's friend," intervened.
AFF, "Breaking News, 1 Dead, Three Shot, Including Marine", 24 Feb 2017:


Srinivas Kuchibhotla (center), 32, died at a hospital, while 32-year-old Alok Madasani (left) and 24-year-old Ian Grillot (right) are hospitalized in stable condition, police said.

According to Local News KCTV 5.

Grillot said in an interview from his hospital bed that when the gunfire started, he hid until nine shots had been fired and he thought the suspect's gun magazine was empty.

"I got up and proceeded to chase him down, try to subdue him," Grillot said in a video from the University of Kansas Health System. "I got behind him and he turned around and fired a round at me."

Grillot said that the bullet went through his hand and into his chest, just missing a major artery.

"It's not about where (the victim) was from or his ethnicity," Grillot said. "We're all humans, so I just did what was right to do."
England suffered one of the most humiliating defeats in their history after Iceland came from behind 2 -1.
Match report

Coach Roy Hodgson resigns ...goes the way of fellow mercenary maiden David Cameron… it's not really the yang of karma, but hermeneutic feedback of another leak in the hull that needs tending ....all a part of getting your ship in order, England. Along with your Brexit victory there needed to be humbling defeat - albeit on a trivial but symbolic level - a lesson in the integrity of losing with your own men rather winning with mercenaries in international play.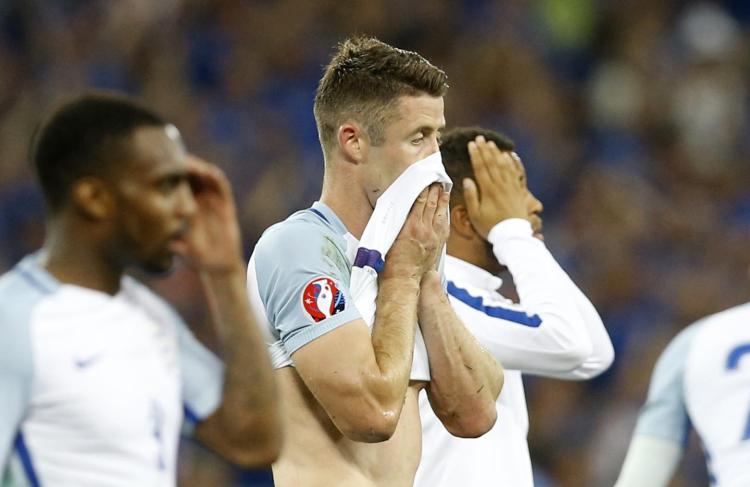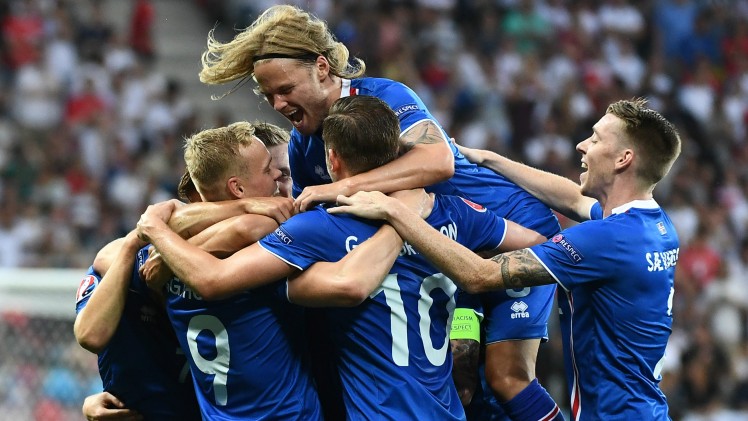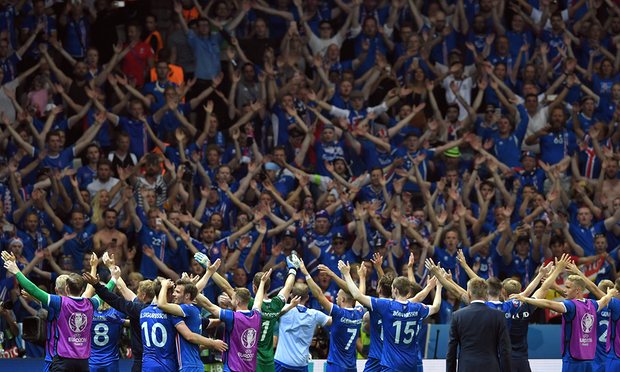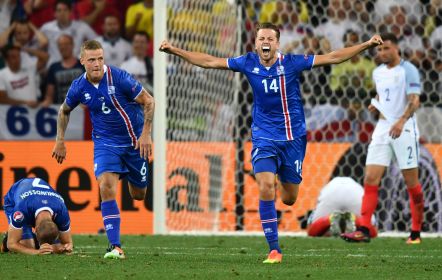 Now, if you are going to lose to a tiny country of 330,000, a country that has the integrity to play with its native White men…
Why not play with your native English men and see how it turns out?
Better to lose with your native men than to win with mercenaries..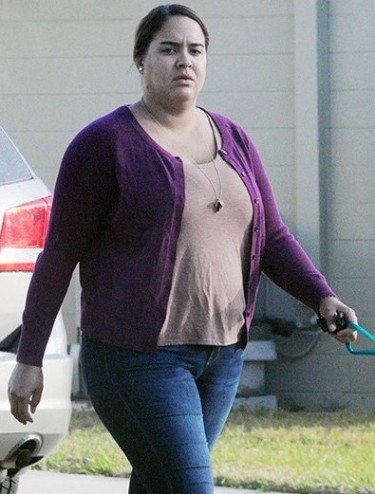 Simpson & Brown's daughter at age 30 - YKW recombination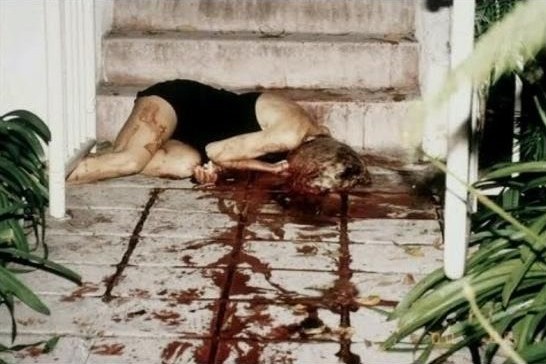 Nicole Brown, at age 35, an equally gruesome outcome
O.J. Simpson, typical black behavior and typical Jewish facilitation -

NPR, "The Perfect Perversity of the O.J. Simpson Case", 14 June 2016: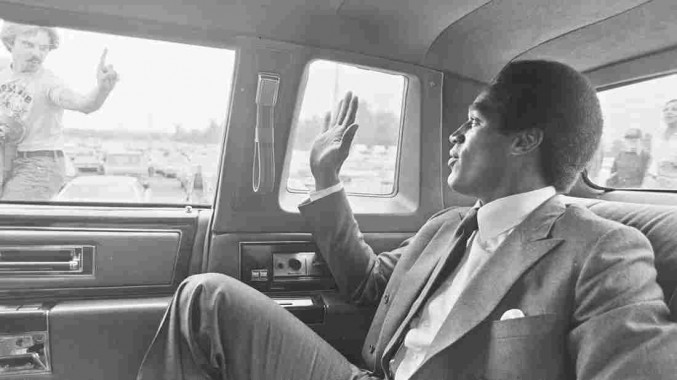 NPR series: there is no doubt that OJ Simpson committed the murders.
There were signs from the very first date he had with the 18 year old Nicole Brown that OJ Simpson was violent.
Brown's friend had noticed signs that Simpson had forced himself upon her in the first date..he had ripped open her pants…
...
The series reveals many other facts not previously well known about the case:
Another 9-11 call from Nicole has a policeman arrive. Brown tells the policeman emphatically that Simpson is going to kill her. Brown has a bruise on her face and Simpson tells the policeman that he doesn't care, he doesn't want her in his bed, he has two other women.
The policeman tells Simpson that he is under arrest for domestic violence. Simpson goes into his house, ostensibly to get dressed, but races away in his car via a rear exit. The police pursue, but don't catch him and don't pursue him afterward.
This is one of the surprising elements of the series: The L.A. Police Department was not eager to prosecute Simpson. They treated him with kid gloves.
The detective who interviewed Simpson after the murder did not ask him to provide a time line of his day - which would have caught him in several lies - basically, because the detective was following The L.A. P.D.'s tendency to treat Simpson and his celebrity with deference.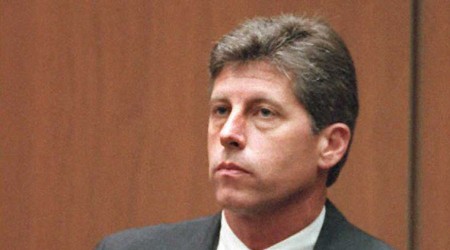 In fact, in being racial, Fuhrman was an outlier to this culture. He actually had sued the L.A. Police Department for early retirement, claiming psychological disability because he could not stand having to deal with blacks.
The L.A. P.D. won the case, was not compelled to accept Fuhrman's claim, and told him to get back to work.
Unfortunately for the case against Simpson, Fuhrman was the one who collected Simpson's glove left at the scene of the murder.
Simpson was advised to stop taking his arthritis medicine so that his hands would swell up. When the glove didn't fit Simpson's hand in a demonstration before the jury, it added to the suggestion that Fuhrman's racism might motivate him to set-up Simpson - a Negro man in an interracial relationship which Fuhrman was known to not like - prosecuting him unjustly by planting the glove as fake evidence.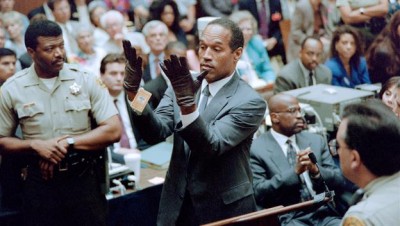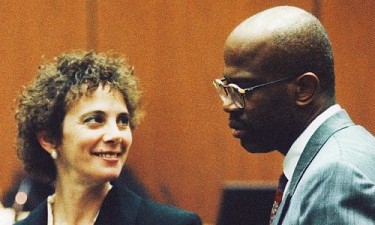 Allowing Simpson to try-on the glove was black prosecuting attorney Christopher Darden's blunder. Darden was said to have had an affair with Marcia Clarke during the trial.
"If it doesn't fit you must acquit" was Simpson's black defense attorney, Johnny Cochran's famous line, but what was most important in the acquittal was the way he successfully pandered to a majority black jury, Jewish legal system and zeitgeist, by diverting them from the obvious evidence against O.J. Simpson, into "juicestice" instead, presenting the case as an indictment of Furhman and the L.A. Police Department's early stage 'Hitleresque' will to genocide, racism and cover-up of its racism - a particularly effective argument in L.A. following the Rodney King incident.
Key excerpts from Corchran's closing argument:

Stop this cover-up. Stop this cover-up. If you don't stop it, then who? Do you think the police department is going to stop it? Do you think the D.A.'s office is going to stop it? Do you think we can stop it by ourselves? It has to be stopped by you. And you know, they talked about Fuhrman, they talked about him in derisive tones now, and that is very fashionable now, isn't it? Everybody wants to beat up on Fuhrman, the favored whipping boy in America. I told you I don't take any delight in that because you know before this trial started, if you grow up in this country, you know there are Fuhrmans out there. You learn early on in your life that you are not going to be naive, that you love your country, but you know it is not perfect, so you understand that, so it is no surprise to me, but I don't take any pride in it. But for some of you, you are finding out the other side of life. You are finding out—that is why this case is so instructive. You are finding out about the other side of life, but things aren't always as they seem. It is not just rhetoric, it is the actions of people, it is the lack of courage and it is a lack of integrity at high places. That is what we are talking about here.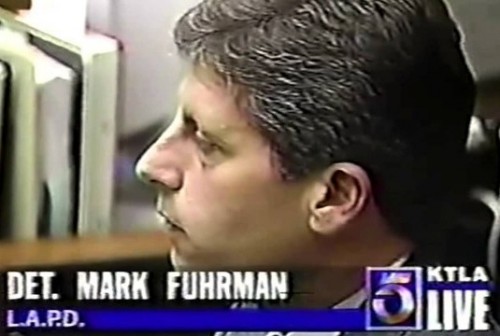 Fuhrman sued LAPD years before, seeking early retirement because he couldn't stand having to deal with blacks and interracial couples.
[Ibid. Johnny Corchran's closing argument] I don't know how this subject was raised but officer Fuhrman says that when he sees a Nigger, as he called it, driving with a white woman, he would pull them over. I asked what if he didn't have a reason and he said that he would find one. I looked at the two marines to see if they knew he was joking, but it became obvious to me that he was very serious." Now, let me just stop at this point. Let's back it up a minute, Mr. Harris. Pull it back down, please. If he sees an African American with a white woman he would stop them. If he didn't have a reason, he would find one or make up one. This man will lie to set you up. That is what he is saying there. He would do anything to set you up because of the hatred he has in his heart. A racist is somebody who has power over you, who can do something to you. People could have views but keep them to themselves, but when they have power over you, that is when racism becomes insidious. That is what we are talking about here. He has power. A police officer in the street, a patrol officer, is the single most powerful figure in the criminal justice system. He can take your life. Unlike the supreme court, you don't have to go through all these appeals. He can do it right there and justify it. And that is why, that is why this has to be routed out in the LAPD and every place. Make up a reason because he made a judgment. That is what happened in this case. They made a judgment. Everything else after that is going to point toward O.J. Simpson. They didn't want to look at anybody else. Mr. Darden asked who did this crime? That is their job as the police. We have been hampered. They turned down our offers for help. But that is the prosecution's job. The judge says we don't have that job. The law says that. We would love to help do that. Who do you think wants to find these murderers more than Mr. Simpson? But that is not our job; it is their job. And when they don't talk to anybody else, when they rush to judgment in their obsession to win, that is why this became a problem. This man had the power to carry out his racist views and that is what is so troubling. Let's move on. Making up a reason. That is troubling. That is frightening. That is chilling. But if that wasn't enough, if that wasn't enough, the thing that really gets you is she goes on to say: "Officer Fuhrman went on to say that he would like nothing more than to see all niggers gathered together and killed. He said something about burning them or bombing them. I was too shaken to remember the exact words he used. However, I do remember that what he said was probably the most horrible thing I had ever heard someone say. What frightened me even more was that he was a police officer sworn to uphold the law." And now we have it. There was another man, not too long ago in the world, who had those same views who wanted to burn people, who had racist views and ultimately had power over people in this country.

People didn't care. People said he was just crazy, he is just a half-baked painter. They didn't do anything about it. This man, this scourge, became one of the worse people in the history of this world, Adolph Hitler, because people didn't care or didn't try to stop him. He had the power over his racism and his anti-religion. Nobody wanted to stop him, and it ended up in world war ii, the conduct of this man. And so Fuhrman, Fuhrman wants to take all black people now and burn them or bomb them. That is genocidal racism. Is that ethnic purity? What is that? What is that? We are paying this man's salary to espouse these views? Do you think he only told Kathleen Bell whom he just had met? Do you think he talked to his partners about it? Do you think commanders knew about it? Do you think everybody knew about it and turned their heads? Nobody did anything about it.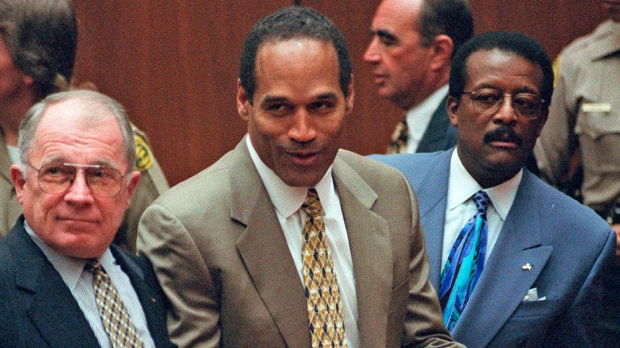 Reaction to the "innocent verdict": O.J. Simpson, typical black behavior (dindu) and typical Jewish enabling. The glove trick was the idea of Shapiro (in background). F. Lee Baily, O.J. Simpson and Johnny Corchran, react in foreground.
In what is supposed to be prosecuting attorney Marcia Clark's "closing argument" against the eminently guilty O.J. Simpson (who is merely one expression of pervasive black hyper-assertion, social irresponsibility and violence that needs to be defended against), Clark instead makes it a key point to condemn and condemn ultimately, Mark Fuhrman, a dedicated, competent and fair, career police detective: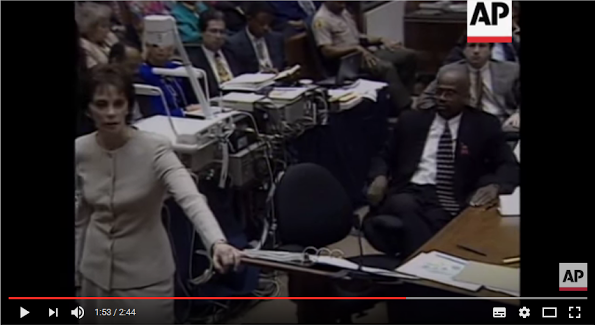 Let me come back to Mark Fuhrman for a minute. Did he lie when he testified here in this courtroom saying that he did not use racial epithets in the last ten years? Yes. Is he a racist? Yes. Is he the worst L.A. P.D. has to offer? Yes. Do we wish that this person was never hired by the L.A. P.D.? Yes. Should L.A. P.D. have ever hired him? No. Should such a person be a police officer? No. In fact, do we wish there was no such person on the planet? Yes.
This "closing argument" by Marcia Clark is unbelievably perverted - she devoted 41 seconds (1/4th) of her 2:44 second long closing argument to condemning, and condemning ultimately, Mark Furhman, for the innate and necessary capacity that all species have to discriminate on behalf of their own survival - she even explicitly denounces Furhrman's very existence.
Marcia Clark's lawyering efforts were thoroughly co-opted by Jewish, anti-White purposes of destroying Whites.
Anti-racism is a Jewish construct that capitalizes on Cartesianism's rational blindness to prejudices, to the fact that its way of viewing the world is not innocent, that it is hurting and it is killing people - it targets Whites, especially.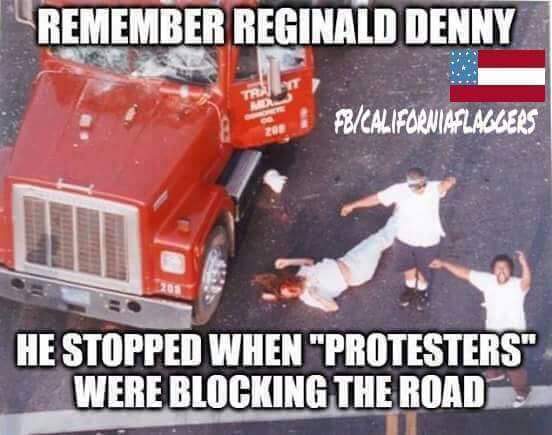 29 April 1992, during black riots: Blacks pulled Reginald Denny from his truck passing through the riot areas, and then celebrate after having thrown a brick full force, point blank into his head. This was far worse than the incident which sparked the riots, a baton beating that police administered to physically resistant Rodney King, who had been apprehended after a dangerous, high-speed car chase.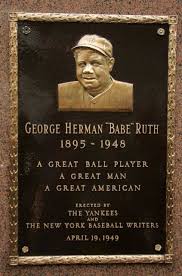 Babe Ruth:
Born: 6 Feb1895, Baltimore, MD
Died:16 Aug 1948, NYC (Age 53)
All time slugging % leader, .690
and, upon retirement -
All time homerun leader, 714
Single season homeruns, 60
Single season slugging %, 847.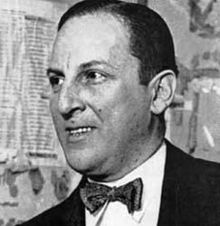 Arnold Rothstein
Born: 17 Jan 1882, New York City
Died: 6 Nov 1928, NYC (age 46)
Nationality American
Other names: The Brain, Mr. Big, The Fixer, The Man Uptown, Big Bankroll
Occupation: Racketeer, businessman, crime boss, bootlegger
Religion Jewish

Parent(s) Abraham & Esther Rothstein
We believe you, that it isn't so, Joe.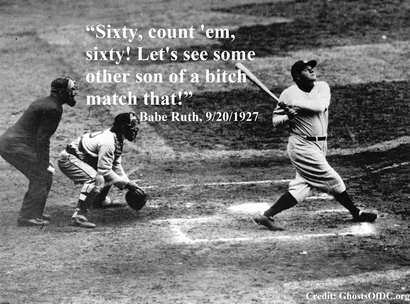 Some people don't understand the great appeal of sports fanship to males in particular. But in the topsy-turvey of modernity in particular, when tribal affinity is disallowed as a barometer and all else seems to be so unfair - a rigged deck that females don't tend to care about because it is rigged largely in their favor, sports, the historically coherent and statistically objective, verifiable comfort, persists - particularly when your guys, guys that you can identify with as being not very different from you have proven their objective merit despite rigorous competition.

See? We know that the way of life that we produce is fine enough, if not better, though it is sometimes hard to prove our part in an instant or episode - still, we appreciate the capacity for vicarious identity also because we do not normally have the opportunity for the exhilarating display of taking it to them in instantaneous and episodic action. Still, we can even out-manifest them in an instant and episodically, if not vicariously ..it can be proven ..on balance ..sometimes.. on balance…depending on the sport ..and other things.. oops ..its not so reliably objective… can have an anesthetizing, intoxicating effect ..not a comfort conducive to our interests after all.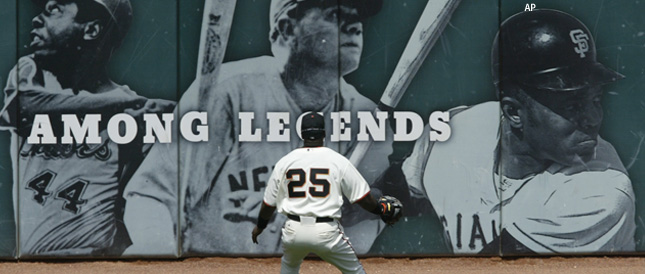 Never really was. As disingenuously imposed objective criteria, it was counter productive illusion leading to the phenomenon of White fan cuckoldry. Inadvertently, however, Bonds using steroids to shatter Ruth's slugging marks did a favor by rendering the crowning criteria of sports statistics, for Americans, anyway, the homerun, 60, 714, 755, whatever, so relative, so corrupted as to be unworthy of admiration.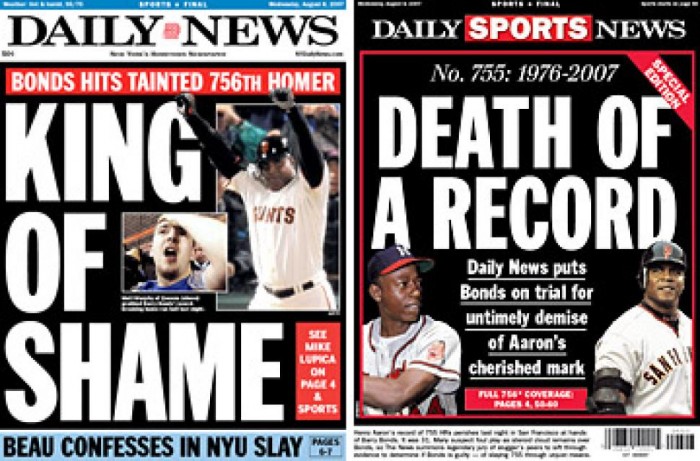 That may seem obvious to the girls out there, but to the young boys who are looking for a reprieve from their shit tests, sports statistics have provided recourse more than vicarious identity, but assertion of heterosexual identity and indication that one is not shirking competitive proofs, even while not actively in the hunt - attending to the serous, manly criteria of purely objective measures nevertheless.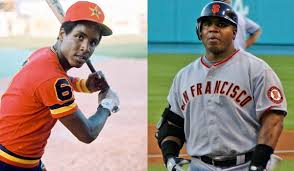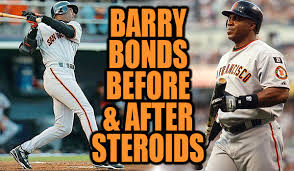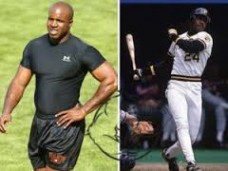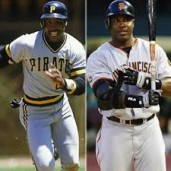 Any sensible boy who looks at baseball stats now should face the facts, that the criteria of measure of who his heterosexual identity is constructed with needs to take into account, or should take into account, his people, including particularly noting difference from the criteria that females may have regarding selection for our fitness or rejection of our non-fitness; and, in turn, rejection of their criteria when it is not adaptive to the fitness of our kind.

Though most of us White boys put a mental asterisk by Hank Aaron's record breaking 715 (in 1974) and new record setting of 755, to note that he accumulated the number in many more games than Ruth, the record and baseball nevertheless lost much of our identification as blacks started to become emblematic among its leaders.
In different times: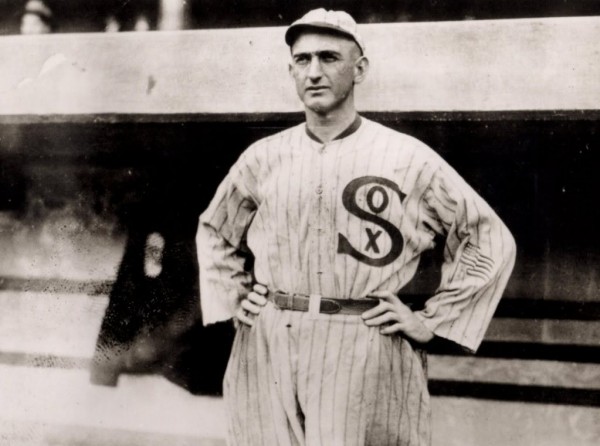 "Say it ain't so, Joe" was the cry for Joe Jackson to defend himself against unfairly puritanical standards to protect baseball's criteria.
Country bumpkin, "Shoeless" Joe Jackson, was one of the greatest hitters of the early part of last century. He was banned from baseball by the baseball commissioner for allegedly being part of the "Blacksox scandal", in which the Chicago White Sox threw the 1919 World Series in a deal with Jewish Mobster Arnold Rothstein.
Though some of his teammates almost assuredly did throw the series, Jackson's statistics illustrate that he played hard and well - that he was not a part of throwing the series. But such were the times and such was the concern for the integrity of the game, its statistics and objective criteria - that his merely being associated with players who would cheat was enough to get him unjustly banned from baseball.
Crucially, the game maintained integrity as a White criteria until integration started with Saint Jackie Robinson a little after World War II. The game's integrity predictably degenerated in a myriad of nasty ways after that. Statistical degeneration culminated with Barry Bonds, who, incensed that "White boy" Mark McGwire had used steroids to hit 70 home runs in a season and shatter Babe Ruth's one time single season record of 60, went onto a steroids program himself; to not only hit 73 in a season, but to break Babe Ruth's single season slugging percentage record and the sine qua non, to become the all time home run king, surpassing Ruth's legendary mark of 714, for an altogether new, steroid enhanced bar at 762.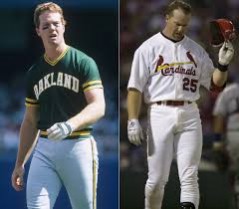 Conscientious, talented but troubled Croatian, Roger Maras, compared to Mark McRoids
There was some public shaming; but not so much as an asterisk by the roiders statistical record breaking marks. Its worth mentioning since there was large consternation for Roger Maris - first one to break Babe Ruth's single season record with 61 in 1961 - meeting resistance for recognition as the record bearer by his generation's baseball commissioner, who suggested that his new single season record should have an asterisk by it because he did it in 162 games while Ruth did it in 154. That's how concerned American boys and their fathers were about maintaining the game's objectivity (and how concerned the commissioner was, who also happened to be Babe Ruth's biographer).
Now Barry Bonds does steroids, a more destructive example to kids and greater detriment to the game's objectivity even than gambling against one's own team, let alone merely being on the same team as others who did it, and Bonds doesn't get so much as the asterisk that Maris was threatened with, let alone banishment from the game - as he should have been and as Shoeless Joe Jackson should not have been - "Say it ain't so Joe" was the saying in 1919 when Joe Jackson was accused of participating in throwing the world series. Jackson did maintain his innocence, said it wasn't so; and his world series statistics in 1919 bear that out.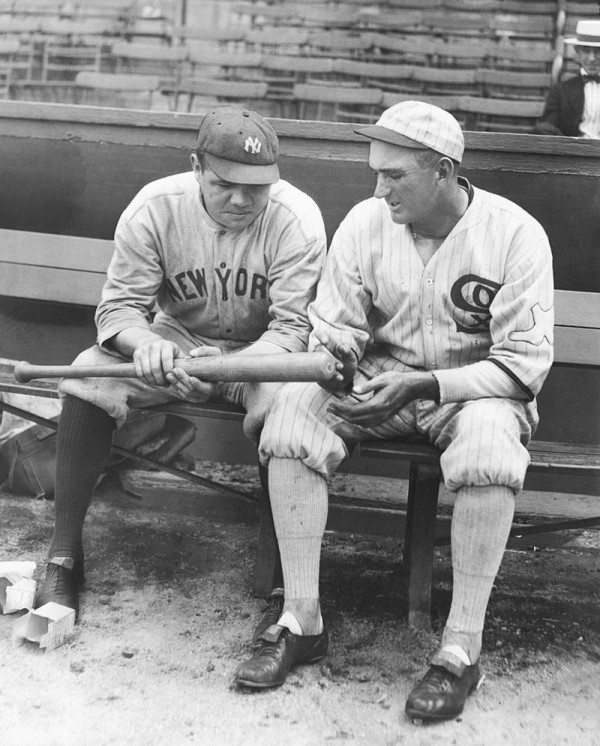 Babe Ruth taking batting tips from Joe Jackson, the man he modeled his hitting style after because he considered him the best.
So much the standard bearer of the game's style and grace was Joe Jackson, that Babe Ruth, the all time statistical king and most famous baseball player of all, stated that he modeled his swing after Joe Jackson, because he thought he was the best hitter that he'd ever seen.
I believe that it wasn't so, Joe, that you should have been banned; but that it is so, Barry, that the way you accomplished your record should have little boys forever look upon baseball statistics, let alone salaries, as sham objective metric of worth, no comfort and no measure worth concern for White men.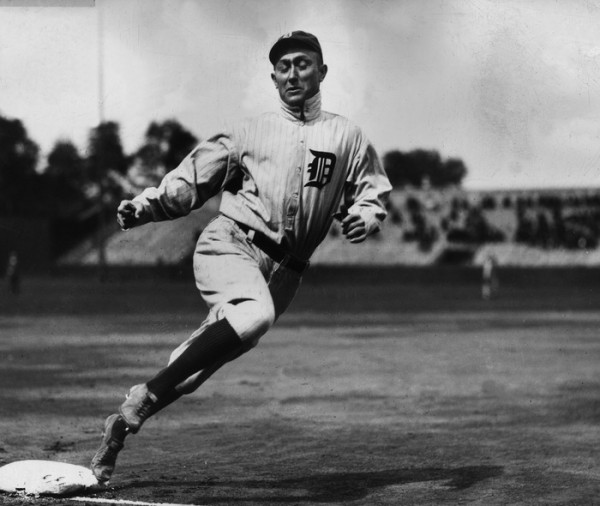 Ty Cobb, the all time Batting Average leader at .367, was concerned not only for the integrity of the game and its statistics - lamenting that Ruth had made "the home run king and strategy a deuce" - but for its racial hygiene as well: he referred to Ruth as "that nigger" and "nigger lips" (to say nothing of Ruth's nose). In truth, he liked Ruth and would let him, his nose and lips slide. However, he did correctly want to maintain the game as a criteria to assess baseball skills relative to Whites and their way of life.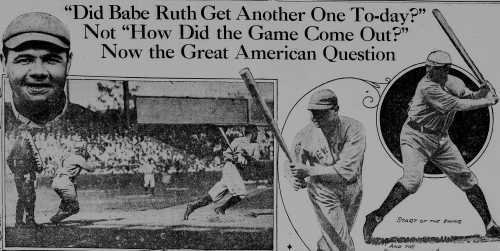 Lech Poznan fans protest immigration of refugees by boycotting Europa League opener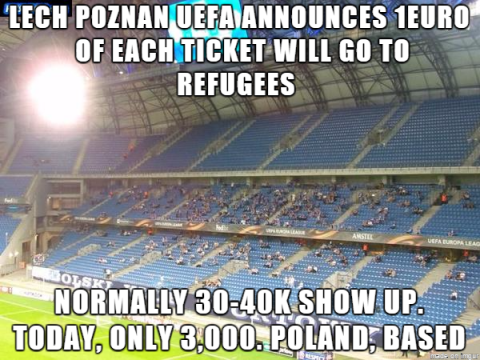 Poznan (Poland) stadium: UEFA announced 1Euro of each ticket goes to #refugees #nrx THIS is white identity on display
While most of the clubs across Europe are showing their support towards the refugees, Polish football club Lech Poznan is completely against the cause, The Guardian reported. The supporters carried out a planned boycott during the Europa League match against Portuguese club Belenenses, as they were against UEFA's decision to donate a euro from every ticket sold to the refugee cause.

The Inea Stadium which had an average attendance of 20,000 people last season, saw a small crowd of 3,000 supporters on the day. The match ended in a tie, with both teams finishing goalless.

The fans were clearly against the idea of refugees moving to Poland and put up a banner which read "Stop Islamization" over one of the stadium entrances. This though was not the first time that the team's supporters committed such an act. On a previous occasion, the team hung a banner that read "This is obvious and simple for us, we do not want refugees in Poland".

While Poznan was the only club to participate in a boycott, cases of the anti-refugee movement have also been reported in Olympique Lyonnais from Ligue 1 and Maccabi Tel Aviv. The Bundesliga and the Premier League teams though do not share this sentiment and have shown their support towards refugees on several occasions.



Lech Poznan display their hostility towards refugees in Poland (Image source: 101GreatGoals)