Majorityrights News > Category: Russian Politics
Luke Ford, "Alt Right Jews", 15 Oct 2017 by Luke Ford

Anyone who has engaged with Orthodox Jews knows they regard Liberal Jews with a high degree of hostility. They are not as bad as the Hasidim, but they view Reformed Jews as fakers, getting the benefits of being Jewish without the commitment. Their relatively small numbers have made them easy to ignore, but demographics are changing quickly. Orthodox are 10% of American Jews and a full decade younger than the median age of Reformed Jews. They also have many more children per female.

Now, the Orthodox are famously ethnocentric. They also vote for conservative white candidates in elections. When it comes to identity politics, the Orthodox favor it over consensus. They may not be talking about ethno-states and separatism, but their revealed preferences run strongly in that direction. Like the Amish though, their numbers will only grow the old fashioned way. They don't recruit so they don't attract a lot of converts. Talk to anyone who has converted and they will tell you it is a long and challenging process.

There's another division, somewhat related to the Orthodox movement, and that is the Chabad movement. Here's a Globe story from two years ago and a Forward story from last year for some background. One of the unique things about Chabad is they recruit and do so aggressively. They even recruit gentiles. I've had them put the arm on me more than once, even though they know I'm not a Jew. President Trump's son-in-law and daughter are Chabad. Joel Pollak, the Breitbart big shot, is Chabad. This is not an accident.

As that Globe story makes clear, the Chabad movement is a curious thing. On the one hand, they are Orthodox, which puts them culturally to the right of most people and way to the Right of most Jews. On the other hand, they seem to be following the model of the early Christian church by letting converts ease into the life. Jared Kushner is not growing a beard and wearing all black anytime soon. It's hard not to think that they are first concerned with growing the movement. They'll worry about discipline later.

There's another piece to the puzzle. There are Conservative Jews who make up about 20% of American Jewry. These are the folks you will not only see filtering into the Chabad movement, but also on the fringes of the alt-right. They may or may not consider themselves white, but either way, they are fine with white identity politics. They think multiculturalism is madness. It's not just madness for Jews, but for everyone. Diversity is a cancer to be avoided. These are folks who would be called Alt-Jew.

The number of Conservative Jews sympathetic to the alt-right is debatable, depending upon how you define the terms. There are quite a few Jews supporting Jared Taylor's work at American Renaissance. I correspond with maybe half a dozen Conservative Jews who share my politics. They think their numbers are growing as Jews in America come to terms with the failings of liberalism and reformed Judaism. To use a phrase I picked up at AmRen, these are Jews who are religious, if not spiritual.

None of this means that Jews are suddenly going to lift Richard Spencer up and carry him to the throne of the ethno-state. It just means that demographics and shifting politics spare no one. Liberal Jews are old and not particularly fertile. Orthodox Jews are young and extremely fertile. Conservative Jews fall somewhere in between, but probably represent a much more practical alternative for American Jews who wish to remain American and Jewish. In a majority-minority world, everyone is going to have to pick sides.
The Z Man, "Alt-Jew", 29 Aug 2017:

Someone contacted me the other day saying they were starting a site called Alt-Jew and he wanted to know if I knew any right-wing Jews that would be interested. You never know about these things. It could have been a terrorist organization trying to get some names of people they could terrorize. Anyone can register a website. Well, not anyone, thanks to terrorist groups like the SPLC and ADL. Still, you never can be sure about these things. The Reagan Battalion was an elaborate Soros fraud.

Regardless, it provides a reason to write about a subject that gets zero attention. That is the schism among American Jews, one that is looking a little bit like the divide within the white world. There are a growing number of right-wing Jews, who are wondering if liberal Jews are bad for Jews. It's not just politically, but culturally and racially. They look around at the demographics in America and see greater out-marriage, lower birth rates and the telltale signs of assimilation and secularization.

Anyone who has engaged with Orthodox Jews knows they regard Liberal Jews with a high degree of hostility. They are not as bad as the Hasidim, but they view Reformed Jews as fakers, getting the benefits of being Jewish without the commitment. Their relatively small numbers have made them easy to ignore, but demographics are changing quickly. Orthodox are 10% of American Jews and a full decade younger than the median age of Reformed Jews. They also have many more children per female.
NPR, "Tensions Rise Between Tillerson And Trump As The Threat Of War In N. Korea Looms", 10 Oct 2017: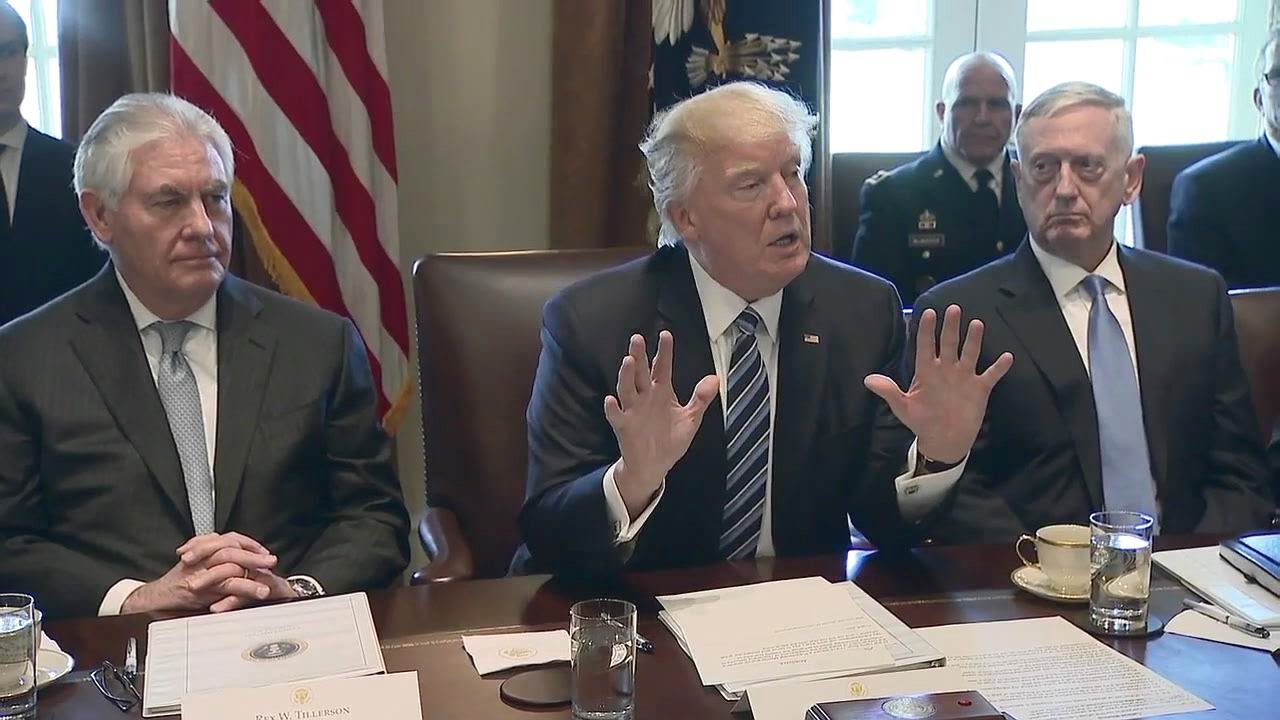 New Yorker writer Dexter Filkins describes Sec. of State Tillerson as frustrated amidst very scary negotiations with N. Korea and without sufficient support and staff - most Republicans with wherewithal have been purged from Trump's administration. While Filkins describes General Mattis as a very well read, interesting and thoughtful man who prefers negotiation to his profession of war - which, in the case of war with North Korea, "would bring the worst casualties and the worst bloodshed that any of us have ever known in our lifetimes."
New Yorker writer Dexter Filkins says Sec. of State Rex Tillerson is a diplomat in an administration that doesn't value diplomacy: "Rex is a sober, steady guy, and the president is anything but that."

TERRY GROSS, HOST:

This is FRESH AIR. I'm Terry Gross. Ever since NBC reported last week that Secretary of State Rex Tillerson had called President Trump a moron, speculation has increased about whether Tillerson will last much longer in the job. My guest Dexter Filkins has a new article in The New Yorker titled "Rex Tillerson At The Breaking Point." Filkins started researching the article months ago. It's about the tensions between Trump and Tillerson, Tillerson's legacy at Exxon, where he became CEO in 2006, his strategies today in dealing with North Korea and Iran and how he's presiding over a State Department in which most key positions remain unfilled.

One of the things we're going to focus on is North Korea and the possibility of the escalating rhetoric actually leading to a war. Filkins's previous article for The New Yorker was about Secretary of Defense General James Mattis, who Filkins first met when he was reporting on the war in Iraq. Filkins covered the war for The New York Times. He's now a staff writer at The New Yorker covering foreign affairs.

Dexter Filkins, welcome back to FRESH AIR. Can we just start by acknowledging that the secretary of state you've just written about may not be the secretary of state much longer, which means your piece may've been written at exactly the right or exactly the wrong time (laughter)?

DEXTER FILKINS: Yeah, yeah, well, it's great if you're a journalist to have, you know, perfect timing. And in this case, I had perfect timing. I started working on that piece a long time ago, not knowing that all of this was going to come to a head. But I think he's - you know, he's still in the job as we speak. And I think he's pretty frustrated. But that is a chaotic administration on any day of the week. And so who knows what tomorrow will bring?

GROSS: What are you hearing about the relationship between Tillerson and Trump?

FILKINS: Well, it's funny. I'm the - initially, when I started talking to people, and the people around him say, it's great. You know, they talk all the time. They talk several times a day. Trump calls him, you know, middle of the night, whenever he wants. And I think that's true. But I - you know, there's an anecdote, which many of your listeners will have heard by now, which is, Tillerson was apparently in a meeting after one of - he was complaining about one of Trump's speeches. And he called him a moron, and there was a - you know, there was another word attached to the word moron, which I won't repeat.

But I think - you know, I think he's frustrated. I think it's difficult for - you know, Rex Tillerson is, I think - he's a pretty sober and a pretty steady guy. And of course, the president is anything but that. And I think Tillerson in particular has been trying very hard in places like North Korea, where we have a - you know, a terrible crisis on our hands, to make a diplomatic solution to try to avert war. I think, you know, the possibility of war with North Korea right now is very real. And so he - you know, he flies out to China to try to make a deal and - to try to make a diplomatic deal to stave off war. And the president makes fun of him. And he undercuts him - Rex, you're wasting your time. And I - you know, he's the secretary of state of the United States. It's - I think he's pretty frustrated with that, that he feels like he can't do his job.

GROSS: One official told you, the only reason why Tillerson has stayed this long is loyalty to the country.

FILKINS: Yeah, you know, he's an Eagle Scout. And there's a lot of Eagle Scouts in the president's cabinet, and there's a lot of generals around him. And somebody said to me, the only people left around the president are generals and Boy Scouts. And they're hanging in there out of - not because they like it or not because they're, you know, pleased to go into work every day but because they feel a responsibility to the country.

GROSS: What have you heard about the so-called suicide pact - that if Tillerson is let loose, then Secretary of Defense Mattis and Secretary of the Treasury Mnuchin would leave as well? They would just - they would walk.

FILKINS: Well, I heard that. I - you know, Washington is - it's such a chatterbox. And when you go down there, you know, it's just an echo chamber, and everybody's, like, gossiping. It's hard to know what's true. I do know that Tillerson and Mattis talk a lot, and they have a lot of respect for each other. And I think that they - you know, they talk a lot because it's - they both deal with foreign affairs. And, you know, one is the carrot, and the other is the stick. And they're trying to coordinate a lot. So they talk a lot. And so it wouldn't surprise me if that were the case.

GROSS: Is Tillerson much of a carrot? Is he holding out many carrots?

FILKINS: Well, I think the carrot's getting smaller. I mean - and I think that's the concern. And the hammer or the stick is getting bigger. And so if you look at their respective budgets, the Office of Management and Budget, which has drawn up the proposed budget for 2018 - for next year - which is what they're fighting about right now - they would cut the State Department's budget by 30 percent. And that's about - the State Department is - the budget's about - right now about $55 billion a year. And they are proposing - at the same time that they're cutting the State Department by 30 percent, they're proposing a $50 billion increase for the Pentagon. So they're - the proposal on the table right now is to increase spending on defense as much as, or nearly as much as, the entire budget for the State Department.

And so if you stand back and think about that, what does that mean for American foreign policy? You know, you've got the guns over here, and you've got the diplomats over here. And they are cutting the resources for the diplomats, and they're giving more resources to the guys with guns. And so I think that's what's disturbing to a lot of people right now - that the balance is changing.

GROSS: But Tillerson seems to be one of the people leading the charge in dismantling the State Department. I mean, you write that there are, like, 48 ambassadorships that are vacant. Twenty-one out of 23 assistant secretary positions are vacant or occupied by provisional employees because Congress hasn't confirmed appointees to the position. How much of this is intentional on Rex Tillerson's part?

FILKINS: Well, I - that there - I think there's two answers to that question. The first is - to answer your question - he has his marching orders, and it's to cut the budget and to cut the number of people - cut the number of diplomats working for the United States. And he's doing that. He's doing that, and he's - or he's trying to do it. And, you know, Congress is actually pushing back. Remarkably, even the Republicans in Congress are saying, look, this is crazy. This is too much. These cuts are too deep. You know, we have to have a diplomatic presence abroad.

And at the same time, I think that Tillerson is having a very, very difficult time - very difficult time - filling jobs and filling - you know, typically at the State Department, you have the secretary of state, and then he's surrounded by assistant secretaries of state. And there's 25 of them or so. And what's happened, in this case, is because so many Republican - let's say senior Republicans who - with deep experience on foreign policy - so many of them during the campaign publicly spoke against the Trump candidacy or signed letters, which were, you know, published in newspapers, et cetera, saying, Donald Trump is not fit to be president.

And so the whole Republican bench that you would call on to bring in to a new Republican administration, they're essentially blackballed. And if you go down those lists, that's a really long list. It's most of the real brain power in the Republican foreign policy establishment. So the result is, Tillerson can't get anybody to work for him.

GROSS: Let's talk about North Korea. I mean, President Trump has said, we could totally destroy North Korea. North Korea has vowed to develop a nuclear missile capable of hitting the U.S. and warned it can conduct a hydrogen bomb test over the Pacific. No ambassador to South Korea has been confirmed yet. Trump also warned recently that this is the calm before the storm. And nobody's really sure what he means by that, and he's declined to clarify. It's kind of like, you'll see.

So - and the president tweeted, presidents and their administrations have been talking to North Korea for 25 years. Agreements made and massive amounts of money paid hasn't worked. Agreements violated before the ink was dry, making fools of U.S. negotiators - sorry, but only one thing will work.

And I think it's kind of implied what that one thing is. But we don't really know for sure what he means. So what's your sense of how close we're getting to an actual nuclear war with North Korea?

FILKINS: Well, I don't know if it'd be a nuclear war, but it would be - it'd be a very terrible war. I remember Secretary Mattis - I was on his plane earlier this year. And he said if - and he's really sober about this. And he said, if there is a war with North Korea, it will bring the worst casualties and the worst bloodshed that any of us have ever known in our lifetimes. You know, that's pretty strong stuff. And I think the - I think here's where we are.

The Trump administration has decided, I think - it's pretty clear - that the prospect of North Korea getting a workable ICBM with a nuclear warhead is worse than the prospect of war. So, I mean - and I spoke to people inside the administration who told me that. They said, we will not allow them to have a working ICBM. It's not going to happen. And we will go to war if we have to. So short of that, what can you do? You can make a deal.

And so the plan - and I think this is what Tillerson has been working very hard on - is to squeeze the North Koreans. And there's basically one way to squeeze the North Koreans, and that's to squeeze China - to squeeze the North Koreans, and that it - because the Chinese economy is kind of - it's the main - it's the only lever, really, to pressure the North Koreans. And so the Chinese have been very reluctant to do that. They're - for a lot of reasons - I mean, the main one is, they don't want to have the North Korean state collapse on their borders. They're terrified of that. They don't want North Korea to have a nuclear weapon, I don't think, any more than we do.

But so that's the challenge right now, but I think it's also the one means that the White House sees to make a deal is working with China. And that's what Tillerson has been trying to do. So he's been, you know, flying to China. He's made several trips out there, and he's pushing them. We have channels open to the North Korean leadership. And so, you know, to get back to President Trump, so the - so at the same time that, you know, the diplomats were trying to make a deal to stave off war, the president is sending out these tweets saying, I'm going to - you know, I'm going to annihilate North Korea, et cetera. And I don't think there's any calculation involved in that. I think the - you know, the president is just, you know, firing.

GROSS: OK, well, let's take a short break here. If you're just joining us, my guest is Dexter Filkins, a New Yorker staff writer who covers foreign affairs. His new piece is called "Rex Tillerson At The Breaking Point." We'll be right back. This is FRESH AIR.

GROSS: This is FRESH AIR. And if you're just joining us, my guest is Dexter Filkins, who is a staff writer at The New Yorker and covers foreign affairs. His new piece is about the secretary of state. It's called "Rex Tillerson At The Breaking Point."

Rex Tillerson told you - because you had a chance to speak with him - that he told China that if China and the U.S. don't solve this - if he and his counterpart don't solve this - these two guys - meaning Kim Jong Un and President Trump - these two guys get to fight, and we will fight.

FILKINS: Yeah. Yeah, it's pretty scary.

GROSS: Did he elaborate on that for you? Like, what…

FILKINS: Well, yeah, a little bit. I mean, he essentially meant, look, the way this is - the way diplomacy works and works best is if it's backed up by a threat of force. So when I walk in the room and I sit down with the Chinese, I say, look, you and I can make a deal, and we can, like, sign it on paper. And if we don't, if diplomacy fails, there's going to be a war. And nobody wants a war, so let's do the deal. And I think, you know, that sounds right. Theoretically, that's - and it sounds right. It's just terrifying.

GROSS: Well, it - there seems to really be a game of brinksmanship being played right now.

FILKINS: Yes.

GROSS: And when you say you were told - and I forget who told you this - that if we go to war with North Korea, there will be more casualties than - what? - than…

FILKINS: Any of us know - have seen in our lifetimes. And that was Secretary Mattis.

GROSS: Oh, right. And I can - and he's…

FILKINS: And you know…

GROSS: He (laughter)...

FILKINS: He's seen a lot of war, you know? I mean…

GROSS: He's seen a lot of war, right. So do you have any idea what kind of war he's envisioning if we do go to war with North Korea? And I hate to even utter those words.

FILKINS: Yeah, God forbid. I think there's a lot of different options. And, I mean, I've had some discussions about what those options are. I think they're all terrible. I think that the easy scenario to imagine - I mean, it's a terrible scenario - is the moment the United States strikes North Korea, say. And we're speaking only theoretically here. The North Koreans have at their disposal thousands of artillery rounds that are within striking range of Seoul. And I think, you know, metropolitan Seoul has how many people - 20 million people. And so you can imagine.

So if the leadership of North Korea is, you know, still alive and if every piece of its army is still functioning - any piece of its army's - is still functioning after that initial exchange, then they will fire everything they have at Seoul. And I think that's - you know, that's what's got everybody's attention. The prospect of that is terrifying because the bloodshed would be immense.

GROSS: OK.

FILKINS: And, you know, the numbers that you see are just - they're terrifying. I mean, it's, you know, tens of thousands, hundreds of thousands of casualties.

GROSS: I'm wondering if you feel any echoes of the eve of the Iraq War right now when President Bush and Saddam Hussein were threatened - threatening each other when President Bush decided to move forward not exactly unilaterally, but not really with the backing of the U.N. either. You know, we had some allies, but it wasn't the full force of the U.N. Do - you covered the Iraq War. You covered it right from the start. So are you feeling any similarities now?

FILKINS: Well, the - I think the difference is, in Iraq, it was basically the United States. I mean, we'd - you know, Great Britain came along, but - and the United States was utterly determined to take down Saddam, you know? Come what may, we're going to do it. And so there was this kind of, like, heedlessness involved. You know, we're - we are going to do this. And the whole world was kind of freaking out.

It's different in North Korea. I mean, I do feel like I have a - whenever I sit down and talk to somebody in Washington about - who knows the North Korean situation, I get these butterflies in my stomach because it feels like these are two - you know, North Korea and the United States, they're both people who are - at the moment who are not willing to compromise. And that means, if that doesn't - if they don't reach a compromise, we're going to go to war. And I think the prospect of war is very, very real.

And so in that sense, I'm feeling, like, pretty nervous about it. But I think that in - the difference between now and, say, in Iraq in 2003 was that I think the whole world is pretty worried about North Korea. You know, it's a kind of crazy, unpredictable regime. And I think that the whole world is united in wanting to stop North Korea from acquiring an ICBM.

So to get back to what I had said earlier, I think the Trump administration - I spoke to somebody about this at some length - said that we - the reason why we cannot allow North Korea to acquire an ICBM is, think of the consequences. They would - they might use one. Oh, they'll start threatening Japan. They'll start threatening South Korea. They'll threaten the United States. They - it will probably prompt, or could prompt, the Japanese to reversing, you know, decades of being a - having a very, very small defense force. They may have to go nuclear. So it could destabilize the whole region.

You - there's no evidence that North Koreans would ever think twice about selling their nuclear technology to another country. So all of those things are terrifying as well. And so what the Trump administration has concluded is that this - or that scenario that I just painted - we cannot allow that, and we will not allow that under any circumstances.

GROSS: So if there is a war with North Korea, as it's possible there will be, is there any scenario that you've heard in which the U.S. uses a nuclear weapon against North Korea?

FILKINS: Yes. Yes, I've had that conversation. It's terrifying. I mean, it's just not even something that you want to think about. But I will tell you about a conversation I had with a very senior person. He said, the problem, if the North Koreans, say, are 2 inches away from acquiring the capability - you know, a workable nuclear-armed ICBM - and we need to stop that, how do we do that? We kill the leadership, basically. We take out the whole leadership - Kim Jong Un, everyone around him.

Now, how do you do that? Because, you know, do we know where they are? Are they all scattered? And that's where the nuclear weapon came in in the conversation that I had. So in other words, you decapitate the regime, and maybe you can avert the kind of horrible consequences that we've talked about with the North Koreans raining artillery shells down on greater Seoul. But that's pretty terrifying. I think that option has been discussed. I think it's on the table. That's what was related to me. But, I mean, it's pretty terrifying.

GROSS: How do you use a nuclear weapon to decapitate the regime?

FILKINS: God if I know. I don't know. I mean, because - I don't know. I mean, I think that the idea, at least in the discussion that I had, was that that would be the only way that you could guarantee that you would basically obliterate the leadership, wherever it was. The problem with that, obviously, is that you're going to end up obliterating a lot of other things as well. And so I - you know, you - there's no such thing as a surgical nuclear strike.

And so I think if - you know, if nuclear weapons came into play here, the consequences would be horrifying. And I don't - you know, I don't - this is what - I think this is what keeps people awake at nights. I mean, everybody's thinking about these options, and there are no good options. They're all bad - all of them. But the nuclear one, of course, is conceivably the worst.

GROSS: My guest is Dexter Filkins. His new article "Rex Tillerson At The Breaking Point" is in the current issue of The New Yorker. We'll talk more after a break. And our jazz critic, Kevin Whitehead, will have an appreciation of pianist and composer, Thelonious Monk, who was born 100 years ago today. I'm Terry Gross, and this is FRESH AIR.

GROSS: This is FRESH AIR. I'm Terry Gross, back with Dexter Filkins, a staff writer for The New Yorker who covers foreign affairs. His new article is titled "Rex Tillerson At The Breaking Point: Will Donald Trump Let The Secretary Of State Do His Job?" Filkins covered the war in Iraq for The New York Times and is the author of the book, "The Forever War," which won the 2008 National Book Critics Circle Award for nonfiction.

After having written this piece about Rex Tillerson, for which you interviewed a lot of people in the State Department, and my impression is maybe some people in defense as well, people in the administration - what did you leave knowing that you didn't know before, in terms of the larger story of where we're going with North Korea and Iran?

FILKINS: Well, I think the most - you know, I've worked all around the globe, and I've been to, like, a zillion American embassies around the world. And, you know, they're all kind of the same. You, you know, show your passport, and you go inside. And you meet the diplomats, and they're all very competent. And they speak the language, and they know the history and the politics. And you kind of take it for granted.

You know, we have a really good State Department, and the embassies are filled with competent people. But you take it for granted. Like, what do they do in there? I think what I learned is that the world that we live in is governed by a very large kind of architecture of economic and political arrangements that have been, you know, whether by treaties or agreements - that have been kind of written, and orchestrated and erected since the second - the end of the Second World War.

And basically, if you go back to - I quoted Truman's - President Truman's secretary of state in my piece, Dean Acheson. If you go back that far, to the 19 - late '40s and early '50s, you know, Acheson says, we inherited a world that was in chaos and in ruins, and we wanted to, at - you know, at any cost, we wanted to avert another world war. And how can we do this? And so they came up with, you know, everything - all these institutions that we know today - The United Nations, NATO, you know, the European Union. And not - you know, this stuff was very ad hoc and, kind of - you know, this institution got formed in 1948 and the next one in 1950. And they kind of evolved over time.

But that - today, we've inherited this kind of vast architecture of arrangements, and relationships and treaties, and so that everything from bandwidth - computer bandwidth - to the number of bluefin tuna that you can take out of the water every year - just the number of things which are negotiated, and written down, and codified in treaties and which are managed every day by our diplomats because there's disputes going on all the time and these arrangements have to be changed and altered - this is the world that we live in. And this is, you know, the world that we have - and, you know, for all of its problems.

But it's - and I think the thing that is troubling is - and the thing it - which is worrying and which I think everybody needs to kind of think about is, if we - are we dismantling this? Is that what Secretary Tillerson and President Trump are doing when they say, we want to cut the budget of the State Department by 30 percent? If - I asked Secretary Tillerson, and he said no, that's not what we want to do. But when you see what's happening to our diplomatic corps and you see what's the - what the budget cuts are potentially doing and the people who are leaving, the amount of expertise which is leaving, it's scary. It's scary.
Luke Ford, "New Yorker: 'Birth of a White Supremacist – Mike Enoch's transformation from leftist contrarian to nationalist shock jock", 9 Oct 2017 by Luke Ford

I have many Jewish friends who find gentile nationalisms, particularly white nationalism, terrifying.

Nationalism means that you are devoted to your people. Jews are devoted to their people. Why shouldn't goyim be devoted to their people?

To me, it's not scary that there are white supremacists. There's no inherent connection between that ideology and violence, any more than there is an inherent connection between Christian supremacism, Jewish supremacism, Islamic supremacism, black supremacism, etc, and violence.

It's not scary when people hate your group. At one time or another, I've felt fleeting hatred for almost every group I've known (though I do not remember feeling that way about Jews).

Genocide happens when there is a dramatic clash of interests. Just because someone hates Jews or blacks or Christians is not a reliable predictor that the person is going to become violent.

Negative feelings about Jews are called anti-Semitism yet the Jewish Bible is filled with negative sentiments about Jews and Jews still regard the book as holy.

Just as I don't hate any particular group of people, I don't hate the MSM. They're probably my primary source of information about the world. I take into account their biases and read them anyway.

The New Yorker, for example, publishes this interesting and valuable profile of Mike Enoch:

This summer, after a loose coalition of white supremacists, neo-Nazis, and Confederate apologists announced that they would hold a rally in Charlottesville, Virginia, promotional flyers began to circulate on the Internet. The flyers included a list of names: the self-proclaimed thought leaders who planned to speak at the rally, arranged, Coachella-like, in order of prominence. At the top of the list was Richard Spencer, who coined the term "alt-right" almost a decade ago, and who has been so successful at making himself the poster boy of the movement that he was once sucker punched while standing on a sidewalk in Washington, D.C. Farther down the list were Jason Kessler, the Charlottesville resident who organized the rally; Matthew Heimbach, who has been called "the affable, youthful face of hate in America"; and Christopher Cantwell, who would later star in a Vice documentary about Charlottesville, unpacking a small arsenal of guns and saying, among other things, "We're not nonviolent—we'll fucking kill these people if we have to."

The second person listed on the flyers, immediately below Spencer, was a white-nationalist shock jock named Mike Enoch. The name might have been unfamiliar to most Americans, but, to an inner cadre of Web-fluent neo-fascists, Enoch is an influential and divisive figure. In May, David Duke, the former grand wizard of the Ku Klux Klan, tweeted, "Hate him or love him—Mike Enoch is someone to pay close attention to." Just three years ago, Enoch could be heard mocking Spencer ("talks like a fag") and Cantwell ("a dickhead turtle"), criticizing their ideologies as too extreme. But that was before his radicalization was complete. These days, Enoch routinely refers to African-Americans as "animals" and "savages," and expresses "skepticism" about how many Jews died in the Holocaust. Apart from interviews with Spencer and Cantwell, who are now his close friends and ideological allies, he largely eschews attention from the media. He prefers to speak—voluminously, articulately, and with an uncanny lack of emotion—on his own podcast, "The Daily Shoah." (The title, a pun about the Holocaust by way of Comedy Central, reflects the overall tone of the show.) "The Daily Shoah" is the most popular of more than two dozen podcasts on the Right Stuff, a Web site that Enoch founded in 2012. Once an obscure blog about "post-libertarian" politics, the site is now a breeding ground for some of the most florid racism on the Internet. One of its pages is set up to accept donations, in dollars or bitcoins; another is devoted to "fashy memes," songs and images that extol fascism in an antic, joking-but-not-joking tone. The podcasts—meandering, amateurish talk shows hosted by bilious young men who make Rush Limbaugh sound like Mr. Rogers—are not available on iTunes, Spotify, or any other major platform, and yet collectively they draw tens of thousands of listeners a week.

The Charlottesville rally, on August 12th, immediately erupted in violence, and the police shut it down before any of the speakers could take the stage. A few of them reconvened in a park two miles away. Enoch, surrounded by small concentric circles of reporters, protesters, and counterprotesters, stood on a wooden riser in the shade of a dogwood tree. A tall, stout man with a husky voice and a grim, downturned mouth, he wore aviator sunglasses, a slight beard, and the unofficial uniform of the day: khakis and a white polo shirt. "We're here to talk about white genocide, the deliberate and intentional displacement of the white race," he said. "Have we heard this conspiracy theory of white privilege? This is a concept that was brought to us by Jewish intellectuals, to undermine our confidence in ourselves." He finished his remarks and introduced the next speaker, David Duke. An hour later, James Alex Fields, Jr., wearing khakis and a white polo, drove a car into a crowd of people, killing Heather Heyer, a local counterprotester.

Enoch's father, who is also named Mike, spent that Saturday at home. He lives in an upper-middle-class New Jersey suburb that is often listed among the most progressive towns in the country. "I made breakfast, and at some point I mowed the lawn," he said recently. "Then, as I do every day, I sat down to read the New York Times." He saw a photograph of a torch-wielding mob taken in Charlottesville the previous night. "I looked at the picture for a while, and I couldn't find Mike anywhere," he said. He scrutinized other photos online, and still didn't see his son. "I said, 'Thank God,' and I went about my day."

On Sunday, after he got home from church, he saw that a relative had e-mailed him a YouTube link. He clicked on it: his son and David Duke, standing shoulder to shoulder. "It turned my stomach," he said. "Until that moment, I had imagined that, whatever had caused him to go down this path, it could somehow be reversed, and he could come home again."

Most of the bloggers and commenters on the Right Stuff use pseudonyms—Sneering Imperialist, Toilet Law, Ebolamericana, Death. "Mike Enoch" is a pseudonym, too. Over the years, on "The Daily Shoah," he occasionally dropped hints about his identity, though he was careful not to reveal too much. He said that he lived with his wife in New York City—"which narrows it down to me and eight million other people"—and that he worked at a "normie" day job, which he would surely lose if his employers ever learned about his alter ego. As a child, he had attended church camps and public schools, where he'd been "programmed" to believe in universalism and equality. Most members of his immediate family were still "shitlibs"—committed liberals who had not yet seen the error of their ways.

In January, a group of anti-fascist activists dug up his personal information and released it against his will—an Internet-specific form of retribution known as doxing. Mike Enoch was actually Michael Enoch Isaac Peinovich, a thirty-nine-year-old computer programmer who worked at an e-publishing company and lived on the Upper East Side. As predicted, he lost his job. Someone printed out color photographs of his face and pasted them to telephone poles on the corner of Eighty-second Street and York Avenue: "Say Hi to Your Neo-Nazi Neighbor, Mike Peinovich!" The dox revealed that he had an older sister, a social worker who treated traumatized children, and an adopted younger brother, who was biracial and cognitively impaired. Perhaps most baffling of all, Mike's wife, who was also identified in the dox, turned out to be Jewish.

At first, Enoch tried to insist that he wasn't Peinovich, but he soon put up a post on the Right Stuff confirming his identity: "I won't even bother denying it." On white-nationalist message boards, including the Right Stuff itself, a few commenters accused Enoch of being "controlled opposition," or demanded that he divorce his wife. ("I can't believe all you fags still support this Jew fucker!") Some held out for more information ("How Jewish? Because if 1/4 or less, I don't give a shit"); others changed the subject ("I'm more disappointed by how fat he is than anything").

A few days later on "The Daily Shoah," Enoch and his co-hosts read dozens of notes from listeners who were remaining loyal to the podcast, some of whom had donated money to Enoch in his time of need. "My heart goes out to his wife," one fan, a long-distance trucker, wrote. "If she is married to Mike, she must be a good individual."

"That is a really nice thing to say," Enoch said. "I'm sure she'll appreciate that." He didn't mention that his wife had gone to stay with her mother in the Midwest.

Also included in the dox were two e-mail addresses, both purportedly belonging to Enoch. In general, I am opposed to doxing—I worry about vigilante mobs, false positives, slippery slopes—but not opposed enough, apparently, to overcome my curiosity. I e-mailed both addresses.

Enoch responded right away. He said that he didn't want to talk—"I have a platform to tell my story that is bigger than yours"—and yet, every time I sent another e-mail, he sent one back. I made no secret of the fact that I found his views repugnant, but I added, truthfully, that I wanted to know how he'd ended up in this predicament and what he planned to do next. At one point, I wrote him a long note trying to persuade him to talk to me. His entire response was "You seem kinda mad." We went back and forth for a while, but I had no real success in drawing him out, and eventually we both lost interest.

He later read our full exchange on "The Daily Shoah." To his credit, he didn't edit his responses to make them sound smarter, but he didn't have to. According to the rules of online debate in the Right Stuff's "Essential T.R.S. Troll Guide," which I hadn't read at the time, Enoch had won our exchange by default, because he had written fewer words and maintained his ironic detachment, whereas I had committed the greatest possible faux pas: letting myself be "triggered" into displaying emotion. After the podcast aired, a few of Enoch's fans sent me nasty messages on Twitter. I figured that was the end of it.

Then I heard back from the other e-mail address. "I am not the Mike Peinovich to whom you addressed this email, but I am his father," it read. "Until two days ago, I was totally unaware of his 'alt-right' activities. . . . I am struggling to understand how Mike E. (which is what we call him to distinguish him from me and my father who was also Mike Peinovich) could have said, posted or tweeted the things that are attributed to him."

I called Mike, Sr., and we talked for a long time. It was the week of Donald Trump's Inauguration, and he spoke in the tone that a lot of liberals were using then—weary and a bit dazed, as if struggling to shake a bad dream. "We tried to give our kids good values," he said. "Mike E. went to good schools, and he loved being part of his church youth group. We knew that he was an outspoken Trump supporter, and he was very much the only one in the family, so we agreed, at a certain point, not to talk about politics." He had listened to the podcast for long enough to recognize his son's voice and profane sense of humor, but lasted only a few minutes before turning it off.

Four days after the rally in Charlottesville, I went to meet Mike, Sr., and his wife, Billie, in New Jersey. They live in an Arts and Crafts house on a tree-lined block near the center of town. Mike, Sr., answered the door. He was taller and thinner than his son, with silver hair and rimless glasses, but I saw the resemblance right away: the square jaw, the downturned mouth.

Billie and Mike are retired, and they spend several months a year travelling. They gave me a tour of the house, pointing out items they'd collected: Persian rugs, Mexican pottery, a floor-mounted globe. Mike was once a professor of Old English at the University of Pennsylvania, and his study contains several dictionaries and translations of "Beowulf," along with contemporary books such as Ta-Nehisi Coates's "Between the World and Me." We sat in armchairs in the living room, and he talked at length about his ancestors. "My grandfather helped drive the K.K.K. out of North Dakota," he said. "My other grandfather came from Yugoslavia, fleeing religious persecution."

I find less than 5% of the articled above unfair. Overall, it is an important read. It is a compelling read. It is a great read. My hats off to the author and to the people who participated in the profile. I sense that the author was generally fair and honest.

As an Orthodox Jew, I don't lose any sleep over Mike Enoch and company. I don't fear that they're going to carry out mass violence. So far, the Alt Right has been a non-violent movement, as George Hawley notes in his new book. Rather than fearing the Alt Right, I think it is more important to understand the Alt Right and that requires not just articles about them by hostile parties such as the author above, but also by reading the best Alt Right intellectuals such as Richard Spencer, Kevin MacDonald, Gregory Hood, Greg Johnson, Andrew Joyce, etc.

I feel drawn to write about outlaws. In some ways, members of the Alt Right remind me of pornographers. Outwardly, most pornographers proclaim they have no interest in talking to the MSM and yet most yearn to talk for hours to reporters. They want to be listened to by people in prestigious positions and they want to be acknowledged in mainstream outlets. Most Alt Righters are the same way. Most proclaim they never talk to the press, but as the Mike Enoch example shows, once you get them going, they'll talk to you for hours. They'll spill their guts. They'll even shed tears over broken family relationships.
If I were (((Luke Ford))) I would not be too worried about Mike Enoch (or those in his orbit) either.
Related:
TRS founder Michael 'Enoch' Peinovich was exposed as being a Russian Jew.
Next-level TRS: Michael 'Enoch' Peinovich is actually Michael 'Enoch' ENOCKSON Peinovich-Sippel.
(((Mike Peinovich, the "Serbian"))) who hates Albanians and thinks they should have been genocided.
The Mainichi, "Reports: Google uncovers ads by Russian operatives", 9 Oct 2017:

NEW YORK (AP)—Russian operatives likely spent tens of thousands of dollars on ads across Google products, including YouTube and Google search, according to reports.

Accounts connected with the Russian government spent $4,700 on search and display ads, while another $53,000 was spent on ads with political material that were purchased from Russian territory, from Russian internet addresses, or with Russian currency, The New York Times reported . The Times cited an unnamed person familiar with the ongoing inquiry by the search giant.

The Washington Post earlier reported that the technology behemoth uncovered the Russian-backed disinformation campaign as it considers whether to testify before Congress next month, also citing anonymous sources familiar with the investigation. Social media companies Facebook and Twitter have already agreed to testify.

The reports said the company discovered the Russian presence by analyzing information shared by Twitter and Facebook, as well its own research and tips from outside researchers.

In a statement, Google said it has a "set of strict ads policies including limits on political ad targeting and prohibitions on targeting based on race and religion."

"We are taking a deeper look to investigate attempts to abuse our systems, working with researchers and other companies, and will provide assistance to ongoing inquiries," the statement continued.

Facebook recently shared about 3,000 Russian-backed ads with Congress.

The lack of turn out from Milwaukee voters is suspicious.

U.S. intelligence agencies have concluded that Russian President Vladimir Putin directed a disinformation campaign aimed at helping Donald Trump win the presidential election.
"Conservative" talk-show hosts Charilie Sykes and John Ziegler talk about their disillusionment with Trump and his supporters; how his campaign was facilitated by the influx of conspiratorial and other fringe right influences, particularly when the Drudge Report started linking to and thus mainstreaming and "normalizing" Alex Jones.
Active Measures is suspected of having had a significant impact on the Milwaukee area of Wisconsin in terms of voter turn out.
The Alternative Right, equipped with its Kremlin / Israeli backed notion of Imperium, returned to Charlottesville -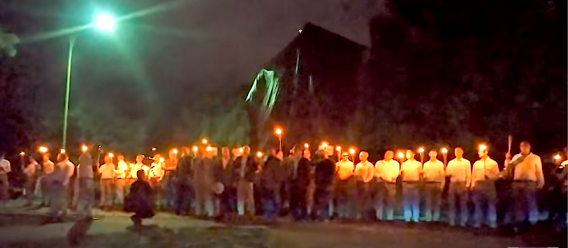 Alt-Righters back in Charlottesville, in front of statue of Robert E. Lee which is covered and slated for removal.
The Hill, "White nationalists return to Charlottesville", 7 Oct 2017:

White nationalists returned to Charlottesville, Va., on Saturday less than two months after one person was killed and dozens were injured when violence broke out after the "Unite the Right" rally.

White nationalist leader Richard Spencer led a group of roughly 30 white nationalists, who gathered at Emancipation Park, according to the Charlottesville's CBS affiliate.

Spencer announced the return on a live stream on Twitter.

The scene was similar to the white nationalist protest in the normally quiet college town in August.

The group carried tiki torches and chanted "You will not replace us," by a statue of Confederate Gen. Robert E. Lee in the park. They also reportedly said, "we will be back."

"Hello Charlottesville, we're back and we're going to keep coming back. You will not replace us, you will not erase us," a protester on a megaphone said.

"The left wing establishment is built around anti-white policies," Spencer told the group.

The group also chanted "The South will rise again" and "Russia is our friend."

The rally comes less than two months after violence erupted in the town between "Unite the Right" protesters and counter protesters.

The alt-right rally, which was meant to protest the removal of the statue of Lee, reignited the debate over the future of Confederate statues and monuments across the country.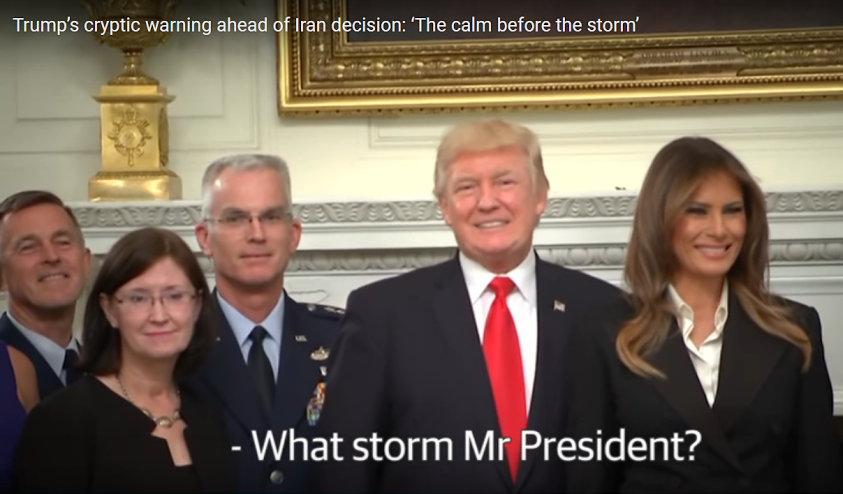 The Hill, "Trump: 'You'll find out' what 'calm before the storm' means", 6 Oct 2017:

President Trump on Friday kept the public wondering about his cryptic warning regarding a "calm before the storm."

"You'll find out," Trump told reporters at the White House when asked what he meant by his comment.

The president left many people scratching their heads after he offered mysterious remarks before a Thursday dinner with military leaders.

"You guys know what this represents?" Trump asked reporters in the room. "Maybe it's the calm before the storm."

Asked what he was referring to — such as possible action against Iran or the Islamic State in Iraq and Syria — Trump responded, "We have the world's greatest military people in the room."

"You'll find out," he said when he was pressed again.

Later Friday, White House press secretary Sarah Huckabee Sanders refused to say whether the president was hinting at a military action.

"We're never going to say in advance what the president is going to do," she said.

Trump's comments came after a meeting with the military brass that touched on Iran and North Korea. Multiple reports indicate the president is prepared to decertify the landmark nuclear pact with Tehran.

White House reporters were called in to cover the photo-op after staff informed them Trump would be making no more public appearances, raising speculation he was prepared to make a major announcement.

But the president has given no indication what he was referring to, an indication he may have been trying to be provocative rather than offering a hint of future action.

Sanders said she believes Trump was making "just a general comment."

"I'm not aware of anything specific that was a reference to," she said.
Ending the Iran deal has been the veritable raison d'être for the Trump Presidency.

Reuters, "Trump expected to decertify Iran nuclear deal, official says", 5 Oct 2017:

WASHINGTON (Reuters) - President Donald Trump is expected to announce soon that he will decertify the landmark international deal to curb Iran's nuclear program, a senior administration official said on Thursday, in a step that potentially could cause the 2015 accord to unravel.

The official, speaking on condition of anonymity, said Trump is also expected to roll out a broader U.S. strategy on Iran that would be more confrontational. The Trump administration has frequently criticized Iran's conduct in the Middle East.

Trump, who has called the pact an "embarrassment" and "the worst deal ever negotiated," has been weighing whether it serves U.S. security interests as he faces an Oct. 15 deadline for certifying that Iran is complying with its terms.

"We must not allow Iran ... to obtain nuclear weapons," Trump said during a meeting with military leaders at the White House on Thursday, adding:

"The Iranian regime supports terrorism and exports violence, bloodshed and chaos across the Middle East. That is why we must put an end to Iran's continued aggression and nuclear ambitions. They haven't lived up to the spirit of the agreement."

Asked about his decision on whether to certify the landmark deal, Trump said: "You'll be hearing about Iran very shortly."

Supporters say its collapse could trigger a regional arms race and worsen Middle East tensions, while opponents say it went too far in easing sanctions without requiring that Iran end its nuclear program permanently.

Iranian authorities have repeatedly said Tehran would not be the first to violate the accord, under which Iran agreed to restrict its nuclear program in return for lifting most international sanctions that had crippled its economy.

If Trump declines to certify Iran's compliance, U.S. congressional leaders would have 60 days to decide whether to reimpose sanctions on Tehran suspended under the agreement.

Whether Congress would be willing to reimpose sanctions is far from clear. While Republicans, and some Democrats, opposed the deal when it was approved in 2015, there is little obvious appetite in Congress for dealing with the Iran issue now.

The prospect that Washington could renege on the pact, which was signed by the United States, Britain, France, Germany, Russia, China, the European Union and Iran, has worried some of the U.S. allies that helped negotiate it.

"We, the Europeans, we have hammered this: the agreement is working," said a European diplomat who asked to remain anonymous. "We as Europeans, have repeated ... it's impossible to reopen the agreement. Period. It's impossible."

French President Emmanuel Macron said last month there was no alternative to the nuclear accord, formally known as the Joint Comprehensive Plan of Action (JCPOA).

A senior Iranian diplomat told Reuters on Thursday the end result of Trump's expected move would be to isolate the United States since the Europeans would continue to support it.

"Many foreign investors told us that they will not be scared away from Iran's market if Trump de-certifies the deal," the diplomat said.

Trump has long criticized the pact, a signature foreign policy achievement of his Democratic predecessor Barack Obama.

The administration was considering Oct. 12 for Trump to give a speech on Iran but no final decision had been made, an official said previously.

Israeli Prime Minister Benjamin Netanyahu, a close ally of Trump, last month said that unless provisions in the accord removing restrictions on Iran's nuclear program over time are eliminated, it should be canceled.

"Fix it, or nix it," Netanyahu said in a speech at the U.N. General Assembly annual gathering of world leaders on Sept. 19.

Many of Trump's fellow Republicans who control Congress also have been critical of the deal.

'CANNOT ABIDE'

Trump blasted the deal in his speech to the U.N. General Assembly, also on Sept. 19.

"We cannot abide by an agreement if it provides cover for the eventual construction of a nuclear program," Trump said, adding that Iran's government "masks a corrupt dictatorship behind the false guise of a democracy."

Trump is weighing a strategy that could allow more aggressive U.S. responses to Iran's forces, its Shi'ite Muslim proxies in Iraq and Syria and its support for militant groups.

Trump's defense secretary, Jim Mattis, told a congressional hearing on Tuesday that Iran was "fundamentally" in compliance with the agreement. He also said the United States should consider staying in the deal unless it were proven that Tehran was not abiding by it or that it was not in the U.S. national interest to do so.

When Mattis was asked by a senator whether he thought staying in the deal was in the U.S. national security interest, he replied: "Yes, senator, I do."

Last week, Iran's foreign minister said Tehran may abandon the deal if Washington decides to withdraw.
Buzzfeed, "Here's How Breitbart And Milo Smuggled Nazi and White Nationalist Ideas Into The Mainstream", 5 Oct 2017:


Milo Yiannopoulos at the One Nostalgia Tavern in Dallas, belting out a karaoke rendition of "America the Beautiful" in front of a crowd of "sieg heil"-ing admirers, including Richard Spencer.

A cache of documents obtained by BuzzFeed News reveals the truth about Steve Bannon's alt-right "killing machine."

In August, after a white nationalist rally in Charlottesville ended in murder, Steve Bannon insisted that "there's no room in American society" for neo-Nazis, neo-Confederates, and the KKK.

But an explosive cache of documents obtained by BuzzFeed News proves that there was plenty of room for those voices on his website.

During the 2016 presidential campaign, under Bannon's leadership, Breitbart courted the alt-right — the insurgent, racist right-wing movement that helped sweep Donald Trump to power. The former White House chief strategist famously remarked that he wanted Breitbart to be "the platform for the alt-right."

The Breitbart employee closest to the alt-right was Milo Yiannopoulos, the site's former tech editor known best for his outrageous public provocations, such as last year's Dangerous Faggot speaking tour and September's canceled Free Speech Week in Berkeley. For more than a year, Yiannopoulos led the site in a coy dance around the movement's nastier edges, writing stories that minimized the role of neo-Nazis and white nationalists while giving its politer voices "a fair hearing." In March, Breitbart editor Alex Marlow insisted "we're not a hate site." Breitbart's media relations staff repeatedly threatened to sue outlets that described Yiannopoulos as racist. And after the violent white supremacist protest in Charlottesville, Virginia, in August, Breitbart published an article explaining that when Bannon said the site welcomed the alt-right, he was merely referring to "computer gamers and blue-collar voters who hated the GOP brand."

These new emails and documents, however, clearly show that Breitbart does more than tolerate the most hate-filled, racist voices of the alt-right. It thrives on them, fueling and being fueled by some of the most toxic beliefs on the political spectrum — and clearing the way for them to enter the American mainstream.

It's a relationship illustrated most starkly by a previously unreleased April 2016 video in which Yiannopoulos sings "America the Beautiful" in a Dallas karaoke bar as admirers, including the white nationalist Richard Spencer, raise their arms in Nazi salutes.

These documents chart the Breitbart alt-right universe. They reveal how the website — and, in particular, Yiannopoulos — links the Mercer family, the billionaires who fund Breitbart, to underpaid trolls who fill it with provocative content, and to extremists striving to create a white ethnostate.

They capture what Bannon calls his "killing machine" in action, as it dredges up the resentments of people around the world, sifts through these grievances for ideas and content, and propels them from the unsavory parts of the internet up to TrumpWorld, collecting advertisers' checks all along the way.

And the cache of emails — some of the most newsworthy of which BuzzFeed News is now making public — expose the extent to which this machine depended on Yiannopoulos, who channeled voices both inside and outside the establishment into a clear narrative about the threat liberal discourse posed to America. The emails tell the story of Steve Bannon's grand plan for Yiannopoulos, whom the Breitbart executive chairman transformed from a charismatic young editor into a conservative media star capable of magnetizing a new generation of reactionary anger. Often, the documents reveal, this anger came from a legion of secret sympathizers in Silicon Valley, Hollywood, academia, suburbia, and everywhere in between.

"I have said in the past that I find humor in breaking taboos and laughing at things that people tell me are forbidden to joke about," Yiannopoulos wrote in a statement to BuzzFeed News. "But everyone who knows me also knows I'm not a racist. As someone of Jewish ancestry, I of course condemn racism in the strongest possible terms. I have stopped making jokes on these matters because I do not want any confusion on this subject. I disavow Richard Spencer and his entire sorry band of idiots. I have been and am a steadfast supporter of Jews and Israel. I disavow white nationalism and I disavow racism and I always have."

He added that during his karaoke performance, his "severe myopia" made it impossible for him to see the Hitler salutes a few feet away.

Steve Bannon, the other Breitbart employees named in the story, and the Mercer family did not respond to multiple requests for comment.

Like all the new media success stories, Breitbart's alt-right platform depends on the participation of its audience. It combusts the often secret fury of those who reject liberal norms into news, and it doesn't burn clean.

Now Bannon is back at the controls of the machine, which he has said he is "revving up." The Mercers have funded Yiannopoulos's post-Breitbart venture. And these documents present the clearest look at what these people may have in store for America.

A year and a half ago, Milo Yiannopoulos set himself a difficult task: to define the alt-right. It was five months before Hillary Clinton named the alt-right in a campaign speech, 10 months before the alt-right's great hope became president, and 17 months before Charlottesville clinched the alt-right as a stalking horse for violent white nationalism. The movement had just begun its explosive emergence into the country's politics and culture.

At the time, Yiannopoulos, who would later describe himself as a "fellow traveler" of the alt-right, was the tech editor of Breitbart. In summer 2015, after spending a year gathering momentum through GamerGate — the opening salvo of the new culture wars — he convinced Breitbart upper management to give him his own section. And for four months, he helped Bannon wage what the Breitbart boss called in emails to staff "#war." It was a war, fought story by story, against the perceived forces of liberal activism on every conceivable battleground in American life.

Yiannopoulos was a useful soldier whose very public identity as a gay man (one who has now married a black man) helped defend him, his anti-political correctness crusade, and his employer from charges of bigotry.

But now Yiannopoulos had a more complicated fight on his hands. The left — and worse, some on the right — had started to condemn the new conservative energy as reactionary and racist. Yiannopoulos had to take back "alt-right," to redefine for Breitbart's audience a poorly understood, leaderless movement, parts of which had already started to resist the term itself.

So he reached out to key constituents, who included a neo-Nazi and a white nationalist.

"Finally doing my big feature on the alt right," Yiannopoulos wrote in a March 9, 2016, email to Andrew "Weev" Auernheimer, a hacker who is the system administrator of the neo-Nazi hub the Daily Stormer, and who would later ask his followers to disrupt the funeral of Charlottesville victim Heather Heyer. "Fancy braindumping some thoughts for me."

"It's time for me to do my big definitive guide to the alt right," Yiannopoulos wrote four hours later to Curtis Yarvin, a software engineer who under the nom de plume Mencius Moldbug helped create the "neoreactionary" movement, which holds that Enlightenment democracy has failed and that a return to feudalism and authoritarian rule is in order. "Which is my whorish way of asking if you have anything you'd like to make sure I include."

"Alt r feature, figured you'd have some thoughts," Yiannopoulos wrote the same day to Devin Saucier, who helps edit the online white nationalist magazine American Renaissance under the pseudonym Henry Wolff, and who wrote a story in June 2017 called "Why I Am (Among Other Things) a White Nationalist."

The three responded at length: Weev about the Daily Stormer and a podcast called The Daily Shoah, Yarvin in characteristically sweeping world-historical assertions ("It's no secret that North America contains many distinct cultural/ethnic communities. This is not optimal, but with a competent king it's not a huge problem either"), and Saucier with a list of thinkers, politicians, journalists, films (Dune, Mad Max, The Dark Knight), and musical genres (folk metal, martial industrial, '80s synthpop) important to the movement. Yiannopoulos forwarded it all, along with the Wikipedia entries for "Alternative Right" and the esoteric far-right Italian philosopher Julius Evola — a major influence on 20th-century Italian fascists and Richard Spencer alike — to Allum Bokhari, his deputy and frequent ghostwriter, whom he had met during GamerGate. "Include a bit of everything," he instructed Bokhari.

"Bannon, as you probably know, is sympathetic to much of it."

"I think you'll like what I'm cooking up," Yiannopoulos wrote to Saucier, the American Renaissance editor.

"I look forward to it," Saucier replied. "Bannon, as you probably know, is sympathetic to much of it."

Five days later Bokhari returned a 3,000-word draft, a taxonomy of the movement titled "ALT-RIGHT BEHEMOTH." It included a little bit of everything: the brains and their influences (Yarvin and Evola, etc.), the "natural conservatives" (people who think different ethnic groups should stay separate for scientific reasons), the "Meme team" (4chan and 8chan), and the actual hatemongers. Of the last group, Bokhari wrote: "There's just not very many of them, no-one really likes them, and they're unlikely to achieve anything significant in the alt-right."

"Magnificent start," Yiannopoulos responded.

Over the next three days, Yiannopoulos passed the article back to Yarvin and the white nationalist Saucier, the latter of whom gave line-by-line annotations. He also sent it to Vox Day, a writer who was expelled from the board of the Science Fiction and Fantasy Writers of America for calling a black writer an "ignorant savage," and to Alex Marlow, the editor of Breitbart.

"Solid, fair, and fairly comprehensive," Vox Day responded, with a few suggestions.

"Most of it is great but I don't want to rush a major long form piece like this," Marlow wrote back. "A few people will need to weigh in since it deals heavily with race."

Also, there was another sensitive issue to be raised: credit. "Allum did most of the work on this and wants joint [byline] but I want the glory here," Yiannopoulos wrote back to Marlow. "I am telling him you said it's sensitive and want my byline alone on it."

Minutes later, Yiannopoulos emailed Bokhari. "I was going to have Marlow collude with me … about the byline on the alt right thing because I want to take it solo. Will you hate me too much if I do that? … Truthfully management is very edgy on this one (They love it but it's racially charged) and they would prefer it."

"Will management definitely say no if it's both of us?" Bokhari responded. "I think it actually lowers the risk if someone with a brown-sounding name shares the BL."

Five days later, March 22nd, Marlow returned with comments. He suggested that the story should show in more detail how Yiannopoulos and most of the alt-right rejected the actual neo-Nazis in the movement. And he added that Taki's Magazine and VDare, two publications Yiannopoulos and Bokhari identified as part of the alt-right, "are both racist. … We should disclaimer that or strike that part of the history from the article." (The published story added, in the passive voice, "All of these websites have been accused of racism.") Again the story went back to Bokhari, who on the 24th sent Yiannopoulos still another draft, with the subject head "ALT RIGHT, MEIN FUHRER."

On the 27th, now co-bylined, the story was ready for upper management: Bannon and Larry Solov, Breitbart's press-shy CEO. It was also ready, on a separate email chain, for another read and round of comments from the white nationalist Saucier, the feudalist Yarvin, the neo-Nazi Weev, and Vox Day.

"I need to go thru this tomorrow in depth…although I do appreciate any piece that mentions evola," Bannon wrote. On the 29th, in an email titled "steve wants you to read this," Marlow sent Yiannopoulos a list of edits and notes Bannon had solicited from James Pinkerton, a former Reagan and George H.W. Bush staffer and a contributing editor of the American Conservative. The 59-year-old Pinkerton was put off by a cartoon of Pepe the Frog conducting the Trump Train.

"I love art," he wrote inline. "I think [Breitbart News Network] needs a lot more of it, but I don't get the above. Frogs? Kermit? Am I missing something here?"

Later that day, Breitbart published "An Establishment Conservative's Guide to the Alt-Right." It quickly became a touchstone, cited in the New York Times, the Los Angeles Times, the New Yorker, CNN, and New York Magazine, among others. And its influence is still being felt. This past July, in a speech in Warsaw that was celebrated by the alt-right, President Trump echoed a line from the story — a story written by a "brown-sounding" amanuensis, all but line-edited by a white nationalist, laundered for racism by Breitbart's editors, and supervised by the man who would in short order become the president's chief strategist.

The machine had worked well.

It hadn't always been so easy.

The previous November, Yiannopoulos emailed Bannon with a bone to pick. Breitbart London reported that a London college student behind a popular social justice hashtag had threatened the anti-Islam activist Pamela Geller.

"The story is horseshit and we should never have published it," Yiannopoulos wrote. "Reckless and stupid. … Strongly recommend we pull. it's insanely defamatory. I spoke to pamela geller and even she said it was rubbish. We're outright lying about this girl and surely we're better than that. We can and should win by telling the truth."

Six minutes later, Bannon wrote back to his tech editor in a fury. "Your [sic] full of shit. When I need your advice on anything I will ask. ... The tech site is a total clusterfuck—-meaningless stories written by juveniles. You don't have a clue how to build a company or what real content is. And you don't have long to figure it out or your [sic] gone. … You are magenalia [sic]."

(Geller clarified to BuzzFeed News in a statement that she believed it was "rubbish" that the London university characterized the threats against her as "fake.")
"Dude—we r in a global existentialist war where our enemy EXISTS in social media and u r jerking yourself off w/ marginalia!!!!"

On December 8, the New York Times published a major story about the radicalization of American Muslims on Facebook. Yiannopoulos published a story called "Birth Control Makes Women Unattractive and Crazy."

That afternoon, Bannon emailed Yiannopoulos and Marlow.

"Dude—-we r in a global existentialist war where our enemy EXISTS in social media and u r jerking yourself off w/ marginalia!!!! U should be OWNING this conversation because u r everything they hate!!! Drop your toys, pick up your tools and go help save western civilization."

"Message received," Yiannopoulos wrote back. "I will do a Week of Islam next week."

"U don't need that," Bannon responded. "Just get in the fight—-ur Social Media and they have made it a powerful weapon of war. … There is no war correspondent in the west yet dude and u can own it and be remember for 3 generations—or sit around wasting your God-given talents jerking off to your fan base."

Over the next several months, Yiannopoulos began to find the right targets. First it was a continued attack on Shaun King, the writer and Black Lives Matter activist whose ethnicity Yiannopoulos had called into question. Next it was then–Yahoo CEO Marissa Mayer, who Bannon called in an email to Yiannopoulos the "poster child for the narcissistic ecosystem."

And increasingly it was enemies of Donald Trump. In response to a Yiannopoulos pitch accusing a prominent Republican opponent of Trump of being a pill-popper, Bannon wrote: "Dude!!! LMAO! … Epic." And Bannon signed off on an April story by Yiannopoulos imploring #NeverTrumpers to get on board with "Trump and the alt-right." (Bannon did, however, veto making it the lead story on the site, writing to Yiannopoulos and Marlow, "Looks like we have our thumb on the scale.")

Why was Bannon so concerned with the focus of his tech editor's energies? In a February email exchange before Yiannopoulos appeared on Greg Gutfeld's Sunday Fox News show, Bannon wrote, "Gutfeld should become an object lesson for u. Brilliant cultural commentator who really got pop culture, the hipster scene and advant [sic] garde….got on fox and tried to become a political pundit…lost all credibility. … You r one of the potential heirs to his cultural leadership so act according." Bannon was grooming the younger man for something greater.

In May, Bannon invited Yiannopoulos to Cannes for a week for the film festival. "Want to discuss tv and film with u," he wrote in an email. "U get to meet my partners, hang on the boat and discuss business."

The boat was the Sea Owl, a 200-foot yacht owned by the hedge fund billionaire Robert Mercer, who is a major funder of Breitbart and various other far-right enterprises. That week, Yiannopoulos shuttled back and forth from the Cannes Palace Hotel to the pier next to the Palais des Festivals et des Congrès and the green-sterned, "fantasy-inspired" vessel complete with a Dale Chihuly chandelier. The Mercers were in town to promote Clinton Cash, a film produced by Bannon and their production studio, Glittering Steel. On board, Yiannopoulos drank, mingled, and interviewed Phil Robertson, the lavishly bearded patriarch of Duck Dynasty, for his podcast.

"I know how lucky I am," Yiannopoulos wrote to Bannon on May 20. "I'm going to work hard to make you some money—and win the war! Thanks for having me this week and for the faith you're placing in me chief. The left won't know what hit them."

"U just focus on being who u are—we will put a top level team around u," Bannon wrote back. "#war."

On July 22, 2016, Rebekah Mercer — Robert's powerful daughter — emailed Steve Bannon from her Stanford alumni account. She wanted the Breitbart executive chairman, whom she introduced as "one of the greatest living defenders of Liberty," to meet an app developer she knew. Apple had rejected the man's game (Capitol HillAwry, in which players delete emails à la Hillary Clinton) from the App Store, and the younger Mercer wondered "if we could put an article up detailing his 1st amendment political persecution."