Majorityrights News > Category: Linguistics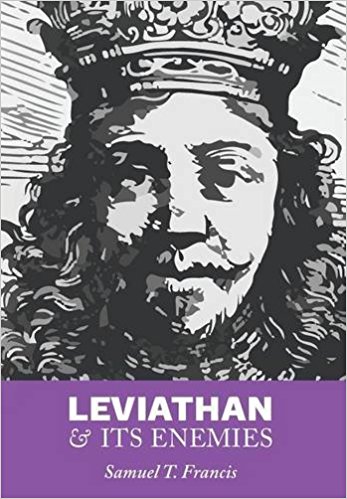 Sam Francis was creating 'young fogies' - Alex Linder.
It's going to require some nuance, but it is important to explain why James Lawrence is a walking piece of dog shit masquerading as a human being, a manifestation shown in his article at (((Alternative Right))):
Alternative Right, "THE COSMOPOLITAN CLASS", 24 Sept 2017.
In brief, James Lawrence has elevated Sam Francis young fogeyism = an aspiration to conceive of oneself as precociously wry in protection of the "traditional" already Jew infested culture against "progressivism." This is anti modernism without being sufficiently post modern (to incorporate the best while leaving behind the worst of both modern and inherited ways), as it stops with a neo-traditionalism, read (((paleoconservatism))).
Now, Francis, and by proxy Lawrence, have some things right.
Namely, that there is a significant portion of influential White people circulating among our elite functions who do not have our ethnonational interests at heart. More, that there is a managerial elite who want to share in this self interested good fortune, who will thus also betray ethno nationals in order to gain favor of this elite, internationalist power.
It is also true that both these kinds of White people can gain international backing by importing foreigners against Whites (or exporting elitist interests, e.g., compradors, against ethnonationals) and they can and do also virtue signal by sacrificing Whites and quelling any backlash against foreign impositions on ethnonationalism.
But I more accurately and descriptively call these people right wingers, and their underpinning objectivism: which is directed by Jewry - hence, Lawrence's commitment to end his article in (((his masters))) bidding by espousing the "true right" on behalf of (((paleoconservatism))) against "the left"..."the Cosmopolitans" and the occasional bad Jew - yes, they have bad ones too, he knows.
Here Lawrence takes a turn into disingenuous speculation, by saying these Whites who betray eithnonationalism are not "traitors" - well, objectivists are not perfectly described as "traitors", true - they are loyal to their own subjective interests through a disingenuous pretense of objectivism or naively subject to the subjective/relative interests of others through the pretense of objectivism.
Although there are distinct patterns of the treacherous Whites among elite positions, there is not necessarily a well organized elite group to which they subscribe as Lawrence would provide for the diversion of conspiracy theorists - it is more facile than that.
Indeed, the only real reason to circumscribe it so perfectly with the designation of a "Cosmopoitain" elite which is strictly loyal to its in group, is to function as a tool for Jews to deflect attention away from what is indeed their more organized half of the elite internationalist equation. So that they can point to their (((paleocons))), who can say, "see? we are the good ones", we have paleocons who are on your side, not like those bad Jews, we're here with you to protect your (((Christian traditions))) against those "Cosmopolitan elites" and the occasional bad Jew, like Soros and neo cons like William Kristol.
That is to say, like the site Alternative Right, James Lawrence is disguising, perhaps even to himself, the fact that he is kissing Jewish ass in order to keep his means to power afloat.
White elites who betray our interests are indeed one giant pole of our problem, but their loyalty functions a bit more arbitrarily on the happenstance of subjective fortune and selling out; along with the mutual admiration and facile croneyism of their "objective" attainment, which is why, in their unaccountabilty, they are so easily bribed and outmaneuvered by the Jewish group, which is organized as a distinct group in its relative interests (is it good for Jews?) and which will send forth posers as representatives of (((paleoconservatism))) against the "Cosmopolitan" elite.
That is to say, objectivism functions in a much more slippery way against ethnonational interests and Jewry knows how to play it - e.g., through reactionary narratives like those of Sam Francis and James Lawrence. It is a nebulous, quasi group created de facto by the ever present temptation of facile betrayal in self interest, and that is why it requires the ever present default vigilance of accountability through left nationalism and its White variant, the White class, White Left nationalism.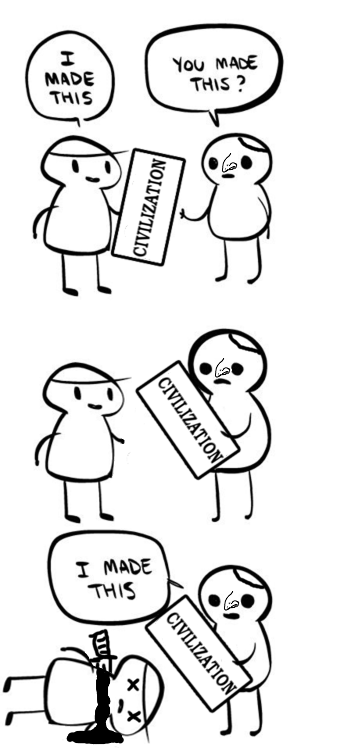 In Tanstaafl's latest theoretical fail:
The White Race and its Discontents:
He proffers:
1) "A civilization and its culture are racial constructs – the bottom up, grass-roots instincts of the masses largely modulated and moderated by the elite."
This is a desperate and lame attempt to ignore the better understanding of social consructionism that I have had to explain time and again, because right wingers cannot adjust to the fact that they are reacting to a misrepresentation of the term.
They refuse to deploy the exercise of trying the word "mere" before "social construct" and observing that if you need that word, then it is Cartesian and not a concept that you would apply to something substantive like race.
The White race as a social construct - not merely, but substantively - already IS from the ground up and that, as a social construct, is a MUCH better way to look at it than the way that Tanstaafl says is THE way to look at the matter, i.e., that "civilization and culture are racial constructs" - that doesn't even make logical sense (coming from a man who accused me of having poor logic): If he is emphasizing, as he does, the causal and deterministic aspect of our inheritance then why call it a "racial construct"? ..call it a byproduct, perhaps..
But he won't go with a proper understanding of social constructionism because he is beholden to his reactionary audience.
It is better to allow for our individual agency and contributions by talking in terms of social construct - it emphasizes our social responsibility, interdependence, degree of independence and most importantly, our people as central outlook and framework, not our subhuman nature.
Tanstaafl does not do this because he continually tries to suck Hitler to life again, desperately trying to make his subhuman ideology relevant again.
Social constructionism, properly understood, not only begins with the proper outlook, from our people, but does so in such a way that already begins with instinct and unconscious doings - we talk in terms of the agentive capacity to attribute how things count when they are on the more causative side of the spectrum. But they are never, mere constructs.
2) To illustrate how it is that Tanstaafl can't get over his wish to try to redeem Hitler and make him relevant again: in the context of Trump's speech in Poland, Tan tries the old, "they're going to call you a Nazi anyway."
No they aren't - especially not if you apply agency as a social constructionist. It's easier as a Pole, perhaps, to say I/we had nothing to do with Nazism; but it is not that hard for subsequent generations of Germans to reject the attribution of Nazism either.
3) In another example of how he wants to apply natural causality and tie our hands to passivity in regard to how the Jews say things count, Tan cites the infamous Susan Sontag quote - "White people are the cancer of the earth" - in its full context; relishing the opportunity to attack one of my most cherished observations on behalf of our European people - i.e. that the Hippies were about midtdasein, Being amidst our people for White males as opposed to say, the endless war mongering of Hitler or the corporations and their draft into Vietnam - by saying that Sontag was endorsing the "freak-out" in order to promote sheer insubordination to older generations.
Well, that is how (((Sontag))) might try to say the hippies counted, that is NOT how we should say they counted. For us the rebellion of midtdasein against sheer war mongering could not have been a more relevant and authentic motive.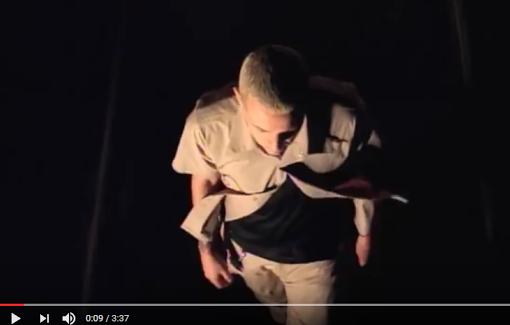 The End, Linkin Park's Chester Bennington
When false opposition forces you to imagine lyrics/text different than theirs and supply protest lyrics authentic to your interests:
Back in the days before Internet, decades before in fact, we young folks didn't have much outlet for protest via the media - TV, movies, newspapers and magazines, book publishing (((all controlled))). Music, concerts and festivals were ostensible outlets of protest expression - and even they were so (((controlled))) by pervasive liberalism that I had to change lyrics in my head to de-liberalize them and make them properly aligned to my grievances. Neil Young's "Alabama" is a classic example of a song that had righteous passion totally misdirected into liberalism. Lynard Skynard noticed it in their song "Sweet Home Alabama", citing Young and his song "Alabama" directly for criticism. But it wasn't only they who objected and I could not relate to their southern patriotism either. No, I had my own protest lyrics in mind - lyrics, wouldn't you know, that I can't even spell out today, this protest remains so forbidden by the powers-that-be and their do-gooders mulatto supremacist gate keepers: it goes to show HOW FAR we have NOT come in some ways - ridiculously, you can't even say the N word: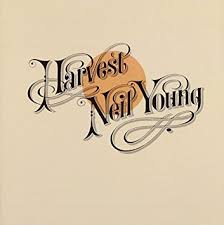 "Alabama", Neil Young - Lyrics

Oh Alabama N-lover
Banjos playing
through the broken glass
Windows down in Alabama.
See the old folks
tied in white ropes
Hear the banjo.
Don't it take you down home?


Alabama N-lover, you got
the weight on your shoulders
That's breaking your back.
Your Cadillac
has got a wheel in the ditch
And a wheel on the track

Oh Alabama N-lover.
Can I see you
and shake your hand.
Make friends down in Alabama.
I'm from a new land
I come to you
and see all this ruin
What are you doing Alabama N-lover?
You got the rest of the union
to help you along
What's going wrong?
Neil did a bit better with the lyrics to "Southern Man", particularly in the last stanza, although I don't think Neil was looking at it from the same angle that I have… that's my imagination supplying the protest angle once again.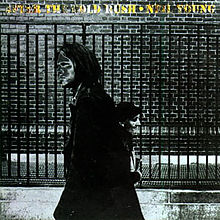 Southern Man, Neil Young – Lyrics
Southern man
Better keep your head
Don't forget
What your good book said
Southern change
Gonna come at last
Now your crosses
Are burning fast
Southern man

I saw cotton
And I saw black
Tall white mansions
And little shacks.
Southern man
When will you
Pay them back?
I heard screamin'
And bullwhips cracking
How long? How long?

Southern man
Better keep your head
Don't forget
What your good book said
Southern change
Gonna come at last
Now your crosses
Are burning fast
Southern man

Lily Belle,
Your hair is golden brown
I've seen your black man
Comin' round
Swear by God
I'm gonna cut him down!
I heard screamin'
And bullwhips cracking
How long? How long?
Neil Young's politics are well off the mark; no need to belabor that, but I'd like to caution that anybody trafficking in the emotion of sadness as much as Neil Young has is promoting a neutering kind of propaganda in that very sadness - it's better to veer in the direction of anger.
Now, a primary outlet for rebellion against political tyranny has been largely co-opted again, this time it is the (((alternative-k*ke er, alternative-right))) that's doing much of the co-opting.
And unfortunately, they are putting their (((brand))) on to some intelligent text, you might say, protest lyrics text.
I feel the same yearning as co-opted passions and thoughtful consideration could be deployed for our authentic protest, and not for the (((alternative-k*ke))), when I read Melissa Meszaros' article about the suicide of Linkin Park frontman, Chester Bennington.
The strikeouts of "alt-rights" and "the left" in one place are strictly my wish and of course not how Melissa wrote the article - as she did, in order to brand it for the (((Alt-Right))). In one place I have to comment where, typical of right wing misguidance, the negative significance and anti stance she registers for the homosexual issue is disproportionate. Everything else remains as she has written it.
Melissa Meszaros

Alt-Right, "What The Alt-Right Can Learn From The Death Of Chester Bennington, 24 July 2017:

Linkin Park touched the millennial generation's frustrations with modern society like no other band could. For this reason, it's worth spending a few moments looking into the life of frontman Chester Bennington and seeing what we can learn after his suicide.

Sexually molested from the age of seven, divorced parents, a steady cocktail of drugs from the age of eleven, with alcoholism and depression entering later on — these are the things that framed the childhood of Linkin Park's frontman Chester Bennington.

Unable to overcome his traumas and subsequent addictions, he chose to use them as a painful source of inspiration in his lyrics. His suicide is unfortunate, especially for his children and wife, and whether we listened personally to the band or not as we were growing up, Linkin Park held a central position representing the millennial generation's frustrations with life and all the associated mental effects relating to the increase of broken homes and fragmenting communities. The band spoke of problems most of us experienced as teenagers, back when we were confused and distrustful of the direction our supposedly fantastic and free society was heading. Now, as adults in the Alt-Right, with infinitely more resources and knowledge at our fingertips, we are dedicated to overcoming and fixing these issues within ourselves and our societies. But still, for many of us, Linkin Park was the herald awakening millions of teens to the realization that the world is messed-up and it was time to prepare for a long battle. For this reason, I believe it's worth spending a few moments looking into Bennington's life of inescapable addiction and seeing what we in the Alt-Right can learn from it.

For me, I remember Linkin Park being the most popular band in my freshman year of high school in Central New Jersey. It was the last year I'd spend in the United States before moving to Hungary with my parents. My friends would carry around the Hybrid Theory CD and hold it reverently during recess while talking about the lyrics. We'd sit with crossed-legs in a circle in the shady corner of a grassy lot while spawns of diversity hollered and beat each other on the nearby basketball courts.

I only got into the band later, for a few months when my father was in the hospital in Hungary, dying from terminal lung cancer. The music is not positive and it does not remind me of a good place. Rather, I envision a constant delirious struggle with myself, getting caught in a loop over thinking various problems and feeling uncertain of ever being able to overcome the odds and live in peace. These are the very thought processes Chester Bennington described himself dealing with, in an interview with 102.7 KIISFM radio in February of this year. After a while, I realized the music was keeping me from moving past my own issues, so I grew out of it.

When it comes to Bennington himself, there are three things worth highlighting. First, there is the molestation by an older male friend. In his own words, Bennington described:

"It escalated from a touchy, curious, 'what does this thing do' into full-on, crazy violations. I was getting beaten up and being forced to do things I didn't want to do. It destroyed my self-confidence. I didn't want people to think I was gay or that I was lying. It was a horrible experience."
NPI Conference Washington D.C. 19 November 2016.


Speakers taking questions from the press included alt-right supporters (left to right) Peter Brimelow, Kevin MacDonald, Jason Jorjani, and Jared Taylor.



Protesters gather along 14th Street outside of the Reagan Building before the start of the press conference.

Millennial Woes interviews Matt Tate, Richard Spencer and Nathan Damico about protestors:

Pre-NPI conference protested by anti-fa

...outside Trump International Hotel afterward.
Reuters, "Facebook, Twitter, YouTube, Microsoft back EU hate speech rules," 31 May 2016:

By Julia Fioretti and Foo Yun Chee

BRUSSELS - Facebook (FB.O), Twitter (TWTR.N), Google's (GOOGL.O) YouTube and Microsoft (MSFT.O) on Tuesday agreed to an EU code of conduct to tackle online hate speech within 24 hours in Europe.

EU governments have been trying in recent months to get social platforms to crack down on rising online racism following the refugee crisis and terror attacks, with some even threatening action against the companies.

As part of the pledge agreed with the European Commission, the web giants will review the majority of valid requests for removal of illegal hate speech in less than 24 hours and remove or disable access to the content if necessary.

They will also strengthen their cooperation with civil society organizations who help flag hateful content when it goes online and promote "counter-narratives" to hate speech.

"The recent terror attacks have reminded us of the urgent need to address illegal online hate speech. Social media is unfortunately one of the tools that terrorist groups use to radicalize young people," EU Justice Commissioner Vera Jourova said.

Germany got Google, Facebook and Twitter to agree to delete hate speech from their websites within 24 hours last year and even launched an investigation into the European head of Facebook over its alleged failure to remove racist hate speech.

"There's no place for hate speech on Facebook," said Monika Bickert, Head of Global Policy Management at Facebook.

"With a global community of 1.6 billion people we work hard to balance giving people the power to express themselves whilst ensuring we provide a respectful environment."

The code of conduct is largely a continuation of efforts that the companies already take to counter hate speech on their websites, such as developing tools for people to report hateful content and training staff to handle such requests.

Twitter has suspended over 125,000 accounts since the middle of 2015 for threatening or promoting terror acts, primarily related to Islamic State.

The United States has undertaken similar efforts to entice the cooperation of tech companies in combating online radicalization, focusing on promoting "counter-narratives" to extremist content.

EU ministers had called for cooperation with tech companies to be stepped up after the Brussels attacks in March.

Jewish lobbyists, frequently the target of hate speech, welcomed the code of conduct.


"This is a historic agreement that couldn't arrive at a better time," said Dr. Moshe Kantor, President, European Jewish Congress.
When the most prominent publicist and right hand man of the serving government of Hungary uses language such as this, it isn't time to be discouraged about White Nationalist efforts. It is time to increase initiatives: our voices are being heard. Mainstream politicians have begun speaking in explicit terms of our racial interest:
"The refugee crisis in Hungary and Europe is a racial war intended to annihilate White people."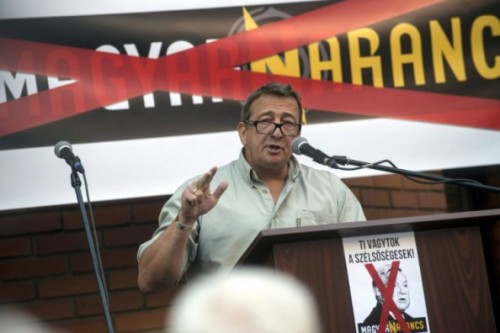 Zsolt Bayer talking on September 13th

Fidesz founder says racial war being waged against whites in Europe:

Zsolt Bayer, a co-founder of Hungary's ruling Fidesz party, a long-time friend of Prime Minister Viktor Orbán and the right's most prominent publicist, sees the current refugee crisis in Hungary and Europe as a racial war intended to annihilate white people. Mr. Bayer shared these thoughts at a rally in Budapest this past Sunday, attended by an estimated 1,500 people, and organized to protest a magazine cover in Hungary, which portrayed Mr. Orbán with a mustache that resembled that of Adolf Hitler. In this paper, I have suggested before that Fidesz and the far right Jobbik party are indistinguishable. Perhaps I was wrong, because based on Mr. Bayer's speech, Fidesz is now more extreme than the ominous opposition party.

Mr. Bayer's premise, that dark forces are conspiring against white people throughout the world, is framed in a quote from controversial author, historian and race theorist Noel Ignatiev. Mr. Ignatiev has long seen race as a social construct, something that Mr. Bayer fails to mention to his audience, who he left thinking that the American theorist wants to annihilate white people. Mr. Ignatiev has spoken about wanting to "abolish the privileges of the white race" and added: "The key to solving the social problems of our age is to abolish the white race, which means no more and no less than abolishing the privileges of the white skin." Mr. Ignatiev, a long-time Marxist, is essentially suggesting that a type of constructed white identity carries with it automatic privilege, rendering equality between all races impossible. The theorist could have clearly phrased this in a less inflammatory matter, and his theories are Manichean and possibly somewhat outdated in the twenty-first century. But regardless: his overarching message of ingrained, implicit racism is worth considering.

The Fidesz co-founder portrays this Marxist academic as an influential thinker among western policymakers, a mover and a shaker, a man who walks the corridors of power with confidence and ease. This is simply not true, but Mr. Bayer's audience is left thinking that a madman who wants to commit genocide against white people is a powerful voice in Washington.

"There are all kinds of weapons: traditional, chemical, atomic. And now we see that there are also racial weapons. This is the weapon that they, the invisible hands, employ against Europe and against the white race," declared Mr. Bayer in Budapest.

The term "invisible hands," within this context, is coded language, easily deciphered by everyone in that audience and on the Hungarian right as a reference to liberals, left-wingers and Jews. (Mr. Ignatiev is, himself, of Jewish origins.)

"Why has everyone, from everywhere and all at once, decided to start heading towards Europe? Why? Let us declare loudly and level-headedly: this is an artificial, manufactured mass migration. And its goal is the final and irreversible transformation of Europe's ethnic and religious composition. And for this, they have already produced the necessary ideologies. According to the Harvard professor, the white race must be made to vanish," said Mr. Bayer. At several times in his speech, the crowd, fired up by the orator, interrupted him.

The other "ideology" that Mr. Bayer dismisses is the fact that Europe's population is ageing and dwindling, and that immigration is most likely the only way to ensure a large enough active adult population to keep pensions and social services sustainable. Mr. Bayer believes that European corporations want to employ "Syrian masons and Bedouin goat-herders" in their factories, rather than native European youth, because they represent cheap labour.

"Our leaders in Brussels want to sell Europe from over our heads and they want to destroy our Europe…Anyone who dares to oppose this automatically becomes a Nazi," said Mr. Bayer, explaining to his audience why Orbán is often labeled extremist.

"But I have some bad news for these criminals, namely for the Austrian chancellor, the French foreign minister, the western journalists, who are liars to their very core and, of course, for the good-for-nothing people behind the Magyar Narancs publication: of the 500 million natives of Europe, 450 million do not want to see any more immigrants. The Hungarian prime minister represents their opinion," declared the Fidesz publicist.

The crowd held up signs that read "Je suis Orbán," amidst dozens of Hungarian and Szekler flags and the event's organizers, the Forum for Civic Cooperation (Civil Összefogás Fórum – CÖF), a pseudo-NGO, fully in line with Fidesz party interests, declared that further protests were coming against the "liberal fascists" and those who criticize the prime minister.