Majorityrights News > Category: White Genocide: Africa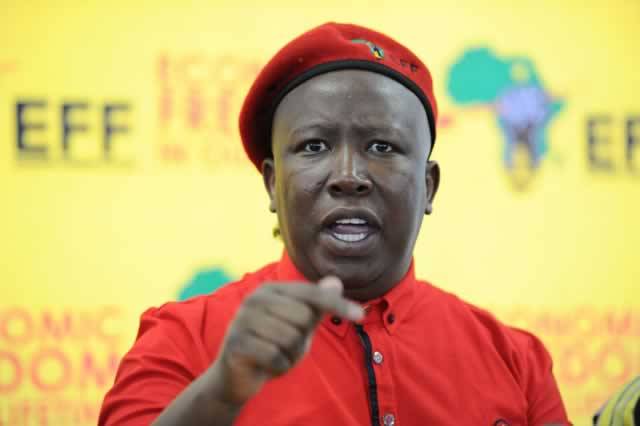 Julius Malema
URGENT: Suidlanders Reach out to Americans to Stop South African White Genocide. Source: occidentaldissent.com, Mar 16, 2017:

For a few days now, I had been getting calls from an unfamiliar number. I assumed it was just a solicitor trying to sell me something. After what seemed like the second or third time I have been called from this unknown number, I answered the phone this morning.

It turns out that I was being contacted by a South African group called the Suidlanders. A trusted comrade in the movement had given them my number. They are in the United States on a speaking tour to raise awareness about the rapidly worsening situation for Whites in South Africa. The Suidlanders are essentially the South African equivalent of our doomsday preppers except that they are prepping for the very real possibility of a Zimbabwe-style White Genocide.

None of what I was told by the Suidlanders this morning came as a surprise. I've been blogging about South Africa for years now. In recent months, I have written about the White ghettos, the black-on-white crime, particularly the horrific murders, and the news that President Jacob Zuma had thrown in his lot with Julius Malema and was calling for a united black front to dispossess White landowners. I've already written about it twice on my own initiative urging President Trump to intervene in South Africa and Congress to impose economic sanctions on South Africa.

So anyway, I was told the situation in South Africa is even worse than I thought. The ANC is losing power in South Africa after a 23 year reign. They are responding by scapegoating the White community for South Africa's problems. A civil war is a real possibility. The Suidlanders believe that a full blown crisis could be upon the White community within a month or two. They are over here to raise money in the event that they have to implement their Emergency Plan.

Here are some things you can do to help:

1.) Contact your representatives in Congress and urge them to impose economic sanctions on SA. I've already done so.

2.) Publicize this story on social media. Let's get the word out on Facebook, Twitter, YouTube. If you have a platform or radio show, contact the Suidlanders at .(JavaScript must be enabled to view this email address) to arrange an interview to discuss the situation in South Africa.

3.) If you support the South African cause, consider donating to the Suidlanders through their website.

4.) Pressure the Trump administration to intervene in South Africa. We made refugee crime in Sweden a big story. The South Africans are in much greater need of our help.

5.) Create buzz about this issue so it will enter the news cycle. Talk to your friends about it.

Note: Check out the podcast the Suidlanders did with Jared Taylor. If you are pressed for time, skip ahead to the 29:00 minute mark to get to the gist of the situation.
* Apartheid did apparently leave Asians to fend for themselves against Black Africans - and it is the reason many fled to The UK.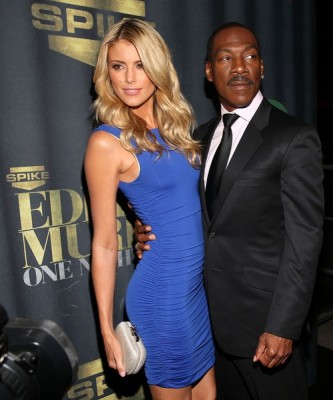 Maybe she should be "sifted-out", or maybe the naturalistic fallacy is cuck narrative itself.
- that nature can and OUGHT to take care of these matters unmediated by cultural (social rules) intervention.
Thank you for your understanding and support, acru ballist. I realize that unfortunately a huge percentage of Whites are used to this Jewish viral symbiosis - it seems at this point as if it is almost written into the genetic code of a huge percentage, now expressed as the Trump voter and Alternative Right - wherein Whites become more and more assimilated to Jews themselves - inasmuch as they remain HuWhite, compliantly accepting their role of being cows to breed stock that blacks and Jews can, in turn, breed with at their discretion.
But I think that this argument veers in the direction of passive naturalistic fallacy:
acru ballist: Maybe, this is evolution of the White People. A sifting out of the weak-minded, the 'mud-sharks', the gullible, the order-takers. Is the parasite controlling this process? It definitely does not need the strong, healthy and rebellious.
A naturalistic fallacy that Jews and Jew advocates like Brett Stevens would want us to accept as prescription - good right wing dolts, "nature" decides what is exactly good and true for us, unmediated by human, cultural intervention. At one time, when mudharkery was a rarity, I might have been more susceptible to arguments that it was me who isn't being naturally tough enough, but then, as it became commonplace and you began to see women who could not be considered merely something for the scrap-heep, the idea of merely letting "nature" weed out those without loyalty, judgement, intelligence, whatever it is that they are supposed to lack became more obviously an insufficient position to take.
...
Continuing with my response to Stevens article, next he goes on to say:
Brett Stevens: Whether or not Jews are a symptom of this problem, they are not its source.
DanielS: One can and should say that they are not the only source, but one should also add that they are a predominant source of our problems who should clearly be looked upon as another people and NOT among our "friends", to say the least.
Brett Stevens: Even more, whipping people up in a fury against them fails because it both distracts us from the actual cause, and inspires people to do ignoble things like genocide. We do not need to kill those who might appear to be our enemies; we need to fix ourselves, which includes excluding everyone else.
DanielS: I never said that it was our objective to genocide Jews or anyone else. Our objective is separatism from them and other non-European peoples, and sovereignty. That implies fixing our own problems for ourselves, thank you very much. We just need the Jews to butt-out.
Brett Stevens: It is the same way with the African-Americans. Some wish to blame them, but the actual cause is diversity, which in fact gets more deadly if it involves "nice" groups because then your people hybridize with them, erasing the original population. This type of soft genocide leaves behind a civilization capable of none of the great acts of the old.
DanielS: As I have said in many places, "Diversity" has been a Jewish red cape: because in a straight forward sense it would mean that different people co-exist in respect of each other maintaining their differences. However, in light of the Jewish marketing campaign of "Diversity" and the reaction to the reality of it in Jewish practice - which means imposition of alien integration against those goyim looking to maintain their difference - Jewish media disingenuously altercasts rights of display to suckers like Pat Buchanan who would argue against "Diversity" and, in effect, for integration (as opposed to "the sewer of multiculturalism and diversity" we should all speak English, be Christians, etc). Integration used to be the straight forward Jewish agenda back in the 60's and 70's but now they hide that agenda behind "diversity" and get Whites to react against diversity and into integration.
As far as the "nice" blacks go, I have long argued that the Uncle Tom and the Oreo are more dangerous than the ghetto thug in the long run because the thug is didactic whereas the Oreo and Uncle Tom, in "being so nice", open the gates for the pattern, which is more the thug and destructive to Whites. As far as this leaving behind a less capable populace, well, your Jewish friends would know, that's why they have imposed "diversity" and integration on our patterns while prohibiting it in Israel and among their more orthodox diaspora.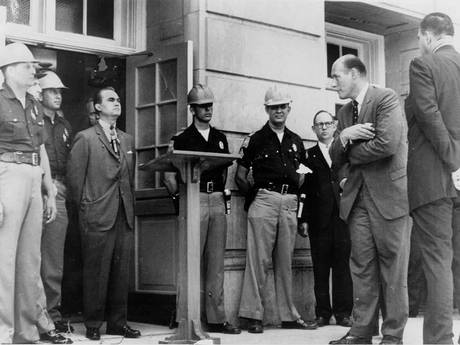 Katzenbach imposing integration upon Whites, in the days before that agenda was hidden behind the Jewish red cape of "diversity."
...and yes, just as we can "blame" (i.e., recognize) in Jews their inborn biological behaviors, uncaring and exploitative of our people to an extreme, and thus see the need to discriminate against them and separate from them, so too can we "blame" (i.e., recognize) in blacks an inborn lack of impulse control, along with an inborn tendency to aggression and hyper-assertiveness - translating to group predatory behavior as expressed typically in this episode in South Africa; and hence the need for "artificial selection", i.e., cultural rules of discriminatory separatism.
If you notice, at the beginning of this clip, the woman and her son were completely relaxed, had inculcated and cultivated no instinctual rules in vigilance for the inborn pattern of predation that would manifest in that moment: the anti-apartheid conditioning had worked that far to their detriment.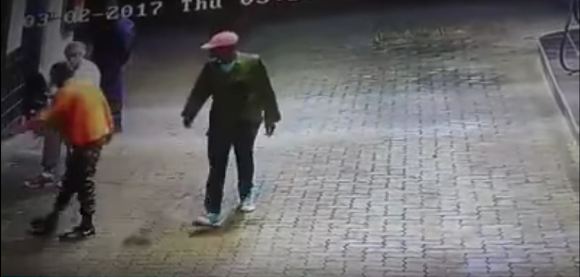 Predators sensing prey.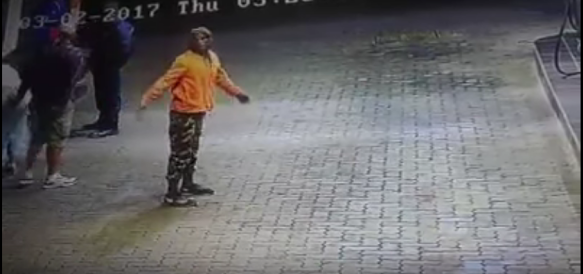 Predator signaling to pack that the coast is clear for the attack. White woman's son can now be seen in left of screen.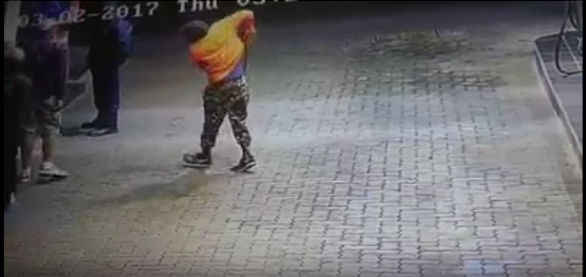 Predator pulls-out his weapon.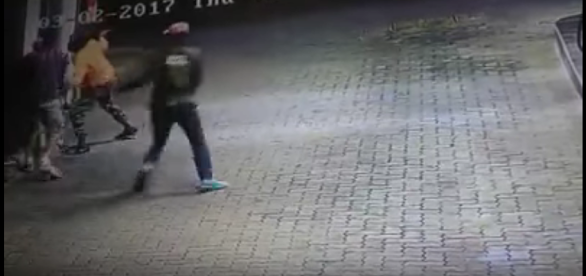 They start to attack the mother.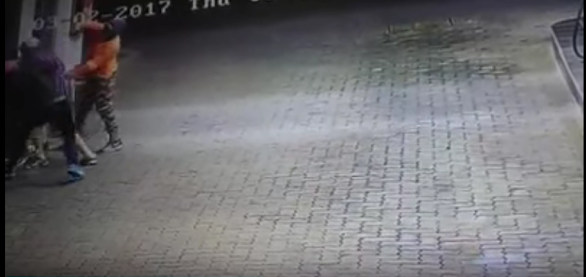 When the son tries to protect her, they try to hold him and aim for the back of his neck.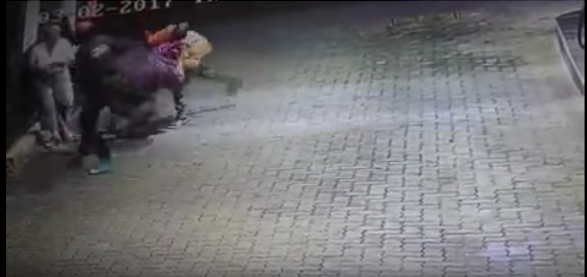 While they hold the mother, the son begins to put up a valiant fight.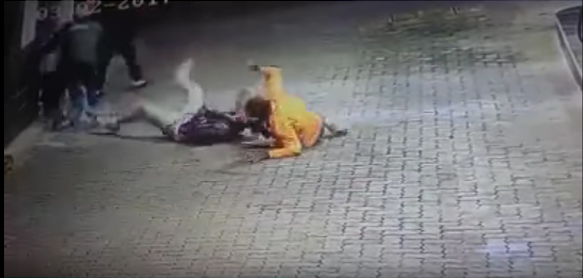 Outnumbered, they are subject to more beating before escaping (this time).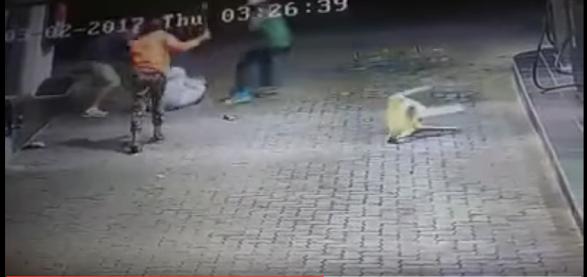 White man and his mother subject to the natural state of black predation.
Allow all white South Africans the right to return to Europe

The idea that white South Africans have the right to return to Europe is based in the concept of indigenous rights and self determination.

The white South African population currently faces ethnic cleansing and persecutions at the hands of the ANC government, the EFF, and various individual anti-white aggressors. Over 4000 white farmers have been brutally murdered, often including torture and rape and mutilation. Many white South Africans today live in poverty and squalor as a consequence of the ANC government's Black Economic Empowerment policy which shuts whites out of the labour pool.

Based on the Israeli government's policy of allowing all Jews the right to return to Israel, we believe it is not only advisable but morally obligatory that Europe should allow all white South Africans the right to return.

As it currently stands, many white South Africans who try to apply for citizenship to European countries such as the Netherlands and UK are rejected. Many of these white South Africans seeking citizenship are direct descendants of the very same European nations that reject them.

Obviously certain details of this policy are subject to deliberation. For instance, whether the white South Africans would have the right to return to any European nation of their choosing, or if they would specifically have the right to return to whatever nation the majority of their ancestry is from (which in most cases would be the Netherlands or UK).

Also this would extend to whites in Zimbabwe and Namibia, given that they face a similar situation. But white South Africans are the largest population group of whites in southern Africa by far, so that is why the name of this petition references them specifically.

Sign this petition
55,854 supporters
19,146 needed to reach 75,000
Lara Gravenor signed this petition -

Please help us by signing our petition for White South Africans to return to Europe.

I just signed the petition "European Commission: Allow all white South Africans the right to return to Europe" and wanted to see if you could help by adding your name.

Our goal is to reach 75,000 signatures and we need more support. You can read more and sign the petition here:

Thanks!
Lara

This petition will be delivered to:

Council of the European Union
Rodrigo Herhaus de Campos of Joinville, Brazil, started this petition with a single signature, and now has 55,854 supporters.
Updates:
Success! The mainstream media is already talking about us:

Express: White South Africans 'fearing for their lives' ask EU for right to 'return'
Petition to establish reservation areas for the indigenous peoples of Europe
TNO, "All SA Universities Shut" 13 Oct 2016:

Ongoing black "student" violence and rioting has shut all South African universities and it is now doubtful that there will be any 2016 graduates this year.

The violence has caused more than R600 million ($44 million) damage to buildings and vehicles so far, and the rioting shows no sign of ending soon.

Black police and black students clash at the University of the Witwatersrand, Johannesburg.

The University of the Witwatersrand tried to resume lectures on October 10, but had to call classes off once again after police officers and protestors engaged in violent clashes throughout the campus and the streets outside.

The black protesters, whose principle demand is free tuition—despite almost all of them failing their exams—threw rocks at the police, who fired rubber-coated bullets and used tear gas and stun grenades to control the crowds.

Such scenes, when they occurred under the previous white-run government of South Africa, were always given great prominence in the controlled media as evidence of "white racism"—but nowadays the media has largely ignored the events which have had a cataclysmic effect on higher education in the country.


A bus burned by rioting "students" in central Johannesburg..

Even when the violence is covered—such as a recent article in Newsweek—the blame for the unrest is still laughably blamed on "inequalities" resulting from white rule, claiming that the "protests highlight an ingrained frustration at enduring inequalities more than two decades after the end of apartheid."
DM, "The WHITE ghettos that blight South Africa: 20 years after the fall of apartheid, how it is now white people who live in squalid camps", 4 Oct 2016:

There are 42,000 white South Africans living in poverty, a figure which has grown in last 20 years

Munsieville is a squatter camp west of Johannesburg which is home to 300 of them, many of them kids

Under apartheid white South Africans lorded it over blacks and 'coloureds' but now there is equality

There are 4.5 million white South Africans and every year thousands emigrate to Australia or New Zealand
Radio Free South Africa, "A brutal reality in South Africa", 16 September 2016:


Brutal scenes in South Africa. On this farm in Randfontein, an entire family was killed in the middle of March , including nine -year-old girl Kayla . Four uneaten sandwiches in the sink (not in picture) testifies that the attack came unexpected and sudden. Photo: Nya Tider

Reporters from the Swedish weekly newspaper Nya Tider (New Times) have traveled to South Africa to investigate whether the "Rainbow Nation" is the success story that Swedish establishment media sometimes say – as far as they are at all interested in the land that has been in the media focal point until 1994. We met with politicians, farmers and victims. Thousands of farmers have been murdered in the Rainbow Nation, and the fear is always present.

The sun shines low over the red-colored, dry ground. I am currently in South Africa, a land of contrasts with a history out of the ordinary. During the day, I met the country's former interior minister for a meeting about the country and its challenges. Zulu Prince Mangosuthu Buthelezi confirmed what I have written about for years, namely the difficult situation that the country's white farmers are in. Mr. Buthelezi said that he fully understands that the white farmers are frightened in South Africa of today. There is every reason for it.

Since the ANC took power in South Africa in 1994, thanks to extensive financial and moral support from the Swedish government, several thousand white farmers have fallen victim to farm attacks, according to the American organization Genocide Watch. The topic is controversial, especially for us in the Western world. To speak of vulnerable minorities is certainly always appreciated, but not when it comes to a minority originating from the Netherlands and neighboring countries from the beginning. Then the question becomes suddenly very sensitive.

I strongly believe in every ethnical groups right to live in accordance with their culture and traditions. After traveling around in South Africa for long periods and after reporting from war torn countries in the Middle East and Eastern Europe, you quickly realize the value of security and peace. Civilized and non-corrupt governments, ethnical groups whose rights are recognized and nations that are not exploited by foreign interests are of paramount importance for a just world.


Few things are left in this little house in Nylstroom. The purportraiters killed the elderly owners. They raped the wife and set her on fire, together with the house. Photo: Nya Tider

During a five year period, I have traveled to South Africa several times, visiting farms and farmers to document farm attacks. During this latest trip, I have spoken with the victims of those attacks, as well as with relatives of people murdered in the most heinous acts. What is remarkable in these stories is that in many cases it is not about robbery. It would have been much easier for perpetrators to clear the home when no one is home, but still they wait until the owners come back. What happens then is in too many cases that the woman in the house is raped in front of the husband, and that one or more is killed – sometimes the whole family. On a farm I visited in Randfontein outside Johannesburg in mid-March the whole family was killed, and there was still money left on the bloody bed where an elderly man was beaten to death. The only thing taken after the murders was a car, but it was set on fire a few kilometers away. The trend is similar in many of the cases we have examined.

Many white farmers are worried about the political developments in South Africa. The radical party Economic Freedom Fighters, who want to seize most, if not all, of the white farmers' land, is gaining ground. They received six percent of the votes in its first election two years ago. I met with their representatives in Cape Town a couple of days ago, and they were confident that the party will be governing in a not too distant future. Party leader Julius Malema made himself known to an international audience when he, then as leader of the ANC Youth League, sang a song about killing white farmers. Human rights activist Dan Roodt, born in South Africa, says that the situation of the white minority has become worse since Nelson Mandela – a restraining factor – died two years ago. Attacks are now more and more brutal. Most white farmers know someone or know of someone who has fallen victim to an attack. The fear has spread in the rural communities.

Blacks have grown to 90 percent of the population and there is little interest in protecting the white minority's interests. On the contrary, today there are more racial laws than during apartheid. Businesses owned by blacks get preferential access to government contracts, there are laws requiring black ownership in large companies and many whites are locked out of universities because "their" quota is full.

Five years ago I visited a farmer community outside the city of Nylstroom and two years ago I did a follow-up. When I came to the same area again last week, I was met by several tragic news. Several attacks have occurred in the neighborhood. An elderly couple had been murdered in their home, the older woman had been raped and burned up. The perpetrators had left empty liquor bottles at the scene and set fire to the house before they set off. We spoke with a 28-year-old woman who lost her husband in a farm attack that took place outside Nylstroom at the end of last year. This was the second husband the young woman had lost. The perpetrators had broken into the house when the couple slept and stabbed her husband to death with a screwdriver. The woman grabbed a knife and fought for her life, thus escaping being raped, but she was also badly cut. The perpetrators held a knife to the couple's infant to force the mother to open the gun cabinet and then murdered her husband when his four-year daughter watched.

Many white farmers would naturally flee South Africa if they could. However, most are settled in the country for economic reasons, including an elderly lady I spoke with, whose daughter had been stabbed to death eight months ago. She had been stabbed with a knife in front of her two little boys. The elderly woman now wants to move to Europe or Australia, but has no economic opportunity to even move to a safer part of South Africa.


A forgotten minority. One of the many children who will grow up in a squatter camp in South Africa. Picture from Pretoria. Photo: Nya Tider

In Sweden, we are constantly told that there are no Swedes, that a "privileged white" person cannot become a victim of racism. The same attitude towards whites that is prevalent in the West, we also see when it comes to South Africa's white minority. The official viewpoint is that it simply cannot exist any racism against whites, that the attacks against whites simply are a matter of common robbery, despite the statistics and that the farmers themselves suggest otherwise. When I met the press spokesman of the Transvaal Agricultural Union, Henk van de Graaf, he told me that the most dangerous profession in the crime ridden South Africa is being a farmer. More people have been murdered here than in neighboring Zimbabwe, where the regime deliberately hunted white farmers out of the country.

We must dare to talk about the attacks against the white minority in South Africa, just as we need to talk about racism against the Swedes in my home country without being labeled as "racists". In the upcoming issue of New Times, readers will find stories and interviews with victims and politicians from South Africa.

SANNA HILL

.(JavaScript must be enabled to view this email address)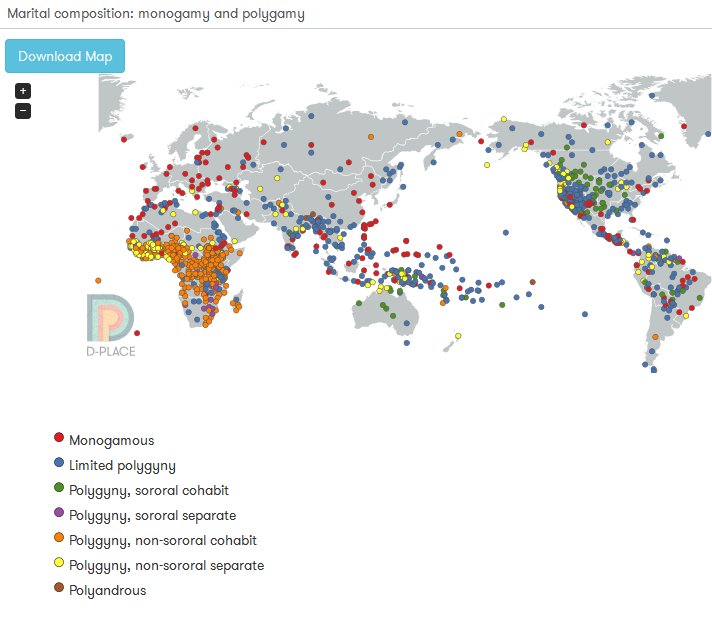 By way of HBD Chick.
The next time Anglin or his outfit the Daily Stormer need to be criticized, and that shouldn't be long, we will certainly not refrain.
However, let it not be said that we are petty and unwilling to allow contributing voices where they might, simply because they and their platforms are generally off the mark.
You won't often see me endorsing an article from over there, but once in a while he posts a decent one, such as this one by Martin Blaine:
DS, "The Concept of Feeding Starving Africans is Apocalyptic Insanity," 5 July 2016:

An article has been making the rounds recently about Madonna posting pictures of the giant Kenyan slum of Kibera on her Instagram, in the hopes of tugging on the heartstrings of White people.

The Material Girl who never stops reinventing herself, Madonna, a seven-time Grammy Award-winner, actress, pop culture icon, founder of Raising Malawi and a Goodwill Ambassador for Child Welfare is in Kenya.

The 57-year old icon with an estimated net worth of over $800 million spent the day visiting Kibra, also known as Kibera, Africa's largest slum.

In an Instagram post published only a few minutes ago, Madonna shared some of the moments from her visit today to the slum with Shining Hope for Communities, an organization that links free schools for girls to essential services for communities like clean water, and free health care.

The charity that she's stumping for support for, Shining Hope for Communities, was founded by a Jewess from Denver, Jessica Posner. Posner supposedly fell in love with a Kenyan Negro and then went on to open a school for Kenyan girls and install some toilets and is now out to bring joy and brightness to the underprivileged Africans, et cetera.

All of this, of course, has earned her much praise and adulation from self-righteous liberals and fellow tribe members.

For her efforts, Posner has been named one of the five biggest world-changers under age 25 by the Do Something Awards.


So on July 19 — 10,000 miles and just as many worlds removed from East Africa — she will be hanging at the Hollywood Palladium with the likes of Matt Damon and Natalie Portman for a star-studded awards ceremony to be hosted by Jane Lynch of "Glee" and nationally televised on VH1.

That's the kind of random polarity in the world that Posner has learned to accept.


Jessica Posner and Kennedy Odede

The entire concept of feeding starving Africans and somehow raising them up to our level is clearly insane, and the long-term implications of such an endeavor are mind-numbingly depressing and terrifying.

The population of Kenya was recorded at just under 7 million in 1955. It's now 47 million and one of the fastest growing in the world, thanks to our misplaced altruism.

And for what purpose?

Liberals don't care about the lives of Africans. They think they do, but they really don't. They care about their own feelings. They want things to be a certain way in the world such that it leaves them room for a life filled with hope and inspiration. They don't want to be depressed about the world. Unfortunately, the reality of the world at the current point in history is extremely dire, and anyone who appreciates it for what it actually is is inevitably going to suffer bouts of depression. And also unfortunately, most people react to that situation by retreating into a fantasy that reality can be changed by wishful thinking and meaningless activity.

What's going to happen when you feed and cloth Africans is they're going to produce more Africans for you to feed and cloth. That's what they've been doing for the past several decades now. There were starving African children on television commercials when I was a child in the 70s, with a White man standing in their midst telling you that for just 35 cents a day you could save one. Undoubtedly many people signed up and adopted an African child via Unicef or whatever it was. And today dozens of descendants of that saved African child are picking around in the garbage dumps of Kibera looking for food. But now celebrities want your money to start schools and get them Internet access. Forget about the 35 cents a day for a bag of rice, we've got much larger ambitions today. We're not just going to feed Africa, we're going to make Africa fully capable of "realizing its potential."

Teach a man to fish, and all that.


Feeding starving Africans only creates more starving Africans.

Anyone can see that this is nonsense – anyone who wants to see, anyway. The problem of world poverty cannot be solved in this manner. It has not been, and it will not be.

But Liberals don't give a crap about that. Liberals want to do something. They want you to help them do something. They're gonna fix it. They're gonna change it. They're not just going to end poverty and hunger and misery, they're going to make Africa into some kind of beautiful Utopia. The fact that it doesn't happen doesn't concern them. The fact that they're actually compounding the problem doesn't concern them. They just plain don't give a crap. They don't want to make the world a better place, they want to make themselves feel better by pretending they're making the world a better place.

The situation today is far worse than it was in the 70s if you count the number of people actually experiencing poverty and hunger and misery in the world. And not just in Africa, but all over the Third – or, as it's now called, the "developing" – World. The problem is it's not developing. Nor is it going to develop. The First World isn't developing either. All that's happening is more and more people are being born into a stagnant world. There are many times as many human beings alive. Most of those human beings are capable of very little in the way of development, of themselves or of a society around themselves. That was not a particularly unfortunate or desperate thing a hundred years ago. It is however calamitous at this point, since there is simply no way it can be sustained.

End.