I did not expect to find it necessary to discuss Hannah Arendt at this point. However, from even a cursory inspection of theoretical and historical issues relevant to White separatism and nationalism, one finds her person and views interjected to influence pivotal turns.
1. She was a student and intimate of Heidegger, highly familiar with his concerns as they would bear upon White nationalism and separatism.
2. She was a prominent and articulate Jewess, providing keen insight into the formulation of views in advocacy of those antagonistic to White nationalism and separatism.
For these two reasons, she is of high relevance theoretically.
3. She also managed to impose herself and her views concretely, at pivotal turns for White Nationalism: from her relationship with Heidegger and commentary on the Nazis to her other high profile commentary; on U.S. racial strife, particularly school desegregation, civil rights and her cause célèbre, anti-miscegenation laws – concrete issues which had the eyes of the world, including Marxist antagonists of American Whites, upon them.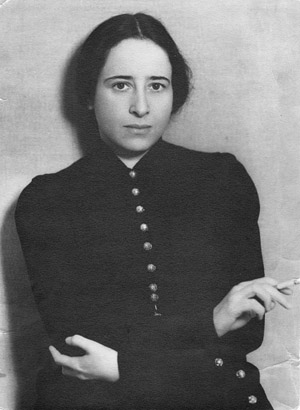 Warning: this is a longish essay, 5,500 words. However, it is usefully read in 2 parts - the first part, dealing with theoretical background as it concerns White separatism, is about 2,600 words. The second part deals primarily with her application to issues of segregation as aroused by the Little Rock crisis; it contains some encouragement for the reader to contribute comments by way of their private taste and opinion: that is why I kept these parts together, because I would like the comments to be as one.
Hannah Arendt: Far From Innocent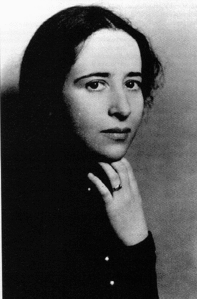 The Enlightenment project was "far from innocent" – Hannah Arendt

In this sequence of profiles, we left-off with the implication that if we Europeans are to defend ourselves as a people and survive, in entirety, in discreet subgroups and as individuals, we must overcome our "rational blindness."
We have noted that anti-racism is Cartesian – that is an unreasonable, inhuman even, requirement to pursue pure transcendence of discriminatory, relational-perceptual organization. This purist requirement effects us in an immediate, (im)practical sense by "rationally blinding" us to our relationships, knower to known.
More fully, what we mean by rational blindness is the conceptual separation of knower from the process, relational contributions and organized maintenance of knowing – a Cartesian separation from patterned, systemic connection which, while in fact impossible to be without, is theoretically required, institutionalized under the rubric of civil rights and anti-racism, mandating a blindness to the true nature of our developmental processes.
Despite this absurdity and in fact wielding it, a way of life, liberalism, has become intransigent in correspondence with its institutionalization – in all likelihood for the facile utility of this Cartesian dodge in unburdening guilt and responsibility among naive believers and disingenuous practitioners alike. As a key component of the Enlightenment's liberation project, this Cartesian technology imperviously reifies a false promise for a heady liberation from "the tyranny" of our biological patterns; but it has nevertheless had the ironic effect of creating a tyranny of pseudo-individualism in a pseudo-necessary pitting against group interests – White group interests anyway. Its liberal imperviousness has been bolstered by aspirations of democratic theory for increased participation – abstract participation where White interests might be concerned, concretely designated minority participation where White interests are not the concern. That goal of increased participation has also had utility to sheer mercantile interests, exacerbating their obliviousness to our survival as Whites on the whole, in discreet parts – nations, regions, communities – and as individuals.
Moreover, this phoney, liberal individualist way of life has been made still more intransigent as it has been underwritten by the apparent horrors of Nazi and communist collectivism; in contrast with America's success in World War II and the decades following; which has set in stone the ostensible validity of this Cartesian notion of Civil Rights already ensconced in The U.S. Constitution. This made sacrosanct the false notion of purely organized and independent action, imposing a rational blindness to our interactive, relational and developmental processes both of the life-span and of our deeper and in large part discreetly co-evolved human ecological systems. Through the rational blindness of this technology, we may theoretically and ultimately in fact, rupture our most profound biological patterns.
At one with the Enlightenment's project to promote liberation from social patterns by means of sheer empirical or transcendent theory, civil rights are a derivative, Cartesian, therefore impervious technology - calling upon us to mechanistically and objectively ignore our own subjective and relative/relational entry into inquiry along with the reflexive effects that entry may have – that is what we are calling "rational blindness", viz. blindness to interactive involvement with the reflexively responding and conservatively balancing forces of ecology, human and otherwise.
That blinding technology has indeed been seized upon by liberalizing forces who have no problem with, in fact may idealize, the rupture of our biological patterns. Anti-racism has been extrapolated to inculcate the quest for an impossible, inhuman, Cartesian concept of individual purity transcendent of natural and social processes – a purity beyond the delimitations of natural patterns and a radical skepticism of the social delimitations of consensus, those that are relatively transcendent of the moment and episode anyway – it wrongly requires a rational blindness to the patterns of necessary relations and leaves a gap to be bridged between knower and known.

I did not expect to find it necessary to discuss Hannah Arendt at this point. However, from even a cursory inspection of theoretical and historical issues relevant to White separatism and nationalism, one finds her person and views interjected in influence at pivotal turns.
1. She was a student and intimate of Heidegger, highly familiar with his concerns as they would bear upon White nationalism and separatism.
2. She was a prominent and articulate Jewess, providing keen insight into the formulation of views in advocacy of those antagonistic to White nationalism and separatism.
For these two reasons, she is of high relevance theoretically.
3. She also managed to impose herself and her views concretely, at pivotal turns for White Nationalism: from her relationship with Heidegger and commentary on the Nazis to her other high profile commentary on U.S. racial strife, particularly school desegregation, civil rights and her cause célèbre, anti-miscegenation laws – concrete issues which had the eyes of the world, including Marxist antagonists of American Whites, upon them.
Preliminary to expounding upon her concrete influences and purposes, lets set out a most concise overview of her analytical abstracts as she was to deploy them in practical theory in an effort to bridge this Cartesian gap between knower and known:
Following Heidegger's lead, she became attuned to the problem of Cartesianism and sought the means of reconciling its dualisms; as theory, this is particularly relevant to White Nationalists since at the basis of this problem is the acknowledgment of the legitimacy, in fact human necessity, of prejudice – at least in some cases, according to Arendt. She uses a trichotomy between the private and the social (where she holds it legitimate to discriminate) and the public (where she maintains it is not, except to protect the private and social right to discriminate). However, to resolve Cartesian duality, the operational requirement remained of overcoming the vestiges of what Aristotle called "techne" as misapplied to the social world. Techne are the rigid, mechanical means and technological ways for reaching and assimilating the aim of theory – "Theoria" - which is fixed, permanent, transcendent ("Cartesian"), of nature and its flux. The technical means and aims to pursue Theoria tended to have a separating, rupturing effect when misapplied to the social realm of "Praxis" – the less predictable mix and sundry responses of the social world which, not being transcendent, but interactive, require the feel of practical judgment according to Aristotle - practical judgment which he calls phronesis. However, Arendt does not go the route of developing phronesis to bridge the Cartesian gap of knower to known. Rather, she develops Kant's notion of the value, albeit unfinished value, of individual aesthetic judgments and opinions. For Arendt, these were the means of overcoming the "working and laboring" mentality of misapplied techne to the social world, providing the individual with an immediate grasp of irreducible particulars, and a capacity to bring these, to deploy a mentality of immediate "action", from the individual into the social and public space - which she deemed absolutely necessary to evaluate these judgments against those of others.
She is bearing acutely upon theoretical concerns that set out from and are ultimately to be applied in direct, radical concern of White/European nationalists.
Arendt becomes relevant to White Nationalism in its critique of "anti-racism" as one of two influential (Jewish) students of Heidegger and his anti-Cartesian project in service of the German species of White Nationalism - which is analogous enough to the concerns of all White/European Nationalisms. The other prominent Jewish student of Heidegger being Gadamer, who, so far as I know, coined the phrase "the prejudice against prejudice" in incisive criticism of the Enlightenment's liberation project. Arendt made the somewhat more modest charge that the Enlightenment project was "far from innocent", but she was no less aware of the necessity of prejudice and the inhumanness of its prohibition.
Hence, she is wrestling with theoretical concerns that bear directly upon White Nationalism. She, like Gadamer and others influenced by Heidegger, is trying to work out ways to redress the relation of knower to known, not only describing how it does work when it works, but trying to prescribe constituents of its better functioning. In other words as it concerns White Nationalists, how we might address the Cartesian fallacy of anti-racism and bring our own efforts of building White consciousness, community and nations to full effect in reality.
The Cartesian misappropriation should be dealt with as it points toward a pure theoretical (non) relation of knower to known regarding natural and social processes – blindering classificatory genus and species of relational processes which, in honest description, would be necessary to both maintenance and growing development of the knower; their requisite, practical realization of discernment by including the most relevant, relational patterns of connection while delimiting systemic debasement. Cartesianism's conceptual detachment from these patterns of connection and debasement is part and parcel of the Enlightenment project's lack of post modern sophistication as it sought sheer liberation from custom, habit, tradition, class rule, lets add co-evolution, over individuals; rather than the necessity for their reconstructive properties, in balance; the knower has been institutionalized as sacrosanct, independent by liberalism in the form of civil rights - separate from anything like co-evolution, natural community, wielding an impervious technology against evolutionary context and ecological process.
When scratching our heads and wondering how previous generations could have been quite so in remiss in failing so badly to see our necessary relations, including our group defense as Whites/Europeans, it is necessary to take into account the lofty feeling of power and innocence in these liberation narratives and in our position – we, the apparent forces of objective reason and democracy, had won the war against tyrannical social patterns and the forces of might makes right.
Jewish interests, their wiles and erudition, were on our side.
Actually, maybe we did win the war over might makes right. But did we win the war against the cunning?
That, of course, is where we must look now, in overcoming our rational blindness.
Weren't Jewish interests quite so transparent as to be evidently serving their own and not the interests of objectivity?
Not quite so.
In the likes and person of Hannah Arendt, they were quite adept at flattering our sill in tact wish to believe in our triumph as necessarily corresponding to the triumph of objectivity and sheer rationale. This was disingenuous on Arendt's part. She knew what she was doing. While we may have been rationally blind to our group interests, she and hers were not. She was aware not only of the mechanical fallacy of John Locke's notion of Civil Rights but that the whole Enlightenment project was "far from innocent."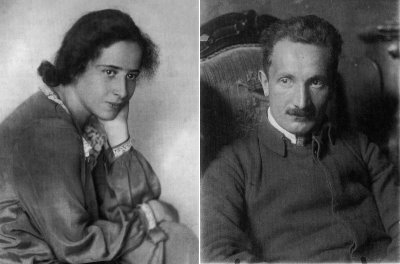 Nevertheless, it is not sufficient to merely put her aside as a cunning Jewess who, at 18, greedily accepted Heidegger's Nazi spunk into her mouth, nor that she would later just crassly go about the popularization of the righteously unpopular, overturning tens of thousands of years of the most sublime evolution, in advocating black intermarriage with humans - although she did do that. To dismiss her summarily is to do injustice to understanding of theoretical matters that are of crucial importance to us and, at the same time, particular applications that are highly relevant to us. That emotive out of our system, lets get on with it:
Her theoretical concerns are bourn into the realm of high concrete relevance at pivotal turns for White separatists.
Regarding the first matter, as a student of Heidegger, she became a critic of Cartesianism, recognizing that it broached delimitations of prejudice and discrimination that were necessary to the human condition. Wielding articulate theory upon this, she makes some arguments that can appear radically conservative, perfectly in line with the most radical White separatism.
In fact, her statement that the Enlightenment project was "far from innocent" along with fellow Heideggarian student Gadamer's chiding of its "prejudice against prejudice" provide radical clues and confidence for the legitimacy of White advocacy. It is not really ironic that they were both Jewish and advocating the legitimacy of group prejudice, as (MacDonald well chronicles) Jews were not blind to their group interests.
Where they loom disingenuous, however, initiating a deep cutting edge of liberalism, is in the area of analytical distinctions and syntheses proposed to bridge the Cartesian gap between knower and known. While bridging that gap is imperative for White separatists as well, it is important from a perspective of White separatists to understand Arendt's theoretical parsing of the matters, where they might be going wrong (or right), and also where she may have misapplied her theoretical distinctions to pivotal matters, to large, pejorative influence. Both her theory and application would surely have influenced the mindset of liberal millions.
………………….

Theoretically, Arendt draws a distinction between matters private, social and public. With that, she is concerned to bridge the Cartesian divide between the value of private individual judgment, first rendered as opinion and taste; then necessarily tested and completed in social and public realms. Arendt holds that in the private and social realms, prejudices and discrimination are wholly legitimate but in the public realm, they are not. Access to the public realm is sacrosanct to allow for the testing and confirmation of private and social discriminatory prerogative.
Perhaps interestingly, surprisingly, she did not look toward further integration of Aristotle's praxis as the key conceptual tool to bridge this gap. Rather she looked upon Kant's notion of aesthetic judgment from his Critique of Judgment for a notion of aesthetic judgments as the means by which valid but as yet unwritten private musings are initiated, rendered, then tested and consummated in the public realm.
She argues that the private individual necessarily captures irreducible qualities through opinion and taste but that these judgments are neither relative nor objective, rather they require communal intersubjectivity – they implicitly appeal to and are assessed by the judgment of others. This is not a function of universal principles, but of particular humans among a plurality of others – she sees differences between individuals as imperative to this process.
In summation of Arendt's relevance then, it is so, as she occupies a high profile being a prominent Jewish voice, while partaking of Heidegger's theoretical concerns and also differencing from them as they pertain to White Nationalism. In abstract terms she is relevant through her concern to redress the Cartesian dichotomy, bridging realms private and social, where she holds discrimination to be more than valid, sacrosanct in fact; to the public, where she holds discrimination to be invalid; it is rather the place to uphold social and private choice - to negotiate these realms she would utilize the aesthetics of private judgment as proffered by Kant, with a special notion of activity that renders the pubic space sacrosanct for the evaluation and consummation of judgment; finally, she deploys these theoretical distinctions of the private, the social and the public upon the republic to concrete concerns of White nationalism. She applies these theoretical matters, with their deceptively conducive /inconducive parsing to bear on the most acute, concrete issues not only of The Third Reich, but on White nationalism more broadly.
She was integral in representing and bringing key issues of race relations in The U.S., its Civil Rights disputes, to fulmination in the eyes of the world. Paying attention were both those with kindly disposition to White Americans and those not - such as Marxist Jews, who antagonistically sought to pressure and to destabilize White America. Thus, her efforts are not only useful to look at as considerably backed theory with sympathetic and antagonistic rendering for White nationalism and separatism, but because upon arrival in The U.S. in the wake of World War II, under the hallowed leverage of Jewish victimhood, she was able impose her views – with what was, coming from her, a curious veneer of conservatism and newly adopted constitutional patriotism; regarding the most acute issues of race relations, when and where not only the eyes of Americans, but of the world, friend and foe, were looking: to issues of school desegregation, civil rights and her priority cause, what she proposed as the pre-eminent right to miscegenation.
………
Part 2
………
It is the practical application in her "Reflections on Little Rock" that we will be concerned to examine.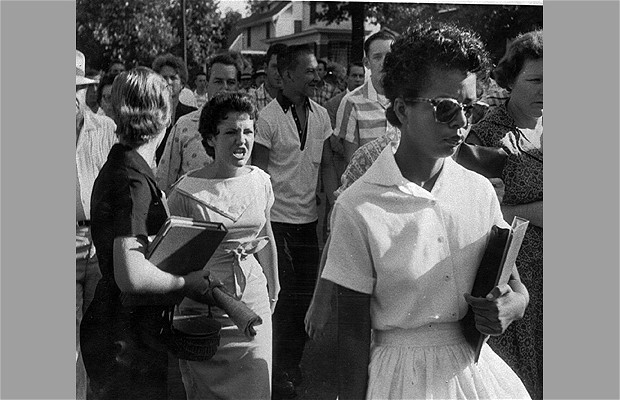 "The picture looked to me like a fantastic caricature of progressive education which, by abolishing the authority of adults, implicitly denies their responsibility for the world into which they have borne their children and refuses the duty of guiding them into it.
Have we now come to the point where it is the children who are being asked to change or improve the world? And do we intend to have our political battles fought in the school yards?" - Arendt
Just as it is surprising to learn that Arendt recognized the legitimacy of prejudice, so too it is surprising to learn that she explicitly recognized its application, including some lip service to States rights, with particular attention to freedom of/from association in what she called social and private realms (in contrast to public/political realms).
Arendt's application of her trichotomy is seductive, coming across as more conservative than conservative, in a way that could have been somewhat disarming even to K.K.K., segregationists, Confederate State secessionists and staunch Constitutionalists. In application of her trichotomy she held that Brown vs. Board of Education was the wrong place to spearhead Civil Rights activism as it put children, who are neither mature enough for such confrontation nor accorded the full rights of citizenship, on the front of a civil rights battle; in fact, she held that children and their education ought to be private and social matters of families - matters which should be allowed a large amount of discrimination. Similarly, regarding social matters, such as a summer camp for Jews, or camps for those who would not like to come together with Jews socially, the right to discriminate should be retained. Regarding the attendance of places such as a movie theater or a restaurant, however, citizens should not be discriminated against because the reasons for going there are not primarily social. Furthermore, she maintained that miscegenation was a right that the public concerns of law ought to guarantee as it was a private choice for adult citizens to decide and a prerogative for the pubic to uphold; so fundamental, it was the place where civil rights activism ought to begin. In that regard, she sounds merely as a principled constitutionalist - a "conservative" of sorts.
"Indeed, with respect to unconstitutional legislation, the Civil Rights bill did not go far enough, for it left untouched the most outrageous law of Southern states – the law which makes mixed marriage a criminal offense. The right to marry whoever one wishes is an elementary human right compared to which "the right to attend an integrated school, the right to sit where one pleases on a bus, the right to go into any hotel or recreation area or place of amusement, regardless of one's skin or color or race" are minor indeed. Even political rights, like the right to vote, and nearly all other rights enumerated in the Constitution, are secondary to the inalienable human rights to "life, liberty and the pursuit of happiness" proclaimed in the Declaration of Independence; and to this category the right to home and marriage unquestionably belongs. It would have been much more important if this violation had been brought to the attention of the Supreme Court; yet had the Court ruled the anti-miscegenation laws unconstitutional it would hardly have felt compelled to encourage, let alone enforce, mixed marriages."
- Arendt
It all sounds fairly reasonable if you ignore the obvious, that she considers it unthinkable that blacks and Whites should not necessarily be included in the same republic; and that she is seeking to rend the most precious of social capital, the culmination of our 41,000 years of co-evolution, beyond social concern and objection with her (private, social, group interested) assertion that laws against miscegenation are the most unconscionable violation of civil rights of all – the place to spear-head the attack on behalf of civil rights.
Arendt ascends into her newly found commitment to American civil rights to maintain the eminent domain of the knower and the social contra the public; but she is guilty of retaining a Cartesian, a-historical maneuver at the same time since she ignores matters of co-evolution; which were of course, evident even then, as highly contrasting ways of life, including means to sexual consummation and maturity that would evidently entail much unnecessary wreckage if defiantly brought together as sacrosanct. The blindering to this was bound to work against the historically conscientious and favor the crassly opportunistic; as she exploited a singular, universalizing distinction between adult citizenship and childhood dependence, while ignoring differences in any other protracted time span of natural unfolding, whether evolutionary consideration or natural sublimation in the life-span, in her commentary on Little Rock.
The only relevant time pattern she recognizes as requisite to enfranchisement to the Republic is the lifespan distinction between child and adult; which she forefronts to underscore restraint, her concern that children not be put at the front of racial lines. While activism ought to proceed by adults in pursuit of miscegenation, contexting an automatic presumption not only of the validity of the different races being members of the same "Republic", but beyond any question, their prerogative to intermarry unopposed by majority judgment, irrespective of differences (differences which she herself underscores) of apparent co-evolution - time factors (within and beyond the life-span) relevant to the appropriateness of hazarding interface, with an ultimate gravity on par with her universalized life-span distinction of adult and child.
Despite the conservative abstracts which she forefronts, the sharp lines that she would draw between the social, the private and the public, and in the sanctimony that she accords the latter two, disingenuously, on the basis of sheer civil rights in her musings on Little Rock, we see the germination of what would become the tyranny and double standards of the politically correct - apparently through falsely set parameters of "activism and restraint": we can begin to perceive crystallizing the horrors of forced integration; with very clever but false analytical parsing, liberal differentiation from social connection which would magically lead one astray from concerns and products of vast biological evolution; we will see the beginnings of the self righteousness of miscegenators; of the liberal pattern of making the "prerogatives" of the freakish exception sacrosanct, while ignoring the profound pattern; the value of "diversity" ad absurdum as it is supposed to be not only necessary for debate but also correction in the public space, thus the democratic republic's most sacred duty to protect; and taking for granted legitimate membership in "the Republic" of those who are and have been thrown together through interests of an exploitative few, with reckless, shortsighted, perhaps even malevolent calculation; irrespective of how obviously their interaction might negatively impact profound biological differences.
This stealth was perhaps eased of Arendt with the additional halo of innocence in abstraction; her abstraction of the problem and abstraction of the public took advantage of whatever wishes that they may have had to be unburdened in objective purity in their need to participate over the Cartesian divide; that was to be done with the aesthetics of judgment as it may overcome the impervious and inhumane imposition of techne on the social, public and private spheres. Techne was the mechanical means of realizing theoria, and was misapplied to the social world, praxis. She believed the plodding of technology infused people with a dangerously inhumane working and laboring mentality that removed them from the natural, human form of knowing, and required a remedial transformation to a mentality of action. There probably is a large abstract truth to that. It may not be exactly wrong to facilitate the bringing of voices to the public with a similar enough population genetically and sufficient controls placed on significant variables; but for her it meant rather the institutionalization of ongoing rhetorical testing in the public sphere, one abstract, deracinated individual's prerogative weighing equally to another's, irrespective of co-evolutionary differences and consideration (in fact, requiring that those differences, that "diversity" be brought together in the public). Bowery would object that she took the valuation of rhetorical debate way too far and he would be right. Dr. Lister may suggest that she proposed the institutionalized, ongoing breach of social capital and he would be right. If they were both to say what she proposed was evil, they would both be right.
She did fashion sharp analytic tools to overcome the gap between objectivism and relativism. We may re-assess these analytic distinctions as they predictably went too far, as wont of Jewish academics: as she placed false distinctions on the social, with a very clever but false analytical parsing, that engendered liberal distinctions from social connection, rather than taking rhetoric as a co-evolutionary tool in the systemic maintenance and furtherance of our deep, biological evolution. In what would be reinforced exponentially by the big business of higher education – which is, in large part, selling talk - she centralized what is our poison, centralized evil in fact: pitting the liberalism of ongoing debate, challenge and transformation of existing orders, as activated by discreet individuals in revolutionary spirit, in an incessant test of the public space – that being her primarily asserted value, over and against our biological difference and its truth; not only blind to the profundity of evolutionary differences but drowning-out, if not silencing, any questioning of the wisdom of placing markedly different peoples under the same rubric; which she did, disingenuously, under the rubric of The American Republic and its civil rights, totally ignoring biological proclivities such as relative fecundity - particularly relevant in democracy as it impacts numerical balance of voting blocks.
Perhaps this calls upon Majority Rights to question its own limiting claims on the social, for much of what we see is the product of our White social construction, thus could be subsumed under an expanded notion of the social - therefore discriminatory claim as rightfully, exclusively ours; even things which Arendt would ascribe to the generic public right or private prerogative (more arbitrarily than she had lead on). Is there also a place for group aesthetics which Majority Rights may adjudge as especially significant, as semiotic of biological patterns, the protracted form of which calls for protection from the opportunism built into Arendt's structure? An aesthetic apprehension by the public allowing people to act immediately, without the cumbrous and impractical apparatus of science? Obviously science can and should contribute crucially to opinions and aesthetic judgments. However, there is apparent merit in Kant's Judgment of individual aesthetic assessment as providing an immediate, particular grasp of irreducible qualities as well as the means to bridge the Cartesian gap, knower to known; as it contains incipient expectation of public opinion as the necessary realm of re-evaluation and realization, as significant.
The valuation of work and labor can be (probably is) over-valued, perhaps disingenuously so, interrupting an organic formation of the republic, but a move to action as Arendt conceives it is to bypass the careful digestion, reflection, measuring, assessment and designated protection of pre-existent biological structures, recklessly subjecting them instead to the prospect of continual transformation. This was a shift too far in favor of mere rhetoric. And of course, no small measure of hypocrisy has come with that notion, as opinions and tastes for White separatism do not have representative access to the public sphere: the WN voice is precluded from the public sphere by the likes of Popper and Marcuse's proviso to "not tolerate intolerance", as it itself will not allow for their differences (amen).
Of course her key move was to use these abstractions to obfuscate and blithely take for granted black and other non-White enfranchisement in the nation, in the Republic, in the public, moving it beyond contention. Knowing what she knew of the Enlightenment project, her placing the mechanism of civil rights as pivotal arbiter of the nation's demographics does appear disingenuous. Blacks and Whites were not initially brought together by natural social consensus or choice into "the Republic." There are obvious biological differences and ways of life that do not take a scientist to posit as dubious to bring together; even at first blush, to put at ongoing risk in public interface.
Because Arendt prompts the journey of confidence in departure from the Enlightenment, it is ironic to find that she argued fervently not only on behalf of civil rights, but also subtly, on behalf of freedom of/from association. In merging these disparate projects, she spoke eloquently on behalf of social segregation as being perfectly legitimate in some places - a position that appears quite conservative. At the same time, she – one who recognized the Enlightenment texts as "far from innocent" - placed herself at the center not only of the American civil rights issue but also at what she held to be the pre-eminent civil right of miscegenation: a supposed right beyond ancient bio-evolutionary group patterns – contesting them at a time, in the late 1950's, when interracial marriage was more than 90% rejected.
"Most white Americans in the 1950s were opposed to interracial marriage and did not see laws banning interracial marriage as an affront to the principles of American democracy. A 1958 Gallup poll showed that 96 percent of white Americans disapproved of interracial marriage."
Despite the clear distinction of the black and White races that Arendt acknowledges, she nevertheless calls for their enfranchisement, prima facie into common public rights, but especially seeing miscegenation as the most important social right, a cause célèbre.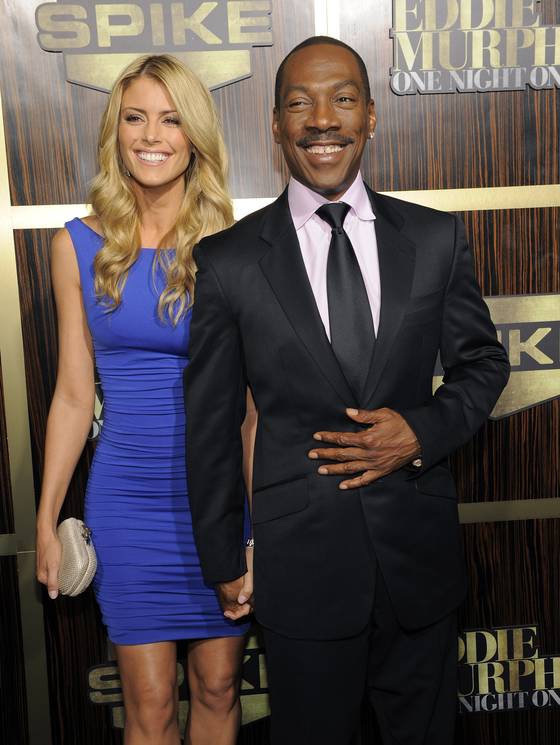 Not Funny. And he has already had wives and children.

Her prescription was for the "inviolable" right to bring private tastes to the public in continual challenge, the aim of this action being rhetorical participation in a revolutionary, ongoing transformation of the public.
Whereas our aesthetic concern may be shifted to the public space; noting with the benefit of hindsight in particular, that the public taste regarding interracial relationships was experientially measured, careful, sound. Discrimination on racial grounds is one of the clearest ways for the more sublime kinds and patterns to protect themselves from the opportunism and rashness of the crass.
As her essay reveals from its onset, not even black leaders were interested in redressing miscegenation laws.

While biological concerns extend beyond my expertise, there is an internal relation between all I've read and experienced, and that is rather the point of aesthetic judgment and opinion, as it is validly Arendt's. Do you really need to be a scientist to – in her terms - render a significant opinion and aesthetic judgment? While one person may judge miscegenation to their liking, is it trouble to guess that it is destructive to millions of careful judgments that have gone before and those who are still dependent upon prudent judgment in co-evolution? It is rather, a significant opinion and aesthetic judgment that one renders against the sheer right to miscegenation, especially as its destruction of biologically ancient patterns can, in fact, be upheld by scientific testing to yield warranted assertability.
What does her notion of being somehow "disadvantaged and unfairly discriminated against" take into account of African evolution?
"I should like to make it clear that as a Jew, I take my sympathy for the cause of the Negroes as for all oppressed or underprivileged peoples and should appreciate it if the reader did likewise." - Arendt *
We might shift further to the topic of aesthetic judgment but there is still another matter to address regarding the necessity of aesthetic judgment to redress "pure" technological application - viz., the technology of forced interaction lingering in Arendt's program. We can see the leverage she may have contributed to the idea of forced integration – through her notion of the inviolability of the private and public realm as germinating and testing ground: for a test or an experiment can always be excused as a lesson and motion toward alchemical purification of a renewed form. Its eminent promotion on her part was a modern idea, not a post modern one. While science has its concerns for control variables, aesthetcs may also be geared more to the celebration and enshrinement of the deep and the already existent. On the other hand, while sanctimony of the private individual taste and the public correspondence sounds reasonable as she presents it, by separating out the social aspect of all things to us as Whites, in violating those patterns, putting them at continual risk of breach, in fact mandating it, she is setting in motion the horrors of forced integration that we've experienced – with the "sacrosanct inviolability" of individual and social prerogative and "requiring" that a diversity of opinions be brought together, mandated there in the public protection of these preferences, she is not only taking for granted, but promoting an ultimate value in the mutual franchising of diverse peoples; and setting in motion the slavery of being prohibited from doing anything to prevent the destruction of our co-evolution.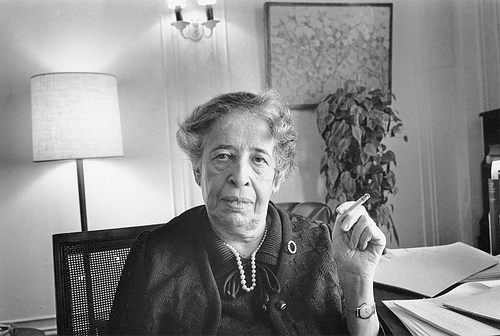 The charge of hypocrisy is too often wielded in a sophomorish sense, ignoring Augustine's distinction between the truth as relational versus the truth as relative. Hannah Arendt took for granted her advocacy of biological groups of people as disadvantaged and oppressed, and she was able to take that view, perhaps a bit naively but more probably disingenuously, by ignoring the possibility of important biological, evolutionary differences – differences which should not have been put at risk to the concept of civil rights, the Enlightenment origins of which she was well aware – she was far from innocent, she was an egregious hypocrite; these differences should not have been taken into ongoing individual debate for the purpose of revolutionizing, transforming the common make-up of the Republic – which was her aim, and especially ruthless; biological differences are not recognized in the Constitution or in her concept of public rights; the augury of vast evolutionary destruction was evident in bringing together black and White numerical and biological differences, of people who did not and would not find themselves together in anticipation of a shared Republic.
The rhetorical coercion by Jewish interests went on to pervert the form of the technology of rights to fantastic unilateral distortion, wielded as a weapon against the throats of Whites, as a coup de grace to White organization and defense.
That was the thanks White Americans and British got for coming to the aid of her people.
.............

Group aesthetic discrimination and consensus seem to be matters which human ecology would invoke toward the morality of an overall systemic maintenance of European peoples. Aesthetics would be semiotic of systemic health and organic functioning.
I would imagine aesthetics could encompass the qualia of beauty as apprehended by the concerned parties on balance, of balance and harmony as it represents the full pattern of the populace, its hidden values - extending beyond momentary and episodic representation - lurking in aesthetics of the not-so-beautiful as well.
Aesthetic apprehension, matters of taste as approved in a true market place would circumscribe the outline of race as profound in a political sense, would be warranted, not only in a social sense – i.e., not to be intervened with by law or some notion of mere, private taste; in terms of action, quite the contrary - action would be taken to protect the majority aesthetic..
And, of course, the ontology project will establish (even more precise) scientific parameters of how Europeans and their different kinds come to count.
....................
* Would she consider that females, long co-evolved in mono-racial situation, may have over-evolved a rebellion against any sort of constraint as in the homeostasis of European evolution there was no need for ultimate constraint (they could basically only rebel to other Whites). Therefore, this sort of rebellion could not be so strong as to be destructive to her own basic evolutionary parameters, it only tended to force the strengthening of those within. That's a question for scientists, and another attribute for eugenecists to ponder. Clearly liberalism serves the narrow interests of puerile females, and can be successfully pandered to, but..