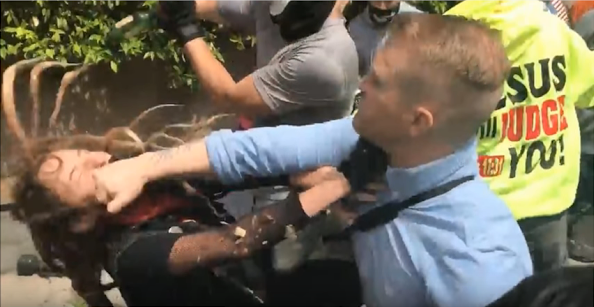 .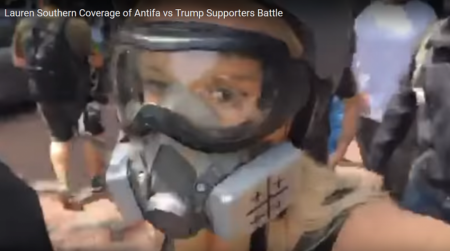 (((Lauren Southern))) equipped with gas mask, helmet and protective eye goggles, ready for the "surprise attack" from anti-fa.
In his discussion, "What Berkeley Means", Richard Spencer characterizes as a seminal event the prepared altercation between "anti-fa" and those gathered to hear Lauren Southern and other Alt-liters/ Alt-Righters ("doesn't make any difference ((())) or )))((( they're all under attack by anti-fa") at their free speech rally in Berkeley. Apparently it doesn't matter either that the bubble-headed Lauren Southern is Jewish and showed up equipped with a gas mask, protective eyewear and helmet; that the YKW are on both sides of this, alt-lite/right and antifa, as can be expected - no, according to Spencer this is to be marked as a day of such historical importance that it might be observed through the ages. Really, its clear that the YKW are on both sides of this one and that it is a continuing part of a strategy to put Whites and YKW on the same side. Spencer has done this before.
What Berkeley Doesn't Mean -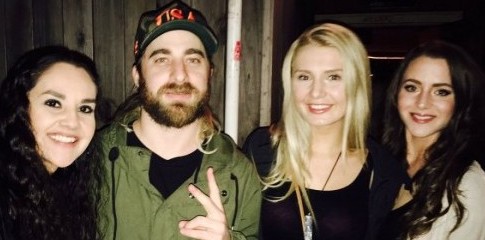 Unknown, Baked Alaska, Lauren Southern and Brittany Pettibone - Brittany needs to get away from these right wingers.
It's hardly something like The Battle of Cable Street in reverse, as Spencer would depict it.
He doesn't tell you that Lauren Southern, a key promoter of the Berkeley free speech event, is Jewish; however, he does say that "she and other 'alt-lite' figures are being attacked just the same as 'alt-right' people, therefore they are in the same boat." This is tantamount to saying that Jews are in the same boat as Whites. Clearly there is an agenda to that. He's done this before, as I mentioned in this article - Where and how (((The Alternative Right))) is drawing friend / enemy lines of a coming revolution: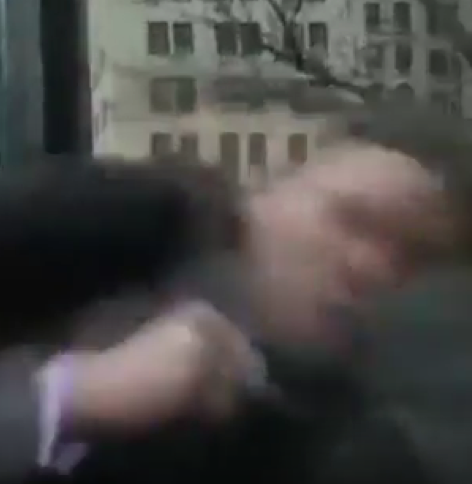 AltRight Radio, "Counter Signal - 2 - The Bannoning", 6 Feb 2017:
(21:00) Charles: Yeah, so, we got kicked off of Reddit. I was one of the moderators there. I organized all of the "ask me" anythings. We got kicked off of Reddit for sharing the researcher bounty that was looking to identify the antifa that attacked you, Richard.

(29:00) Richard Spencer: To kind of transition to a bigger issue. We're in this weird state, if you will. Everything that has happened in a way that I never imagined it would happen, basically. I never imagined Donald Trump would be memed into an Alt Right hero. ...We have this weird situation where there's been this top-down revolution in the Republican party. Donald Trump is soui generis; and he has some people who are on his side: obviously Bannon and (((Steve Miller))) are kind of (sigh) they're definitely not Alt Right but they're hard, they get it at some gut level and they're behind him and pushing him to do this:
[Jewish paleo-nationalism as opposed to Jewish neo-conservatism]

(30:50) Richard Spencer: So, there's this weird top-down revolution that's going on; we can say that Donald Trump has all this access to directly reach the people through Twitter and Youtube and his celebrity and so on; but at the same time this is going to be really, really hard because he is going up against every institution in society. He did a travel ban that is total weak-tea. I'm not bashing Bannon and (((Miller))) who are behind it at all, I'm just like kind of like challenging them, challenging Trump.
(31:45) Richard Spencer: It's a start of something; and obviously the left is freaking-out; they're losing they're shit because it is the first time that they've seen a White man stand up to the world and say, "no, we're not helping you, we're not declaring war on your behalf, you're not coming here, no, this is our country, sorry, but your out of your own country, bye bye"; and they cannot take that, a White person saying that drives them fucking nuts….and so that's where we're happening, that's what's happening, we're in this weird situation, we're winning on this top-down level from the Presidency. But in terms of all of these institutions, in terms of the digital institutions, in terms of society itself, like we're, I can't say that we're winning. We are triggering them, we are freaking them out, we are fighting back against them maybe for the first time in a long time. But we're not winning.
(32:44) Richard Spencer: You know, they are fighting-back too, the antifa are getting hard-core. They are attacking Milo for god's sake. ..and they are attacking us in the streets. ..ah, the digital, Silicon Valley people are kicking us off of platforms, like they're, the Empire is striking back as well, we're just in this very strange situation that I, again, that is totally unpredictable and is also unpredictable going forward. I don't know how this is going to play out. ..it is precarious to say the least. We are basically losing and winning and fighting back and getting fought-back against really hard in ways that we never had before.
[Blending Alt lite with Alt right]:

(33:30) Charles: Oh, this is how you get Caesar. They are so hysterical, I mean, when they're saying that people like Milo Yiannopolis, is a gay, Jewish, race-mixing, libertarian; and they're putting him along side Adolf Hitler; it's just so bizarre, it's like you guys have lost your shit. They're not just attacking Richard Spencer anymore, they're attacking Gavin McInnes, they're attacking Milo Yiannopolis, they're attacking normal, like normal people, like normal Trump people, at their little airport protest over in Portland…there was a guy who just had a Trump hat and I guess I don't know, he may have said something, but a whole mob of people attacked him, knocked him out, gathered around and were like you deserve it you Nazi, ra, ra, ra! ...it was a very disgusting scene..I've never seen, like that before in my life; and they're literally saying everyone's a Nazi now and you can be violent toward Nazis at the Gavin McInnes protest. A professor at NYU was like, "you fucking police, you're protecting a bunch of Nazis!" ...and its, like, its Gavin McInnes ok? He has a Native American wife, he likes Pat Buchanan, ok? He's not Adolf Hitler. They're just losing their shit so badly.
(35:57) Charles: This is the first time that the right has ever pushed back and they're losing it.
(36:07) Richard Spencer: Whether this is due to social mood, or what have you… Bannon, as well, is interested in this fourth turning concept…it seems every thirty to fifty years or so there are these points where there are these paradigm shifts and people recognize it in their gut ...and they react to it and that's when violence returns ...the inter-war period was a very clear example about this ....political violence, street violence, ideologies, I don't like the word extremism, but compared to the bipartisan consensus of the 1980's yes, it was kind of extremism. Very different visions of the world were clashing. You have a similar situation three decades after in the late 60's and 70's…where again, violent action, underground societies, bombings, again, a lot more things were in question, people were willing to do things. .. and as I grew up, I was born in 1978 so I grew up in the 80s and the 90's, all of that stuff seemed totally impossible. The notion that you would kill someone over politics was basically insane. It was unthinkable. ...now it is clearly thinkable. There is no doubt that at one of these future events, whether it is I speak or whether its an NPI conference or whether its Gavin McInnes or whether its like Steven Crowder, there's going to be blood on the fucking street, there is going to be deaths due to politics. That is something that everyone just assumed was over, but its back. There does seem to be a very intensely negative social mood going on and I think there is also this demand, and it comes from both the left and the right, this radical demand for a new paradigm, and we're a part of that…. I was actually joking, but the Alt Right actually does have something in common with the anti-fa.
[That's right, they're both controlled opposition]
[Now to wrap up the friend enemy distinction as Jews would like to develop it]
(56:56) Richard Spencer: This is the way I would end it [wrap-up the podcast] one aspect of the civil war, at least as I would see it, is that ultimately it becomes two sides; and we are seeing that…what I've been used to, my career in this, has basically been… like your fighting two battles, on the one hand you're fighting the left and the liberals, but I always viewed the real enemy as the phony right, like that's the real enemy that you have to displace and destroy, the phony right, they're the ones preventing a new right, a different right, an Alt Right from emerging…and so that's how I viewed it… what's happening now, I think is a different dynamic….and that is that we're getting pushed-onto the same side, whether we like it or not.

It's like the type of Alt Lite moral signalers, who want to talk about how un-racist they are, how Trump is going to be great for everyone, whether you're a Korean shop owner, an African American or an Indian immigrant, we're all going to be making America great again, that is just, I'm sorry, that is really quaint and kind of fun for you know, Cernovich. ...but that is all just total objective nonsense ..no one is going to take that seriously, like it's already over. Basically, the Alt Lite people are going to be attacked by the exact same people for the same reason [is this sounding more like plan than a prediction to you too?], using the same language and ideology as Richard Spencer or David Duke, or literally Hitler would be attacked by these people. You cannot differentiate yourself. There will ultimately be two sides ..at the end of the day, even they (honest liberals who would condemn anti-fa attacks) will be pushed onto the same side.
(59:23) Richard Spencer: And that's where we are, we're getting pushed onto two sides; and that is also a sign of a civil war. This isn't some market place of ideas, this is a civil war where one side will win and one side won't.
(59:44) Charles: Well, to purposely misquote Richard Nixon, we're all national socialists now, when libertarians and cuckservatives and the likes of Bill Mitchell and Mike Cernovich, Gavin McInnes are compared to Adolf Hitler, it's a preposterous time to be alive.. that's where we're at right now, the "basket of deplorables" is now the basket of Goebbels. .. we're past the point, we can't have a reasonable discussion. So when you hear Paul Joseph Watson in his British accent or whatever it is, talking about "oh, the 'tolerant' left, oh my, they just don't want to have a discussion." You're right, they don't want to have a discussion, they want to fight you, they want to kill us all. So what do you say, Paul, do you want to join us? Do you want to fight back? Or do you want to get beat up?
(101:06) Richard Spencer: The irony is that you and I would literally have a discussion with Paul Joseph Watson.. whereas the other side won't. ...there's a reason for that ..whatever you want to say about Paul Joseph Watson or Milo or whatever, we can talk with them .. there's a compatible aspect to what we're doing, we're kind of like left and a right in a way.
(102:47) Richard Spencer: In terms of the Alt Lite, I can only imagine that a lot of them are waking up to this obvious reality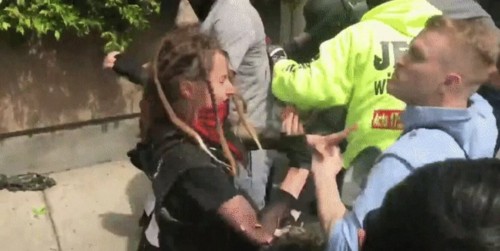 The right is infamous for getting people swept-up and lured into mistakes.
(102:59) Charles: I think they are. (((Lauren Southern))), I think, just made a video saying that it's time to fight back.
(103:07) Richard Spencer: Yeah
(103:07) Charles: and it is, if you're being attacked by these people, you have to defend yourself.
(103:15) Richard Spencer: Absolutely. Well, anyway, lets leave it on that note; this was great; unfortunately Andrew had to leave us a little bit early; yeah, so, we're back and we'll be doing this regularly. So, get ready. I'll talk to you soon Charles.
(103:37) Charles: I'll talk to you soon, Richard.

TRS, "Beyond The Wall Episode 6: Interview with Lawrence Murray", 2 Jan 2017