Ebola remiss an alarm for border control as even most objective standards of human ecology ignored
Judging by his vigilant stream of Ebola updates, it is clear that James considers the threat of Ebola to be under-reported in terms of its significance.
Ebola remiss an alarm for border control as even most objective standards of human ecology ignored by authorities: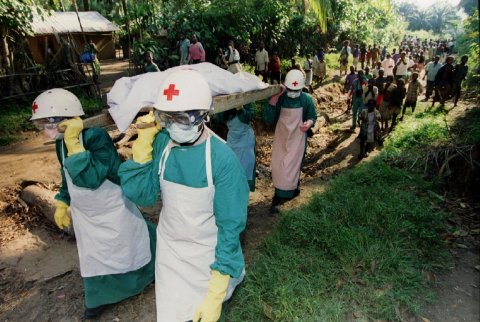 The handling of the Ebola threat by institutional bodies such as the Centers for Disease Control, supposedly responsible for safeguarding public health, provide a glaring example of how we cannot rely on them to serve our needs, not even as a by-product of the most ostensibly objective concerns of human ecology.
Furthermore, as the remiss demonstrates that these bureaucracies cannot be entrusted to look-after the interests of our relative human ecologies it should create awareness that now is the time to step-up participation in border re-establishment.
As James explains, the mishandling of the threat of pandemic disease, as in the case of Ebola, has been made evident not only through border crossing, but in a pattern of decades, extending to misreadings of the H.I.V. epidemic by these same responsible institutional bodies - such as the CDC, with its authoritative media organ, "Nature" magazine, taken to be definitive of science journalism and featuring assessments by experts such as Princeton's R.M. Anderson - experts and their fact-checkers who are all too capable of committing fundamental errors in epidemic prediction.
Specifically, Anderson's initial indication for Nature magazine suggested that an increased number of sex partners was not a particularly significant factor in H.I.V. transmission. This took for granted its operating on a relatively homogenous population, with steadier patterns and where outlier behavior is more compartmentalized into niches. Promiscuous heterosexuals in this sort of population were not particularly at risk as their partnering was in linear alignment and separate from the infected homosexual population. However, with the increasing introduction of diverse populations, not only are more promiscuous sorts added to the ranks of the population, but also those more capable of transmitting the disease, those still more recklessly transgressing niches and even those with malicious intent to deliberately transmit the disease.
"Strength in diversity indeed - for pandemic disease!"
The take-away is that European peoples must take initiative in border control to protect the interests of our human ecologies - for our very survival. Institutional bodies entrusted to be competent and concerned cannot be relied upon for even the basics of public health management - they are not even taking into account such basic factors as the mass introduction of alien biology and behavioral patterns on stable human ecologies; the direct introduction of virulence from primeval breeding grounds and bio-power, e.g., of Sub-Saharan Africa - which your European biology may not withstand. In fact, these bureaucrats in their faux-objectivism, whether the result of pandering or being pandered-to, malicious intent, indifference or incompetence at best, are subjecting European populations to experiments that your European biology should not have to hold up-to, as conducted upon you and the ancient human ecology of our European peoples unwillingly, unbeknownst, without consent.
More, for their very nature as fixed places, James likens nation states to immobilized patients in a clinic, and therefore draws the possibility of their susceptibility to pandemic, such as Spanish flue, which spread rapidly through immobilized patient concentrations in Red Cross hospitals after World War I. Immobile as the nations states are then, it is imperative to secure their borders against mobilized virulence.
Ebola having reached The U.S. highlights this fact. Thriving at length, transmissible even from a corpse, passively, potentially mutating airborne transmissability, Ebola can be far more destructive than the H.I.V. epidemic which the CDC blundered about..
James details the analogy in the misreading of H.I.V. and Ebola epidemiology:
The Ebola Epidemiology They Won't Talk About
Remember the AIDS epidemic? I mean back when AIDS was Big News in part because it was New and in part because it was actually rapidly spreading during the late 1980s. Well there was this rumor going around the midwest that "the AIDS epidemic is over". It was more than a rumor, though; It made it into newspapers—in particular college newspapers where the rumor's optimism could potentially do the most damage by encouraging sexually active young adults to let down their guard so to speak.

Guess where that rumor started?

The world's most prestigious science magazine: Nature.

Guess where that rumor ended?

I won't go through all the details of this bit of history here. I will, however, focus on the correct arithmetic formulas describing the AIDS epidemic and then proceed to describe a way current "authorities" may be underestimating the dangers of the current, unprecedented, Ebola outbreak.

One of the errors the general public made in thinking about the AIDS epidemic was corrected by May RM, Anderson RM in Transmission dynamics of HIV infection*, Nature. 1987 Mar 12;326(6109):137–142. That error is to over-simplify the transmission dynamics of the virus. The oversimplification is to assume that the number of people an infected person will infect is proportional simply to the average number of sexual partnerships per person infected with HIV.

R0 = Reproductive rate of the virus ( If > 1 we are in an epidemic.)

D = Duration of infectiousness

β = The odds of transmitting the virus per partnership

So far so good, right? I mean the longer you are infectious the more people you are likely to infect and the more likely you are to infect a given partner, the more people you are likely to infect.

But what about that 'c' up there? Well, here it is in all its complex glory:

c = The

effective

average number of partnerships per person

over the distribution

m = The average number of partnerships per person over the distribution

σ = The standard deviation in the number of partnerships* per person over the distribution

The big enchilada of epidemiology is determining R0 for a given population. The big enchilada of public health is getting R0 as low as possible—most urgently below 1 and most desirably 0. One of the things that can make people over-optimistic about R0 is thinking 'c' is 'm' when, in fact, 'c' is bigger than 'm'. Indeed, if σ is large, the smaller 'm' is the bigger 'c' hence R0 is.

Oh, but its worse than that!

Did you notice that 'σ' is squared: σ² (aka "variance" in the number of partnerships per person)

You know what that means?

It means "diversity is strength" squared. Strength of the epidemic squared that is!

It is known that during the AIDS epidemic there have been AIDS murders; someone with AIDS simply "loses it" and starts having sex—deliberately unprotected sex—with others to infect them. Indeed, AIDS neuropathy may contribute to such serial-killer-by-sex behavior in some cases.

There are people who harbor profound feelings of resentment if not outright hatred of US society. Do you think that number has decreased since 1987 when the above epidemic formulas were derived for AIDS? Has the "diversity" of US society decreased since 1987?

I'll put it this way:

If, on average, one of those serial-killer vectors has Ebola and is able to "scan" enough of the population (say, by boarding a subway and leaving a lot of bodily fluids around) to infect another of those vectors, civilization is in big trouble.

*That was the article that I, in turn, further corrected to end the rumors that "the AIDS epidemic was over". My correction was merely to the definition of one of the variables—a correction that was later published by Nature in a quasi-retraction—that being "the probability of transmission of the HIV per partner contact" vs "the probability of transmission of the HIV per partnership". A "partnership" is a sexual relationship regardless of the number of sexual acts within that relationship. As Robert M. May told me in our conversation, the tendency to transmit was more dependent on the particular two people in a relationship than it was on the number of times they had sex. I know—its counter-intuitive but that's really what he said. My suggested change to the formula was to keep "the probability of transmission per partner contact" as the definition of β but to exponentially approach 1 with the number of sex acts. He told me that's not an accurate model of the probability and although I don't understand why, I can accept that he did have the proper background to make that judgement. In any event, his is a better definition of a "hit and run" type of encounter between members of the public in anonymous urban settings, which is the primary problem in the Ebola epidemic.