Hyperbolic Neo-Liberal Immigration Policy Misnamed "Leftist" By YKW Media (Be Even More Afraid)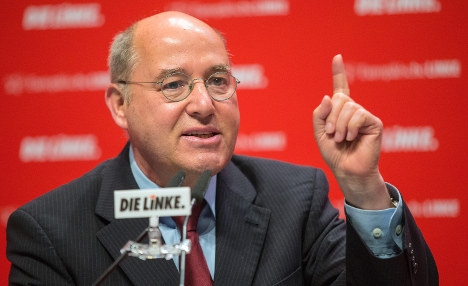 Die Linke's parliamentary leader Gregor Gysi. Photo: DPA
Its egregious intentions betray its egregious misnomer as "The Left" by the YKW media. Whereas a White Left would be a union of the entire nation of native peoples and thus organized in entirety against immigrant imposition - these workers and beneficiaries being the theoretical equivalent of scabs - and the consequences of elite betrayal. Accordingly, a true European Nationalist Left would not be of just one class, say the workers, let alone be in representation of scabs (foreigners) - as the latter in particular would be defined properly not as The Left but rather as a Neo-Liberal concern imposed on the classification of native national interests. The reason for the misnomer is plain, the YKW and the sell-outs, particularly of the international corporatist order, do not want us to be clear in the organizational concern of that union, which is a merging, in fact an overlap, of the class with native nationalism. Instead they want it associated with what is most repugnant to our interests.
The YKW and corporate elite sell-outs are aligned in this perversion of class interests - you can be even more afraid now as they obligingly ask:
"What does the Left Party want for Europe?"
The "Left Party" (wink), read "neo-liberal" and ask rather, what union of your interests do they represent - i.e., how are they a leftist union for you as a native European? Particularly when they advocate (hyerpbolic) neo-liberal policies as such?

"Die Linke is now the third biggest group in the German parliament, but what do their politicians want for Europe?"
Gysi pretends the leftist, denouncing the The EU for "pursuing 'neo-liberal' policy:"
"Die Linke overtook rivals the Greens ... to become the country's third biggest parliamentary group – and has since made waves in foreign policy by its outspoken condemnation of US spying and conciliatory attitude to Russia's actions in Ukraine.

Their charismatic parliamentary leader Gregor Gysi added to his party's critical stance towards the EU system in an interview with Die Zeit newspaper. 'It is pursuing a neo-liberal economic policy and stands for the opposite of socialism,' he said."
But then his party pursues this policy on immigration -
"Mobility and Immigration

Die Linke's policy on immigration stands out from major parties by appearing dramatically in favour of making Europe more refugee-friendly.

They claim to promote the 'unconditional right to stay and proper accommodation, social protection and equal rights for all refugees.'

And according to their manifesto, they also support refugees' free choice of which country they wish to seek asylum in, as well as demanding the dissolution of EU border agency Frontex."
You can't get much more neo-liberal than that.
What does that have to do with the unionized representation of native European national interests?
We hear nothing representing the unionized interests of native European nationals in YKW media. Our interests are ignored and obfuscated beginning with the very terms, with the deliberately confusing mis-designation of neo-liberal policy - immigration and non-native imposition in particular - as "The Left." By contrast, designating the proper representation of native European national interests as The White Left is to distinguish it from the liberal and Jewish affectations imposed on native European nationalist interests by The Red Left.

http://www.thelocal.de/20140514/what-do-die-linke-want-for-europe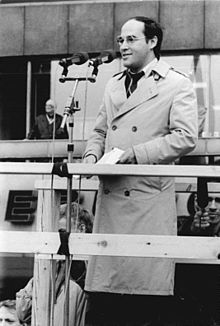 Gysi in his Soviet permutation
——————————————————————————
More past wind across the German border from "The Left":
"The greatest danger of all is to allow new walls to divide us from one another. The walls between old allies on either side of the Atlantic cannot stand. The walls between the countries with the most and those with the least cannot stand. The walls between races and tribes, natives and immigrants, Christians and Muslims and Jews, cannot stand. These now are the walls we must tear down!"