by Happy Cracker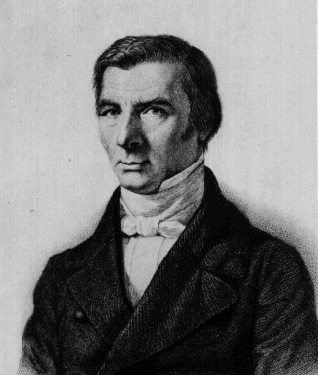 Frédéric Bastiat was a Frenchmen who lived from 1801 to 1850, in the last decade of his life producing several treatises on free market economics and political economy. He was an enemy of socialism and wrote several books demonstrating the absurdity of socialist economic premises. His writing is notable for its clarity and conciseness; and readers who value their time will no doubt be grateful for his mercifully paired-down writing style, which lets several of his works be read in an afternoon. In addition to these traits, he has value to us for being a non-Jewish voice in the advocacy of economic liberty and against socialism.
I'm going to publish here a smattering - no, make that two smatterings - of various quotes from his work 'La Loi' (The Law), a work primarily aimed against socialism and the laws inherited from the government of Robespierre.
Bastiat is credited with the analogy of the Broken Window (sometimes called the Broken Window Fallacy) which basically refutes the idea, common to certain readings of economics, that the breaking of a window as a consequence of a children's ball game could be seen as causing economic growth, because the glazier has to be paid to put in a new window, thus generating money. He disproves this by showing that the store proprietor has to pay the cost of the broken window; thus while the broken window does lead to increased "economic activity", it doesn't in fact result in net wealth creation. Some important statistics frequently used by modern economists have this fallacy built into them, for example, the national GDP - probably the most commonly cited economic indicator in the economic press - would reflect the action of the glazier to repay the window, and could thus be explained by pundits (or any public figure) as signifying economic growth. [Chip in on the comments thread if you know the other reasons why GDP is less useful than commonly supposed.]
Bastiat's take on the role of the state in society:
"Socialism, like the ancient ideas from which it springs, confuses the distinction between government and society. As a result of this, every time we object to a thing being done by government, the socialists conclude that we object to its being done at all. We disapprove of state education. Then the socialists say that we are opposed to any education. We object to a state religion. Then the socialists say that we want no religion at all. We object to a state-enforced equality. Then they say that we are against equality. And so on, and so on. It is as if the socialists were to accuse us of not wanting persons to eat because we do not want the state to raise grain."
Here he describes the moral ploy inherent in socialist schemes - which we identified in a former post as being ameliorative of the citizen's struggle to exist, thus inherently delegitimizing and mitigating that struggle:
The Seductive Lure of Socialism

Here I encounter the most popular fallacy of our times. It is not considered sufficient that the law should be just; it must be philanthropic. Nor is it sufficient that the law should guarantee every citizen the free and inoffensive use of his faculties for physical, intellectual and moral self-improvement. Instead, it is demanded that the law should directly extend welfare, education and morality throughout the nation.
Bastiat's writings about freedom of association seem very prescient, given the 'integration' and 'assimilation' projects we now are forced to live under - :
Enforced Fraternity Destroys Liberty

Mr. de Lamartine once wrote to me thusly: "Your doctrine is only the half of my program. You have stopped at liberty; I go on to fraternity." I answered him: "The second half of your program will destroy the first."

In fact, it is impossible for me to separate the word fraternity from the word voluntary. I cannot possibly understand how fraternity can be legally enforced without liberty being legally destroyed, and thus justice being legally trampled underfoot.
Bastiat goes on to describe the various schemes for benevolent statist expropriation, which he rightly calls "Plunder":
Three Systems of Plunder

The sincerity of those who advocate protectionism, socialism, and communism is not here questioned. Any writer who would do that must be influenced by a political spirit or a political fear. It is to be pointed out, however, that protectionism, socialism, and communism are basically the same plant in three different stages of its growth. All that can be said is that legal plunder is more visible in communism because it is complete plunder; and in protectionism because the plunder is limited to specific groups and industries. Thus it follows that, of the three systems, socialism is the vaguest, the most indecisive, and consequently the most sincere state of development.

.... The law can be an instrument of equalization only as it takes from some persons and gives to other persons. When the law does this, it is an instrument of plunder.

With this in mind, examine the protective tariffs, subsidies, guaranteed profits, guaranteed jobs, relief and welfare schemes, public education, progressive taxation, free credit, and public works. You will find that they are always based on legal plunder, organized injustice.
Bastiat's observations can be quite funny because they are so pointed, here is one I enjoyed:
The Choice Before Us

This question of legal plunder must be settled once and for all, and there are only three ways to settle it:

1. The few plunder the many.
2. Everybody plunders everybody.
3. Nobody plunders anybody.

We must make our choice among limited plunder, universal plunder, and no plunder.
Bastiat comments on one of the most interesting trends in socialist politics, in my view, which is the tendency for socialist ideas - once given entry - to grow and infect the entire system, for lack of a counter-concept to reign in their excesses:
Socialists, like all other monopolists, desire to make the law their own weapon. And when once the law is on the side of socialism, how can it be used against socialism? For when plunder is abetted by law, it does not fear your courts, your gendarmes, and your prisons. Rather, it may call upon them for help.

.... it [socialist laws] is not only an evil itself, but also it is a fertile source for further evils because it invites reprisals. If such a law - which may be an isolated case - is not abolished immediately, it will spread, multiply, and develop into a system. The person who profits from this law will complain bitterly, defending his acquired rights.

...The acceptance of these arguments will build legal plunder into the whole system.
He puts a very fine point on it thus:
The present-day delusion is an attempt to enrich everyone at the expense of everyone else; to make plunder universal under the pretense of organizing it.
Bastiat then enters into a discussion of the motivations and ideas behind socialist schemes:
The Socialists Wish to Play God

Socialists look upon people as raw material to be formed into social combinations. This is so true that, if by chance, the socialists have any doubts about the success of these combinations, they will demand that a small portion of mankind be set aside to experiment upon.

It is no wonder that the writers of the nineteenth century look upon society as an artificial creation of the legislator's genius. This idea - the fruit of classical education - has taken possession of all the intellectuals and famous writers of our country. To these intellectuals and writers, the relationship between persons and the legislator appears to be the same as the relationship between the clay and the potter.

The Socialists Despise Mankind

According to these writers, it is indeed fortunate that Heaven has bestowed upon certain men - governors and legislators - the exact opposite inclinations [of the average Lumpenproletariat - MR] not only for their own sake but also for the sake of the rest of the world! While mankind tends towards evil, the legislators yearn for good; while mankind advances toward darkness, the legislators aspire for enlightenment; while mankind is drawn toward vice, the legislators are attracted towards virtue.

Open any book on philosophy, politics, or history and you will probably see how deeply rooted in our country is this idea…that mankind is merely inert matter, receiving life, organization, morality, and prosperity from the power of the state. And even worse, it will be stated that mankind tends towards degeneration, and is stopped from this downward course only by the mysterious hand of the legislator.
It seems fit to end the essay with the quote which appears on the book's back cover, which sums up the problems of having an omnipotent state run by humans, thus by people guilty of the same spiritual frailties as those they are attempting to govern:
If the natural tendencies of mankind are so bad that it is not safe to permit people to be free, how is it that the tendencies of these organizers are always good? Do not the legislators and their appointed agents also belong to the human race? Or do they believe that they themselves are made of a finer clay than the rest of mankind?
This is a recapitulation in prose of Juvenal's famous line Quis custodiet ipsos custodes? - who will watch the watchmen themselves?