From the hubris of objectivism to the implicative force of Mulatto Supremacism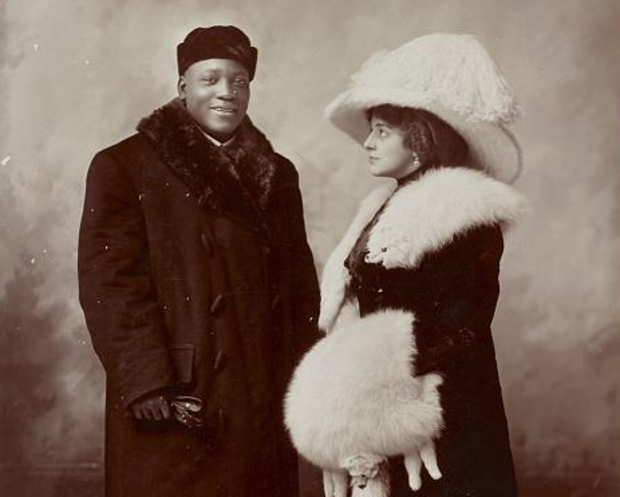 Jack Johnson and Etta Duryea
She waited for him in Montreal from where they fled to Europe and then Mexico for 7 years to escape his charges on The Mann Act. Finally, in 1921, she left him on the basis of his infidelity.
From the hubris of objectivism to the implicative force of Mulatto Supremacism

When we are advised to pay strict attention to the J.Q., and only to the J.Q., we are sometimes being encouraged to be what amounts to suckers anyway. Undoubtedly Jews bear a great responsibility for the infliction of a myriad of problems upon us. Some prominent White spokesman claim that if we could only deal with the J.Q., that Blacks would be strategically easy to deal with – a weekend operation. There is probably a great deal of truth to that if – if we were talking about World War II era warfare – and we were not dealing with the current manifestation of war, which includes all sorts of psychological manipulation along with the razing of time immemorial rules and safeguards of gender relations.
However, that is not the case. We are in the confused upshot of modernity, where racial classificatory bounds have been ruptured by the prohibition of classification through "rights." Despite the prohibition, we need to classify in order to make sense. Defacto classifications tend to remain - those too salient to ignore forming a charmed loop – Women and Blacks. Our more sublime European women emerge more one-up than ever given the prohibition of racial bounds; pandered to from all angles, they become more articulate and powerful gatekeepers than ever, even the puerile among them; whatever natural tendency they may have to incite genetic competition only exacerbated. While Blacks, a form tens of thousands years older than Europeans and having less to lose due to their low investment offspring strategy, fit directly into the atavistics of the void; as it favors the directness of primeval alpha male behavior; and disadvantages the sublimation of even a Duryea (http://en.wikipedia.org/wiki/Charles_Duryea) - as opposed to his kind, theirs is rather a form which, evidently, for its evolutionary circumstance, had quantified and maxed-out masculinity by comparison to the more gender balanced and sublimated European.
Hence, you've got a situation among the disordered fall-out of modernity in which even puerile White females have a great deal of power to assert their perspective and inclinations, often well more than their wisdom and experience merits; add to that the hubris of objectivism, and Blacks have opportunity to impose their hyper-masculinity. That Jews have large responsibility for prohibiting discrimination against Blacks is a truism there is no need to deny, as there is ample evidence. However, that is not all the story as even a casual glance at the White girl down the street getting mushy and weak at the knees over a Black man will attest. For some White girls, at least, Blacks are like drugs and they are like drug addicts. OK, Jews are enormously representative of pushers, but the problem is there, at least to some extent, Jews or not - part of it has been the fault of objective hubris, whether religious or scientistic – call it swarthy objectivism, if you will.
Anti-racism is Cartesian. It is not innocent. It is prejudiced. It is hurting and it is killing people. Whereas anti-racism is anti-classification, an evil, destroying in one generation evolution and ways which have been achieved through millennia, the re-institution of classificatory bounds would allow qualitative processes of development to unfold as they are protected from the necessity of rigid defense at all times.
Johnson and wife Irene Pineau
…………..
Jack Johnson (March 31, 1878 – June 10, 1946) was the first Black heavy weight boxing champion. Though there was at least one Jewish connection to his rise to power and influence, it does not approximately represent the kind of facilitation that Blacks receive today from Jewish advocacy. In fact, it was at (Wiki) "the height of the Jim Crow era, that Johnson's reign as champion (1908–1915) took place. The Jim Crow laws were state and local laws in the United States enacted between 1876 and 1965. They mandated de jure racial segregation in all public facilities in Southern states of the former Confederacy, with, starting in 1890, a "separate but equal" status for African Americans."
Hence, despite these relativist measures, Jack Johnson represents the objectivist side of the problem (not so much the side of Jewish machinations), i.e. the part that is "our fault." Though farther investigation may well turn more evidence against them, in cursory inspection it is hard to blame this one on Jews; although a significant turn in his boxing prospects did come from his training by a Jewish immigrant - then boxing veteran, Joe Choynski.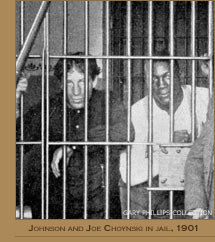 Joe Choynski and Jack Johnson behind bars
In 1901 Joe Choynski boxed Johnson and knocked him out in the third round. They were both arrested after the fight and went to jail together for 23 days. There, Choynski coached Johnson in some of the skills that would lead to his boxing success; whereupon he was not to be defeated, but to lord himself as heavyweight championship of the world and objectively entitled for 7 years.
Choynski and Johnson had been arrested after the fight – you see, there were attempts to make boxing illegal; as there were efforts to make it illegal, period, not only as it may profit Blacks. We will get to the significance of that in a moment, as we will get to the significance of the fact that the first recognized heavy weight boxing champion, John L. Sullivan, refused to box Blacks whatsoever.
This convention of champions refusing to box Blacks was maintained until 1908, when after long pursuit, much goading and a promise of a larger purse, champion Tommy Burns gave in; and in1908 he was utterly humiliated by Johnson.
Much of the goading consisted of the usual right wing hubris: charges of Blacks being yellow, that they have no character, they are too stupid to beat a White man, etc. Unflatteringly, some of that right wing goading came from the left wing White racialist, Jack London – he should have known better; but there were things to learn.
Johnson did not only taunt and humiliate his White opponents in the ring. Not only did he win huge money and lavish himself with fine clothing, cars, an altogether flamboyant life style, but publicly flaunted, sometimes two at a time, the company of White women – women who, judging by appearance, many of us would be quite satisfied to call our wives. This was at a time prior to the Frankfurt School's influence in America or any sort of Jewish hegemony, for that matter – not in the media, not anywhere in The U.S. - yet.
At a time when segregation was still dejure in the south and defacto in the north, when it was still normal to refer to Blacks as niggers, when harassing a White woman could get a Black killed, Johnson traveled openly with White women. Hattie McClay was among the first and Belle Schreiber later came along, then Lucille Cameron.
So, we are looking at a problem that is not all Jewish in the making. Some of it can be attributed to the White women for being spoiled, selfish and shortsighted, some of it is the fault of White men for not having White class, for allowing matters to be placed within the wrong framework: in this case, the objectivist criteria of boxing's weight divisions.
With that, Johnson fought Whites and Blacks, making good money for the time, as much as a thousand dollars a fight (free market non-theory?); and the press profited too.
Though it would be typical to write-off his mudsharks as stupid White trash, not all of them were prostitutes.
"Johnson was married three times. In January 1911, Johnson married Etta Terry Duryea. A Brooklyn socialite and former wife of businessman Charles Duryea" (Duryea, who we'd mentioned in opening as the more sublimated European type, was the engineer of the first gasoline powered motor car in America – a highly accomplished man – indeed, his car outperformed even Benz's in staged competition. In fact, his wife met Johnson at a car race in 1909. "Their romantic involvement was very turbulent. Beaten many times by Johnson and suffering from severe depression, she committed suicide in September 1912, shooting herself."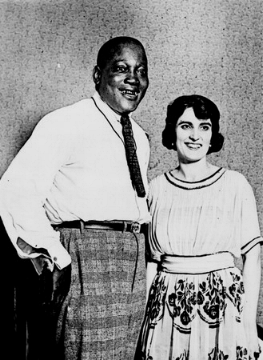 Jack Johnson and yet another White wife, Lucille Cameron
"Less than three months later, on December 4, 1912, Johnson married Lucille Cameron." She was the one from our interest arouser at the top, who fled to Canada, Europe then Mexico with him. She was a prostitute. Nevertheless, her mother did everything in her power to get her away from Johnson. Despite all, Cameron did stick with him through that flight from conviction, undoubtedly sharing him with other women, including Mata Hari (http://pl.wikipedia.org/w/index.php?title=Plik:Mata_Hari_6.jpg&filetimestamp=20110807175429) and Lupe Velez (http://en.wikipedia.org/wiki/File:Lupe_Velez_Argentinean_Magazine_AD_3.jpg); even waiting for him after he spent a year in jail – the deal he made in order to come back to the U.S. She only divorced him officially in 1924 because of his infidelity.
"The next year, Johnson married Irene Pineau. When asked by a reporter at Johnson's funeral what she had loved about him, she replied, "I loved him because of his courage. He faced the world unafraid. There wasn't anybody or anything he feared."
Johnson would say about his choice of partners:
"I have the right to choose who my mate will be without the dictates of any man. I am not a slave. Because my ancestors came here before anyone had dreamed of the U.S., I consider myself a pure American." - Jack Johnson
"He wouldn't let anybody define him. He was a self-defined man. The issue of being Black was not relevant. But the issue of being free and a total person was totally relevant." - James Earl Jones
"Jack Johnson was a pure individual; he did everything the way he wanted to do it…I think Jack Johnson embodied the American ideal of being able to go where you want to go based on your abilities. If he had not been the heavy weight champion, nobody would have been talking about him. Nobody would be talking about him if besides being able to fight, he had decided to live a life short of being a free man; which meant that he made people upset because they had a circumscribed idea of what the life of a free man should be for him." - Stanely Crouch - Writer
"So long as I do not interfere with any other man's wife, I shall claim the right to select the women of my own choice. Nobody else can do that for me. I am not a slave. I have the right to choose who my mate shall be without the dictation of any man. I have eyes and I have a heart and when they fail to tell me who I shall have as mine I want to be put in a lunatic asylum." - Jack Johnson (a.k.a. John Locke)
"He was a self defined man. Jack didn't tow any lines; I wouldn't say that is what got him in trouble, society was in trouble. He was just being himself. He didn't present himself as a man of the people or doing good for his people. He didn't play that game. He wasn't willing to cut off his balls just to present himself as a non-threatening creature outside of the ring…
If you had your way, wouldn't you eliminate all of the competition? In terms of race, get rid of all the Black guys and keep the women Black and White; that would be the ideal."
- James Earl Jones
Jones' second wife, Cecelia Hart
Get that? It makes sense to him to get rid of White men and keep their women.
And as if we would necessarily want Black women..
Wimpy White biographer, Randy Roberts, quotes W.E.B. Dubois: "even in this case, W.E.B. Dubois says I may disagree with his choice, but he has that choice, it's his right and we can't take it away from him. And he hasn't done anything wrong."
"Neither Jack Johnson nor his race invented prize fighting. So why now this national disfavor? It comes down to this unforgivable Blackness."
There's your rights babble for you, prior to its full throttle exploitation by Jews - in the last two examples coming from W.E.B. Dubois, who was literally, a mulatto supremacist.
..remember our point that they tried to ban prize fighting before Johnson.
Nevertheless, for a big pay day, a promoter did allow champion Burns to fight Johnson, despite his "unforgivable Blackness." The question is, should it really be emasculating to lose a boxing match to a gorilla? Listen to Johnson's hyper-assertiveness with regard to Burns:
"If I would have killed Burns for the language that he used with me, I would have been fully justified."
This is coming from someone who had no part in 41,000 years of European evolution and yet claimed the right to choose European women. However, verbal insults are justifiable cause for homicide. You might compare that to the disposition of the man who would one day defeat him, Jess Willard, who "hated boxing and saw no good reason to hurt his opponent."
That Blacks might thrive in the hyper-masculine arena (void of technological adjustments that Jim might recommend – adjusted for the White man's kind of masculinity) should be no great surprise. Actually, boxing probably should be illegal, irrespective of the race question, so as not to select for that type and waste lives in senseless endeavor. Nor is it particularly true that Whites only tried to outlaw boxing because of Johnson. There had been attempts and arrests of non-Black fighters several times prior to Johnson's reign. At any rate, the attempt to outlaw boxing as inspired by Johnson's exploits reflects some understanding of incommensurability.
Jews alone do not explain women's gravity to Negroes. To understand how we are to defend ourselves, we must begin to set out some additional important factors – differences that make a difference. Objectivism does just the opposite, it reduces the number of qualitative factors in order to compare and quantifiably measure. Hence, a myriad of potentially crucial factors are swept aside - a Jack Johnson might be objectively seen as the best boxer, heavy weight champion, entitled to all the spoils there are, with warranted assertability and no apparent counter-argument.
As is typical with the experience of theory, it becomes entwined with concreta and spawns factors recognized belatedly, post hoc – That is, I will likely add to and modify this list, and happily invite commentators to contribute as well. But for now, let me set down some important factors swept aside in objectivism:
1. Incommensurability – mismatched paradigm. Comparing Whites and Blacks is to compare the rule structures of qualitative evolutions that should not be compared as they are profoundly different paradigms: their logics are significantly different. Blacks are undoubtedly evolved to abide by different logics of action and meaning.
2. What makes a man distinctly human? Aristotle asks. It is not speed - a horse can run faster. It is not arm strength – a gorilla is more distinguished inasmuch, etc.
3. And, he asks, with humans being mammals, what do we care about most? Relationships – not, for example, objective boxing skills.
4. Moreover, Aristotle determines that as humans are biological creatures, we require optimal amounts of need satisfaction; not the objectively greatest quanta – the criteria of quantification, in fact, becomes toxic in biology. Significantly, the reflective and reflexive responses of creatura (of which which we are a part; and which entail the adjustments of learning, as a special distinction for us, as humans) tend to be imperviously ignored as well. Hence, the optimal requirements and reflexive responses of biology (including learning) are additional factors that tend to be cast aside by objectivist criteria. Of course this gets a little complicated, but misapplication has tended to have to do with merging what C.G. Jung called pleroma (physics metaphors) with creatura, biological metaphors which would express biological types of responses, accordingly.
5. Genotype / phenotype: For example, Johnson was born 1878 and died in 1946. My great-grandmother was born in 1860 and she died in 1967. While Johnson was undoubtedly a stronger phenotype, it is debatable as to who was the stronger genetically. For other examples, if White women are the most coveted, and White men create them genetically (along with the most efficient society), who are the more valuable men?
6. Ecology, human, social and environmental: the increase in mulattoes does not necessarily correspond with the elimination of Blacks proper, nor does it necessarily allow for the continued existence of Whites proper – in fact, it likely destroys significant and qualitatively distinguished kinds of Whites (how many times have we seen the most qualitatively differentiated White women sucked into the Black hole of miscegenation?). Not only would objectivist criteria destroy qualitative kinds, but the ecological processes of both the lifespan and the evolutionary process would also be disrupted.
7. Because Blacks are an older form and have bio-hegemony, a bio power which, as it corresponds with a hyper-masculinity (including higher levels of testosterone) lacks sublimation, they are not altogether productive; rather, they are able to push aside some of these qualitative factors which are likely to be important in the long run. This negative characteristic is being instilled through mulattoes while the beneficial sublimation of Whites is being lost.
8. Because they are of the primordial element, Blacks can spawn another sort of Jewish group virus in some form of mulattoes.
9. Mulattoes come across as the answer to answers, "the synthesis" among the Marxist dialectic - especially given exacerbation of the female tendency to incite genetic competition amongst the prohibition of racial classification.
10. Hermeneutic factors, the narrative encompassing of qualitative matters over history and space / utilizing the social agreement of how things count through language's capacity to encompass matters over time and space.
Nevertheless, partly due to objectivism, these factors are ignored (undoubtedly more that we will discover) and we have an upshot of mulatto supremacism.
We are confronted with an additional profound challenge - there are compelling mulattoes. The point challenged is that they are not worth the destruction that comes along with them:
We need stress that mulattoes do not put an end to Blacks proper nor the ways that come along with them:
Blacks have evolved tens, if not hundreds of thousands of years, prior to European differentiation. More, their kind of selection has quantified and maxed-out masculinity, creating an aggressive, presumptuous, hyper assertive kind of people: less sublimated, their most serious expressions being more sex partners, younger, single parent families, poverty, violence, disease, exponential population growth, over-grazing, arrogation and destruction of resources.
The impact on evolutionary patterns, societal and other ecological diversity, is not something that White women should be blind to, or allowed to play stupid about.
Miscegenation is easily equal to rape and pedophilia; and The White Nation ought to establish that rule.
Some women may have an inclination to Blacks, scientistic objectivism might verify this as fact and confer pseudo legitimacy, but that does not mean we should void our social agency to intervene. Some men may have a natural inclination and think they should be able to take and rape women as they see fit, or that they might like a nice, tight, nine-year-old girl – but we say "No" to that, as a collective, and we are right.
OK, so we've gone into this bit about Jack Johnson to make it clear that we need to argue, to flesh out qualitative differences that make a difference, even where Jews are not distorting the facts. We need to establish rules using the provisionally-transcendent and relative leverage of social agreement; otherwise, if nothing else and speaking in merely objective terms, we can breed away with every race.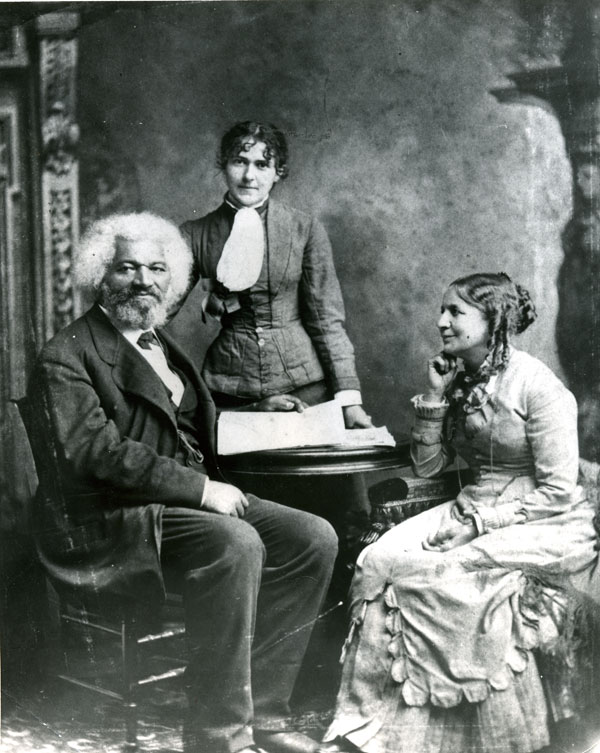 Frederick Douglas
It would not be hard to find a myriad of examples of prodigious miscegenators, even prior to Jack Johnson. Going back to the 1800's freed slave Frederick Douglas was another who had White wives (a Jewish one too, I believe). True, we can also trace Jewish influence through Christianity and that is a very accurate contention, but not nearly as plain and direct as Jewish causality today.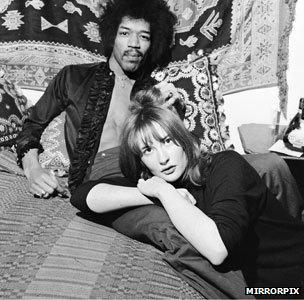 Jimi Hendrix and Cathy Etchingham - blacks were so uncommon in England at the time she met him that Hendrix was the first one she'd ever become acquainted with.
If Jimmy Hendrix is "the best guitar player," is music worth his White trophy women (including English women not likely to be heavily under the Jewish spell, quite then), among legion? Would you rather have music or a woman?
Notice how rules for promiscuity are largely set-aside by women for these Negroes. It is hard to articulate the harems that some of them have and have had.
To allow for a situation where creatures like Mike Tyson and Nigel Benn can become millionaires through the exercise of their hyper-masculine skill is nothing less than insane. In Nigel Benn's case, we have a boxer who was rewarded for his victory that severely brain damaged Gerald McClellan - not that I care about that, but what came along with his boxing championship: great wealth, legions of women, including this sickening story that I'd called attention to previously.
The point is, we've got to begin to invoke these argumentative strategies, not only naming the J (though that we must, as we have seen repeatedly, there will be those who try to reintroduce alien antagonists into our class), but also those potentially effective arguments which call attention to the differences which make a difference between Whites and non-Whites.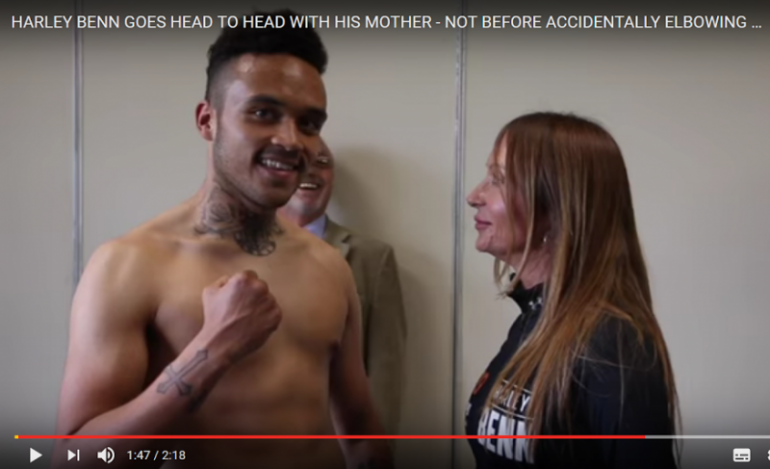 Harley Benn and his mother, Lisa Andrews
Sun, "BENN SNUBS SECRET SON; EXCLUSIVE: Mum tells of heartbreak as ex-champ ignores his little love child", 23 July 2000:

THE mother of Nigel Benn's secret love child has told for the first time of her heartache as the boxing hero cruelly shuns her and their little son.

The ex-champion refused to accept paternity until after DNA tests.

And even though he provided a house for three-year-old Harley, the fighter coldly warned the boy's mother Lisa Andrews he'll make them homeless as soon as the child leaves school.

Benn also published a book implying Harley was the product of a one-night stand.

Now the youngster has started to ask about his father - so blonde Lisa has decided to set the record straight.

She is speaking exclusively to the Sunday People because Benn is acting as though their son doesn't exist.

Cuddling Harley - the image of his famous father - Lisa, 31, says: "Nigel was the love of my life and there was a time when he loved me.

"I don't want my son growing up with the world thinking he is the result of a sordid one-night stand. He was born out of love."

Multi-millionaire Benn has seen Harley just ONCE - when he turned up for the DNA tests.

The twice-married fighter, nicknamed the Dark Destroyer, callously ended his five-year romance with Lisa after she became pregnant.

She says: "It's easier for Nigel to pretend I never existed but it's not fair on Harley. Nigel has behaved appallingly."

Lisa, who works as a table dancer at a top London nightclub to help support her son, says Benn:

-SEDUCED her with constant flattery and romantic nights of passion;

-SHOWERED her with flowers and pounds 50 notes in extravagant displays of generosity and sent her lots of affectionate letters but;

-EXPLODED in fits of jealous temper, once squeezing lemon juice into her eyes, and has now

Nigel Benn

-THREATENED her in a foul-mouthed tirade of venom after discovering she wanted to tell her story.

Benn, 36, lives in a pounds 2 million mansion with second wife Carolyne, 29, their three-year-old twins India and Connor and his children from his first marriage, Dominic, 13, Sade, 11, and Rene, five.

Lisa says: "Nigel makes a big fuss about being a great dad, but if you love one of your kids you love them all - whatever you think of their mother."

Benn, who earned pounds 1 million a fight at the height of his career, has bragged of bedding thousands of women.

The former WBC super middleweight and WBO middleweight champ was still with first wife Sharron when he met Lisa in 1991. He chatted her up at a club where she was working.

Lisa says: "A few weeks later he took me for dinner and told me he and his wife were splitting up. I felt guilty because he had children but I was bowled over by him and we spent the night in a hotel."

Lisa was soon besotted. She says: "Nigel is like a spider. He spins this huge web and you get caught up in it and can't get free.

"He puts you on a pedestal and worships you and that's very flattering and hard to resist."

The mum says Benn was an incredible lover and recalls: "He saw me after getting badly hurt in a big fight.

Lisa Andrews with hers and Nigel Benn's offspring, Harley

"He couldn't even laugh or walk properly but his injuries didn't stop him making love. He's amazingly strong and often we made love three or four times a night. He's very passionate. No one has ever made me feel as good."

After Nigel broke up with Sharron in 1993, he shared a flat with Lisa in Middleton-on-Sea, West Sussex. She soon saw Benn's more sinister side.

She says: "I was in a restaurant with girlfriends when he turned up with a huge bouquet. He had clipped pounds 50 notes around the flowers. There was pounds 1,000.

"But when he found we'd been to see the Dreamboys male strippers group he went mad. He picked up a lemon and squeezed the juice into my eyes.

"I was blinded and it really hurt. I ran out of the restaurant. Afterwards he was full of apologies and in tears.

"Another time he ripped my bracelet and watch off my wrist during a row. He lost his temper over the slightest thing. If I spent more than two minutes in the toilets at a nightclub he accused me of stopping to flirt with some guy." Meanwhile Benn was two-timing Lisa with travel agent Carolyne Jackson, 20, who became his second wife.

Benn moved in with Carolyne after Lisa found out about his cheating.

Lisa says: "I was devastated. He told me he loved me and wanted to have children with me then betrayed me."

Months later Benn called to say things were not going well with Carolyne. Lisa started seeing him again and in December 1995 found she was pregnant. She says: "When I phoned to tell him he went quiet before saying, 'It will be a beautiful baby'. I said, 'You're not going to speak to me again, are you?' He just said 'no' and put the phone down."

Two months later he proposed to Carolyne in the ring after losing his title. His son Harley Benn Andrews was born four days before Carolyne had his twins.

Benn, with a fortune put at pounds 10 million, offered pounds 50 a week for the baby's upkeep.

When Lisa, struggling on income support, sought more, Benn insisted on the DNA tests to prove Harley was his. Lisa says: "Nigel phoned to say he wanted to be in Harley's life but I heard no more."

Benn is now paying monthly maintenance and has bought a pounds 107,000 three-bedroom house for Lisa in Pagham, West Sussex.

But he insists she must move out when Harley leaves school. The house is one of 16 he owns. His own home in Beckenham, Kent, has eight bedrooms,

Benn, now a pounds 3,000-a-night DJ, called Lisa when he found she planned to tell her story. Lisa says: "He called me a name and threatened me. I was petrified. I'm a 5ft 4in dancer and he's this huge ex-boxer."

Police monitor Lisa's phone and have warned Benn to stay away. He apologised but scared Lisa has 24-hour security.

She says: "Nigel says he loves Harley but how can he when he has never even sent him a birthday card?"

Nigel's former manager and close friend Peter Defreitas is Harley's godfather.

He says: "Nigel has treated Lisa dreadfully. She has done nothing to deserve it."

Lisa adds: "My son is my life now. But if Nigel wants to be Harley's dad then he can be. He's missing a lovely little boy."

Duryea showed his wife that he was better – but the arguments were lacking among a critical mass as to why this inclination of hers was not warranted.
The charge of mulatto supremacism, or something suggestive as much, will additionally serve in forcing Whites to underscore the qualitative differences, and have them take a second look before challenging Blacks and Mulattoes on a foolish, sheer quantitative basis.
John L. Sullivan and Jack Dempsey did not box Blacks. If such an archaic sport as boxing is to be practiced at all, that certainly would be a proper line to draw.
The loss of even one woman, like Lucille Cameron - http://www.fanpix.net/2739567/013218563/jack-johnson-and-lucille-cameron-picture.html - to her mother, who tried desperately to fight for her; or a wife, as was the case for Charles Duryea, http://cdn2-b.examiner.com/sites/default/files/styles/large_lightbox/hash/ec/21/ec21de0c4f01c6aac72a9364f95e4e0c.jpg can be nary the end of the world. Some call it soul destroying – It is like cutting down a rain forest or witnessing the end of a species. It is, in a very real sense, the extermination of a vast evolutionary differentiation.
Again, we have a real problem not only in the bio-power of Blacks and its hyper-masculine opportunism among modernist disorder, there are other significant challenges in upshot as well: the offspring of interracial pairings can, sometimes anyway, be attractive, at least to some.
http://www.popscreen.com/p/MTA1MzUyMTk4/Amazoncom-Bearcat-Wright-Ronald-Cohn-Jesse-Russell-Books
http://en.wikipedia.org/wiki/Rashida_Jones
While it may not be a problem for me, in that I am all too aware of what the patterns that come along with them are like, I am all too aware of the sublime loss and brutal imposition that they represent, it is not necessarily a lesson that will be learned quickly enough by a next generation.
This is a real challenge. While most Mulattoes probably are not very appealing – they are usually hideously symmetrical; and typically have many of the generally unappealing features of Blacks - there are some who are good looking and not altogether stupid. While I might have the resource to reject them outright, what might a person who is young and unformed yet know? He/she might think others are merely jealous. We need to make clear the kinds of patterns that are coming along with Blacks and mulattoes as well as the qualities lost in Whites.

Caveat: This article is in no way meant to distract focus and resource from the pre-eminent culpability of Jewish elites and Jewish ethnocentric patterns (nor is it meant to divert attention from corporatist and other elitist, internationalist destruction of our indigenous European peoples). It is rather, an effort to refine the scope of attention as it concerns Whites while adding significant rhetorical resource to that scope, one of the worst upshots of Jewish antagonism, etc; a nascent problem of its own despite Jewish dismissal and diversion from its instigation, deliberate or defacto
- Mulatto Supremacism.

Mulatto Supremacism
Mulatto Supremacism is a term referring to the defacto inclination or deliberately promoted agenda of those who deem Mulattoes - half Black/half indigenous-European or half Black/half other non-Black - as being a superior people.
It is exemplified in the statement that Mulattoes have "the best of both worlds"; by those who claim that mixed race, viz. Mulatto, people and children are "more beautiful" (1); "superior"; and by those who criticize intermarriage within an ethnicity as "inbreeding" while extolling the virtue of Mulatto out-breeding. Mulatto supremacists may come to the position as a result of scientism (2) which, being causal in its notion of necessity, precipitates "natural" inclination and a more arbitrary bio-power in contrast to patterned genetic depth, involvement and accountability to (e.g.) indigenous-European individuals, cultural patterns and habitats. Besides scientism, mulatto supremacists may be instigated to the position, deliberately or defacto, by Jewish politics, its activism and various means of antagonizing European ethnocentrism; or by the likes of international corporate interests.
Mulatto supremacism is likely to be at least as great a hazard to native Europeans as Jewish and other forms of elitism have been, as it stems from a longer evolved element. The oldest people in the world, Bushmen, are some 150,000 to 200,000 years older than European differentiation; much older than Jewish as well, and in that respect, have the element to spawn another sort of Jewish group genotype; moreover, in taking a list of countries by birthrate: some 44 of the first 51 countries in per capita birthrate are Black African; hence their sheer numbers are potentially overwhelming; along with the masculine bio-power of their long pre-evolution; which, in the disorder of modernity, can work to their favor and their mulatto offspring's favor in mating with White women as they are void of traditional contexting. Hence, it just may be more dangerous than Jewish elitism one day. Though the uspshot of mulatto supremacism has much to do with Jewish elitism, its use and abuse of the theories of Karl Marx, Freud, The Frankfurt School, the likes of Herbert Marcuse (3), rabbinical scholarship(4), Talmud and much more.
For its admixture of a long pre-evolved people, coming along with the prohibition placed on the racial bounds of White classification through the perverted notion of rights, Mulatto Supremacism(5)(6) hence, is a significant hazard to the ecology of cultural diversity, genetic diversity and biodiversity(7).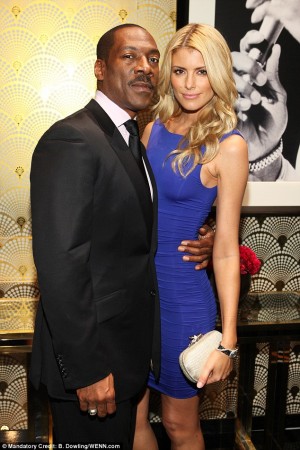 Murphy and Butcher
(1) AfroRomance - where love is more than skin deep… March 19th, 2008: "Are Mixed Race Children Better Looking? Posted by Ria - "Well, I am sure you have heard of that. I am also sure that some people have had interracial relationships for this reason only. Why do people believe that if an interracial couple has children that they will instantly produce beautiful babies?" Is getting into an interracial relationship for the sole reason of getting 'beautiful babies' the right reason to date interracially? ... on 9 April 2008:.."I have never seen a child that was of two races that was not beautiful… They have the best of two worlds, both genes from both sides."
(2) Scientism is the crass misuse of "scientific" thinking, decontextualiztion which rationally blinds its practitioners to and from accountability; and to their relative group interests with the pretext of objectivism; its reflex, severe relativism, supposedly beyond their personal motives.
Young White folks may be particularly susceptible to mulatto supremacism, whether through a wish for the simple account and innocence of objectivism, through peer pressure; media influence; habits inculcated through the interpretive/critical theory of the Frankfurt School or more (3); perhaps insecure about their personal viability, as they are not yet sufficiently educated to the depth and significance of their native-European heritage. The confluence of this immature judgment uncritiqued is likely to increase the altogether unjust pairings of young White females and young Black males; particularly given incommensurate breeding styles and differing ages of maturity (Black boys maturing earlier than White boys) as Rushton describes; a puerile judgment that may not to be fully appreciative of the differing levels of sublimation between the cultural groups. In fact, a mediating choice, the mulatto, may appear as "optimal" among the disorder of classifications.
(3) "Liberating tolerance," Marcuse wrote, in contrast to "indiscriminate tolerance" or "repressive tolerance," would be "intolerance against movements from the Right, and toleration of movements from the Left." This duality "would extend to the stage of action as well as of discussion of propaganda, of deed as well as of word." It was important that intolerance apply to regressive words as well as to regressive deeds, because, for Marcuse, words had real consequences, and if the consequences were to be avoided, the words must be silenced."
The Daily Helmsman Online: Number of interracial marriages up, says census; Yann Ranaivo, Staff Reporter, Issue date: 4/24/07 Section: News - "According to U.S. Census Bureau marriage statistics, interracial marriages have multiplied since the 1960s and doubled in 2005 compared to 1990. Further Census figures showed that the periods from 1960 to 1990, and the five years following the turn of the millennium saw the biggest jumps in interracial marriages. It was also reported that blacks and whites have had the highest increase in marriages outside of their race in the last three decades. Although less apparent in Memphis, some University of Memphis students say they believe the figures are proof of changes in perspective and taboo beliefs. However, other students who have lived a majority of their lives in the Greater Memphis area said the change has only been apparent in specific areas, The University being a particular one."
(4) There are several Biblical references to hostility between the people of Israel and the people of Edom (e.g., 2 Samuel 8:12-14; 2 Kings 8:20-22; Psalm 137:7), and it is possible that some of the narrative of Genesis is intended to explain the origins and justification of that hostility. The Edomites (also known as Idumeans) came to be dominated by the larger kingdom of Israel, but from time to time fought wars with Israel throughout Israel's history.
Approximately 1000 years after Esau's and Jacob's common birthday, God expresses extreme anger and condemnation upon the Edomites such as in the prophesies of Malachi 1 and Obadiah 1. However, although the Bible follows the convention of describing the Edomites by the name of their long-dead patriarch Esau, the specific reasons given for God's anger involve then-recent sins of the Edomite people, not of the individual man Esau.
The prophesies of Obadiah and Malachi indicate that the Edomite culture will be destroyed during the end times. In Obadiah Chapter 1:18, it is declared: "And the house of Jacob shall be fire and the house of Joseph a flame, and the house of Esau shall become stubble, and they shall ignite them and consume them, and the house of Esau shall have no survivors, for the Lord has spoken."
According to rabbinical studies, Edomites were the progenitors of Rome. The Talmud use Rome as a synonym for Edom in many of his volumes. Because the Romans adopted Christianity as their religion and was the bedrock for western civilization, Christians and/or European nations and their descendents are sometimes referred to as Edomites. According to the same tradition through the prophecies in Obadiah and Malachi refer the Messianic age, where Edom will be ruled by the messiah and the people of Israel eternally.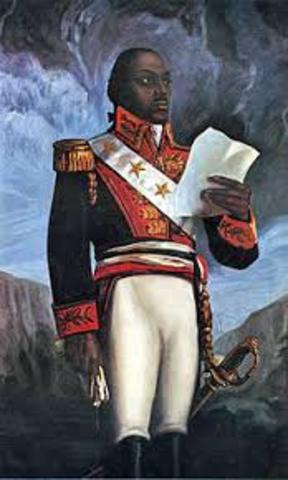 Taussaint declares revolution of Haitian Blacks, a precursor to Mulatto supremacism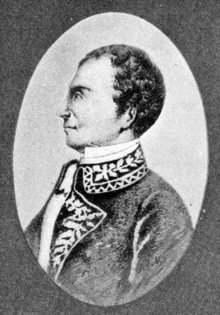 Andre Regaud, leader of the Haitian Mulattoes
(5) André Rigaud - see Columbia Encyclopedia: "1761-1811, Haitian mulatto general… he believed in 'the superiority of mulattoes."
ChickenBones: A Journal for Literary & Artistic African-American Themes - Toussaint Chronology: "In 1799 the mulatto general André Rigaud enlisted the aid of Alexandre Pétion and Jean Pierre Boyer, asserted mulatto supremacy, and launched a revolt against Toussaint."...the genocide of the Whites that followed on what is now Haiti is a well known event.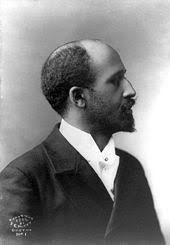 W.E.B. Dubois
(6) W.E.B. Du Bois and the Dandy as Diasporic Race Man; in Miller, Monica L.; Callaloo - Vol. 26, Number 3, Summer 2003, pp. 738-765; The Johns Hopkins University Press: "W.E.B. Du Bois and the Dandy as Diasporic Race Man" argues that Du Bois's concern with black male leadership style began before the writing of Souls and continues well after it, in his less well-known writing. While still a young scholar, Du Bois wrote about an African American "feminine man" who, in joining with the more "masculine" Teutonic would produce a common human/American civilization by a racial division of labor."
(7) Barack Obama, Berlin, Germany, July 24th, 2008: "The walls between old allies on either side of the Atlantic cannot stand. The walls between the countries with the most and those with the least cannot stand. The walls between races and tribes; natives and immigrants; Christian and Muslim and Jew cannot stand. These now are the walls we must tear down." Again, if one takes into account the list of countries by birthrate, the catastrophic implication for Europe of "tearing down the walls" is clear and its Mulatto upshot apparent.
"The greatest danger of all is to allow new walls to divide us from one another. The walls between old allies on either side of the Atlantic cannot stand. The walls between the countries with the most and those with the least cannot stand. The walls between races and tribes, natives and immigrants, Christians and Muslims and Jews, cannot stand. These now are the walls we must tear down!" - Obama, Berlin 2008.
If McCain had only won, we'd have had a sniveling White objectivist President in The Oval Office to pardon Jack Johnson: "May 25, 2011 (Reuters) - Senator John McCain and Representative Peter King said on Tuesday they would reintroduce a resolution to pardon boxing legend Jack Johnson."
Raising the charge of Mulatto Supremacism is both valid regarding one of the worst effects of what Jews and Blacks are doing to the White race while confronting neither group directly so as to initiate direct response; nor failing to use the leverage of their own potential grievance as to the matter.