Epshteyn will leave Trump TV to join the Trump Administration.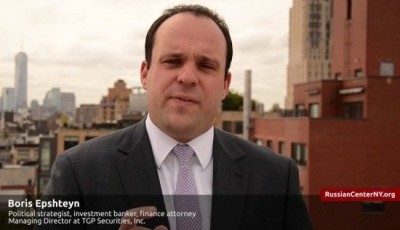 Jewish Daily Forward, 'Epshteyn To Leave Trump TV', 25 Mar 2017:

Boris Epshteyn, a prominent Trump surrogate during the election campaign, is expected to quit his post at Trump TV, Politico is reporting from many sources close to the administration.

The Trump TV project was widely seen as a post-election project if the Republican candidate had failed to win and needed to build yet another alternative to news that would outflank Fox and Breitbart on the right, and give Trump an ongoing political platform.

Epshteyn, a 35-year old attorney from a Russian-Jewish family and a college friend of Eric Trump, is expected to join the administration in an official capacity.
It's rapidly becoming the case that The Forward is one of the most authoritative mainstream news sources on what is happening inside the Trump administration, because so many of the Trump administration's most prominent and influential figures are Jewish.