For Such A Time As This: Hillard Clump policy against Iran & Asian/White Ethnonational cooperation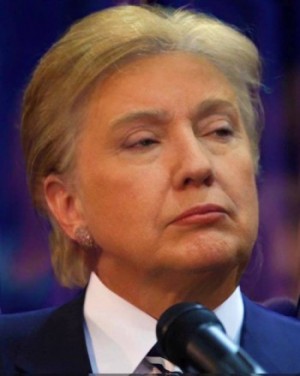 Hillard Clump
The conventions reveal a "Hillard Clump" as the candidates pursue the same fundamental paradigm shift in domestic and foreign relations - which is ultimately anti-White.
The Republican and Democratic conventions show a common paradigm behind both parties in terms of domestic and foreign agendas: both sides were superficial in presenting themselves as the nationalist champions, concerned to protect the economic interests of classes below Jewish and other oligarch interests. Their policies a) hearken back to older industrial methods - production methods by which America cannot compete and which are obsolete compared to the robotic methods a first world nation should pursue in self interest; and b) policies of tariffing, which will not only hurt the Asian economy, but raise the price of goods, and thereby offset wage increases domestically. Thus, the ostensible nationalism of Hillard Clump is not going to improve the economic prospects of underclass Americans. In fact, both sides are just pursuing policies which retain America's liberal, de-White unionizing basis - the Republicans have revitalized their party by placating Whites with the hope that they may find their way through the proposition nation with dog whistles to "anti-PC", etc.; hence, maintaining the party as good sport in the mutual foil game. By following suit, Whites are being roped-in to its racial mixing bowl; while the Democrats pursue their more flagrant pro-non-Whites agenda to make the "choice" seem more dramatic and important than ever - there isn't a dramatic choice: It's Hillard Clump.
Both sides are working for the same overall paradigmatic shift in foreign policy as well, configuring foreign relations to secure Jewish and oligarch interests. Hillard Clump are in favor of subduing Iran and its deal at the behest of Israel. Even more significantly, they are both shifting toward a policy of containment of Asia, and China in particular: Trump will present Israel's Russian option against China and the rest of Asia, while Hillary will favor Saudi; but the primary outlook in either case is against Asian development - also against the rest of the third world development for those who care - however, the anti-Asian angle is significantly in Israel's particular interests and NOT in White interests. That is because it will suppress Asian development in order to keep their ethnonational powers from growing, while Jewish and other oligarch interests keep comprador contacts (typically Muslim Imams) in place to exploit them. This policy of containing and suppressing Asia will not only hamper any projection and threat of Asian ethnonationalism against Jewish and oligarch exploitation, it will hamper Asian ethnostates from cooperating with European ethnonationalism against Jewish and oligarch power. At the same time Jewish and oligarch interests will continue to disrupt the projection of European/ White ethnonationalism through the ongoing promotion of race mixing civic nationalism in Europe and in America - in America, under the guise of "mutual economic class interest" ("protectionism" of America's propositional underclasses); and in Europe, under the guise of needed labor and youthful diversity to break-up stayed nationalistic, racist, xenophobia. This foreign policy of Hillard Clump is thereby designed to head-off the possibility of European/ White ethnonational cooperation with Asian ethnonationalism because Jewish and other oligarch classes recognize that cooperation to be the greatest threat to their power and sources of power.
Examples of the common domestic/foreign paradigm shift from the conventions:
Republican: Ben Carson dog whistles a quote from The Book of Esther - "In such a time as this" (when war against Iran is called-for)
Democrat: Elijah Cummings expresses his true belief that the Democrats are opposed to oligarch interests, while he is forced to talk over the chants of fellow true believers, shouting, "stop the TPP."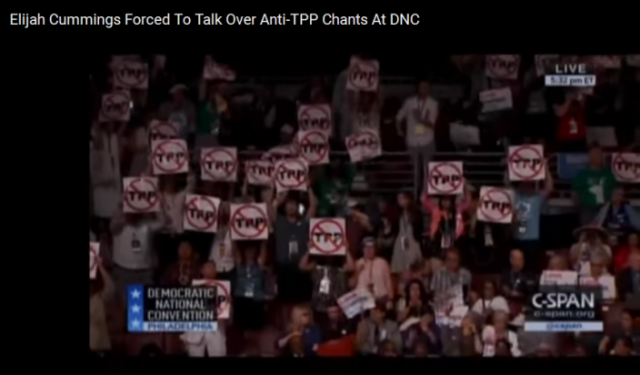 Washington Post: For three-full hours, they objected nearly every time a motion was brought up for a voice vote, calling instead for a roll call; they chanted against the TPP trade deal; they waved signs and banners.