Why "The Political Compass" Is Inherently Vectorist and How to Correct It
"The Political Compass"...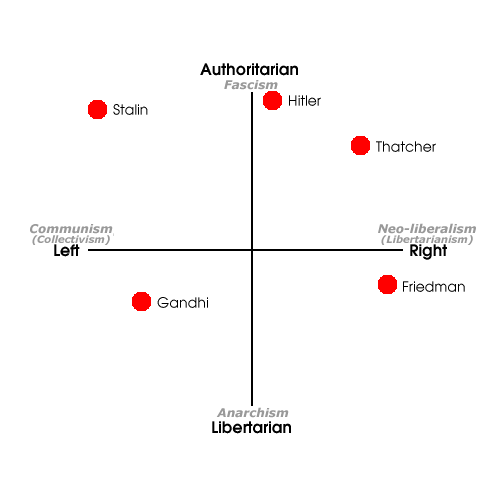 ...has been used by sociologists and political scientists as the supposed be all and end all of mapping the primary dimensions of social and political sentiment into a space. Supposedly all other dimensions are relatively insignificant when analyzing the dimensionality of political and social attitudes.
It is my hypothesis that the reason for this limited dimensionality is due to the fact that the questionnaires do not systematically include the scale of social organization to which the question applies.
For instance, take the statement "I oppose homosexual behavior."
Let's break this down into the following 3 statements:
"I prefer homosexual relations."
"Homosexuality should be allowed within my nation."
"I would tolerate the existence of a nation, somewhere in the world, that allowed homosexuality."
A likely outcome of these statements for a great many people are: "Strongly disagree", "Disagree", "Agree"
However, the questionnaires for "The Political Compass" rarely let people express their tolerance of diversity in any manner except what I have termed "heterosity" or novel, local diversity.
I further hypothesize that this is because the culture of sociologists and political scientists is dominated by vectorists—or people promoting heterosity as a means not only of transmitting more virulent genes and memes globally but evolving virulence via horizontal transmission. The general unspoken assumption in designing their questionnaires is that if one is to be intolerant of some behavior or belief in your personal life, your family, your community, your county, your state or in your nation, that you must therefore be intolerant of the behavior globally. Hence those subjected to these abusive questionnaires are put in a ridiculous position—the outcome of which fails to represent firewalling of cultures to discover what works and what fails in reality, as opposed to in the verbal bantering of academic sophists who nearly to the "person" promotes open borders and heterosity.