Axelrod on Clinton: 'It takes a lot of work to lose to Donald Trump'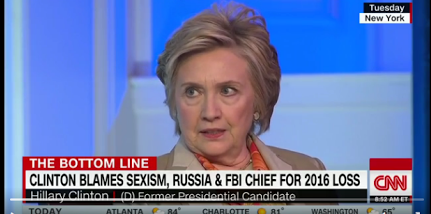 We should be more eager to suspect Jewish deep state insiders who wanted Trump to win.
'It takes a lot of work to lose to Donald Trump.'
Indeed, and that is why it looks like she may have gotten some "gentle encouragement" (read, subtle bum steer - part of 'a lot of work' from (((insiders)))) to not bother addressing typical White Americans - she would have won if she could have been at all bothered to treat them like normal human beings with legitimate concerns; rather than placing herself exclusively on the side and among an entourage of blacks, liberal feminists, married gay couples, etc. - anything to be in-the-face of Whites about the new, "tolerant", America; i.e., basically anything to represent a cartoon of the political correctness that is totally intolerant of, and eager to ignore the concerns of White Americans; demonstrating more of the same, not giving a fig about them, as they've experienced for decades.
The Hill, "Axelrod on Clinton: 'It takes a lot of work to lose to Donald Trump", 3 May 2017:

Democratic strategist David Axelrod says Hillary Clinton would be well served to move on from last year's presidential election and stop talking about it.

"It takes a lot of work to lose to Donald Trump," Axelrod told CNN on Wednesday. "Let me tell you, he was the least popular presidential candidate to win in the history of polling."

Clinton on Tuesday said she takes responsibility for her 2016 presidential election loss, but added she would have won if not for FBI Director James Comey, Russian hackers and WikiLeaks.

"If the election had been on Oct. 27, I would be your president," she told CNN at a Women for Women event in New York on Tuesday, referencing Comey's letter informing Congress that the FBI had discovered new emails that appeared pertinent to an investigation into Clinton's handling of classified material.

"It wasn't a perfect campaign - there is no such thing - but I was on the way to winning until a combination of Jim Comey's letter on Oct. 28 and Russian WikiLeaks raised doubts in the minds of people who were inclined to vote for me and got scared off."

Axelrod called the 2016 race a "miserable slog" and said nobody in America wants to relive it "except the combatants who keep going back to it."

"She has a legitimate beef because Comey's letter was instrumental I think in her defeat, so in a narrow sense she is right about it," Axelrod said.

"But Jim Comey didn't tell her not to campaign in Wisconsin after the convention. Jim Comey didn't say don't put any resources into Michigan until the final week of the campaign," he continued.

"And one of the things that hindered her in the campaign was a sense that she never fully was willing to take responsibility for her mistakes, particularly that server."

Axelrod then offered a piece of advice for Clinton.

"If I were her, if I were advising her, I would say, 'Don't do this. Don't go back and appear as if you're shifting responsibility.' ... She said the words 'I'm responsible,' but the — everything else suggested that she doesn't really feel that way," he said.

"And I don't think that helps her in the long run, so if I were her I would move on."

Axelrod was chief strategist for both of Barack Obama's presidential campaigns and worked in the Obama White House as a senior adviser.