Donald Trump's Financial Ties to Russian Oligarchs
The New Republic, "Trump's Russian Laundromat" July 2017:

How to use Trump Tower and other luxury high-rises to clean dirty money, run an international crime syndicate, and propel a failed real estate developer into the White House.

In 1984, a Russian émigré named David Bogatin went shopping for apartments in New York City. The 38-year-old had arrived in America seven years before, with just $3 in his pocket. But for a former pilot in the Soviet Army—his specialty had been shooting down Americans over North Vietnam—he had clearly done quite well for himself. Bogatin wasn't hunting for a place in Brighton Beach, the Brooklyn enclave known as "Little Odessa" for its large population of immigrants from the Soviet Union. Instead, he was fixated on the glitziest apartment building on Fifth Avenue, a gaudy, 58-story edifice with gold-plated fixtures and a pink-marble atrium: Trump Tower.

A monument to celebrity and conspicuous consumption, the tower was home to the likes of Johnny Carson, Steven Spielberg, and Sophia Loren. Its brash, 38-year-old developer was something of a tabloid celebrity himself. Donald Trump was just coming into his own as a serious player in Manhattan real estate, and Trump Tower was the crown jewel of his growing empire. From the day it opened, the building was a hit—all but a few dozen of its 263 units had sold in the first few months. But Bogatin wasn't deterred by the limited availability or the sky-high prices. The Russian plunked down $6 million to buy not one or two, but five luxury condos. The big check apparently caught the attention of the owner. According to Wayne Barrett, who investigated the deal for the Village Voice, Trump personally attended the closing, along with Bogatin.

If the transaction seemed suspicious—multiple apartments for a single buyer who appeared to have no legitimate way to put his hands on that much money—there may have been a reason. At the time, Russian mobsters were beginning to invest in high-end real estate, which offered an ideal vehicle to launder money from their criminal enterprises. "During the '80s and '90s, we in the U.S. government repeatedly saw a pattern by which criminals would use condos and high-rises to launder money," says Jonathan Winer, a deputy assistant secretary of state for international law enforcement in the Clinton administration. "It didn't matter that you paid too much, because the real estate values would rise, and it was a way of turning dirty money into clean money. It was done very systematically, and it explained why there are so many high-rises where the units were sold but no one is living in them." When Trump Tower was built, as David Cay Johnston reports in The Making of Donald Trump, it was only the second high-rise in New York that accepted anonymous buyers.

Semion Mogilevich.

In 1987, just three years after he attended the closing with Trump, Bogatin pleaded guilty to taking part in a massive gasoline-bootlegging scheme with Russian mobsters. After he fled the country, the government seized his five condos at Trump Tower, saying that he had purchased them to "launder money, to shelter and hide assets." A Senate investigation into organized crime later revealed that Bogatin was a leading figure in the Russian mob in New York. His family ties, in fact, led straight to the top: His brother ran a $150 million stock scam with none other than Semion Mogilevich, whom the FBI considers the "boss of bosses" of the Russian mafia. At the time, Mogilevich—feared even by his fellow gangsters as "the most powerful mobster in the world"—was expanding his multibillion-dollar international criminal syndicate into America.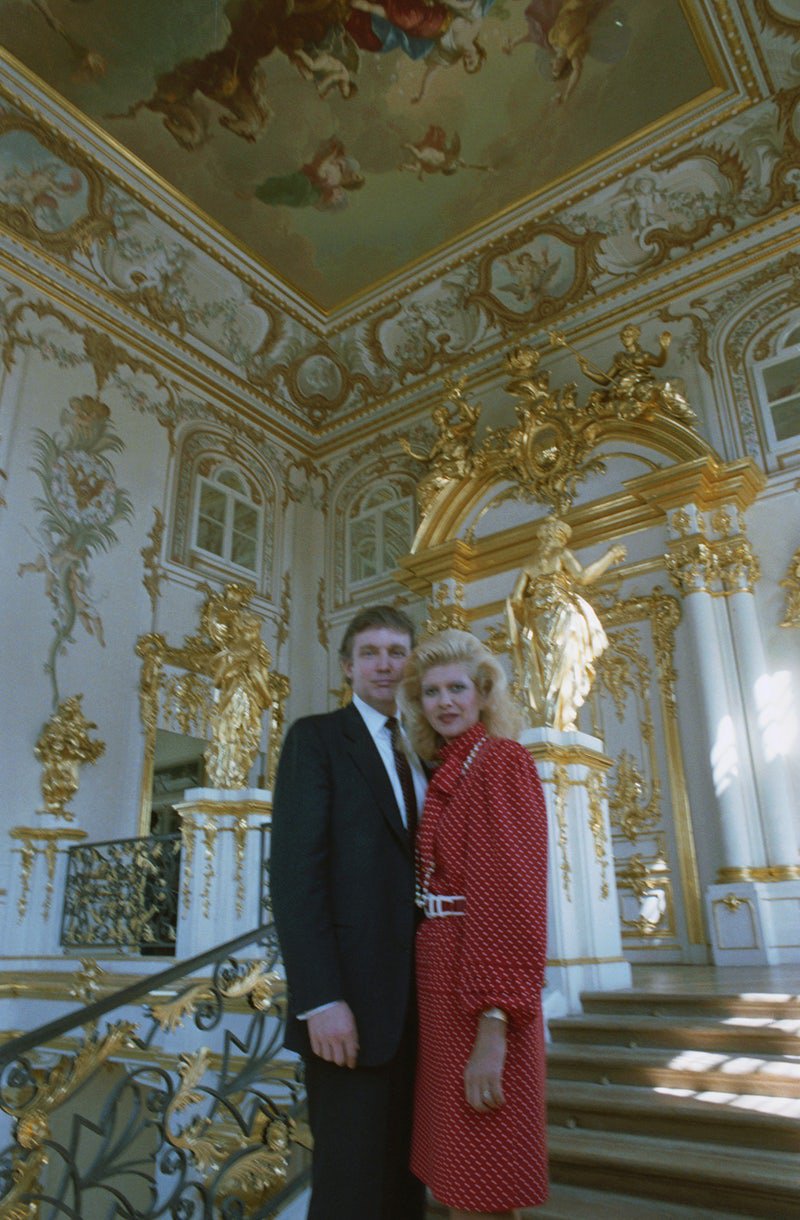 In 1987, on his first trip to Russia, Trump visited the Winter Palace with Ivana. The Soviets flew him to Moscow—all expenses paid—to discuss building a luxury hotel across from the Kremlin. Maxim Blokhin/TASS
Rubrics:
- Trump made his first trip to Russia in 1987, only a few years before the collapse of the Soviet Union.

- Throughout the 1990s, untold millions from the former Soviet Union flowed into Trump's luxury developments and Atlantic City casinos.

- Trump Taj Mahal paid the largest fine ever levied against a casino for having "willfully violated" anti-money-laundering rules.

- The influx of Russian money did more than save Trump's business from ruin—it set the stage for the next phase of his career. By 2004, to the outside world, it appeared that Trump was back on top after his failures in Atlantic City. That January, flush with the appearance of success, Trump launched his newly burnished brand…

- Russians spent at least $98 million on Trump's properties in Florida—and another third of the units were bought by shadowy shell companies.

- In 2013, police burst into Unit 63A of Trump Tower and rounded up 29 suspects in a $100 million money-laundering scheme.

- In April 2013, a little more than two years before Trump rode the escalator to the ground floor of Trump Tower to kick off his presidential campaign, police burst into Unit 63A of the high-rise and rounded up 29 suspects in two gambling rings.

Concluding paragraphs:
Semion Mogilevich, the Russian mob's "boss of bosses," also declined to respond to questions from the New Republic. "My ideas are not important to anybody," Mogilevich said in a statement provided by his attorney. "Whatever I know, I am a private person." Mogilevich, the attorney added, "has nothing to do with President Trump. He doesn't believe that anybody associated with him lives in Trump Tower. He has no ties to America or American citizens."

Back in 1999, the year before Trump staged his first run for president, Mogilevich gave a rare interview to the BBC. Living up to his reputation for cleverness, the mafia boss mostly joked and double-spoke his way around his criminal activities. (Q: "Why did you set up companies in the Channel Islands?" A: "The problem was that I didn't know any other islands. When they taught us geography at school, I was sick that day.") But when the exasperated interviewer asked, "Do you believe there is any Russian organized crime?" the "brainy don" turned half-serious.

"How can you say that there is a Russian mafia in America?" he demanded. "The word mafia, as far as I understand the word, means a criminal group that is connected with the political organs, the police and the administration. I don't know of a single Russian in the U.S. Senate, a single Russian in the U.S. Congress, a single Russian in the U.S. government. Where are the connections with the Russians? How can there be a Russian mafia in America? Where are their connections?"

Two decades later, we finally have an answer to Mogilevich's question.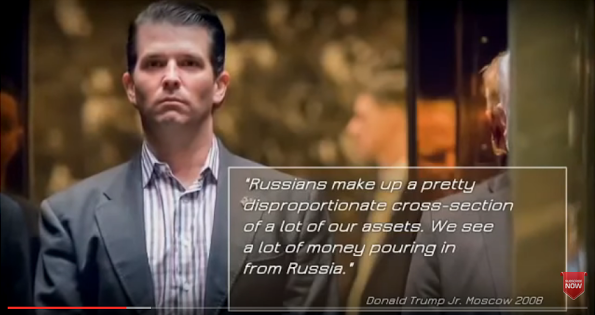 Donald Trump's Financial Ties to Russian Oligarchs Exposed Documentary 2017