Highly significant that Trump has declared his campaign against opioid problem a worldwide issue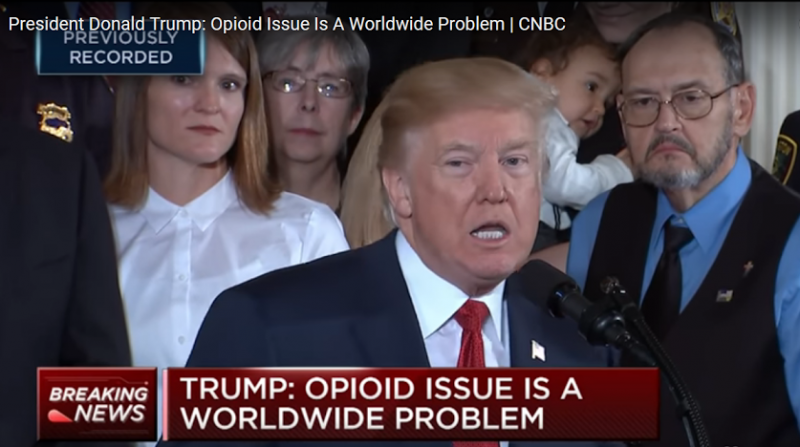 It is significant that Trump has declared his campaign against the opioid issue a worldwide problem.
It is a reflection of dishonesty and supremacism as opposed to a move toward ethnonational coordination.
A preliminary matter of suspicion has to do with resources being devoted to criminal enforcement rather than public health.
In particular, resources as such are not necessarily being devoted even for the public health management of the poor White communities impacted. But rather toward a covert means to deal with blacks and browns though criminalization; while resources will be devoted to foreign browns and yellows to a lesser extent through criminalization, but to a greater extent through politicization - their being seen as engaging in a covert war of drug trafficking - a depiction which could then mutate into broader, more explicit wars, markedly in Asia.
This comes back to dishonesty and supremacism as opposed to White Nationalism, which is supposed to represent ethnonationalism for European peoples.
As ethnonationals, we should be working on rule structures which lead to our separatism and sovereignty for ourselves, blacks, browns and yellows. We do not want to be a part of the same governance; and in fact, we need to be of a separate governance.
It is supremacist to detain migrants, drug users and petty dealers for any significant length of time in prisons - private jails in particular have been cited as being used for the literal supramacist purpose of slave labor.
Ethno-nationals would either repatriate them or work on the means of separatism, physically and legally; i.e., they would honestly admit that in seeing themselves as significantly different from these people, that they want to be separate; and need to separate, as opposed to generating an atmosphere of exploitation and revenge; or the liberal supremacism of integrationist genocide. That only separatism, not heirarchical control within the same governance will allow us to manage our peoples in good faith coordination with others.
As for the trafficking of opioids, cocaine and other drugs - again, rather than a government engaging in a dishonest, covert means of warfare against a people that Jews and right wingers see as a threat (Hispanics and Asians), White governance needs to acknowledge that drugs have long been, though clandestinely, a huge part of Western economies; and what needs to happen instead is an open and honest acknowledgement of the part these drugs play in the medical and recreational economy and as a public health issue - in the need for mental adventure and a certain amount of pleasure on the one hand; and in the need for escape into being, the need to deal with pain, anxiety, depression, boredom and despair on the other hand - particularly regarding the addictive aspects and the anti-social ramifications of abuse that can ensue. Thus, not only dealing with the punishable aspects of drug abuse, but in the social compassion of looking into and dealing with what might be lacking in these peoples lives that has them not seeing better recourse to drug abuse or illegal trafficking.
This would allow for a better management of our own peoples. In addition, this would allow for a fair, non-Jewish, non-right wing negotiation with Asian and South American peoples, as opposed to more brutal exploitation and catastrophic wars in the dishonest interests of Jews and right wingers.